More than once, I've been asked "why do you use rugs on top of carpet?" I don't remember when I started but I guess it has become so routine, I hadn't considered that it may not be typical for everyone. my latest rug incorporation (finally landing in Mama Nan's guest bedroom- woo!) gives the perfect opportunity to plead my case of why rugs should be layered on carpet.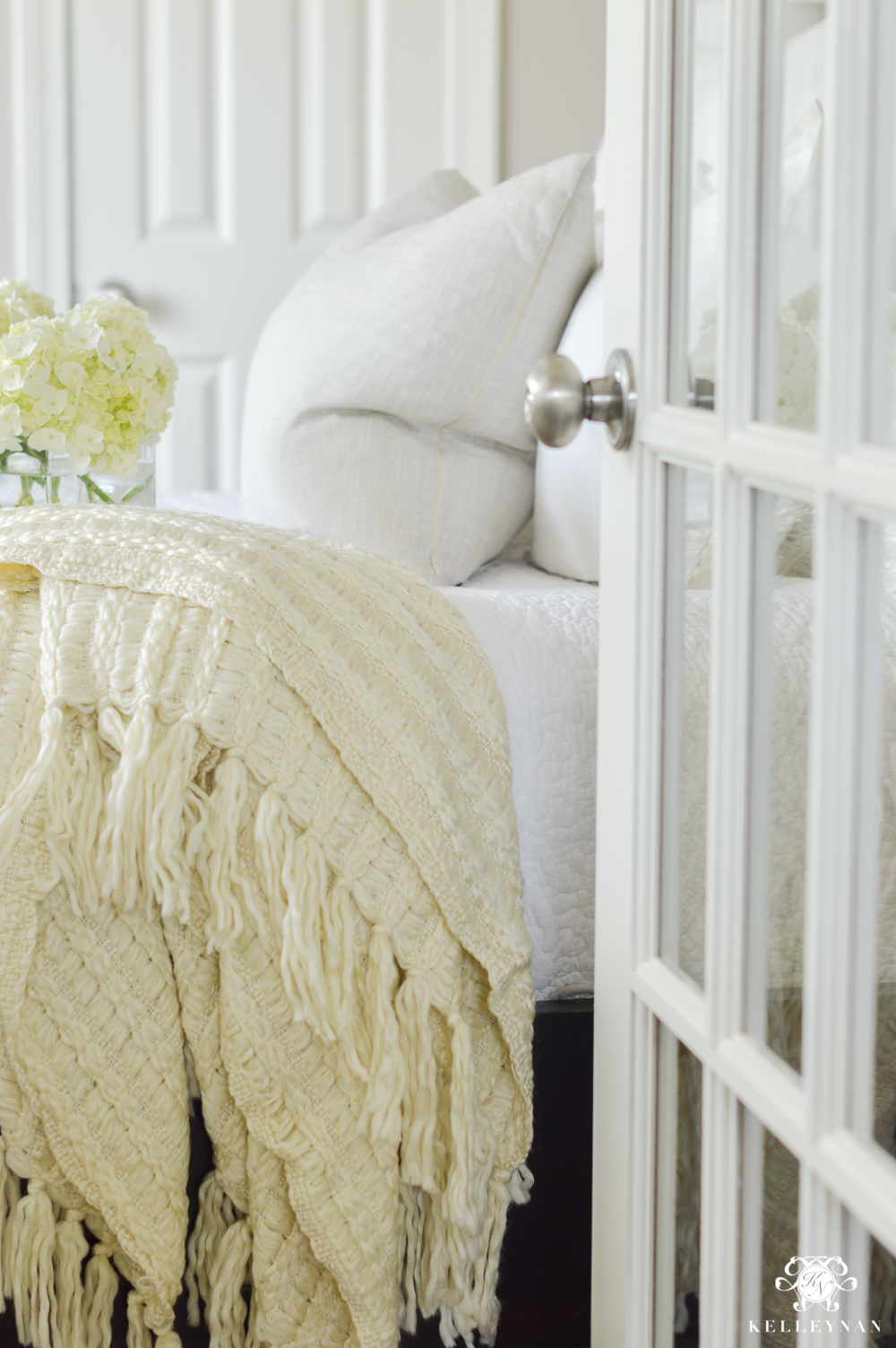 *post contains affiliate links*
Here's the deal. Rugs aren't just for making the floor more comfortable. Think of a dining room with hardwood floors. A rug under the table isn't usually questioned. Actually, it's probably more common to see a rug under a table than not. Why is the rug there? You aren't walking around under the table, hoping for the comfort of foam and soft carpet pile. Sure, it provides a protection barrier for your floors, but it also defines the space. In a way, it anchors that table to the floor, saying "this table space is an intentional, permanent fixture in this room". It's the outline/platform to tie the table and chairs in with the rest of the room. It also brings the set together as one unit instead of 8 disjointed pieces, floating in the room.
But, for some reason, rugs under beds in carpeted rooms seem to be more questioned. Just like any hardwood flooring space, rugs under beds help to showcase that specific space in the room. It defines the bed area. And, this applies to  hardwood floors, too. Yes, it helps to not let your feet get cold as soon as they hit the floor in the morning, but it adds a softer texture to the room and breaks up that visual plane.
Ok, so like I was saying, I finally got a rug in Mama Nan's room this past weekend. The room was a wreck and had turned into a drop zone (for literally, the past six months). Here it is in the midst of being picked up…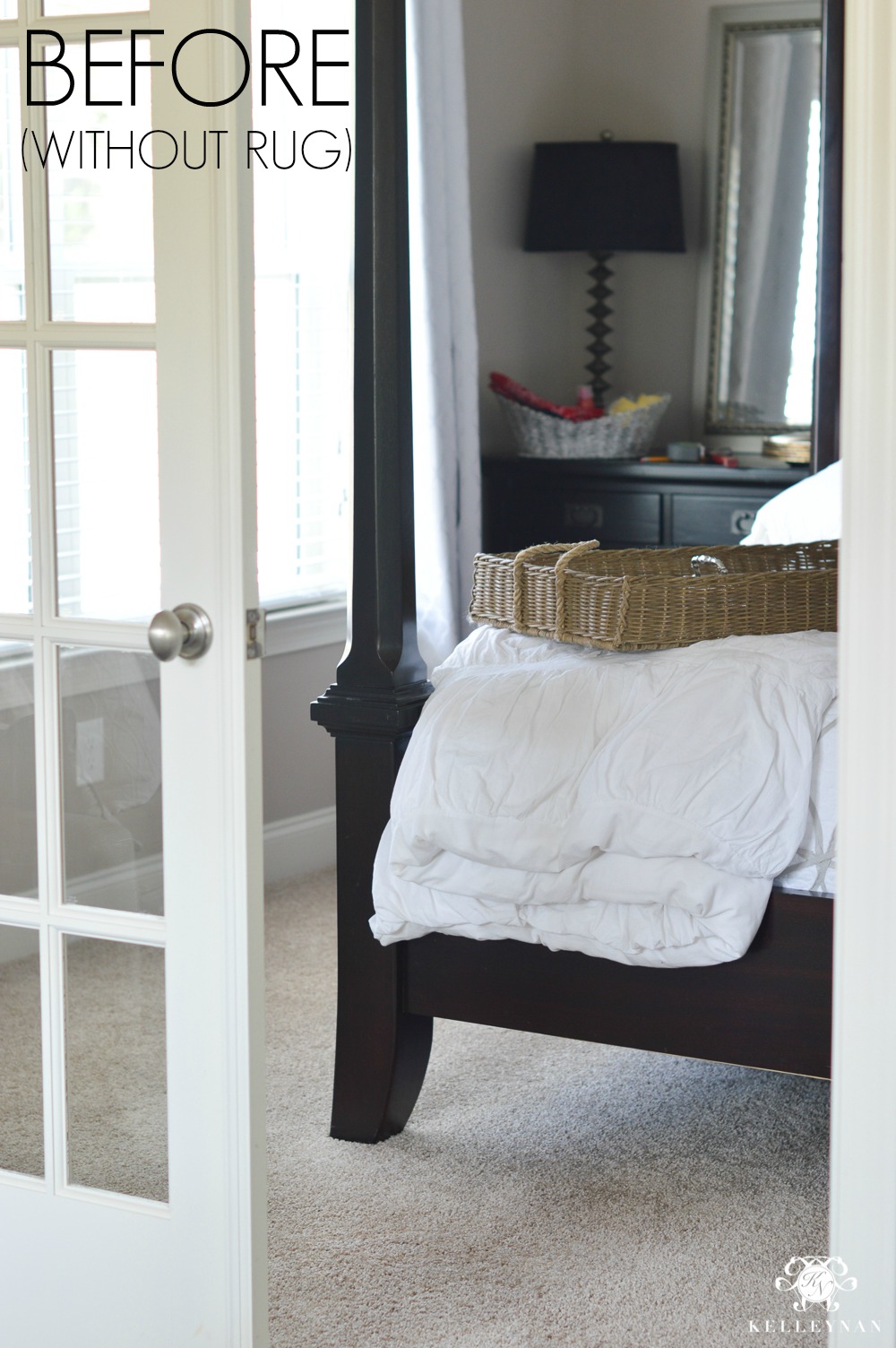 The room is small so adding the rug motivated me to get the entire thing cleaned. Basically, there wasn't anywhere to shove all the stuff that was piled high on the bed once we had to take the mattress and box spring off. So, forced productivity but productivity nonetheless 😉
And this is after we added the rug. It isn't even a contrasting color/pattern and it still makes a huge difference!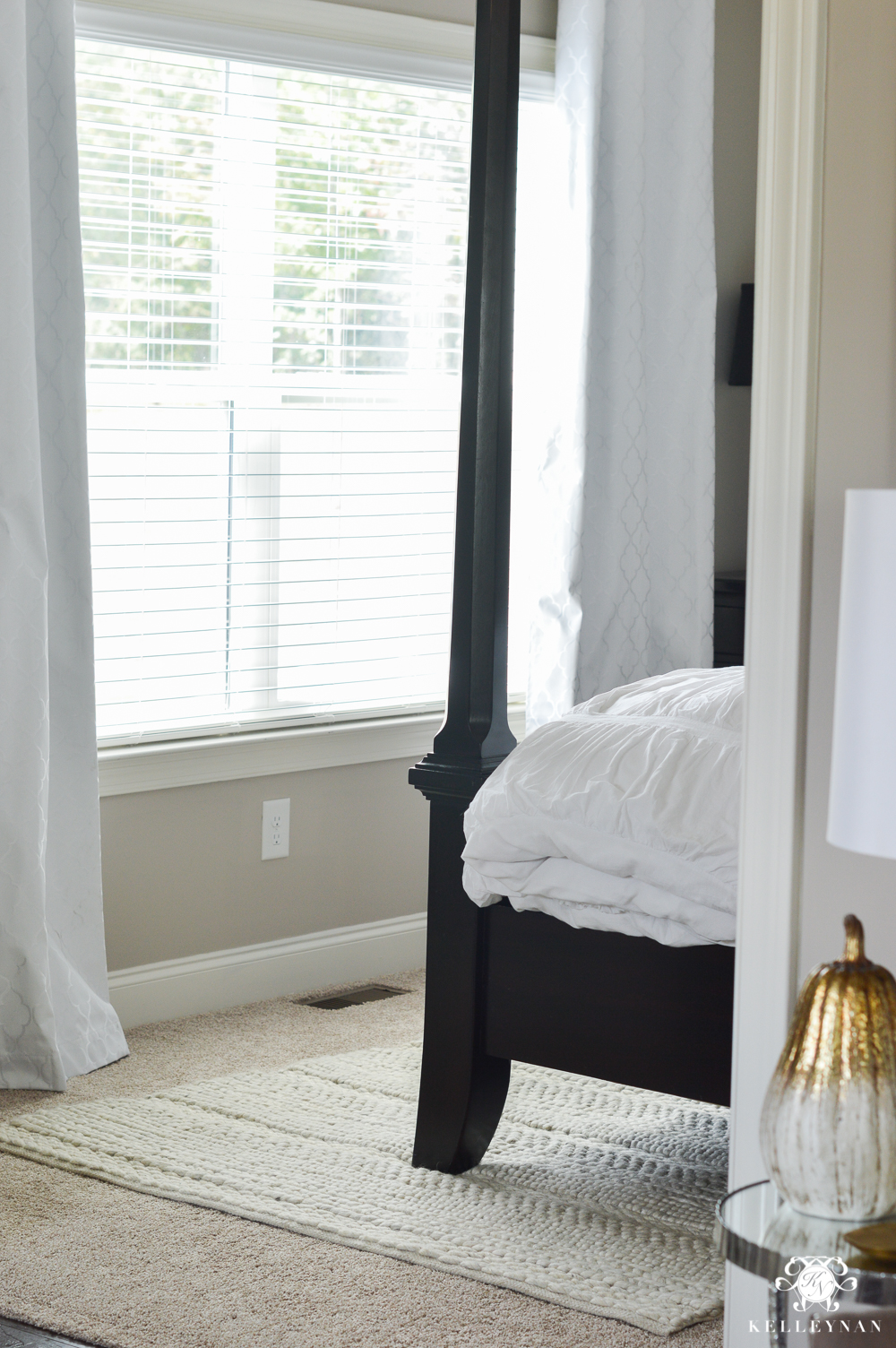 Another perk of adding a rug under your bed- if it's a large room, it helps make things more intimate, cozy and tied together (even with a lot of space between furniture). In a smaller room like this one, it makes furniture placement look intentional (instead of a storage room with random floating pieces haha).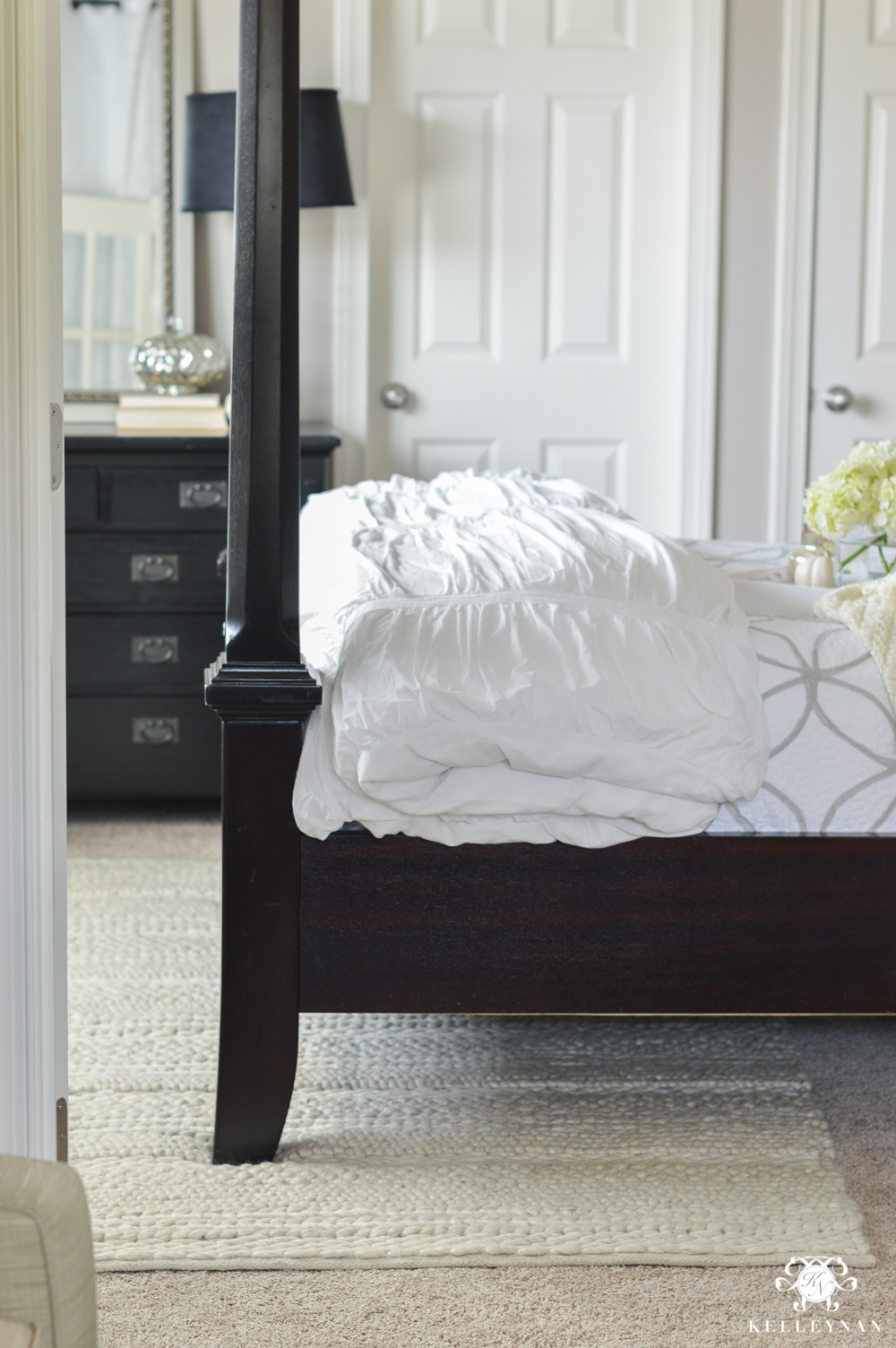 I had been eyeing this chunky knit wool rug for a while; it isn't colorful or print patterned but the weave pattern gives it just the right amount of texture to keep it from looking "blah". Bonus- it is currently 40% off! (Use code SEPTSAVE for free shipping HERE)
Rug guidelines are an entirely different beast but here are a few easy suggestions. Rugs in the dining room should be large enough so when you pull the chairs out, they are still contained on the rug. Rugs in bedrooms are more flexible. You can go big and have your entire bed and nightstand sitting on top, or, you can go a little small and take the rug halfway up the bed length. Because this room is small, I opted for the latter with a 5×8 (for a queen sized bed).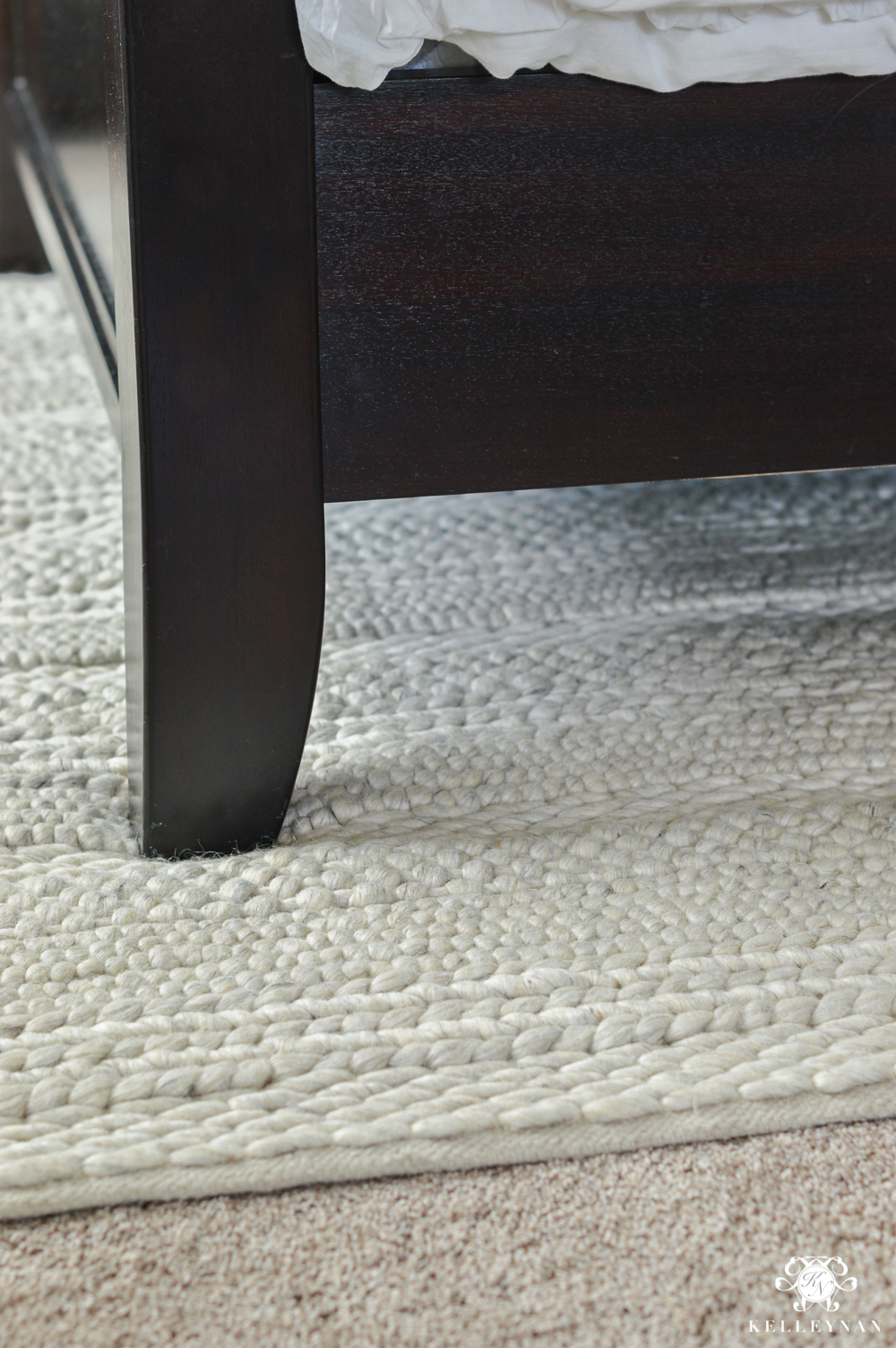 This guest bedroom currently holds a mish-mosh of old furniture and after getting this new rug in here, it kind of makes me want to spring into action (Dave, skip this part!) and start a new makeover project haha. But, with our master bedroom makeover on the horizon (starting next month!), this one will have to wait.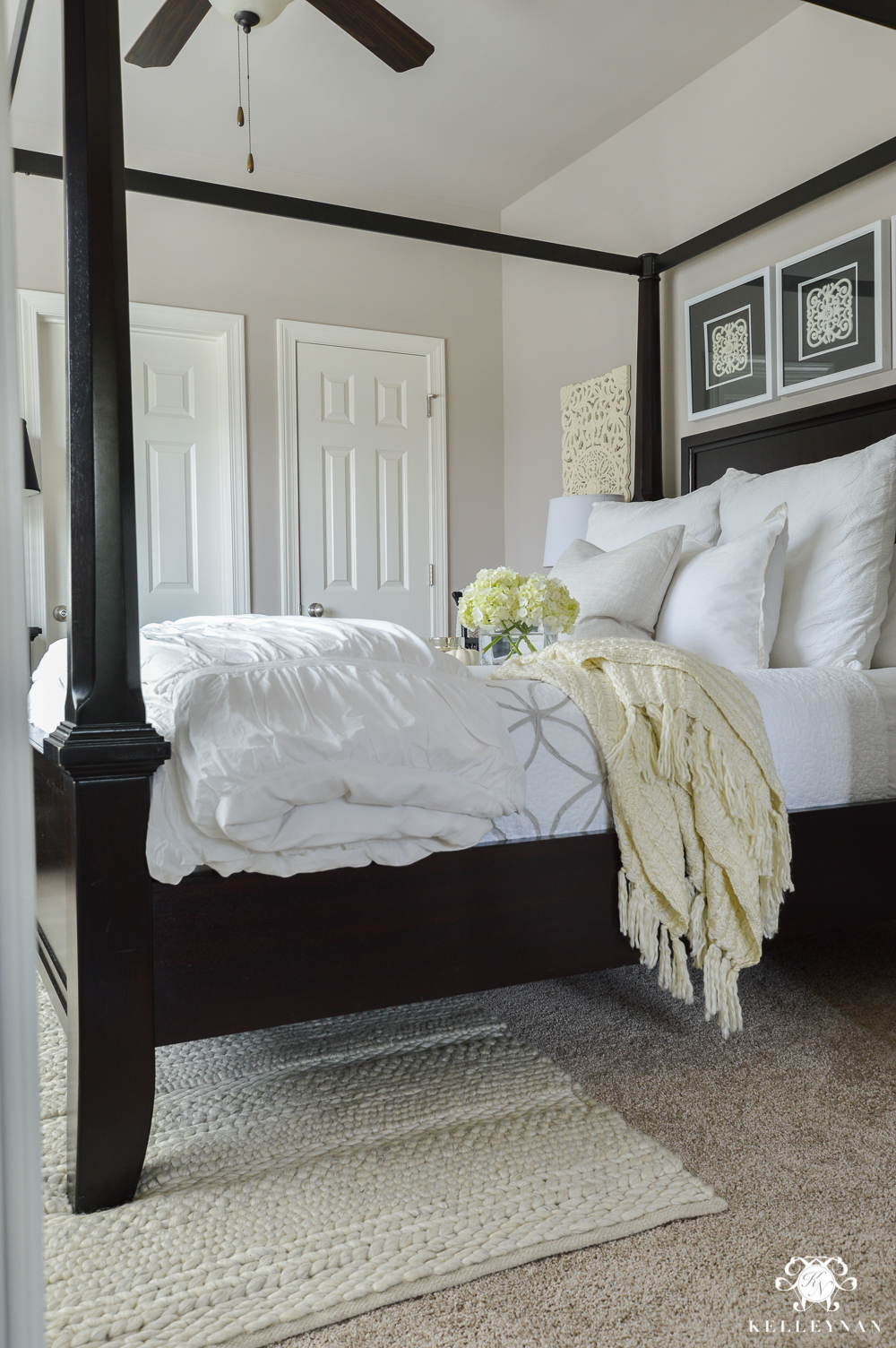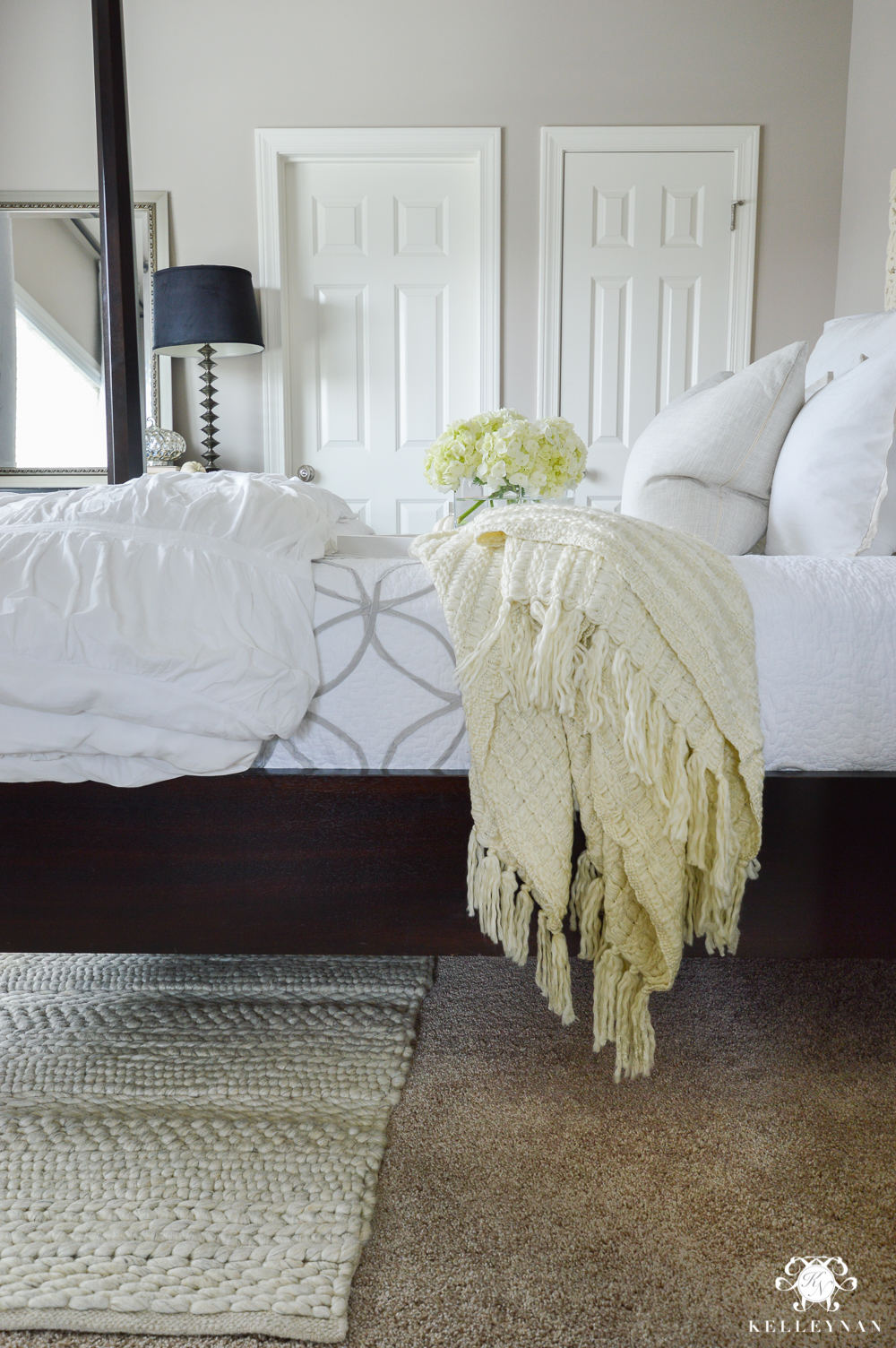 So, what do you think? Do you have carpet? If so, do you layer rugs on top? You can see our other guest bedrooms here:
(Spoiler, both have rugs underneath the beds 😉 )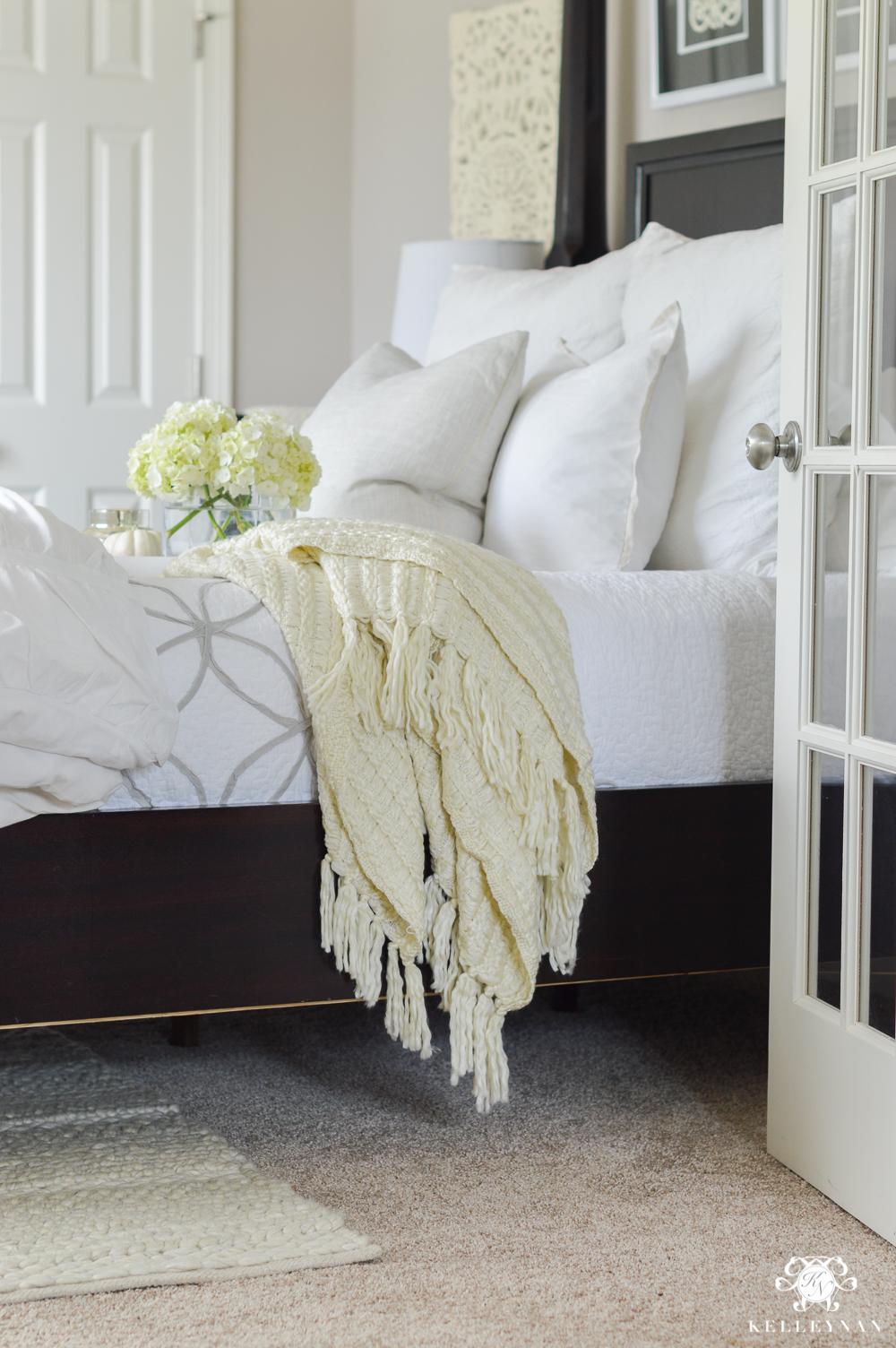 The furniture isn't the only mish-mosh here… I have so many whites, creams, taupes, grays, etc. that I wanted to bring some of that creamy color to the bedding. (If you ever need to tie in another color to marry some elements, literally, throw in a throw 😉 ). This throw is cozy enough for winter but light enough for fall – and – you can also get it for 20% off with code SEPTSAVE HERE.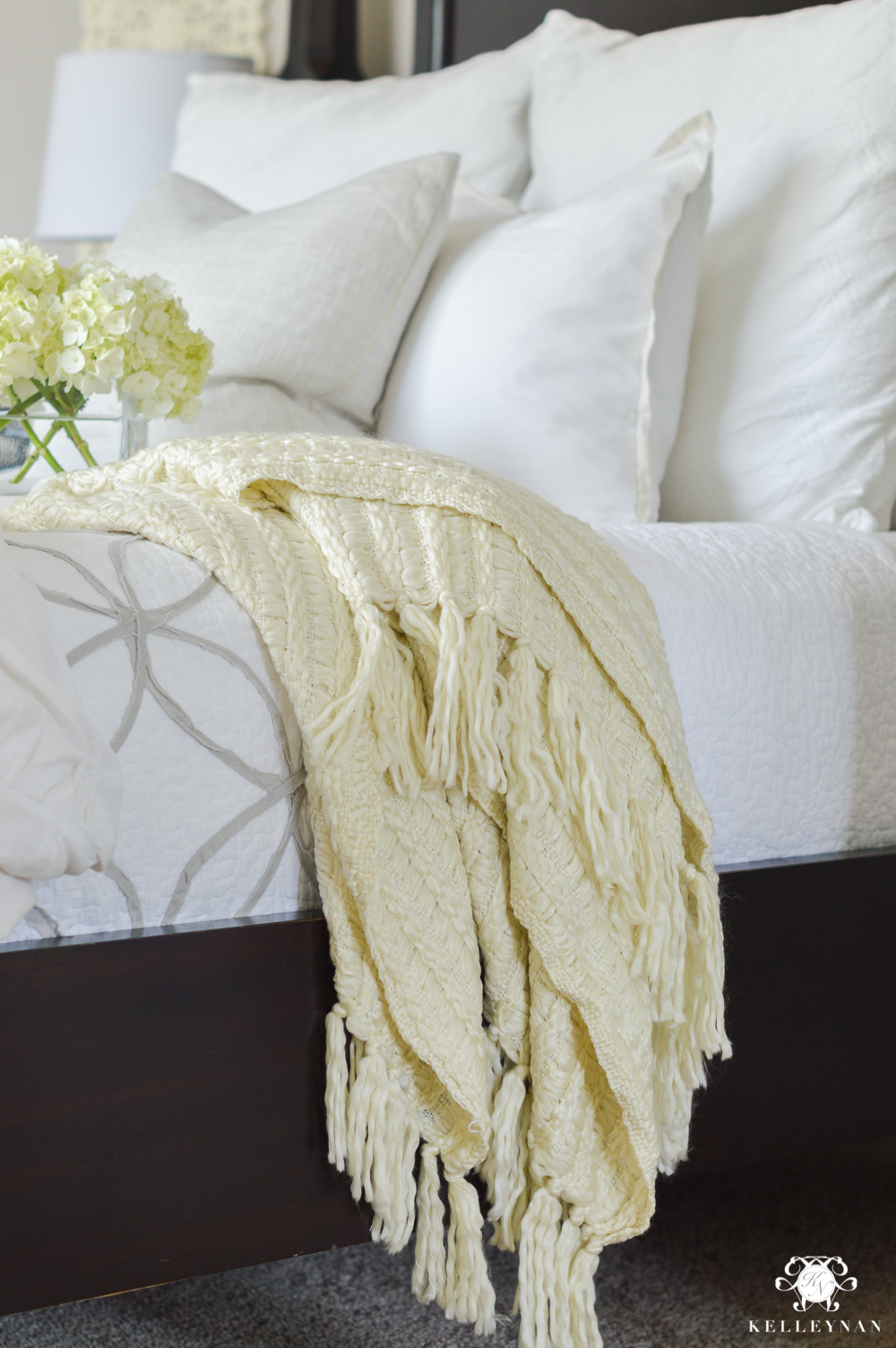 SCROLL & TAP TO SHOP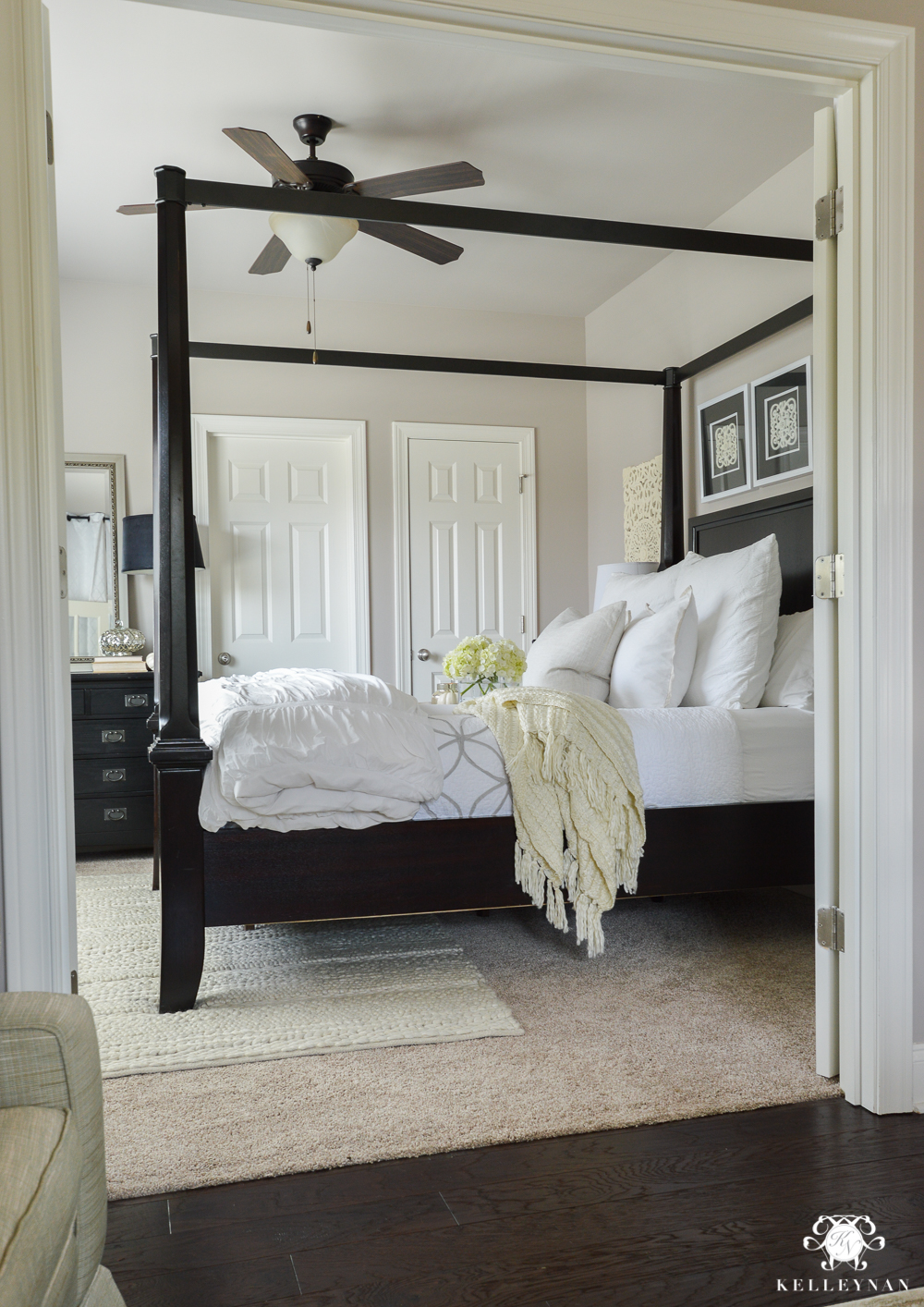 Ok, so if you are now going through every room in your house to determine if/if it should have a rug now (haha), World Market is running their Rug Caravan (up to 50% off all rugs) right now. Plus, use code SEPTSAVE for free shipping (and 20% off anything in your order that is regularly priced). You can view all the rugs HERE.
Here are a few of my favs:


ALSO, the dining event is STILL going on and you can get several of my pieces on sale right now 😉 These continually get the most questions:

Lastly, I hope you will mark your calendar and join me again this Thursday when my fall home tour launches! To take a look back at last year, visit the 2016 tour HERE.

Rug | Bar Cart Night Stand | Carved Wood Wall Art | Throw Blanket | Lamp Base | Lamp Shade | Tray | Duvet Cover | Quilt- Homegoods | White Throw Pillows with Cream Trim | Other Throw Pillows- HomeGoods | Volcano Candle | Glass Square Vase (similar) | Bed (similar) | Black Shade Lamps- HomeGoods | Mirror- HomeGoods | Curtains | Art Trio- HomeGoods