IT'S ONE ROOM CHALLENGE REVEAL DAY! What?! Y'all, I don't know if I feel so celebratory because I have a new guest bedroom or because I am so relieved that the six-week process is over. Transforming/decorating a room at your own leisure is one thing but when you are on a tight deadline, you start to do crazy things. Like, calling a store on the opposite coast to overnight a throw blanket before you shoot the next day. True story. (I actually had a reality check mid-conversation and hung up on the poor people in California out of embarrassment- if that was you, I'm so sorry but appreciate you being so accommodating haha). If you are new/aren't totally sure what I'm talking about, I'll give you the Cliff Notes version. Each spring and fall, Linda of Calling it Home hosts a big ol' home decorating challenge (this cycle's media partner is House Beautiful). Literally, a few hundred bloggers take part by making over a room in their house… in six weeks. We link up each week (which I will do at the bottom of the post) so readers can check out the progress and spaces of other bloggers along the way. In the fall, I made over my home office (HERE), and this time around, I decided to take on one of my guest bedrooms. I've been sharing the progress along the way but it all leads up to this- the classic blue and white guest bedroom reveal.
---
Before we plunge right in, I would like to give a HUGE note of thanks to all the sponsors who contributed to this project, making this six-week task possible. 
Hayneedle | Wayfair | Pottery Barn | Minted | Lighting Design Company | Select Blinds | Willa Skye Home | Amerock
Also, a big thank you to Linda of Calling it Home, the host of this awesome, bi-annual challenge; my husband for serving as my contractor/mover/handyman/dinner delivery/support/everything, my closest blogger friends for letting me vent (you ladies know who you are!), and to my readers who encouraged me along the way.
---
One more housekeeping item (we're getting there! 😉 ) I'll let you get your toes wet if you missed any of the previous weeks. For those who have followed along throughout the process, I'll try not to repeat myself. You can refer to the progress weeks below for specific details and a full source list will be provided at the bottom of this post.
| WEEK ONE | WEEK TWO | WEEK THREE | WEEK FOUR | WEEK FIVE |
And, if this IS your first time visiting, you can follow along with all my projects by signing up to receive my email updates HERE.
*post contains affiliate links | click here for full disclosure*
Last week, I was stressing if everything would be here on time. With some last minute deliveries, my plans to shoot over the weekend wasn't possible. The nightstand saga… oh, the nightstand saga… they arrived on Monday afternoon. I think Monday night was basically when 50% of the entire challenge went down. We got them assembled, switched the hardware, hung the mirrors, accessorized, steamed, cleaned, stuffed pillows… basically all the action verbs. All. Of. Them. And when all was said and done, this was the final result. The traditional blue and white guest bedroom.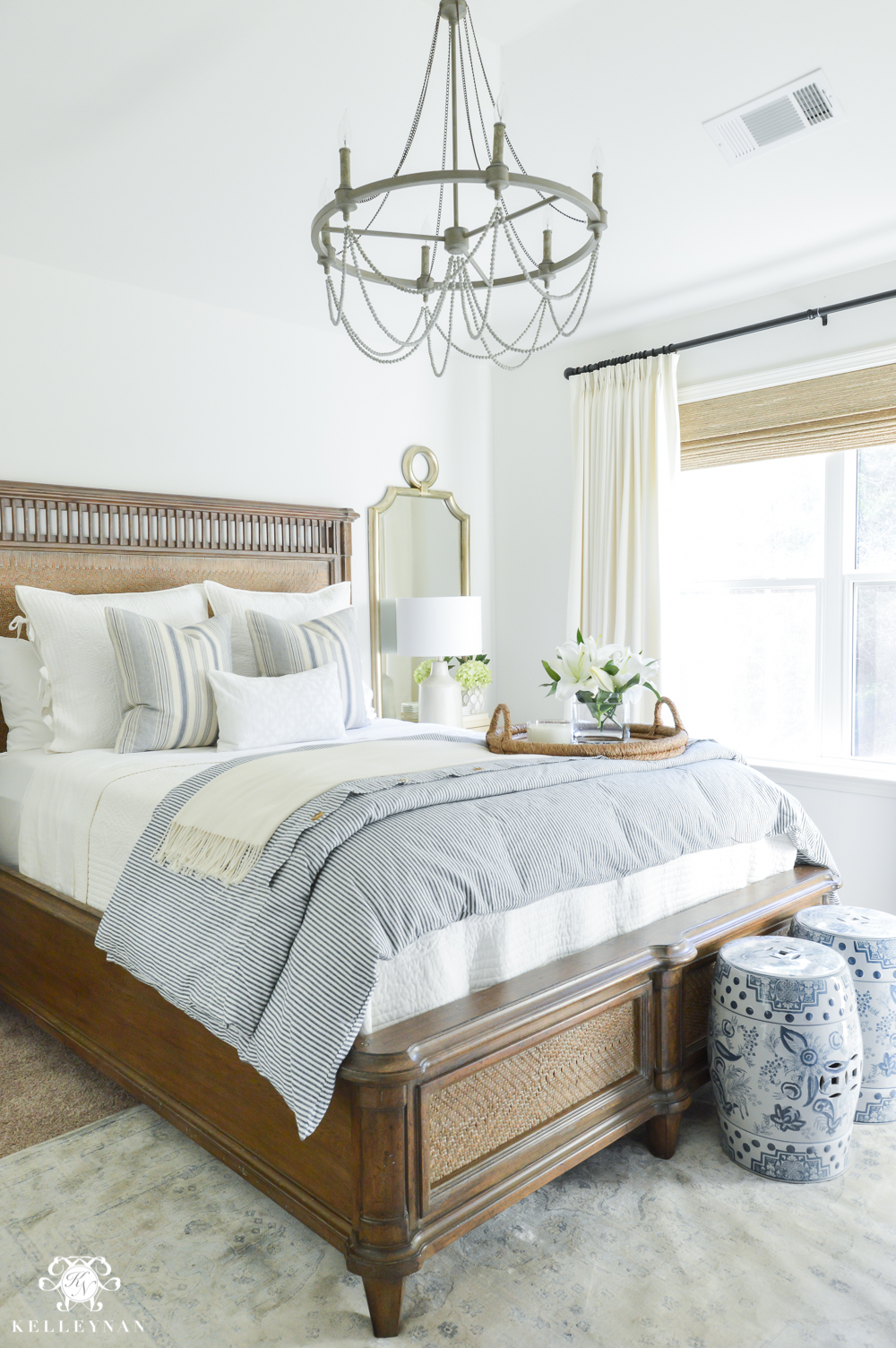 Ok, let's try that again by first taking a look back at the before.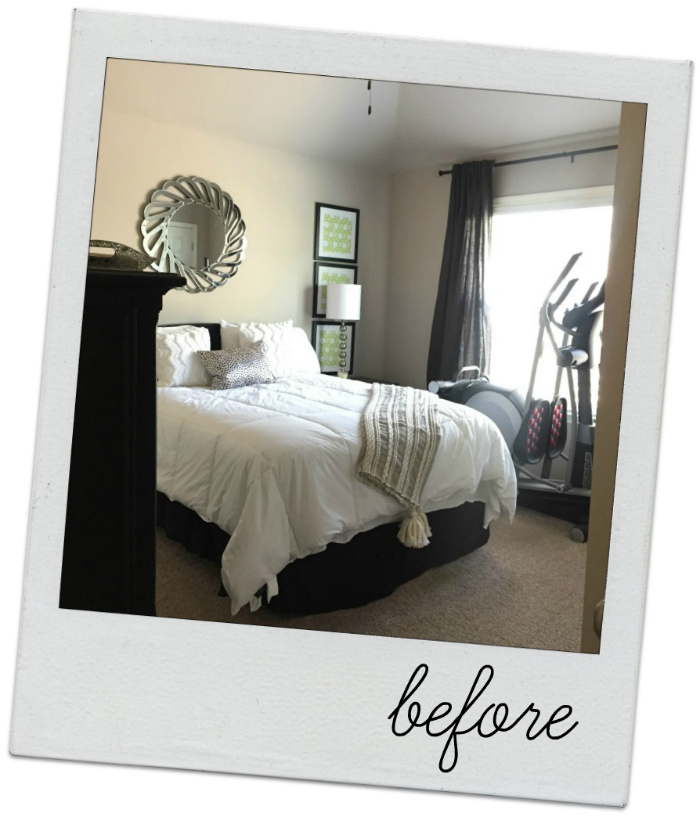 I actually had polite guests tell me "Oh, I love that guest bedroom! Why are you changing it?" Dead. Serious. Very sweet and I am glad we had the room to house a house full of guests but I've always cringed at putting people in a room that was basically a glorified storage room of cast-offs. I'm grateful for the One Room Challenge opportunity as I likely wouldn't have had the motivation to tackle this project just yet. But, over a period of six weeks, yesterday's storage room became today's favorite guest bedroom.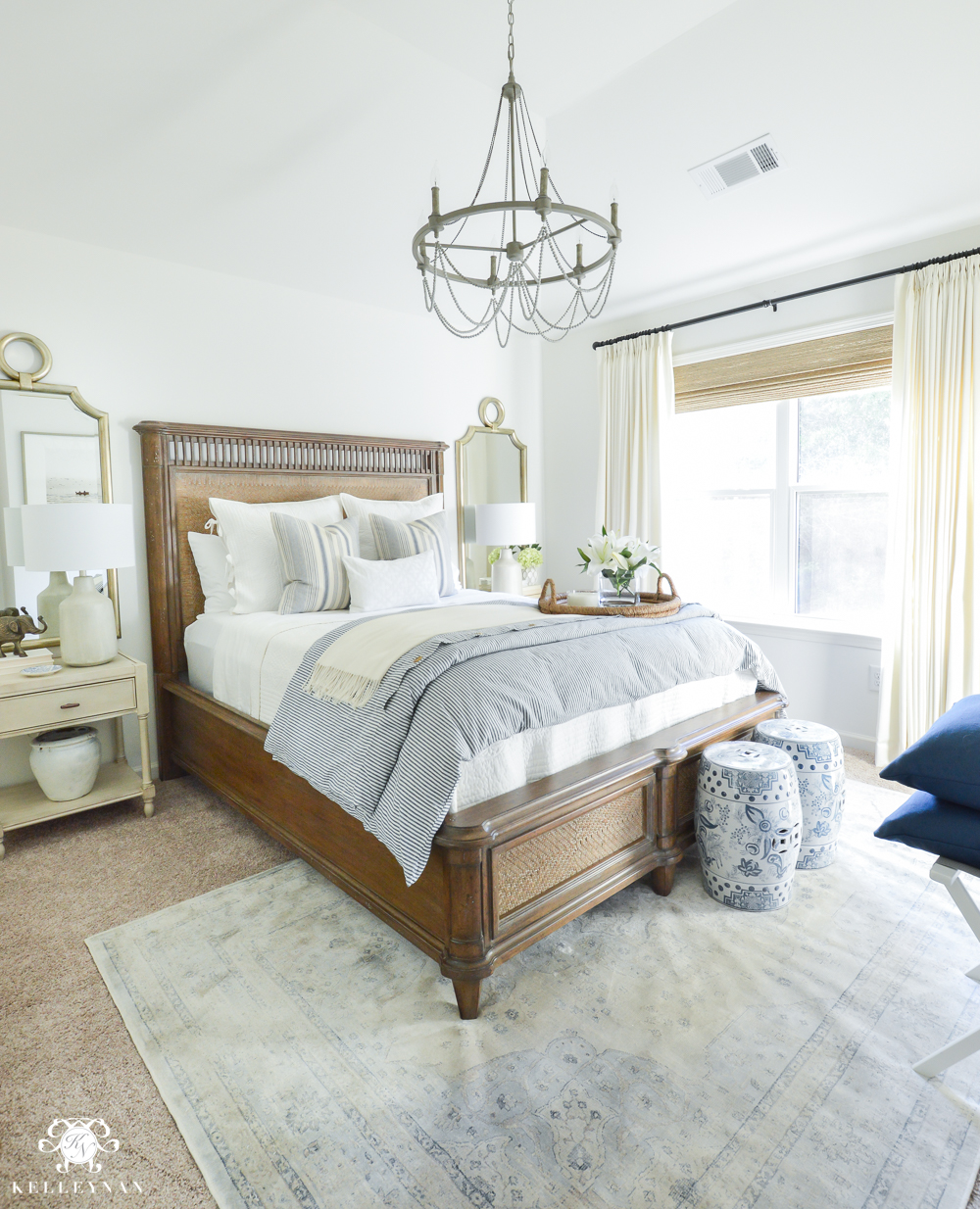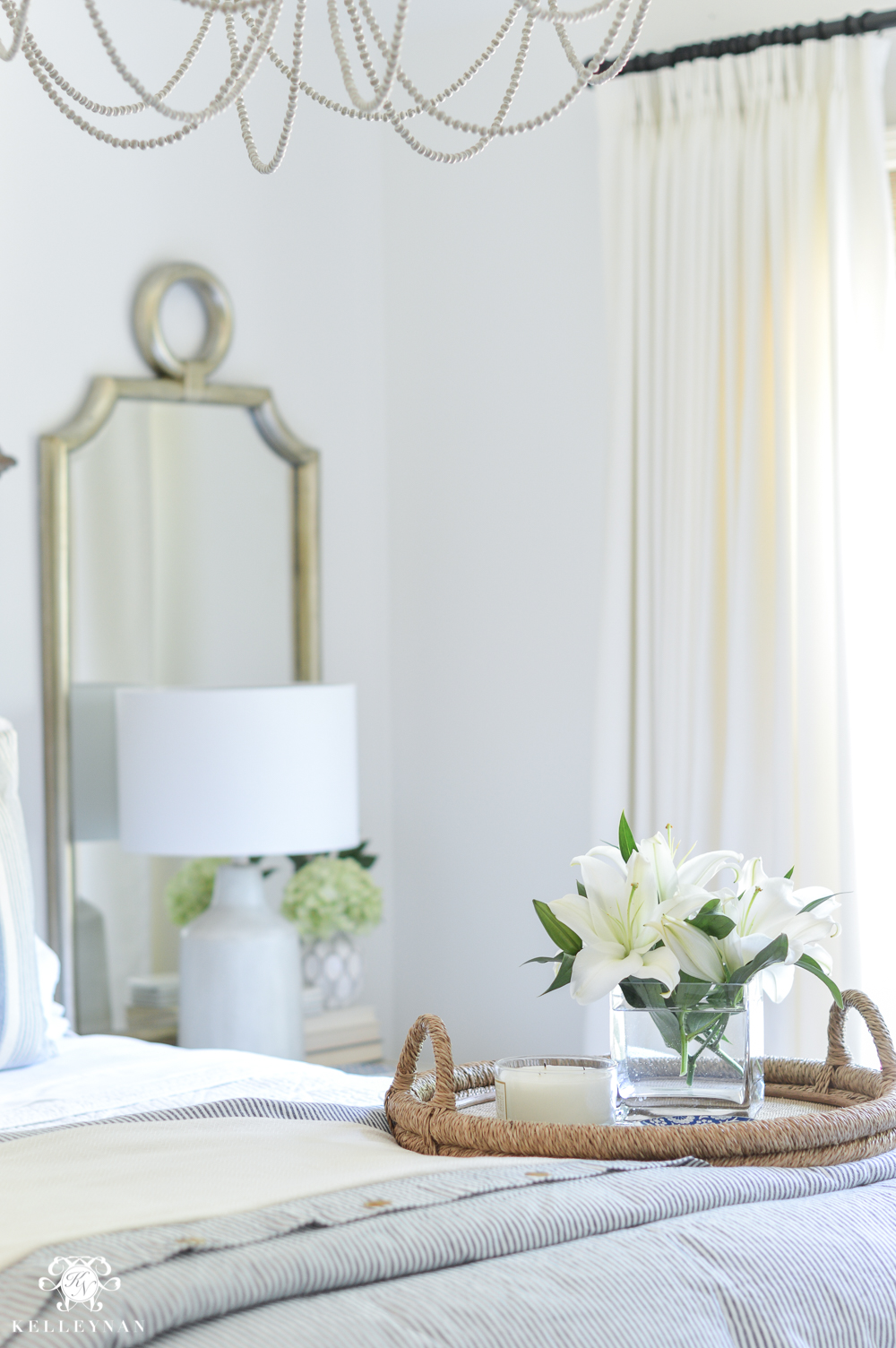 I love blending styles and in this room, we have a little bit of everything. A nod to nautical and a hint of southern… some transitional, some coastal, a little champagne and a little bronze. It's a melting pot, for sure. My more modern lamps and mirrors from hayneedle.com were on my must-have list to keep the room from going too far in the traditional direction. The lamps are available in white and gray (mine are the white) and the mirrors are more of a champagne finish. Before my symmetrical setups on either side of the bed, I only had one nightstand. One sad and lonely nightstand that wasn't even cute. Now, each bed occupant will have the same amenities 😉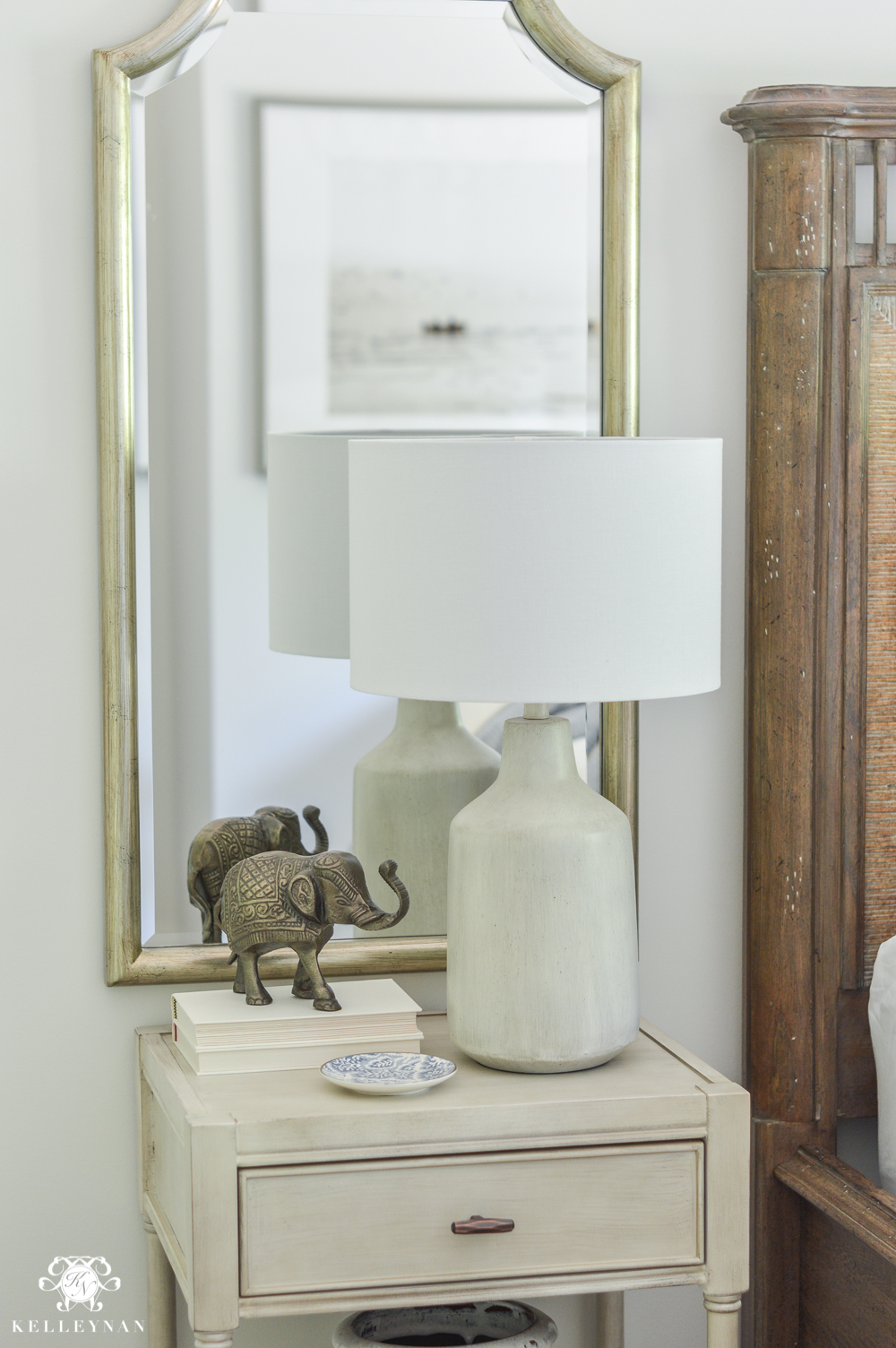 I also placed a last minute order for these sweet blue and white trinket dishes that I know I'll likely be using all over the house. Right now, they are 25% off 😉 I love having small dishes in guest rooms for a place they can collect their jewelry and pocket goodies.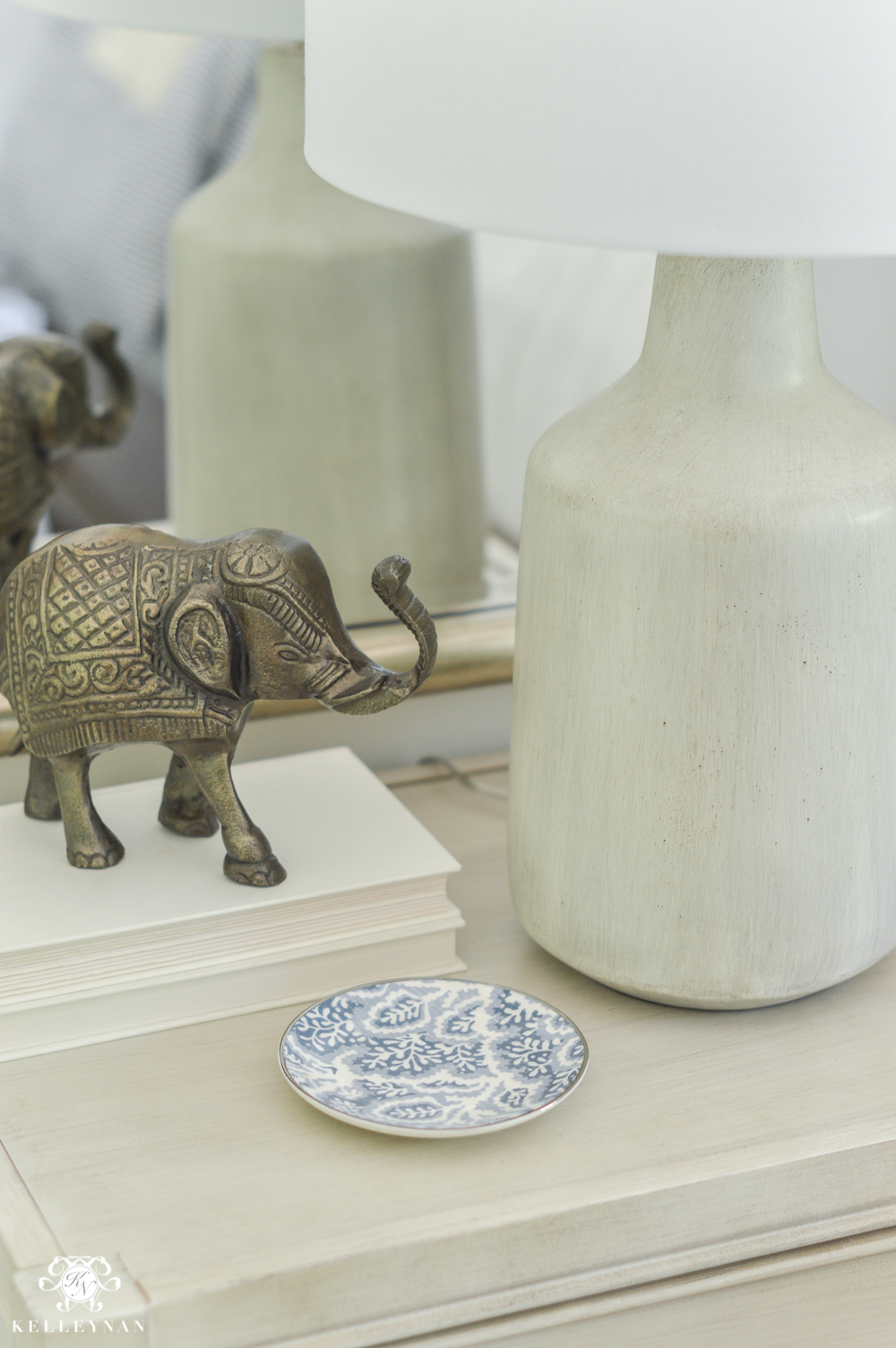 In last week's post, I shared the last minute nightstands I ordered with plans to switch the hardware to these knobs from Amerock. I love the subtle difference; from some views, they look more bronze, from others, more dark. And, with the multi-faceted, elongated shape help take these from country-esque to more transitional.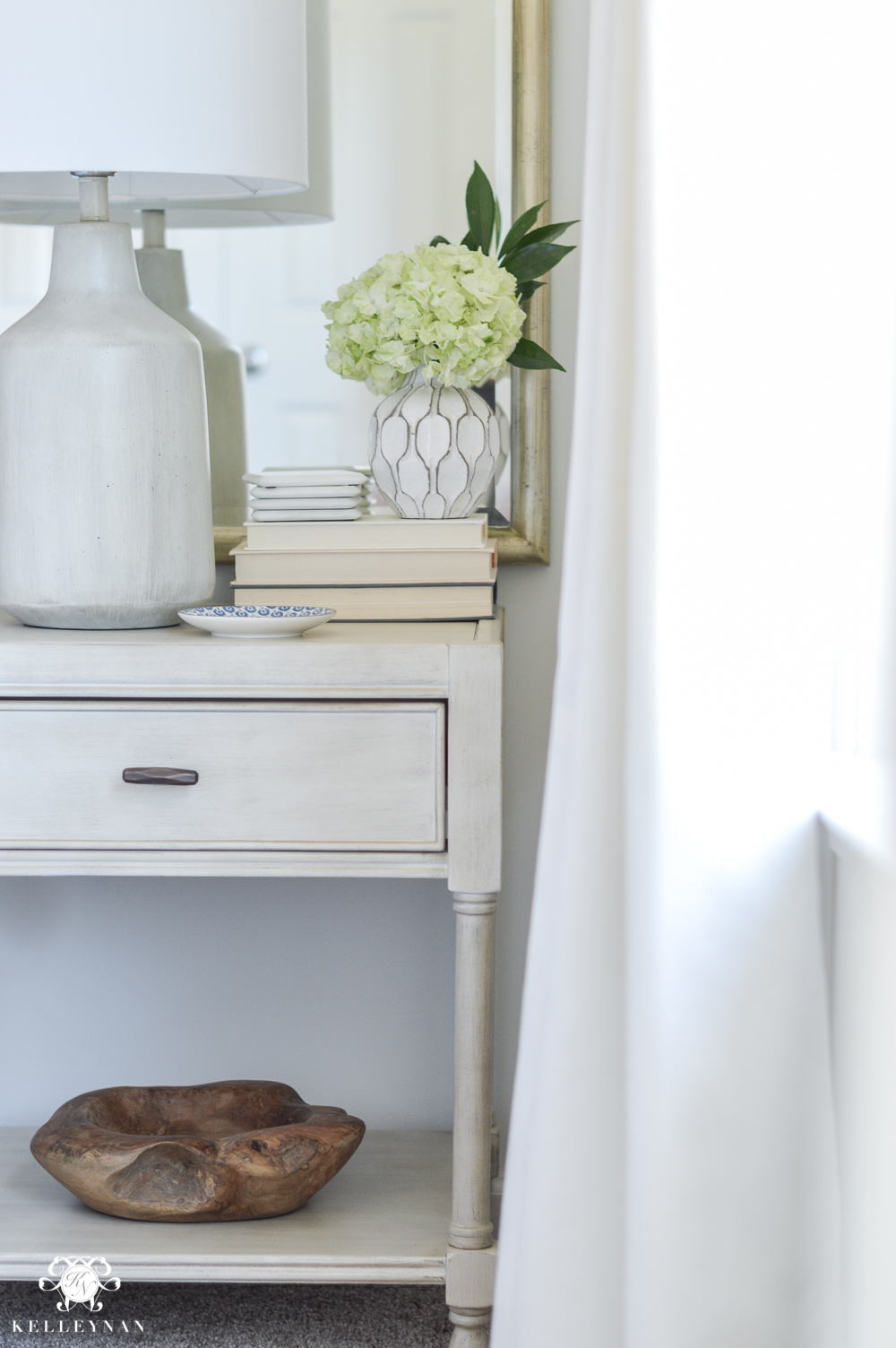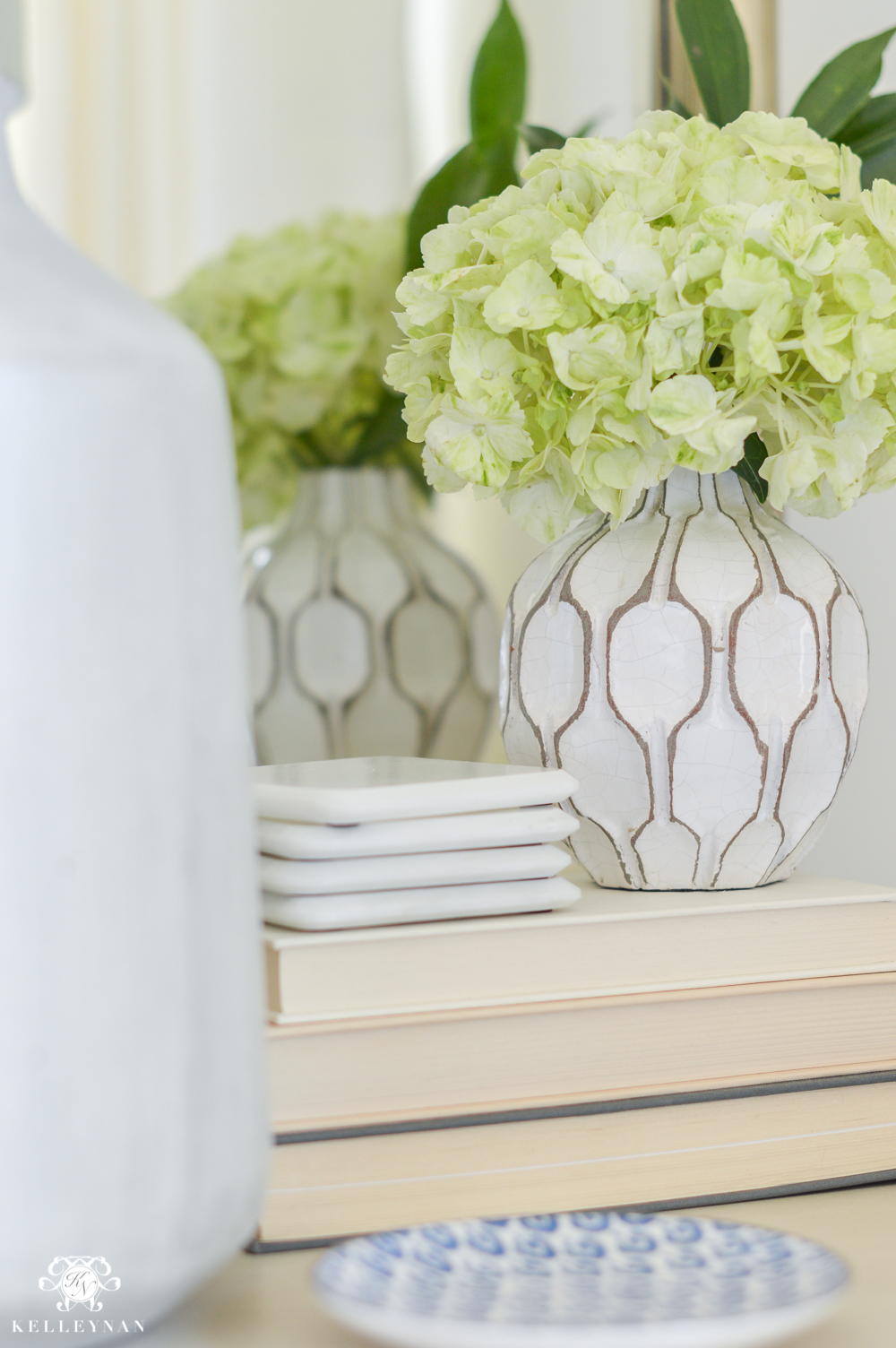 As with most of my beds, I love starting with a canvas of white bedding. I restrained from outfitting this room in the Belgian Flax Linen Diamond Quilt (that I love so much, I have it in two other rooms) and tried a new quilt- the Hanna quilt with matching euro shams. It is clean, sophisticated, and has the sweetest embroidered pattern. I love keeping duvets at the foot of the bed and decided to incorporate some blue through the Wheaton Stripe Duvet Cover. I also opted for the basic, PB Essential 300-Thread Count sheets, and let me tell you. I can't believe how soft they are. I was curious to see exactly what they would be like as they are a much more affordable option than some of their higher thread count options, but they are fantastic.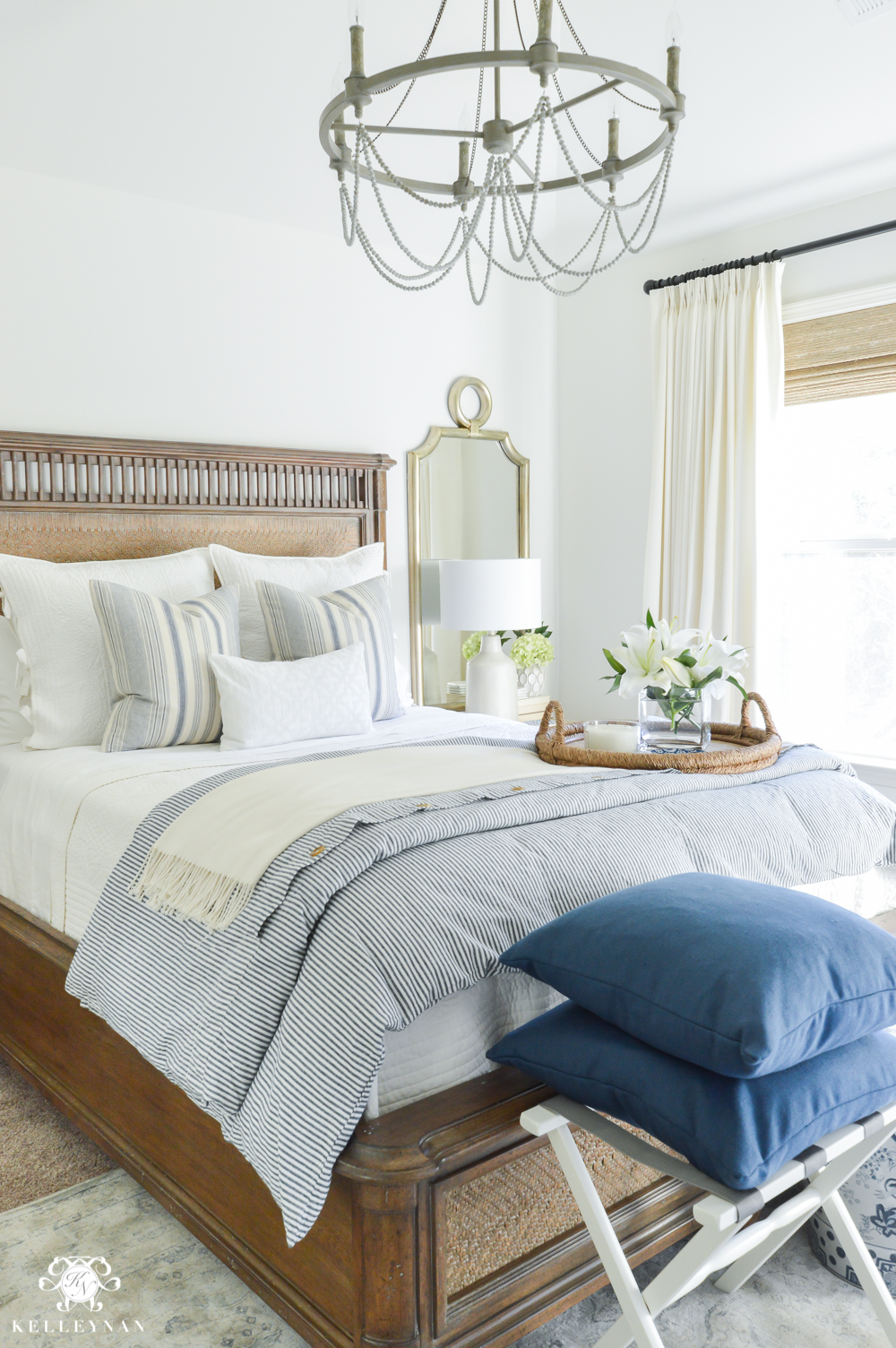 I had joked about bringing in some of my living room pillows but when I brought up the two striped throws, just to get an idea on pillow configuration, I didn't want to take them out. So I didn't haha. The white front, center white quatrefoil 12×20 lumbar pillow from Willa Skye Home is in the same print as some of the pillows on my window seat in my office. I'm a creature of habit and when I find something I love, I want it all over 😉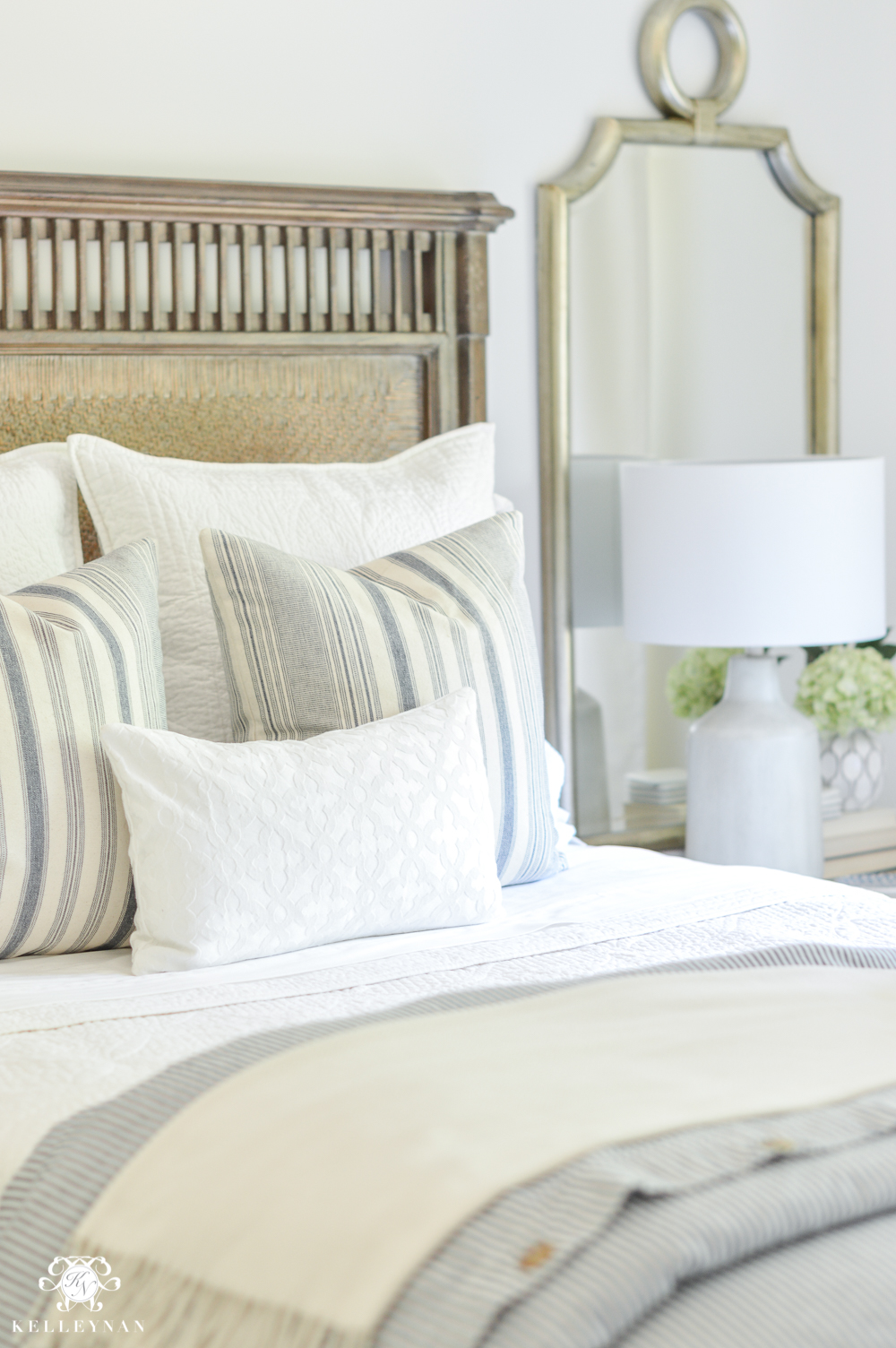 The blue denim linen at the foot of the bed, also from Willa Skye Home, brings in just a bit of "umph" to pump up the neutral palette. These may be making their way to the living room for summer; I am all over this indigo color! You've probably noticed from past posts that I've had several pillows made by Willa Skye Home – I will say, they have turned me into a bit of a quality pillow cover snob. But, since I have started using them throughout all seasons all over the house, I'll totally own that title 😉
The bed was the first piece to set the stage for the room. And, from only the small corner peeks I've shared, it has already been proven as a favorite in the room. While my tendency is to gravitate toward the upholstered/tufted/nailhead trimmed beds, I wanted something warm, handsome, and timeless for this room. This Stanley Archipelago Platform cane bed from Wayfair (now on closeout!) proves that you can still achieve a light, bright look with using medium wood tones. This hefty beast isn't for the faint of heart. It is heavy and solid. Moving it upstairs in pieces almost did us in- a sure sign it's a keeper.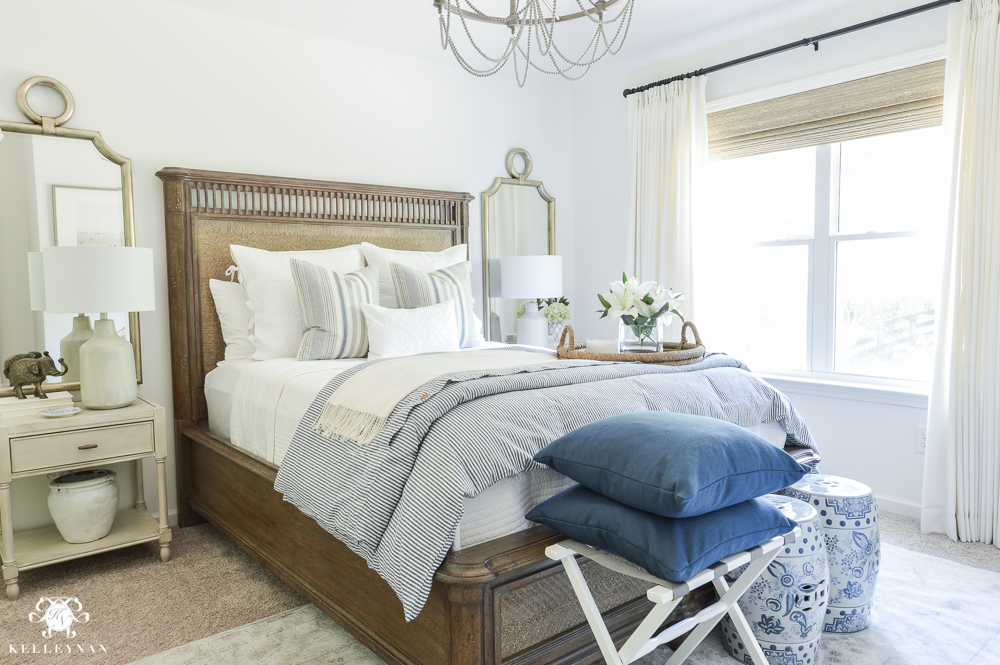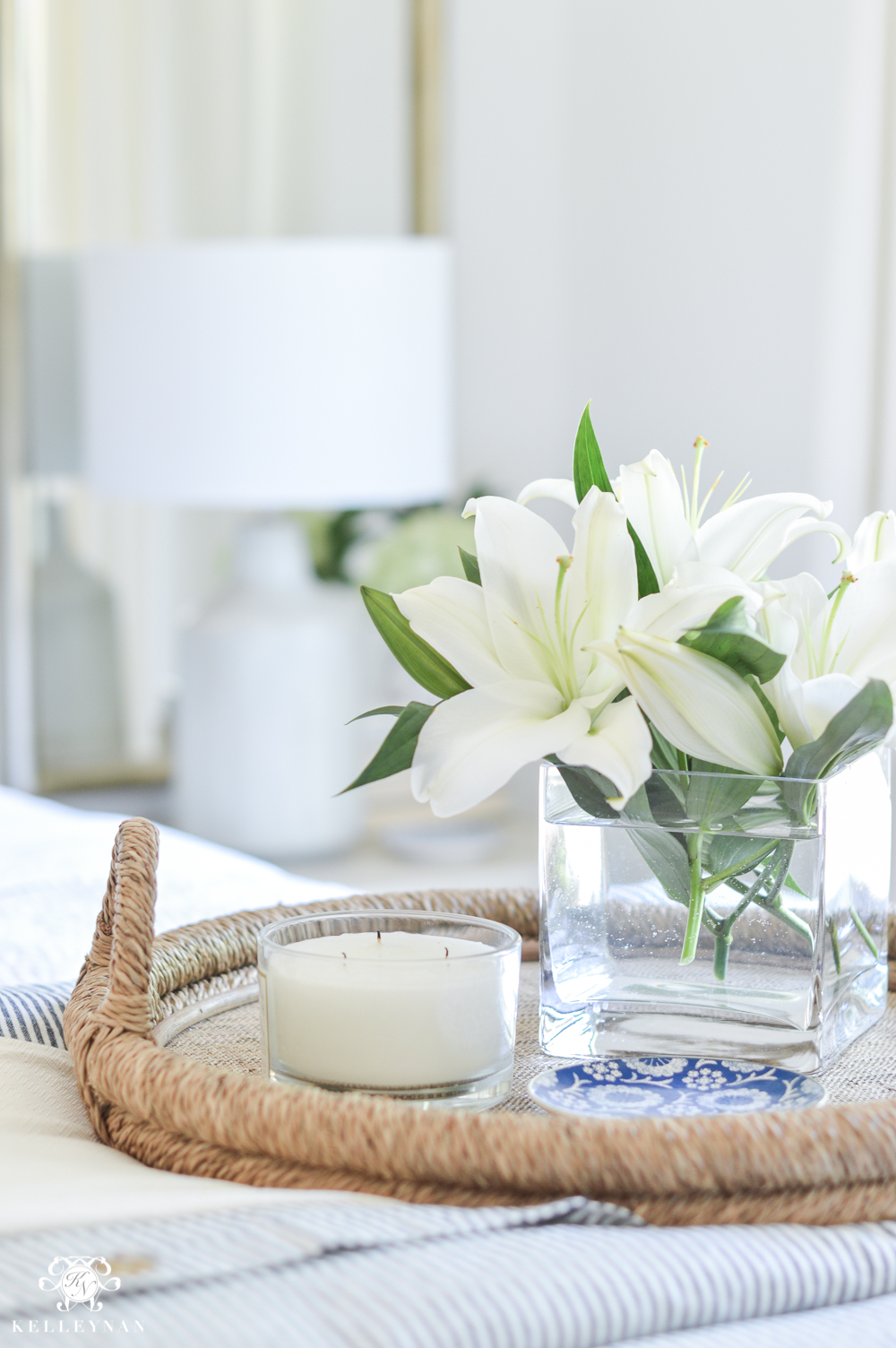 My husband pouted a little about taking down the ceiling fan but when he saw the result and impact this chandelier from Lighting Design Company made in our room with 10′ vaulted ceilings, he agreed that the former fixture couldn't compare. The finish is versatile enough to go with pretty much any materials and metals. If you get hung up on matching/coordinating, there are few occasions that this wouldn't work. But be warned, she is BIG and beautiful. See those closet doors? I ambitiously had it on my list to organize it and clean it out. Aw, that was a cute thought haha. That most definitely did NOT get done, but maybe soon some other time.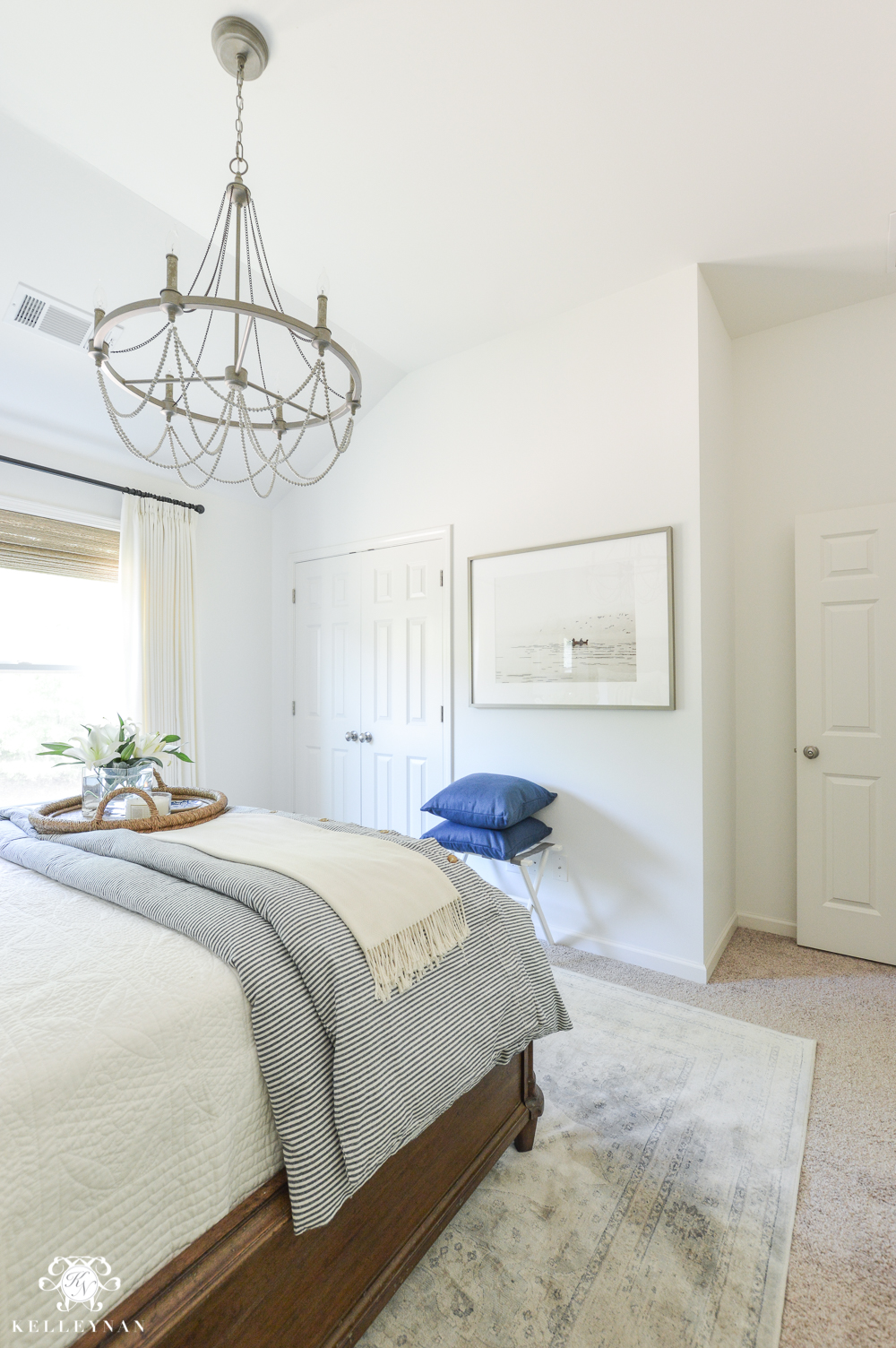 I so wish all of you could have see the story I shared on Instagram when this art from Minted arrived. I have loved this piece since before the challenge started (it even made it on my initial Week One design board). I talked about how it reminded me of all the fishermen in our family – and then, my husband came home and made a reference to a scene in The Godfather (which I haven't seen). If you've seen it, you may know what I'm talking about; if not, you're probably better off haha. This a 40×30, matted, in the champagne silver frame.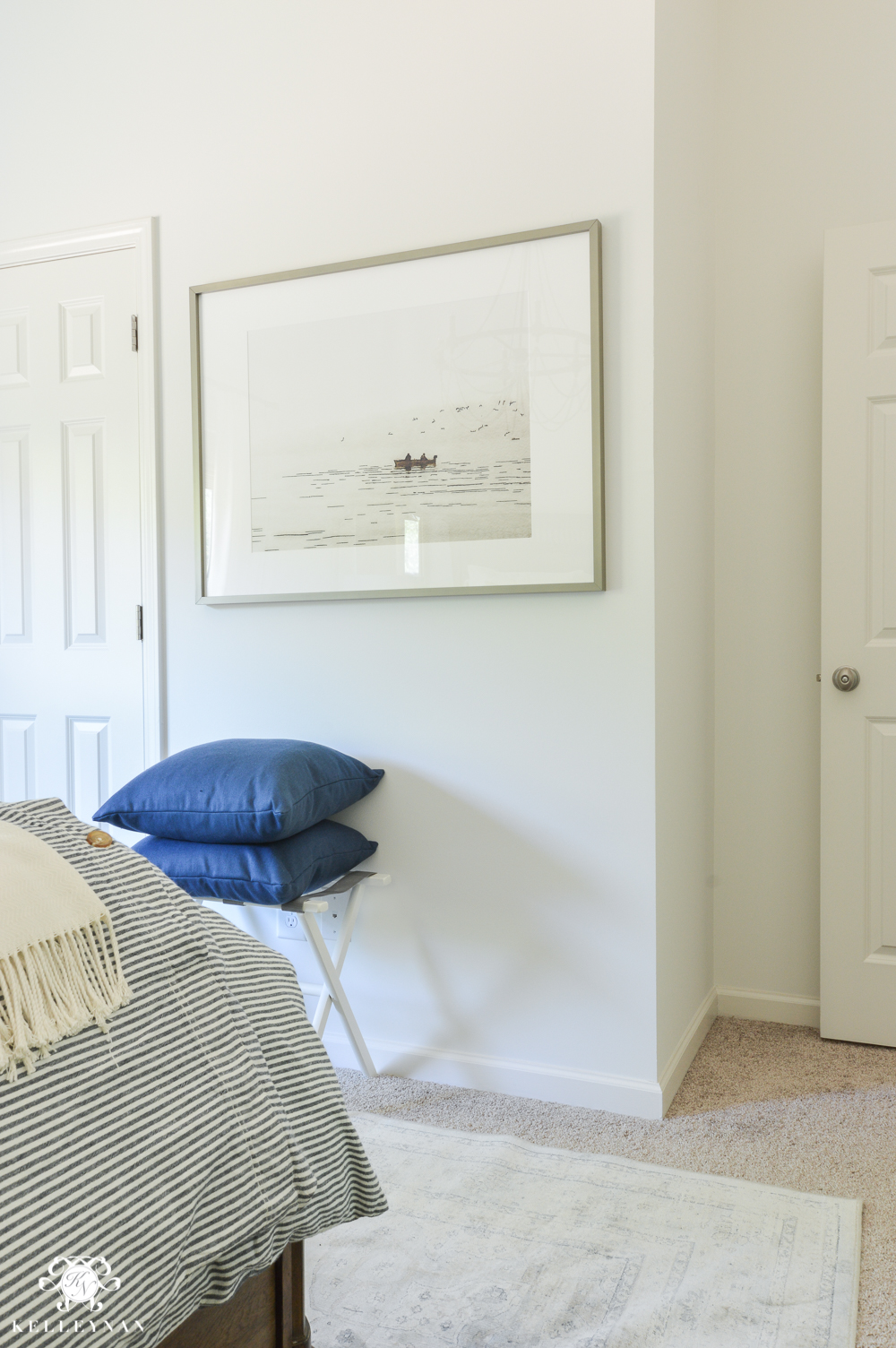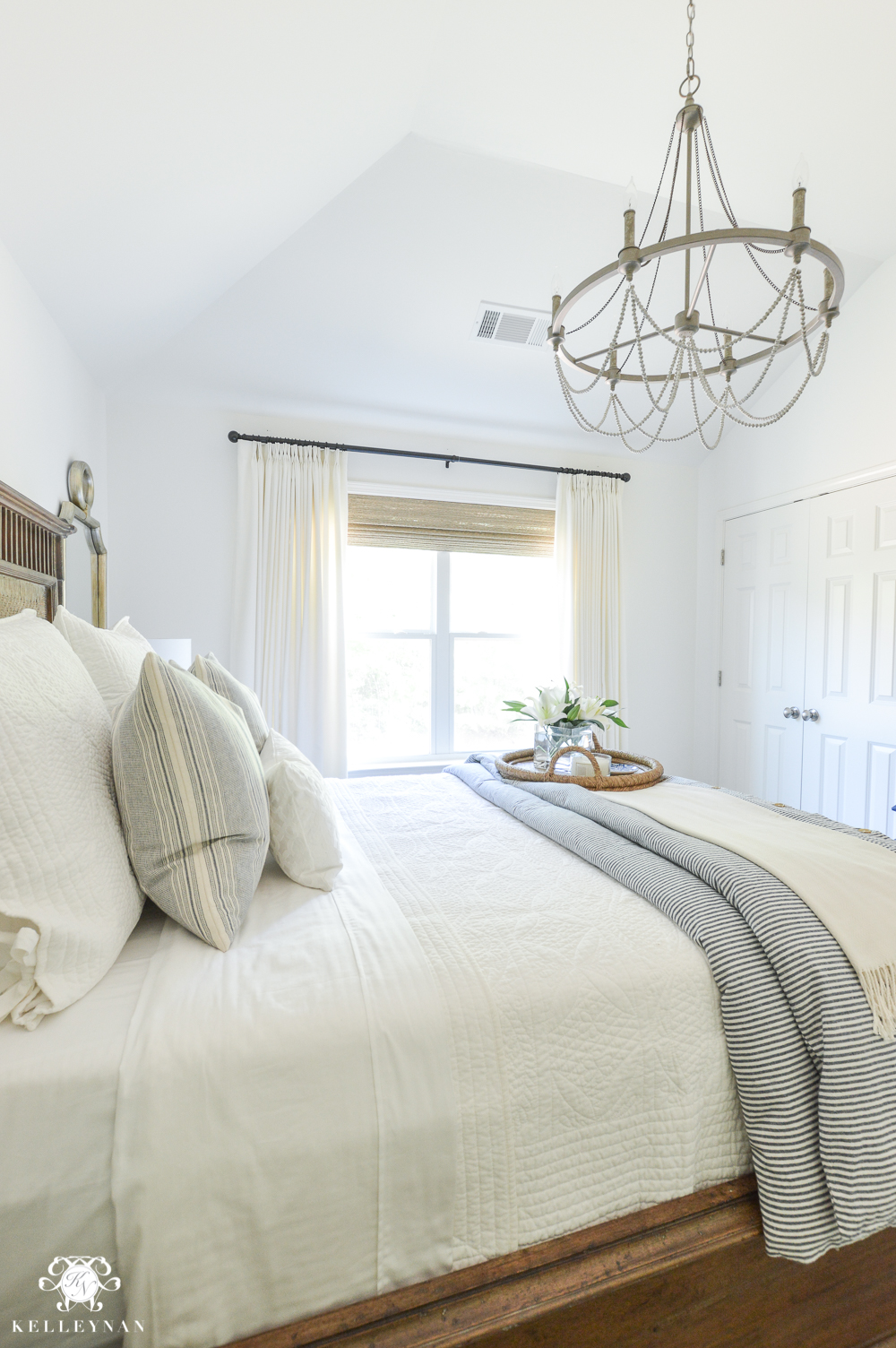 I'll save some of my guest room essentials for a different post, but you may get an idea of some I have tucked around the room.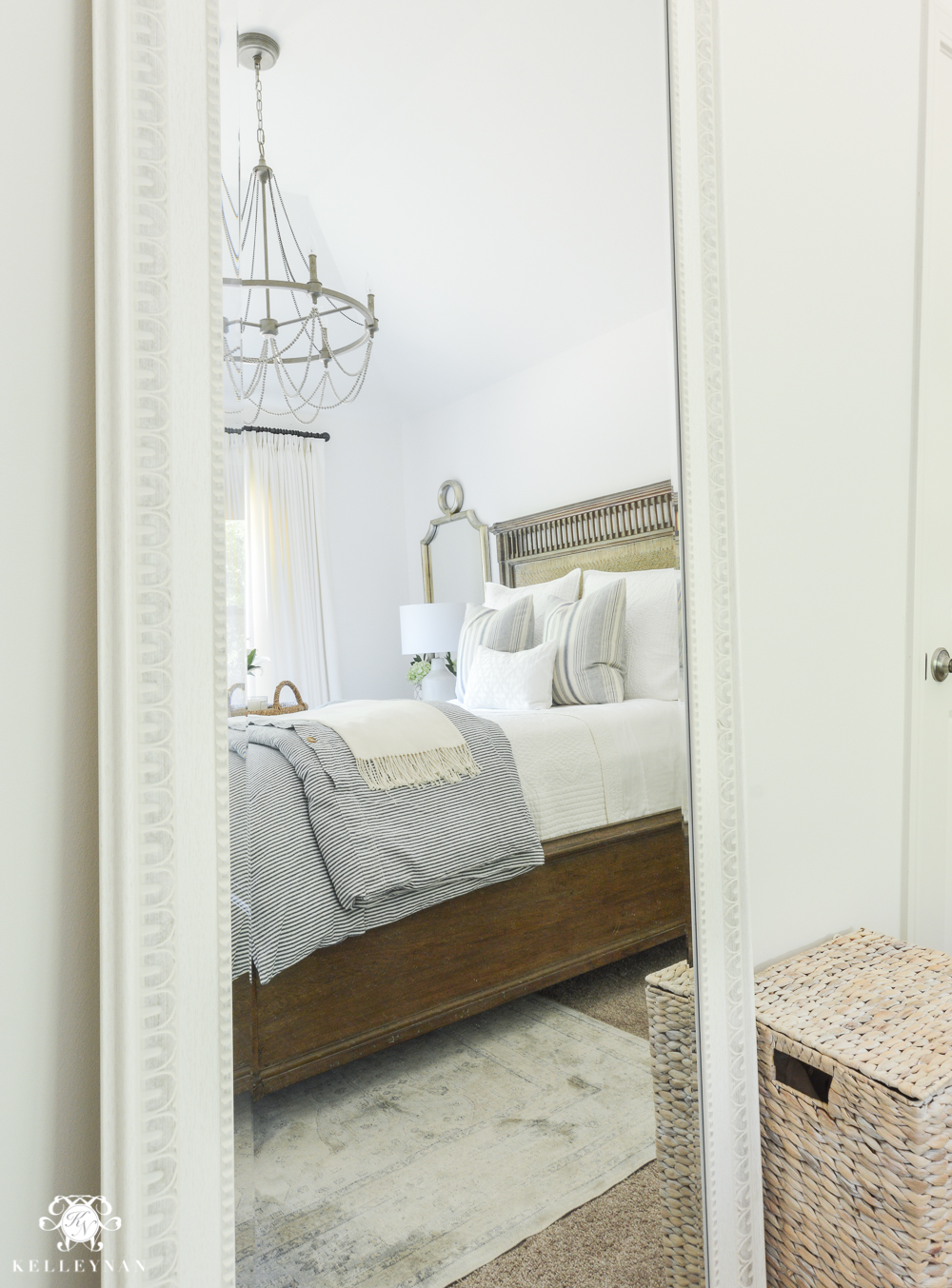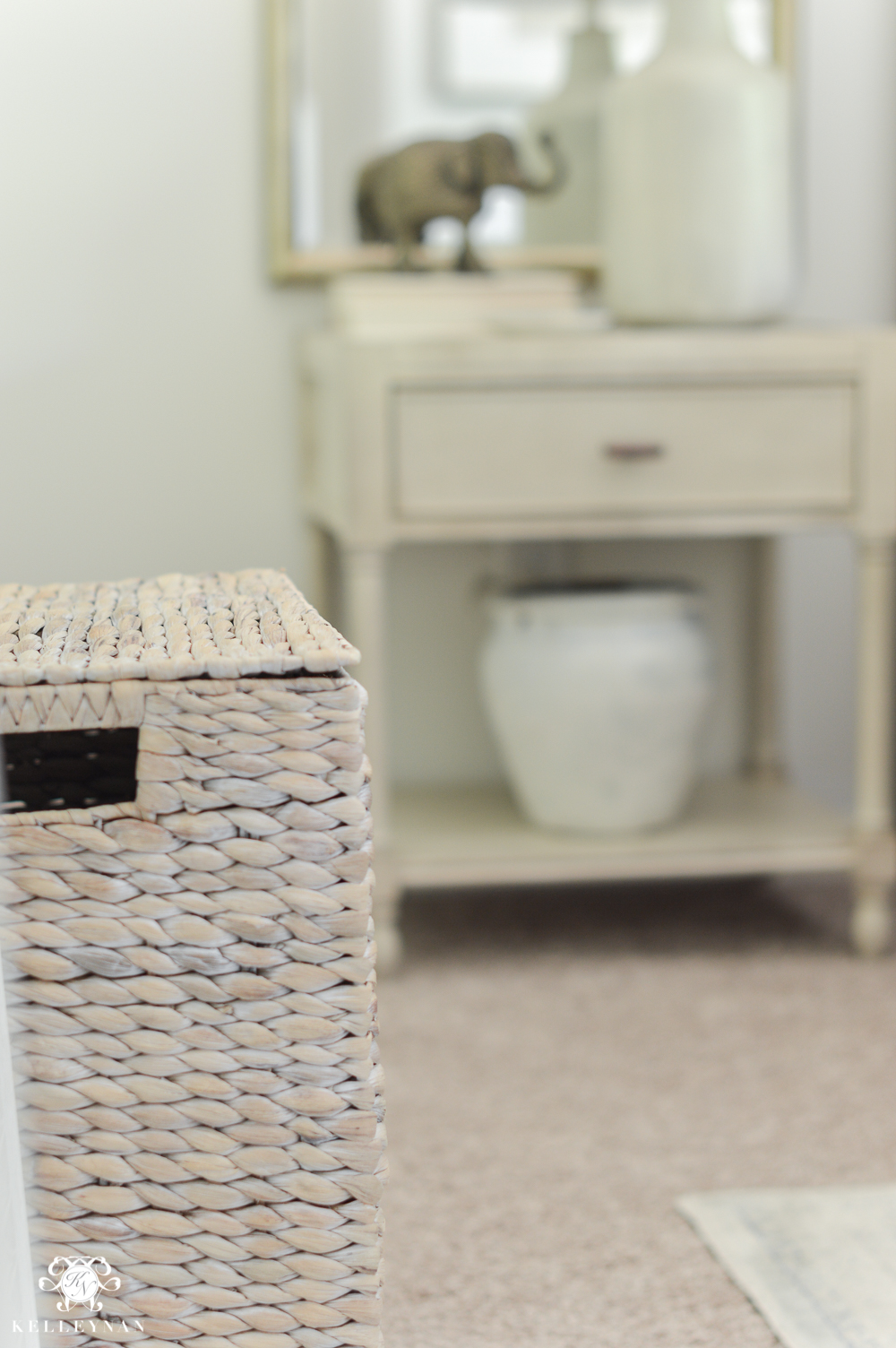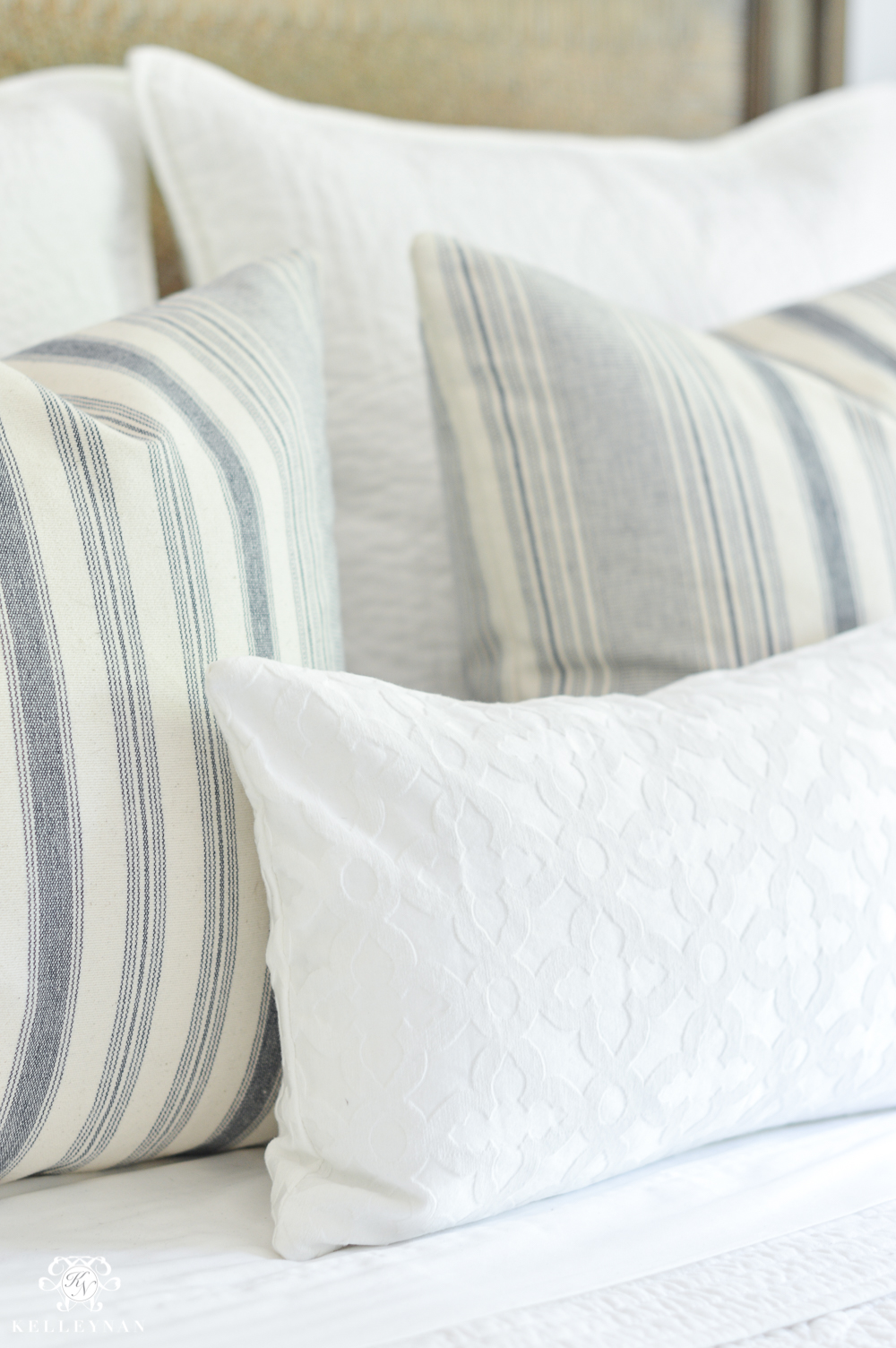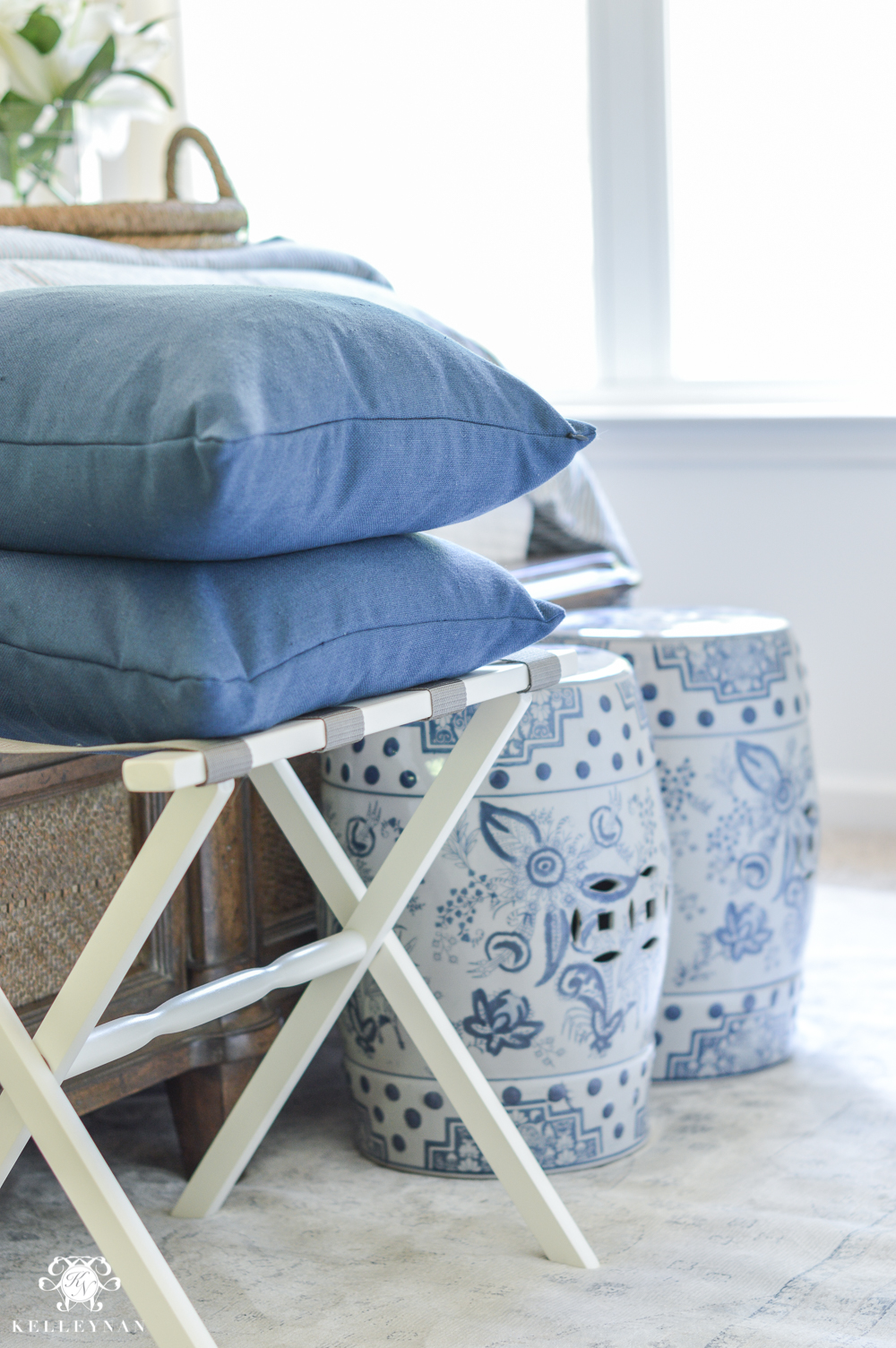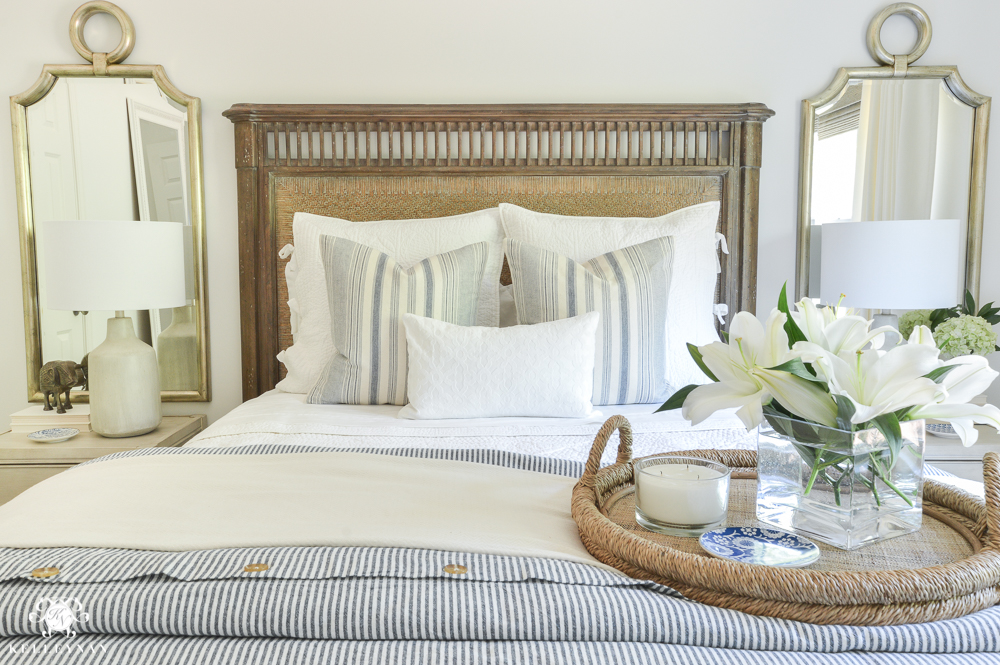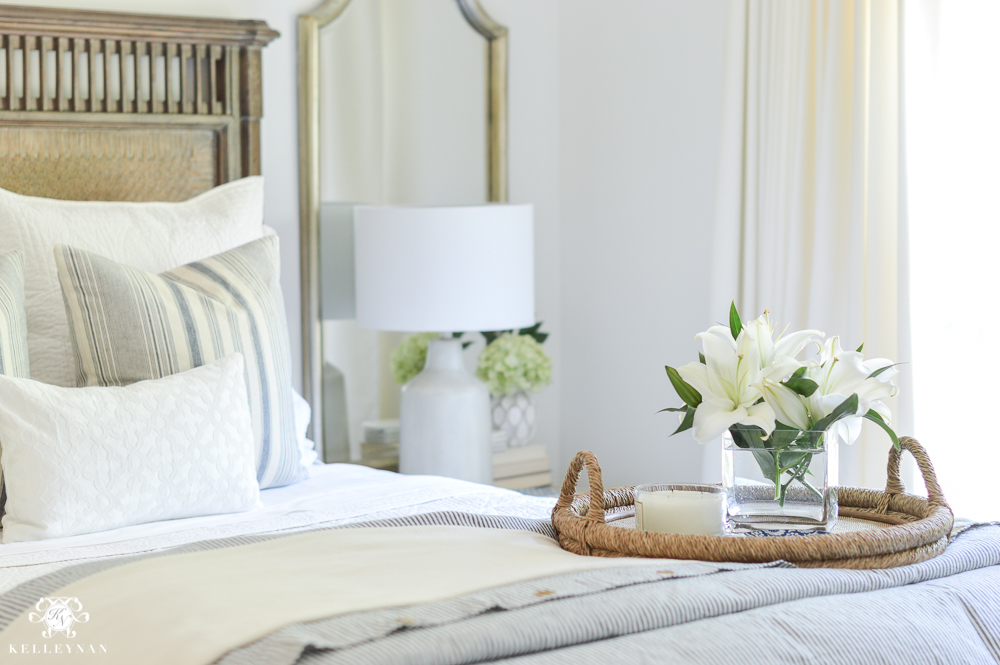 Since I was going classic and a bit tailored, I was excited to do something I haven't done anywhere else in the house – custom pleated drapes with woven shades from Select Blinds. It only took two tries to get the drapes hung where they JUST grazed the floor. (Yes, I totally have a set of screw holes, totally visible that haven't been patched). Would you believe they are so heavy, I didn't even have to iron them? Total shocker and total win. I also beefed up the rod and ordered the rings through them also. Depending on the width you go with, they will recommend the appropriate number of ring packs. Each of my panels are double width with SIX packs of ring clips. The fabric is in Linen Weave Vanilla Bean (HERE) and the Designer Series Woven cordless shades are in  Bali Natural (HERE).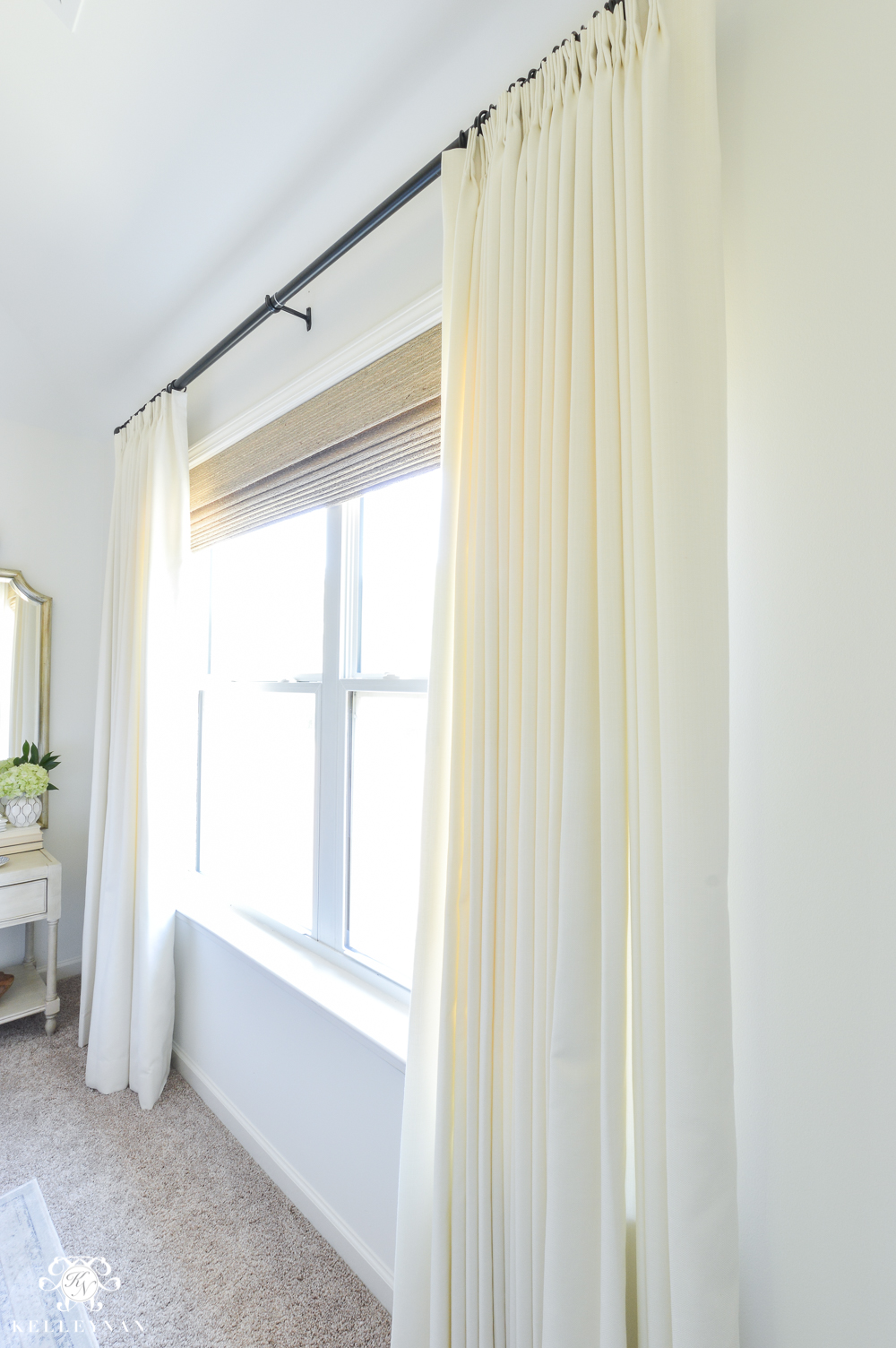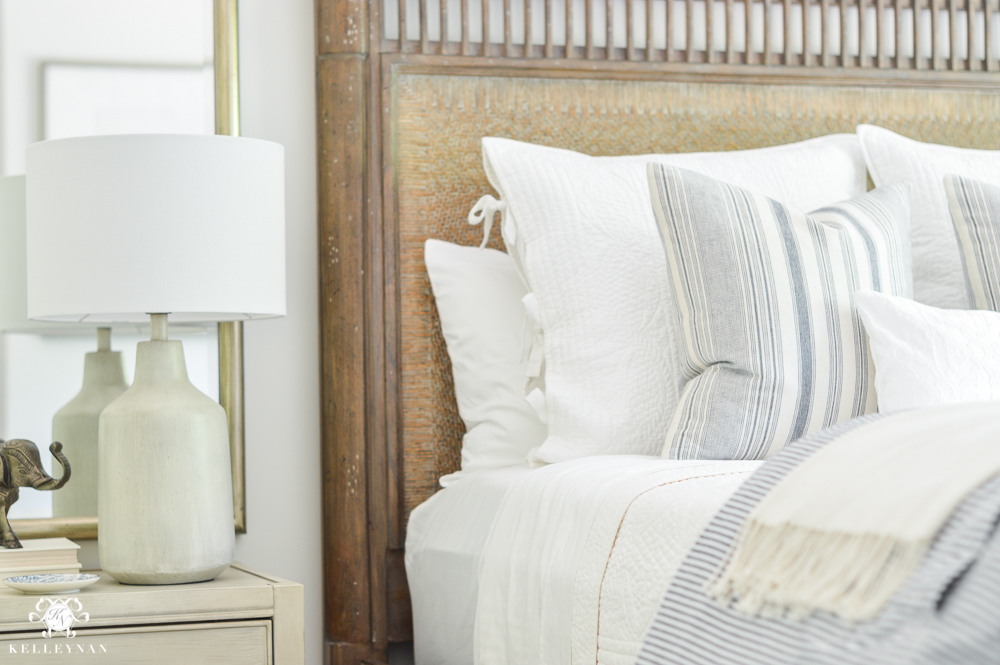 This is officially Dave's favorite room in the house and I think it makes him warm up to the idea about taking on our bedroom next 😉 Oh, and if you're wondering, we are going on week six of having the elliptical on the catwalk upstairs and the white guest bedroom through the Jack and Jill bath looks like a tornado hit it.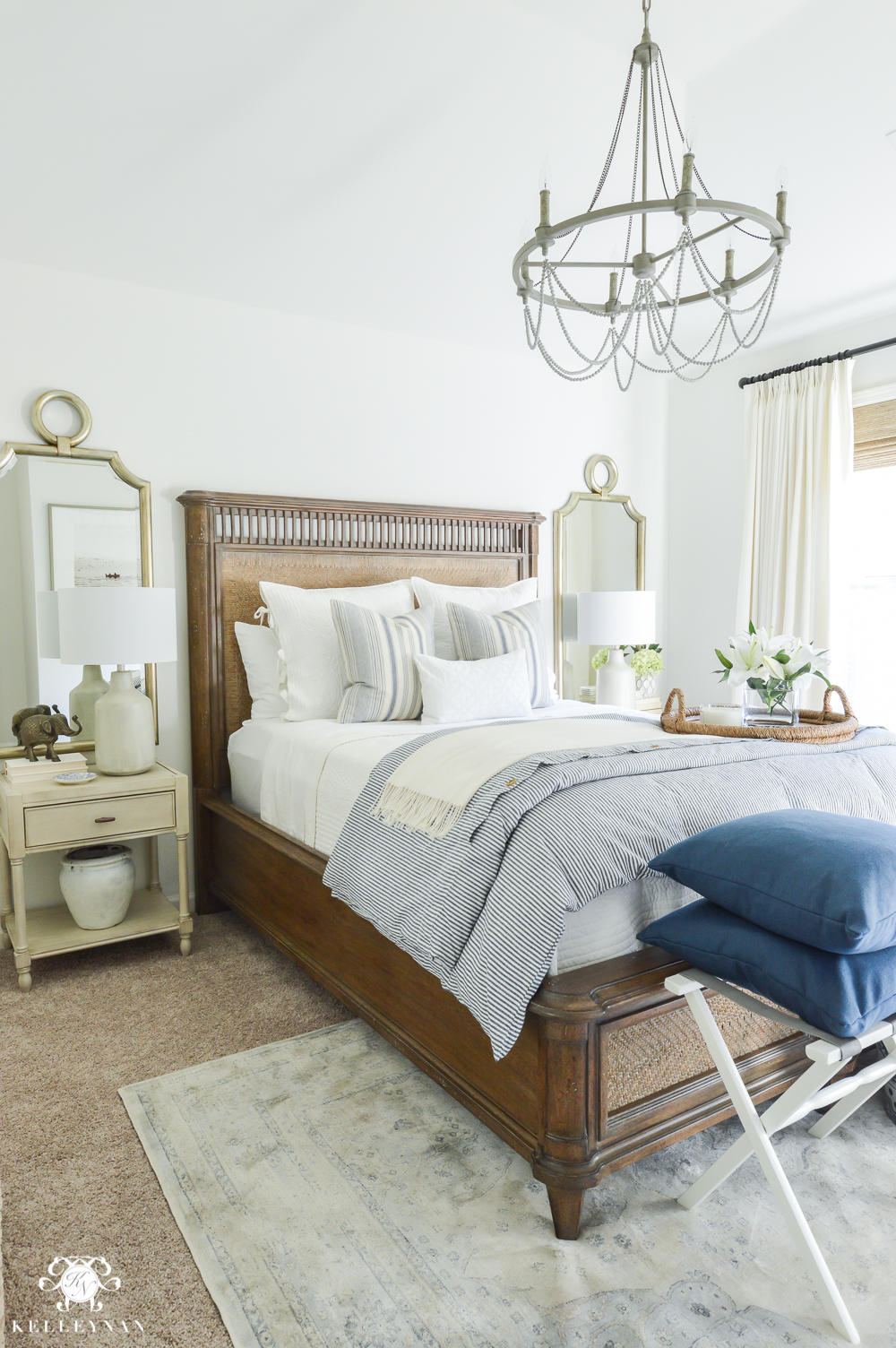 As much as I celebrate the ending of these One Room Challenges, swearing I will never take on the time sensitive stress again, I know in two weeks I'll be looking forward to planning my next project and room makeover for the fall. Until next time, friends! To see all my upcoming projects, you can sign up to receive my email updates at the bottom of this post.


Furniture: Archipelago Platform Bed | Safavieh Pagoda Garden Stools | Nightstands | Nightstand Hardware |
Bedding & Linens: White Quilt & Euro Shams | Blue and White Striped Duvet Cover |  Sheets | Center White Lumbar Pillow (12×20) | Blue Linen Pillows | Striped Pillows- HomeGoods |  Cream Throw- HomeGoods
Lighting: Murray Feiss Six-Light Chandelier | Lamps 
Windows, Walls & Floors: Safavieh Vintage Oriental Light Blue/Cream Rug | Fisherman Art | Bedside Mirrors | Curtains (Linen Weave Vanilla Bean with Bronze Drapery Rod & Ring Clips) | Cordless Woven Shades (Bali Natural) | Full Length Mirror- HomeGoods |
Accessories: Luggage Rack | Blue & White Trinket Dishes (Trio) | Woven Tray- HomeGoods (SIMILAR) | Coasters | Hamper- HomeGoods | Elephant- HomeGoods | Small Nightstand Vase- West Elm (no longer available) | Driftwood Bowl- HomeGoods | Pot- HomeGoods 
Paint: Alabaster by Sherwin Williams
---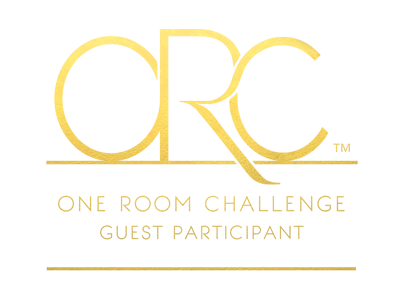 To check out the other bloggers and their project reveals, be sure to visit the link-up page HERE. And, you you can check out the reveals for the 20 featured bloggers (HERE).