I can't believe in just a few days, I will be photographing the final result of my One Room Challenge guest bedroom makeover. Not because it "seems like yesterday since I started", but because I'm not ready. I'm not even close to being ready. I am still waiting on items to ship from shops and warehouses… Oh. Man. I don't really have anything super labor intensive left, it's just that I can't do x until I do y, but I can't do y until I do z and z hasn't shipped yet sort of thing. I hit a few roadblocks this week and had to make some decisions. First, let's catch up. Last week's post was brief since I was in Texas, literally the entire week. Did you see my post on my travels from earlier this week (HERE)? Well I was back at it hard the moment I got home 😉 If this is your first time visiting, you can check out my previous weeks below for progress on the six-week guest bedroom makeover.
| WEEK ONE | WEEK TWO | WEEK THREE | WEEK 4 |
To make sure you catch my full, final reveal,  sign up to receive my email updates HERE.
*post contains affiliate links | click here for full disclosure*
Things rarely come together seamlessly. But rolling with the punches and coming up with alternative solutions is part of the fun. (Well, part of the fun after the panic part subsides). My first disappointment after getting home from Texas was realizing I wasn't going to be able to make those gorgeous night stands I had shared in my previous posts work. Last minute big bummer. Panicked and needing a budget friendly alternative quickly, I spent Friday night scouring options online. I found THESE which were basic but affordable and showed they would arrive by today (Thursday). Done. I ordered a pair. To "jazz" things up and to customize them a bit, I really wanted to update the hardware to something a little more transitional. The overall style can read a bit county and more traditional than I was going for so I wanted just a touch of edge. I emailed my friends at Amerock at midnight on Friday night. Bless their hard-working-in-the-middle-of-the-night-on-a-weekend hearts, I heard back from them immediately. I LOVED the pulls in my last One Room Challenge office makeover project (HERE) so I was thrilled to find out they would send them quickly. They are the reason I didn't spend the weekend pulling my hair out, clumps at a time. So here's the plan I devised.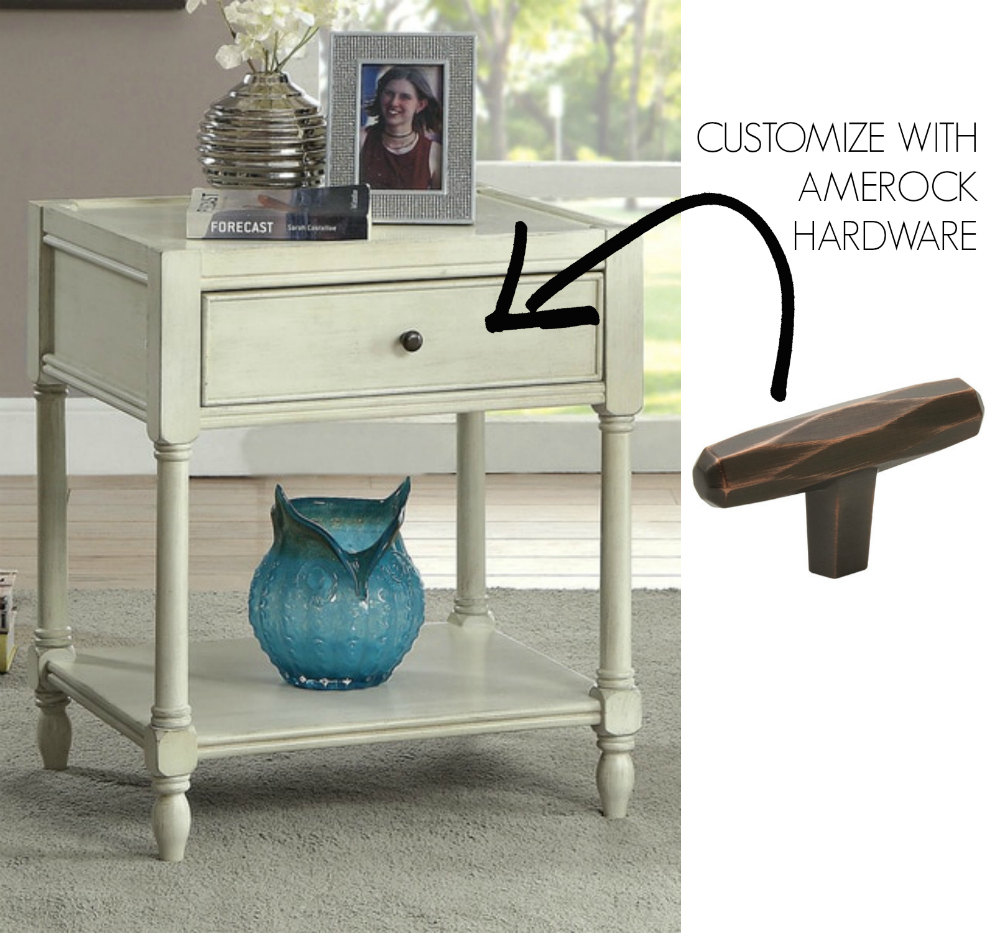 Simple, right? Well, I have been stalking my order status and started panicking all over again when the night stands weren't showing as shipped. When they finally did, I had a new arrival date (that I just saw today) as being a next Monday arrival. Umm… I needed to photograph the room by Saturday. But, Week 5 Kelley Nan is learning to roll with it. I will just have to make it work. And, I'll be praying for no delays. Mirrors can't be hung until they get here, and accessories can't be determined until I see exactly what I'm working with when the lamps are on top.
Speaking of mirrors and lamps, both arrived from hayneedle.com this week! These were some of my most anticipated items in the room. I wanted big statement mirrors (HERE) and lamps that looked a little more modern against some of my more traditional room choices (HERE).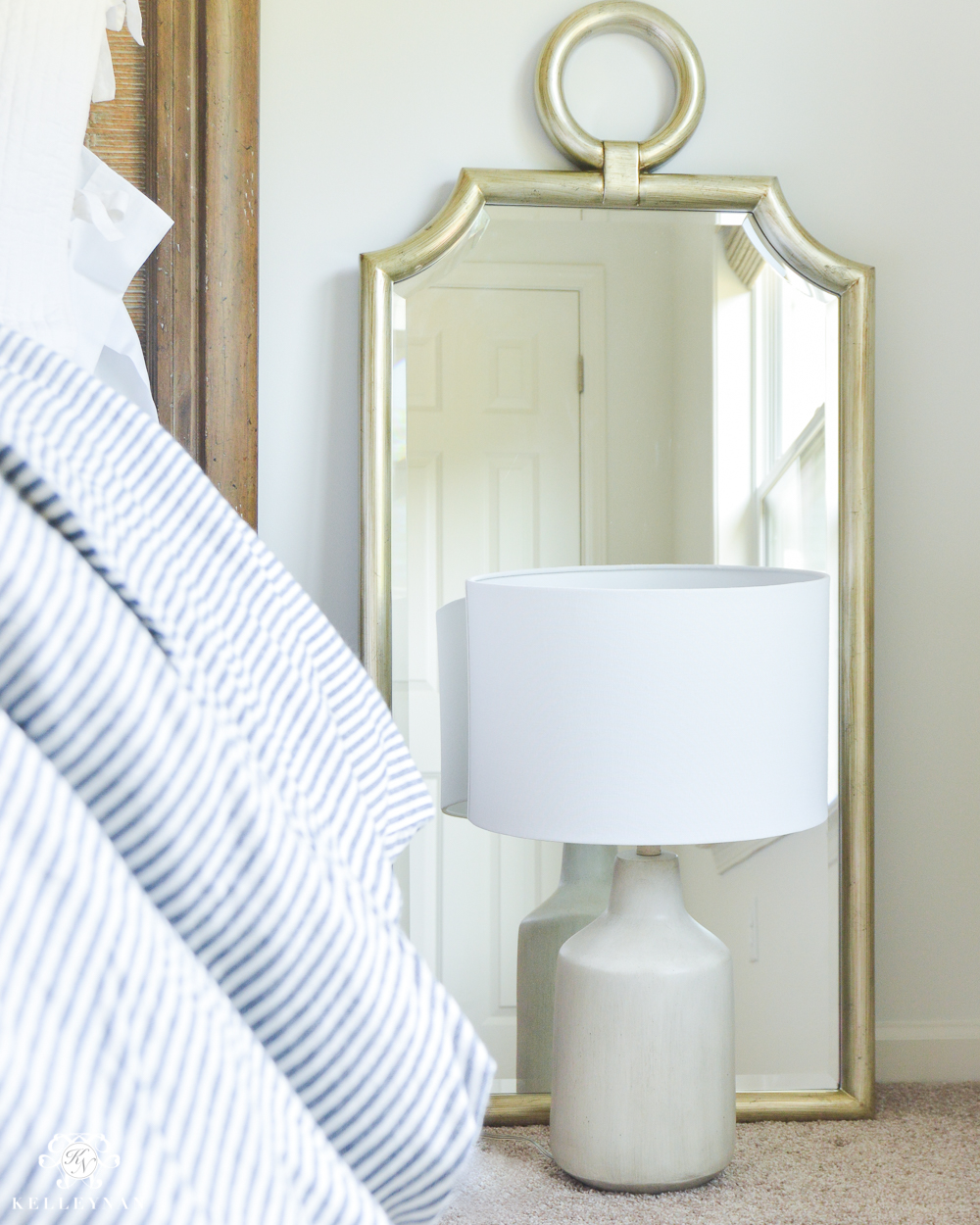 They may both still be on the floor but I couldn't wait to rip into those boxes and get them into the room. I shared the mirrors on my Instagram stories as I was unboxing them and immediately had a stream of messages from you guys 😉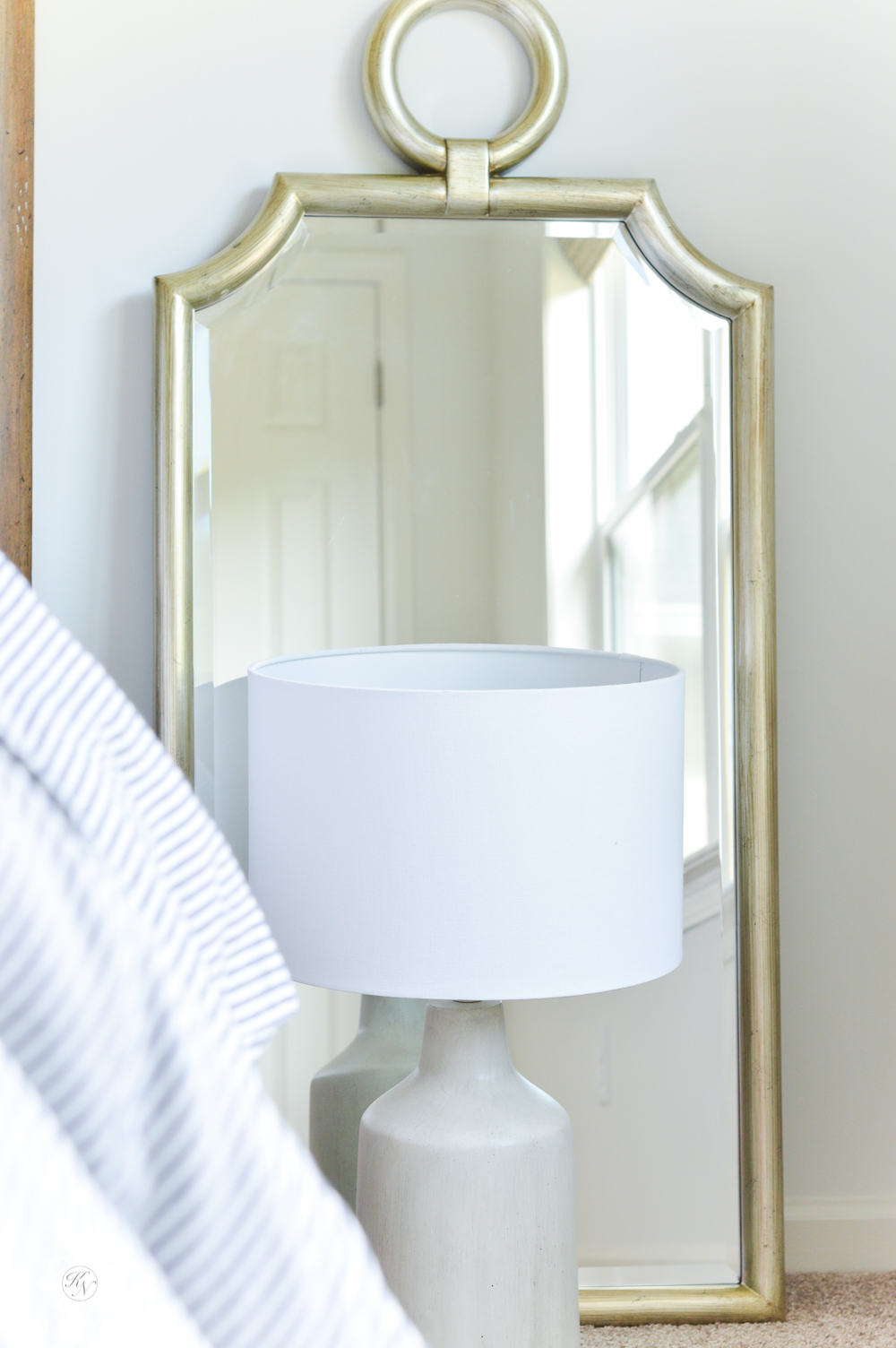 One thing to note on the color is that they are definitely a champagne-y finish. They have various tones that make them easy to coordinate with pretty much any metal you want.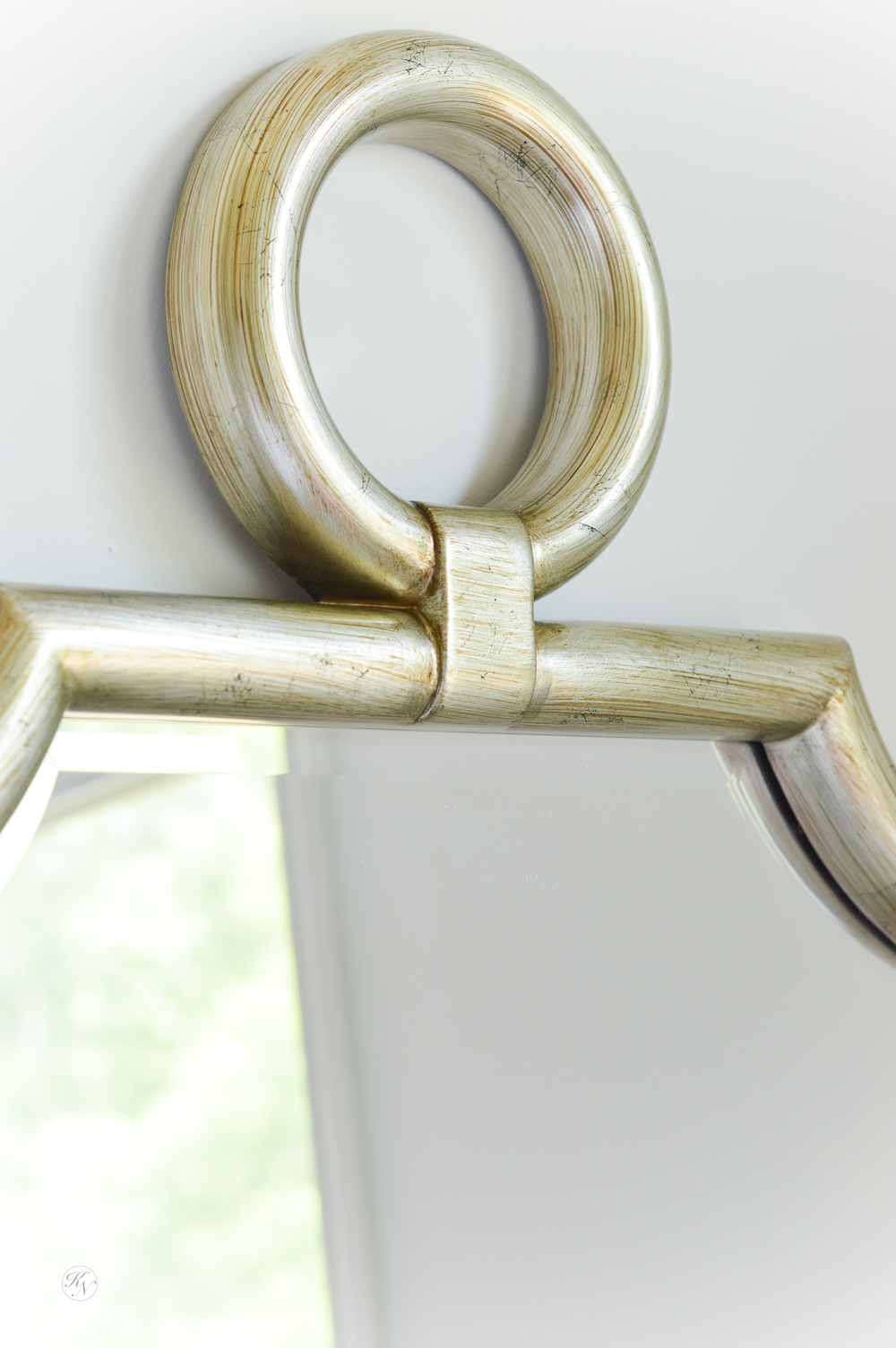 I am loving the matte finish on this lamp. *all the heart eyes*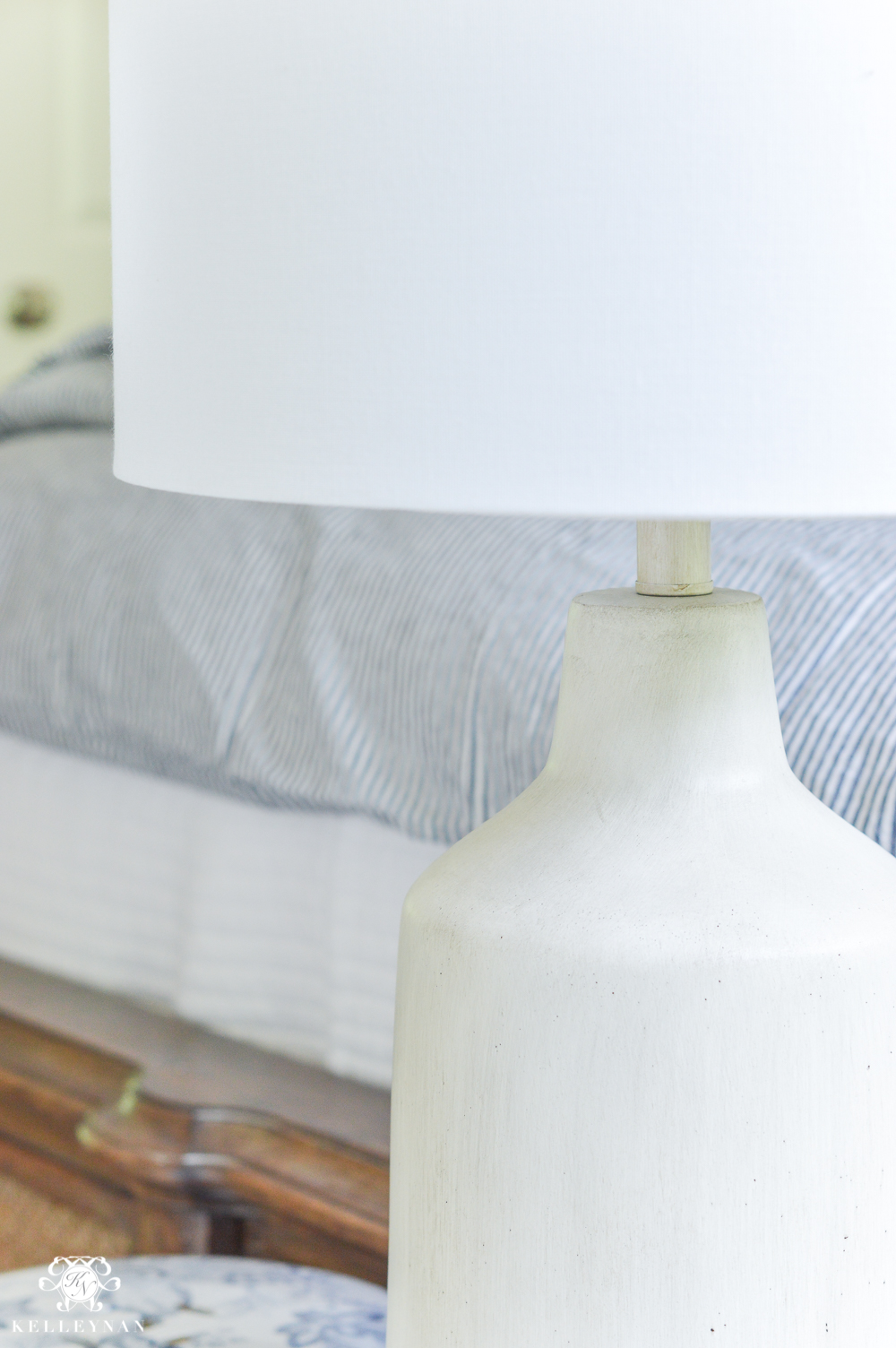 A big accomplishment was getting the woven shades hung. The curtains arrive tomorrow but even as-is, I am loving this simple, clean look.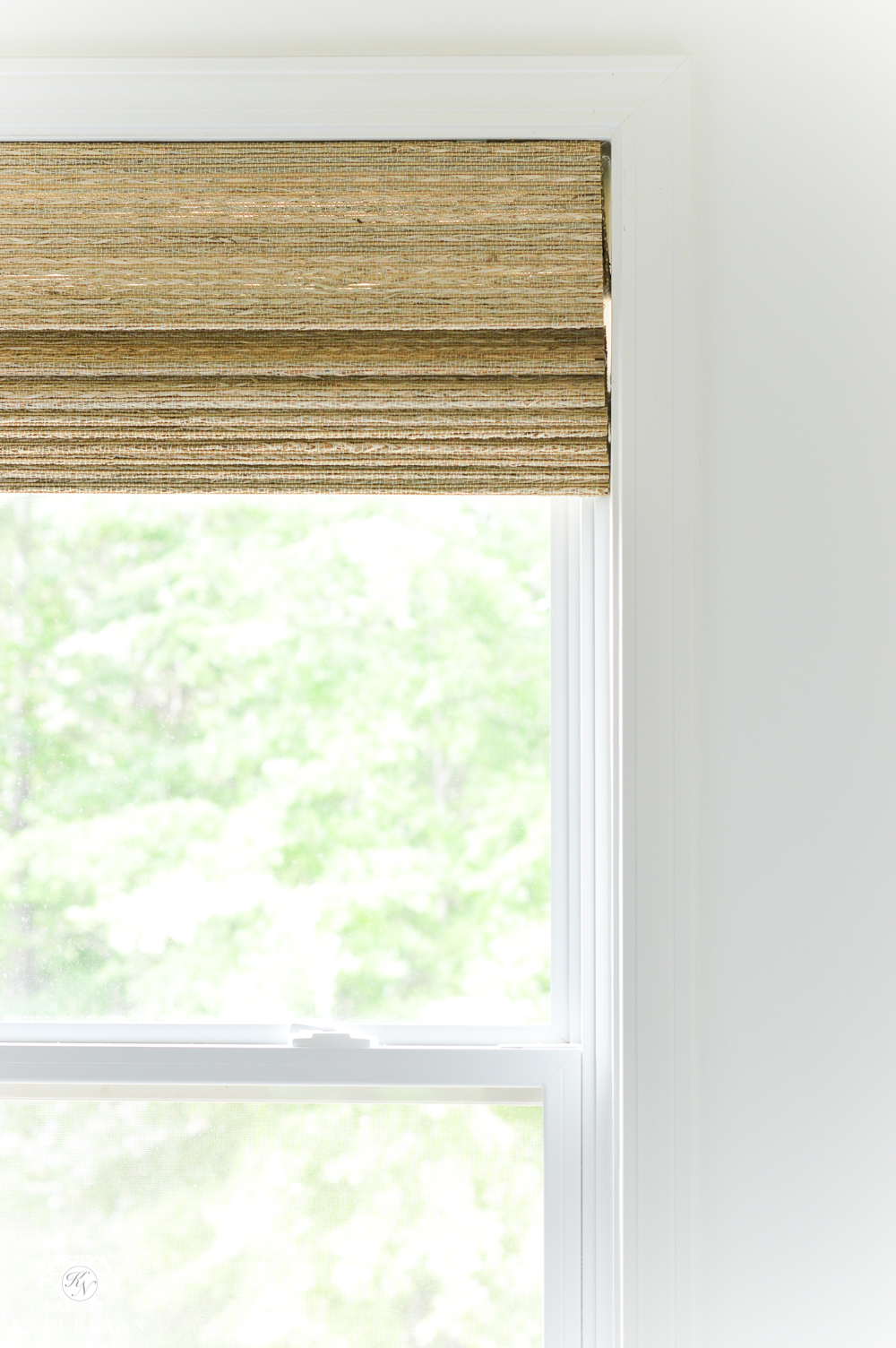 I sent my measurements to Select Blinds and they were custom made to my specific dimensions. I have a lot of white faux wood blinds on windows throughout the house and as soon as I took them down to hang these (in Bali Natural from the Designer Series Woven Woods Shades collection), I wanted to rip down the rest of my old blinds in our home.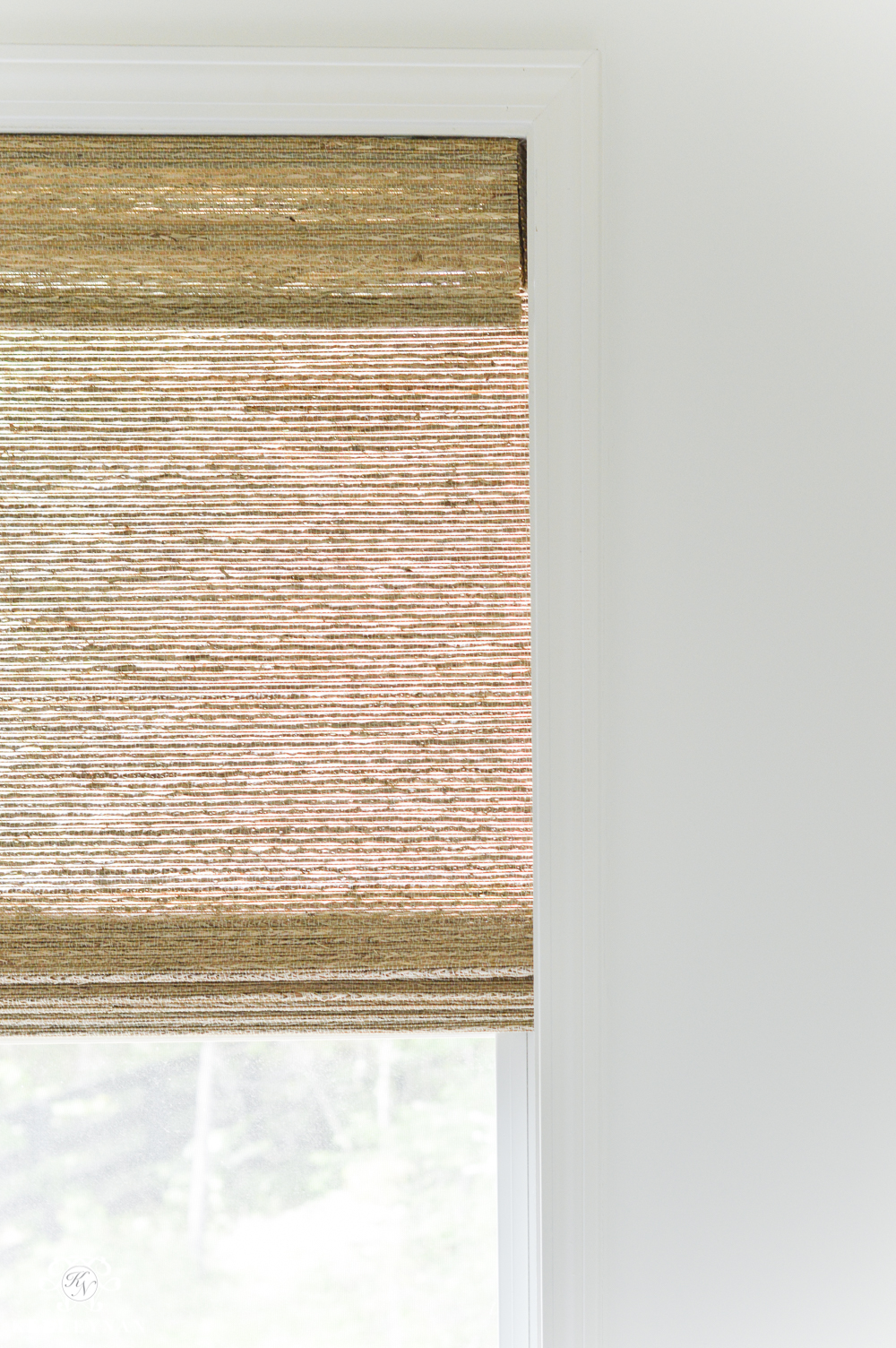 They are neat, structured, and dress the window with just the right touch of sophistication. I also went for their cordless option. TOTALLY the right move. I can adjust them up and down without worrying about the sides fraying from strings that get in the way. I opted not to get them lined and they still block the light really well.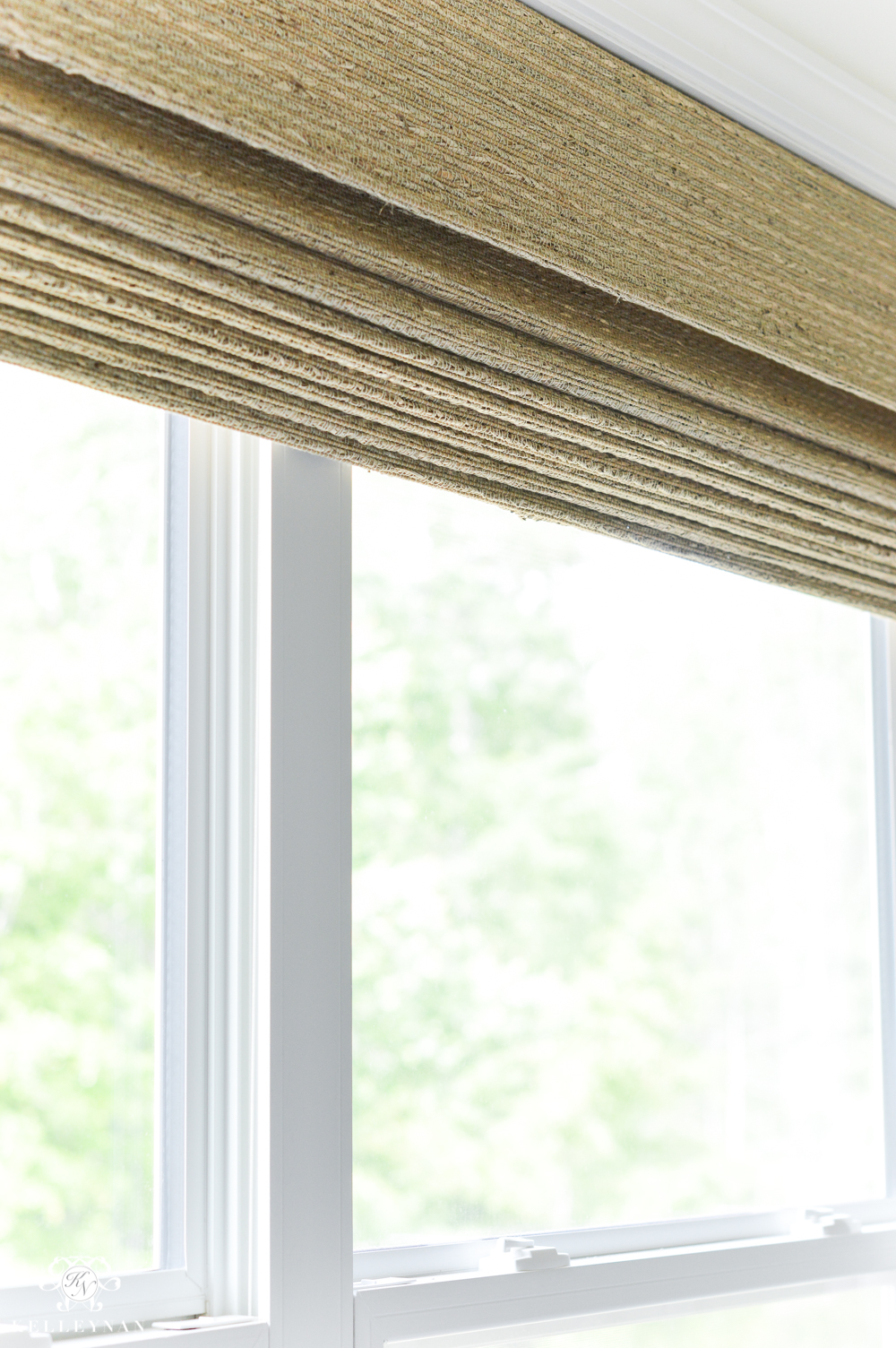 Another fun guest essential I brought in was this gray and white luggage rack. Yes, I could have gone with a standard black and wood/metal and tucked it in the closet, but I wanted something coordinated and cute I could leave on display. It also comes in white on white and navy on white 😉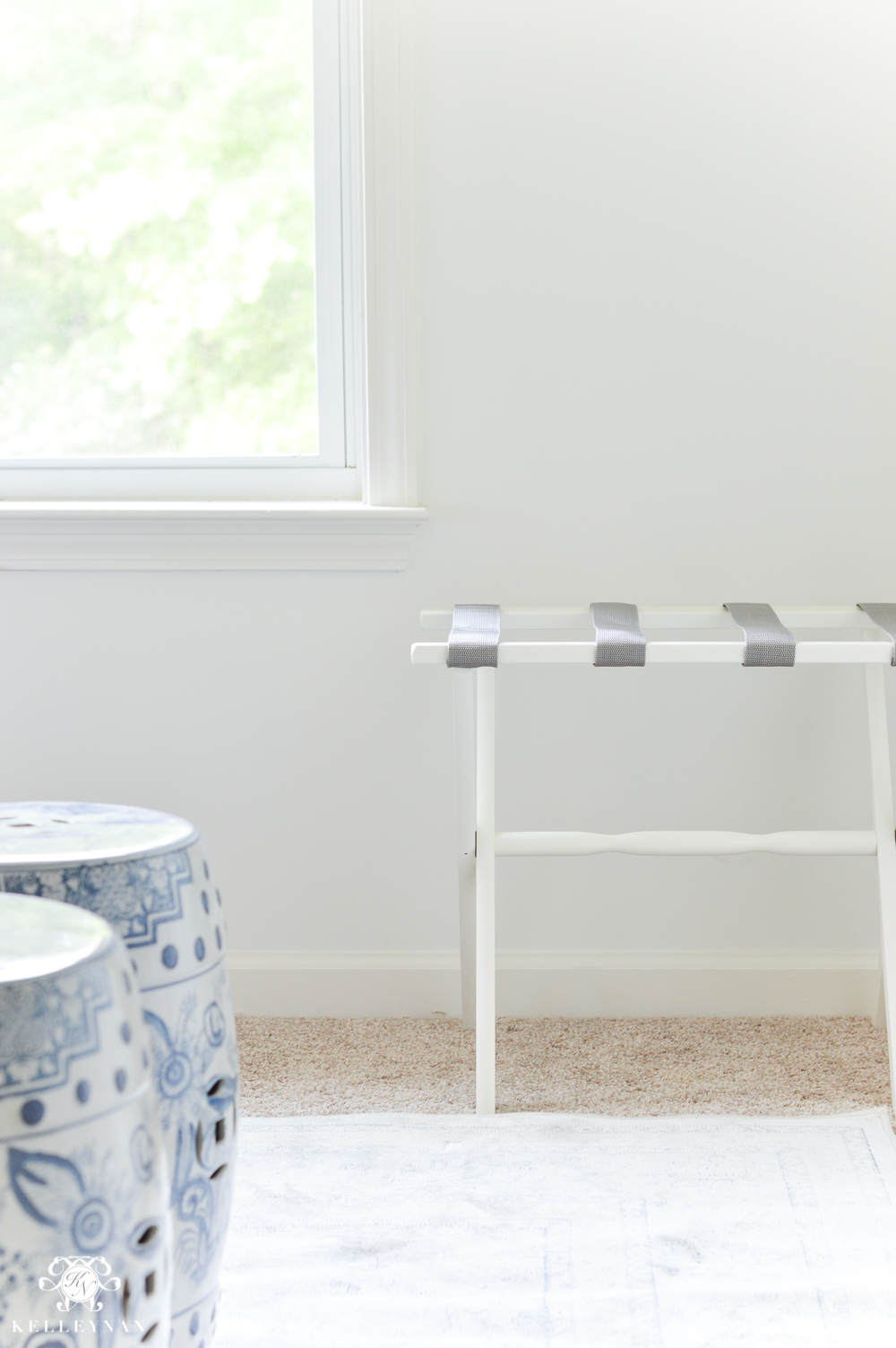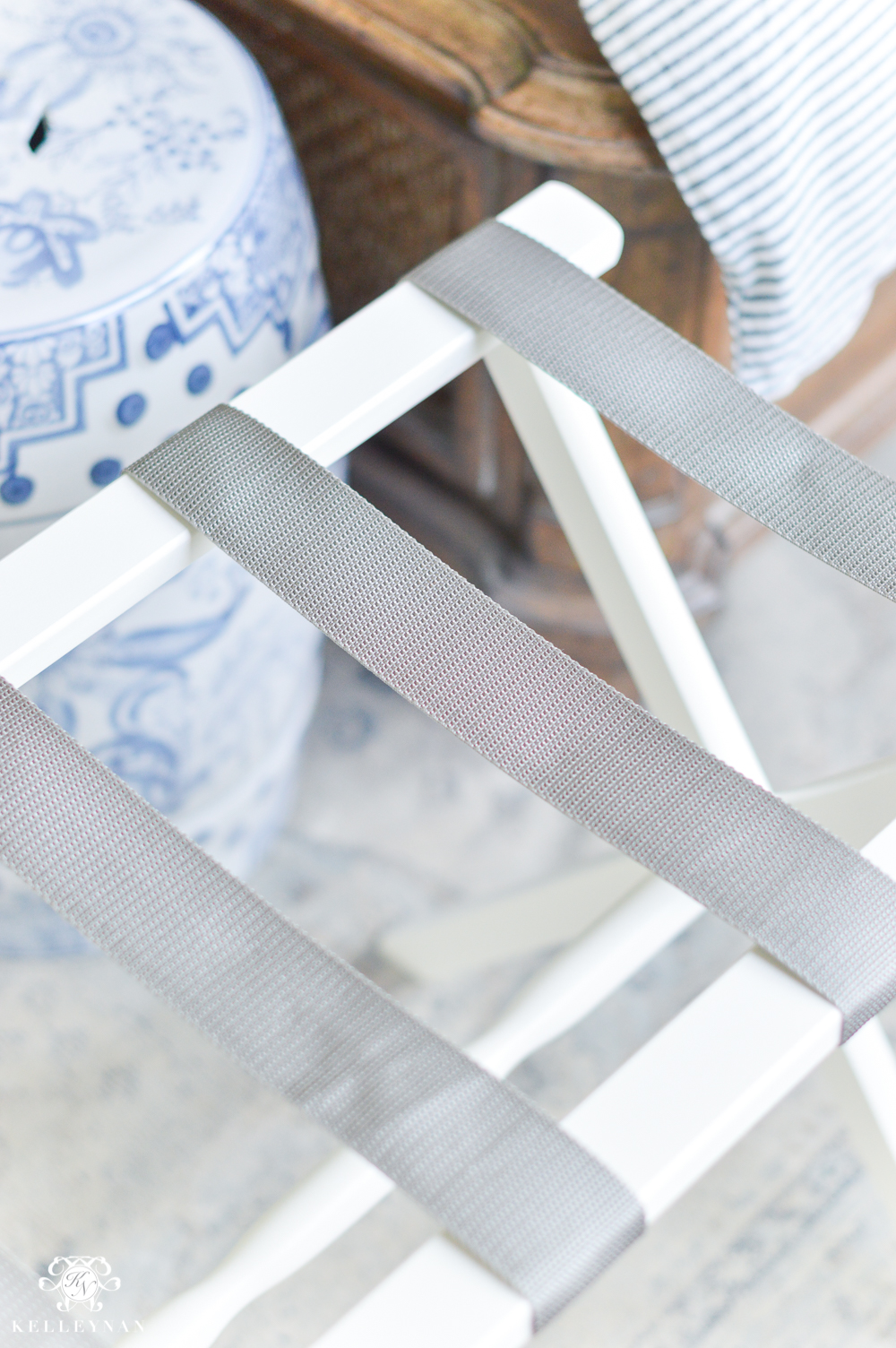 The last addition to the room this week was a SUPER tall mirror from HomeGoods. I scored this one for less than $80. I've mentioned before, I think every guest room deserves a full length mirror 😉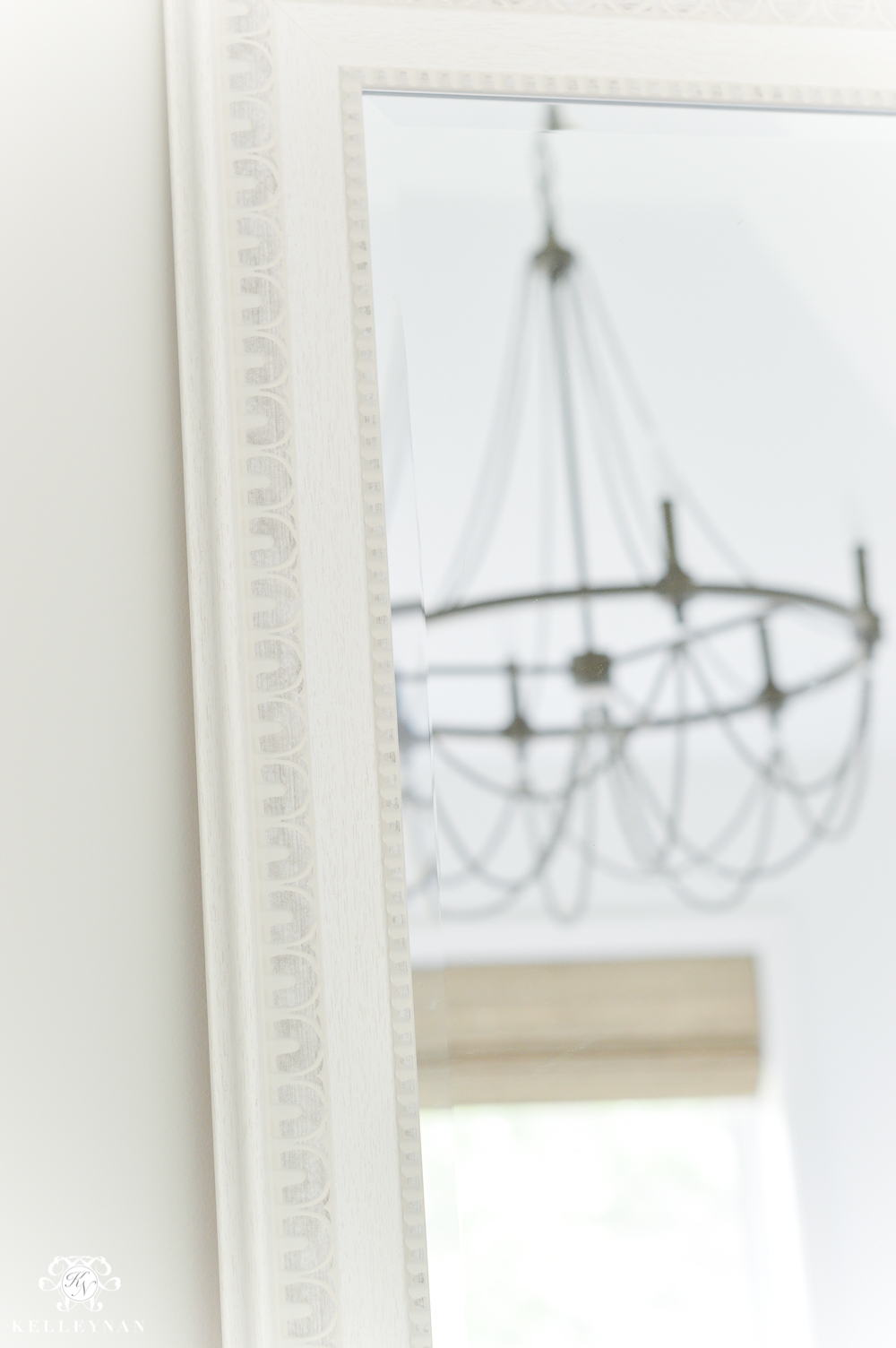 Y'all, I'm nervous about the next several days. I have my fingers crossed that everything will get here on time, especially since it now looks like I won't be photographing when I had planned and needed to. Hopefully, this time next week, I will be sharing this full space, night stands and all.
Here's where I stand with room decor and installation.

With only a few days left, here is what I have left on the list.
Receive and hang art (arriving Friday)
Receive and arrange pillows (shipment pending)
Switch night stand hardware upon arrival
Install nightstands and style/accessorize/stock with guest essentials (arriving ??)
Hang mirrors
Install drapes (arriving tomorrow)
Shop for accessories and guest essentials
Organize guest bedroom closet (likely not happening before the reveal)
Final touches (steam bedding, inaugural flowers, etc.)
A big, HUGE thank you to this week's featured room sponsors, for contributing to this project.
Hayneedle | Select Blinds | Wayfair | Amerock | Pottery Barn | Lighting Design Company
Don't miss the reveal! Have the announcement delivered straight to your inbox next week by signing up for my emails at the bottom of this post.
---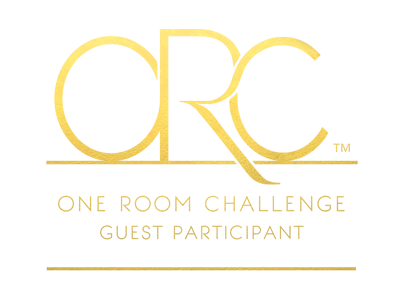 Thank you to Linda of Calling it Home for hosting this highly anticipated bi-annual event! To check out the other bloggers and their projects, be sure to visit the link-up page HERE. And, you you can check in on the 20 featured bloggers for Week 5 (HERE).