Friends, I've been home from Texas for five days and still have things spread out on the kitchen counters. It seems like however long you're gone, it usually takes twice that time to come home, pull yourself together, and get your life back in check. Can you relate? If you follow me on Instagram, you may have caught some of my journey through my stories. My husband is a proud Texan – and when I say "proud", I'm not just using adjective to describe his roots. He is "proud" as in he makes references to the good ol' days and reminds me every day just why Texas is the greatest state that ever was. He's also a big history buff so combine his wealth of knowledge with his state allegiance, you better believe I've heard more than once why Texas is the only state that can fly its flag at the same height as the U.S. flag. There is one week in particular in which he always asks if we can head out west to visit San Antonio – Fiesta Week. If you've never heard of Fiesta Week in San Antonio, it's a 10-day long festival, dating back to the 1800's in honor of those who fought at the Alamo. (Don't worry, I'll get to the deets in a bit 😉 ) This year, we cleared our schedules and made plans for me to attend my very first celebration. The stars aligned just right because not long after, an opportunity came up for me to meet some friends in Dallas in the days leading up to our San Antonio trip. Done! Even though it was a conference, I'll take any opportunity that brings me together with some of my tribe who are spread out all over. For someone who stresses about "being out of the office" and abandoning responsibilities back home, taking three days away to a full week was a lot to swallow. But, I committed. And then basically forgot about it all and didn't plan a single thing until the night before my plane left for Dallas.
*some affiliate links included*
Knowing I would have to pack multiple outfits (day and night) for a full week was a tall order. And a challenge I didn't even decide to think about until about 7 hours before my flight. I pulled an all-nighter, left my closet in a pitiful heap, and headed out in the dark morning with a suitcase I knew felt too heavy, to make the trek to Atlanta (yes, even navigating around/through the collapsed interstate). My intuition was right, by the way. After spending two+ hours on the road, getting car sick from the airport park and ride, I hoisted my luggage on the scale to find it was eight pounds over. Now, I've been in this place before. And, I know that if you have a generous agent, they may let a couple pounds slide. But, not eight. And, not today. I scooted to the side of the walkways and flung open my suitcase, grabbing things that looked bulkiest. Four pairs of jeans were shoved in my purse and computer bag. (Don't ask why I was taking four pairs of jeans to Texas, in addition to the pair I was wearing haha). The weight came down four pounds and it was enough to get me through without the $100 fee (just a "heavy" tag tied to the side). Waddling through the airport with extra unintended luggage is not comfortable. Or fun. Lesson learned- plan better next time. The top I was wearing (HERE) had thin tinsel-like metallic strands woven throughout. Apparently, I lit up like a Christmas tree (get it?) going through security which earned me the mother of all pat-downs. My friend Brittany of Addison's Wonderland was flying out with me and she had a series of her own challenges after leaving her laptop in the security line. We eventually made it onto the plane, I introduced her to Swedish fish (my flight snack of choice), and we headed to Dallas to meet up with our friends.
We met our San Diego girl, Erin at Sunny Side Up, at the airport before piling into an Uber and heading to the hotel.
A few other friends you may recognize we met up with in Dallas- fellow southern gal, Bree at ZDesign at Home…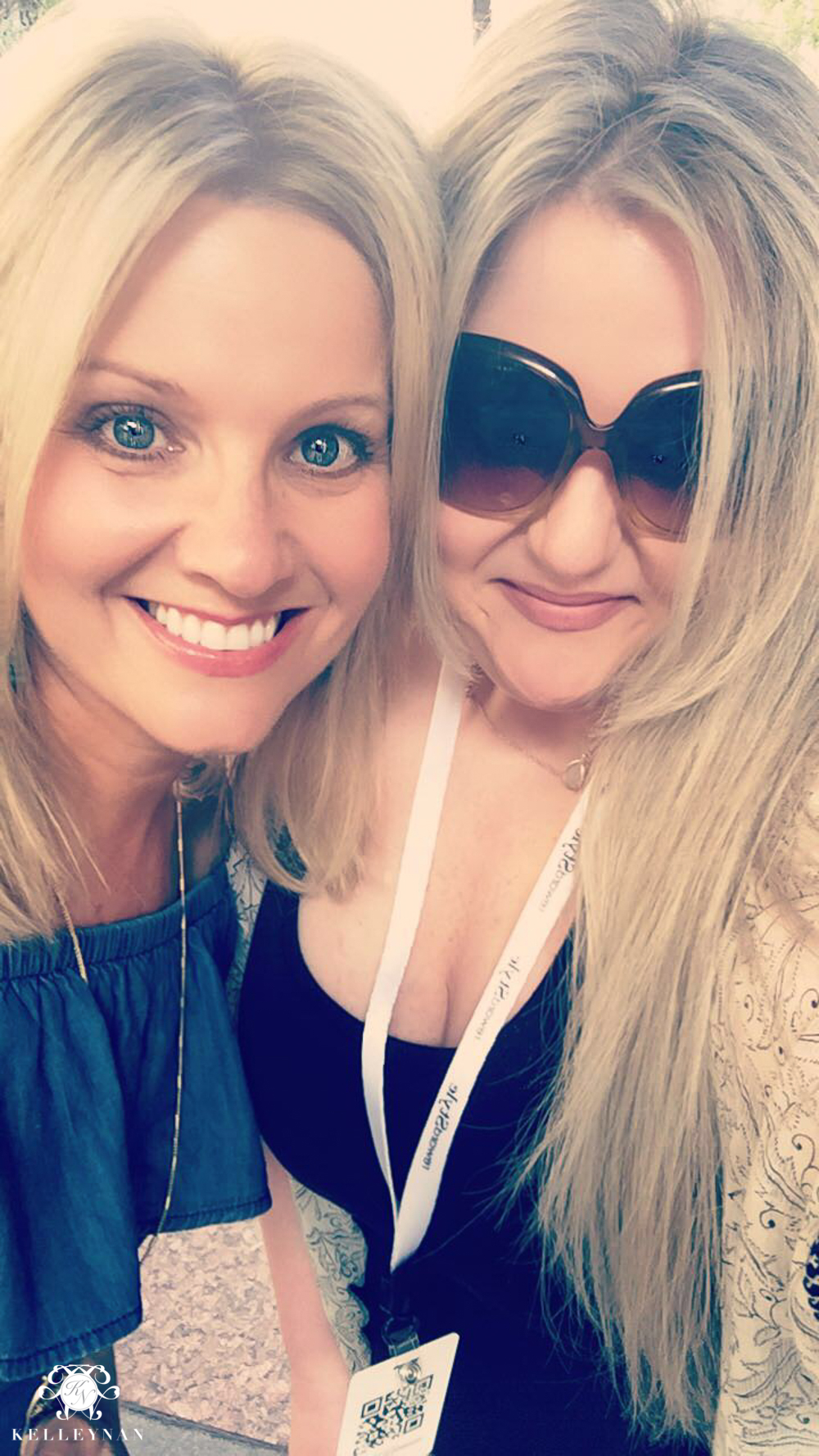 | Tank Dress | Kendra Scott Necklace | Kimono- Anthropologie (no longer available) |
…Sarah from Life on Virginia Street – who shares so many similarities, I think we may have been separated at birth…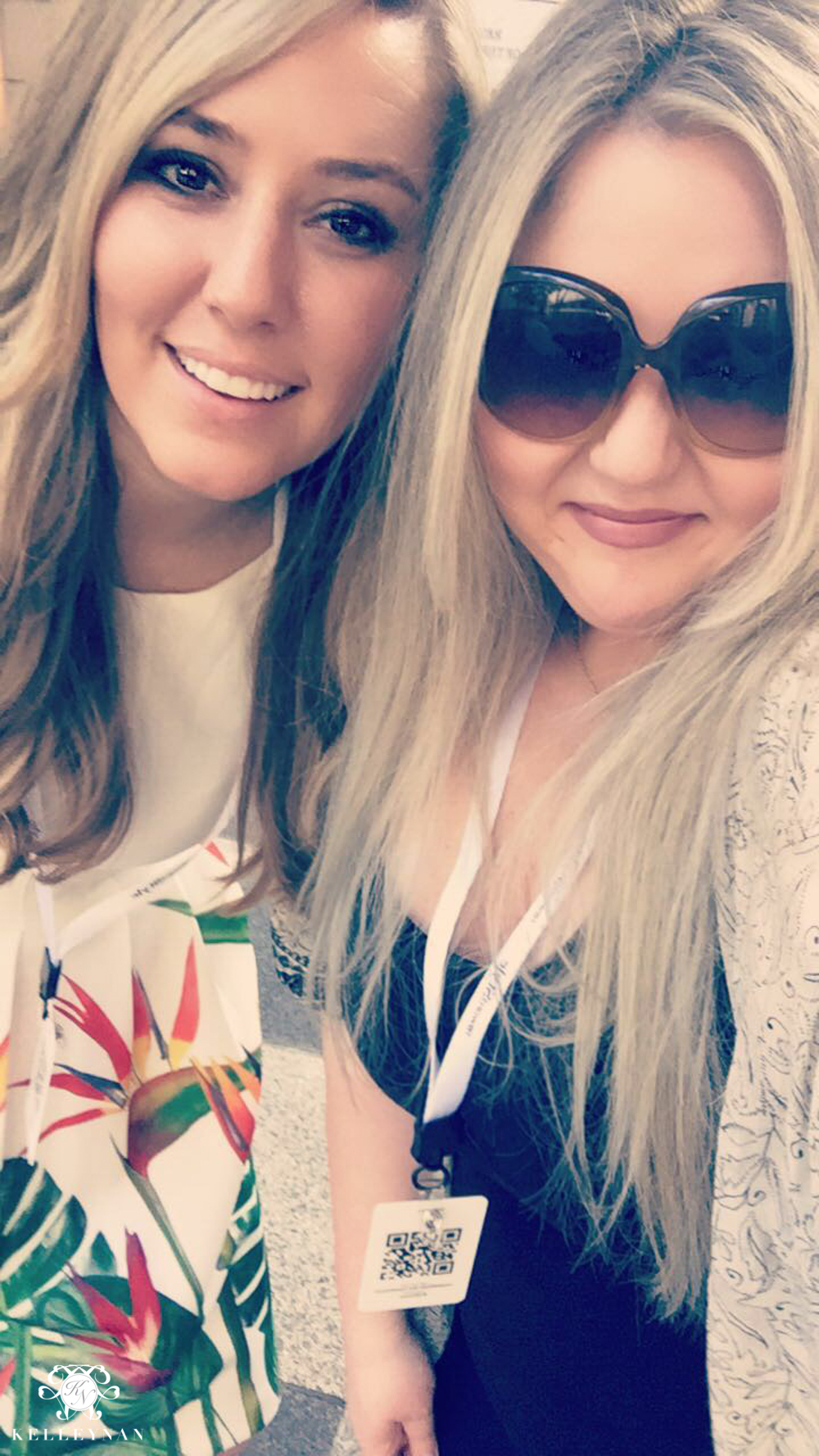 … and of course no stranger to KelleyNan.com, one of my favorite people and Dallas roomie, Kris at Driven by Decor.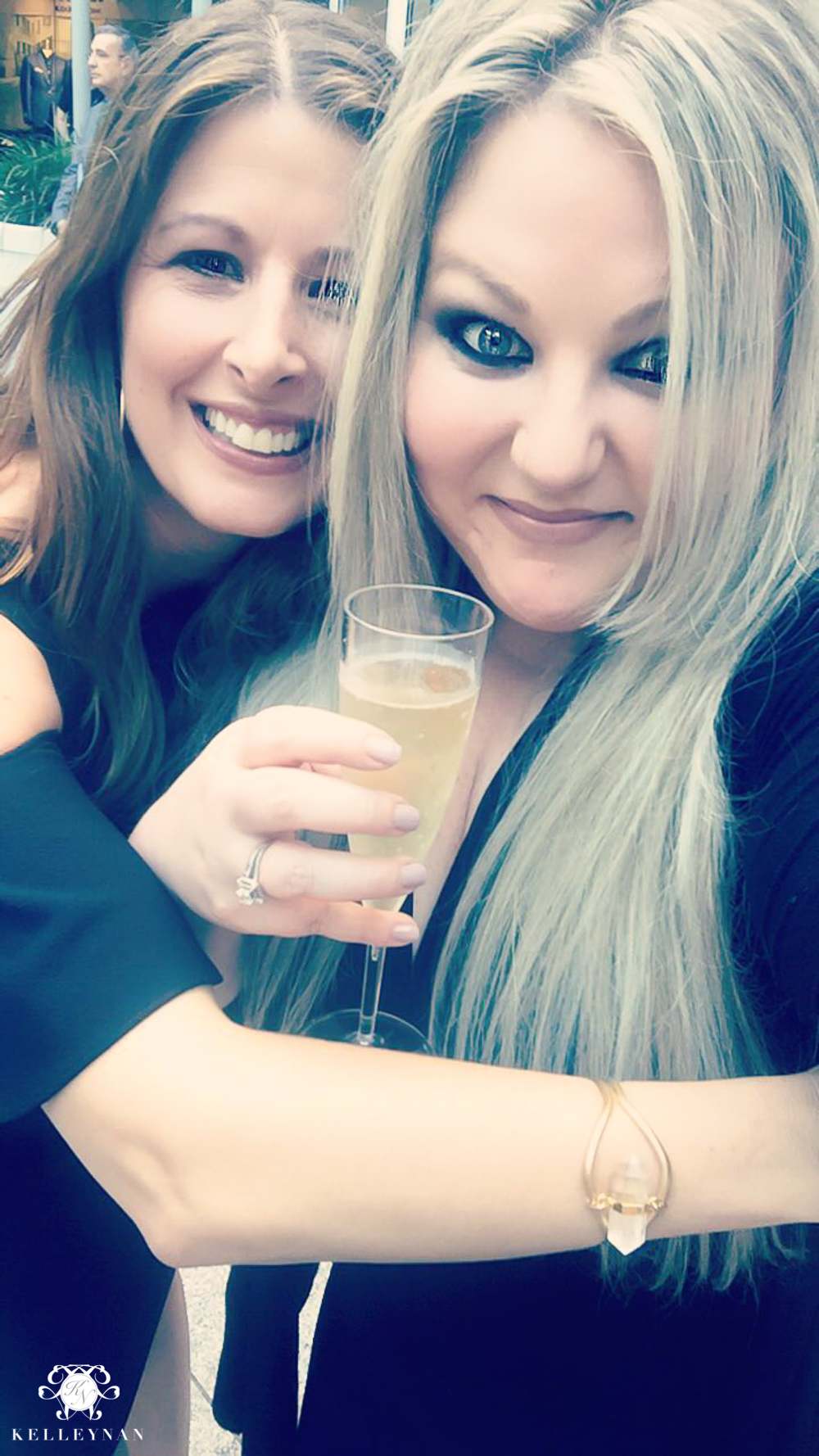 One Dallas highlight was striking up a conversation with someone who turned out to be the drummer for Tom Petty, also staying in our hotel. Long story short, I actually met Randy Owen of Alabama in a similar way when staying at a hotel in Atlanta a few years ago. Later that night, I met another Alabama band member who promised (and came through) on backstage passes for an Alabama concert we had already booked.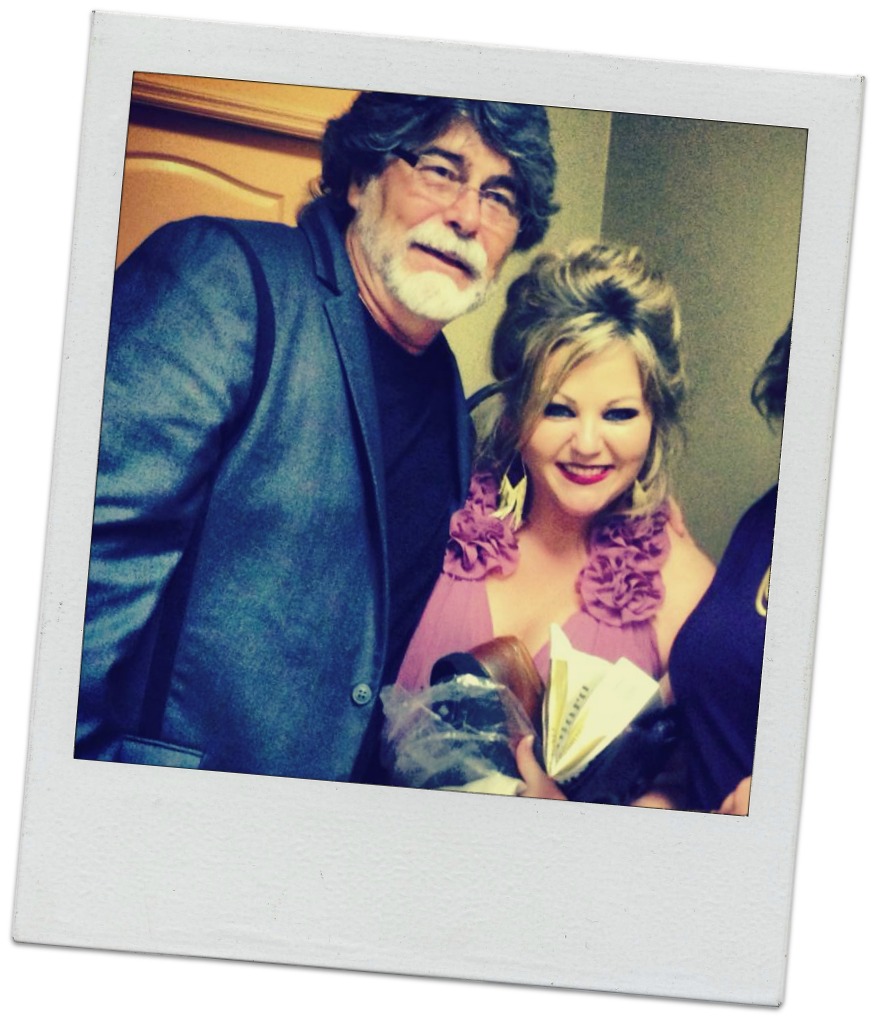 I wasn't as lucky this time around but Steve Ferrone, if you ever find yourself reading this, it was nice meeting you and I wouldn't turn down passes for Tom Petty 😉
Dallas was a whirlwind. I opted out of the final night's festivities in order to pack a box of luggage to ship back to Atlanta. Remember, I was over by eight pounds flying out. No way I would make it to San Antonio hand-carrying even more than I had in Atlanta. Sunday morning, I headed to the airport and flew south to meet my husband who had arrived the day before. We reunited like a couple of teenagers who hadn't seen each other over spring break, and then cruised out to take on Fiesta Week.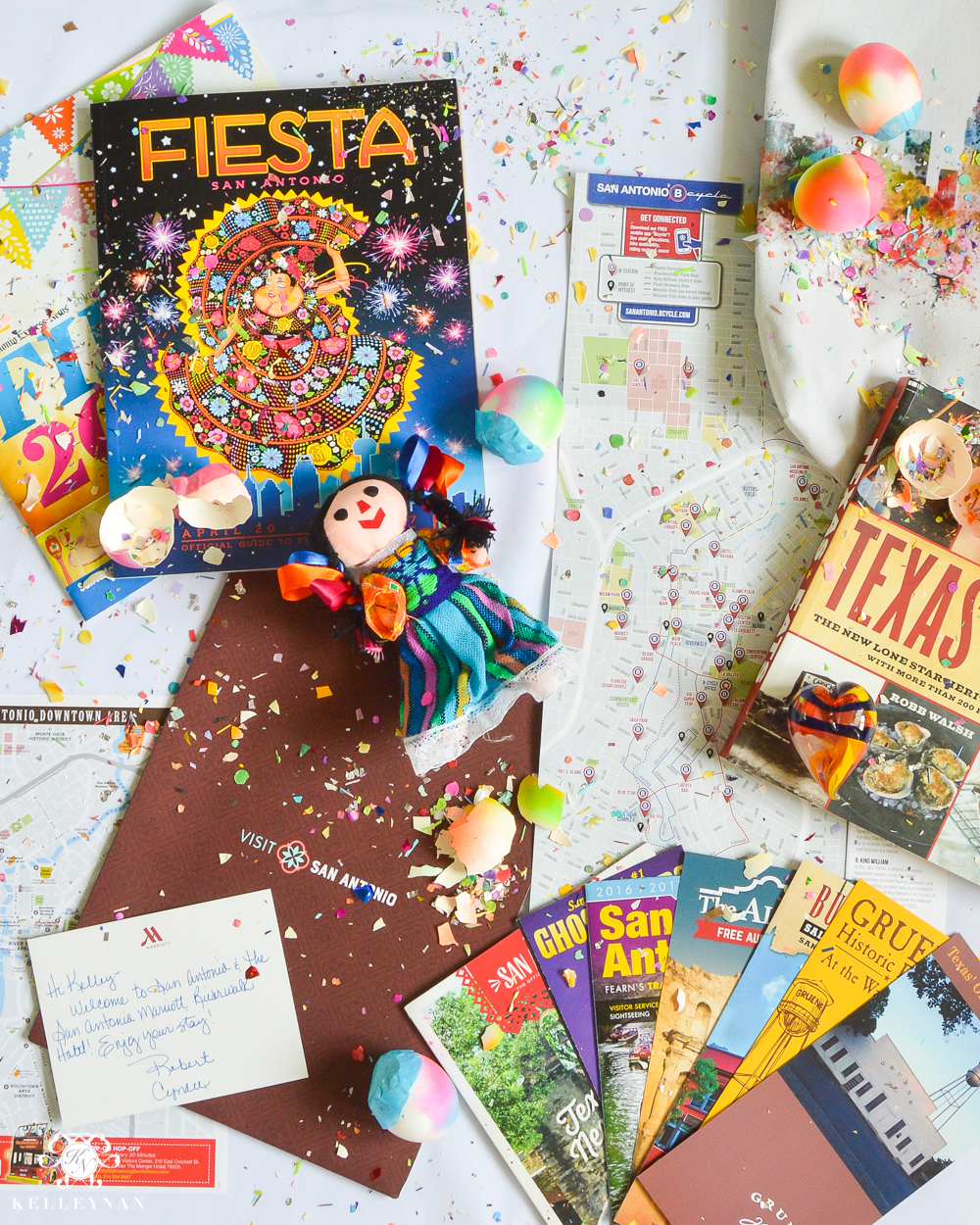 If I had to summarize Fiesta Week in a few words, it would be parties, food, festivals, sights, fun, with a side of history . We tried to do and take in a little of each. There are events for two weeks and we only scratched the surface but it still felt like a marathon! Have you heard of cascarones? My husband had told me about the tradition for years but Fiesta Week in San Antonio was the first time I actually saw and experienced confetti eggs. I haven't put any research into their origin but if you are visiting in the spring, be ready to have these broken over your head, and be ready to load up on some yourself 😉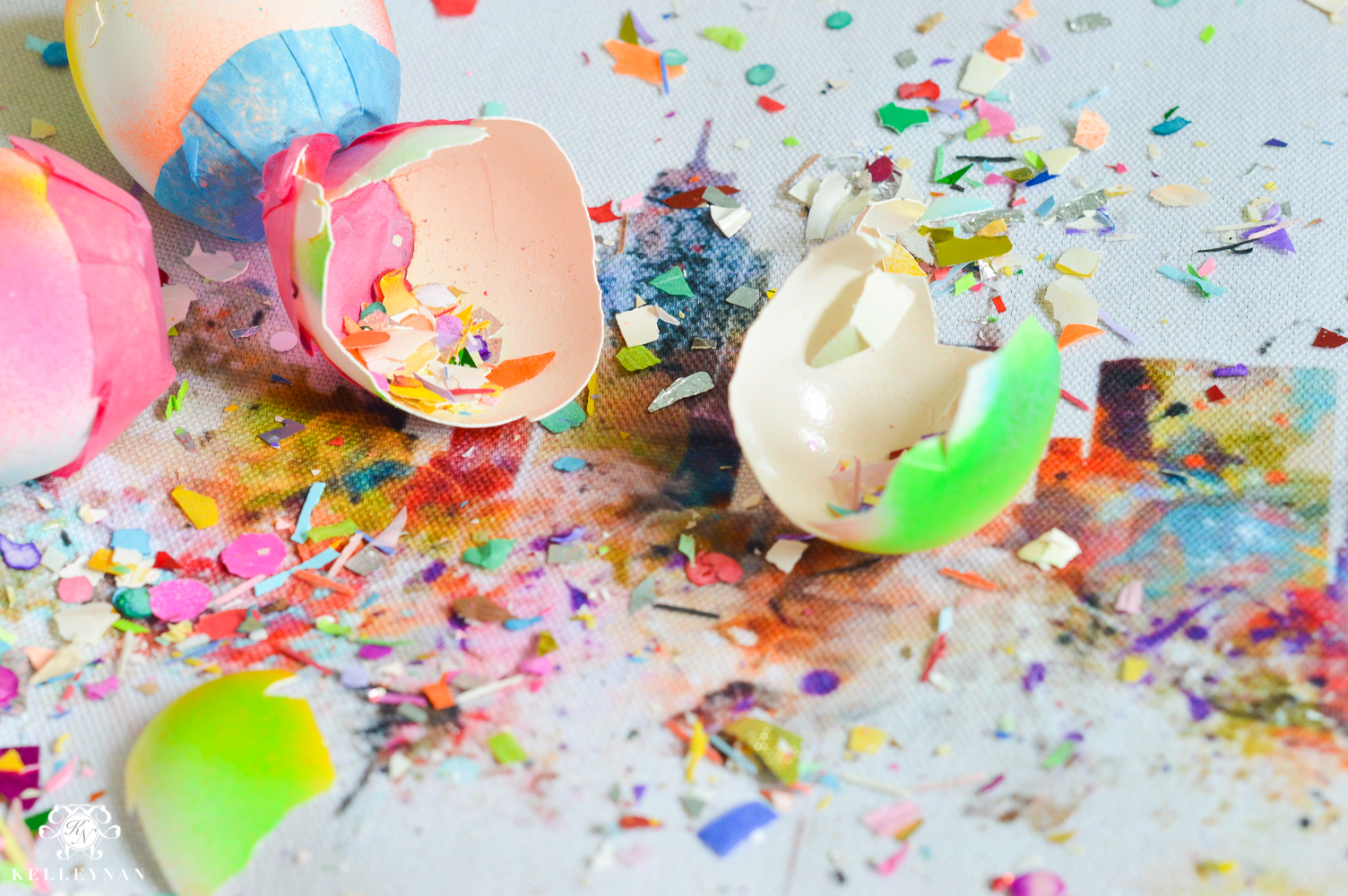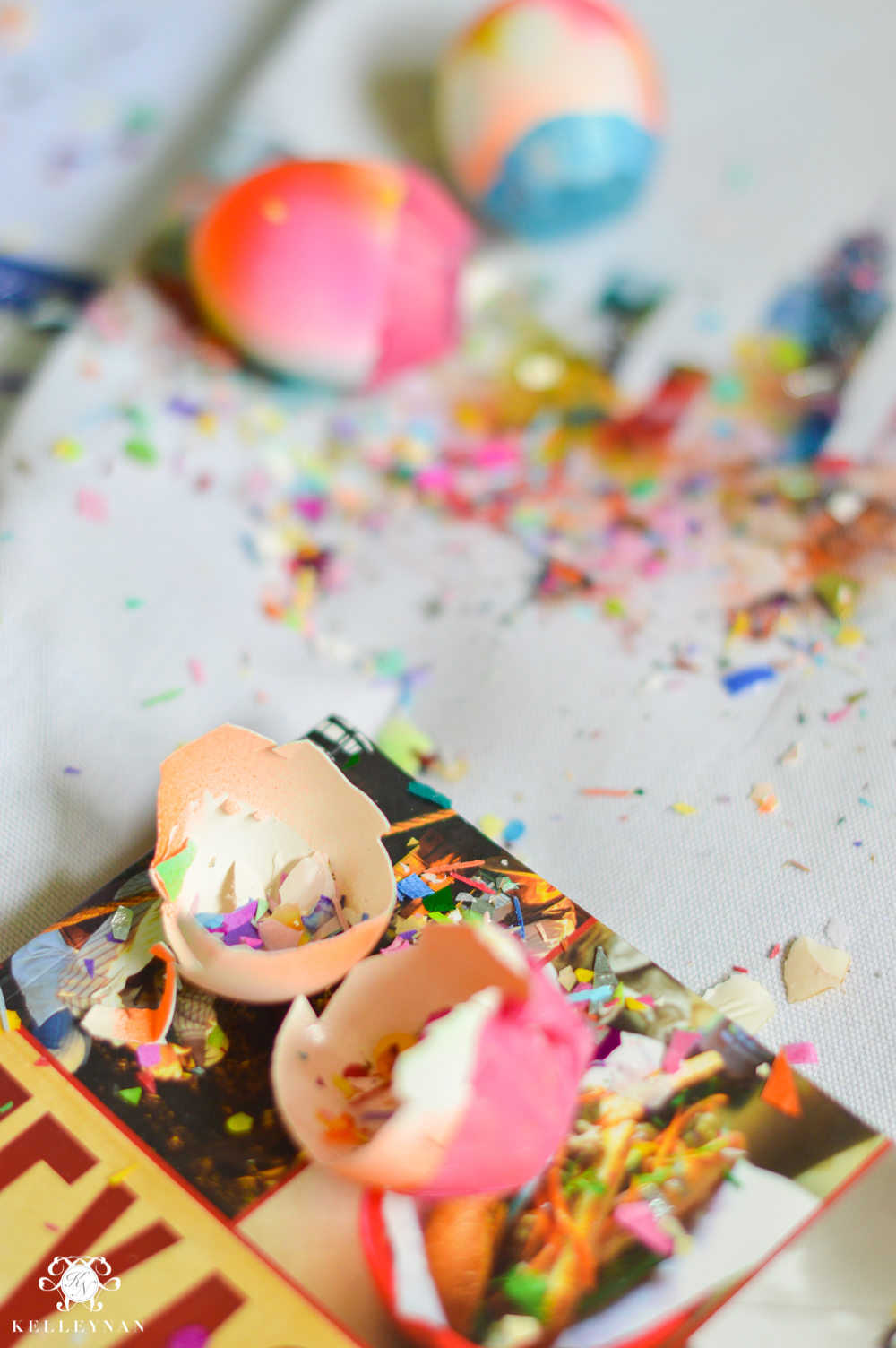 As a side note, I've been touting these sandals (I now have in both neutral and black) all over Instagram. But, they were a basic uniform necessity throughout my week long trip and endured a lot of walking. Shoes that can look cute and be comfortable don't come around that often- hence why I have them in multiple colors. With a shorter but wider foot, I have difficulty finding shoes that fit correctly. Especially with the adjustable laces, these are AMAZING. No sizing up- they fit true to size. Right now, they are on sale for 30% off with code FRIEND; you can find them HERE.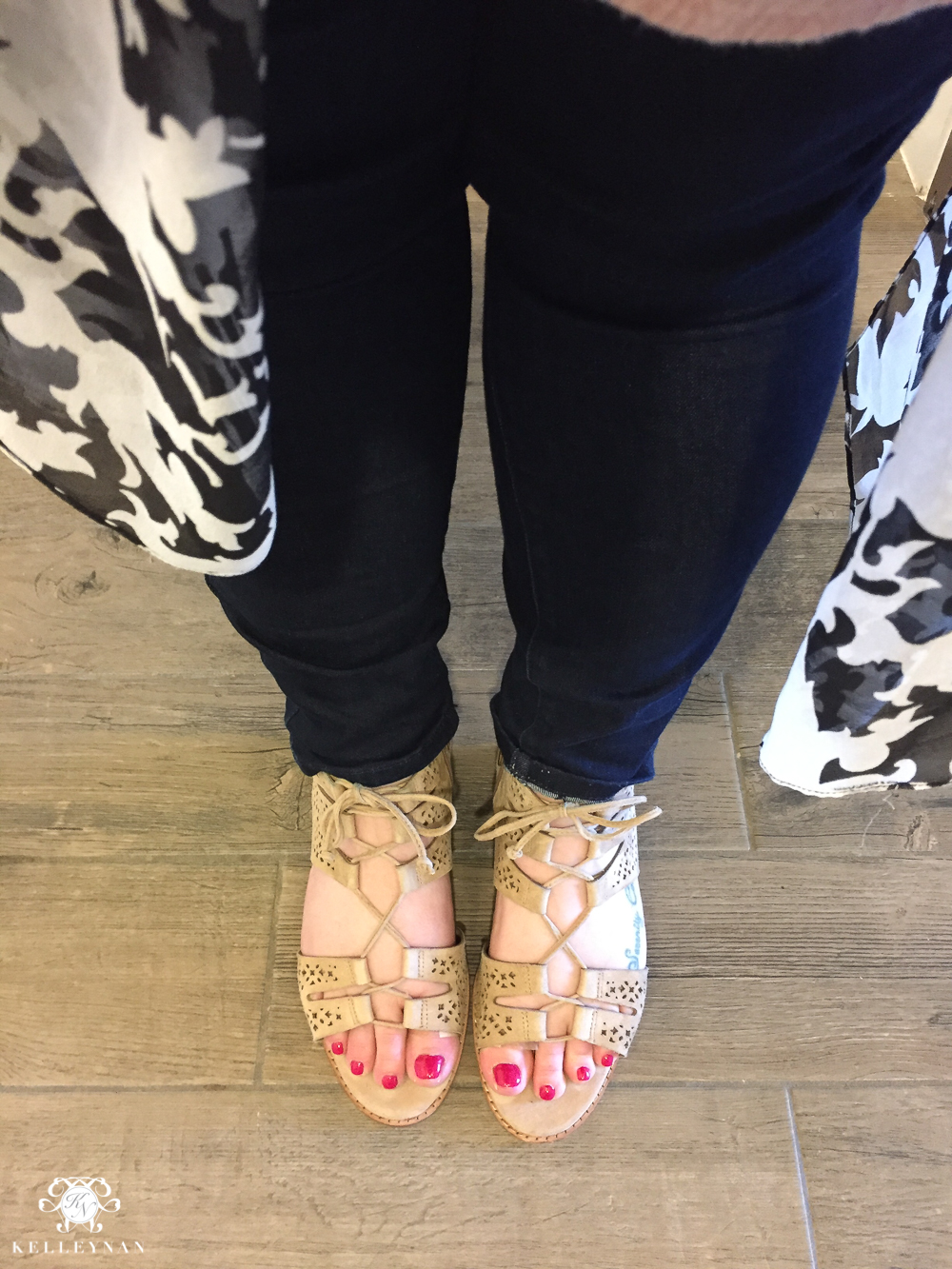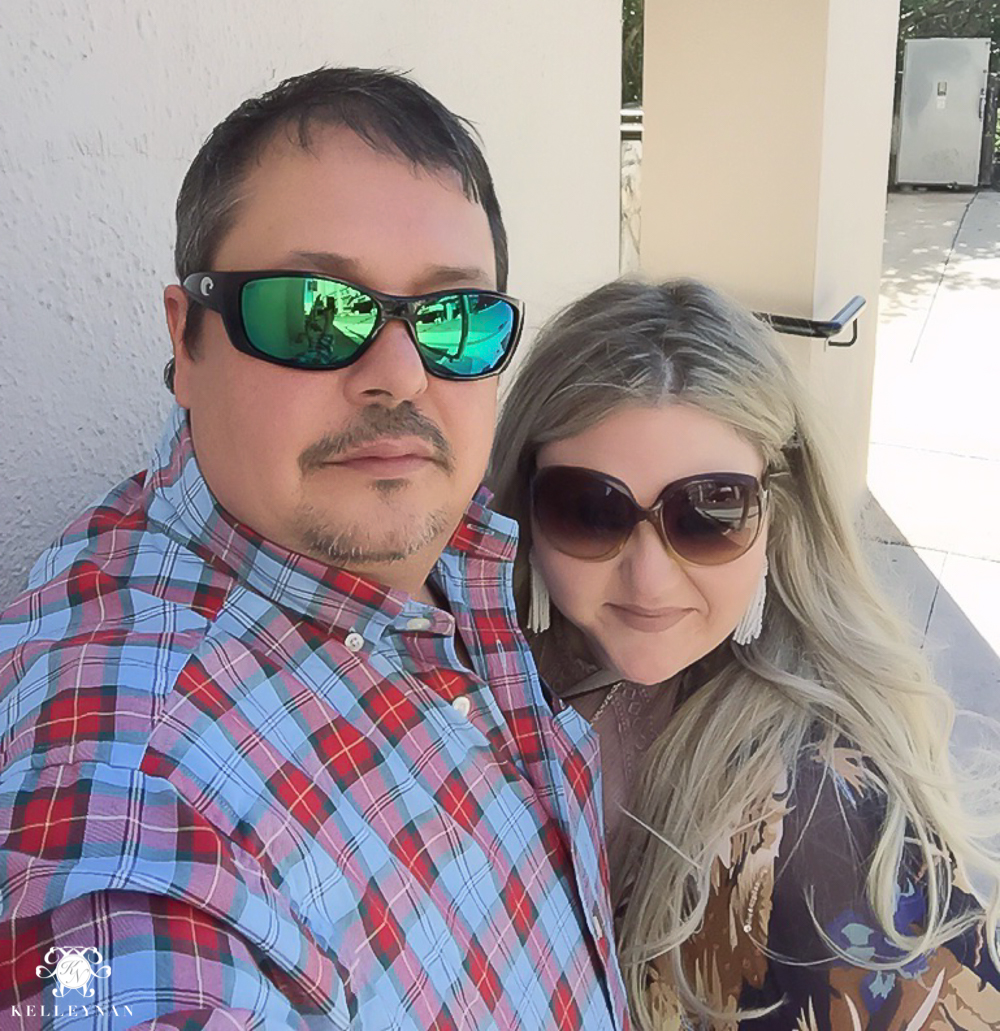 | Tassel Earrings | Top & Kimono- Anthropologie (no longer available) |
We knew we wanted to stay downtown and the Riverwalk area is my favorite. While I have never experienced Fiesta Week or taken in much of the sight seeing in San Antonio, we do have family who lives there so I have had a little experience in the area. We stayed at the San Antonio Marriott Riverwalk and let me just tell you- the location can't be beat. You'll see why in just a little bit 😉 I noted a Starbucks in the lobby (always a good first impression and bonus points from me) and shortly after check-in, we had the sweetest delivery.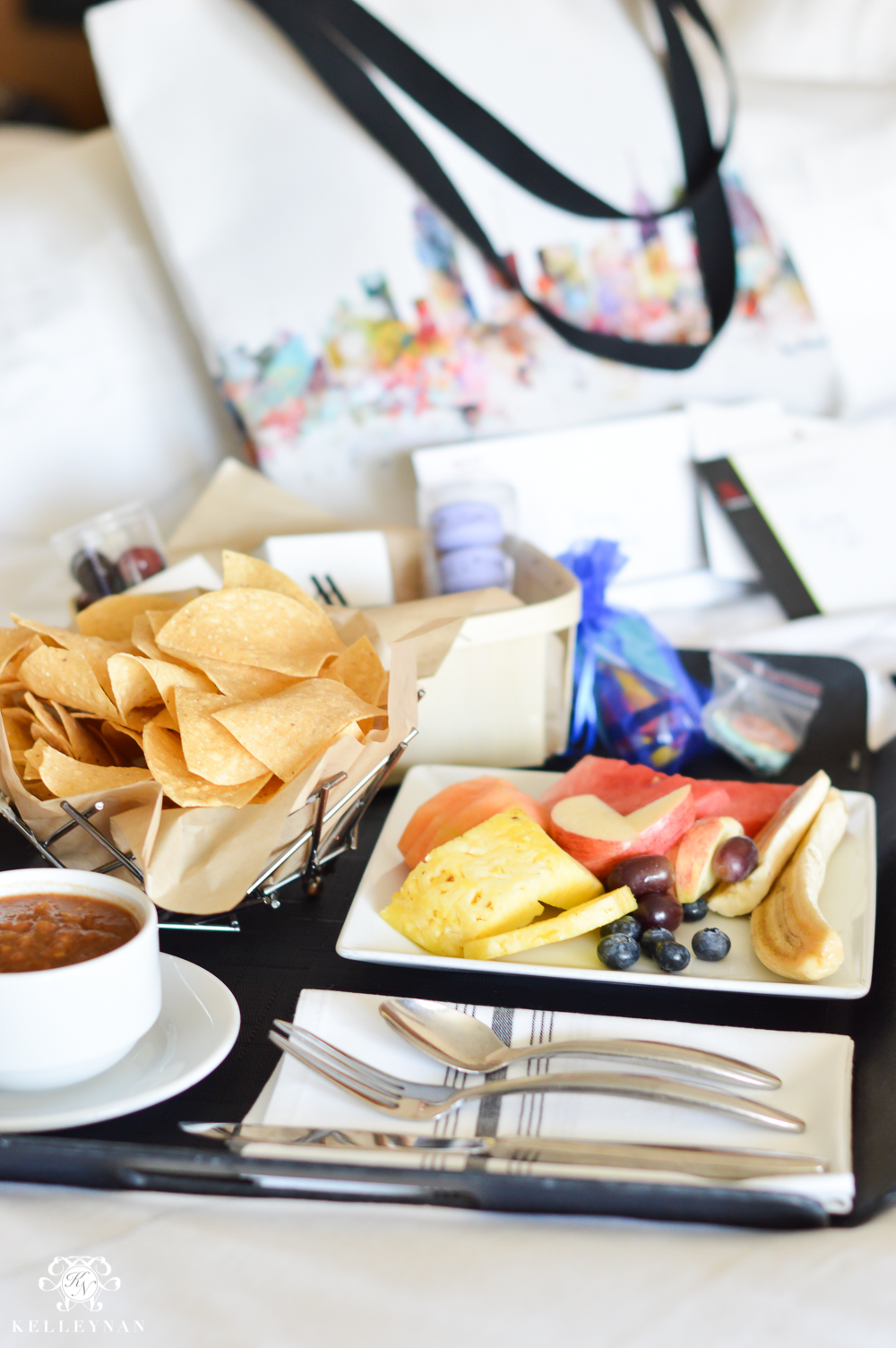 Our friends at the Marriott didn't miss a beat- treating us to afternoon snacks and sweets, Fiesta medals, and local gifts. Y'all, they even filled the gift bag with red and black tissue paper since we are UGA fans. Visit San Antonio had also left city booklets for us at registration with passes to landmarks and events- it would take weeks to make it through!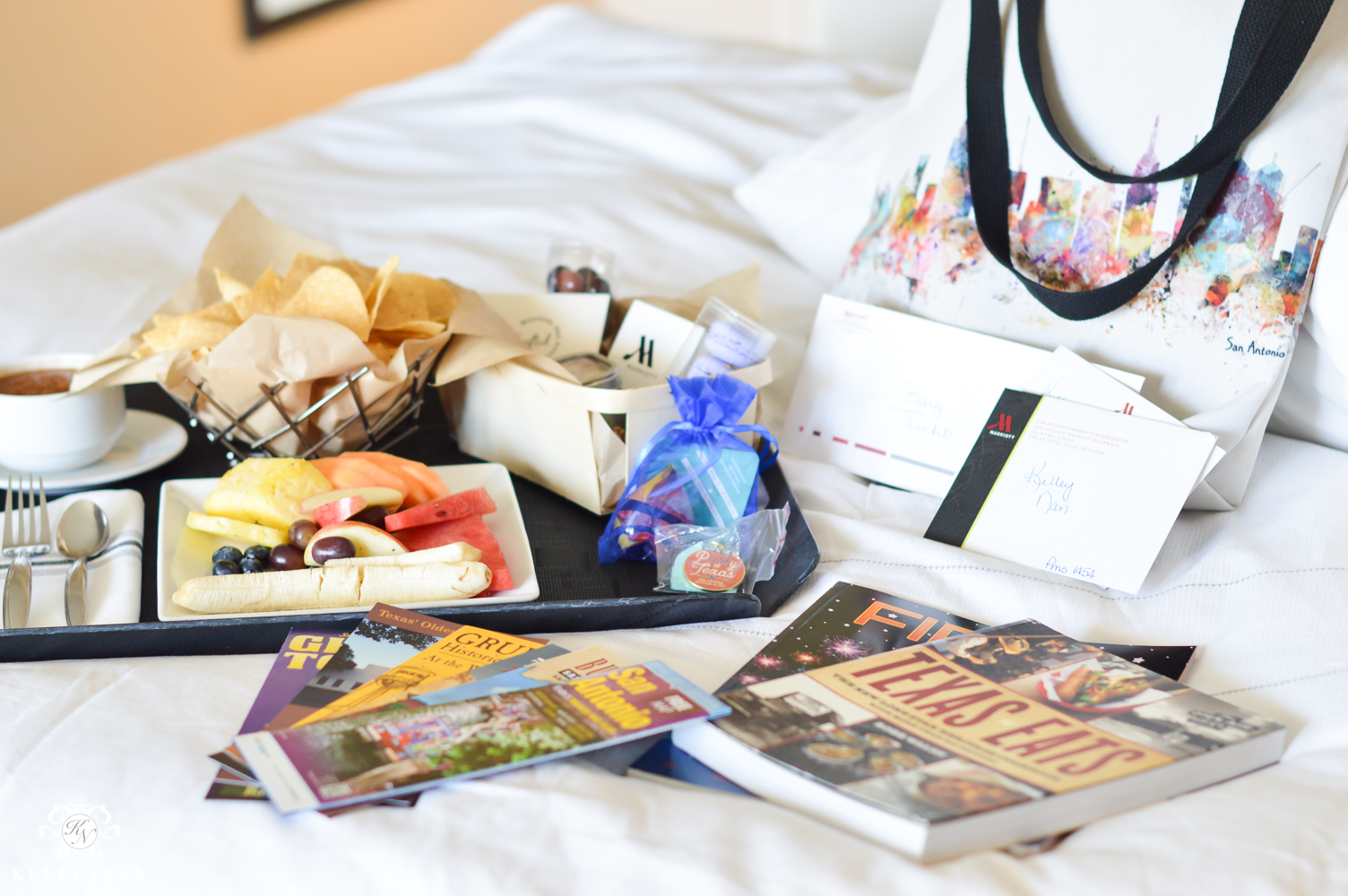 My favorite part of our stay though (ok, besides the chips and salsa) was finding we had this view from our private balcony. It was a double-wide space and where we spent most of our time when we were in the room – watching river boats during the day and starting at city lights at night. Definitely request a river-view room with a balcony if you go!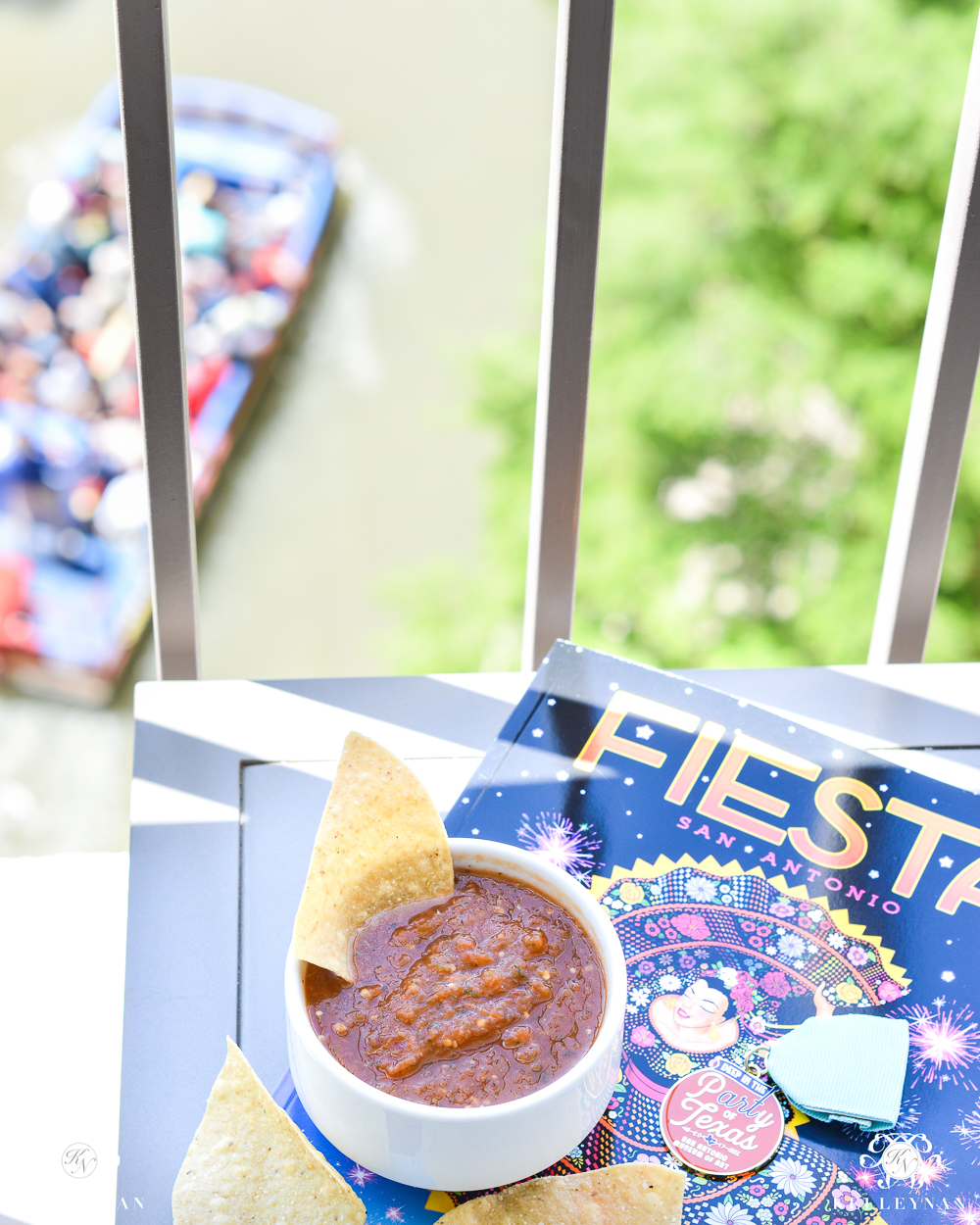 The food- oh, the food. I love Mexican food. I think I would be hard pressed to find someone who doesn't. But, I didn't know there was a difference in Americanized Mexican food and Tex-Mex until my husband came along. I love the gooey white cheese and little strip mall joints here at home but that doesn't fly with Dave. I usually have to keep my local Mexican dinners reserved for date nights with girlfriends 😉 Well, the first time I tried authentic Tex-Mex, I understood. I would be happy to visit Texas even if all I did was sleep and eat haha. Mi Tierra Cafe and Bakery is my favorite FAVORITE place to go but be prepared. It stays super crowded. A late lunch or early dinner is your best bet unless you have reservations. Amazing food, mariachi bands, and their famous bakery where you can order treats to go. I'm embarrassed by how much we took home from the counter.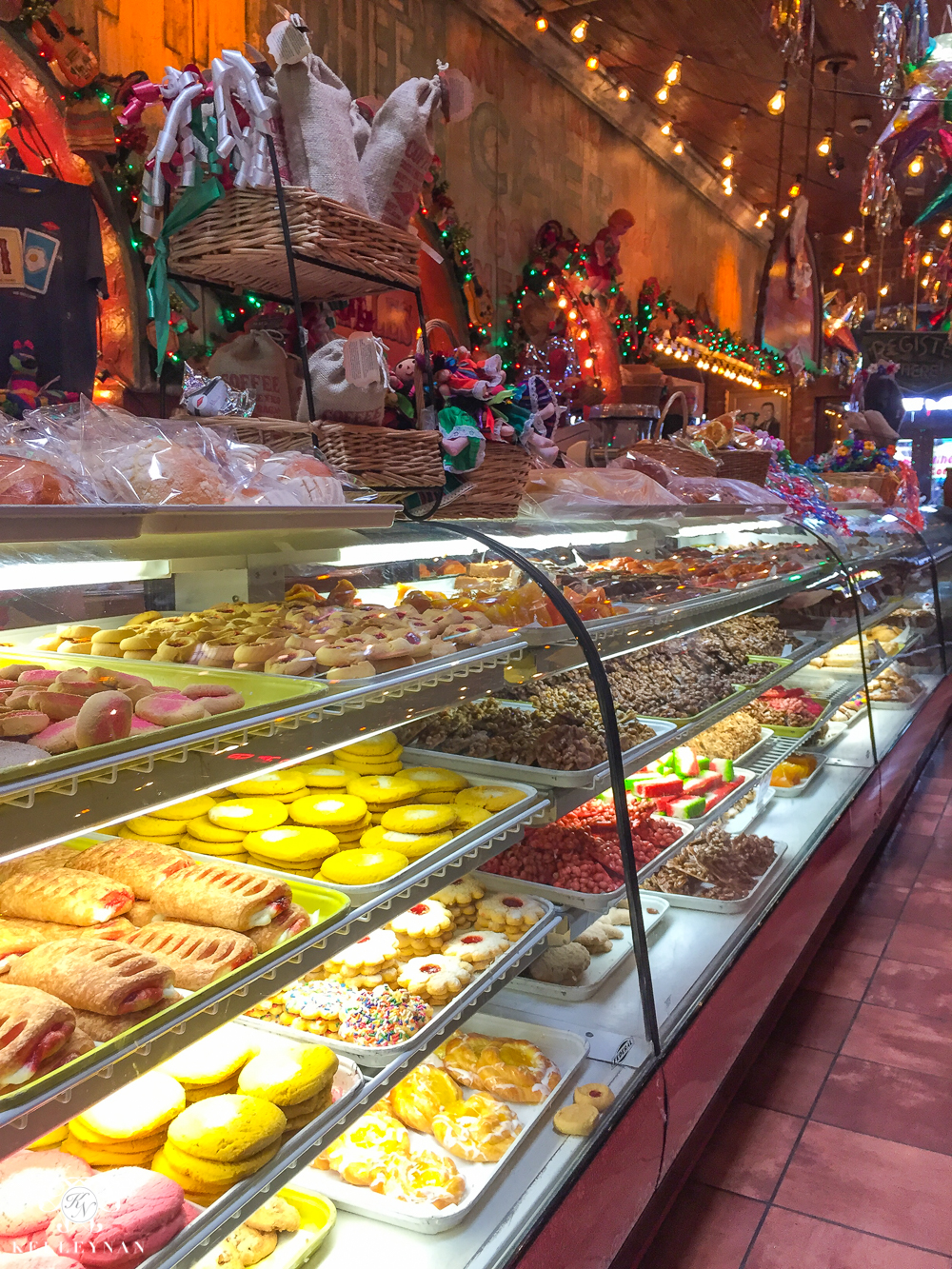 And check out the decor and tell me if this is not a place you can't miss. Anyone can have a good time here.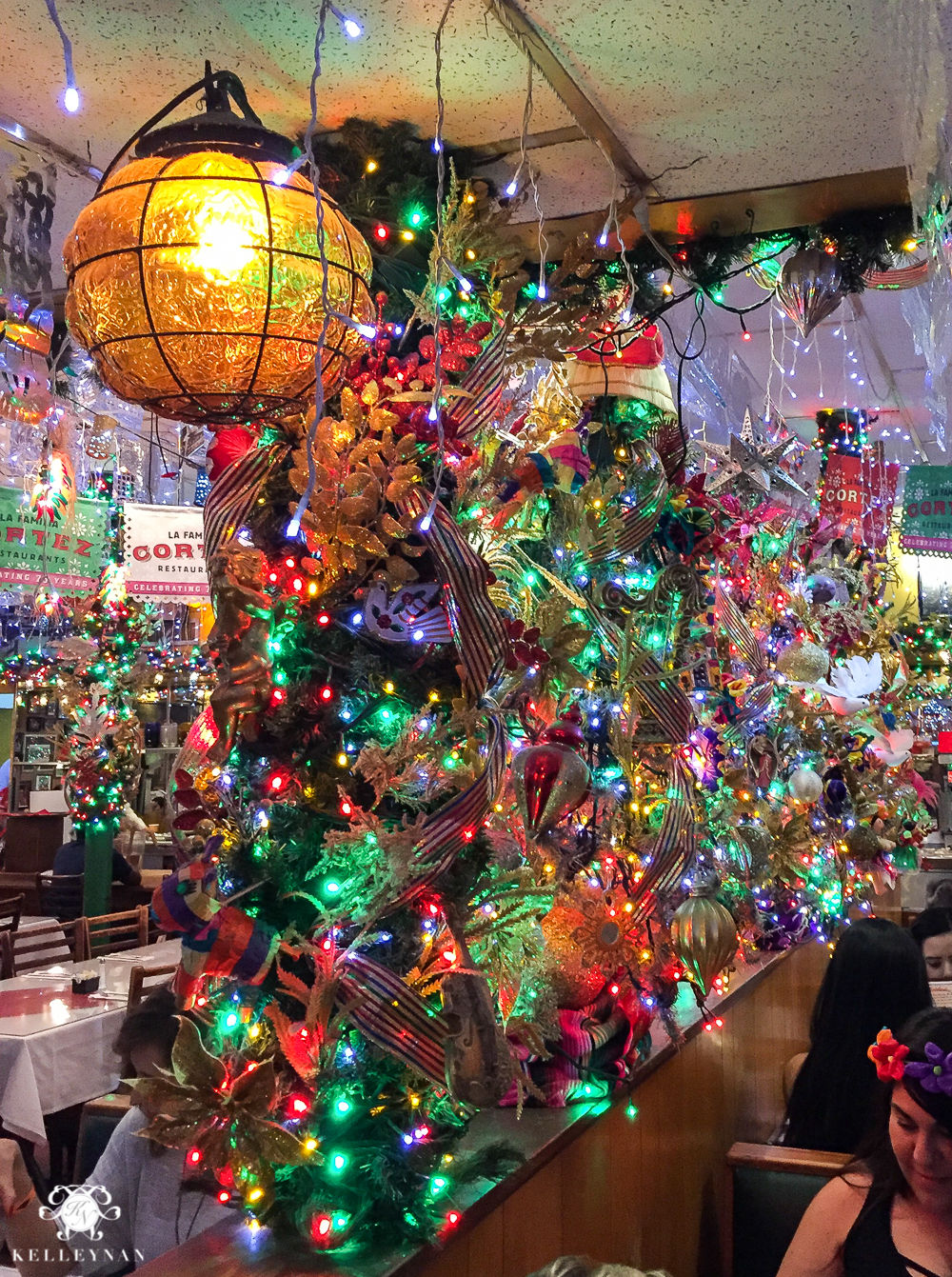 We also tried Pico de Gallo, a little restaurant under the same ownership, just little more removed from the center of downtown. A little less crowded and every bit as delicious. Don't laugh- I had the enchiladas verdes at both places. Obviously, I HIGHLY recommend.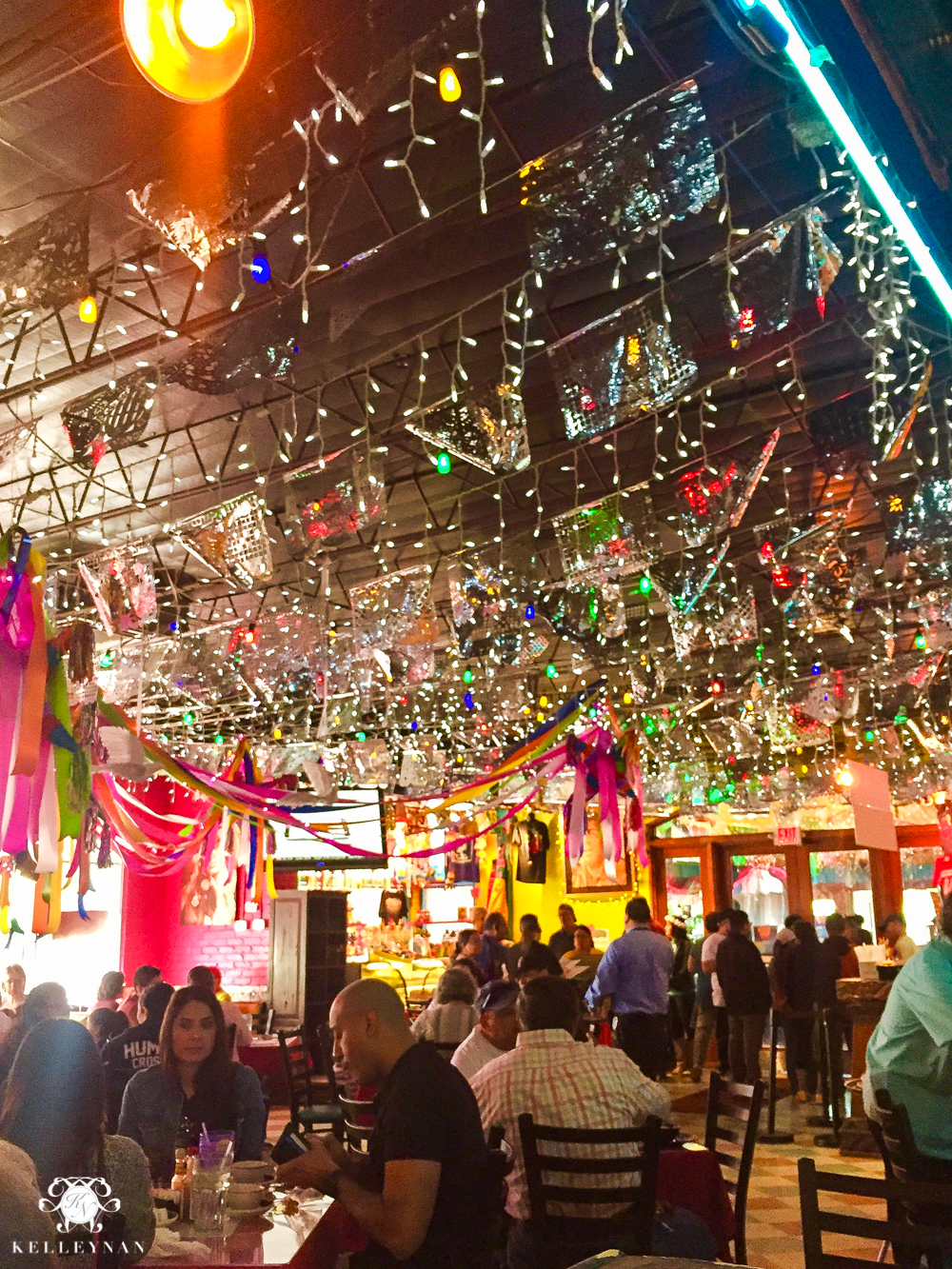 If you caught my trip to Charleston (HERE), you know my favorite thing to do is to walk and explore. During Fiesta, the downtown area is basically one big festival. Vendors line the streets, bands are set up on every corner, drinks are flowing freely, food is served all up and down the sidewalks, and there are flower crowns as far as the eyes can see. You will see tripas taco stands next to the funnel cake vendros. If you don't know what tripas are, Google them 😉 It's just one big party. We actually spent two afternoons exploring this area and taking it all in.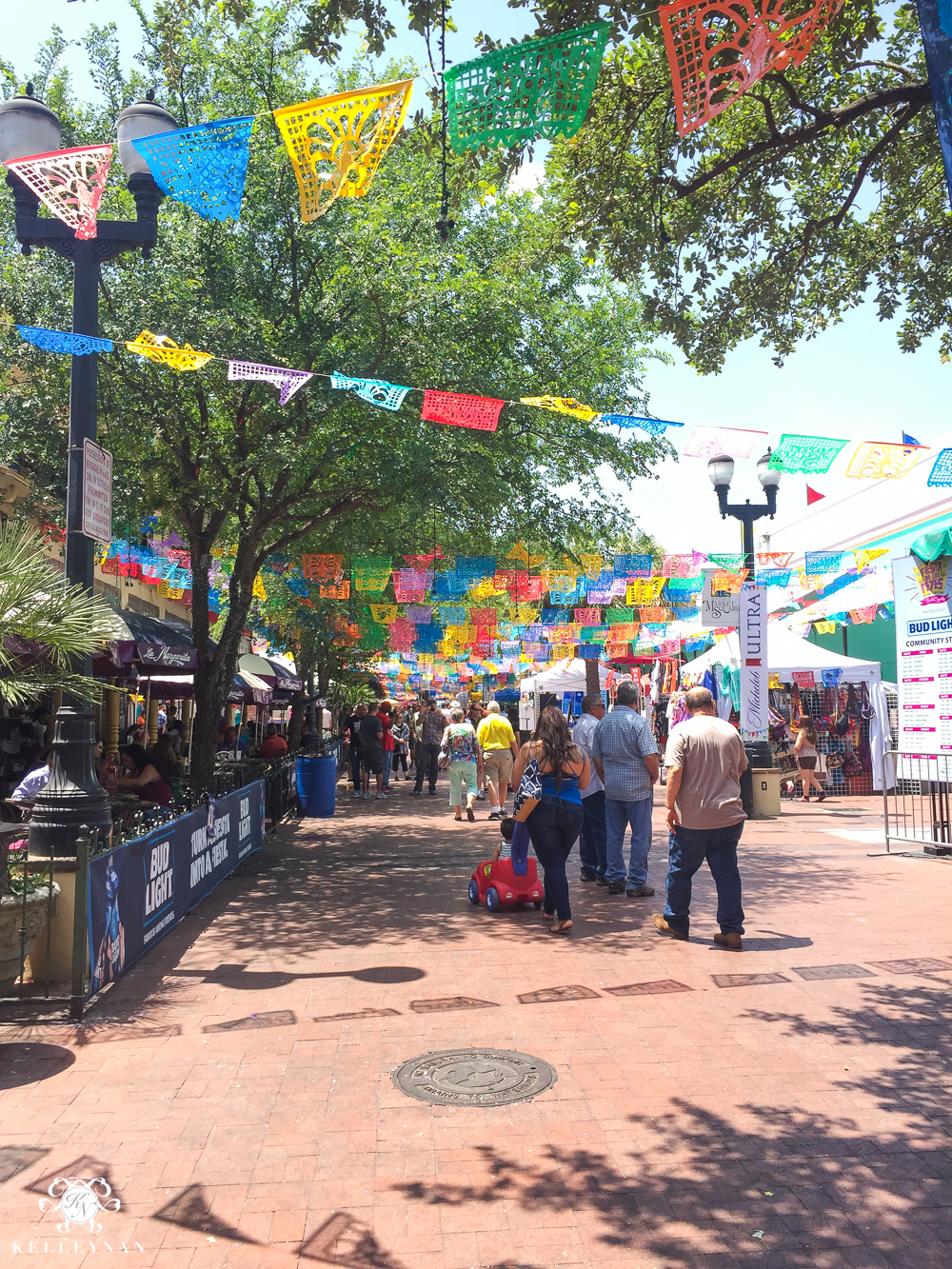 We had to take a little time to wander through the market. Dave stopped off and found a sterling silver pinky ring. (That's all I will say about that haha). I justified a large piece of blue and white Mexican pottery – a garden trough I was sure would fit into an extra carry-on suitcase Dave brought along for the trip. Spoiler- it was wrapped to perfection and actually did fit… but we were forced to check it at the gate and found it shattered when we got home. Heartbroken. A few other market essentials: Mexican vanilla and as previously mentioned: CASCARONES! 😉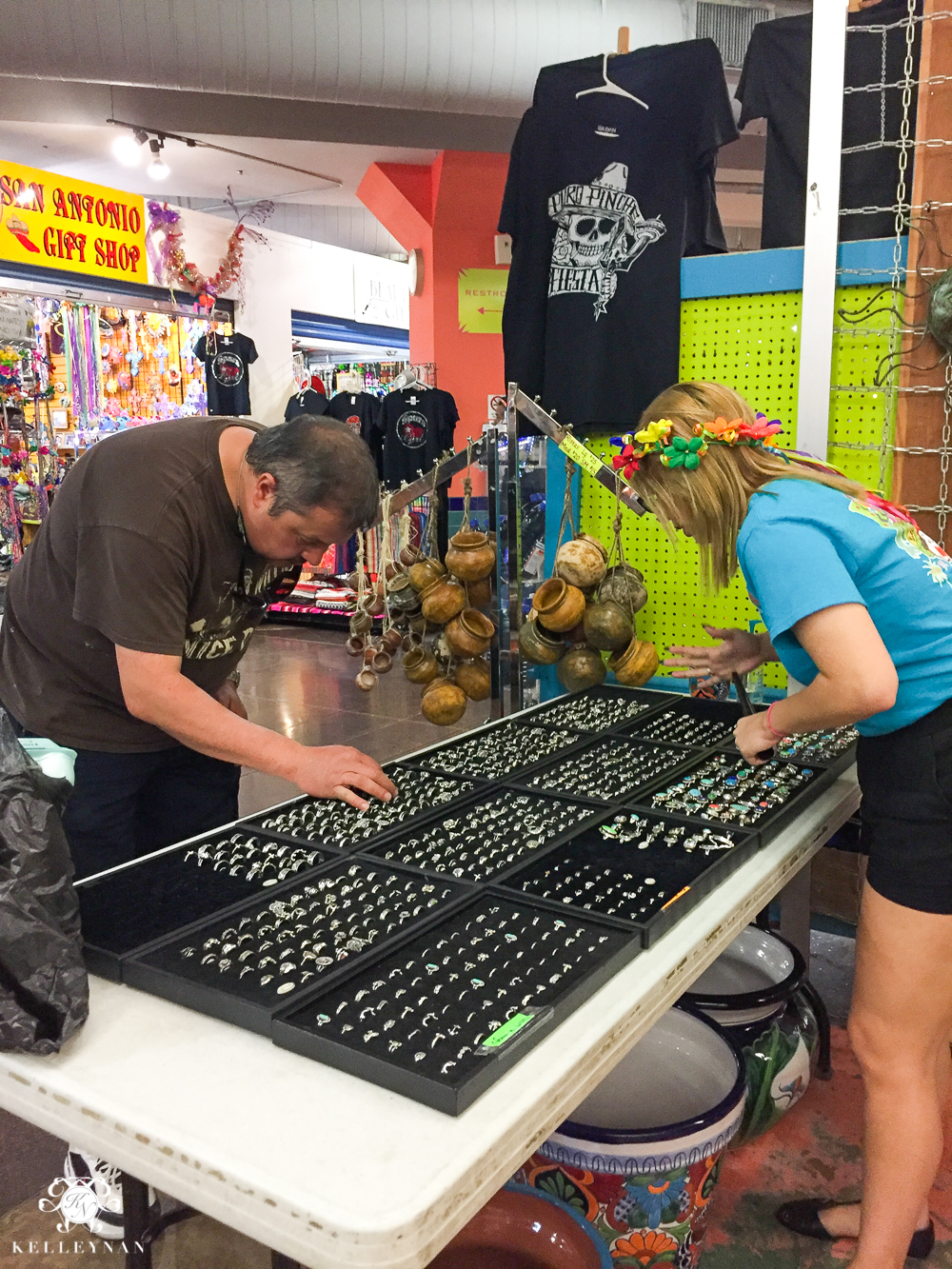 Apparently the Hispanic Elvis is a fan favorite among visitors. I shared some live video of him in my Instagram stories during the trip.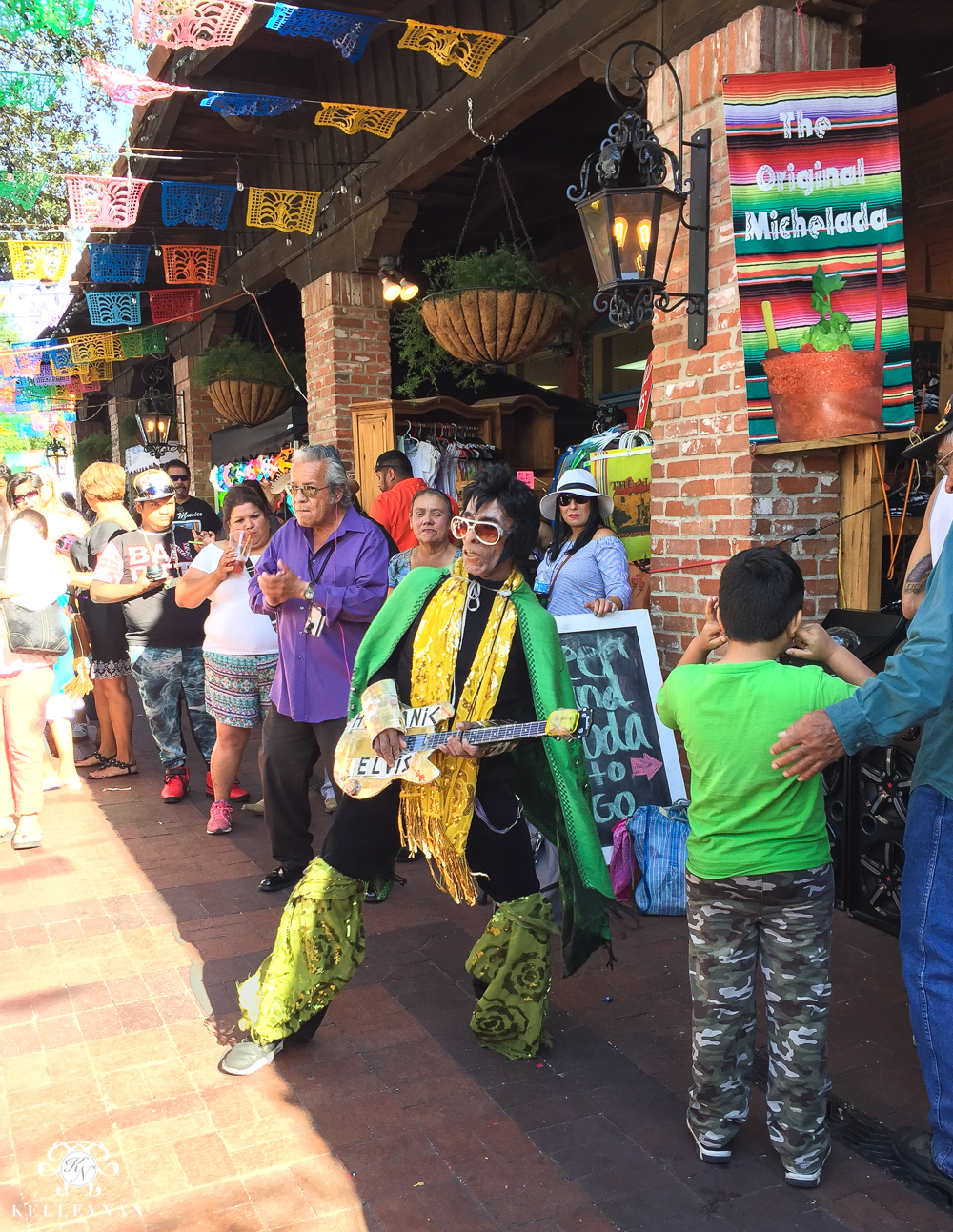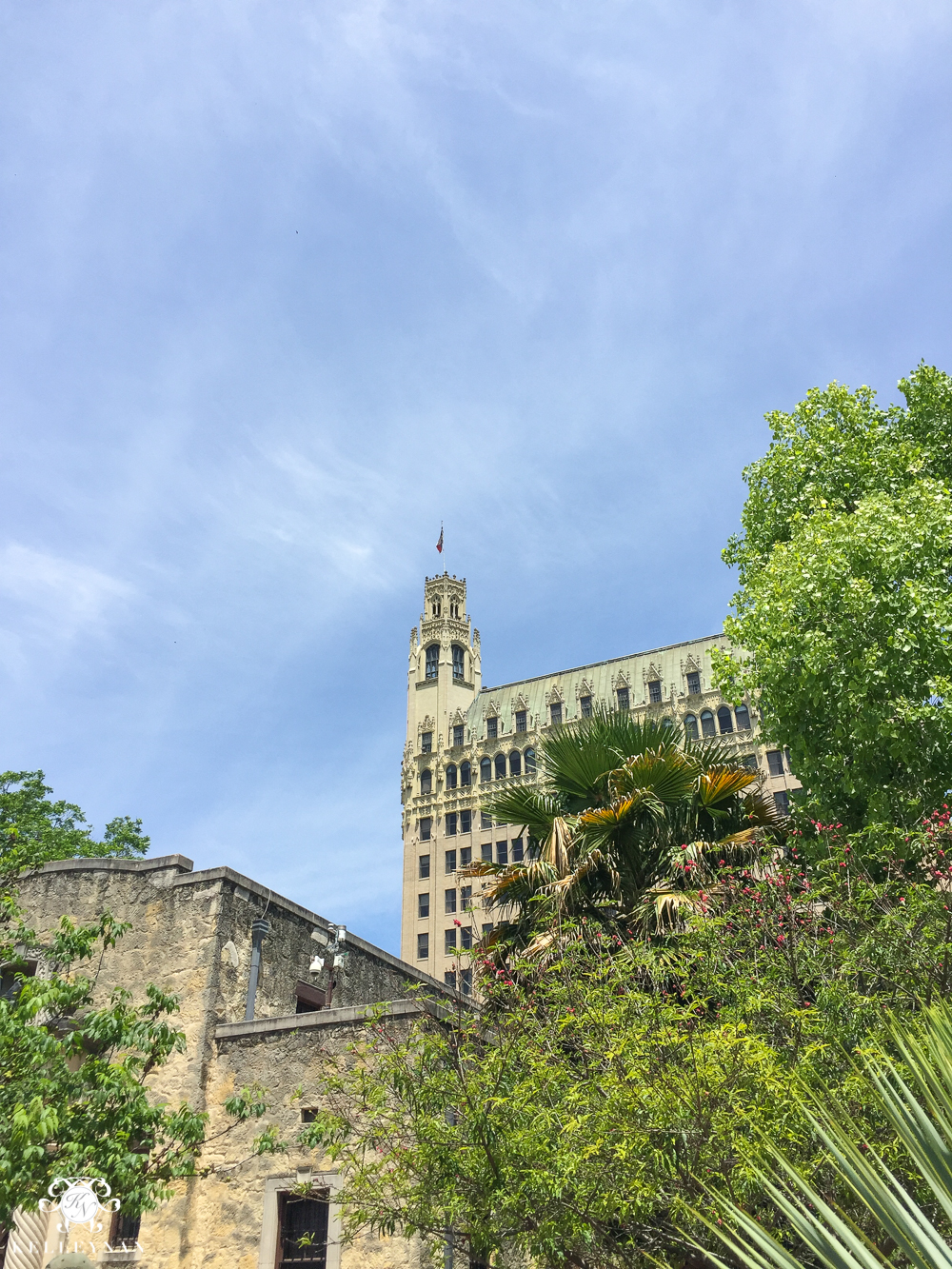 Fiesta Week or not, if you are in San Antonio, you must visit the Alamo. Those who watched my live stories during the trip got a little history lesson from Dave about the Tennessee Volunteers (See? If you aren't on Instagram, you need to be! 😉 ) No photos are allowed inside but it's a small space and a quick tour.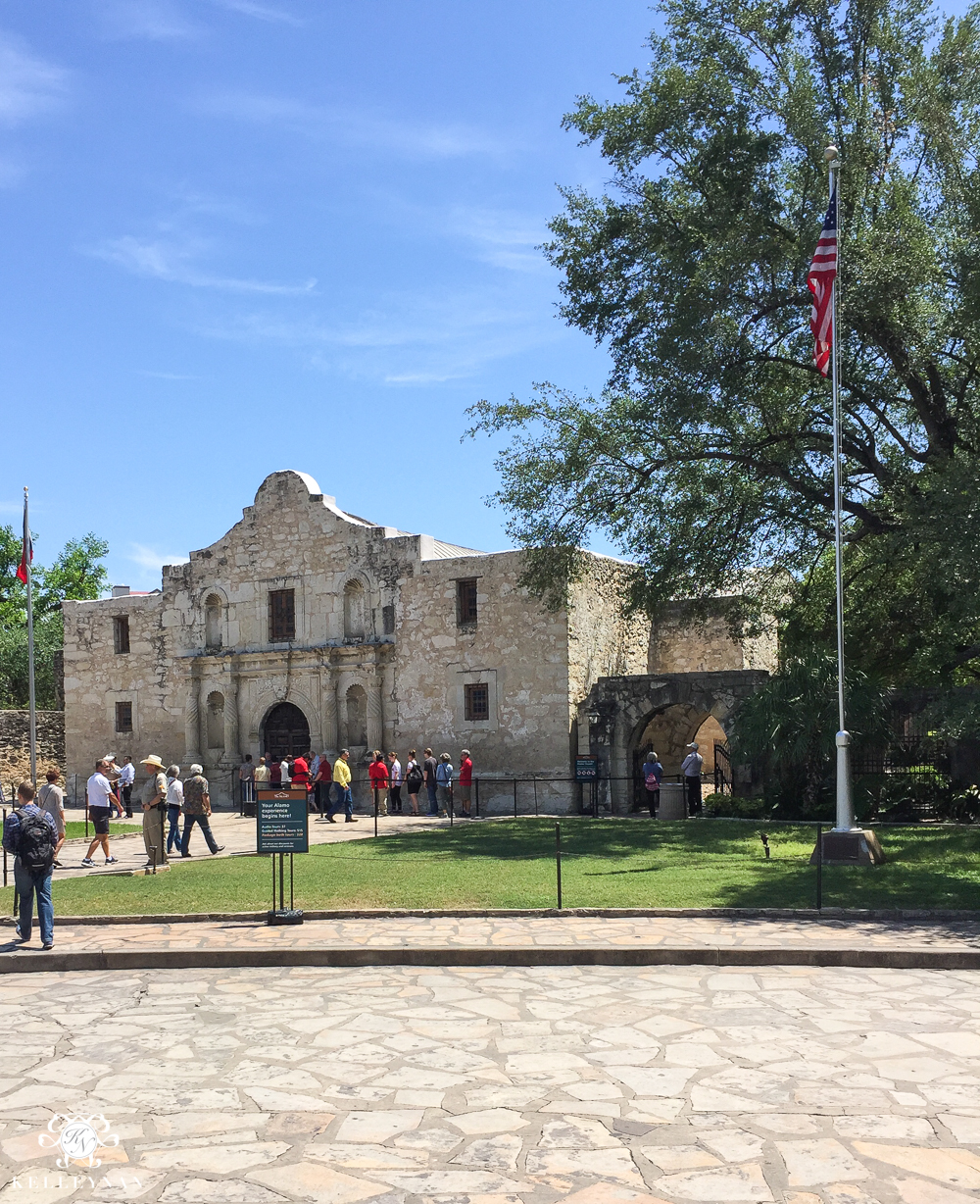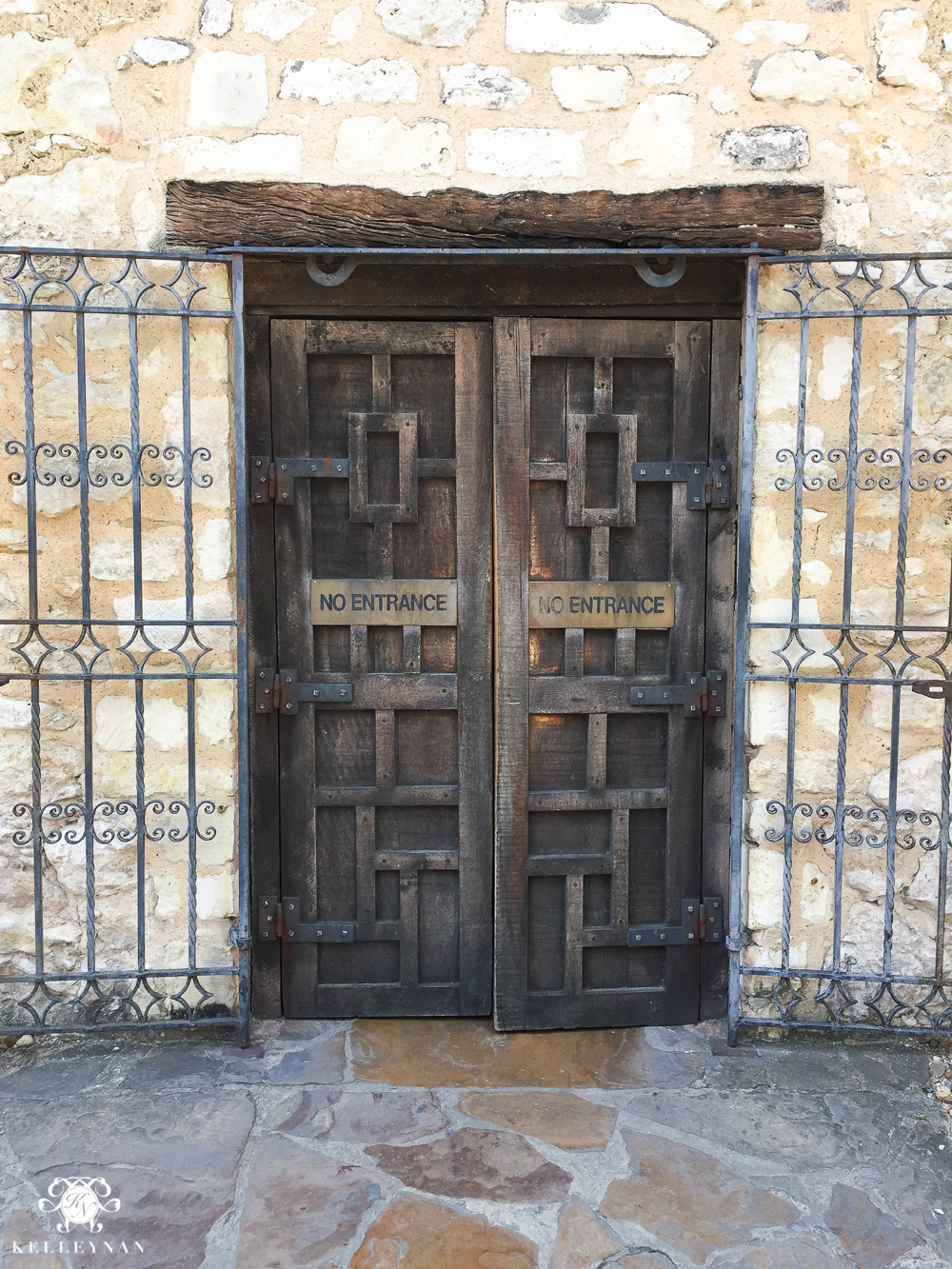 They did have tents set up outside with re-enactment-type storytellers. We made ourselves at home to learn some history on those from Louisiana who came to defend the Alamo.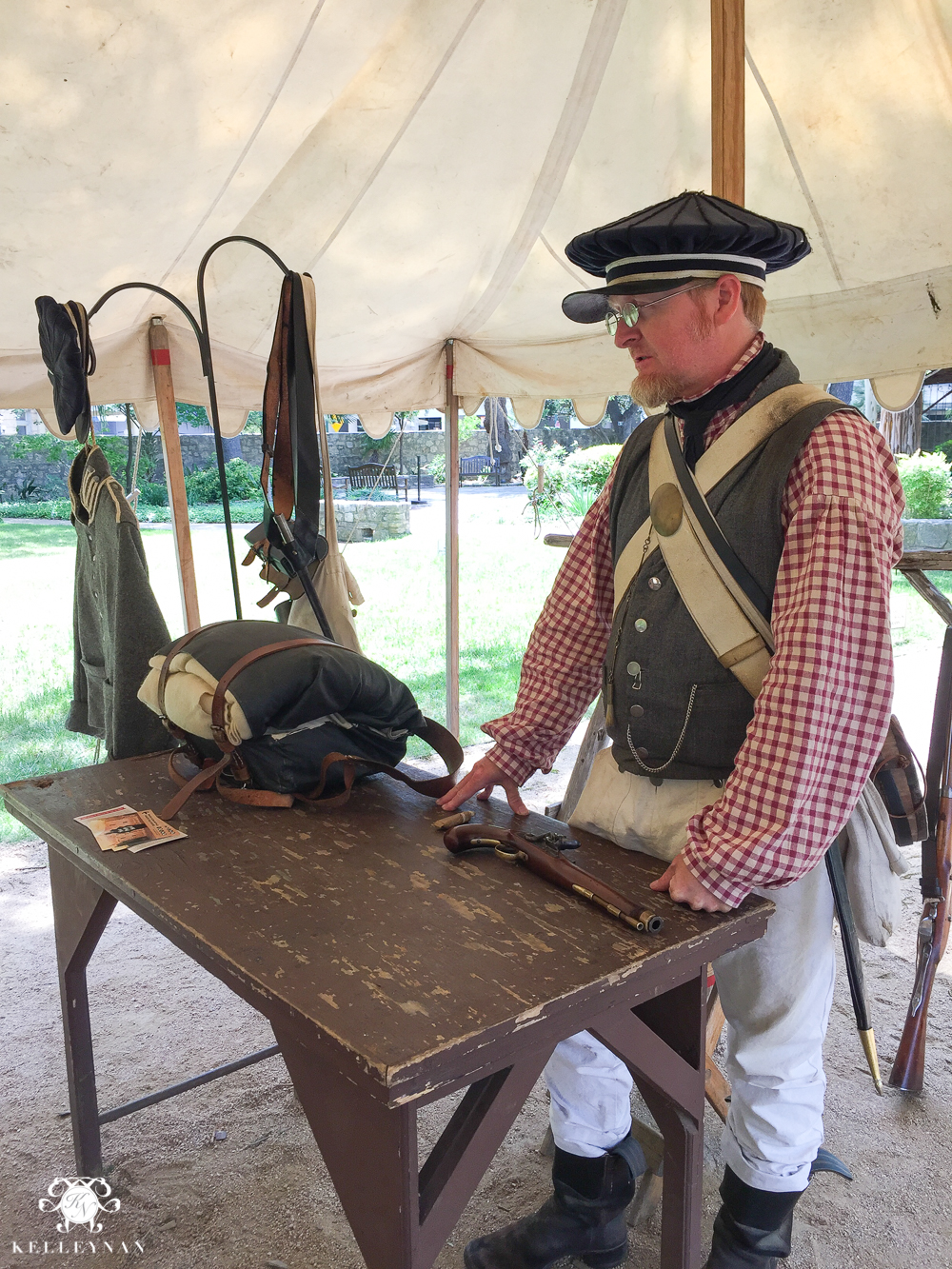 Another sight that doesn't take long but is worth a visit is the oldest church in Texas- the San Fernando Cathedral.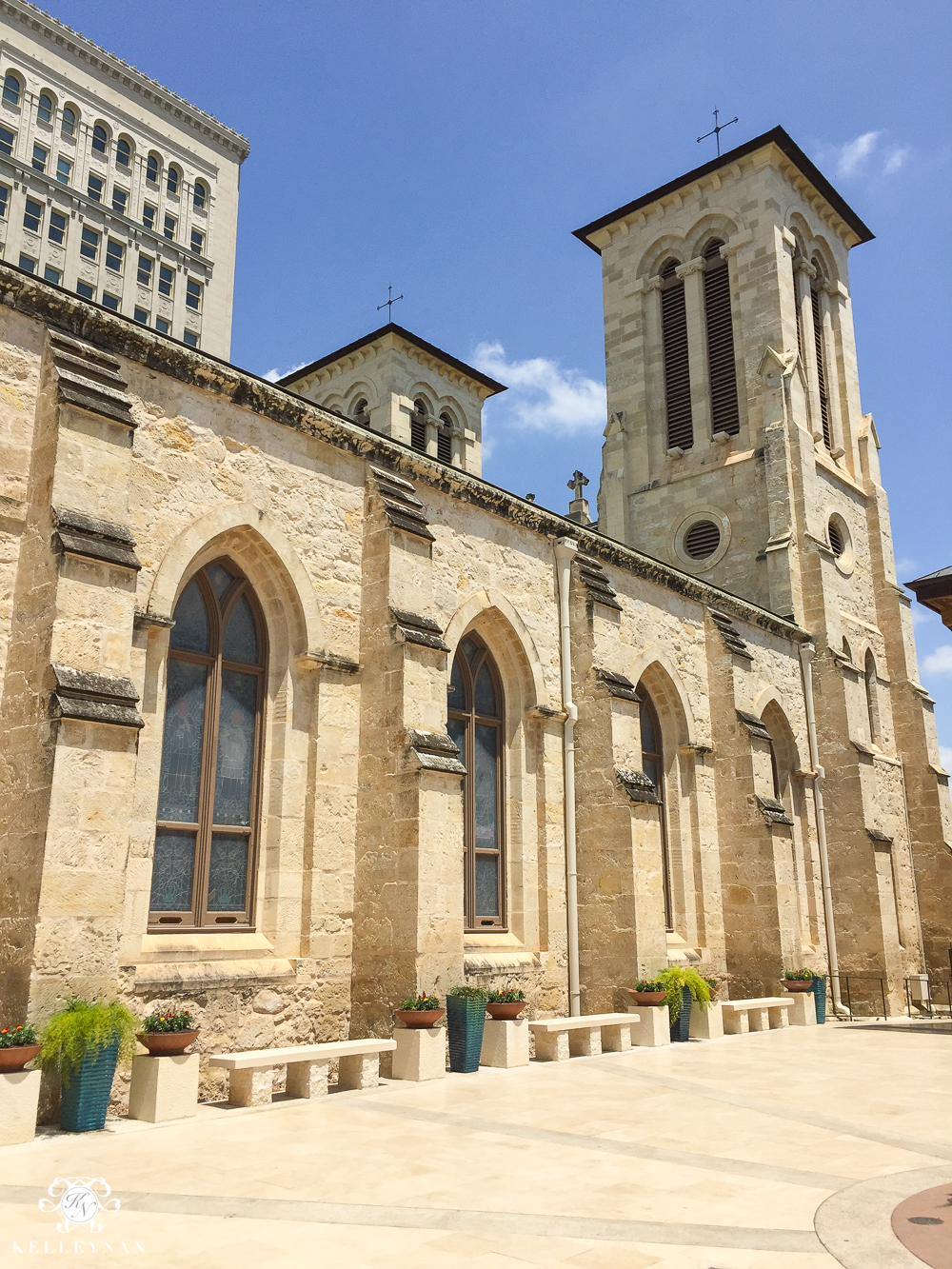 It actually holds the remains of Davy Crockett and other heroes from the battle. How cool is that?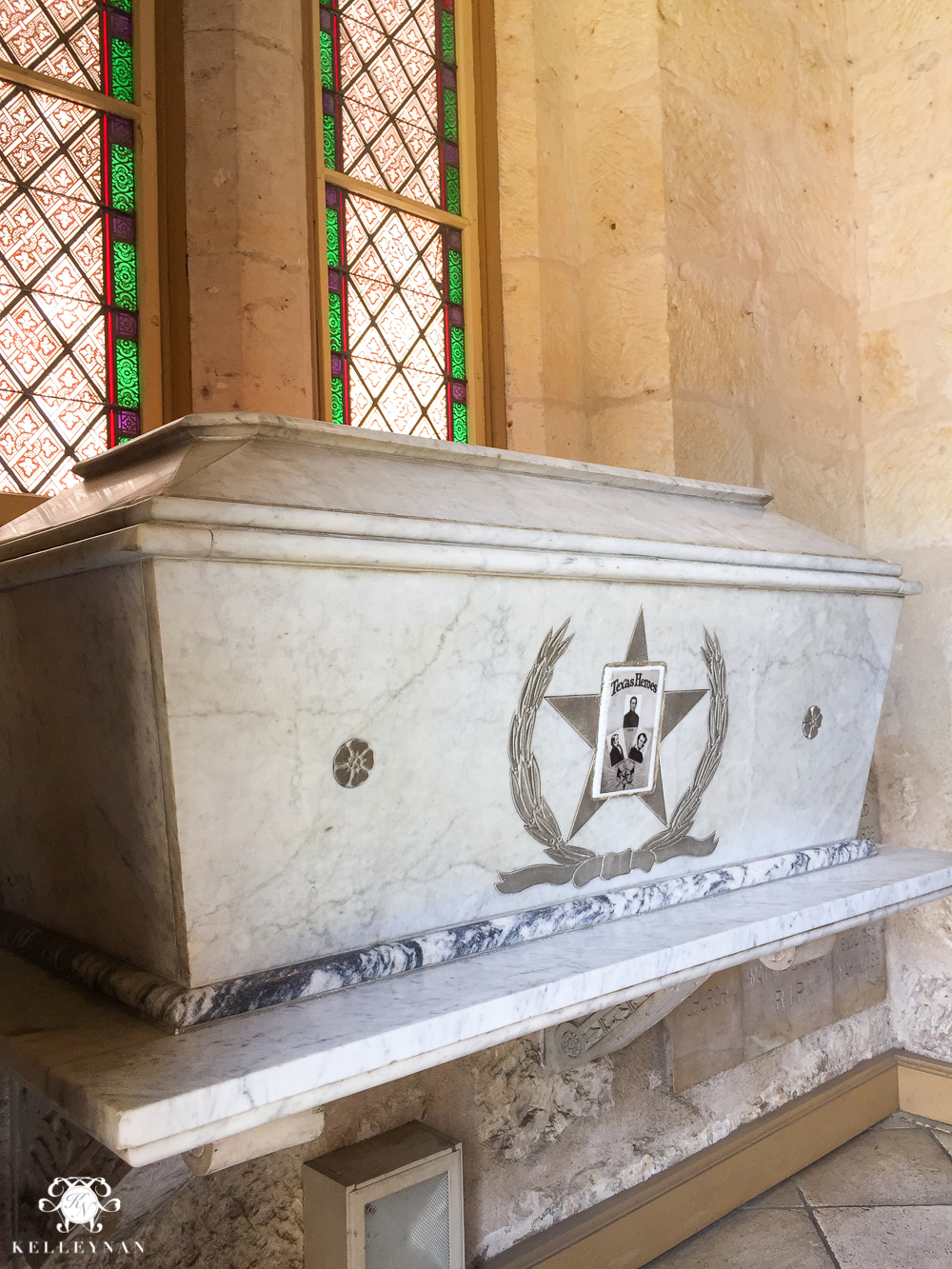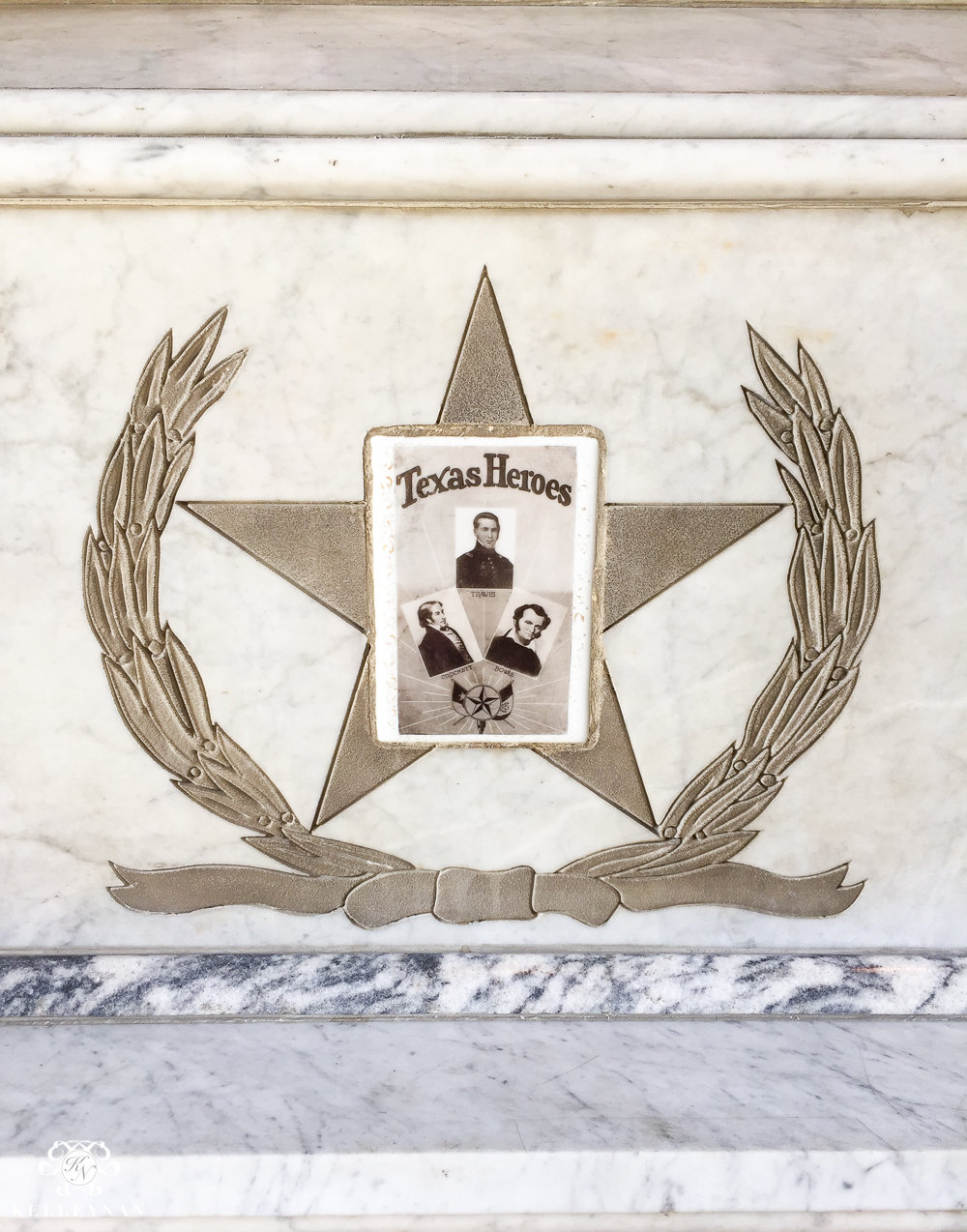 Here's a peek of the inside of the cathedral.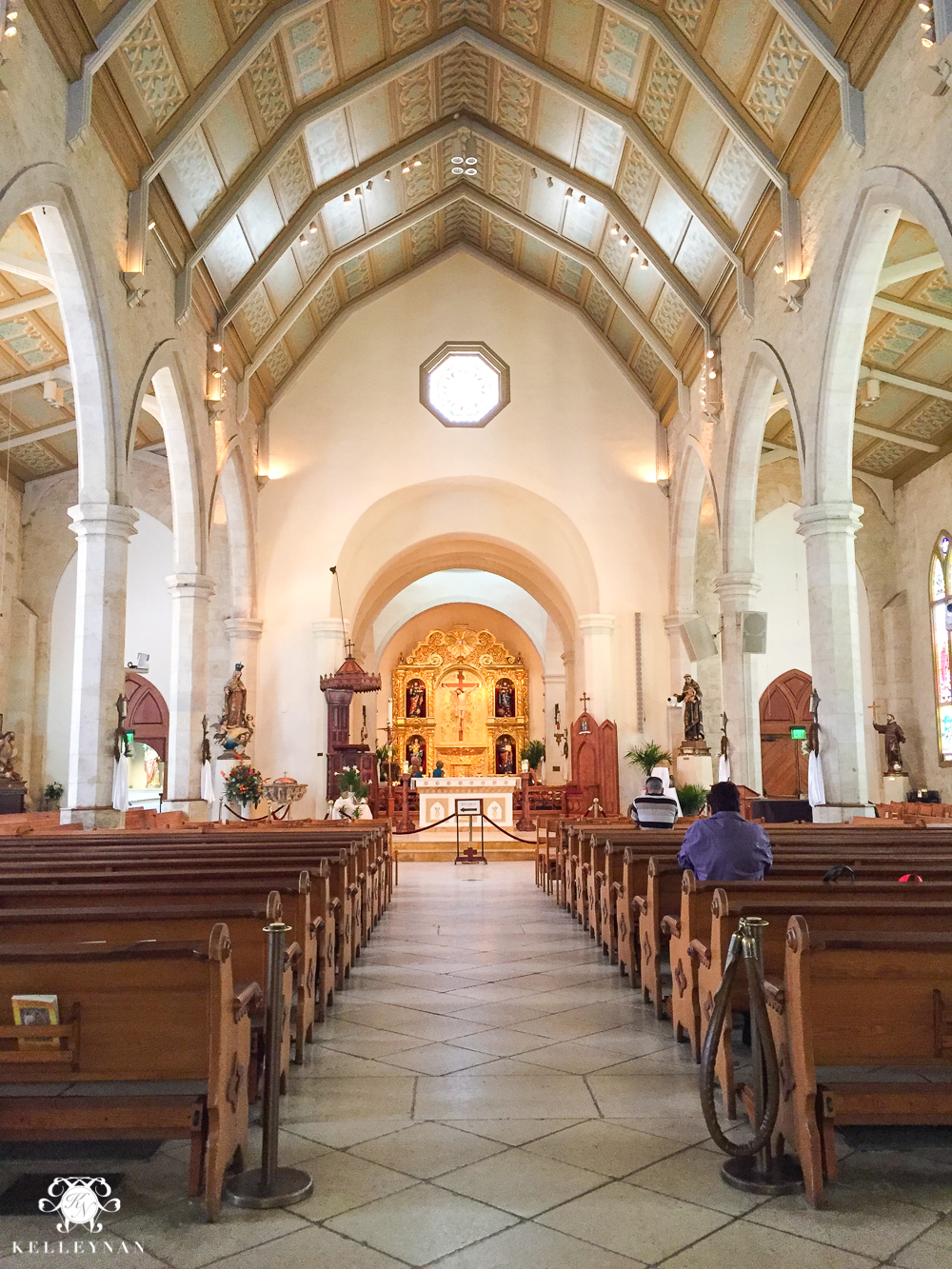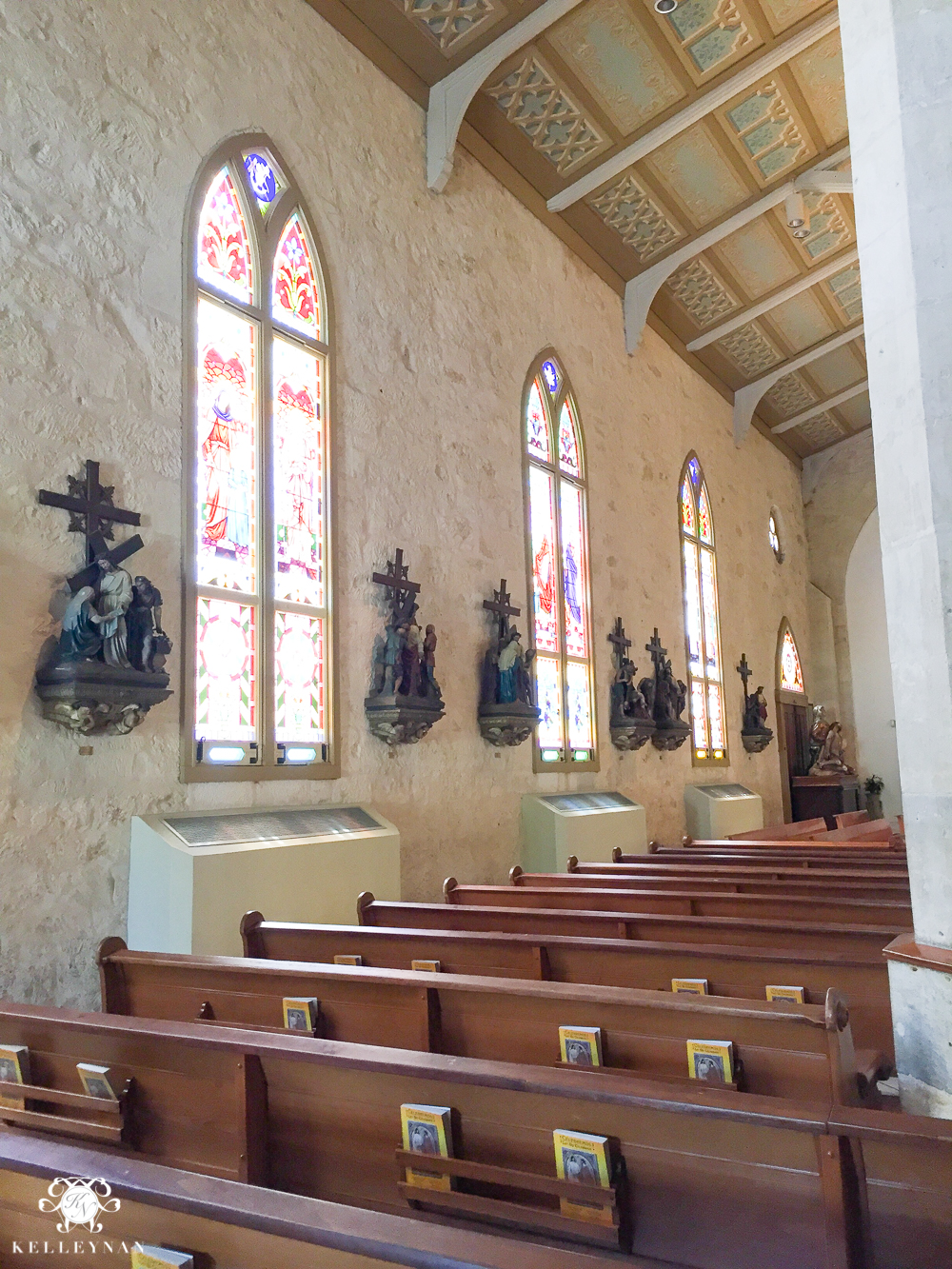 Be sure to take a riverboat tour while you are in town; our hotel had steps that led right down to one of the docks. They are only 30 minutes long and its the easiest way to check out all the restaurants and shops on the Riverwalk while learning about the city. My favorite part had zero to do with culture and architecture and everything to do with this spot below. Does it look familiar?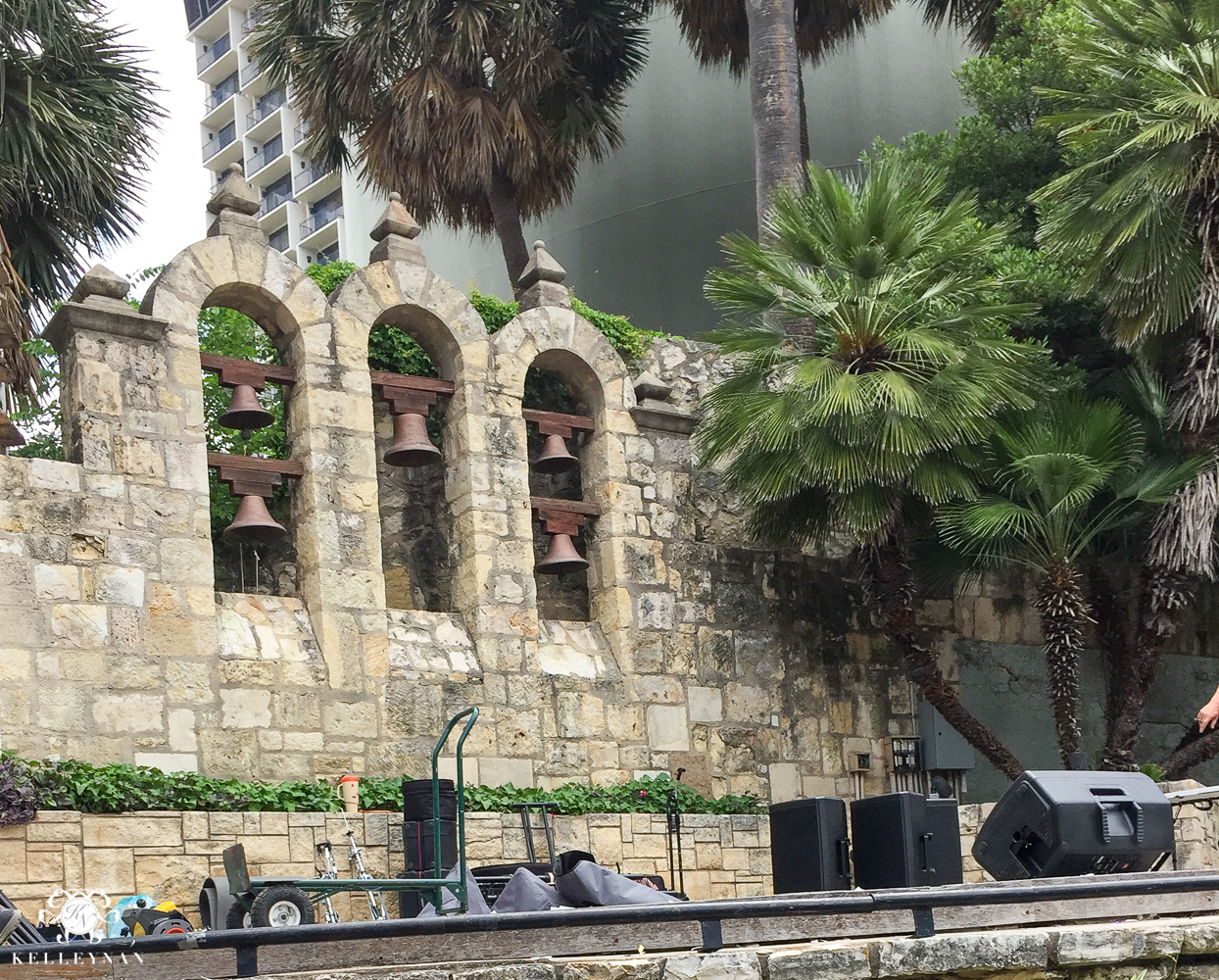 If you think you remember Sandra Bullock strolling across the stage, you would be right. Miss Congeniality was filmed here.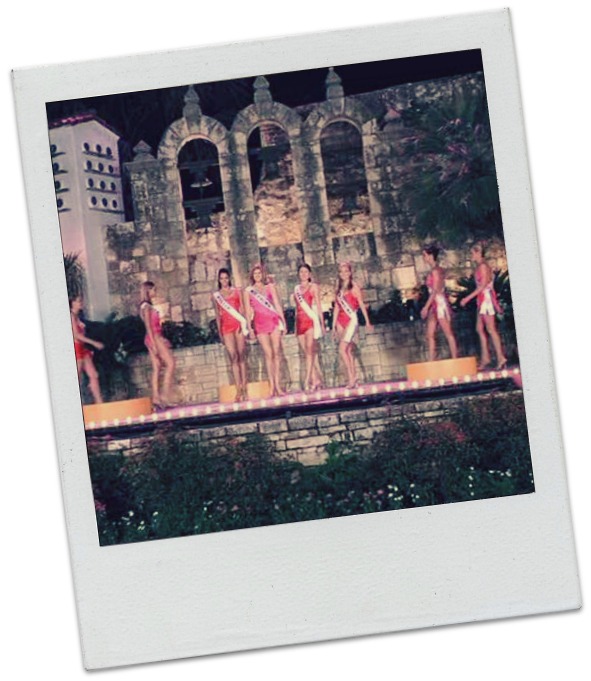 One afternoon, we headed to the Tower of the Americas for the best view of the city. While there's an observation deck on top, there's also a restaurant and bar. After peeking out of the rotating level, we ordered some spicy Bloody Marys. You don't have to commit to a full meal here; just pop in for a drink. Again, the afternoon was a good time to go.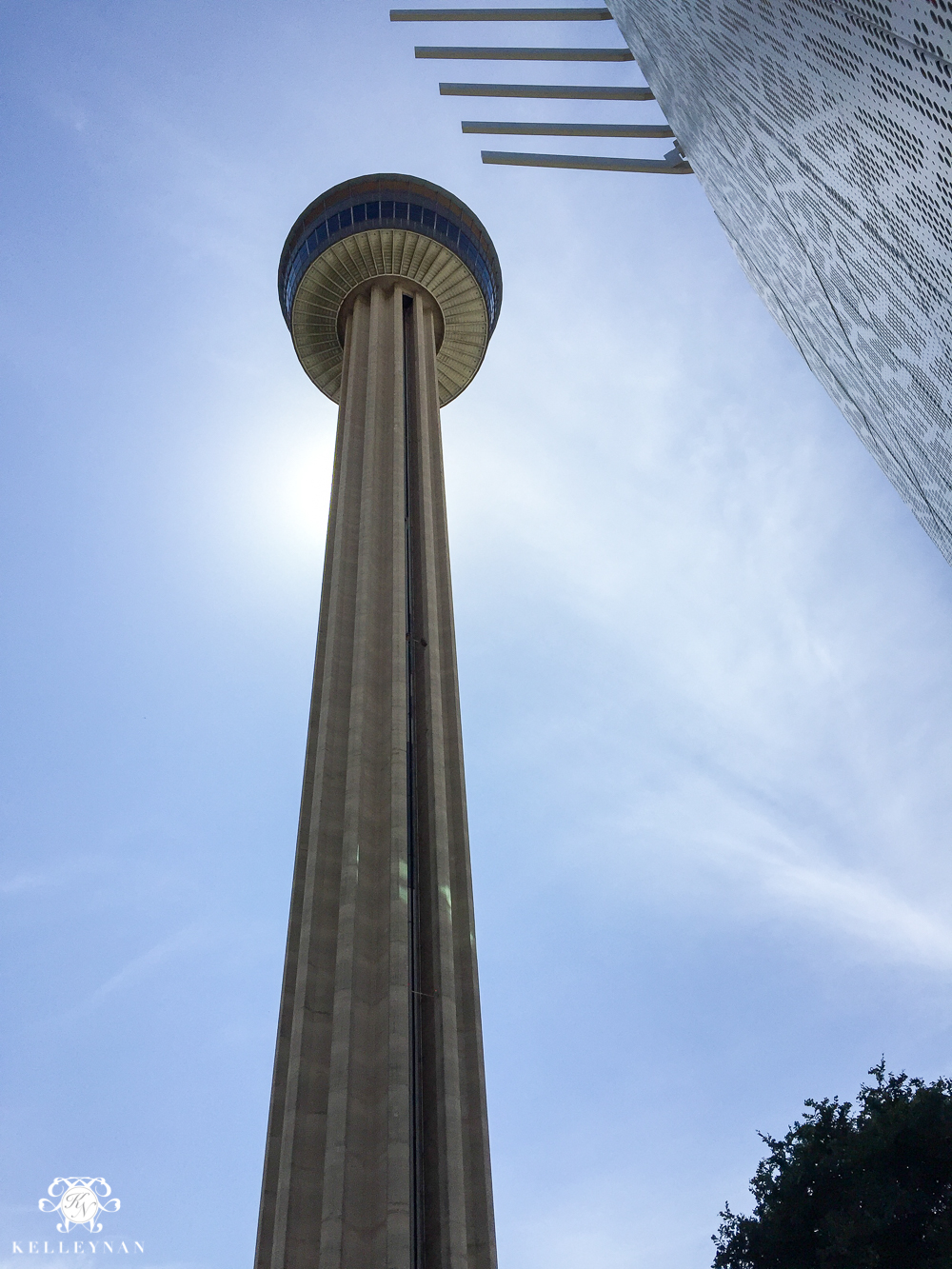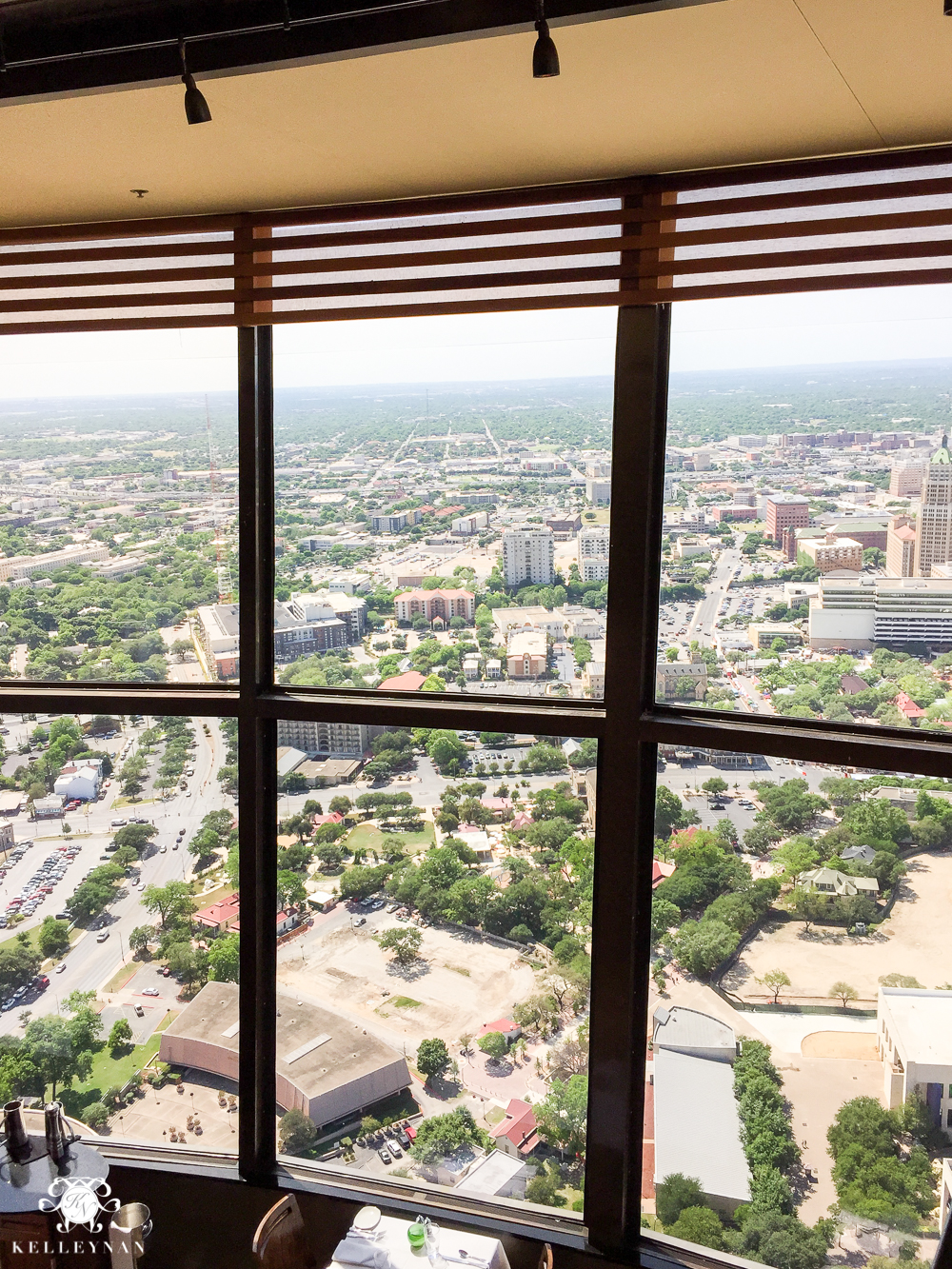 On Tuesday night, we headed to Niosa – A Night in Old San Antonio. This festival had it all. Themed sections, stages, and vendors – from German oom-pah music to Texano to rock to county – (Frontier Town was my favorite section). For a few hours in the evening, you can stroll La Villita and be transported into different genres from one minute to the next. THIS is where I had my first experience with cascarones. They sell three for $1 and cracking eggs on strangers heads is totally welcomed and expected.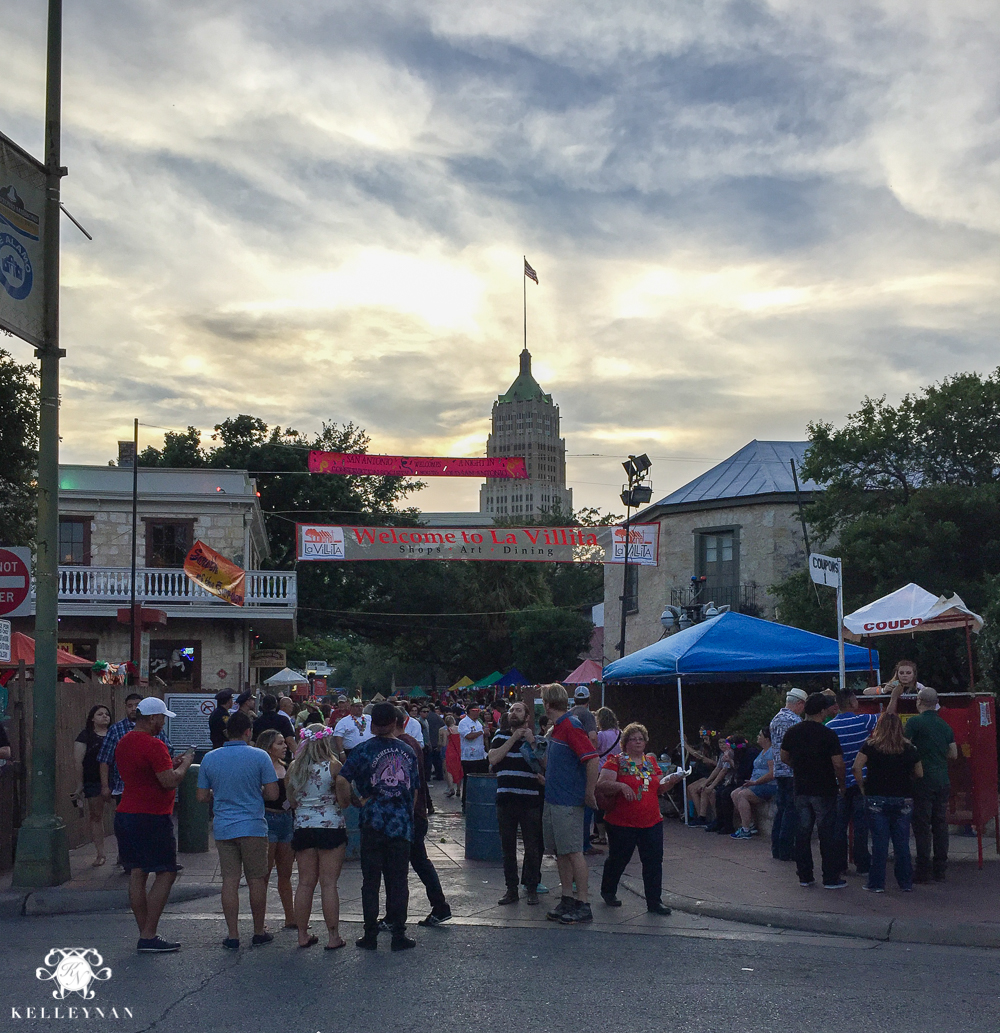 A little view of Texano at the Arneson Theater (also shown above on our riverboat tour).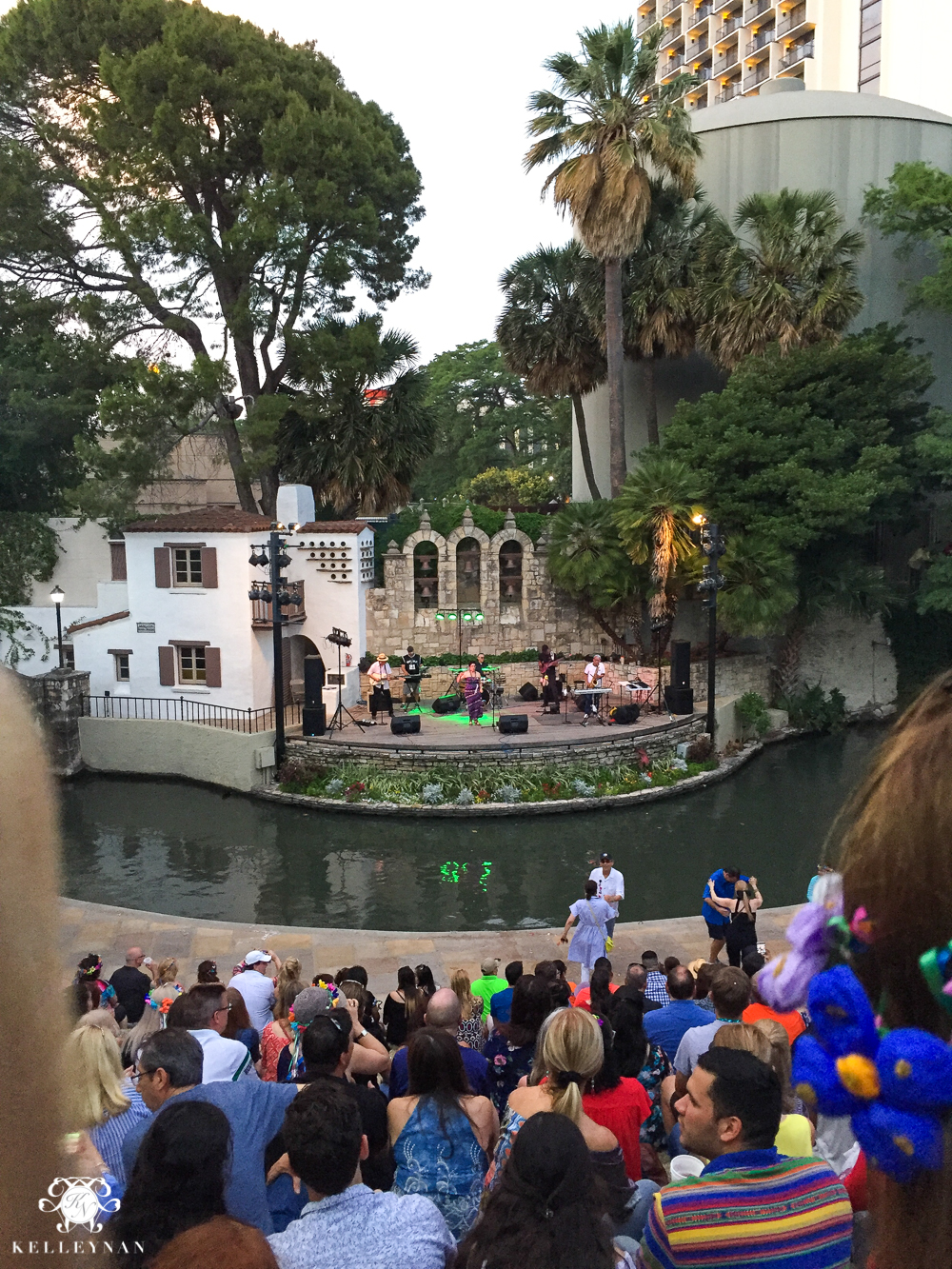 Another must-attend Fiesta event (and the one I was most excited about) is the riverboat parade. We had purchased tickets ahead of time but after checking into our hotel, we realized we had the best seats in the house. We forfeited our paid seats at the river level to take in the show from our balcony.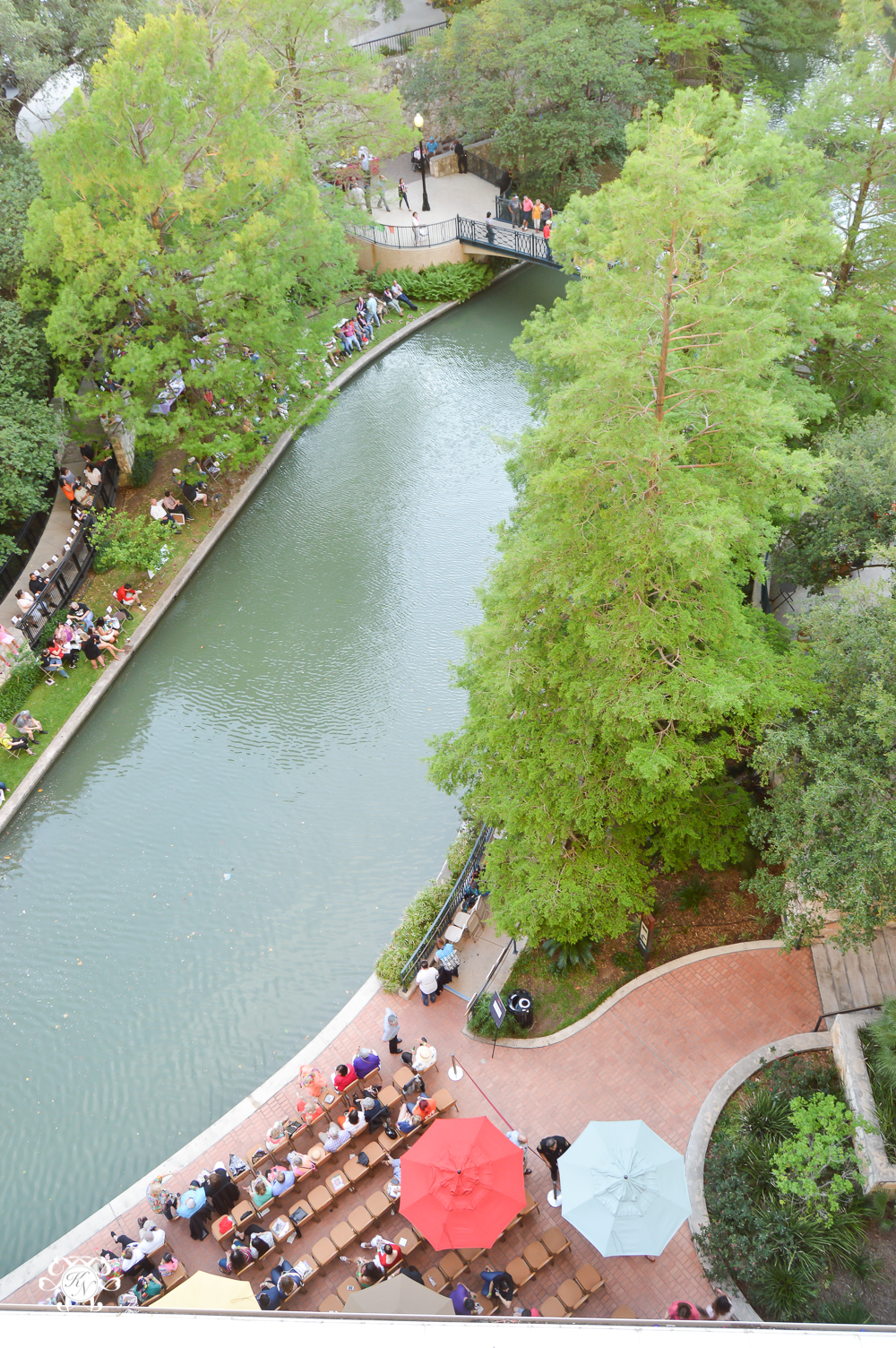 Can you blame us? The streets were filled with people watching from bridges and seats were set up for ticket holders the day before. But, we had the prime viewing location from the 9th floor of the Marriott Riverwalk.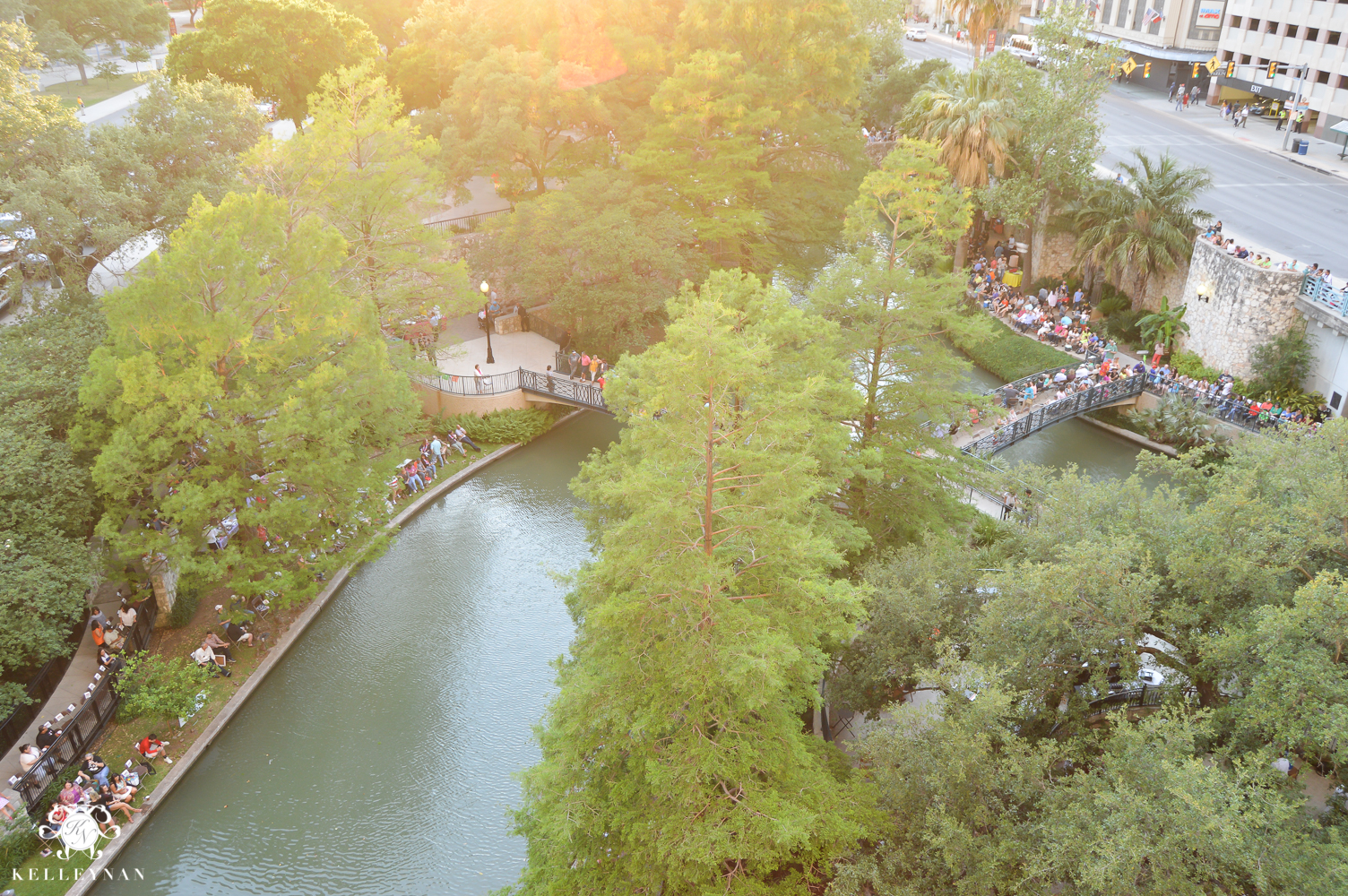 We made drinks while the city flooded our room with music. Y'all, I even danced on Instagram. Yes, I danced.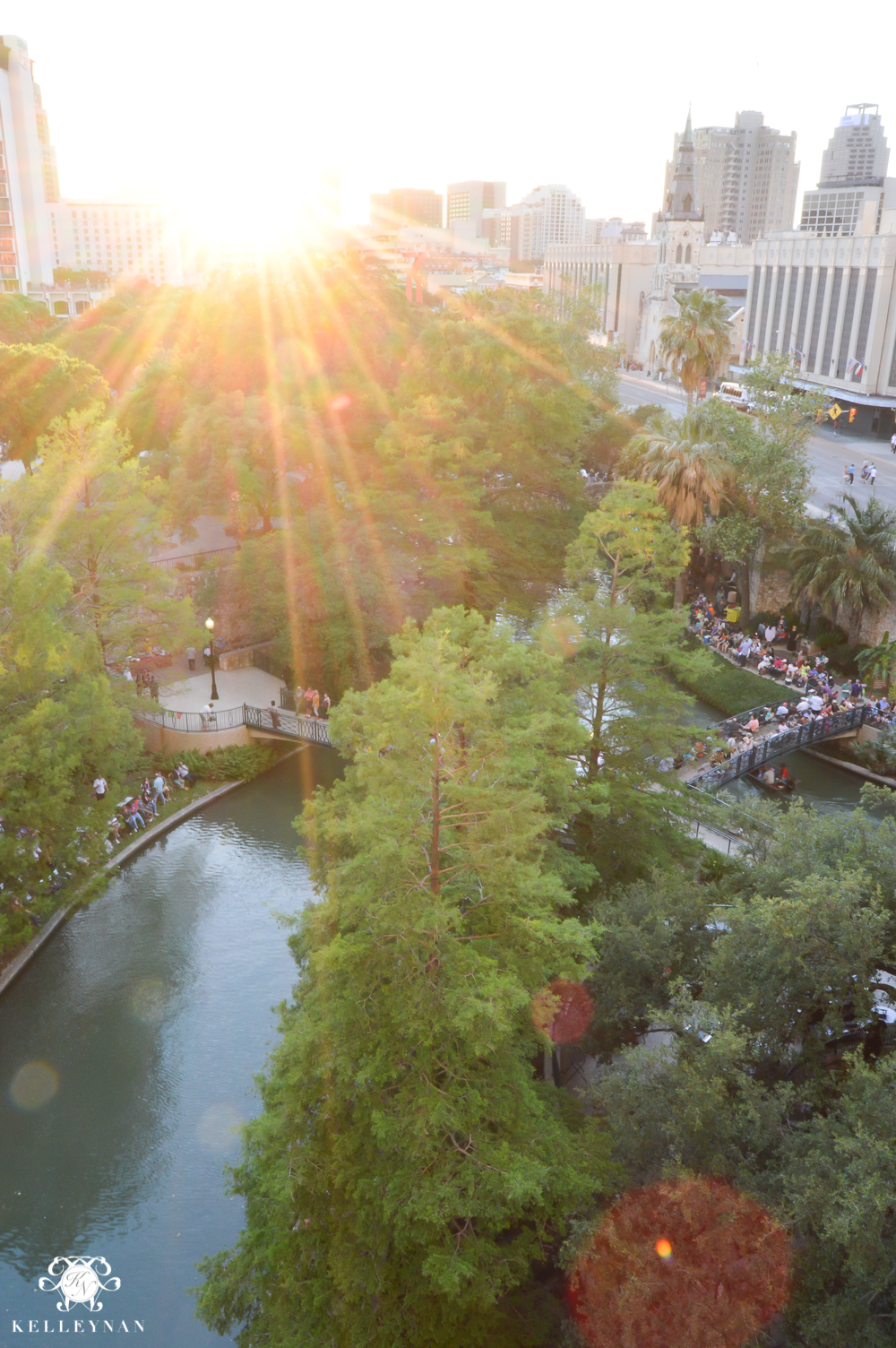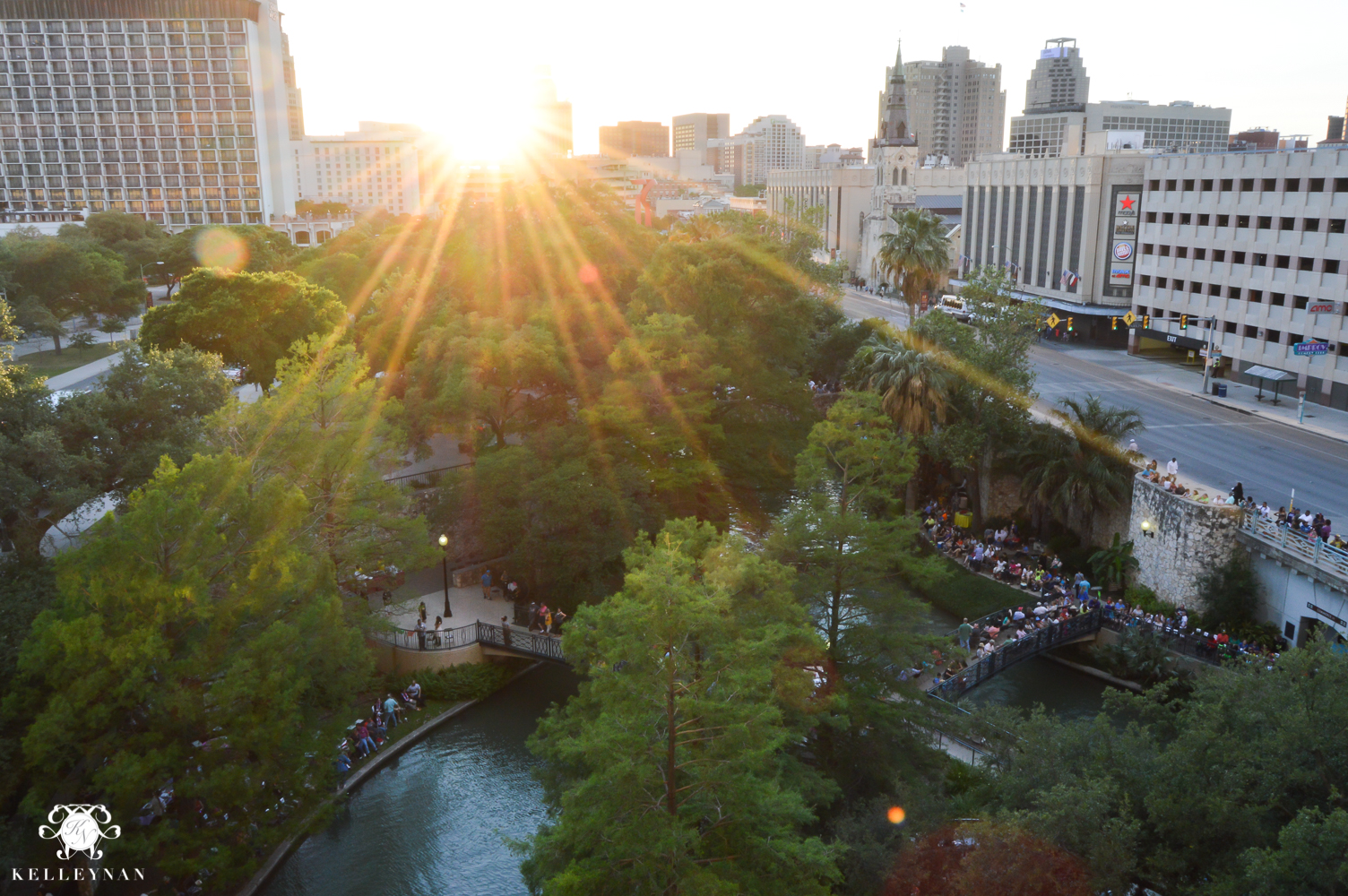 As soon as the sun set, we caught the first glimpse of the boat parade. Each of them were lit up and themed, and several had live bands playing. Confetti was launched from hotel balconies. It was just Dave and I on our balcony but I will remember it as one of the most fun parties ever.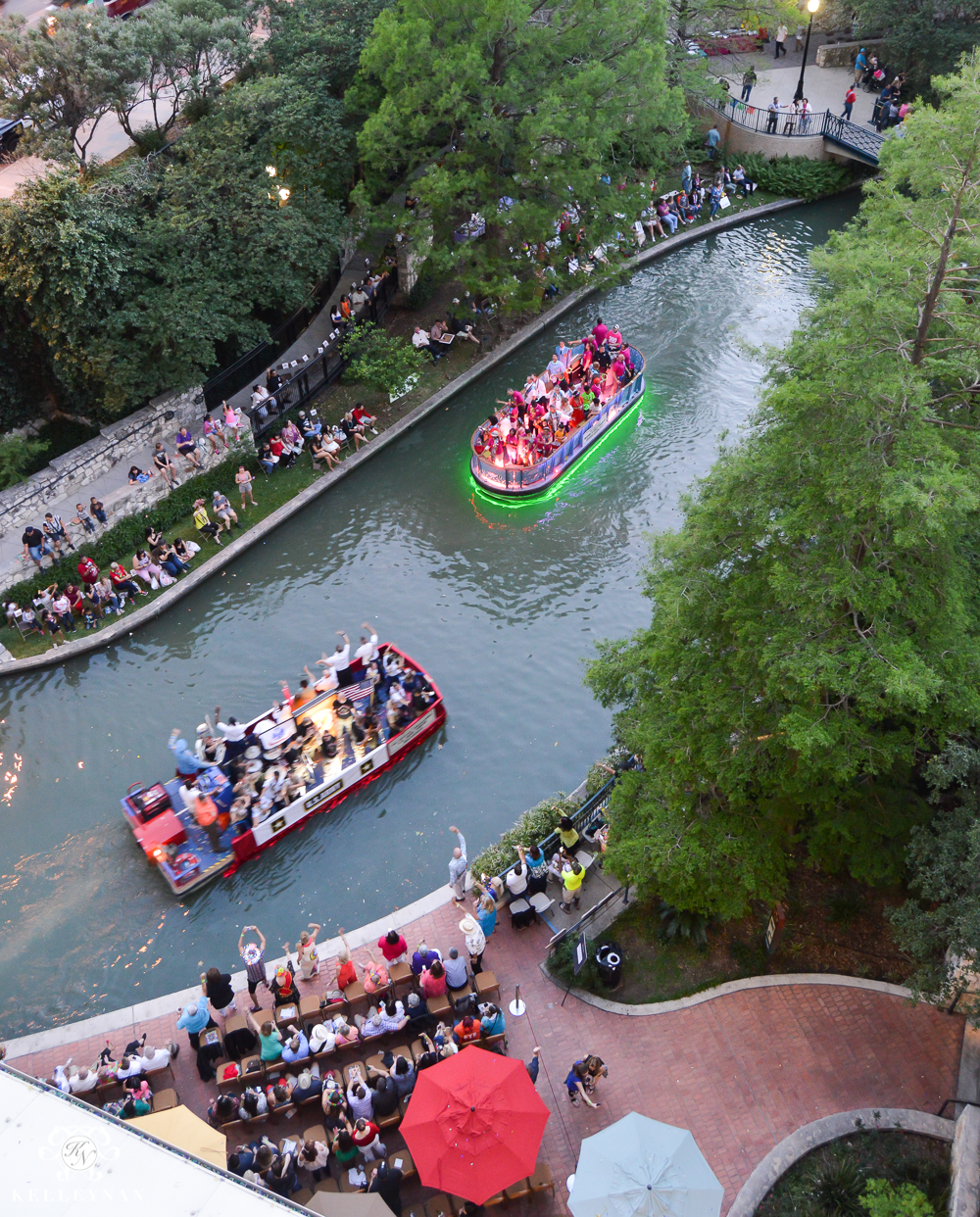 Can you even with this room view??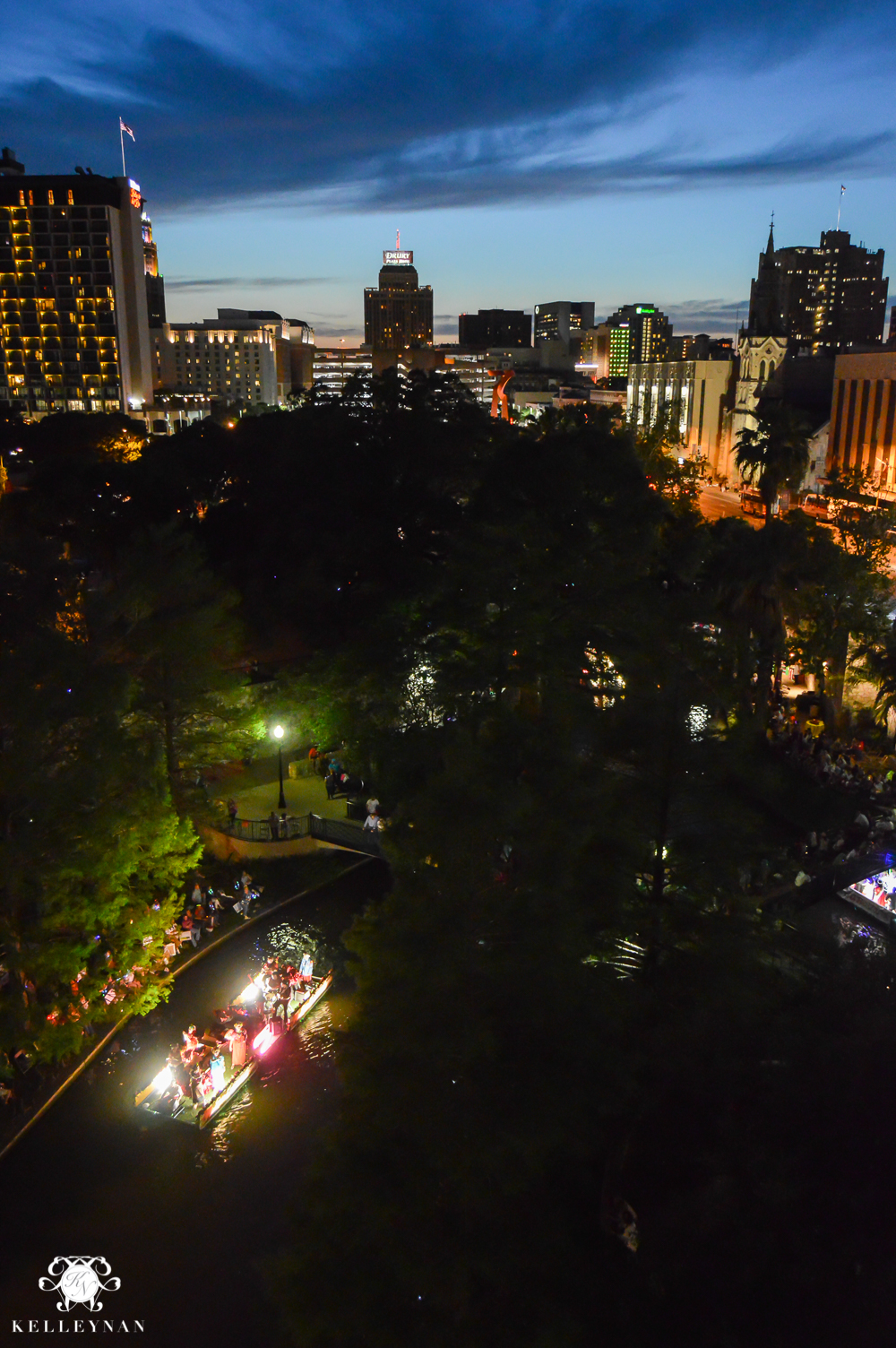 We ate, we drank, we toured, we partied, we celebrated… heck- we even cracked eggs on each other's heads! Oh, and remember how I shipped a box home from Dallas to prevent the airport luggage scale guessing game? SOMEHOW, I weighed in at 63 lbs. 13 POUNDS OVER! Between our bags (and our brains), Dave and I made some quick adjustments and settled at 50lbs each. Right on the dot. Fiesta Week, you have not seen the last of us. There are still so many place I want to visit and explore around the city. Until next time, San Antonio. xo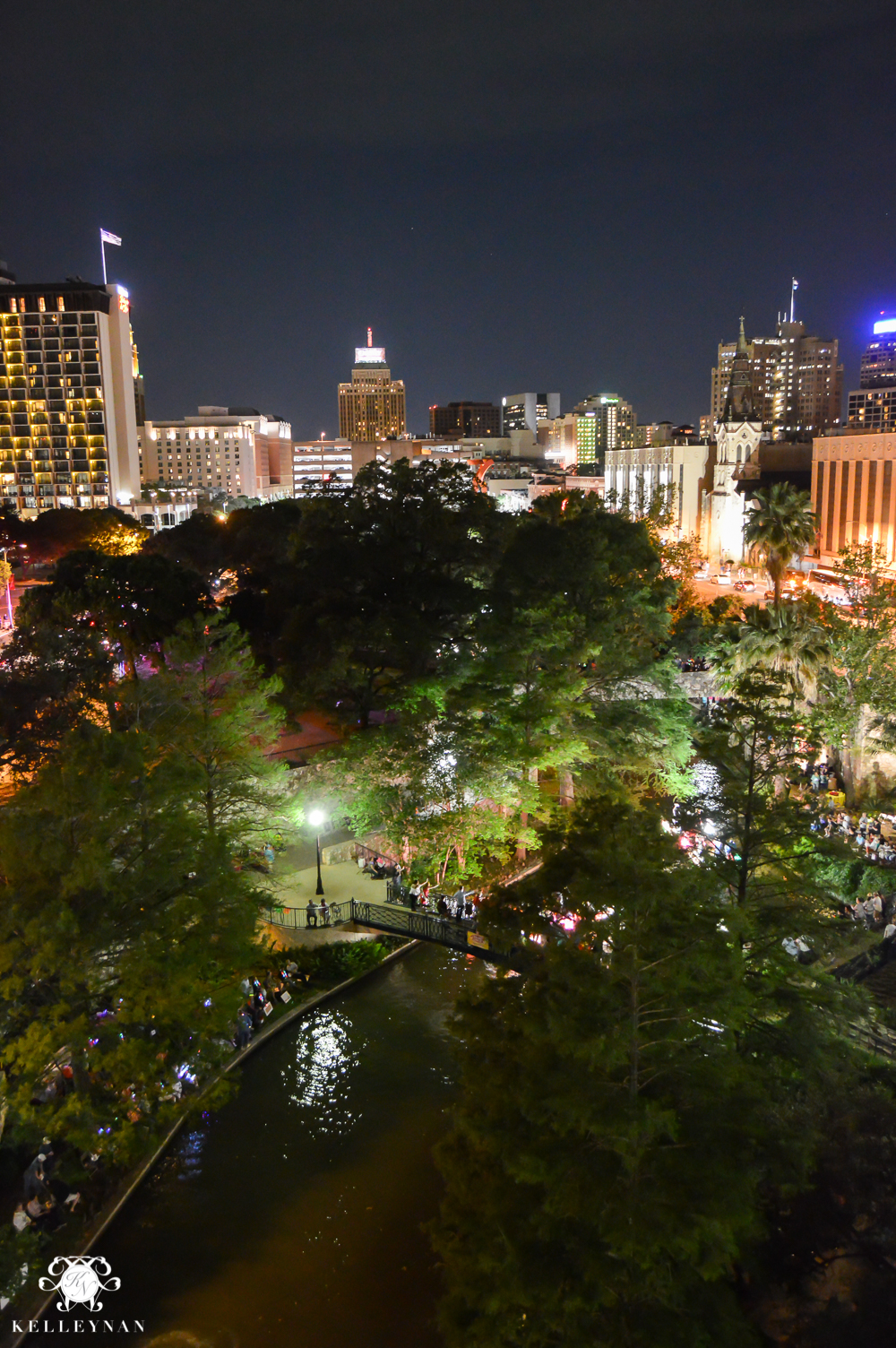 *A big THANK YOU to the San Antonio Marriott Riverwalk for accommodating us and catering to us so wonderfully, along with Visit San Antonio for helping to facilitate our visit.