Welcome to the first day of the spring 2017 One Room Challenge! Truth be told, I have been ready for this project since the last day of the fall 2016 cycle. If this is your first time visiting, you weren't reading back then, or you have no idea what the One Room Challenge is, here's the deal. Twice a year, Linda from Calling It Home hosts a huge makeover event for interior designers and bloggers. The challenge is that each participant takes on a space in his/her house to transform. The time limit? Six weeks. Starting today, I will be posting updates on the progress of my "challenge room" every Thursday, and on May 11, I will share the full final reveal of the finished space. Each week, I will be linking up with all the other participants at the bottom of the post. All kinds of rooms and spaces will be tackled- some simple, some elaborate. If you are a "before and after" junkie like me, you will absolutely eat it up!
Last fall was my first One Room Challenge; I transformed my office and six months later, I can truly say it makes a huge difference in my work day. This is where I started…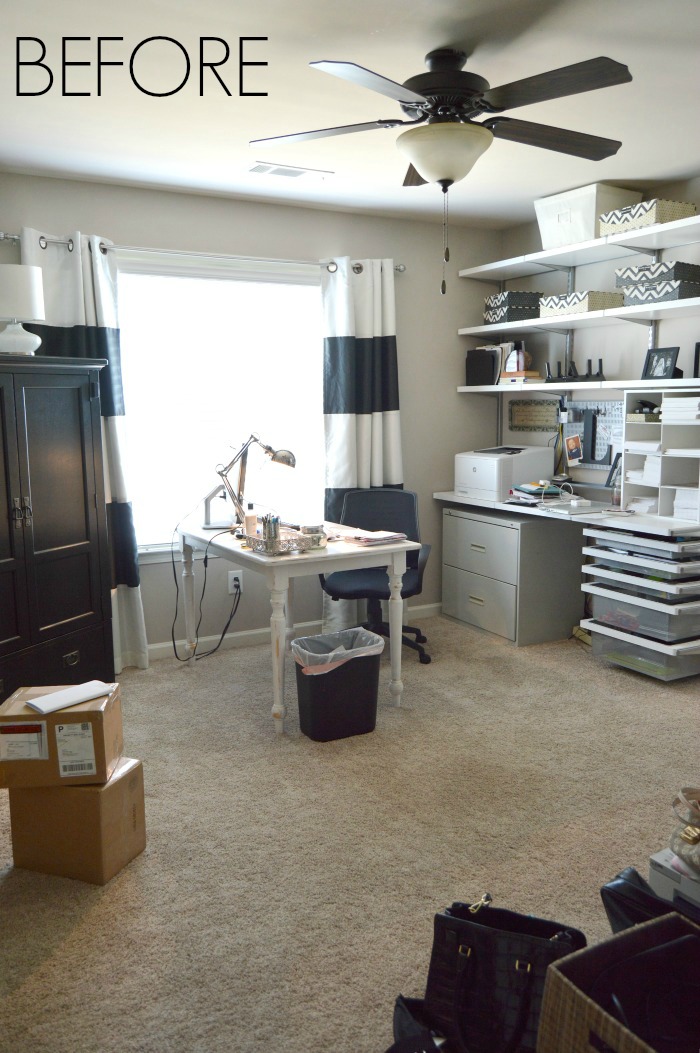 Not so great, right? Well after six weeks, this is what the transformed room looked like.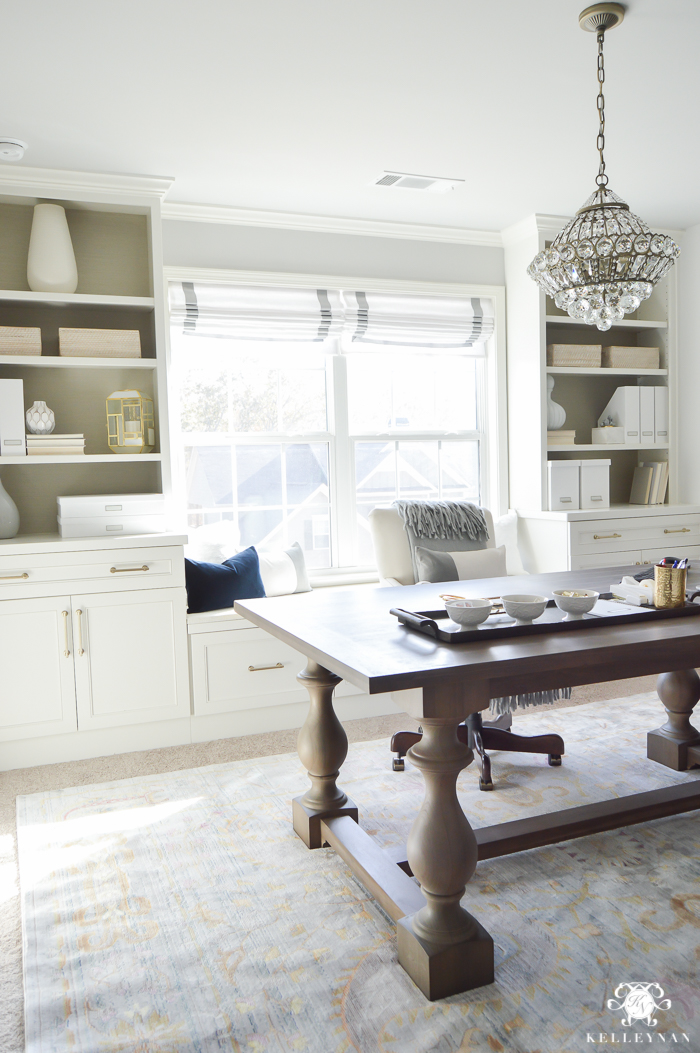 Pretty crazy, huh? You can see the full reveal and all the details HERE.
This time around, I am tackling our third guest bedroom. While that may sound ridiculous, my husband and I don't have childrens' rooms and all of our family lives out of town. You would be surprised just how many times we have been at capacity! But, this isn't my first guest bedroom makeover. Early last year, I took on a guest bedroom, in partnership with Pottery Barn. The goal was to create a white retreat; here is where I started…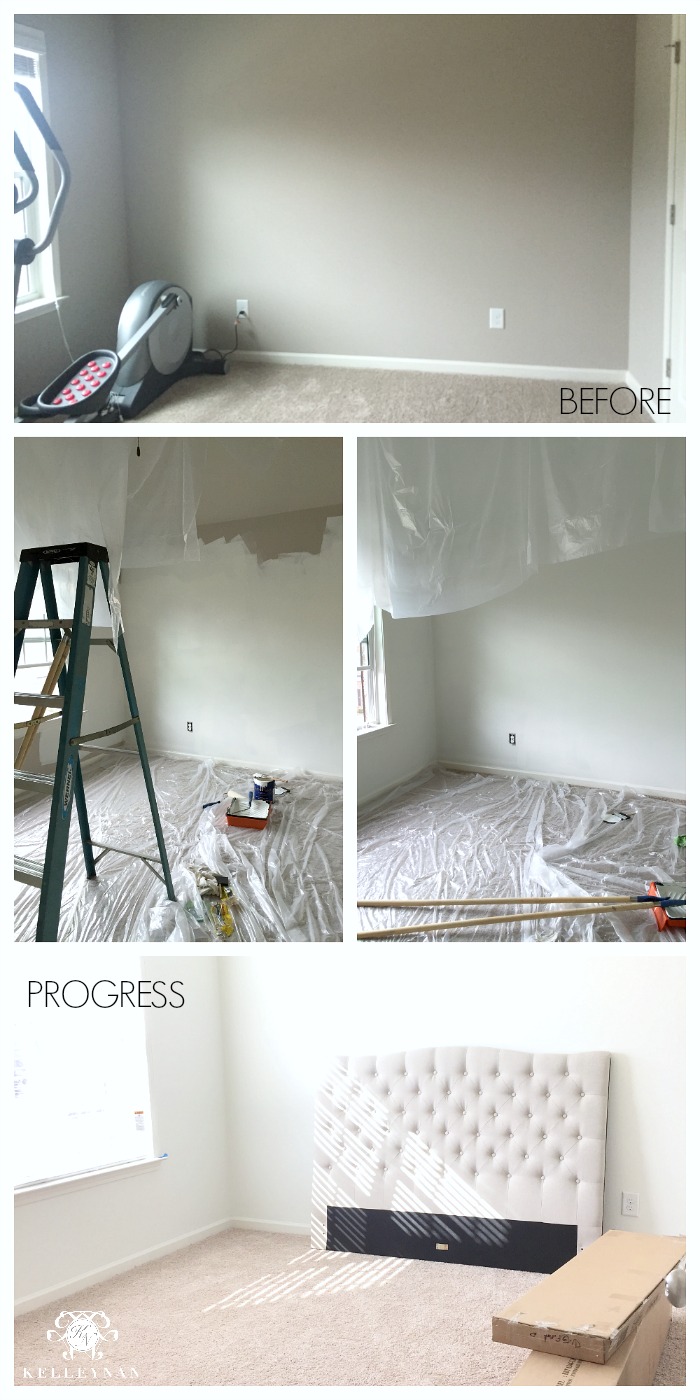 And this was the final result.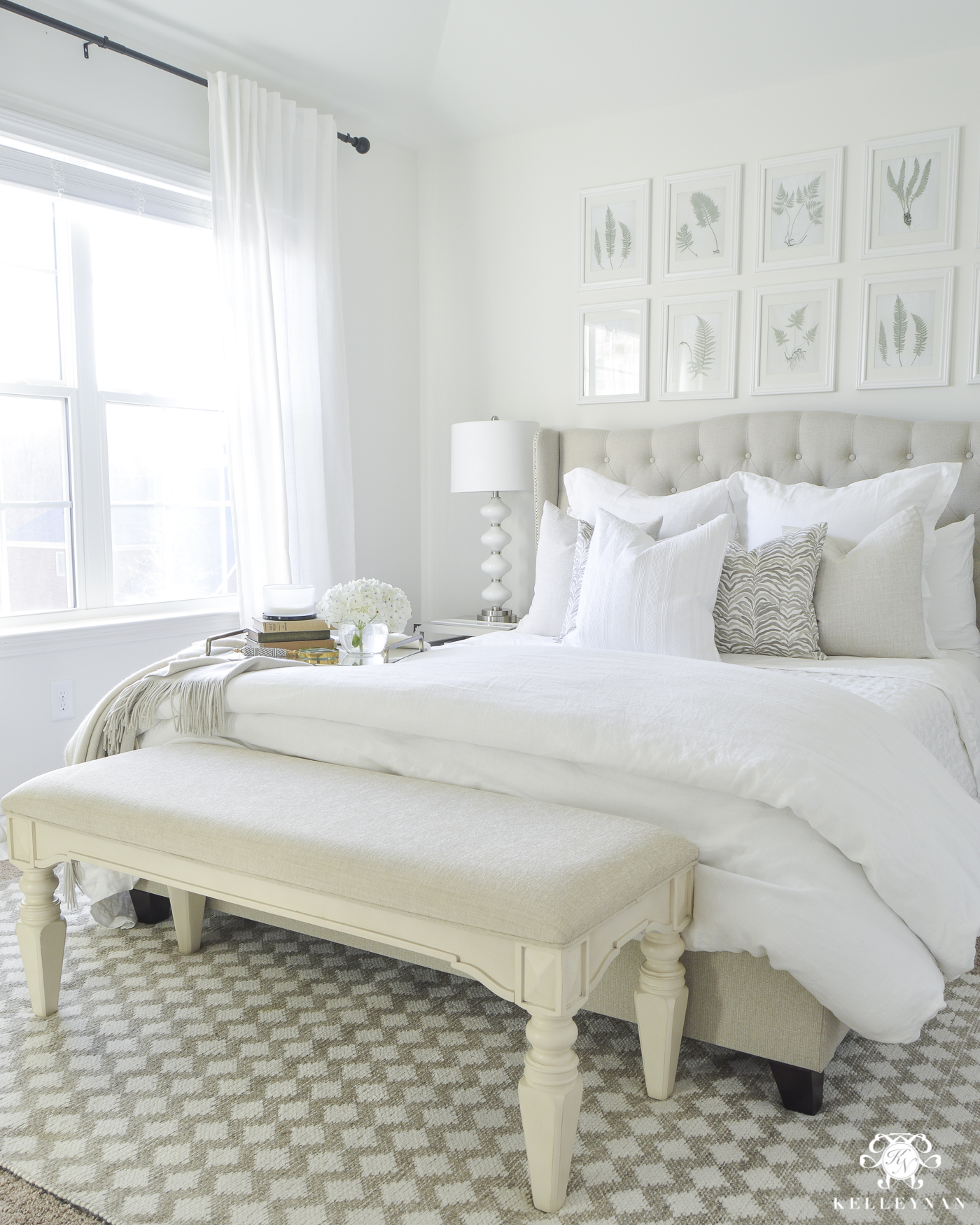 You can see the full reveal HERE. We have a third guest bedroom downstairs (HERE) that will eventually get a refresh but for now, it is fine. The bedroom I am tackling for the One Room Challenge, however, is not "fine". I always cringe when our other two rooms are filled and I have to put someone in this third room. Actually, guests tend to really like this room because of the comfortable mattress, but I've never actually done anything to the room. I have other spaces I've never finished or am desperate to update, but this was the last space I truly hadn't touched. After asking readers to vote on which room I should tackle, and weighing my options, I decided I would rather knock this out, once and for all, and revisit the smaller updates later. Ok, so you wanna see where we are starting? (PS: the only ORC rule is that this is a no-judgement zone! haha) Here we go.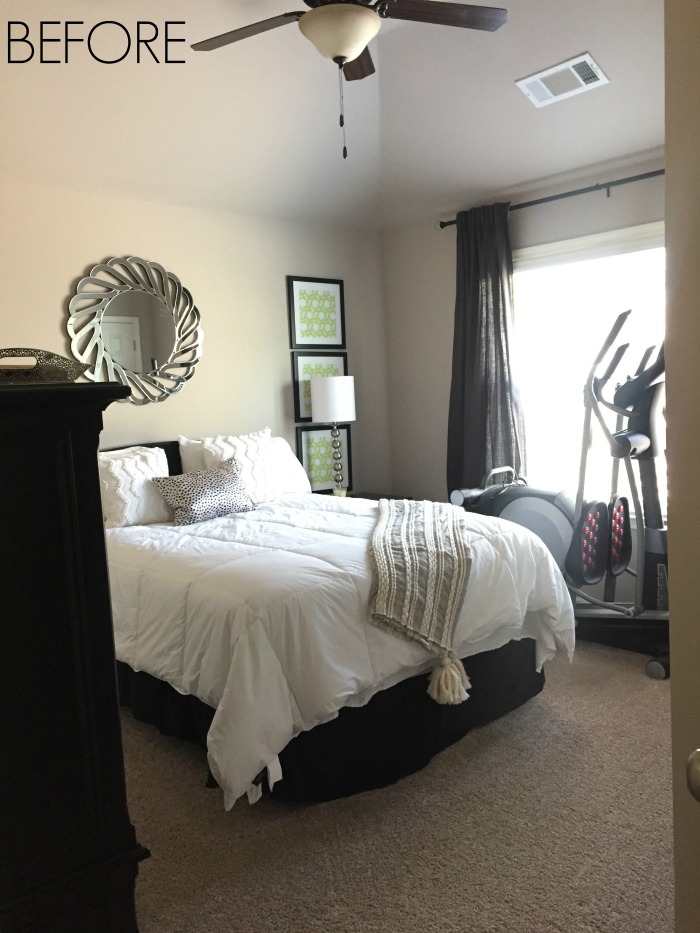 Notice that migrating elliptical? haha 😉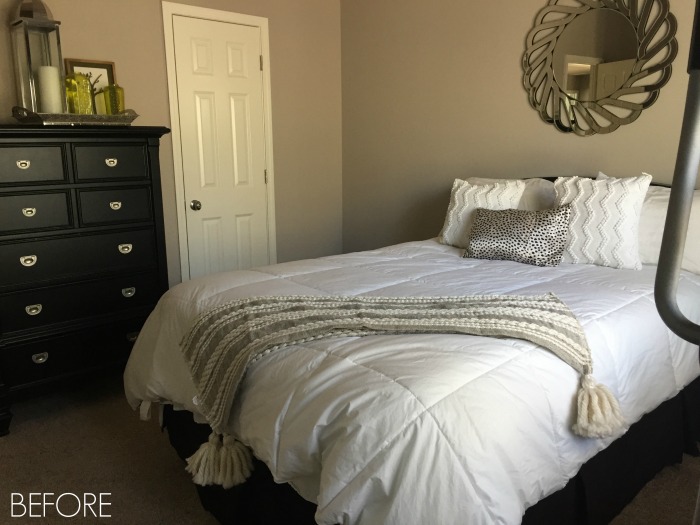 You know what? I take that back; I think this room is fine but with six weeks to make it way better than fine, I'm excited to make this room a space I am proud to host guests in. And folks, we have a design board! I have been planning, and re-planning this space in my head for months and finally, as of one hour ago, finished getting it "down on paper". It will be an eclectic mix with common themes – lots of natural elements and textures, but still true to the neutrals I love. I've linked sources and details at the bottom of the board; some affiliate links are included.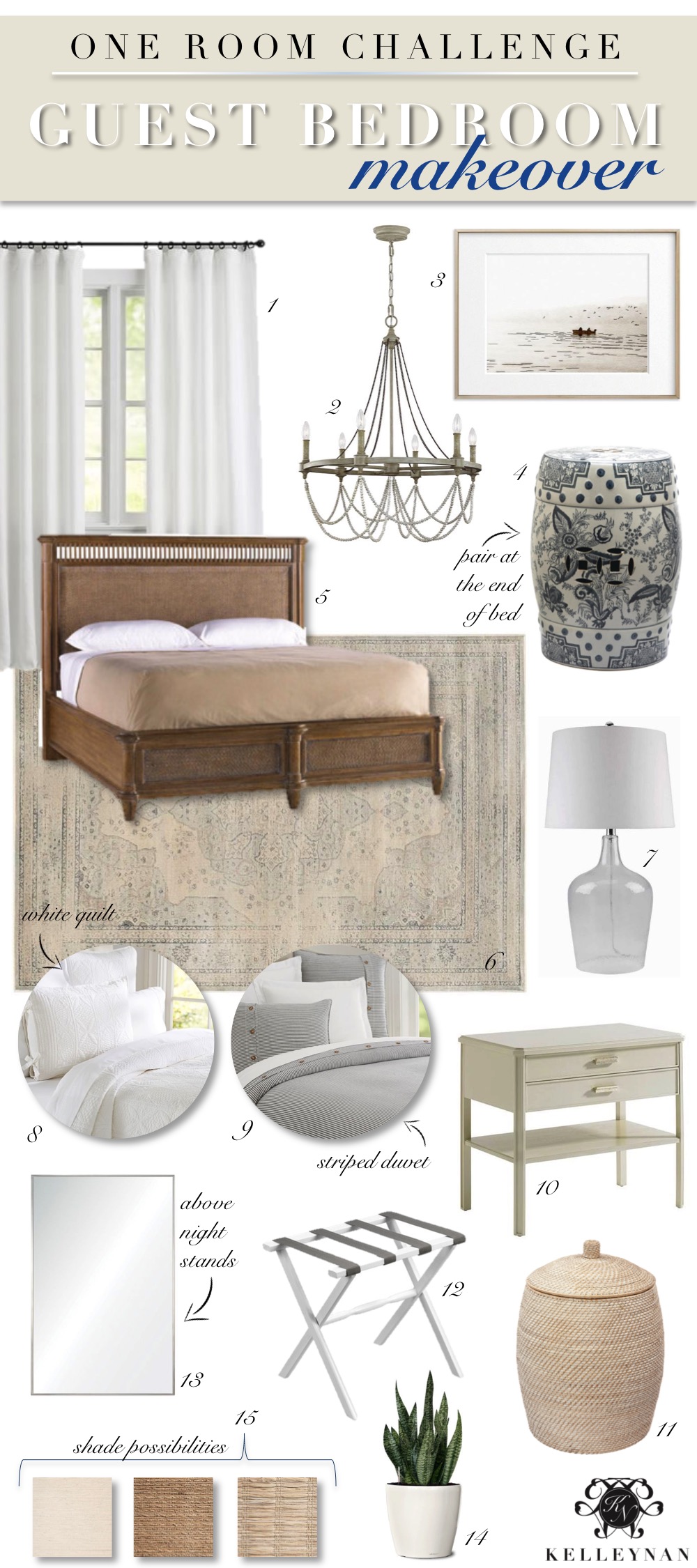 1. Linen Curtain Panels | 2. Murray Feiss Six-Light Chandelier from Lighting Design Company | 3. Fisherman Art | 4. Safavieh Pagoda Garden Stools |  5. Archipelago Platform Bed | 6. Safavieh Vintage Oriental Light Blue/Cream Rug | 7. Sydney Table Lamps | 8. White Quilt | 9. Blue and White Striped Duvet Cover | 10. Nightstands | 11. Woven Hamper | 12. Luggage Rack | 13. Mirrors | 14. Snake Plant | 15. Woven Shade Possibilities from Select Blinds
So, what do you think? Are you ready to tackle this thing? Yes, "you"- you better believe I'm going to be asking for lots of feedback as we go through this six week process! Let me know your thoughts in the comment section below! And, if you want to make sure you are getting the latest updates each week, straight to your inbox without missing a single detail, you can sign up for my emails at the bottom of this post.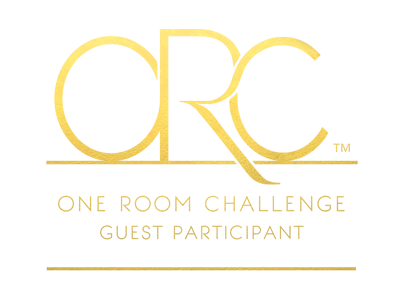 To check out the other bloggers and their projects, be sure to visit the link-up page HERE. And, you won't want to miss the 20 featured bloggers (HERE). Now is the time to pick some favs to follow throughout the next few weeks!