You know how I've been talking about whipping my outdoor spaces into shape? Actually, I think I've been talking about it… if not, I've been talking to myself about it quite often haha. This past Saturday was marked by a long awaited porch makeover and a relaxing date night on the deck. Made up of a covered porch and open deck area, we finally tackled the main outdoor living space (and saw Beauty and the Beast 😉 ). I'll be sharing the latter next week (the open deck part – not the Beauty and the Beast part haha), but to give you an idea of the project, here's what had to happen. Last summer, we had a dining table under the covered porch and lounge chairs on the open deck. I have wanted to traded in the loungers for a sectional-style seating area for a while and it seemed with the (possibly) harsh elements of the Georgia summers, a sectional would need to go under the covered porch to extend its lifespan. We purchased one a couple months ago, ditched the loungers, and moved the table. It was super bare- a few basic pieces with no defined space between the two sections. I don't have a true "before" to show how desperate this space was but I did manage to pull an image from last year's Bloggers' Progressive Dinner to give you an idea of the covered porch layout. This is when it was dressed its absolute best ;).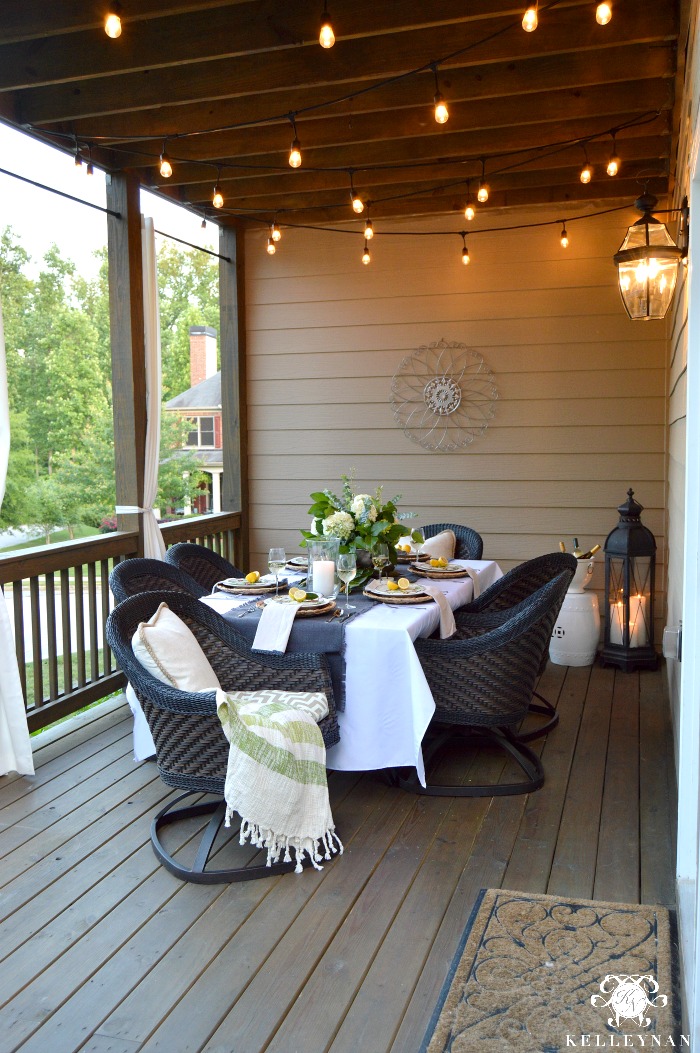 While I won't deny, this space was used a ton, it was cramped, and wasted the other half of the deck. For the last couple of months, I have been anticipating when I would be able to finish the spaces. I routinely start spring with World Market as the first place I seek inspiration and source outdoor decor – a practice I learned from my mom years ago. Her outdoor spaces are more vibrant but World Market has always been able to accommodate both of our styles, and super affordably. This year, I partnered with them and within an hour of browsing, searching, and loading my virtual cart, I had assembled my porch. We had an interesting pollen experience, a misbehaving blower, a wet-dry vac that saved the day, and an entire afternoon of planting and assembling the space. The result – I could (and literally, may) sleep out here.
Note: All sources are linked and listed at the bottom of this post. Post contains some affiliate links.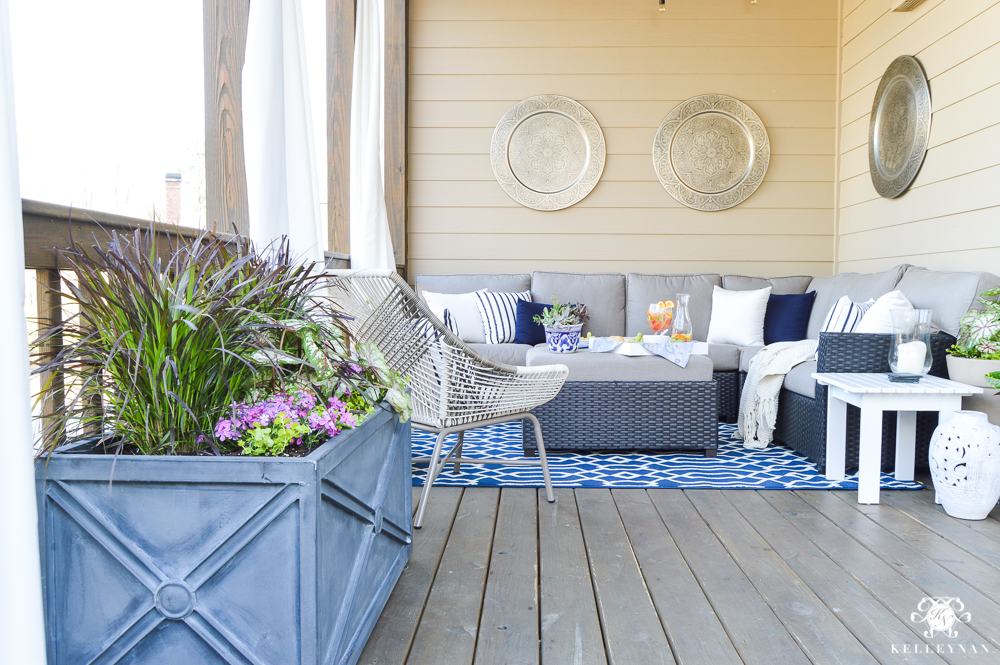 I wanted to stay true to myself, which doesn't involve a ton of bright colors, so similarly to my spring home tour (HERE), I decided on blue and white to compliment my neutral pieces. When I was placing my order, I can't even remember which came first – the wall medallions? The chair? The rug? The pillows? Speaking of pillows, I had no idea that World Market carried Sunbrella pillows. Like my furniture cushions, I always look for Sunbrella when I can for fade resistance and quality.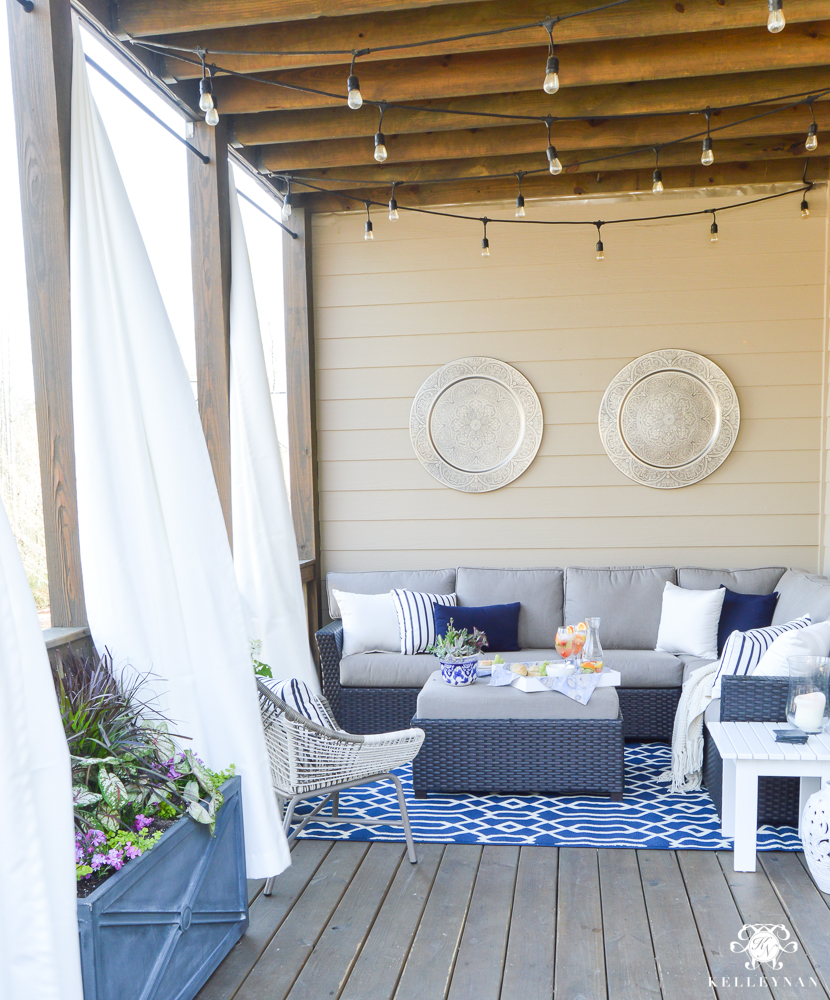 After standing on the porch railing to hang curtains for too long (my job), planting, hanging art, and cleaning, we took advantage of our little nook right then. When I say we "live" out here during warm weather season, we really live out here. We don't have a mounted TV but Dave did get one specifically for this space, that lives in a closet when its not in use. Outdoor dinner and movie date nights at home are our absolute favorite.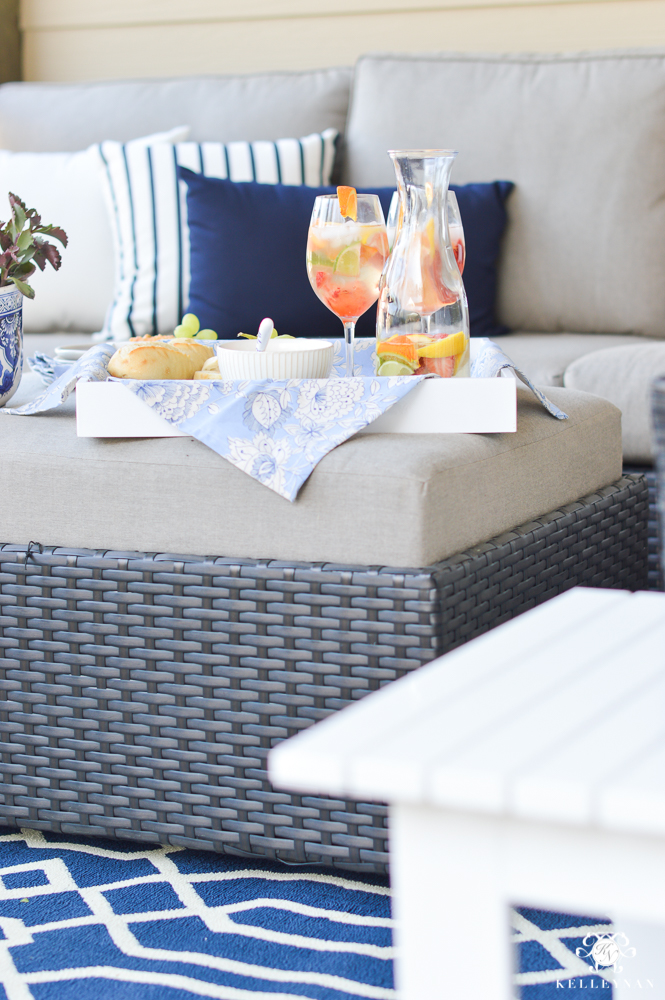 There weren't any movies Saturday night but, there was sangria, appetizers, and a guitar ;). (If you were wondering, Dave is the super talented one. I just sit and smile, haha)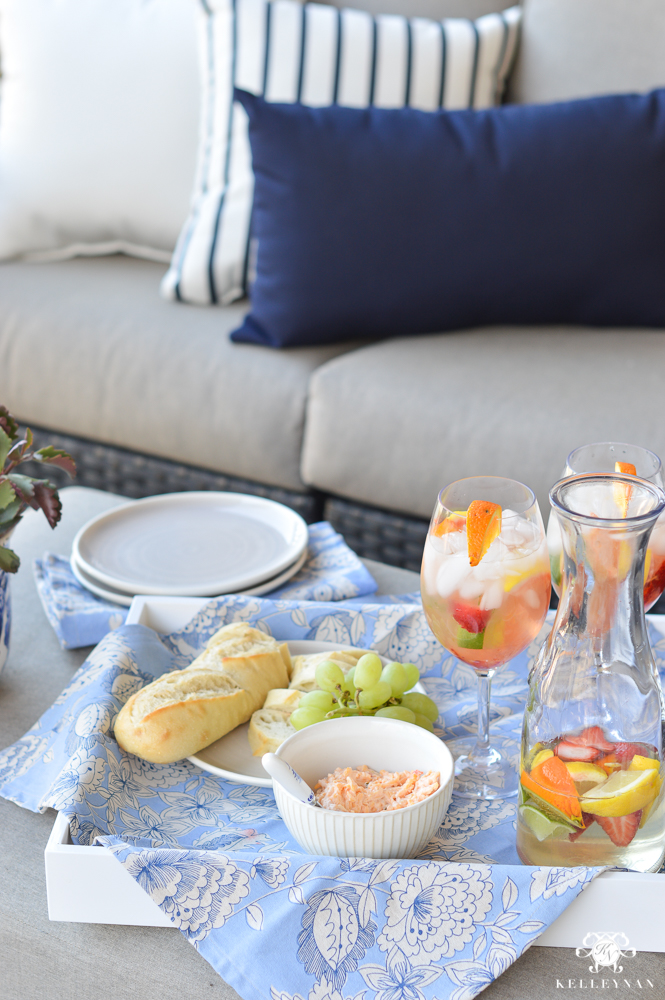 My deck entertaining essentials are 1. a good selection of trays (pictured); and 2. acrylic drinkware. I love these bordeaux glasses because they don't look plastic. My fridge and pantry essentials – jalepeño Palmetto Cheese, fruit, and bread/crackers. With these, you will always be ready to feed guests who stop by and have a light, summer meal.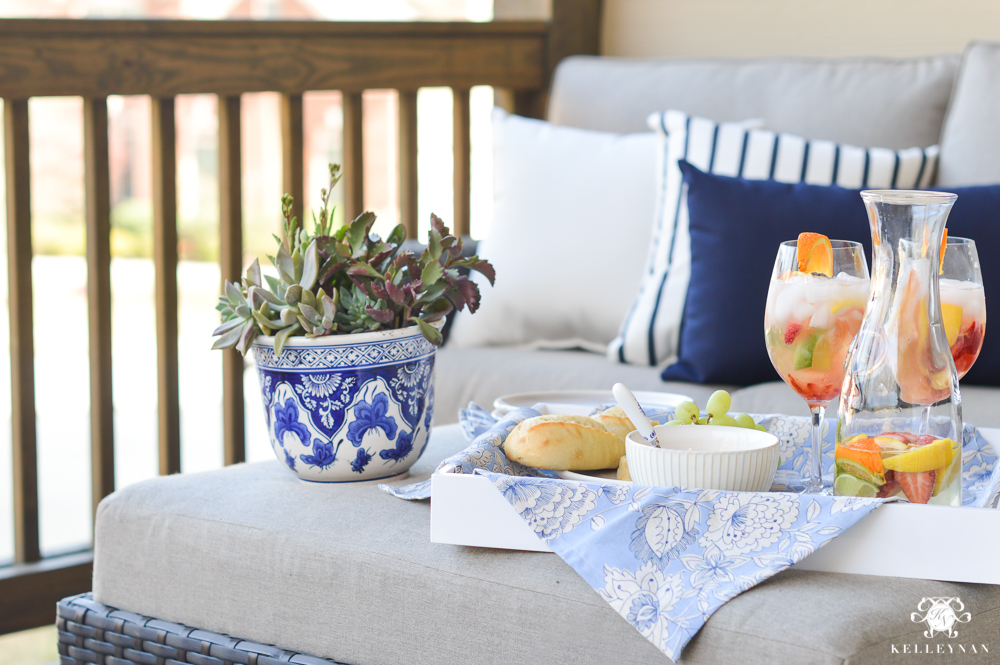 For our dates on the porch, I love using a tray as a tabletop and keeping it simple without the fuss.  Cleanup at the end of the night is so much easier, having a "tabletop" that can be carried inside.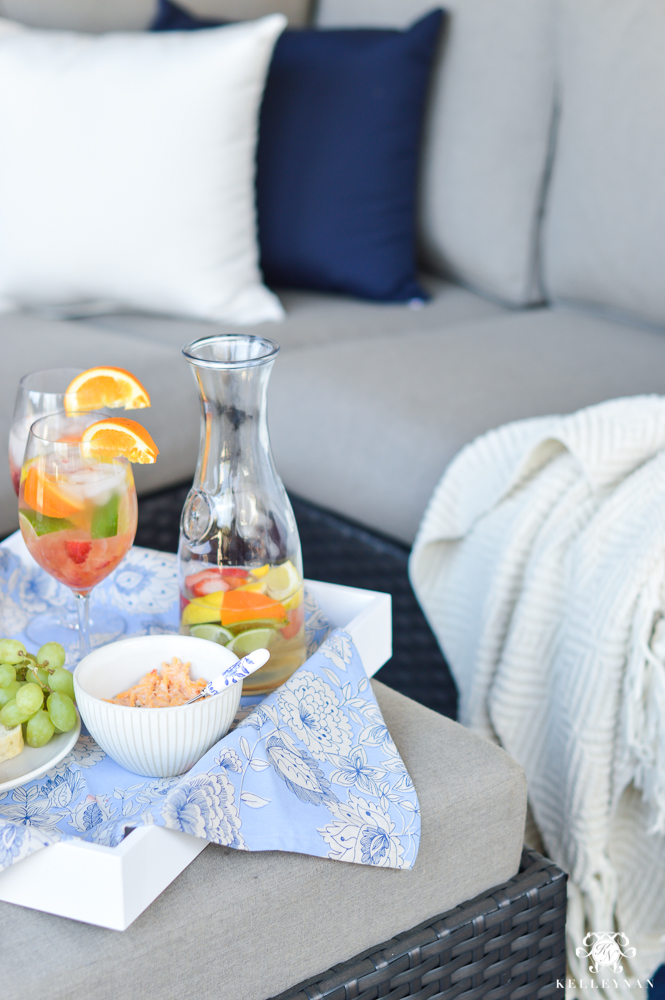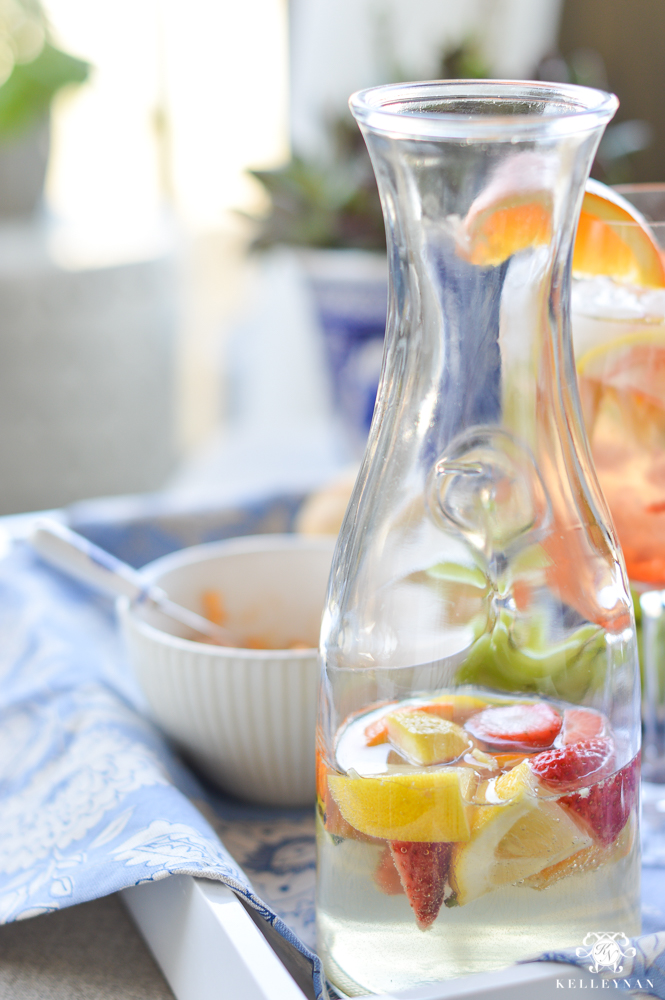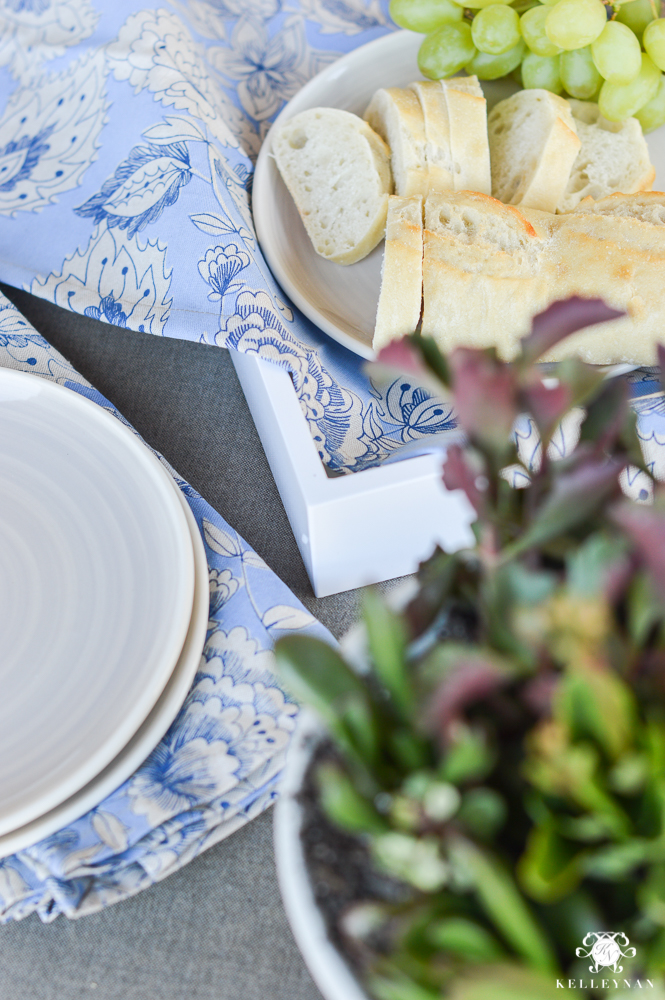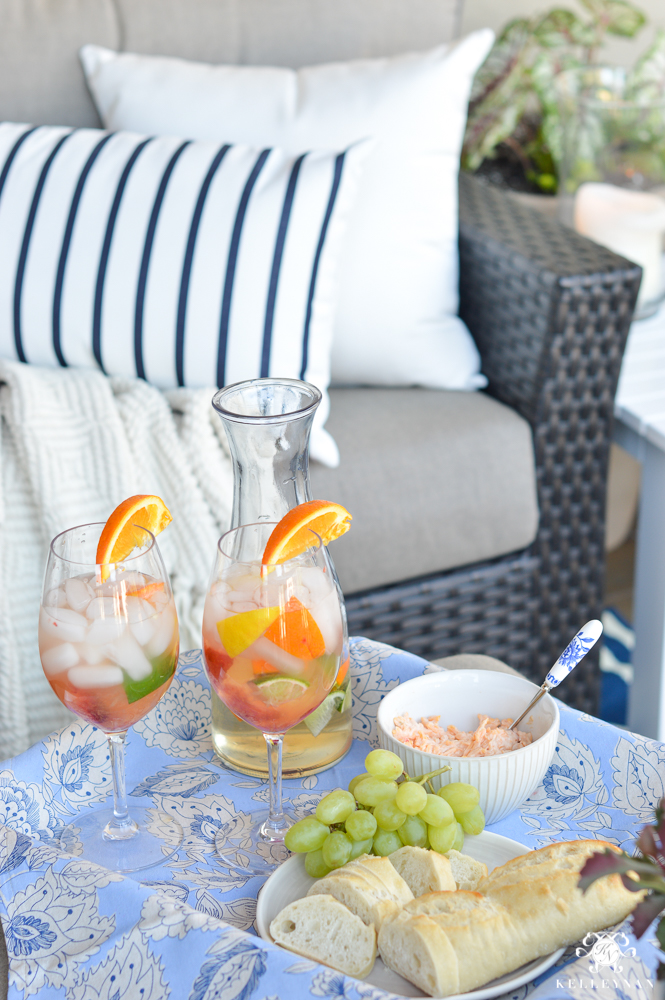 Here's a peek of the other side of the deck 😉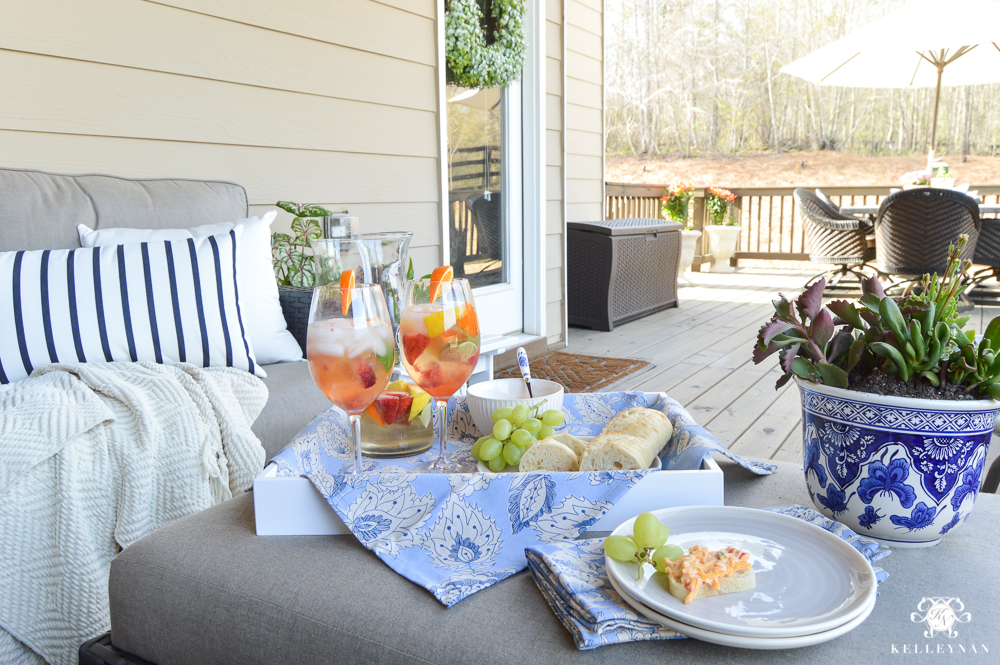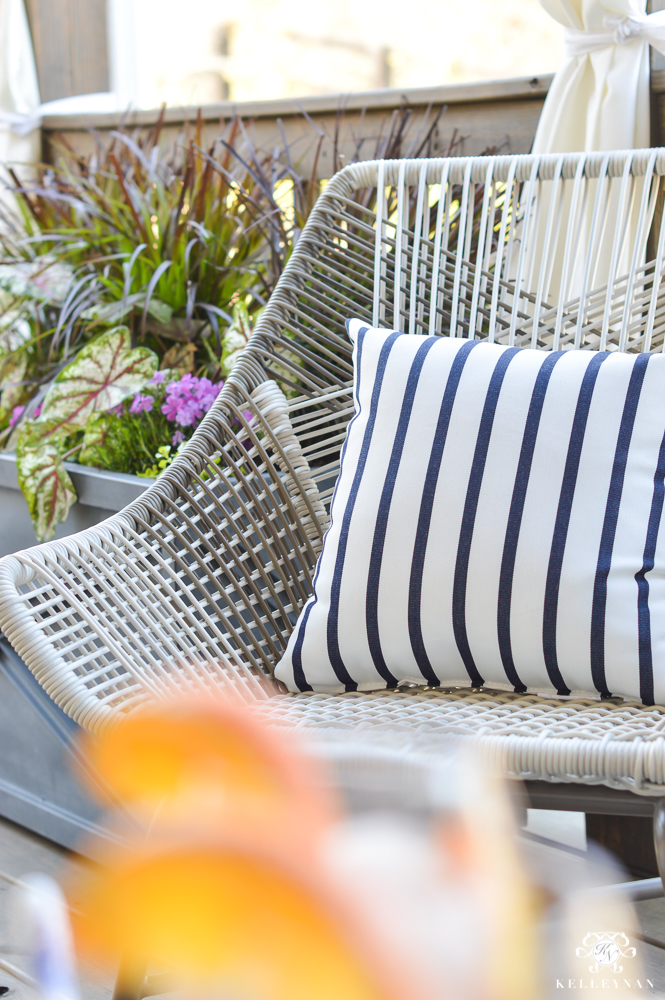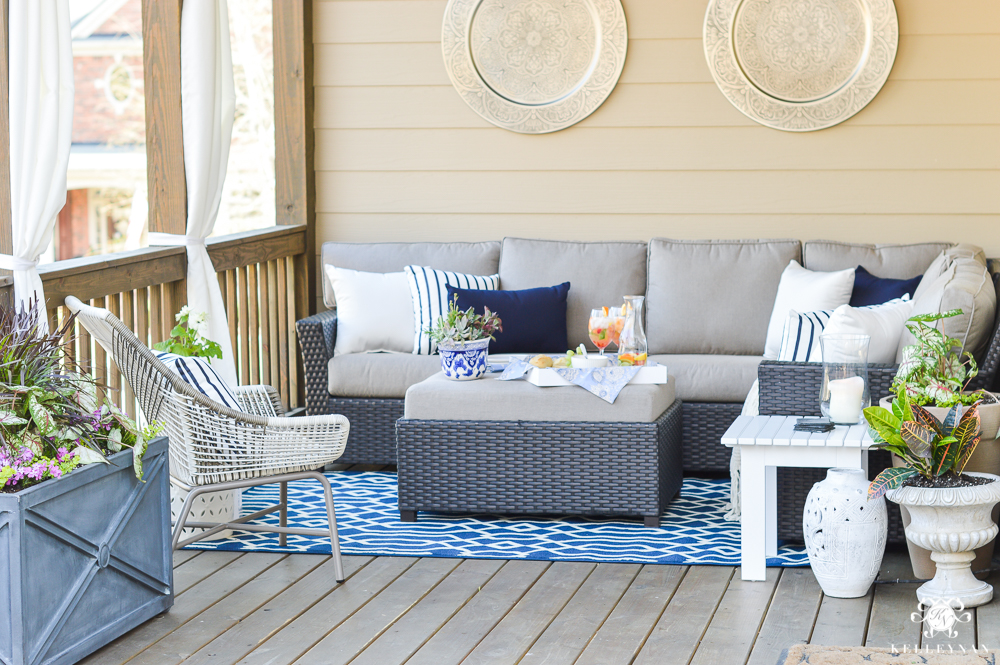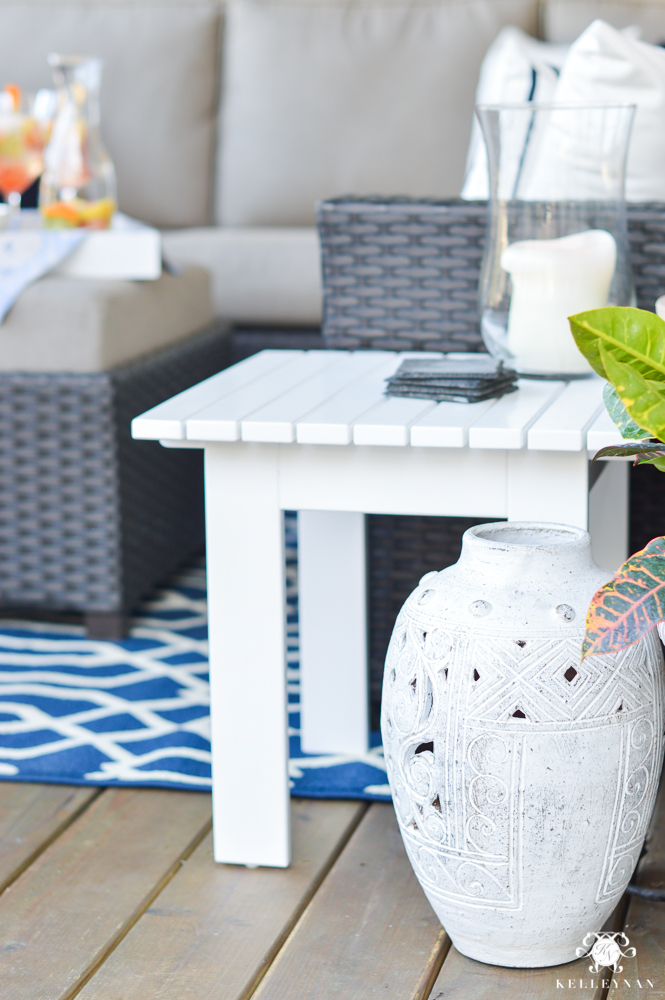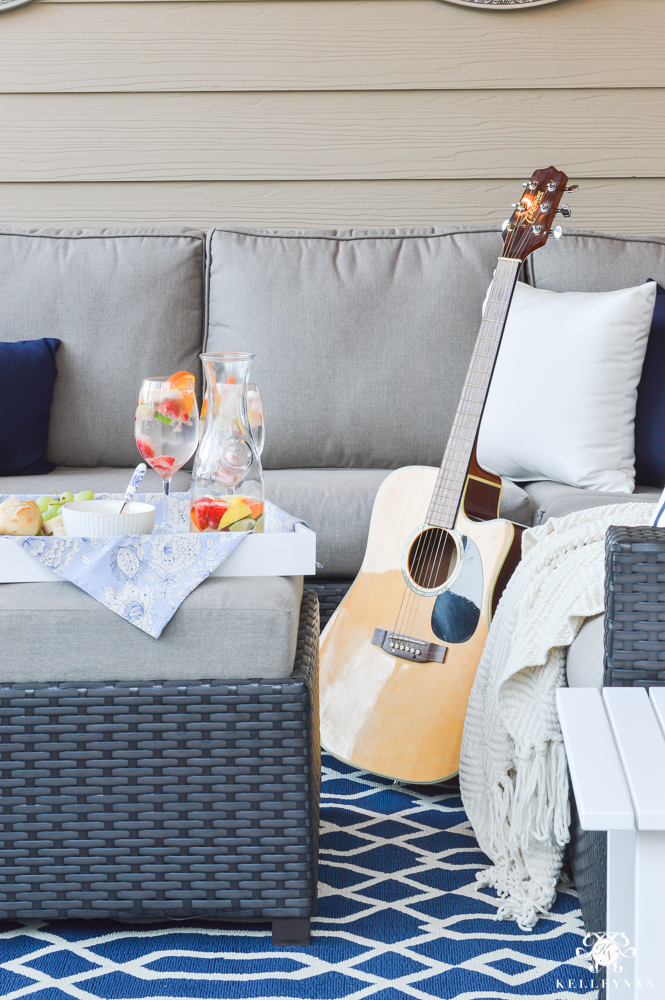 I'll be hoping to fit in another date night just like this, this coming weekend. What are your outdoor living essentials? Next week, I'll be sharing the other side of this space and the following week, I'll be sharing the never-before-seen screened porch off of our bedroom.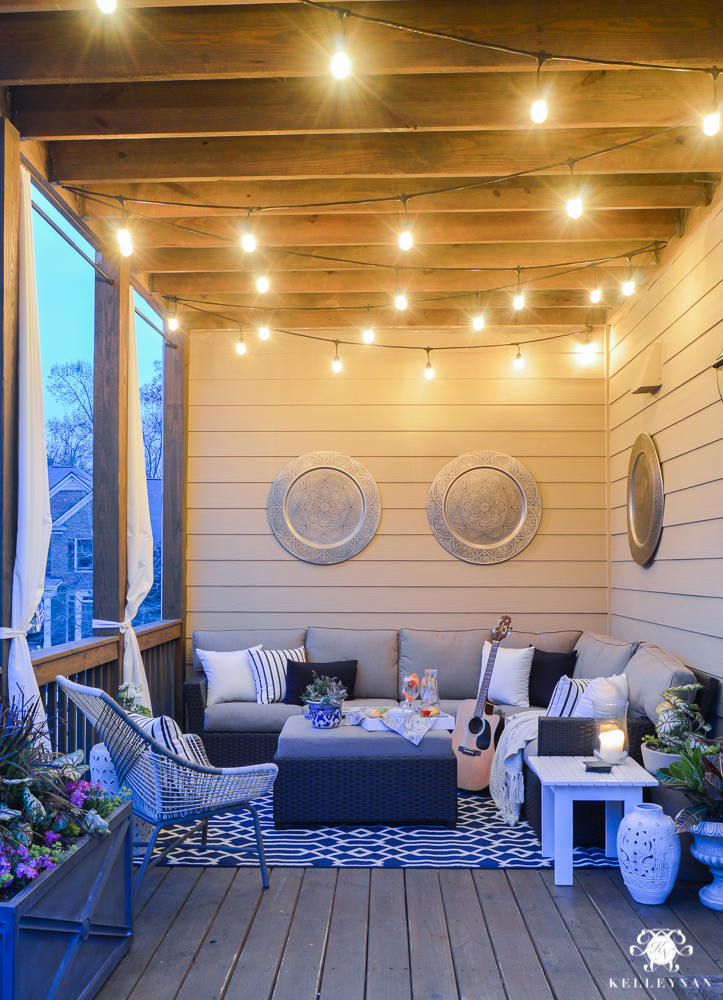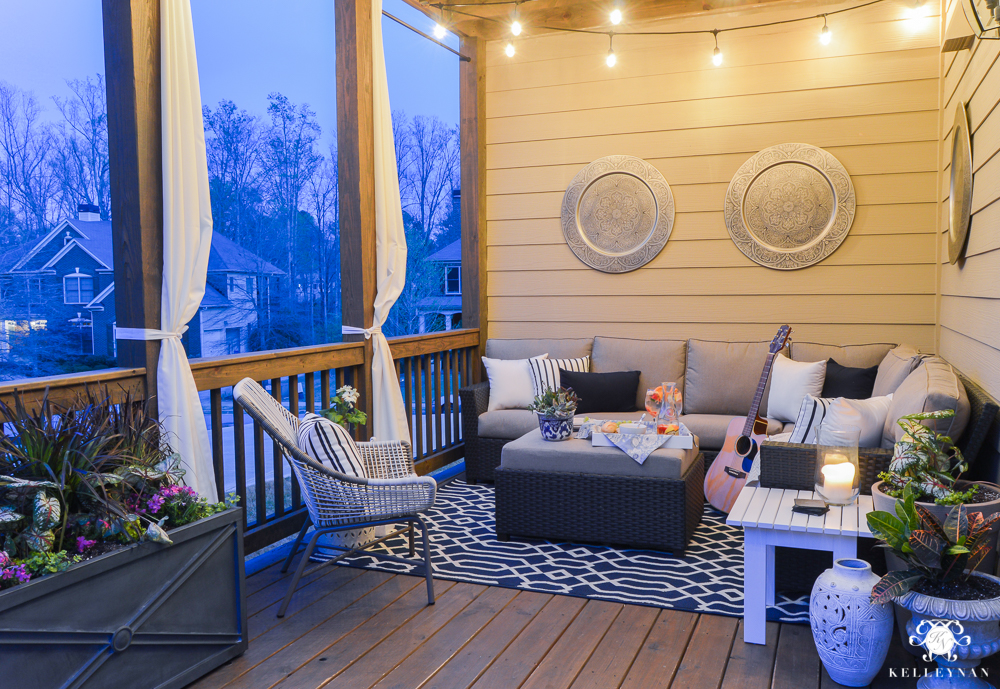 Rug | Gray Woven Chair | Striped Sunbrella Pillows | Striped Sunbrella Lumbar Pillow | White Sunbrella Pillows | Navy Sunbrella Pillow | Navy Sunbrella Lumbar Pillow | White Metal Drum Stool | White Side Table | Wall Medallions | Glass Hurricane | Acrylic Wine Glasses | Small Bowl | White Tray | Thai Teracotta Floor Vase | Floral Napkins | Gray Spinwash Salad Plates | Carafe | Ivory Throw | White Caleb Lantern | Sectional: Costco | Planter (size: trough) |  Outdoor Curtains (108″ in white) | Curtain Tension Rods