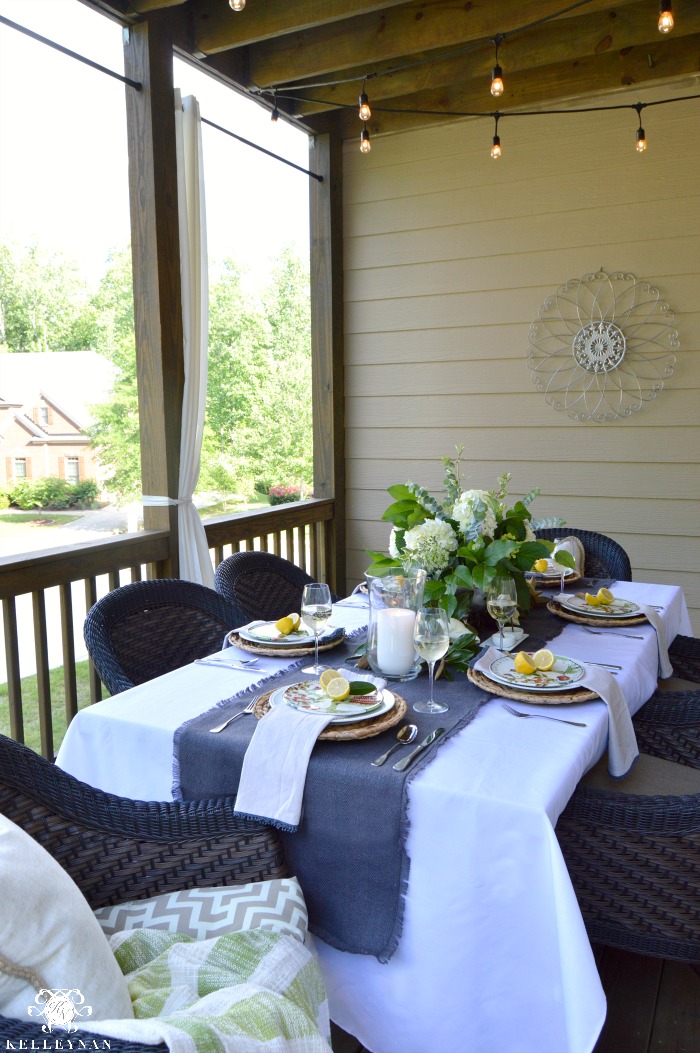 I hope you are hungry because you are in for a treat (pun most definitely intended)! Today, you are invited to a progressive dinner, hosted by myself along with four other bloggers. If you aren't familiar with a "progressive dinner", traditionally, friends come together for a meal with each guest serving a course in their home. Starting with appetizers and ending with after dinner drinks, we are hosting a virtual progressive dinner which I hope will leave you with tons of entertaining inspiration for the summer months ahead.
Below is the agenda and menu for the dinner loop. If you arrived from Kris's home at Driven by Decor, welcome! I hope to one day sit with Kris in her gorgeous dining room and let her serve me salad in real life 😉 If you missed the appetizers or salad course, or are starting here with the main course, don't worry – you will have a chance to go back.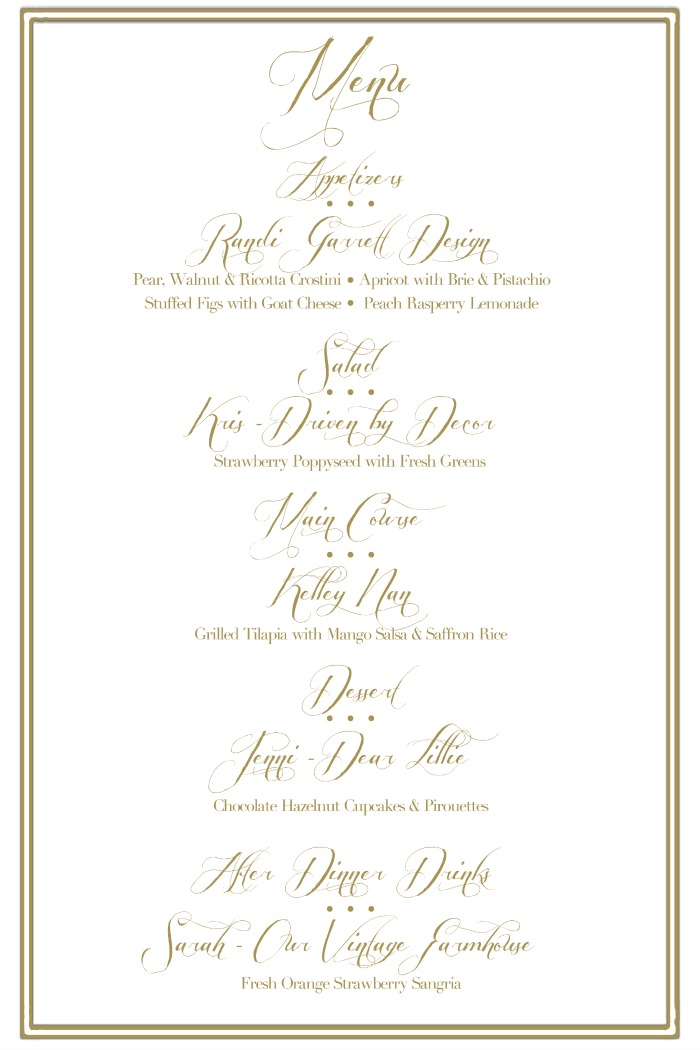 After starting with apps and a salad, I am delighted to be hosting on my back deck, serving an entrée that is perfect for a busy evening of traveling from home to home. It's easy when you are short on time, light when you are going to be having a large meal, and "pretty" to impress your guests.
Our back deck includes a covered porch just off of the kitchen/breakfast area which is where I will be entertaining today. We use this space more than any other place in our home during the warm weather months. String lights are a must for us and the billowy outdoor curtains make it feel like we are on vacation in our little domain. That row of hydrangeas was just planted this past fall. I am thrilled that while they haven't bloomed just yet, they look healthy; I can't wait for them to grow together to form one big hedge of limelight blooms. We took baby steps on the landscaping front, but the ultimate goal is to create a little back yard oasis one day.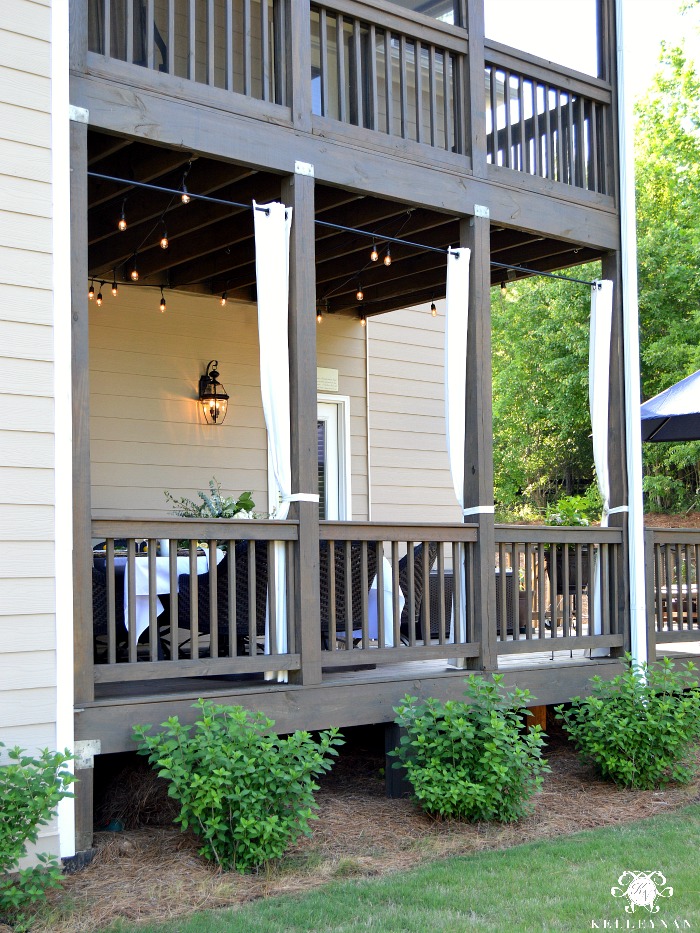 One of the advantages to dining al fresco is that because nature is already such a beautiful backdrop, you typically don't have to do a lot to create a pretty setting. I used this super easy white tablecloth for a clean setting; it is great for outdoor use so you don't have to worry about staining one of your more formal tablecloths. Another addition to my outdoor stash is this cute outdoor throw blanket. I went to a restaurant once and on the patio, they had a shelf with light throw blankets for outdoor diners to use. I LOVED the idea.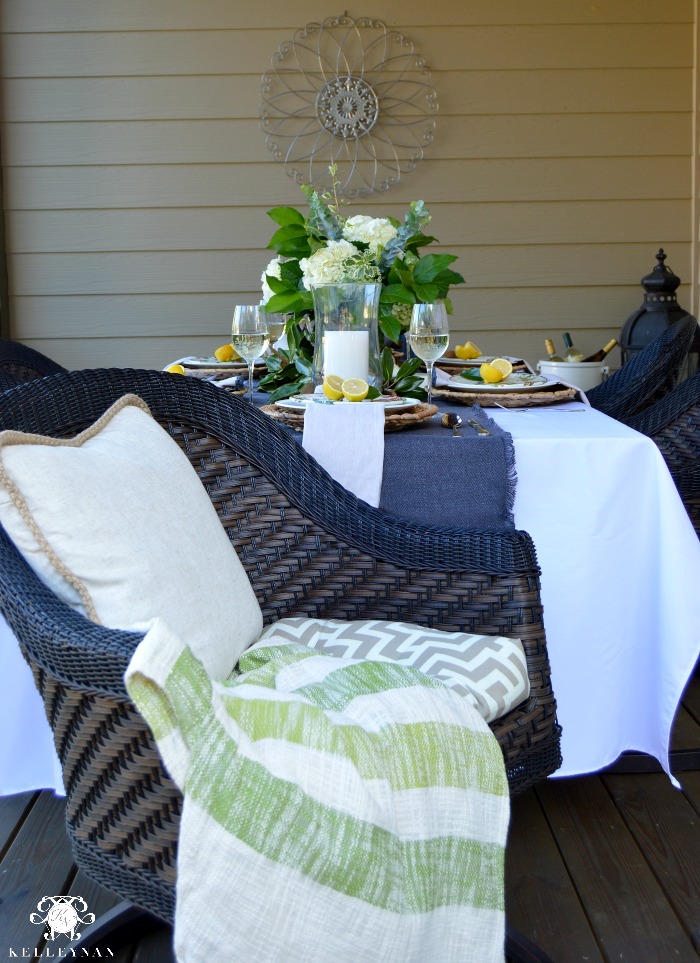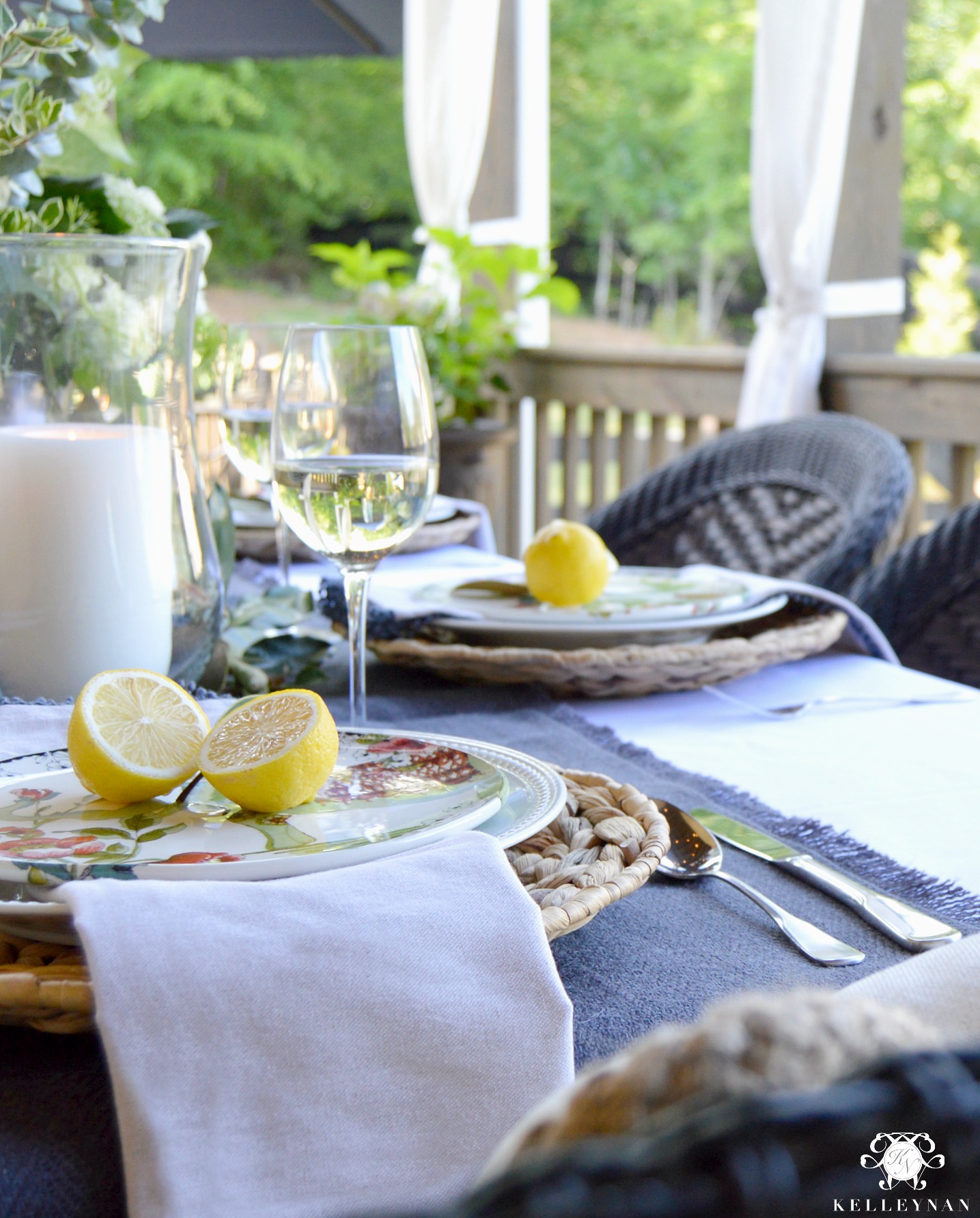 Since I am serving fish, lemons are the perfect place setting accessory. While practical for the meal, I love the pop of vibrant color they bring to the neutral scape. I tucked a little magnolia leaf from the centerpiece in at each setting, also.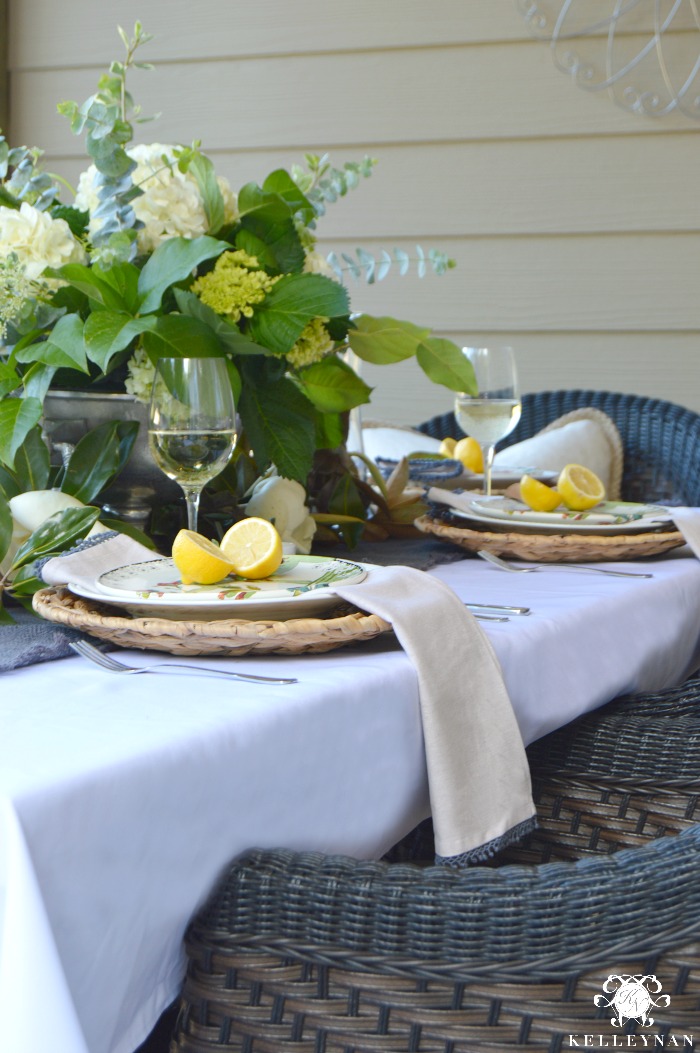 With a neutral, natural backdrop (say that five times fast), I love that I also get to play around with tableware I wouldn't typically use inside my home. Take a look at these little globally influenced elephant plates – perfect for a summer dinner on the deck. I paired them with my beaded white casual plates, a woven charger [similar], and layered in these crochet trim napkins.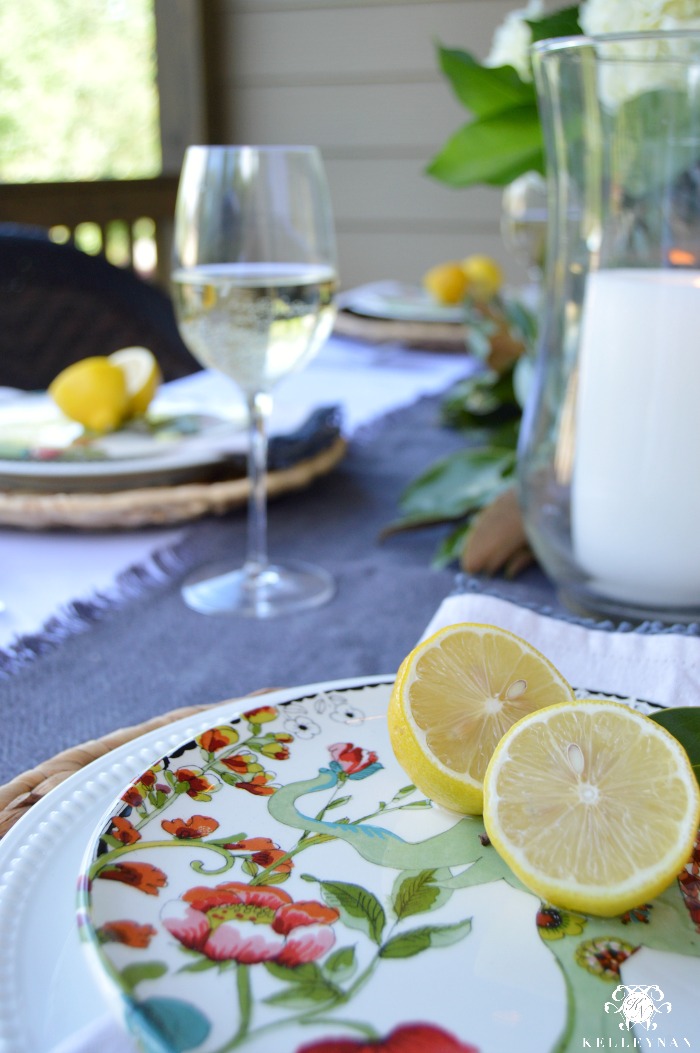 I don't follow many "rules" when it comes to wine/food pairings, but I love white sauvignon blanc with seafood.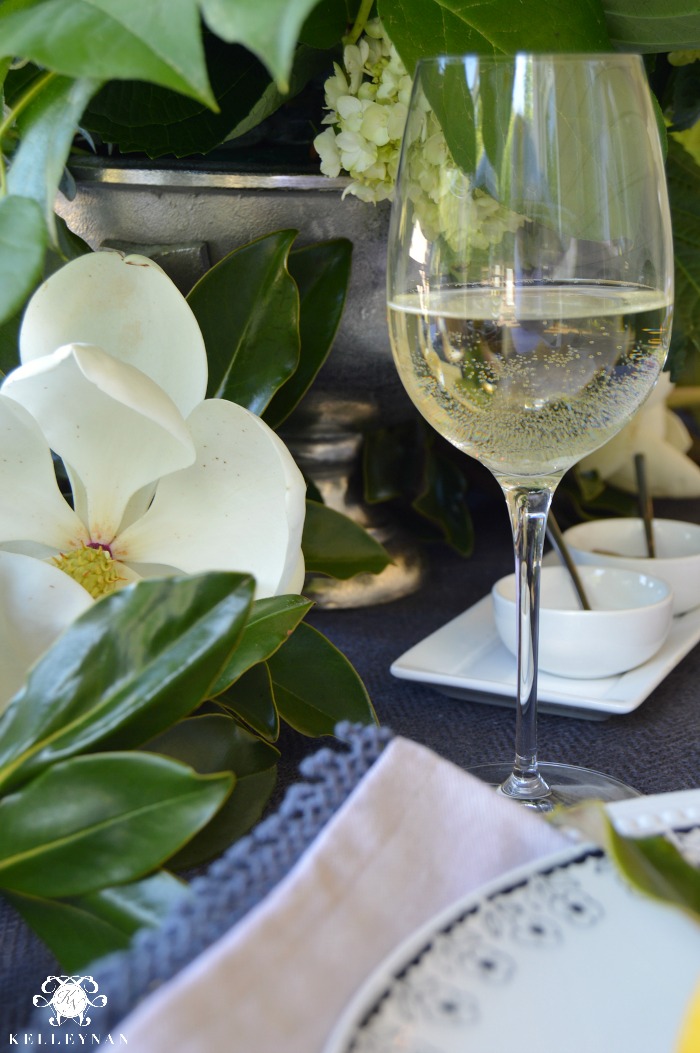 I stocked a nearby ice bucket with spare bottles to keep on hand. If you don't have an outdoor console or bar cart, a garden stool is perfect for a side setup. I used my Pottery Barn Rhodes Ice Bucket to keep the extra beverages easily accessible.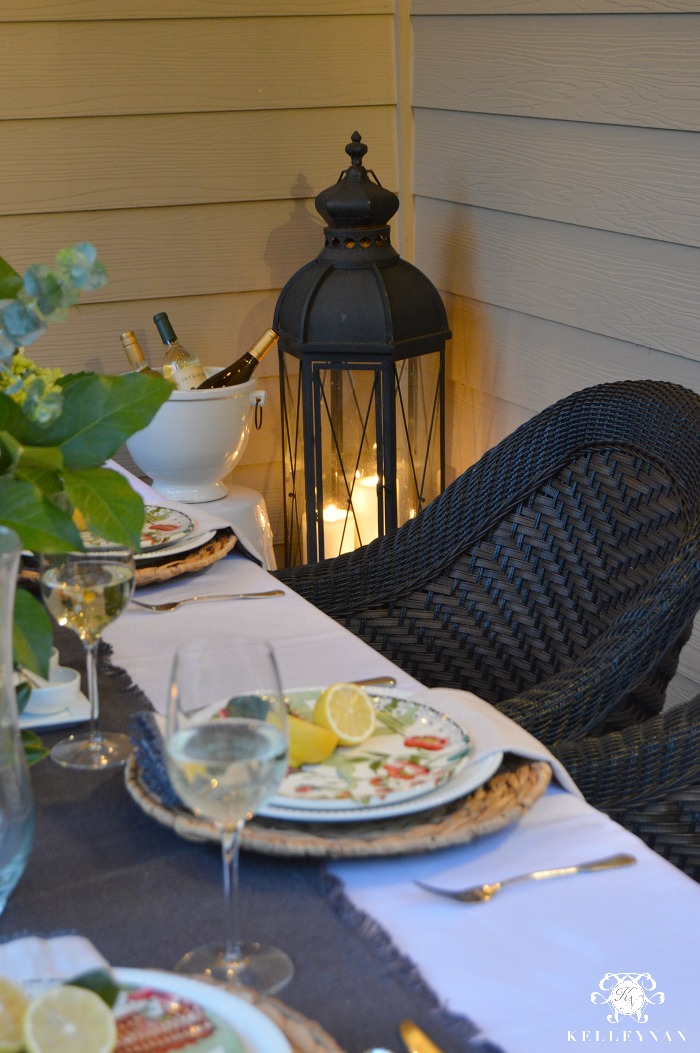 For the centerpiece, I went simple. Ok, I went a little nuts and all over the place, but I stuck with simple blooms. I took a pedestal bowl and situated wet foam in the bottom. I mixed white hydrangeas and various greenery, and didn't pay much attention to "coloring inside the lines". I added some magnolia branches at the base as a little bit of garland.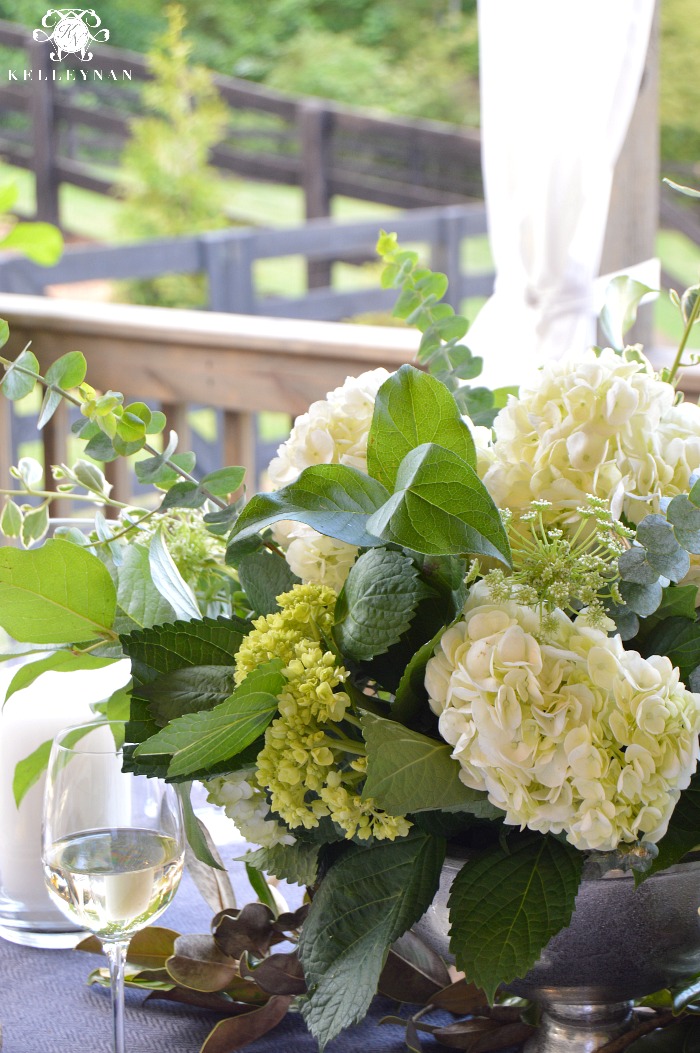 With a natural table, check out how much the Grilled Tilapia with Mango Salsa and Saffron Rice pops off the plate (one of the reasons I went basic on the floral colors). As I mentioned, the vibrance make it look impressive, but it is so easy to make and the salsa can be prepared ahead of time and refrigerated – perfect if you are having pre-dinner celebrations at someone else's home.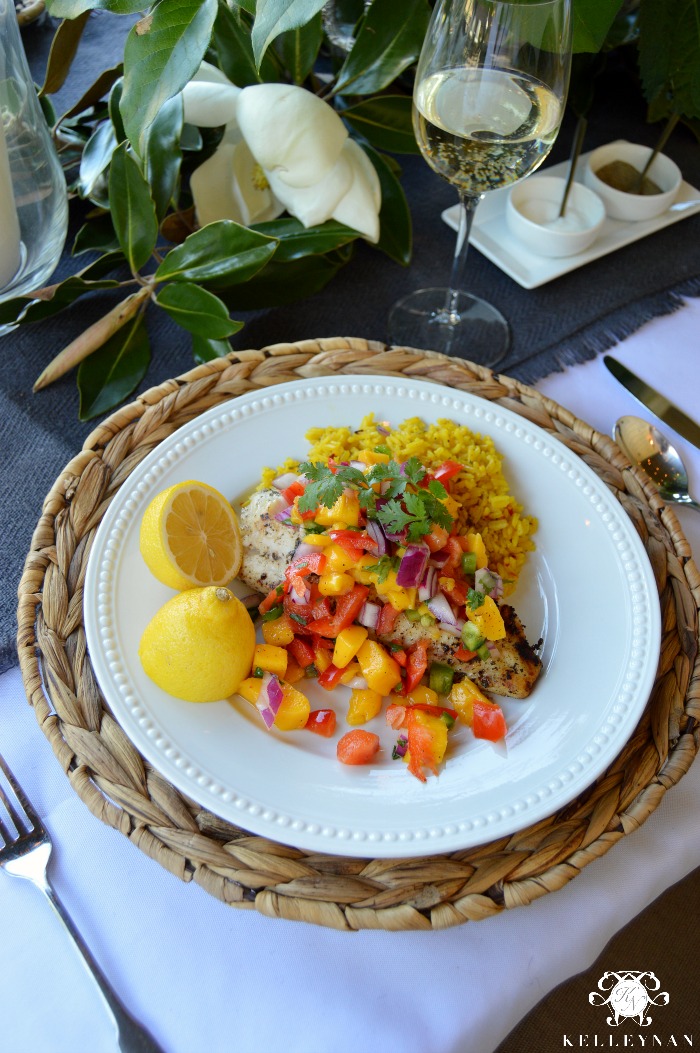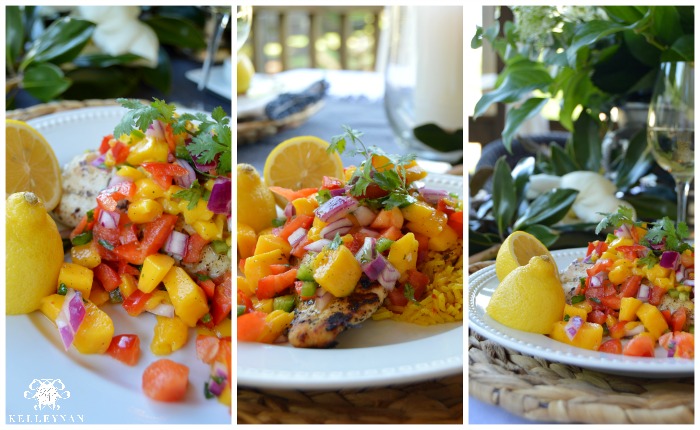 I originally came across this recipe a few years ago when I was looking for ways to prepare tilapia, to stray a little from our faithful black bean, corn, and tomato version. It quickly became a house favorite. Even if you opt for a different fish, this marinade provide's the most incredible flavor! Likewise, I have had this mango salsa served on top of chicken and salad and it is delicious.

Marinade Ingredients:
1/3 c. extra-virgin olive oil

1 Tbsp lemon juice

1 Tbsp minced fresh parsley

1 clove garlic, minced (1/2 Tbsp. minced garlic in the jar)

1 tsp dried basil

1 tsp ground black pepper

1/2 tsp salt

2 (6 ounce) tilapia fillets
Salsa Ingredients
1 large mango, diced

1/2 red bell pepper, diced

2 Tbsp minced red onion

1 Tbsp chopped fresh cilantro

1 jalapeño pepper, seeded and minced (we use serranos from our garden if we have them on hand)

2 Tbsp lime juice

1 Tbsp. lemon juice

Salt and pepper, to taste
Directions
Place tilapia filets in a Ziplock bag. Combine marinade ingredients in a bowl and mix well. Pour marinade into the bag, seal the bag, and move the filets around until they are well coated. Refrigerate for an hour. 

Prepare the mango salsa (this can be made ahead of time) by combining the first five salsa ingredients in a bowl. Add the lime juice and 1 tablespoon of lemon juice, and toss. Add a pinch of salt and pepper, and refrigerate until ready to serve.
Preheat grill for medium-high heat, and lightly oil grate. (We use a fish pan with nonstick spray)

Remove the tilapia from the marinade, and shake off excess. Discard the remaining marinade. Grill the fillets until the fish is no longer translucent in the center, and flakes easily with a fork, 3 to 4 minutes per side, depending on the thickness of the fillets. Serve the tilapia on top of a bed of yellow saffron rice, and top with mango salsa.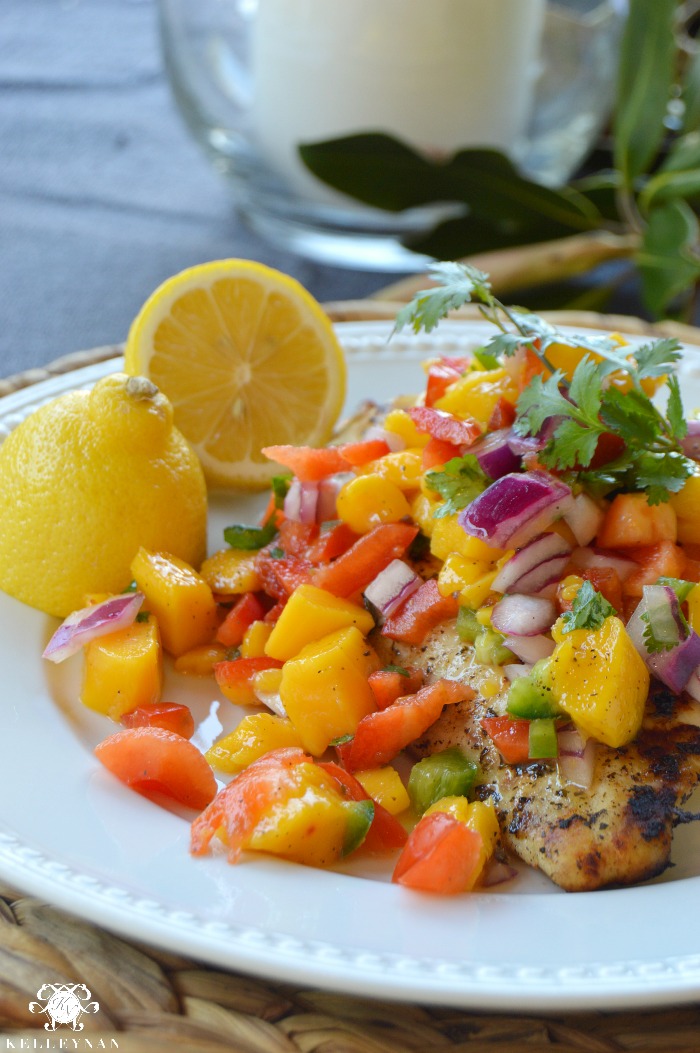 Sunset is my favorite time to be on the back deck. We had a little wrought iron candle chandelier out here last year, but I prefer the whimsy of the draped lights. And, they provide enough light to host a game night outside – but, that's for a different day.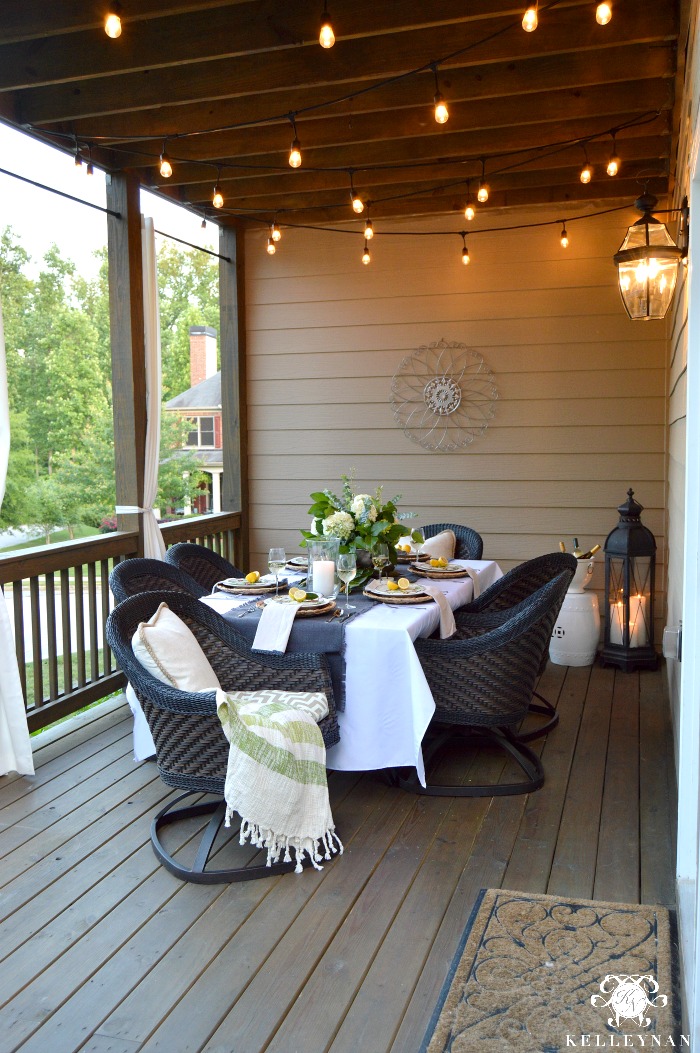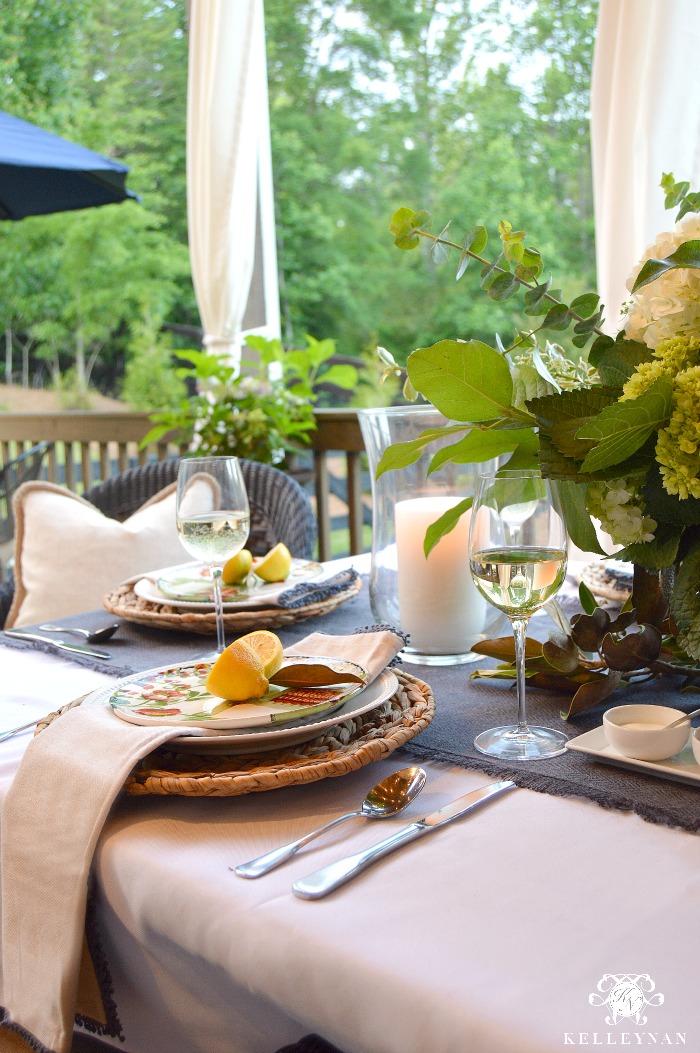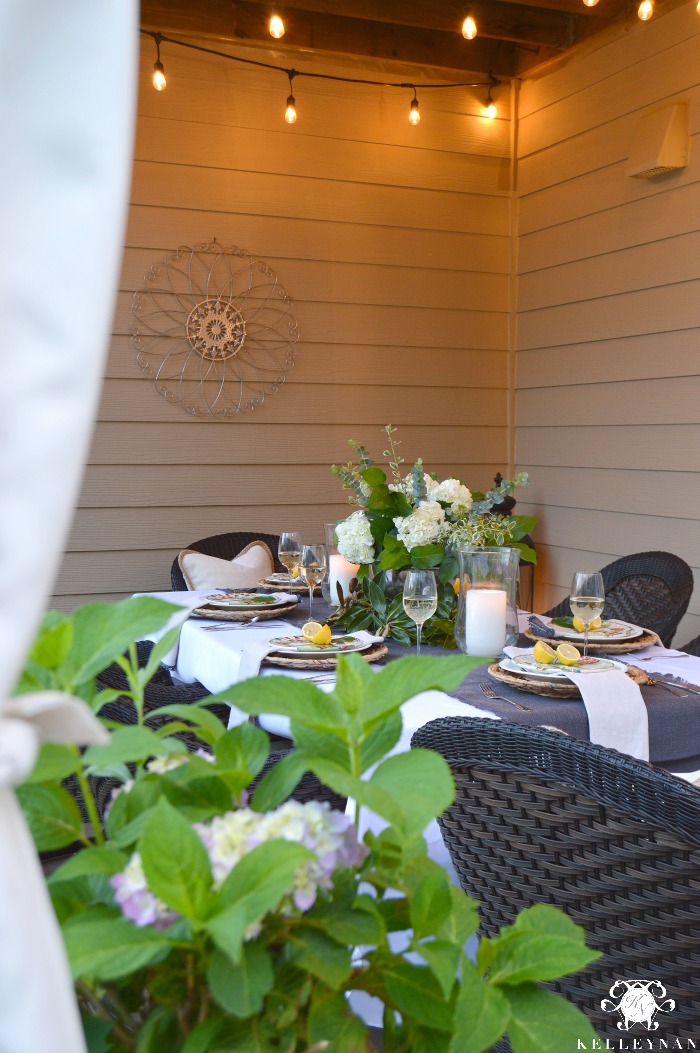 Once you finish the entrée, it's time to head over to Jenni's home at Dear Lillie; she will be welcoming you into her living room where she has prepared a decadent desert to cleanse your palette. Thank you for stopping by my home; I hope you enjoy the rest of your dining tour.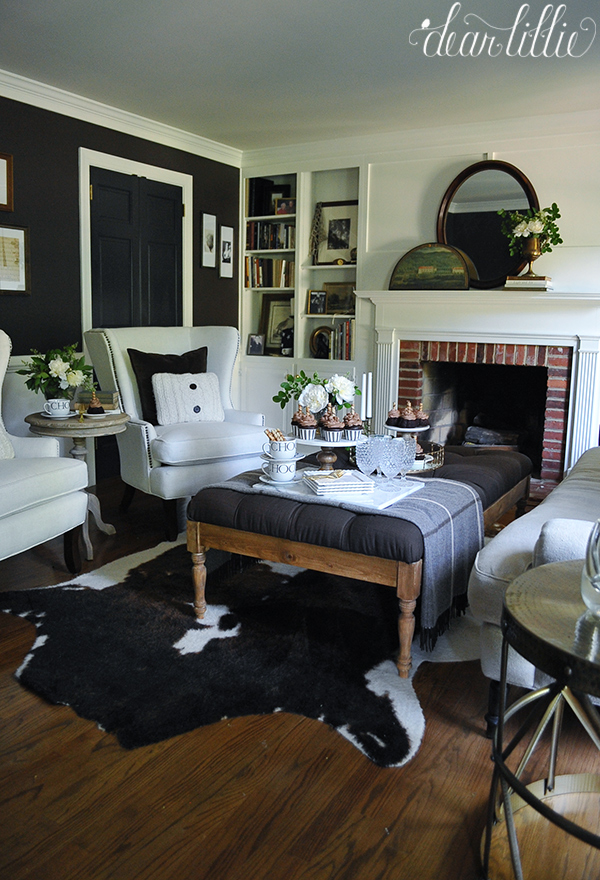 Don't miss any of the courses during the progressive dinner! If you joined in late or missed any of the stops, be sure to check out the following:
Appetizers: Randi Garrett Design | Salad: Driven by Decor | Entrée: Kelley Nan | Dessert: Dear Lillie | After Dinner Drinks: Our Vintage Farmhouse
GET THE TABLE LOOK

GET THE PORCH LOOK

(use the left and right arrows to scroll)
ADDITIONAL SOURCES
Salt & Pepper Set | Dining Set: Costco | Floor Lantern: Z Gallerie (no longer available) | Wall Art: HomeGoods| Table Runner: World Market (not available online)
*Note: Post contains affiliate links and sources throughout the post. Where product is no longer available, a similar substitute has been listed.
*A special thanks to my husband and Progressive Dinner assistant, Dave, who worked hard to prep our porch, served as the grill master, and took on the task of doing the not-so-fun stuff.*