Welcome to Spring in Full Swing; a spring-inspiration-filled blog hop, featuring some of your (and my) favorites. There are seven of us on the tour today; I will send you on to the next person at the bottom of the post but if you miss any, you can check the other participating bloggers I've linked to. To those of you who visit regularly, thank you for stopping by! If this is your first time visiting, I would love to have you again. You can sign up for regular updates at the bottom of this post to get notified of all the new stuff, the insider stuff, and sometimes, the stuff that doesn't even make it to the blog. If you're just stopping in from Haneen at Haneen's Haven, tell me- do you love her refreshed bedroom as much as I do?! I haven't touched mine in a while which makes me even more jealous. I am pleased to have just refreshed several outdoor spaces so today, I'll be sharing one my home's favorite features- its southern rocking chair front porch.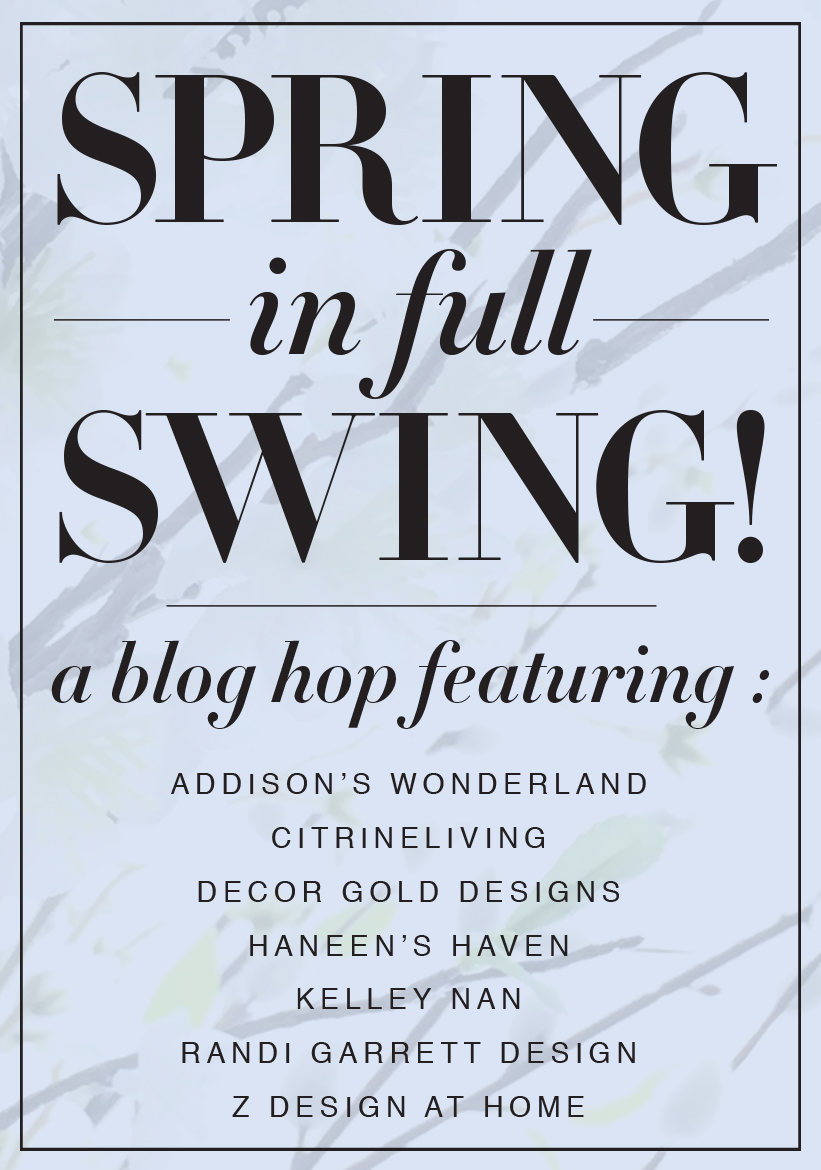 First, if you're curious about the rest of my home this spring, let me catch you up with some of my most popular posts this season: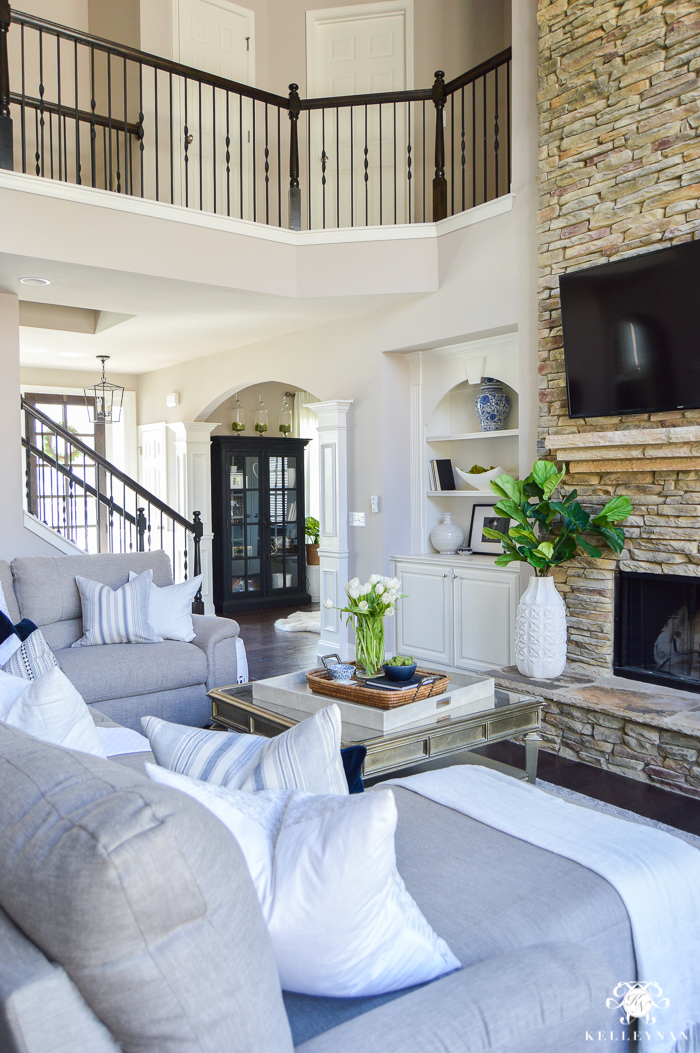 | Spring Home Tour |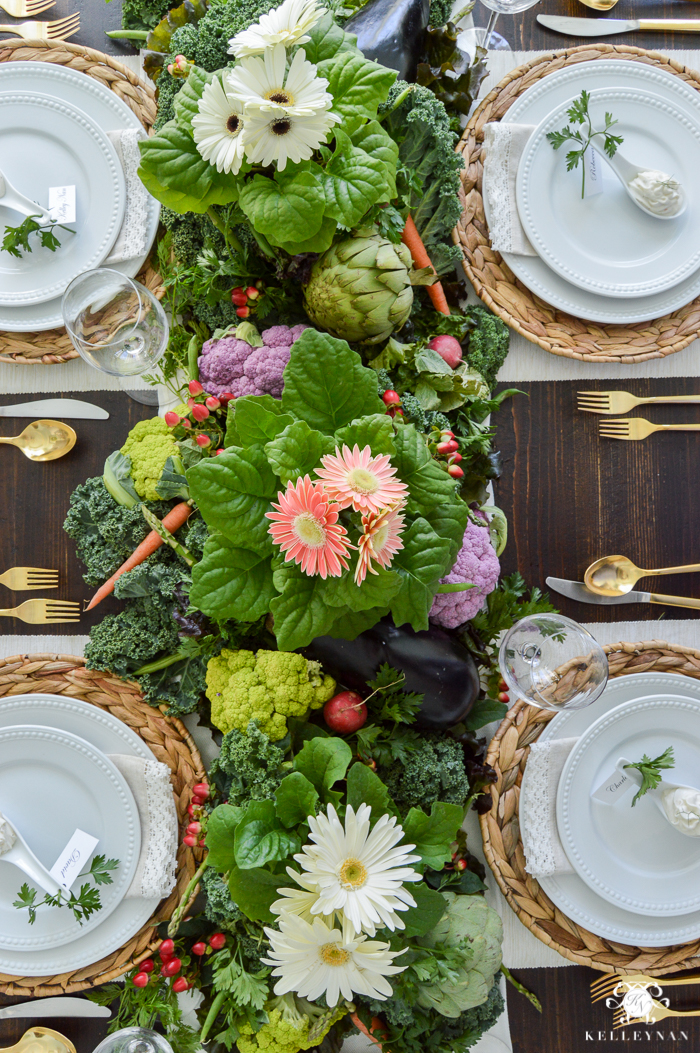 | Vegetable Patch Easter Table |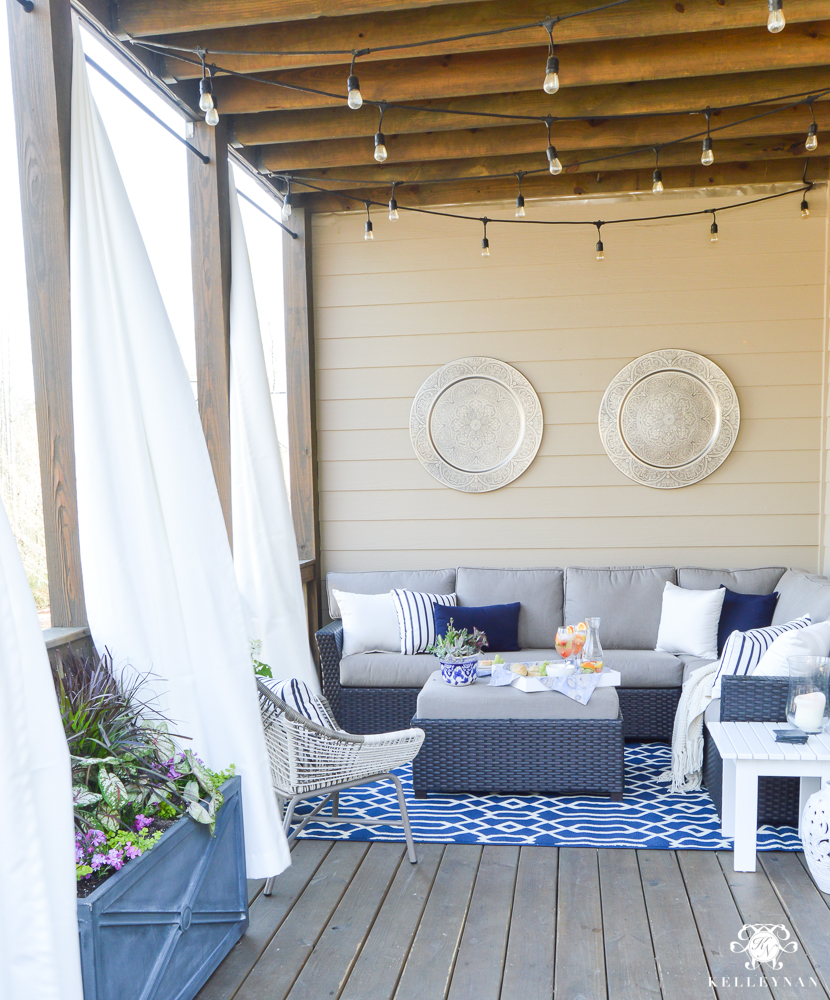 | Porch Makeover |

If you are new-ish here, you may not know – we moved into our home two years ago (almost to the day). We have gradually been landscaping (we actually have tree farm plans this weekend!) but despite my desperation for huge, ginormous plants, I guess we just have to play the waiting game. Apparently, expecting an eight foot tree to turn into 30 feet overnight is unreasonable ;). Some trees we invested in at a larger starting size, but I'm so ready for the sweet little tree in the very front to make some serious moves.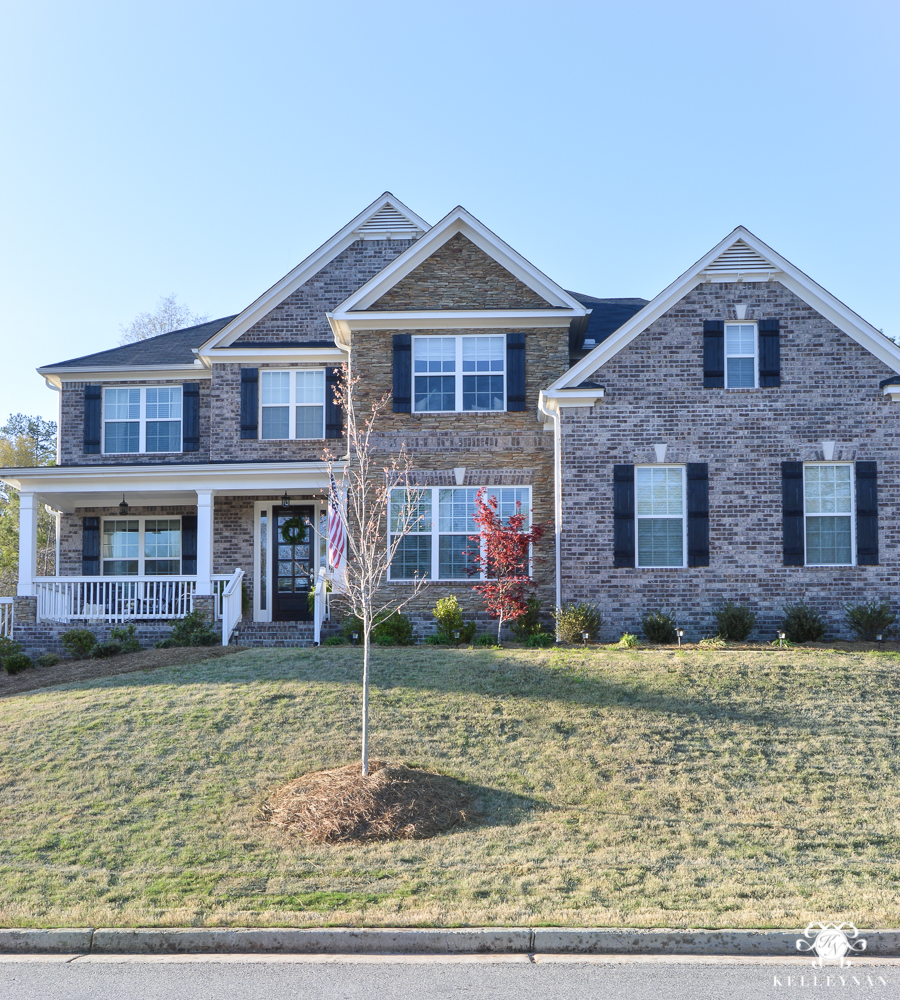 This red Japanese maple was a new addition last year; we may have to get another – it is our absolute fav. They can get pretty costly (a landscaper quoted us several hundreds) but we found one with a pretty decent height at Costco for a fraction.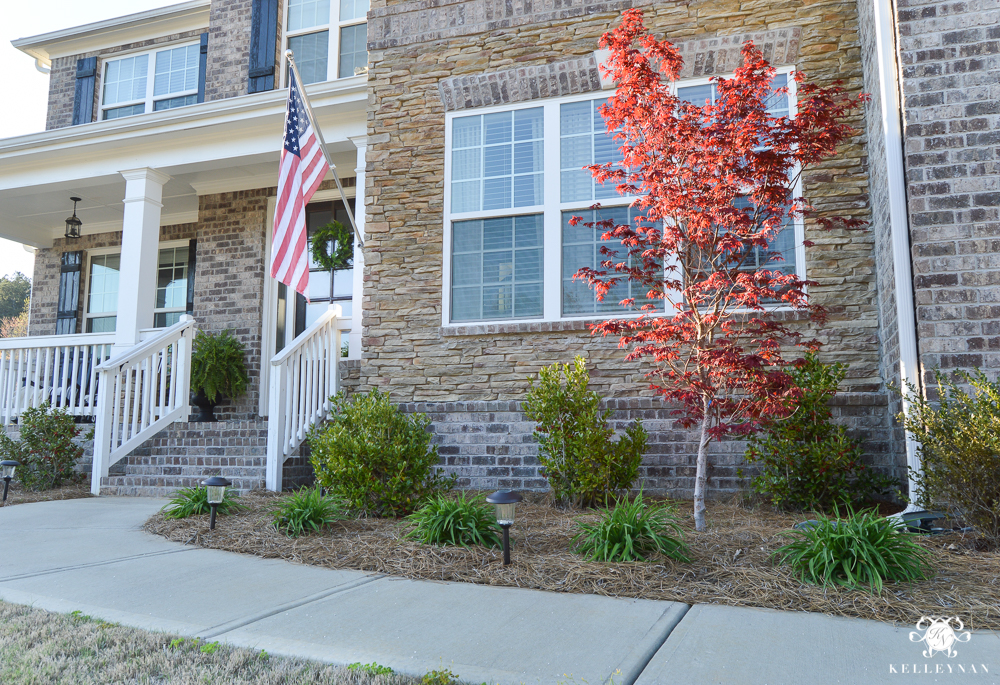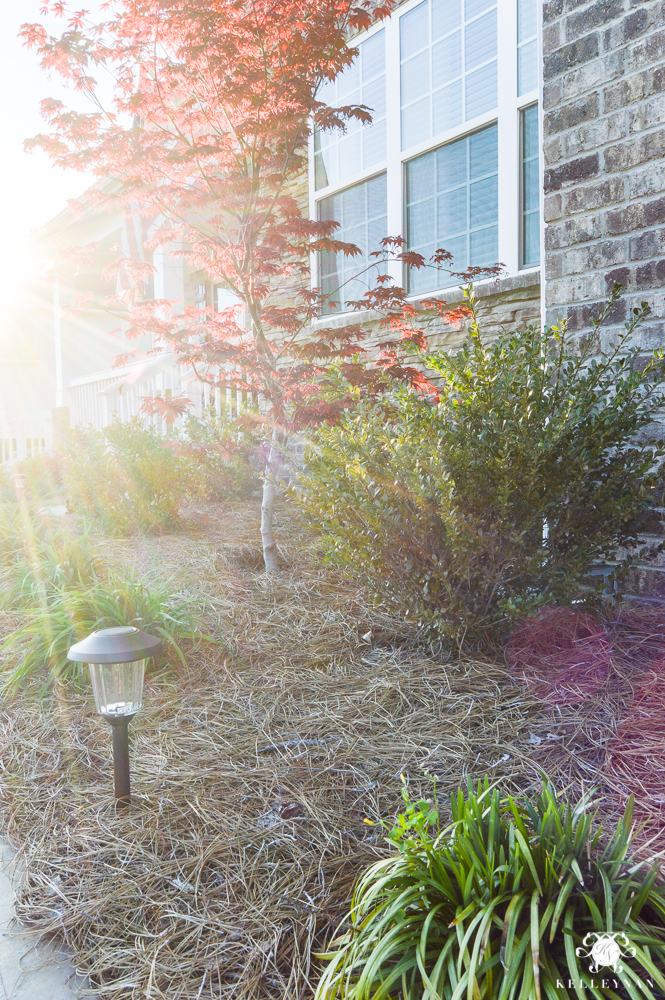 My husband loves spring out front because it means he can bring the flag back out. He insists that "Old Glory" should be flying 365 days a year; I don't disagree but in particular, my fall and Christmas decor do. It comes down for the last part of the year and re-emerges in the spring after a short hiatus ;).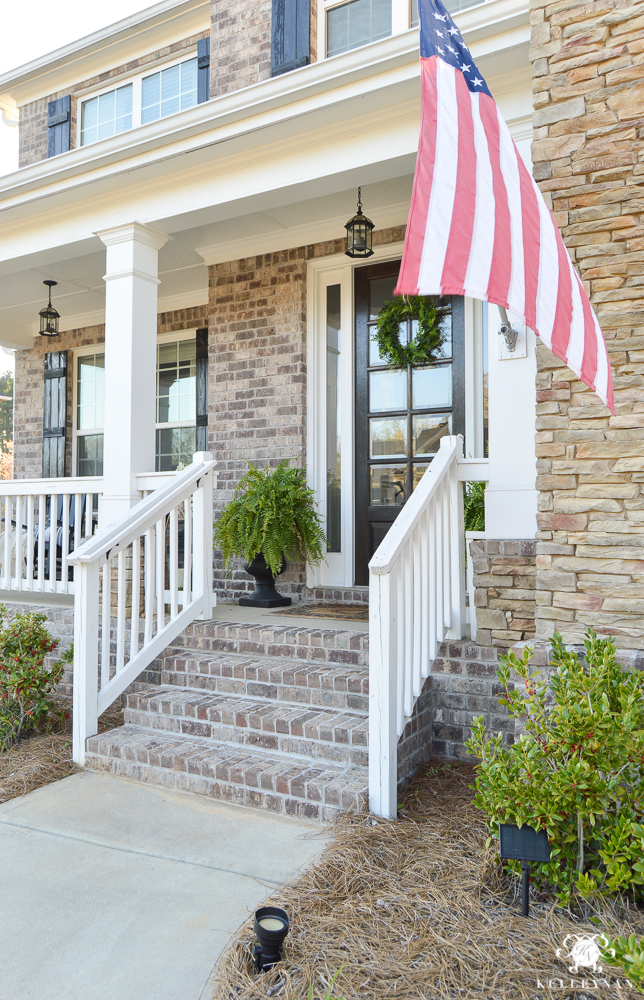 Another Costco fav is their HUGE ferns in the spring. Not much has changed- I have set them in these urns flanking the door each year. I did treat myself to a fresh wreath this year (SIMILAR); you may have noticed my DIY green hydrangea wreath from years' past in the dining room in my Spring Home Tour.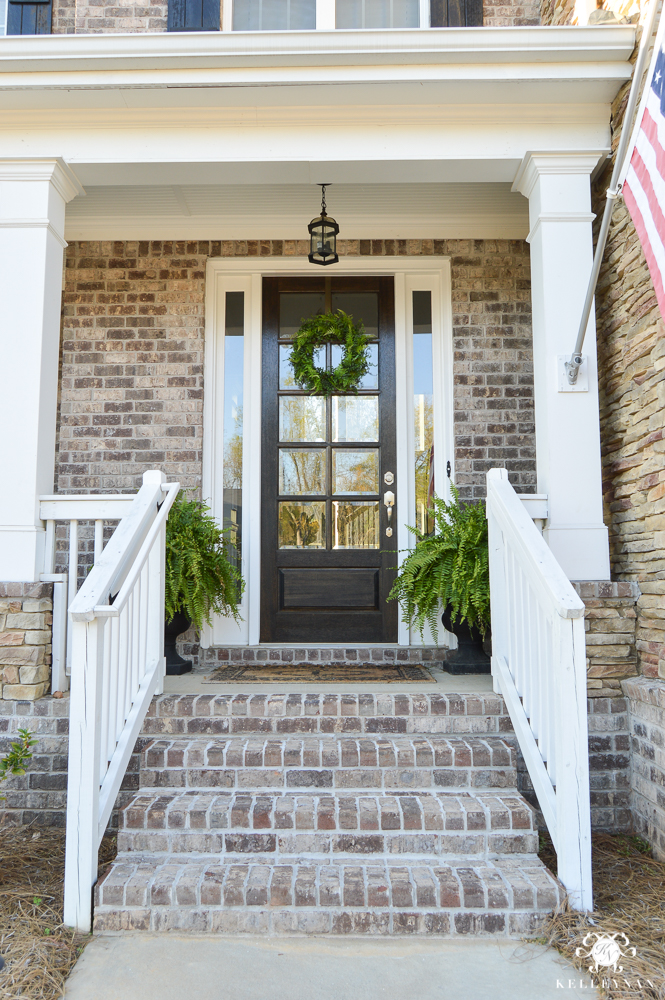 I can go for bold color outdoor but on the front porch, especially in spring, I am drawn to lush green. And, while our back deck is where we spend hours at a time, we love to sit in the rockers on our front porch with an evening cocktail. One note about our rockers- they are actually polywood so they don't weather. They are on the more expensive side but have been TOTALLY worth it, not to have to paint or replace them in the Georgia heat and humidity. You can find them HERE in several colors.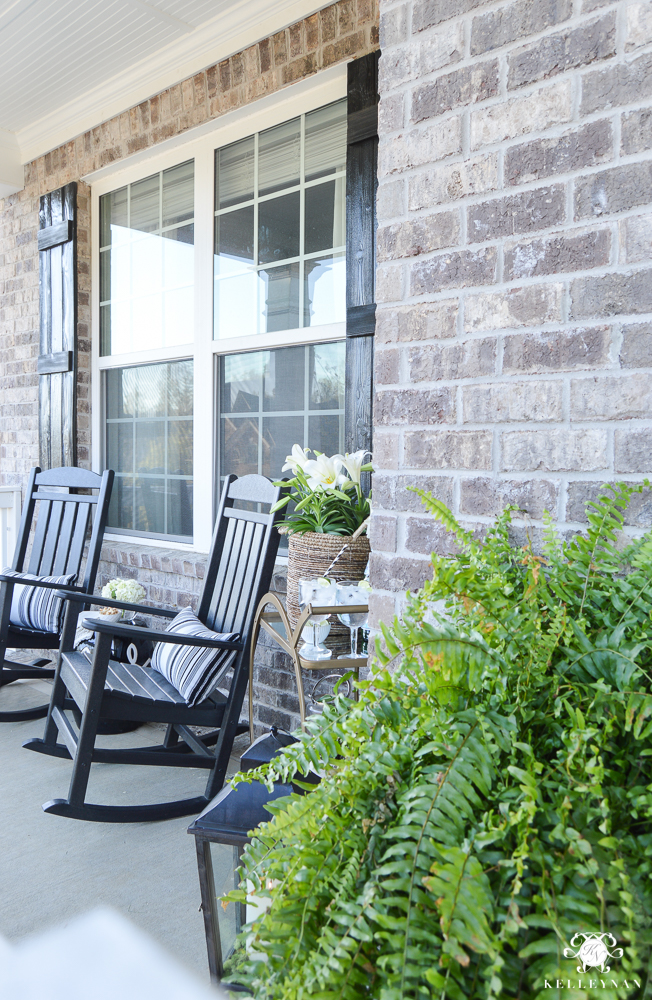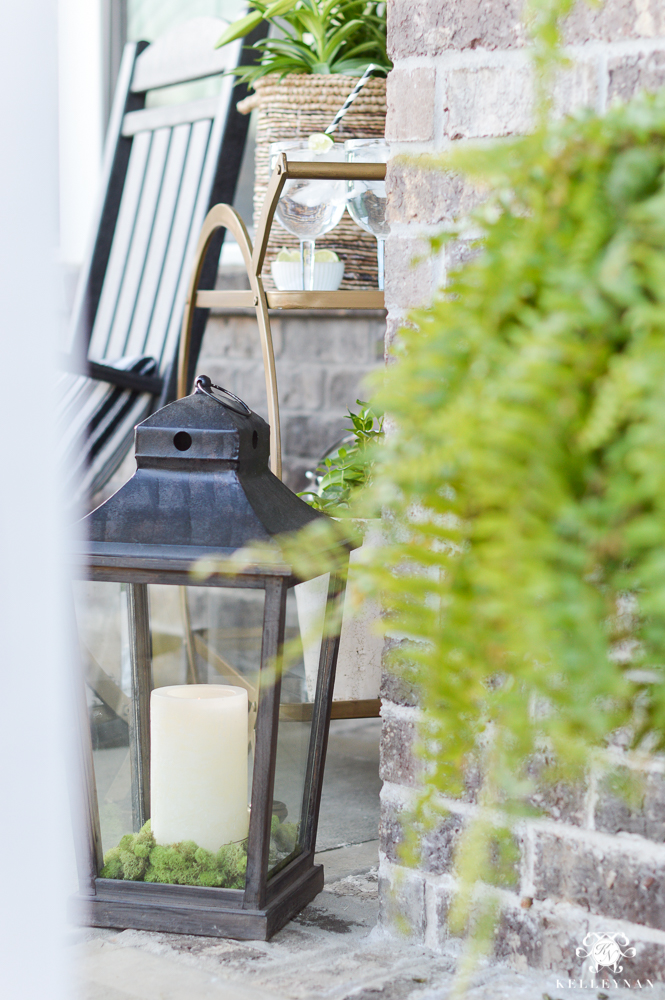 My all time favorite, versatile piece is my bar cart. THIS ONE is on its way (I had my front porch in mind specifically), but my gold cart has come in handy both indoors and out. If you've never figured out a use for a bar cart or don't know that it's practical for you, 1. I would argue that they are practical for everyone, and 2. have you tried one outdoors with plants and/or lanterns?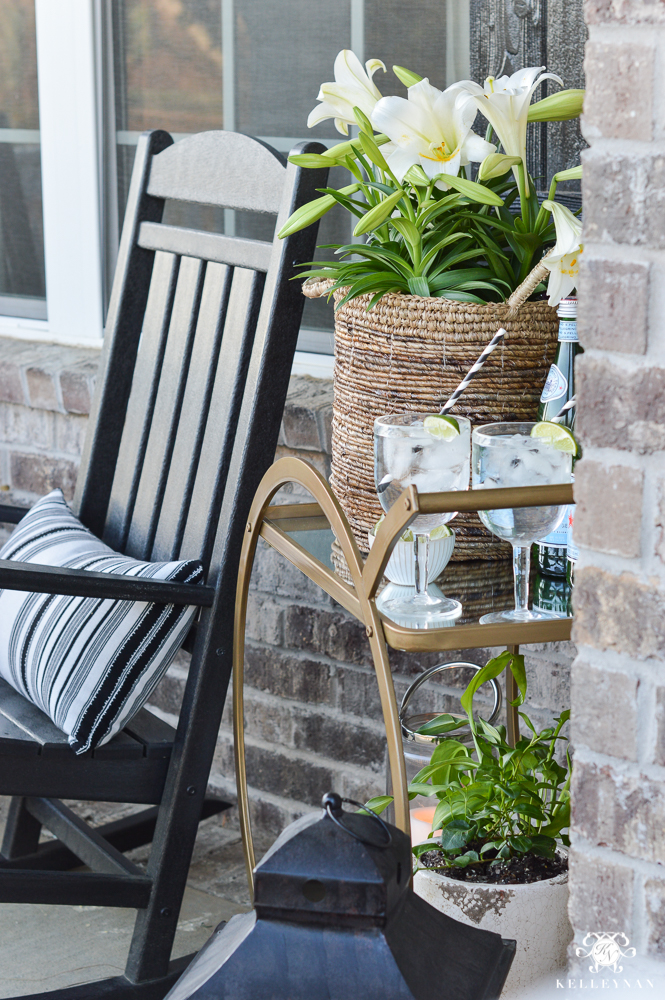 I have two sets of these heavy duty outdoor glasses from Pottery Barn. They are our substantial go-to for warm weather guests 😉 Folks, they are seriously heavy duty.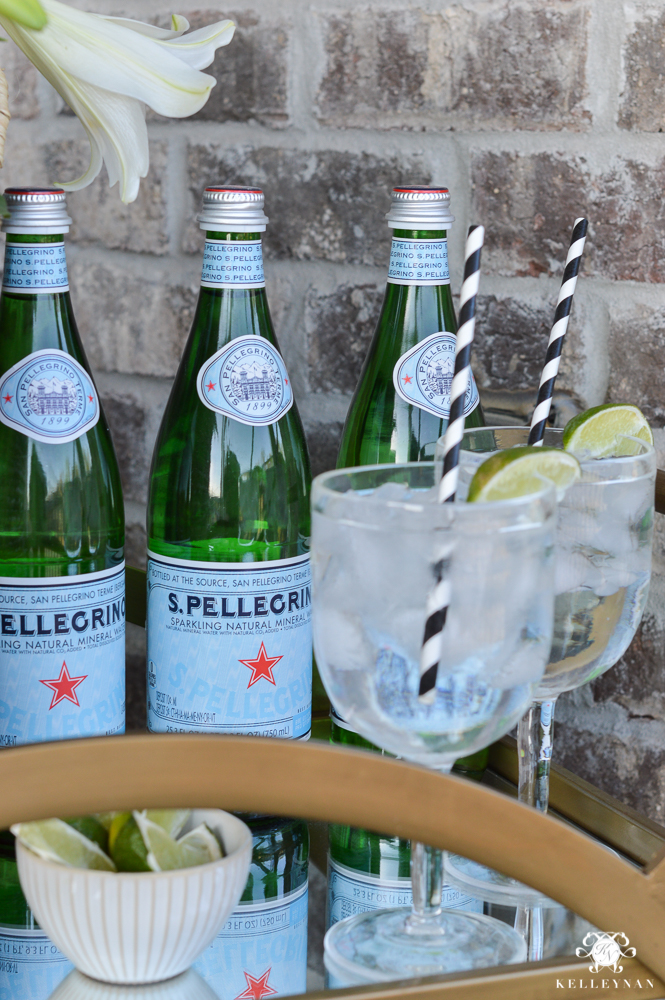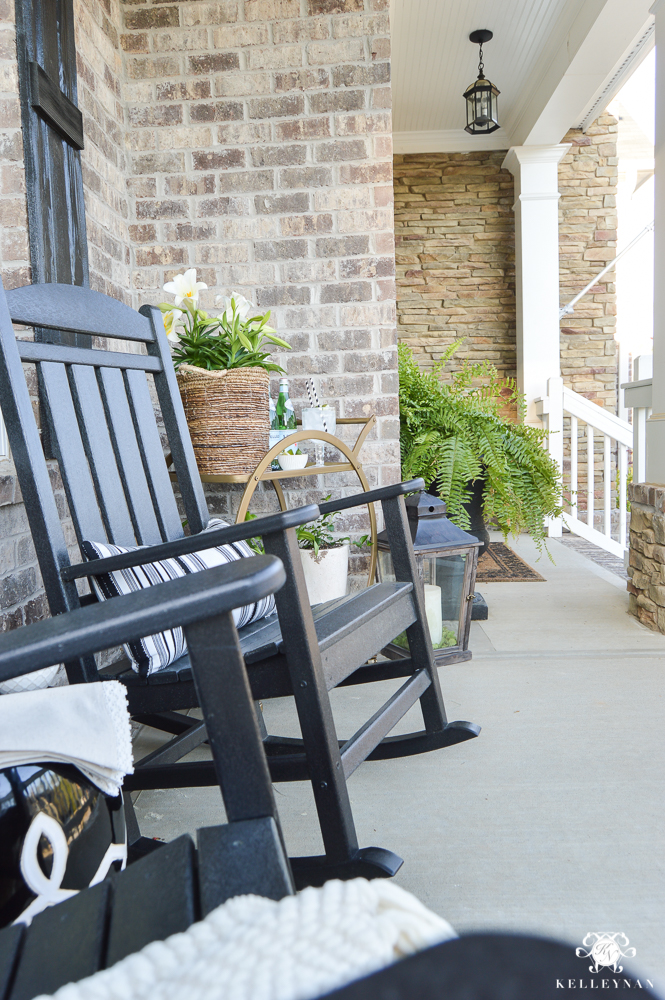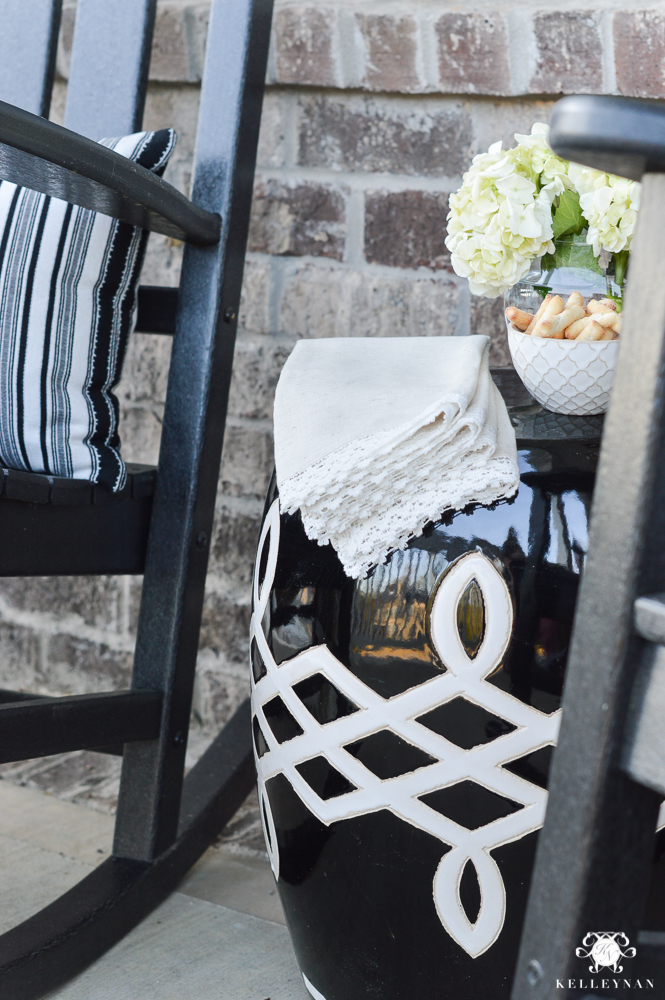 I just recently scored these black and natural striped pillows from the Restoration Hardware outlet. Honestly, at full price, they are a bit too rich for my blood but if you have an Outlet (or if you don't mind paying full price), I wouldn't hesitate.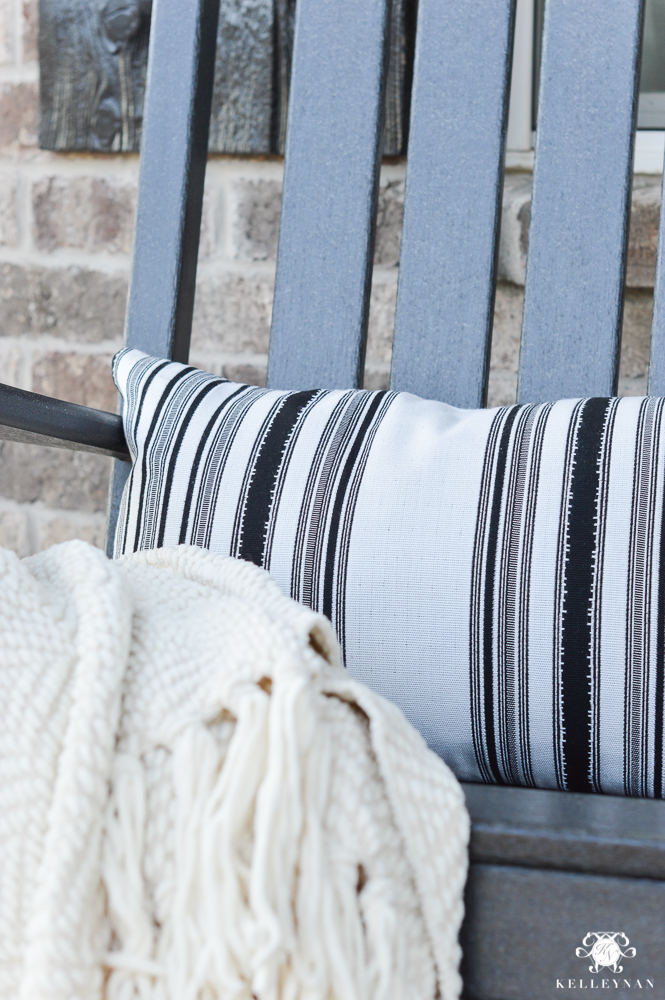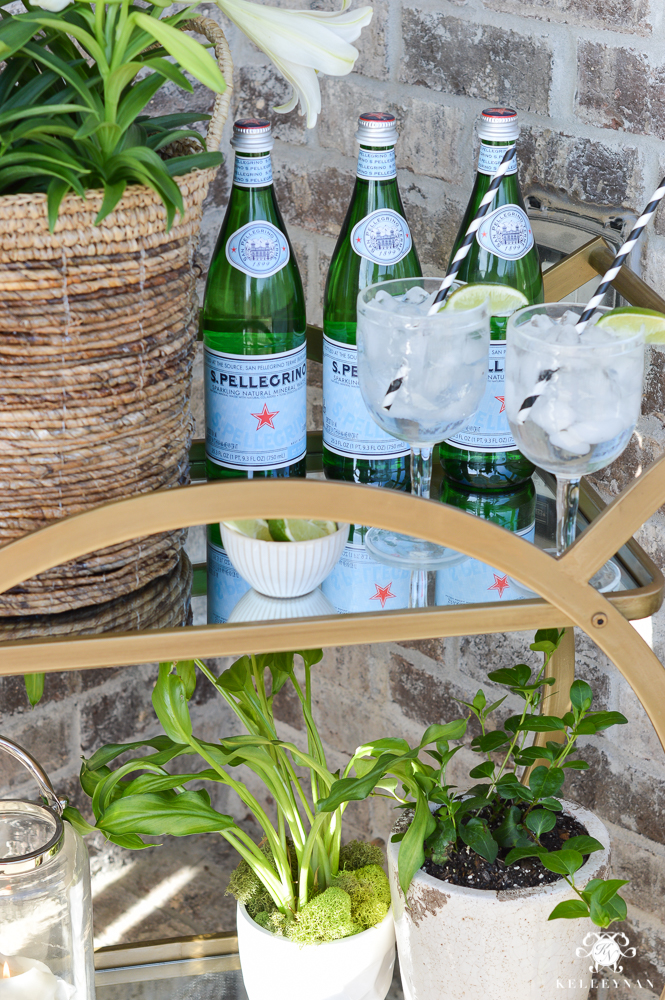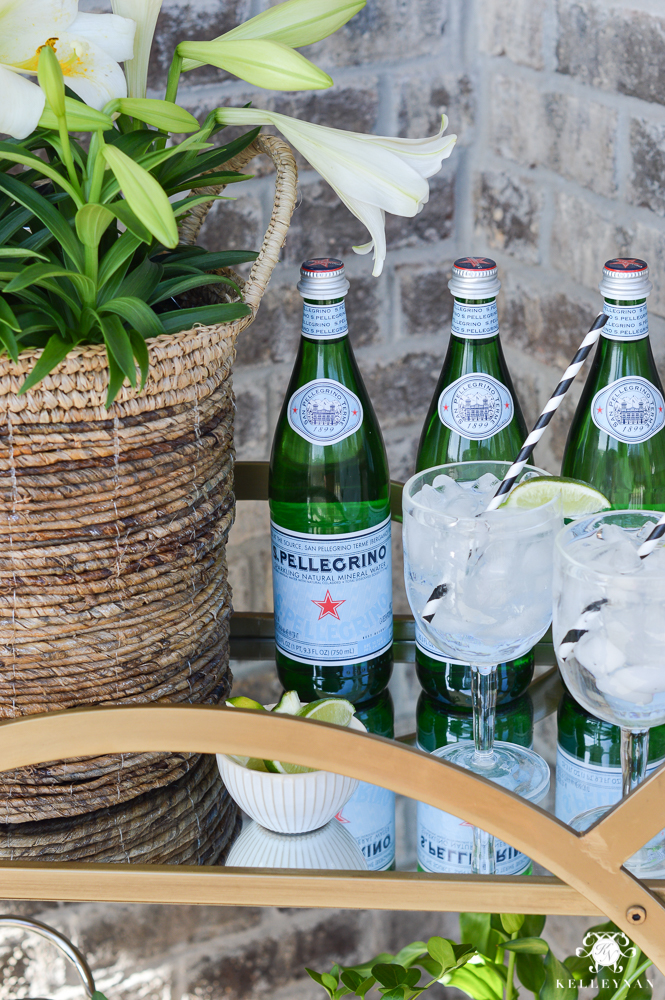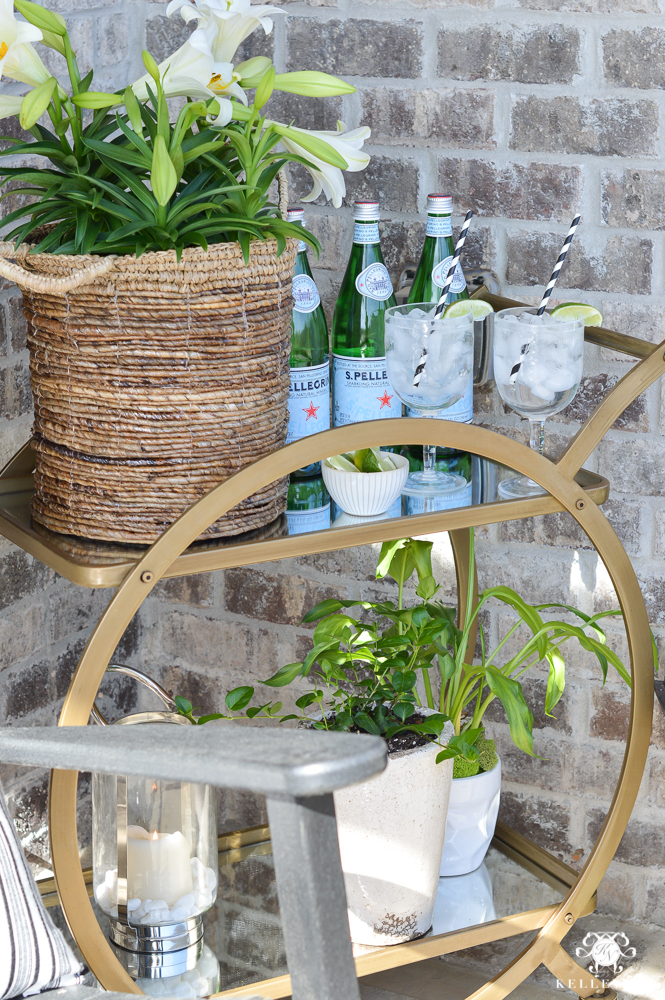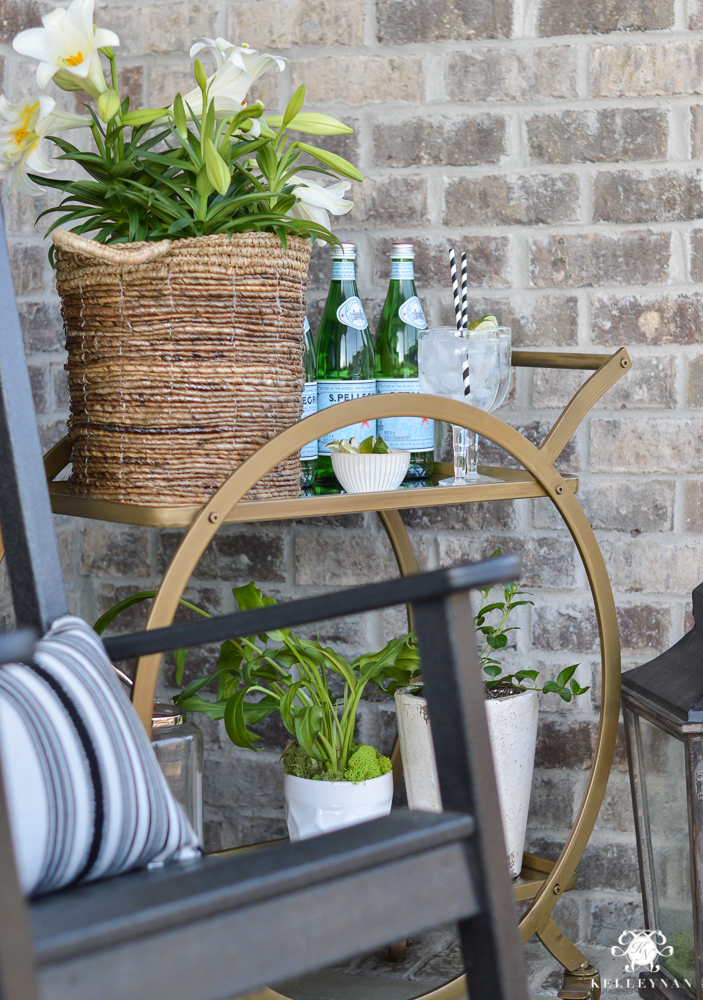 We keep our decor pretty simple out here so it looks "clean" and uncluttered from the road. But, it is fun to rotate in smaller plants, stands, and pillows.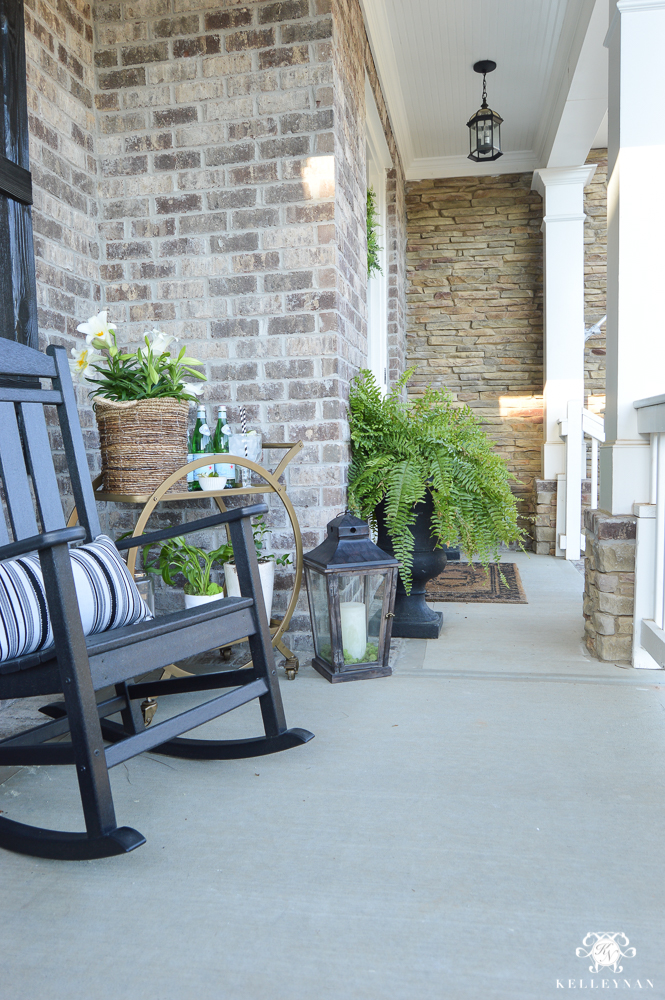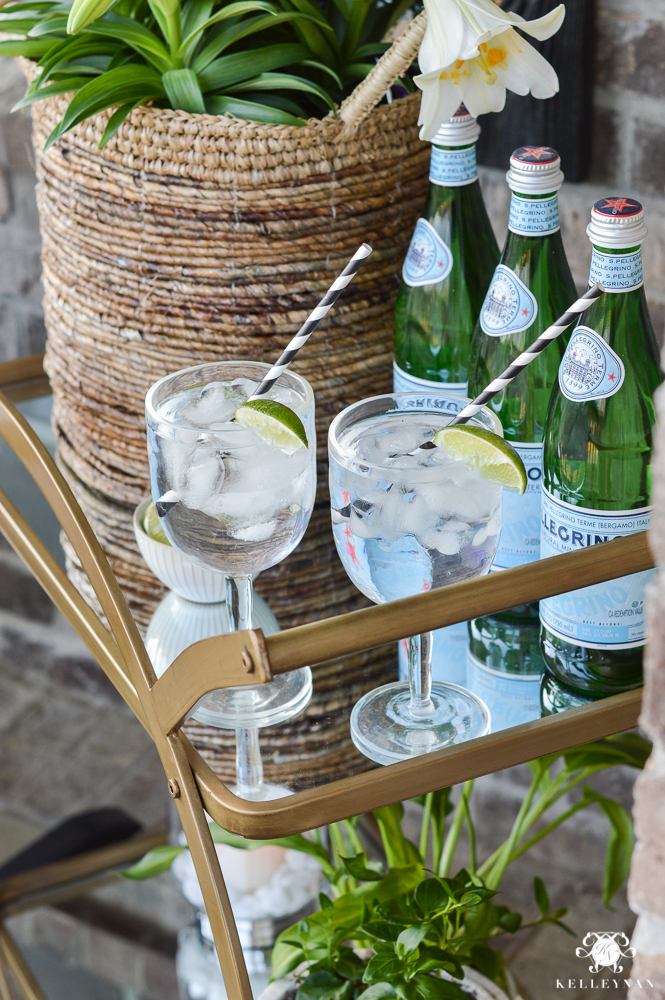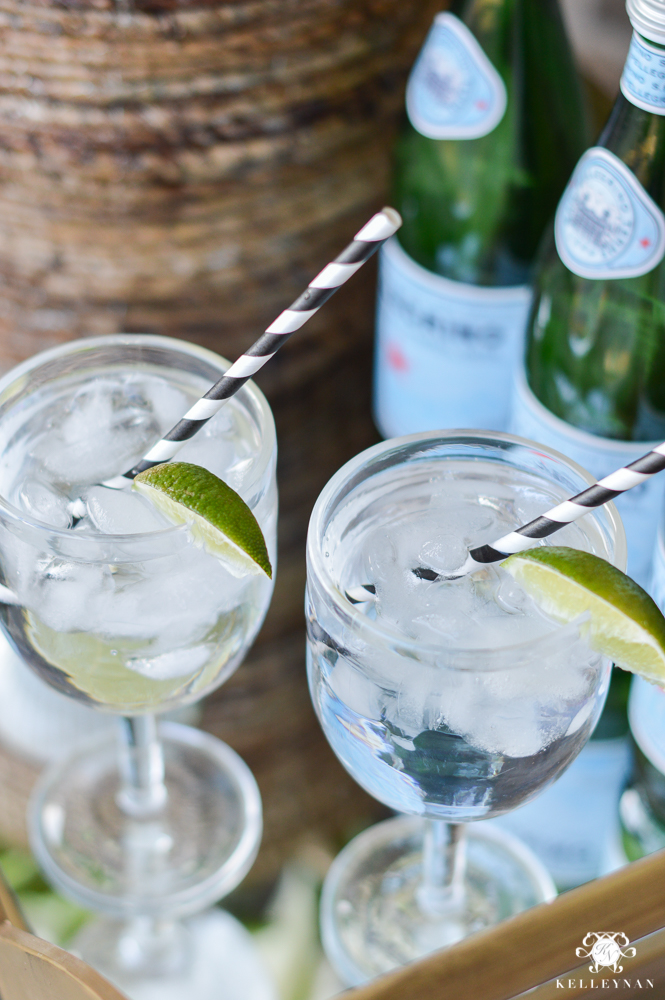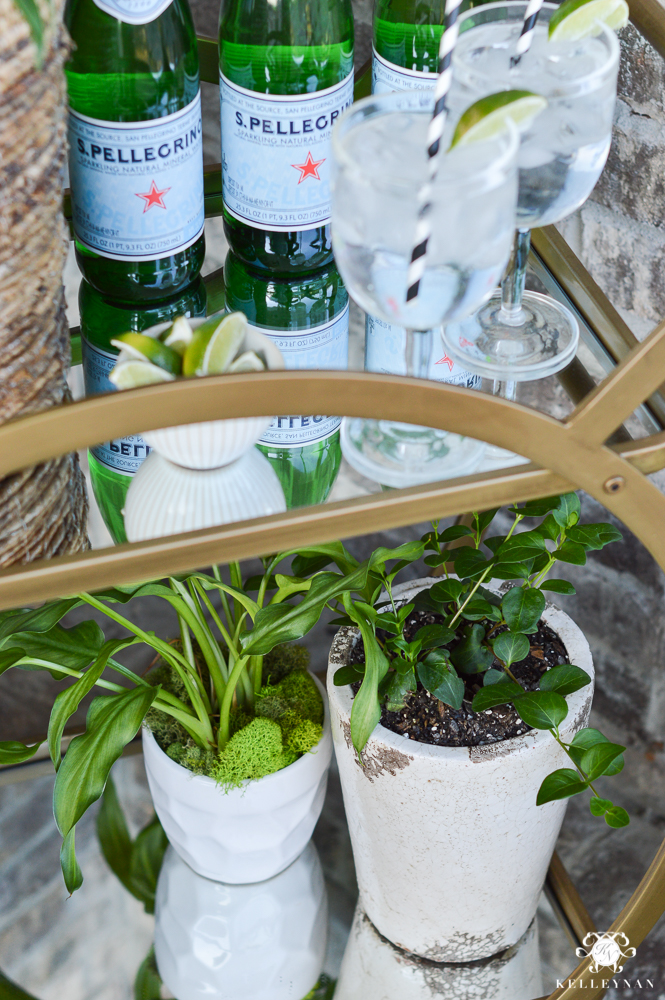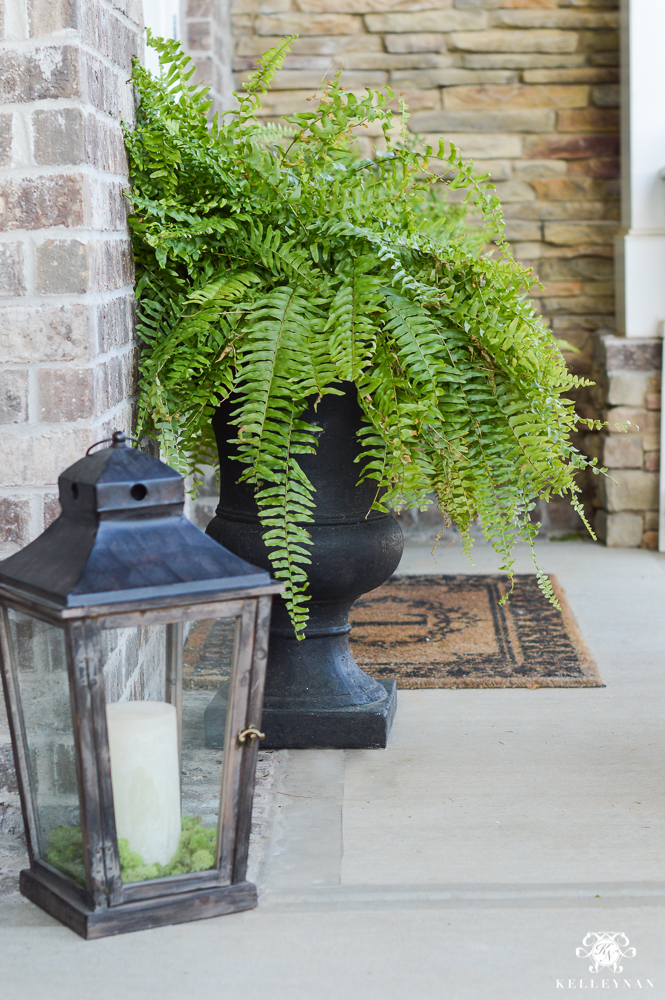 I'm hoping for a few things by summer- that the yellow pine pollen will be gone, and that these ferns will be so big and bushy, it will be hard to get through the front door! Ok, not really. Well, kind of 😉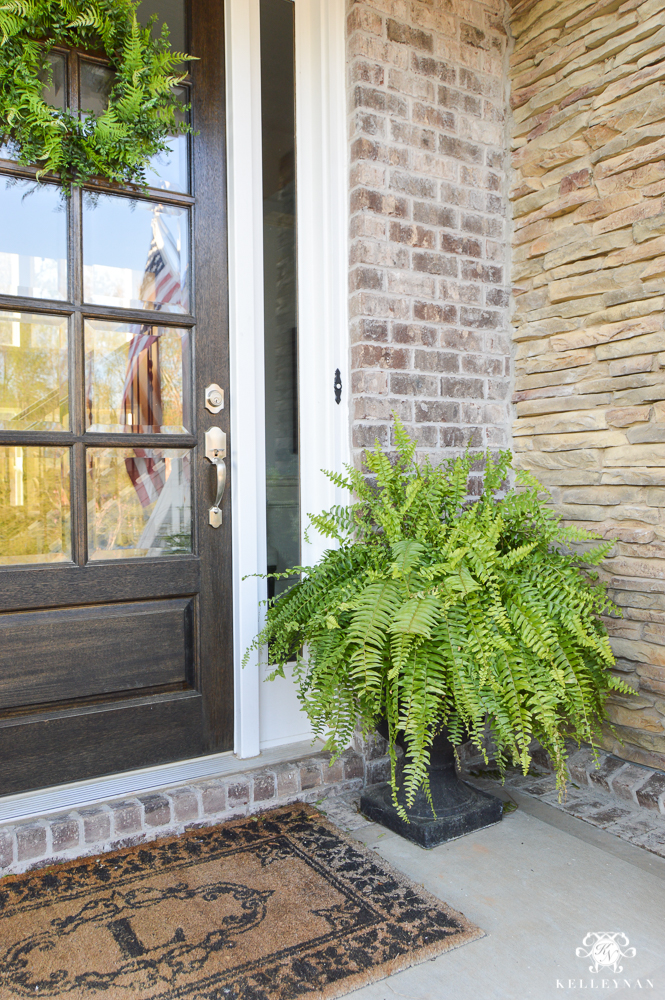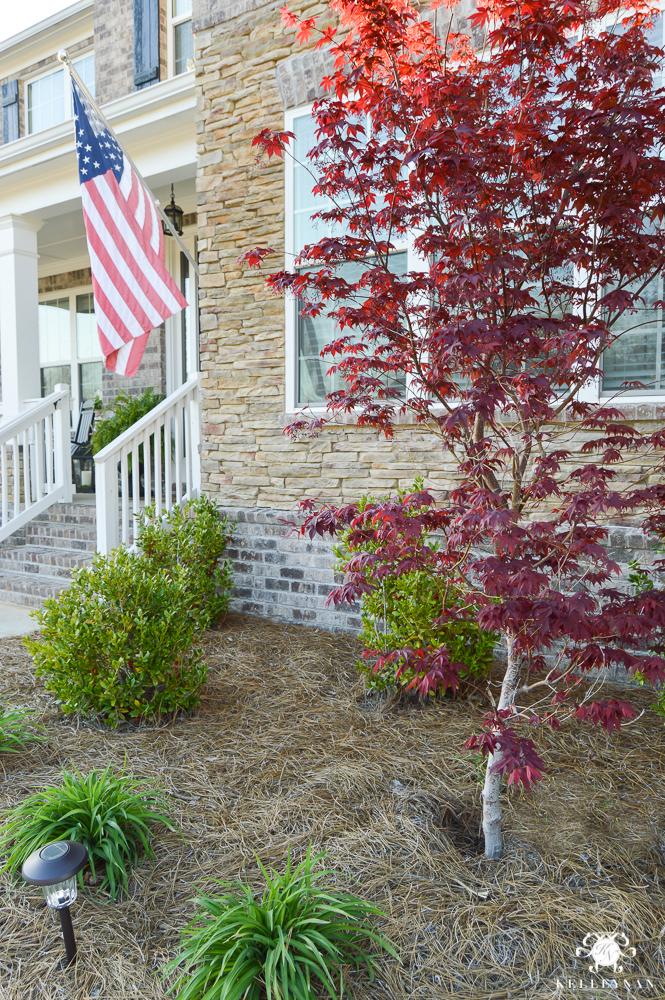 Rocking Chairs | Wreath (SIMILAR) | Urns (SIMILAR) | Bar Cart | Front Door Mat | Garden Stool (SIMILAR) | Throw | Pillows | Outdoor Glasses | Lantern (SIMILAR) | Napkins | Black & White Straws
Before I send you on, a quick reminder (or for those who are just visiting for the first time, some "news"): My next One Room Challenge progress post will be released this Thursday. You can see all about Week One and what I'm up to HERE.
Thank you for visiting with me on my front porch! Next, (and this is something you won't want to miss) head to my friend Randi of Randi Garrett Design blog. She will be revealing her recently made over breakfast nook (the other side of her kitchen). If you didn't see that she just shared her months-in-the-making kitchen, here is a peek and why I know you will want to see the other half of her reveal 😉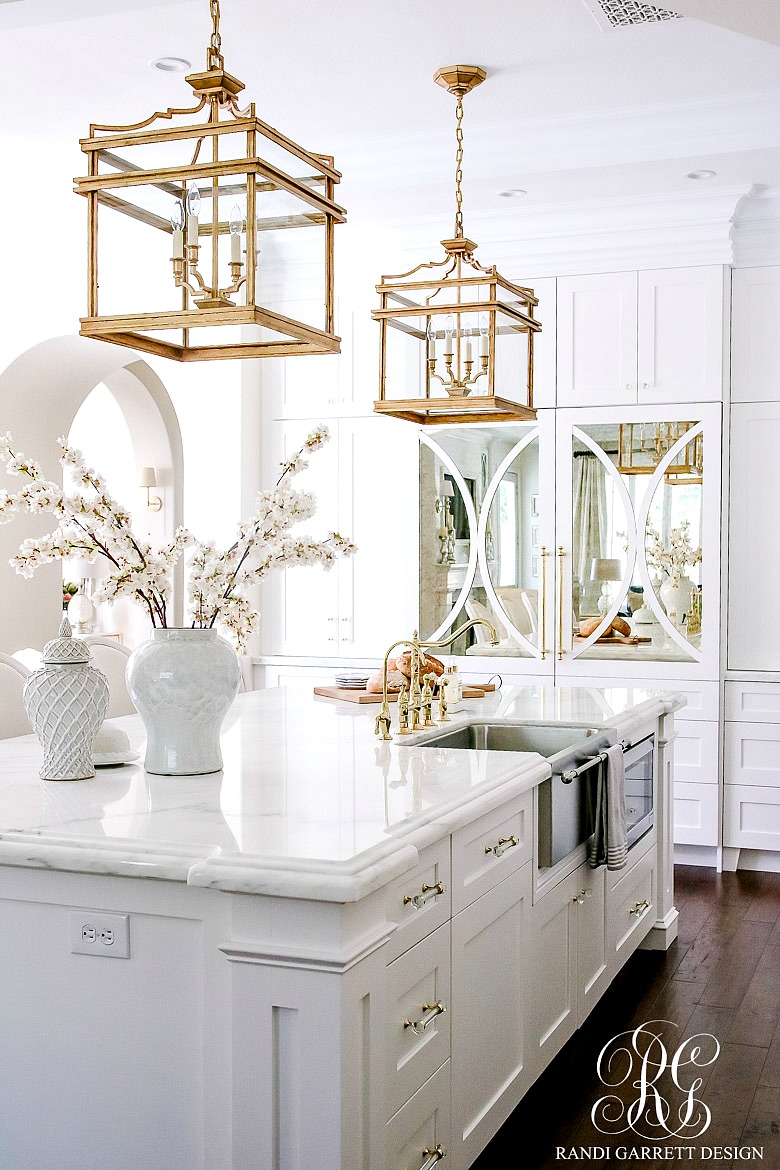 Right? She's next on the hop and you can get to her new breakfast nook HERE.
And, you won't want to miss any of the other blogs on today's short tour! Prepare for tips, room tours, refreshes, and full home tours. You can link to them each below.

HANEEN'S HAVEN | KELLEY NAN | RANDI GARRETT DESIGN | ZDESIGN AT HOME