After a year and a half of spending my days working in little more than a storage room and six weeks of hibernating in my master retreat's sitting nook, I am officially writing this post from my new office! My first One Room Challenge is complete and while I've tried to be reserved about sneak peeks, I have been dying to share. For today's Week Six home office makeover reveal, I guess I decided to make up for my social media stinginess so get ready for photo overload; I'm sharing ALL the deets today! I've provided a list of room sources (affiliates included) at the bottom of the post. 
Miss part of the journey? Get caught up here.
WEEK ONE | WEEK TWO | WEEK THREE | WEEK FOUR | WEEK FIVE
While I obviously wanted my office to be "pretty", functionality was king when planning my space. My office requires a lot of space; not just for a small writing desk with a cute laptop. I need an expansive area for assembling materials, binding collateral, storing promotional product, etc. I'm fortunate to have a basement and closet for storage but I wanted to make use of my office and be practical with my own workflow. I wanted a soft, relaxing color palette and I wanted to keep it totally "me" – traditional with a modern twist and a hint of glam. This is what I came up with.
The first glimpse you see when you enter the office is my wall of built-ins – the feature and focal point of the room.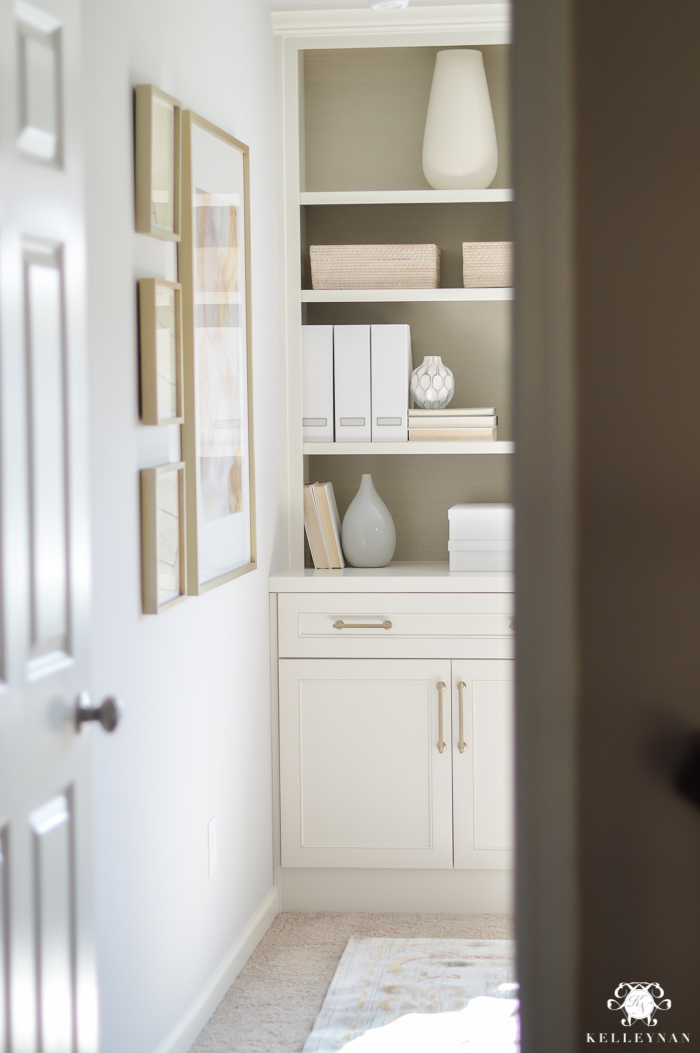 You can see the install and cabinet features in Week Two; I seriously lucked out with an incredible team.  Confession: I haven't tackled the hidden organization just yet… please help me hold myself accountable even though the ORC has come to an end! 😉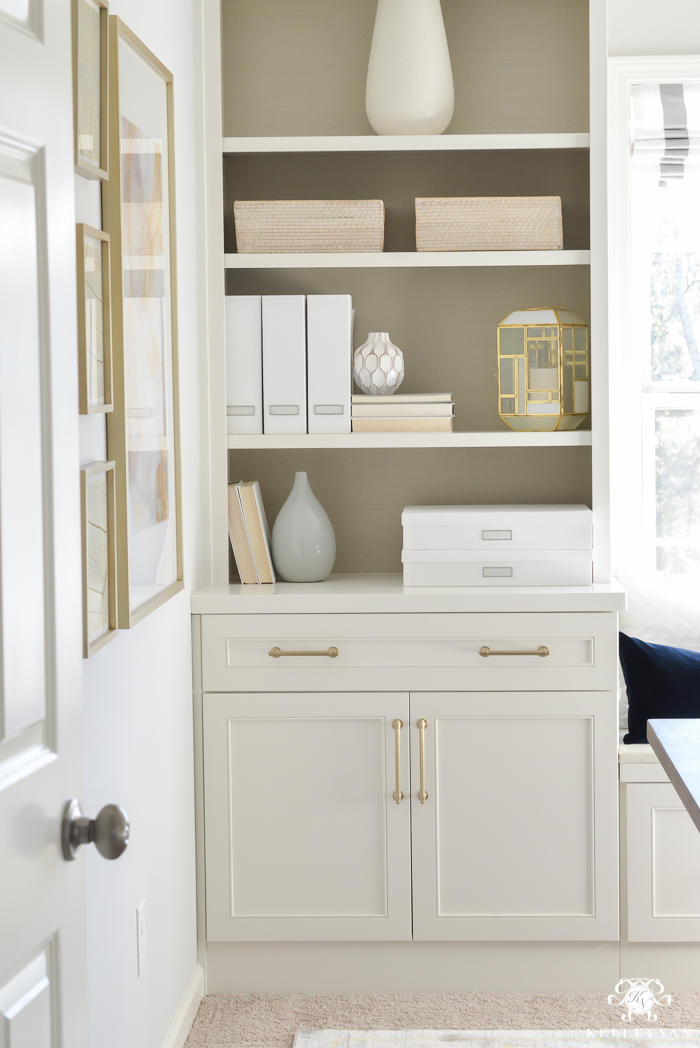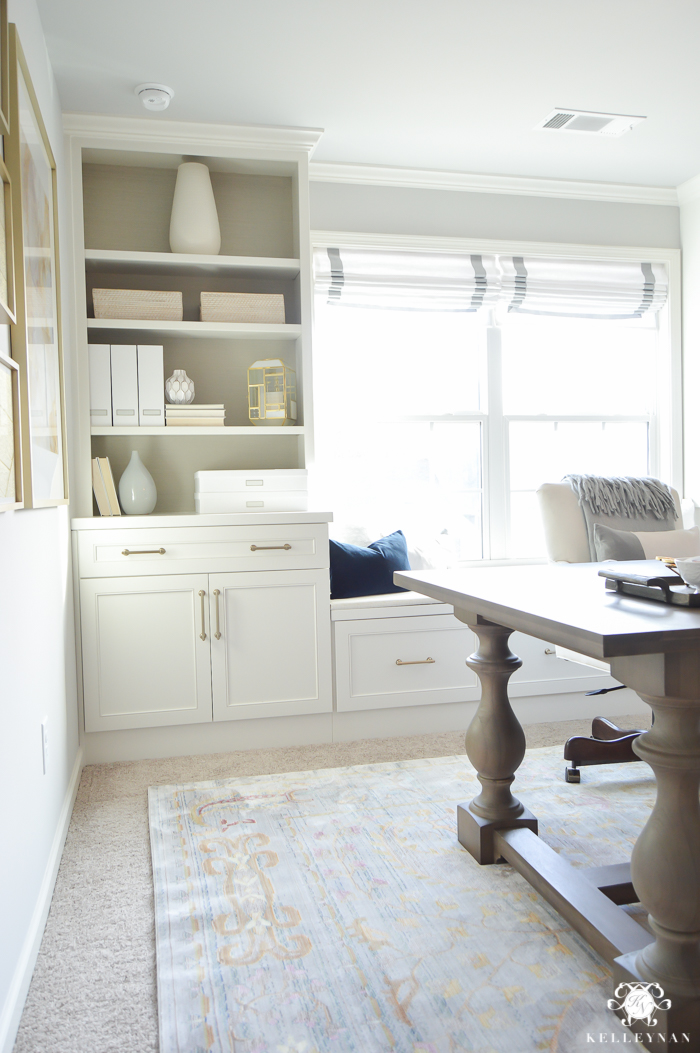 To see how far we have come, I will pause and remind you where we started… you can see all the before photos in the Week One post.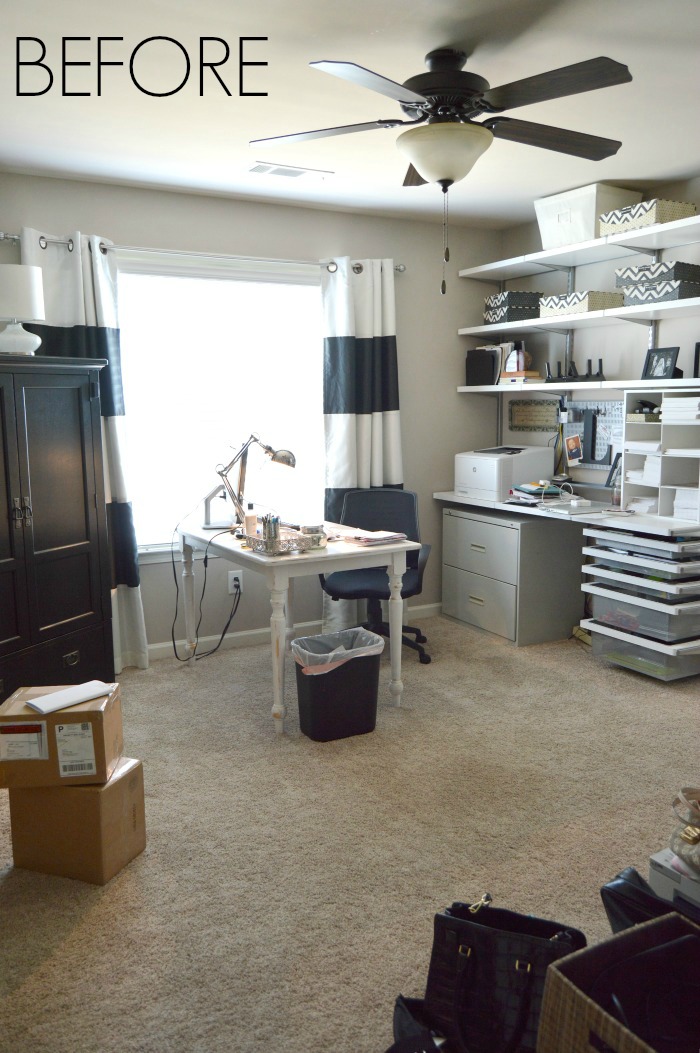 But after six weeks, a little manpower and a lot of love, here it is today!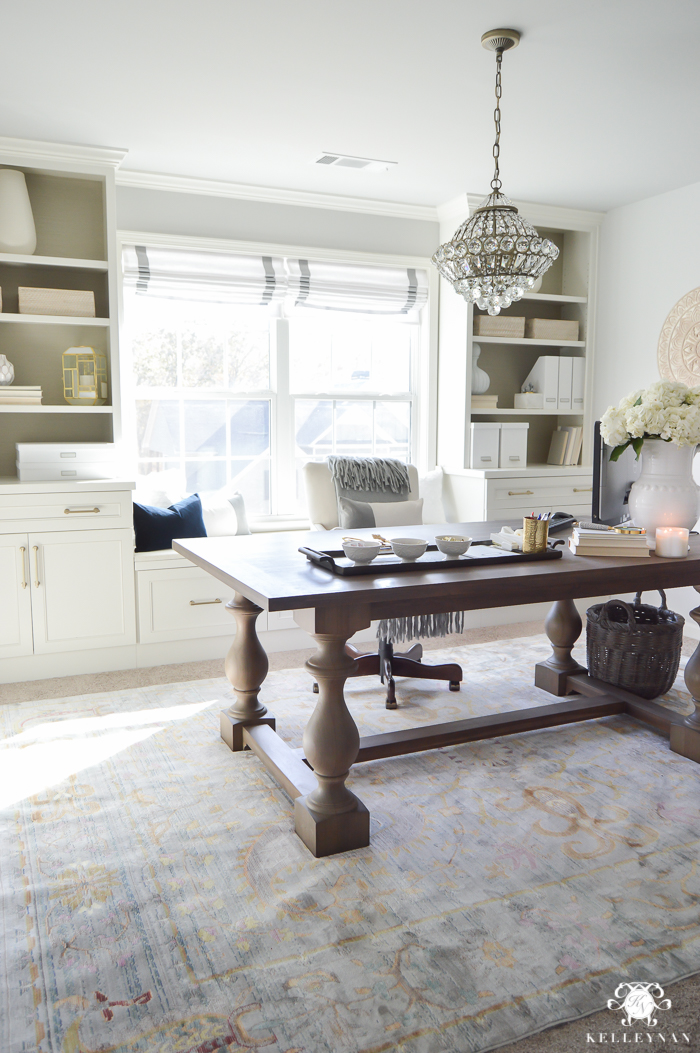 The window seat is one of my favorite features in the room. It holds three file drawers which allowed me to ditch the ugly metal beast! Bonus, Darryl made sure all cabinets and drawers were soft-close. I have never had Roman shades in any of my rooms, but I knew I wanted them here. Windows by Melissa created these custom linen shades with silver ribbon trim to my exact specification. After installing them and seeing the clean result, I'm already planning to switch out some blinds on my doors.
This little nook also made room for some pillows to keep everything soft and comfortable. If you remember, all the pillows from my Fall Home Tour were custom made by Willa Skye Home. The quality is impeccable so I was thrilled to have another opportunity to showcase some of their gorgeous collections. (I've linked each at the bottom of the post.)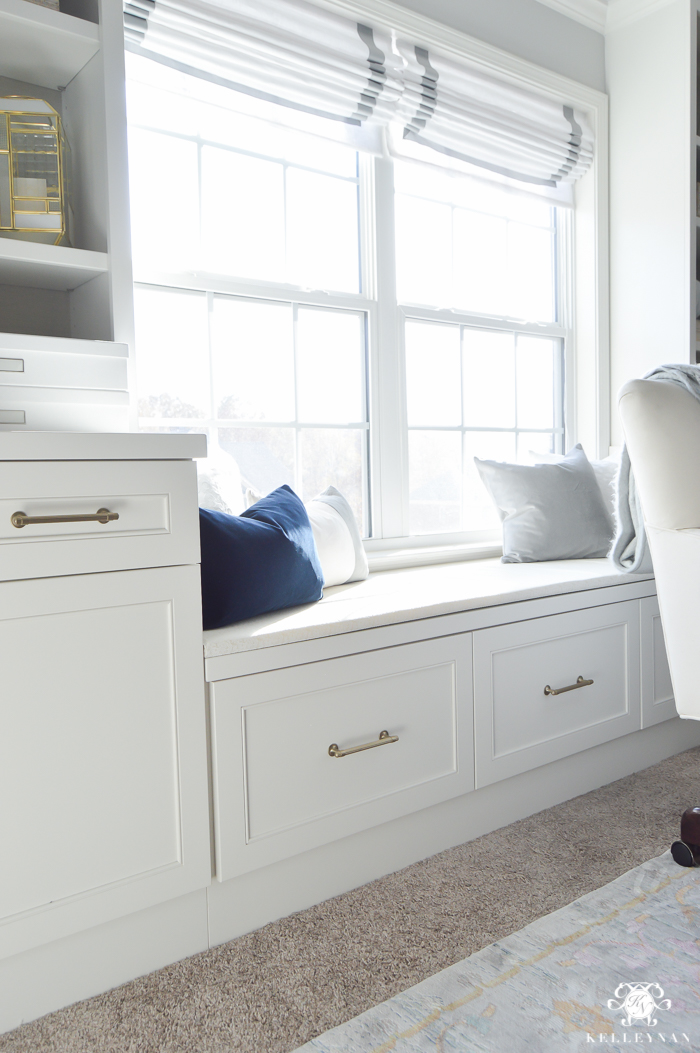 I whipped up an inexpensive, quick DIY window seat a few weeks ago and while I contemplated changing the fabric (and still may), I am pleased with how it turned out.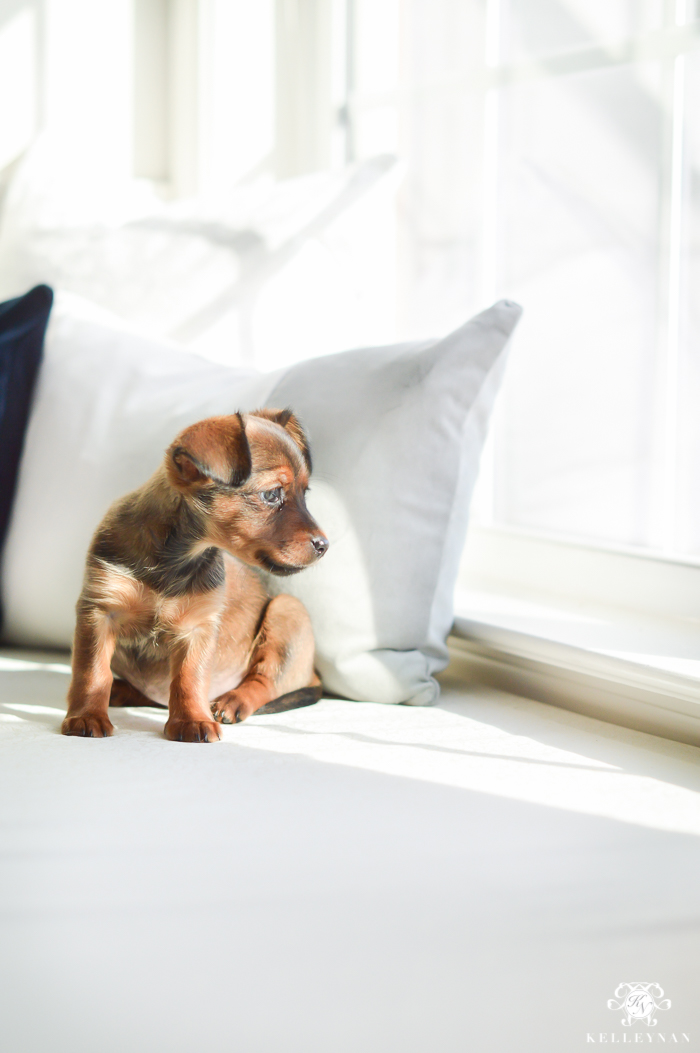 Apparently, it meets Maggie's approval, too 😉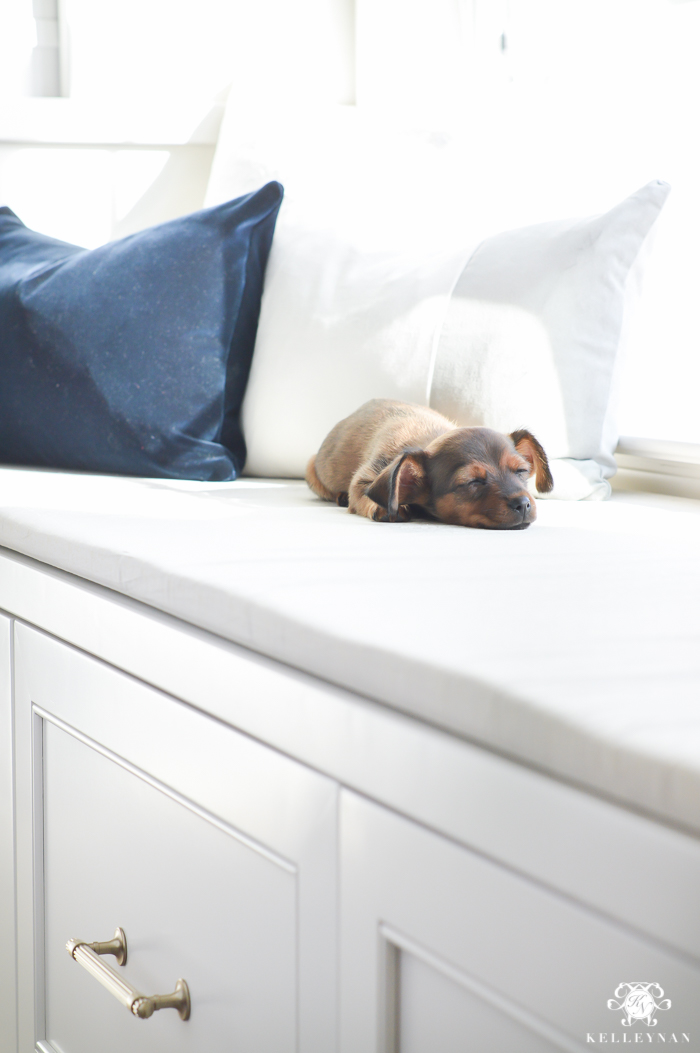 Beyond my grays and neutrals, my soft color palette was born from a combination of my rug and my art prints from Minted. I used the same gold foil leaf print, rotated in different directions, in tandem with my large Soft Shimmer print to form a simple art gallery. What isn't totally obvious from this angle is that the wall is fairly large. Sticking to the same frame finish allows the art to act as one cohesive piece.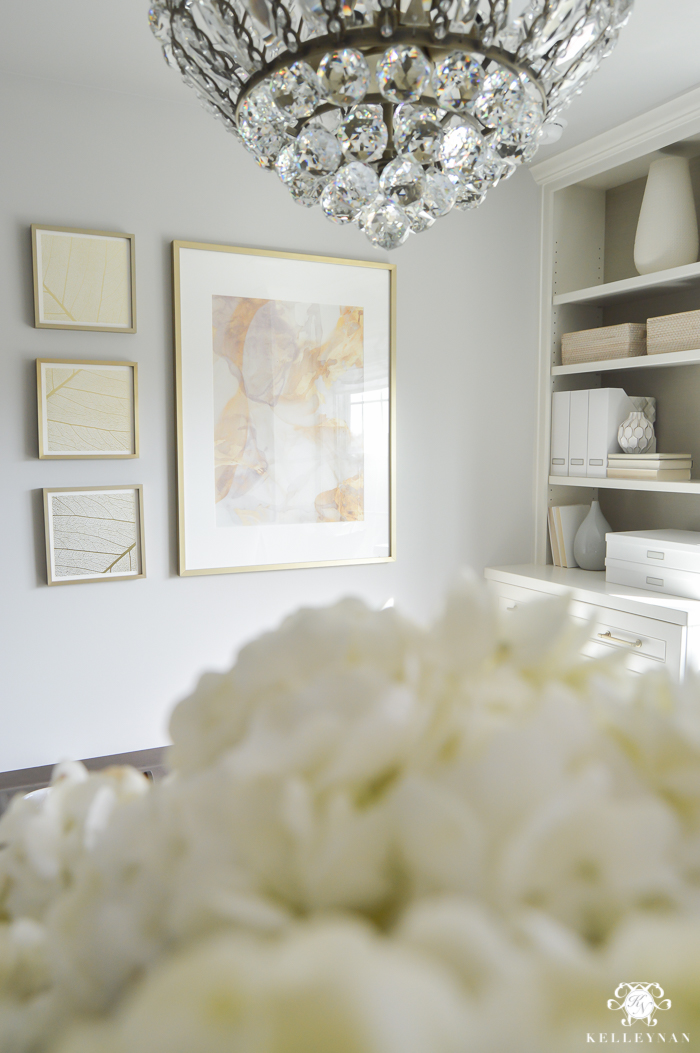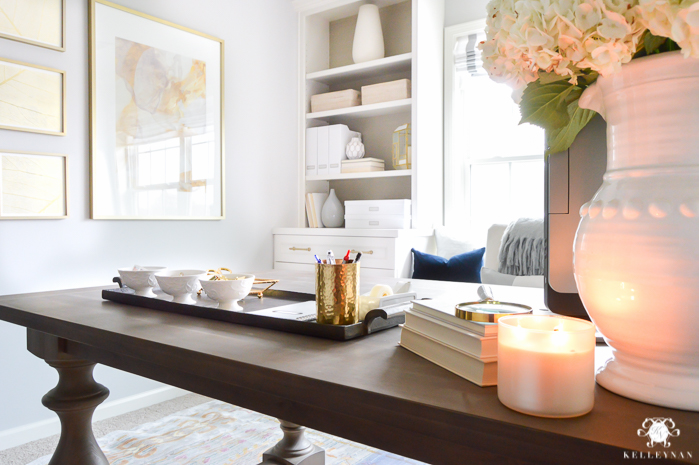 Side note- Last week, I mentioned having to finish the room early since we were dipping out of town for a few days. I'll be sharing more on our trip to my favorite city, Charleston, next week, but couldn't resist showing some of the pretties I treated myself to on King Street.
When I rounded the corner inside Kate Spade, I laid my eyes on the most adorable purse I had ever seen. Yes, there was a squeal. Now, had I been alone, I likely would have managed a little self control. However, it was actually my husband who insisted I deserved it and shouldn't leave the store without it. (I wish he would have said the same for this wool poncho I drooled on a little haha!) You may be familiar with the classic "Margot" Kate Spade bag; while my buffalo check handbag is available in the traditional size, I splurged for the oversized "Mega Margot". The optional adjustable strap can even expand long enough to wear it cross-body style. I. Am. So. In. Love.
Down the street, I picked up my new fav fall booties from Aldo in black but will be ordering the tan soon, also. With the chunky heel, these are a super comfortable boot and I already rocked them out through the city on my trip 😉 Skinnies can be tucked in easily or, a wider leg can be pulled down over the boot.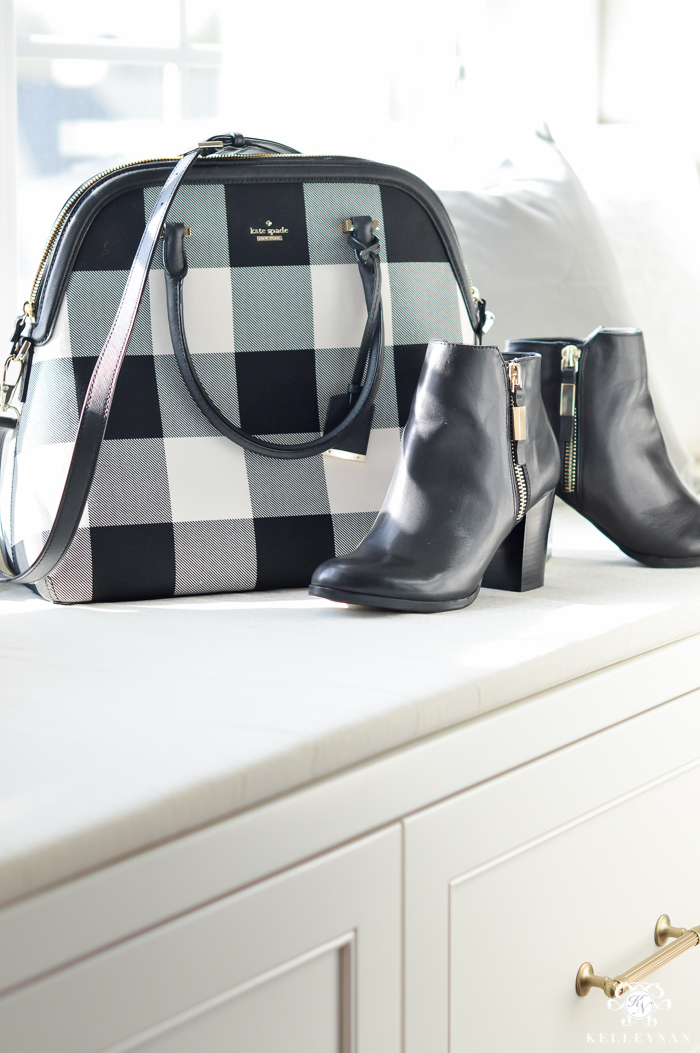 [Kate Spade Mega Margot Bag | Aldo Booties]
Right now, you can get the purse for 25% off with promo code PURPOSE and through 11/12, the booties for 30% off and free shipping (sale already applied) 😉


When I started this room, I didn't anticipate enough space for a seating area. I was thrilled when I saw I had ample room to work with and was even able to re-purpose the old buffet mirror from my dining room.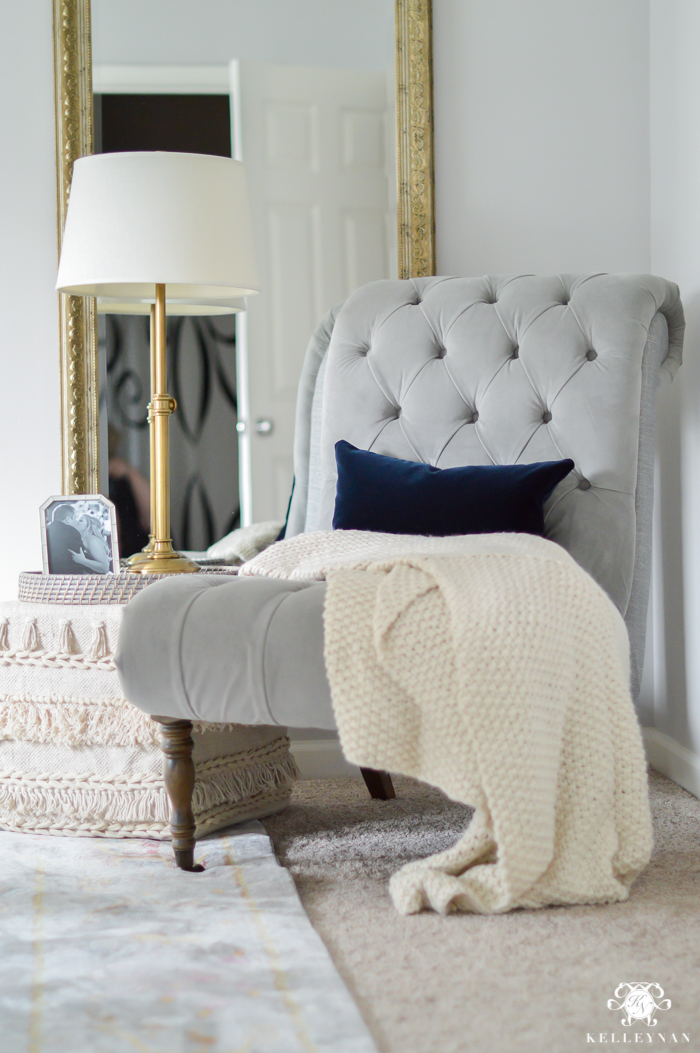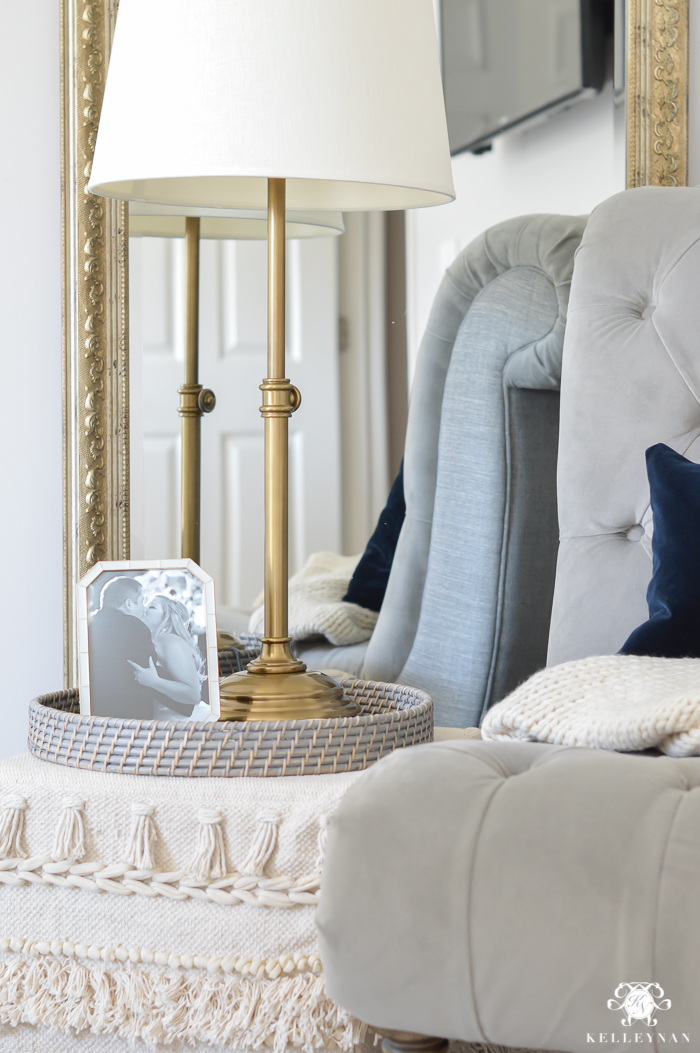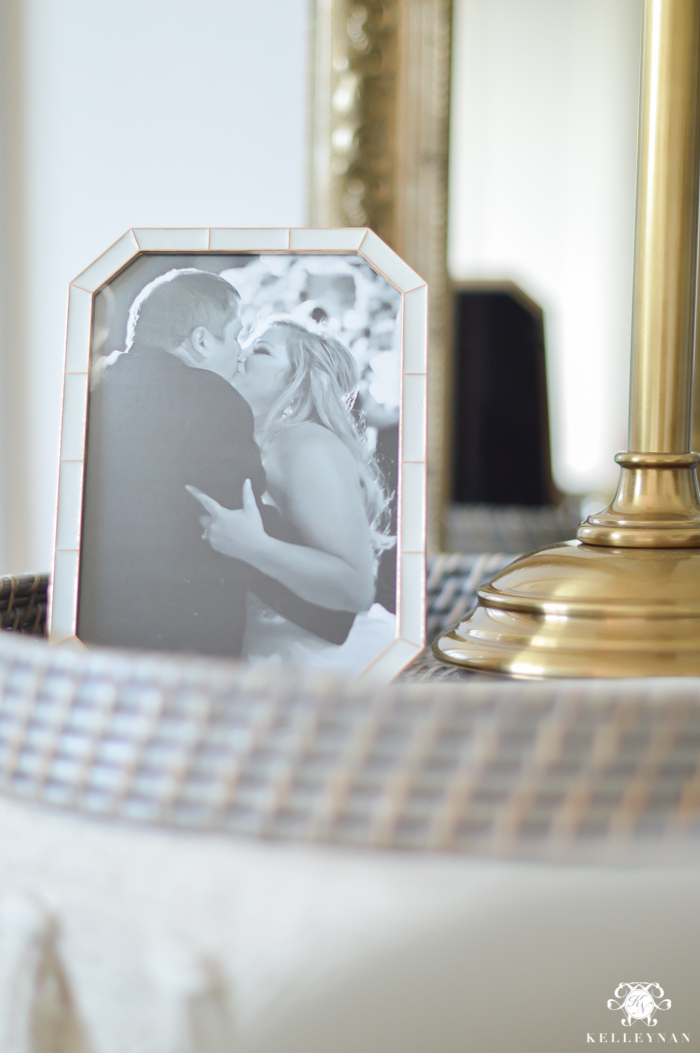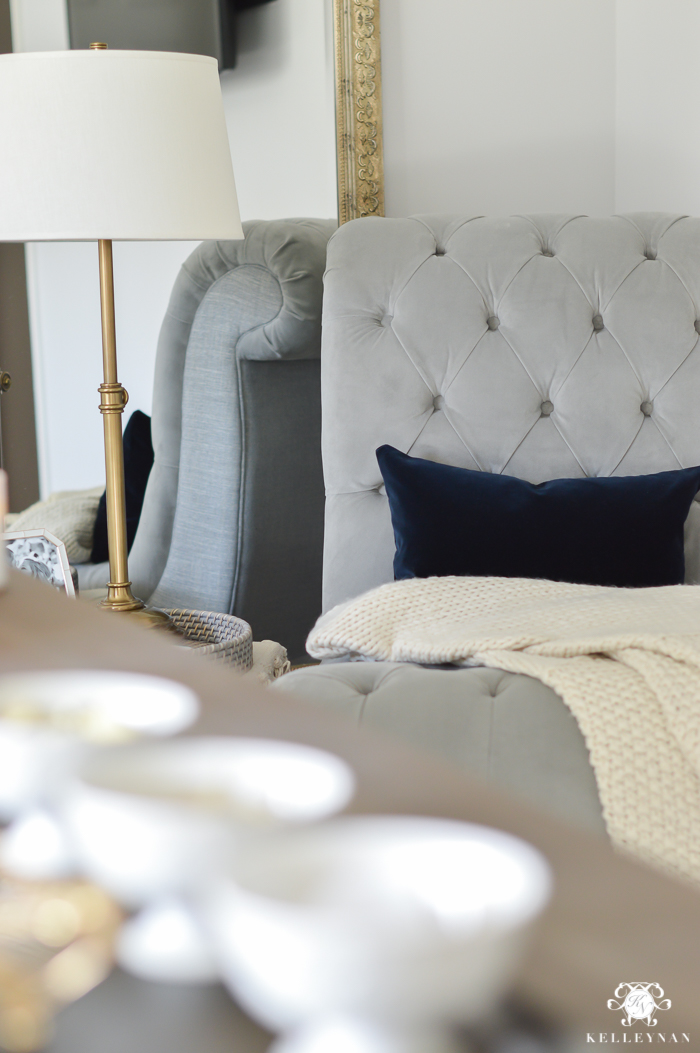 Even though I am now using a large table as a desk, I am committed to keeping it free of clutter. To keep my temptations at bay, I only have the "pretties" on display and have the more utilitarian accessories tucked away in the built-in drawers. See that precious little gold cameo letter opener? My neighbor has built a collection for years and decided to sell them this past year. The gold and soft pink was a deciding factor in the direction for the entire office.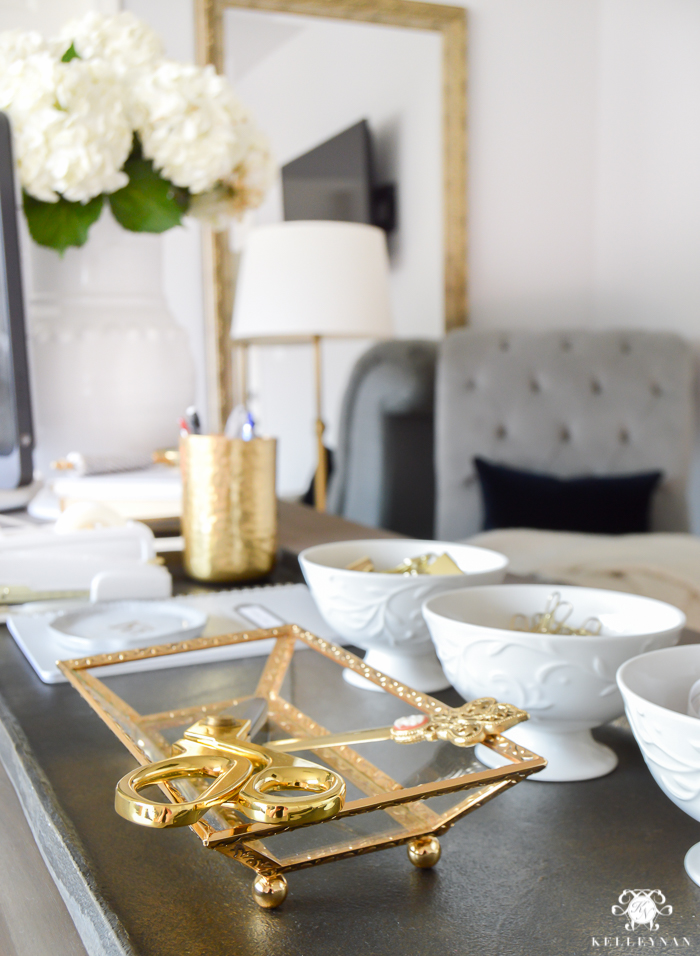 Layering bowls, dishes and smaller trays inside the oversized tray keeps things looking tidy and collected. The little footed china dessert bowls are one of my favorite details; I ordered them specifically for my desk but tea cups and bowls you already have on hand would be adorable.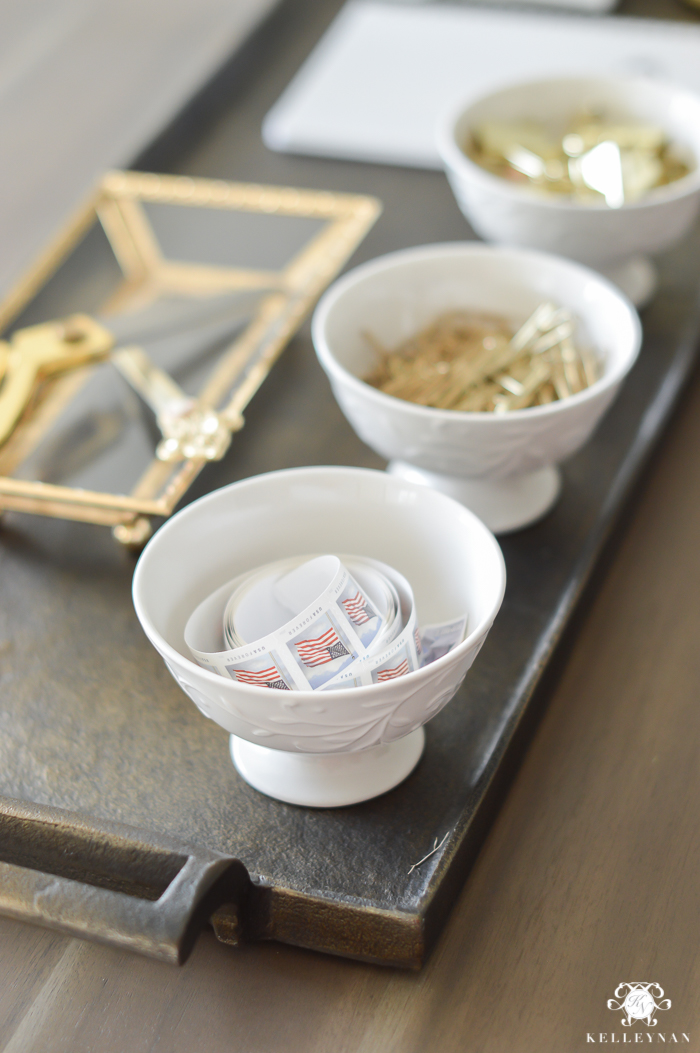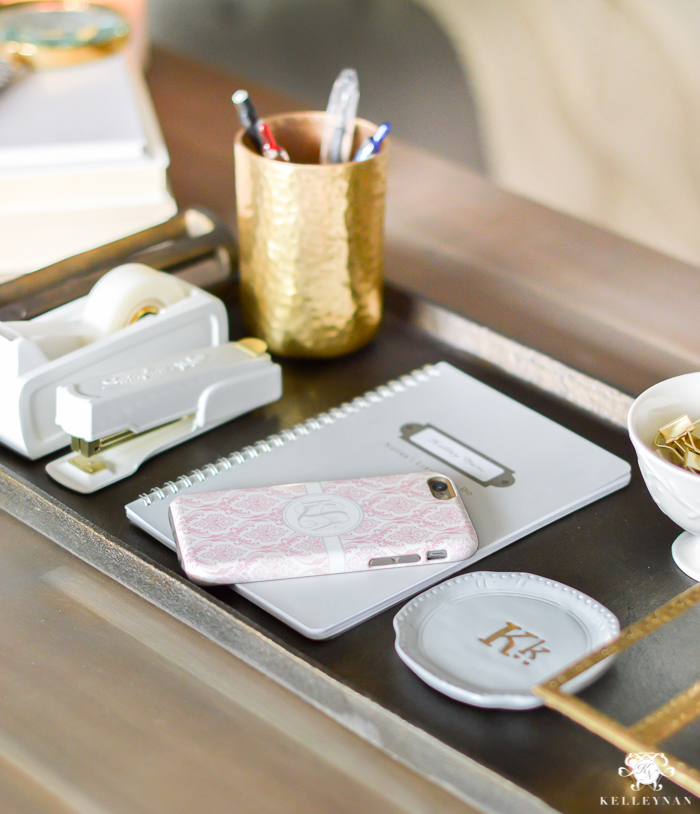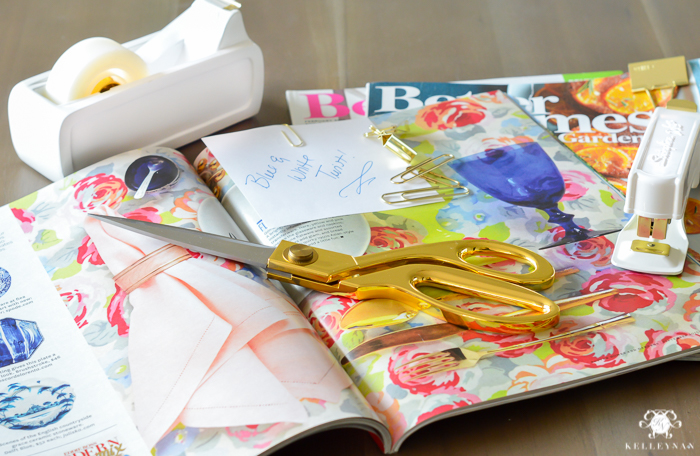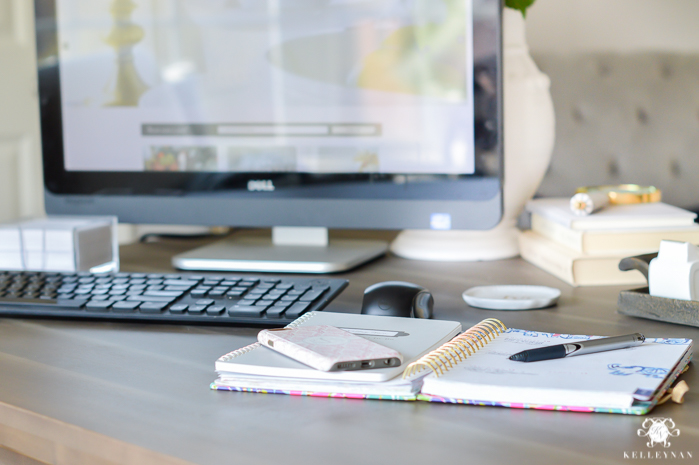 Here's a small glimpse of the TV my husband mounted on the wall opposite my desk. When I am moving along on mindless projects on the weekends/evenings, it's an easy way to catch up on the DVR. This was a must for my comfortable office.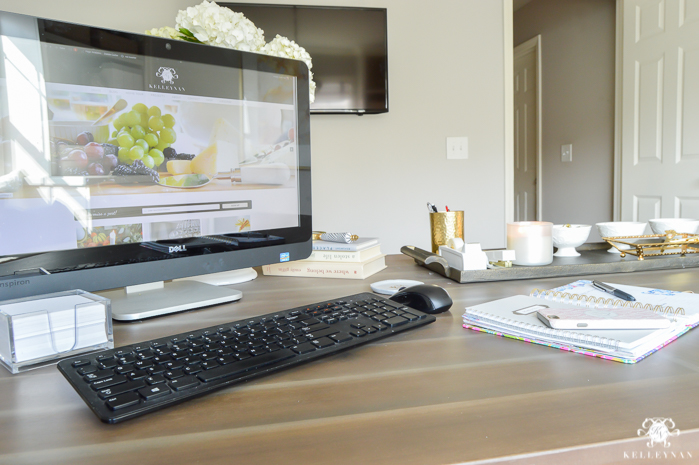 I already loved my built-ins but I knew a textured, warm grass cloth would bring the extra personality I needed. Back in Week One, I showed the samples from Walls Republic I was contemplating. I ended up going for a fine weave gray and white and love the result. I did hire an installer to pull this off. I have never wallpapered before but word on the street is that grass cloth is a bit trickier to hang due to its stain-ability and possibility of fraying. You can order free samples HERE and check out the full collection of grass cloth HERE.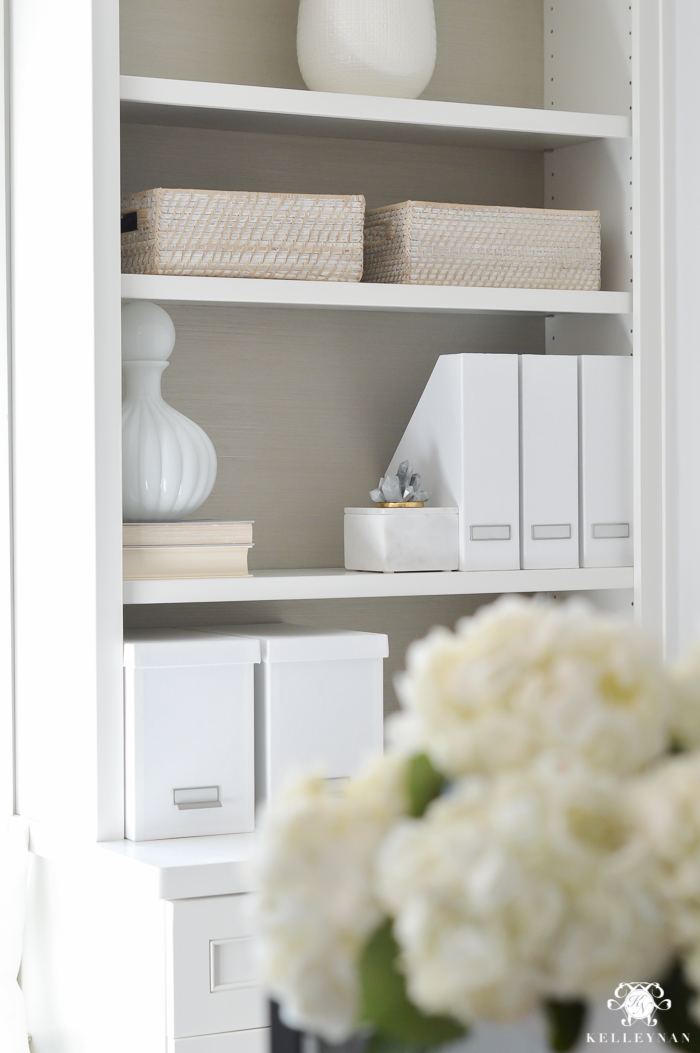 Organizational bins don't have to fit together like puzzle pieces. I use the monochromatic boxes for purpose and decor.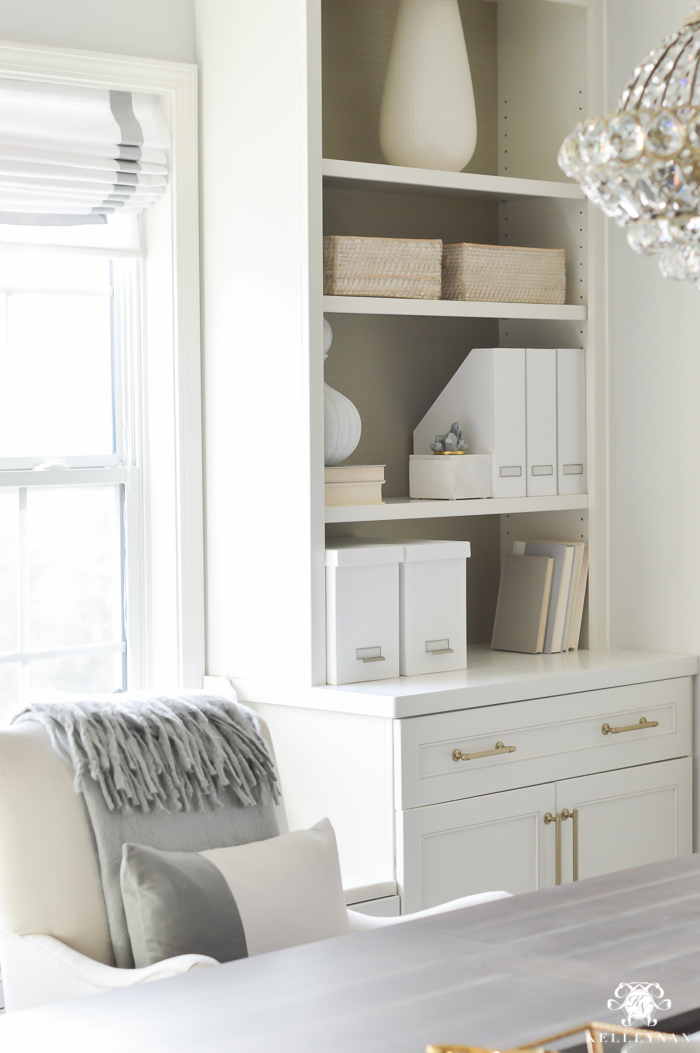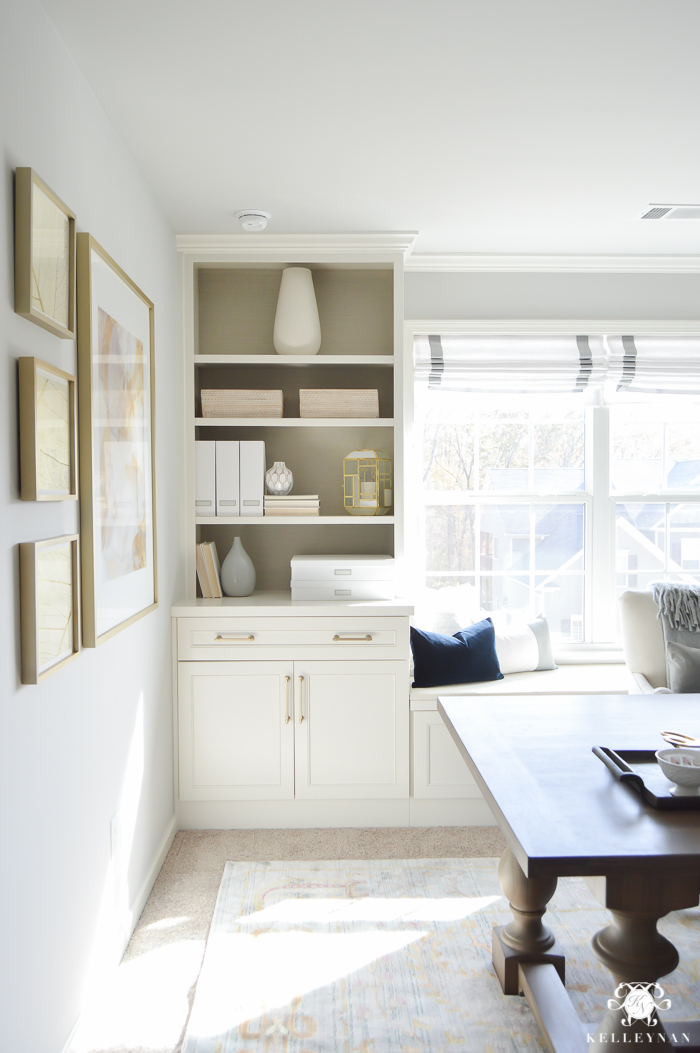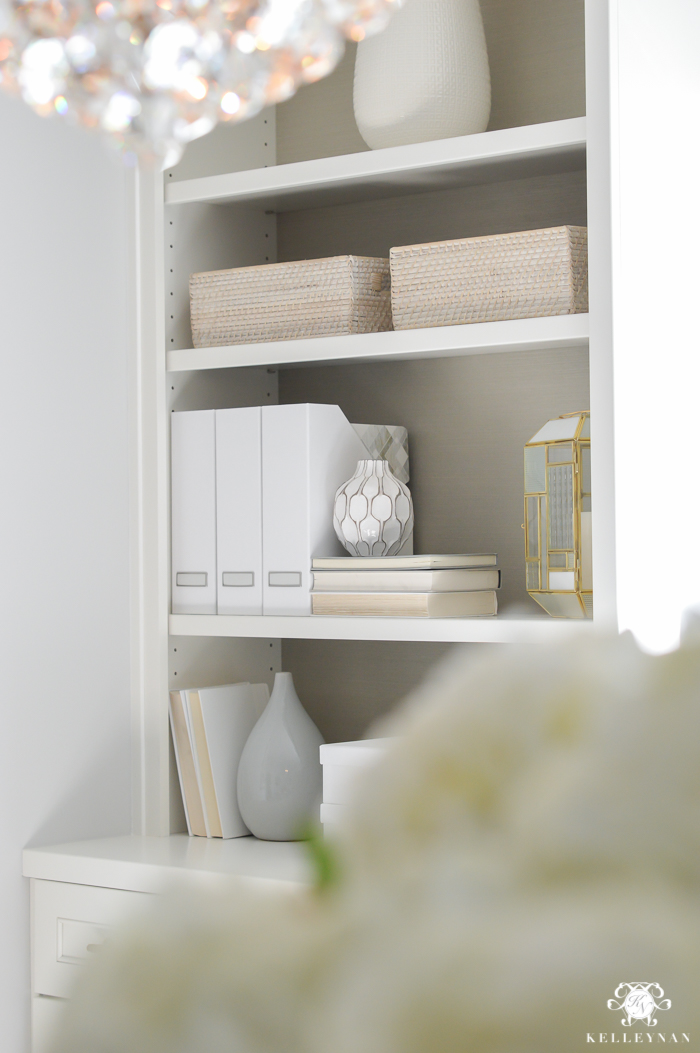 With my new chandelier on a dimmer, situated directly above my desk, there is no need for a desk lamp. If you have followed along on my journey, you already know how obsessed I am with this fixture 😉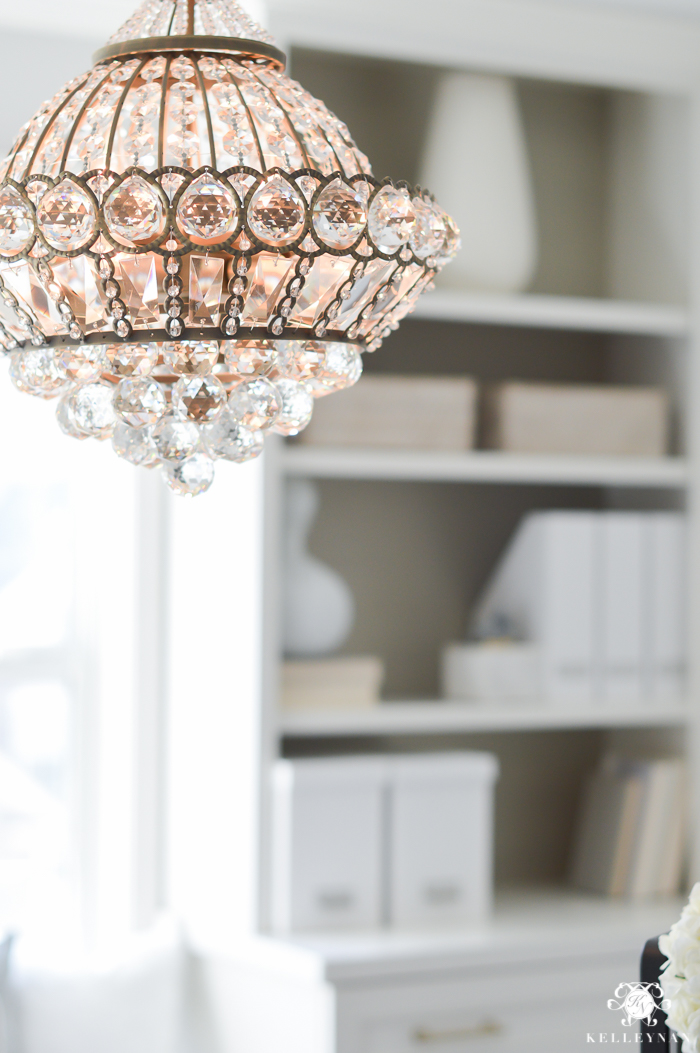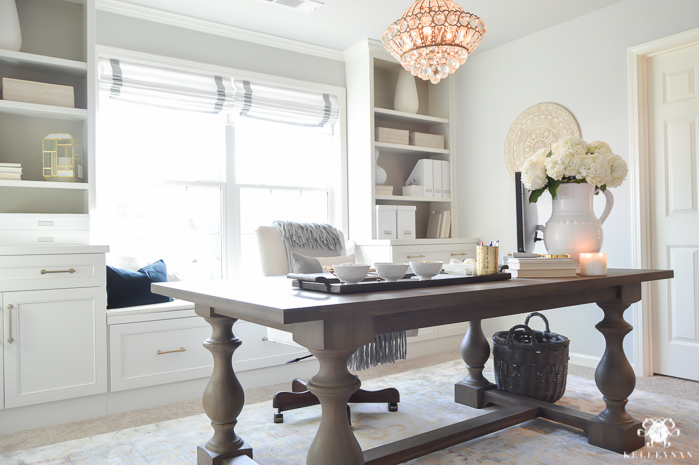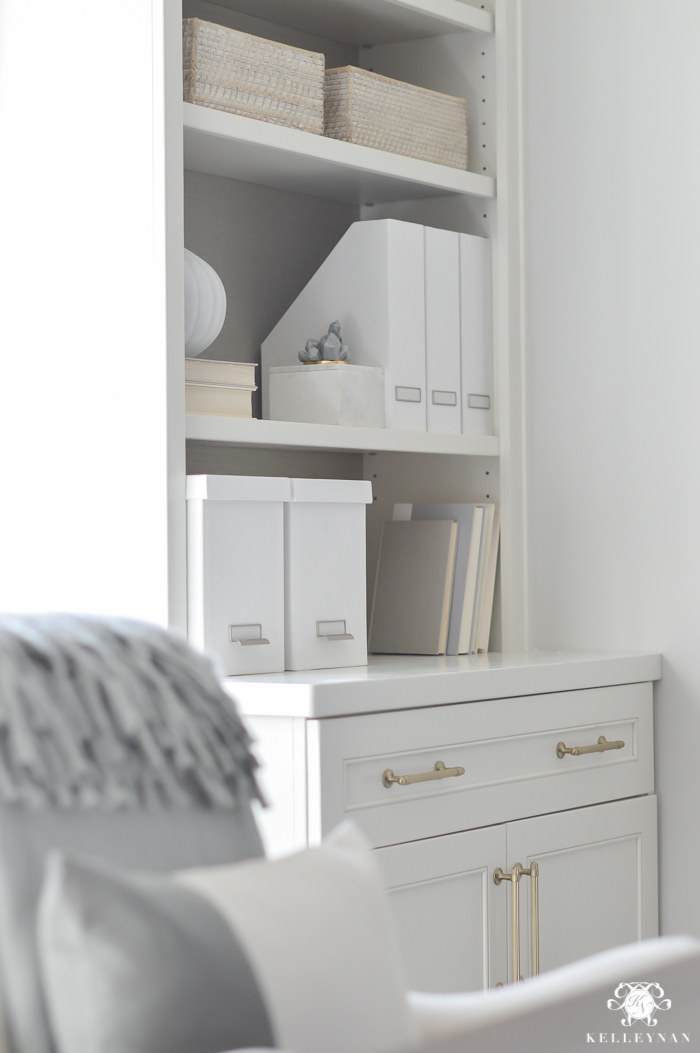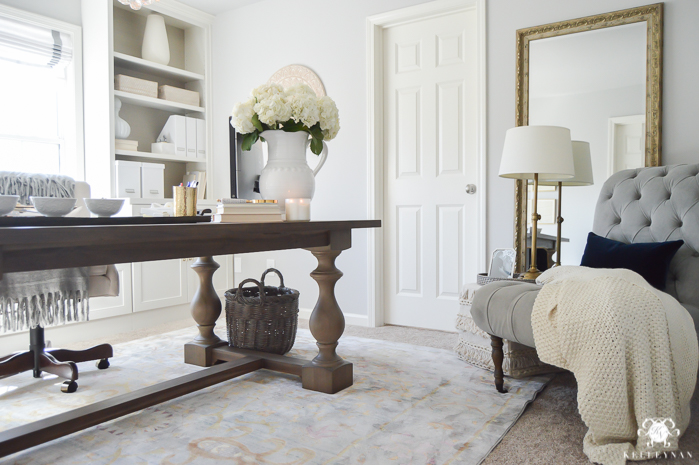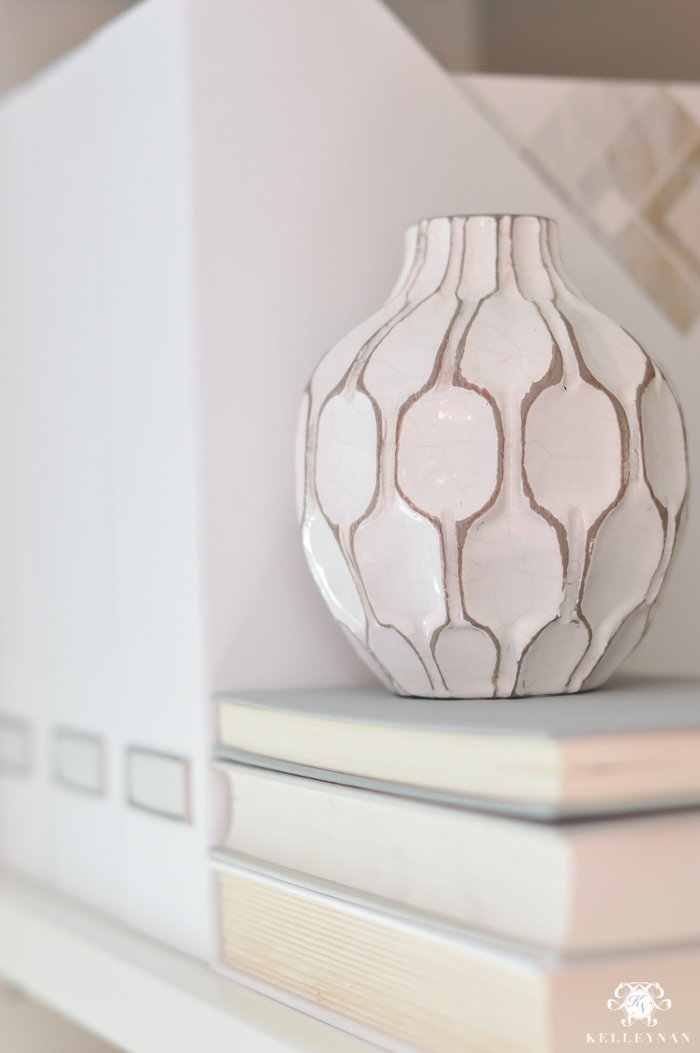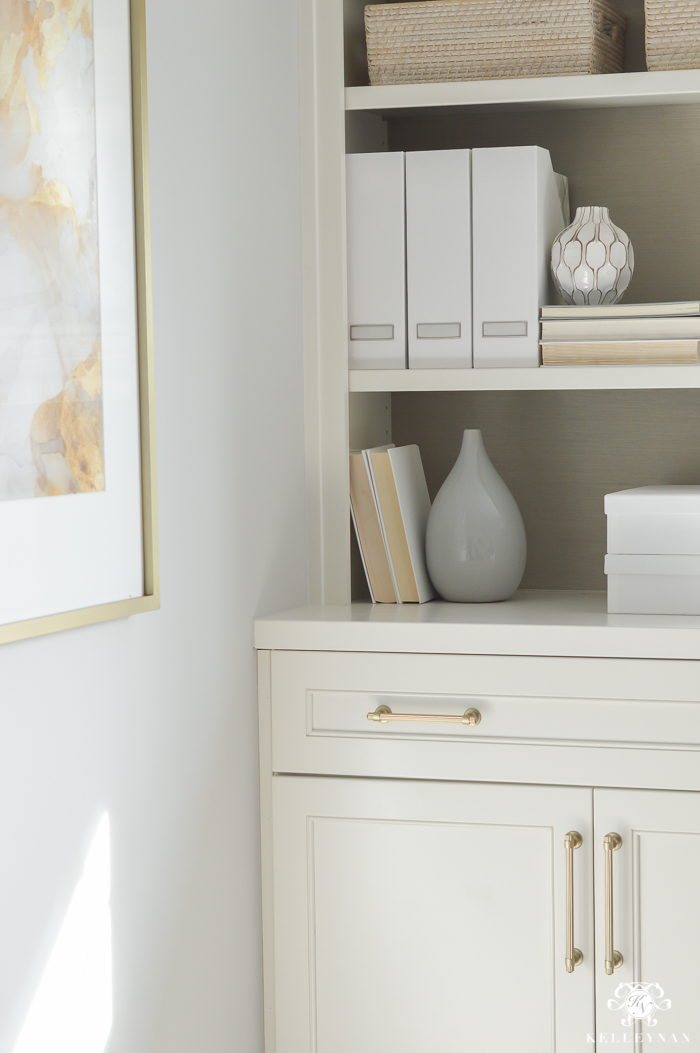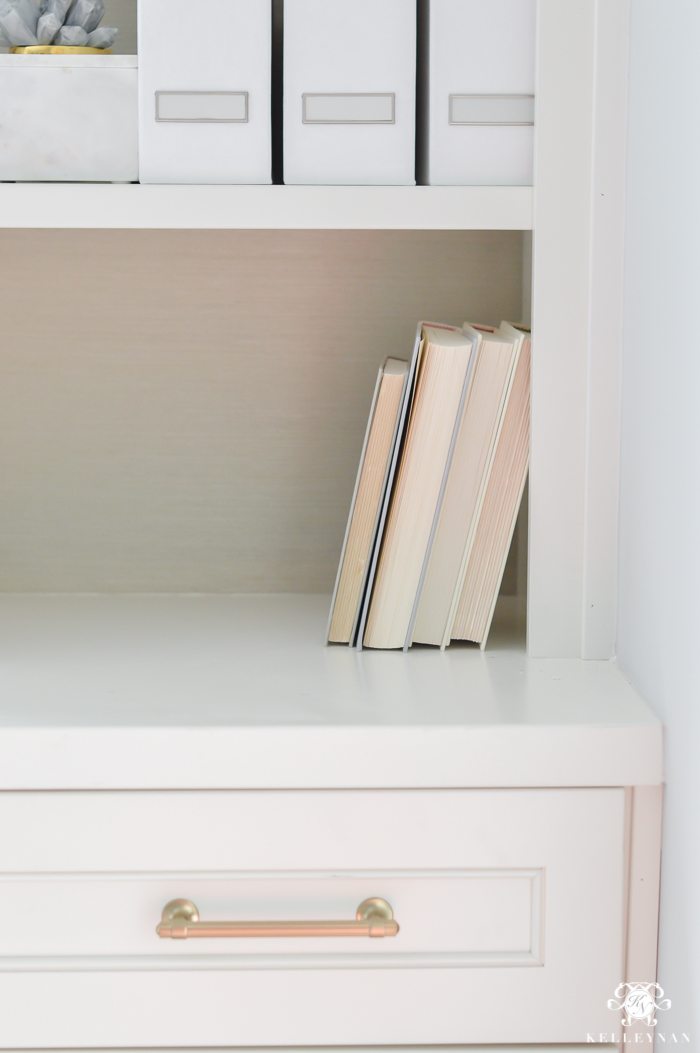 Y'all, I FINALLY have an office I can be comfortable in, stay organized in, and maintain productivity in… I couldn't be more stoked. Thank you to all who checked in with me on a weekly basis and made this project even more enjoyable with your words of encouragement and feedback. Stay tuned this spring when I'll be taking on a brand new One Room Challenge! If you want to make sure you catch my next project, you can subscribe so my announcements and posts are delivered straight to your inbox HERE.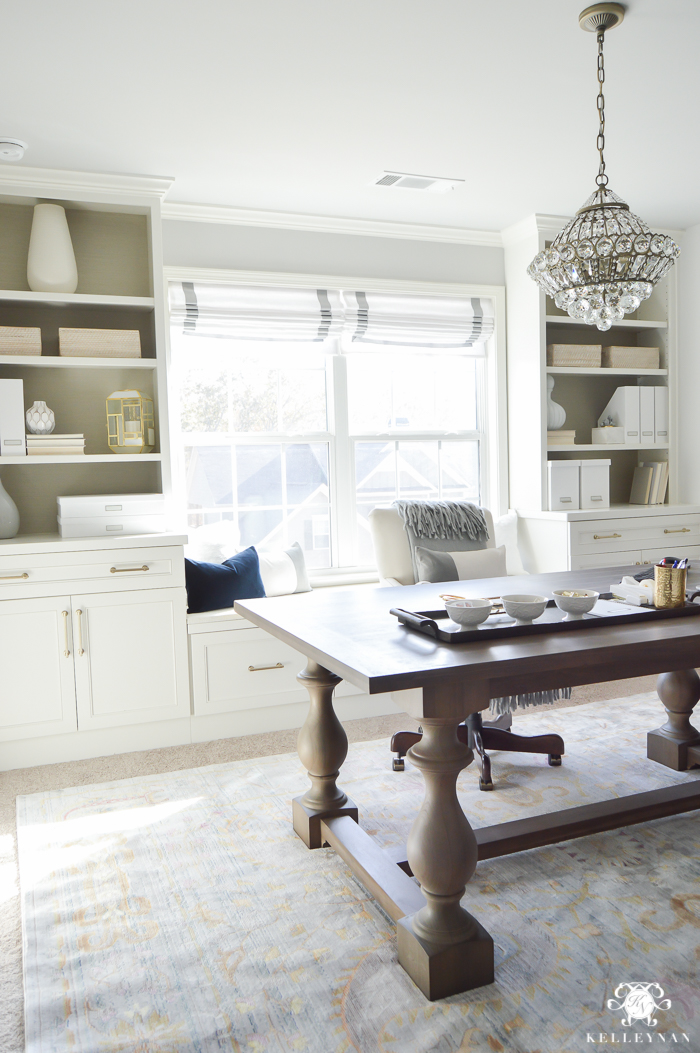 A NOTE OF THANKS
To Linda of Calling It Home who organizes this huge, bi-annual event. I have loved following so many gorgeous six-week makeovers and have also included links to some of my favorite rooms I've been following at the end of the post.
To Bobby Barton of Heartwood Renovations, and Darryl Ponquinette of Ponquinette Fine Woodworks for making my built-in bookshelves vision come to life and setting the tone for the entire room.
And a special "thank you" to my sponsors and contributors throughout this makeover for making this project possible.
Pottery Barn | Minted | Willa Skye Home | Windows by Melissa | Lamps Plus | Amerock | Walls Republic | Rugs USA  | Sherwin Williams 

PAINT
Sherwin Williams On the Rocks
BUILT-INS
Amerock Cabinet Pulls on Cabinets (Golden Champagne – 6 5/16″) | Amerock Cabinet Pulls on Drawers (Golden Champagne -5 1/16″) | Grass Cloth | Seat Cusion – DIY (HERE) | Carpentry – Bobby Barton of Heartwood Renovations, and Darryl Ponquinette of Ponquinette Fine Woodworks
LIGHTING
Lamp (Table – Brass) | Linen Tapered Drum Lamp Shade (Medium -White) | Wallingford 16″ Wide Antique Brass & Crystal Chandelier
ART
Soft Shimmer Large Art Print (30×40, white mat, matte brass frame) by Julia Contacessi| Gold Foil Leaf Art (11×11, matte brass frame) by Stellax Creative | Round Wood Carving
FLOORS & WINDOWS
Rug (7'10" x 10'10") | Roman Shades (linen with silver ribbon)
PILLOWS
White Quatrefoil | Gray & White Velvet Colorblock | Cotton Silver Gray Velvet | Midnight Navy Velvet
FURNITURE
Trestle Table (Gray Acacia – 76″ x 43″) | Gray Velvet Slipper Chair – HomeGoods (SIMILAR) | Gold Mirror – HomeGoods (SIMILAR) | Desk Chair | Cube Pouf – HomeGoods (SIMILAR) |
DESK ACCESSORIES
Long Antique Brass Tray | Scissors | Tape Dispenser | Stapler | Glass and Gold Dish | White Footed China Bowls | Custom Note Pad | Initial Coaster | Hammered Brass Pencil Cup | Acrylic Notes Holder | Lilly Pulitzer Planner | Gold Binder Clips | Gold Paper Clips | Marble Coaster – HomeGoods (SIMILAR) | Round Rattan Tray on Pouf- HomeGoods (SIMILAR) 
BUILT-IN & OTHER ROOM ACCESSORIES
Oversized Chunky Throw (Ivory) | Faux Mohair Oversized Throw (Gray) | File Boxes | Magazine Holders | Document Boxes | Whitewash Baskets | Gray Short Neck Vase | Top Shelf Vases (HomeGoods) | Eduardo Garza Crystal Box | Gold Lanterns | Gray Woven Trash Can | White Vase with Stopper – discontinued from West Elm | Small White Vase – discontinued from West Elm

And, you can check out the full list of ORC participants' final reveals HERE! Bookmark the page and visit often for lots of before/after inspiration.