I have watched two cycles of the One Room Challenge now and I'm excited to announce that starting today, I will be joining in to take on the six-week effort! If you aren't sure what the ORC is, I'll give you a little background. Twice a year, interior bloggers come together to tackle one room in their homes. What's the "challenge"? From start to finish, there are only six weeks (technically five) to pull off a complete room transformation. Each week, the linking participants will share their progress for the week (you will be able to check out all the participants by clicking the link at the bottom of the post). I always pick out my favs on Week 1 and follow them from start to finish. The final reveal and completion of my home office makeover will be on Thursday, November 10.
*You can find the end result and the full office makeover reveal HERE.
MY CHALLENGE
So what have I chosen as my challenge? The space where I spend a minimum of 14 hours per day… my office. I will go ahead and preface this post (and six week series) with a warning. You are going to see all the nitty gritty, unpretty, I-can't-believe-this-is-what-my-room-looks-like photos. I am terrified about successfully implementing my vision in the limited time-frame and am a little nervous to display my thought process and progress from start to finish. I will make mistakes along the way. I am sure I will face disappointments. Some of my choices may just be bad. And, I may totally fail (dear Lord, I hope not!) But, today, my blog (and I) take on a new vulnerability… and for that, I am stoked. As nervous as I am and as indecisive as I have been, I am so excited to share this journey. I welcome comments, feedback, and questions along the way. With your help and support, we are going to tackle this thing and pull together an office in which I can be proud.
THE "BEFORE"
Before I share "where we're going", I'll show where currently am. Here is a photo you may have seen. A close-up of a cute little desk setup… not bad, right?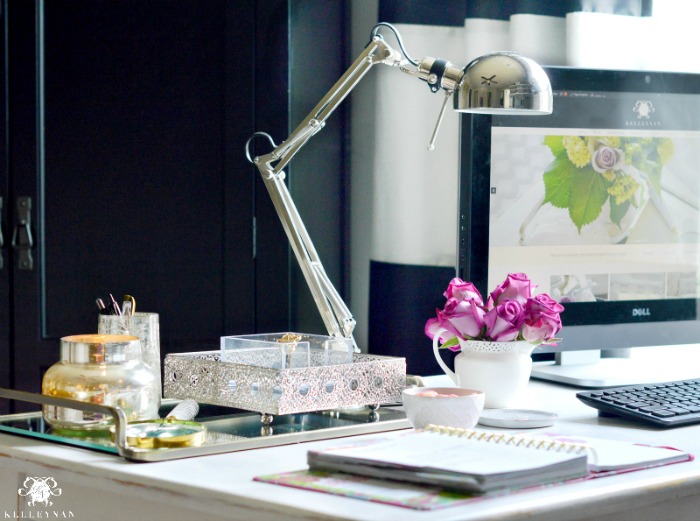 Well, I have said before that things don't always look the same behind the camera and here is a perfect example.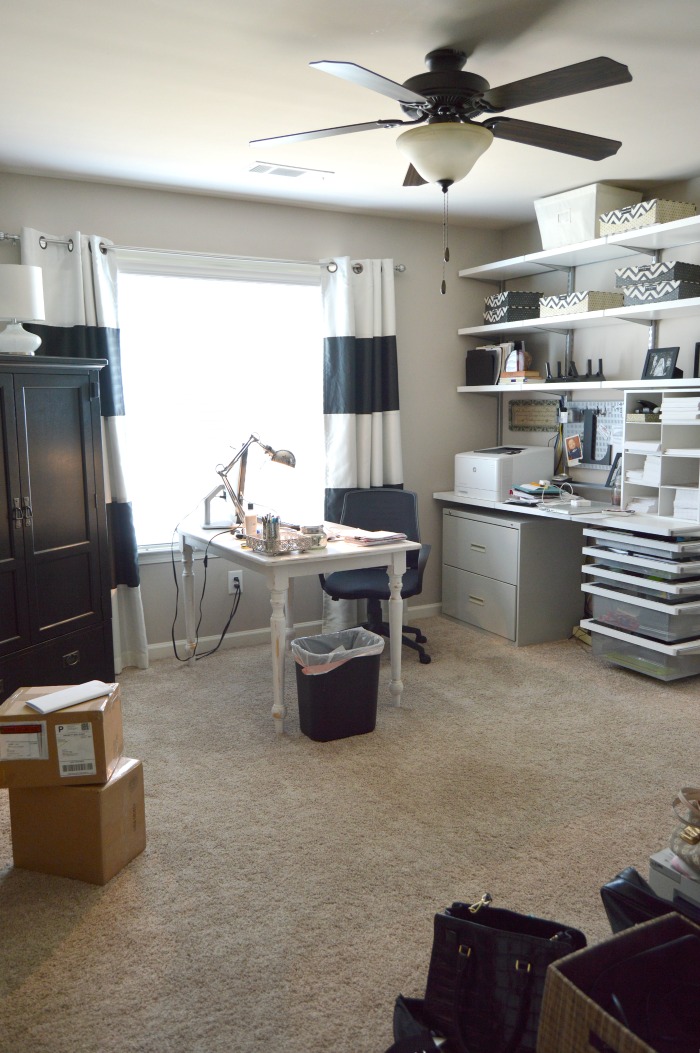 Something I don't talk about is that I actually have a job outside of the blog and world of decor. I am fortunate enough to be able to work from home but with that, I pretty much live in here. When we first moved in, I wanted a super functional space. I got as far as getting The Container Store to bring in an Elfa system, but after that, the room became more of a landing for mis-matched furniture, shipments, and things that got lost on their way to their rightful places. And, to be honest, I got lazy.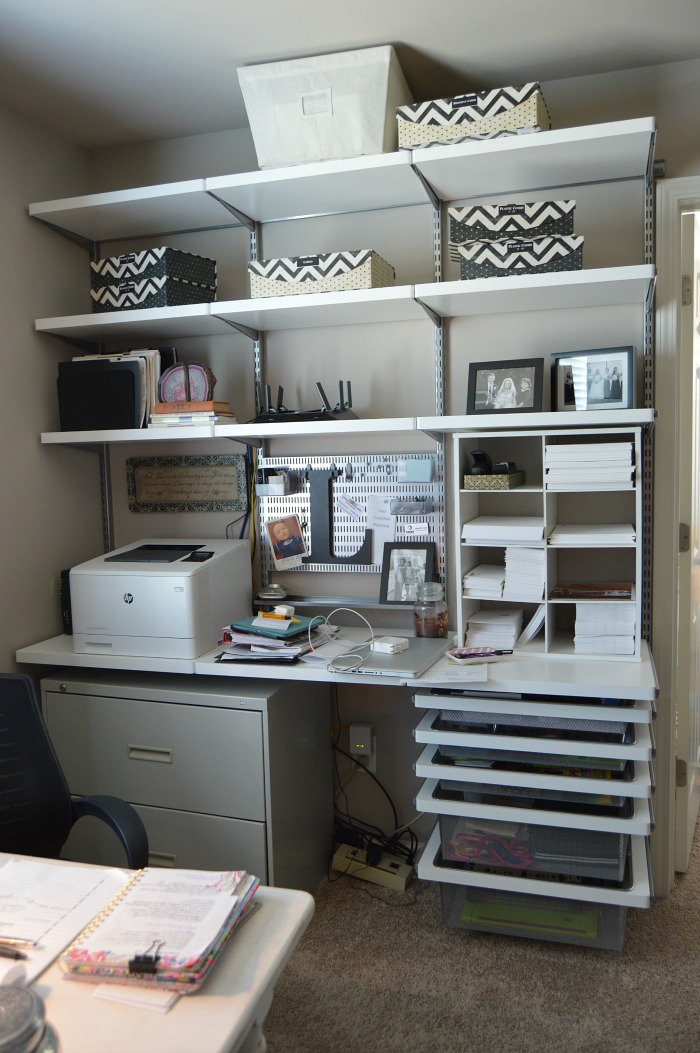 My office has its own bathroom (not being tackled during this six weeks) and a decent sized walk-in closet which I hope to get more organized so it can be functional. With as many materials, supplies, and work "things" I have, I am hoping to find a proper place to stow everything away.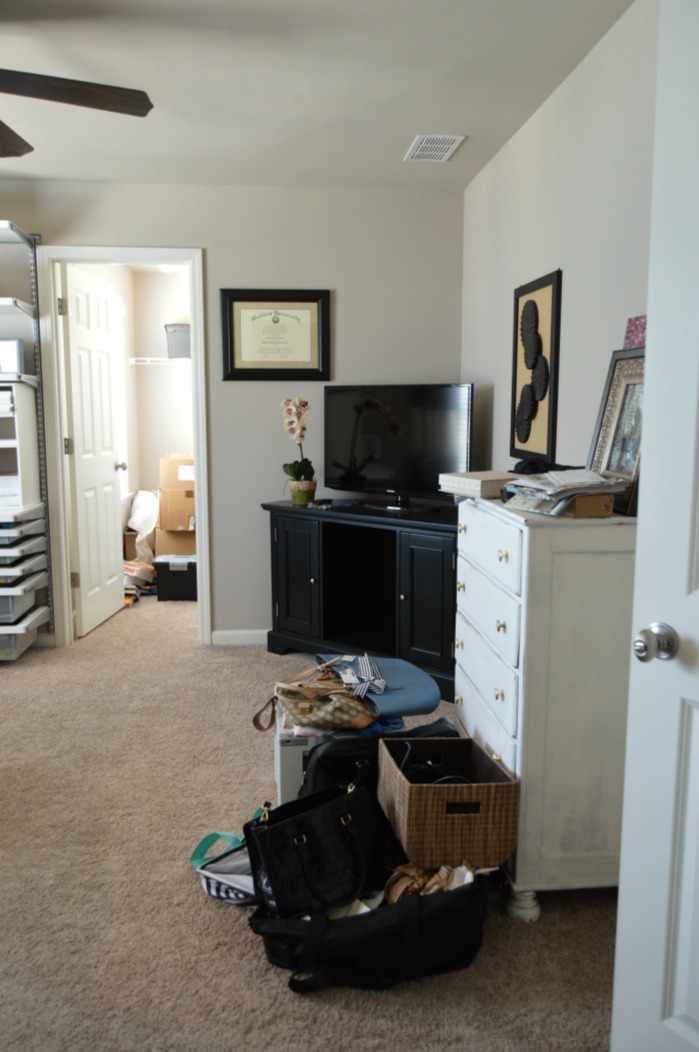 I have art, mirrors, "mistakes" and extras that I purchased and never used (I know, I know). And in the name of functionality and lack of time, I have even been using pieces in this room that even my husband had discarded. Check out that cool plastic trash can. And when my last chair broke, he found one of his old ones in the basement. It is NOT something you want to be sitting on for 14 hours/day.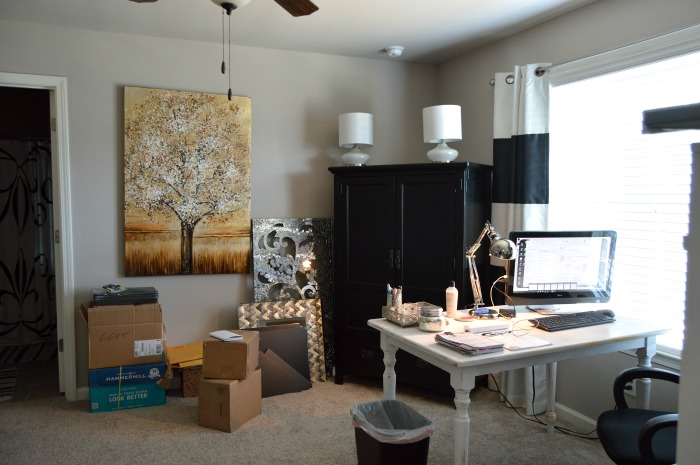 I don't even know what this is…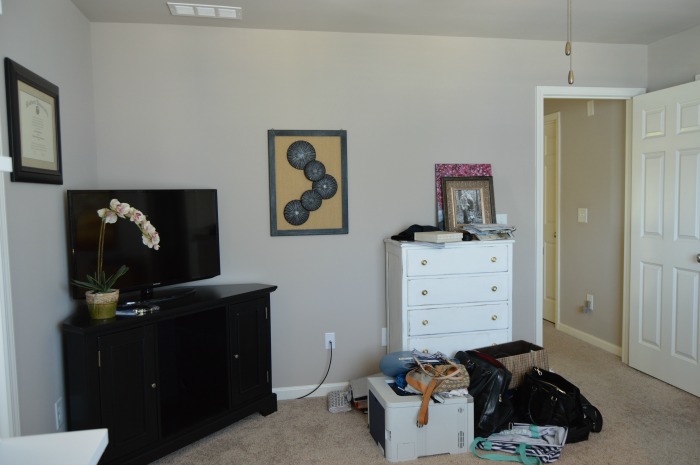 Yes, I could have cleaned and straightened up the room a bit, but what's the fun in that? If I am going to share the "before", I am going to share the BEFORE. This is the truth in how I live and work (don't tell Instagram!). Hopefully, I haven't scared you off just yet. My goal is to be able to look back in five weeks and have progress a completed room to be proud of. Do I have a plan? Weeeelll… more like a lot of thoughts. In my head. And, they change drastically every day.
THE "SORT OF" PLAN
Now, onto the vision of what I'm thinking. Full disclosure, this room has been on my wish list for a while, but each time I would picture it, it looked different. The only thing I was certain of is that I wanted built-ins flanking the large window in the center of the room. So, even though I'm all over the place and am having a hard time committing to one direction, I developed a mood board of where my head's at (at least for today). Staying true to who I am, I wanted neutrals and traditional style to play a big role in the room but I also wanted to bring in a little glam and soft, calming color. I am going for a white/gray on the walls and am going to have grass cloth in the open shelving portion of the built-ins. Because they will be enclosing the window, I will go with Roman shades there. My heart is set on this desk but unfortunately, it is out of my budget. I have been call-stalking the Outlet in hopes that they will get one in but I will likely be searching for an alternative. I have a few product-specific stories I will share next week 😉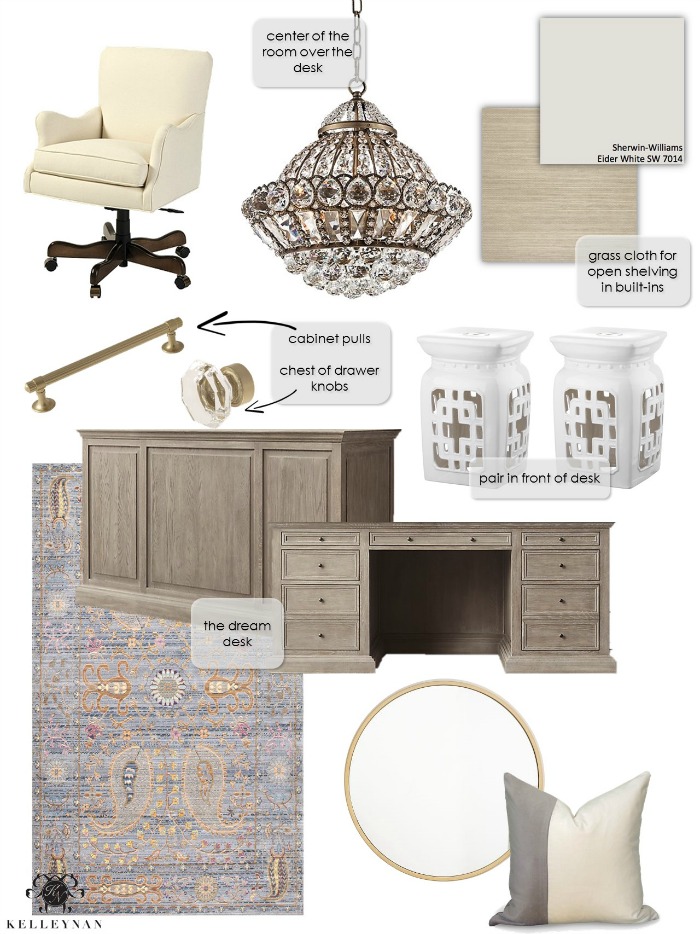 Chair | Chandelier | Grass Cloth | Desk | Hardware | Garden Stools | Rug | Mirror | Color Block Pillow
I DID get this chandelier so I could evaluate what kind of hardware I wanted for the built-ins. Below are the Crawford (left) and Sea Grass (right) collections from Amerock. I was going back and forth between an oil-rubbed bronze or golden champagne, more feminine Crawford, or more streamlined Sea Grass… I just made my decision today so I will wait to share which style, color, and size I chose 😉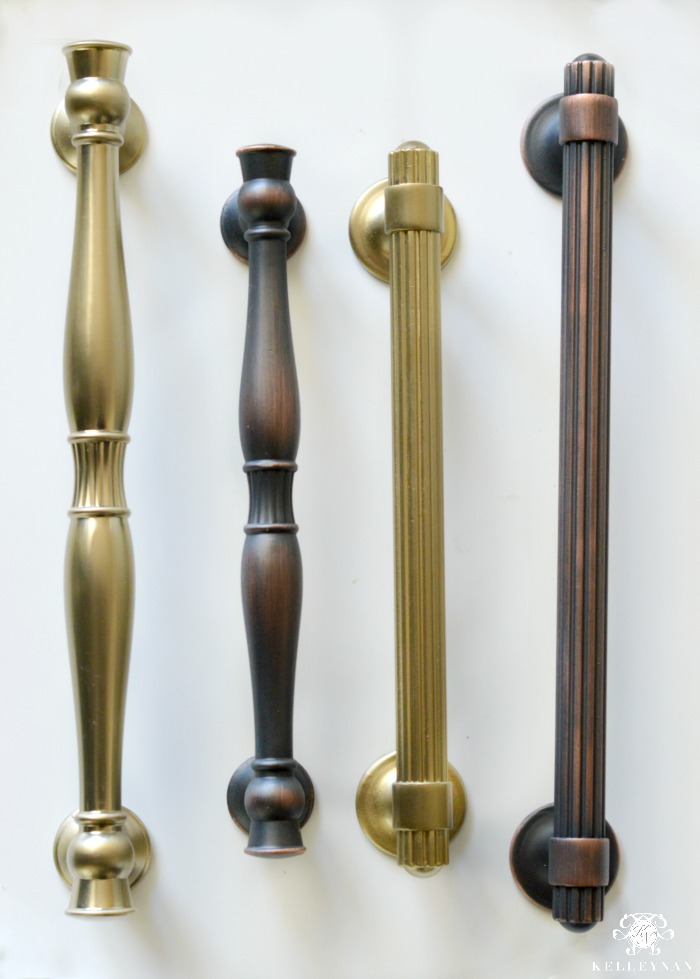 I tested them against my grass cloth swatches from Walls Republic, and while I did make a decision, I'll wait to share what I went with here, also.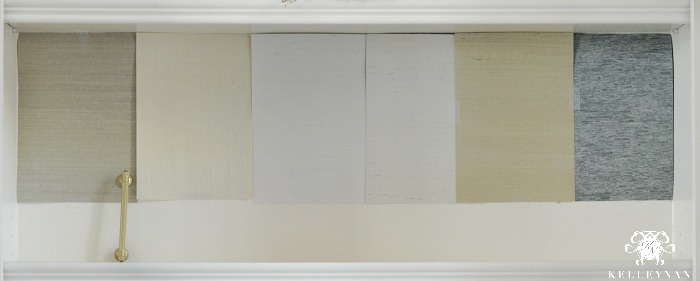 As I said, I haven't done anything in the room but when I first started planning for the Challenge, the first "win" I had was finding my cabinet dream team. My friend Bobby owns Heartwood Renovations, and I'm always impressed with his work. And, I trust him completely. He had shared the work of Ponquinette Fine Woodworks (his premier go-to for cabinets) with me before the ORC was ever a glimmer in my eye, but it wasn't until I reached out to Bobby for help that I met Darryl Ponquinette. I explained my cabinet vision to Darryl, down to the window seat with pull out file drawers and a printer pull-out in the side cabinet. I knew they "got" me when they started asking specific questions from an aesthetic perspective about computer cords, which way they would run, etc., helping me come up with solutions.
Darryl showed me a few door options and I asked if he could do a Shaker style, but, with a beaded interior trim. Actually, it was more like "I like this but with a little bit of this and maybe some of that… is that possible?" Well, I received a photo of their progress today and…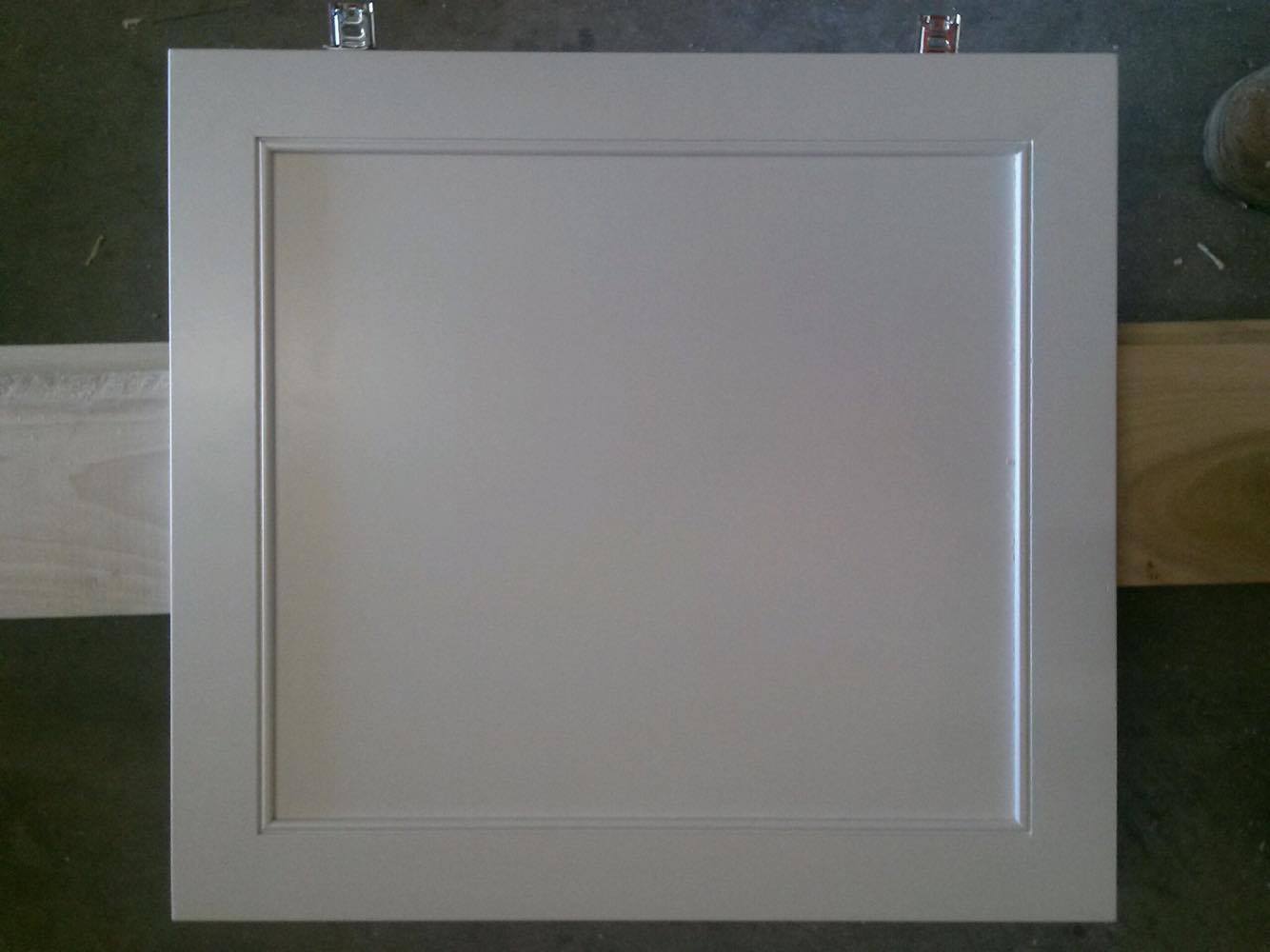 It's my perfect door (insert hand clap emoji)!
WHAT'S TO COME
Y'all, I am just getting started and haven't even thought about most aspects of the room. I am hoping to have finalized a few choices by next week since our Challenge days are numbered. If I can figure out my desk situation, pick a paint color (heading for samples tomorrow evening), and decide on and order my rug and Roman shades, I will be feeling good. The cabinets are being installed next week also, so I MAY even have a big progress update. *fingers crossed*
Last week, I sold the Elfa unit to a friend and immediately regretted it when she showed me that she made it into a gift wrapping station in a spare closet. Umm… can I have that back? I want to do that, too haha. This weekend, I am clearing out my office and am relocating my tiny breakfast table desk into the nook in our bedroom for the interim. I'll be sharing video stories along the way on Instagram so you can follow along HERE. I'm so excited for this journey and I do hope you'll join me every Thursday for the next six weeks. Lastly, I can't wait to follow along with so many talented designers and bloggers! You can catch all the other ORC projects starting today by visiting the host page, Calling It Home, HERE. 
If this post totally scared you, you can check out some rooms that actually are put together in my Fall Home Tour HERE, a gallery of some of my room reveals HERE. If you are ready to take on the next six weeks, come back next Thursday, same time, same place. 😉 Let's do this thing.
*You can find the end result and the full office makeover reveal HERE.
*post contains some affiliate links*