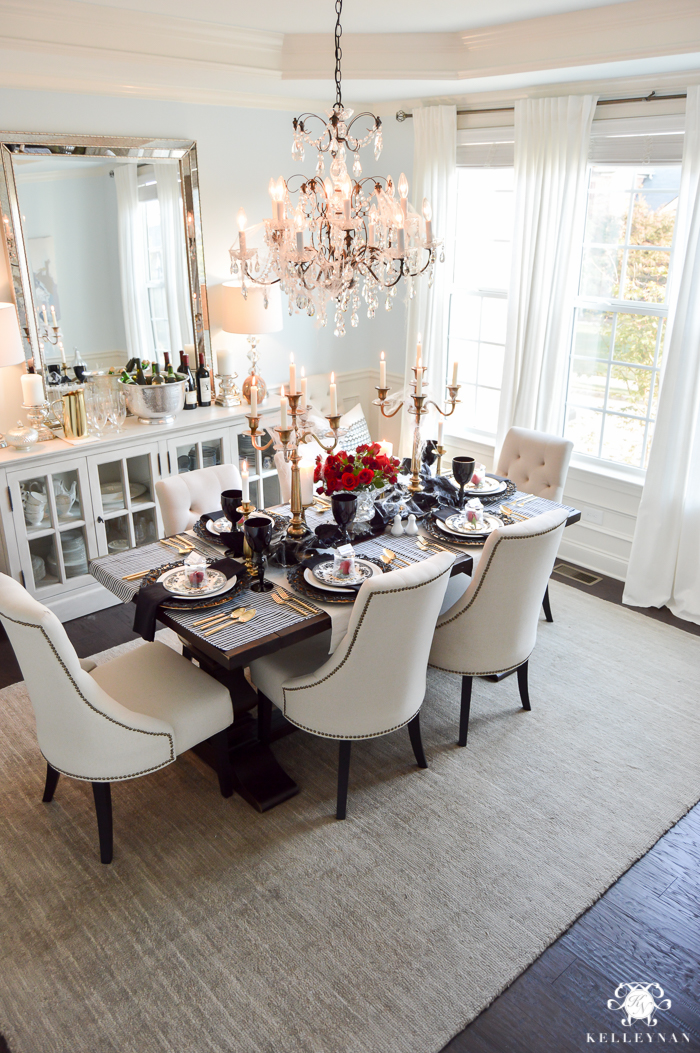 I don't typically decorate for Halloween; I decorate for fall. And, it usually stays the same from early September until the Christmas tree rolls out at the end of November. I am not a huge fan of Halloween, we don't have kids, and dressing up tends to be too much pressure so I usually opt out of the entire thing.
I've shared this story before but for those who may not know it, I will share again. Last fall, I decked out my porch with white and green pumpkins- no orange in sight. I didn't realize it bothered my husband until he showed up after work on Halloween evening with rubber masks and cheap orange jack-o-lanterns from the local Kroger. He explained that he was scared that the neighborhood kids wouldn't think we were "doing" Halloween if they didn't see "Halloween" on the porch. I don't think candy-hungry kids discriminate against the color of pumpkins but I kept that to myself haha.
That memory did play a key part in my front porch shift this year.  (You can check out last year's porch next to this year's porch HERE). And while I still didn't go nuts inside, I did take on October with my mind made up that I would bring a little Halloween inside, too. And that's how I arrived at my Gothic dinner party for Halloween.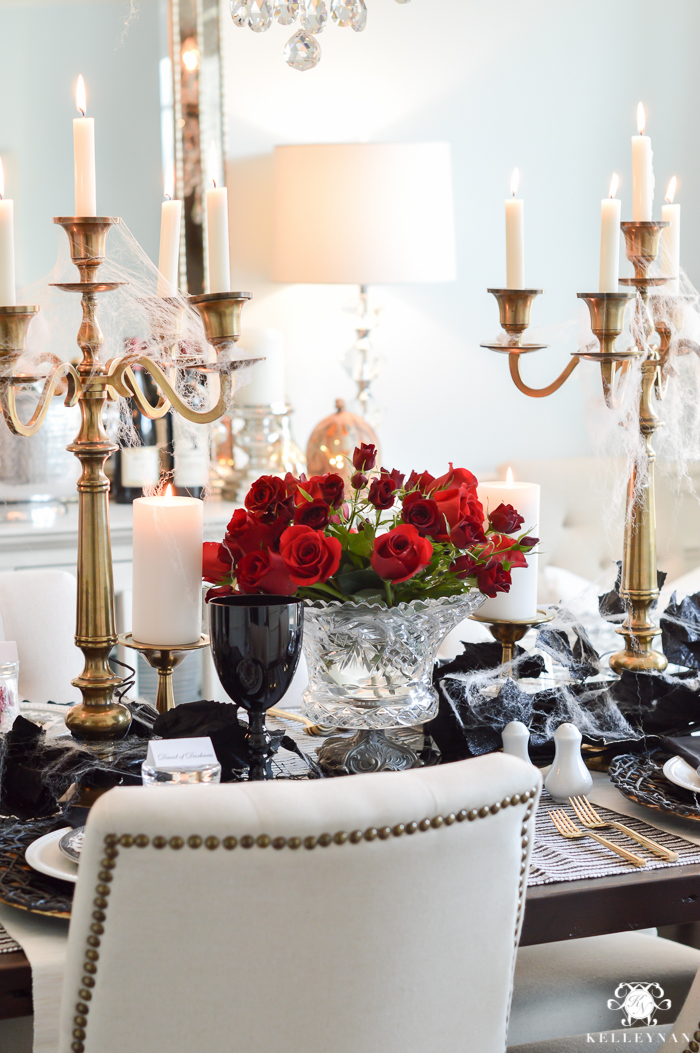 My grandmother's crystal footed bowl and brass candelabras were my inspiration starting point. My mom asked if I was going to use red roses – "Uh, yea! Totally! That was my plan all along!" (Thanks, Mom.). While I wanted the elegant touches to be the focal point, I couldn't resist incorporating a more traditional, dark Halloween vibe when I found these black glass goblets at HomeGoods (similar HERE). I found some black, woven place mats that I laid on top of some of my gold chargers, reminiscent of a spider web.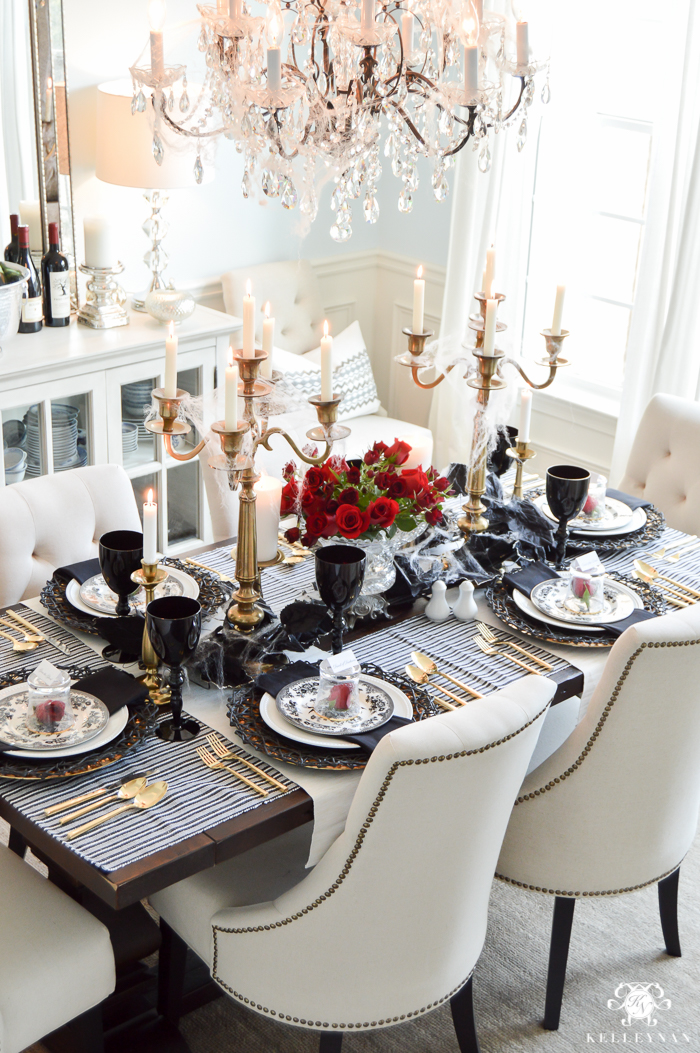 While there aren't any spiders present, spider webs helped to make the ambiance just a little more spooky. The last Halloween touch was the black leaf garland running down the center of the table; the rest of the table was a result of raiding what I already had on hand.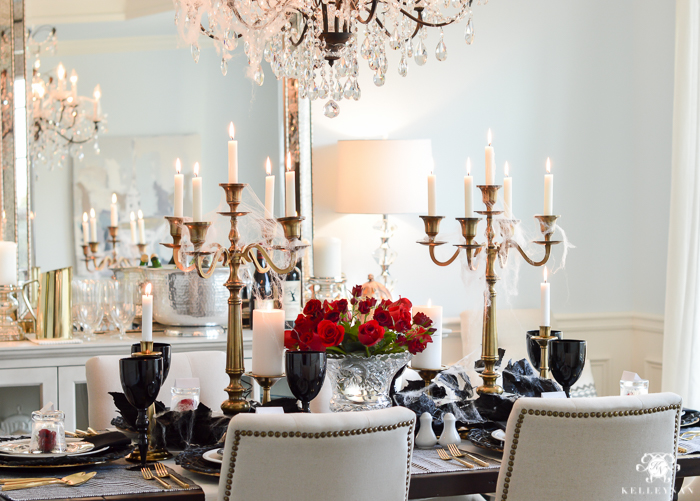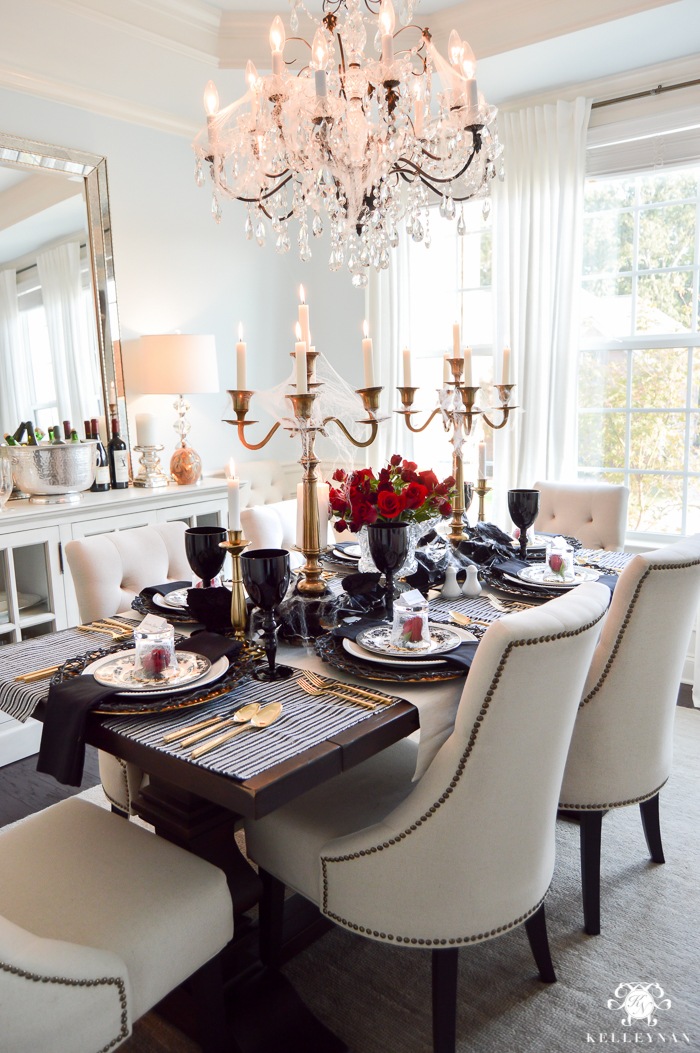 In honor of family coming to visit next week, instead of my traditional place cards, I had a little fun with creating Halloween-y names for each of our guests. I turned small etched glasses with gold rims upside down to encase a single red rose bud at each place setting. I'm not sure if it reminds me more of the rose from Beauty and the Beast or like tiny beating hearts, but I suppose either would work for my theme 😉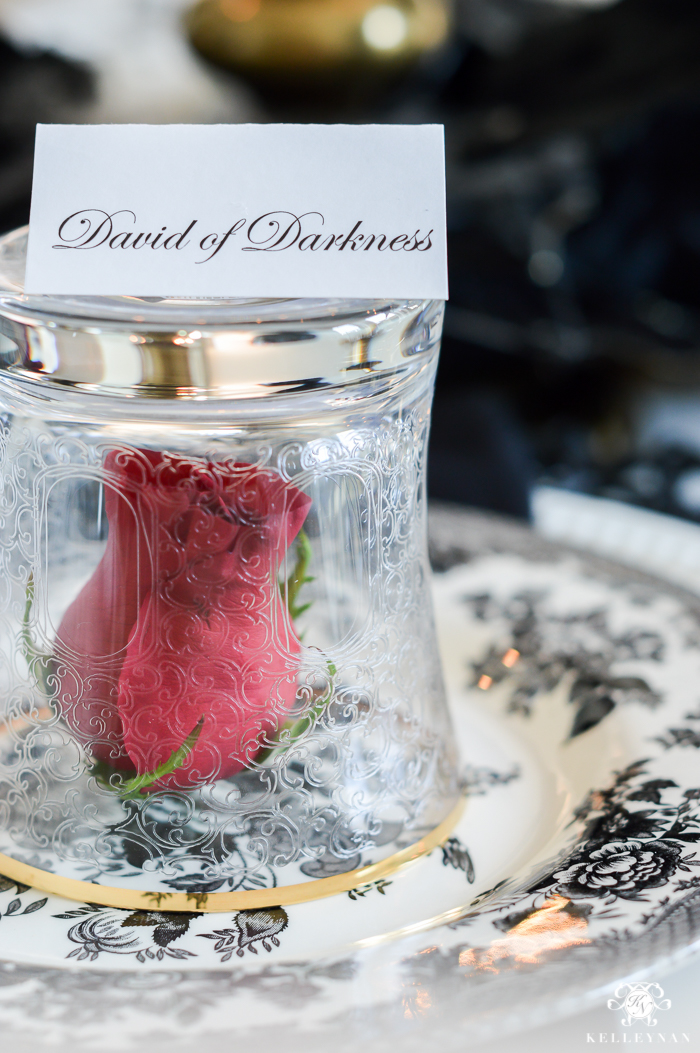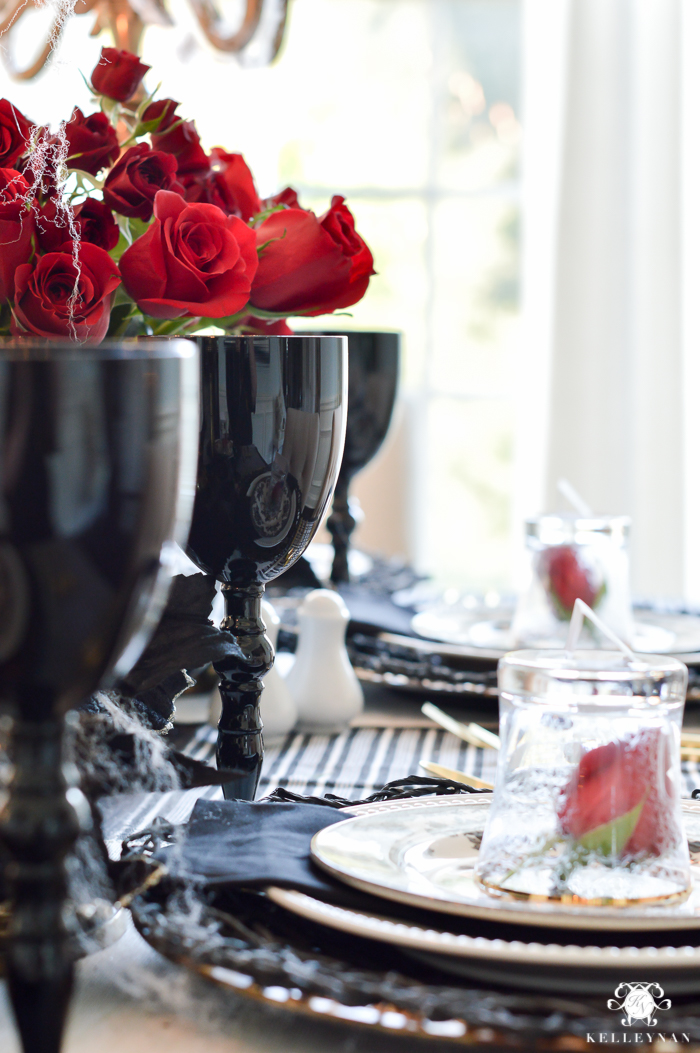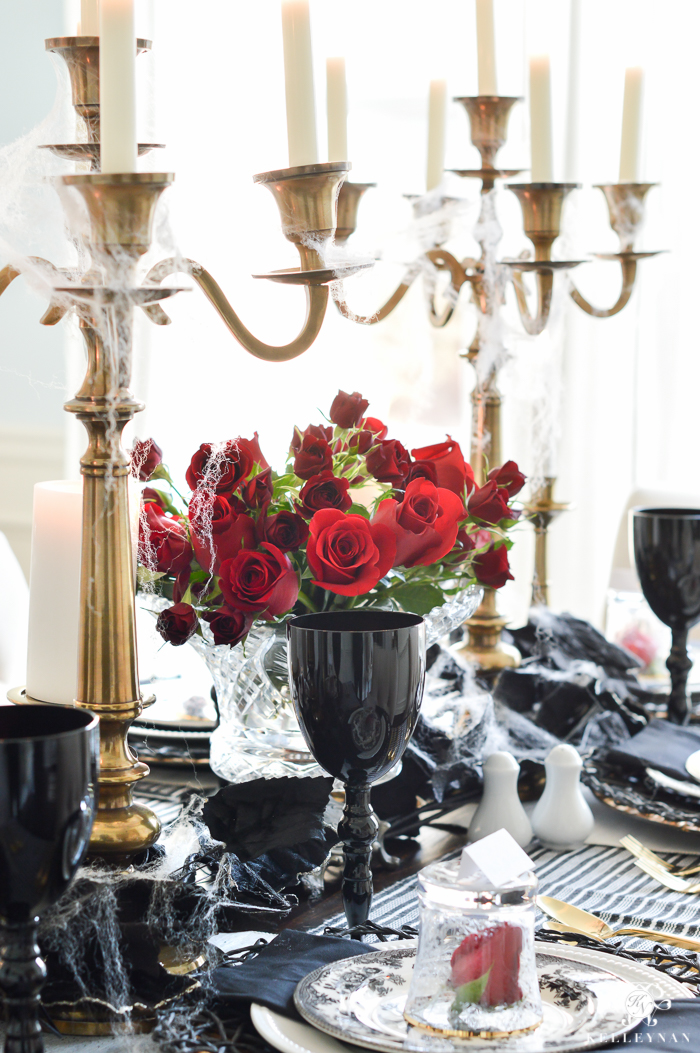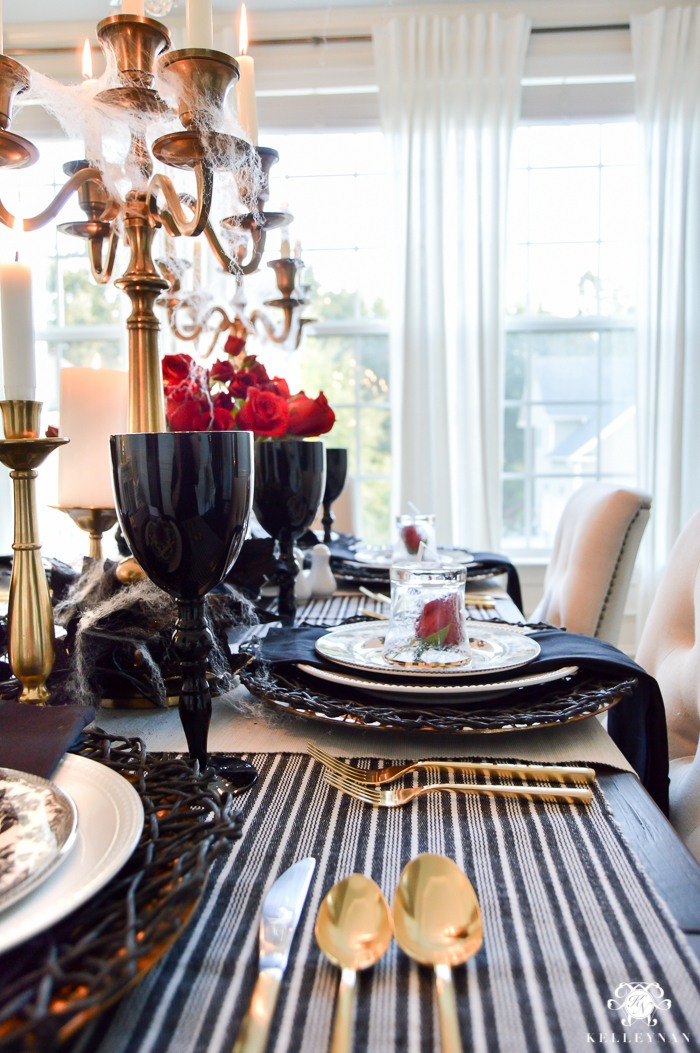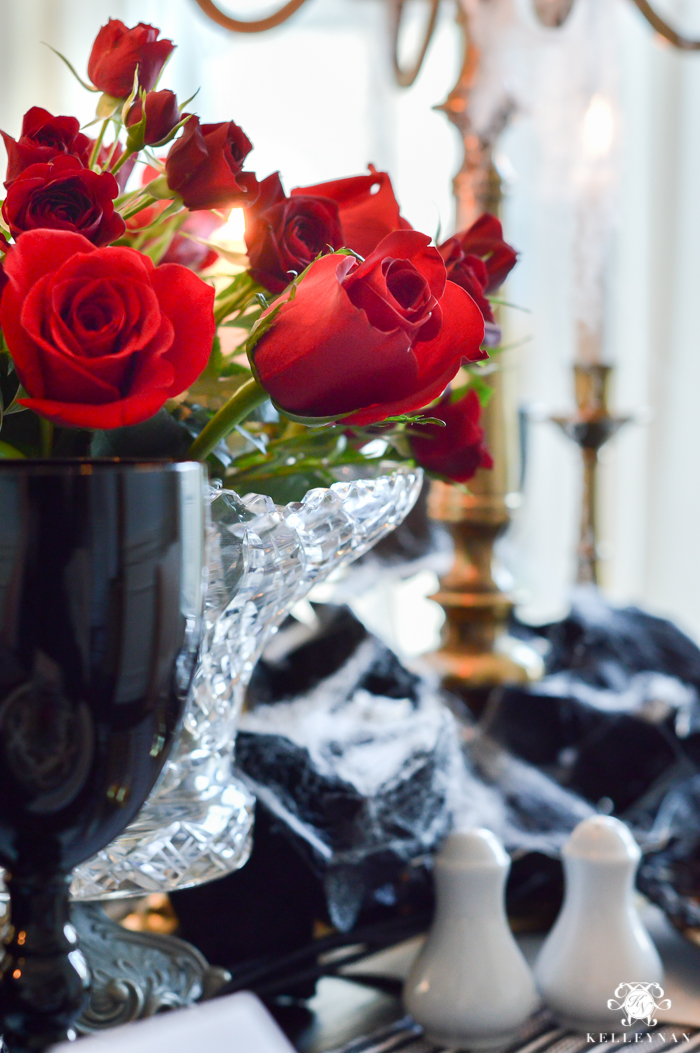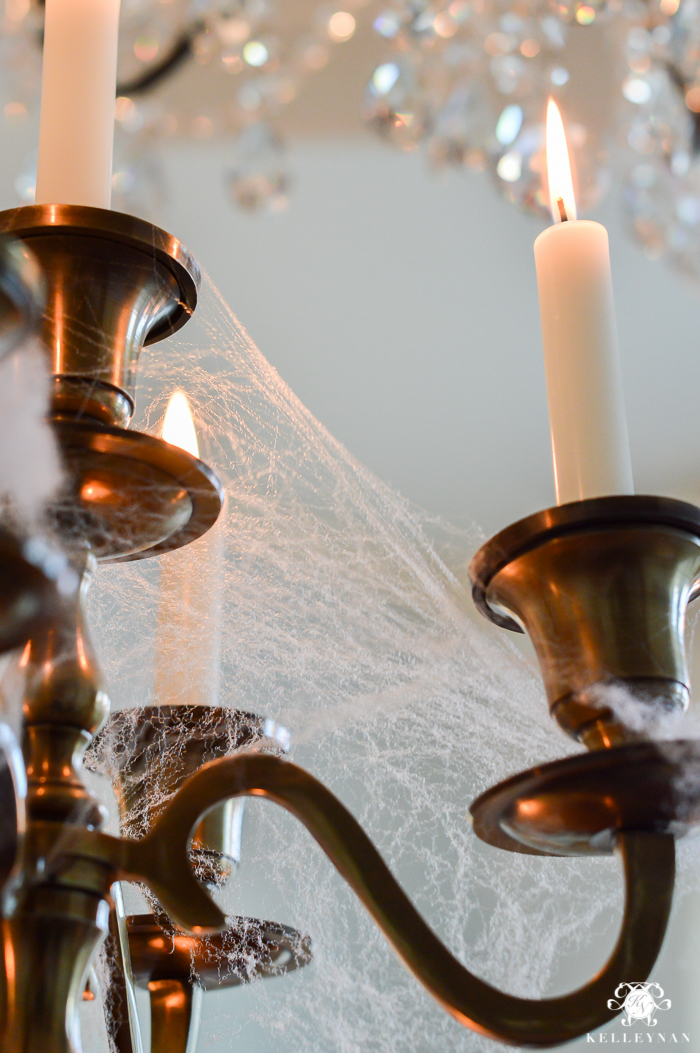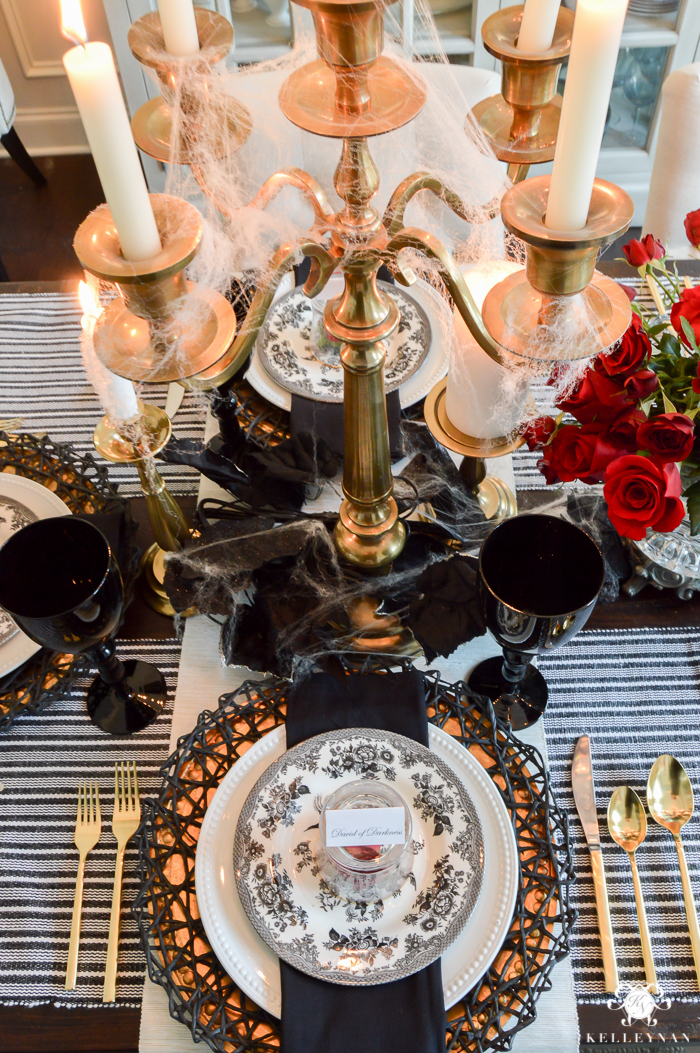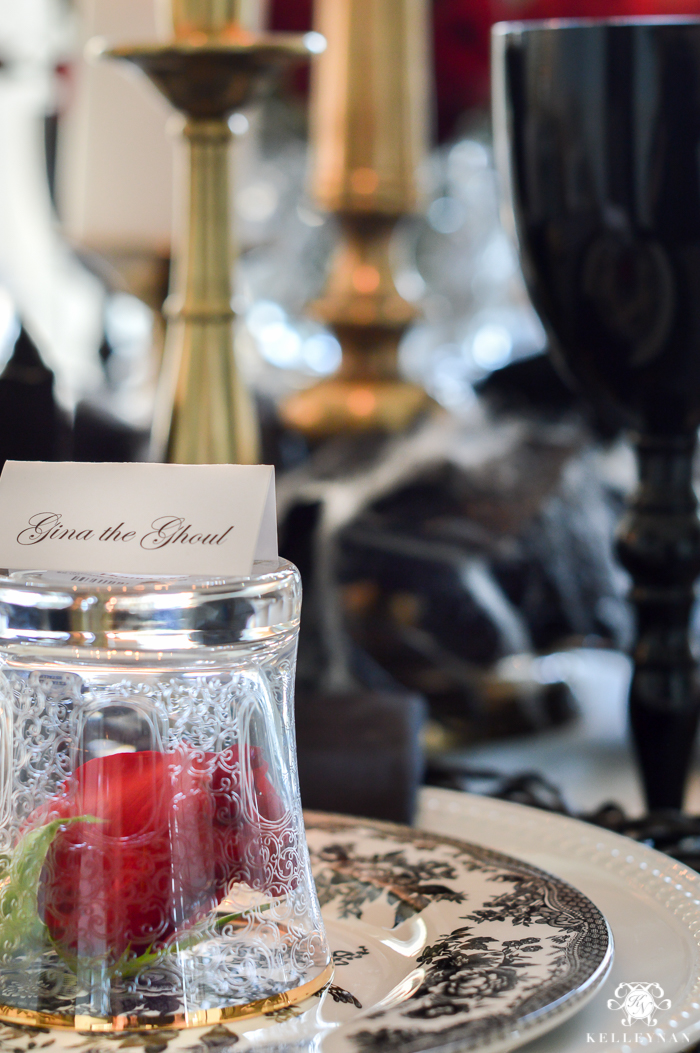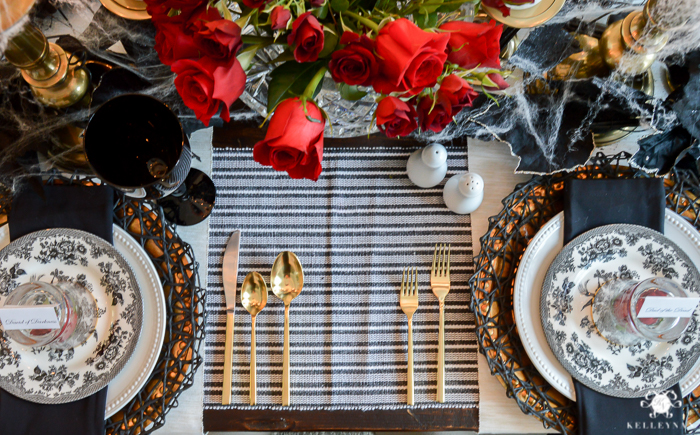 I would have loved a white, lacy tablecloth but came up dry trying to locate one at the last minute.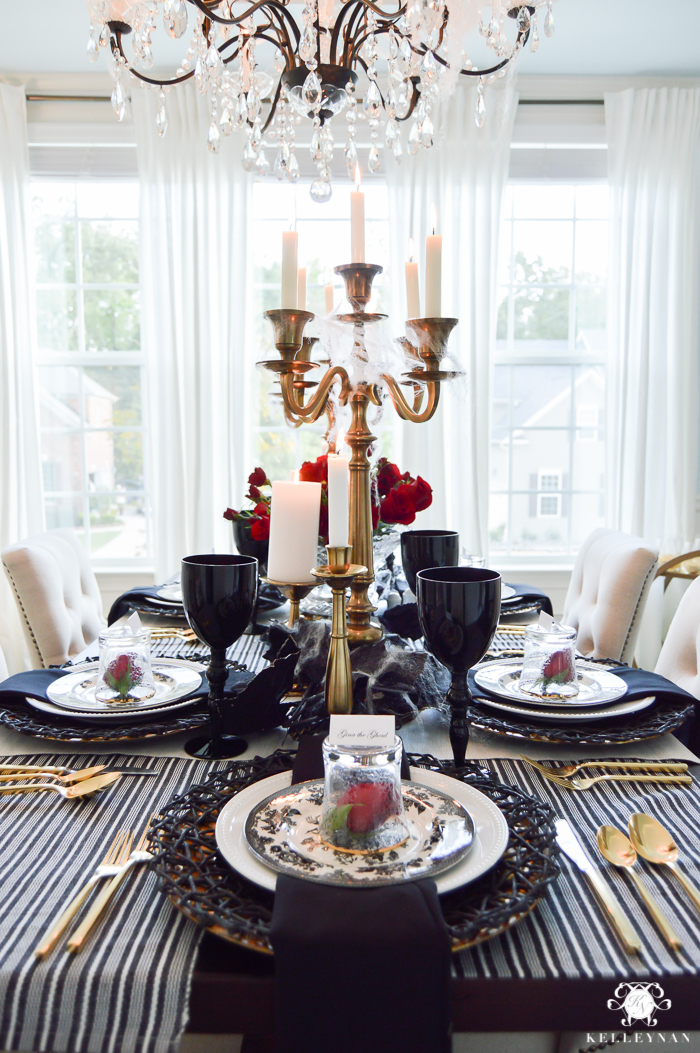 I was stoked to see how well my brass candle holders (HERE and HERE) and gold flatware (HERE) complimented the candelabras. These are my favorite new fall accessories and I will be using them all over the place 😉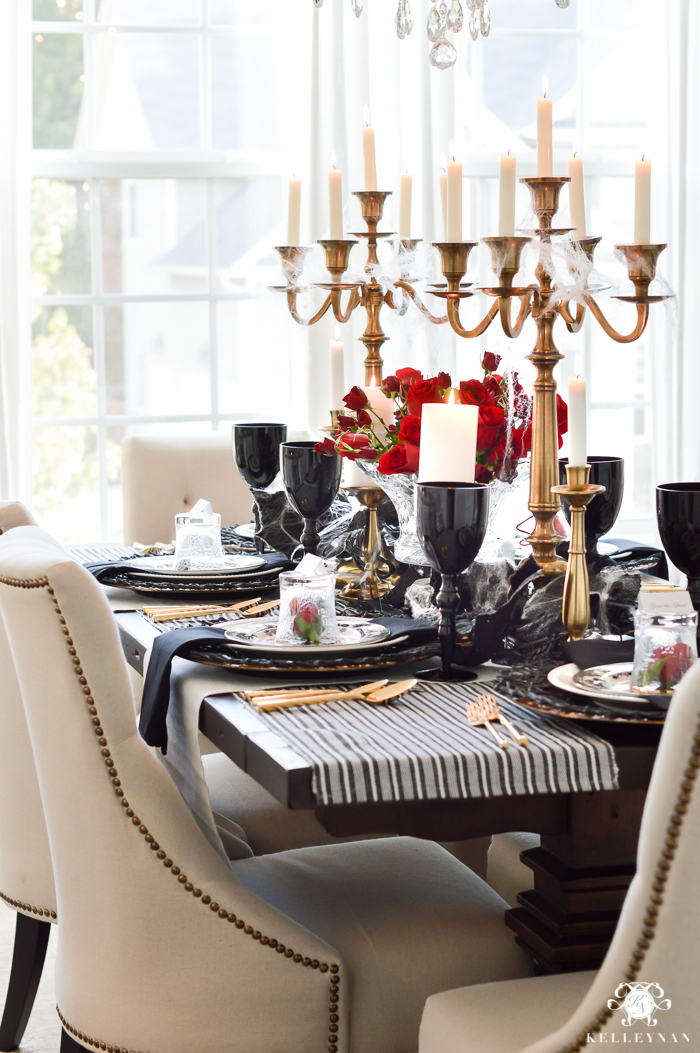 And while I loved the result of my gothic table for Halloween during the day…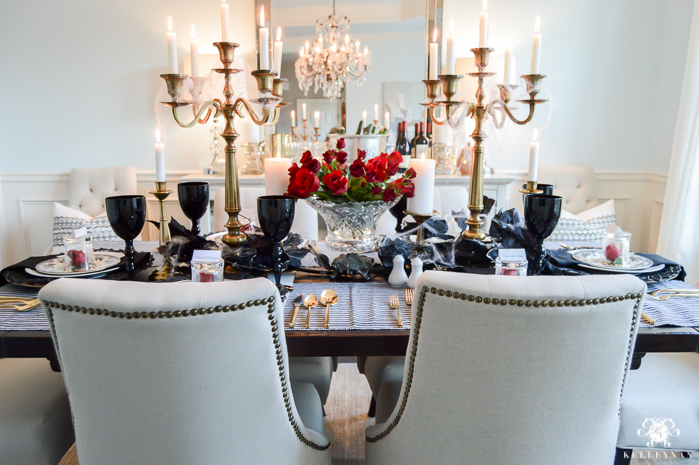 … at night is when it became one of my favorites.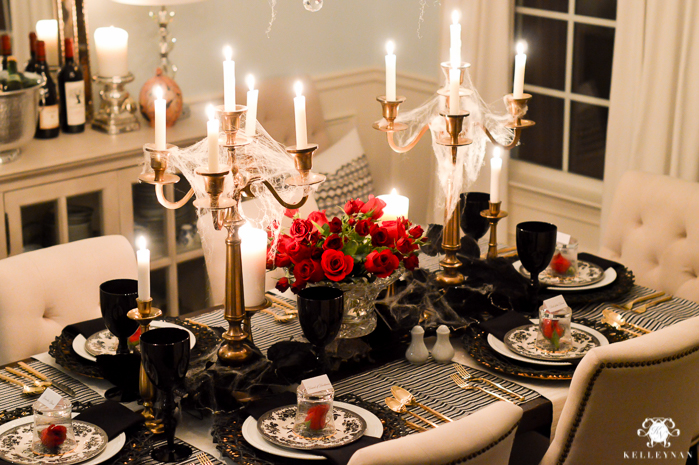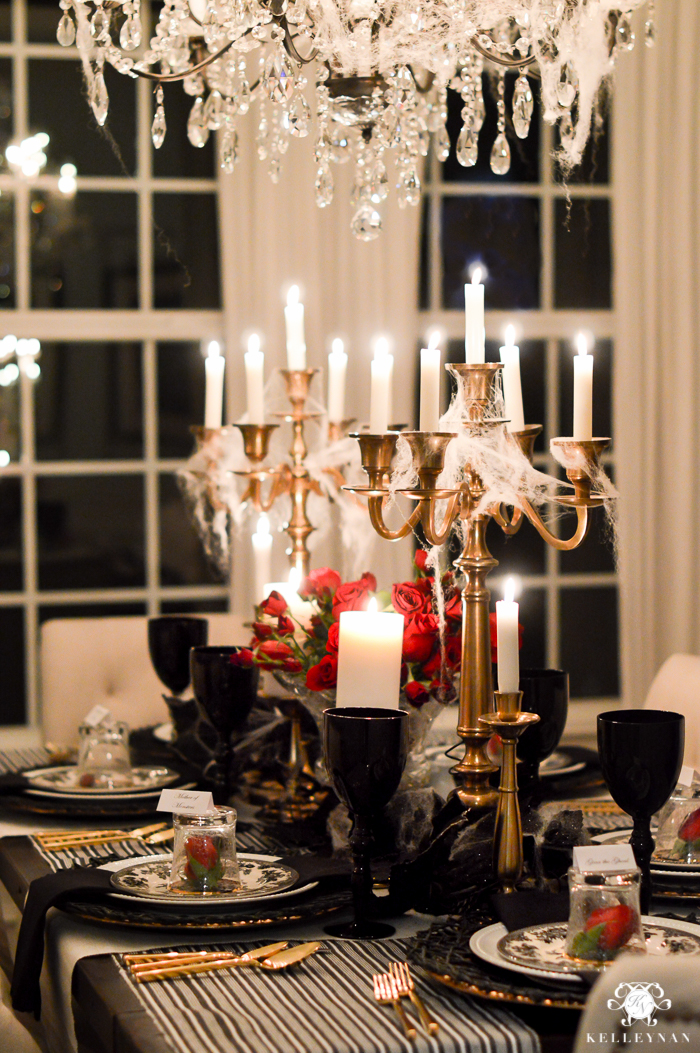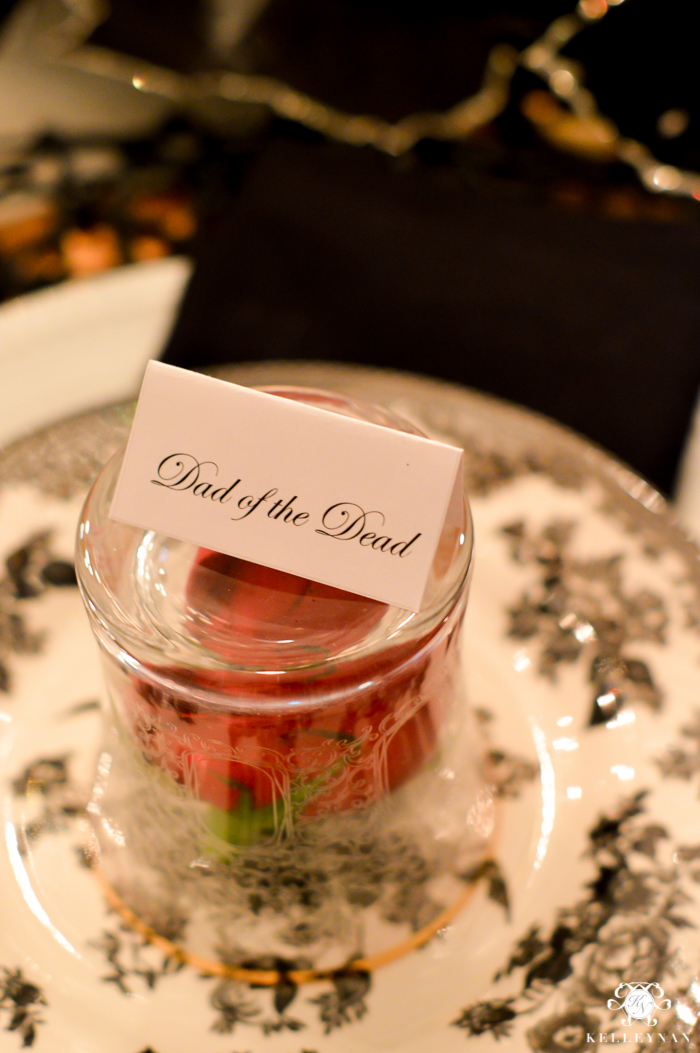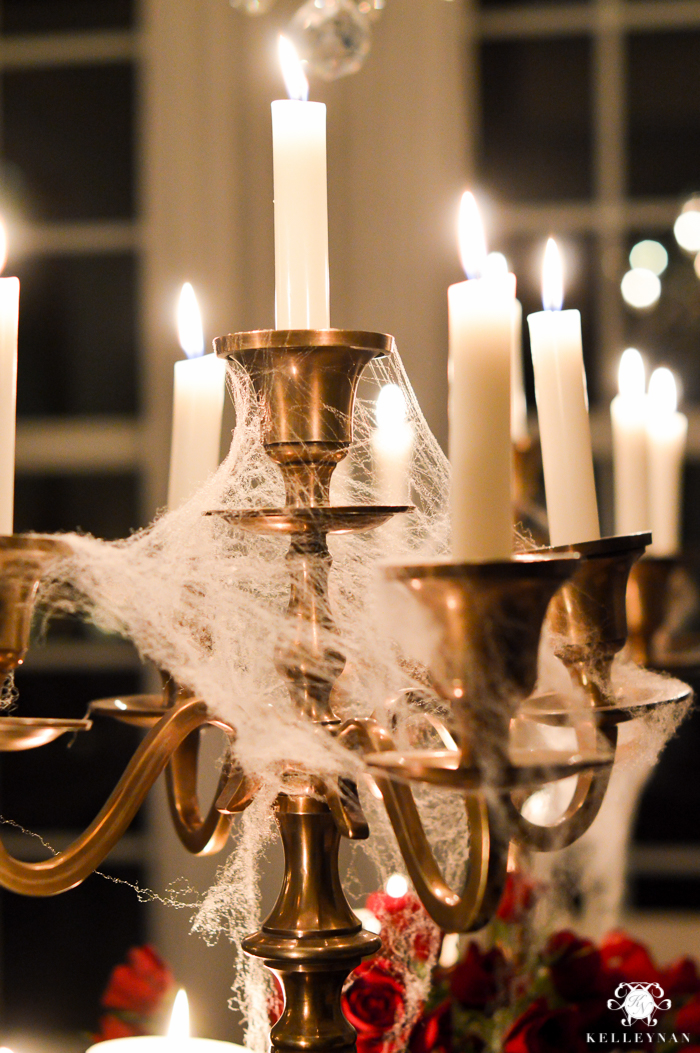 You can check out a different take on a Halloween table by visiting Ashley at House of Five. Here's a sneak peek of what she is sharing on her blog today 😉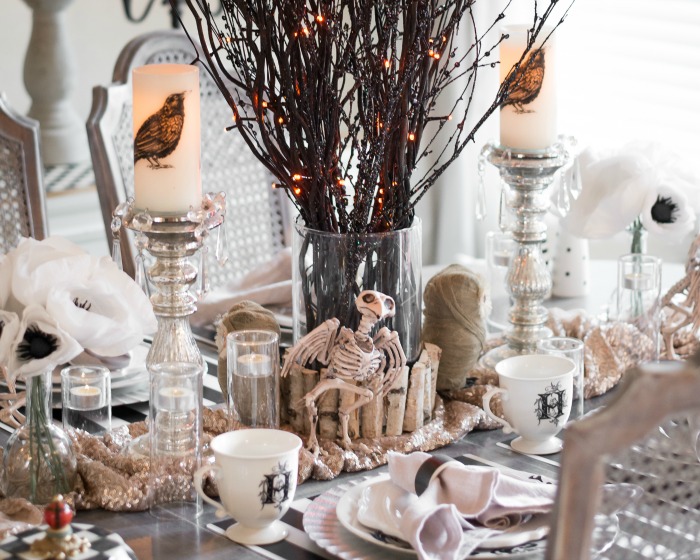 GET THE TABLE LOOK

*click the arrows and scroll to shop*
GET THE DINING ROOM LOOK

ADDITIONAL SOURCES
*affiliate links used | where items are no longer available, similar items have been provided*
12-Light Chandelier
 | Mirror: Homegoods – (SIMILAR) | Dining Table:  (84″ in Salvaged Brown) | Buffet: (72″ in Distressed White) | Curtain Panels
: (98″ in White) | Rug: HomeGoods- Calvin Klein wool (SIMILAR) | Lamps: HomeGoods – (SIMILAR) | Silver Tea Service: Family Heirloom – (SIMILAR) | Paint: Lauren's Surprise by Sherwin Williams | Flooring: Nottaway Hickory in Weathered Saddle