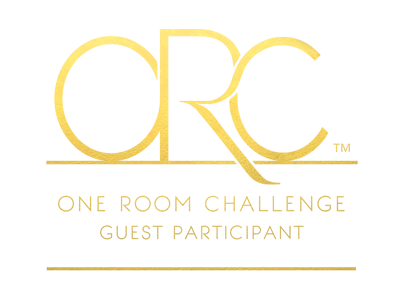 It's week two of the One Room Challenge and while I'm sure not every week will be as successful, I am thrilled with the progress made this week. If you missed the first week, you can catch up on my six-week office makeover HERE. I successfully secured some pieces I was most nervous about and selected my paint, but the most exciting progress by far is that the office built-ins are installed! I'll save the best for last so forgive me as I get a little ramble-y on my roller coaster week.

I PURCHASED "THE CHAIR"
When I first envisioned my office makeover, I couldn't wait to get my hands on a big, oversized, handsome wing back chair. I thought I would do something along the lines of the chairs in my great room (HERE)… and I actually kept thinking that until a few weeks ago. As much as I knew nothing would compete with a glorious statement piece, I started envisioning having to pick the chair up each time I stood up and sat down throughout my long days. Moving furniture 9384578 times a day started sounding not so fun. And, I like to swivel! So began the great desk chair hunt. I wanted something upholstered, preferably tufted, and arms were a must. After my search, I'm pretty sure I should just scrap the whole blogging thing because there is a HUGE gap in affordable, fashionable, comfortable office chairs.
Ballard Designs had a few with arms that looked appealing (and way beyond my budget). We have a nearby outlet I had never been to so I made the trip one Saturday afternoon; they actually had a handful of desk chairs in stock but the chair I was drawn to online did not feel right. They had two Rhodes desk chairs in stock (I would never have picked them out of a catelog, not because they were unattractive but because I had something else in mind), but both were pretty badly stained. I sat down anyways… and I didn't want to get up. It was the most comfortable desk chair I had ever sat in.
While the chairs retail $700 – $1,000+ depending on fabric, these were marked down to $299, plus an additional 40% off. I asked an associate if they got the chairs in often and she felt confident that they would see another sometime in the next few weeks. Well, I stalked their shipments every day for the next two weeks until I decided to go back in for one of the stained chairs. To my delight, they actually had gotten another chair in; while it did still have marks, it was far less dirty than the two I had previously left behind. It was meant to be and I wasn't leaving without it. I was confident that I could hire a carpet cleaning company to clean the fabric. Reasonable, right? Wrong…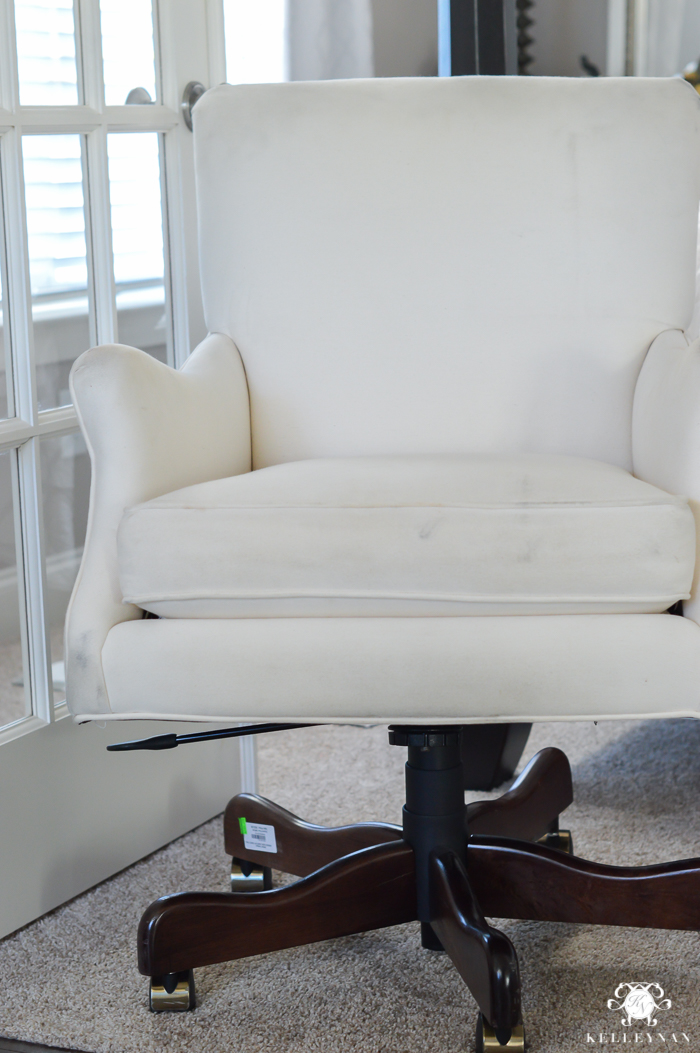 I hired a carpet cleaner for the sole purpose of cleaning the chair fabric but when I booked the appointment, they told me the chair didn't meet the minimum visit requirement.
"Ok, I'll go ahead and get some of my rooms taken care of, also."
When the carpet cleaner arrived, I immediately led him to the chair. "Oh, I can't clean that."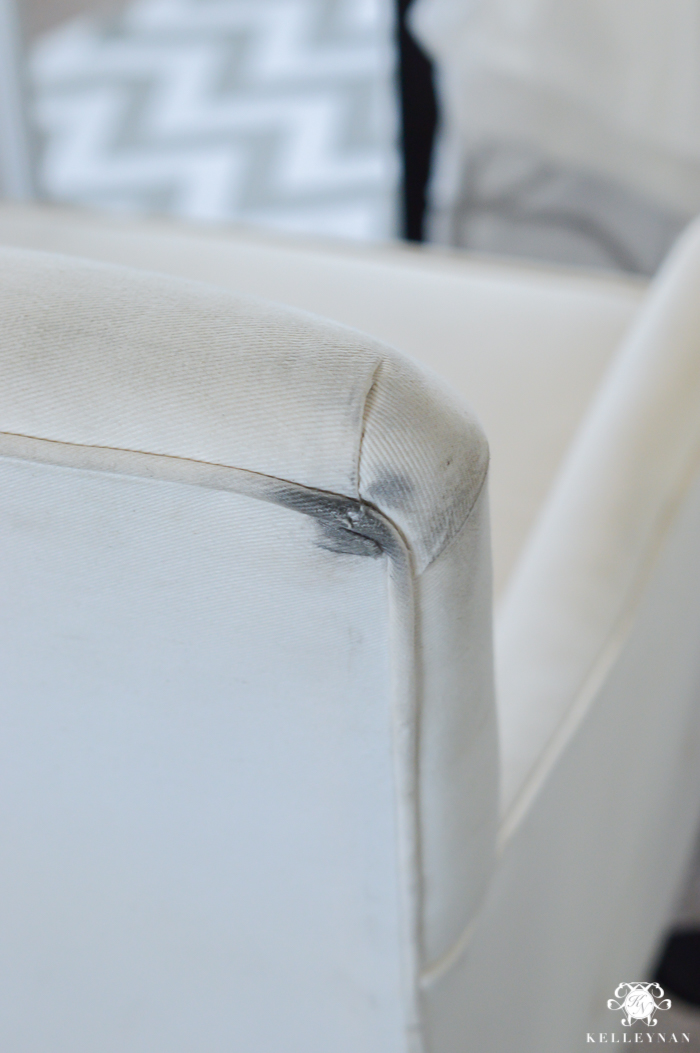 Basically, we were told that fabrics like these have to be steam cleaned by a special upholstery steam cleaner; if he attempted to clean it, he would ruin it. I have yet to find someone who will clean it so I'm still on the hunt. It may just end up being me, sitting in my dirty chair, but at least I know it will be comfortable! And, I now have clean carpet. If you know someone local to metro Atlanta, please send help! haha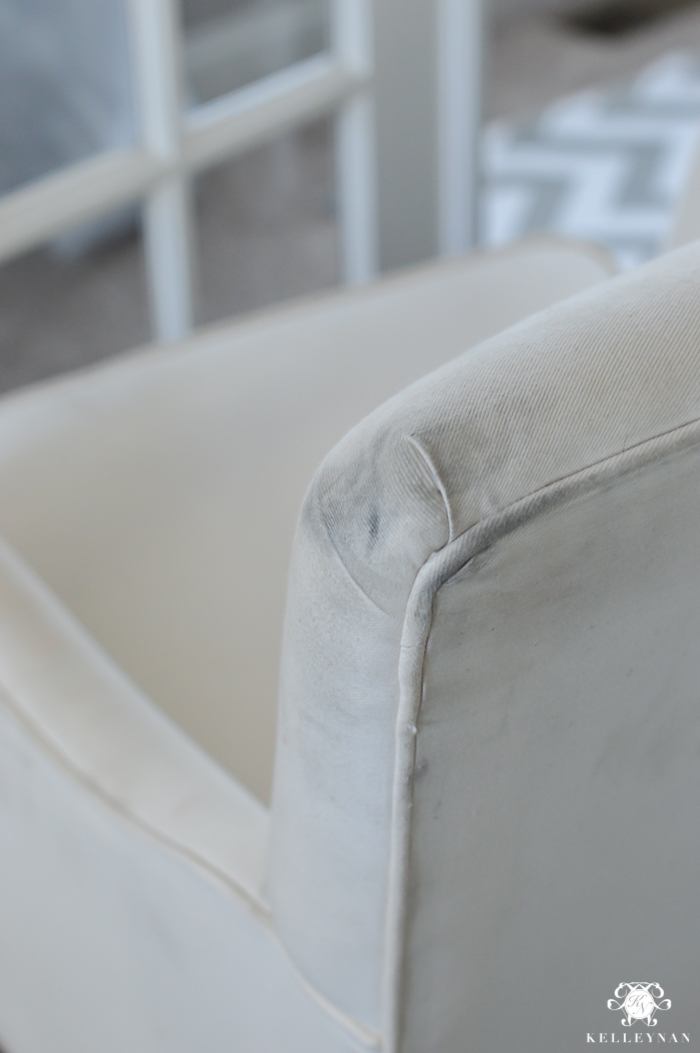 I FOUND "THE DESK"
After last week's post and again, some more outlet stalking, I was sweating. I knew I was well past the point of ordering a desk from several companies and I also didn't want to spend a fortune. My husband was actually on the verge of trying to convince me to go ahead with the "dream desk" from Week 1, but I knew it wouldn't be worth the guilt I would feel later. Well, I also live near a Restoration Hardware Outlet (I don't know how I go so lucky- the RH Outlet is actually closer than the closest grocery store which is 15 minutes away!) and knowing they get new shipments on Fridays, we swung by while running errands on Friday night. No, they didn't have the "dream desk" but if it's possible, I think I may love what I found even more. After the marked down price and additional 30% off the entire store, I brought home this 17th C. Monastery Dining Table (76″ in Gray Acacia) for around $500.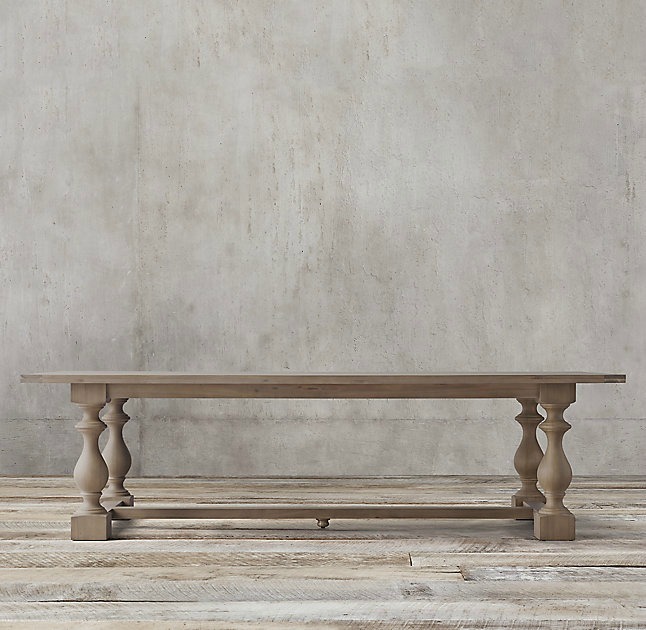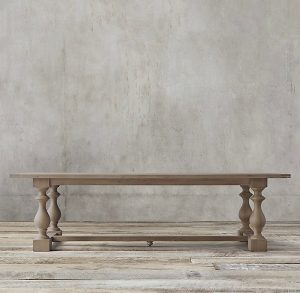 I don't mean to be brag-y (ok, maybe a little bit 😉 ), but we are talking MAJOR deals and MAJOR key purchases this week. The two main pieces that I was stressing over are resolved. *insert all the high fives and fist bumps*

50 SHADES OF GRAY
The current color in my office is "Versatile Gray" by Sherwin Williams. While I have it throughout most of my house, I wanted to go with something lighter and brighter in the office. I picked up several samples this week ("Creamy" is my trim color but I picked up a swatch for reference).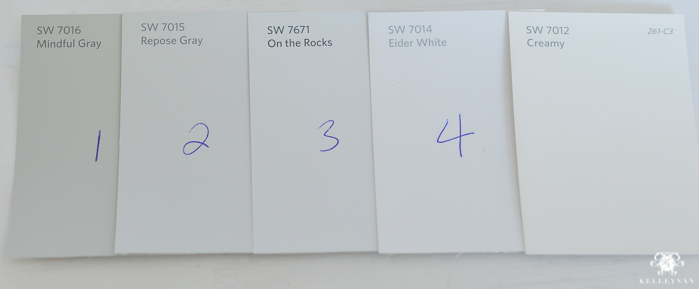 I actually went into the store thinking I was going to go with Eider White because the photos in which I had seen it pictured were beautiful; it looked like a very light gray. I'm glad I picked up alternatives because when I brought it home, it did NOT look gray… it actually looked lighter than my trim. See the last test (4) as a reference. If you have a stark white trim, you may be able to use it as a pale gray but I was not.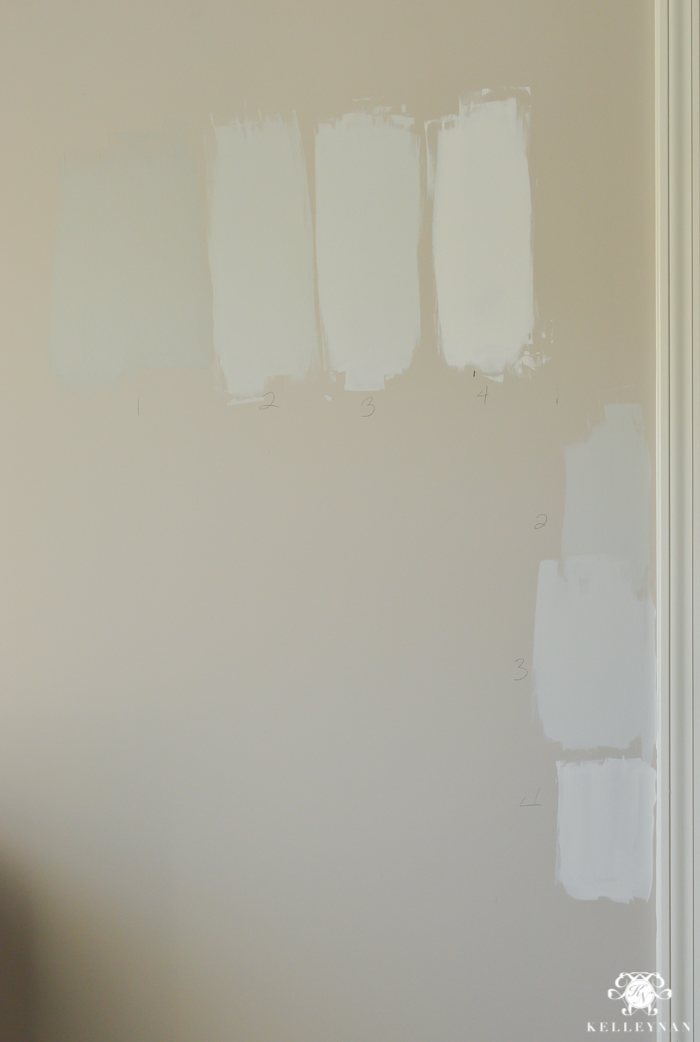 The winner was "On the Rocks" which is the bottom test on the photo below. Next week, I am hoping to have a fully painted room to share 😉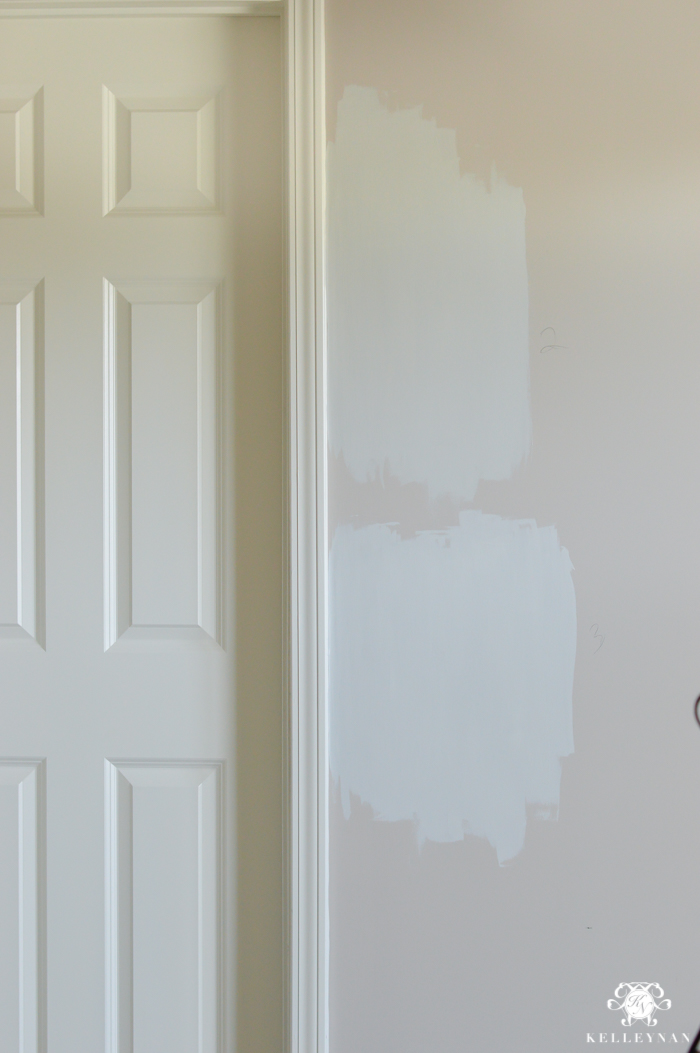 Here's a peek at my general color palette.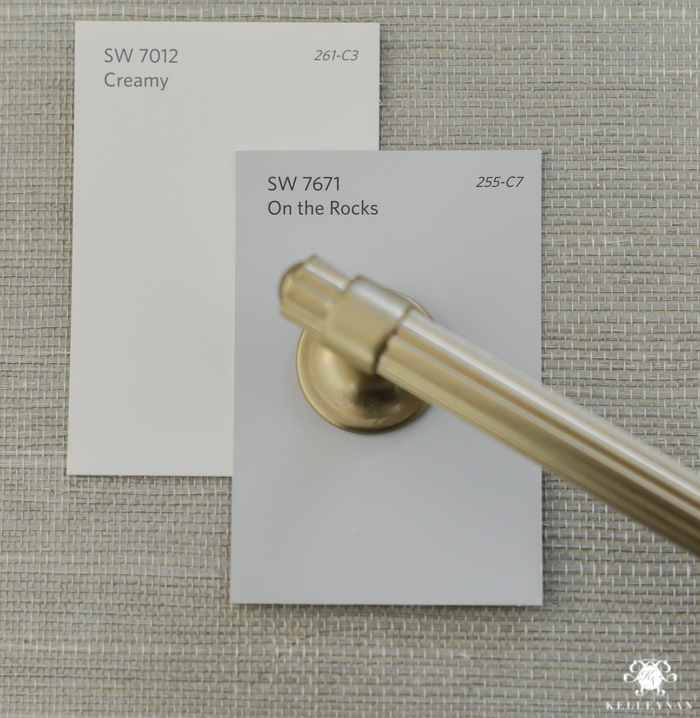 THE OFFICE BUILT-INS ARE INSTALLED!
Ok, so I saved the biggest, most exciting update for last. The night before Darryl at Ponquinette Fine Woodworks arrived with his team, this is what my office looked like. I know… still bad. Really bad. You can see where I taped off the dimensions of my rug and my new desk (and also where the pups attacked it).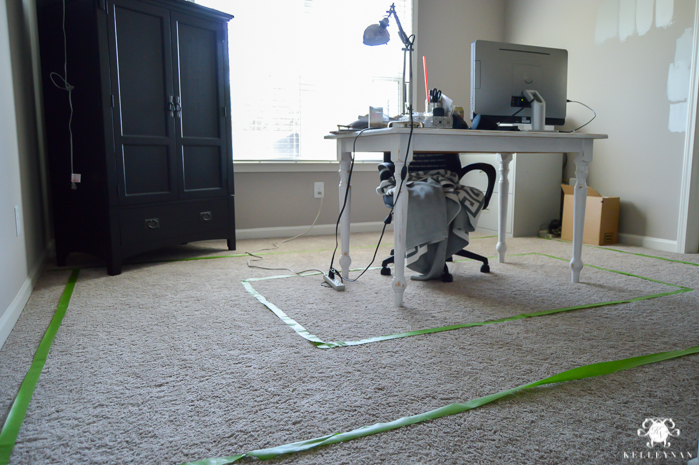 We moved my desk and computer into the master bedroom nook for the next few weeks and pushed everything else to the far side of the room. I am committing to getting it cleared out this weekend!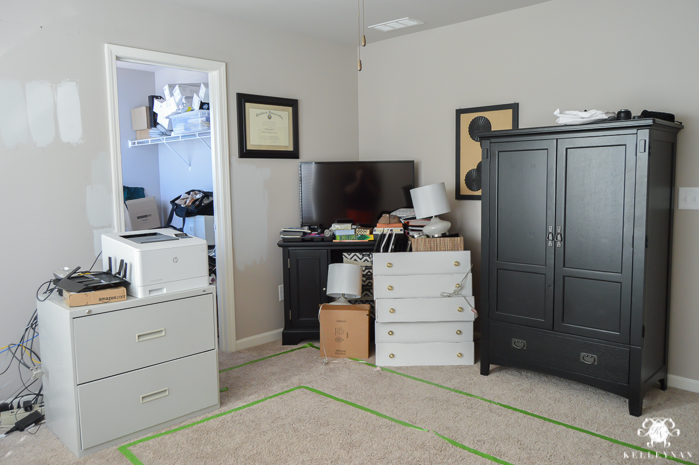 The day of the built-in install, this is what the team was working with.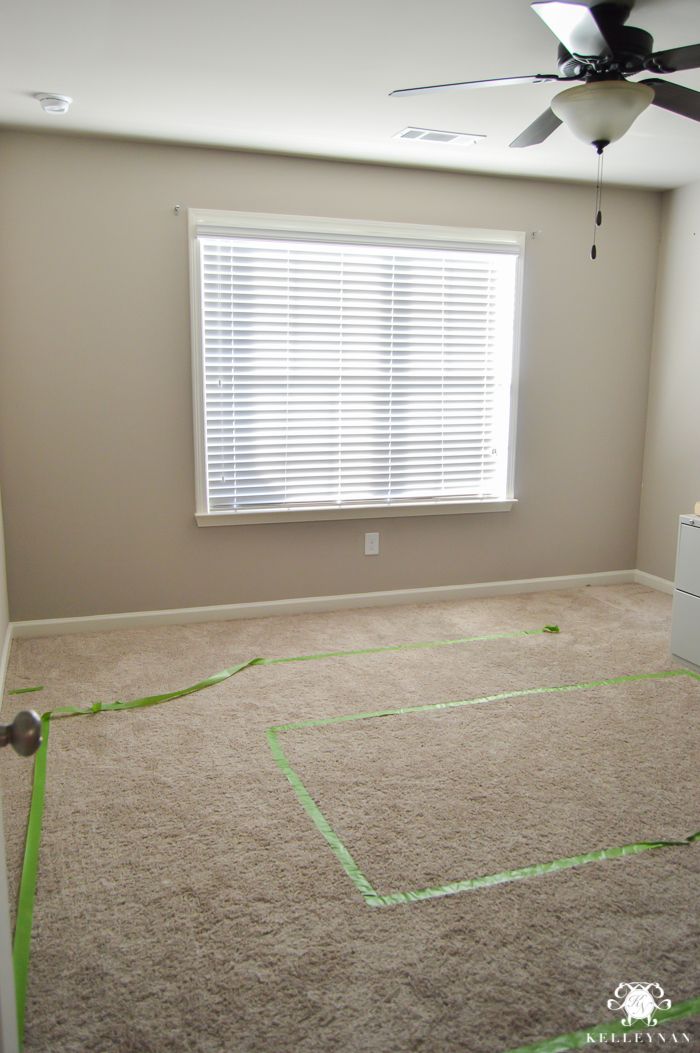 This was my first experience of having cabinets installed (since our new construction). In my mind, I thought Darryl would bring in (basically boxes) he had built, set them on the carpet, screw them in, and ta-da! Well, that isn't how it works. The team first took off the baseboards on the far wall and then cut away the carpet. They re-set the carpet tack strip (is that what it's called?) in front of the built-ins. They had a carpentry station set up outside to cut trim and moulding.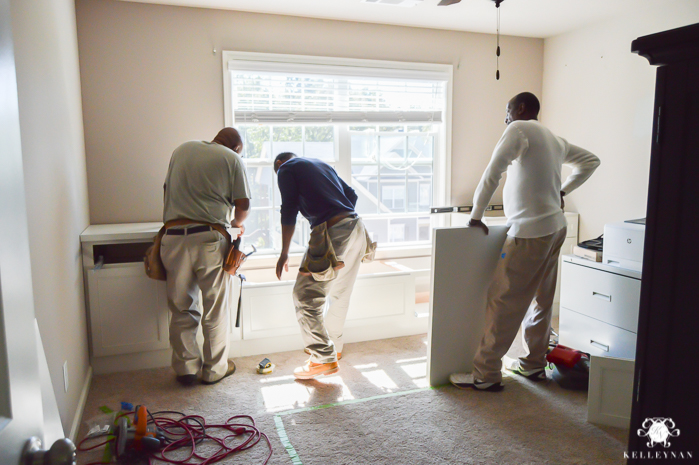 They even relocated some outlets which absolutely blew my mind.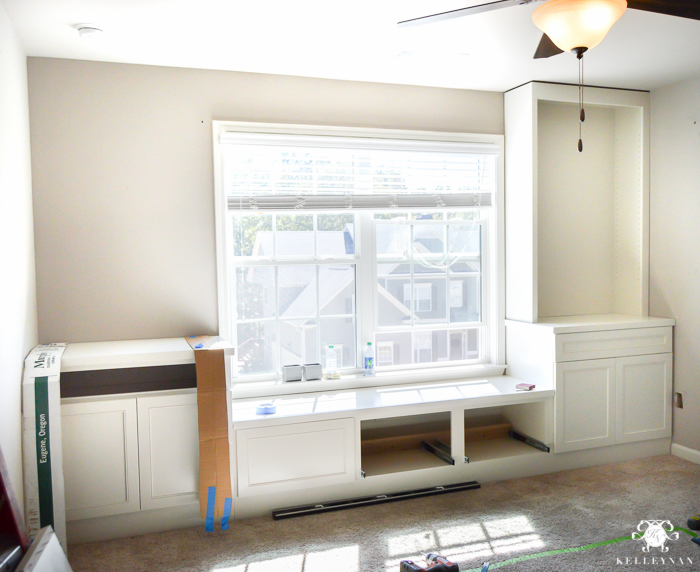 One thing Darryl and Bobby (Heartwood Renovations) noticed in their initial consult was that my window frame was actually installed a little crooked – definitely a possible challenge.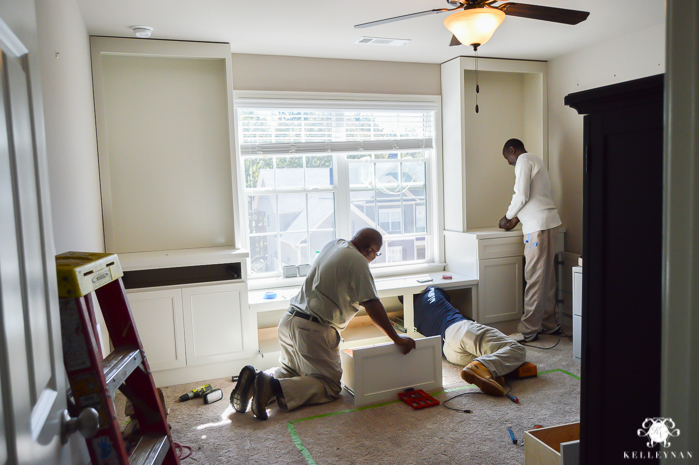 But Darryl built the cabinets so you wouldn't even be able to tell.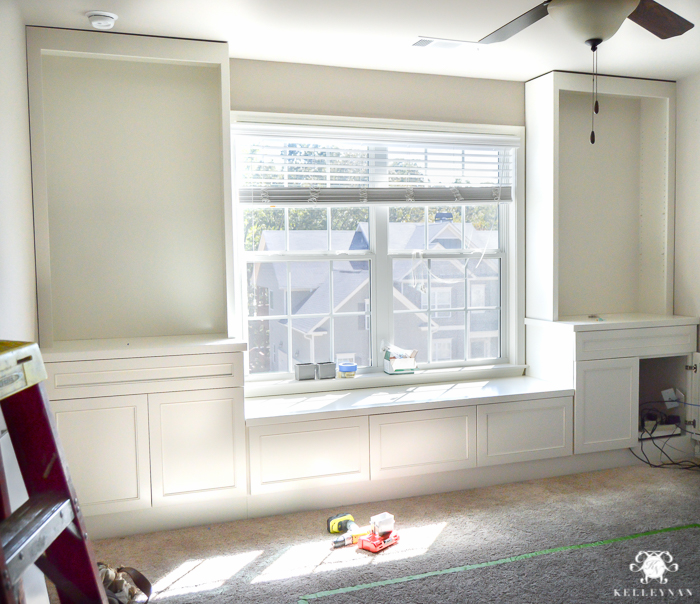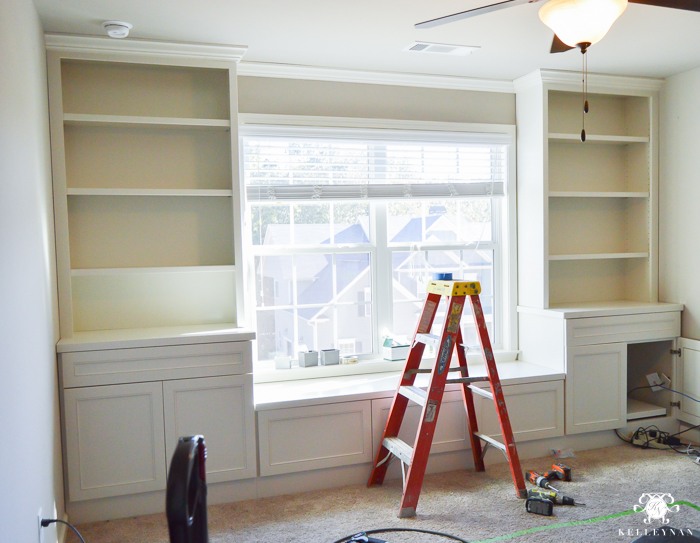 I'm going to wait to show you all the fun features of the cabinets during another week, but the final detail of the project was Darryl installing the file rails in my drawers under the window seat. The blinds aren't staying either, but I'll also cover that in the coming weeks.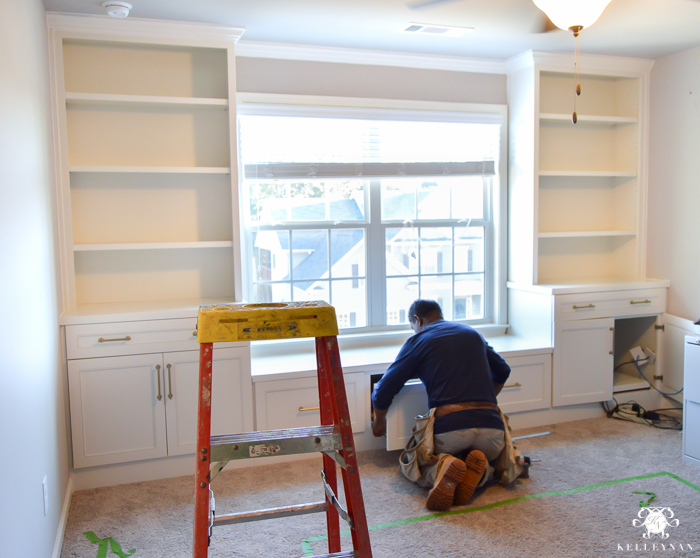 Dave has a bit of work to do in cleaning up the cords, wires, etc. for all the modem/router/printer/components. *Dave- hi, honey! Happy anniversary! See that bottom-right? That has your name all over it. Can't wait for dinner tonight 😉 xoxo*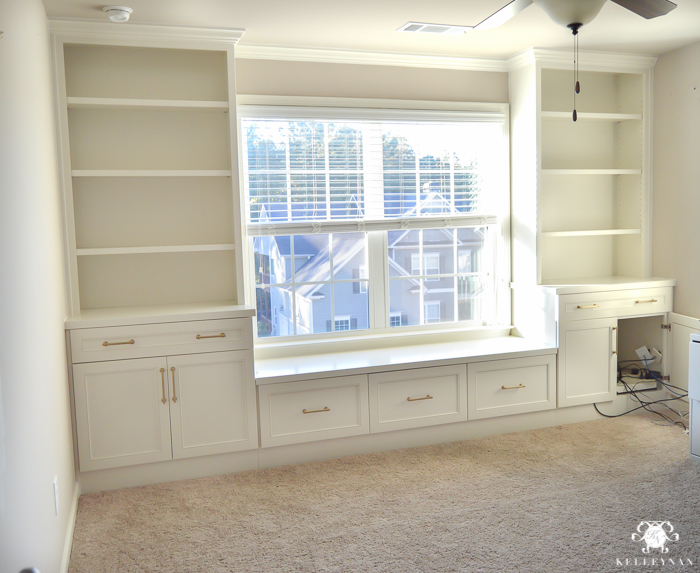 Last week, I gave a little teaser as to which Amerock hardware I had selected. The Sea Grass pulls in Golden Champagne were the ultimate winner because, well… look!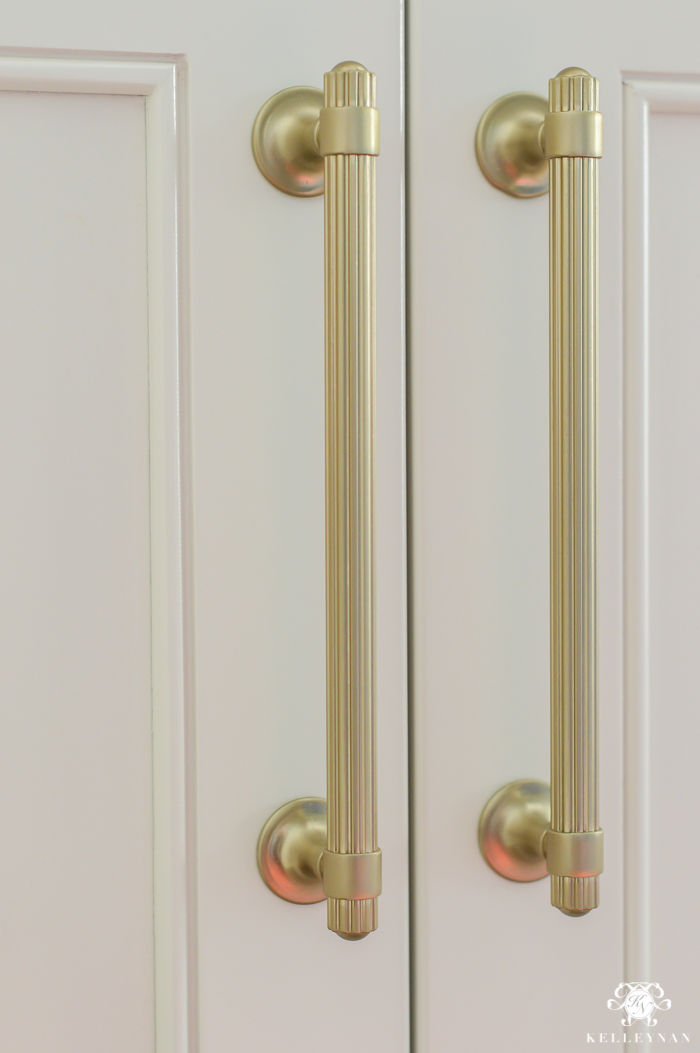 I'm in love.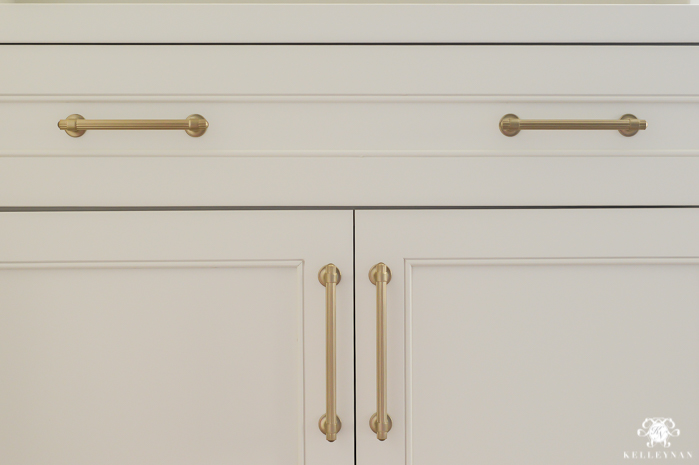 I used the Sea Grass 160mm on the cabinet doors and 128mm on the drawers. You can find them both HERE. Darryl told me that even though the hardware is the jewelry of the cabinet, in his experience, it is usually an afterthought and overlooked. He loved these.
*tap the photo to shop*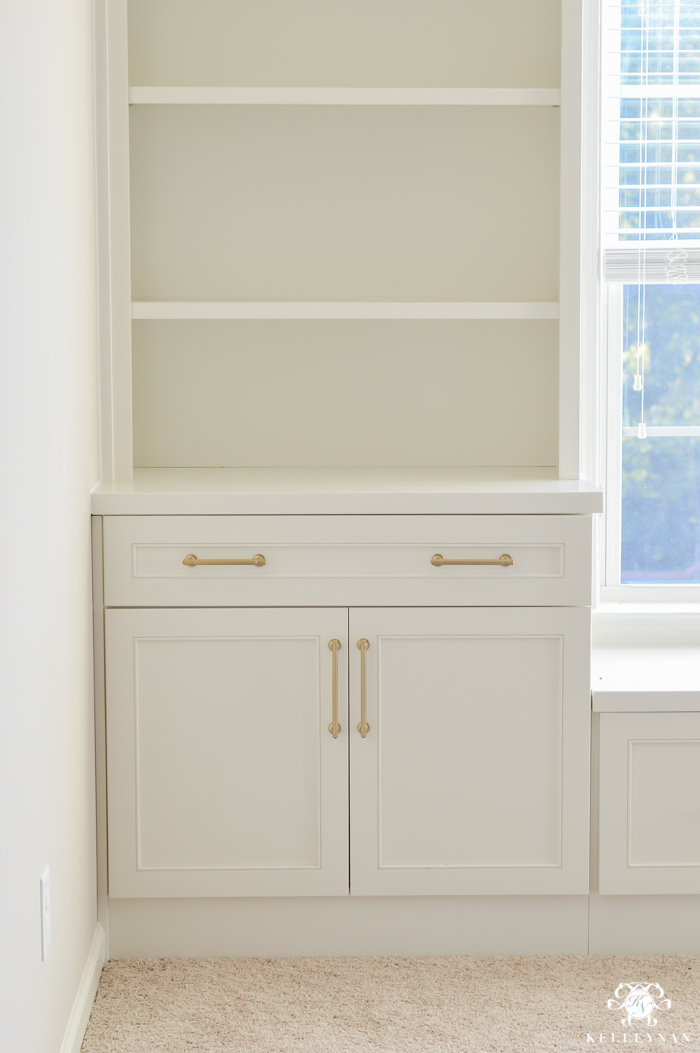 The built-ins aren't done yet, though! You'll see what I mean in two weeks 😉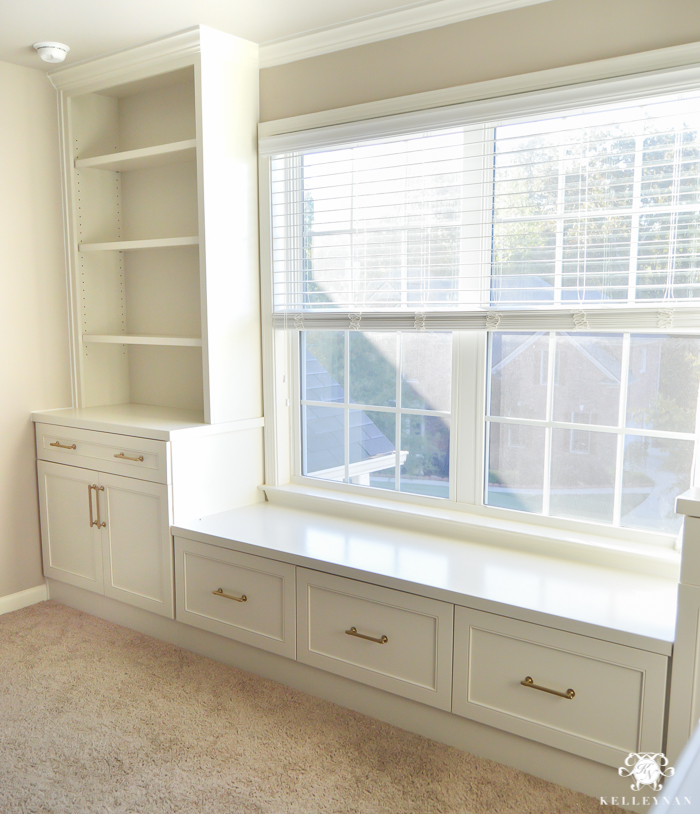 By this time next week, I am hoping to have the room cleared, painted, and maybe even have a new chandelier hanging. Looks like Dave is going to be a little busier than tackling the cords and components! I'm also hoping to finalize some of my art selections. I'm considering ordering two of the gold foil leaf print, one hanging above the other, and flipping one the opposite direction. The other print would be large-scale; I would love to hear your thoughts!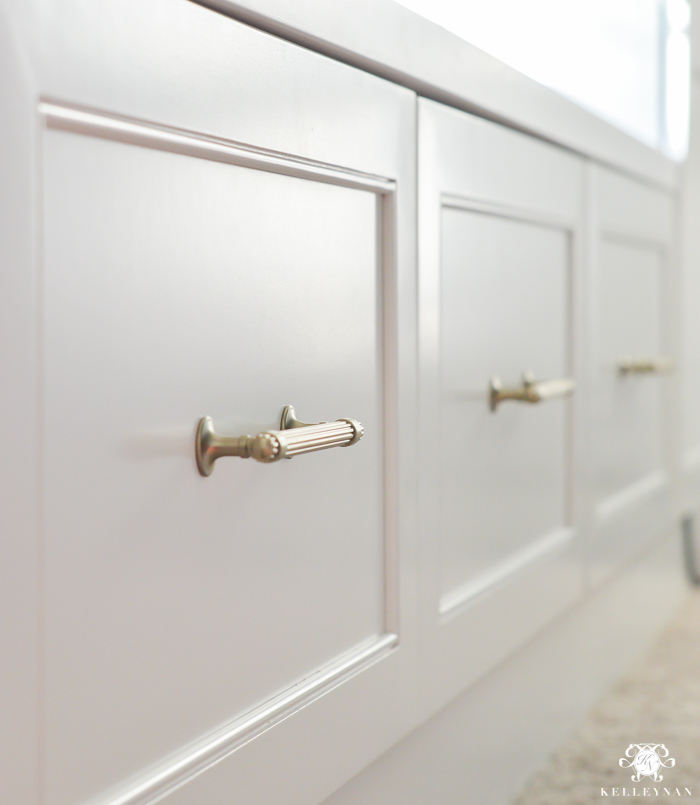 If you missed any progress, get caught up here:
WEEK ONE
And, be sure to check out the Week 2 progress of all the other ORC participants HERE.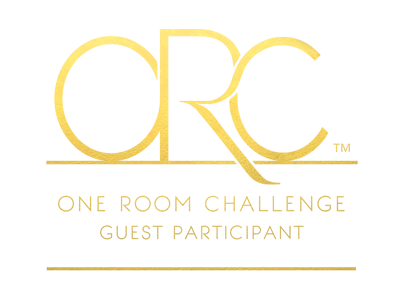 A special "thank you" to my sponsors this week for making this project possible.
Amerock | Sherwin Williams
*post contains affiliate links*