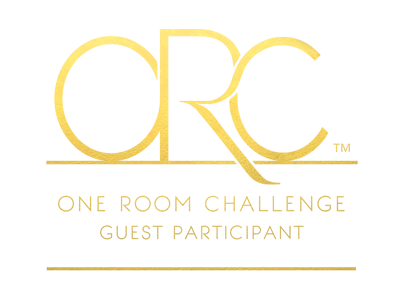 I'm gonna go ahead and call Week Five of the One Room Challenge, the "Budget Breaker". To be honest, I didn't set a firm budget before starting my home office makeover but I had an idea of what I would be comfortable with, how much I was willing to spend on certain components, and projects I would take on to save money in certain areas. But, desperate times call for desperate measures and this week, I threw all that frugality out the window. Please note- this is not the approach I recommend (or practice) for all projects haha
I mentioned last week that because of my personal schedule, the entire room has to be finished and photographed by this Friday. Almost a full week early. Late last week, I started getting nervous about items I still hadn't received for the room… slowly, they all started piling up as to-do's which would have to be accomplished by the end of this week. In addition to the ORC mania, work and life have been kind of nuts… no time for error. So, when I came down with something late last week, I knew Murphy's Law was in full effect. I've managed as well as I can but having less energy and close to zero patience and tolerance, it became a lot easier to resort to a few "Plan B"s to get some tasks marked off the list.
One project I had been looking forward to was painting my collection of magnetic-close boxes. Between the several I had purchased a couple years ago, a healthy number of Vineyard Vine gift boxes (several not shown below), and the few magazine holders and file boxes I brought home from the Target Dollar Spot, I had a collection of about 14. I spent too much on seven cans of white spray paint, toughened up and took my half delirious self outside and set to work. I'll save you from the suspense… after a few hours and several coats, they looked horrible. HORRIBLE.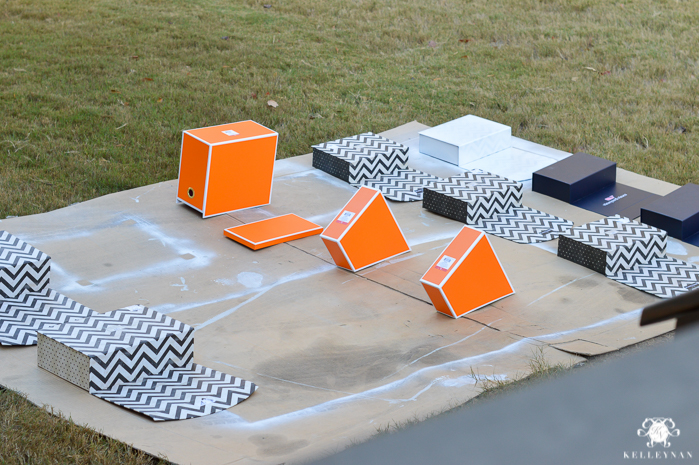 With days to go and zero idea of how I would be styling my shelves and storing certain office items, I did what any normal sick person on a tight deadline would do. I headed to the Container Store… most importantly, I tried to not appear visibly mortified when the cashier stated my total. Had I gone with the Container Store plan from the beginning, it wouldn't have been a big deal. I would have planned for it. I would have saved time from trying to force a DIY project in which I wasn't confident, and I would have saved $50 in wasted spray paint.
Even though I have grass cloth being installed tomorrow, I came home and staged my shelves to make sure I was satisfied with the pieces. Here's a little peek before it all has to come down 😉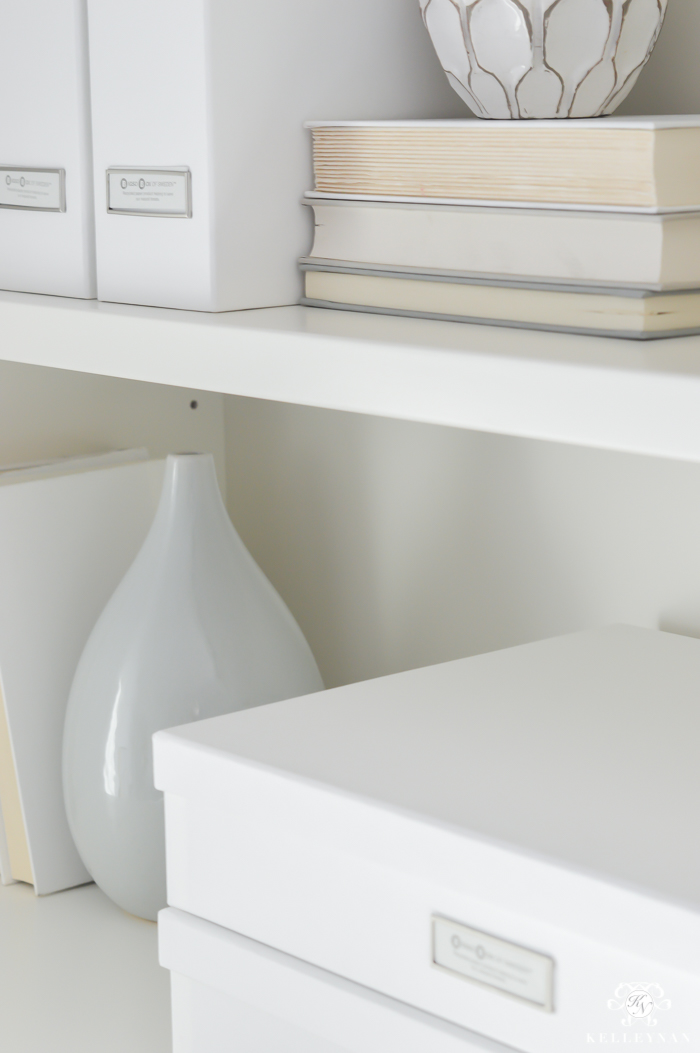 I'm looking forward to assigning contents to each and writing cute labels on all the bins. I also hit up the book section of a local Goodwill; and as I always do, got the "Wow! You must really love to read!" when I took my loaded cart to the check-out counter. As I have done in other areas of my home, I searched for book spines in a white/gray color palette and turned them to have pages facing forward.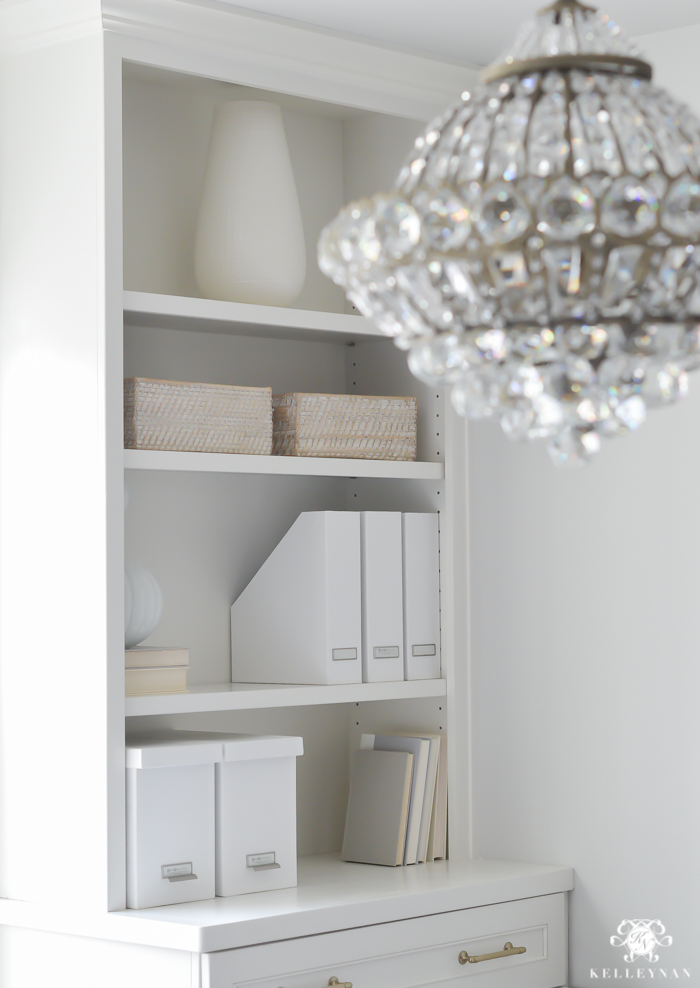 I ran down the street to take a quick peek in West Elm… you know, to see if there was anything that would just COMPLETE my shelves and dress up my bins. Of course there was… But, I mainly loaded up in their clearance section. Not all items are still available but you may have luck in your local store.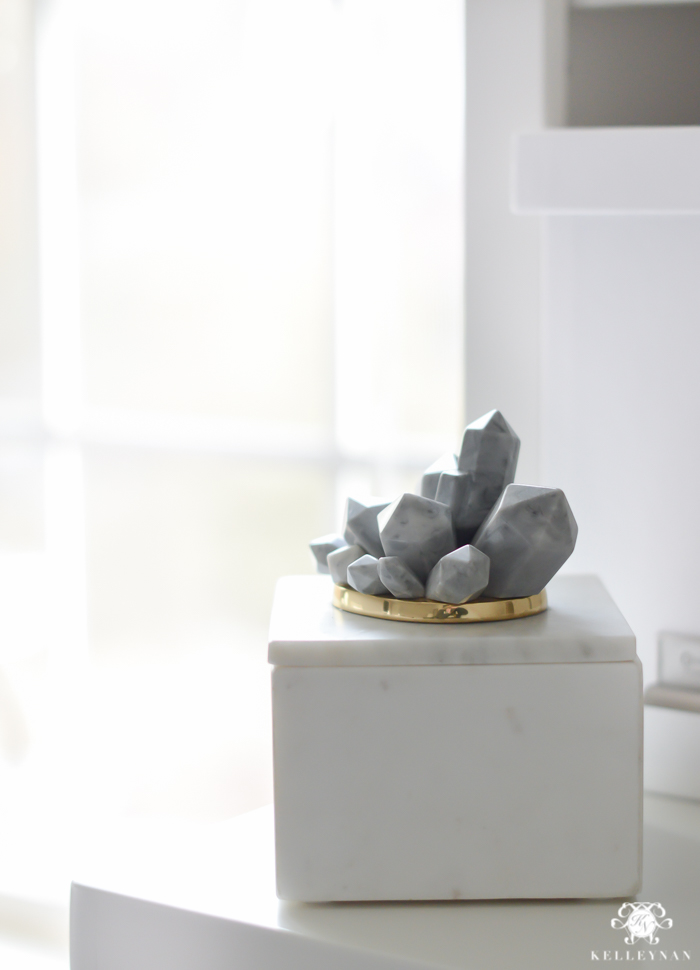 | CRYSTAL BOX |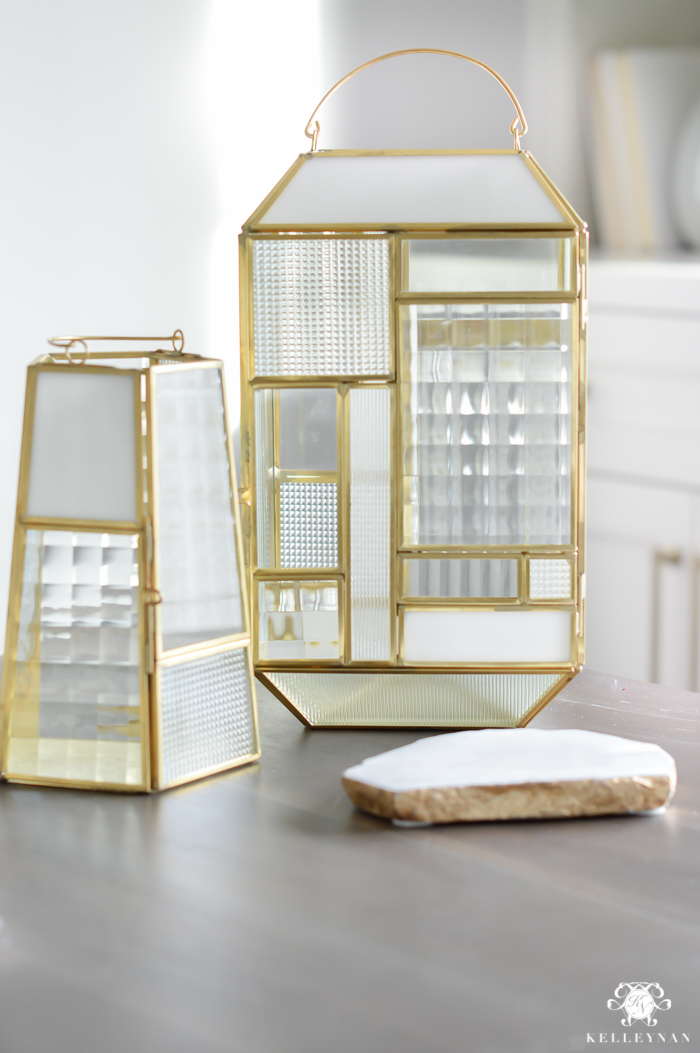 | LANTERNS |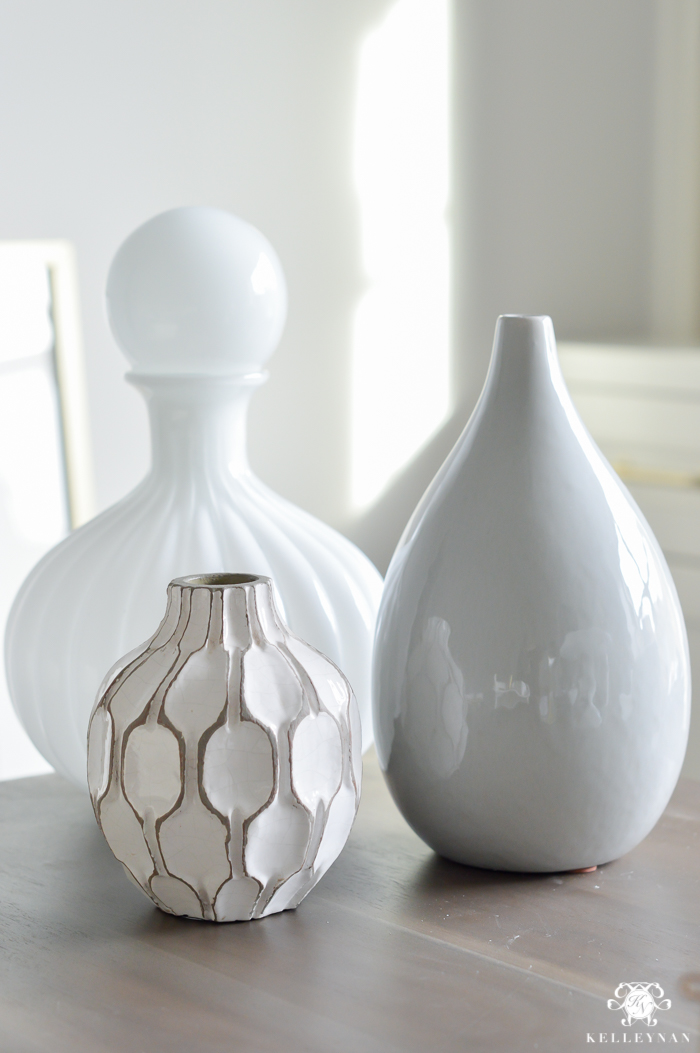 | GRAY VASE | WHITE VASE | HONEYCOMB VASE |
I wholeheartedly agree it is important to fill your home with items of meaning, and I do. And they make me happy. But you know what else makes me happy? Completed, pretty, finished shelves. 😉 These are the accessories and items I didn't plan for… but, as I said at the beginning of the post, at this point I'm making judgement calls and with a week left, there is zero time to sit around and wait on sales.
A few of my desk accessories arrived and I went out and shopped a few more this past week. Here's a peek at some of my desk accessories and essentials.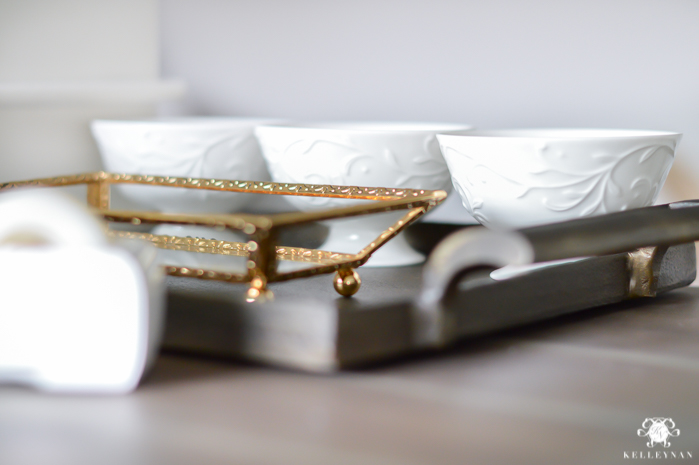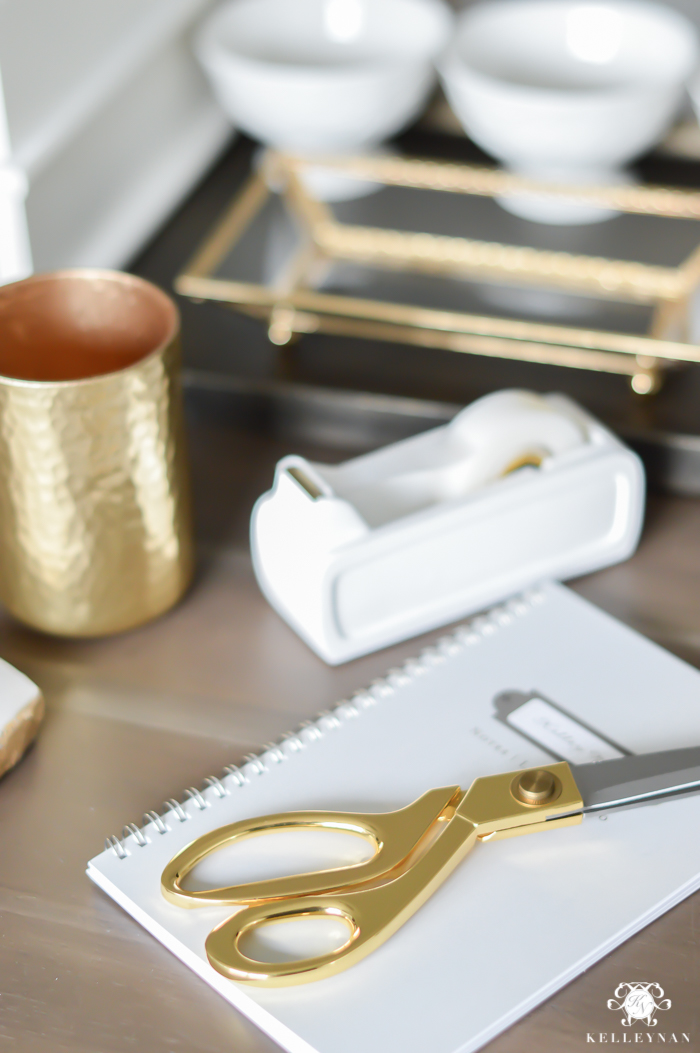 Ok, so now that I've shown some up close glimpses, I'll show the reality of the big picture as it currently stands.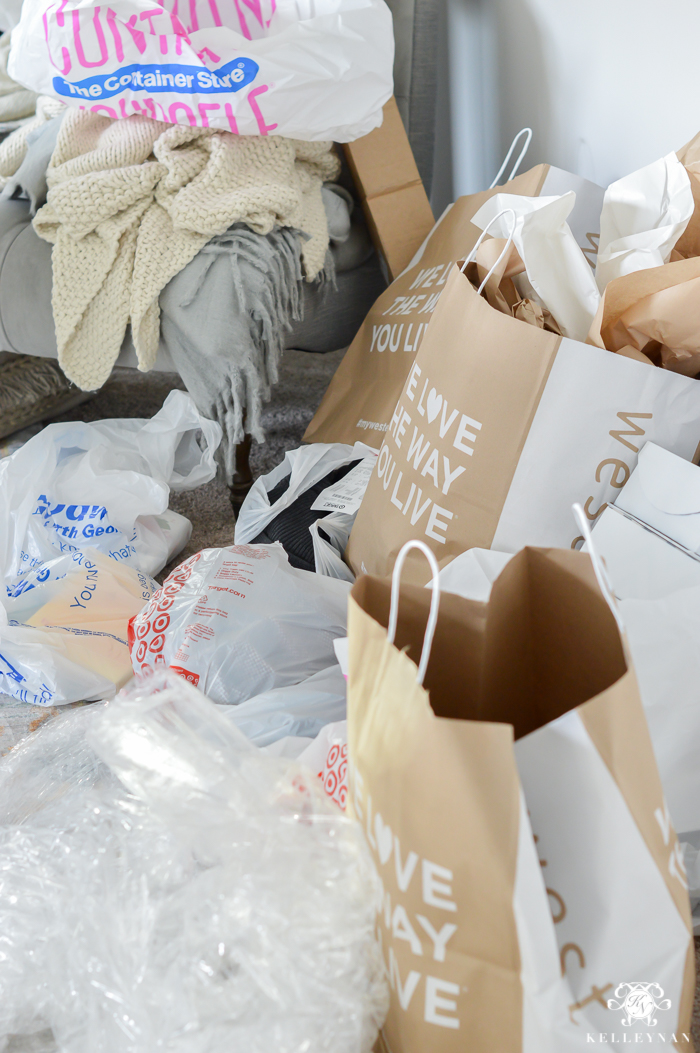 Yep… it's a wreck. And with blinds still having to come down, drawers and cabinets that need to be organized, and everything in the built-ins coming out before the morning, it's only going to get more messy.
I have actually made more progress tonight than all of this past week. The art is officially hung, Dave installed my dimmer and is in the process of hanging the TV, and everything is starting to take shape. My pillow covers arrived today and my Roman shades are set to be delivered tomorrow. We still have to "move" me back into the office, work on a few IT solutions, haul boxes and closet leftovers downstairs. But, after the grass cloth installer finishes tomorrow, we will ALMOST be there! Next week is the final week and the big reveal. Make note and join me then. Hopefully, my credit card will be much better managed over the next few days and the last decisions will come easily. Here's hoping!
SOURCES
Rug (7'10" x 10'10") | Lamp (Table- Brass)  | Linen Tapered Drum Lamp Shade (Medium-White) | Oversized Chunky Throw (Ivory) | Faux Mohair Oversized Throw (Gray) | Soft Shimmer Large Art Print (30×40, white mat, matte brass frame) | Gold Foil Leaf Art (11×11, matte brass frame) | Custom Notepad | Marble Coaster – HomeGoods (SIMILAR) | Amerock Cabinet Pulls (Golden Champagne) 6 5/16" and 5 1/16" | Gray Velvet Slipper Chair- HomeGoods (SIMILAR)| Gold Mirror- HomeGoods (SIMILAR) | Trestle Table (Gray Acacia- 76″ x 43″) | Paint: Sherwin Williams On the Rocks
If you missed any progress, get caught up here:
WEEK ONE | WEEK TWO | WEEK THREE | WEEK FOUR
Be sure to check out the Week 5 progress of all the other ORC participants HERE.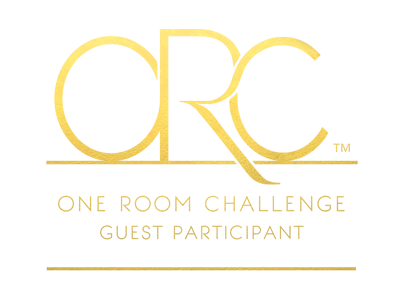 A special "thank you" to my sponsors this week for making this project possible.
Pottery Barn  
A big thank you also to Bobby Barton of Heartwood Renovations, and Darryl Ponquinette of Ponquinette Fine Woodworks for making my built-in dreams come true.
*post contains affiliate links*