Happy Halloween! I have a confession. You know how it seems like the whole world goes nuts for pumpkin spice "everything" this time of year? I have actually never tried a pumpkin spice latte. For years, my festive go-to has been apple cider. If you have never had a hot caramel apple cider from Starbucks, add it to your to-dos for the season because they are ah-maz-ing. Whether you are staying in tonight, walking the neighborhood, or are looking for a festive beverage for a bonfire or Thanksgiving, I have crafted a delicious, easy fall cocktail, guaranteed to be a hit and will make you/your guests reconsider "pumpkin spice" as autumn's mascot.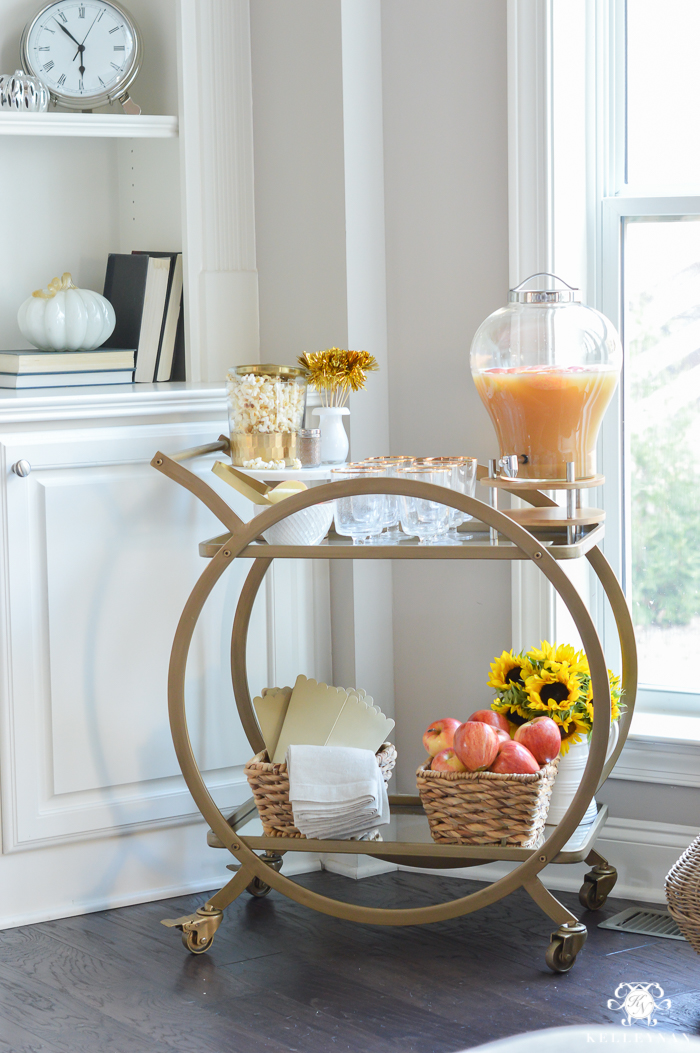 Remember how excited I was when I first got my Asher bar cart  before my ladies chili night (HERE)? Soon after I last posted when they went on sale, they went out of stock for a bit. If you emailed me during that time, you're in luck! They are back in stock and you can grab one for 25% off right now with the code "FURNISH". You can check out my other pieces, also currently available for discount at World Market HERE.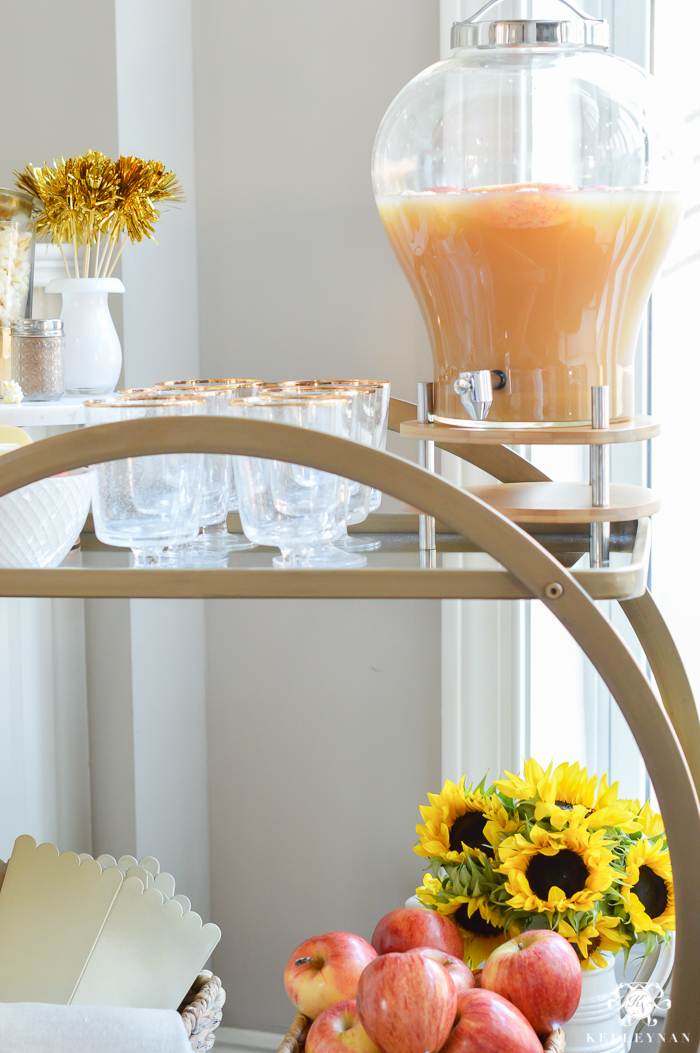 If I had one tip about styling a bar cart, it would be instead of thinking about what you need to stock a bar, think about what you need for a specific beverage. You don't have to keep your full bar on your bar cart when you are entertaining. I whipped up a batch of hard caramel apple cider (my personal recipe below) so I stuck with essentials and accessories specific to the cocktail.
Note- even though my cocktail is cool, this beverage dispenser can hold hot liquids as the glass is heat resistant.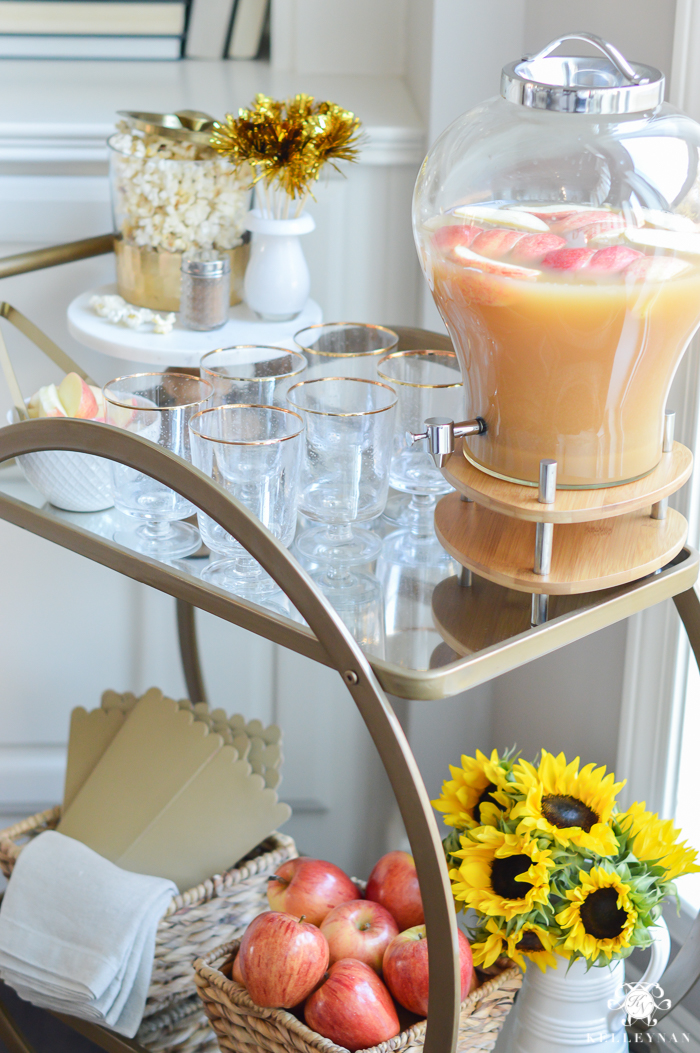 Use cake stands (marble pedestal stand HERE) to arrange different components at different heights. This will help both from a visual a practical perspective.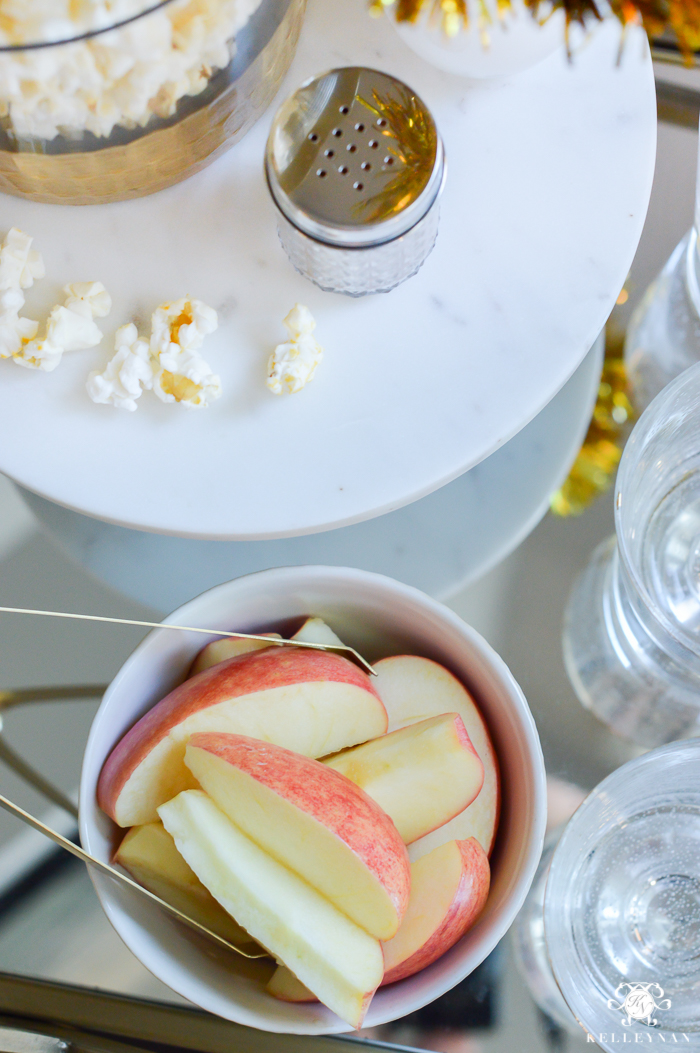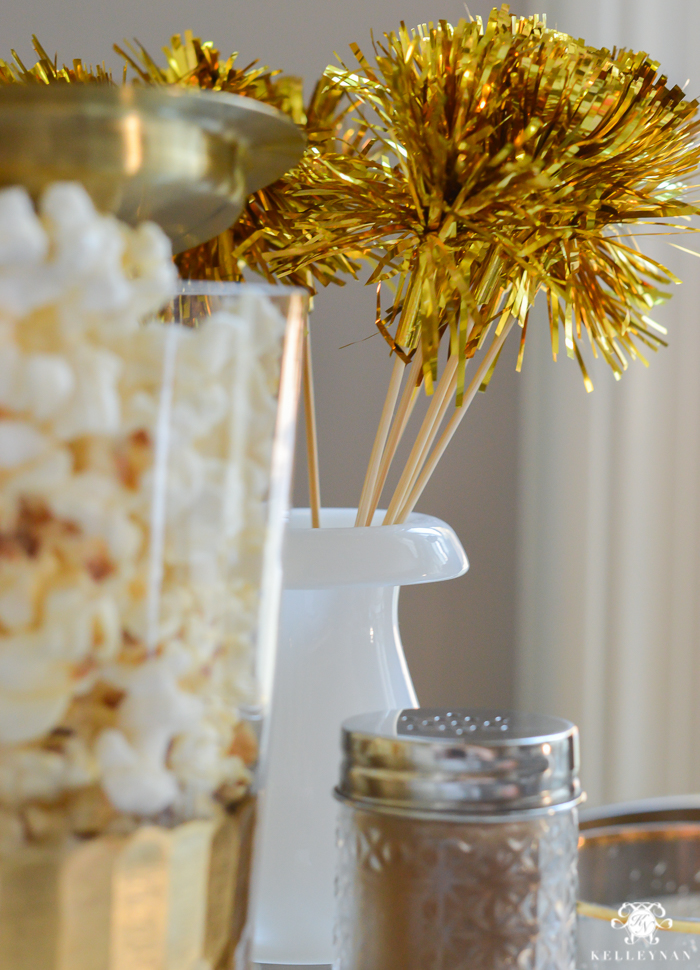 Also, don't be afraid to re-purpose items. I used this gold metal ice bucket to serve popcorn (note- it is on the smaller side) – the perfect, easy fall snack – and the ice tongs that came with it for the apple garnish.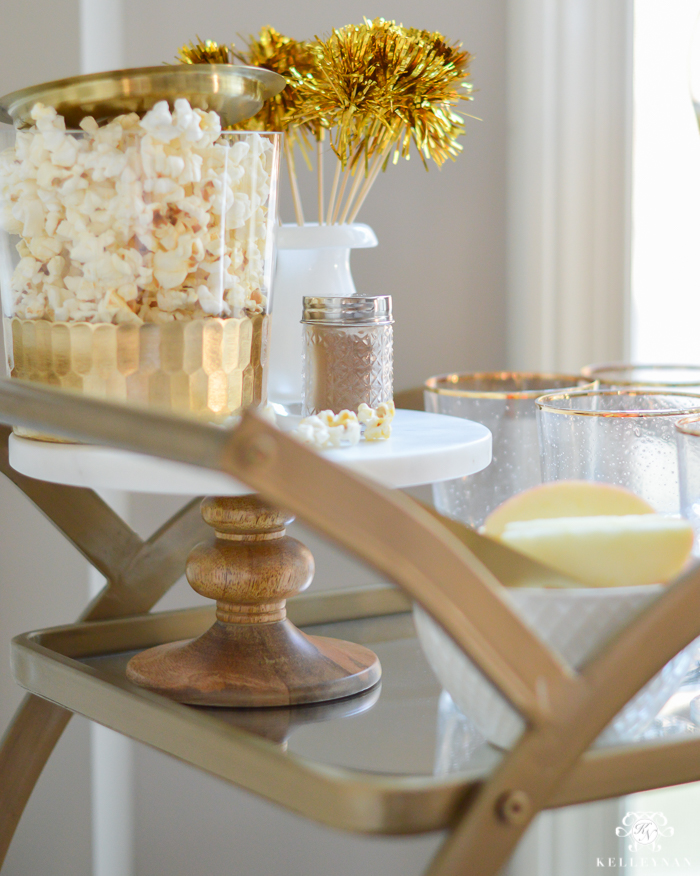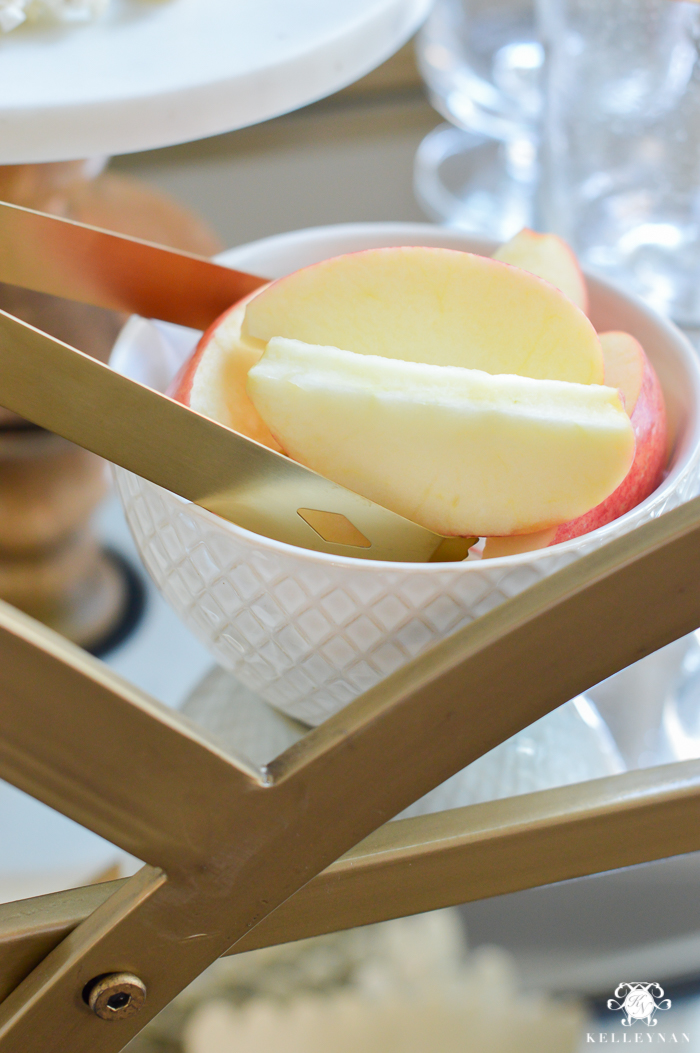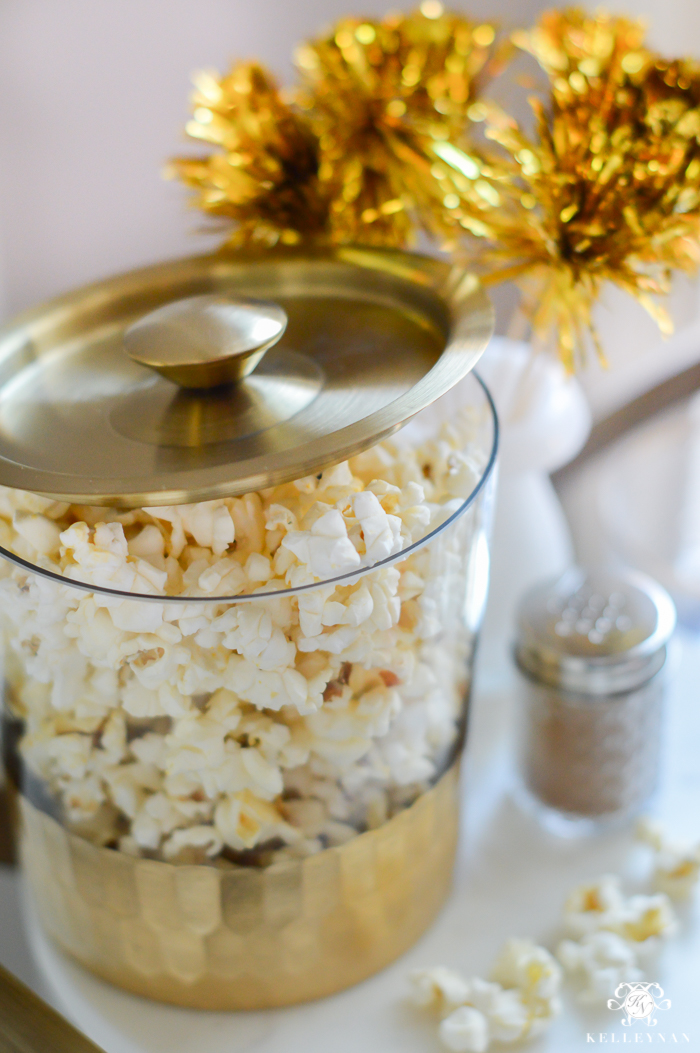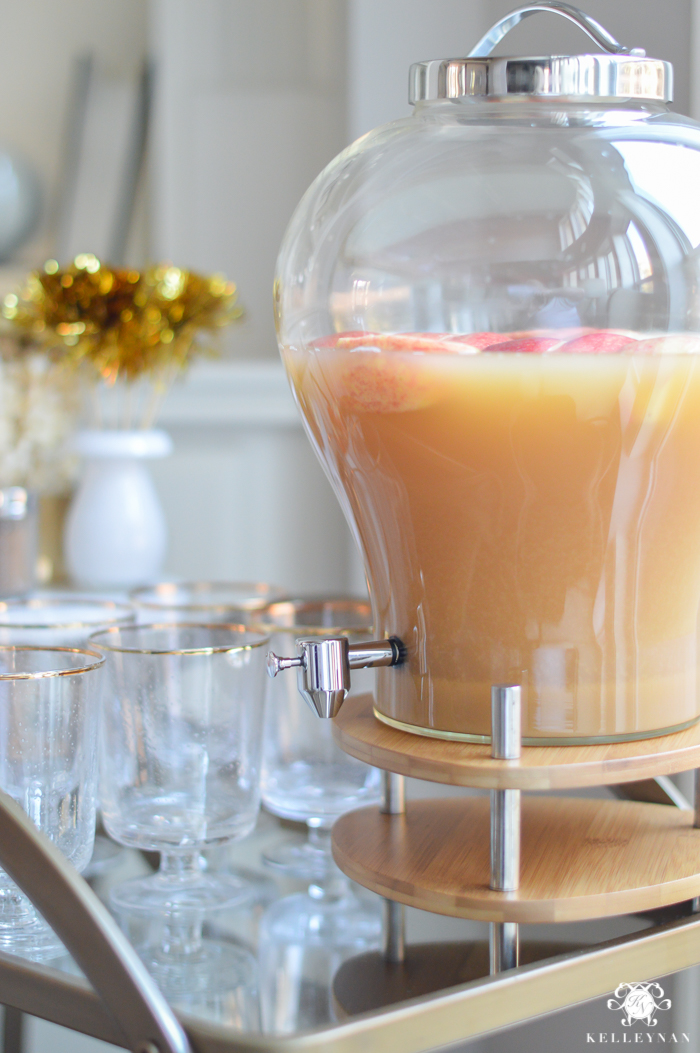 Caramel sauce
1 gallon apple cider
3 bottles Angry Orchard
2 – 4 C cinnamon schnapps (depending on preference)
Apple slices
Cinnamon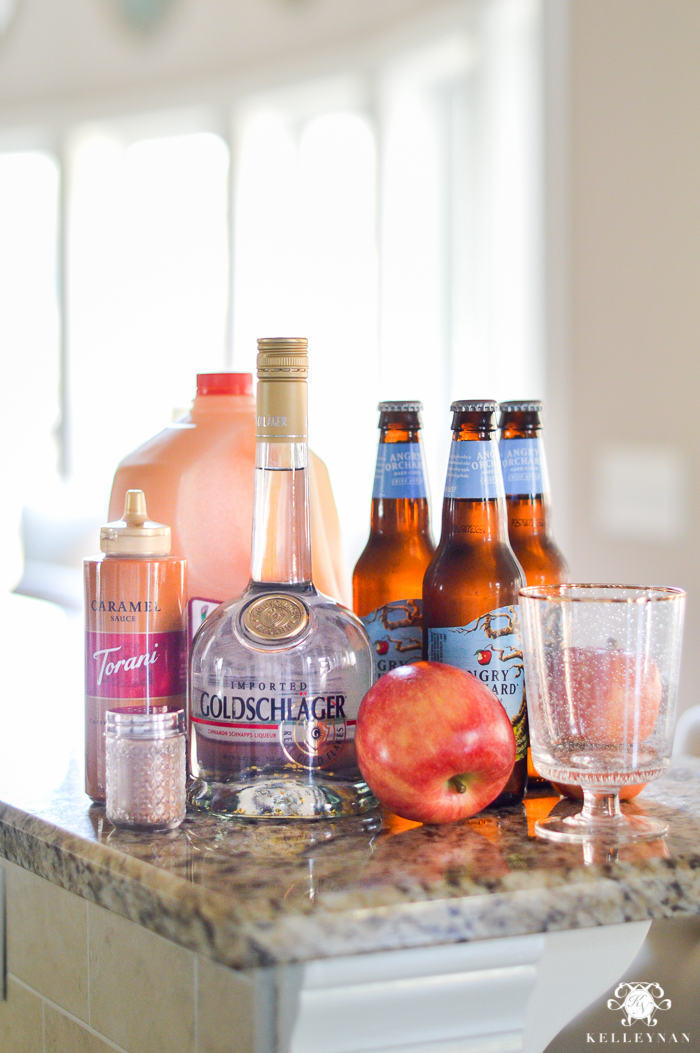 Combine the cider, Angry Orchard, and cinnamon schnapps. Start with two cups of schnapps and increase, depending on taste preference. Add a few cut apples last.
To serve, first, drizzle inside of glass with caramel. Make sure to coat the sides, not just the bottom of the glass. Add ice and pour beverage on top. Add a sprinkle of cinnamon on top and an apple slice as a garnish. (drizzle apple slices with lemon juice ahead of time to keep them from turning)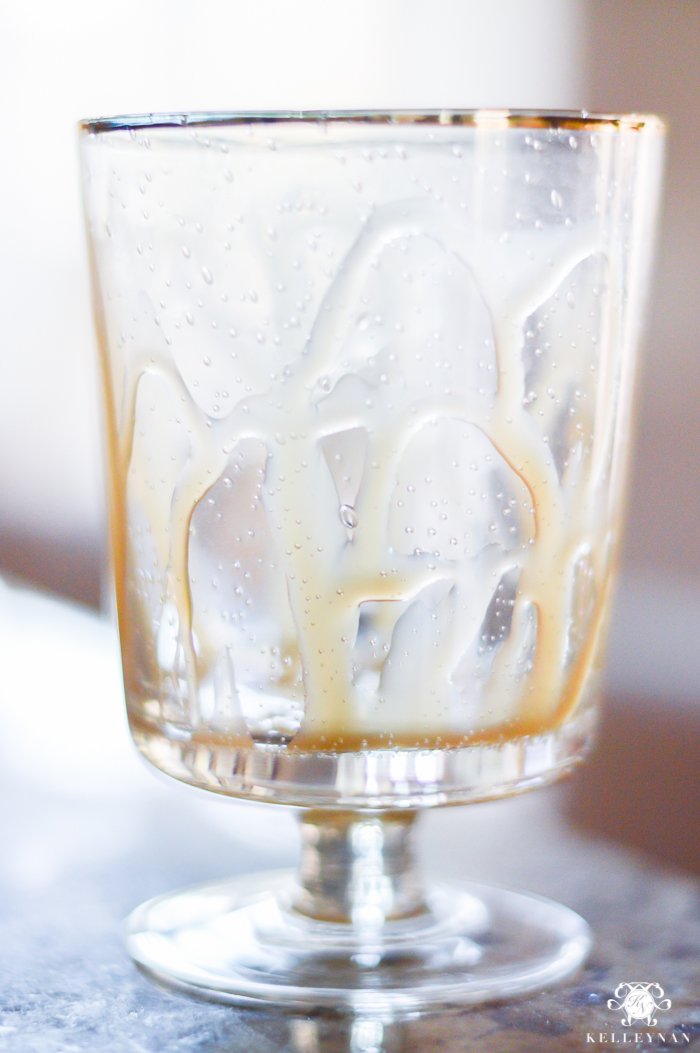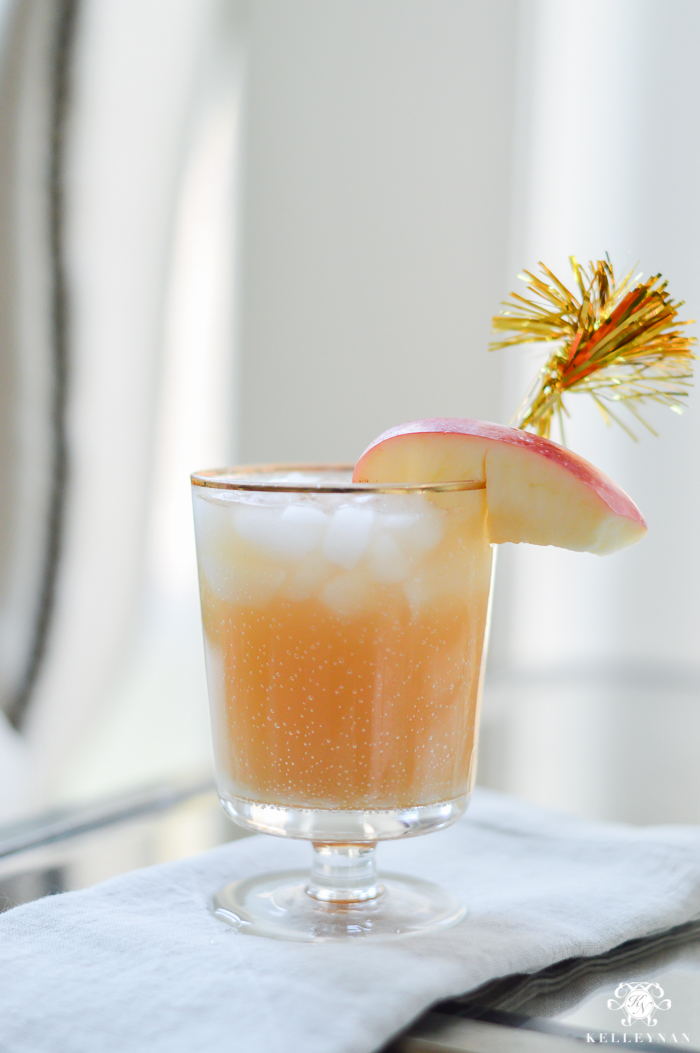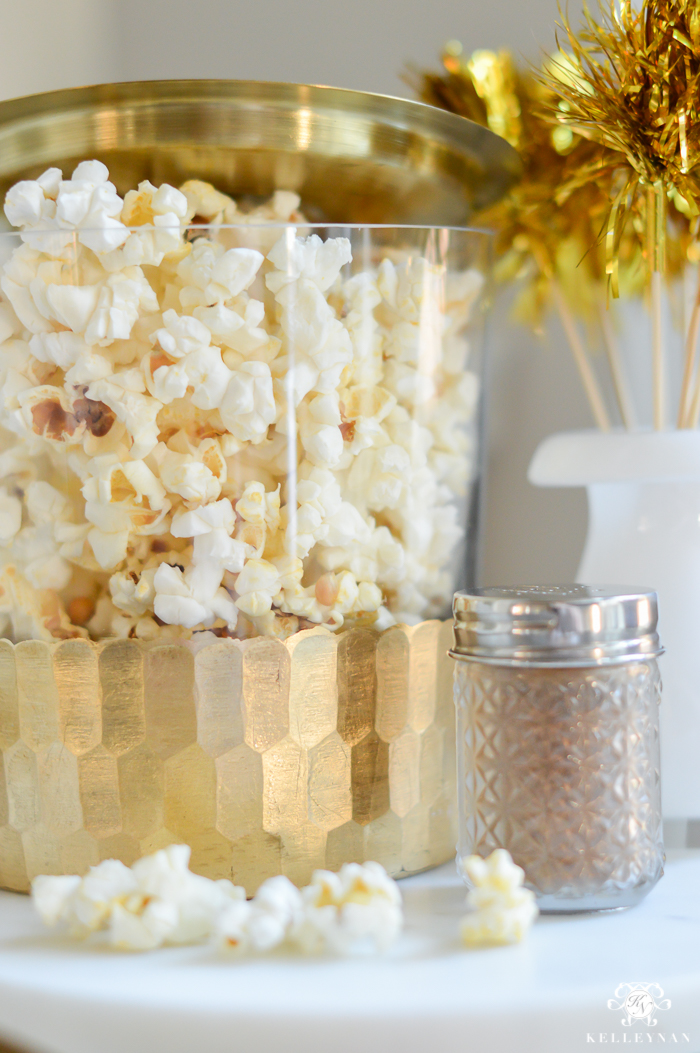 I have used these popcorn boxes several times but for this occasion, decided to paint them gold.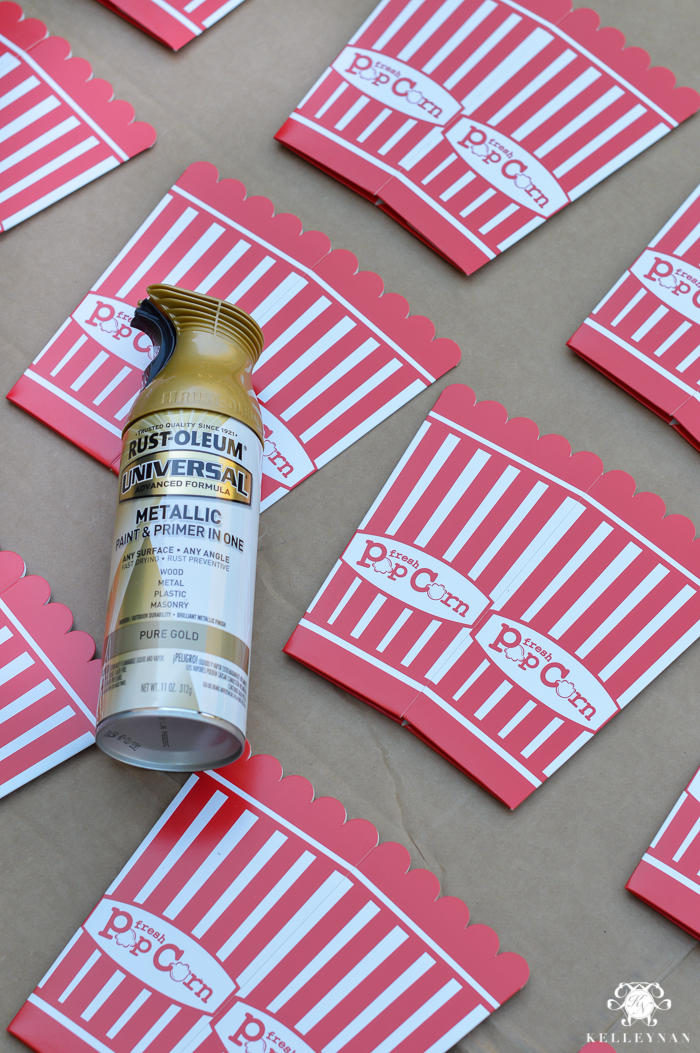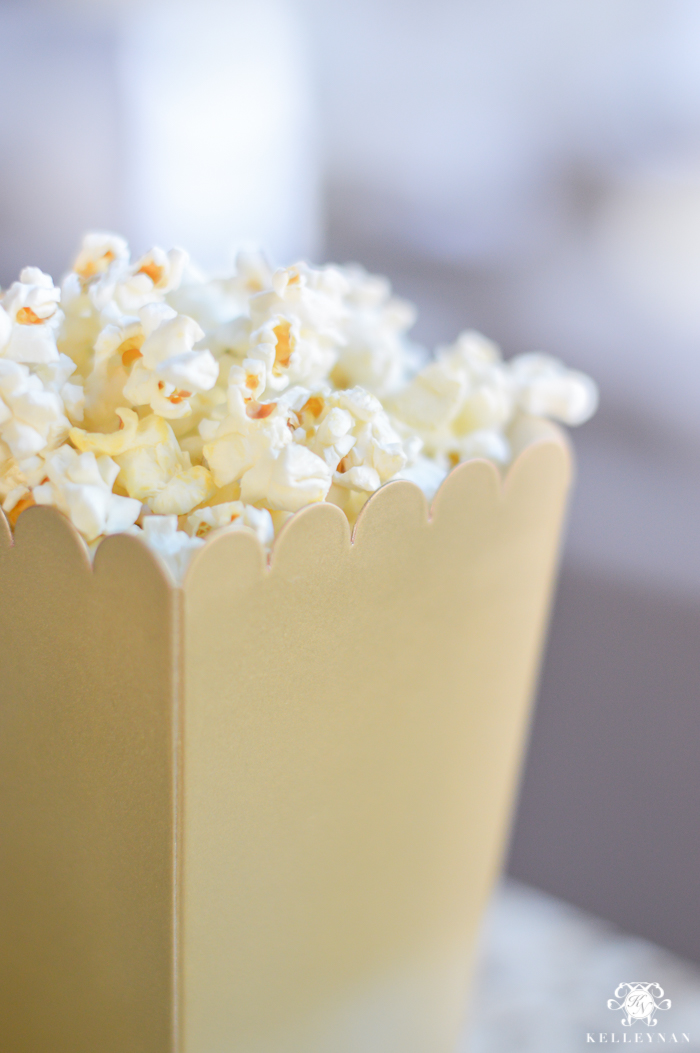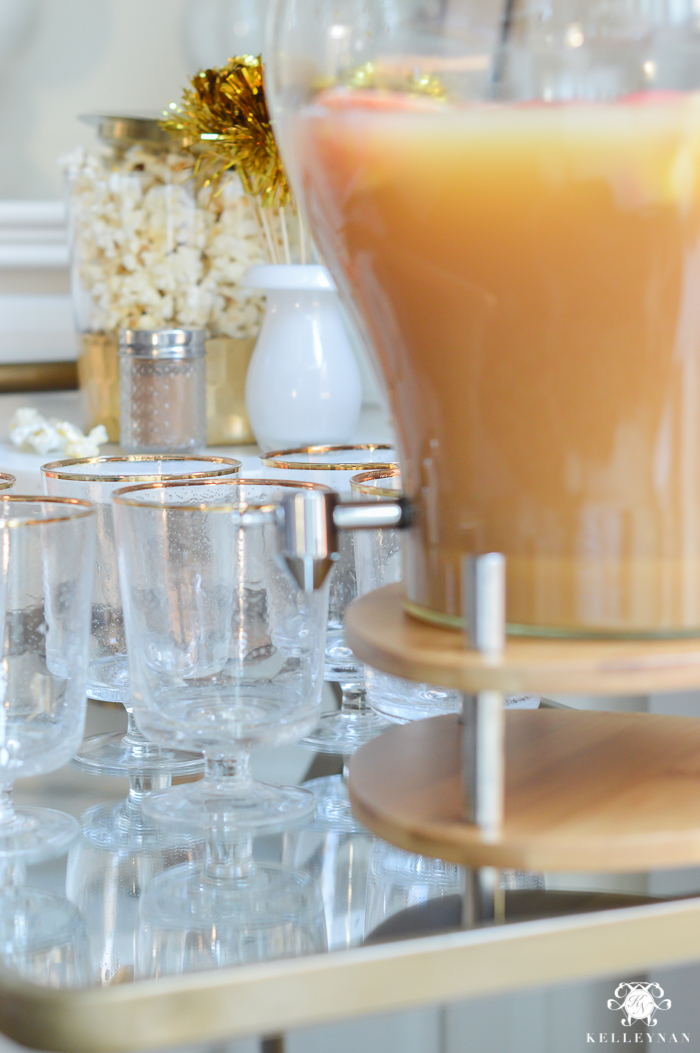 If you have been coveting some linen napkins, THESE are currently on sale and are one of the best deals I have seen.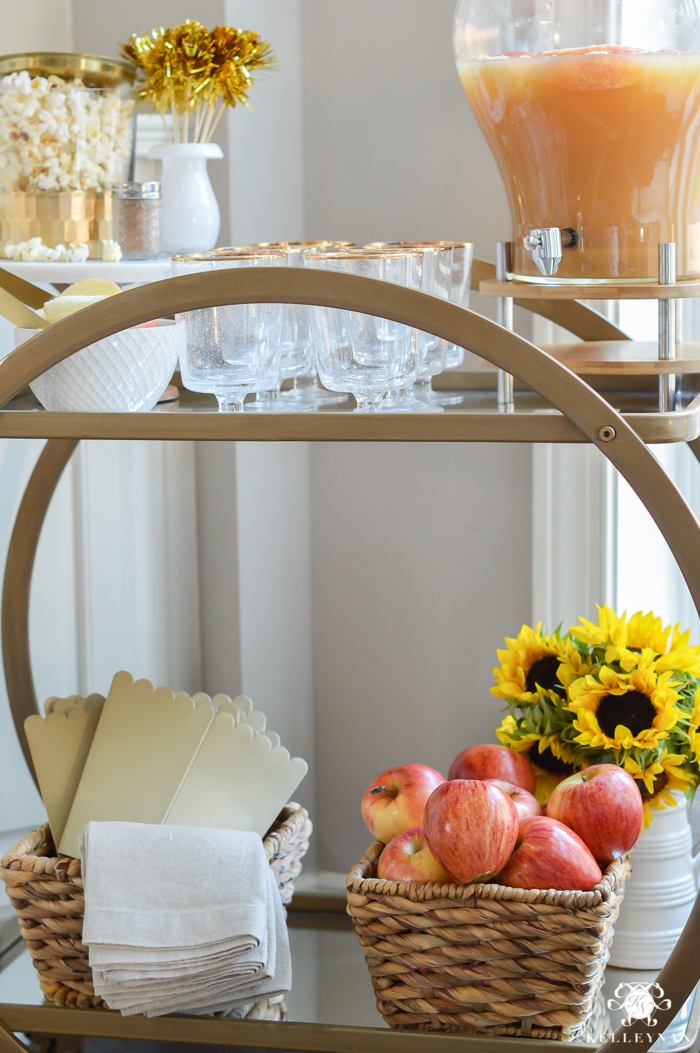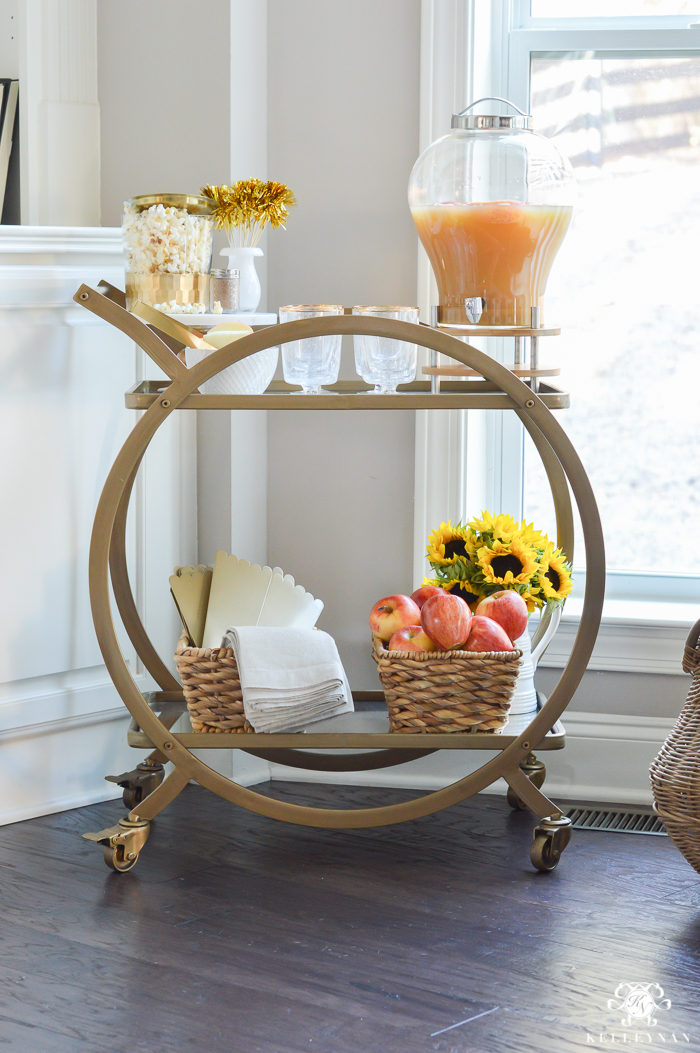 I love getting feedback, especially from those who recently made my chicken tortilla soup recipe HERE. If you put together a batch of cider, let me know about it! Wishing you all a safe and happy Halloween!
*post contains affiliate links*