This past weekend, after all the fall home tour craziness had ended, I invited some of my best girlfriends over for a relaxing evening of chili, cocktails, and pajama time. Perfect start to fall, right? Sometimes, you just have to put "all the things" on hold to make the time. While we don't all get together as much as we like, because well… LIFE, when we do, we typically opt for pajamas and something ultra low-key. And, that goes for hosting these special get-togethers, too; I keep it as simple as possible. Read on for my summary of last weekends ladies night, a chili bar, and a fall bar cart.
The night before our relaxing evening in, my new bar cart was delivered. If you remember, I have had a bar cart on my wish list for quite some time and had debated on which one to go with (HERE). While I knew I would use it all over the house, I planned for its permanent home to be in the corner of the dining room. I wanted something with a rectangular surface but thought with its placement, something round may fit better. When I saw the Asher Bar Cart in-store, in person, I fell in love. It seemed to be the best of both worlds- rectangular for maximum surface space with a circular body detail to make it look natural in the corner.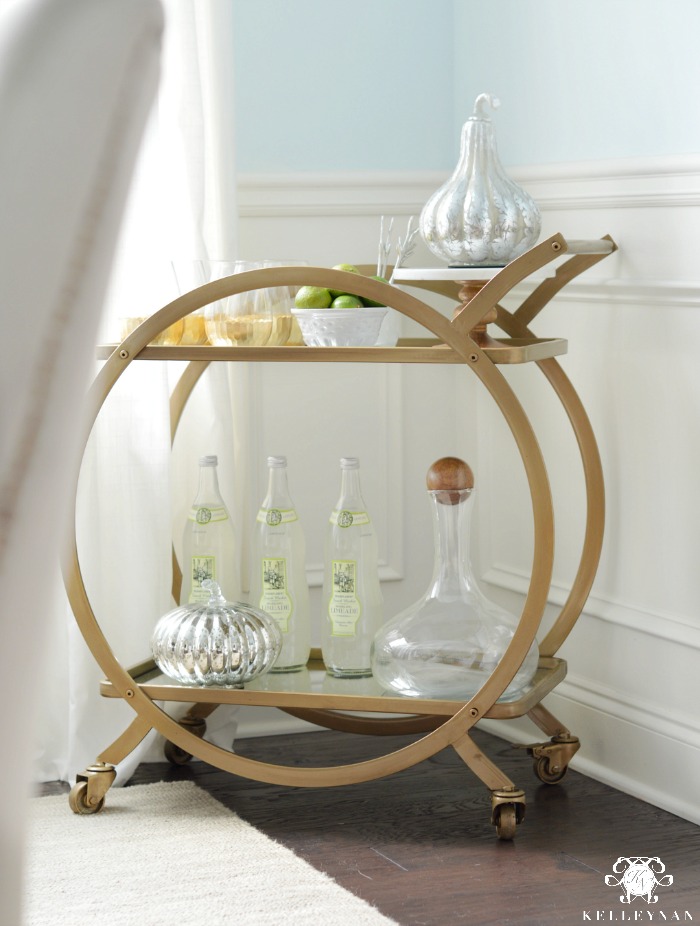 My husband was out of town when it showed up at my door, and even though I was trying to conquer the world that night (ok, at least it felt like it), I put everything on pause to get this golden girl assembled. I wheeled her around and stared for a while before loading her up with some seasonal touches and goodies for the following night.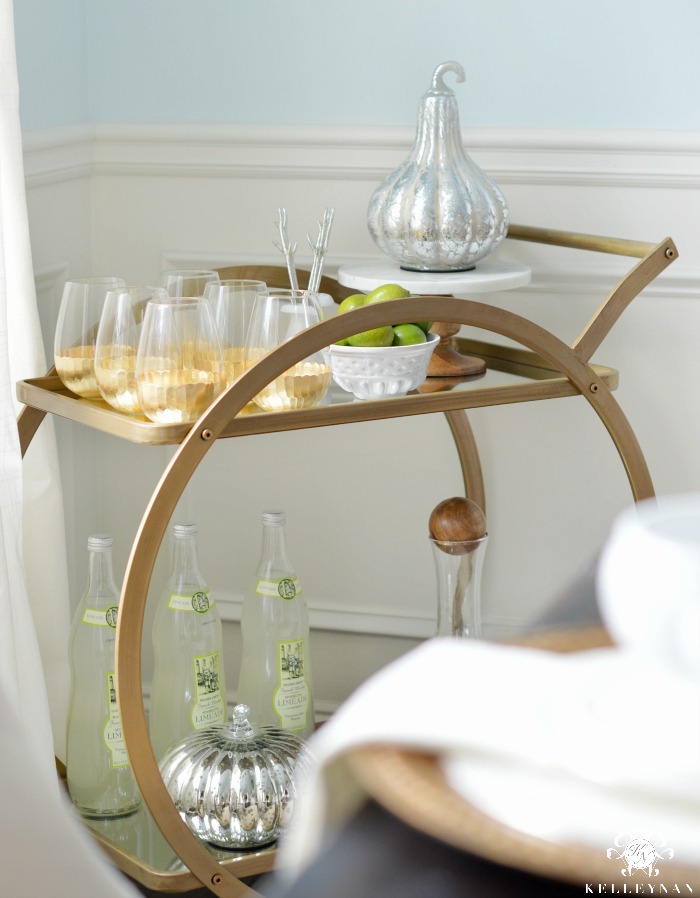 Ok, so I will share a slightly tacky moment of truth. I actually set up a separate beverage station in the kitchen because "she" was less than a day old and I wanted to preserve her "new-ness" just a little while longer. Kind of like a new car- you want all your friends to see it, check out all the features and tell you how much they love it… but, no way are you letting them take her for a test drive. (Sorry girlfriends *insert sheepish face emoji*)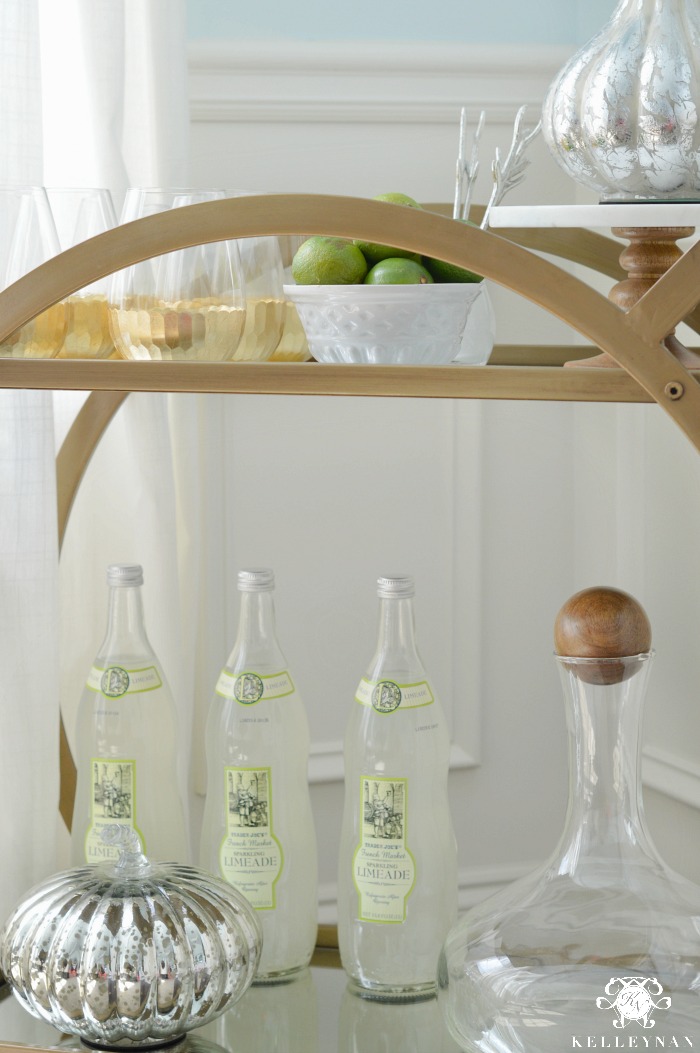 SHOP THE BAR CART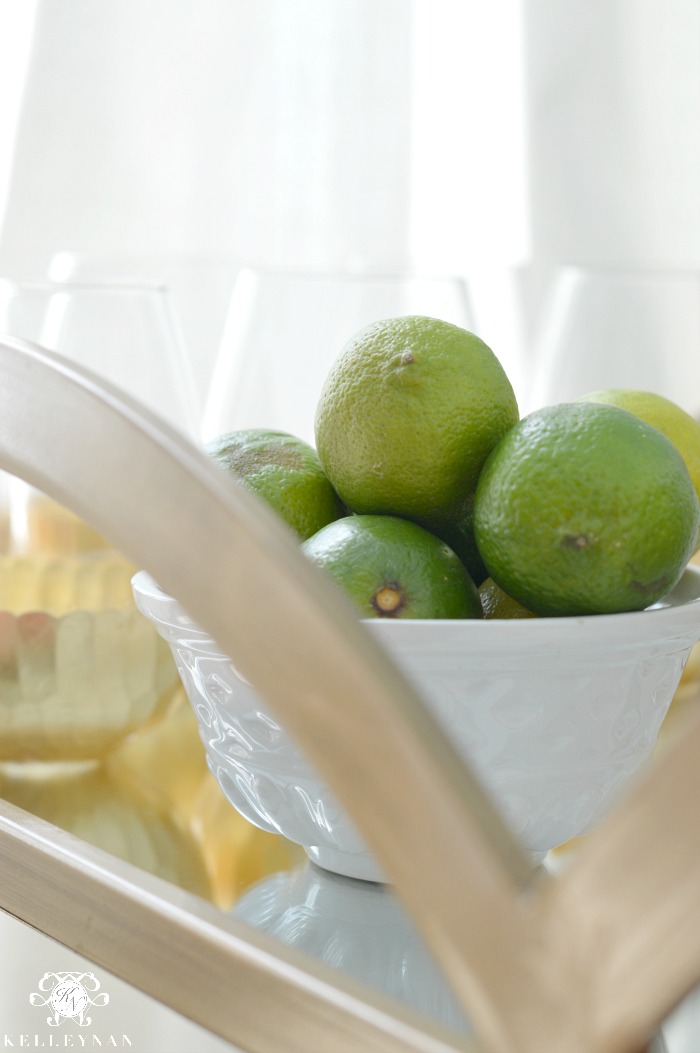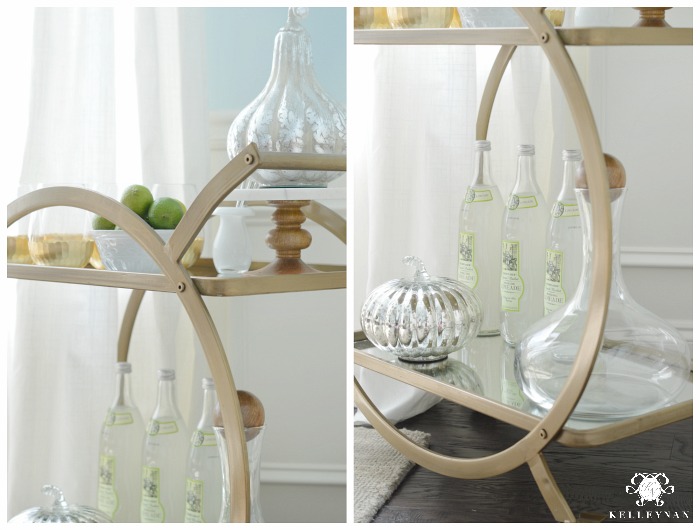 Even though I didn't roll out the cart for actual use (next time, girls! 😉 ), I didn't totally deprive my guests haha. What's an easier appetizer than a small cheese board? It doesn't matter how simple something is if you display it thoughtfully. We tend to congregate in the kitchen in our home so I typically use the island for pre-dinner apps/welcome snacks.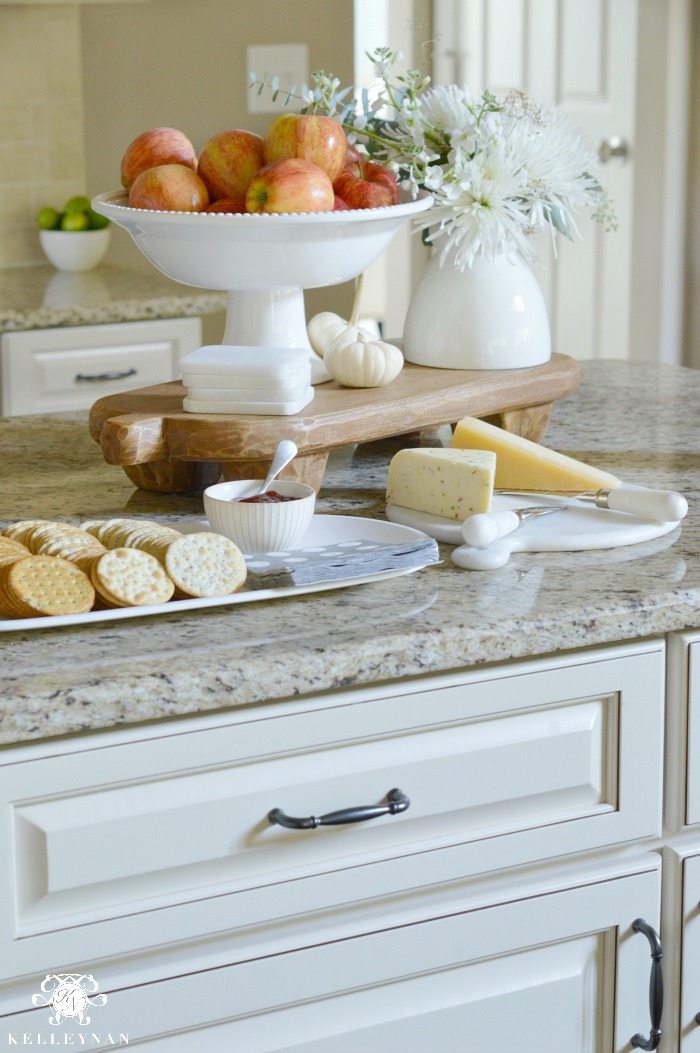 We had a few too many (people, not drinks haha) to play Cards Against Humanity, or my personal fav, Balderdash, but we spent most of the evening lounging on the back porch, catching up and sharing theories on who "got it" from Negan during last season's finale of The Walking Dead. (Anyone else dying for the series premiere next month?!) Speaking of back porches, my friend Haneen of Haneen's Haven just shared her fall porch and it is to die for! You can catch a peek of that HERE.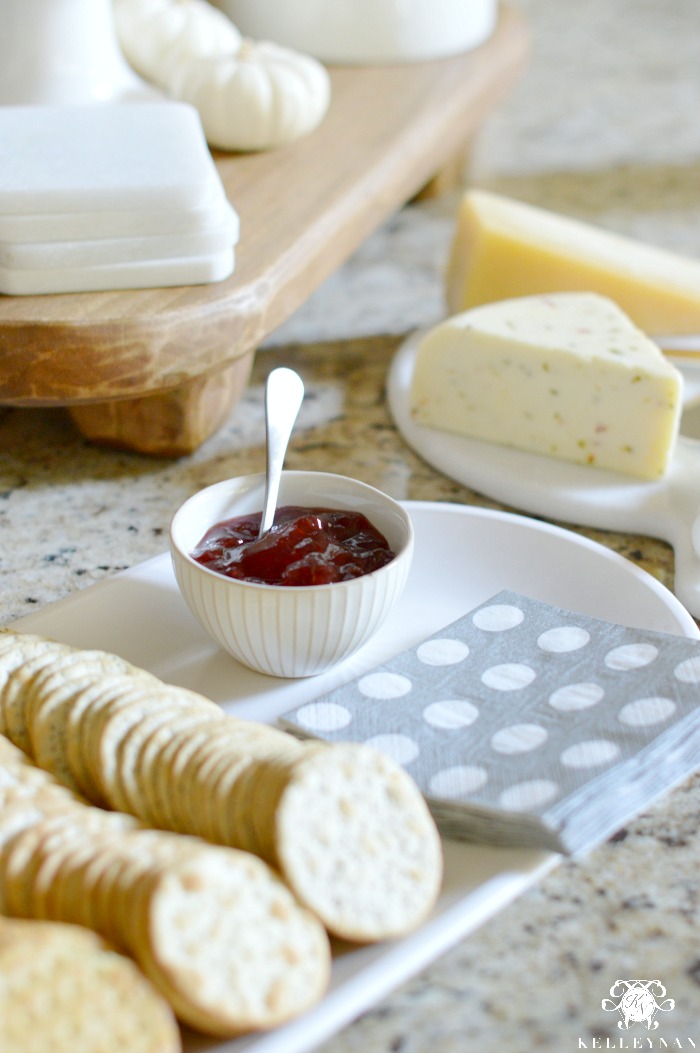 SHOP THE ISLAND

It has become tradition for me to whip up a big 'ol pot of chili for our girls night and I'm certainly not complaining – literally the easiest meal to feed to the masses (if nine 30-something-ish ladies equal "masses" 😉 ). I think maybe because it was one of the first meals my mom taught me how to cook. So, years ago, it was my go-to and since has become tradition. Throw everything together in the pot in the morning and just let it sit all day. More than the chili this year though, my friends were texting me the next day, asking for the recipe I used to make the side of beer bread. I know most of you probably have family go-to chili recipes, but just in case you don't, I'm sharing mine below along with how you can whip up a batch of yummy beer bread with what you likely have on hand. One note about the chili- my husband is from Texas and has his own chili recipe. His version involves three meats and zero beans; neither of us "get" the other's chili 😉 SO, if you are from Texas, you may hate this chili; go ahead and skip to the beer bread haha
I actually doubled the recipe below. My mom always taught me it was better to have too much than not enough 😉 To give you an idea, it fed nine that night (plus some who went back for seconds), fed me for three dinners after the fact, plus a taco salad for lunch, and I was still able to freeze about a third of it for a later date.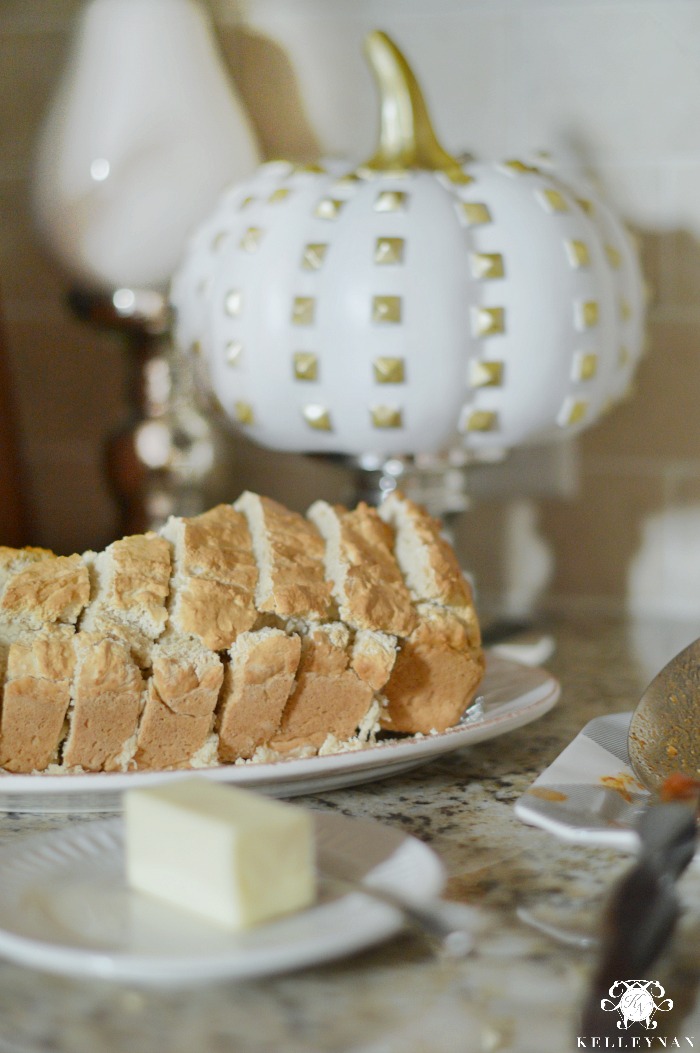 CHILI
Ingredients
3 lbs. ground beef (I prefer 93% lean)
2 onions- chopped
1 large can petite chopped tomatoes
1 small can petite chopped tomatoes
4 cans chili beans- drained
3 Tbsp. chili powder
1 ½ Tbsp. garlic salt
Instructions
Brown ground beef and onions in large pot until ground beet is no longer pink. Drain grease in discard-able container. Add tomatoes (do not drain), beans, (drained), and spices. Simmer approximately 1 hour on very low heat. Serve with *toppings as desired.
BEER BREAD
Ingredients
3 cups self-rising flour OR 3 cups plan flour with 4 ½ tsp. baking powder and 1 ½ tsp. salt
1 12oz. beer at room temperature
3 heaping tsp. sugar
Instructions
Preheat over to 375°. Grease loaf pan. In a bowl, combine flour, beer, and sugar. Stir mixture until smooth and add a splash of water. Spoon batter into greased pan and bake for 1 hour.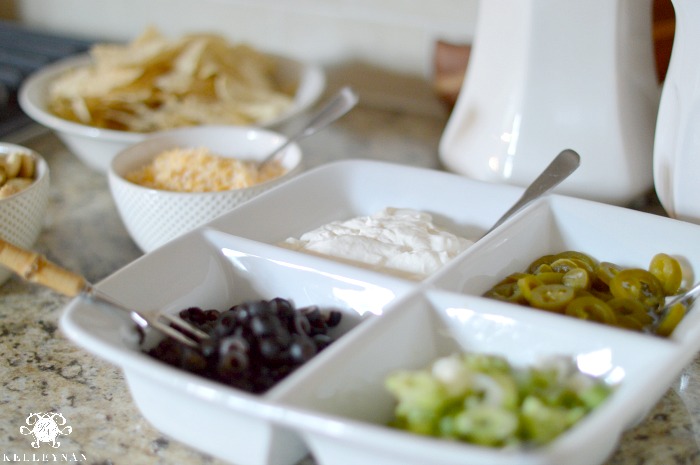 More than the chili itself, what I love about serving chili to guests is the way you can serve it – bar-style with a mini buffet of accompaniments. My typical offerings include:
Sour cream
Cheese
Crackers
Tortilla chips
Black olives
Green onion
Jalapenos
Variety of hot sauces
I like my chili loaded 😉 Just as I previously shared in my ultimate bloody mary bar and MTO mimosas post, there is just something fun about offering little buffets of options.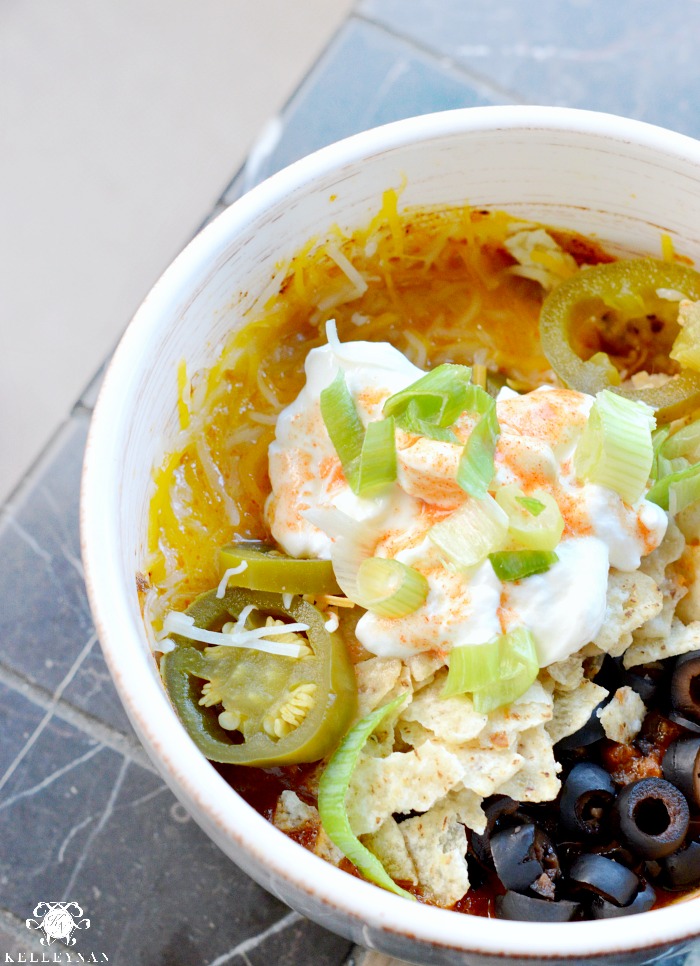 Do you have your own traditions for ladies night? Have any fun plans to commence fall? I would love to hear about them! You can leave me a comment below. Next week, I will be sharing how I whirled through the house, preparing for ladies night, as I do whenever we are expecting company. Wishing you all a wonderful kick-off to fall this weekend- xo
*Post contains affiliate links*