When the first morning after Christmas arrives, I may be in the minority, but I'm ready to take down the reminder that the highly anticipated holiday is over. I'm ready to resume normalcy and as long as the trees, twinkles, and colorful baubles encroach upon our living space, well… it just makes me kind of sad. And, when I eliminate the Christmas decor and bring back out the everyday decor, I'm usually craving a look that's as simple as possible to give my eyes a rest from all the visual stimulation we've been living with throughout the past several months. I want clean, with just a little contrast, to get things looking calm without turning into a sea of beige. Keeping/introducing some house plants also helps maintain life in the space, even though the Christmas trees may be retired for the season.
Neutrals have been hot for years, but as with everything, styles evolve, recycle and reappear. I love a neutral palette, but I've also been incorporating more black moments for some contrast over the past several years — it helps give a little definition and with items that have cleaner lines, won't look too heavy. Today, in anticipation of resuming normalcy and looking ahead to how we'll adjust our home styles post-holiday, I'm sharing a few affordable black and white accents that will help bring a clean contrast to our living spaces.
*Posts on KelleyNan.com may contain affiliate links. While this post is created in partnership Walmart, all opinions, concept, and creative are my own. Click HERE for full disclosure.*
Black & White Decorative Accents
Post-holiday is the perfect time to freshen your regular decor because a lot of the work of clearing things out is already done for you. Instead of just adding items in and being indecisive about what to edit out, you have a fresh/fresher(er) starting point to evolve your surroundings. Instead of just bringing everything back out that was there before, it's a great opportunity to refine your look and home vibe while your surroundings are in a more naked state. Black and white — especially with more modern, clean lines — helps punctuate a crisp, simple aesthetic that feels new and different from the holiday high, but is minimal enough to help you feel like you're reclaiming that space — both visual and physical — you had lost in the prior months. I love mixing old with new, trends with tradition, and higher end items with more affordable, and I found a ton of pretty, clean and contrasting pieces at Walmart. The "clean and contrast" intent is less clutter and more breathability… so if you're approaching the next new season and year hoping to achieve that, don't feel like that means you have to purchase all the black and white. But, when used occasionally and coupled with what you already have, a piece here and there can definitely help define those home moments. Below are a few favorite affordable accents available right now — links for each can be found at the bottom of the graphic below.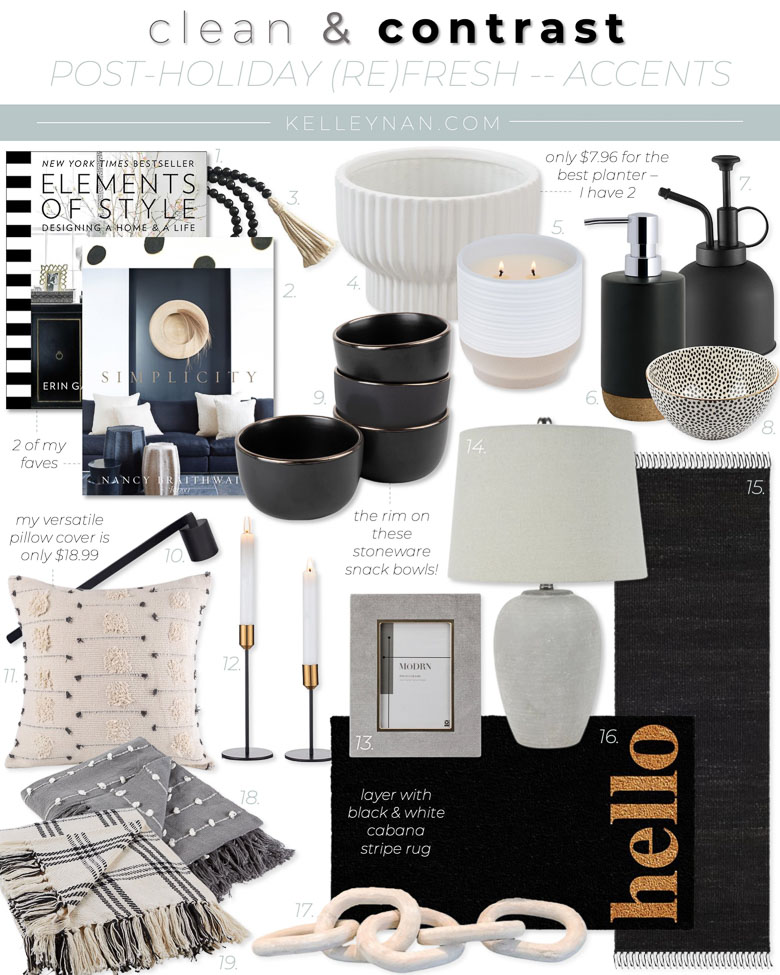 Sources: 1. Elements of Style Coffee Table Book | 2. Simplicity Coffee Table Book | 3. Wood Bead Garland | 4. Round Ceramic Planter | 5. Two-Wick Candle | 6. Ceramic and Cork Lotion Pump | 7. Plant Mister | 8. Stoneware Bowls (set of 4) | 9. Black Stoneware Snack Bowls (set of 4) | 10. Candle Snuffer | 11. Woven Tufted Pillow Cover | 12. Candle Holders (set of 2) | 13. Velvet and Metal Photo Frame | 14. Unglazed Urn Lamp | 15. Black Jute Runner | 16. Doormat | 17. Hand Carved Wood Chain | 18. Tufted Throw | 19. Plaid Throw
Scroll & Tap to Shop

Elements of Style and Simplicity are two of my favorite long-time coffee table books that also have pretty spines and are easy to style with. They're perfect to mix in with other favorites or stand alone well on their own — on coffee tables, shelves, but also can be used for boosting a short side table lamp.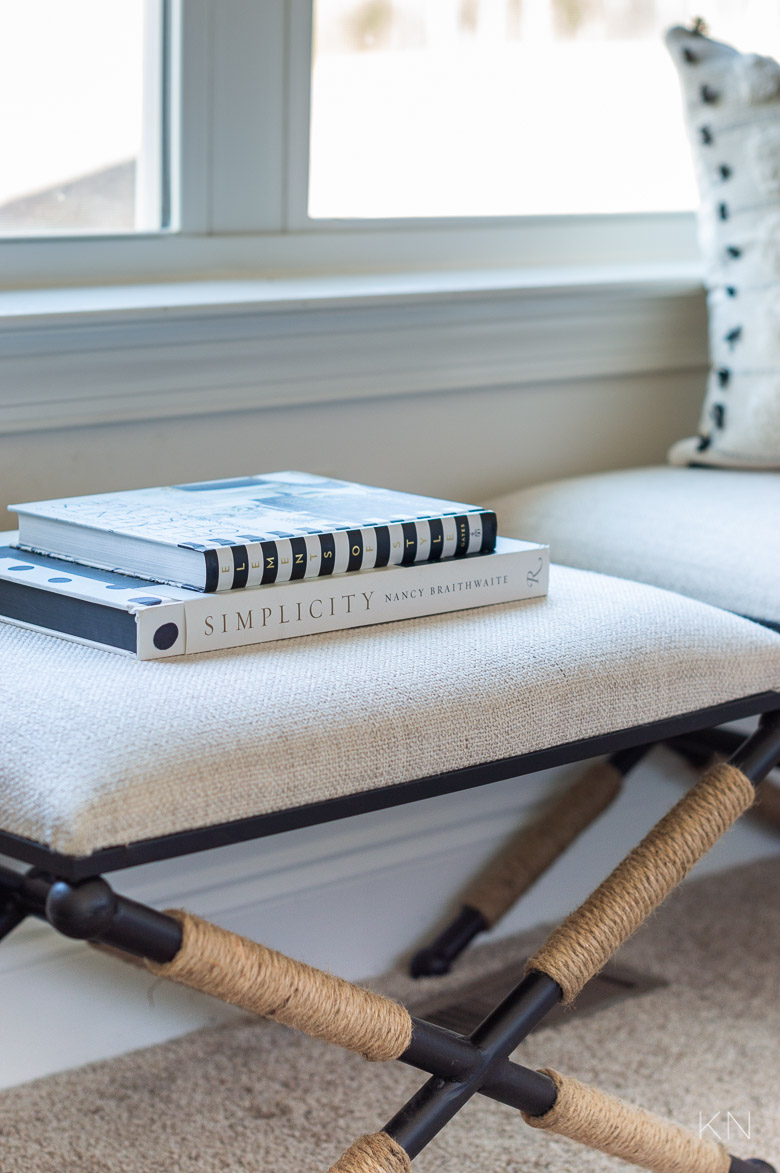 Elements of Style Coffee Table Book | Simplicity Coffee Table Book | Upholstered Rope Ottoman Stool
I love adding bead garlands on top of books and THESE $12.99 black beads (3) with natural twine are different from most I've seen. THIS modern candle snuffer (10) is on sale for just over $11 and makes an awesome book topper — especially set beside a candle — as does THIS oversized white, wood, 17″ chain link (17).
Tassels, textures, and more simple plaids are a great stepping stone to transition from cozy Christmas back into soft winter feels and whether you have one draped out of a basket, folded on a shelf, cinched along the bottom of an ottoman, or tossed on the corner of a sofa, an affordable throw blanket is great for a fresh moment. All of these are available at Walmart and believe it or not, THIS ONE is even on sale right now for just over $12! You can scroll and tap below for the info on each.

I love finding functional items that are pretty and can serve as decor — it eliminates the need for storage and really shows your house as a "working" home. I love THIS plant mister (7) in matte black (it comes in several colors), especially on a shelf or tabletop, situated next to a live plant.
THIS white planter (4) (I have two of them) has been one of the most versatile, most used decorative accents I've used in 2021. I found them at Walmart earlier this year and they're only $7.96 each! Here's how I used it for the Fourth of July, and I've continued to come up with plant vignettes ever since.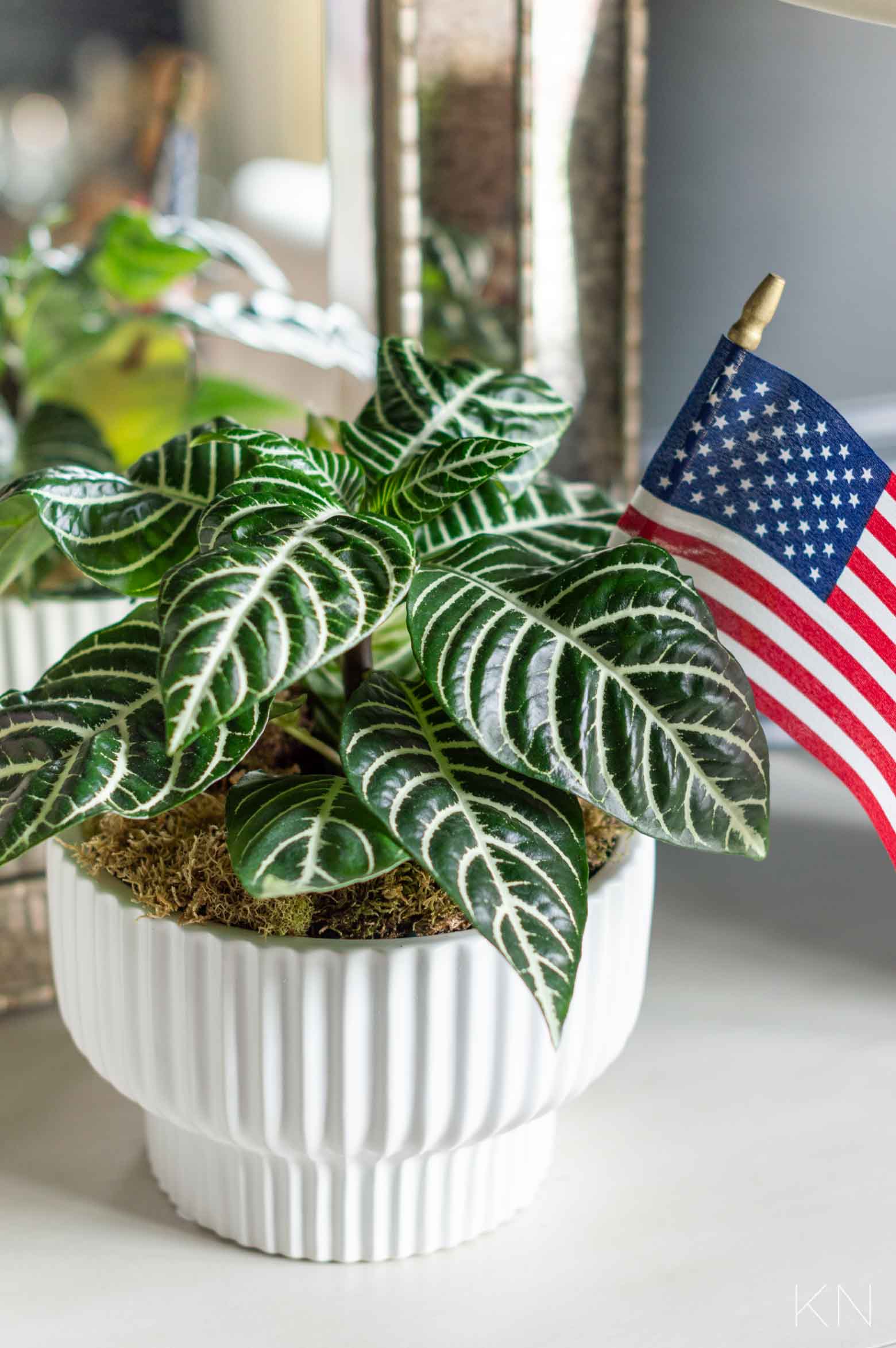 THIS natural and black textured pillow cover (11) was an $18.99 Walmart find — I used a 20″ insert with it and it pairs so well with just about any other pillow pattern or solid because the markings are so different. Simple, but different.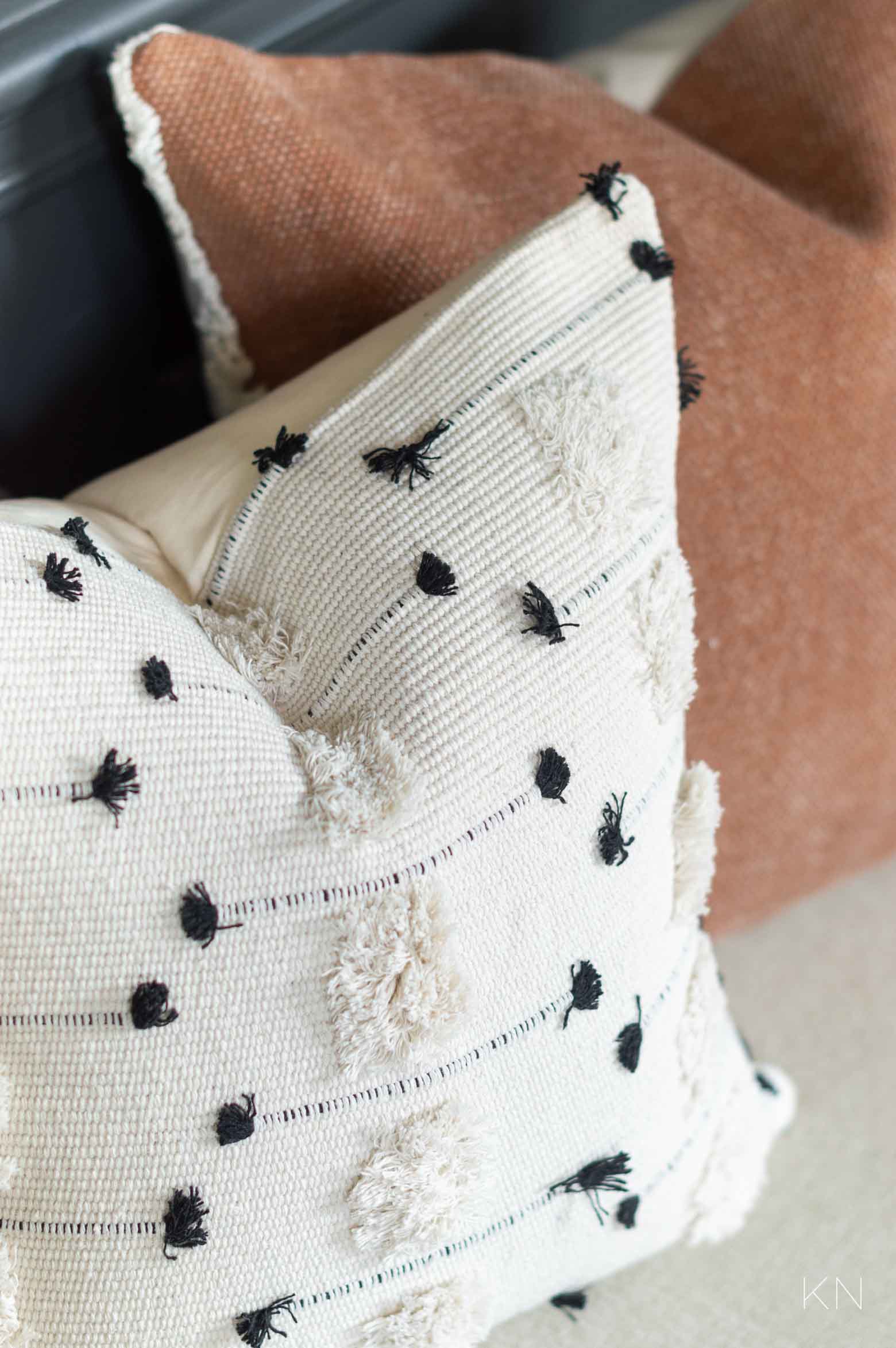 My mom and I are both big fans of THIS black jute rug (15), but I especially love the idea of the runner version (it comes in lots of sizes) for the kitchen! I really appreciate the easy Walmart return policy for items like this that eliminate the risk or uncertainty of how something — like a rug — will work out in the space you have planned.
And speaking of rugs, THIS black and white cabana stripe outdoor rug , paired with THIS adorable, and affordable contrasting welcome mat (16), make for a great new welcome to the New Year. The "HELLO" mat comes in two sizes and several colors, but I love the more original black/natural inverse!
Black & White/Contrasting Furnishings
And if you're looking for a more in depth refresh, beyond a table accent here and there, I've included several black, white, clean and contrasting pieces below. Transitional in style, each of these pretty pieces can help modernize your existing traditional style, or bring a warmth and classic charm to a more contemporary space. Each of these is from Walmart, won't break the bank (and have a great shipping and return policy) with links for each that can be found at the bottom of the graphic below.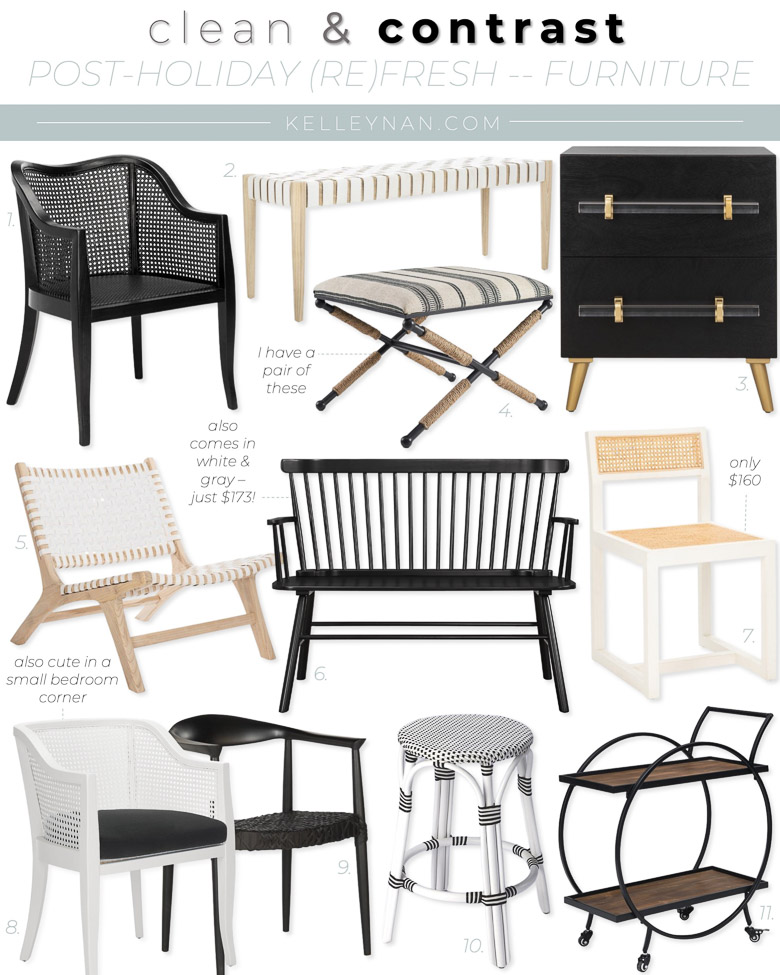 Sources: 1. Black Cane Dining Chair | 2. Leather Weave Bench | 3. Two- Drawer Nightstand | 4. Striped X Stool | 5. Leather Weave Accent Chair | 6. Windsor Style Bench | 7. Cane Dining Chair | 8. White Cane Dining Chair | 9. Woven Arm Chair | 10. Rattan Counter Stool | 11. Bar Cart
Scroll & Tap to Shop

THESE upholstered metal and rope stools are some of my favorite multi-funtional, and multi-room pieces I own.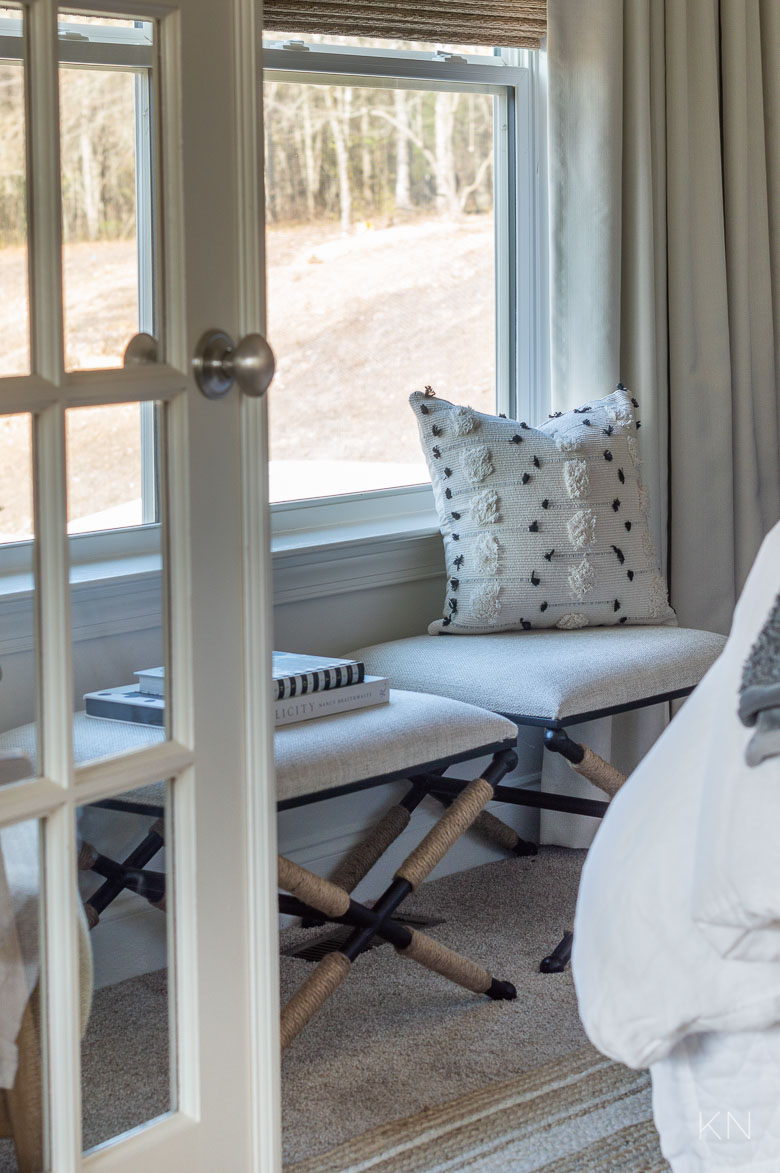 Elements of Style Coffee Table Book | Simplicity Coffee Table Book | Upholstered Rope Ottoman Stool | Textured Pillow

While I have the neutral fabric (HERE), I also found them in different striped patterns! Mine are currently under $130 HERE, but you can head to each directly by tapping the images in the widget below. They're great for the foot of the bed in a pair, or as a side table beside a sofa… honestly, there are just so many spots they can enhance throughout the house.
On my bar cart for the New Year, I left this as a total holiday transition with twinkle lights on the lavender tree (peep my under $8 planter!) and leftover clear Christmas ornaments as champagne bubbles in a beverage tub. I typically keep this cart in the office with Eliza's art supplies, but I love how it looks against my black walls and gives a modern edge to the more traditional elements of my dining room.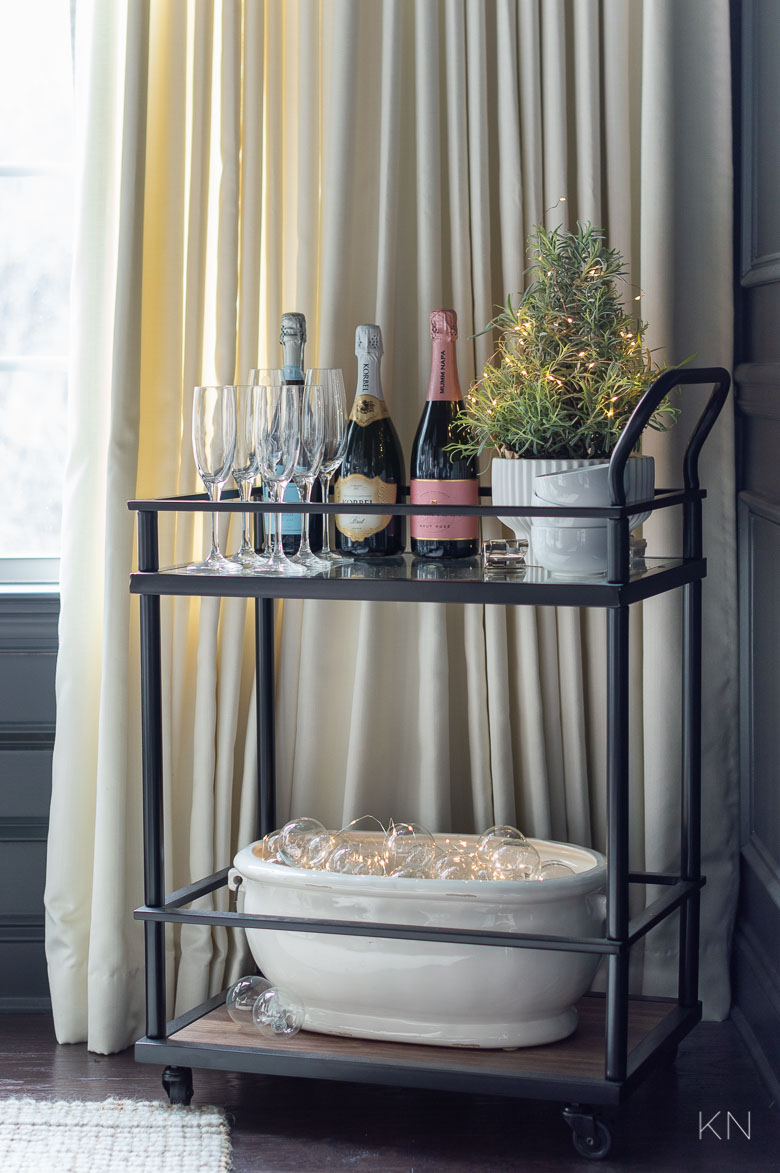 Bar Cart | White Planter | White Bowls 
You can visit THIS post for several other ways I styled this cart, along with 40 bar cart ideas and uses HERE! I'm also a fan of THIS round framed bar cart (11) with metal sides and wood shelving, similar to my gold round-framed cart.
In 2022, I'm going to be in the market for new chairs for the breakfast nook and while I haven't decided exactly what I want, I'm leaning towards contrasting with black and love the look of each of these…

Do you take your time letting go of Christmas or do you prefer to rip the post-holiday bandaid off? We've still got lots of fun things to look forward to this week so we're still relishing in the twinkly house glow, but we always try to look ahead, just a little bit over here 😉 and I've already been considering my plan for clean up. I like to start January 1 as a total fresh start so that's the deadline I'm giving myself to at least have the holiday decor broken down, to try to move forward with a clean(ish) house and a fresh(er) mind 😉
I hope you all enjoy your week and are able to spend time with those you love most.
**Find tons of holiday deals from Walmart Home HERE.
SHOP THE POST