I've used bar carts in more than a handful of ways throughout the years but today, I'm bringing several of those together to share 40 bar cart ideas! Yes, 40. From a permanent (but versatile and transitional) everyday furnishing around your house to ways to style and incorporate them into events/gatherings, in today's post, you'll find everything from pretty to practical and a melding of both. Along with tons of bar cart ideas, I've also included 16 affordable, pretty bar carts. You'll find gold bar carts, round bar carts, utility style bar carts, modern bar carts, acrylic bar carts, under $50 bar carts… all kinds of bar carts below!
*Posts on KelleyNan.com may contain affiliate links. While this post is created in partnership Walmart, all opinions, concept, and creative are my own. Click HERE for full disclosure.*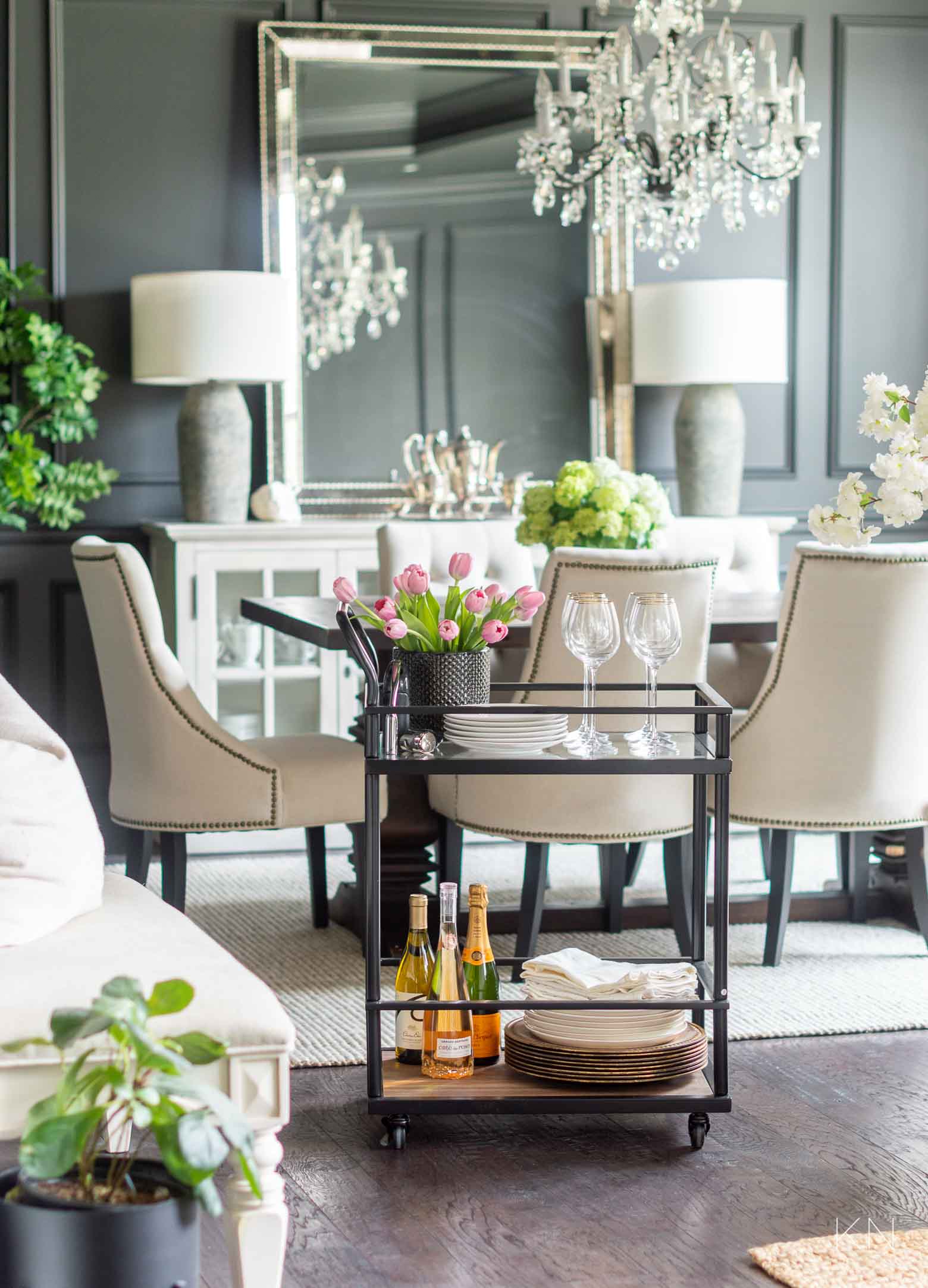 Source: Bar Cart
16 Affordable Bar Carts
Below, I've sourced 16 bar carts that are perfect for a variety of uses. You'll find narrow and wide, round and rectangular, gold and black, utilitarian and glam. The beautiful thing about these versatile pieces is that they are true chameleons and can adapt to so many different rooms and purposes. They're among the most (multi)functional pieces I have in my own home and while I consider a few spots "home base" (dining room, office, etc.), it's pretty typical for them to make their way all over. All of the following bar carts ship free from Walmart (all Walmart orders of $35+ ship free, but I've been using the heck out my Walmart+ membership that has fast, free shipping with no order minimums on tons of items.) The link for each bar cart can be found below the following graphic!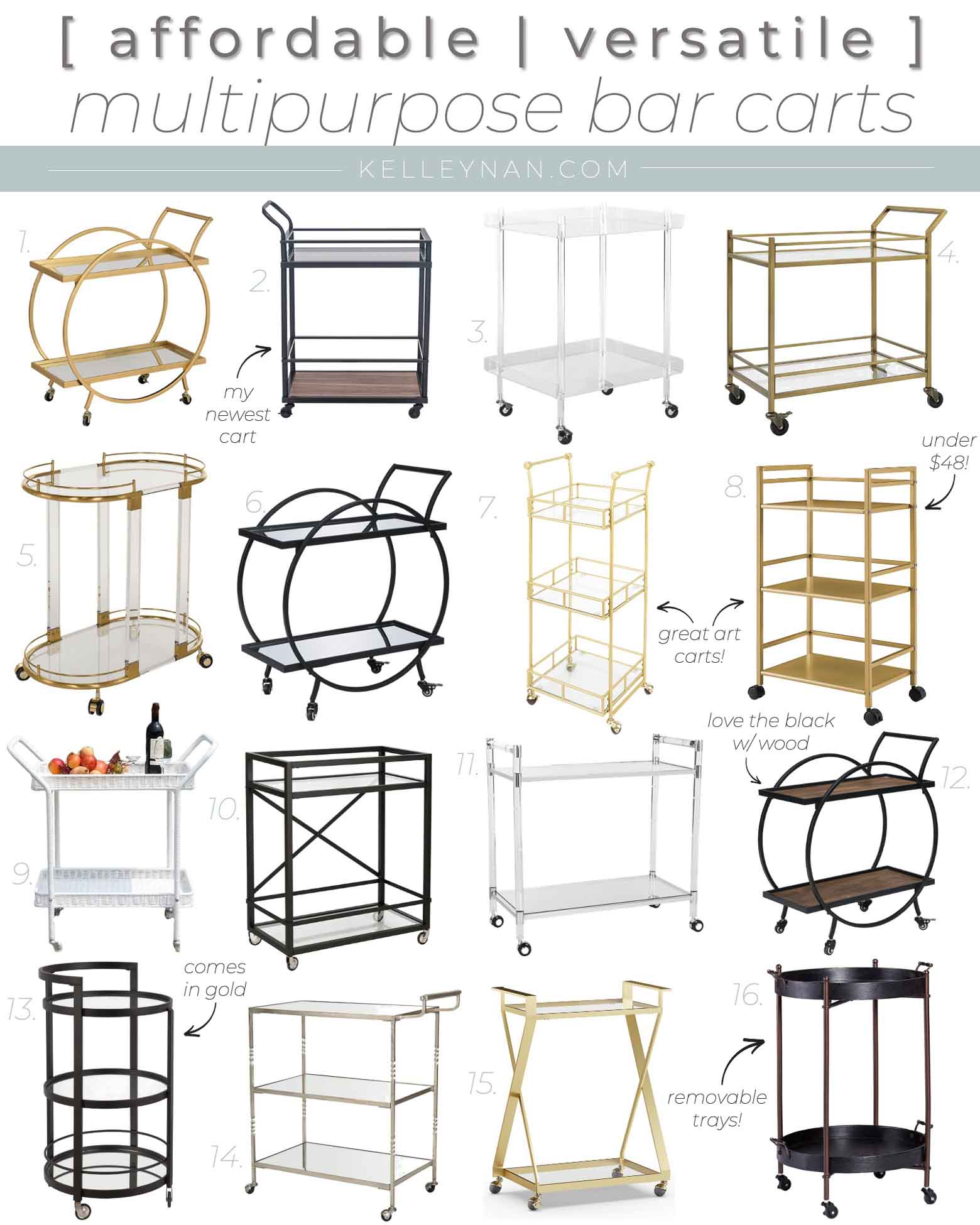 Sources: 1 | 2 | 3 | 4 | 5 | 6 | 7 | 8 | 9 | 10 | 11 | 12 | 13 | 14 | 15 | 16
My latest bar cart (Number 2) is so sleek and I love the black finish with wood on the bottom shelf and a mirrored surface as the top shelf. I will likely house this in my dining room as a permanent fixture and move my current gold cart upstairs to my office. It arrived incredibly quickly from Walmart and Dave put it together in minimal time and reported back how simple it was. While all ship free, if you do have the Walmart+ membership, many of the carts are eligible for 1-2 day shipping.
Number 1 is practically identical to my gold bar cart I've had and used for years. I'm still not tired of it and it's current price is under $136 (and of course, ships free!) It actually comes in six available finishes but along with the gold version, I love the black and mirrored version (Number 6) and the black and wood version (Number 12)!
If you're thinking of a bar cart that's versatile but will primarily spend its time in a more utilitarian capacity, Number 8 is currently under $48 (plus, it ships free)!
Number 10 also comes in a gold bar cart version but I think the black finish can go with just about any style — it's sleek enough for a more modern space, could totally be a statement in a farmhouse, and is traditional in nature — it can be dressed up or down.
I love the clean, simple aesthetic of Number 3 and along with a bar cart, think it would be awesome for office/play/craft storage. You could get it for your kids's room, but wheel it out for a bridal shower you're hosting and it would be so chic! Acrylic is so easy to mix in with other furniture finishes. It's also under $175 (and ships free) HERE.
Number 16 is so smart — the "shelves" of the cart are actually removable trays. So, this multipurpose piece just got even more versatile! This is a hostess's dream and an all-in-one entertaining smart center. It's also only $101 for the full unit!
While I highlighted only a few affordable favorites, Walmart has a TON on their site. You can find them all and browse HERE.
So, once you have a bar cart(s), how are you going to use it?
Ways to Use Bar Cart Around the House
Last year taught us all a lot about nesting and living well within our home. Versatile pieces that can serve double duty became even more important with the increasing time we spent in our houses and as the world has collectively reemerged in 2021, hosting today has been an important reconnection of people. With tons of uses from parties to furniture, bar carts marry the two beautifully. If you want one for entertaining as it's primary role, bar carts are great, easy pieces to incorporate into regular decor. While it may serve as an entry piece one day, it's simple to transform it into a hostess helper for a gathering the next day. They're mobile and come with wheels and are usually small enough to fit into a corner without looking awkward. Also, styling them isn't difficult. Even if you lined up the entire cart with beverage bottles, it would likely still look amazing!
1. Table-side Dining
The most traditional use (aside from using it exclusively as a mobile bar), I've had a bar cart in our dining room… well… always. I keep it tucked over in the corner of the room and keep some favorite dishes and glasses displayed as a permanent fixture, but it's perfect to set up for the evening when hosting guests (or even dinners with your family.) Whether you want to load it with essentials for the evening or use it as storage for your nightly meals, you can't go wrong with using a bar cart as a table-side dining extension.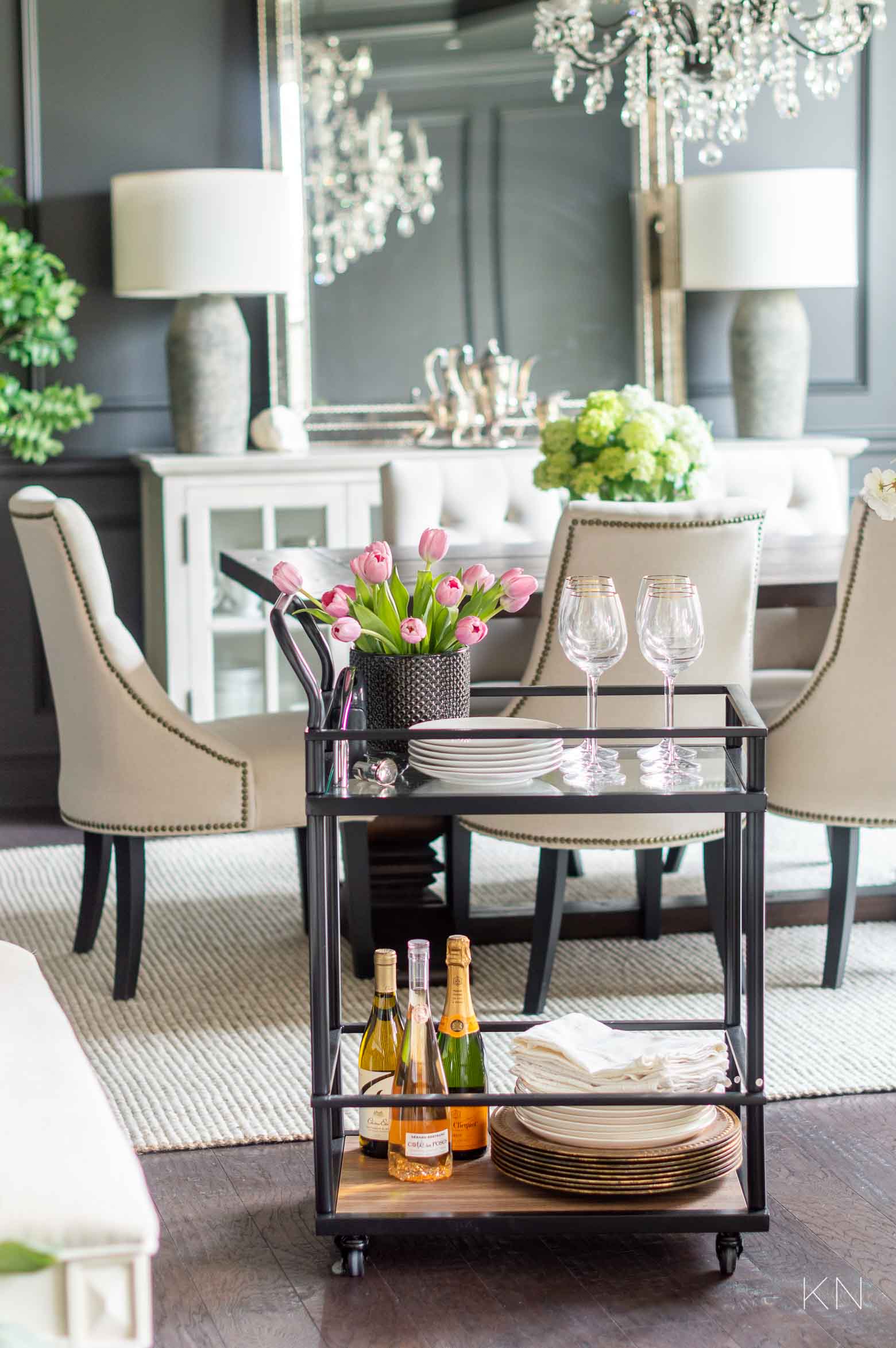 Source: Bar Cart
Keep special beverages stocked at all times, or just the wine you're serving for the evening. There's plenty of space to add an ice bucket, accompaniments, a dessert, etc.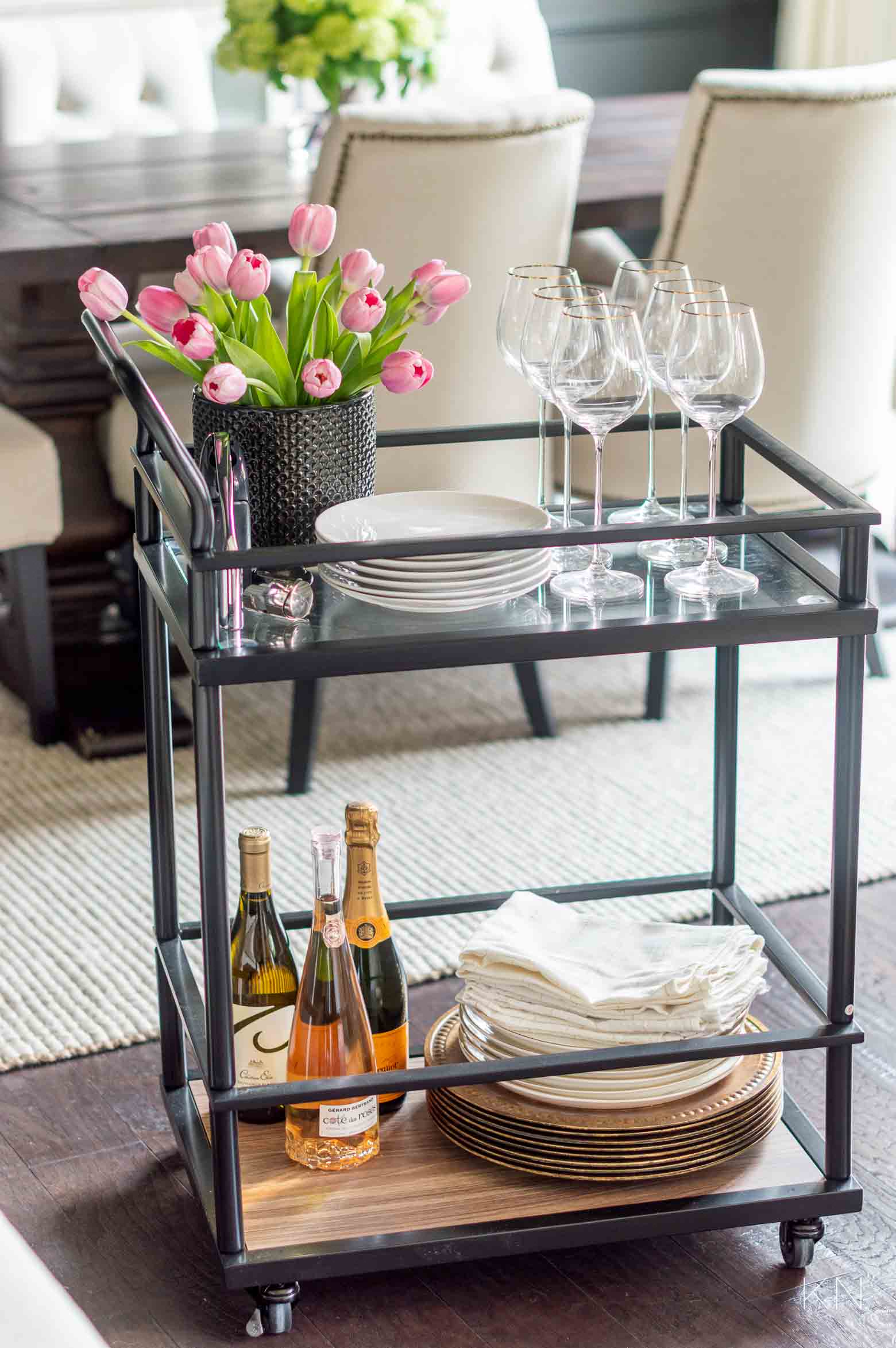 Source: Bar Cart
2. Art/Office Supplies Storage
A bar cart works perfectly for the home office, in a family room, or a playroom with art supplies and organizing easy-access tools and materials. I will actually be keeping a bar cart loaded for this very purpose, in my office, as a solution for Eliza's creative supplies and art she brings home from school.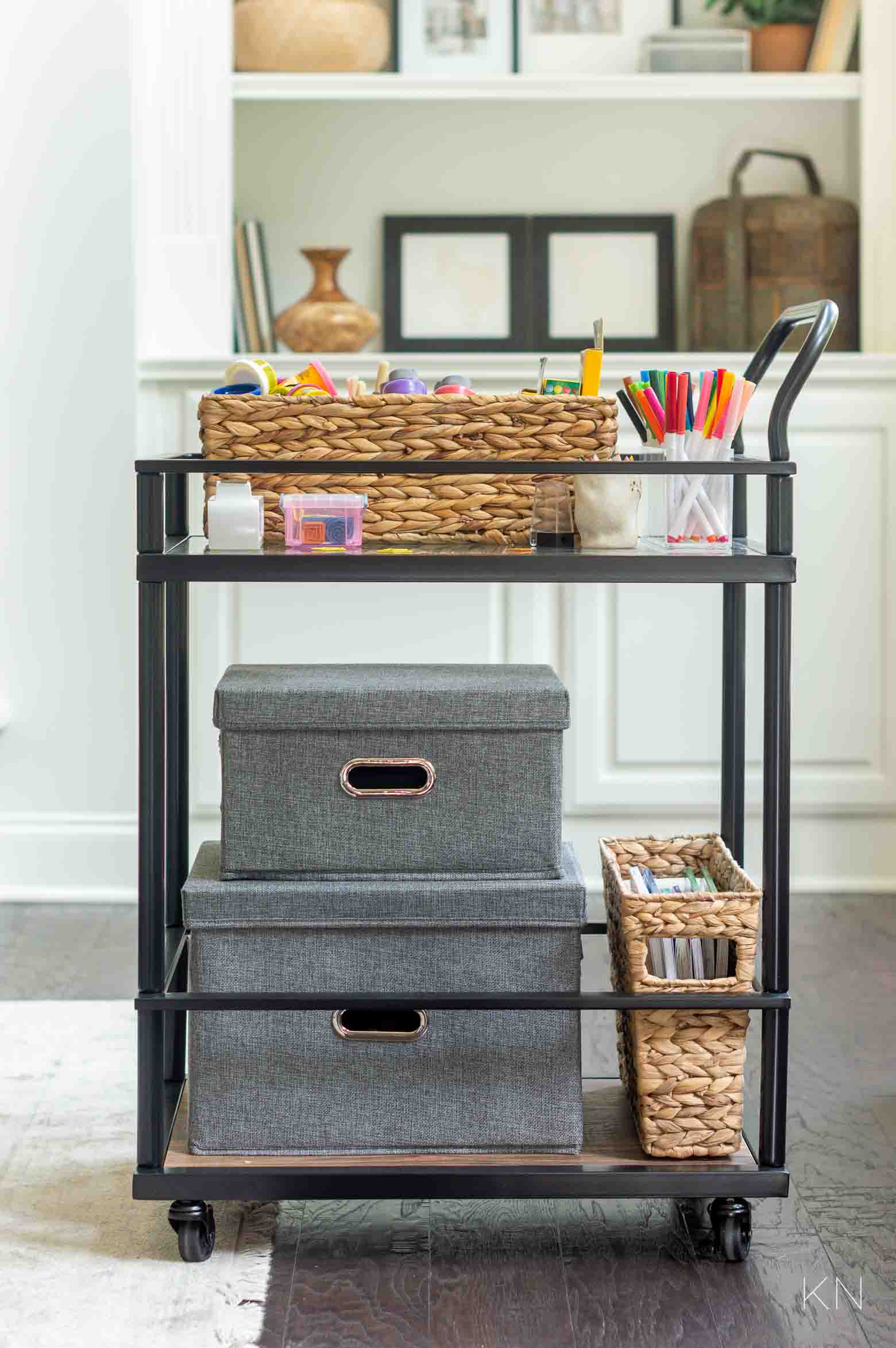 Sources: Bar Cart | Small Linen Storage Bin | Medium Linen Storage Bin | Water Hyacinth Document Bin | Water Hyacinth 3-Compartment Bin | Washable Markers
Plus, it's so easy to wheel around to another room! THIS three-sectioned seagrass basket works perfectly for organizing supplies — it's also currently only $12.97. It would even work well on a desktop with a section for pens/pencils, one for scissors, etc.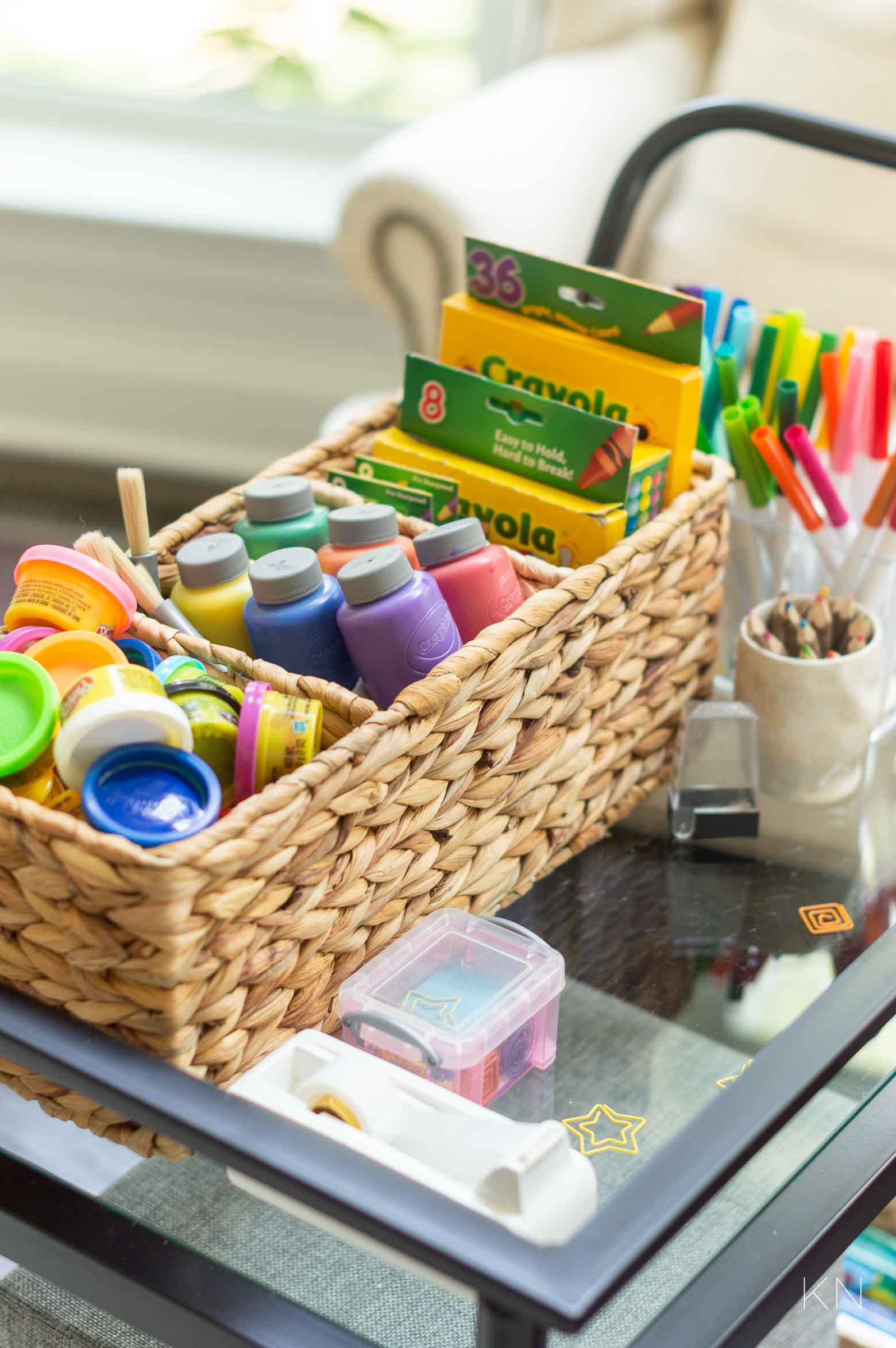 Sources: Water Hyacinth 3-Compartment Bin | Play Doh Assortment | Washable Markers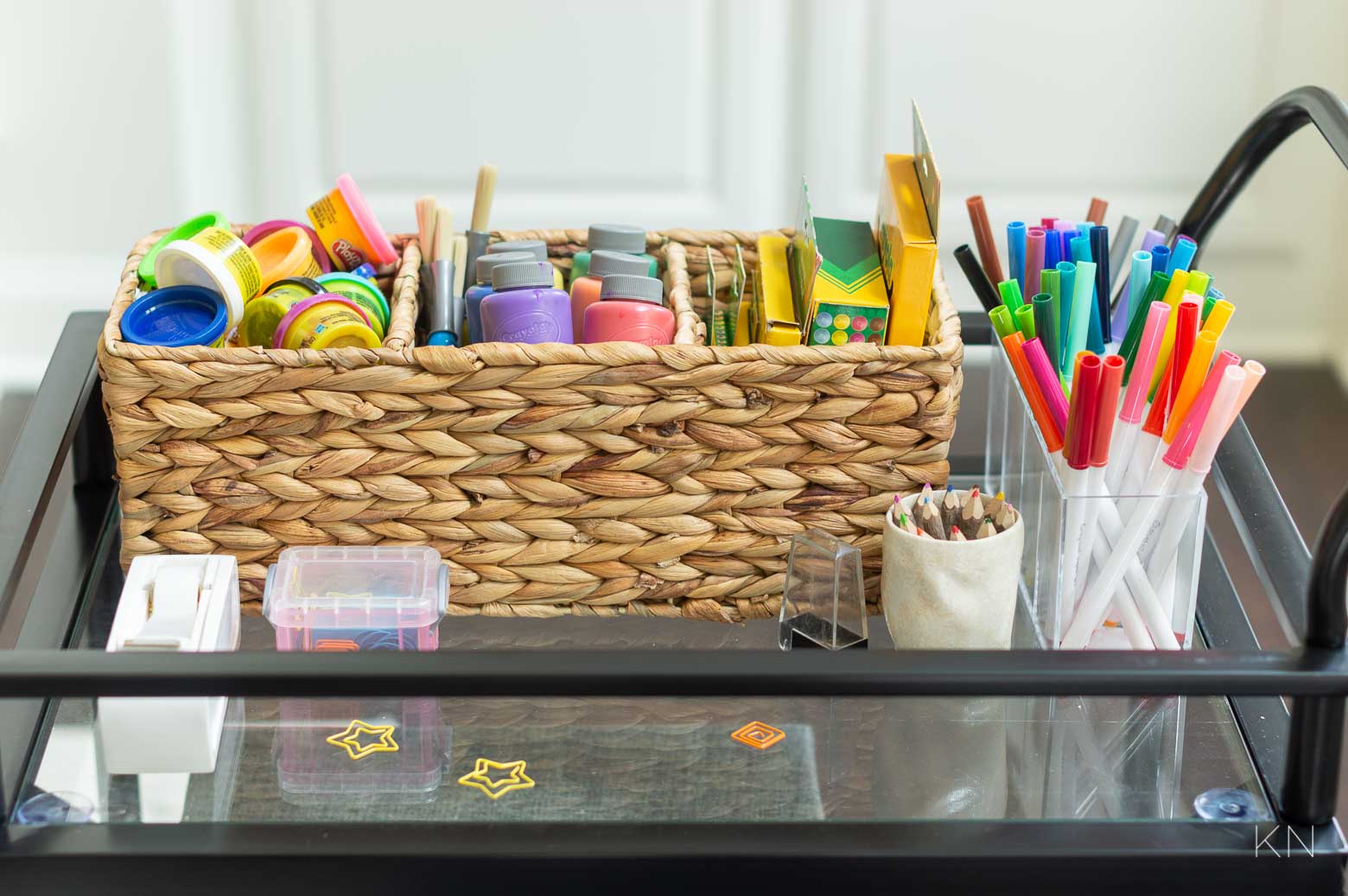 Sources: Water Hyacinth 3-Compartment Bin | Play Doh Assortment | Washable Markers
It's also a great affordable (and non-breakable) option to go as a centerpiece on a kid's activity table to hold all the supplies.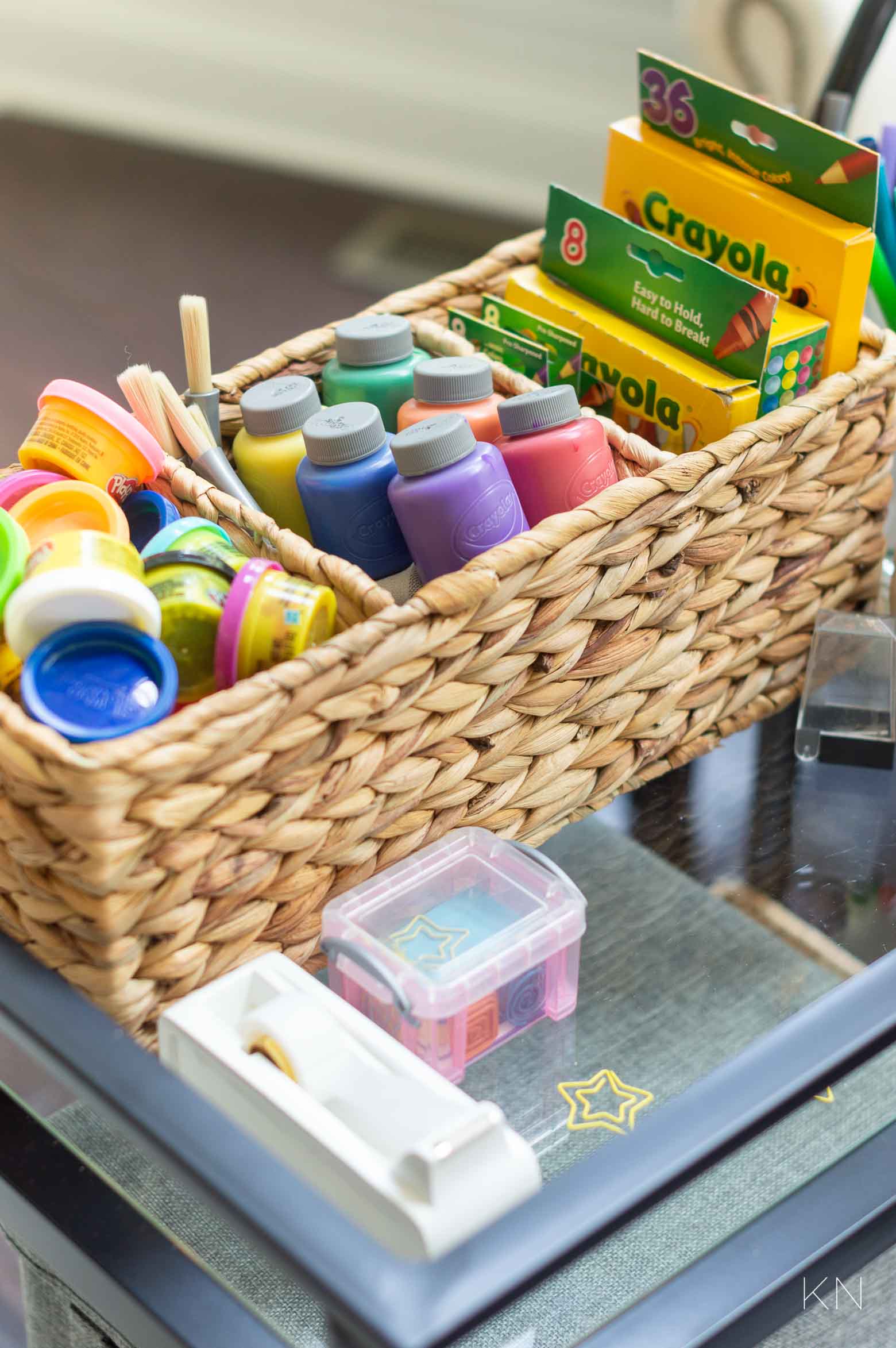 Sources: Water Hyacinth 3-Compartment Bin | Play Doh Assortment | Washable Markers
And coordinating with the seagrass basket on the top shelf, THIS narrow basket/magazine file works perfectly to stash activity and coloring books.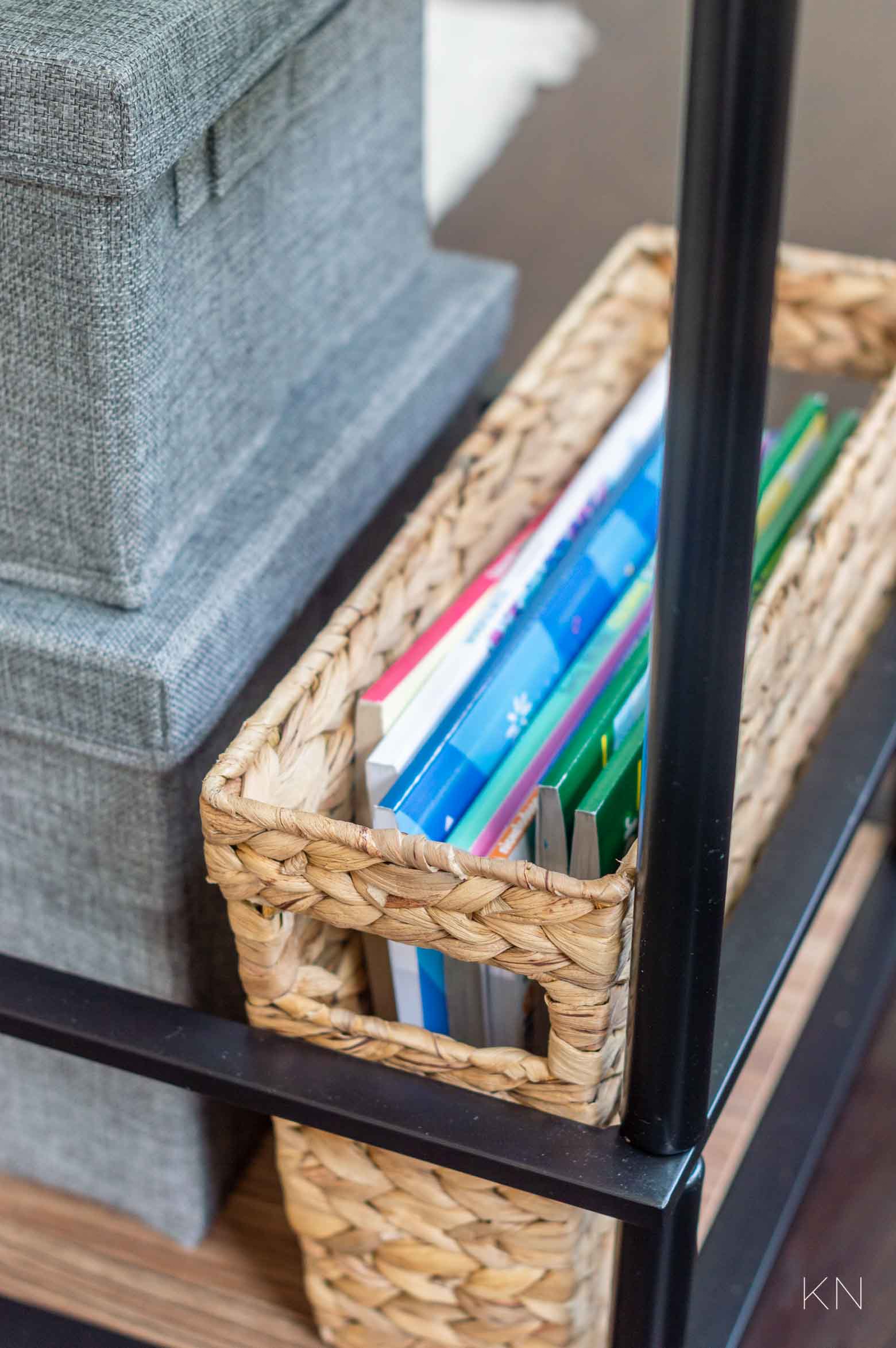 Sources: Small Linen Storage Bin | Medium Linen Storage Bin | Water Hyacinth Narrow Basket | Coloring Books | Bar Cart
But, possibly my favorite component of this art cart solves a major pain point for me — where to put Eliza's "art projects" she brings home from school. Eventually, we'll probably only keep the most special projects or have some sort of photo solution but right now, we're in the stage where I want everything. I just haven't had a place to put them all… so they've continued to mount up in a stack on the edge of my desk for the better part of a year.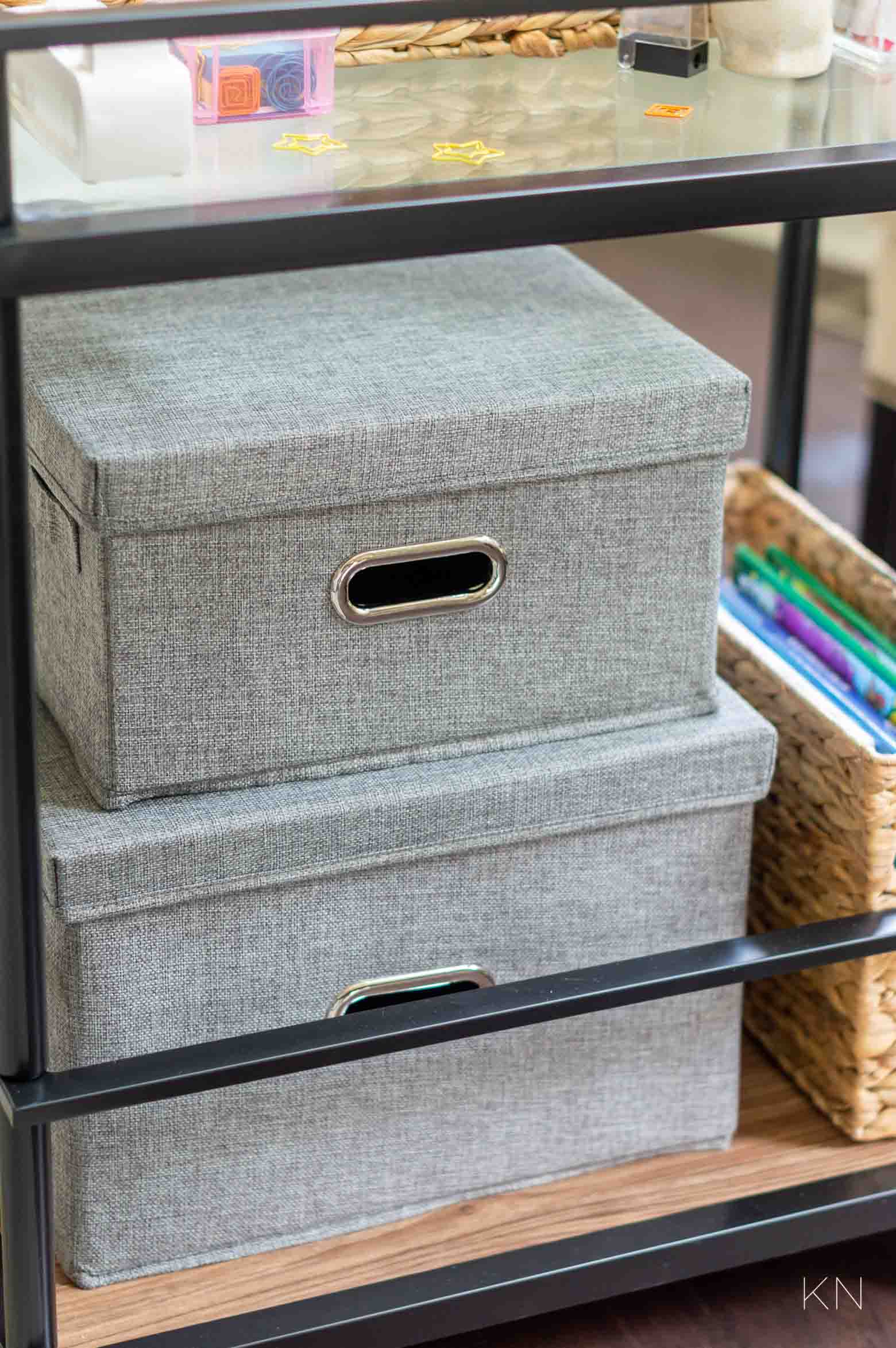 Sources: Small Linen Storage Bin | Medium Linen Storage Bin | Water Hyacinth Narrow Basket | Coloring Books | Bar Cart
These affordable, collapsible fabric bins come in four colors and three sizes — I stacked the small and medium on top of one another. They are great for closets and shelves too, but fit perfectly on this cart. And while the uses for these are endless, it was the perfect solution to house Eliza's things she brings home from school. Easy access and plenty of room!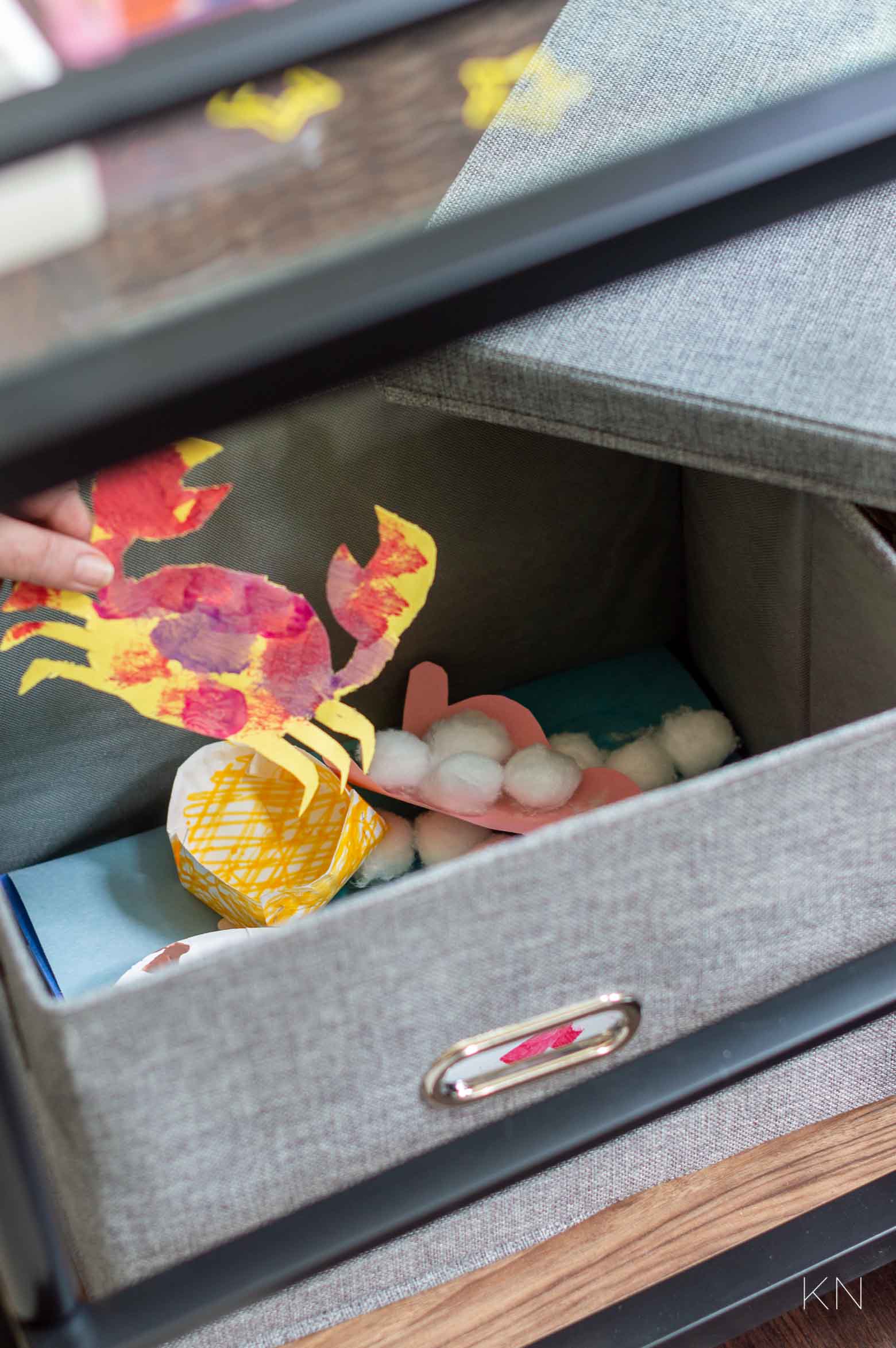 Sources: Medium Linen Storage Bin — perfect for storing completed art projects!
If you get a bar cart specifically for this purpose, again, you can easily transition it into a hostess station the next time you entertain. You can also evolve the components of the cart as your needs change and evolve. What was once a toy station or craft station could ultimately become a homework station.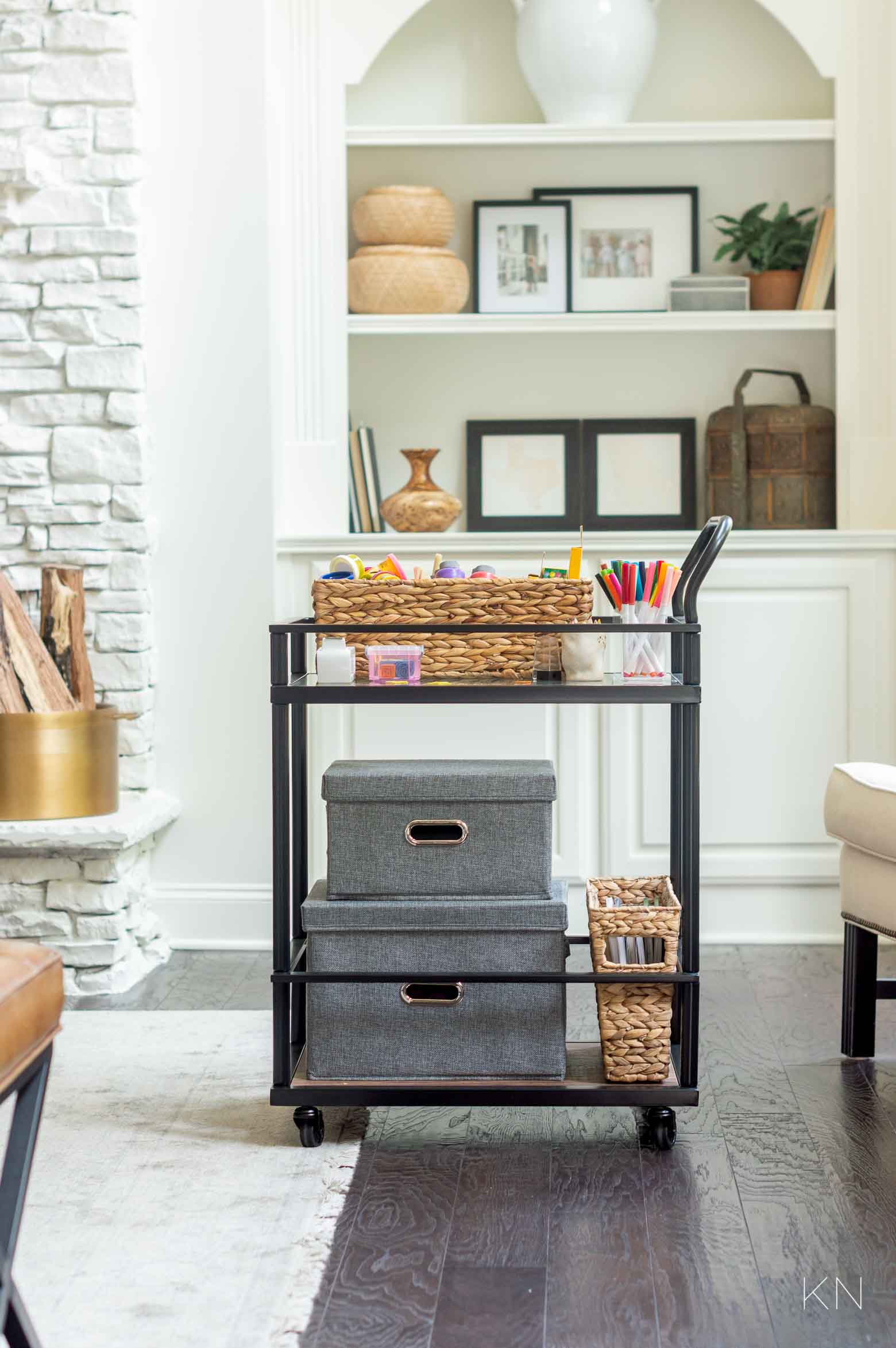 Sources: Bar Cart | Small Linen Storage Bin | Medium Linen Storage Bin | Water Hyacinth Narrow Basket | Water Hyacinth 3-Compartment Bin | Washable Markers
3. Plant Rack
Great to showcase a small collection of your favorites, turning a bar cart into a plant rack is an all encompassing decor moment and awesome addition to any room. You can be as cohesive or as eclectic as you want with the containers, baskets and planters.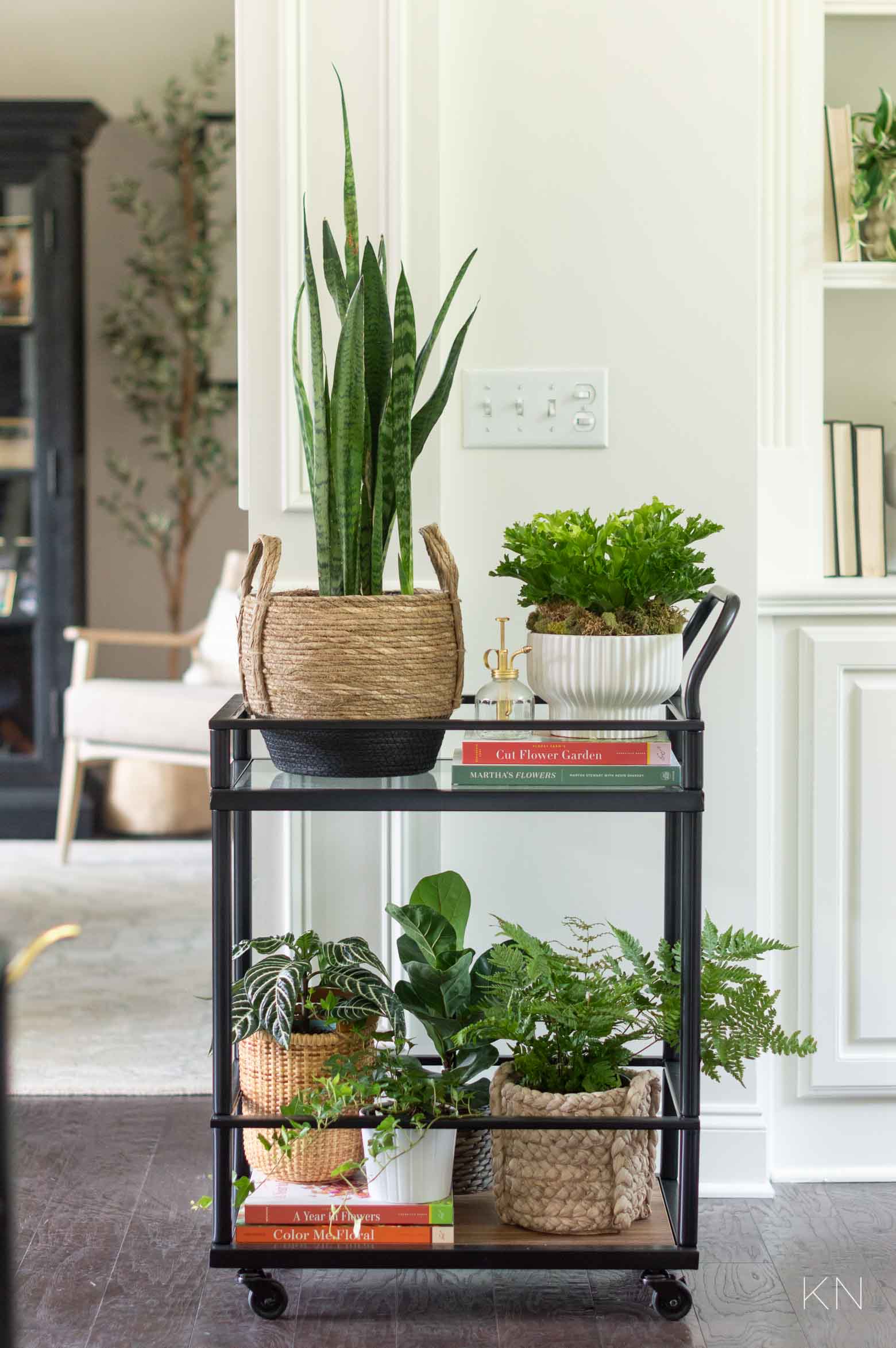 Sources: Bar Cart | Round Ceramic White Planter | Cut Flower Garden Book | Martha's Flowers Book | A Year in Flowers Book | Color Me Floral Book 
I even added a few of my garden and floral books to the display. A few favorites I've included are: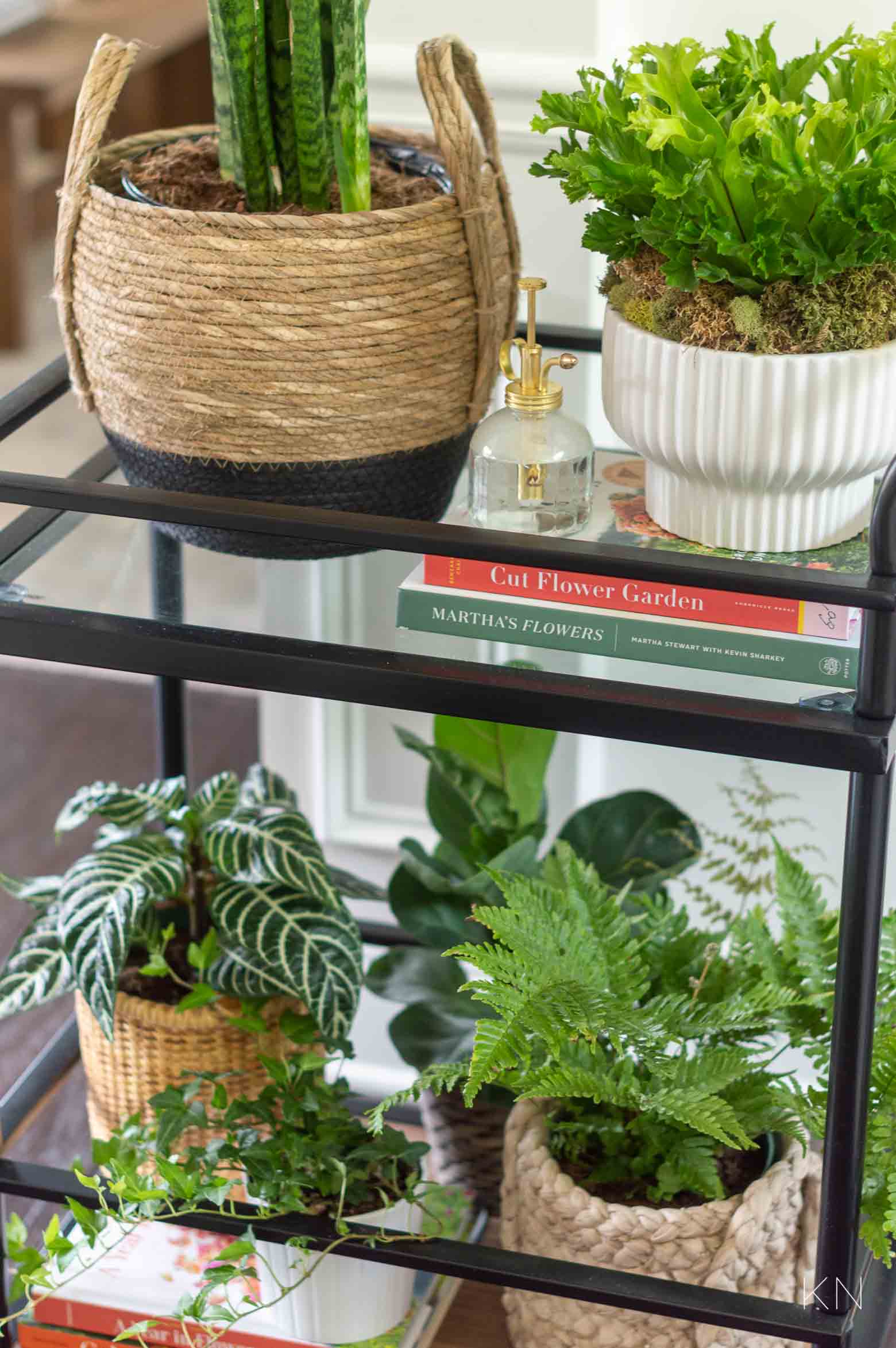 I just recently shared THIS planter AGAIN but it's a new favorite, so of course it was included in the plant cart. It comes in both 8″ and 12″ (I have two of the 8″) and is a steal at $7.96.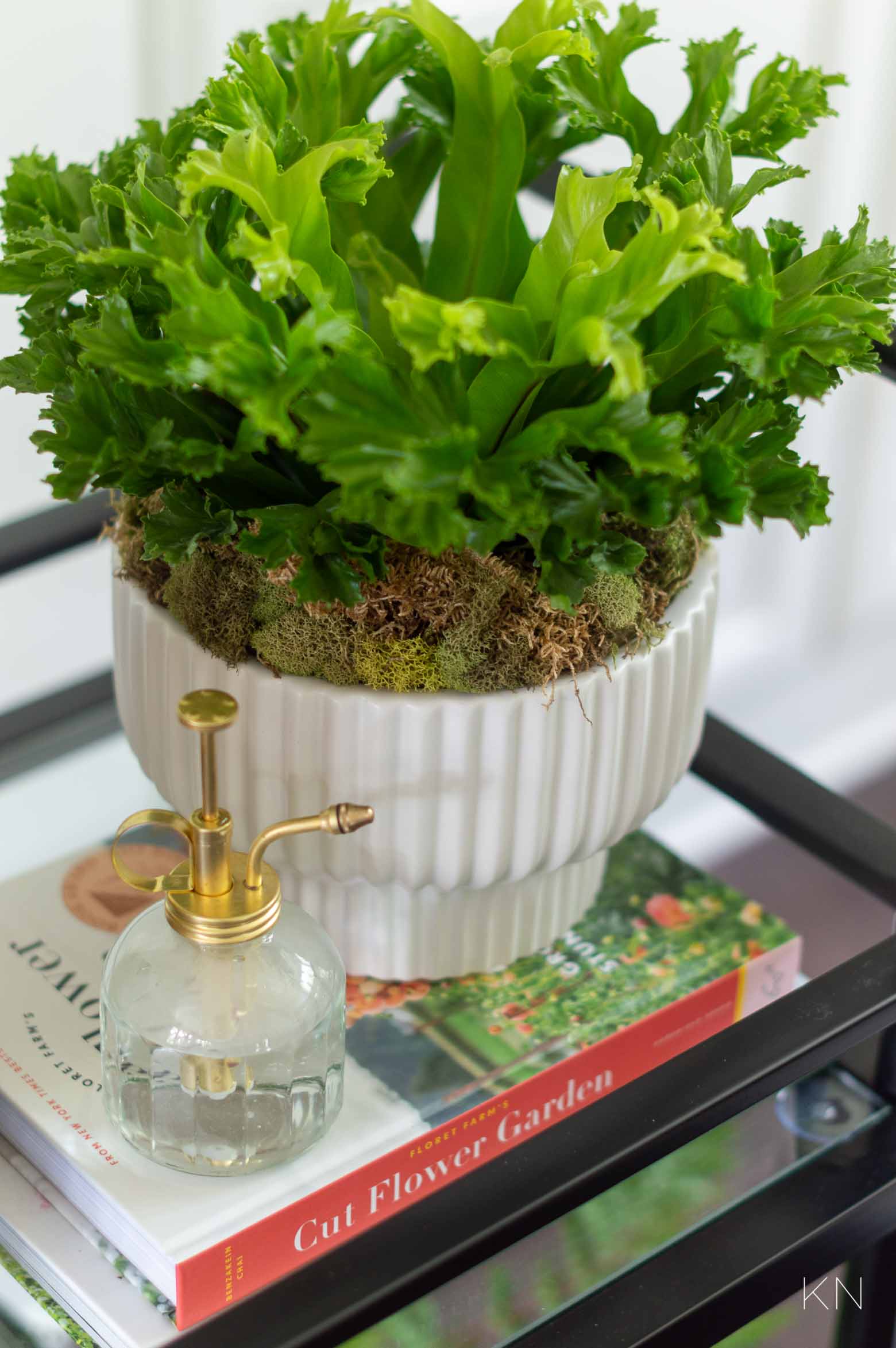 Source: White Planter
Another basket I found that is adorable with a favorite plant nestled inside is THIS foldable handmade grass basket. It comes in three sizes and I adore the sweet pom pom detail.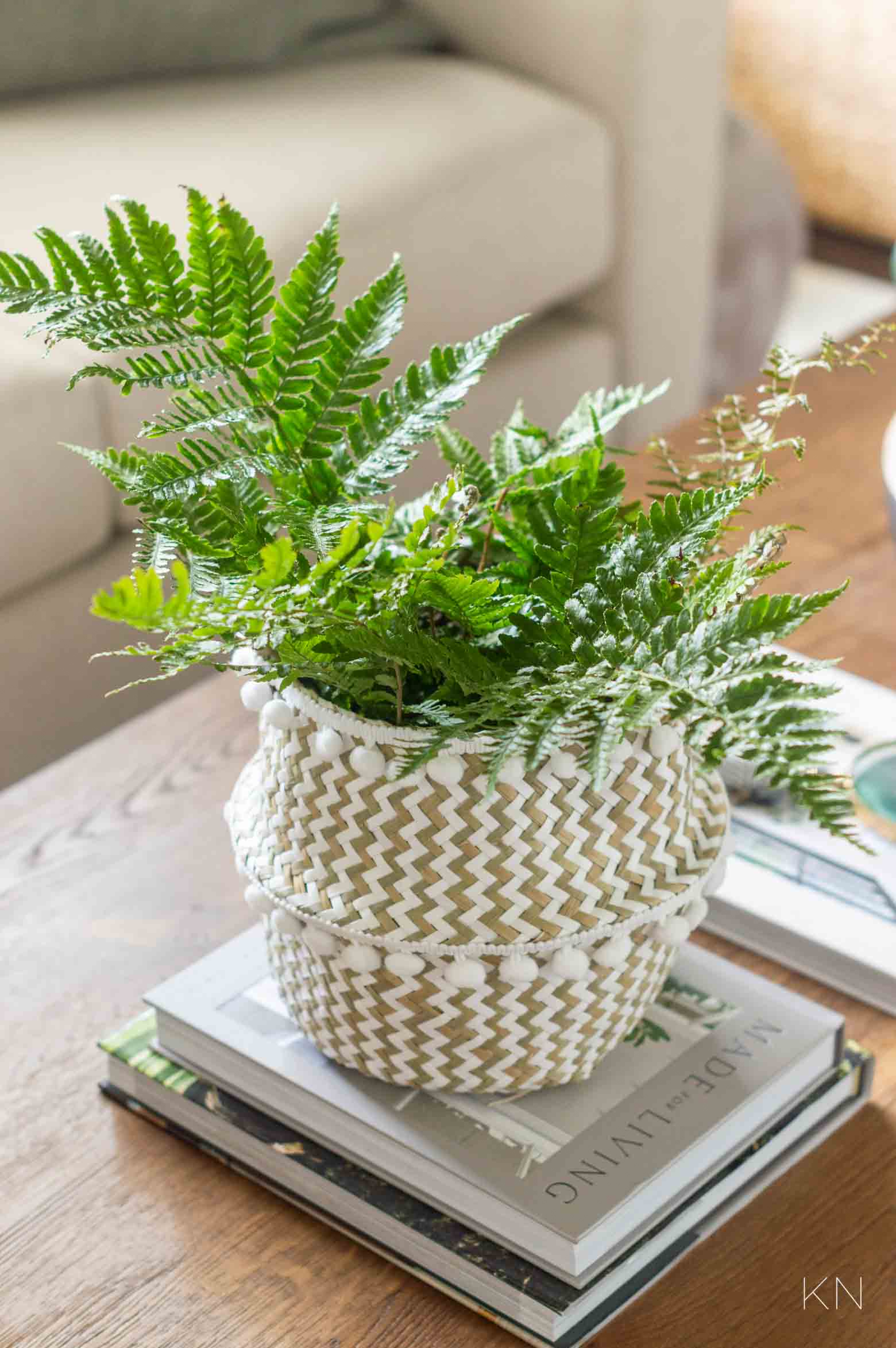 Source: Handmade Grass Basket
4. Herb Garden
A slight pivot from the full plant cart, a bar cart can be used in the kitchen/eating areas to host a small herb garden! I only recently purchased a small basil plant and I can't explain how satisfying it is to pick leaves to incorporate into our dishes. We have made a tomato basil pasta a few times now — simply because we have the fresh produce and herbs to do it! #YUM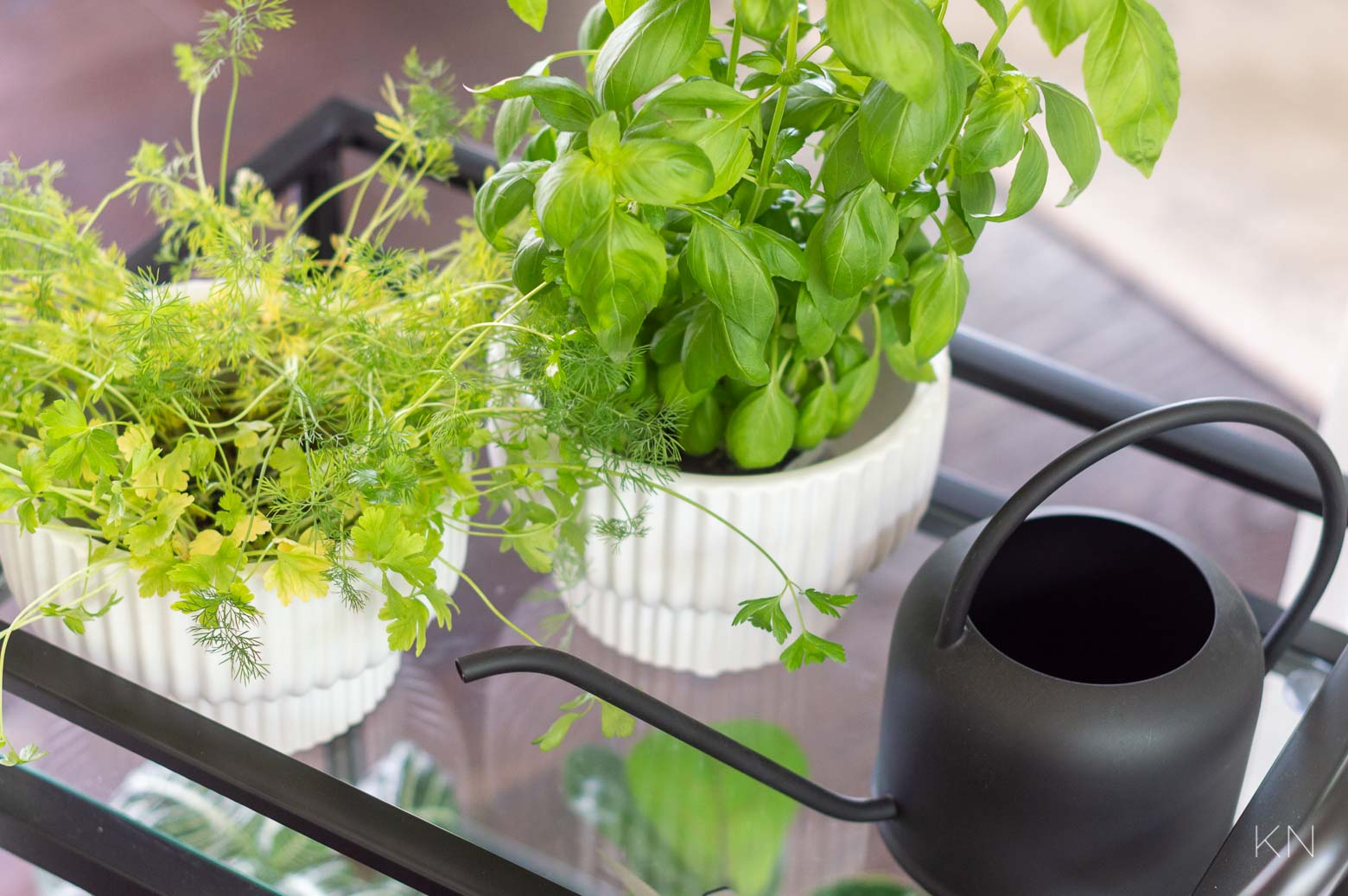 Source: White Planters
See the versatility in 30 seconds in the video below!
Other Bar Cart Uses for Everyday Home and Events/Occasions
While some of these lend themselves to more utilitarian, basic carts (read: no mirror tops 😉 ), portable bar carts and utility carts have infinite uses around the home for everyday purposes, but also special events. Here are a few ideas to initiate a little inspiration!
Coffee Station — perfect size for a portable coffee bar, especially if you don't have counter space or a butler's pantry
Produce/Garden — holds all the fruits & veggies from your garden or farmer's market visits
Bathroom Essentials — great way to organize all of your towels and beauty supplies in the bathroom, especially when vanity storage is maxed out
Dessert Bar — fun way to showcase a dessert selection for guests
Toys, Legos & More — add small bins to keep those legos and other play items organized in the playroom
Movie Night — fun to wheel out on family night with popcorn, movie candy and favorite movies
Games & Puzzles — holds all of the puzzles, board games and card decks you love to play
Birthday Party — holds an entire birthday party, from the cake to the hats to the plates and napkins!
S'Mores Roast — fun to style and to enjoy on the patio
Shoe Storage — great (glam) solution to hold more shoes in your closet
Thanksgiving Sides — use to set up and serve large meals when hosting
Coffee Table Books — great way to style and hold all of those beautiful coffee table books you have collected
Party Favors — place at your exit so guests don't forget their cute party favors you have provided
Nightstand Substitute — especially great for a guest bedroom to hold towels, toiletries and other thoughtful touches
Plates, Dishes & Serving Pieces — great for storing excess or pretty pieces in the pantry or dining room
Office Help — provides another working surface and storage for printer, files and office supplies
Outdoor Gardening & Potting Tools — keep all of your gardening tools and pots in one place
Clean Sweep — more utilitarian but a great portable solution for cleaning supplies (opt for a more basic cart for this one)
Shower Gifts — stage as a focal point to gather and display gifts
Changing Table Essentials — great to use in a nursery to hold diapers, creams, wipes and more
Display for Stuffed Animals & Dolls — especially great to transition from one stage to another, from changing table to toy storage to art storage
Pantry Excess — useful in the pantry to hold excess groceries when there is no room on the shelves
Front Porch — great for serving lemonade in the summer and hot chocolate in the fall
Fall Festival — perfect to style with pumpkins, mums and leaves in the fall
Santa Treats — Santa and the reindeer will easily find their treats here!
Grilling Essentials — great to keep and corral all of your cookout tools — also provides another great surface when grilling!
Bloody Mary Bar — perfect to hold all of the ingredients and serving ware for the perfect Bloody Mary Bar
Happy New Year — champagne, sweets & noise makers
Pancake & Waffle Breakfast — holds all of the toppings, syrups and sides for special breakfasts
Laundry Room Organizer — detergent, dryer sheets, etc. in the laundry room
Tax Prep Organization — receipts, files, etc. — in the office or wherever you need to work
Charging Station — dedicated surfaces for all of your charging needs
Family Photos and Memories — works in any space!
Trick or Treat — fun way to style treats and Halloween items at the front door
Girls' Night — Spa items, treats and more when you host a Girls' Night
Accent or Side Table — the possibilities are endless!
Do you use a bar cart in an unexpected place or for an unexpected purpose? Share in the comments below!
*You can see more bar cart posts in the full gallery HERE.
Bar Carts & Post Sources