Happy new year! It's been more than a minute (to say the least) so I thought we'd start off 2022 by giving a full rundown of what's been going over the past several weeks, along with what's coming up. I had actually planned to take a little time off at the end of 2021 all along, but I was absent from KN for longer than anticipated and it ended up not even really being "time off". We've been battling sickness in our house, and taking turns holding down the fort. The worst of mine hit right at Christmas and when I was "able", I crashed and burned on December 26. Weirdly, I've actually been without a voice for almost a month now. As of today, it's almost fully returned. Our house hasn't fully recovered but I'm much better and am at probably 90% now. Juggling chores and making sure Eliza (and we) are cared for, has been priority but we've still been able to progress some projects, plan, and accomplish things behind the scenes. We've been slow… but steady. Already feeling behind, I'm so ready for resumed health, energy, and to take on the new year!
This post is incredibly random, reflective of our time over the past month, so I've tried to group things together the best I can 😉
*Posts on KelleyNan.com may contain affiliate links. Click HERE for full disclosure.
What We've Been Up To
It hasn't been super joyful but we also haven't been laid up in bed the entire time 😉 Aside from being a little under the weather, here's few things I/we've done over the past month
Eliza gave up her paci! She's always only used it for sleep but she had only become more and more dependent on it. After talking about it for a while, last week, she put all her pacis in a bag and placed them on the front porch "so the delivery man could take them and give them to all the babies who need them." The next morning, she went out to see if they had been taken and "the delivery man" had left a gift in place of the bag. I'm shocked and so proud with how quickly she adapted.
I signed up for an Audible subscription! I've become a total podcast person and keep my AirPods in whenever I can around the house. It's also all I listed to in the car when I'm alone. But, I caught up on all my favorites and was having a hard time finding new shows that could give me just what I craved. I love reading but it's always been one of those things I don't make time for — or, I go in spurts but then turn totally unproductive because I become obsessed with reading. After downloading an audiobook, enjoying it and whizzing through, I decided to sign up for a subscription. It's been just over one month and I've just finished my fifth book. You can get a free trial HERE and check out all the benefits, but to me, from going from zero to five books in a month — essentially reading while doing chores/driving/etc. that you don't even have to pause for — it's amazing. I look to my friend Jamie — a mega-reader and teacher — for recommendations. You can scroll her Instagram at @letsreadtoomuch_withjamie but my favorites so far have been Verity by Colleen Hoover and the book I just finished, Behind Closed Doors by B.A. Paris. Both are current and still on the charts.
We finished the latest seasons of Yellowstone and Dexter, I'm totally into Yellowjackets, and I loved The Sex Lives of College Girls! The latter is one of those that makes me feel a little prudish, but I can't wait for the next season.
We made reservations for a few 2022 trips — including a trip back to Rosemary Beach as a family! I'm stoked for this one!
We've been cheering for UGA to take home the national championship and our fingers are more than crossed this is our year. UPDATE! We watched Georgia bring home the national championship! The first in my lifetime! For as long as I can remember, Georgia has been a top-ranked team but has never been able to clench the title, or better phrased, finish an Alabama game with a W. This was our year. After a recent Braves World Series victory (which is cool but I'm not as much of a baseball fan), team spirit is high in our state today!
I searched and searched for a small tree to turn into a tabletop Valentine's tree for Eliza but couldn't find what I was looking for. I should have gotten it together before the holidays but alas, here we are. I couldn't find a white birch tree I had in mind that I loved, and never found just the right blush colored bottle brush tree. But, I did find a different alternative. I found THESE PB faceted mirrored trees on major sale and still available in the medium and large. I ordered both and said I could also use them for the holidays but really just wanted to see what size would work best. They arrived quickly and are adorably beautiful in person. For the small bauble ornaments I have (this will be an incredibly simple tree for Eliza's room), I think the large is the best size.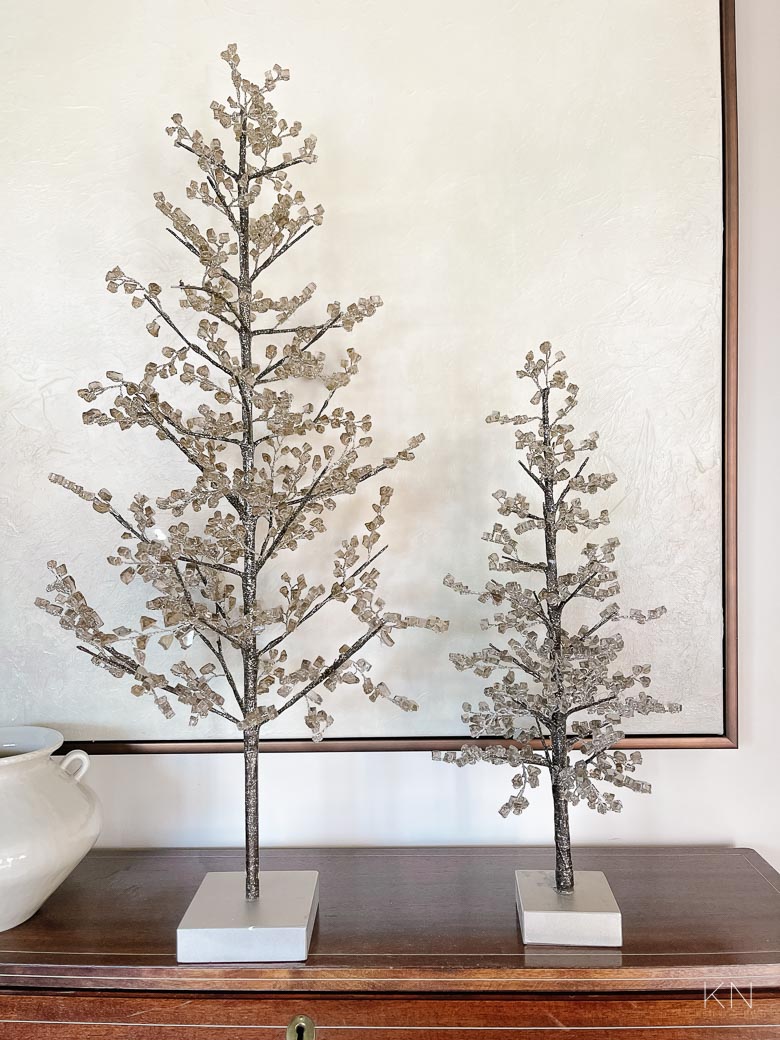 Speaking of Valentine's Day, I went ahead and wrangled all I needed for a gift basket for Eliza for Valentine's Day morning. Here's what I included

Raffia heart basket (small) — ON SALE! I plan to use this for future years, too.
Red cat eye sunglasses (we have the white and they are adorable)
Pink Ugg slippers — ON SALE — (we have some in a size down and they're awesome)
Paw Patrol bandaids (she's obsessed with bandaids)
Little Sleepies heart pajamas
Paw Patrol hand sanitizer from the Target Dollar Spot
A couple of other treats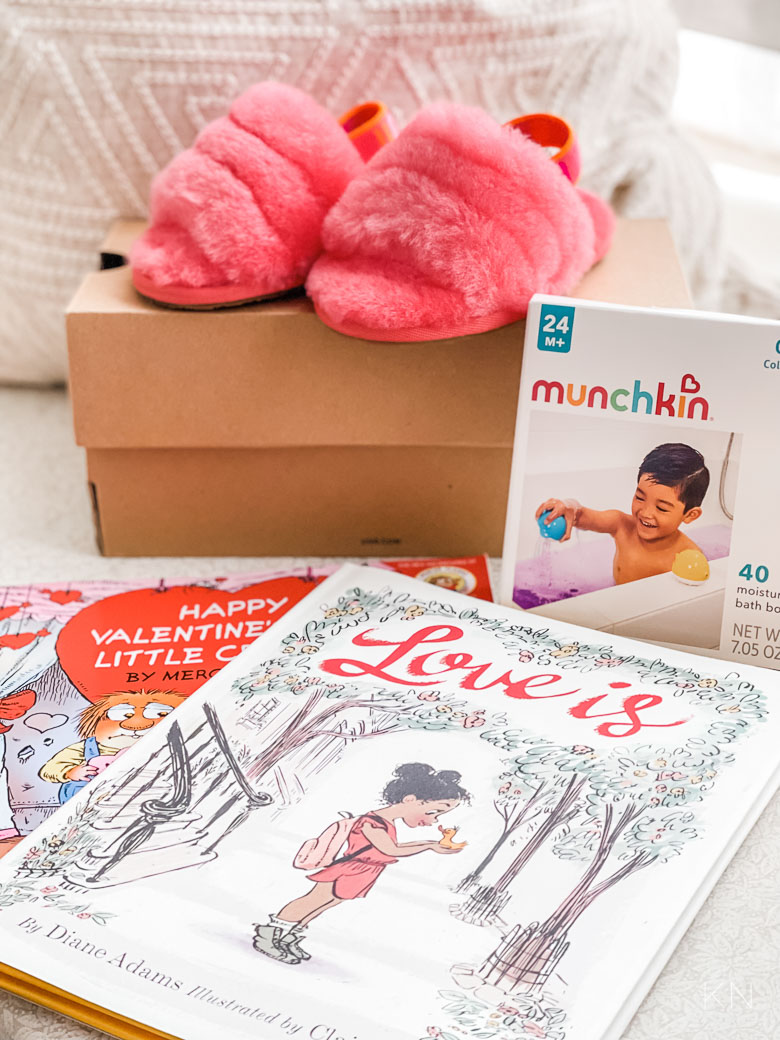 Pink Ugg slippers | Happy Valentine's Day, Little Critter! Book | Love Is Book | Colored bath tablets
Lastly on the topic of Valentine's Day, I concepted and shopped for Eliza's Valentines for her class. My mom's idea, I purchased a 20-pack of Hot Wheels cars (averages about $1/car) that I'll put in a plastic goodie bag with a Valentine's treat with the tagline "You make my heart race, Valentine". I purchased the last box in store but you can find it HERE. They also have a 50-pack HERE and a pack on Amazon for $3 more HERE. Last year, she took THESE plastic bath boats with packs of goldfish tied on, that said "You float my boat, Valentine".
We got our Christmas decor taken down — when you have several trees, and the entire house is holiday-fied, this is a major group effort. And even though I was struggling, I was determined to have it down prior to December 31. I always get questions about how/where we store our Christmas decor and while this doesn't look great, I'm pretty dang proud, considering. Here's a peek of what our basement wall looks like…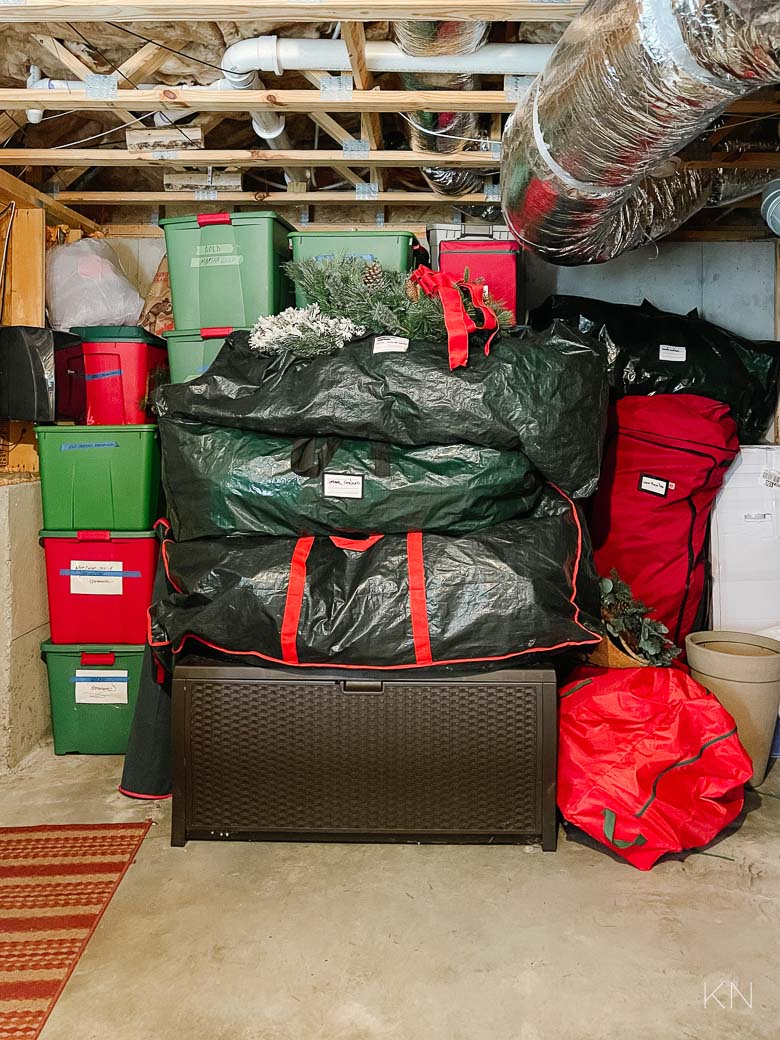 Before we took the decor down, I did manage to purge from our holiday bins a bit. It's easier to do that while your Christmas decor is still up, rather than working from the full arsenal during the off season/prior to Christmas. I also group all our ornaments and embellishments in separate bins by color. The stacked trees in front are covering most of the wall of red and green bins, all labeled, scratched out, re-labeled, etc. Definitely not #PinterestGoals, but a proud moment, nonetheless.
Also not aspirational visually, our unfinished basement — home to Dave's man cave, work space, and all our tools, decor, childhood boxes…. everything — has been in dire straits for a long time. My mom has been begging to get down there to help organize and purge since she moved back, but we've never made the time. As of late, the floor was so stacked and covered, you couldn't even really walk. Well, last month, I ordered a dumpster, collected boxes and we planned for a major basement clean-out in the week following Christmas. Had I known we were going to be under the weather, I would have postponed, but off and on, we were able to make our way downstairs and work. We put in a bunch of hours and a bit of organization still needs to happen, but I can't explain how happy the progress makes me. I don't have a "before" which kills me, but here's a peek of one of the decor walls as it is today. Again, it would definitely benefit from some organization but imagine barely being able to see this wall and zero floor space…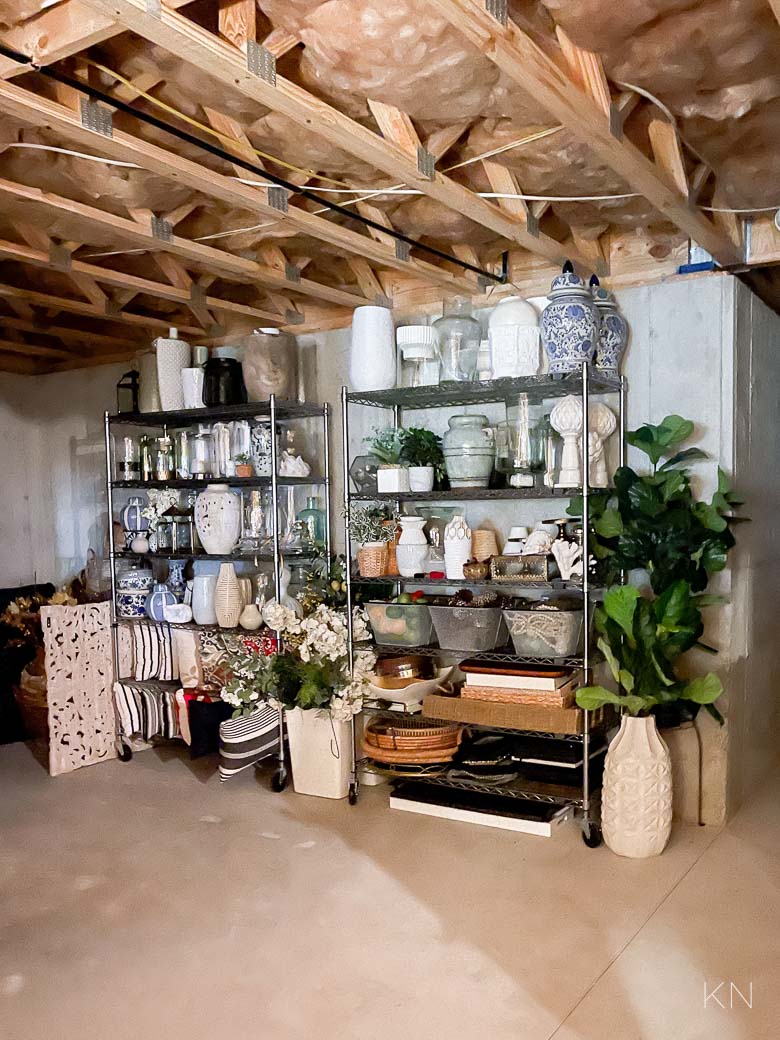 No one except the people who live in this house can understand what a feat this was, but I'll keep this cringe-y snapshot here for my own proof 😉
After the Christmas decor was taken down, we gave the living room a winter refresh, with minimal effort. Here's how it's looking today…
Post Holiday, Pre-Spring Living Room Update
Because the house can feel cold after the twinkles and glitz have gone away, the green trees have been removed, and the reflection of the outdoors are nothing but gray, transitioning the house between the holidays and spring could be tricky. But, it doesn't have to be. Here are a few things I keep in mind when I'm getting my house re-set during this time of in-between…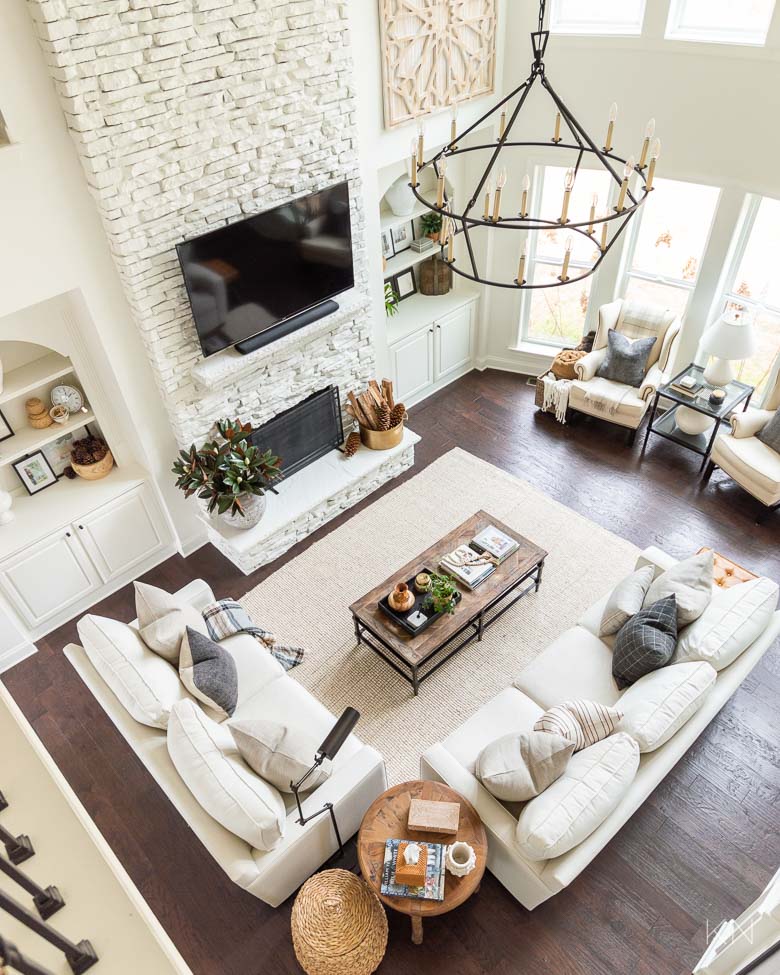 Sources: Chandelier | Wooden Wall Art | Sofa | Covered Tulip Basket | Jute Rug | Coffee Table |  | Round Accent Table | Floor Lamp | Wingback Chairs | Cane Side Table (similar) | Large Round Vase | Vessel on Hearth | Faux Magnolia Branches | Brass Party Bucket | Fireplace Screen | Plaid Throw on Sofa | Linen Pillows on Sofa | Textured Pillow Covers | Rust & Neutral Striped Pillow | Charcoal Windowpane Pillow | Plaid Throw on Chair (similar)
1. If I don't love it, don't bring it back out, just because it was on display beforehand. I don't want to re-fill a room, just for the purpose of having it filled. Actually, coinciding with the overwhelming need to purge and organize, I crave a clean palette.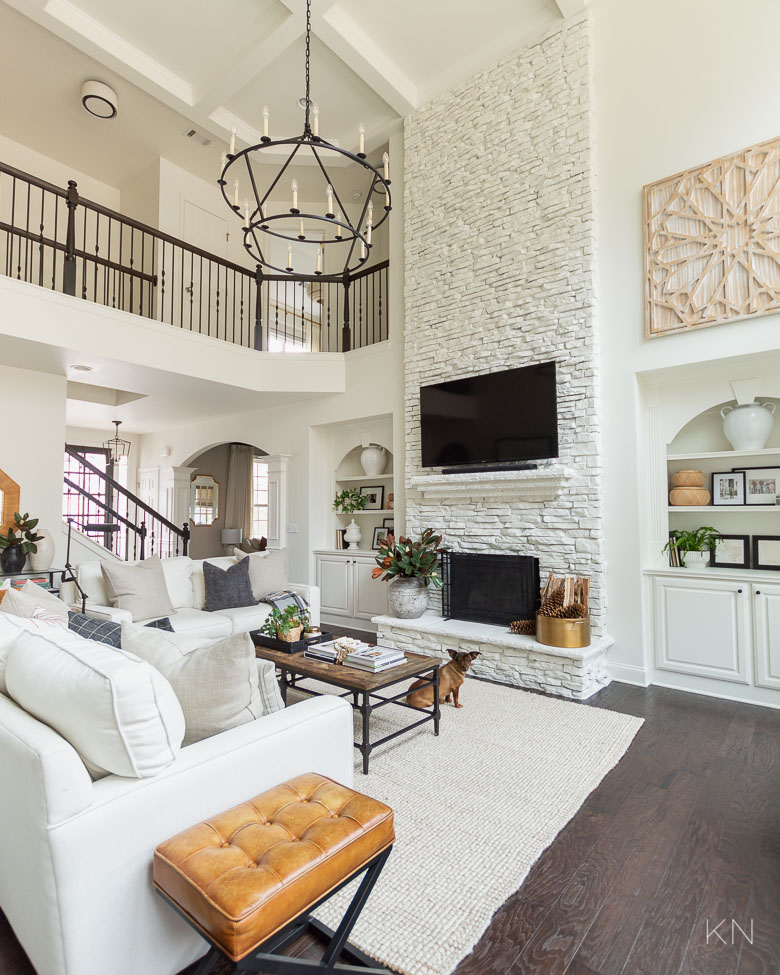 Sources: Chandelier | Wooden Wall Art | Sofa | Jute Rug | Coffee Table | Vessel on Hearth | Faux Magnolia Branches | Brass Party Bucket | Fireplace Screen | Plaid Throw on Sofa | Linen Pillows on Sofa | Textured Pillow Covers | Tufted Leather Stool
2. But, monochromatic can read cold, quickly, during the winter. Piling on all the neutrals — especially warmer shades of brown and cognac — can warm the space while still keeping it calm. I've mixed moments of contrast, tons of textures, varying shades of wood, and even a little leather for a relaxed, lived in vibe.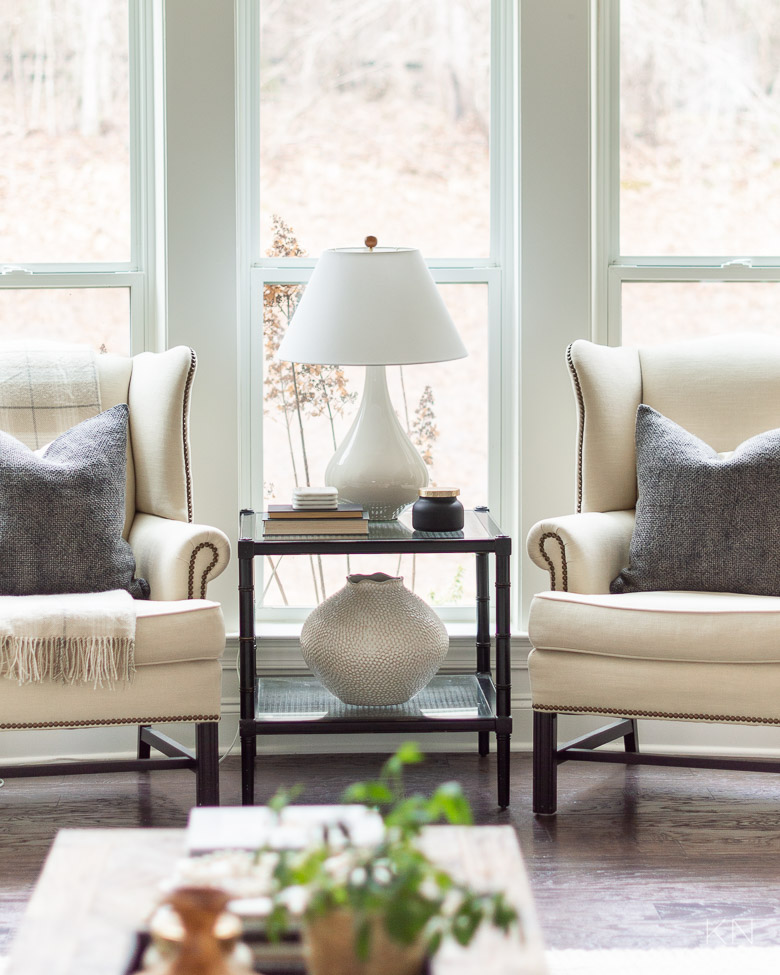 Sources: Wingback Chairs | Accent Table (similar) | Large Round Vase | Textured Pillow Covers | Plaid Throw (similar) | Candle
3. One aspect of holiday decor that makes our homes feel so cozy is the sense and display of "collections". While those may be retired for the time being, there's other opportunities to introduce eclectic collections — like stacks of coffee table books.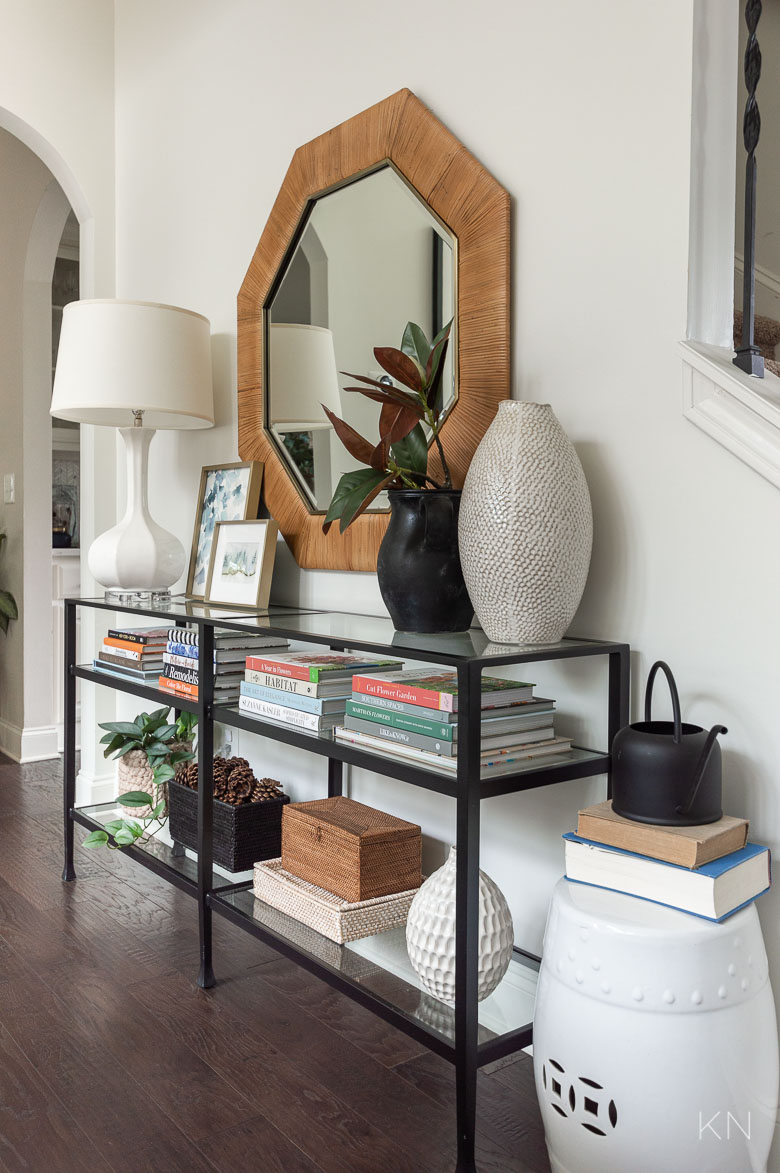 Sources: Console Table | Rattan Mirror | Garden Stool | Black Vase | Faux Magnolia Stem | Large Textured Vase | Small Textured Vase | Blue Gingko Art | Beyond the Trail Art | Woven Cement Pot | Lidded Basket (similar) | Watering Can 
4. Green plants breathe life back into a space, long after the Christmas trees have been disassembled. I have a mix of faux and live but my favorite are THESE thick, rich green faux magnolia stems that I found and continued to collect over the past several months. Whether it's a single stem in a vase like this…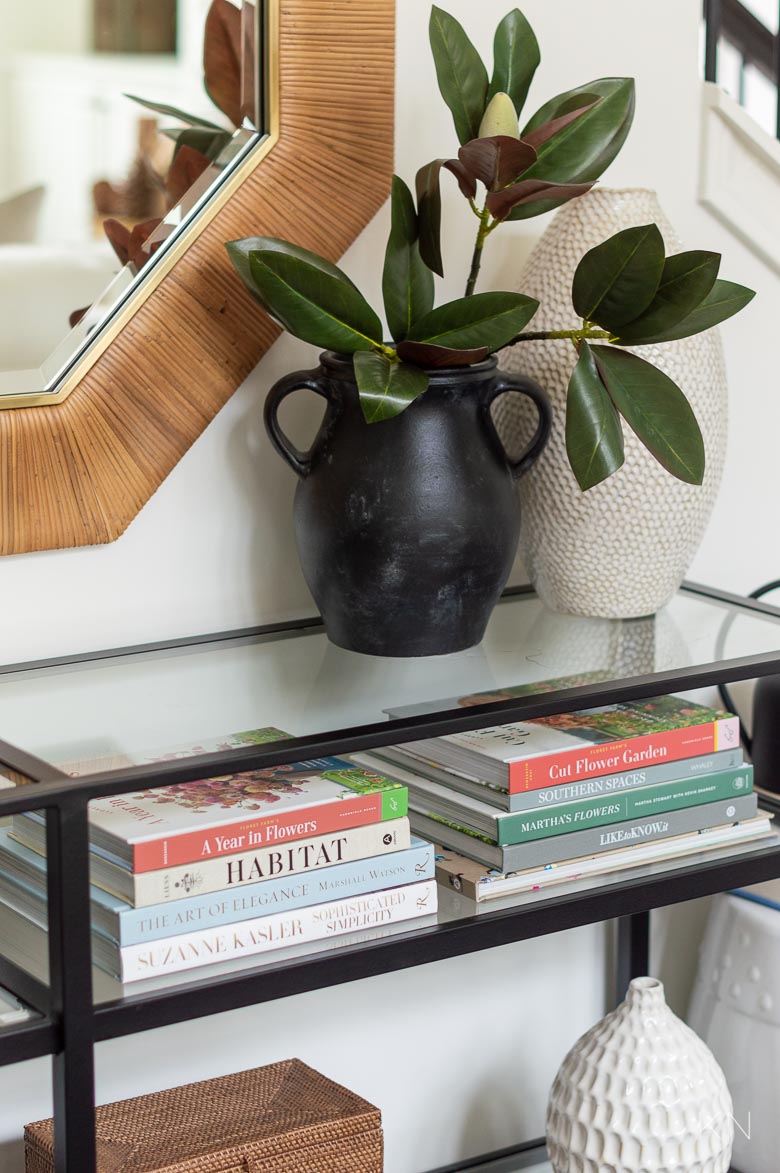 or seven as they appear in the oversized urn on the fireplace, these have been an incredible investment that have replaced my need for constant replenishing from fall through spring.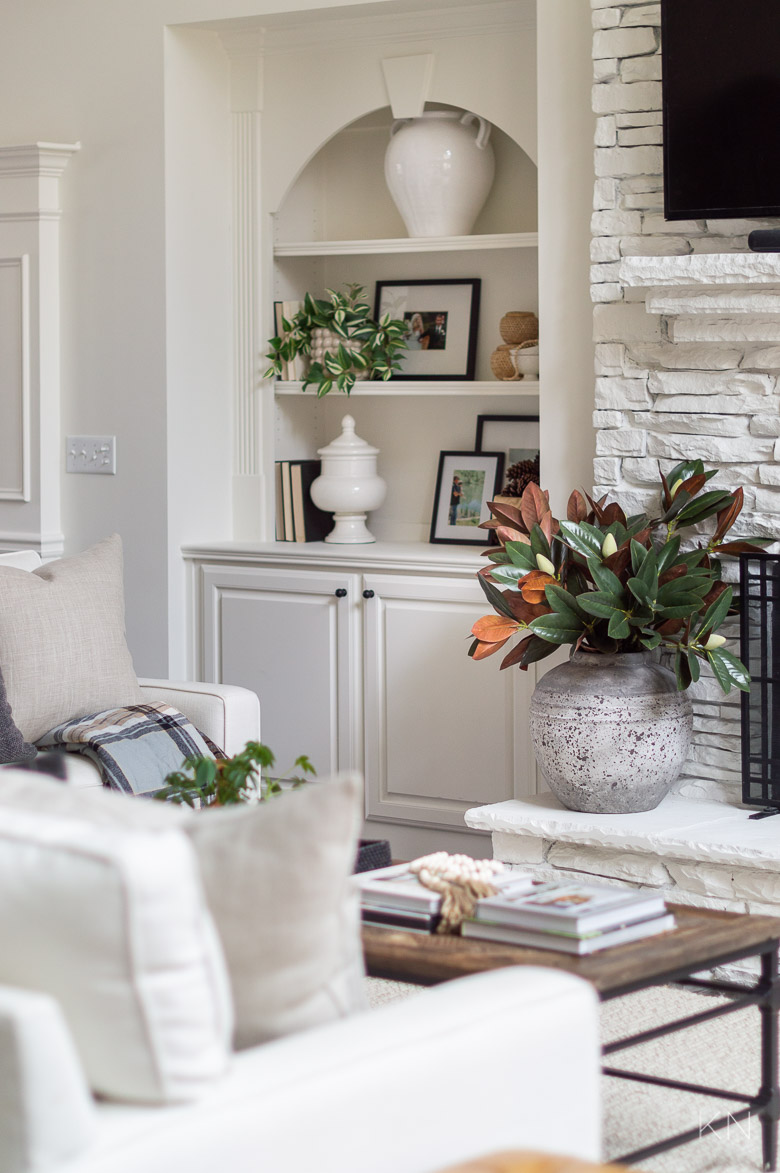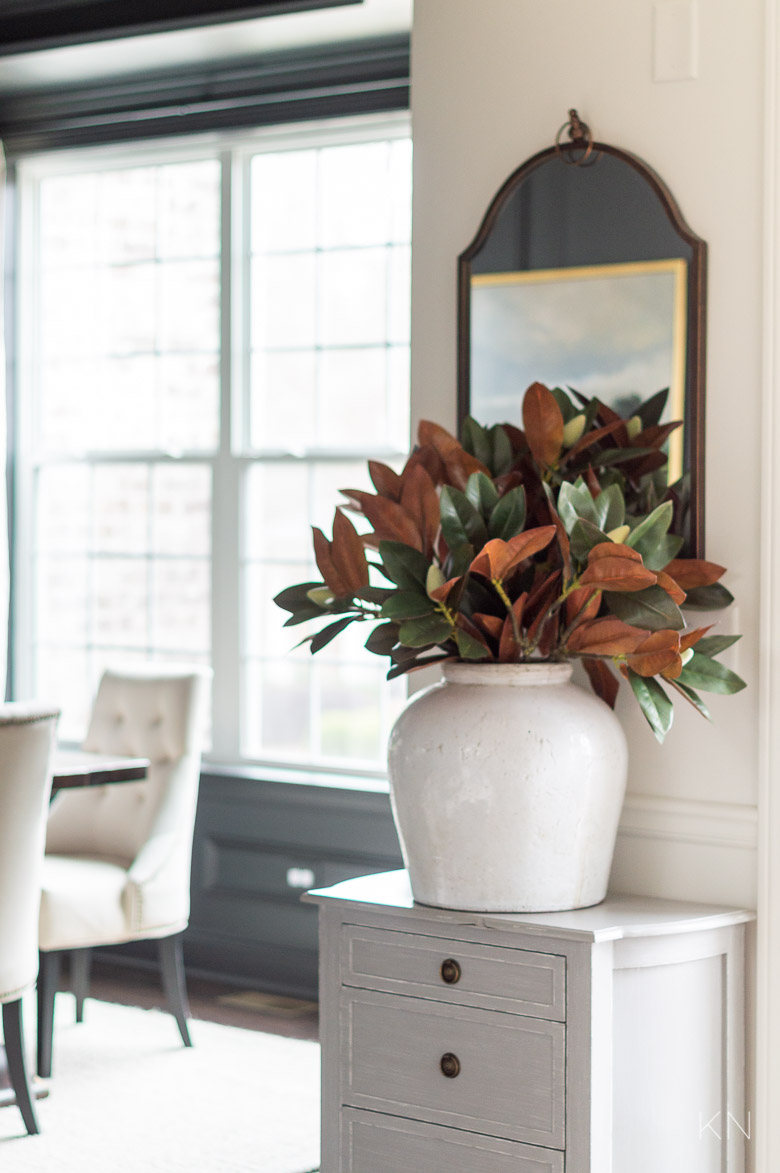 Sources: Mirror | Chest | White Urn | Faux Magnolia Branches
5. A little color — if you choose — doesn't take away from a neutral aesthetic. I LOVE THIS rust striped pillow and even though I don't have any other shades quite like it in the room, it tends to go along nicely with some of the leather and wood tones.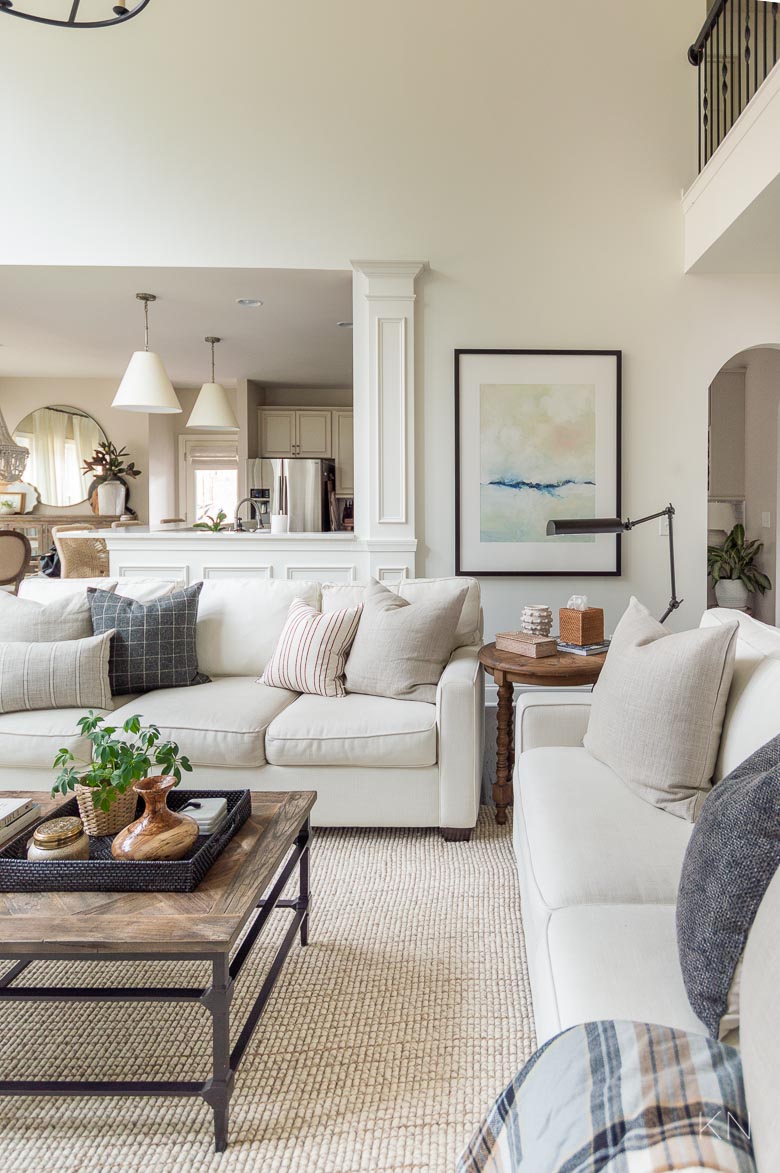 Sources: Sofa | Jute Rug | Coffee Table | Round Accent Table | Floor Lamp | Textured Pot (xs) | Large Wall Art | Rust & Neutral Striped Pillow | Charcoal Windowpane Pillow | Taupe Linen Pillows (24″) | Textured Charcoal Pillows | Plaid Throw
Not just for winter decor, but I aim to style and decorate with large scale items. When I have smaller items, I corral them — like in this tray on the coffee table — so visually, they serve as one item instead of several small items that make my eyes go everywhere.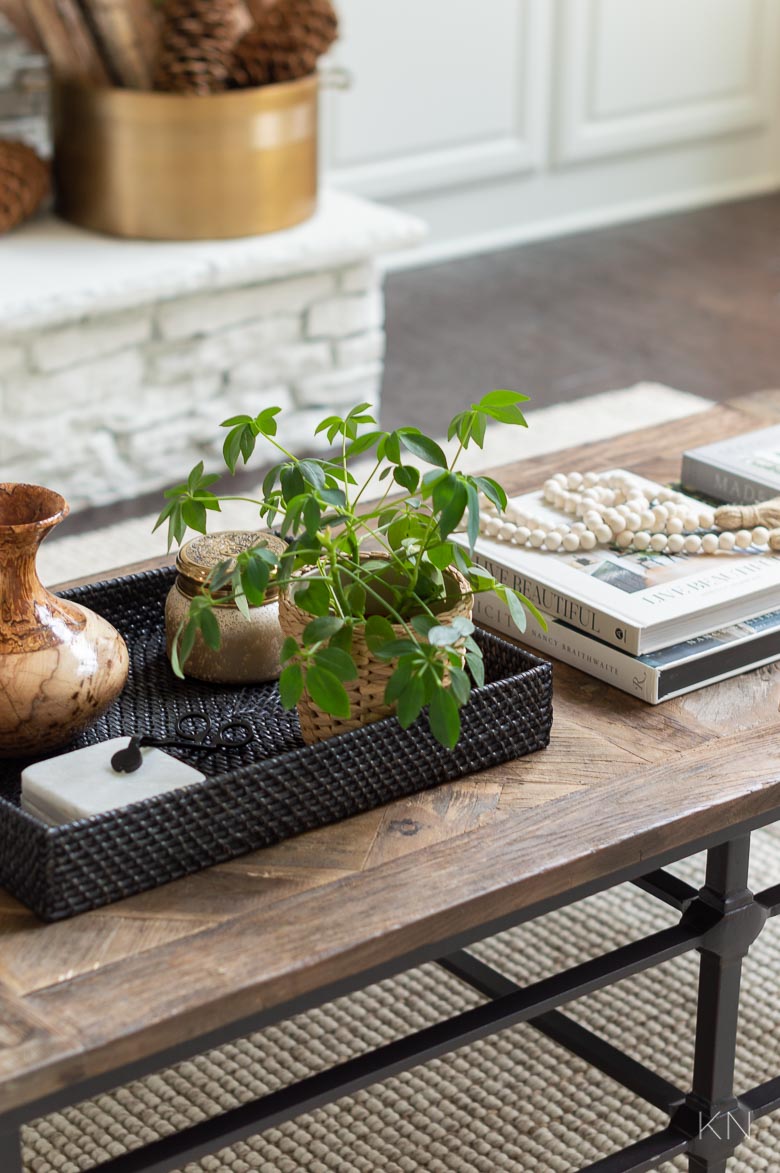 Sources: Candle Wick Trimmer (set of 2) | Plant Basket (similar) | Candle | Wooden Beads | Made for Living Coffee Table Book | Live Beautiful Coffee Table Book
6. Lastly, I don't typically purchase decorative accessories for this time, exclusively, I invest in pieces that can be rotated in, mixed with other items, and migrate between rooms. These are some of my favorite accents in the living room that transcend this season alone, and can be used and repurposed in the coming months…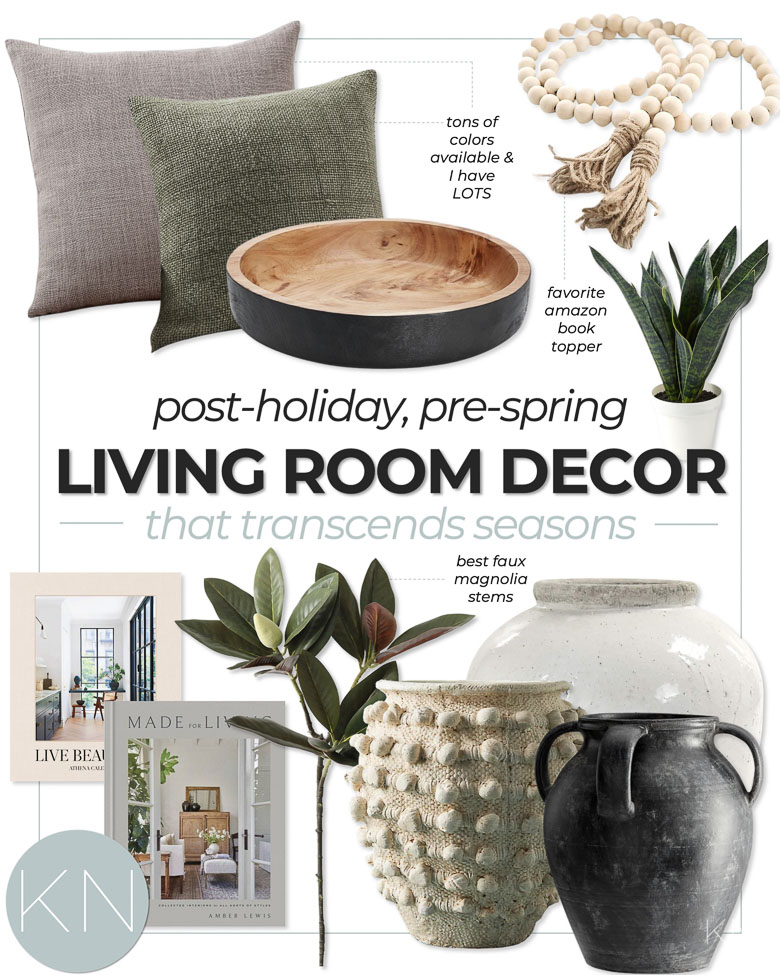 Sources: Linen Pillow Cover | Textured Pillow Cover | Round Black Wooden Tray | Wooden Beads | Faux Snake Plant | Made for Living Coffee Table Book | Live Beautiful Coffee Table Book | Faux Magnolia Branch | Textured Pot | Black Urn | White Urn
After my mom ordered THIS nubby textured pot in a small, I ordered it in an xs and m. She then ordered the m so now between the two of us, we have four (that's usually how things work between us when we love it). I love this vessel for now, but I'm especially excited to use them in the approaching warm weather months!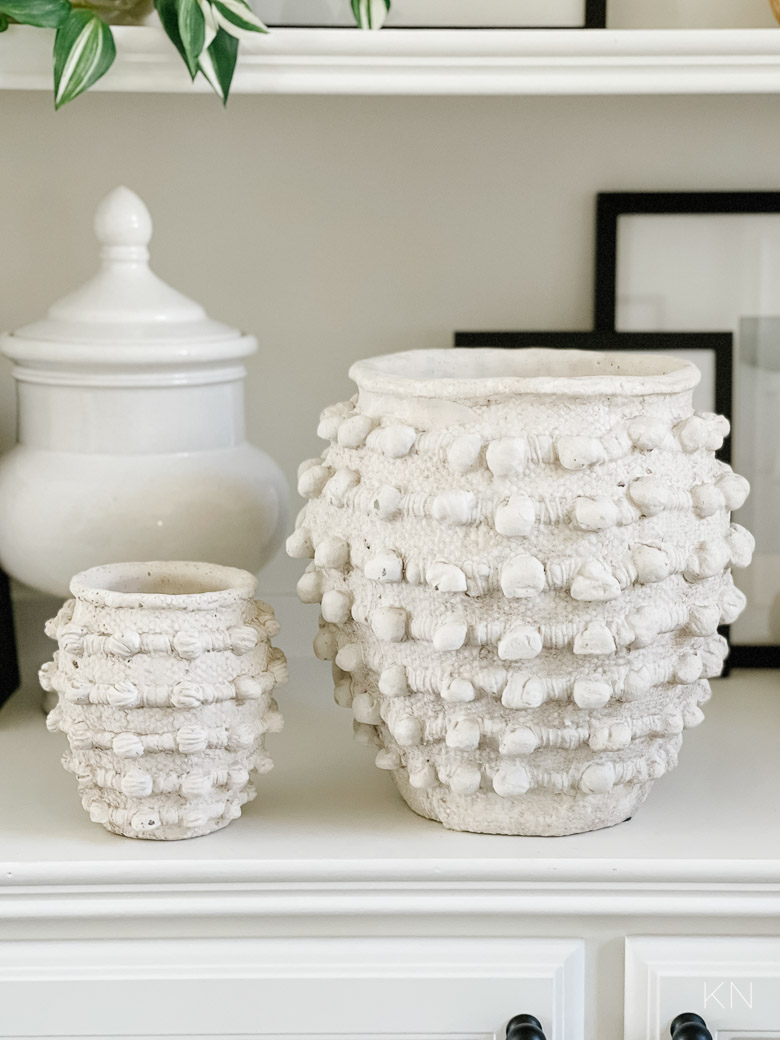 Textured Pots (in xs and m)
And, there's plenty of items that are typically purchased during holiday decorating time that are still appropriate to keep out! All the sherpa, fur, cable knit, and plaids can still hang out, on display, for the next few months! Here are a few I have — all still out and being used — many of which are on major sale right now.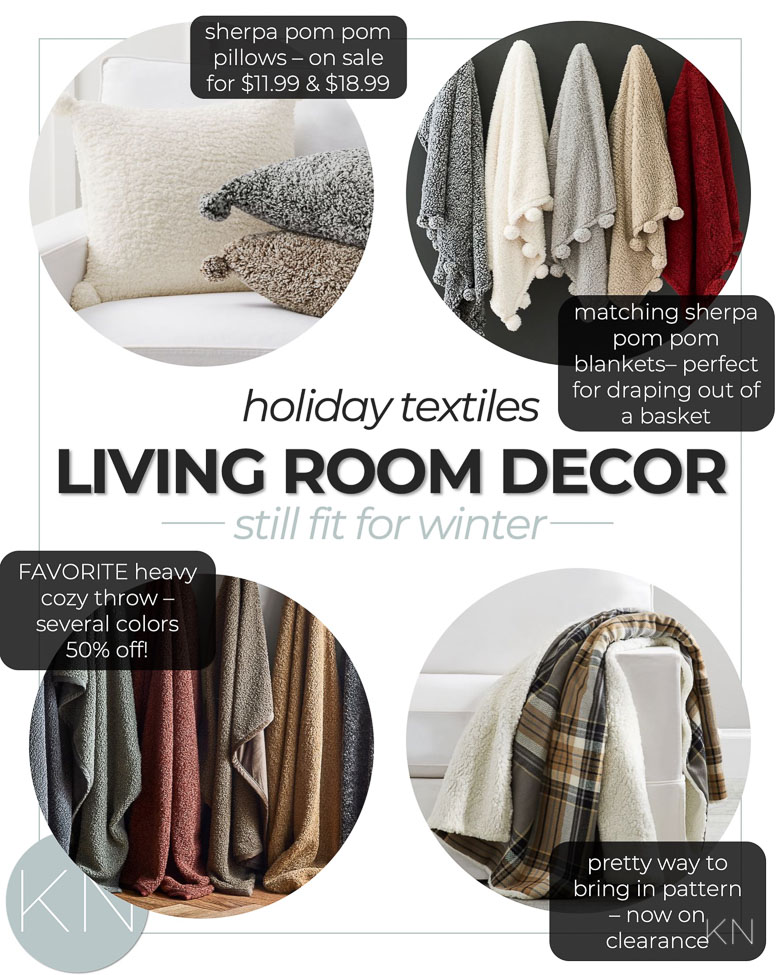 Sources: Sherpa Pom Pom Pillow | Sherpa Pom Pom Blanket | Teddy Bear Throw | Plaid Sherpa Throw
**Speaking of on-sale linens, I have to mention that my go-to Belgian flax linen bedding staples are currently on rare sale in several colors — including the white. You can find my diamond linen quilt HERE and the linen duvet cover I layer on top HERE.
Upcoming Projects
Adding onto "what we've been up to," we also progressed several lagging projects over the past few weeks!
Eliza's playroom is fairly close to completion (see the design HERE) and will likely be the next room reveal. I have a post coming soon where I'll share her mural and the start of her setup. The part of her playroom I'm most excited about is the closet, though. I've been dreaming of organized toy storage and after planning and sketching the space and ordering all the Elfa components, it will be installed at the end of the month! I've used Elfa systems in as many spaces as possible for more than a decade and when we planned her playroom, it was a given that Elfa is the direction I'd go. Here's a peek of the rendering…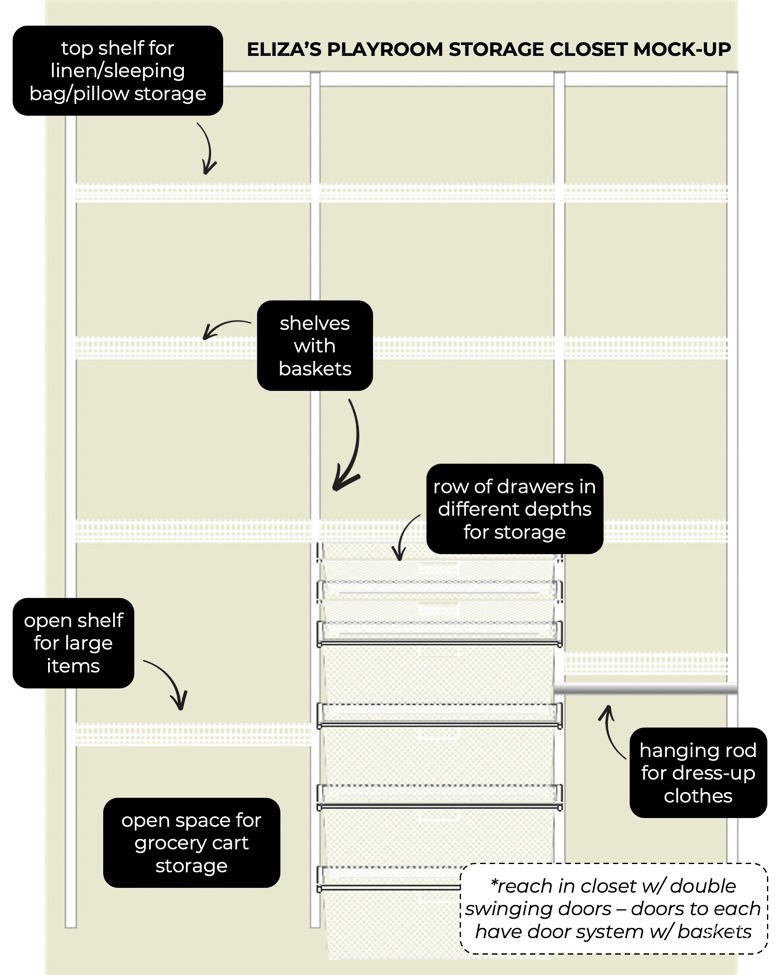 It's a reach-in closet but has a set of double swinging doors, so each door will also get a door solution. They aren't having their usual annual Elfa sale this year, but they do currently have 20% off all Elfa components on orders of $500+ HERE. You can see lots of my Elfa spaces in the Organization gallery HERE.
This is also the year for Eliza to get a big girl bedroom! I've already ordered her bed and bedding and will be searching for just a few more small items. For the most part though, the majority of her nursery will stay intact. We planned for her pieces (like her dresser) to be able to grow with her from the start so I'm hoping she'll have a fresh new look she loves but will be using a lot of the same furnishings. I have a post coming soon with the details, plan, and my vision.
The dang bathroom still isn't done. (See the last post HERE) I feel like I should just stop talking about it since it's literally been almost a year, haha. The shower neck we've been waiting on finally arrived, but contractor schedules are backed up a bit. There's just a few final details but I'm so ready to share! I'm committing to sharing by February.
Our kitchen (see the introduction post HERE) is just waiting on me to pick a vent insert before the project is started. I don't think there will be many decisions in this space but I've been dragging my feet on fulfilling my choices so the contractors can begin. SOON!
We're working to transition the office to better facilitate a functional, working space for two people. My poor mom — who works alongside me almost daily — has been sitting in a dining chair at the desk for over a year. I just ordered a pair of THESE white desk chairs as the first step in revamping the office. They've arrived and I'm hoping to get them assembled this week! They're already $30 less/per chair than what I paid… I also have some major work to do in terms of better situating the desk for two, organizing, etc. I'm looking to do a rug switch and am hoping to install some automated blackout shades in here, too.
The breakfast nook is on my list this year. I want to get other projects tied up before starting this one, but I think this may be the year.
I'm sure there are lots of other projects that will pop up — as they always do — but these are my focus and I'll be working the share the process here on KN throughout 2022! (And finally bring some reveals to some that have been in process for far too long 😉 ).
Organization Focuses
I am *dying* to start tackling organization projects this year. I always count an organization project a "success" if it proves to be a workable solution that we can maintain fairly well for a long period of time and while several of our solutions have worked for years, all the disturbance and upheaval from the past year of impromptu projects and room remodels has created messes everywhere and has undone most of our systems. Some organization zones will be pointless to tackle until after the spaces are completed, but I'm getting ready to start others this week. These are a few of my "pain points" that will be addressed…
The entire kitchen — from cabinets to drawers — (but after the next remodel stage)
Eliza's bathroom vanity — with no drawers and zero counter space in her bathroom vanity, I've never created a workable solution in here. This will be a project I tackle soon!
Eliza's dresser — I already made great progress on this one a month or so ago when I was pulling clothes for the upcoming season, but her most important drawers will have to be reconfigured since she has new "needs" now and is no longer a baby *tear
Our bathroom vanities — I'm pumped for this one and initially kept putting it off until after the bathroom was finished. I'm anxious to start though so depending on what's happening, I may get to that sooner than later.
The office and office closet — I mentioned earlier in the post that a mini focus will be better utilizing the office for our current needs — not the needs I had five years ago when I first created the office. So much has changed and that includes what I need in terms of supplies and how I utilize the built-ins, storage space, etc. I'll be tackling the built-ins in the next week!
The bedroom — right now, it still has bathroom overflow so I'm anxious to refine the systems we already have in place and get everything tidied up
The kitchen secretary desk (aka Junk Central) — it's just bad. Instead of a junk drawer, we have a junk station that consists of multiple cabinets and about six drawers. It's past due in a big way.
I haven't shared as many organization projects in recent times as most of my solutions had stayed pretty well in tact. However, when I start again, I will drive home the fact that for something to be organized, it has to be workable. Organization doesn't mean throwing everything away, purchasing pretty contents, and topping it with a vase. I'm looking forward to hopefully continuing to bring real life solutions for real life spaces!
I know this post was… well… a lot, haha. But, I hope it gave a quick rundown of where we've been, where we're headed, and what you can expect to see here on KN as the 2022 focus. Here's to a new year and here's to sharing all the randomness that comes this year.