A couple weeks ago, I shared my makeup organization revamp. Today, I'm showing the solutions for the rest of my bathroom vanity. As noted in my previous posts, I have one shallow drawer and one cabinet. I was using my linen closet for overflow which was turning it into just as much of an disorganized mess as the vanity. I took inventory, identified my trouble spots and needs, and pulled everything out. Flash forward a month or so and praise be, everything is still in its assigned home. And it's been easy to maintain. The solutions are simple but these bathroom organization ideas will definitely help make the most use of your vanity space — regardless of how inefficient your setup may be.
*Posts on KelleyNan.com may contain affiliate links. Click HERE for full disclosure*
Bathroom Organization Ideas
There are a few zones I've mapped out around the vanity:
Makeup/Countertop
Shallow Vanity Drawer
Under the Sink Cabinet
Linen Closet
Each space came with its challenges — the drawer was most convenient but too small to hold all the conveniences. The cabinet was large but deep, low, and without shelving (basically, a black hole). And the linen closet actually hasn't been changed since I first organized it, it was just turning into a dumping ground of vanity overflow. You can see that original post HERE, and look for a slight update on KN later 😉
1. Makeup Organization
I already dedicated a full post to my makeup organization solution that you can refer to HERE. I shared my challenges and why I made the decisions I did and how I arrived at using a custom acrylic organizer on the countertop after several failed previous methods.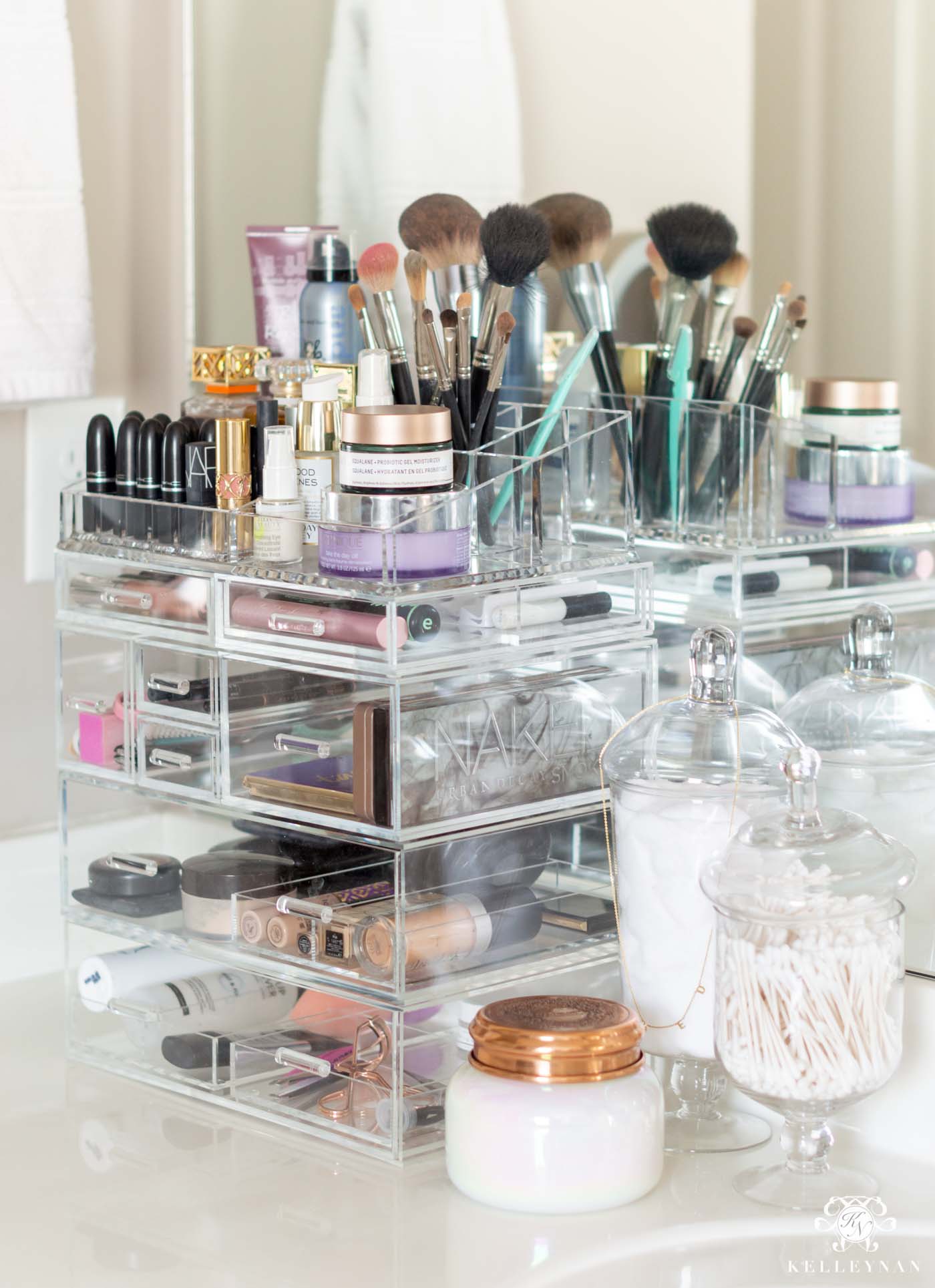 So far, this system has worked well and I made sure to include plenty of space for growth and additions. I think I'm even applying makeup a little more lately, now that I can see and access everything easily.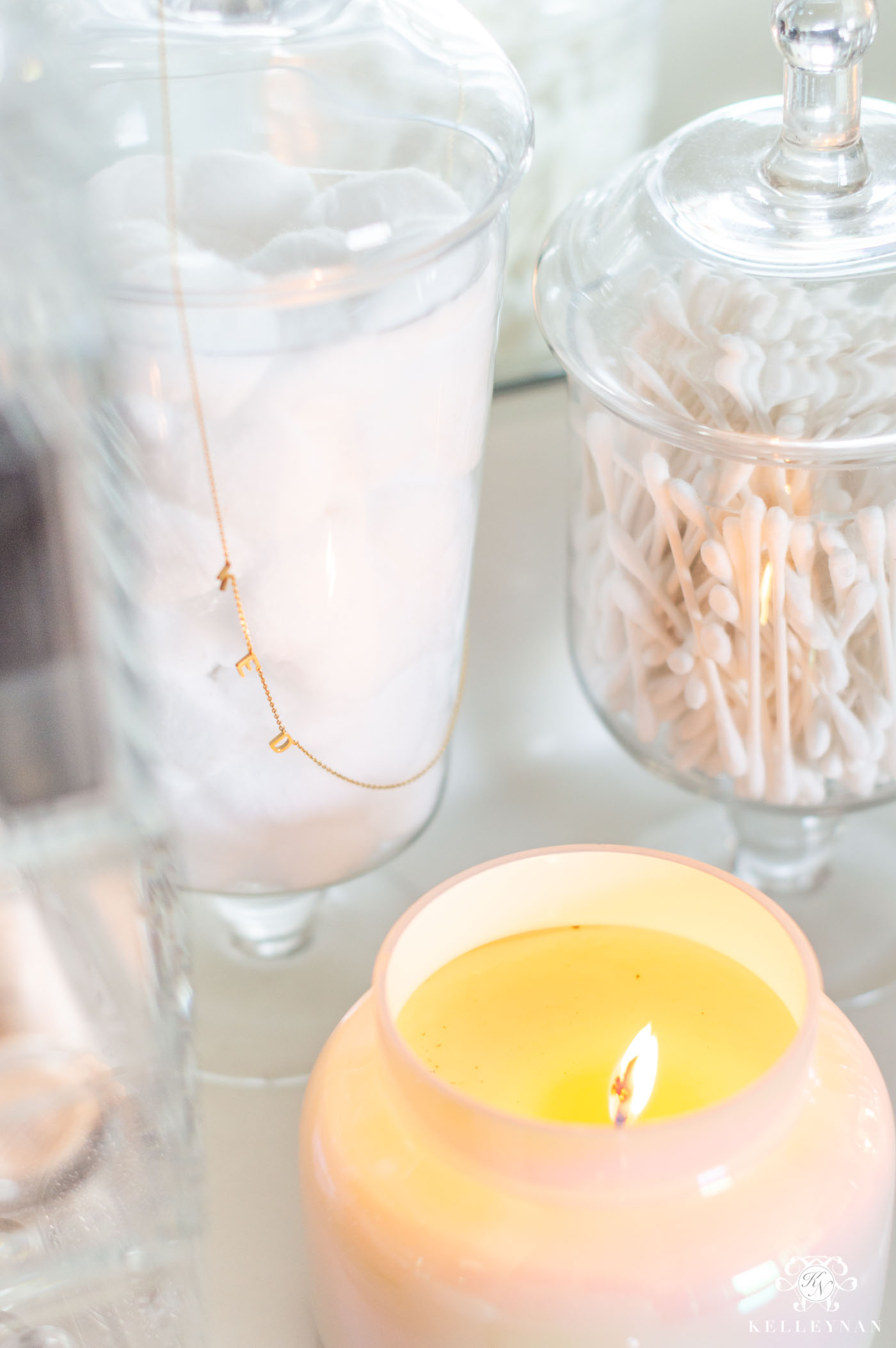 Scroll & Tap to Shop Makeup Organizer Components

2. Bathroom Vanity Drawer Organization
A few years ago, I was determined to turn my single, shallow vanity drawer into my makeup drawer. I purged everything down and fit it all in, but as soon as I purchased a new palette and spares, everything started growing out of the drawer. The organizers were bulky and my brushes quickly made their way onto my countertop. I'm still convinced the back of the drawer ate a few beauty blenders and eyelash curlers that disappeared and were never seen again. When I decided I needed to be able to see everything and moved to the acrylic organizer, I determined this drawer would be for daily items. Before I made the switch, this was how my drawer was looking…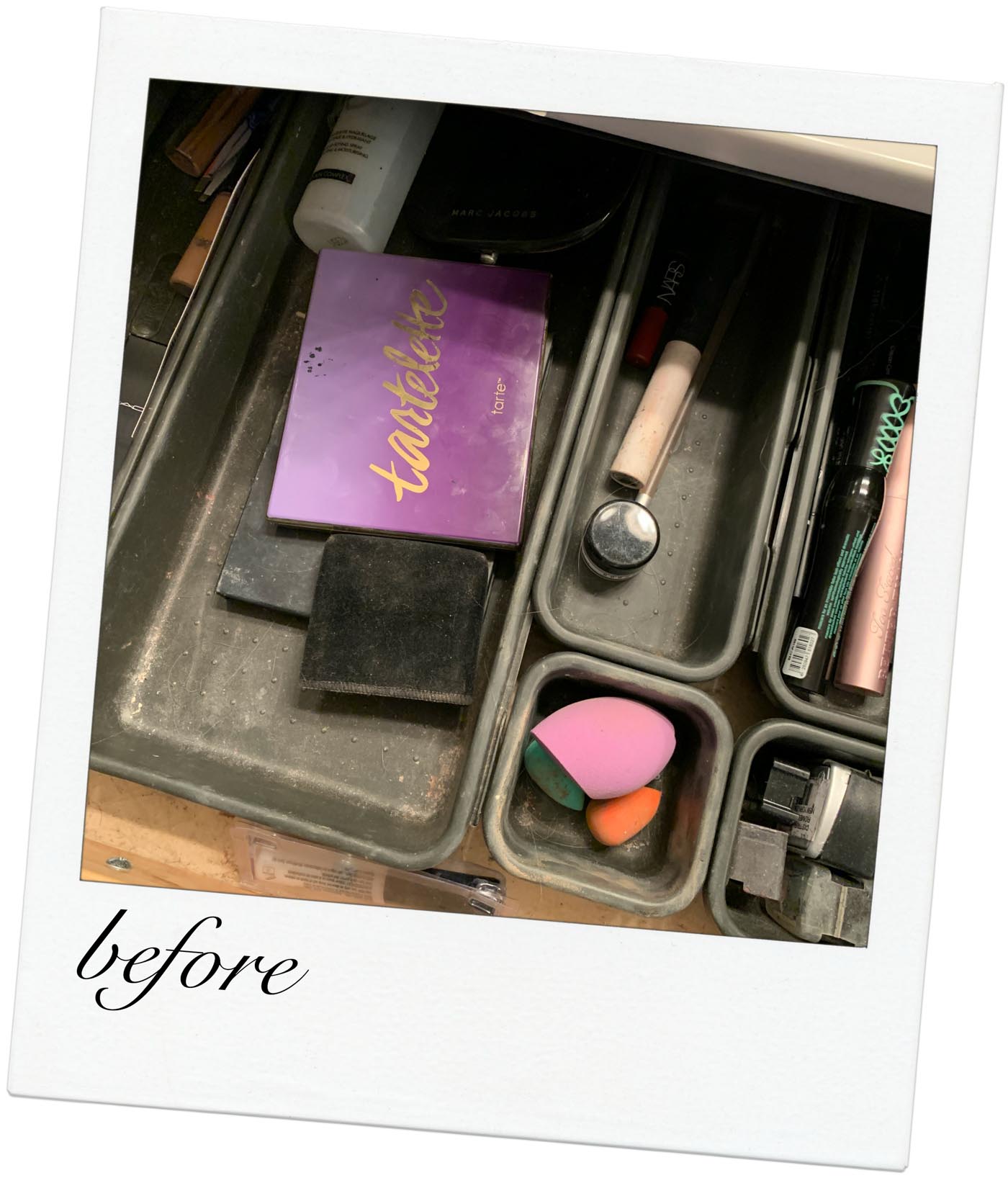 Yikes! And after reconfiguring the vanity, this is how my drawer now looks.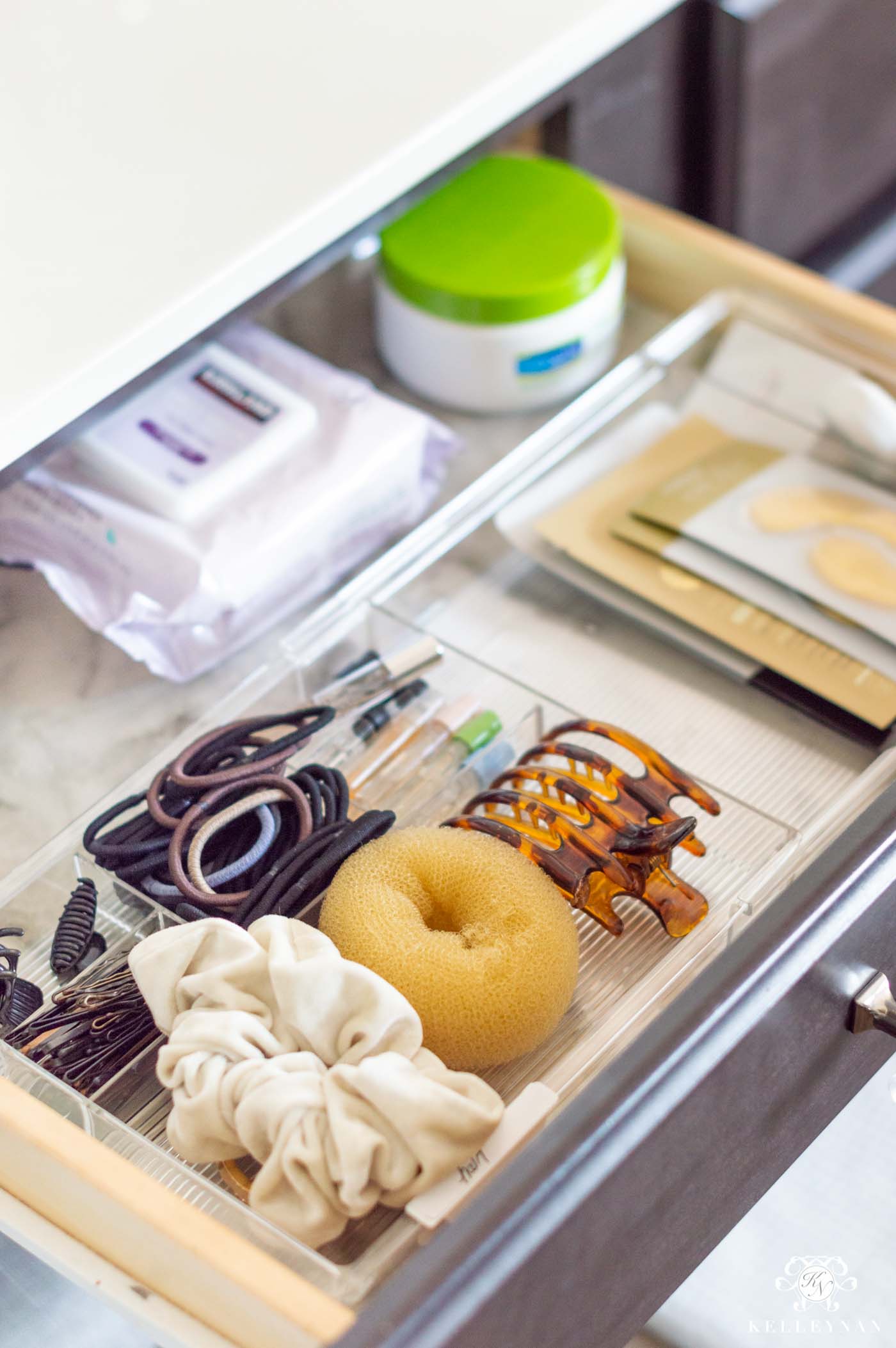 It's simple and I didn't include too many categories because I wanted everything to be able to "breathe". Because my former organizers were bulky and ill-fitting, I decided to go with THIS expandable, slim acrylic organizer that would conform to the size of my drawer. It's also shallow for small vanity drawers, like mine. The bottom of the drawer was pretty dirty from makeup and I wanted something lighter to better see the drawer contents. I used a durable, marble wrapping paper and cut it down to size to line the drawer.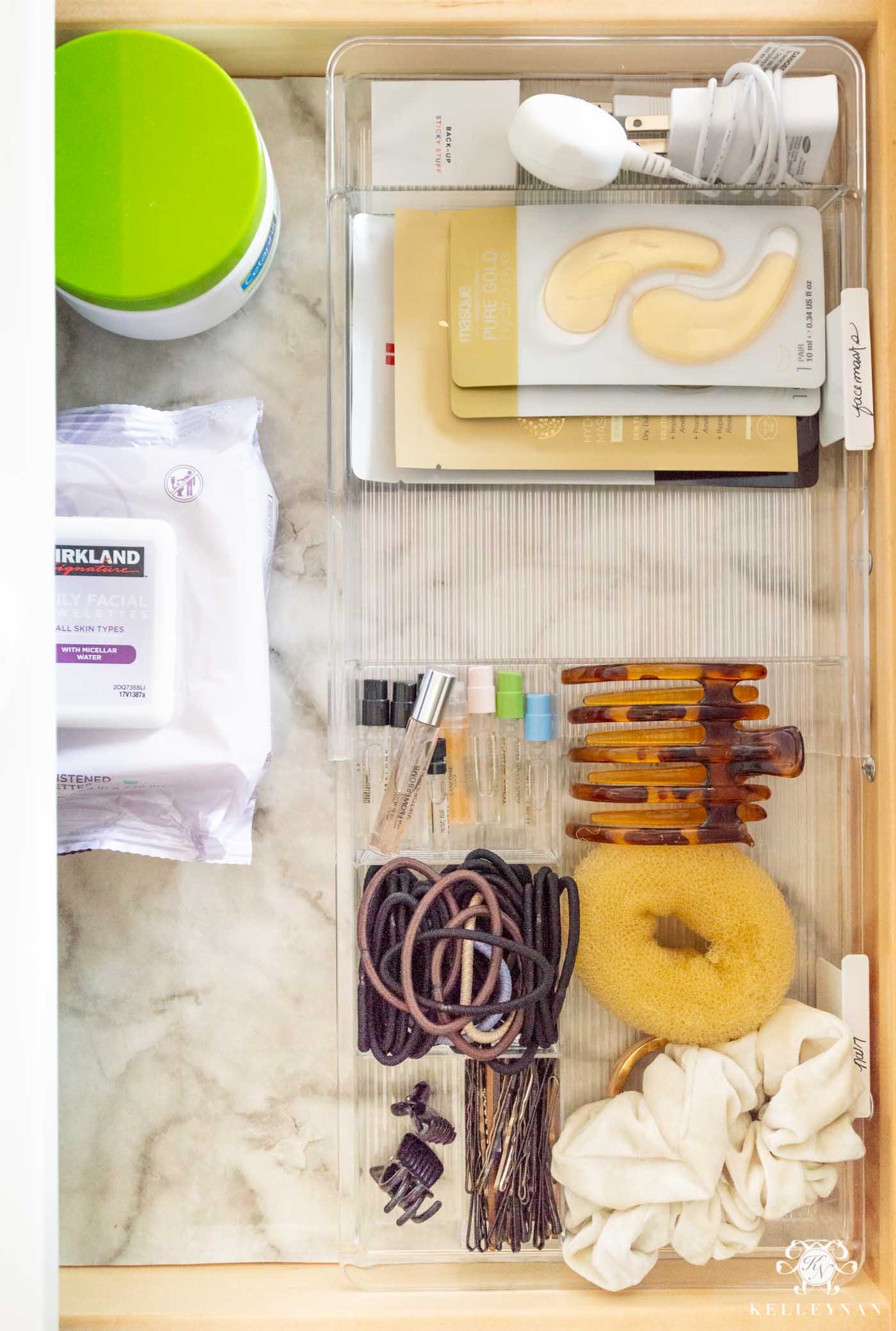 While I'm not big on labeling obvious things you can see, I did pick up THESE drawer divider clip labels in an effort to label compartment "homes" to hold me accountable in putting things back in their respective spots. I hadn't seen them before but they are supposed to fit most any drawer organizer – which I think is kind of brilliant. (They're also on sale right now.)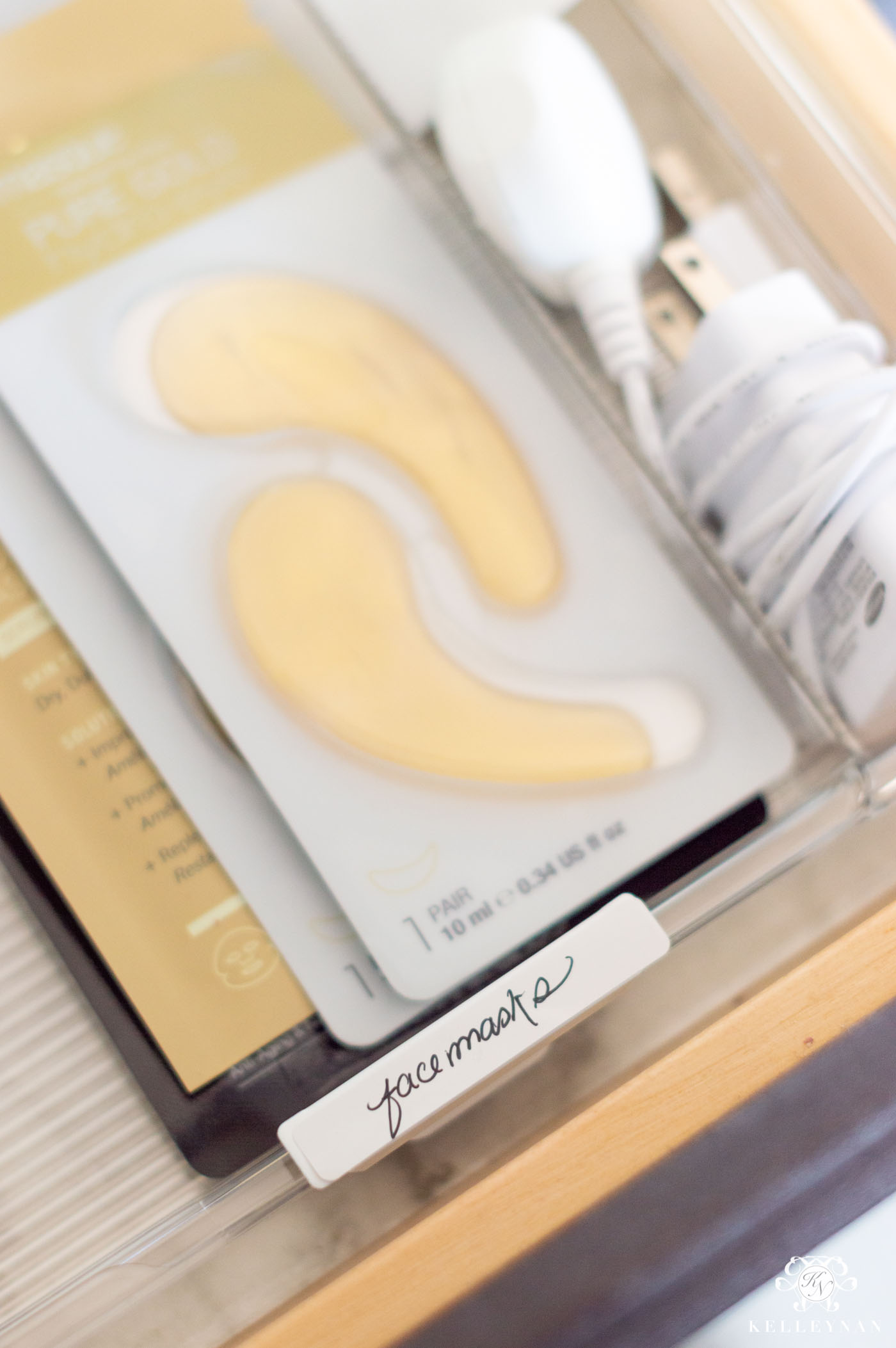 Scroll & Tap to Shop the Drawer Organizers

3. Bathroom Cabinet Organization
My cabinet below the bathroom sink is actually pretty spacious. But, it's deep and low and isn't the best space to have to dig around, searching for everyday items. But, I need it for everyday items so I added a few systems to make it a little easier. (You can find my new, inexpensive cabinet pulls HERE — hello 10-minute update!)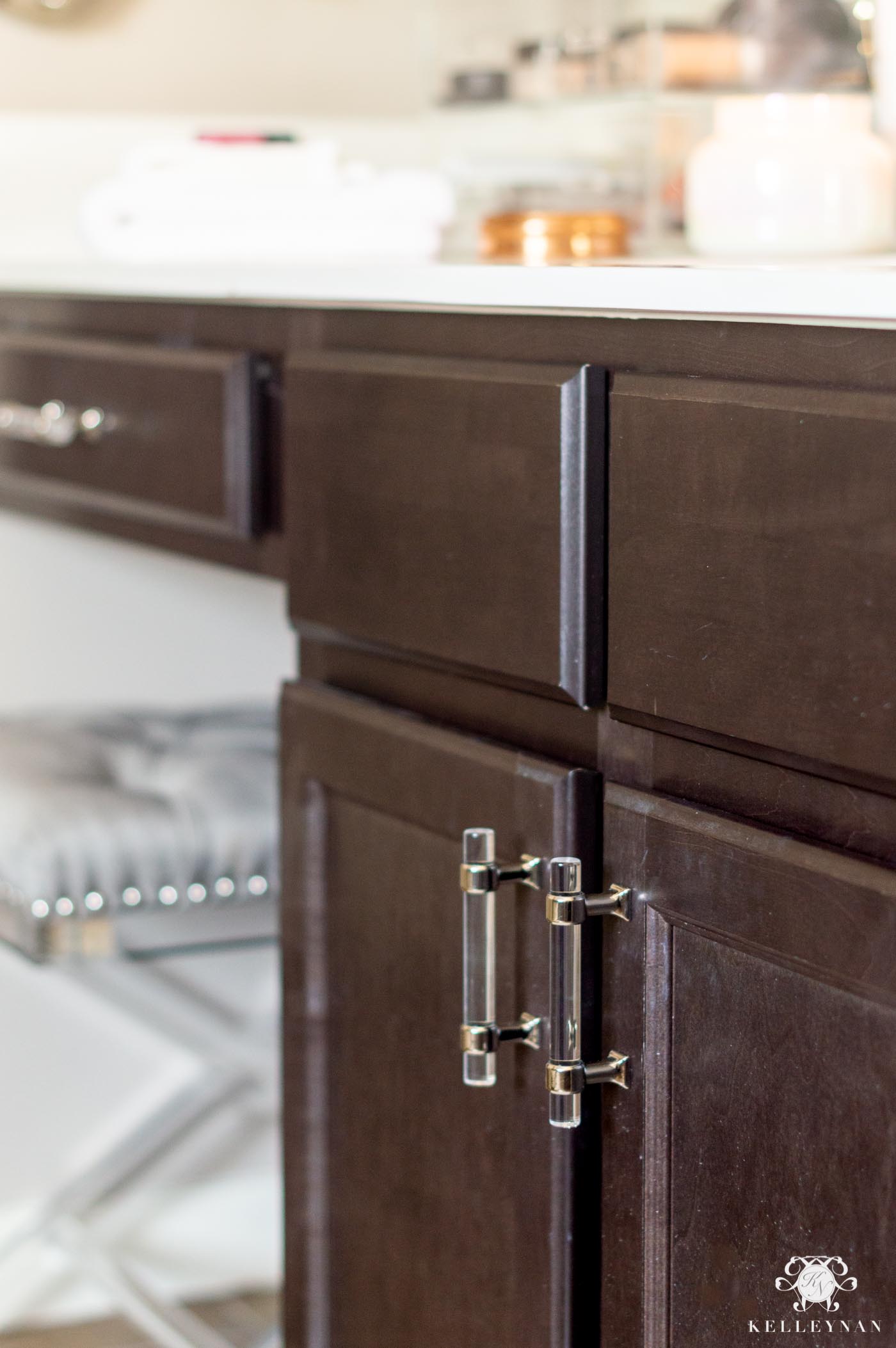 My cabinet before wasn't overflowing but the random, deep stationery bins went untouched. I was also too lazy to pull them out, search through, and return all items to their appropriate place each time I needed hairspray so it turned into a mess quickly. I'm also not crazy about having to stack and re-stack things to stay organized. Here's a peek of how it was…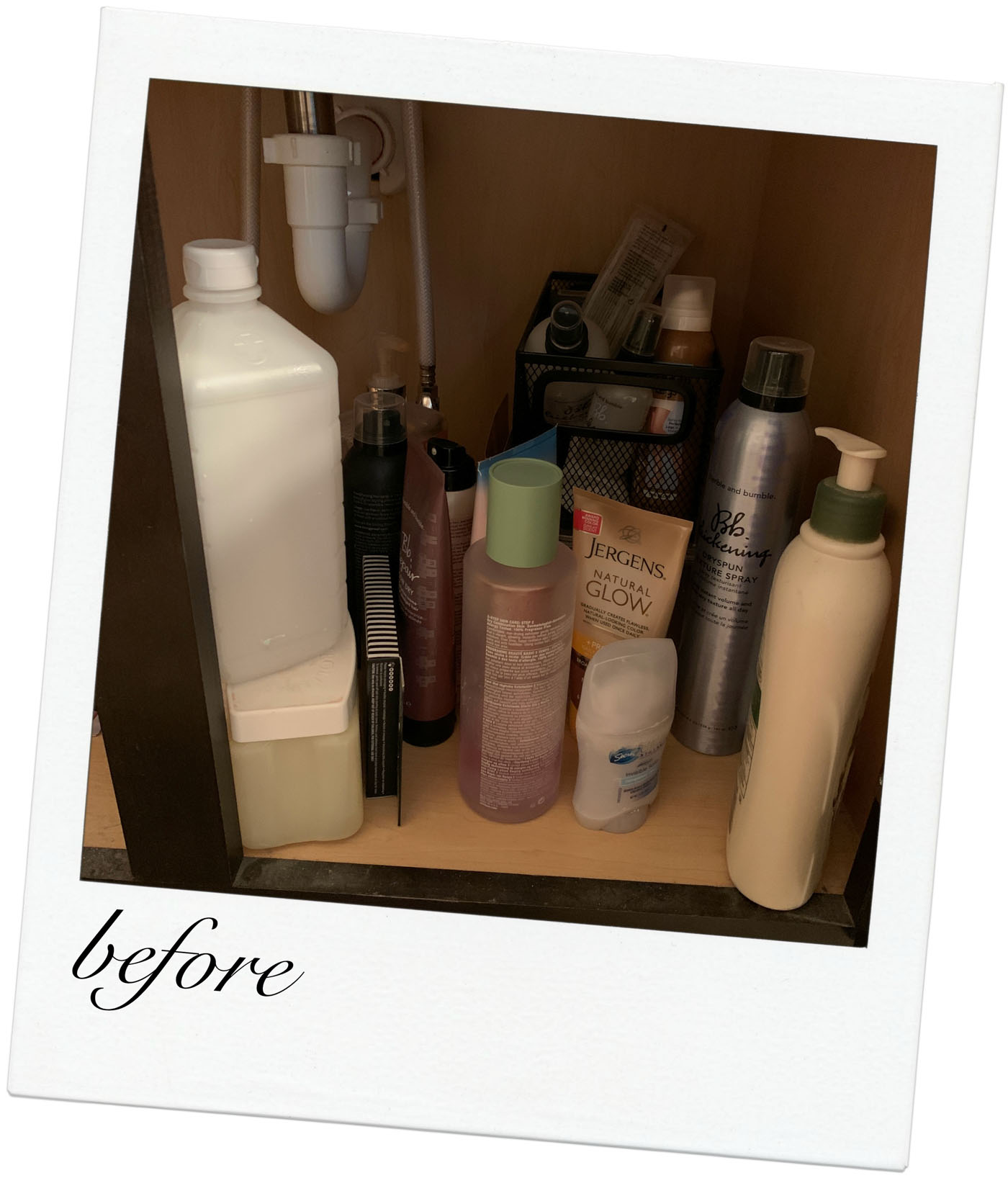 And with the easiest additions ever, here is the "after".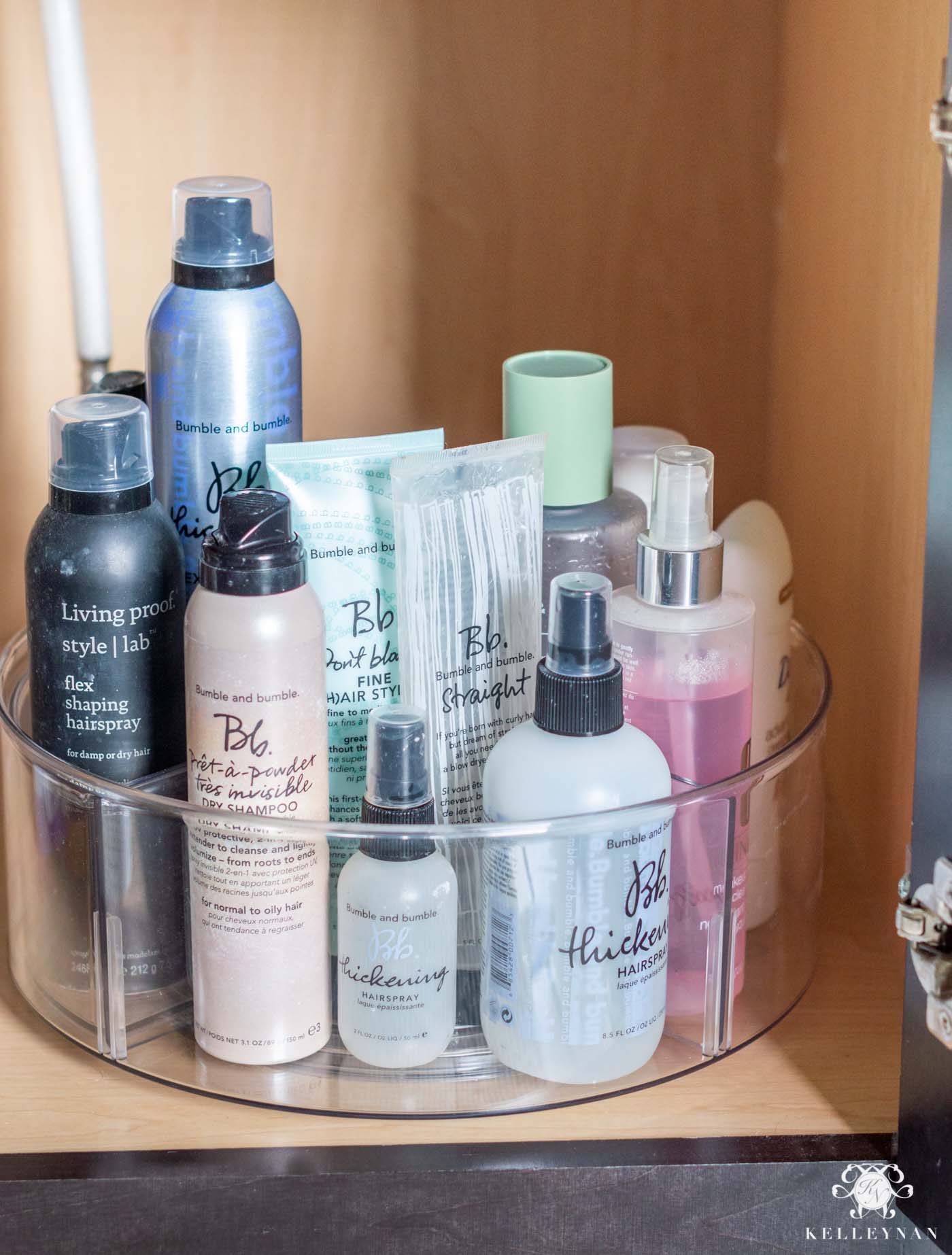 There's tons of room left over and plenty of space for back-stock, should we need the back of the cabinet for storage, but simply adding a clear, deep, sectioned turntable — that I can see and swiftly swivel — makes it so much easier to keep my cabinet it good shape.
I wanted to make more use of the vertical space (rather than the depth) so I added a few stackable shoe drawers to the other side of the cabinet (they come in a few sizes) which nestle onto each other nicely. I could have added more or added another set to the other side (and set the turntable in the middle if necessary), but it wasn't needed. Everything that found a new home in the shoe drawers was previously cluttering the linen closet.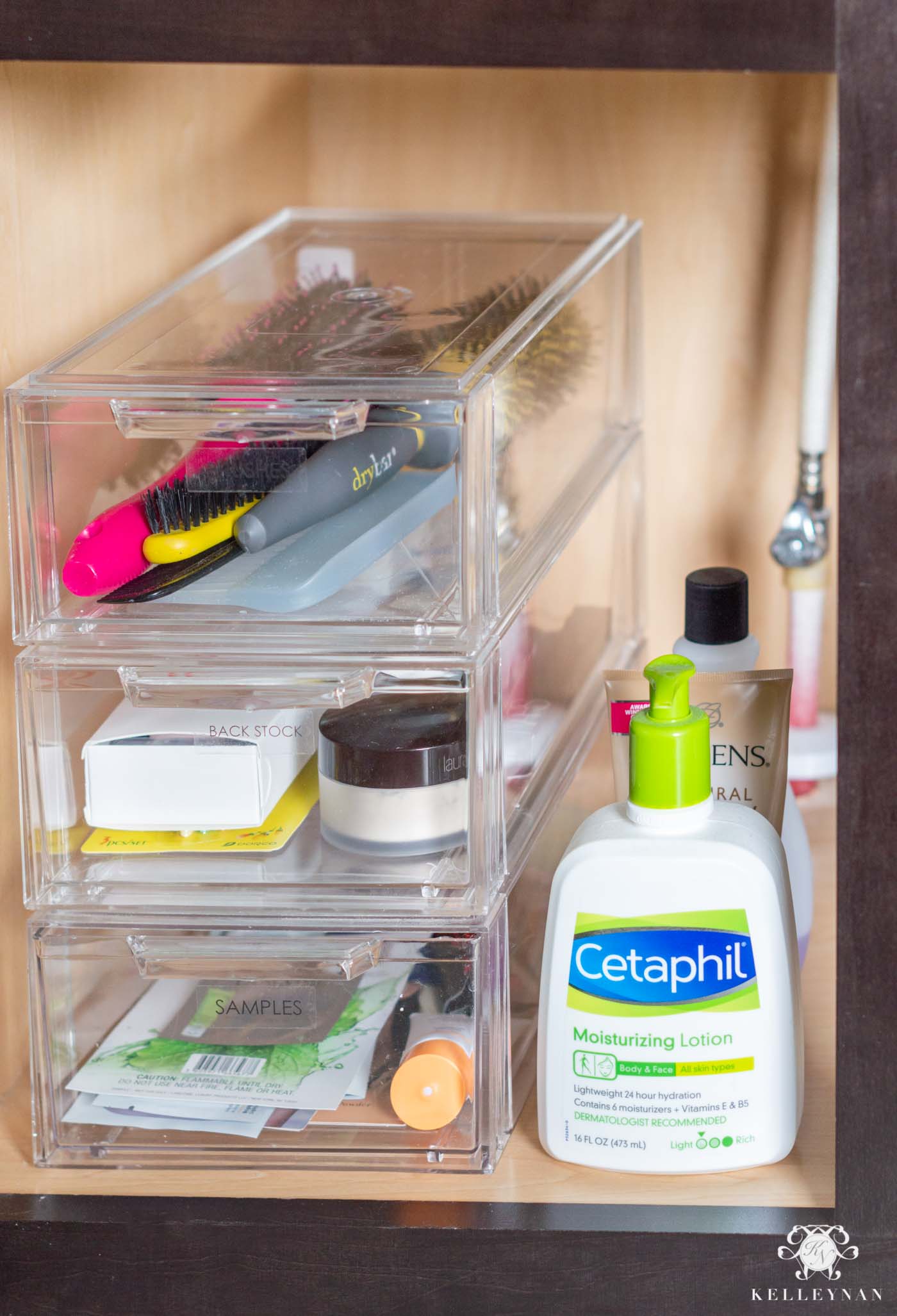 See? Still tons of room and breathability.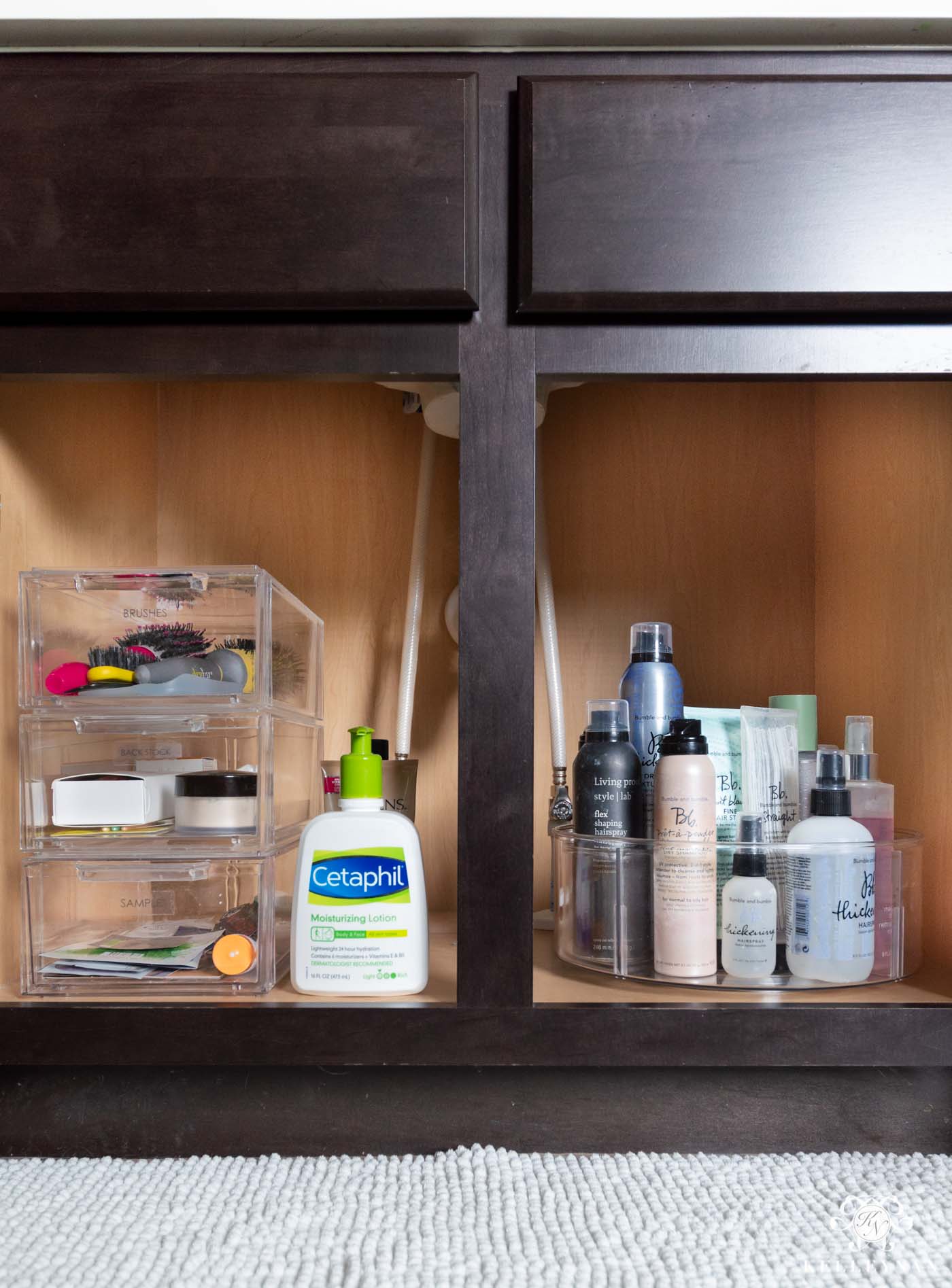 This turntable actually has removable compartments but I grabbed mine in-store and didn't realize three were left out until I was at home. You can find it HERE (which should come without missing pieces 😉 ).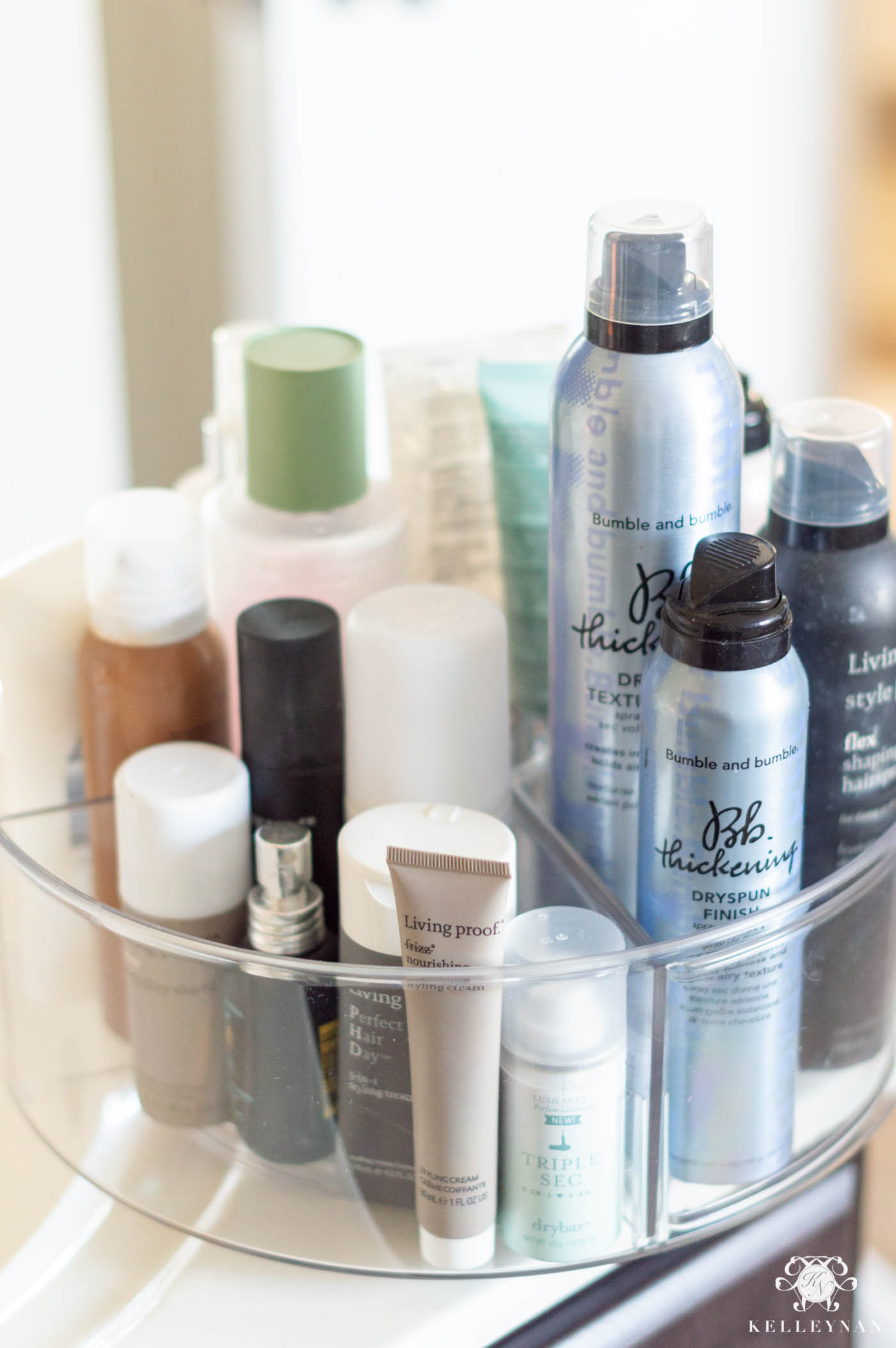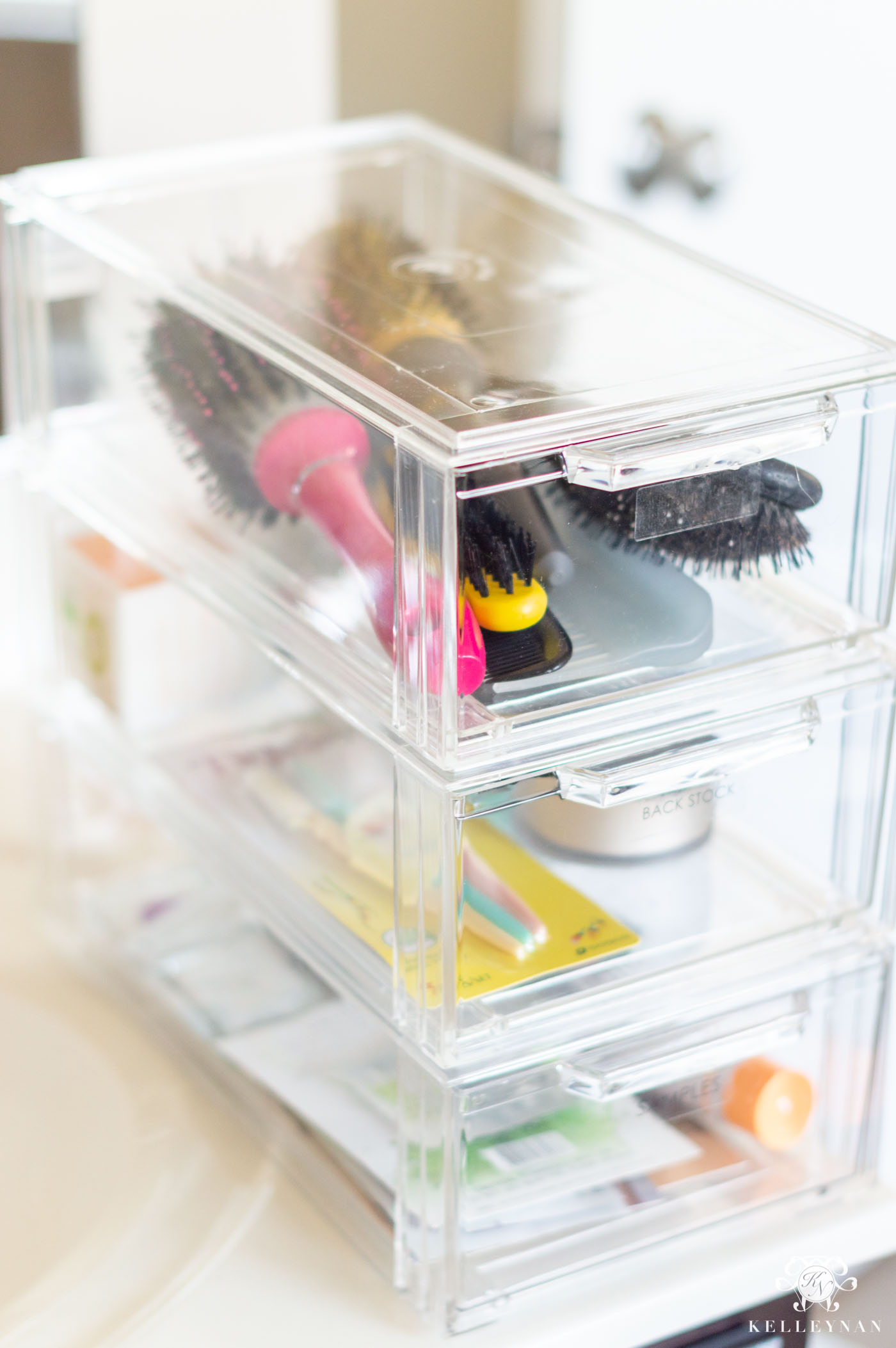 I labeled each drawer using these clear labels in my laser printer and I've already found that keeping my back-up makeup visible but separate has made it so much easier to know what I need without ordering excess.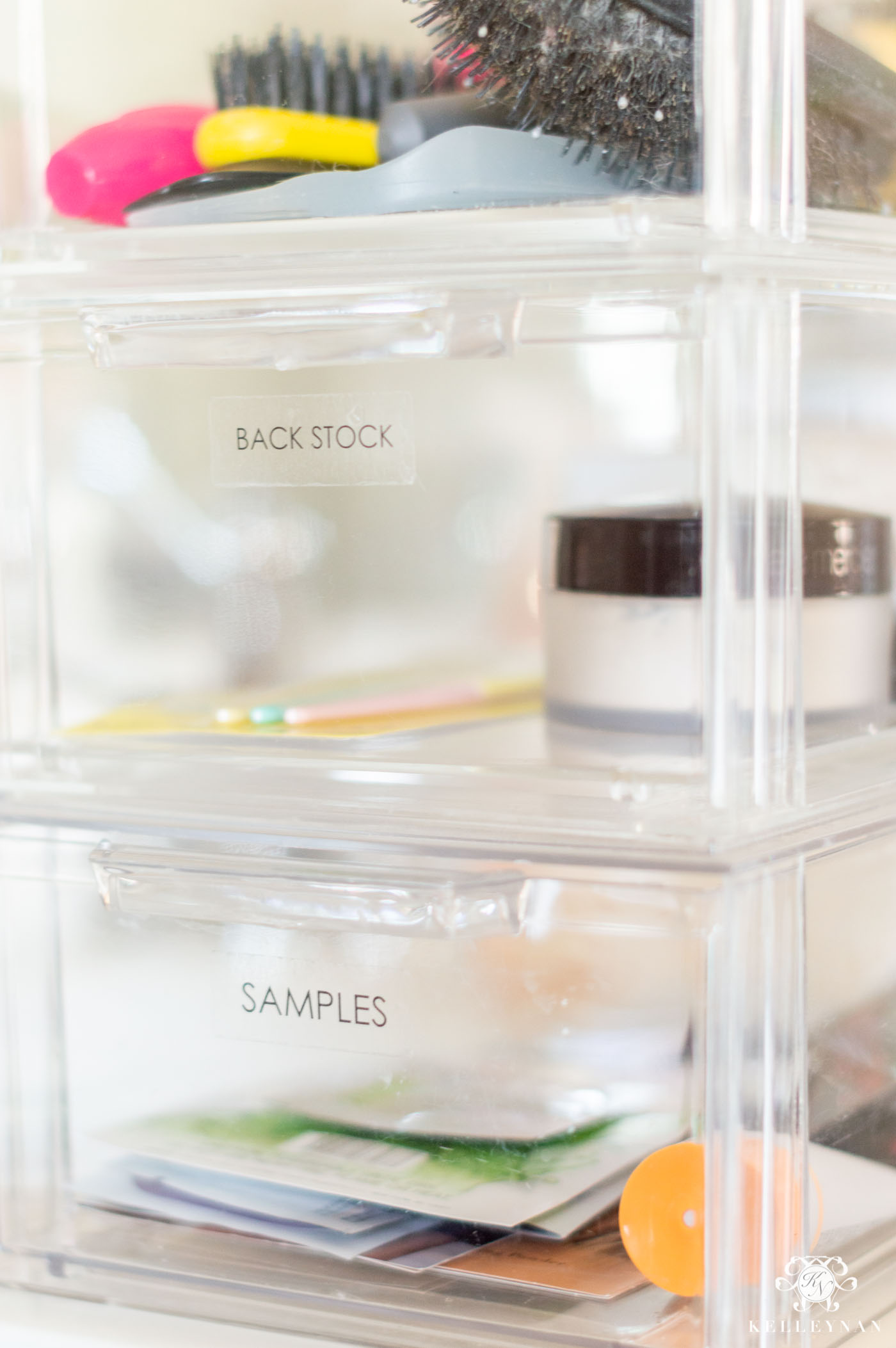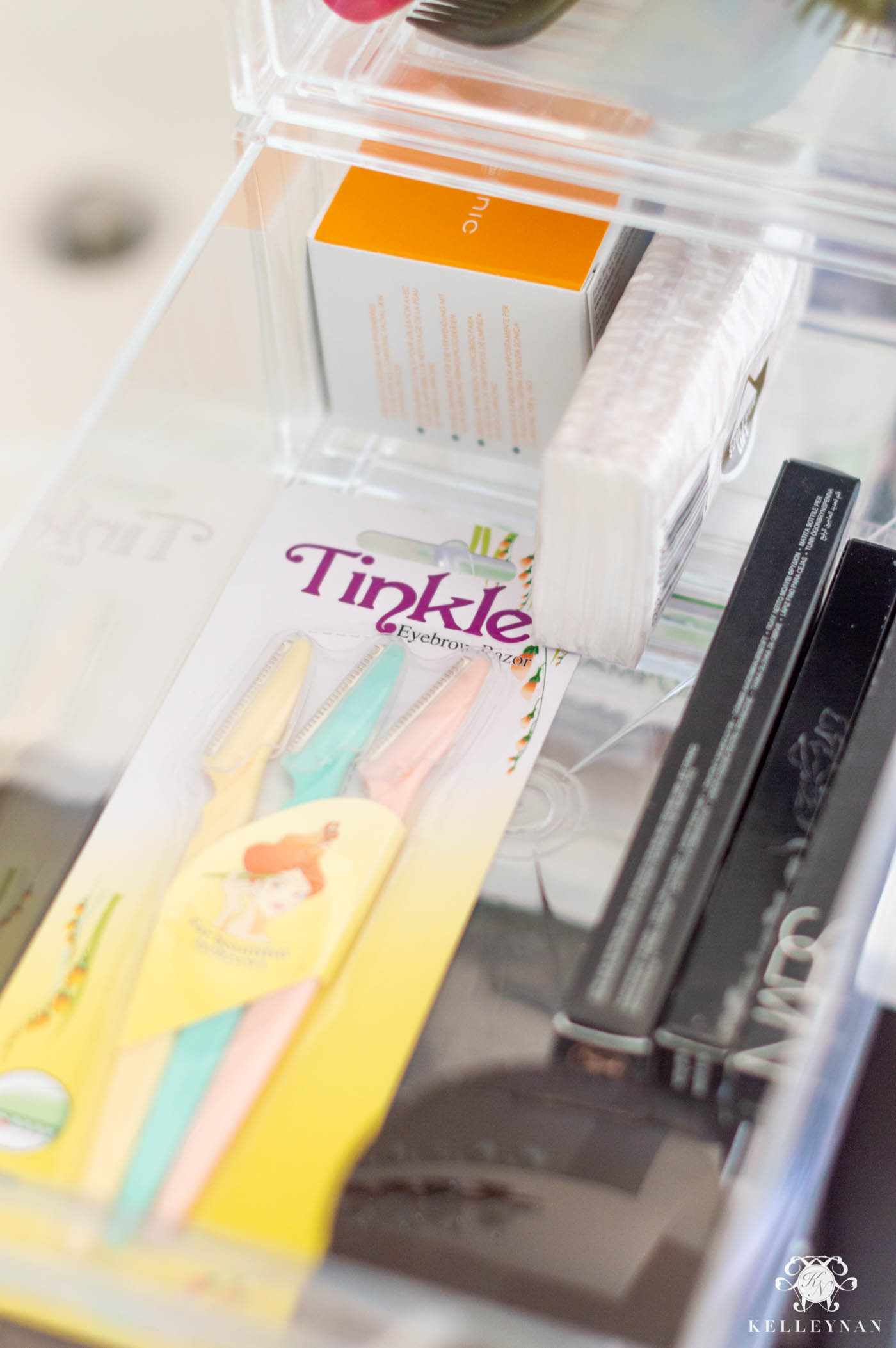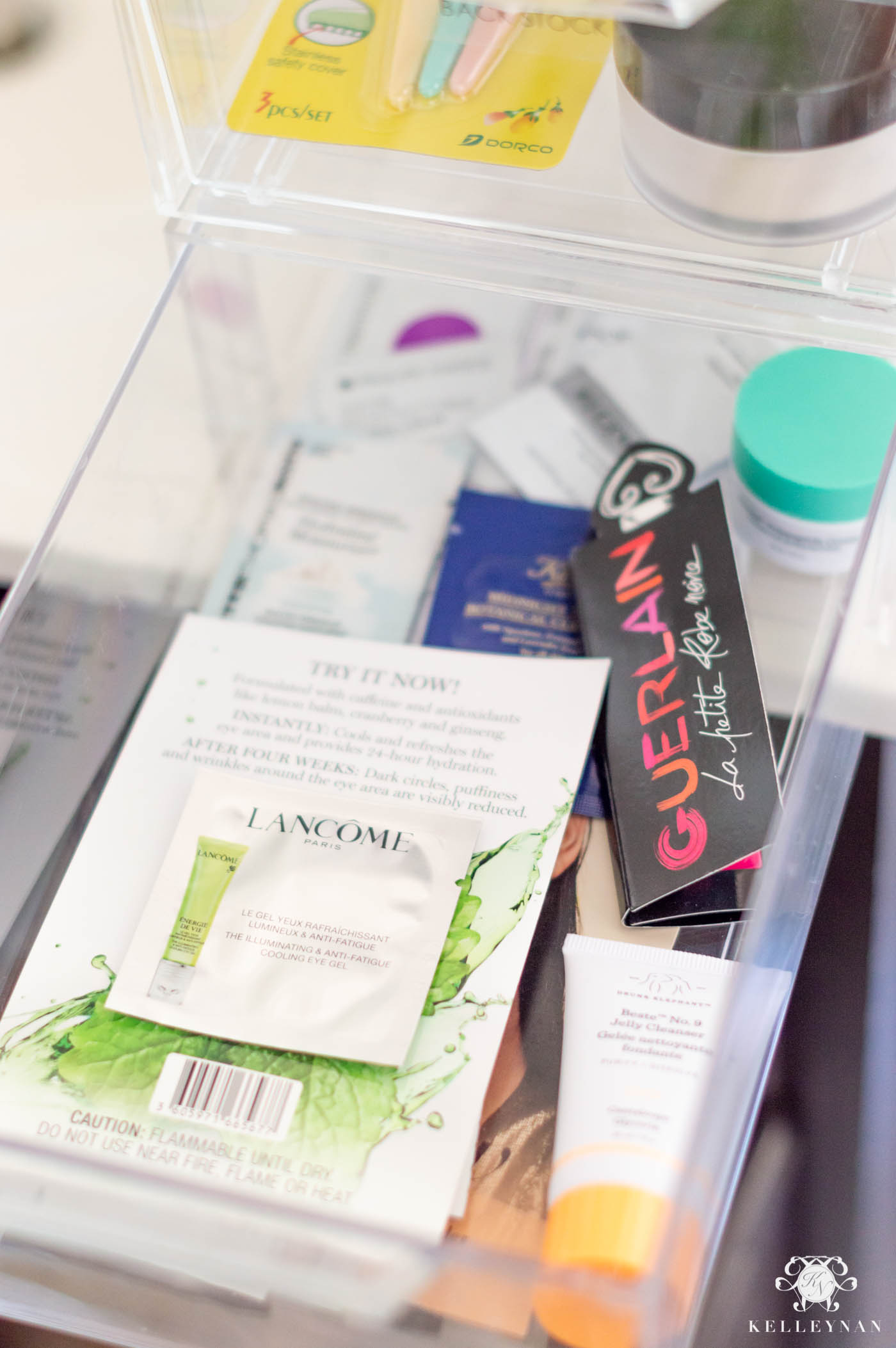 These simple bathroom organization ideas were easy to implement but were the solutions I needed to address how I was (mis)managing my vanity space. To catch upcoming spaces and all future organization projects — both big and small — be sure to subscribe to emails at the bottom of the post!
Scroll & Tap to Shop Vanity Cabinet Organizers

Bathroom Organizers



Other Organization Posts You May Be Interested In
*View all organization posts in the "Organization" gallery HERE.