My biggest frustration with my bathroom vanity is the lack of drawers; I'm sure more than a few of you can relate. With only a single short drawer in my space, a few years ago, I was convinced I could still cull and consolidate my makeup enough to designate it as my makeup drawer. And, I did. I was formerly using a small, deep acrylic makeup organizer on my countertop that took up too much countertop space and didn't fit my makeup well so in an effort to clear the vanity surface, I purged my old makeup until it comfortably fit inside the vanity drawer. But, my success was short-lived as I realized with the limited drawer space, it really wasn't the long-term solution I had hoped for. Any extra makeup had to go in the closet, under the sink, tossed in random baskets, and ultimately, still started moving to my countertop (which was also growing increasingly cluttered). I always talk about when it comes to organization, function reigns supreme but sometimes, it takes a few trial and errors to get it "right". After several years of trying to stick to the single drawer system that just wasn't working, I set my makeup organization at the top of my priority list for the beginning of the year. Well hallelujah because my bathroom and vanity have been conquered and my makeup can finally breathe again! And, when my makeup organization is on point and I can access and find things easily, I tend to actually use my makeup more. My solution — an acrylic makeup organizer with customizable modules that I was able to construct and assemble to fit my needs.
*Posts on KelleyNan.com may contain affiliate links. Click HERE for full disclosure.
While I had an acrylic organizer for my makeup several years ago, it was too deep and not nearly wide enough. The system I've now implemented is opposite — wide but not too deep. And, I'm gonna break it down and share exactly what I'm able to store in each drawer, along with each acrylic makeup drawer I used to round out my pretty little tower. As a reminder — or, if you never saw my former makeup solution — this is what I was working with.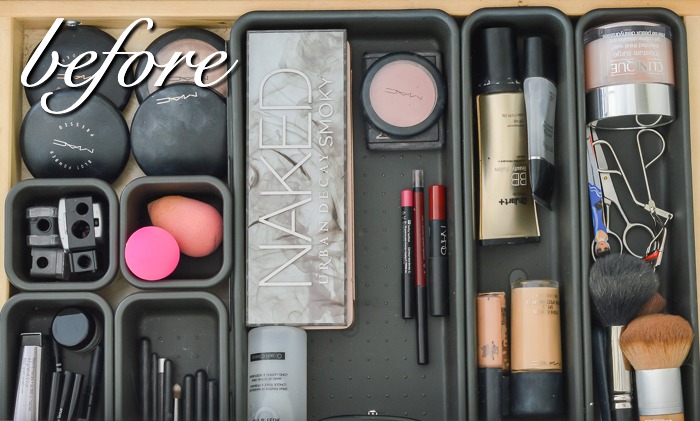 As soon as I needed to add a bottle of foundation, I was done for. All the makeup ran together and while I was hopeful, it just wasn't a viable solution for me. I needed something that had extra room and something where I could actually see what I had. I swear the back of the makeup drawer ate a couple brushes and eyelash curler…
Acrylic Makeup Organizer
I was hesitant to look for a countertop solution before because I really wanted my products hidden. But, given the choice of a bare countertop or solutions that actually work, I'll take the countertop organizer! After looking for lots of solutions and hunting for something that would accommodate the dimensions of my tallest and longest makeup products, I landed on this Luxe acrylic modular system, with individual, substantial, stackable acrylic drawers that transform into the exact makeup drawer organization system you need. There's also inserts that fit within the drawers so the customization is endless. Here's what my acrylic makeup organizer looks like now…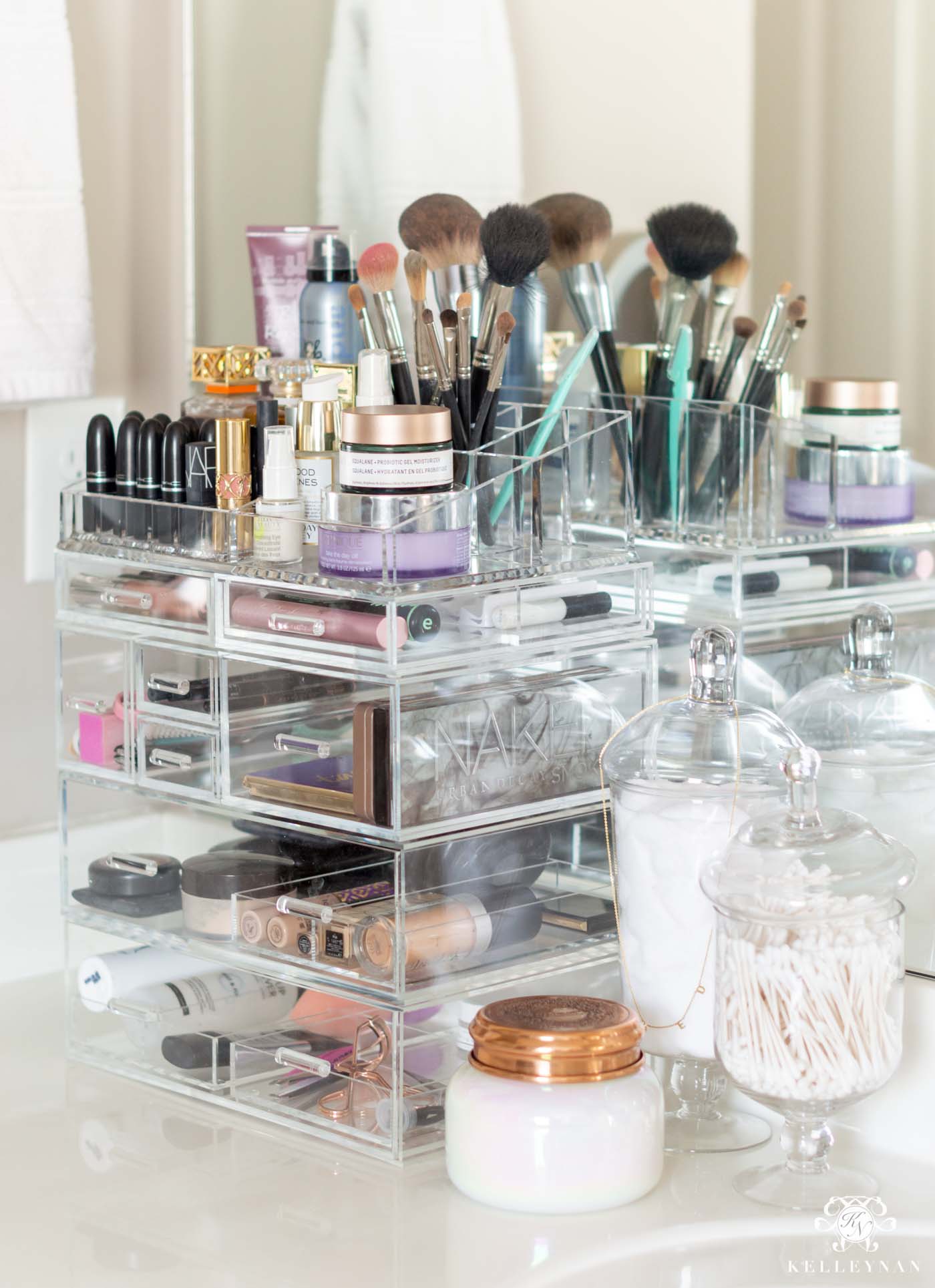 Scroll & Tap to Shop the Vanity

Now that I actually have my products out but orderly, I like the look. Plus, with the right organizer, I still have ample room for other items like my apothecary jars and there's plenty of space to get ready and apply my makeup. If you've never had acrylic, it isn't just a clear plastic that you may be more familiar with. It's a hard material, has a good bit of weight to it, is durable, and cleans a lot easier than plastic that tends to get foggy.
How to Organize Your Makeup
Creating a custom makeup organizer from individual modules may look intimidating, but here are a few tips.
Take inventory of your makeup. Dispose of old makeup and makeup that you have never/will never wear. Once you've purged, group like items together — eyes, lips, face, cheeks, etc. You can even subdivide if you have a lot of makeup — shadows, liners, lashes, lipsticks, glosses, lip liners, bronzers, highlighters, etc.
Consider what you have the most of and the least of to determine if your specified categories call for wide drawers or narrow drawers.
Measure your tallest product and your longest to make sure you get makeup drawers that will easily accommodate chunky/long sizes. For me, that was the Laura Mercier translucent powder and my Naked palettes.
Establish homes for your categories that have the most items and largest/most awkwardly shaped items first. It's easier to make room for an eyebrow pencil than it is a setting spray.
Don't be afraid of trial and error and order/bring home more than you think you need to get the best configuration. I sometimes land on my best ideas just by doing and playing around. You can always return any extra/unused components.
Don't try to cram everything into a set amount of drawers. Leave plenty of space to add and ample space to sort through your items when you're getting ready. You want to be able to see your products — not hunt through them.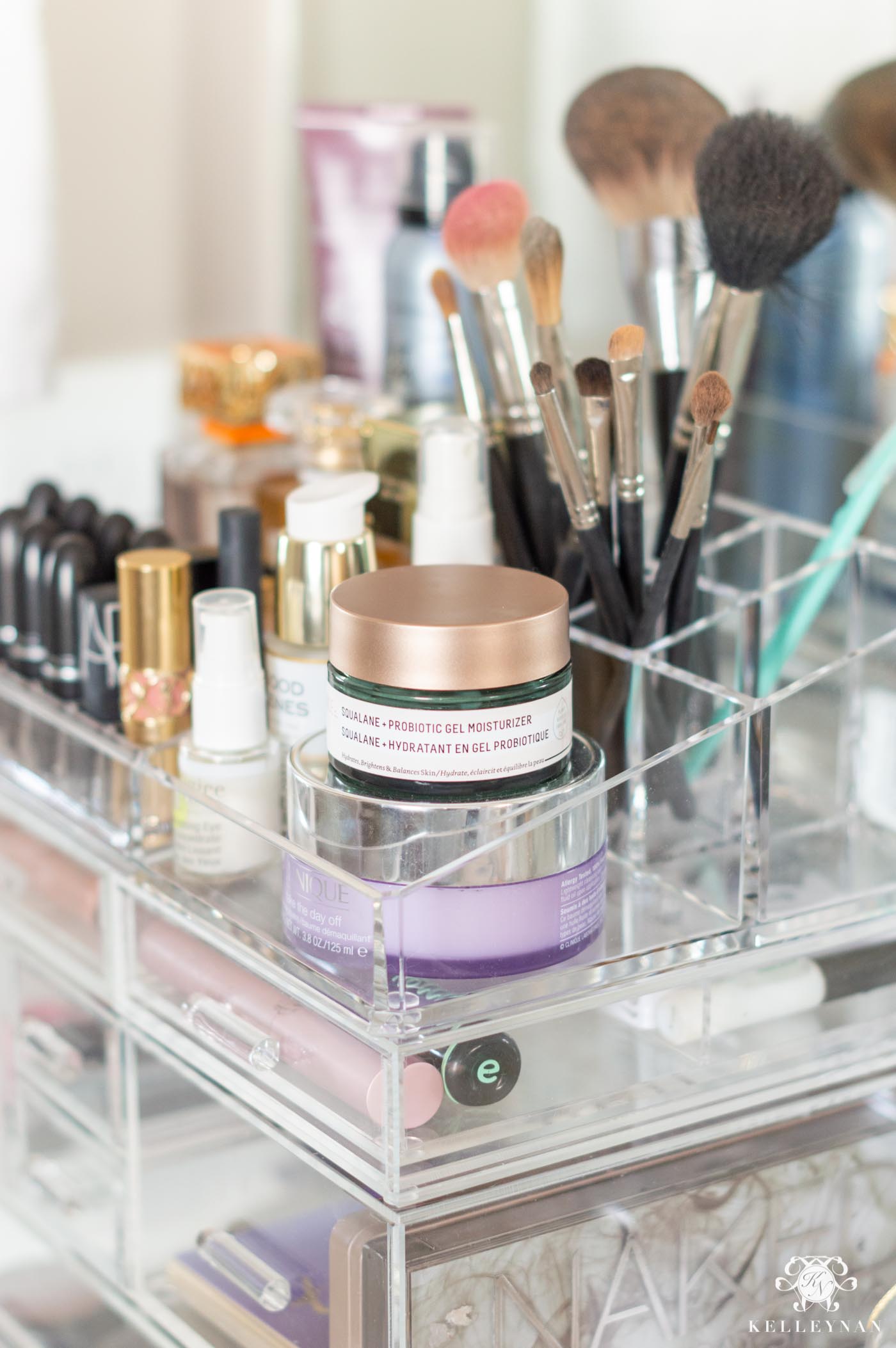 The good news is that the module sizes of the acrylic makeup drawers all work together within the same system, which makes building your own organizer way easier. There are only two heights (both a tall and a short — which is exactly 1/2 the height of the tall), and three widths (large — single drawer, medium — half the size of the single drawer, and small — half the size of the medium or 1/4 the size of the large). So for example, if you  have a large, single drawer base — like I do — you could 1. stack a single on top, 2. stack two mediums on top, 3. stack a medium and two smalls on top, etc. Here are the exact components I used in mine.
Components:
Scroll & Tap to Shop My Custom Acrylic Makeup Organizer Pieces

I think the benefit of the system is being able to customize it but there are also pre-packaged sets you can use or even use as a starting point. You can get more inspiration and configuration ideas here.
Pre-Selected Acrylic Makeup Organizer Sets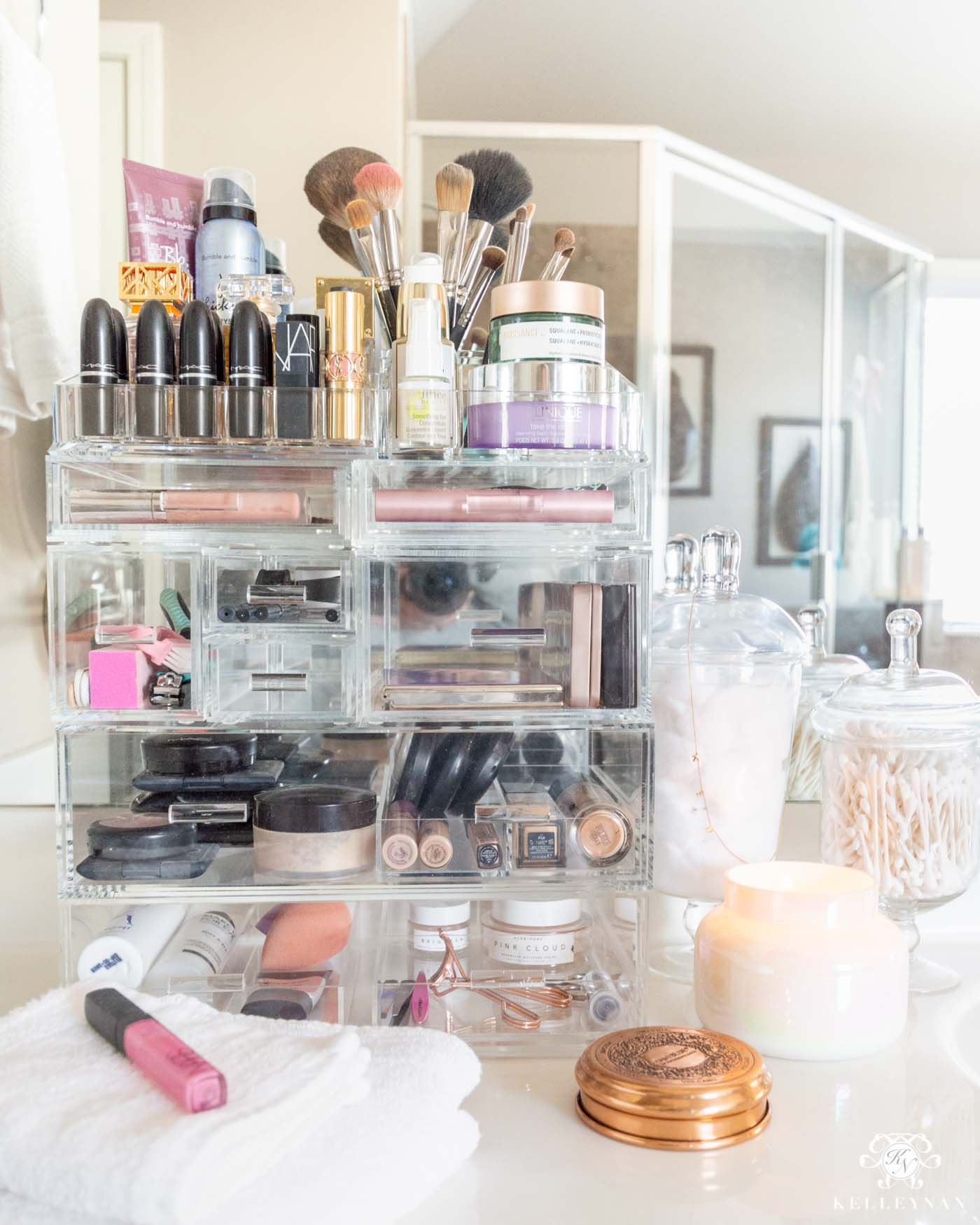 Acrylic Makeup Organizer — What's Inside Each Drawer
I consider myself to (now) have an average amount of makeup — I definitely like to have options but my days of needing every color eyeshadow are long gone. I'm going to take a peek inside each drawer but first, here's my overall drawer storage setup. I even still have multiple empty compartments in the top organizer and a full empty drawer.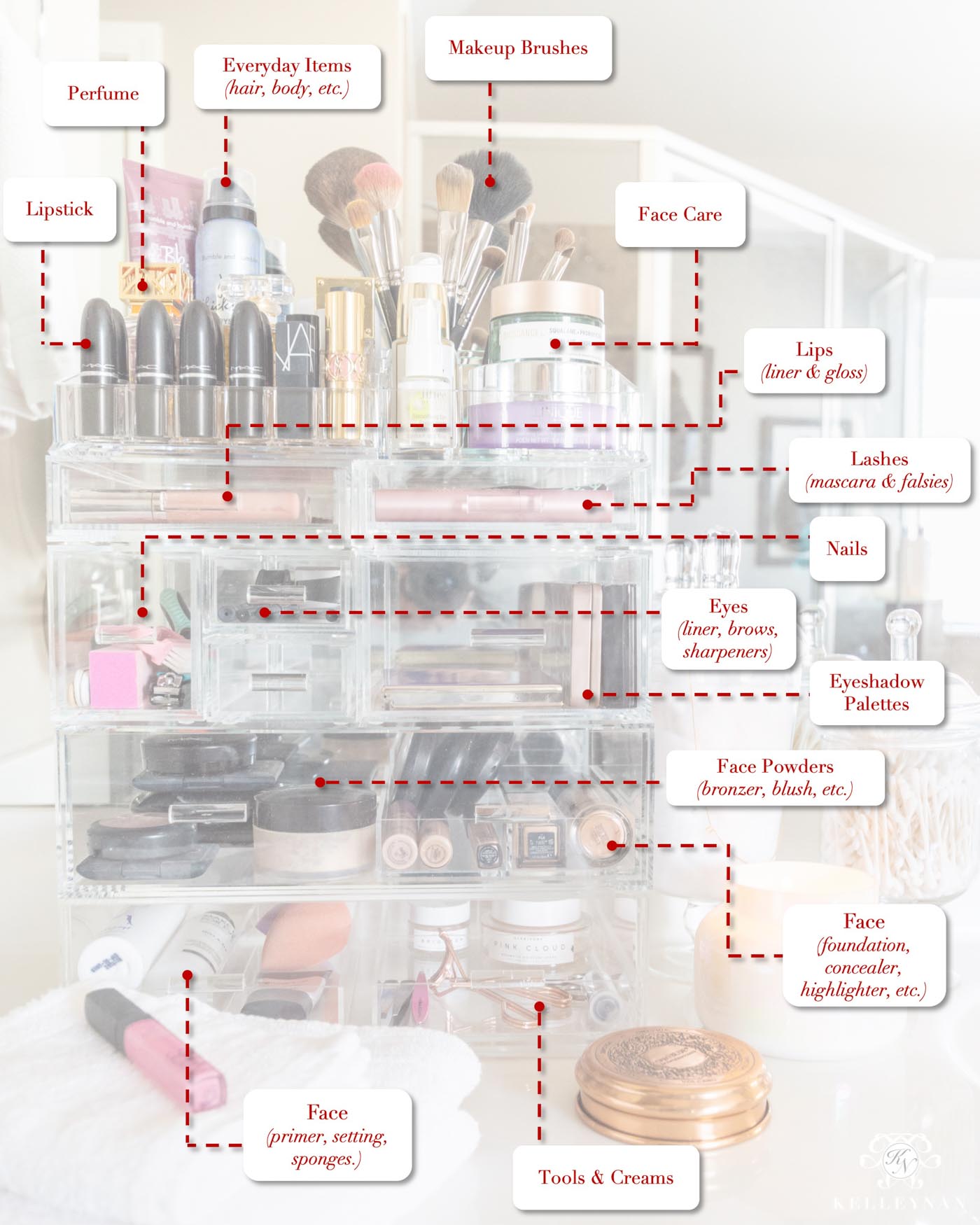 My acrylic organizer on top of the unit is one piece; you can remove the lipstick tray if you want to, though to form one large compartment. The back sections where I keep my daily items and perfumes (plus an entirely empty last row not pictured) is actually on a little riser. Makeup palettes would fit well on these too, if you prefer not to keep them in drawers.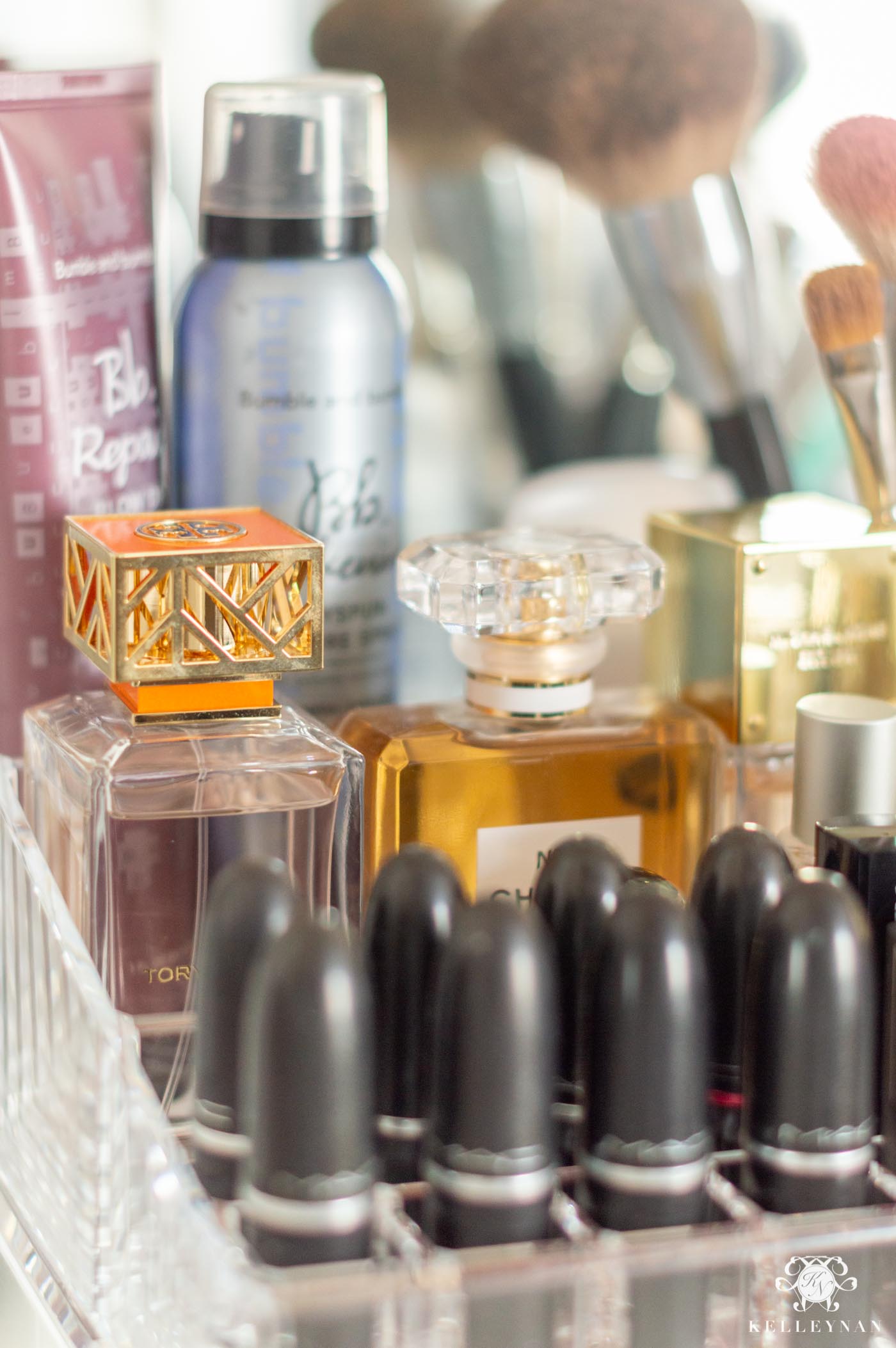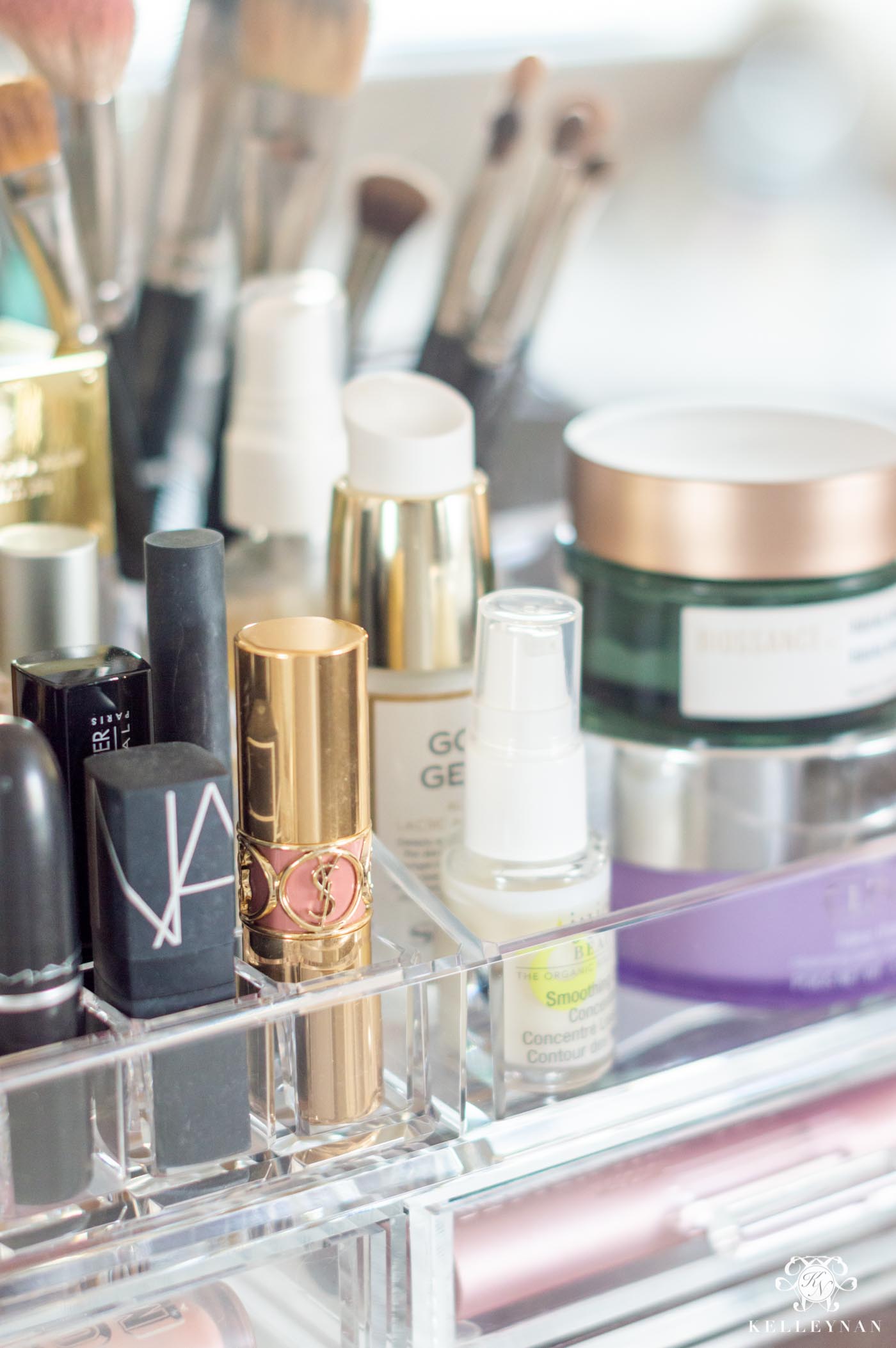 I have one short medium drawer with this divided insert for lip liners and glosses…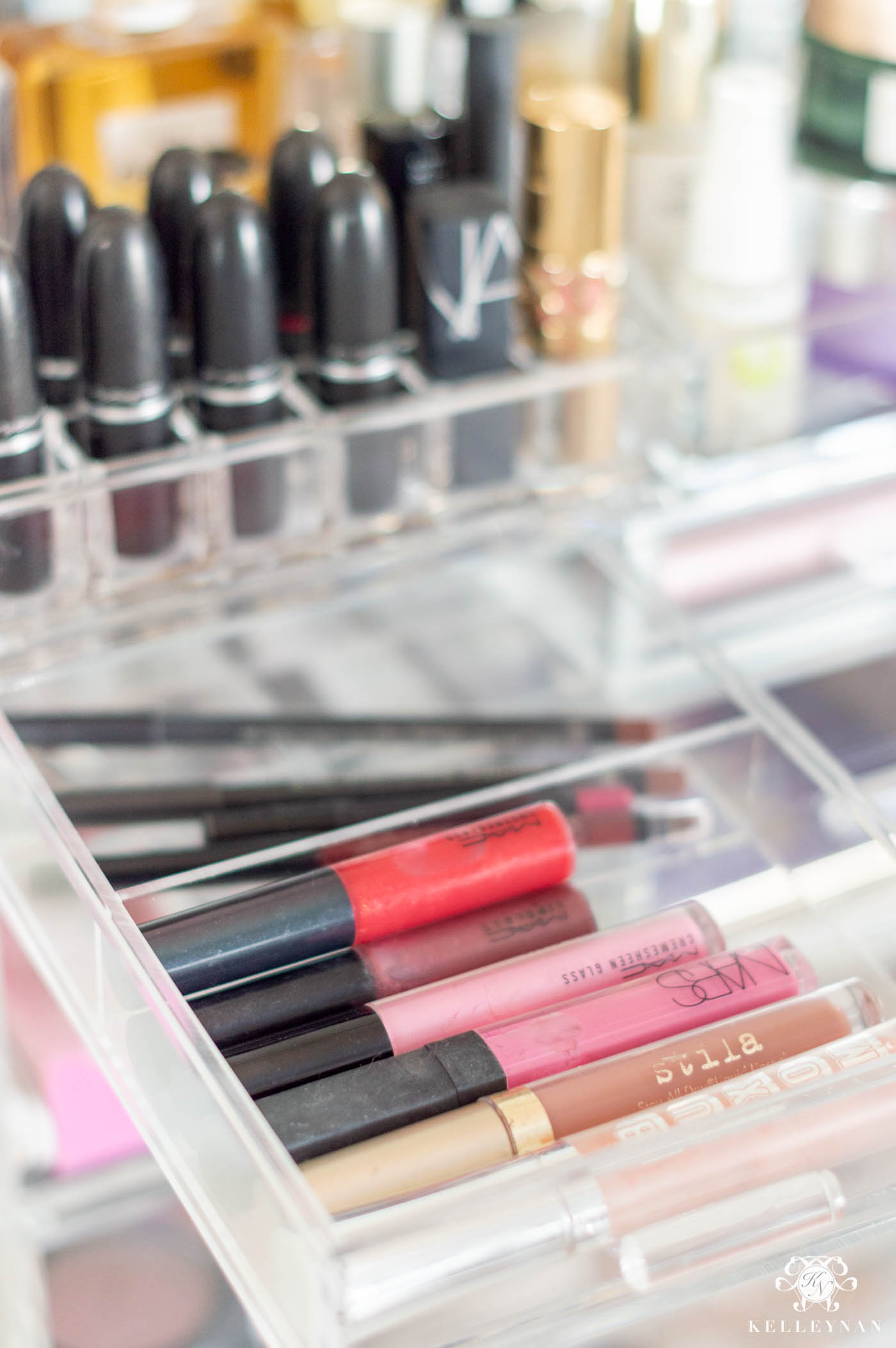 And a drawer next to it reserved for lashes. I used another short medium drawer and this divided insert for faux lashes and mascaras.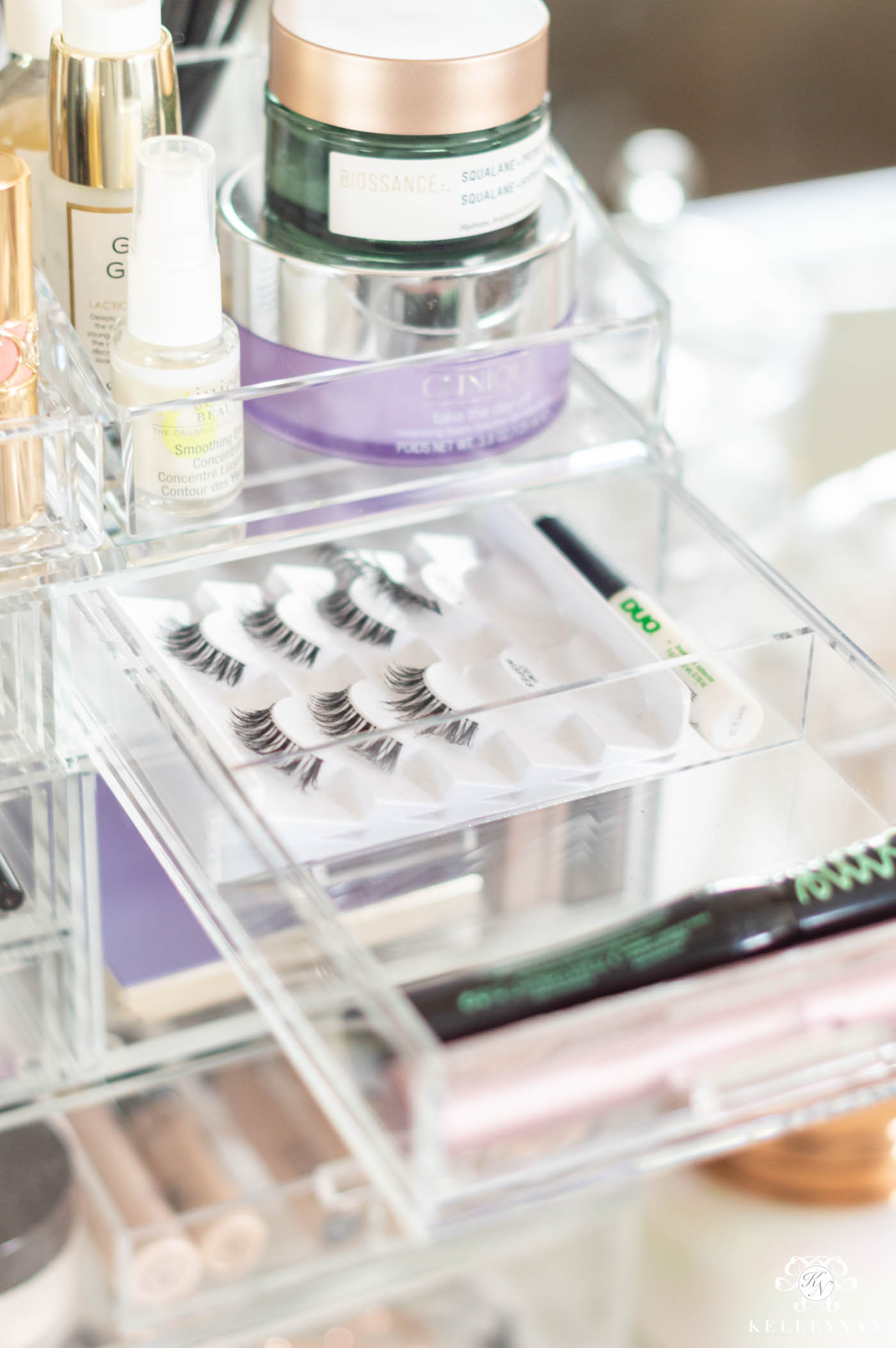 After years of not painting my own nails, I finally tossed my decades-old polishes. I held on to some of my files and tools and stored them in this small tall acrylic drawer.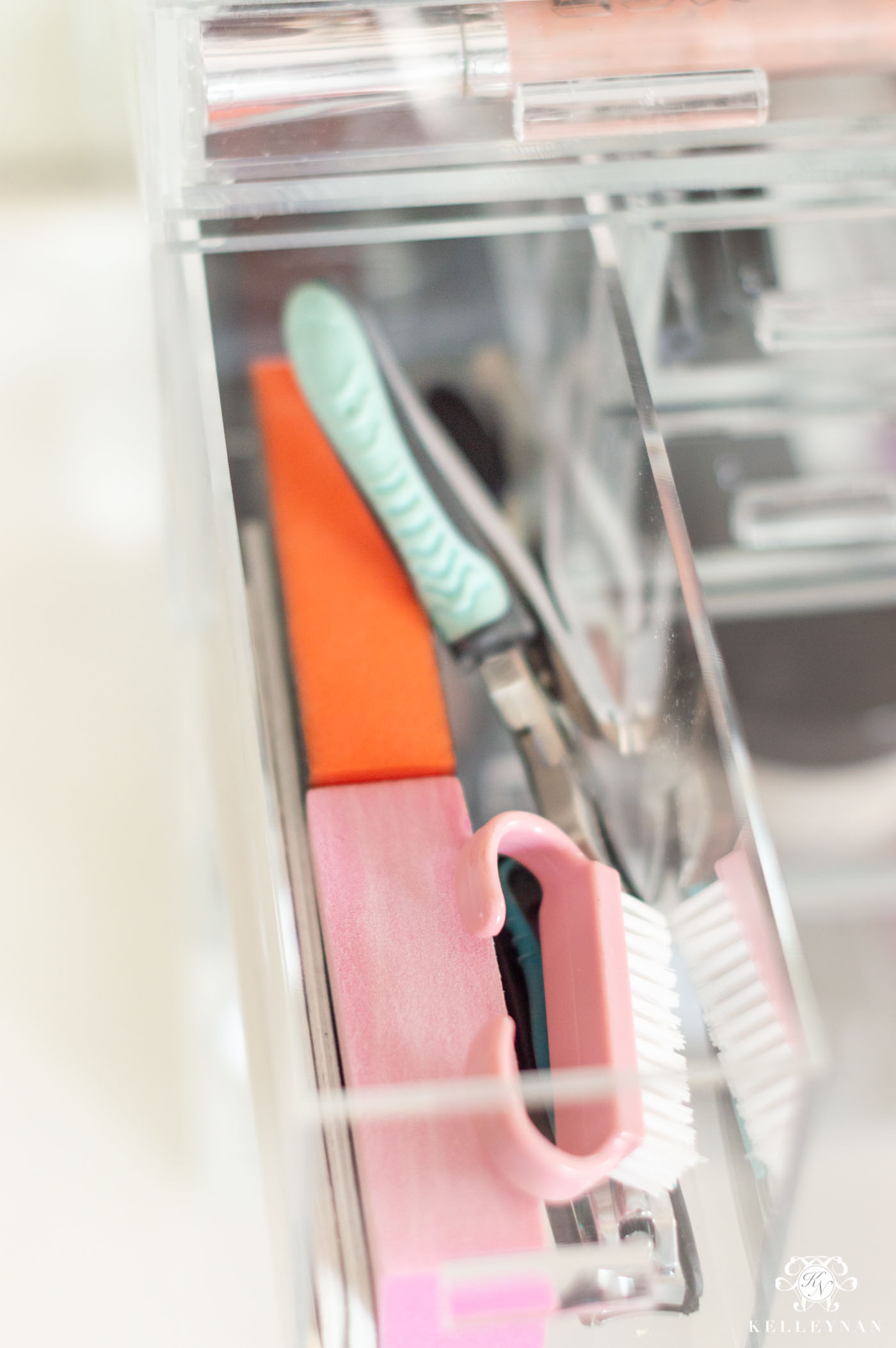 Next to the nail drawer, I stacked two small short drawers on top of each other. One is still empty and one holds eyeliner, eyebrow pencils, and sharpeners.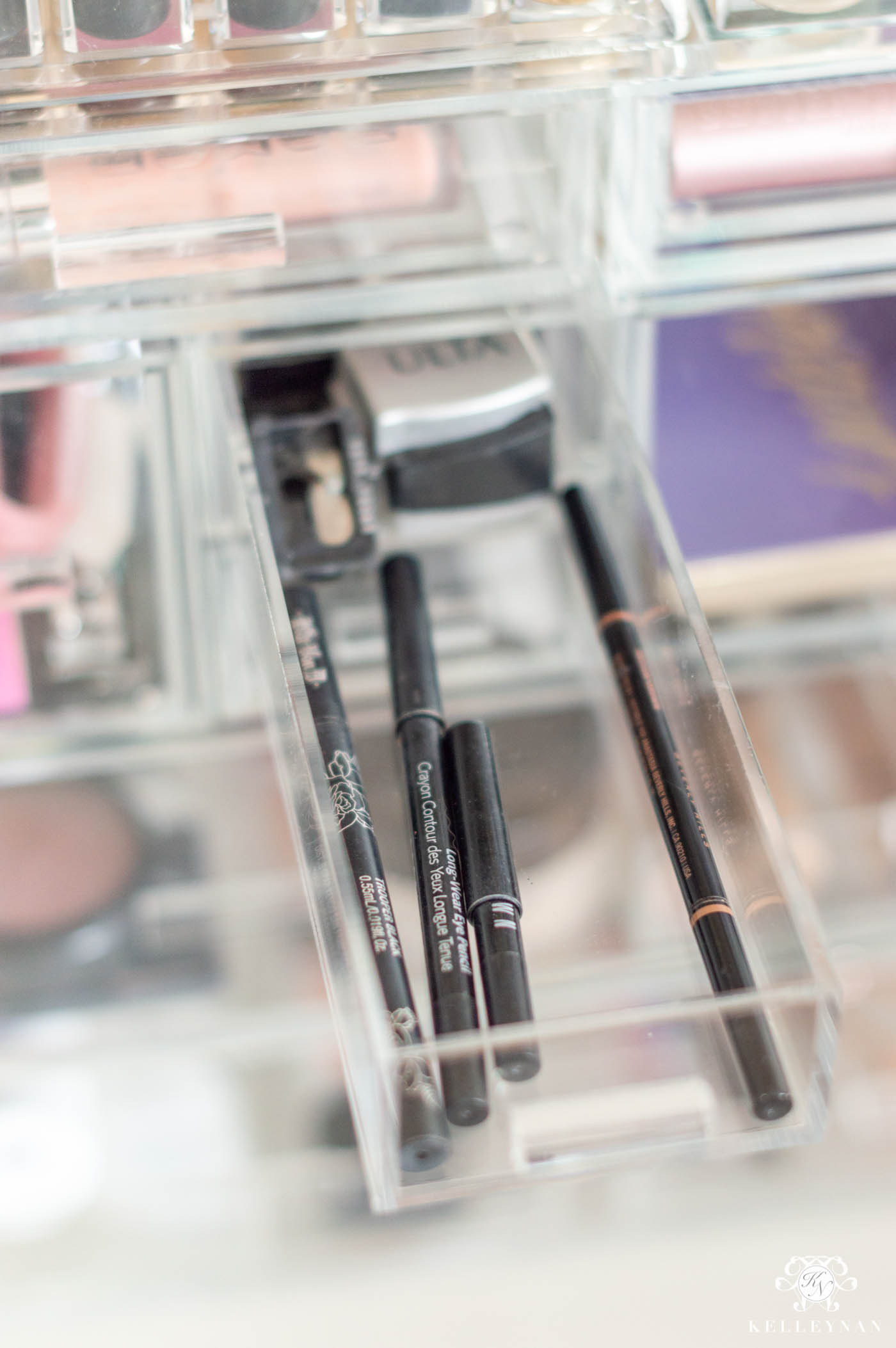 All of my eyeshadow palettes are in the medium tall drawer — proof that Naked palettes do fit ;). They would also fit in the short small drawers on their side if you aren't pairing them with other brand palettes.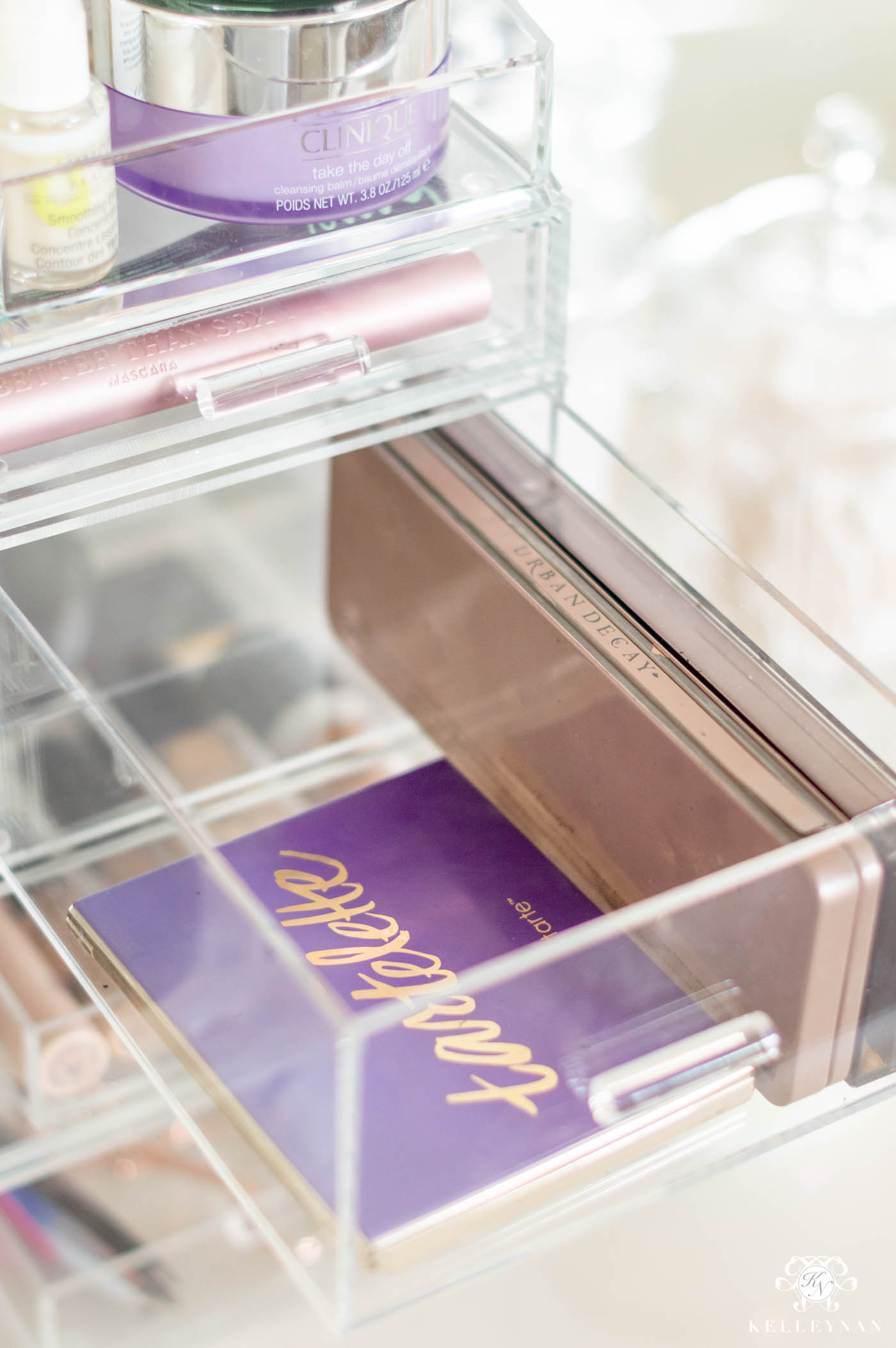 I have a good amount of "face stuff" so I used inserts to group like items together in the large drawer. I used the long 2-section insert to corral my foundations and concealers, along with bronzer, powders, and highlighters. By the way, the tall drawers are tall enough to fit compacts in sideways, if you prefer to store them like this to save space ;).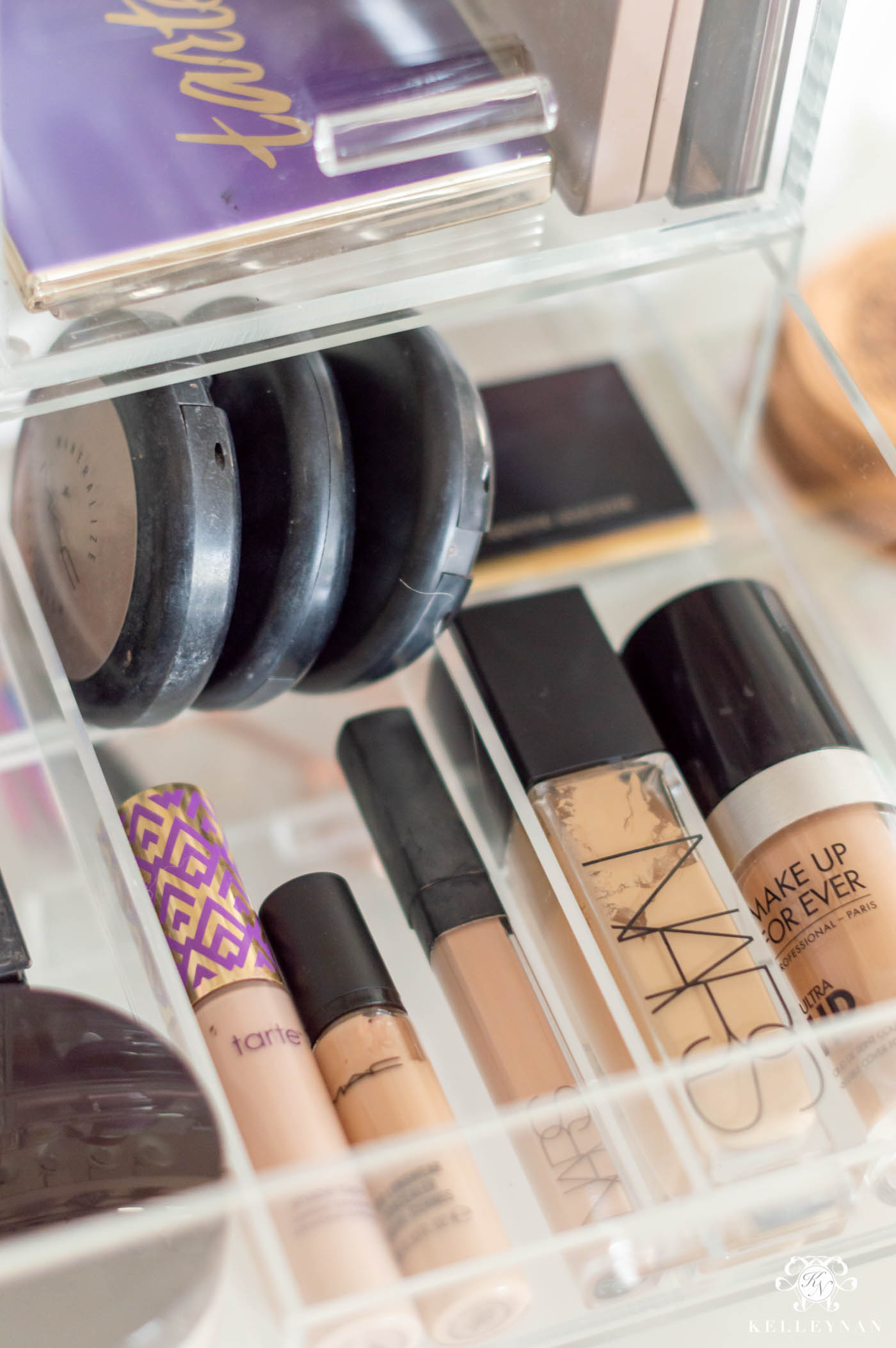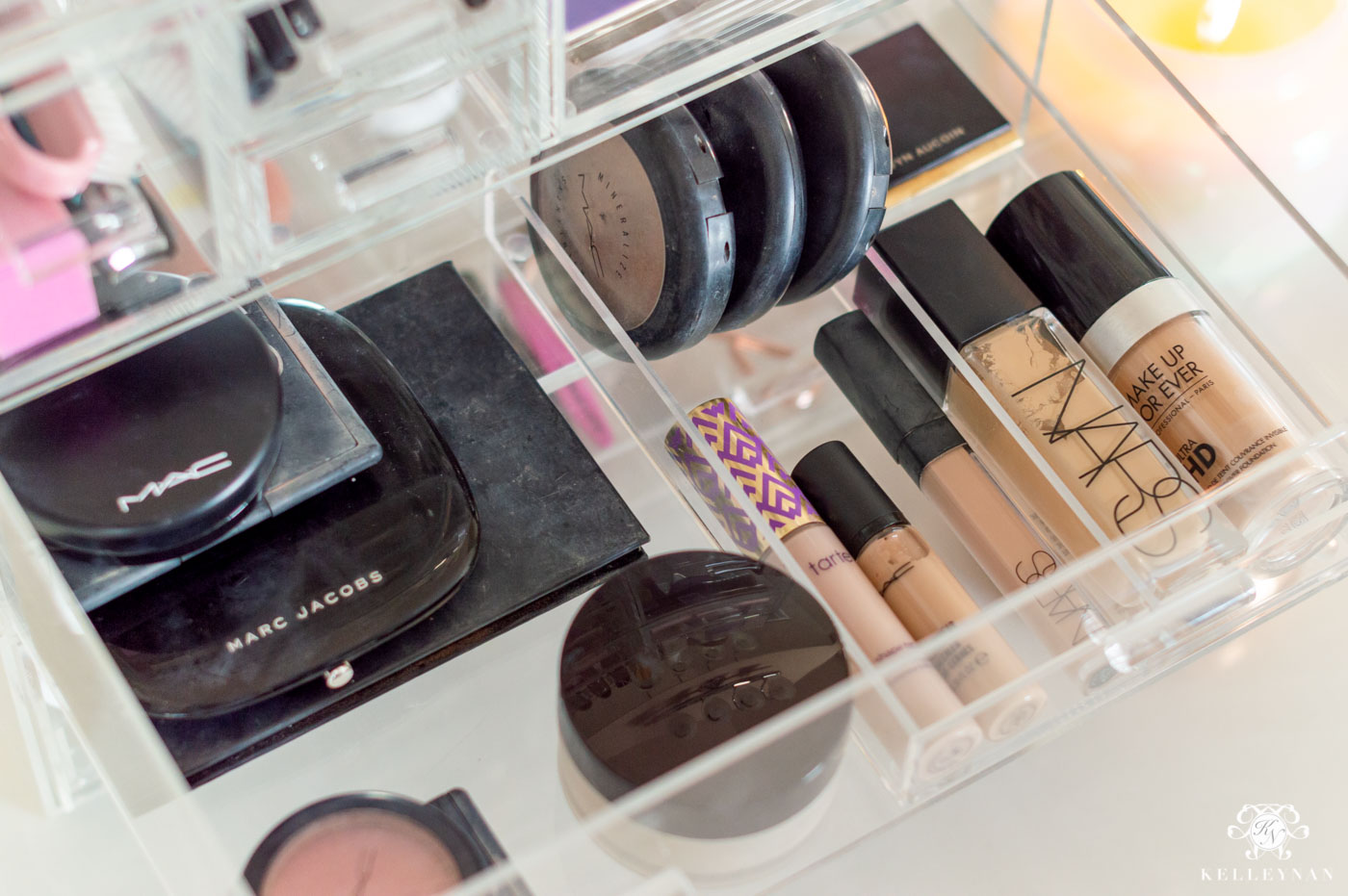 Creams, sponges, setting sprays, tools, and primer were assigned to my large bottom drawer — with plenty of room to spare. I used this 2-compartment insert, along with the 2-compartment tall insert.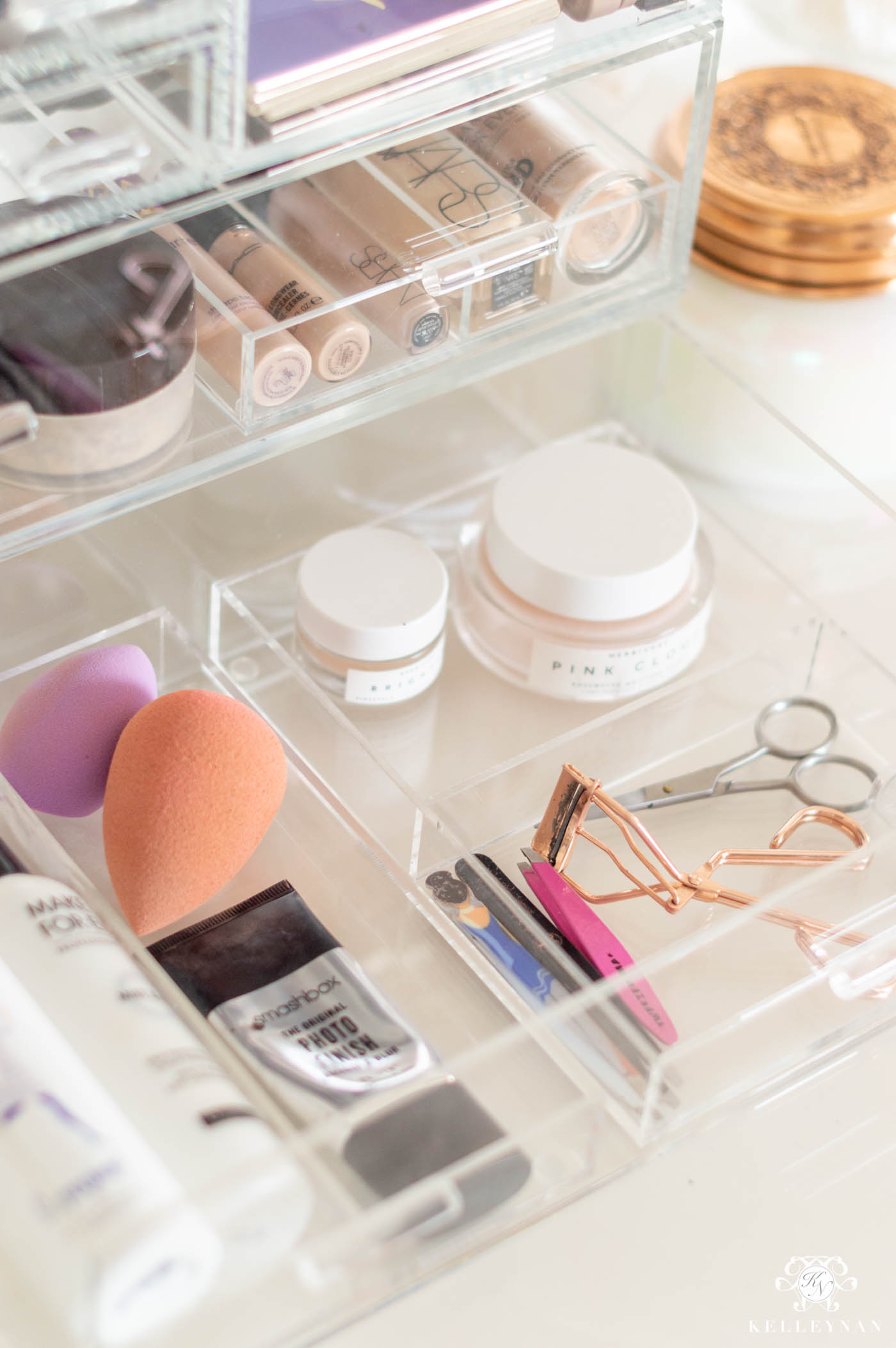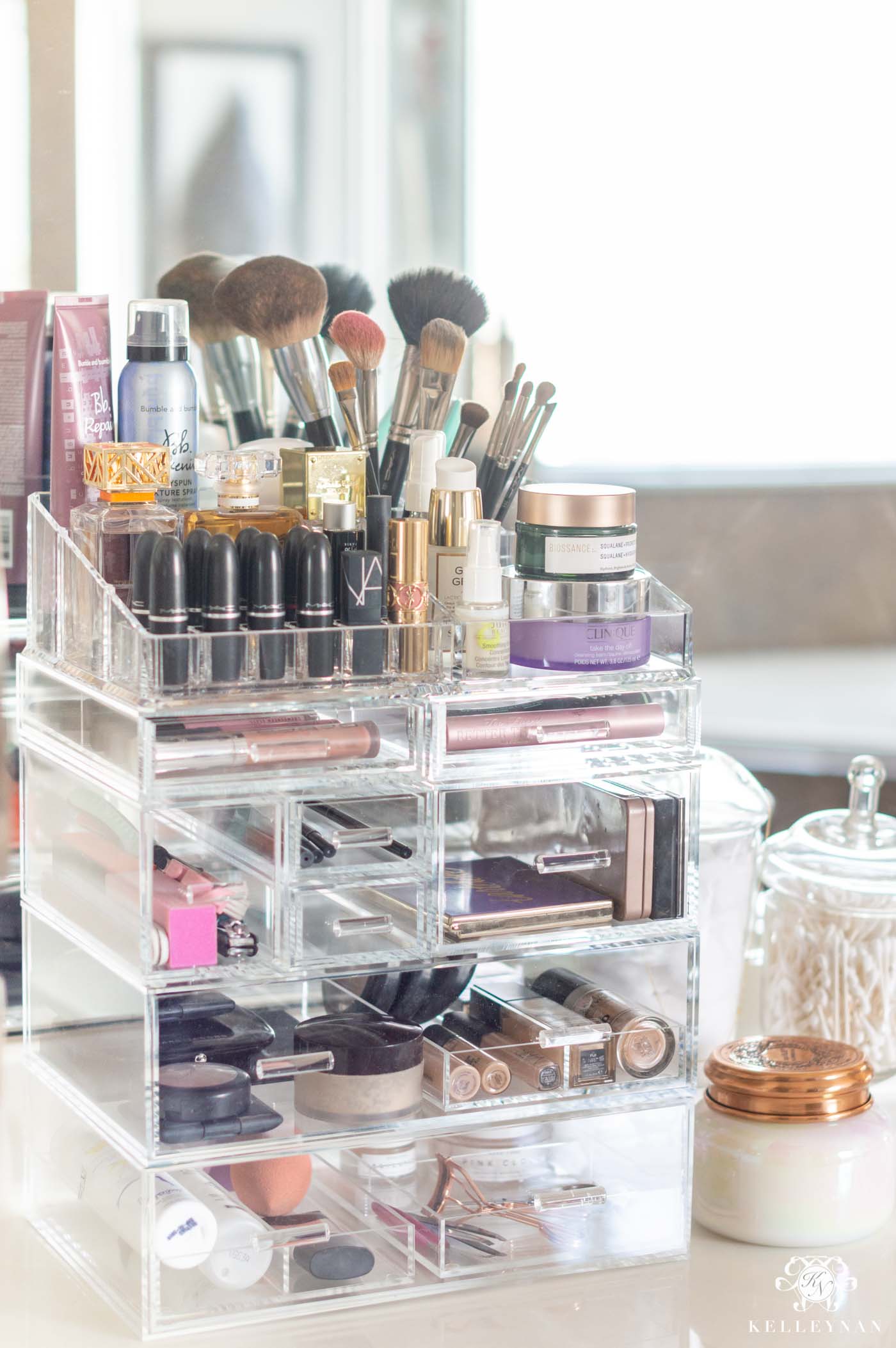 Total side note but if you saw my gift guides this past Christmas, you may recognize that my sweet guy got me the initial necklace I wanted, with our three initials. It's so dainty and sweet and came in the most beautiful packaging (HERE) — I've been wearing it daily.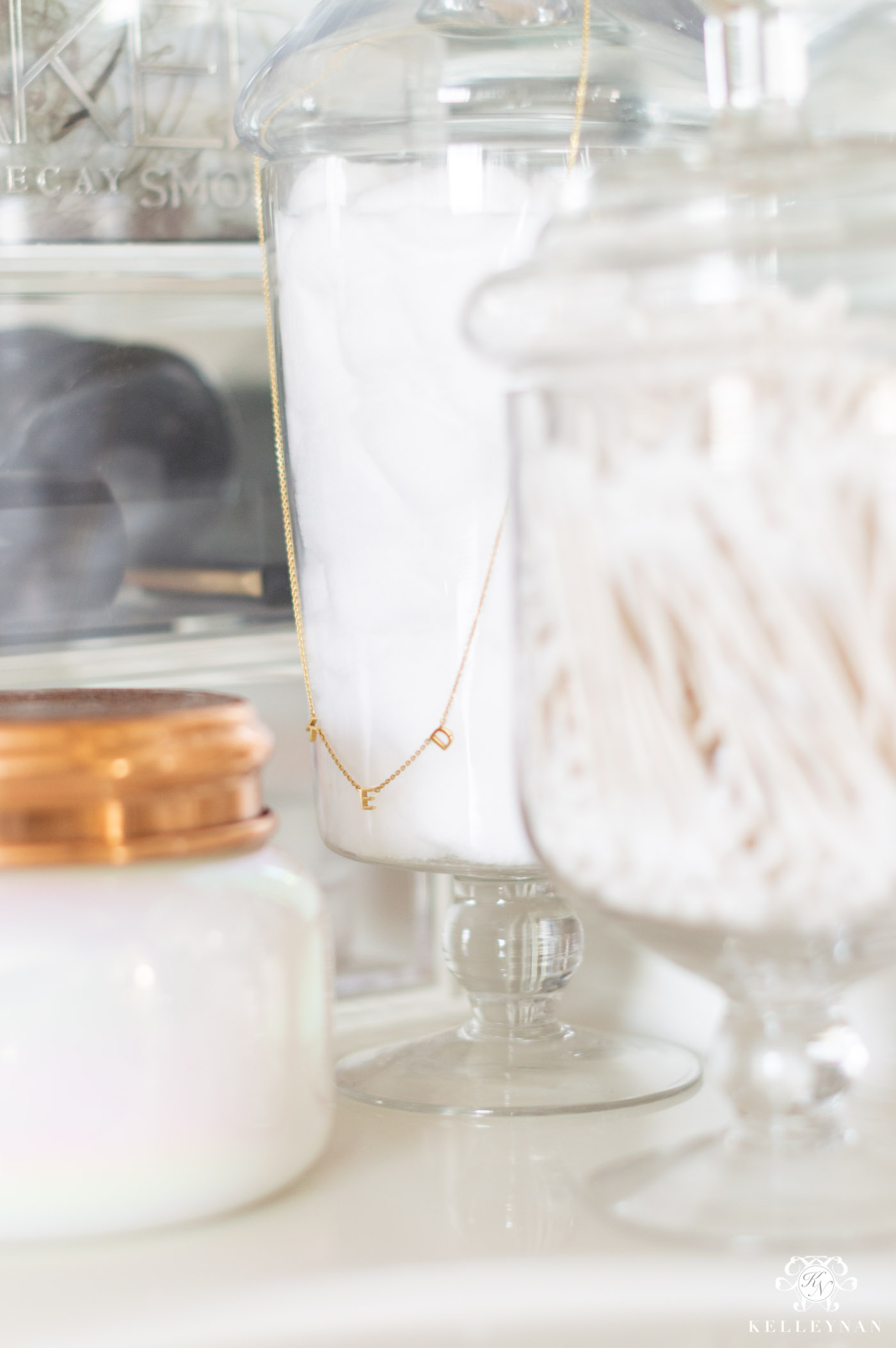 I'm a few weeks into using my new acrylic makeup organizer and so far, so good — I'm hoping it's the solution I've been needing. One of my favorite new implementations is displaying my daily products — from hair to deodorant — and keeping them easily accessible. While my drawer system is more sizable (I'm short and it still doesn't obstruct my mirror view), the modules can be customized so others' may have much smaller configurations. Or, if you have a wide vanity, you could do something more low and have a base of two large drawers. You can even add to it as your collection grows or your needs change/evolve.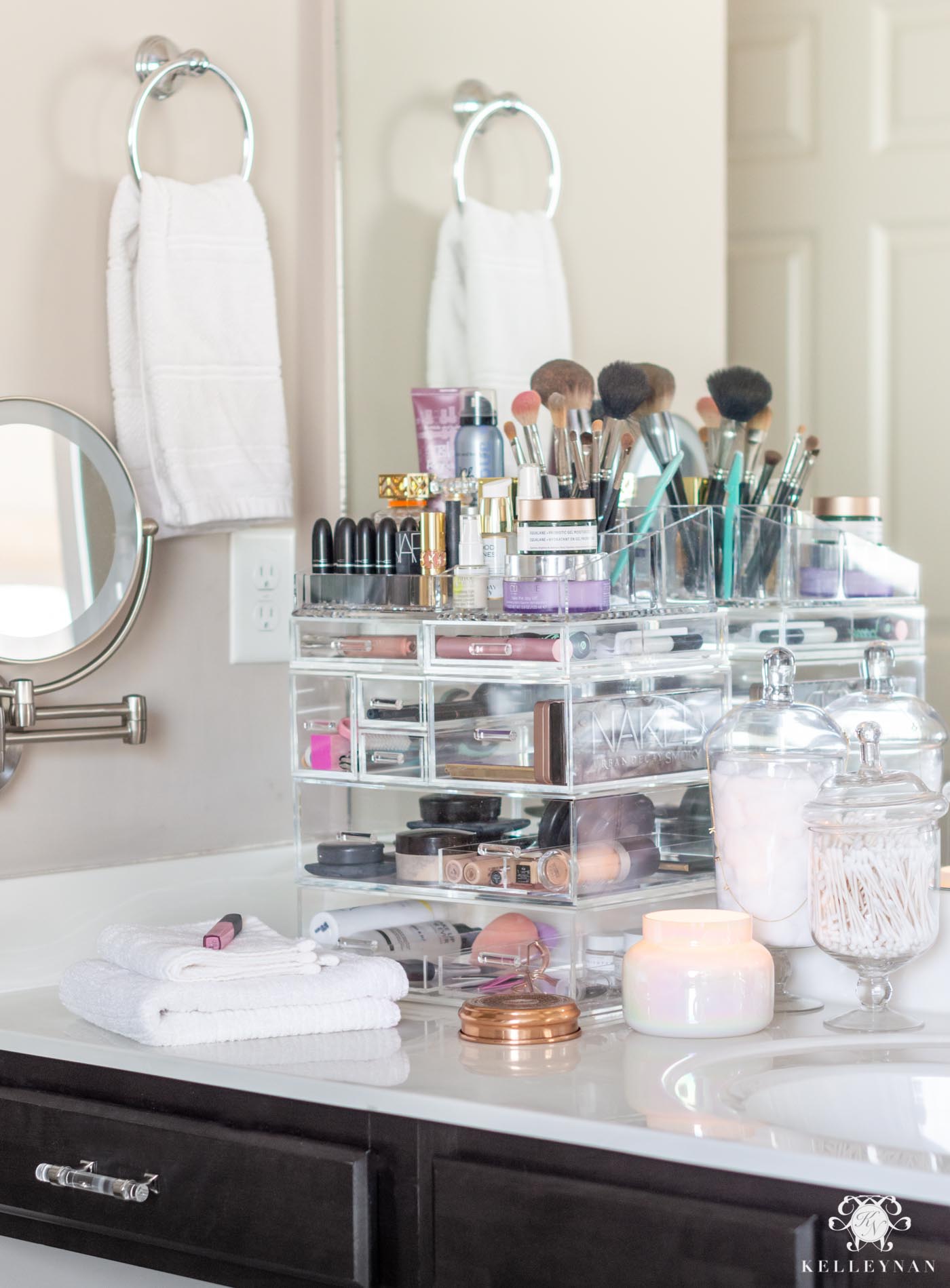 While I was working on the makeup solutions, I went ahead and tackled the rest of the vanity– which I'll be sharing next week 😉 In the meantime, you can subscribe to emails at the bottom of the post to catch that project, along with upcoming organization projects, and check out other organization projects in the organization gallery HERE.
A FEW OTHER ORGANIZATION POSTS YOU MAY LIKE
Acrylic Makeup Organizer Individual Components & Pre-Built Systems
Tap to Shop the Post