While my mom was in town this past week, we made a big ol' pot of one of our classic winter comforts — chicken noodle soup. We make this often in the winter, whenever we're feeling under the weather, or even on a stay-at-home weekends to eat off of. I took to my Instagram stories and polled viewers to see how many people had a go-to recipe — it was a staple in our home growing up so I assumed everyone had a favorite recipe they used. I was surprised to find that almost
60%
didn't
have one! So today, we're remedying that; I'm sharing the homemade chicken noodle soup, chock-full of veggies, that I grew up on.
*Posts on KelleyNan.com may contain affiliate links. Click HERE for full disclosure*
Chicken Noodle Soup Ingredients
While it takes some time to simmer and for the flavors to marry (I think it tastes better on Day 2), chicken noodle soup is perfect for even families who don't cook often because it's so easy. Aside from some dicing and a little light prep, you're basically just tossing everything into a single large pot.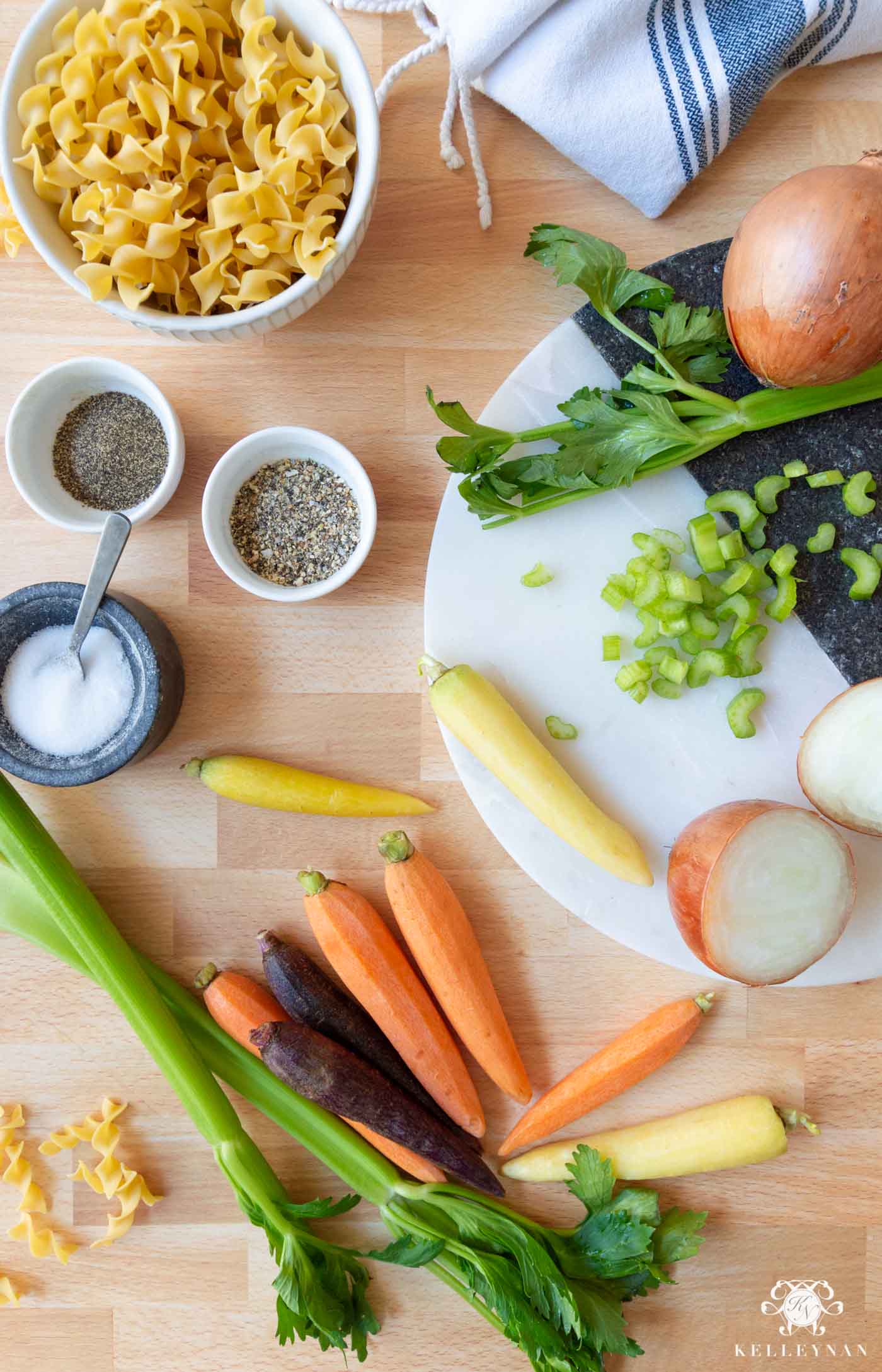 There're a lot of flavor combinations out there but our chicken noodle soup is a classic, hearty, traditional flavor. Here's what we toss in ours:
chicken
carrots
celery
onions
egg noodles
chicken broth
several seasonings — as listed in the recipe below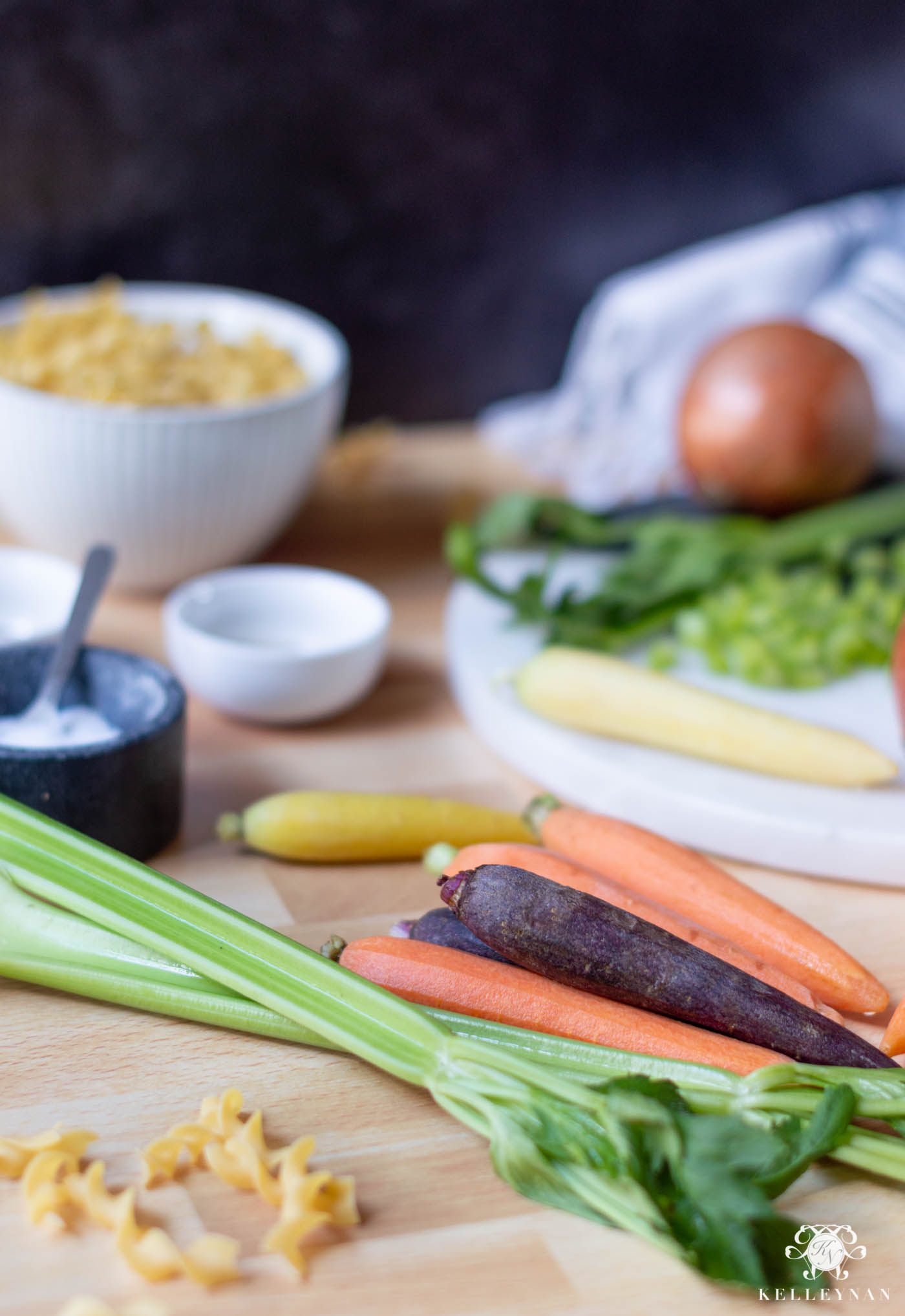 And what about prep/cooking tools?
large pot/stock pot
cutting board
sharp knife
Kitchenaid mixer (optional but makes shredding the chicken so easy!)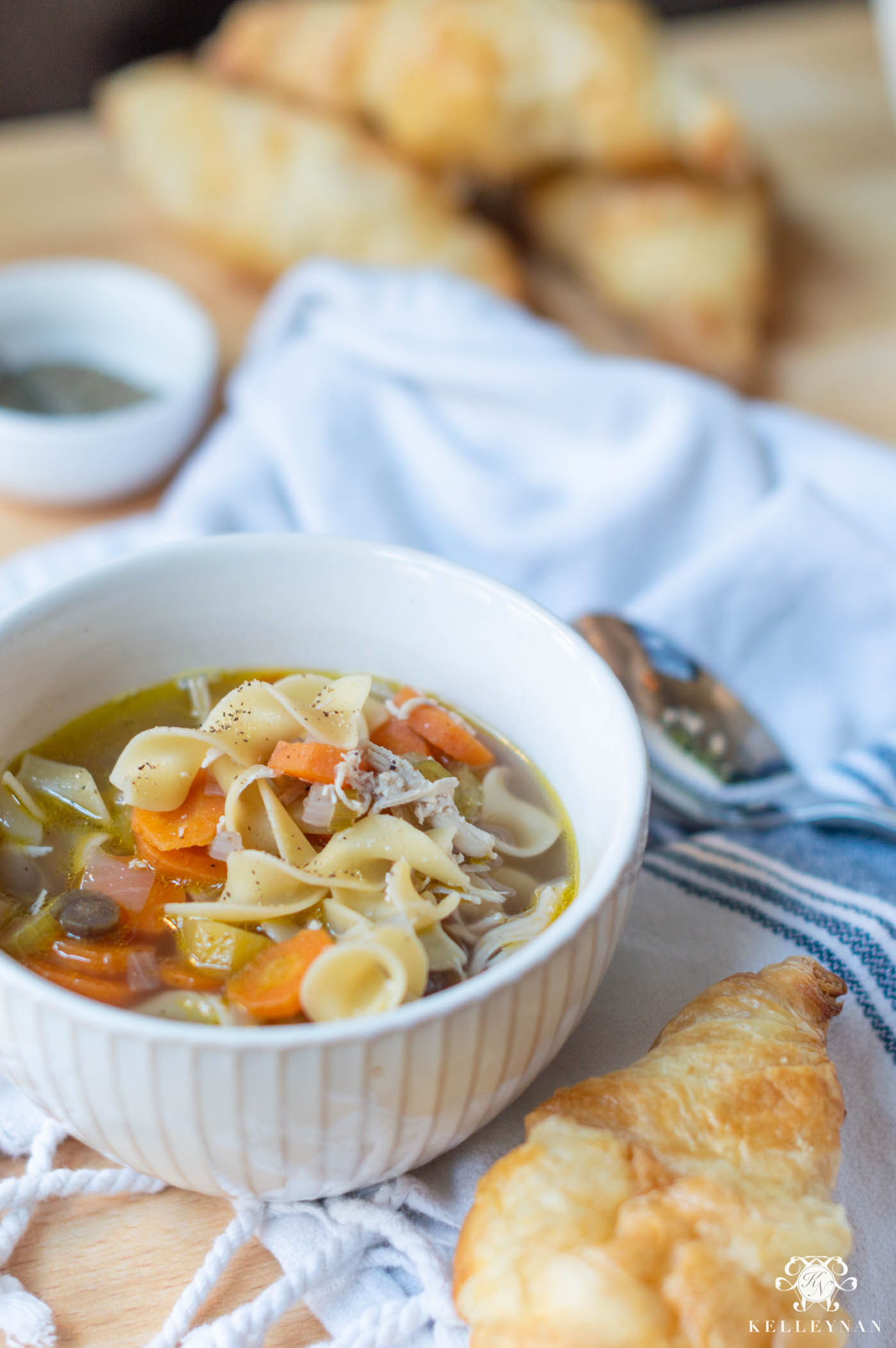 How to Make Chicken Noodle Soup
While it is incredibly easy, there are a few steps to pay attention to so your noodles aren't mushy, your veggies aren't too crispy, and your chicken is flavorful — even before the soup is fully married.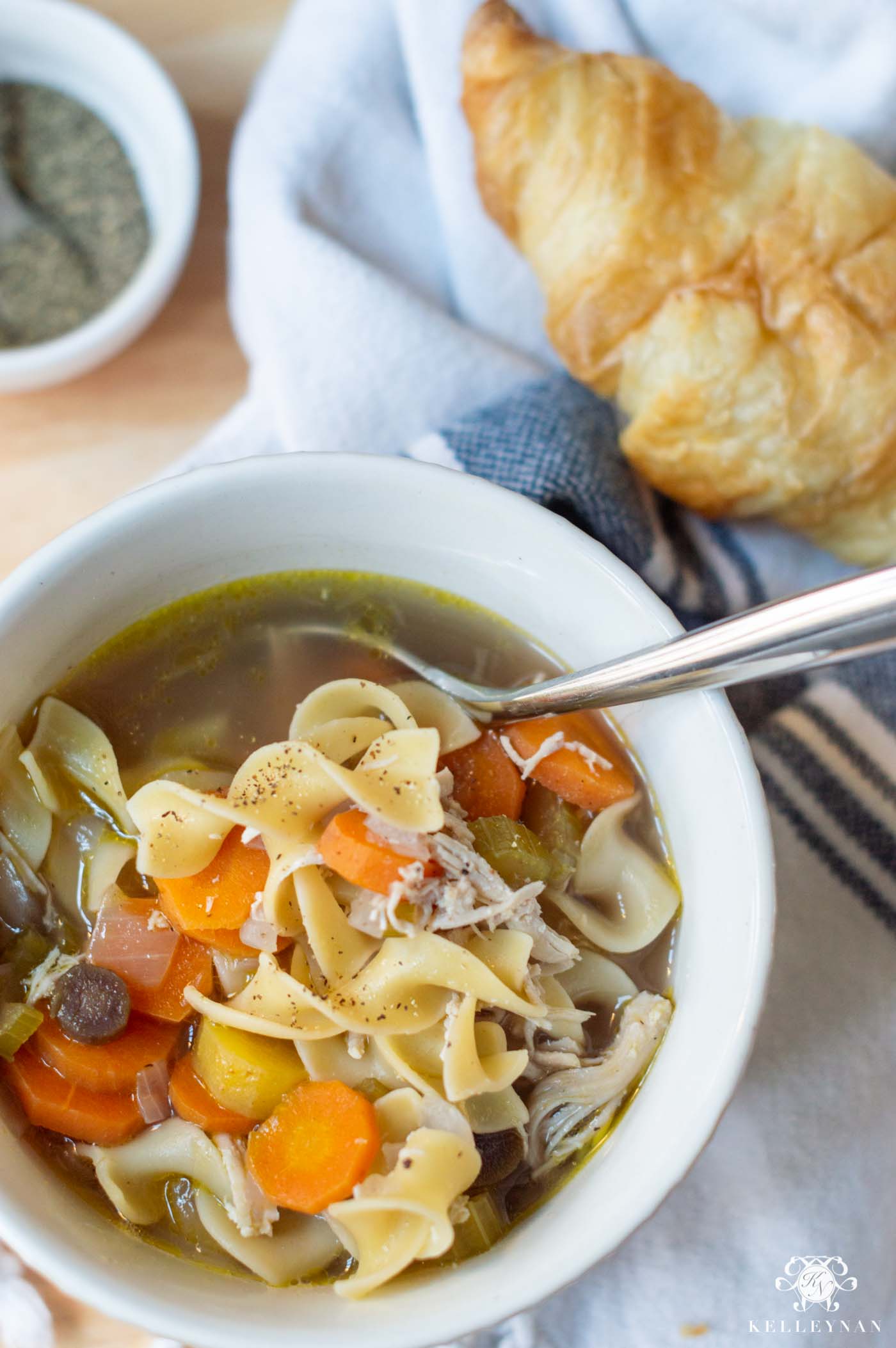 Here's the full breakdown and recipe for our go-to chicken noodle soup. You can print below or pin via the image at the bottom of the post!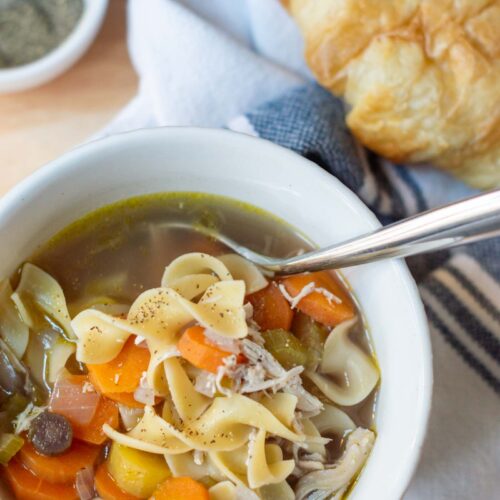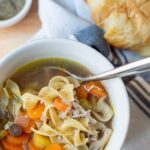 Chicken Noodle Soup
This easy comfort classic is a staple to keep on hand!
Ingredients
2

large chicken breasts

2

cups

chopped carrots

2

cups

chopped celery

2

onions

3

cups

egg noodles

3

qt.

chicken broth

2

tbsp

olive oil

1

tsp

lemon pepper seasoning

1

tsp

garlic salt

1

tsp

onion powder

salt

(to taste)

pepper

(to taste)
Instructions
Pour 1 qt. chicken broth into a large pot and bring to a boil. (Can also use water and chicken bouillon cubes to boil the chicken.) Place chicken inside the pot and add the lemon pepper, onion powder, and garlic salt and boil for 12-15 minutes -- until the thickest part of the chicken breast is no longer pink when you cut into it.

While chicken is boiling, chop vegetables -- carrot, celery, and onion -- into small pieces and set aside.

When chicken is cooked through, remove from the pot and discard of the broth. (I prefer to start fresh for the soup base).

Shred chicken into small pieces -- you can use a countertop Kitchenaid mixer with the paddle attachment on the "2" setting, or shred by hand with forks.

Add olive oil to the same, now empty, large pot and heat on medium on the stovetop. Add vegetables to the pot and saute until onions appear translucent and the carrots and celery begin to soften.

Add shredded chicken to the pot, along with the remaining 2 qts. chicken broth. Add approx. 1 tsp. and 1 tbsp. salt, and bring to a boil. Once the soup begins to boil, cover and turn heat to simmer. *The longer the soup simmers and marries, the more flavorful it will be.

15-20 minutes before serving, add egg noodles to the soup. They should cook quickly in the simmering soup but if you boil too long, they will fall apart. The egg noodles absorb a lot of liquid; if needed, you can add more broth to the soup. Taste and add salt & pepper as needed.

Serve and enjoy! This soup is even better the next day.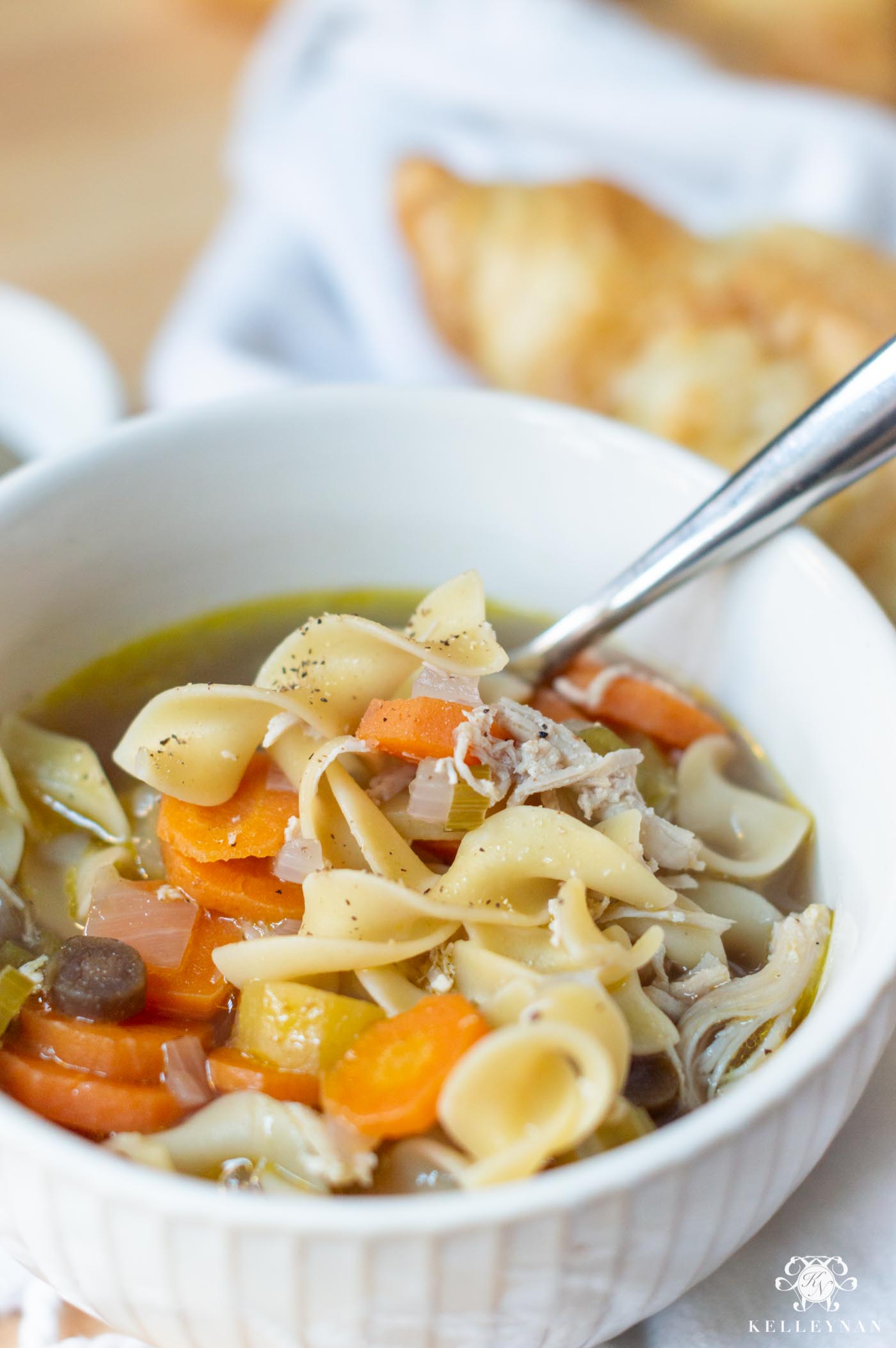 The multi-colored carrots I used are from Trader Joe's; be prepared for your broth to be less of a yellow broth color if you do use them 😉 If you finish cooking your soup and realize you have more liquid than you prefer, add more noodles at the very end. If your noodles soak up more liquid and it's more stew-like than you prefer, add some more broth/water to the soup. The noodles tend to soak up a lot of salt so you may have to adjust the salt/pepper as you go. The soup should be close to your preferred flavor and married before adding the noodles. If you add noodles too early, they will break apart and become mushy. Regardless, it will be even yummier the next day!
As a note, I mentioned that a Kitchenaid mixer makes shredding the chicken SO much easier. If you don't have one, I purchased mine, fully refurbished by Kitchenaid for a fantastic price in their eBay store HERE. It's factory refurbished, you choose your color, and it comes in original packaging — mine is in perfect condition.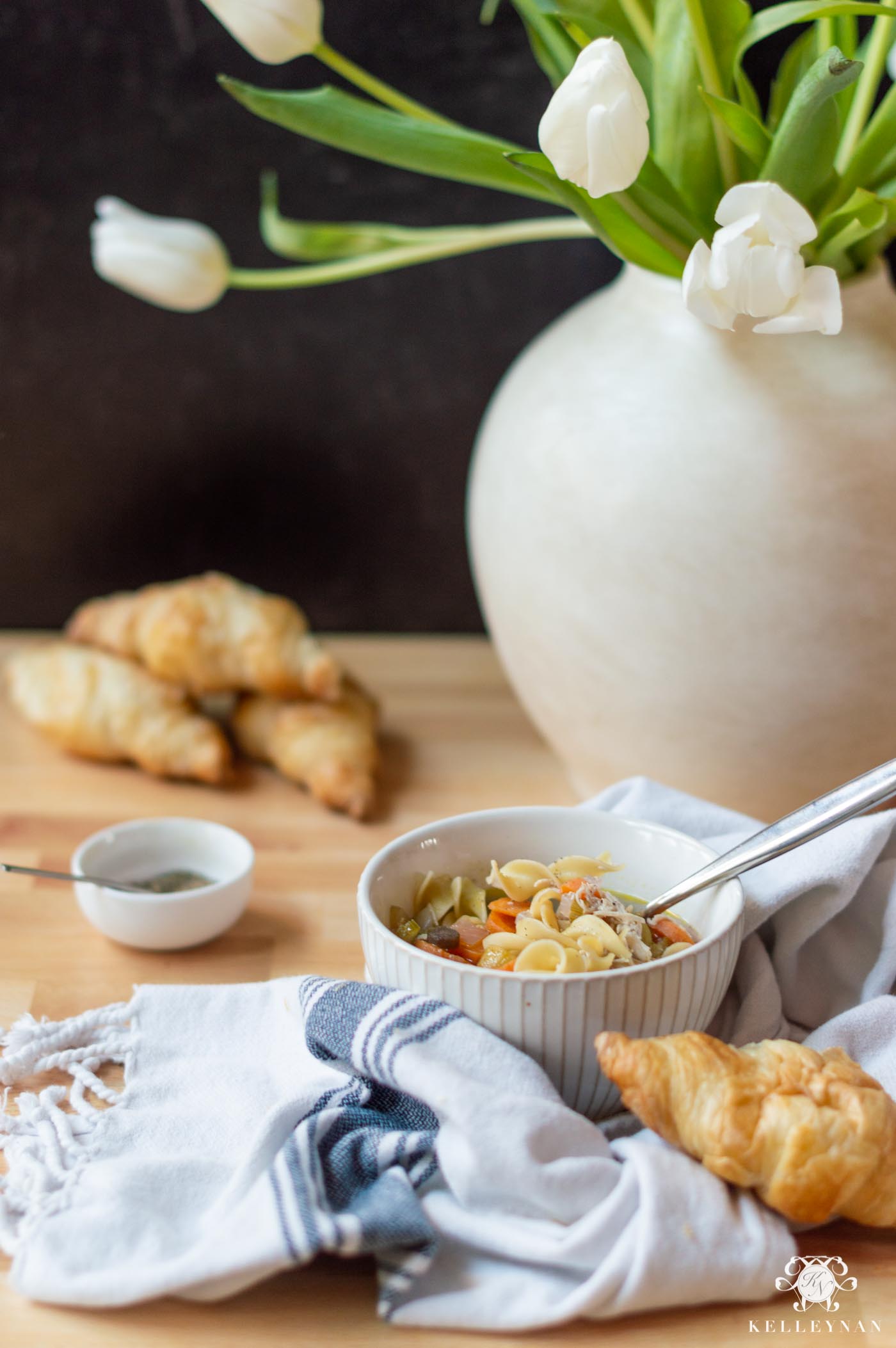 SHOP THE POST
*Scroll & Tap to Shop*