Last year's seasonal decor was pretty much a bare minimum effort. With planning for Eliza and having so much of our schedule up in the air, I made a couple updates for each season but pretty much left our main living spaces un-touched. This year, with spring on the horizon, I was excited to update my palette — just a little bit — with something fresh. While I'm still keeping most everything in tact (I've been adding more and more blue over the past couple of years), I did decide to bring in a little sunshine-y yellow, and a few brighter, lighter blue hues to calm some of the contrast from the navy. That's the good thing about a neutral base with classic blue and white decor; it's good for any time of year and it's incredibly easy to infuse more accent colors if you want. And today, I'm sharing the easiest way to incorporate a blue and white color palette with some of my favorite blue and white pillows. From solids and stripes to patterns and tassels, I've rounded up 20 pretties to add to your collection.
*Posts on KelleyNan.com may contain affiliate links. Click HERE for full disclosure.*
Blue & White Pillows — In My Home
I've done tons of blue and white combinations throughout my home over the past few years — in bedrooms, living areas, and even in the dining room. I'll be sharing my 2020 spring refresh soon, but here's a little peek at what's going on in our living room, as of this weekend.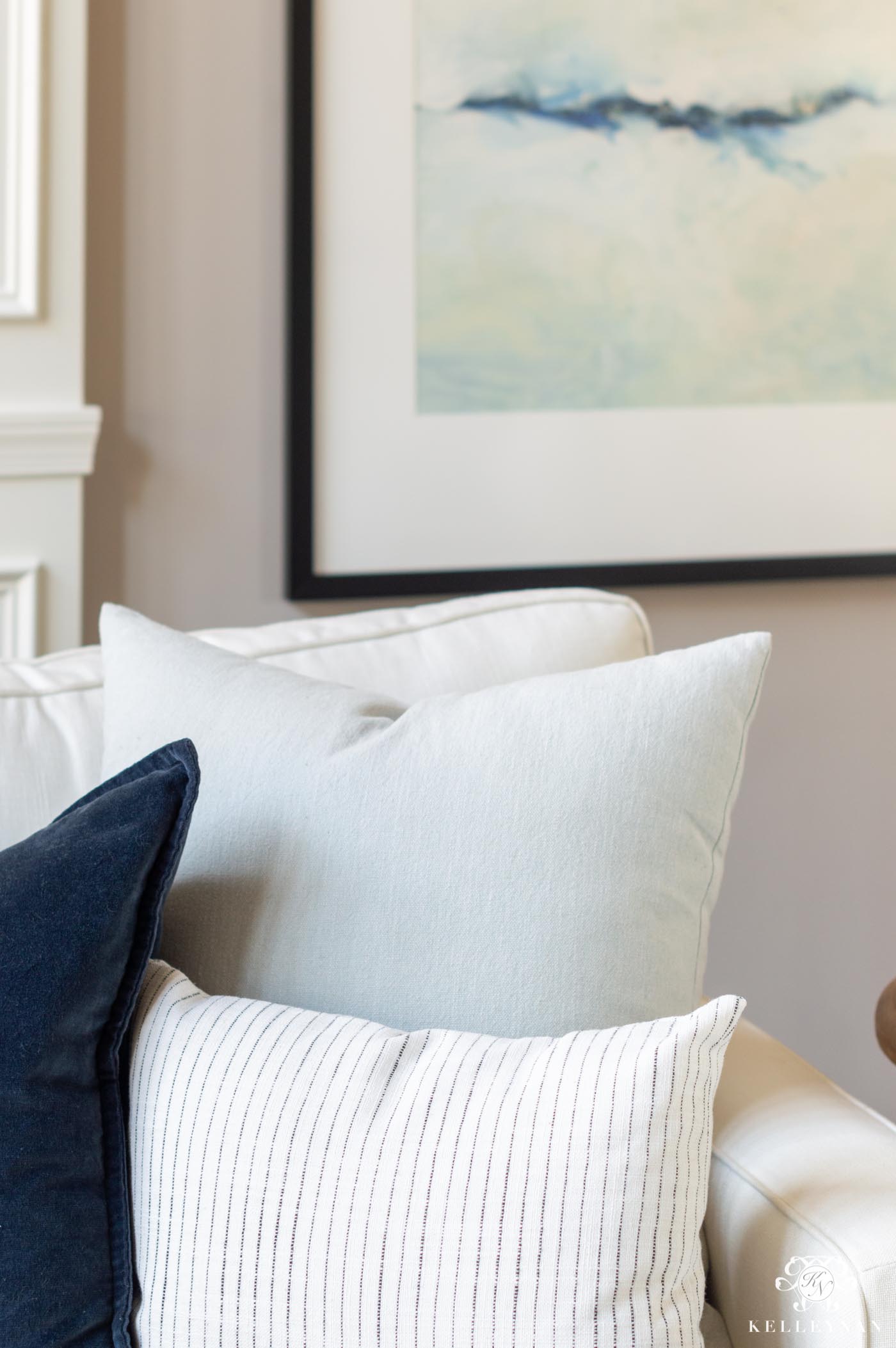 24″ Mist Pillow // Black & White Stripe Lumbar Pillow // Washed Navy Velvet Pillow – no longer available (SIMILAR) // Sofa // Art
I love mixing navy/indigo with softer blues and I've even been on a blue with black and white kick (you can 100% mix in some doses of black with navy 😉 ). Check out the art behind the sofa which has served as total inspiration for my latest revamp.
I've had busy patterns, toned down with solids…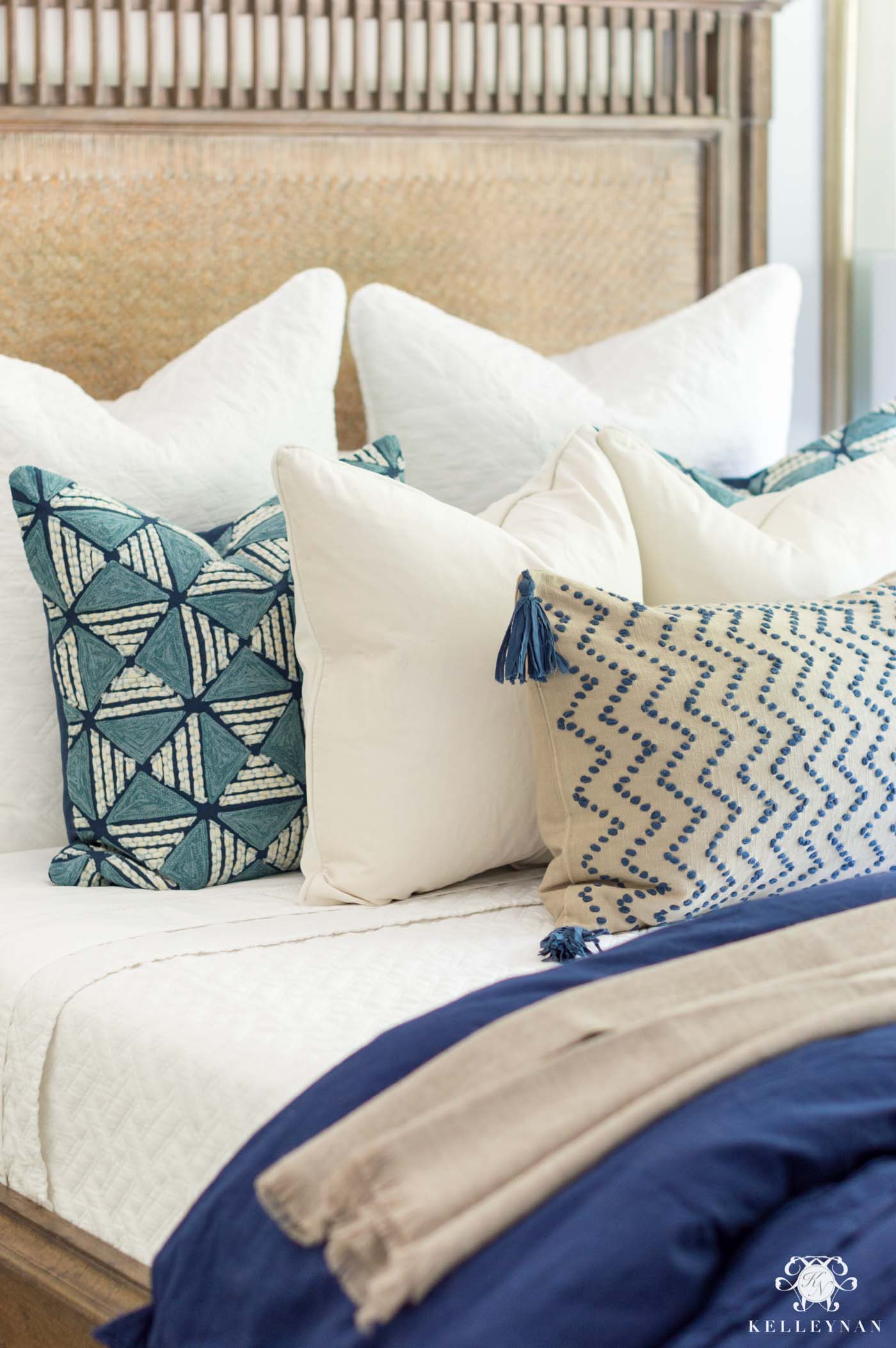 Embroidered Geometric Pillows // White Euro Pillow Shams // Cream Velvet Pillows // Chevron Lumbar Pillow // Coverlet // Navy Duvet Cover // Alpaca Throw Blanket
And simple patterns on solids.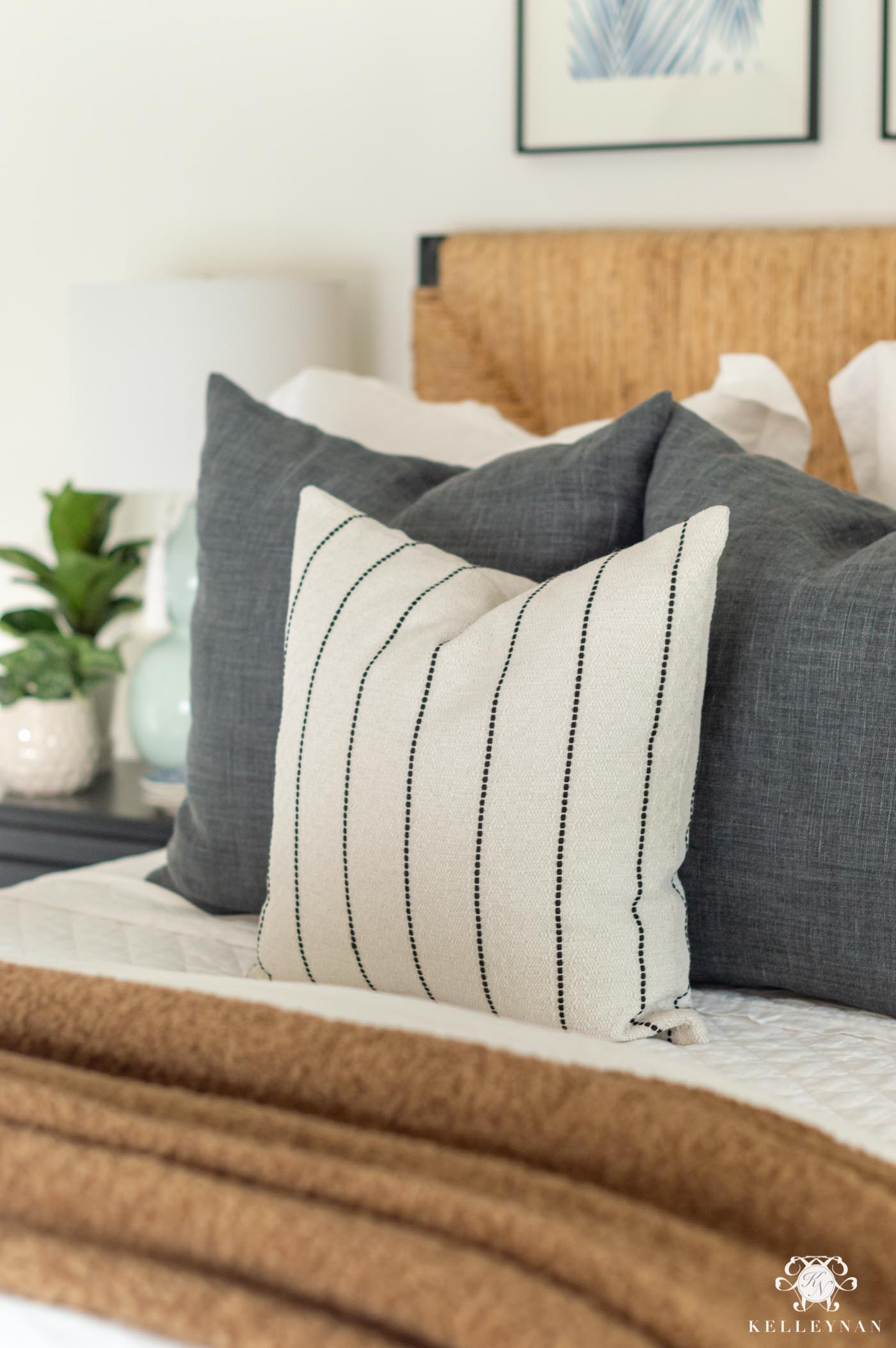 24″ Linen Blue Pillows // Black & Cream Pillow // Linen Quilt // Teddy Bear Throw Blanket // Pale Blue Lamp
And sometimes, even one pillow can change an entire look.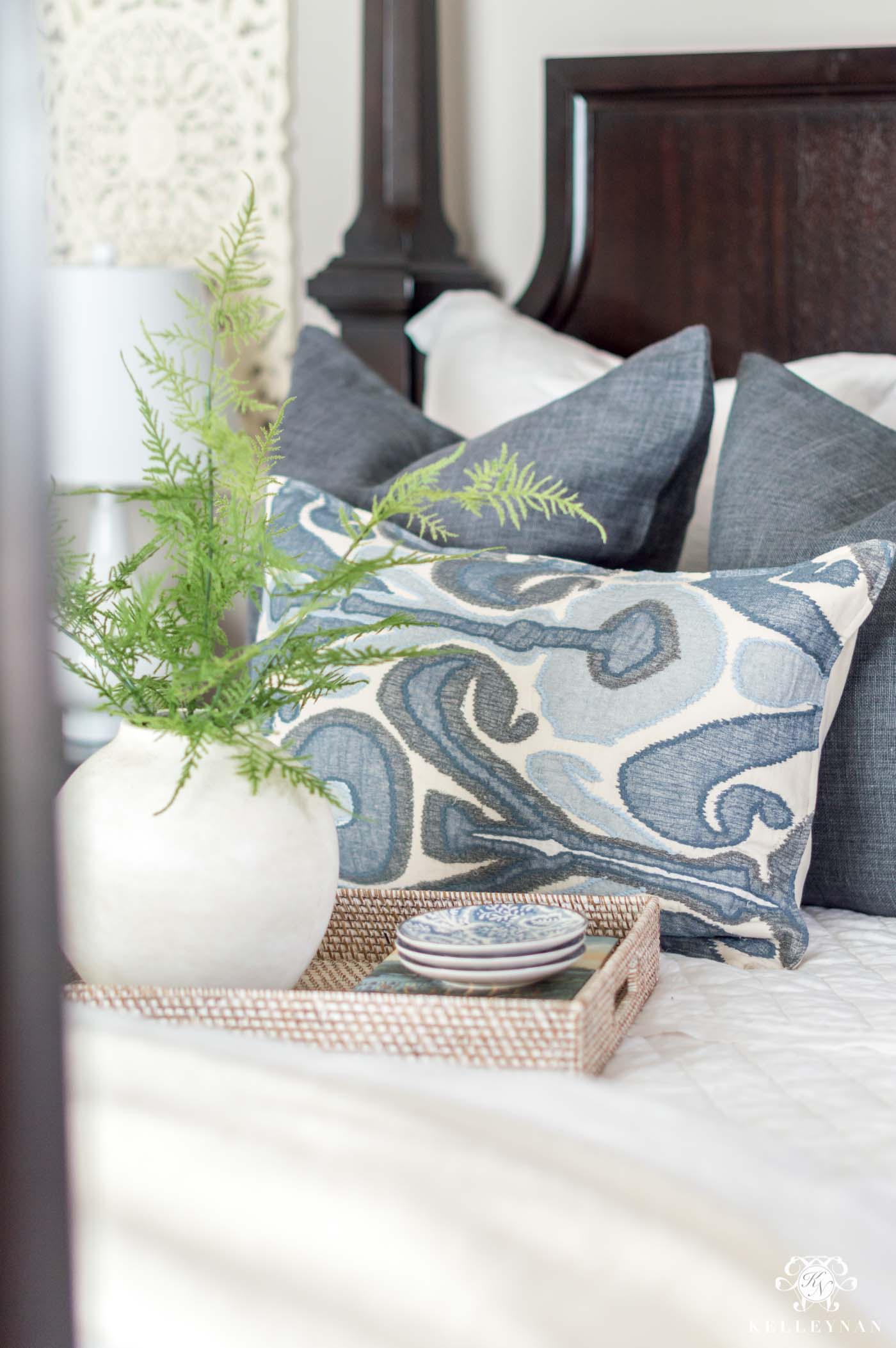 24″ Linen Blue Pillows // Pattern Lumbar Pillow // Linen Quilt // Vase // Rattan Tray
Blue and White Pillows for Spring
I scoured the web and I landed on 20 gorgeous pillows from multiple price points; beautiful pillows don't have to be expensive but I have noticed that some of my nicer pillows have been worth their weight in gold. They consistently get more usage, moving room to room throughout the year and have held up so well. And, I'm a total believer in mixing what you have with a new treat… and, there's no shame in mixing in something at a higher price point with a budget find.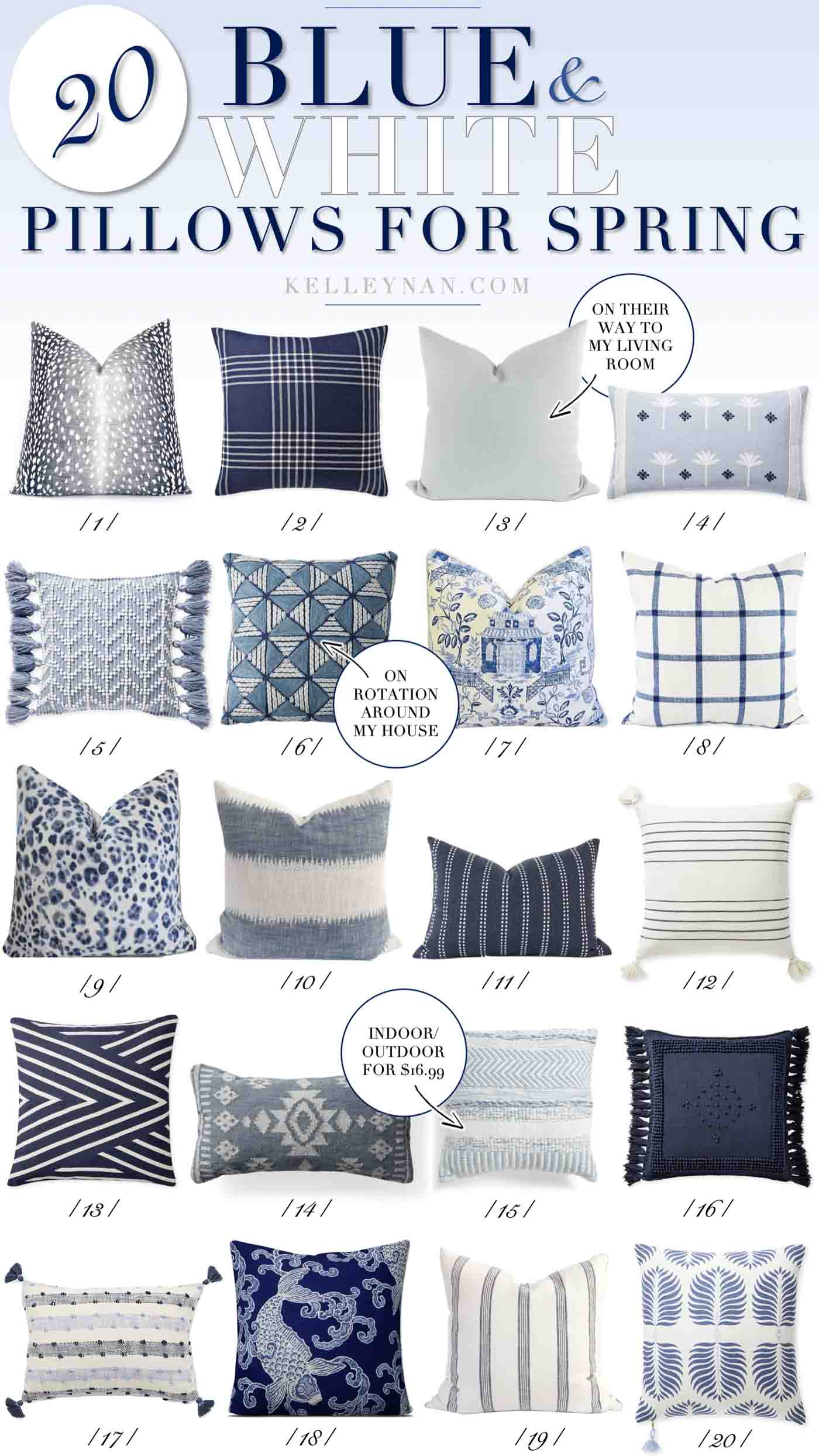 1. // 2. // 3. // 4. // 5. // 6. // 7. // 8. // 9. // 10. // 11. // 12. // 13. // 14. // 15. // 16. // 17. // 18. // 19. // 20.
Are you feeling blue and white for spring? What's your favorite accent with the classic color combo? Subscribe to emails HERE to catch my upcoming spring decor update, coming soon ;).
SHOP THE BLUE & WHITE PILLOWS