One of my favorite, simple bedroom improvements when I made over our master bedroom a few years ago was trading in our tiny nightstands with minimal storage for a pair of bachelor's chests with three drawers. It upgraded us immediately to an extra four bedroom drawers, but it took me until just now to tackle everything that's been haphazardly tossed inside. It isn't a hard project or even one that takes much time; just some semblance of a plan and a commitment to implementing a simple organizational system. The goal- to keep the nightstand from becoming another junk drawer. Today, I'm sharing the before and after of my organized nightstand, my bedside essentials, how I'm using my bottom two drawers, and a few favorite three-drawer chests that will maximize that nightstand and bedroom storage.
 Posts on KelleyNan.com may contain affiliate links. Click HERE for full disclosure.*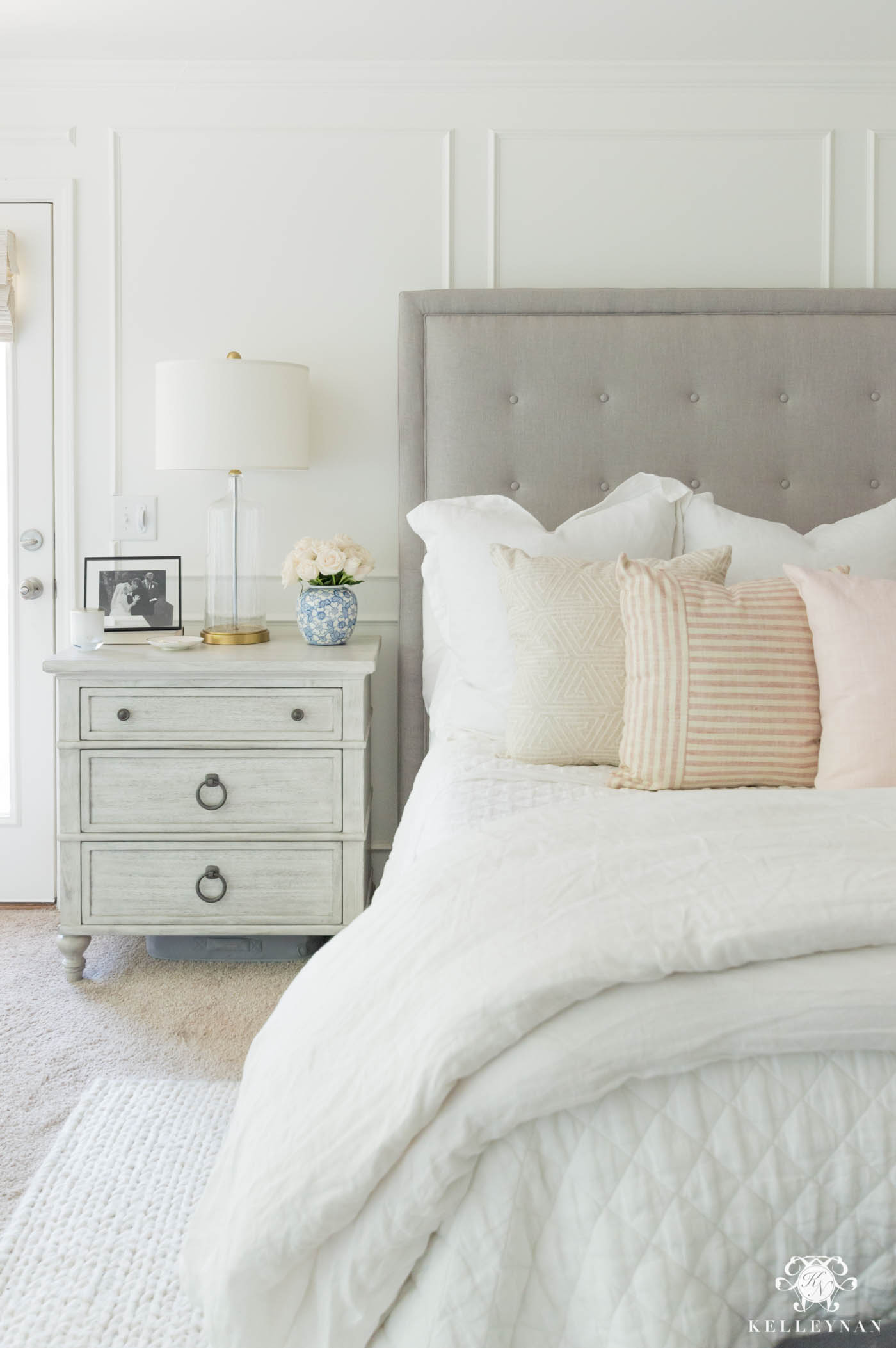 Sources: Bed | Nightstand | Glass Lamp | White Braided Rug | Linen Duvet Cover and Shams | Diamond Linen Quilt | Blue and White Vase
Note: to see how I'm using pink in the bedroom without going too feminine, you can visit my post HERE.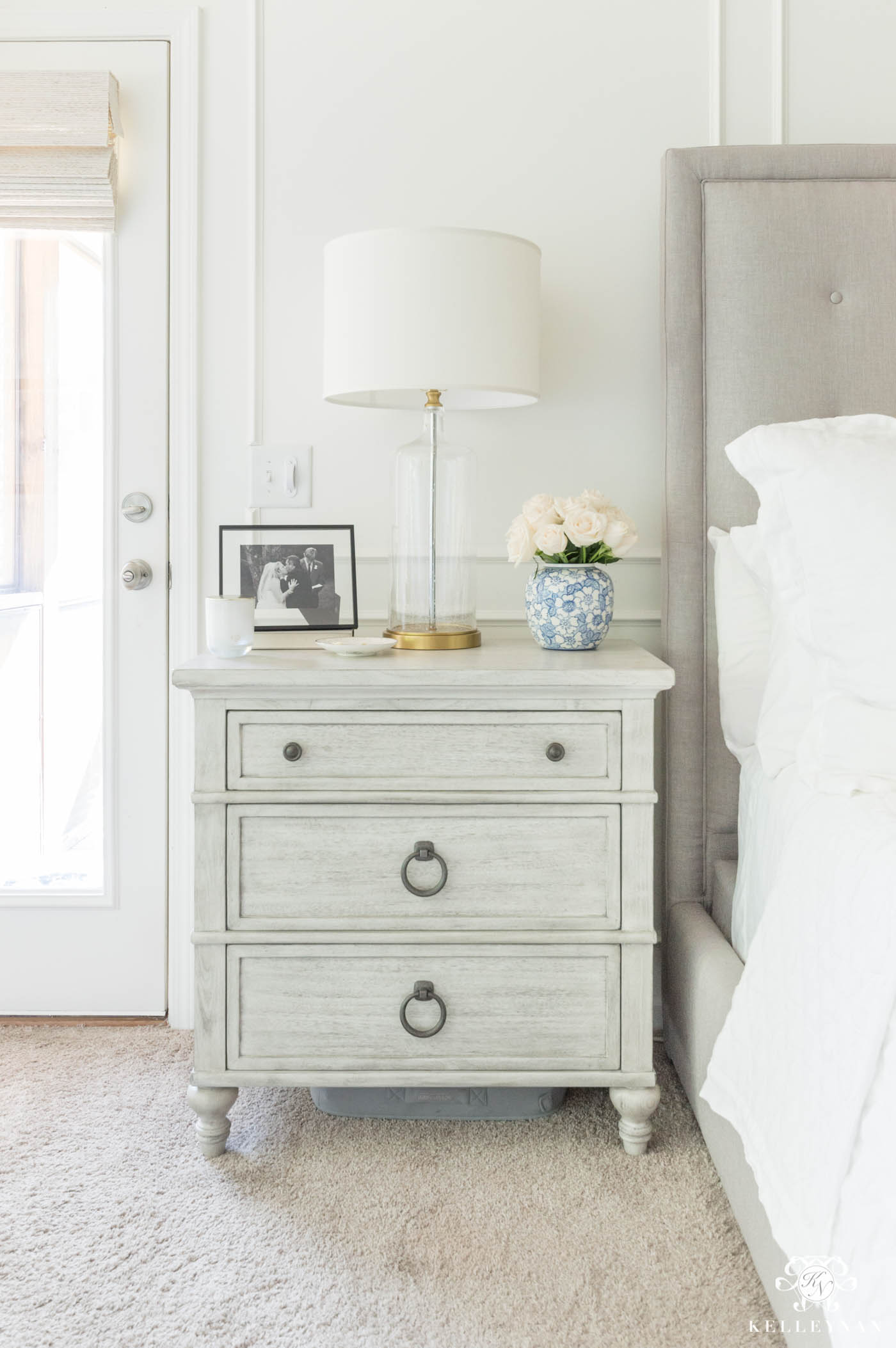 I recently ordered this vase and unlike a lot that have too wide or too narrow of necks that can make it tricky or call for a lot of flowers, this neck is perfect for easy floral arranging. It's hand painted porcelain by Lenox and is gorgeous in person. (Find it HERE).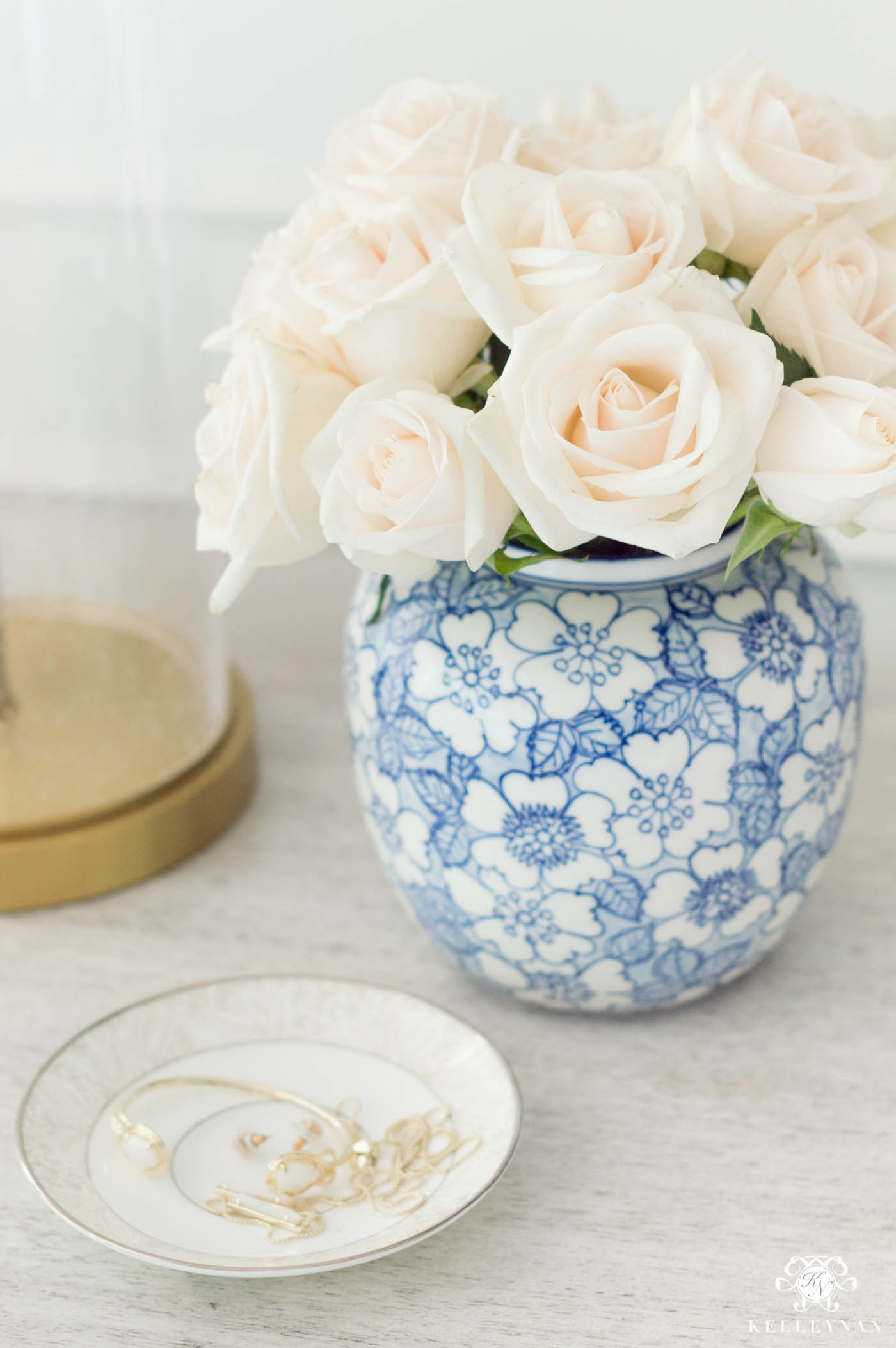 Four Simple Steps to an Organized Nightstand
I use a similar approach each time I organize a drawer/implement a new system; the nightstand was no different. I've outlined the easy four-step method that will get you whipped into shape within the hour.
So, wanna see where I started? Granted, while definitely not organized in the slightest, this isn't even that bad. Nonetheless, I couldn't locate anything without getting up and turning the light on and doing a little digging. I almost didn't see that there was even a stink bug nestled inside a few weeks ago! (I don't know about you but where we live, it's inevitable to find a few stink bugs around the house, regardless of regular exterminator pest protection). This is how my top nightstand drawer looked before (complete with a couple remotes that we don't even have a tv for anymore)…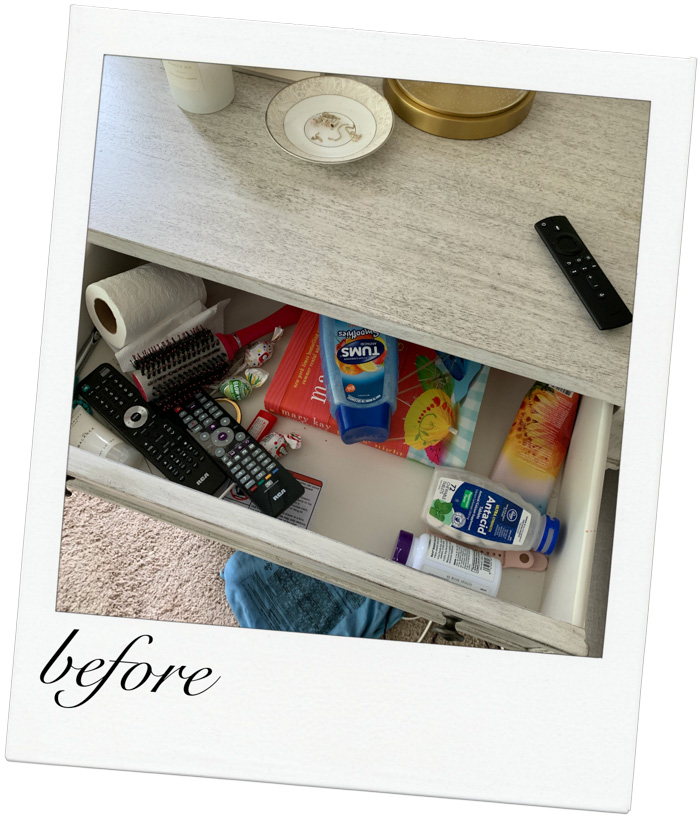 … and here's the after.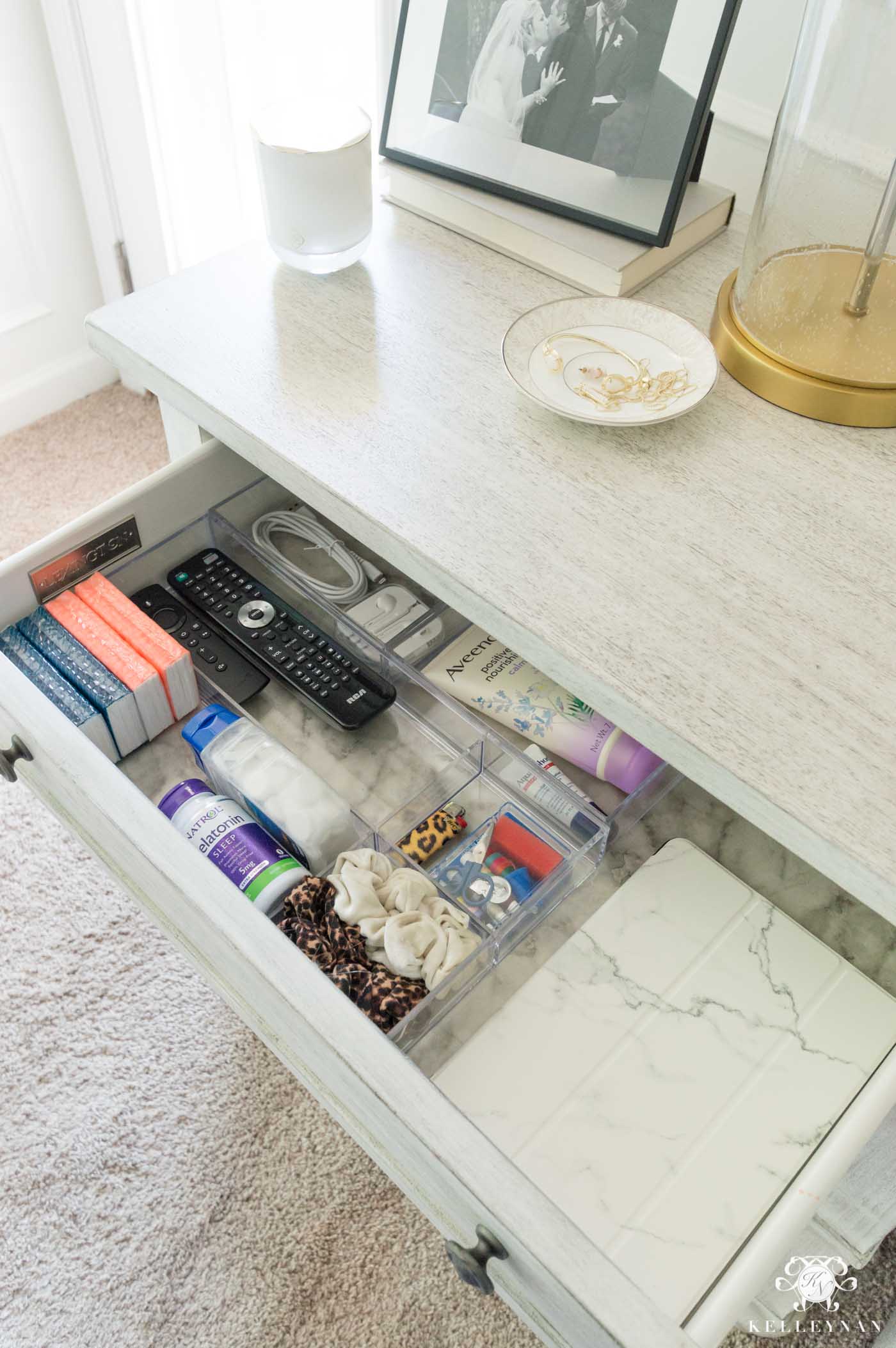 Everything has an easily identifiable spot, there isn't room for extra "junk", and while a simple setup, it's been so easy to maintain. Here's how I did it.
1. Take Everything Out
Even if you plan on keeping items in your nightstand, remove everything to start from scratch. You can see more clearly with a totally blank canvas, just how I tend to do when styling a shelf or table.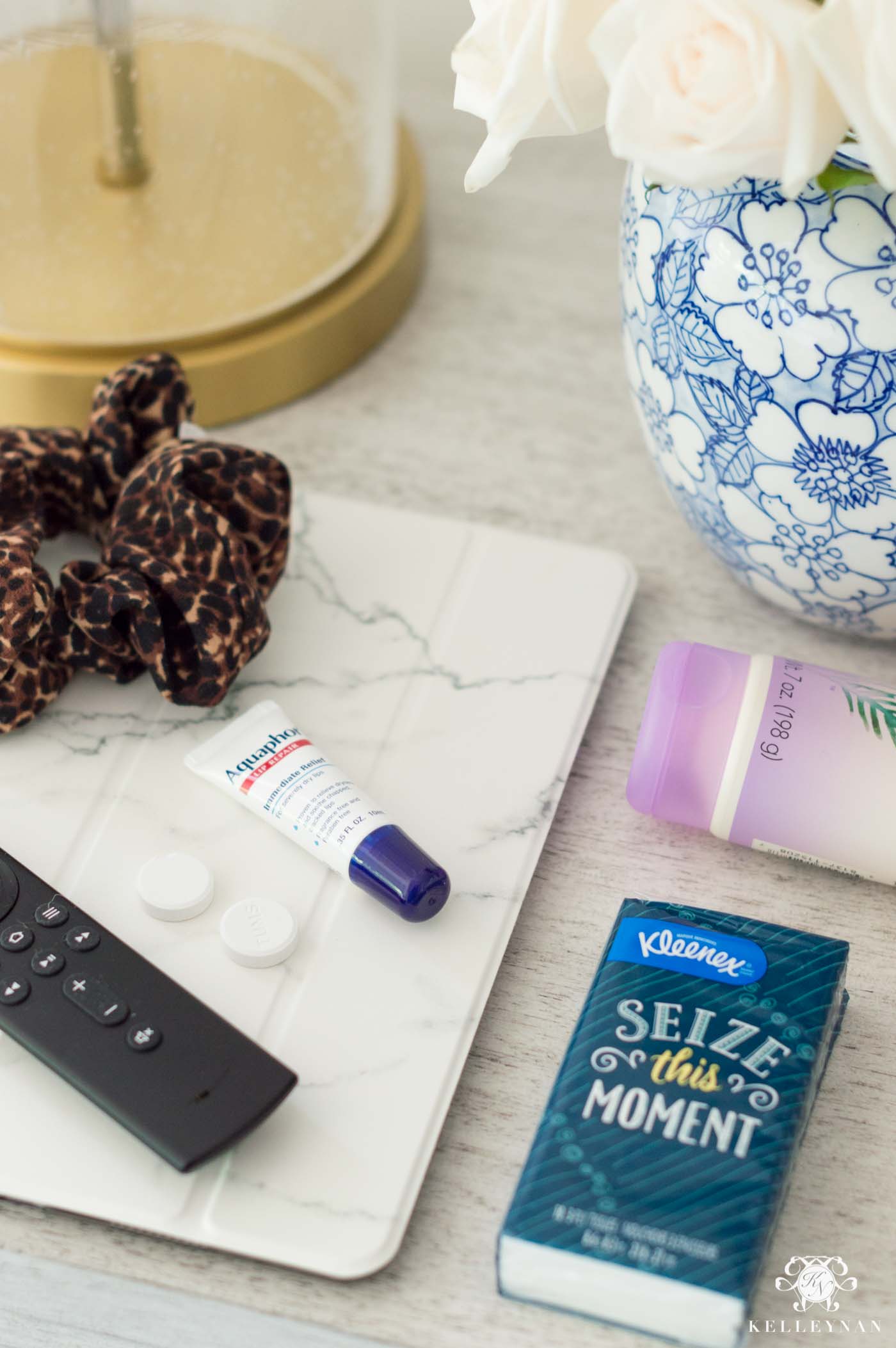 2. Sort & Discard
Group like items together and create a pile to re-distribute to different "homes". My nightstand had started becoming more of a junk drawer than a place for bedside essentials, which is an easy habit to fall into when it isn't organized and there aren't designated spots for each item. I returned items to my makeup area, toiletry area, jewelry stash, office, and of course, the trash. If I don't need it at night, in the morning, or within arm's reach when I'm laying in bed, it didn't need to be included in this drawer.
3. Set It Up
To get myself a little more excited about the project, I hit up the wrapping paper closet (you can see my office closet and wrapping station HERE), cut a piece of glossy marble paper to fit the inside of the drawer, and laid it as a backdrop for my acrylic organizers. Before I ordered, I measured my drawer to make sure the larger pieces would fit nicely inside but I can never map out an organization plan exactly until I get my hands on everything. I like that THIS SET came with five pieces (I ordered two sets) so I could play around and see which configuration made most sense when I narrowed down my drawer essentials. I am all for using jewelry boxes/leftover product boxes and lids as drawer organizers but I don't think it will ever be as good as using uniform organizing containers from a set; it helps everything better fit together like a puzzle and keeps wasted space to a minimum. Another drawer staple to have on hand are THESE expandable drawer dividers. You can create the exact size slot in almost any drawer
This acrylic set is also stackable so you can do multiple layers, if your drawer calls for it 😉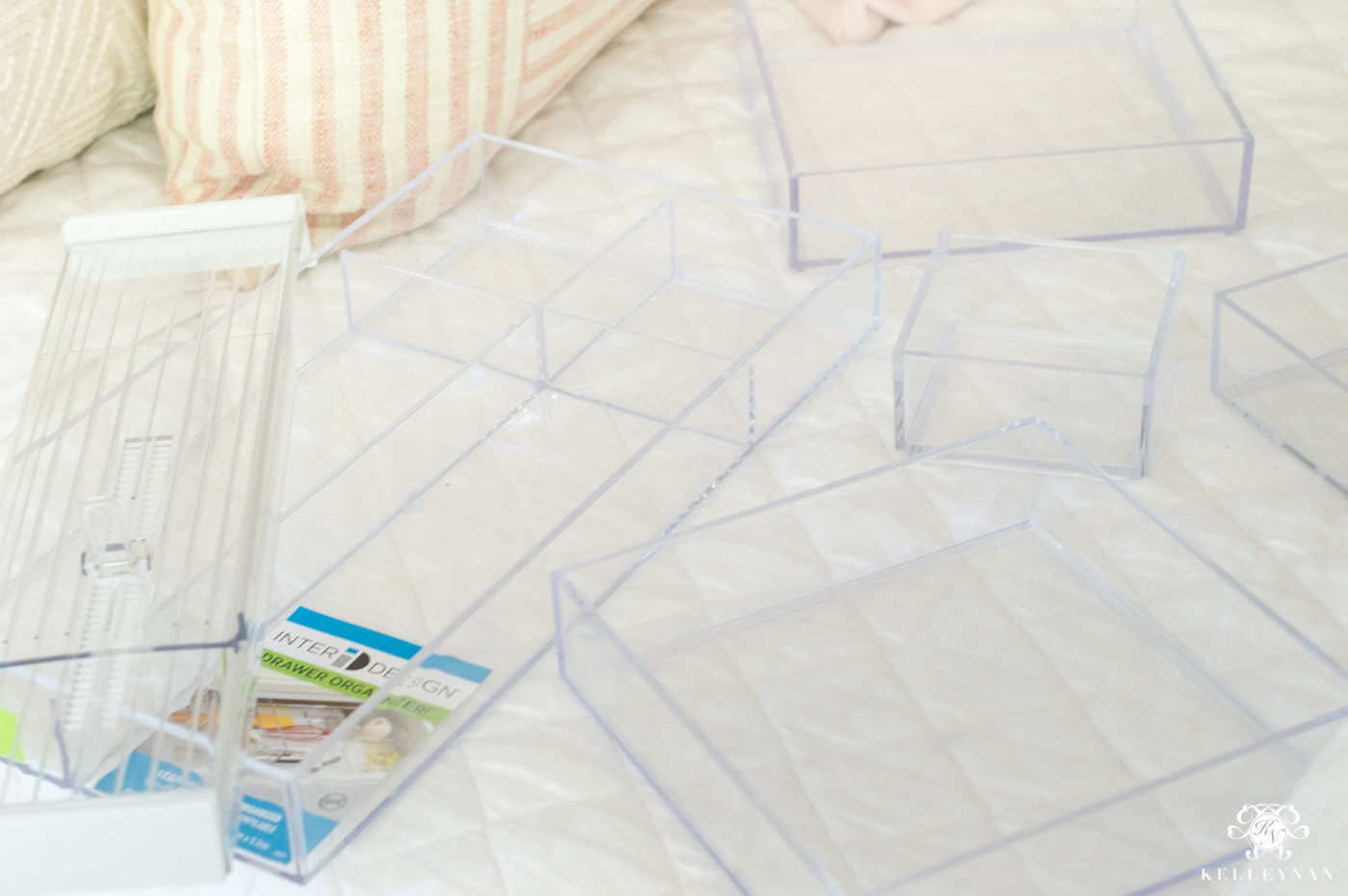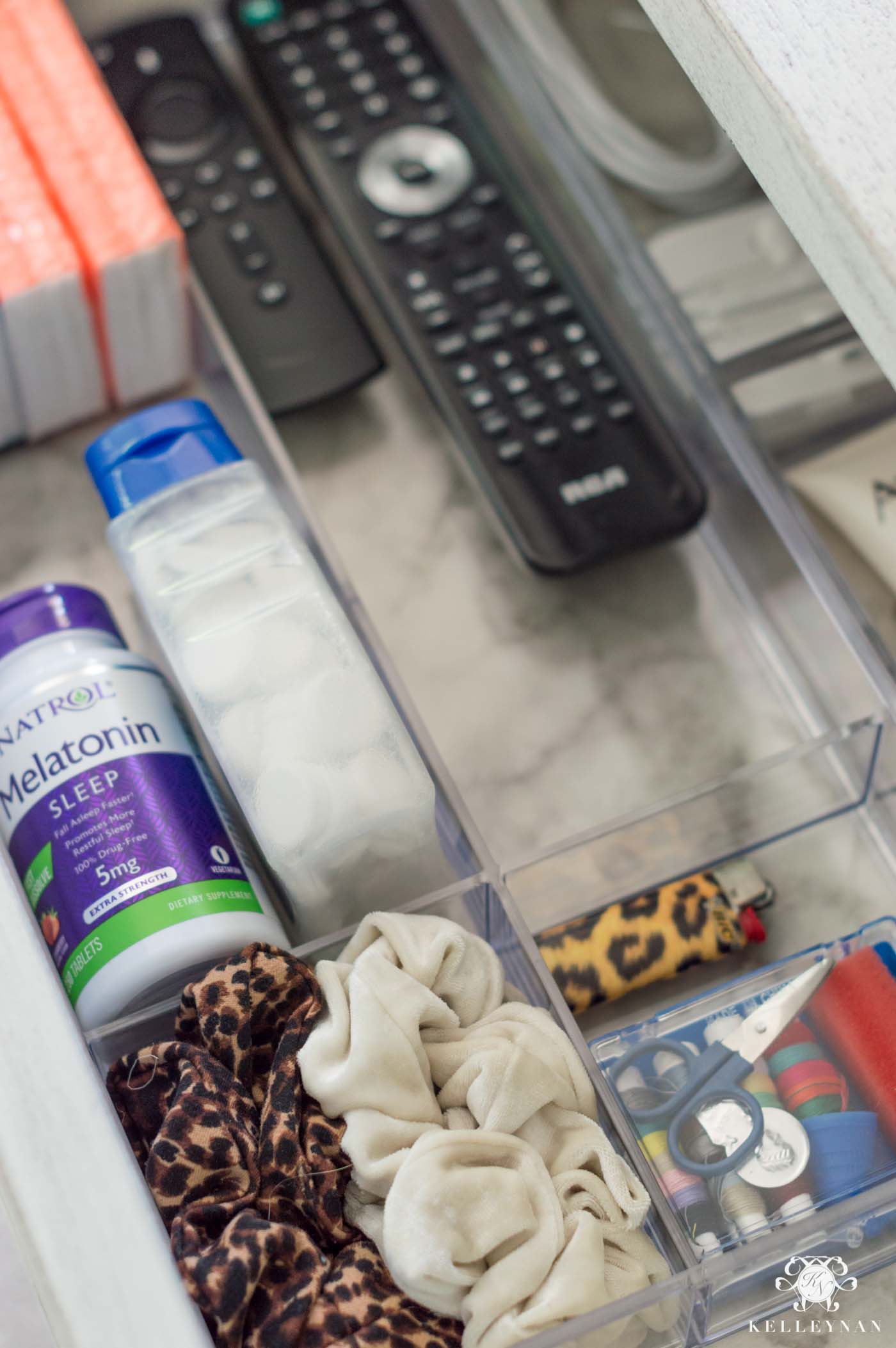 A frustrating "pain point" I haven't established a solution for just yet is the best way to set up a charging station; I have a few ideas but for now, am using a surge protector between my bed and nightstand.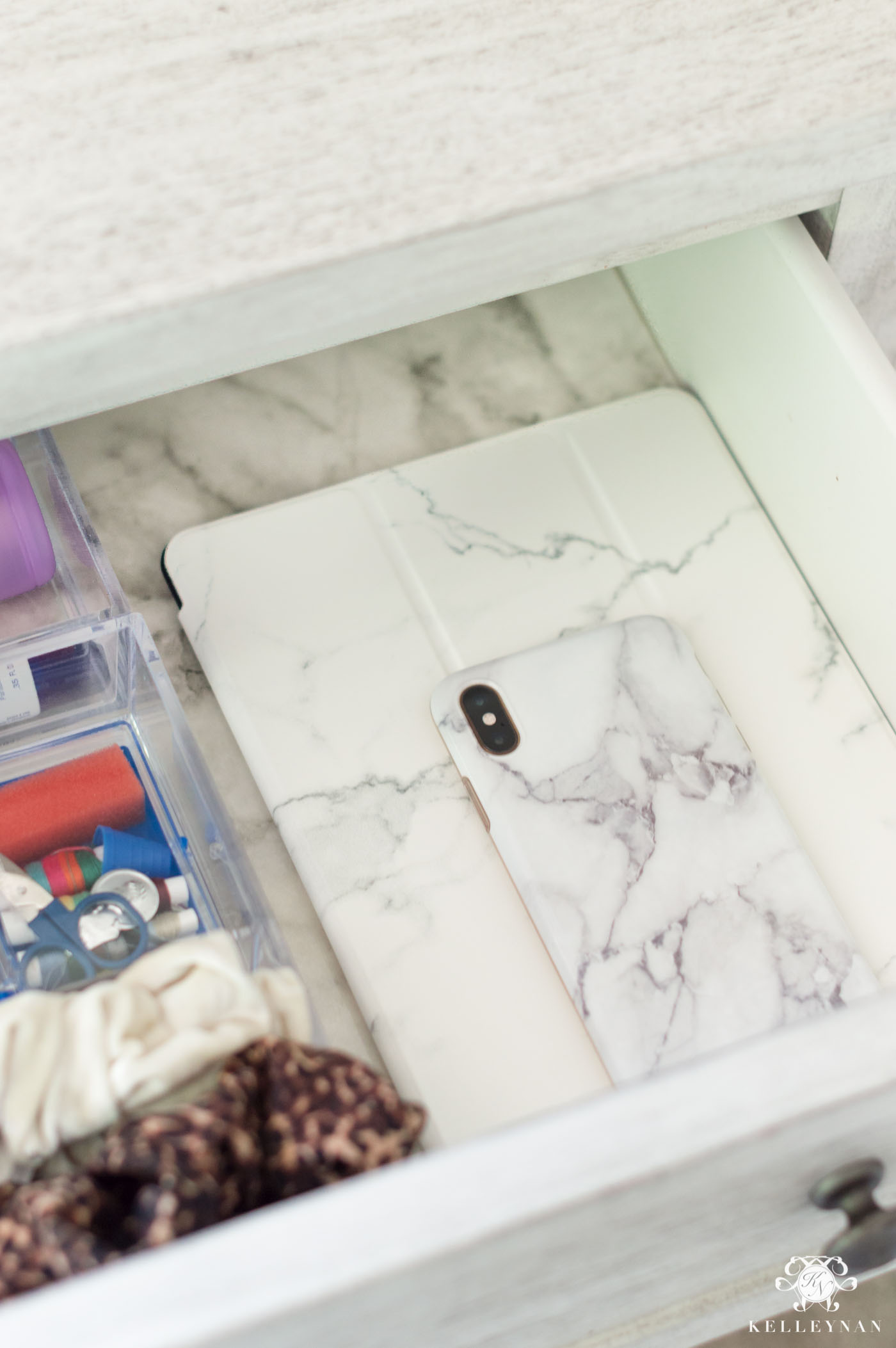 THIS NIGHTSTAND has a built-in outlet that can be covered and is positioned discreetly in the back. All cords can remained stashed, out of sight, off the floor, and easily accessed – I think it's totally brilliant!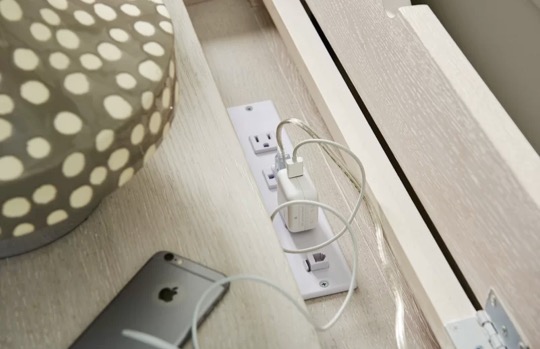 (image via Wayfair)
4. Arrange Your Items Within the Compartments in a Way that Makes Sense to You
Kind of like a purse, only add the items you need to your drawer. Don't fill the drawer just to fill it. And, if you have extra room, try to avoid putting random stuff in there, just because there's space.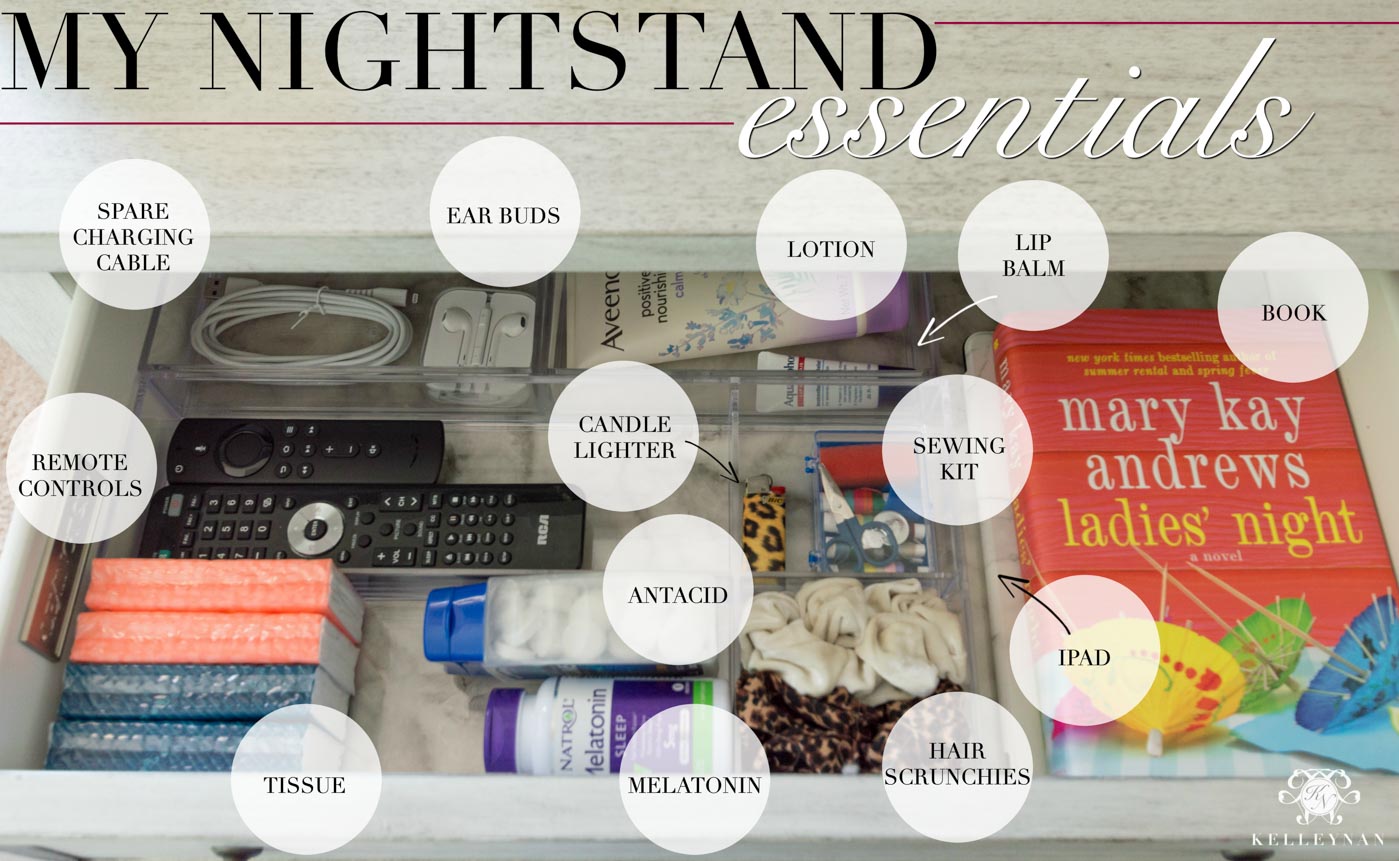 While the first drawer is dedicated to me and what I use regularly, you may not have so many bedside items that you need them to spill over to a second drawer. For me, the second drawer was actually already empty and ready to go and it took zero time to know how it would best serve me. In addition to a few random bedside essentials (heating pad and massage roller), I created an "Eliza" baby drawer. I feed her and cuddle her in our room, play and do tummy time… I'm always running to her nursery to grab a burp cloth, paci, or blanket and since I have the space with this 3-drawer chest, having an established drawer for her will keep all those little items from cluttering the top of my nightstand or making their way into my top essentials' drawer.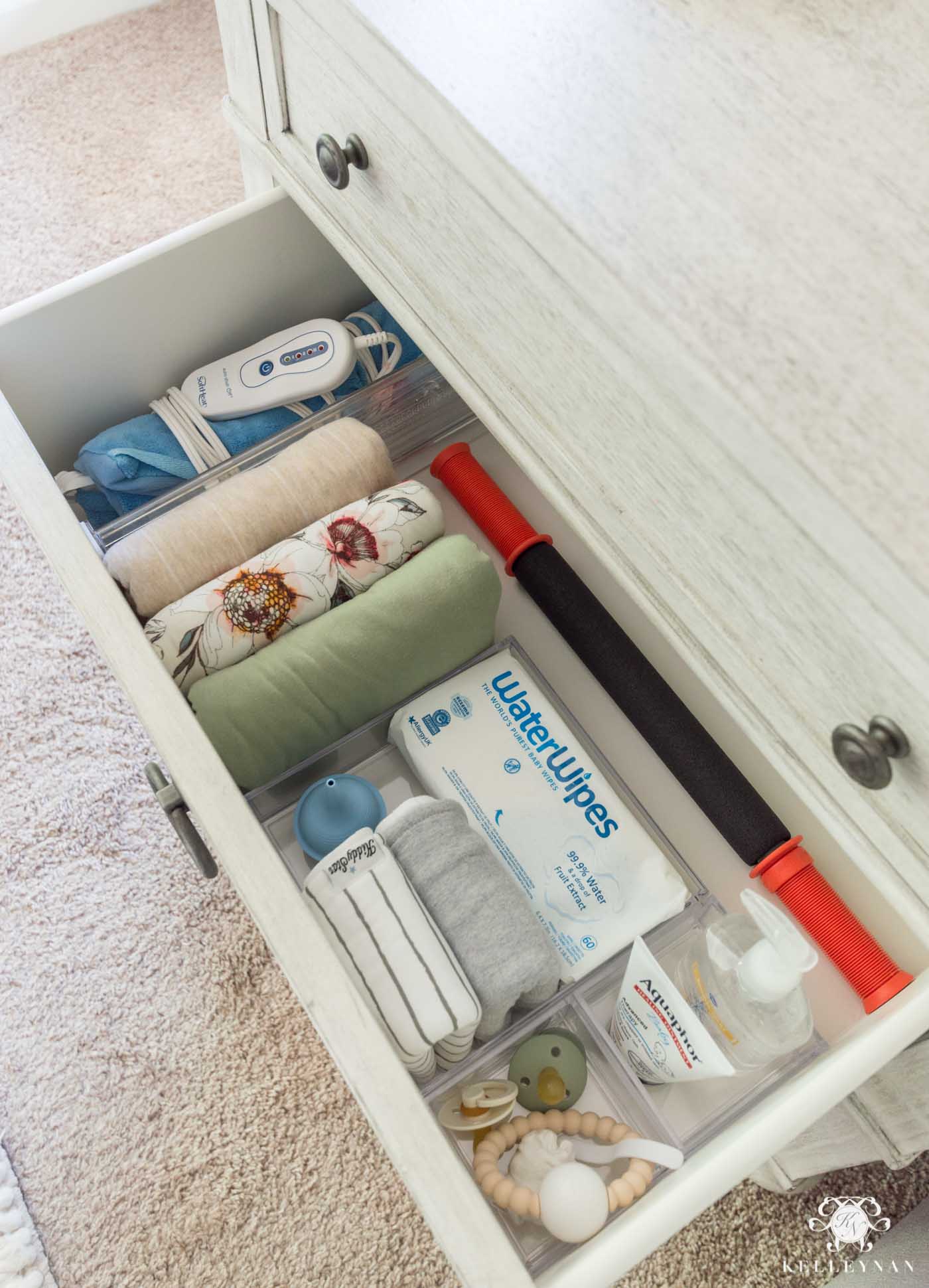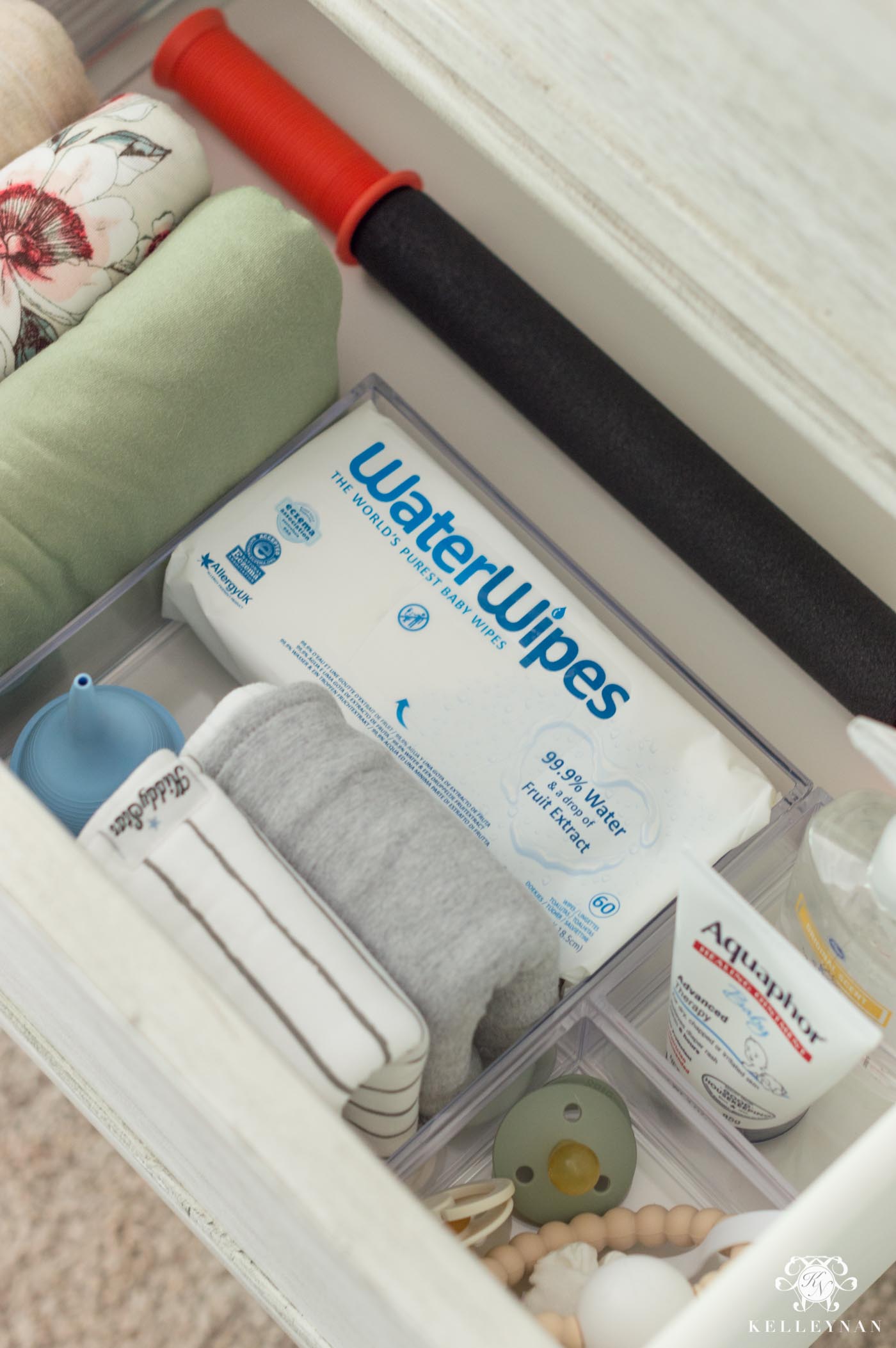 This entire nightstand has pieces from two of the acrylic drawer organizer sets, with several pieces left over for other drawers.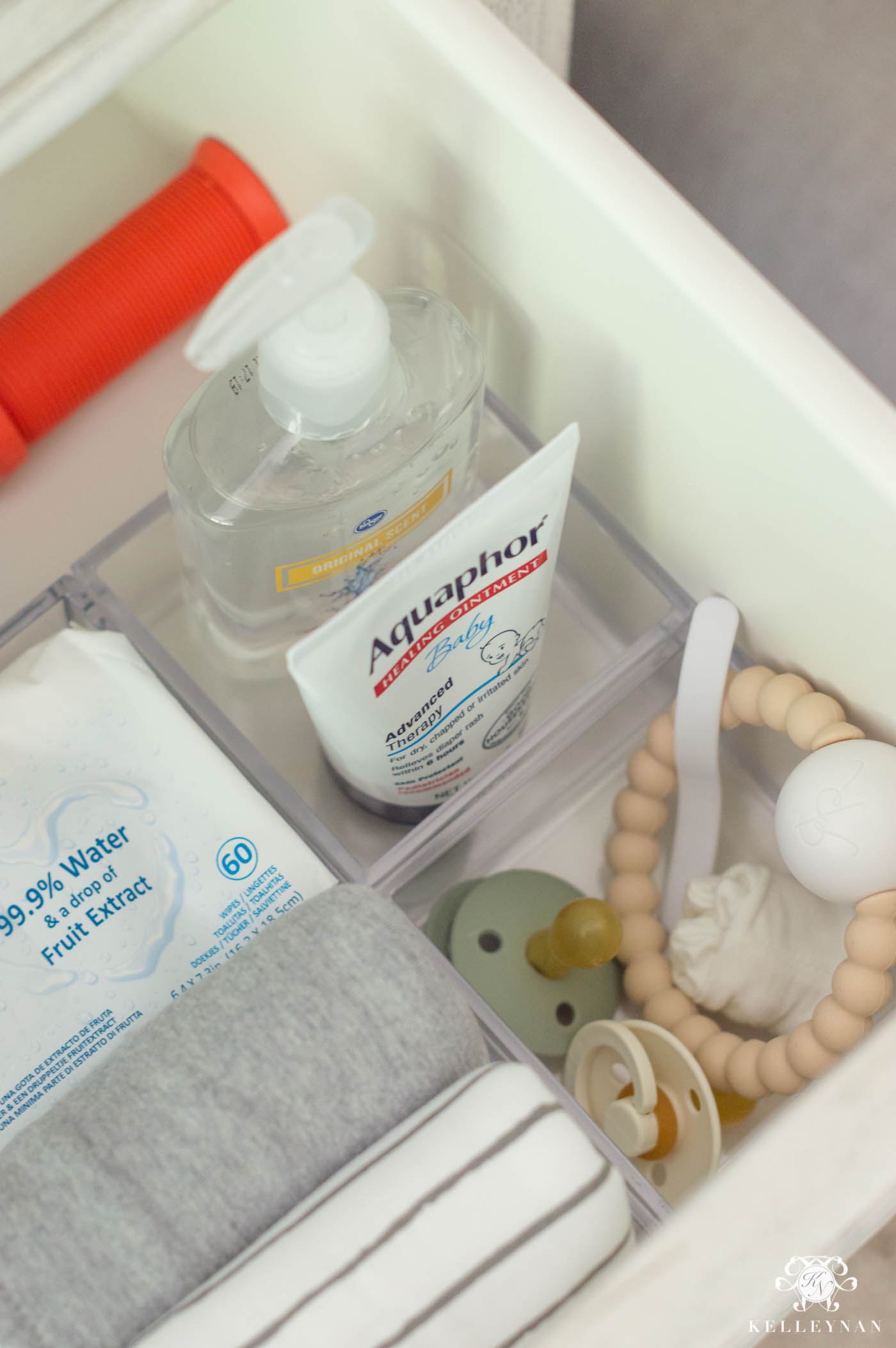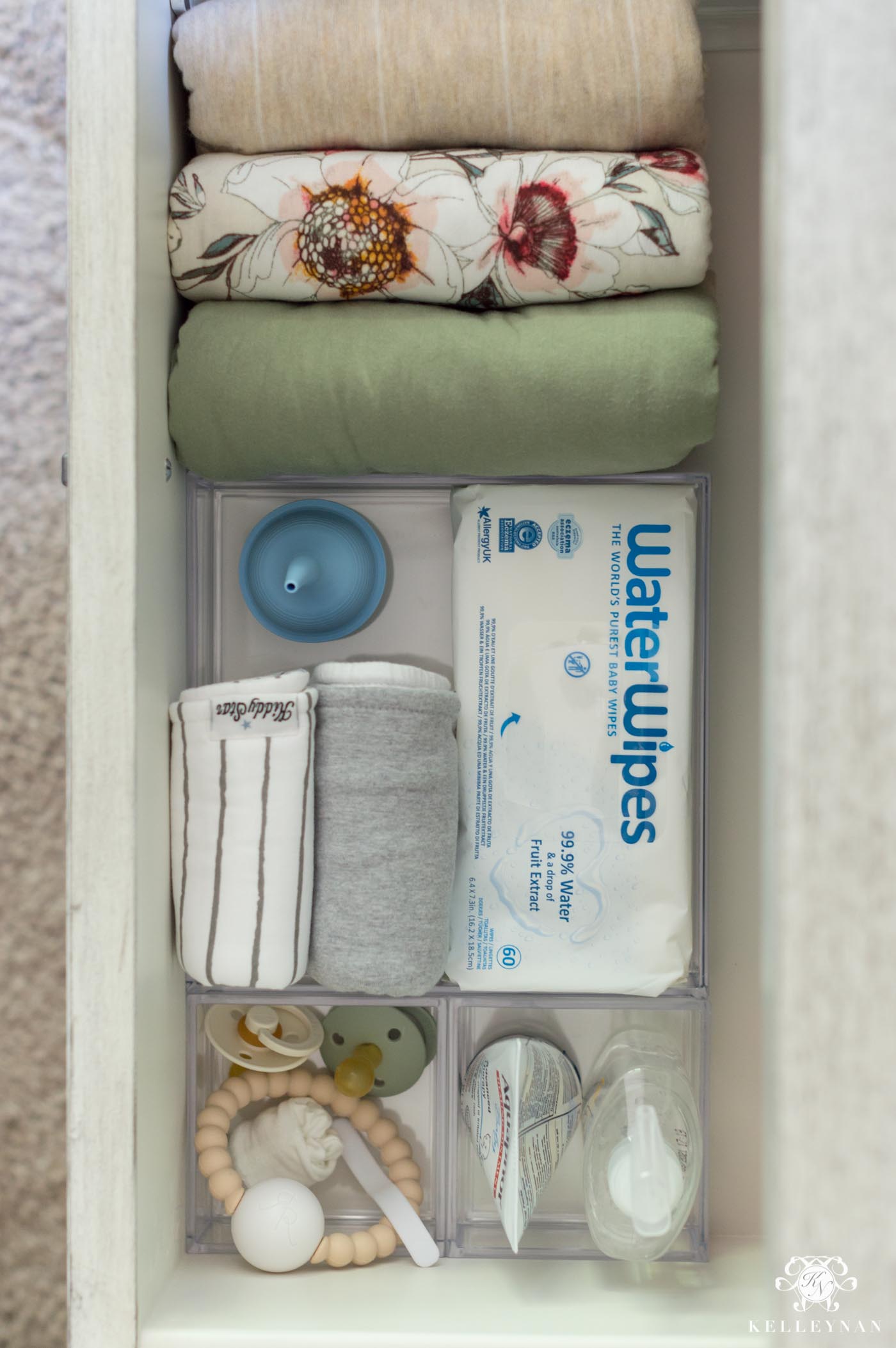 I was even able to throw a boppy pillow in the bottom drawer, no longer having to blend in and serve as a throw pillow on the bed haha.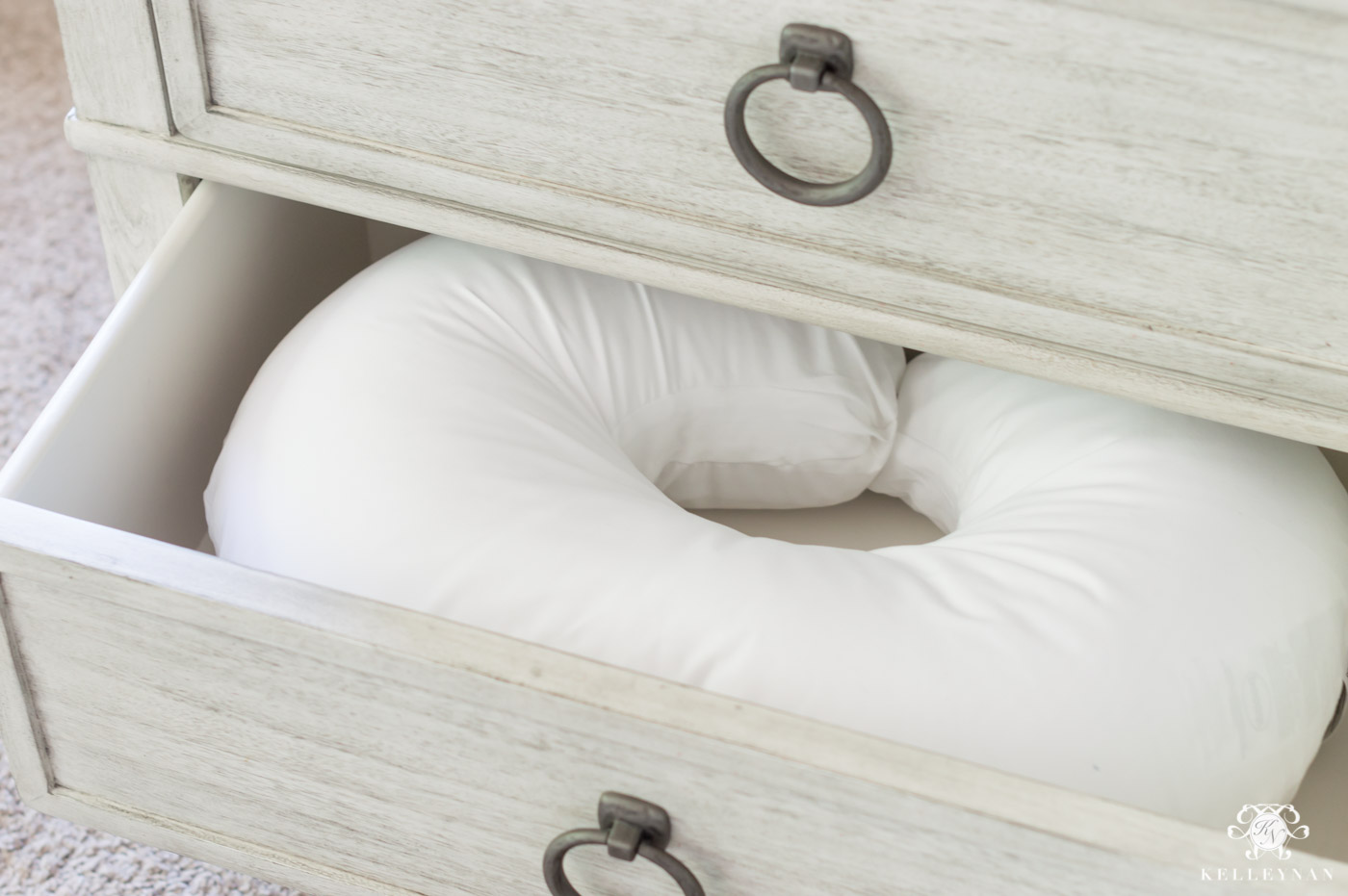 Three Drawer Nightstand Chests 
When I switched my dinky little nightstand with tiny drawers and a lot of open space to this bachelor's chest, the bedroom game was changed. It essentially added four large drawers of valuable storage space to our bedroom; Dave even uses his for pajamas. If you have the room for a chest, it's an awesome way to add in bedroom storage without adding additional furniture or a larger footprint. To me, the top drawer is reserved for bedside necessities but the bottom two — well, those are free game to use however you want or need. Overflowing socks/undies? This will get you covered. Want to separate your workout pieces? These will do the job.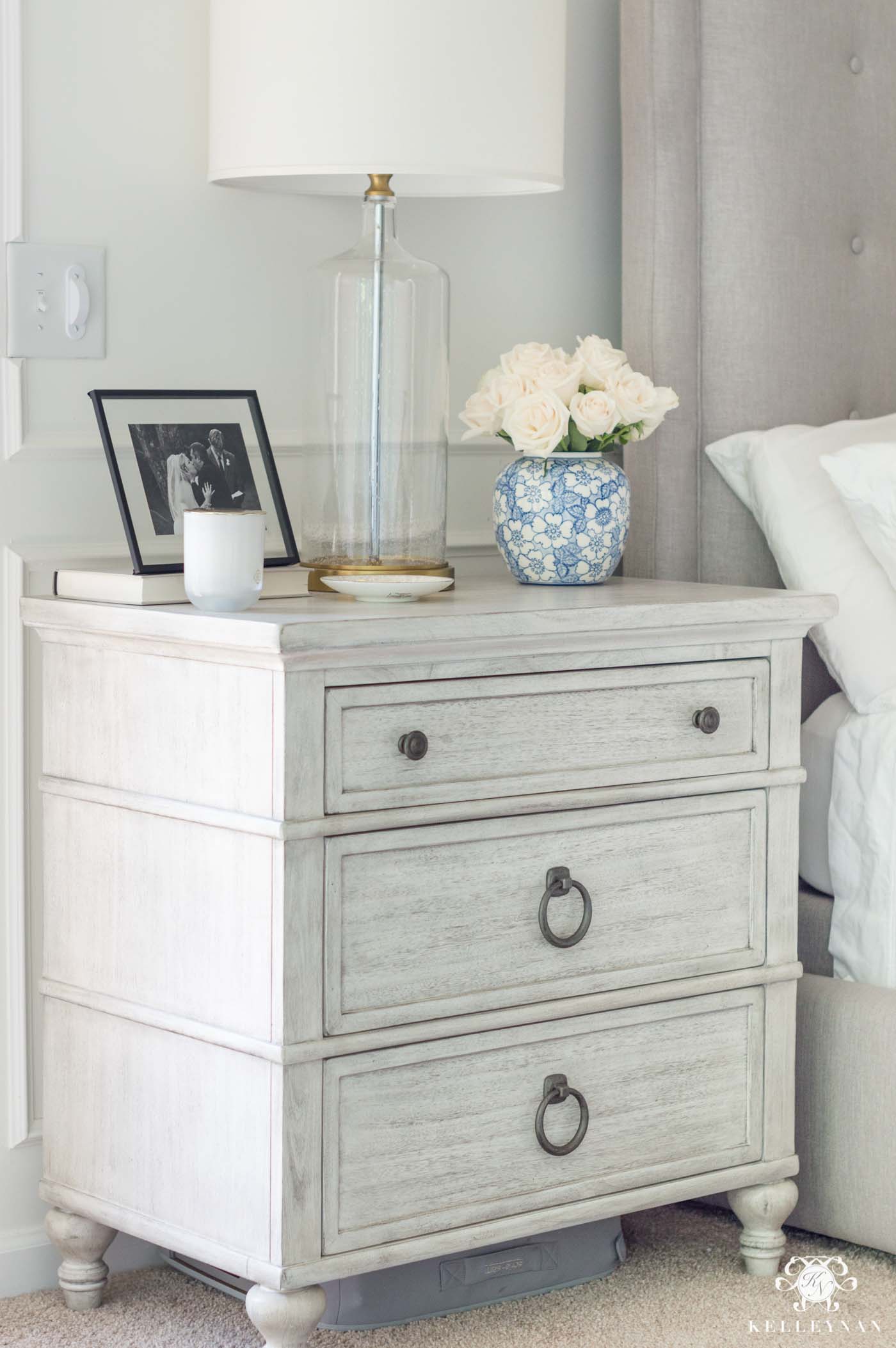 Here are some favorite bedside chests, across most every budget and price point, that will maximize your bedroom storage. As a bonus, there are no shipping fees, regardless of weight since all Wayfair orders of $49+ for free. (Links are listed below the image).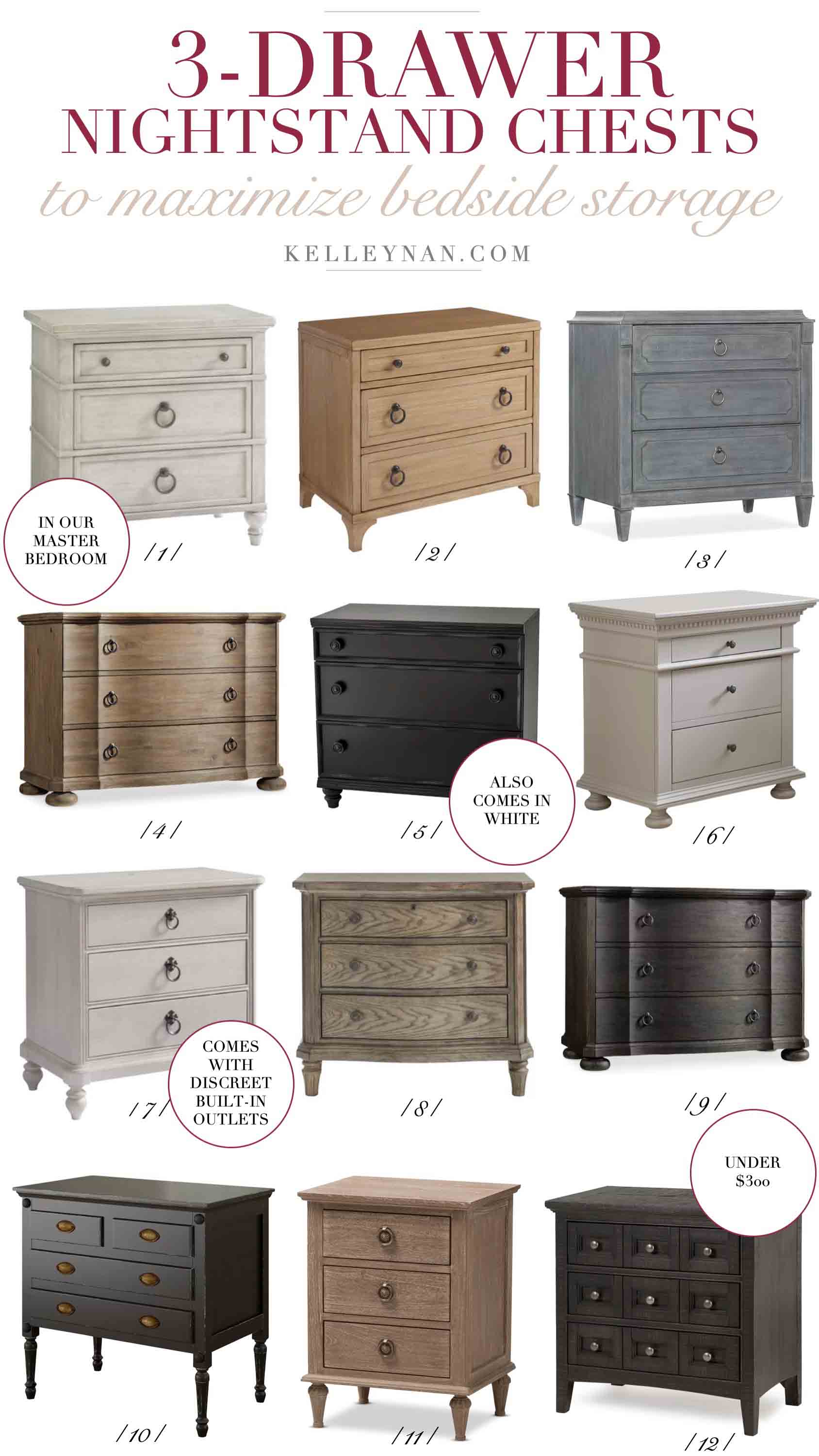 1 // 2 // 3 // 4 // 5 // 6 // 7 // 8 // 9 // 10 // 11 // 12

---
Featured in This Post

---
While a couple of these nightstands are part of the Wayfair Clearance Event (through 8/12), here are a few other favorites in the sale from across all home categories.
Notable Wayfair Family Clearance Event Sale Items

If this post gives you a bit of the organization bug, you can see more organization posts in the organization gallery HERE. Here are a few favorites:
Subscribe to my emails to receive all future projects and organization solutions, directly to your inbox!