You know what's kind of funny? If you know me and how much I love organization, it won't surprise you but before I even started planning out the actual nursery, I was thinking about the nursery closet. Standard, single-wire shelved closets are inefficient enough but single-hang closets for baby clothes?! Well, when you start hanging itty bitty clothes that leave 90% wasted space, it becomes apparent pretty quickly what a crazy-missed opportunity the entire closet is. Long-time readers know how I feel about our Elfa systems — the door systems in the pantry and office wrapping closet, the entry coat closet, and even our master closet (one of the first blogs I ever shared – don't judge haha). The difference and smart, space saving solutions have been pivotal in these areas but every single one pales in comparison to taking a laughable, single-rod kid closet and implementing workable solutions. Today, I'm sharing the organized, custom Elfa system, courtesy of The Container Store, that has taken this little baby closet and transformed it into a maximum-efficiency storage solution.
*Posts on KelleyNan.com may contain affiliate links. Click HERE for full disclosure*
Maximum Organization in a Baby Nursery Closet
Before we jump into the fun stuff, just a head's up — today's organization reveal is gender neutral. I have lots of gender-specific ideas I'll be sharing in an updated closet post once he/she is here 😉 Also, if you missed the full nursery reveal, you can go back and check that out HERE.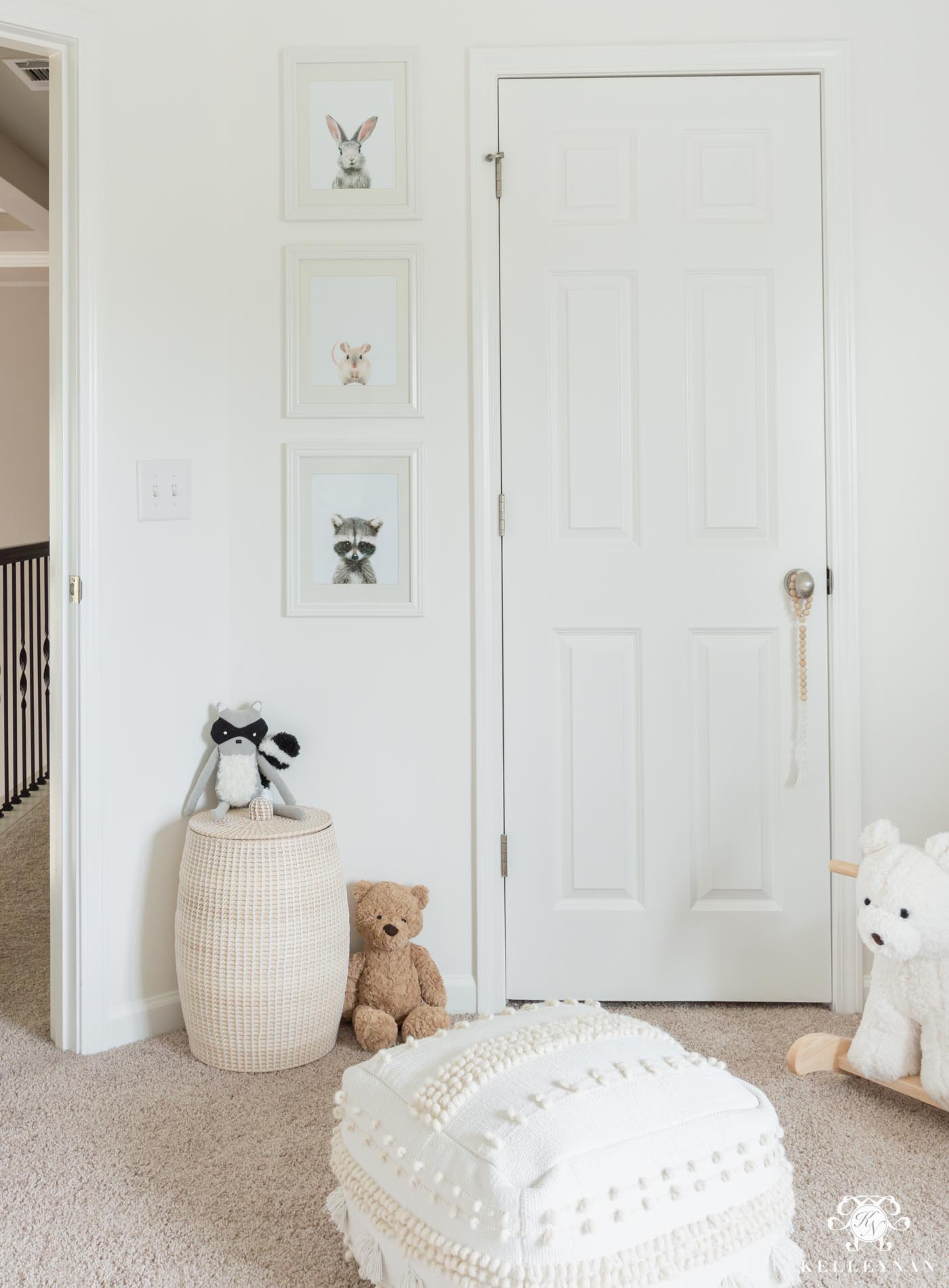 Here's what the closet looked like a couple weeks ago…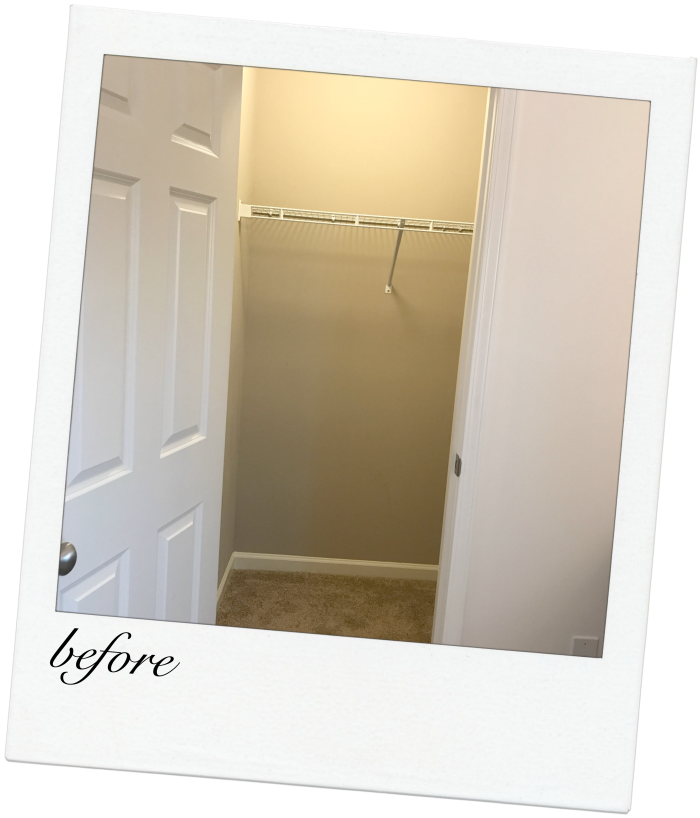 And here's what it looks like today.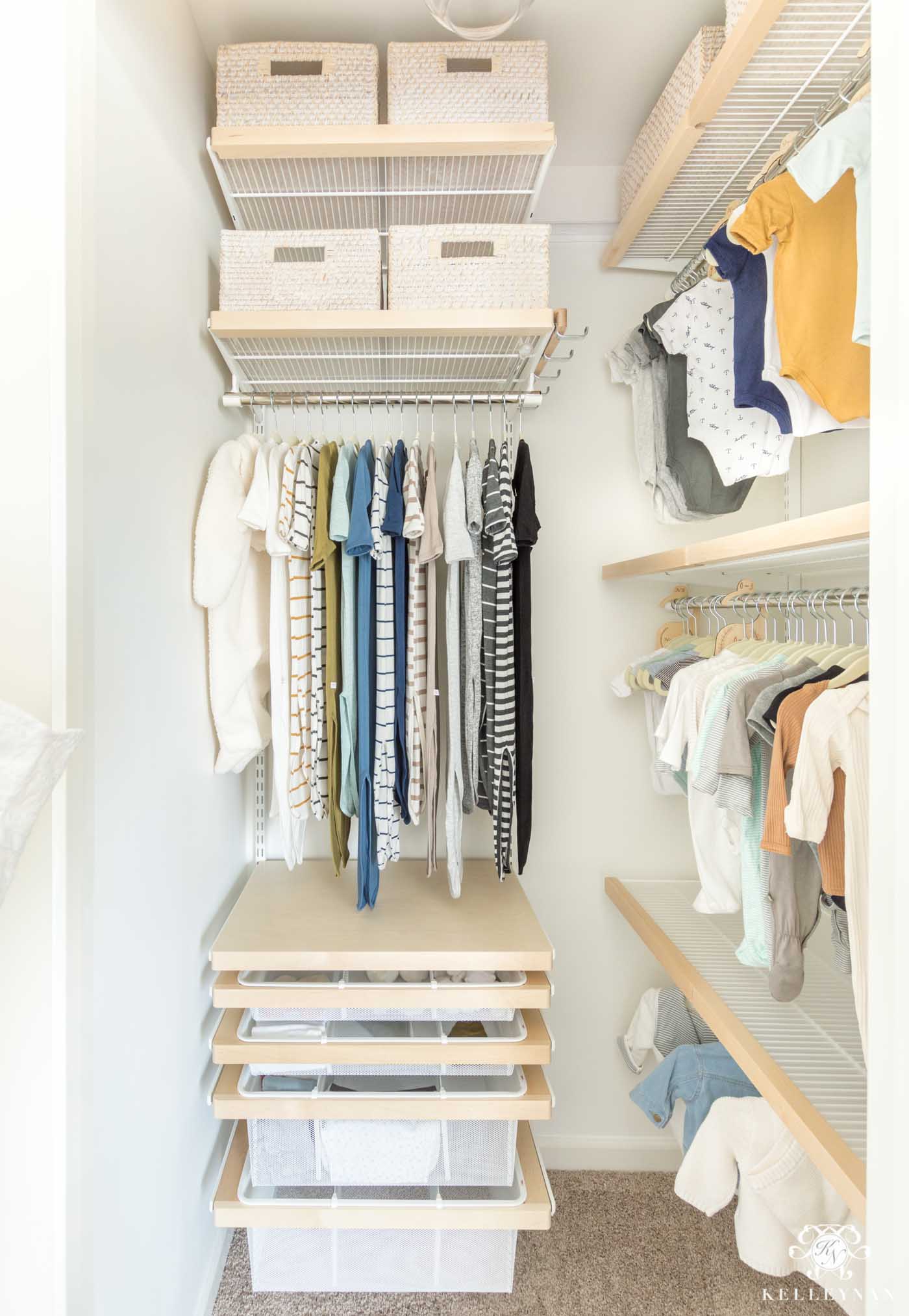 Not gonna lie, I just want to sit and stare at it — how satisfying to see all that space actually being used?!
Nursery Elfa Closet
Let's get into the specifics — I was kicking myself for not having the painter go ahead and tackle the former drab color in here so the first thing I did was remove the wire shelving, patch the walls, and give the space a fresh coat of Simply White (by Benjamin Moore) to match the nursery walls. FYI — if you have The Container Store do the Elfa install, they will actually remove shelving and patch 😉 I even switched out the former flushmount to something a little prettier.
Because I had been hanging little outfits as they came in, I could already foresee some of the challenges I had and needs I wanted to address in a solution, specific to us.
I have clothes from newborn all the way up to 18 months and would like them somewhat separated.
While I would likely be installing multi-tiered hanging rods, I would need a space to hang longer items — the knotted gowns I've become embarrassingly obsessed with. I have actually accumulated way more than what's shown here but kept it pared down intentionally so you can better see the space haha.
We have a large double dresser in the room but I'm already anxious about having places for storage and trying to anticipate what I don't know yet.
I wanted something that would maximize our organization opportunities in the earliest days, but that would also be able to be tweaked to fit his/her needs as they get older.
Here are the measurements of what I was working with; the actual drawing isn't to scale but the numbers are accurate 😉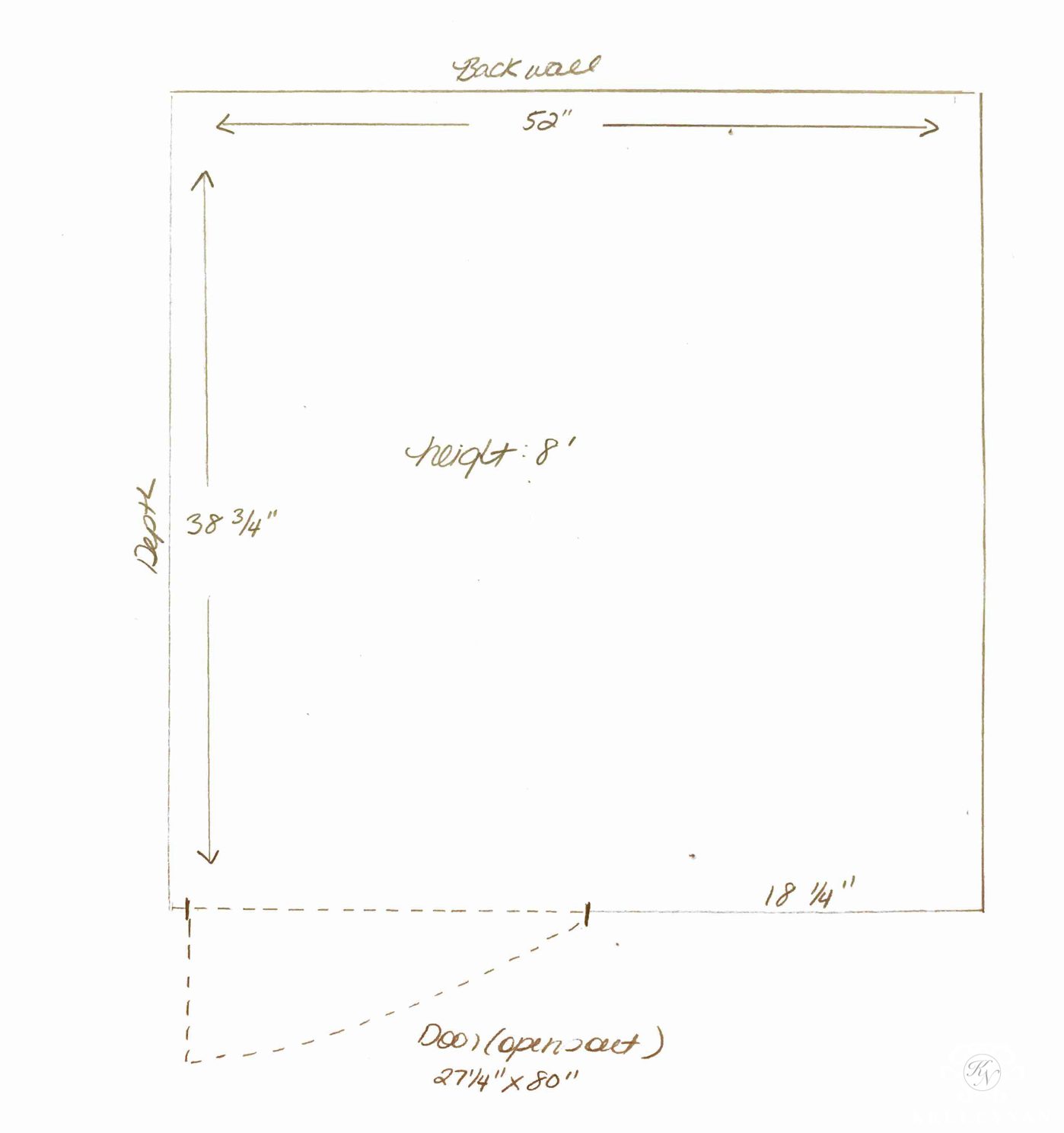 If you're considering some sort of closet solution, make sure to take notes on every measurement you can get. You can even take photos (at minimum, jot down notes) of specific items  you want to include in the solution (along with what you have a lot of, quantities, and any special needs). I worked with a designer/specialist from The Container Store (Cassie, you are beyond awesome!); based on my measurements and basic needs she came up with an initial draft for us to work from, tweak, add to, and customize.
*Tip: measure the length of the longest hanging item you have!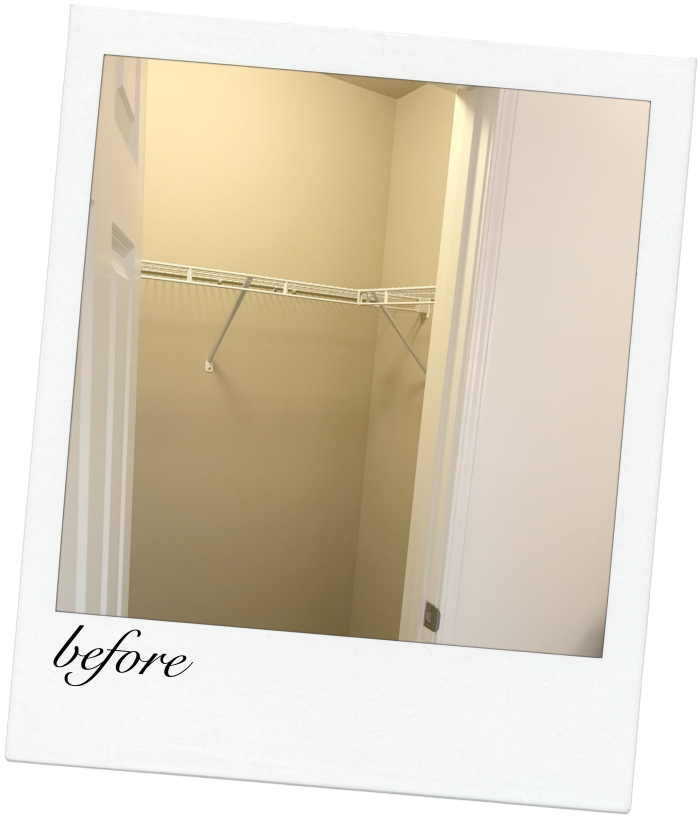 You guys, I can't even. And a triple hang?! With an 8′ ceiling?! YES!!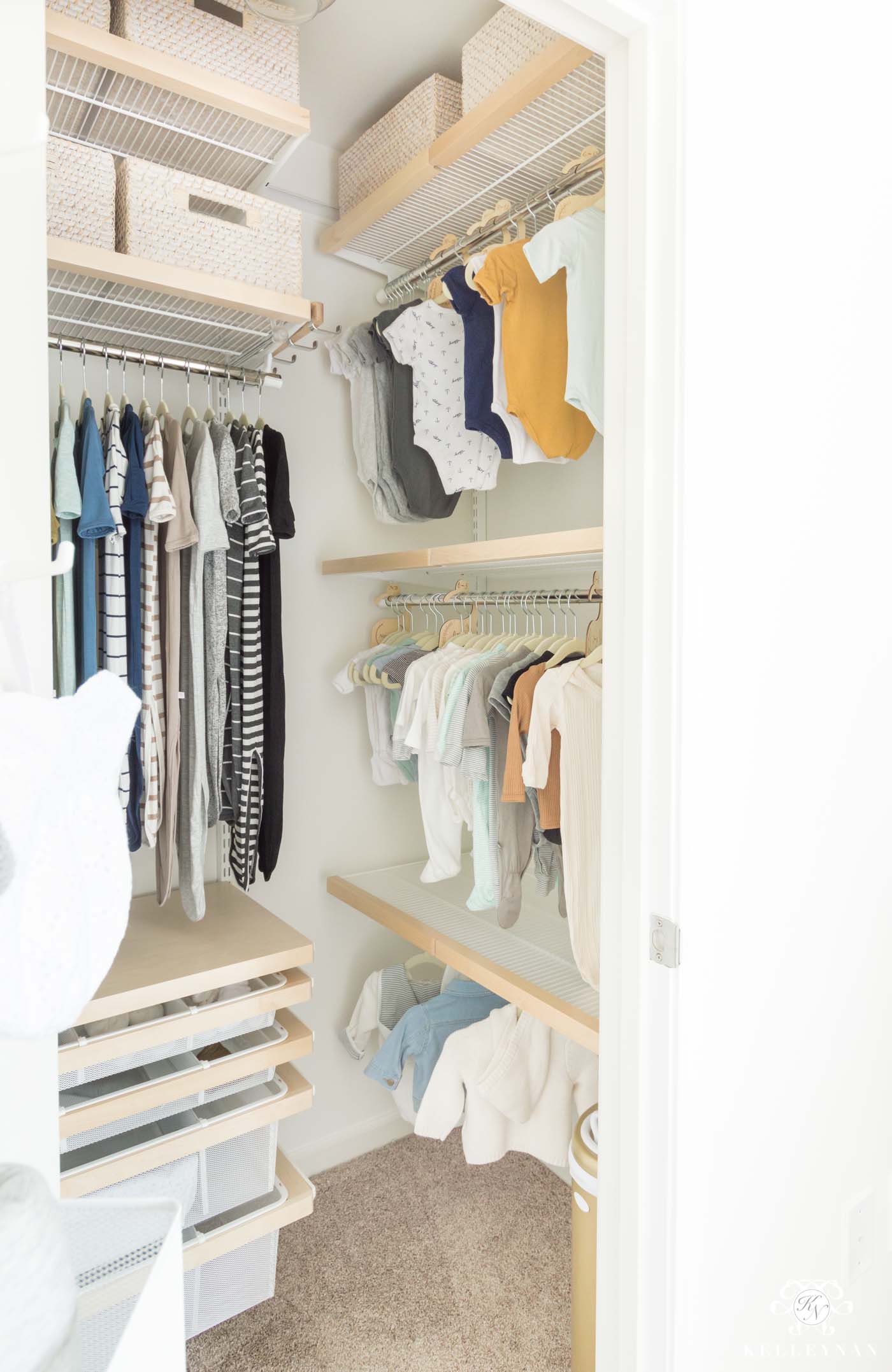 If you aren't familiar with how Elfa systems work, they are different than most because everything hangs off the single top track at the top of the closet. There are a couple of vertical bars that hang down and each shelf, drawer, bracket — everything — hangs off of those. It makes it an easier install, hard to mess up, and gives you the ability to switch things up as your needs evolve. Even though I have a triple hang right now, I could change that to a double hang, no problem. If I don't need drawers anymore but need shoe pull-outs, it's a simple switch.
The process is easy, too. Here's how it works.
Call your store and make an appointment
Show up to your appointment with measurements, photos, notes… anything you think will best equip you in planning to organize and fill your space with the most helpful solutions
The Container Store designer will work on a computer rendering, alongside you, as you work out the different components, layouts, and items on your wishlist. They will be able to make suggestions, too. You don't have to know everything they have – they're the experts. They will also have live setups so you can get ideas and see in real life what kinds of components you may want.
You will choose the color closet system you want, along with the faccia color (ours is white with birch faccia)
You can either request an installer from The Container Store or they will print the plans for you to follow. Either way, they pull all components, down to the wall anchors, that you will need. We have installed door systems (SUPER EASY!) and Dave even installed the entry closet, but we always have an expert install the bigger projects. They move so quickly and have the entire thing ready to go in a couple hours.
One of my favorite Elfa closet accessories is the extendable valet hook. We have a couple in our master closet and use it for putting outfits together, packing… there are so many uses for it.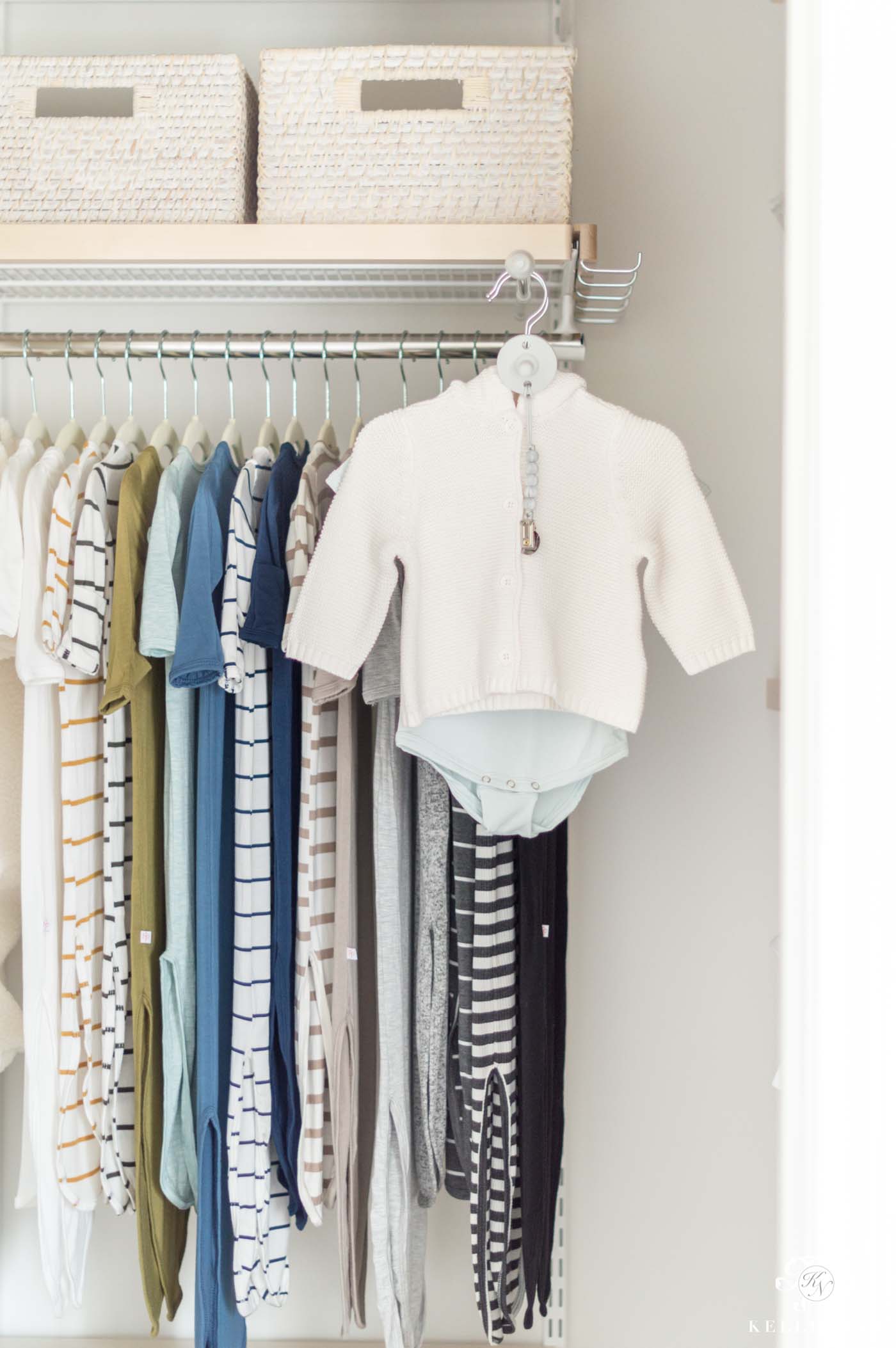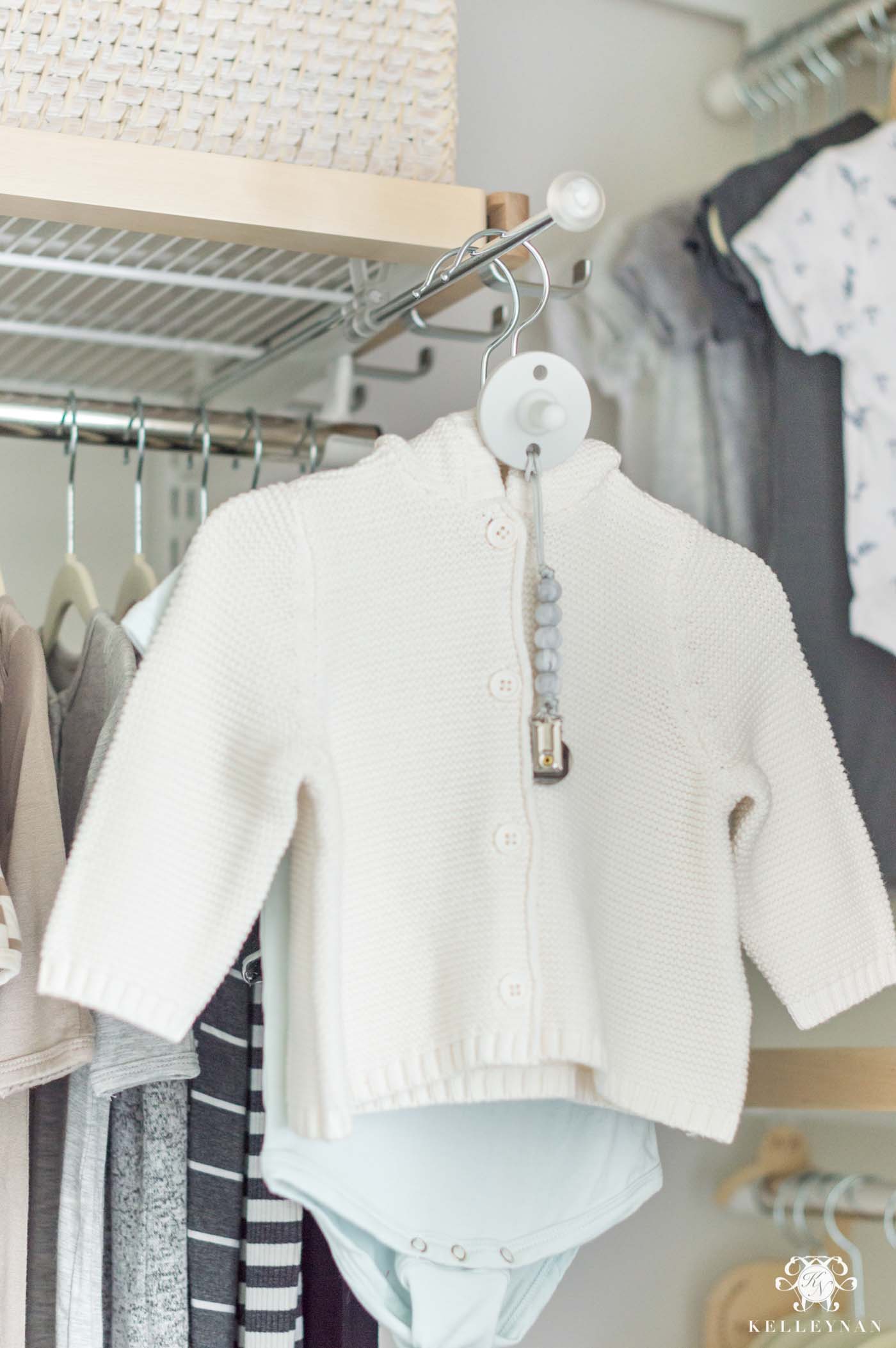 Another easy add-on is this little belt rack that hooks onto the side — it's perfect for necklaces, robes, towels, purses, etc. too.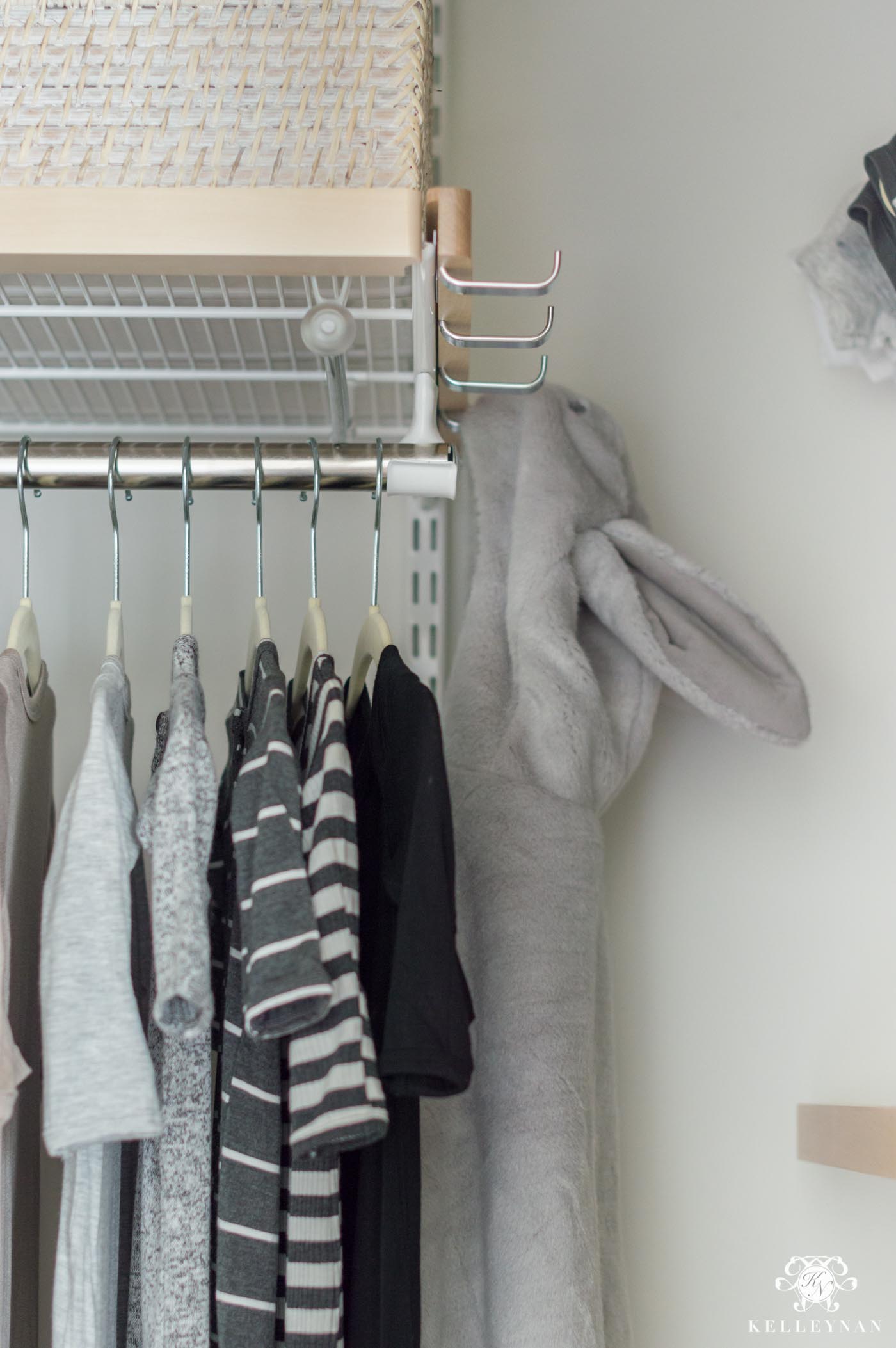 And just like I use slim, non-slip velvet hangers for all of our clothes, THESE were a must in this closet. Using the slim, uniform hangers keeps everything at the same height and easy to find, and saves a TON of space. If you've never experienced them, one pack will make you want to purge all those plastic hangers.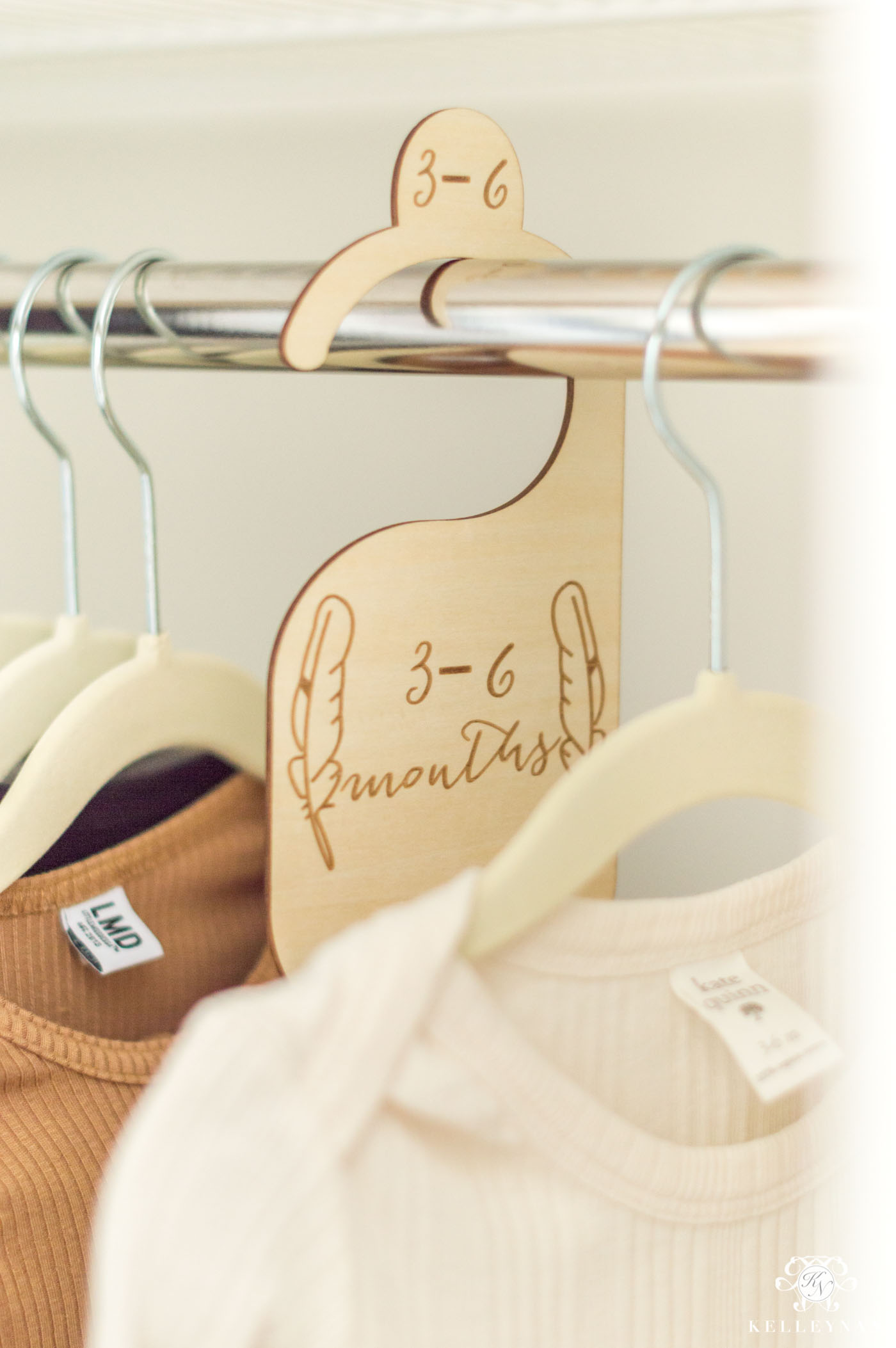 I ordered a few packs of drawer dividers that can be adjusted, added, or removed as needed…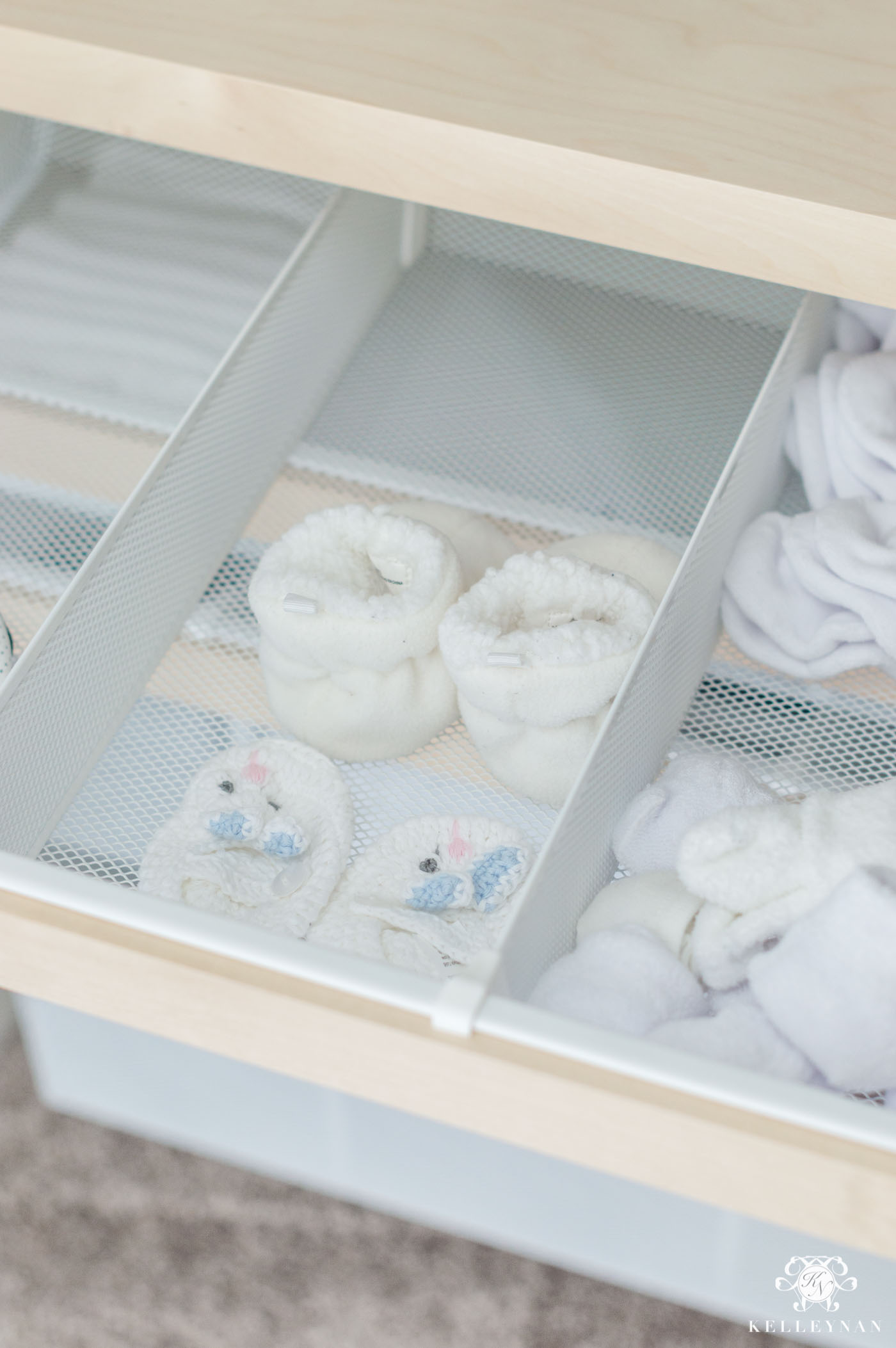 And decided on two shallow drawers and two deep drawers.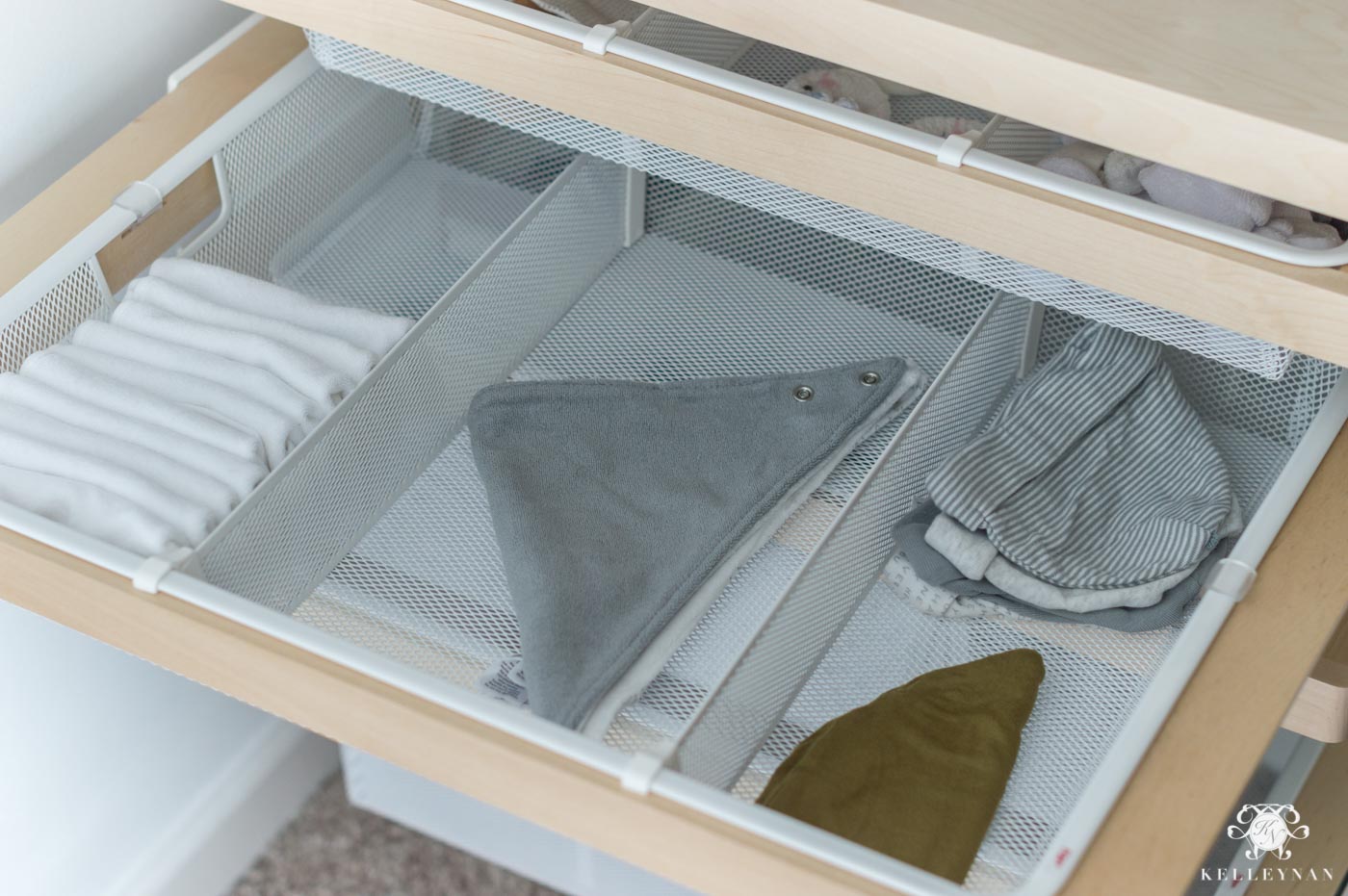 Again, I'll be sharing some gender-specific solutions later 😉 It's crazy to see how 15 pairs of itty bitty pants are folded and easily fit in this tiny divided section of drawer…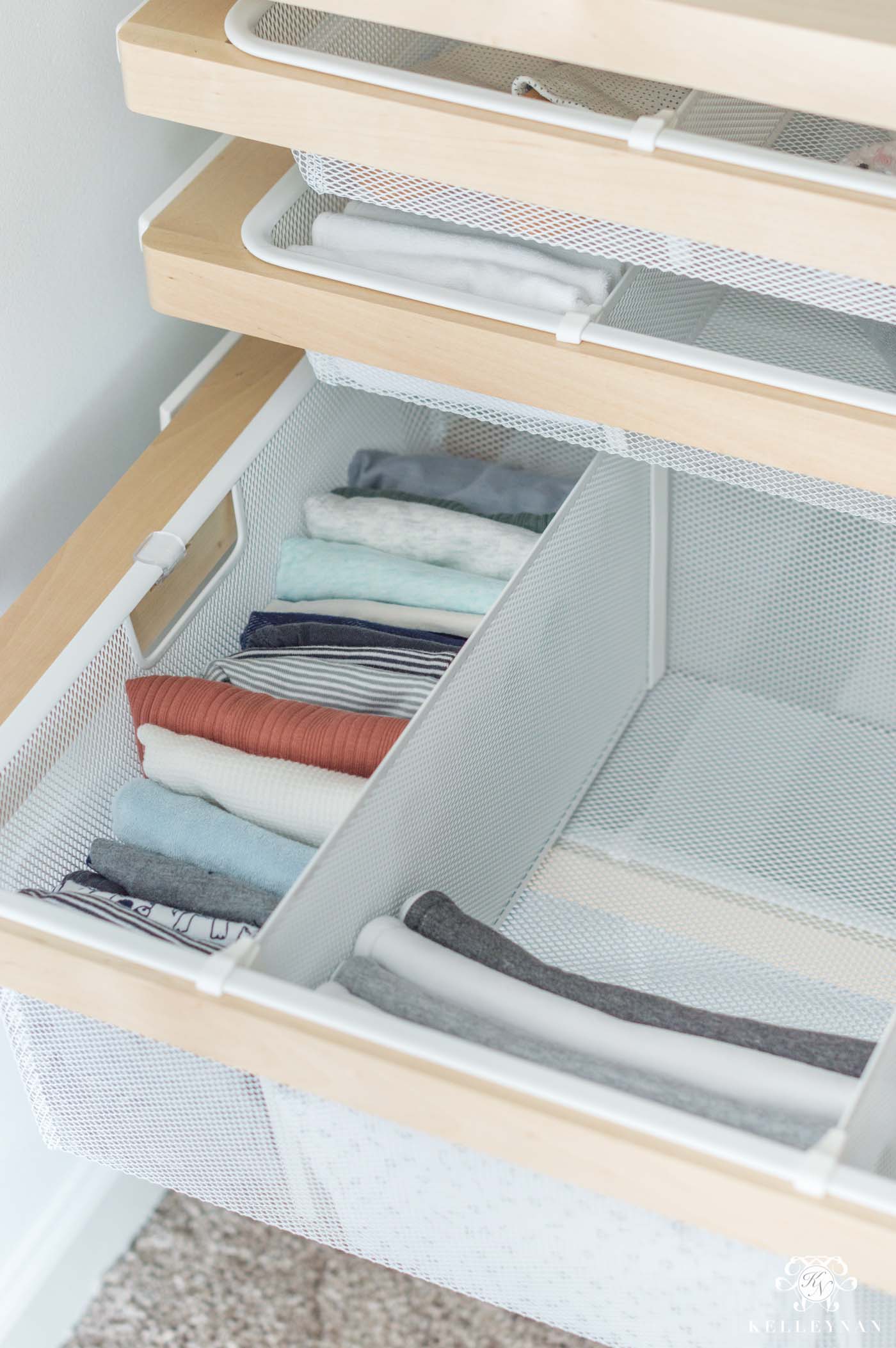 And then there's the added bonus of the door solution. The rod clamps on the top and bottom of the door and then you can choose baskets, boards, and other accessories, based on how it will be used. See tons of door solutions and inspo HERE.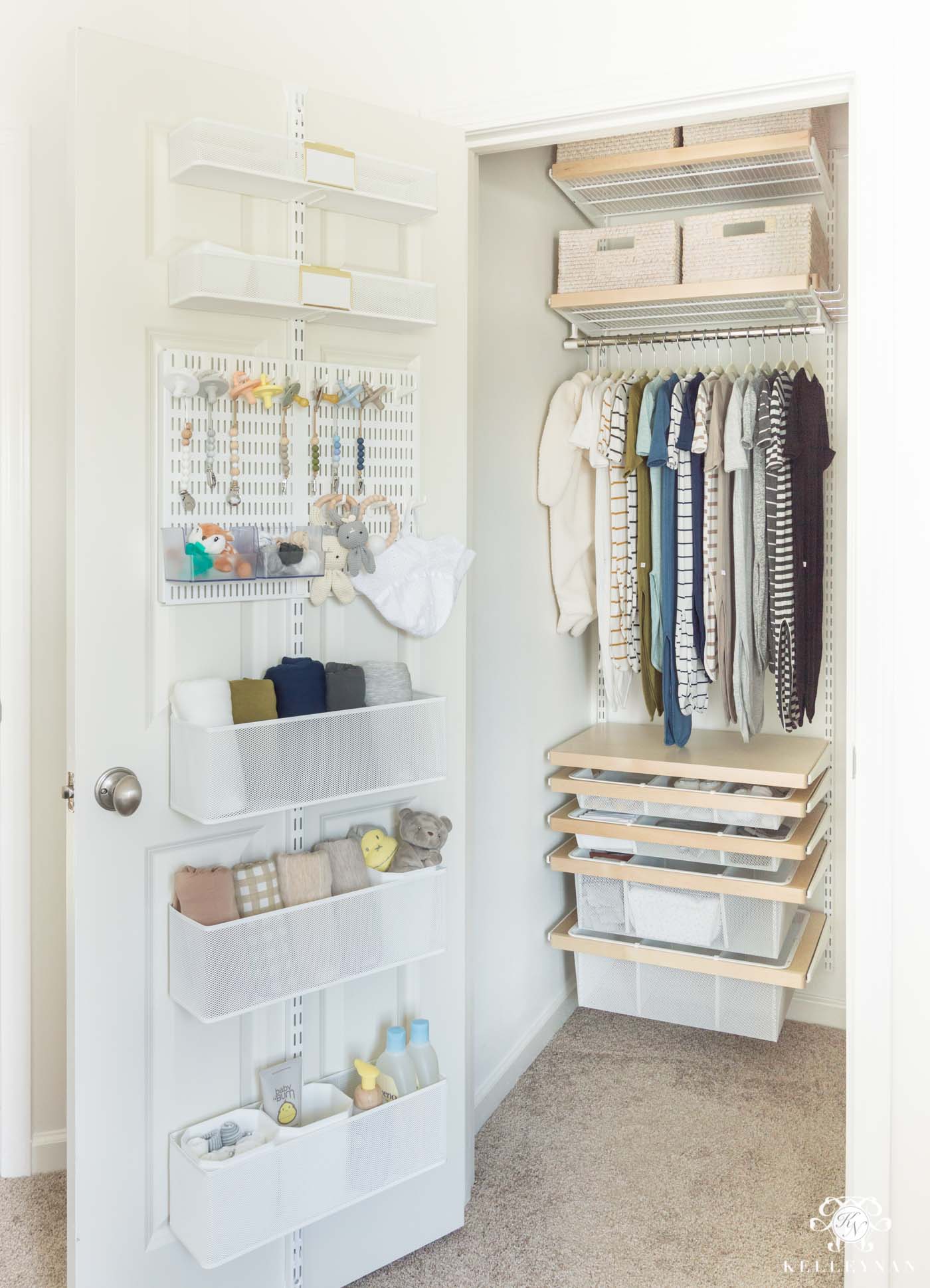 This customizable board is one of my favorite components for how universal it is. You can see another way I've configured one in my office closet post HERE.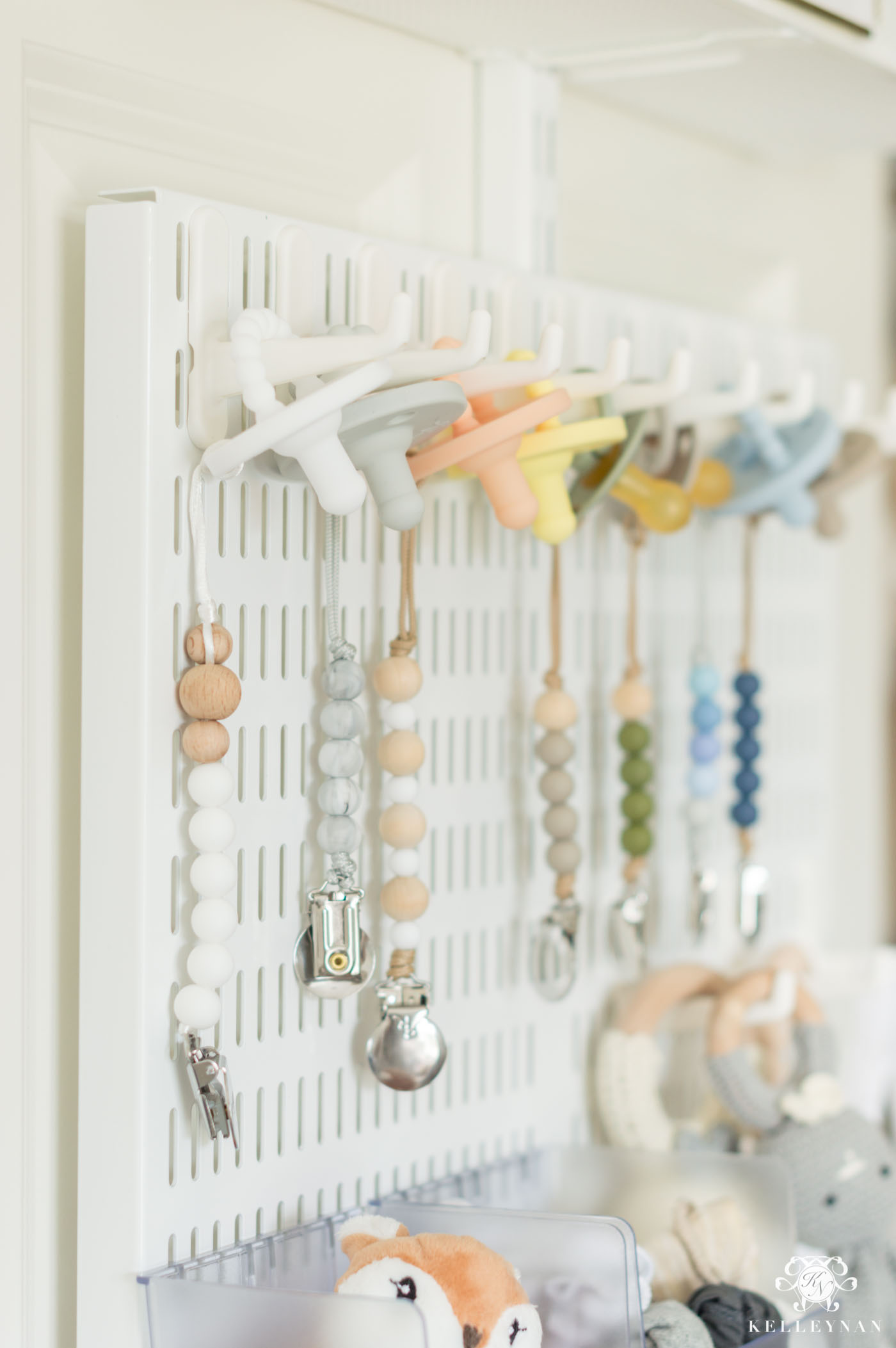 The long hooks are my favorite 😉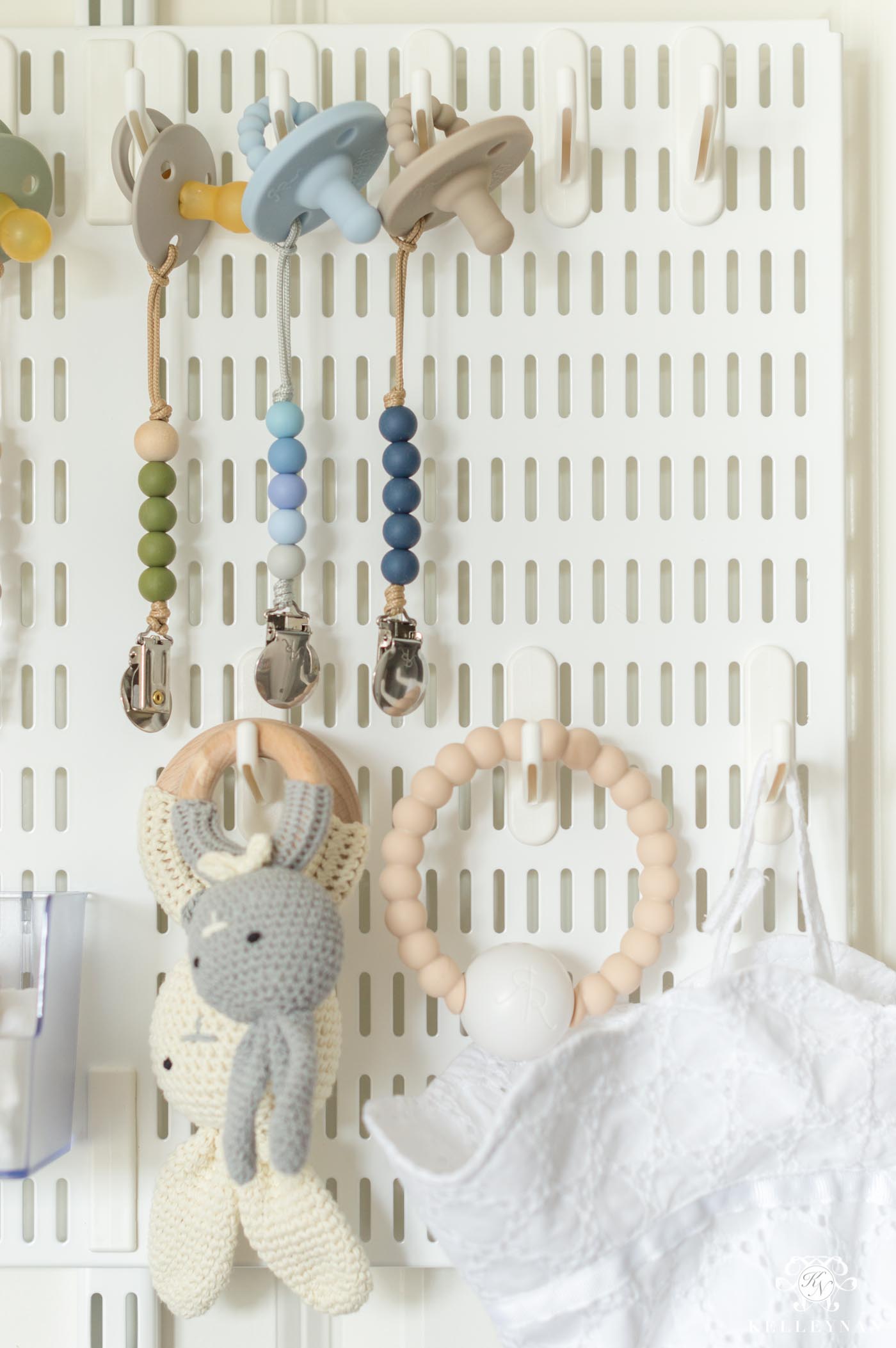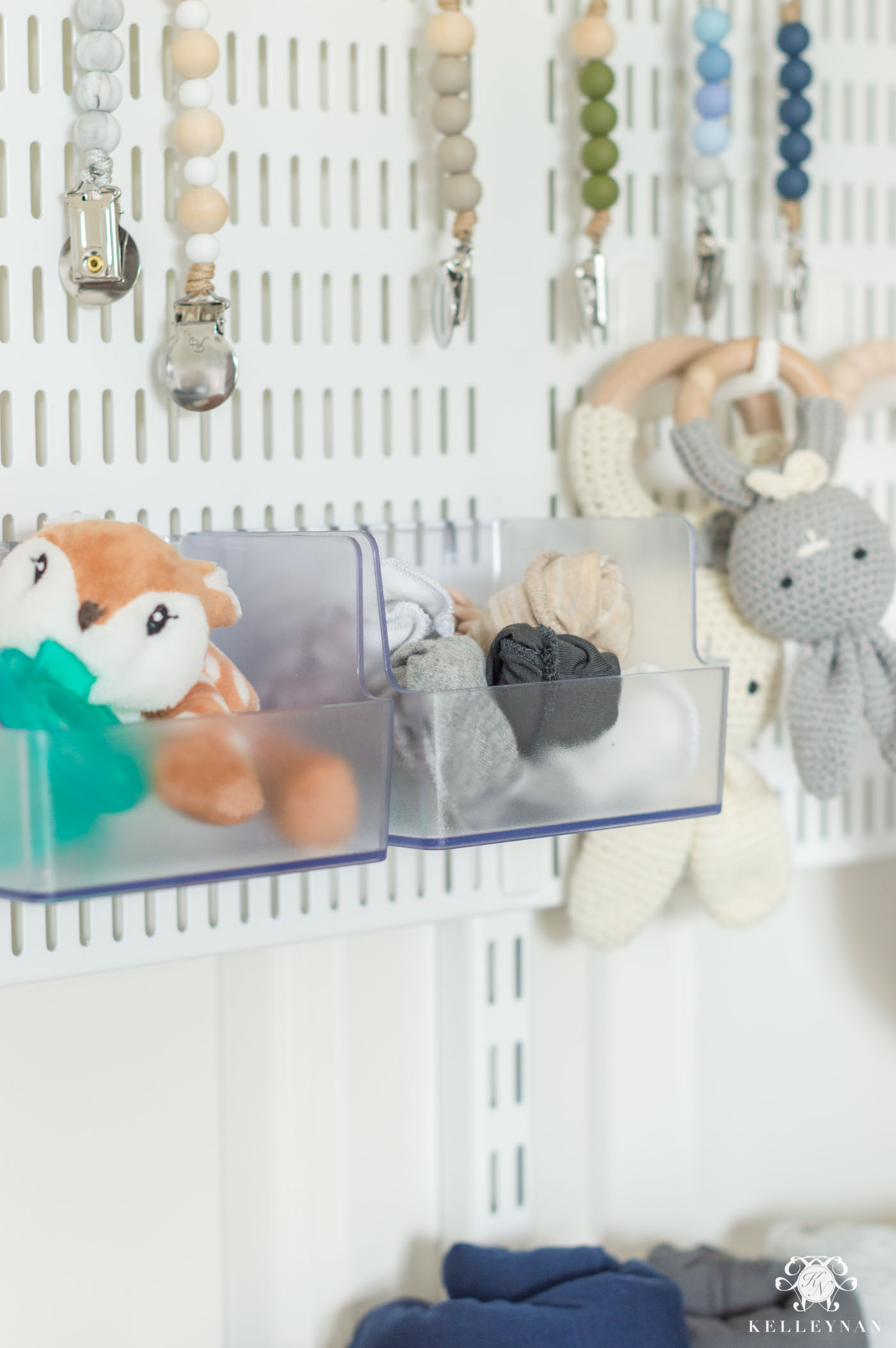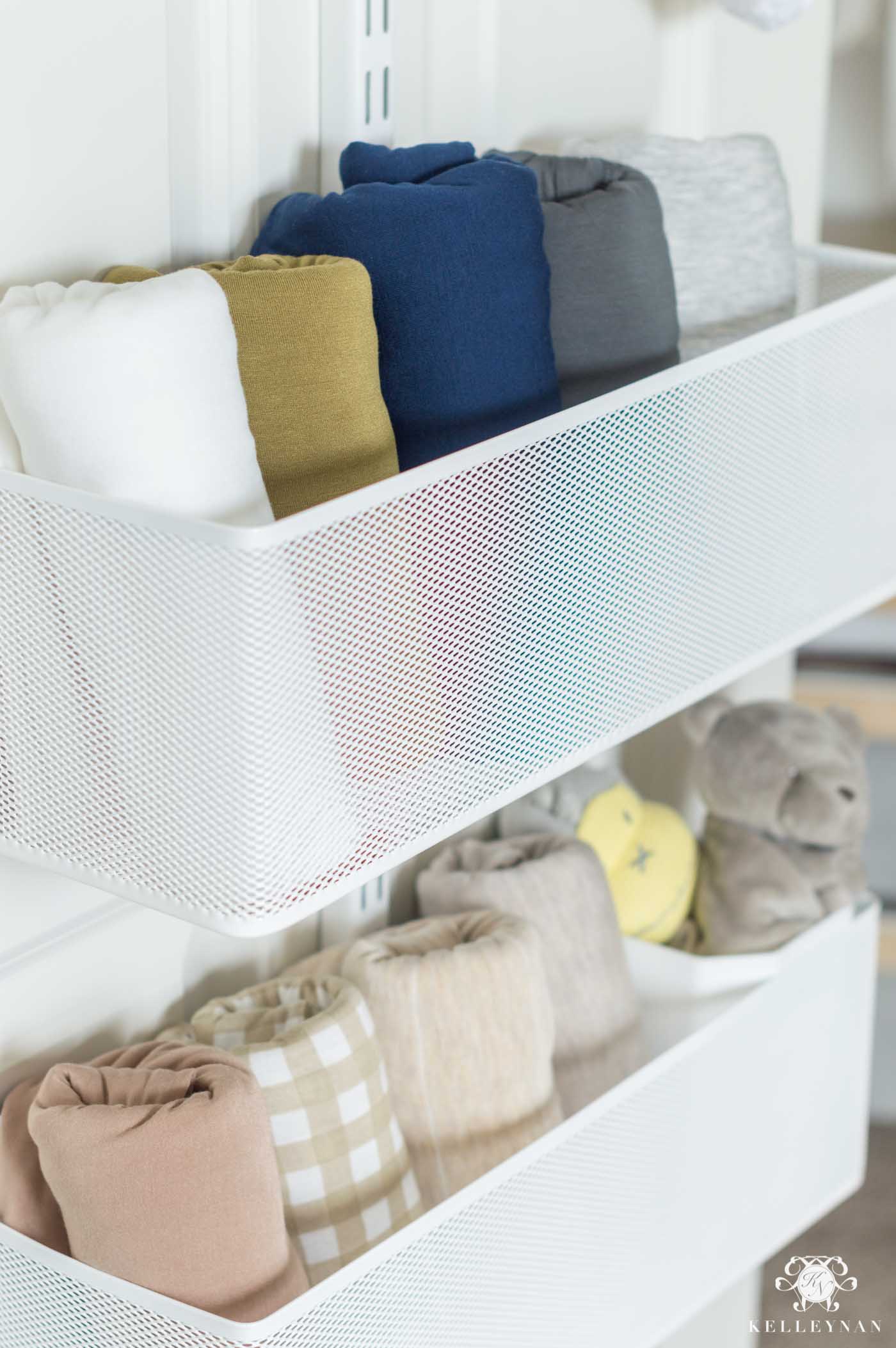 The back of the door is great for diapers, wipes, bath supplies, swaddles, onesies, accessories, bows, hats, burp cloths, bibs…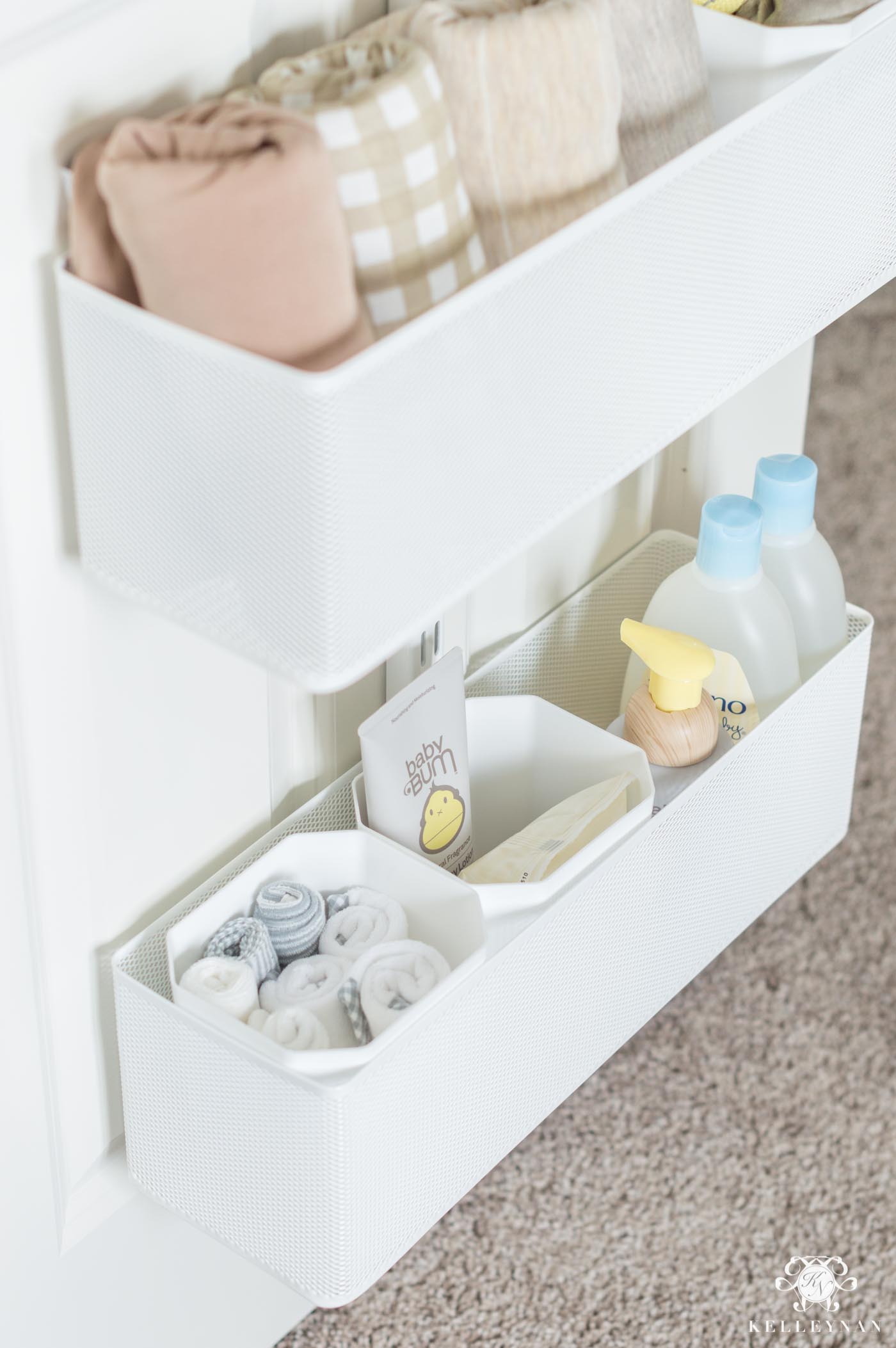 The designer I worked with, Cassie, suggested THESE containers (they come in all different colors) that fit perfectly in the baskets; I got them in both the big size and the smaller size HERE.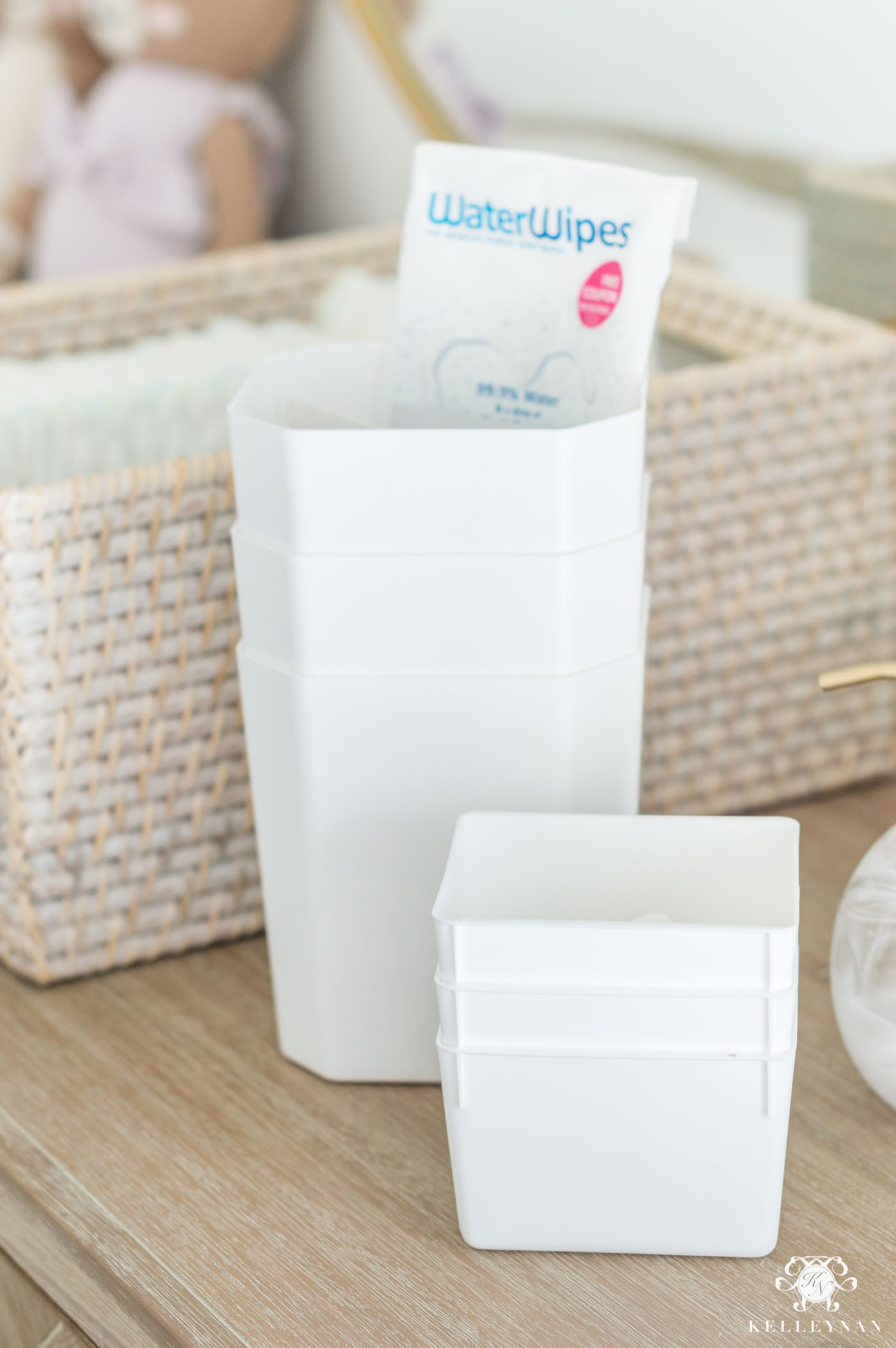 And these labels fit the Elfa baskets and handles of the whitewashed large woven baskets. Mine have yet to be labeled because I'm not 100% sure just how each space will be best utilized 😉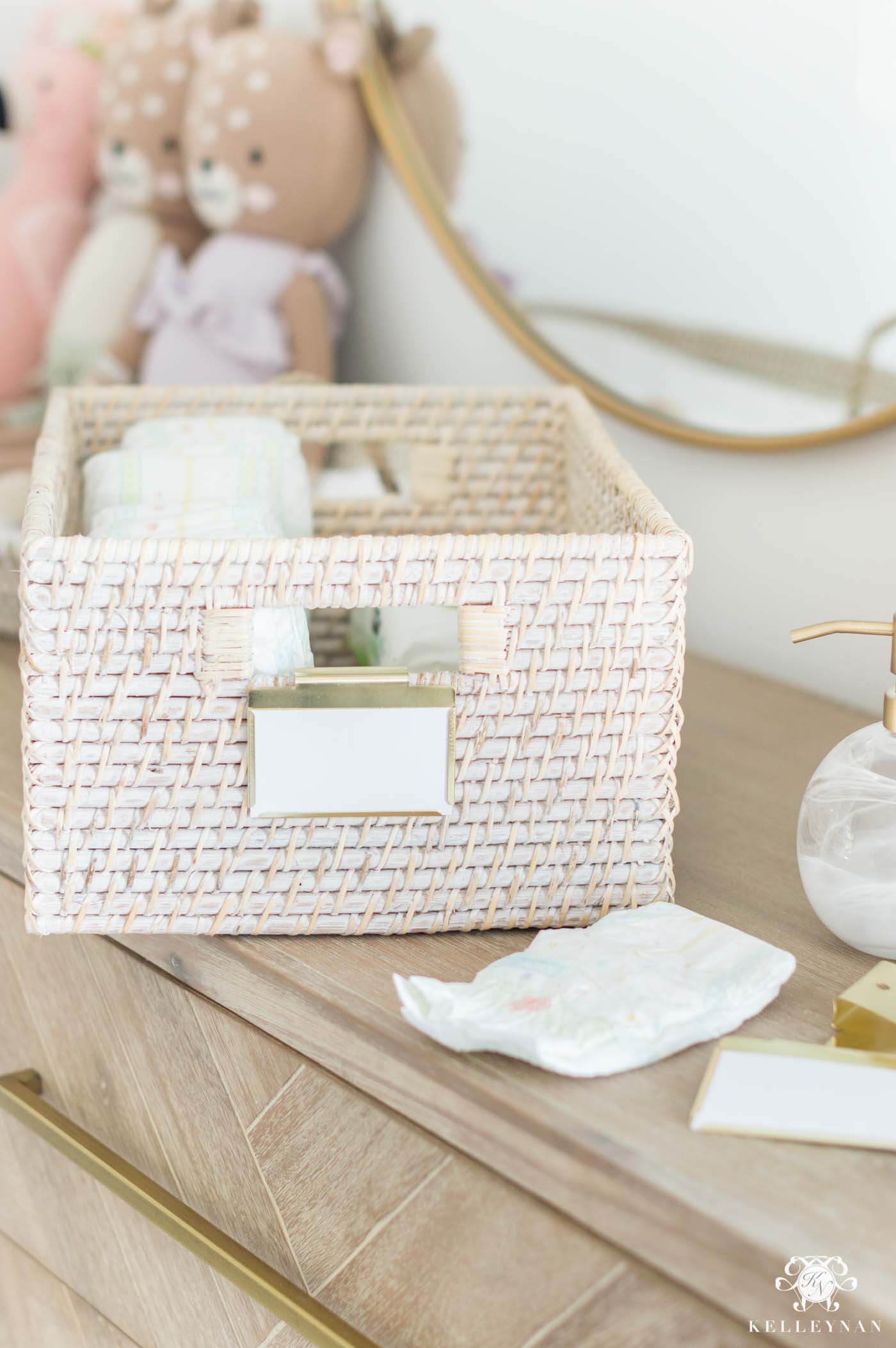 I also went for a few cute, gold wall hooks that are like pucks; you'll likely see these installed inside the closet next time I share!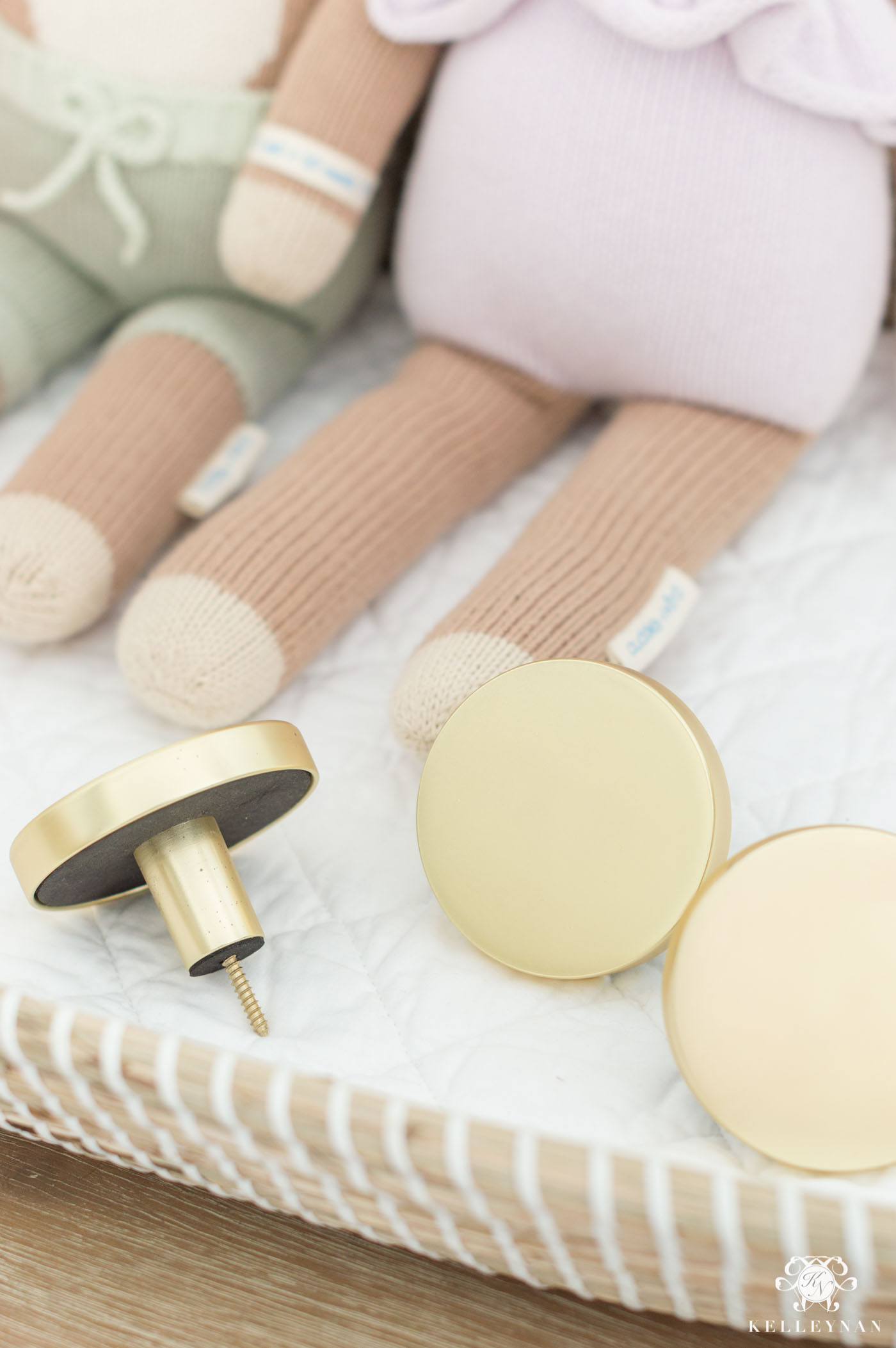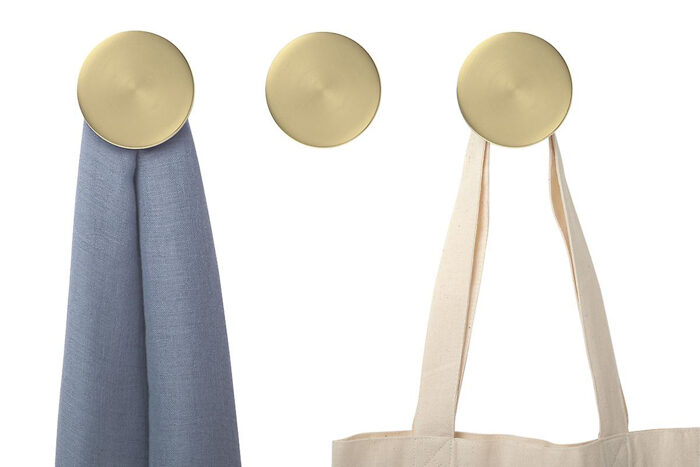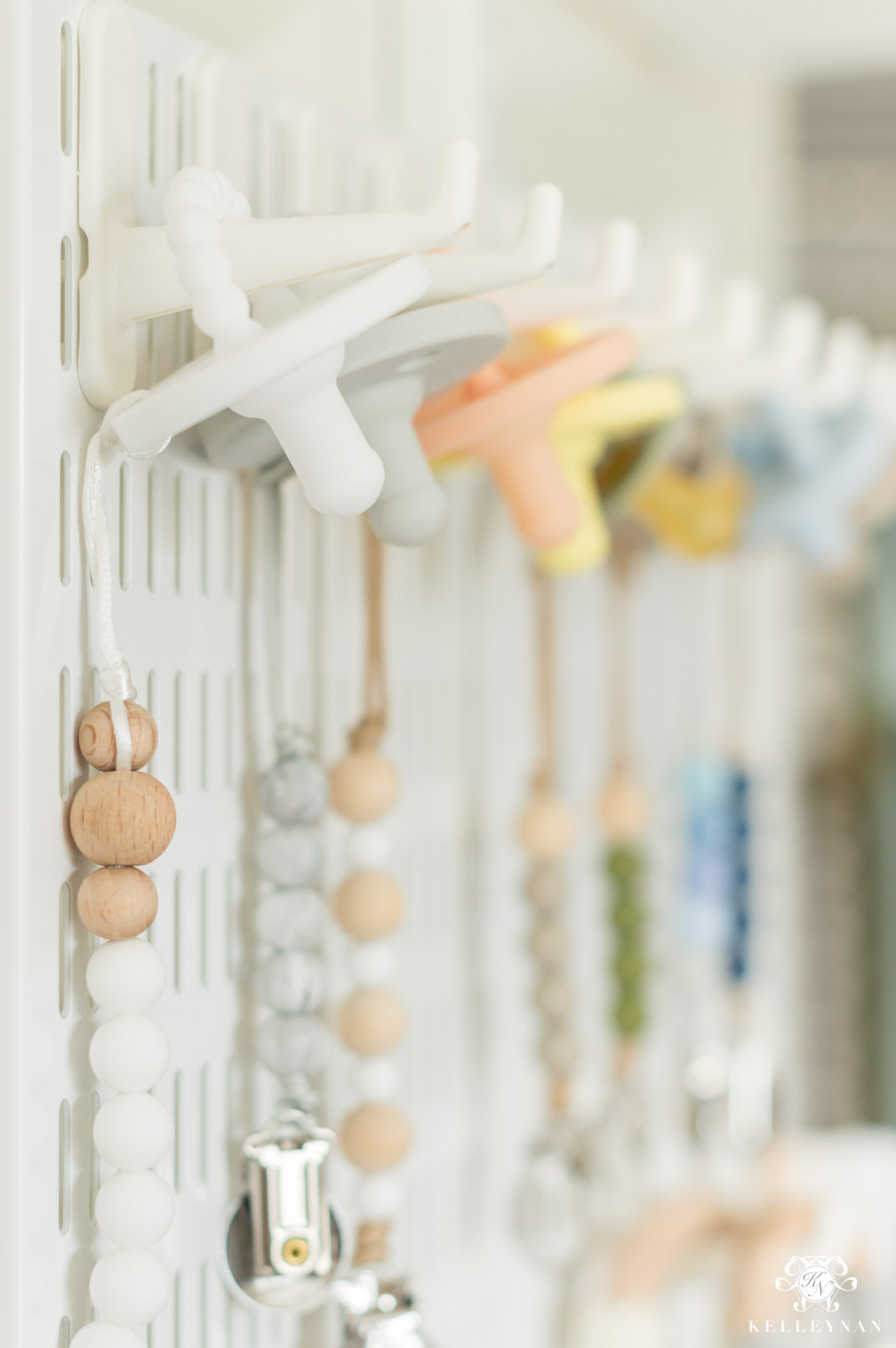 The Container Store's closet sale is going on through May 19, and they have tons of closet storage and organization essentials up to 25% off. And, right now, installation is free when you spend $750 or more on Elfa. You can check out the sale HERE. Have any challenges or "pain points" when it comes to baby/kid closets? Let us know in the comment section below! I also have another organization project that I thought I'd never share coming soon ;). Be sure to subscribe to my emails at the bottom of the post to catch that, nursery closet updates, and all things hitting the blog this summer.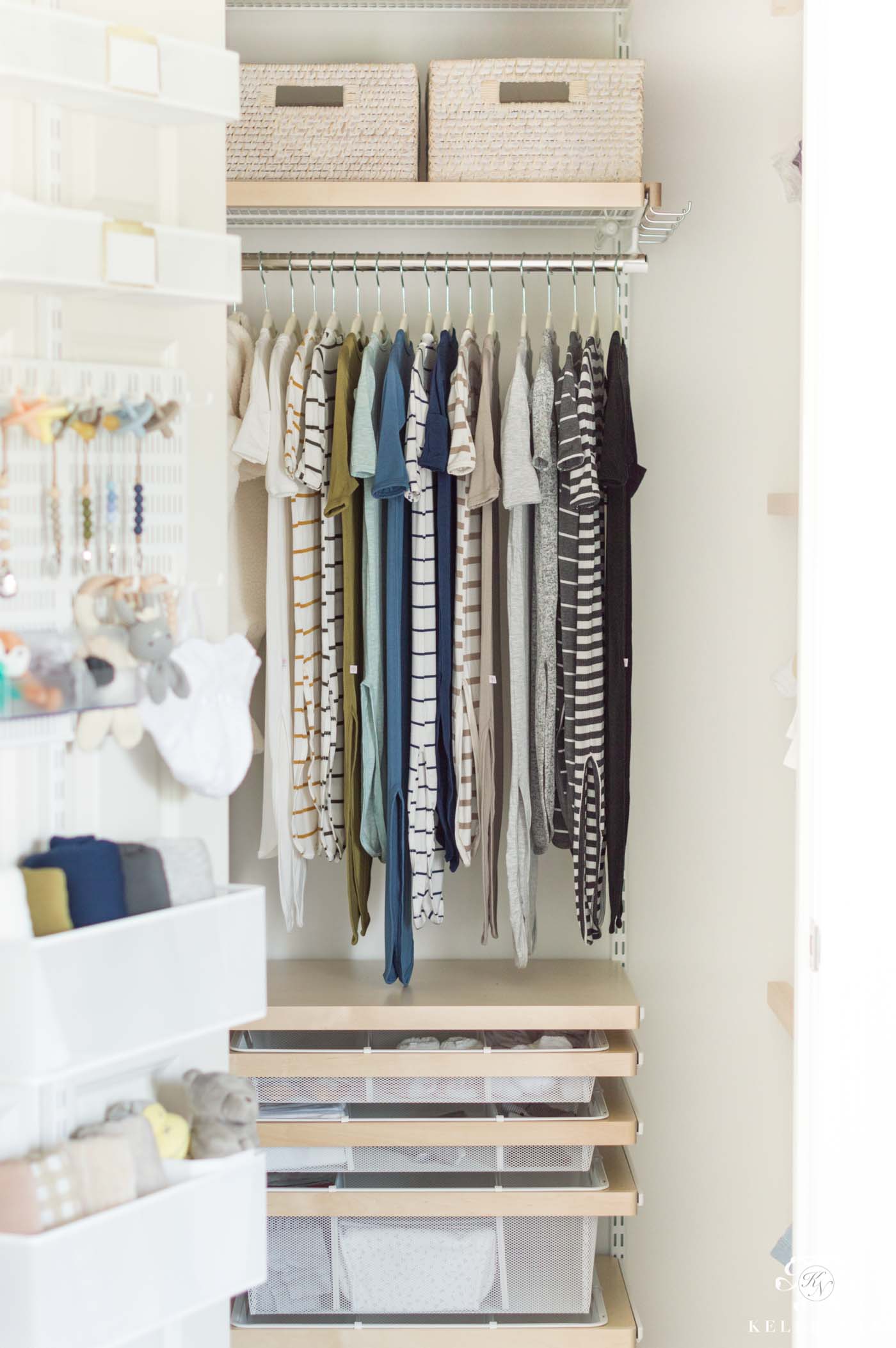 SHOP THE POST

Material List:
OTHER ORGANIZATION POSTS YOU MAY BE INTERESTED IN