Up until this past week, my bedroom was still covered in dark gray plaid and wool from last winter. I was finally able to take some time to brighten things up and do something a little more appropriate to better match our recent 100 degree weather; maybe I'm already being influenced since bringing home our baby girl but I skipped my usual and went straight for the soft blush pink bedroom. We don't mind a little femininity here, but since I usually gravitate toward more blues and greens, I also didn't want our master bedroom to end up looking more suited for Eliza than us. Today, it's still looking plush and cozy but a much better fit for summer (I no longer want to break a sweat just walking in and seeing charcoal fuzzies everywhere!). If you usually shy away from blush and other pastels like me, read on for six things to think about and ways to help keep your bedroom looking more "splash of pink lemonade" and less "pretty pretty princess".
*Posts on KelleyNan.com may contain affiliate links. Click HERE for full disclosure.*
1. Don't Spring for the Pink Bedding
If you're wanting to bring a small dose of blush into the bedroom, choosing pink bedding is a pretty sure way to make that "small dose" a "major dose". If you're set on a quilt/duvet in that sham, add more layers to break it up. Fold a white/neutral throw/quilt on top to keep it from being a large square of color. I traded my favorite gray linen quilt (yes, the one I have 45 of throughout the house haha) for white for a brighter background (HERE). Gray and pink are fine but I've felt in the past in our bedroom that it can look a little drab without a little bright white.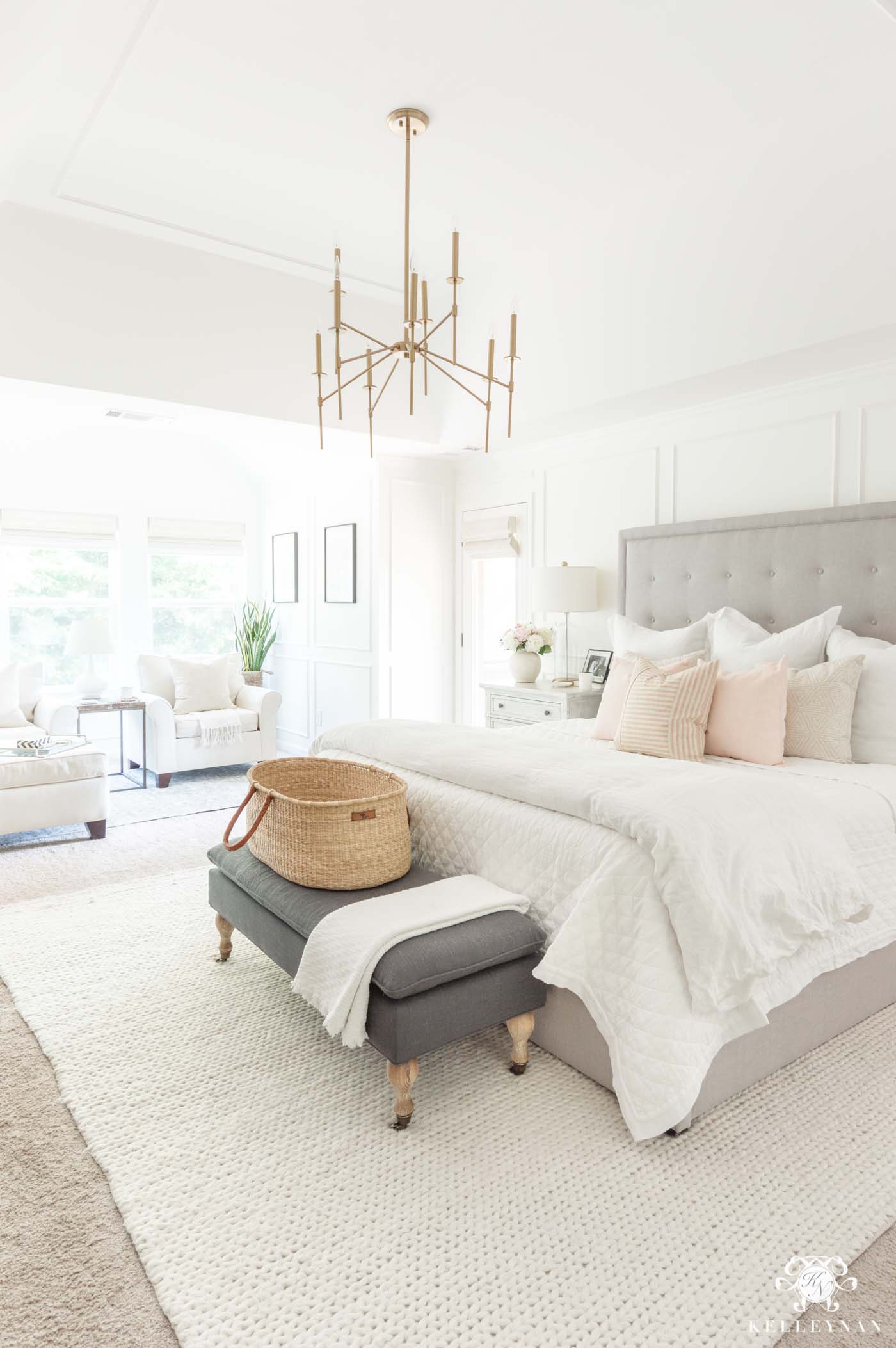 2. Consider Your Fabrics — Opt for Linen & Cotton Over Velvet, Satin or Fur
Rich fabrics look more fussy (i.e. a little more on the girly side) than something lighter (both in look and weight) like linen. When I decided to incorporate a little blush in our bedroom mid-summer, I basically achieved my entire look through a few "smart" throw pillows.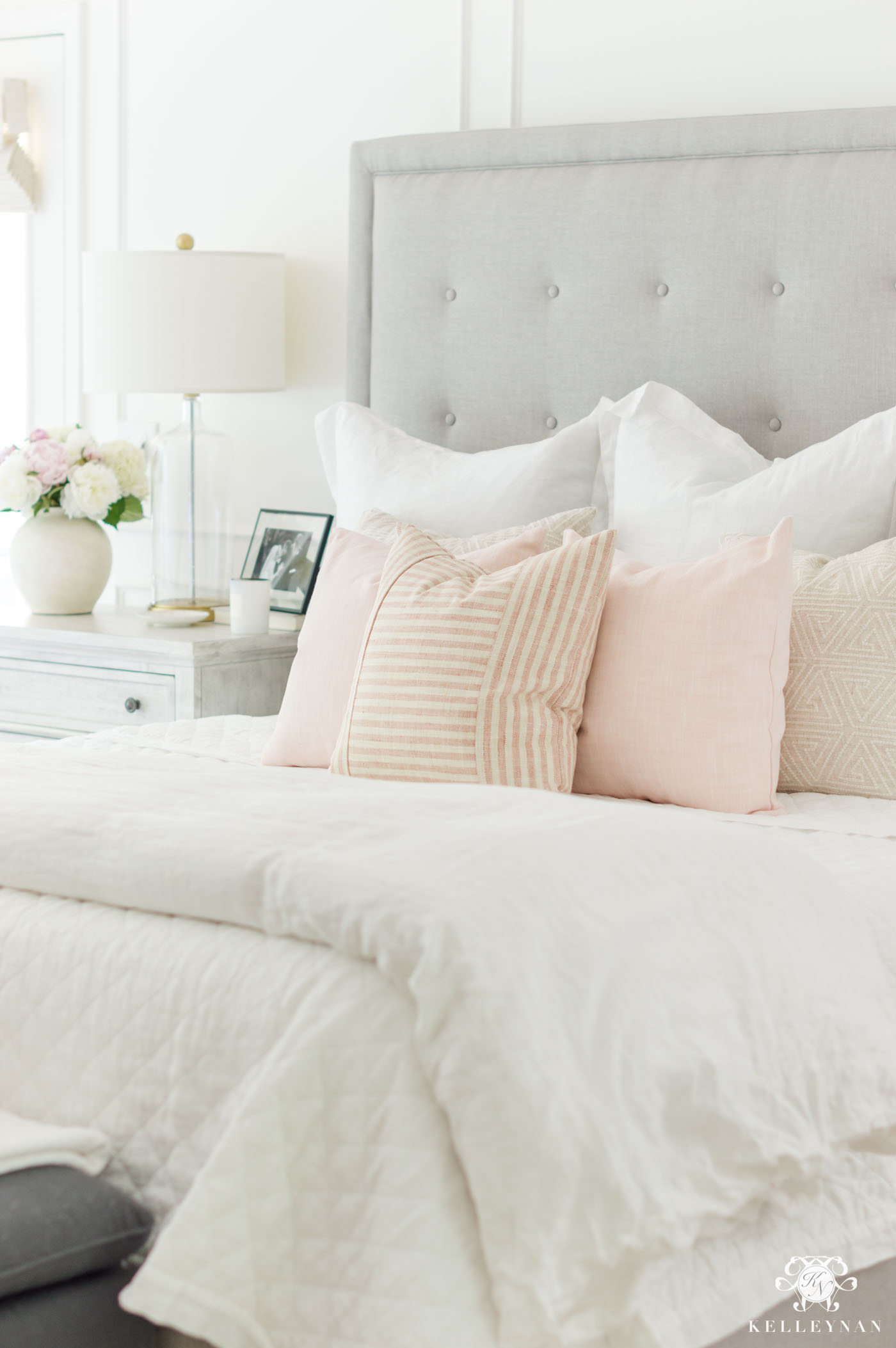 I added two neutral geometric threaded pillows just in front of the Euro shams, a solid linen-looking pair in front of those (they are actually indoor/outdoor but not nearly as still as what you might be used to!), and a structured coral stripe in front.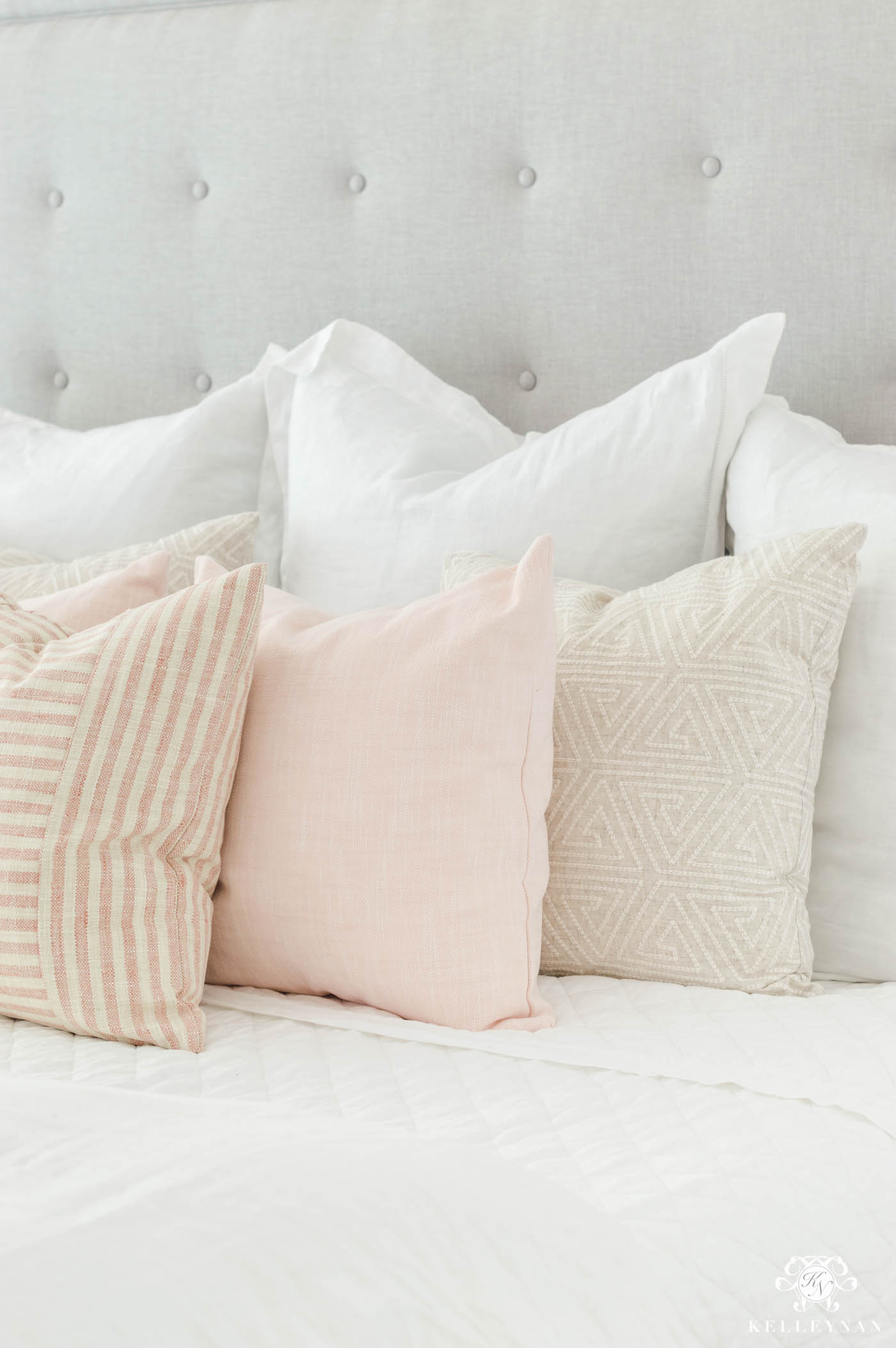 Don't get me wrong — if you're a regular visitor, you know I love the velvets and furs. I actually did grab this blush pink velvet pillow for Eliza's room where I love the girlier addition.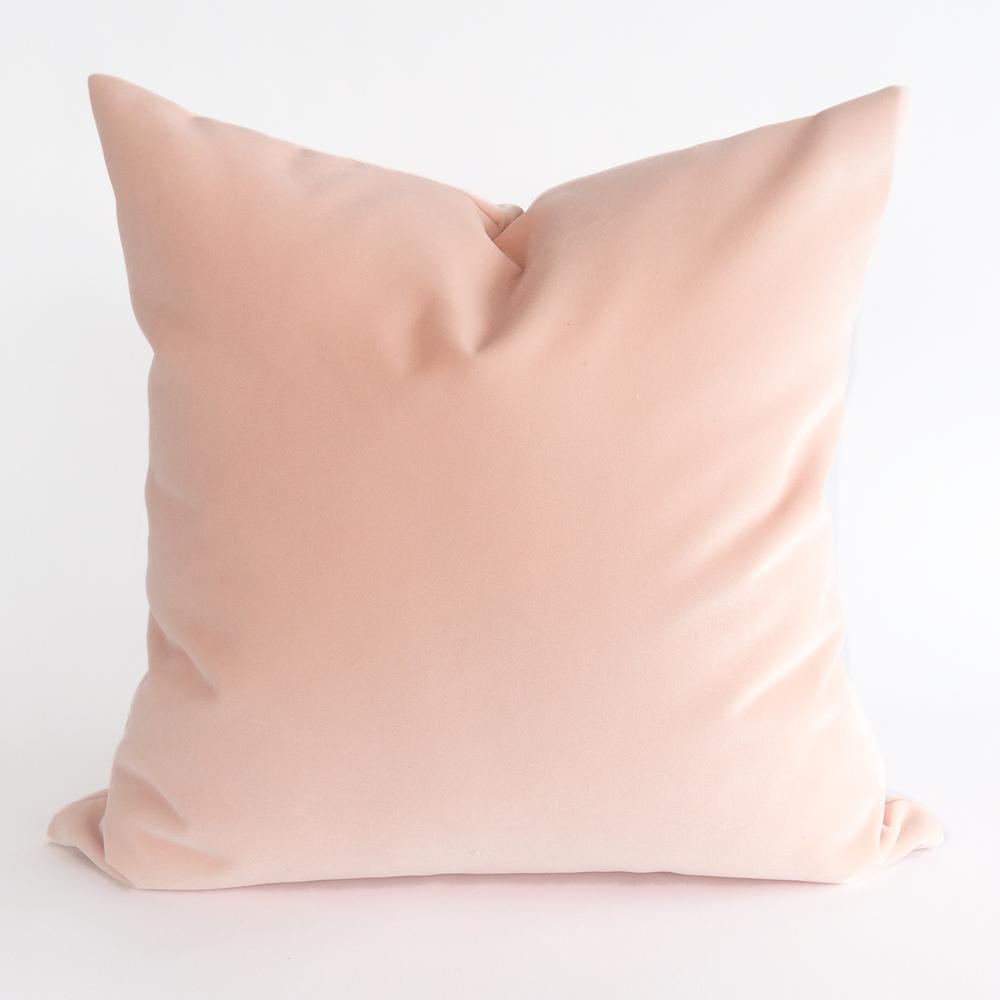 But typically, if it's in our bedroom or main living space, I now try to keep the richer fabrics in more neutral/blue/green tones. 😉 (All pillows were selected by me and gifted by one of my all time favorites, Tonic Living — for those who have had questions about my pillow sources in the past, there's a good chance you can find them HERE.)
3. The Overall Style of the Furnishings in the Room Matters
If you have super traditional furniture or pieces or baroque accents that have more scrolls and curves, everything will likely read more feminine. Even in a more traditionally masculine color, the lines and styles matter. In our bedroom, we have more of a transitional vibe with a more modern tufting on our bed. The straight lights and "structure" help when I bring in lighter colors, like blush.
4. Skip the Pink Accessories
If you bring in some pink through pillows, a throw blanket, threading or trim on curtains, etc., you don't have to repeat and dapple that color throughout the room to make sure the color scheme is evident. I did enjoy some peonies in our bedroom (the first I've grabbed in two years) but that was more of an accidental exception 😉 If I had brought in more pink through accessories like vases, and picture frames, it would have felt "too much" in our room.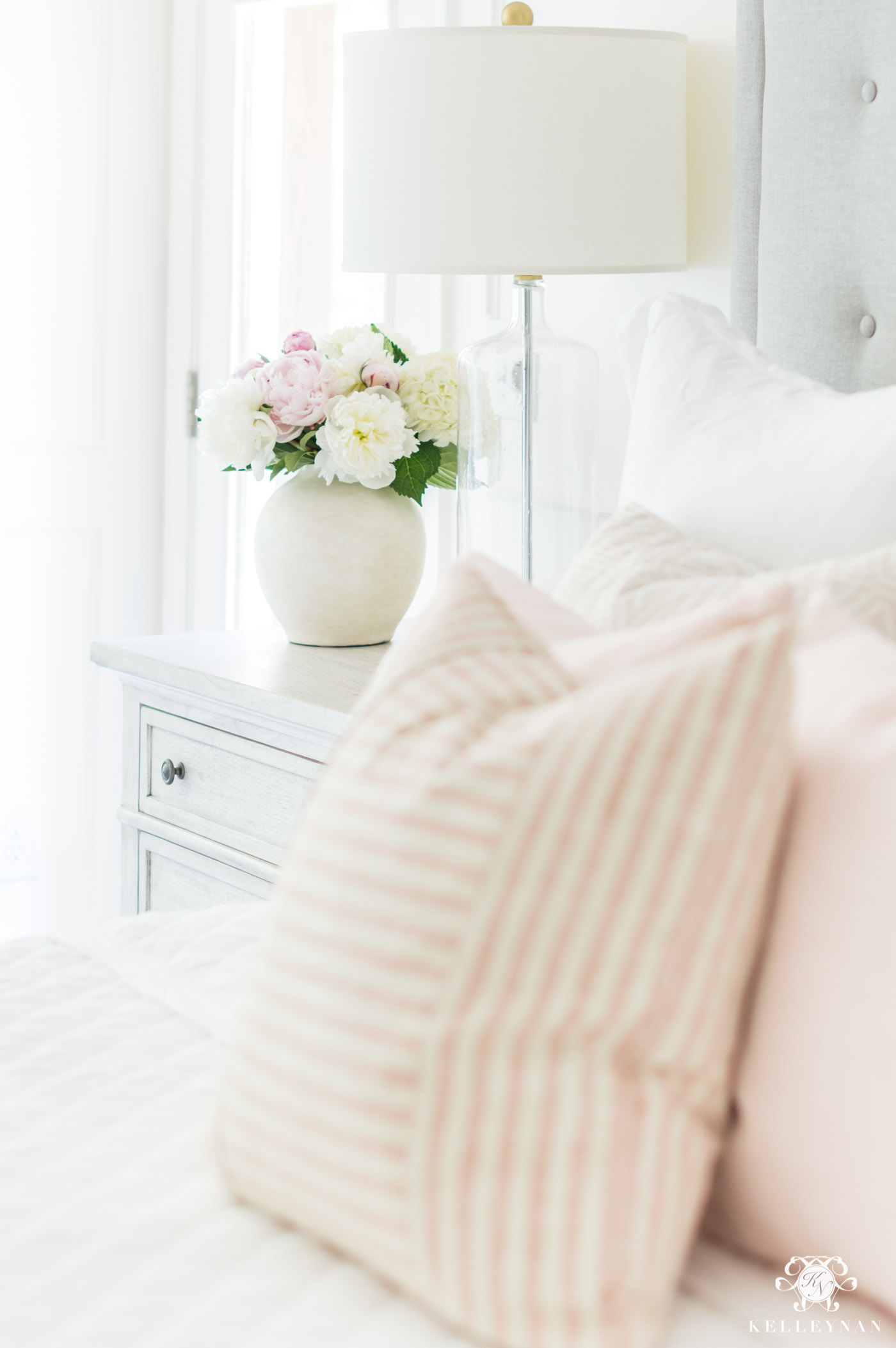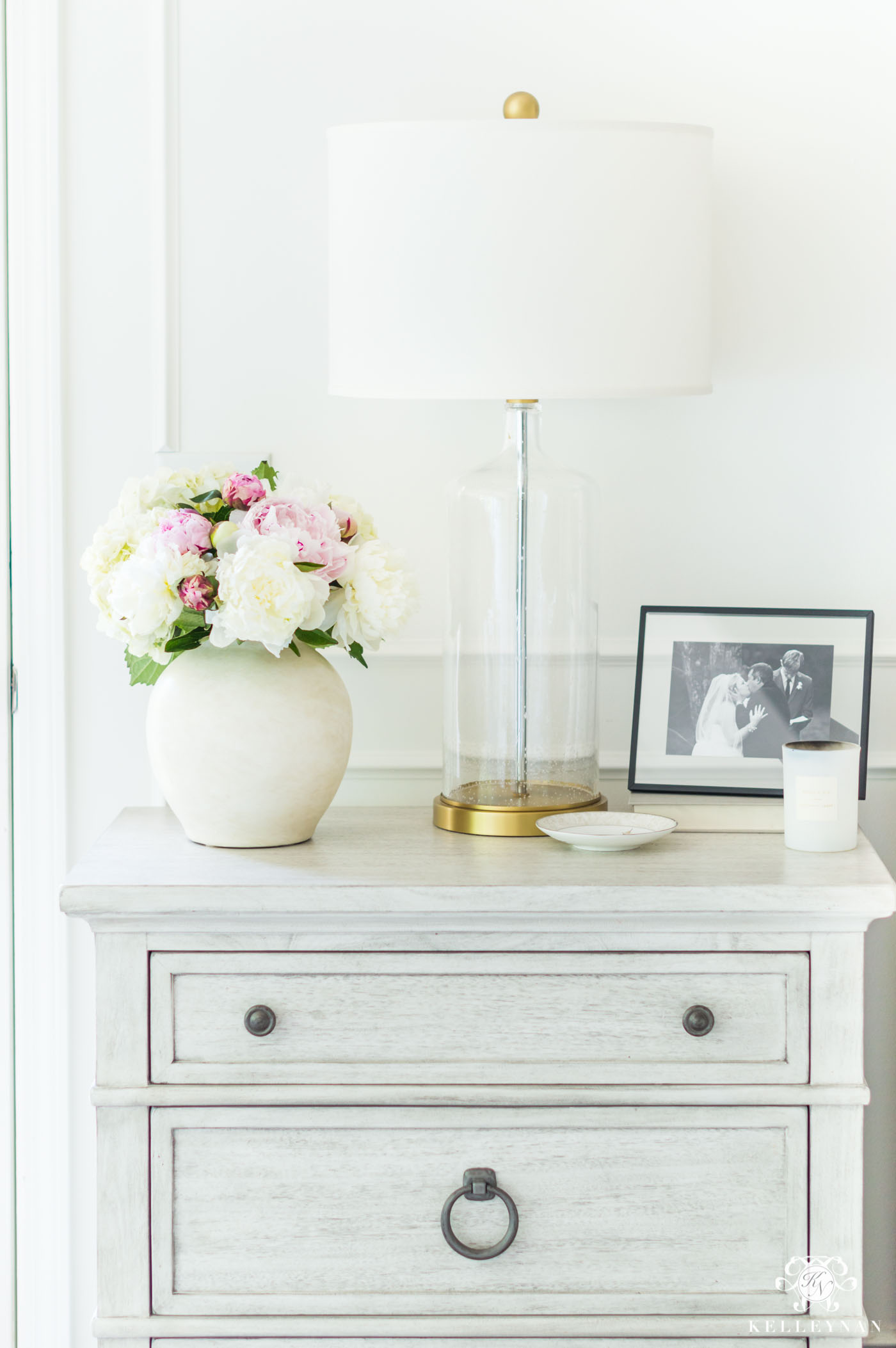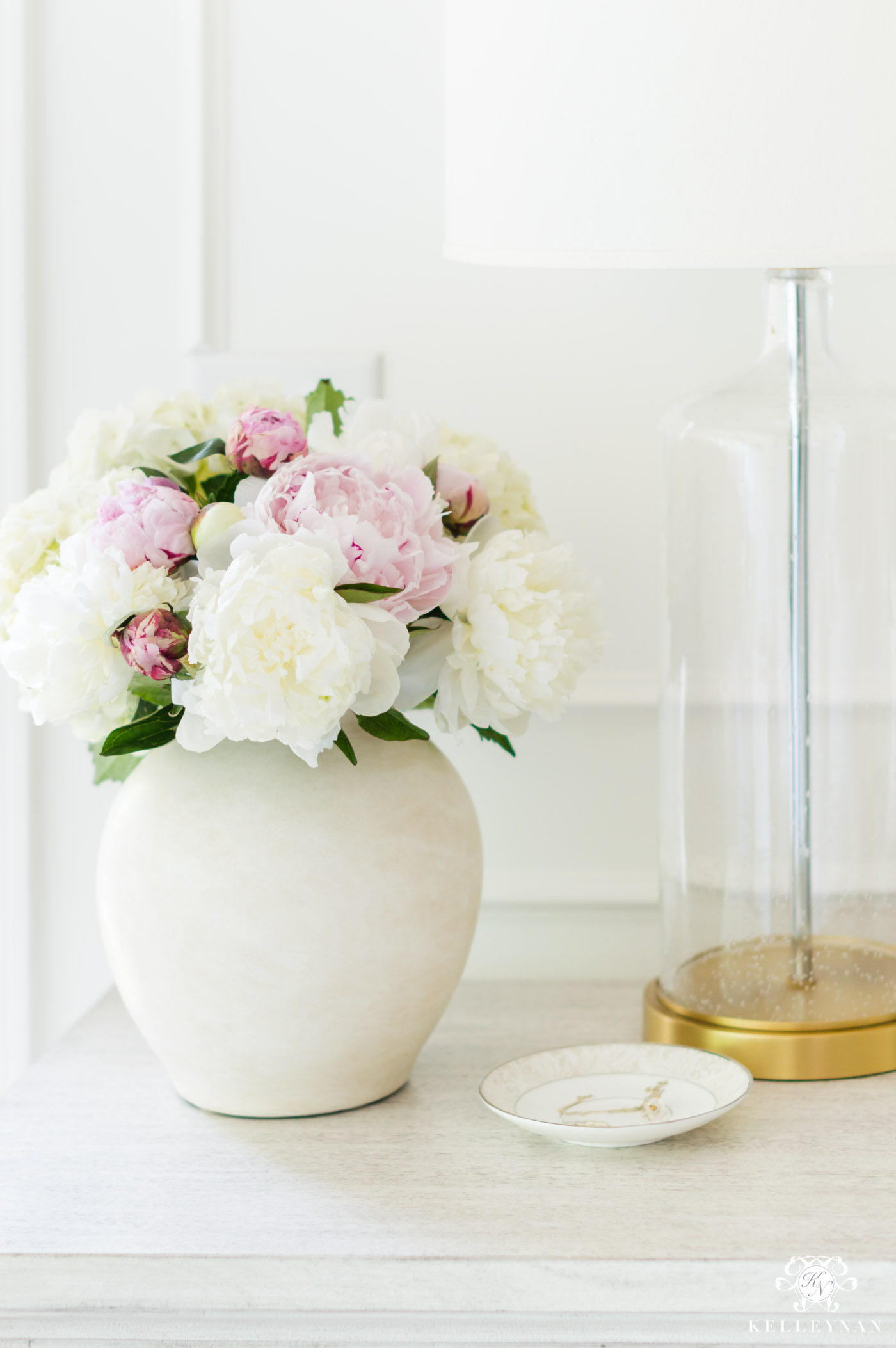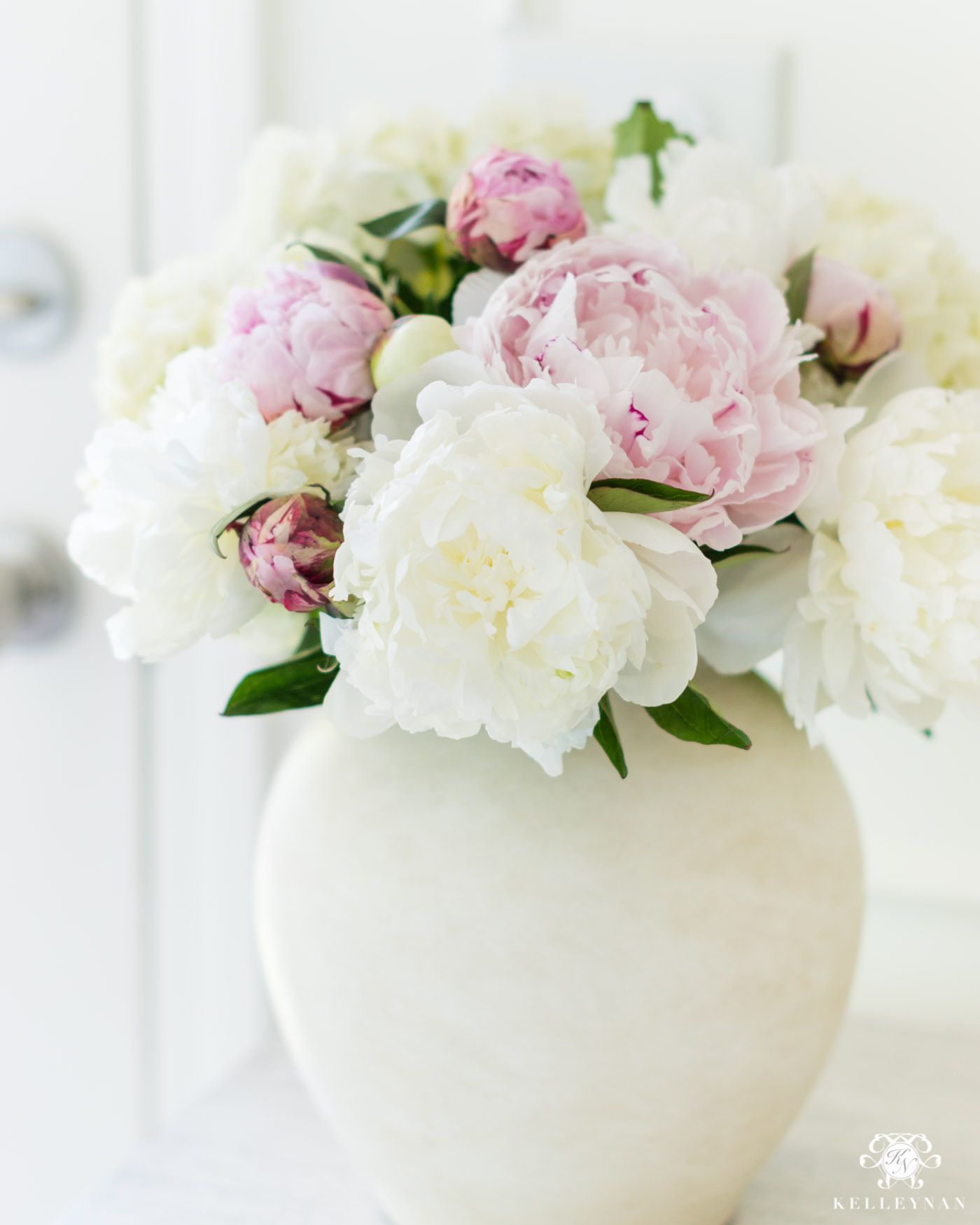 5. A Little Nature Keeps the Vibe Balanced
Just how I feel straight edges and flat button tufting reads more "masculine", I think some natural elements like baskets and washed wood bring out that same balance. Instead of seeing pink and leaning toward more reflective pieces (chrome, mirrored, shiny ceramic, etc.), go the opposite way with pieces that look a little more rough and raw.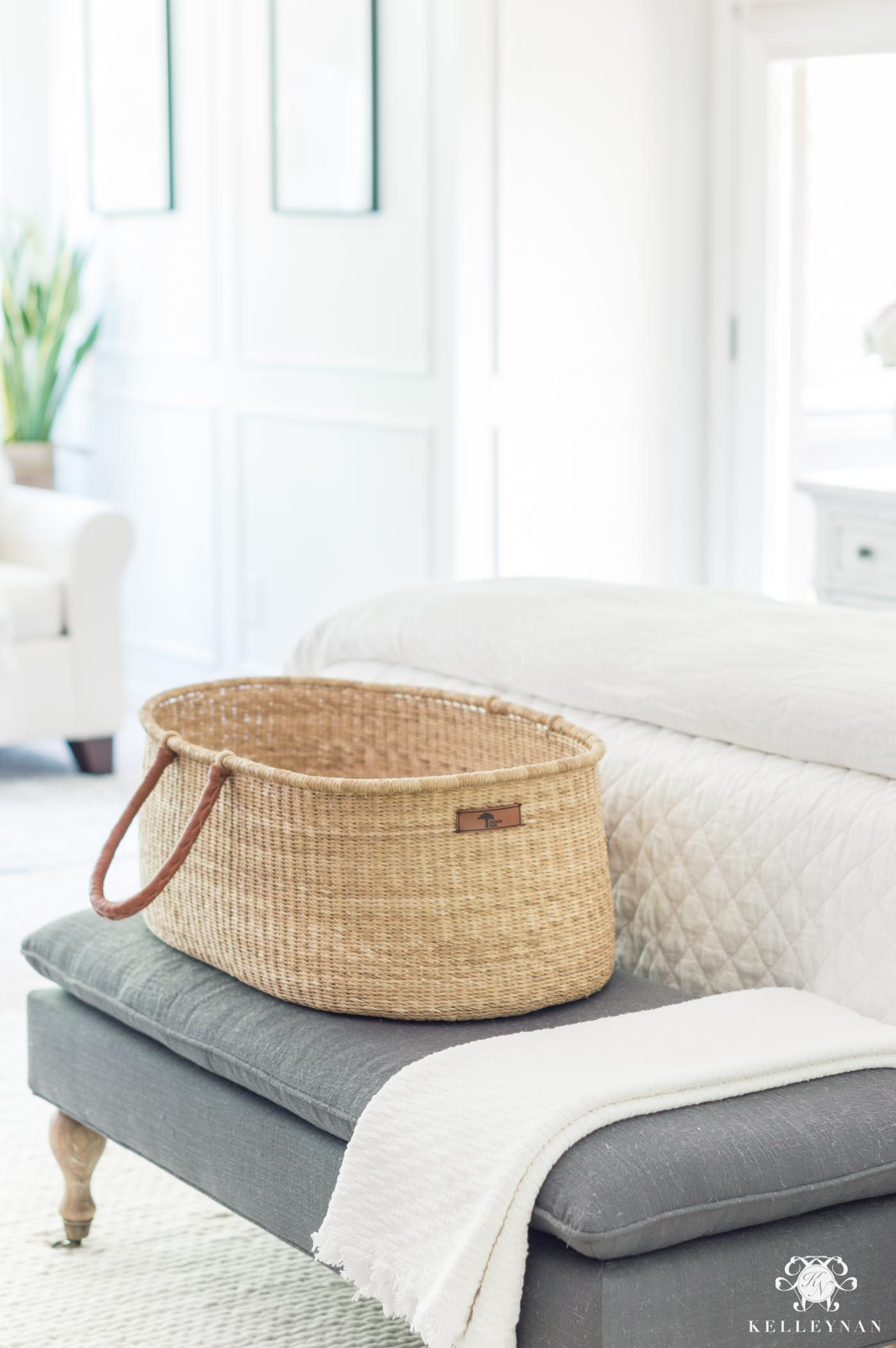 I loved these linen colored pillows so much, I added them to the sitting area, too. These will for sure, like my other favorites, be on rotation throughout the house indefinitely 😉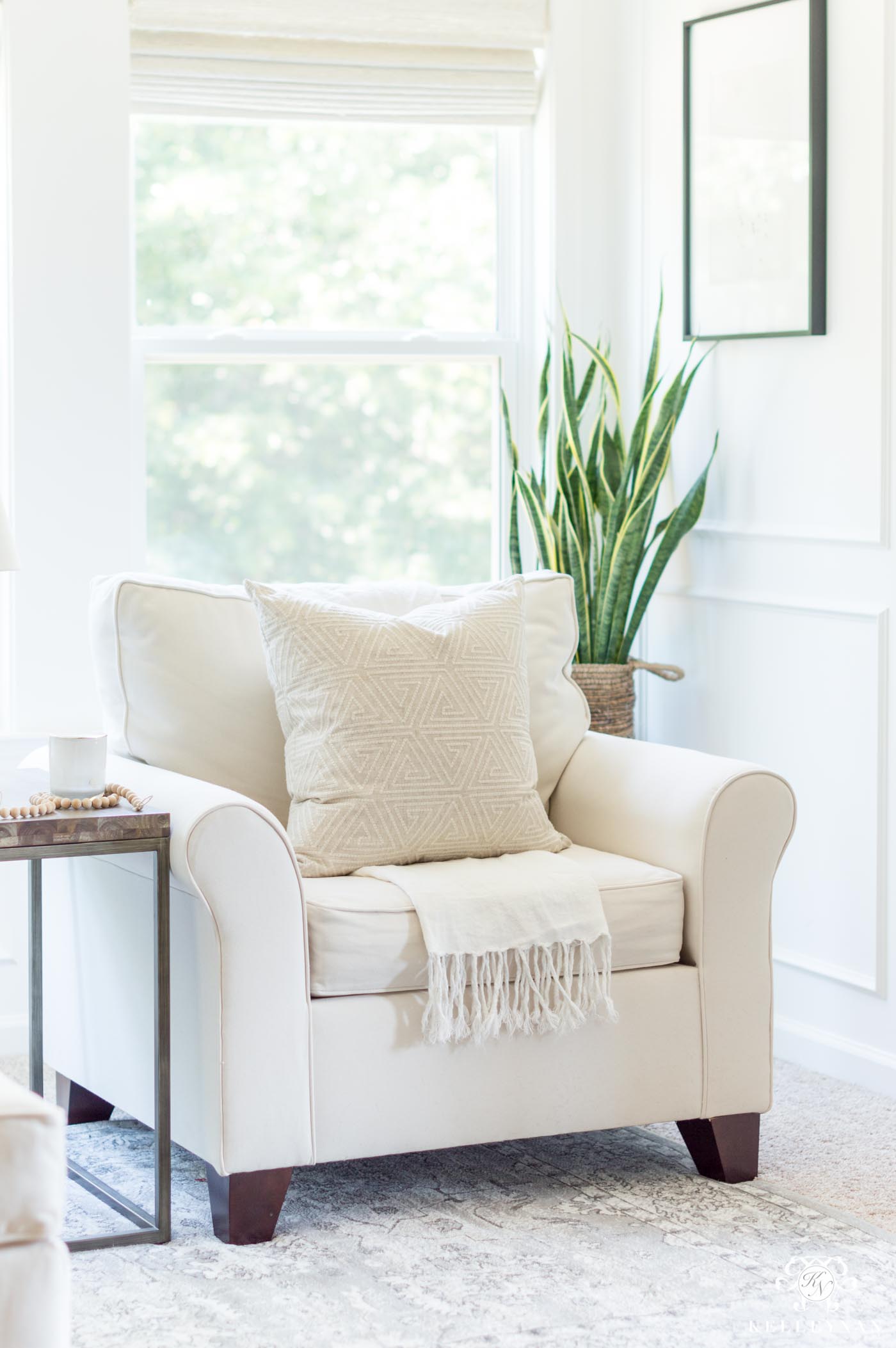 6. Put in On the Floor
So… what if you want to try out blush for something different and pillows aren't an option? Or, you don't want pink pillows? Where else can you put it without it looking like a bottle of Pepto-Bismol? When color is on a wall, it makes an obvious color statement. If you're wanting to go more subtle, try it on the floor. Even the most reserved can get away with bolder rugs than they would typically go for — my office rug has so many colors and patterns but it still comes across as a total neutral. Here are a few pretties that look a little bolder on screen but would be gorgeous against a balanced background.

And when all else fails, embrace all the girl-iness and do a full photoshoot in your sweetest pale pink gown and velvet bow haha. For sources, go ahead and scroll to the bottom of the post. Forgive me while I throw out a little can't-help-it Eliza Nan spam haha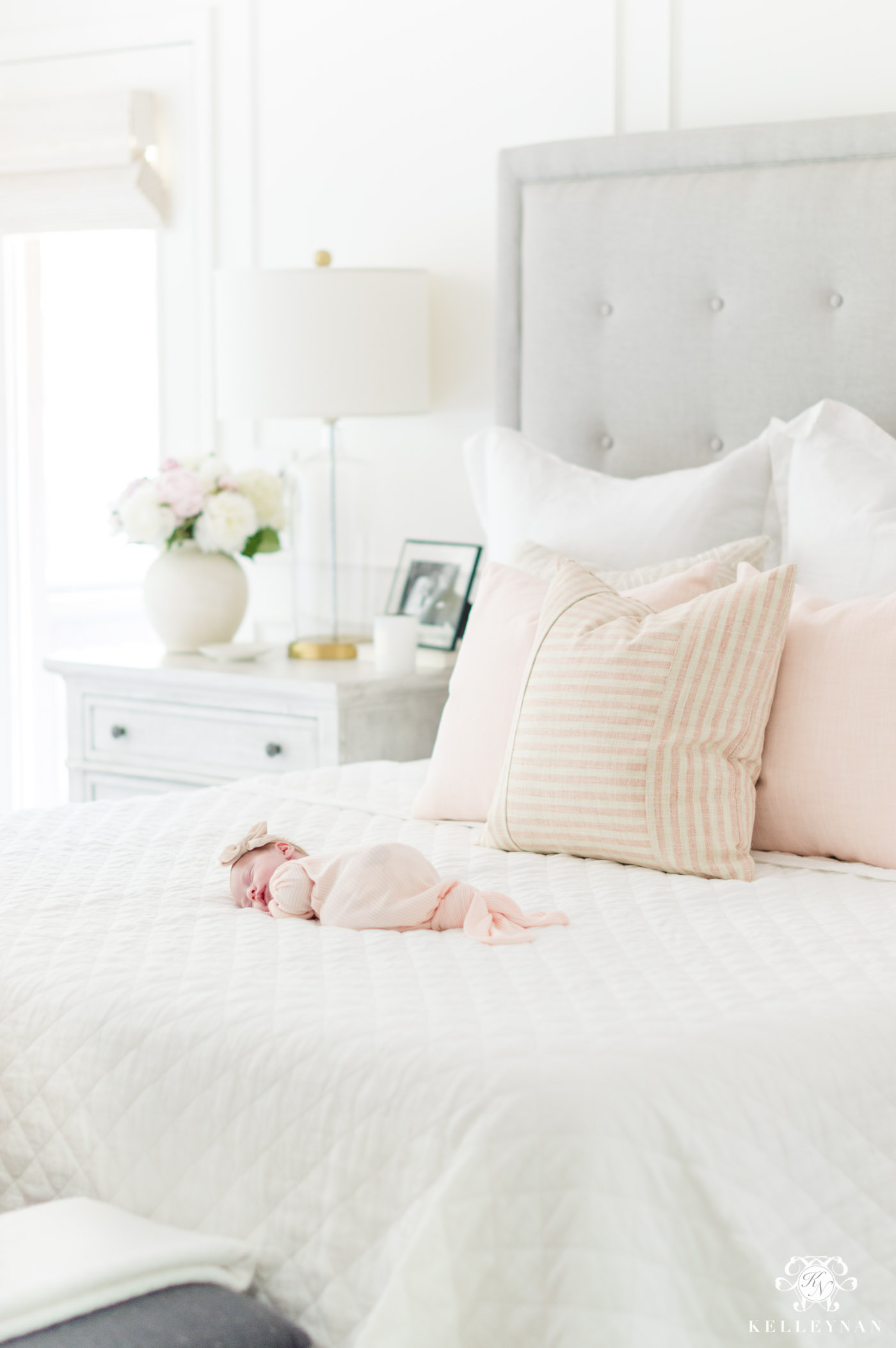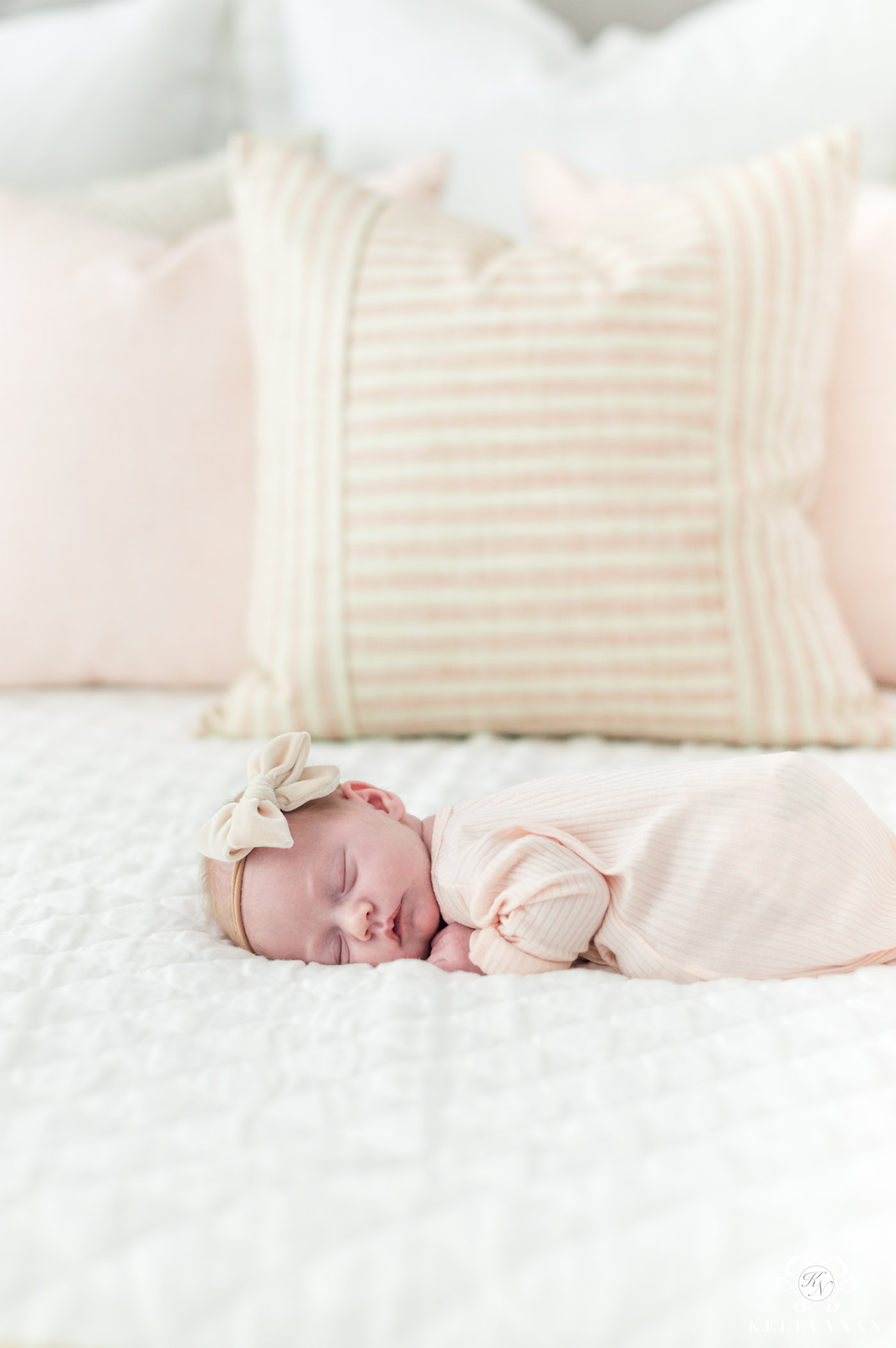 She'll be a month old tomorrow and I don't think I'll be putting the camera down anytime soon.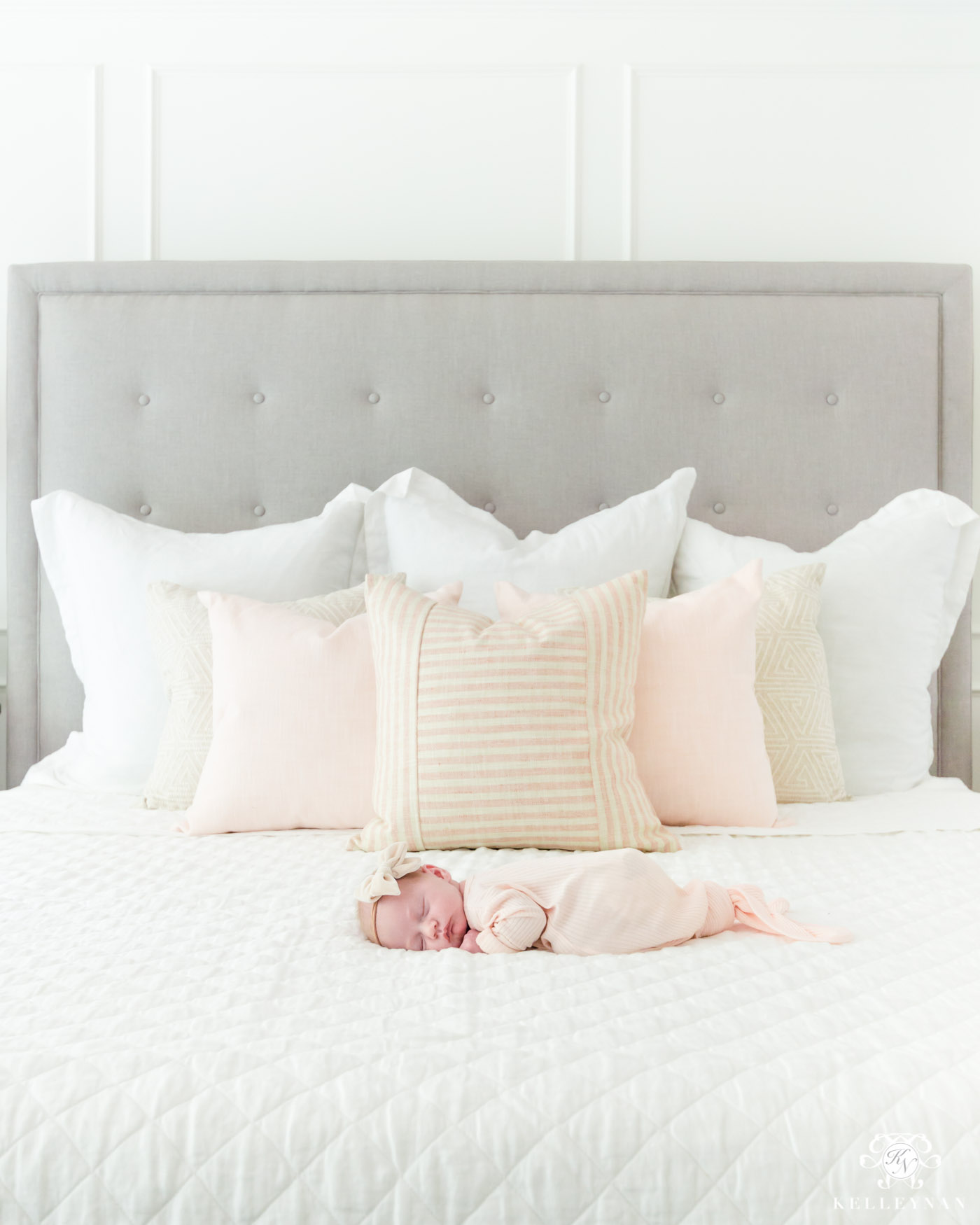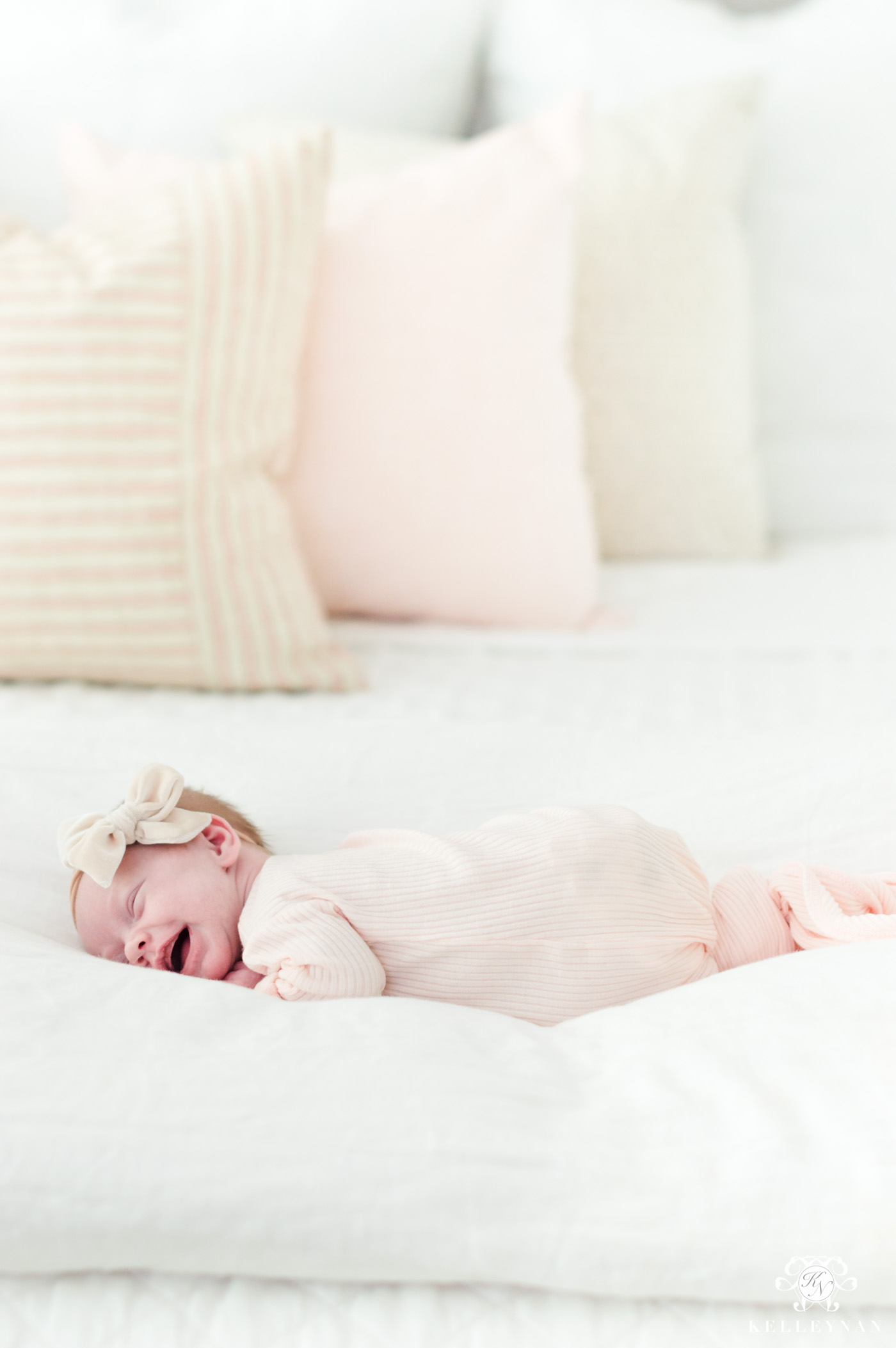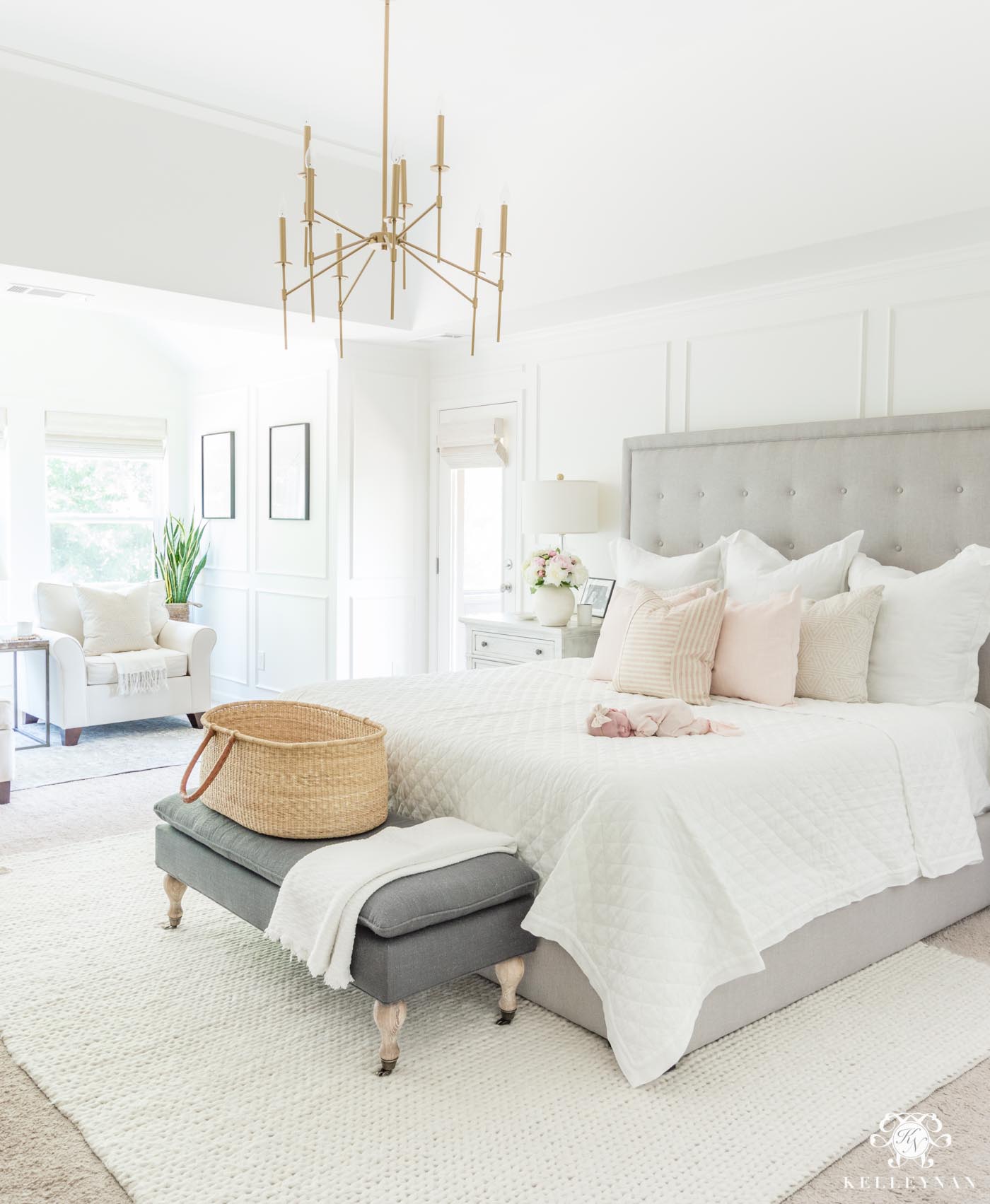 All of my tips are made through trial, error, and observation. Have other tips for making pastels more neutral? Let us know in the comments below! For more home projects, updates, and tips (ok, and let's be honest — Eliza), you can sign up for updates at the bottom of this post.
OTHER POSTS YOU MAY BE INTERESTED IN
ROOM SOURCES & DETAILS
Paint: Simply White by Benjamin Moore

White Linen Duvet Cover & Euro Shams| HERE (in White) | 700 Thread Count Sheets | Bed | Nightstands | Moses Basket Bassinet | Ceramic Vase (holding peonies) | Striped Center Front Pillow | Blush Pillows | Neutral Pillows | Oversized Chairs (no longer available- SIMILAR) | Ottoman (no longer available- SIMILAR) | Garden Stool | Bench | Bird Art Print 1 | Bird Art Print 2 | Moulding | Woven Shades (Bali White; Cordless) | Leaning Floor Mirror- HomeGoods (SIMILAR) | Chandelier | Bedside Lamps | Floor Lamp | White Sitting Room Lamp | Gray Rug in Sitting Nook (5×7) | Chunky Cream Wool Rug (8×10)| Sheepskin- Costco | Eliza's Gown & Bow: Lou Lou & Co.