So many of you are on the constant quest for good deals, budget friendly finds and ways to achieve similar looks for less. I'm totally on that team, too! I receive a good many requests for other options on specific pieces and not surprisingly, they all trend from some of the same spaces. Last month, I shared Eliza's nursery look for less (HERE) so today, I'm sharing some alternatives for our master bedroom.
*Posts on KelleyNan.com may contain affiliate links. Click HERE for full disclosure.*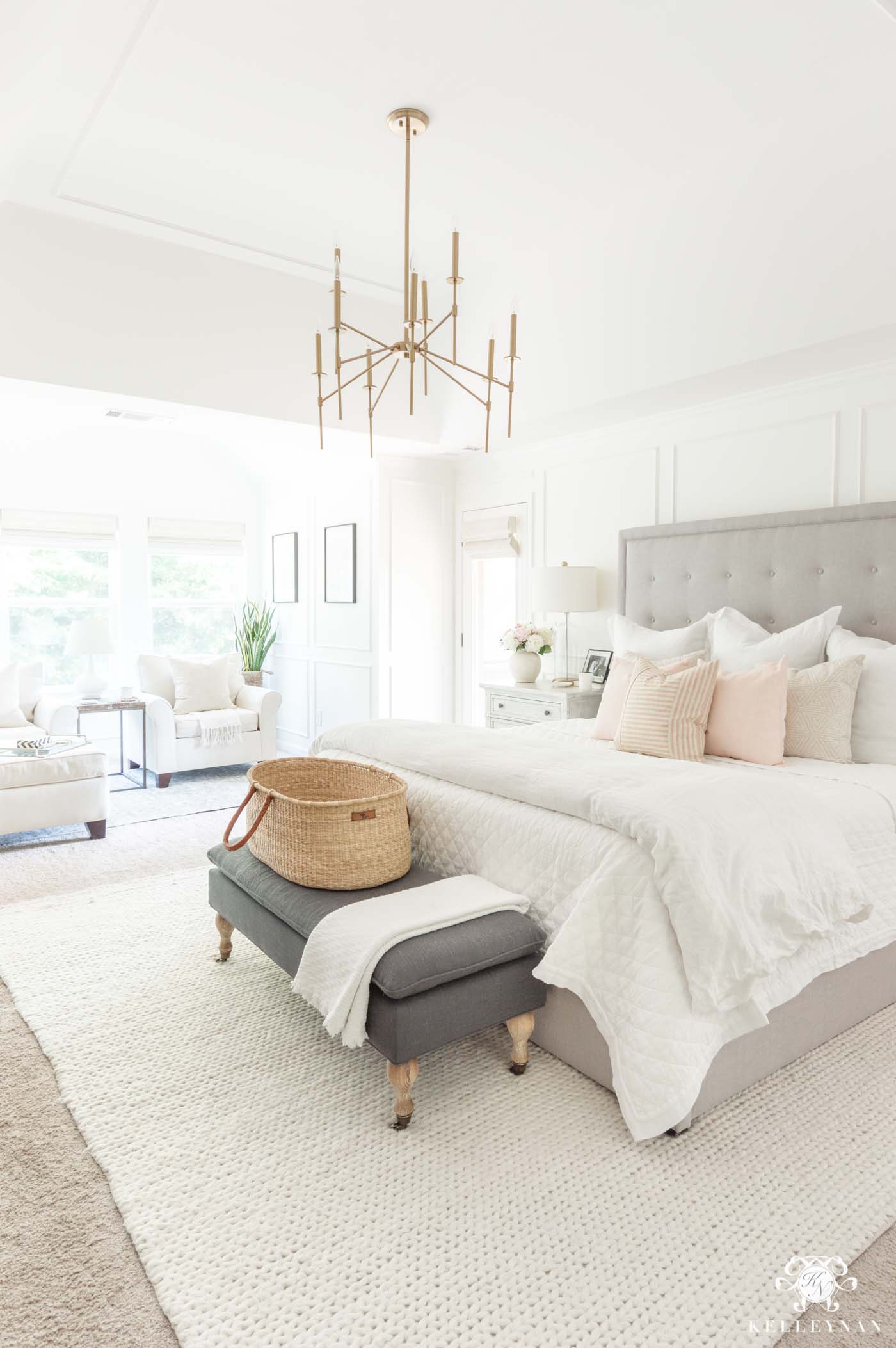 Master Bedroom Look for Less
I took on our master bedroom about two years ago and while there are plenty of budget-friendly furnishings in the space, there's also some on the more higher (for me) side. I always have my reasons when I splurge on certain pieces, but I 100% believe things don't have to be expensive to look great or even be good quality. While I can't speak to the quality on the alternatives I've included below, most have helpful reviews and some of the options are so close to my version — for a fraction of the price. Let's get into it.
The Bed & Bedding
100% — I love my bed. But, the price makes me cringe a little. The retail sticker fluctuates often but in the years' we've had it, I have never found something 100% so similar that I wouldn't miss a feature that I have in this bed. It's tall, I like the color, it's sturdy, and the modern button tufting (more shallow and spaced out that a traditional deep tuft) keeps things feeling current. That being said, not everyone loves a super tall bed and some people may not mind a different fabric shade.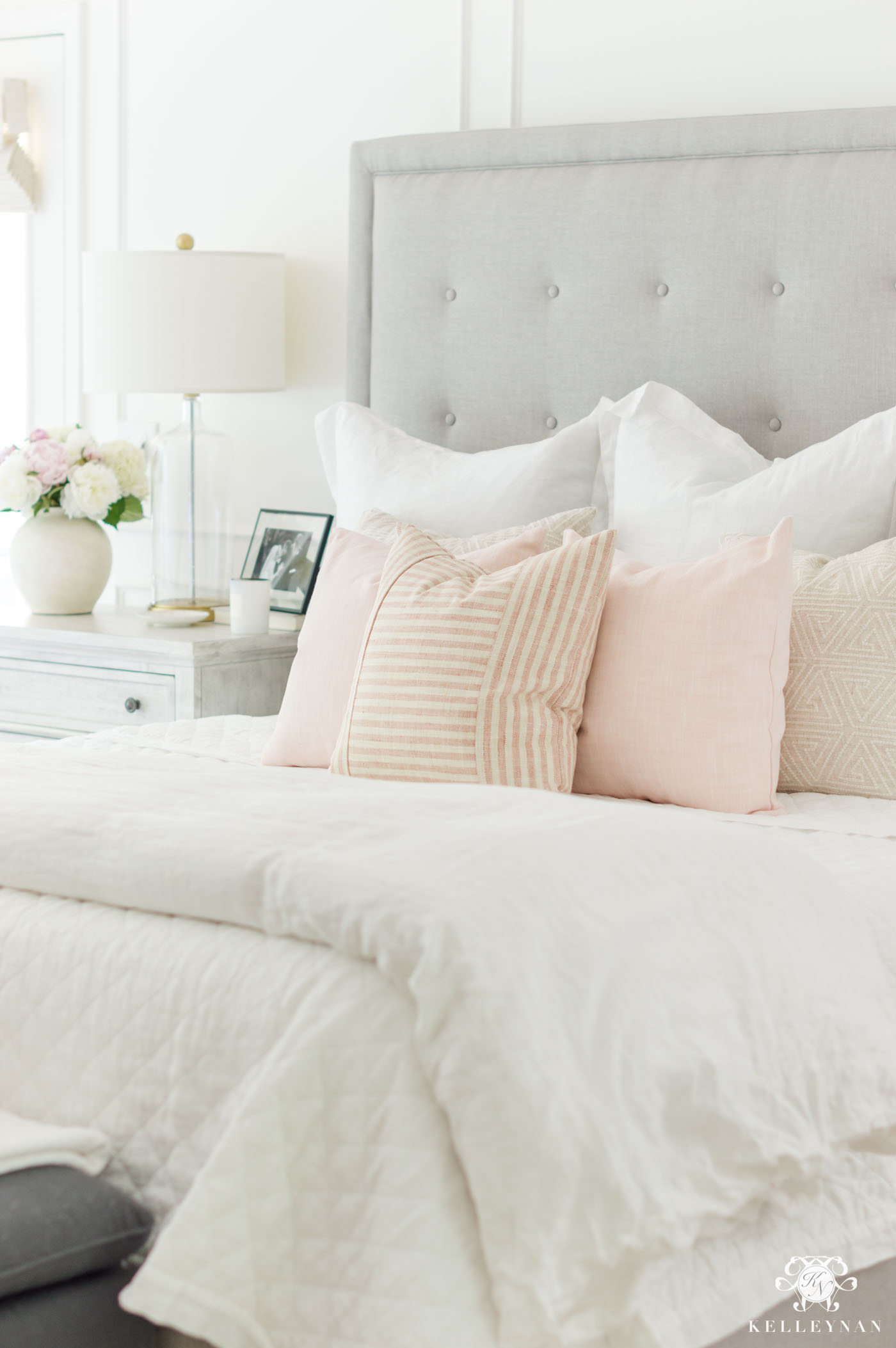 If you're open to a similar aesthetic, you can tap on the right and left arrows in the product photos below to compare my bed with some alternatives I've sourced.
Modern Tufted Bed & Alternatives

Our bedding though — I've raved about it for years and continue to collect pieces for our bedroom. I even wrote a post on the duvet cover and quilt combo — which I dubbed as a "power couple" — HERE. I am a big believer in investing in quality, comfortable bedding that you will love — even if it may take a while to outfit your bed. The good news, is that while I don't personally own the alternatives I sourced, they are still from the same Williams-Sonoma brand family. So many items I've purchased are available in slight variations at all of the brand stores so I'm confident that these look-alikes would still be fabulous — and to be honest, they still aren't cheap. The good news is that regardless, whether you're interested in my actual bedding or the less expensive version, most of it is on sale. The Belgian linen dupe quilt (the square version instead of diamond) is actually on clearance right now for almost 50% off HERE! Tap the right and left arrow icons beside each product photo to see each option I've sourced.
Belgian Linen Quilt & Alternative

Belgian Linen Duvet Cover & Alternative

The Nightstand
I was determined to have stately, large(ish) chests for our nightstands and I love the ones we chose. I love the gray/whitewashed finish and the quality has been wonderful. If you're interested in other 3-drawer bachelor chests — not necessarily nightstands that just look similar to ours — you can find a post I wrote on some beautiful options HERE.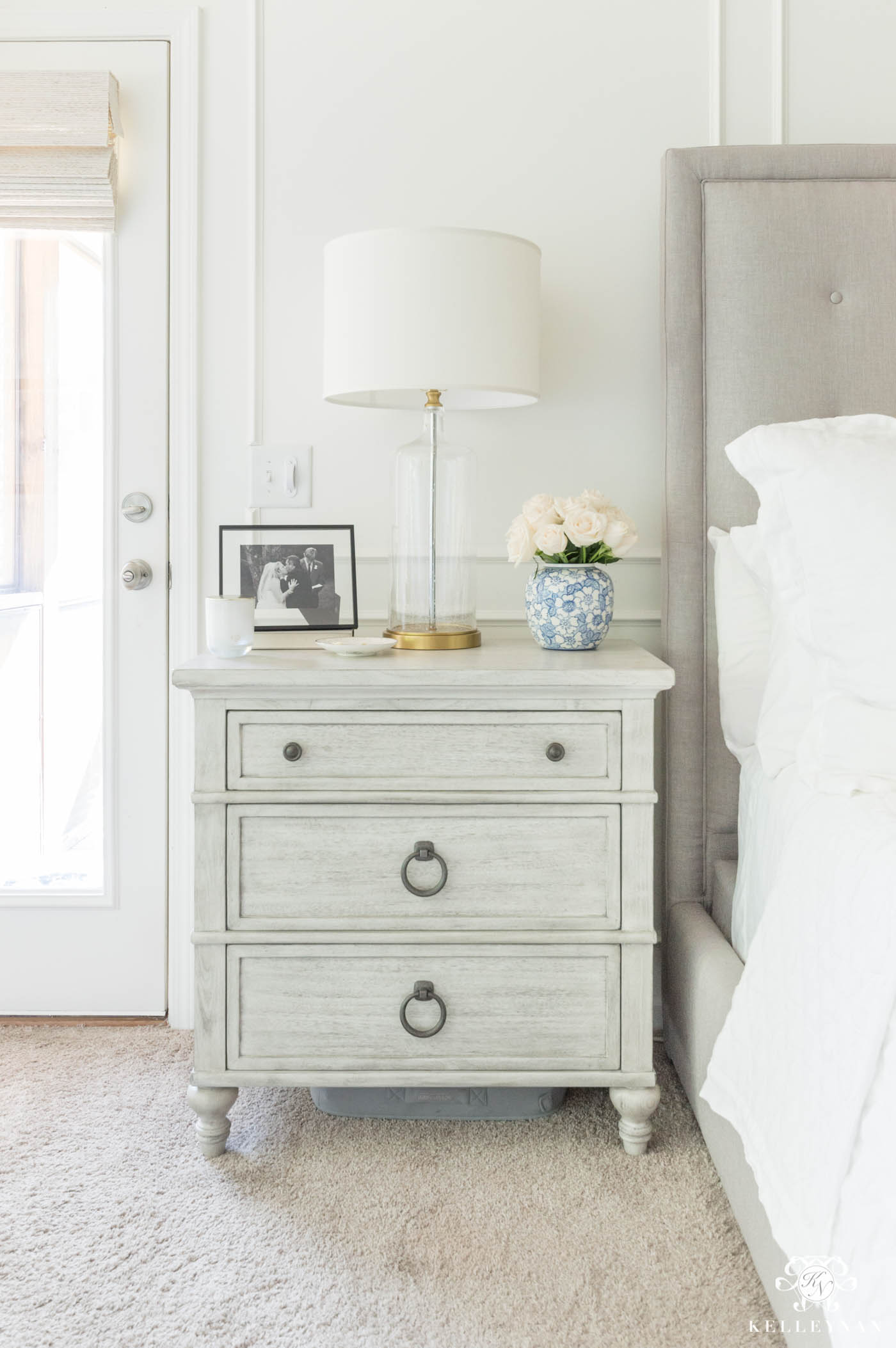 My advice for searching for nightstands is to not get too caught up in the hardware — that can be changed easily. See if you like the finish; check on the width and height and measure against your bed. Look at reviews and see real photos when available in the review section.
Washed Wood Nightstand & Alternatives

This budget friendly lamp is so similar to the original that if there are any shortcomings, I would probably be willing to forgive them, considering the substantial price difference.
Clear Glass & Gold/Brass Lamp & Alternative

Sitting Area
I don't know if I mentioned it here or just in my Instagram stories (follow me HERE), but my sitting area actually has a new addition, as of late — a massive treadmill in one of the corners haha. It made the most sense to put it here so I will be adjusting our sitting area soon as it won't support a full, two-seater lounge space any longer.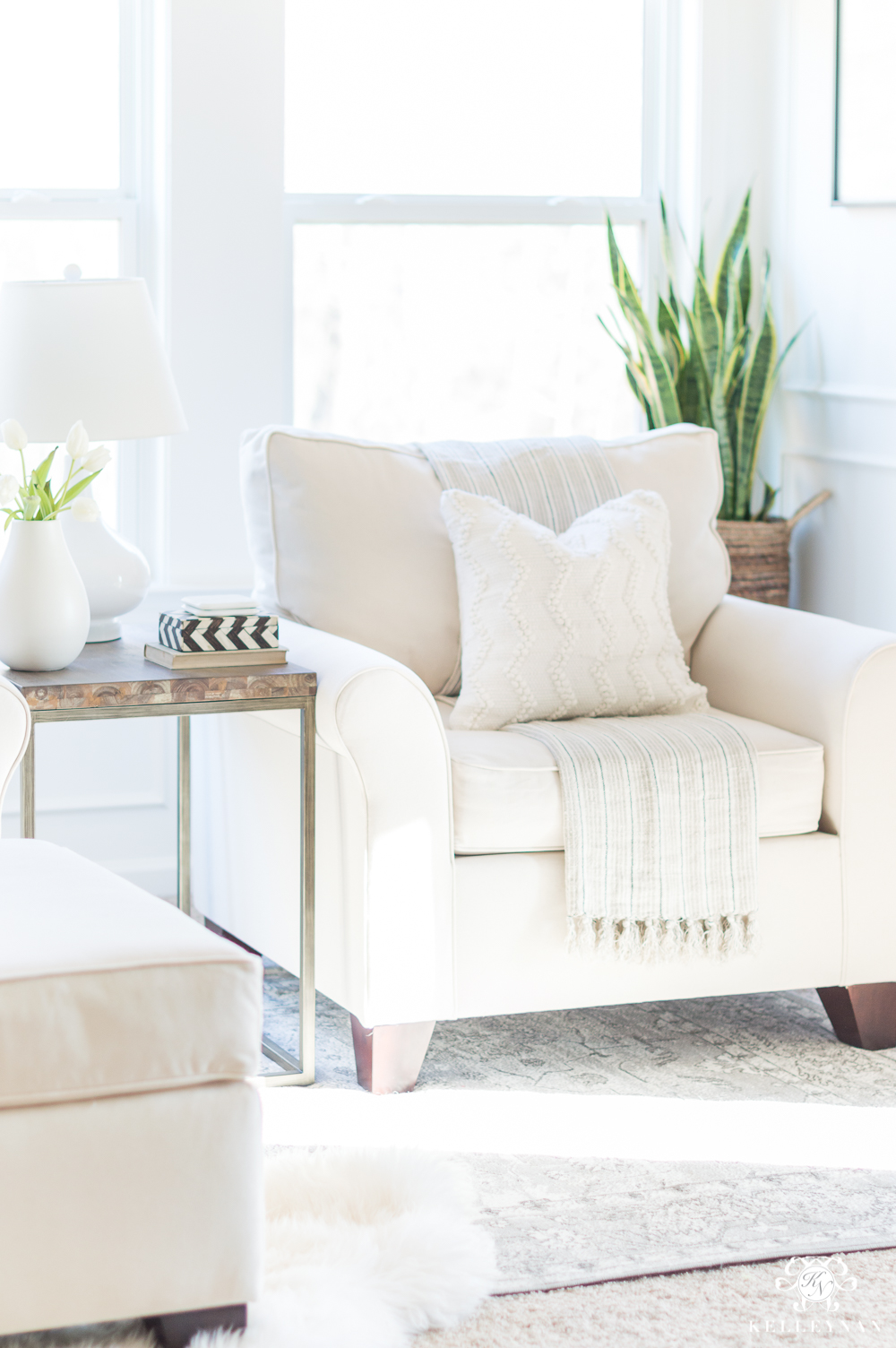 Our armchairs are no longer available but there are so many chairs that have a similar look. I would probably base the importance of quality on how heavily they were going to be used. In a living/family room, I would want to trust that they would wear really well with repeated use but in side areas/bedroom sitting areas, I would totally go for a budget find. You can tap the arrows on the left and right of the product image to slide through each.
Sitting Area Armchair Alternatives

Sitting Area Side Table & Alternatives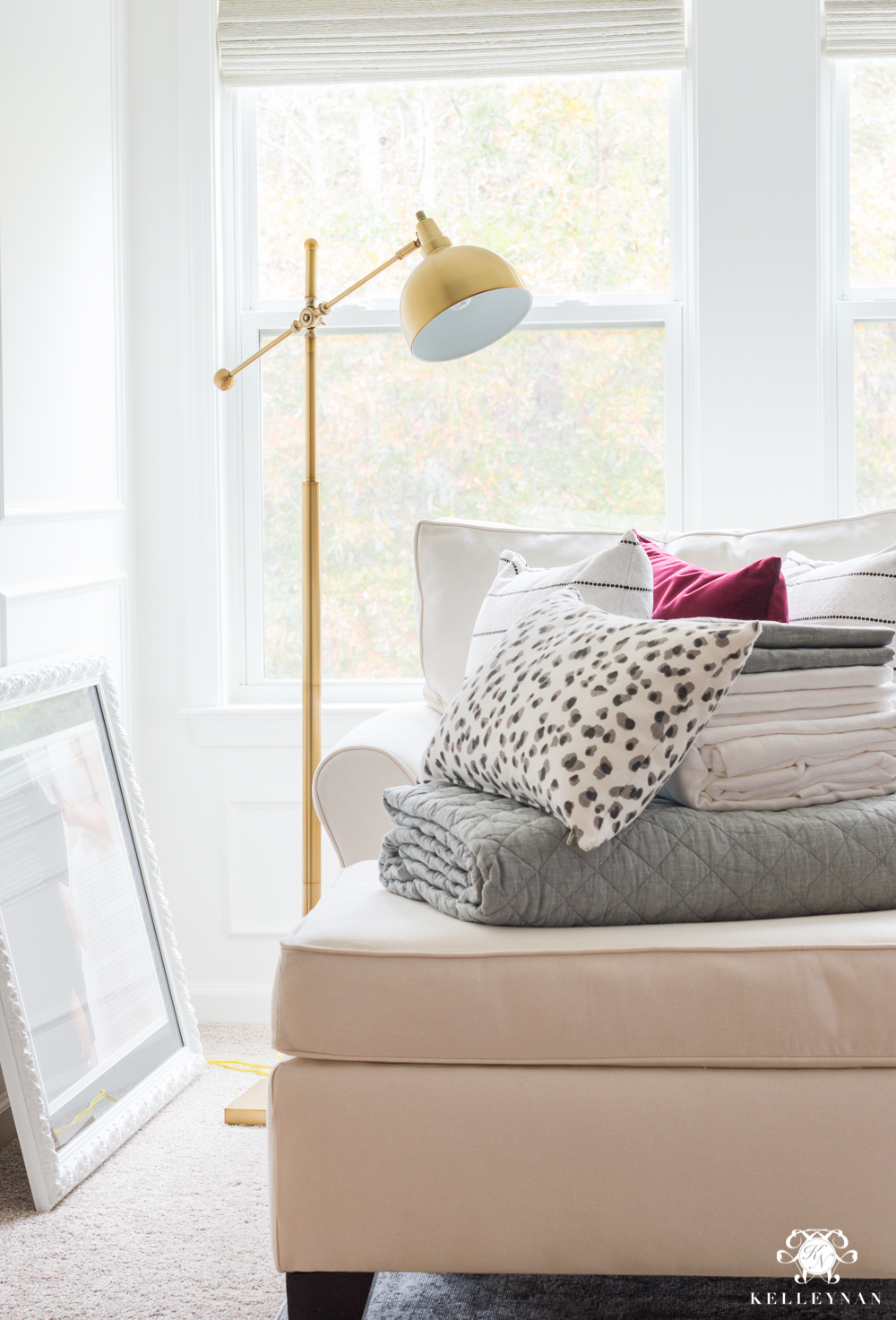 This is a great lamp and honestly, it isn't even a bad price but once again, Target has a way lower priced option that can deliver the same aesthetic.
Brass Floor Task Lamp

In terms of other bedroom furnishings, the rugs, bench, and other pieces are already great deals — others, well, it was little more difficult to find anything super similar — you can find links to everything in the "Bedroom Sources" section at the bottom of the post. If you're looking for a great place for some fresh throw pillows, my go-to (and the source of the pillows  you see in these pillows) is Tonic Living.
**As a closing note, I hope you are all staying safe and healthy. In light of these times, I am going to try my best to continue to share moments of escape, new content, and even some ideas that may apply to home-bound activities. Whether you're homeschooling your kids, are lonely, are having to continue to report to work, my thoughts go out to you all — we're all in this together. Here's to discovering more moments of joy at home and enjoying and appreciating the beauty in resourcefulness, creativity and quiet. xoxo
Bedroom Sources