My favorite part of warm weather decorating has always been the re-emergence of flowers (and putting them everywhere), color, plants… and well, just brightening and lightening everything up. As I was tip-toeing into my seasonal transition, and making a few spring updates, I realized just how much I depend on the (what I now know is a luxury) trips to the store for bundles of fresh flowers and stems for my typical spring home decor. Spring usually marks my first trips to the nursery to and starting the regular game of seeing what houseplants I can bring home to try to keep alive. There's always been an abundance of fresh fruit at the grocery store and I love hunting for deals, in person, in almost forgotten clearance bins. This year is different, but it's different for all of us. This year, there's not a single real flower in my home — and that's ok. This has always been an outlet to share all joys of home and now more than ever, it's important we feel good in our (now literal) sanctuaries. Today, I'm going to share how I prepped my house for spring without ever stepping foot outside.
*Posts on KelleyNan.com may contain affiliate links. Click HERE for full disclosure.*
Spring Decor Updates in the Entry
While I'm committed to staying home right now, it's forced me to be a little more resourceful in making some changes around the house — which I think is a good thing. It actually felt refreshing to "shop" my basement and pull things out I hadn't used in a while… things I had forgotten about. But one of the biggest changes for me over the past few weeks is that for the first time, I've started incorporating faux florals. Even before we were all staying home, my regular vases of flowers had started happening less and less often. I used to never miss a week without bringing in some sort of new arrangement but after becoming a mom, it became more of a chore to take care of them, keep them up, and then I wasn't actually enjoying them. There've even been times that I've bought tulips at TJ's, set them in the kitchen in water next to the sink to arrange when I had time, only to have to toss them because I never got around to it. Not proud but it's the honest truth. I know priorities shift but I also don't like having empty vases all the time, either. Luckily, as I've been readying the house post-winter, I've also been arming myself with faux stems and I am not a 100% believer.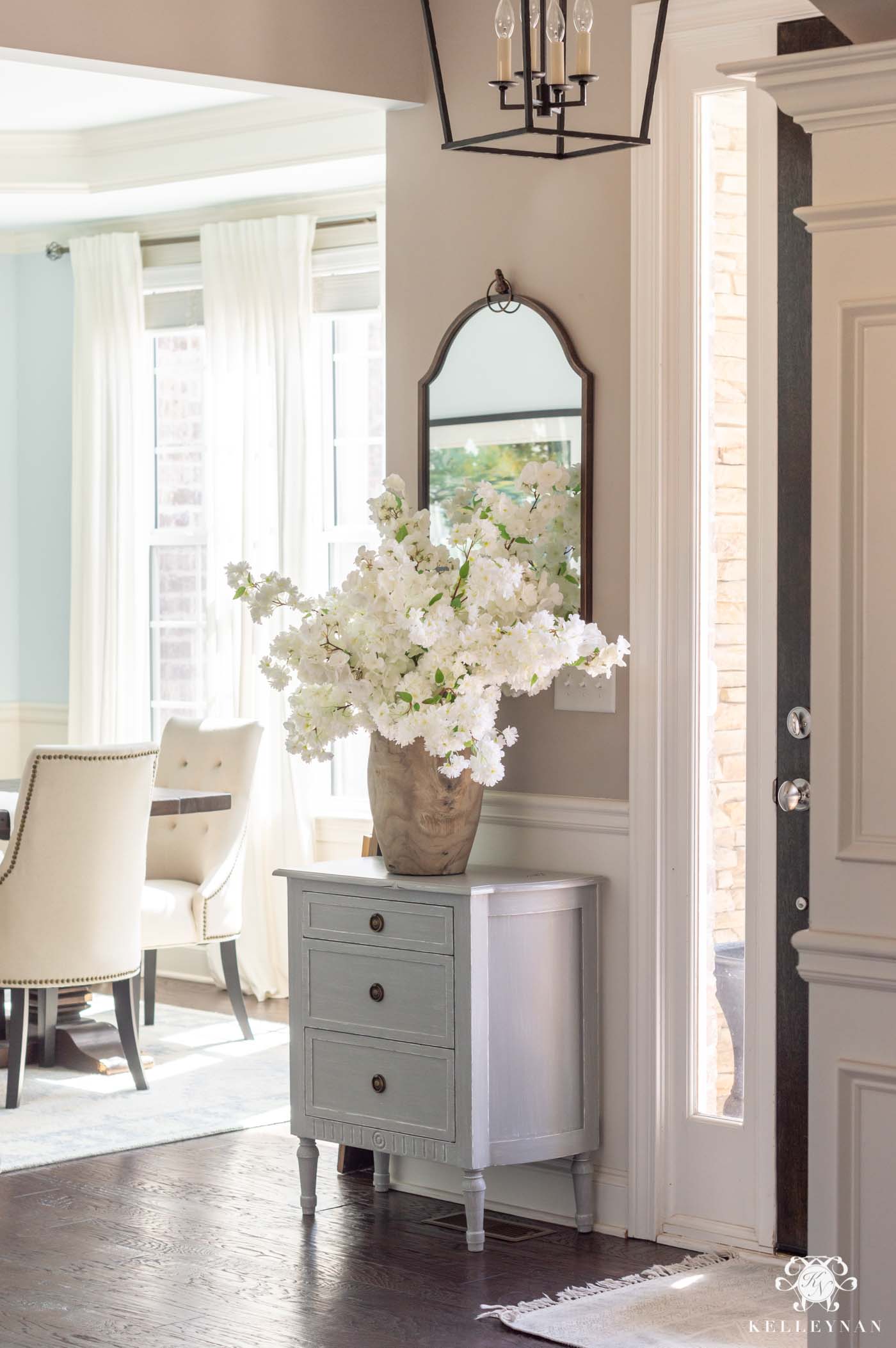 Sources: Lantern Chandelier | Mirror | Two Drawer Chest | Cherry Blossom Stems — 44″ | Cherry Blossom Stems — 40″ 
Scroll & Tap to Shop Similar Vases

I've had a hard time finding fake flowers in the past that don't look frayed with threads and obviously silk — or like something you would have found at your grandmother's house. But wow, they've come a long way. I have some more elaborate arrangements sprinkled around, but I also have some simple arrangements — like single-stem-simple. In addition to what I pulled out of my small arsenal in the basement, I set out to find faux stems that were good quality that I could repurpose, mix and match, and use for years to come. Some of them were on the pricier side (I scored some lemon stems on sale I'll share in a bit but have been discontinued), but others — while still an investment — have been much more budget friendly. My entry got a huge dose of white cherry blossom stems (c/o Afloral) and while I crammed 9 big branches in to make this statement, they are on sale right now for a fraction of the price I spent on some other stems earlier in the season. There's a combination of THIS white cherry blossom (my favorite of the two!) — 44″ — and THIS white cherry blossom which has smaller petals. This was a space that remained bare more than filled — it's a big vase and takes a lot of flowers to fill so I'm so happy to have a long-term solution for super visible spots like this.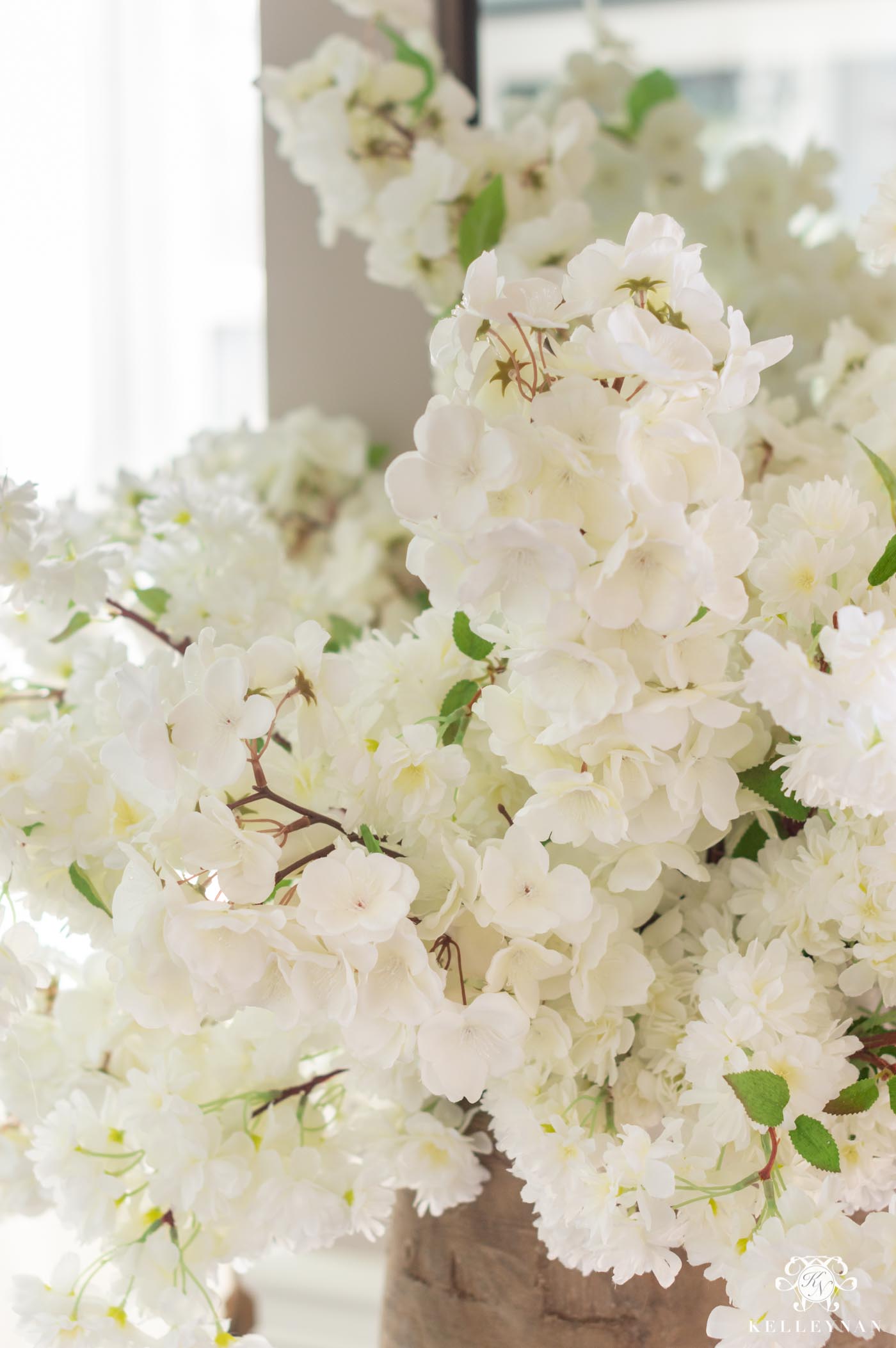 I love the longer stems because they are so whimsical and forgiving — I folded the stem to the height I wanted inside the vase but little arranging had to be done. While the nine make a big impact all layered in together, even a single stem can be a pretty addition. The little nesting basket below (my mom sent me home last week with some of her cast-offs) shows what a single stem (folded) looks like.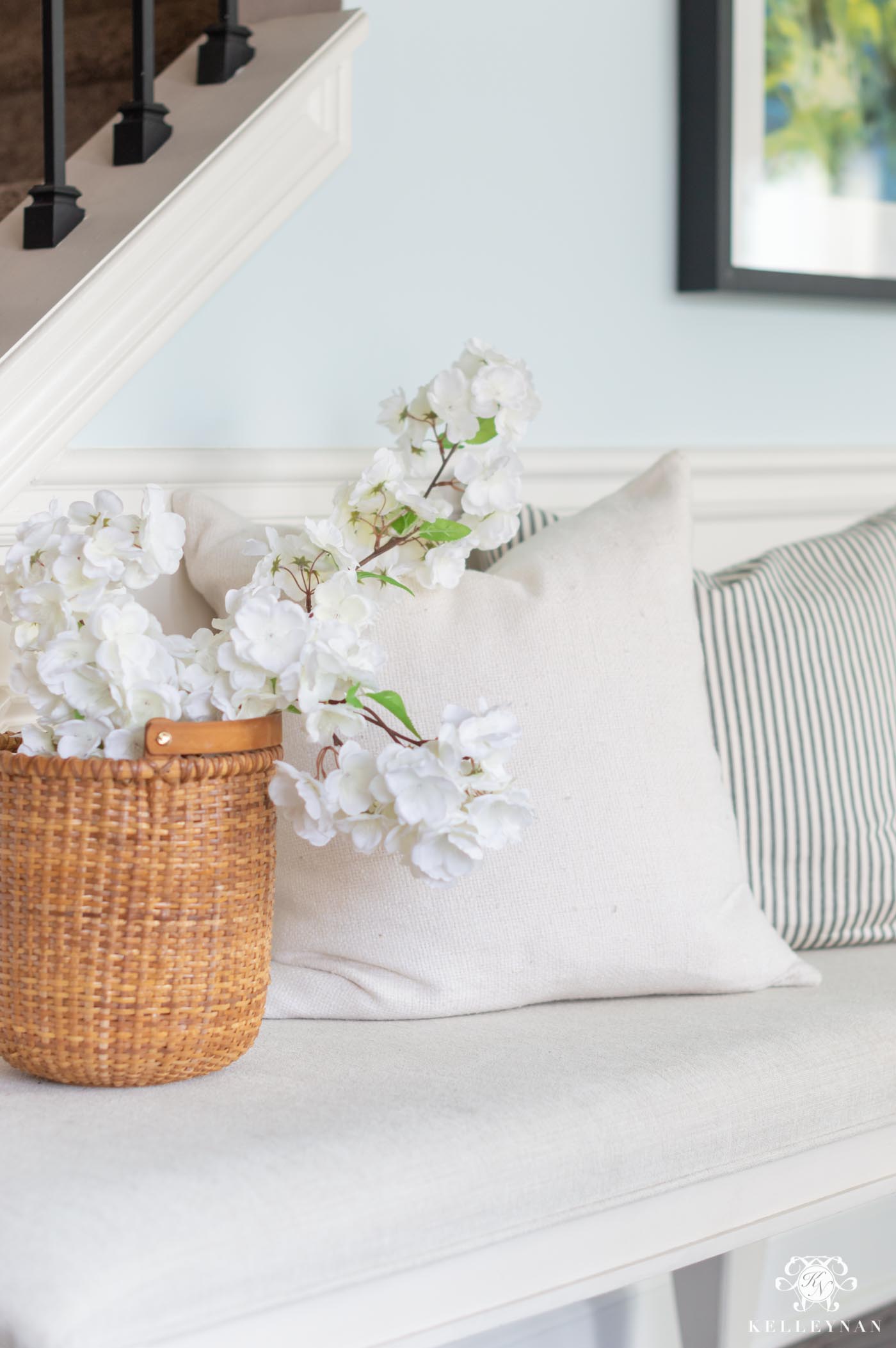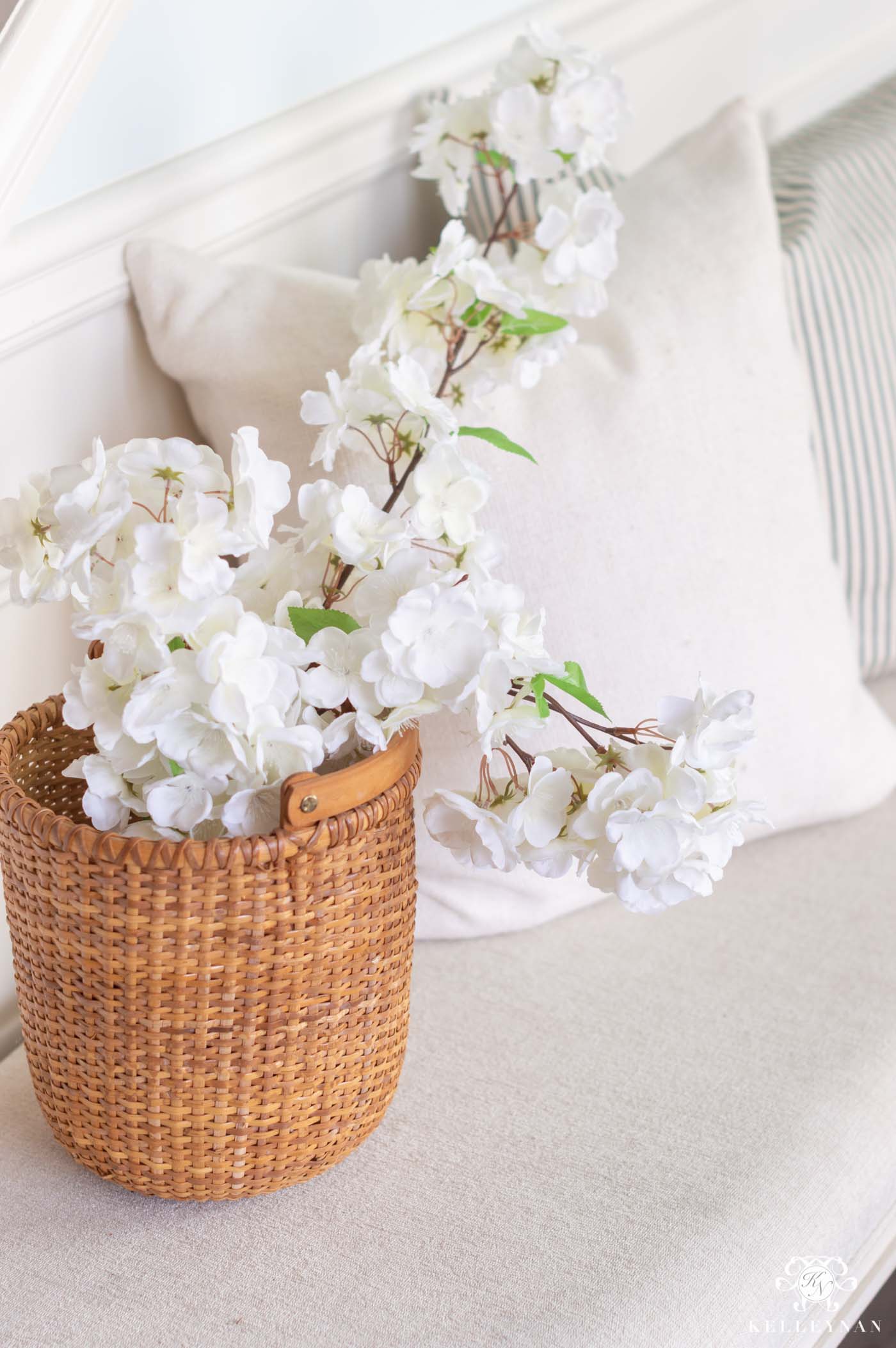 Spring Updates in the Dining Room
I initially wanted to fill the house with yellow tulips to pair with my arsenal of blue. Well, tulips aren't reason enough to leave my house and head into public so I went for the yellow forsythia instead. I've had this wreath (similar) on my front door the past few years so it took center stage on my dining room mirror (with a plastic command hook). Sometimes seasonal decorating doesn't even involve taking things out of storage — it's just moving things around in different rooms. My ginger jars have anchored my living room built-ins for probably two years so for now, I gave them a new home on the dining room sideboard.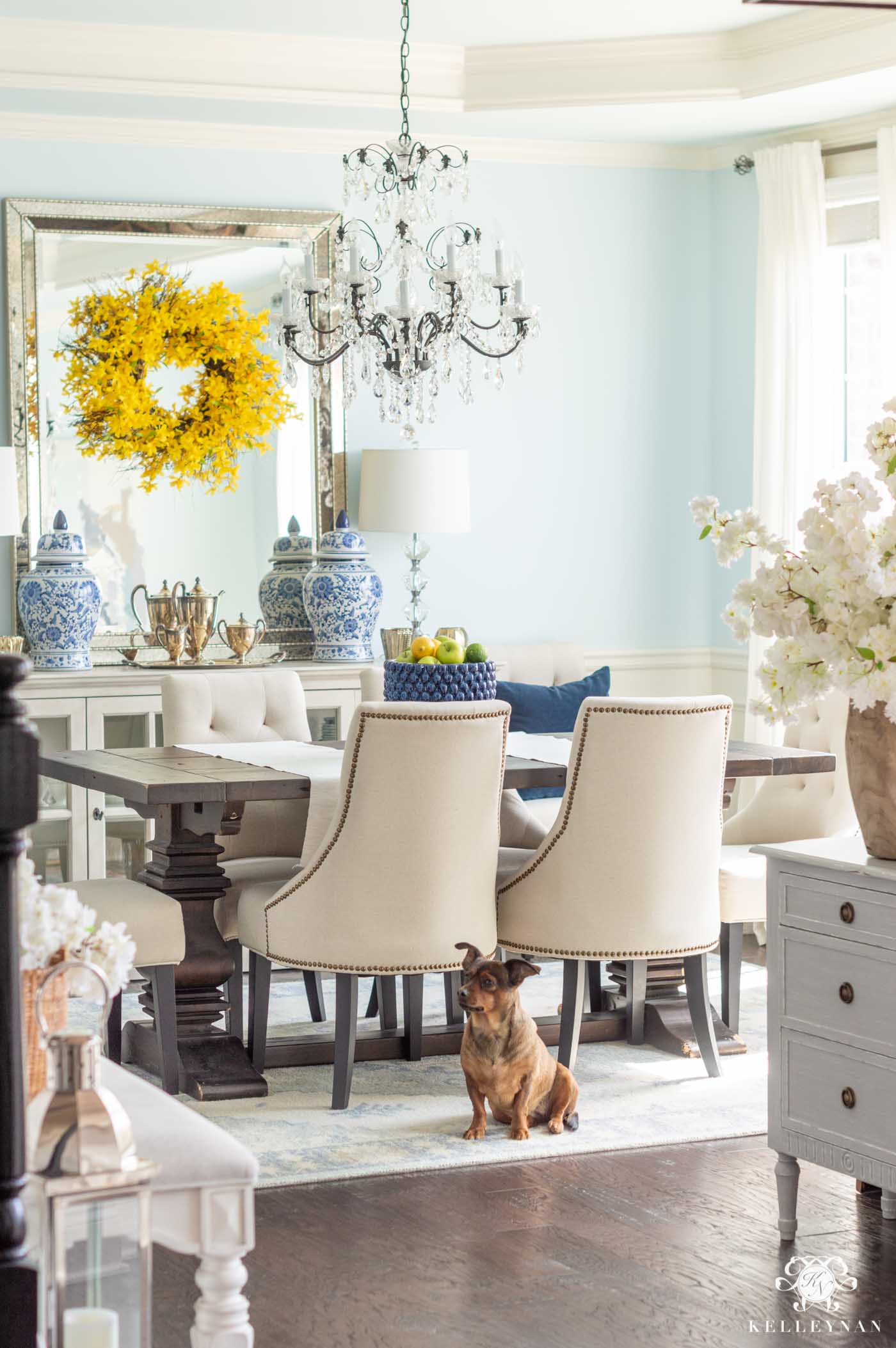 Sources: Wreath (similar) | Chandelier | Rug | Dining Chair | Dining Table (similar) | Sideboard (similar) | Ginger Jars | Faux Lemons | Faux Green Apples | Faux Limes
The pretty, heavy blue knobby planter was a find at a local nursery back in January and I've been waiting to but her to good use. I had plans to start things off with a grand fruit and floral arrangement (see some ideas I've done in the past HERE) and while I didn't have access to do what I had planned this time, I think the mixed citrus and green apples I had on had turned out for the better — especially against the already heavily flowered yellow wreath.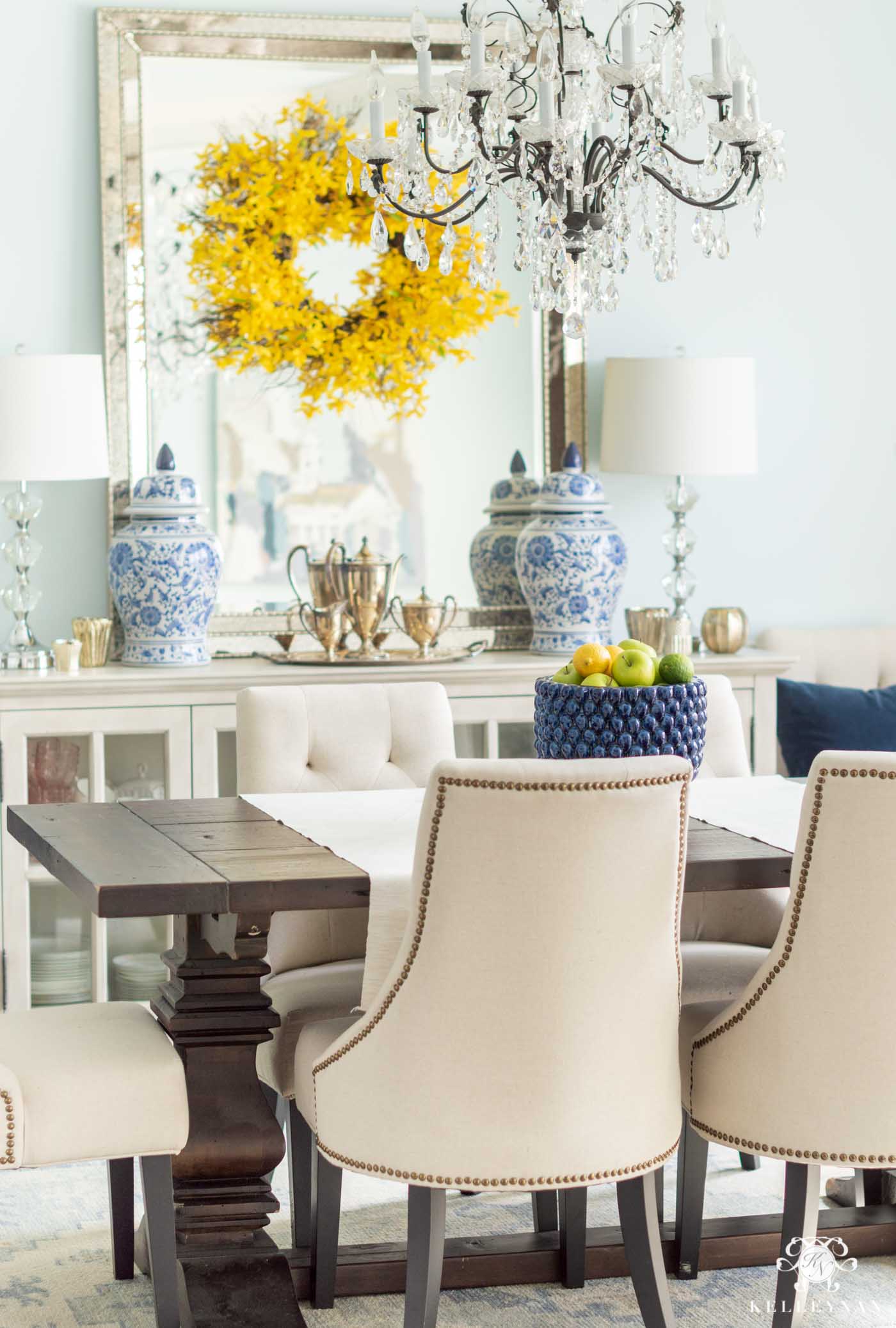 BTW, I do not have that much fruit on hand haha — I used an upside down bowl in the bottom so there was less space to cover 😉 Faux fruit is something else I've collected over the past few years but I already put those to work in other spaces 😉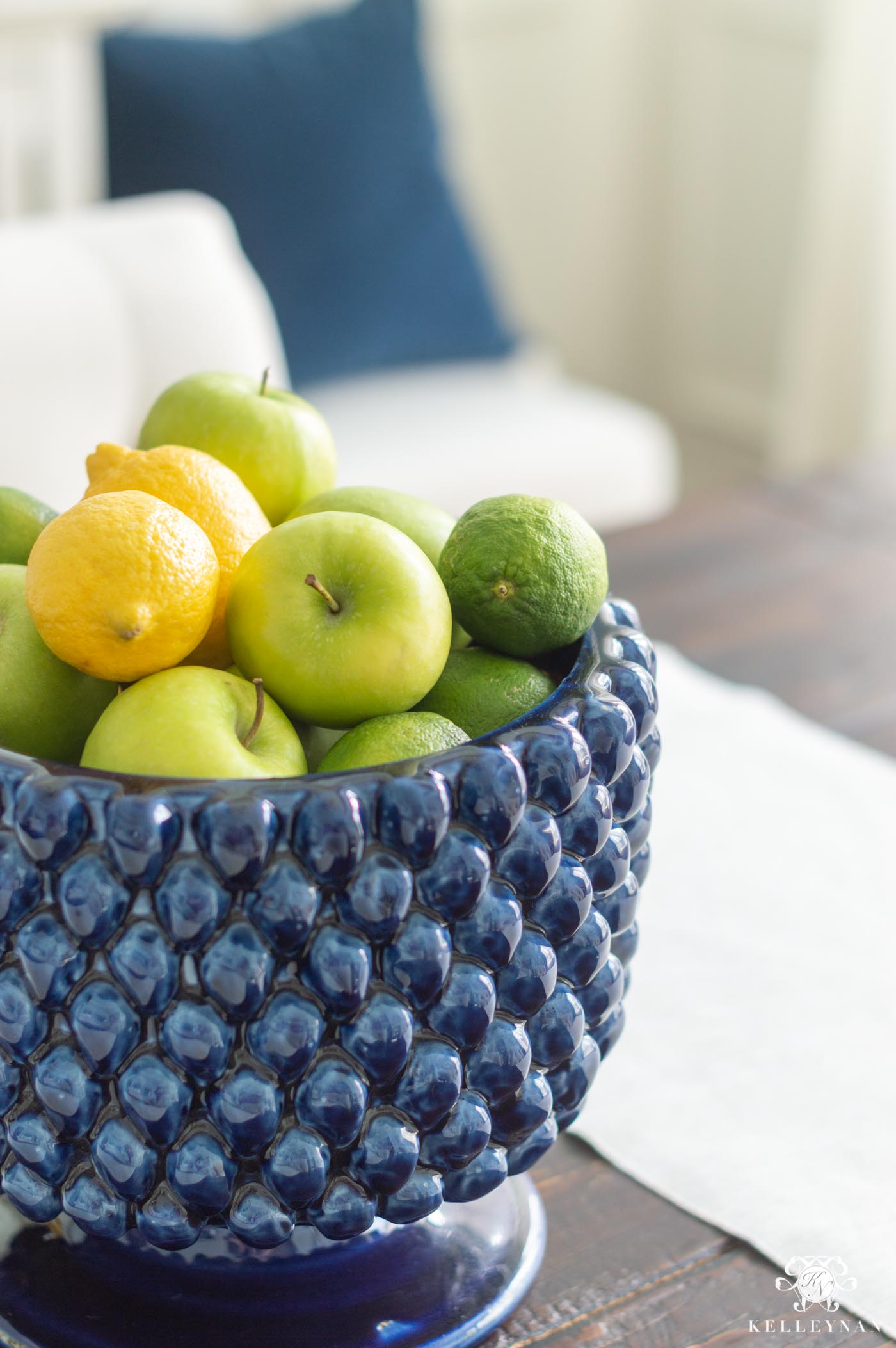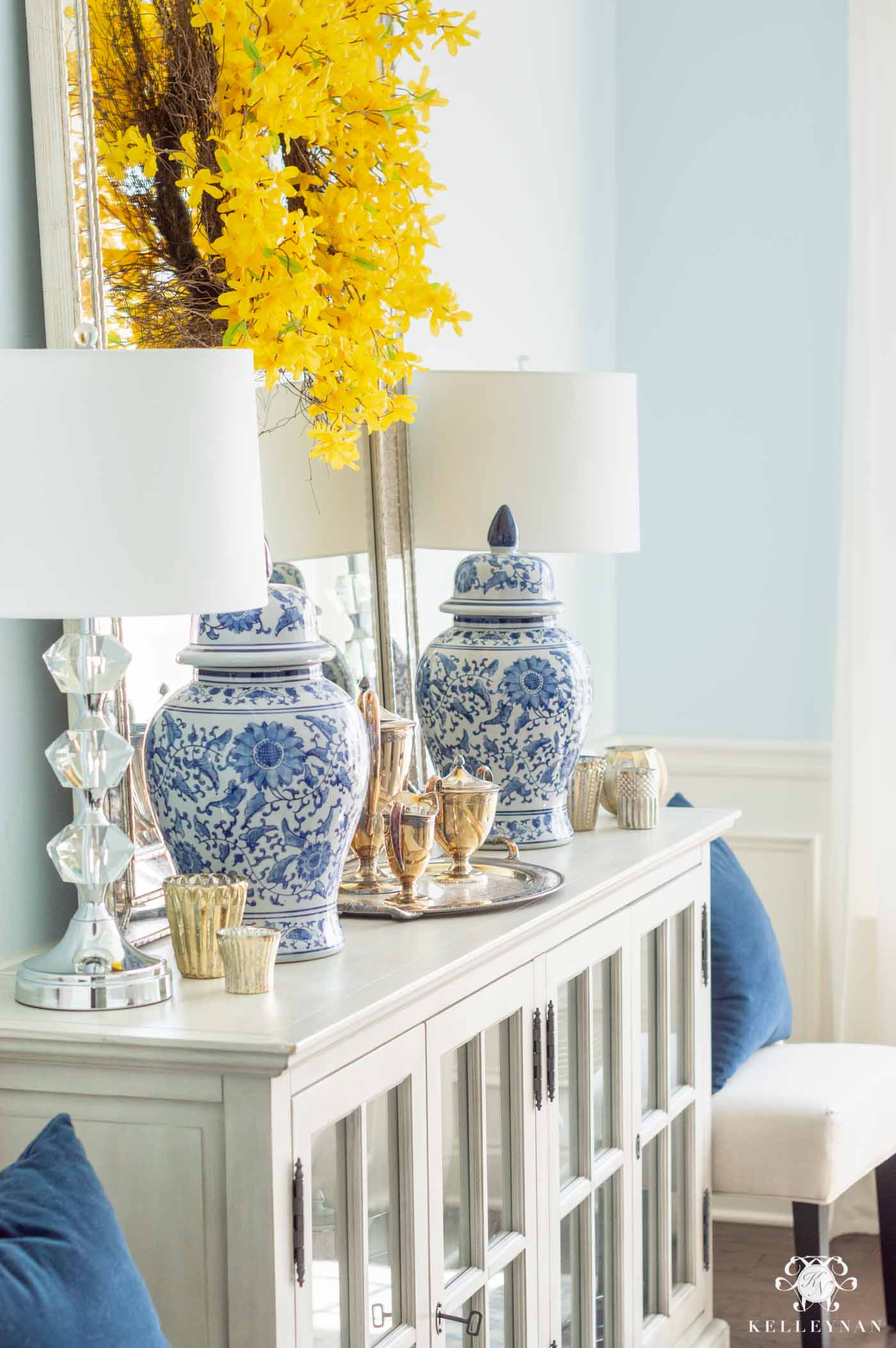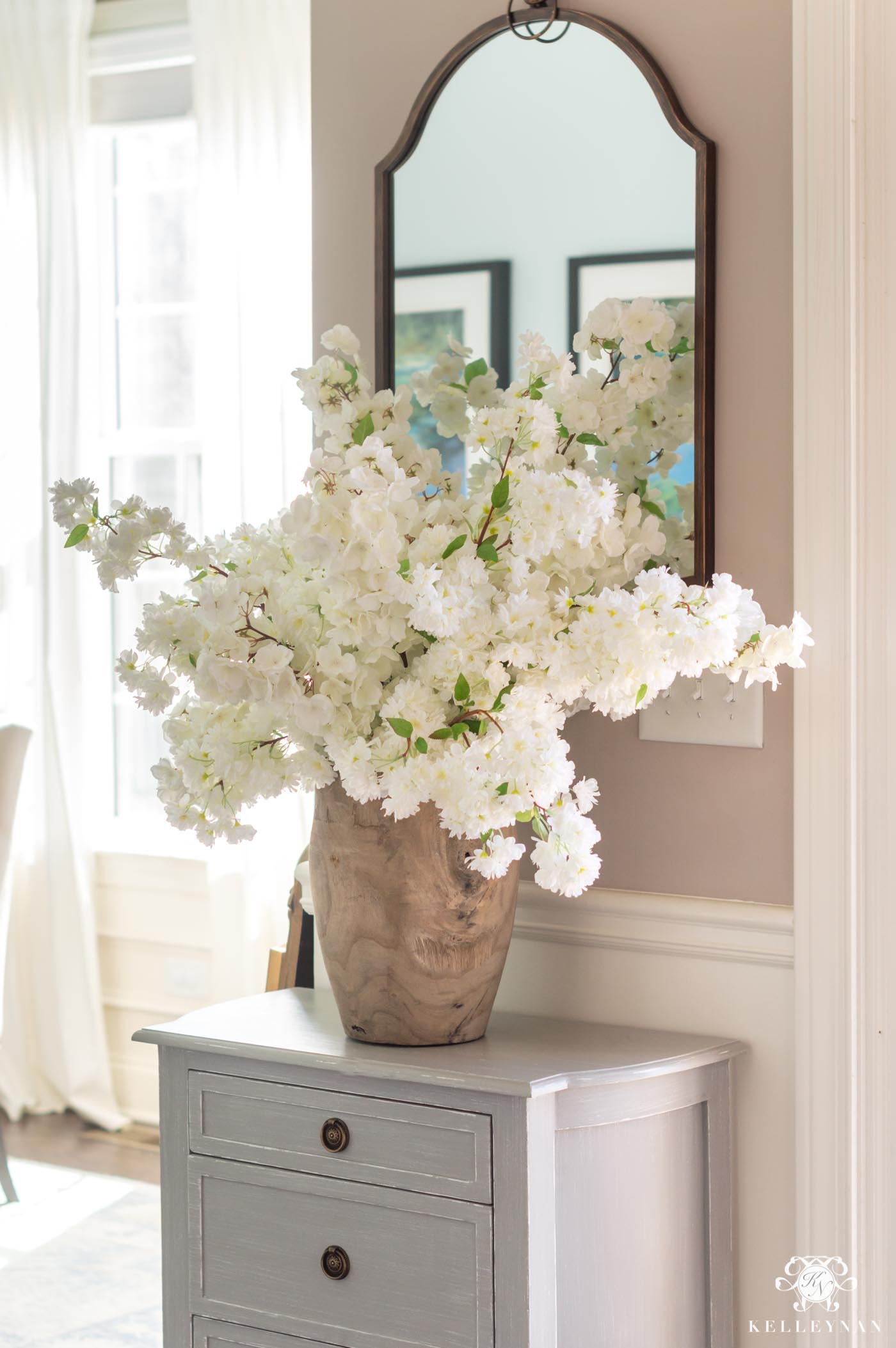 Spring Decor Updates in the Kitchen
Per usual, I like to keep the kitchen fairly simple. But, after sporting a red/black/orange Turkish runner for the past couple of years, I switched to THIS inexpensive blue and cream runner a few months back for a lighter look. It comes in a ton of sizes from full area rug to runner but even the runner comes in four options — mine is the 2'6″x8′ HERE.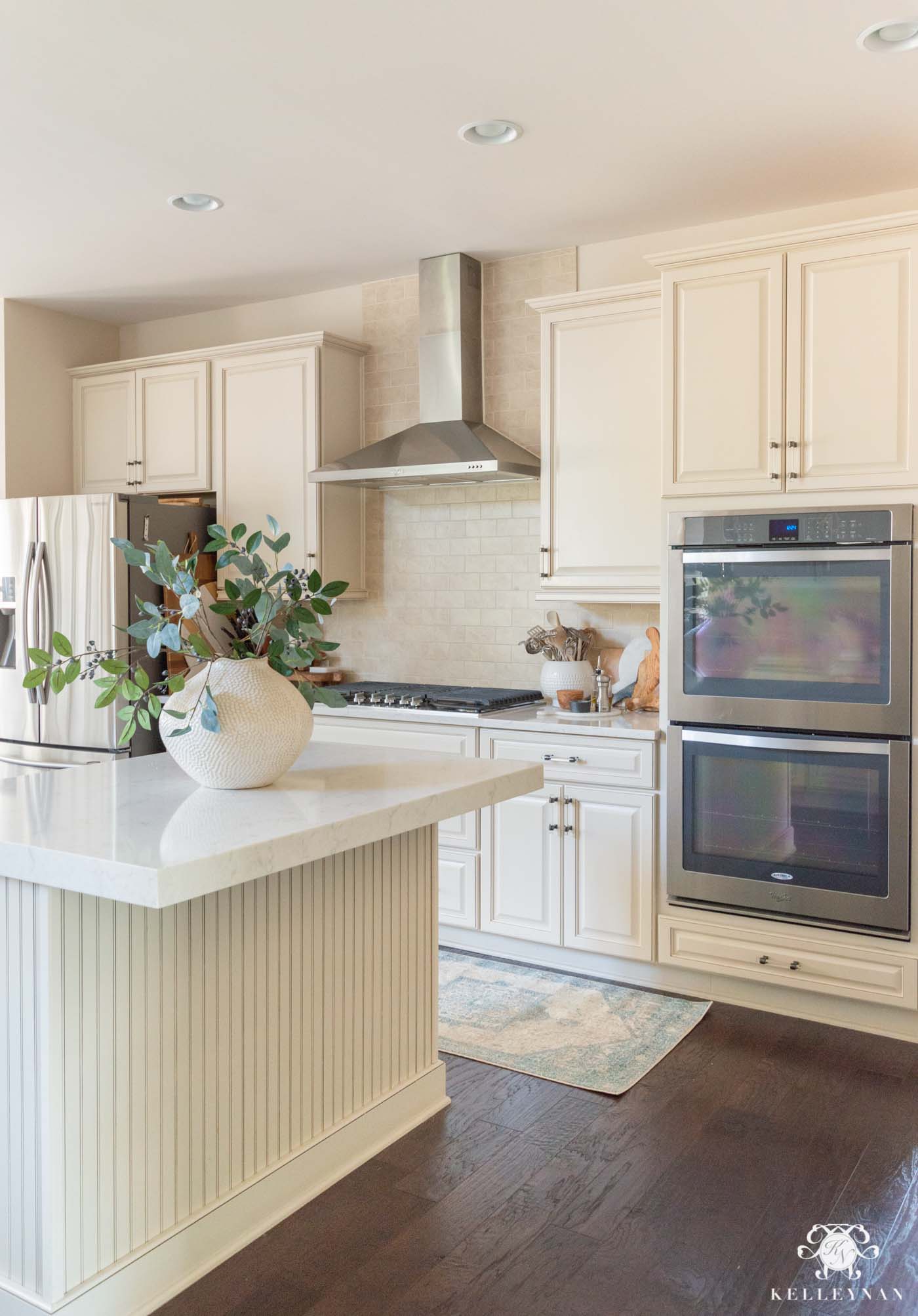 Sources: Runner | Large Vase | Faux Eucalyptus Stems | Faux Blueberry Stems (similar) | Cabinet Pulls | Large Rectangular Cheese Board | Round Marble Cheese Board | Olive Wood Cheese Board |  Spoon Rest | Olive Wood Salt Box | Olive Oil Dispenser | Stainless Pepper Mill
I haven't changed my big ole island vase in a long time but I do switch the stems and branches every chance I get. We don't have anything going on outside just yet — green or otherwise — so along with some random stems I found from years ago, I added THESE blueberry stems (under $10/stem and I used three). I was all about the blueberry stems this past Christmas (remember my tartan with red and blueberries HERE?) so I was happy to continue using them in the spring alongside my blues, yellows, and green.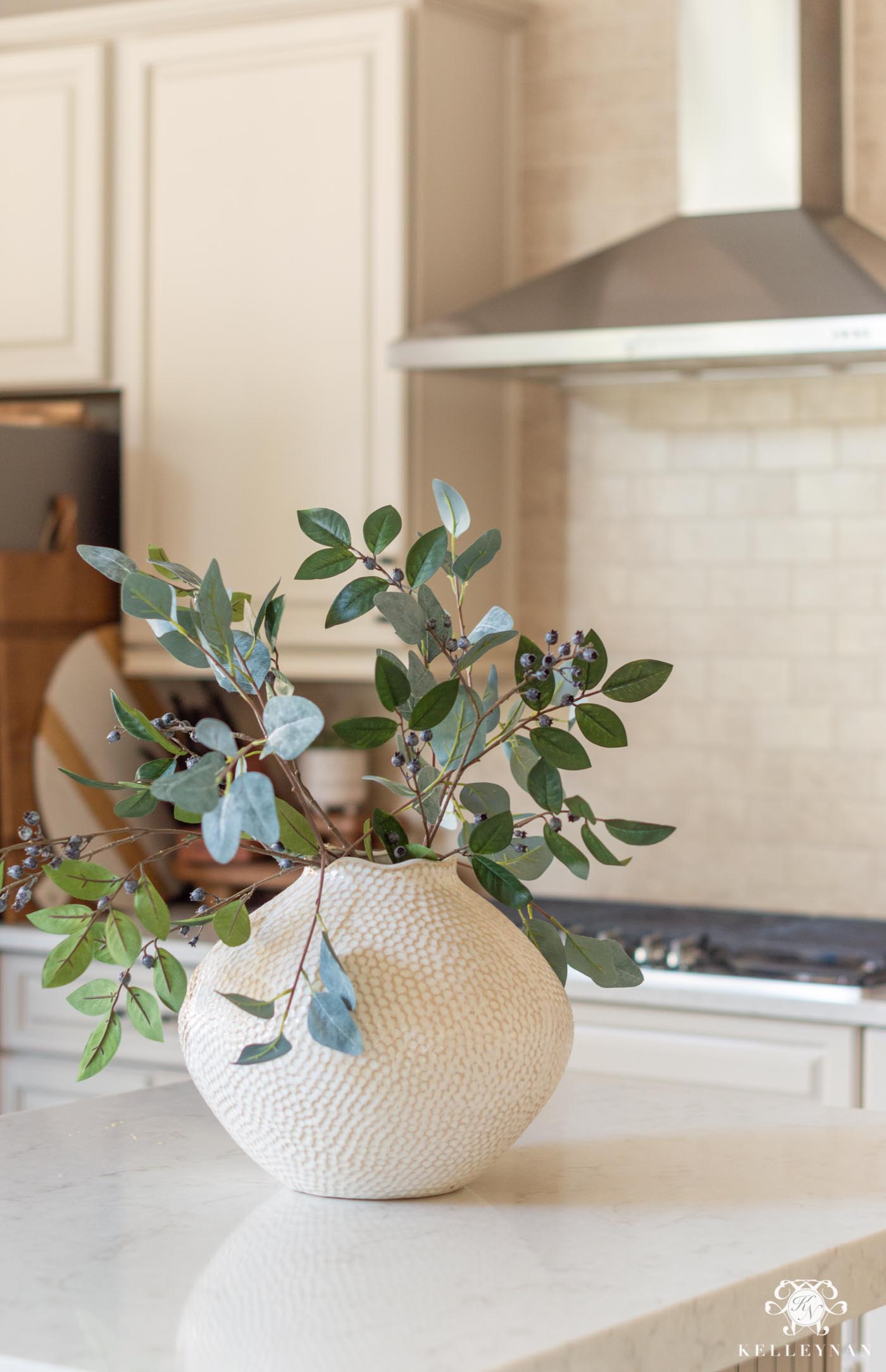 You can also mix a couple stems with THIS faux eucalyptus — a regular staple in our house and another faux I'm happy to have after I don't know how many bundles I've purchased in the past.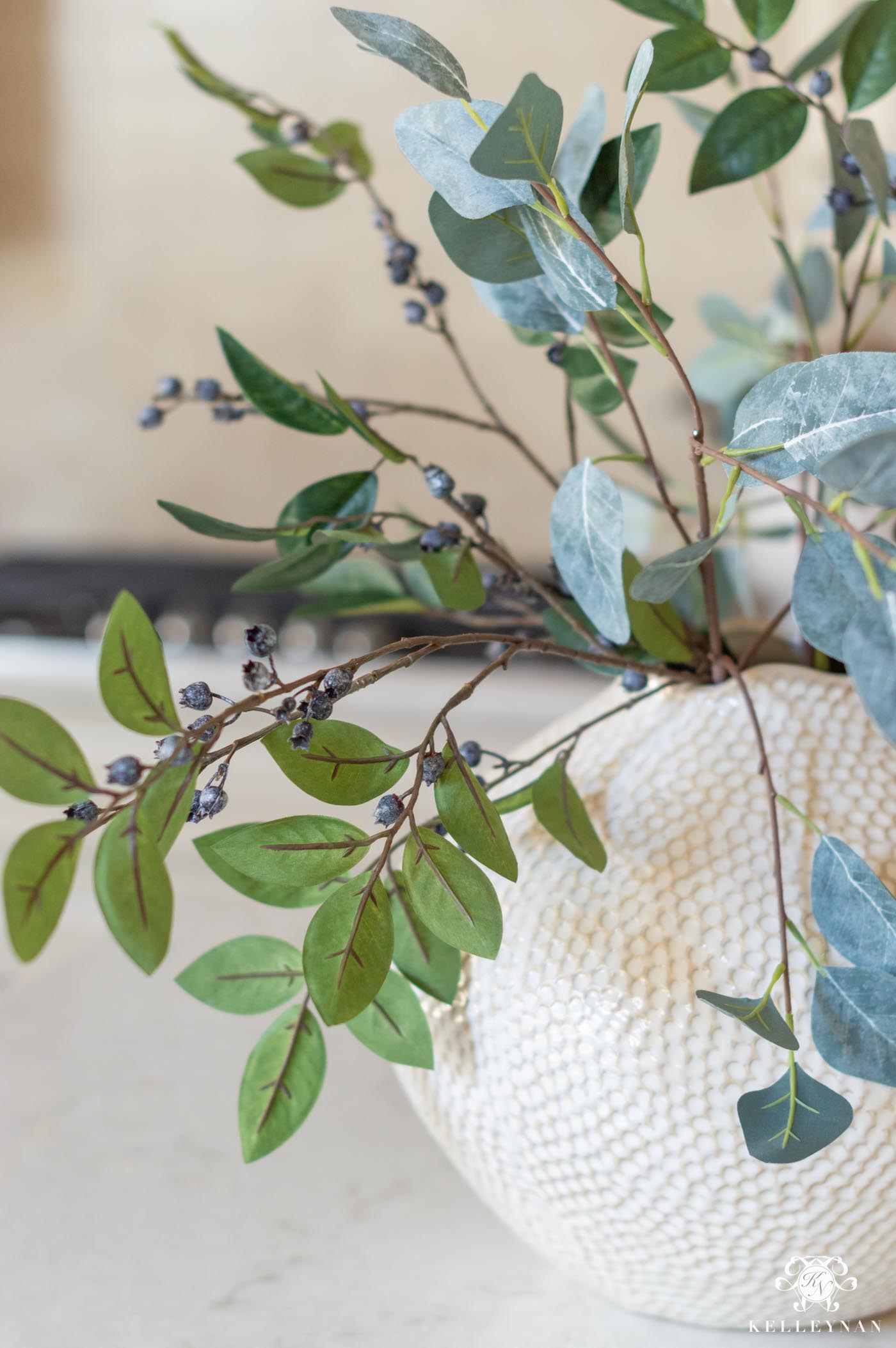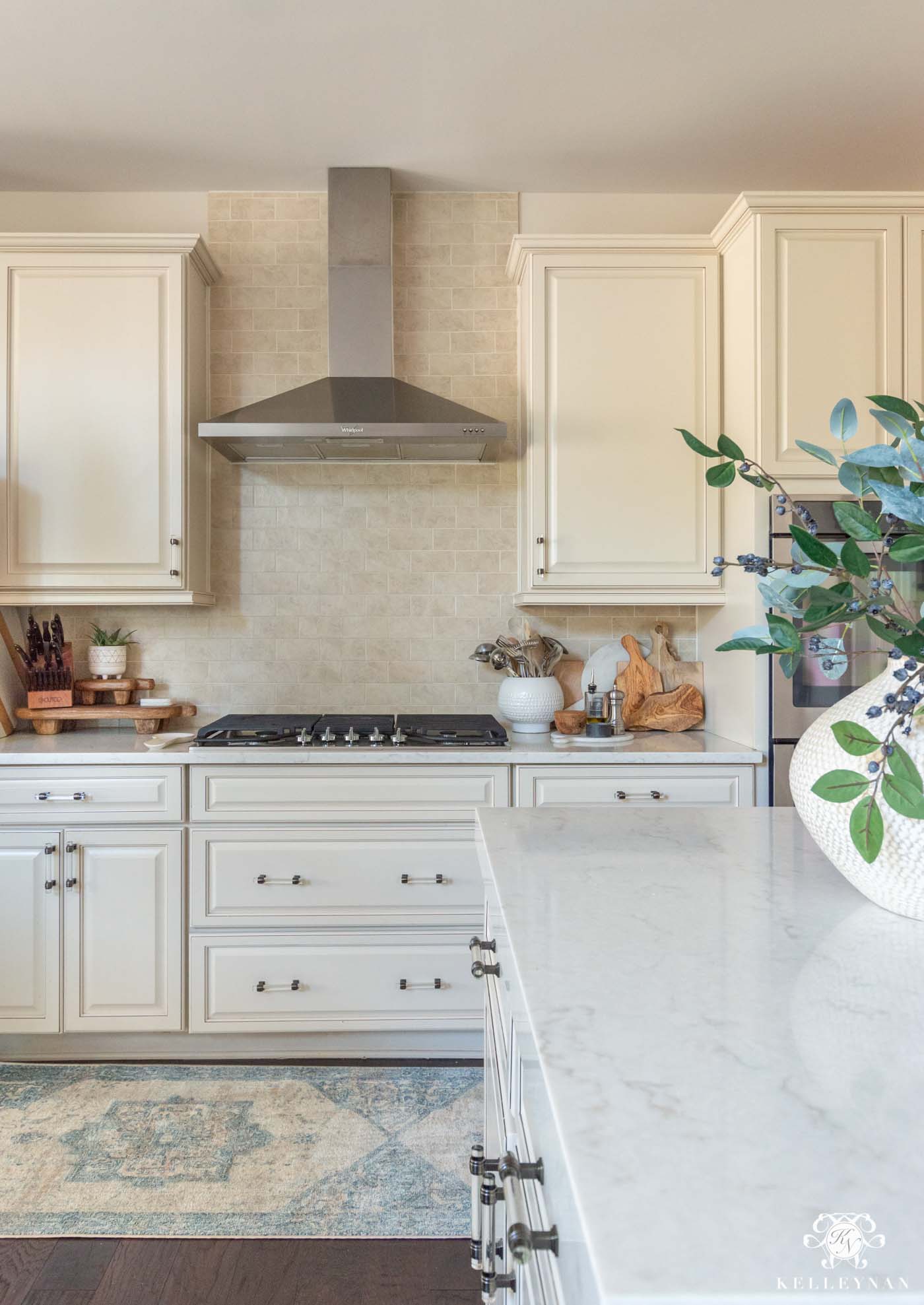 I was desperate to find a storage space for my latest (HUGE) reclaimed pine rectangle board and not having a built-in fridge, I love the look of the large boards layered on the side. The white and wood is out of stock but you can find the rectangle board HERE — mine is a size large. I try to keep countertops free of clutter but I do love using my kitchen essentials and serving pretties as my sole "decor" in here. Pulling some of your favorites to display — from boards to a copper colander costs nothing 😉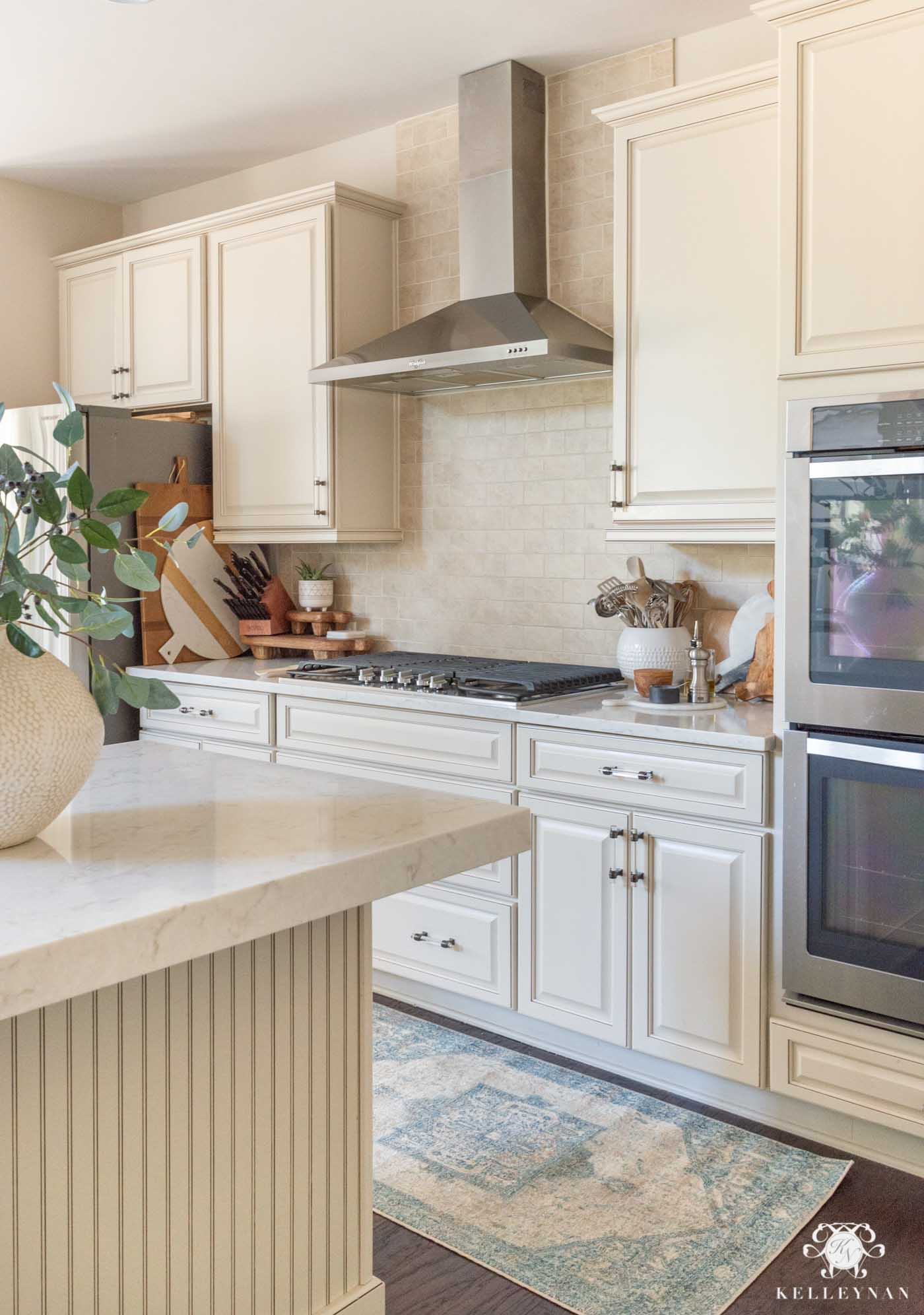 Spring Decor Updates in the Breakfast Nook
The breakfast nook has been totally simple and totally neutral aside from some color incorporation from my faux fruit. It still basically brown outside so having vibrant greenery around is a must.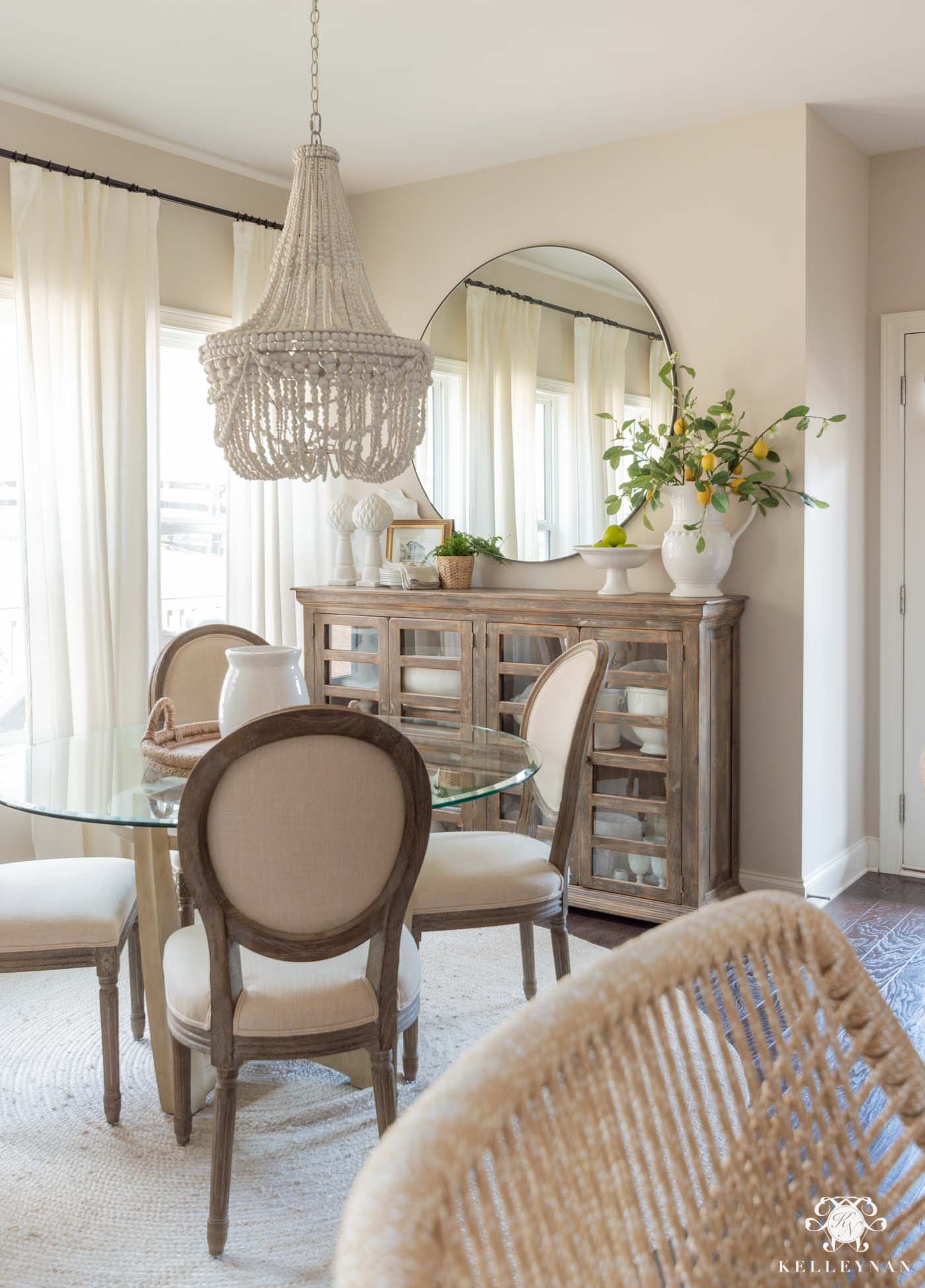 Sources: Beaded Chandelier | Rug | Dining Chairs | Dining Table | Mirror | Sideboard (similar) | Linen Napkins | Faux Green Apples | Tray (similar) | Curtains | Curtain Rod | Bar Stools
I pulled faux apples from the basement and was dead set on ordering these lemon stems this year; at an almost $50 price tag per stem (there are three here), I waited for a sale (and it still made me cringe a little). That said, I haven't found a lemon stem anywhere that comes close to the quality of these (which is why I'm not sharing alternatives). They are out of stock right now but you can check HERE to see if they come back. As much as they are, these will be a classic investment decor I can use for years to come (which will save me major $ filling large vases, also).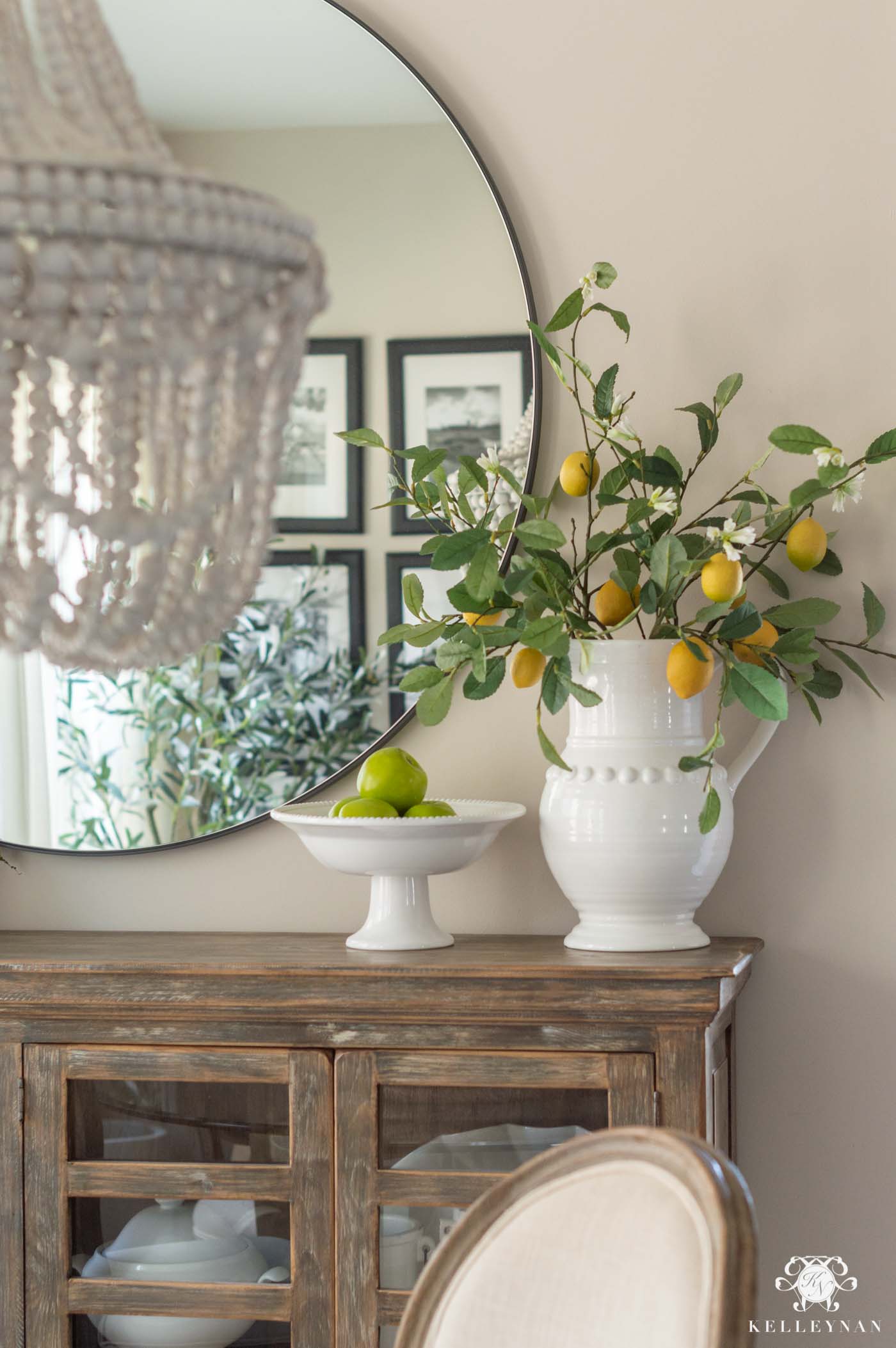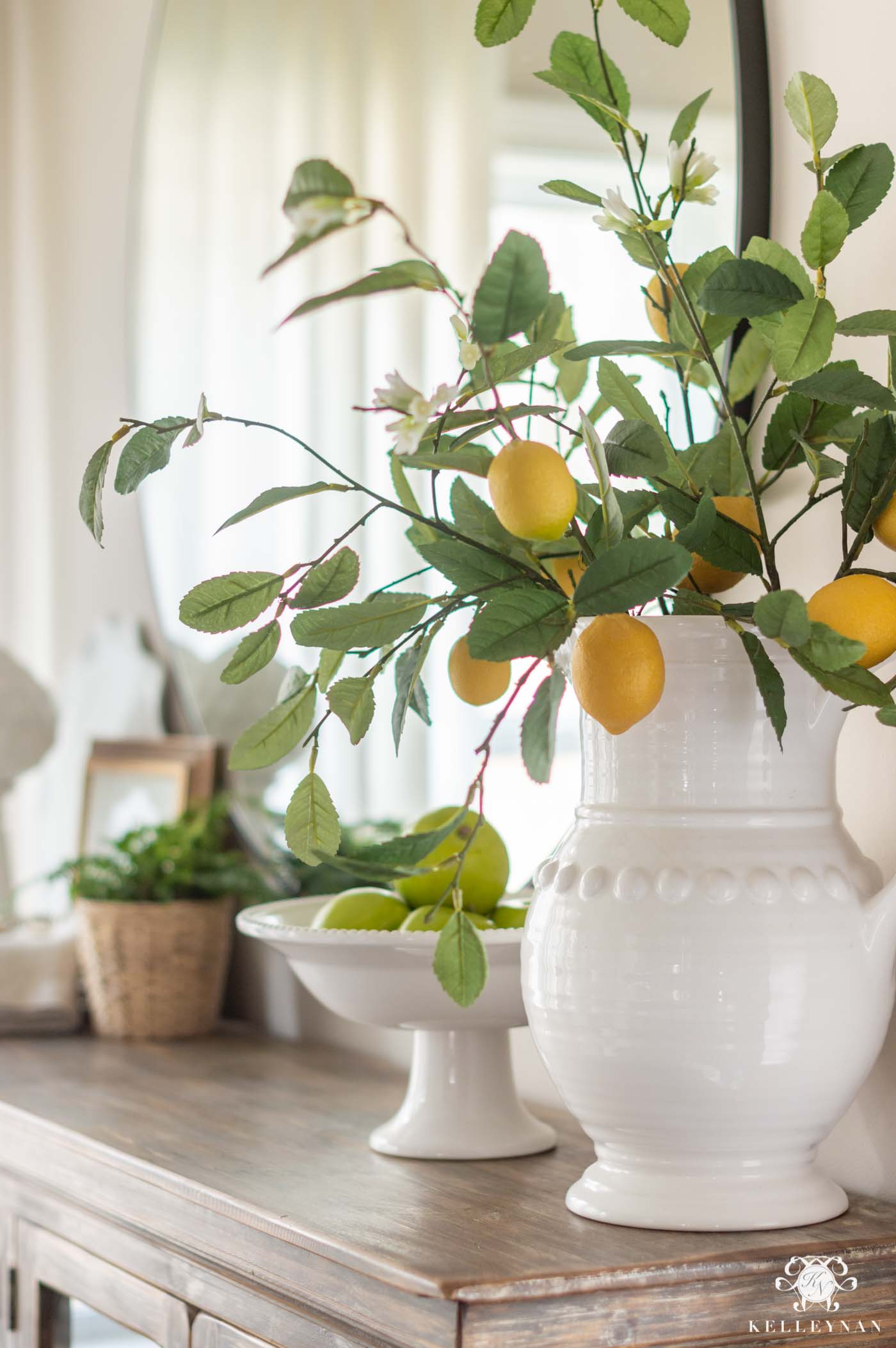 Even though I didn't get to the nursery yet this year, I do have a few little leafy survivors from a few months ago (I think I can officially claim them as a success?!) Along with the nature, I pulled a favorite stack of plates from the dining room sideboard, classic linen napkins and pearl-handled dessert forks for a more casual-for-spring buffet look. Again, decorating with what I had hidden in cabinets.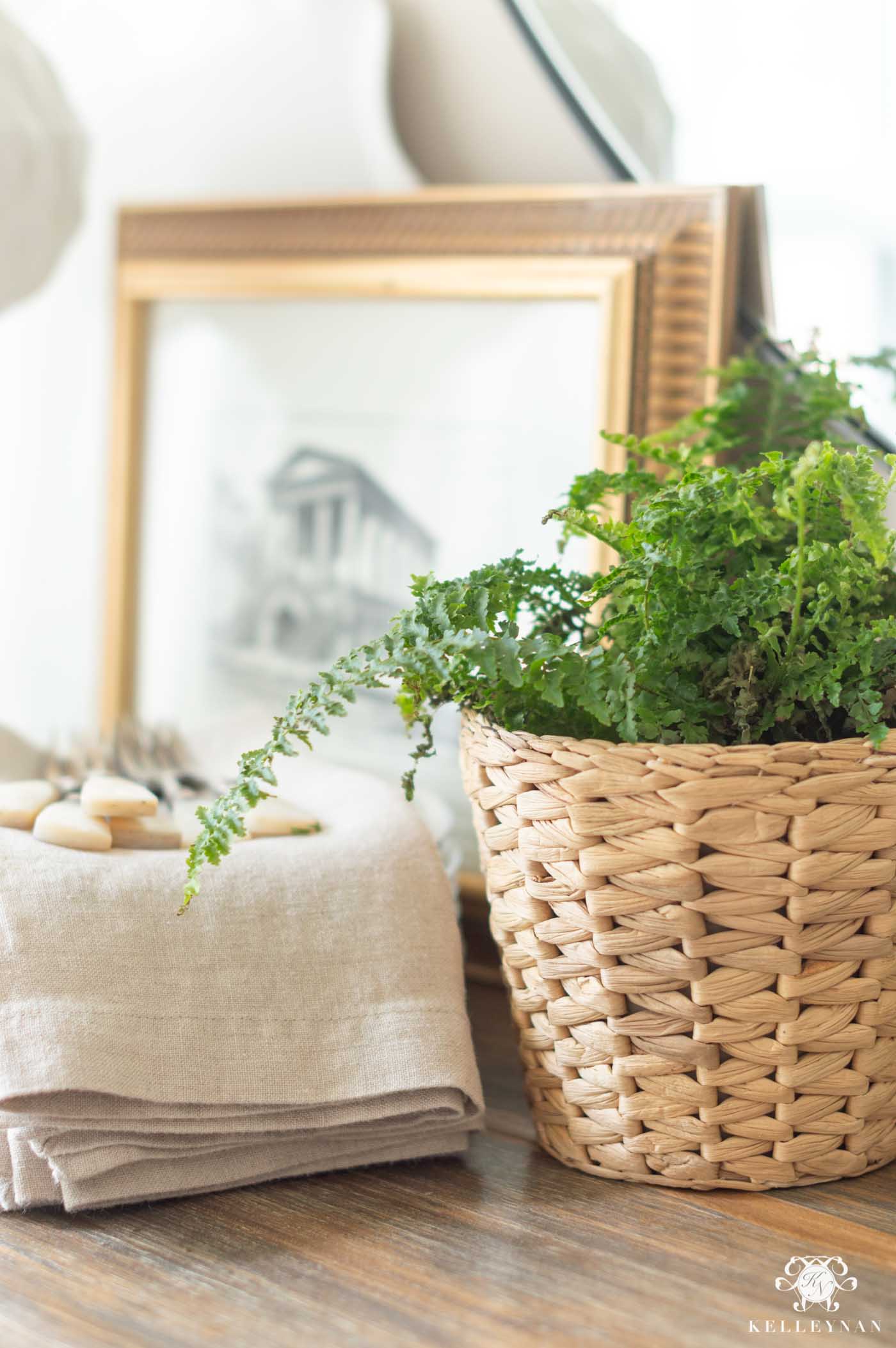 Spring Decor Updates in the Living Room
My color palette in the living room has remained unchanged for a while — which goes to show how a classic color scheme can transition from season to season seamlessly. I added red and tartan to the blue and white during Christmas so to lighten the indigo and navy a bit, I decided to incorporate a pale, coastal hue — just a little bit, shop my basement, re-style my bookshelves (also unchanged in FOREVER), and add a touch of faux life to some of my live plant survivors.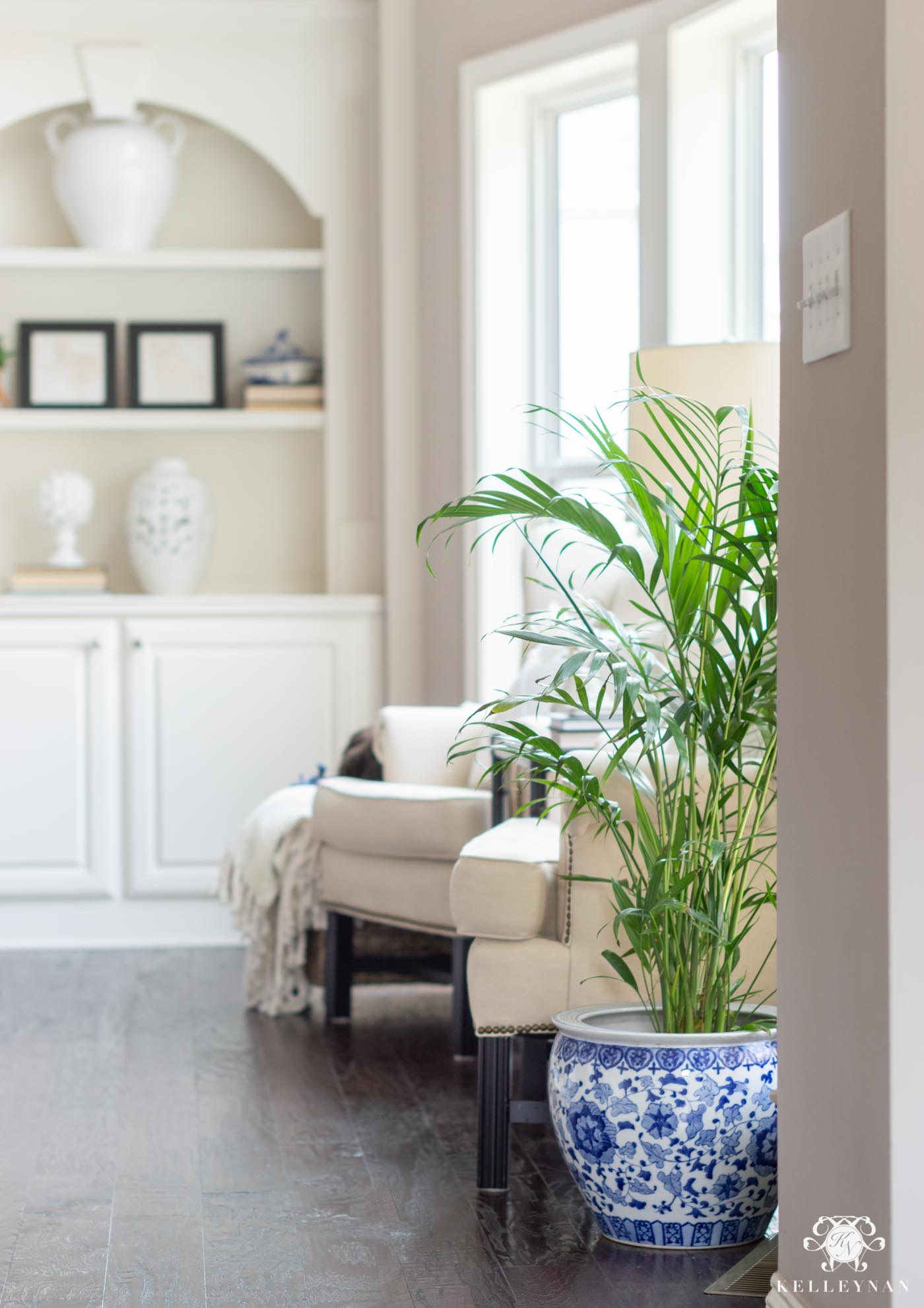 I mentioned earlier that my mom sent me home with a few key cast-offs generous donations as she was culling in preparation for her move. One of them was this huge blue and white planter that belonged to my grandmother — perfectly fit to hold my two-month old palm that I'll also claim as a survival success! Even though this is a classic that's been around for years, it's almost a twin to the XL ceramic Williams-Sonoma has HERE.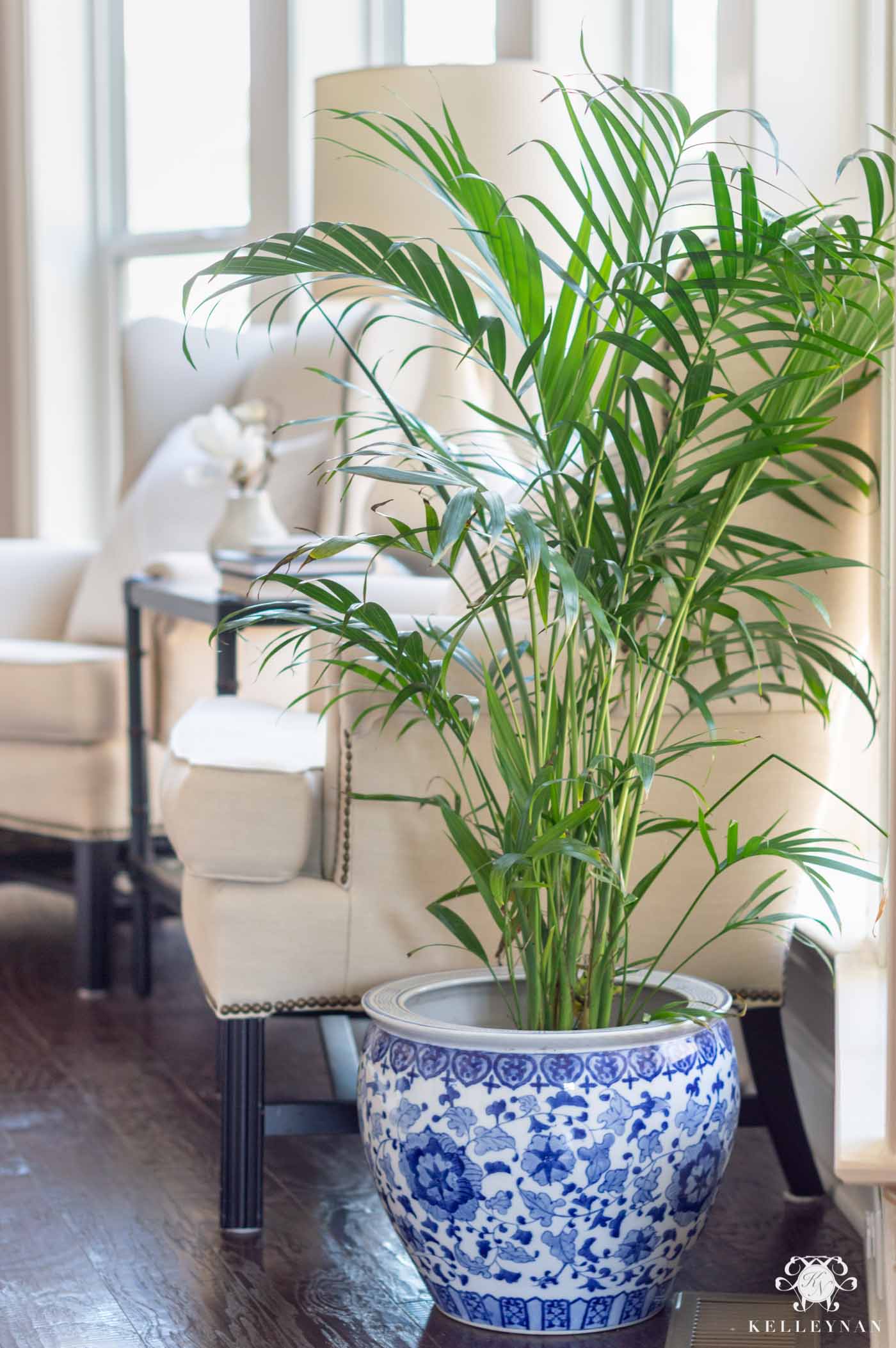 I ordered several of THESE faux magnolia stems but once they arrived, decided I loved the simplicity of a single stem in a bud vase — these are incredibly lifelike. Even though I have some crazy big arrangements with tons of stems, you don't have to have the entire garden piled into a gigantic vessel. If you're somewhere where blooms are already sprouting, snip a stem for a bud vase. I love keeping one at my kitchen sink (something else I learned from my mama).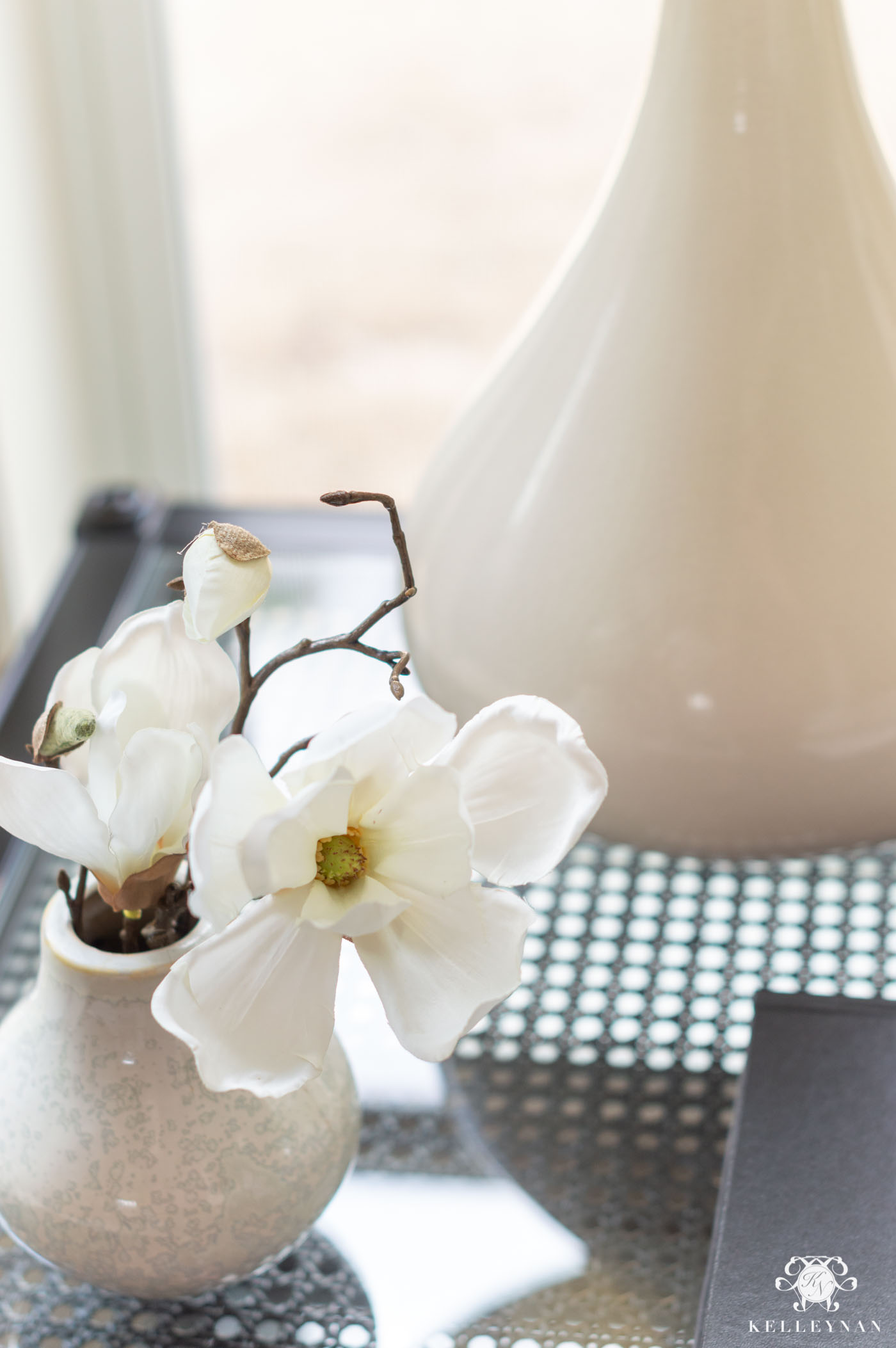 Sources: Wingback Chairs | Cane End Table (similar) | Bud Vase | Magnolia Stem | Blue and White Planter (similar)
I try to steer clear of is spending a lot of money on decor pieces that are only good for one season. Or pieces that are trendy. But adding timeless, classic, versatile pieces from time to time — well, that's something that's served me well. I ordered two of THESE crackled double-handle vases — they're big but are fit to go anywhere at any time and can be filled with stems or left bare. I love them. This spring, they were the starting point of my shelf revamp but next season, they may be in different places entirely.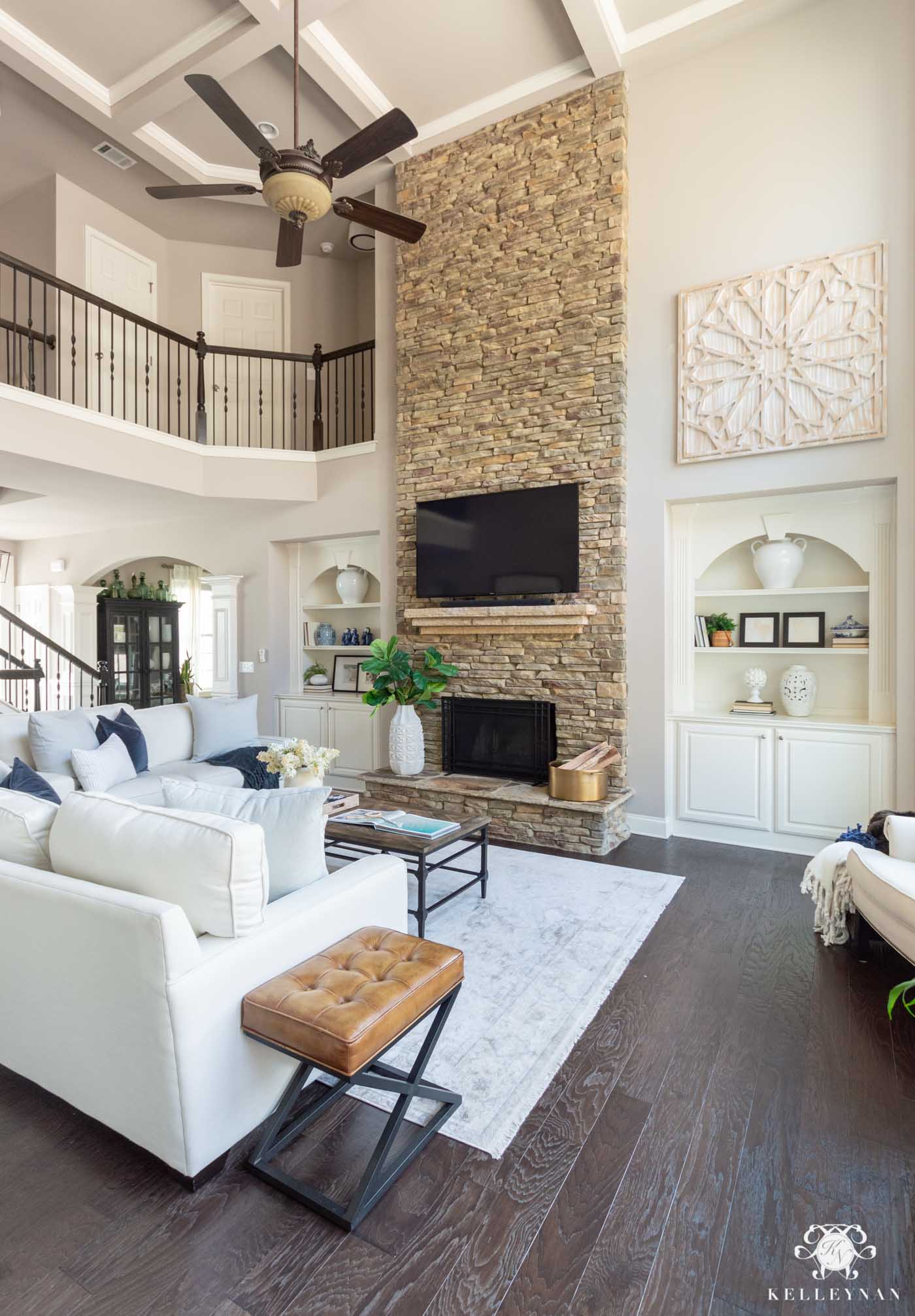 Sources: Large Wood Wall Art | Rug | Sofa | X Bench | Coffee Table | Fringed Throw | Brass Party Bucket | Fireplace Screen | Two-Handled Vase | Texas Foil Art | Georgia Foil Art | Ceramic Artichoke Statuette | Blue and White Ginger Jar | Clock | Rattan Tray | Ceramic Vase | Lilac Spray| Escape Coffee Table Book | Beaches Coffee Table Book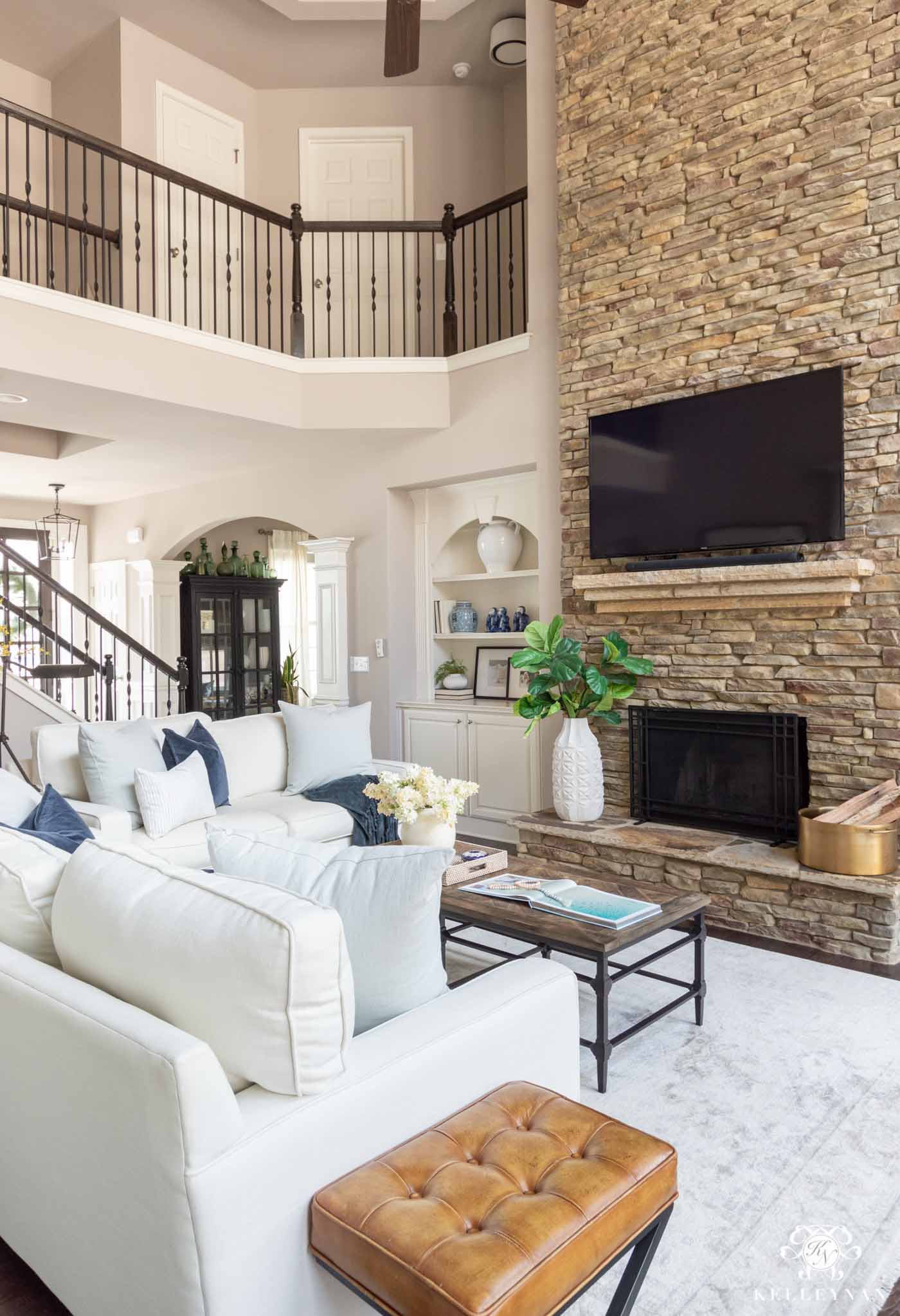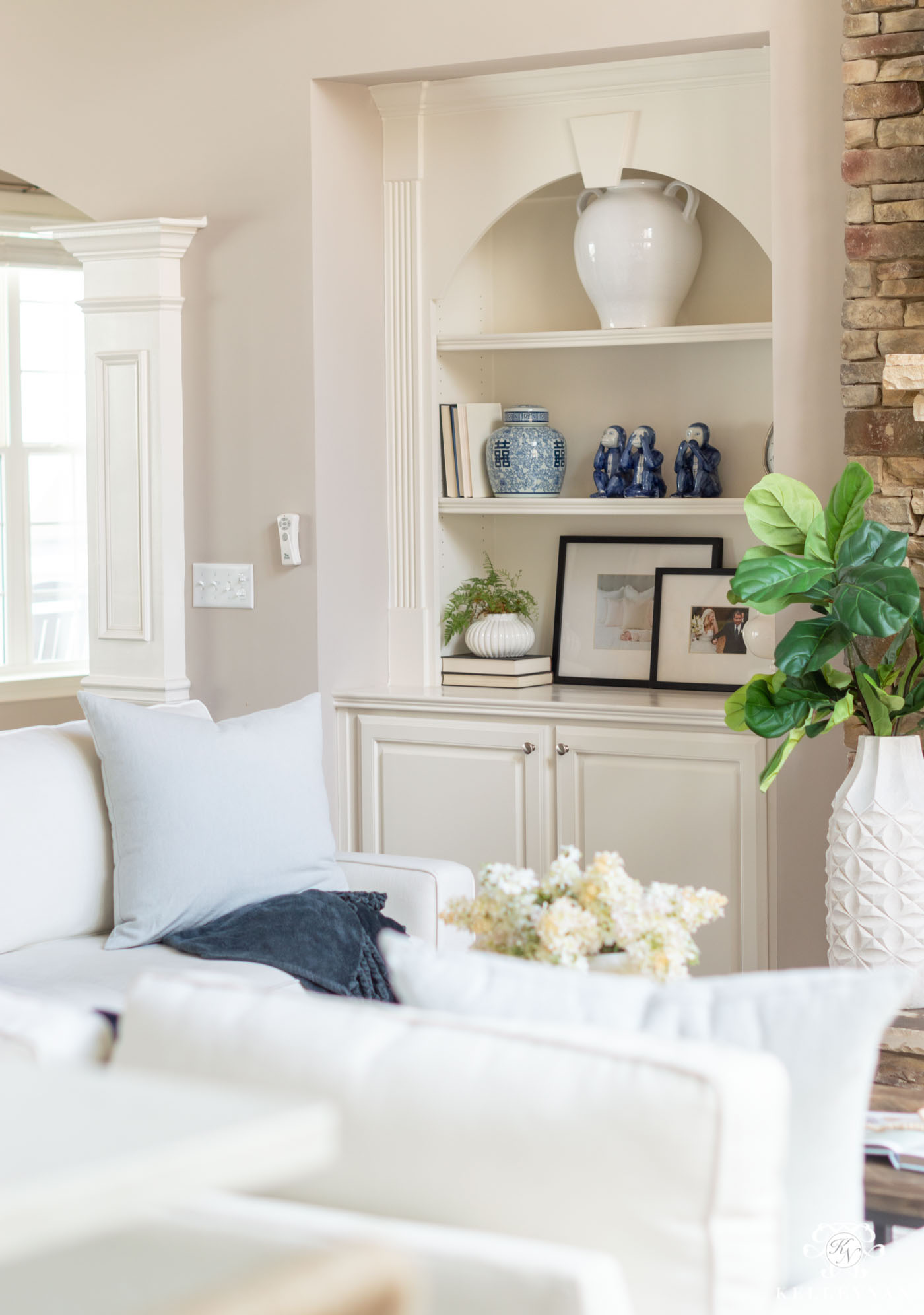 I have both faux and live plants sprinkled around the room; here's one I plucked from a shelf in the basement that I haven't used in years and have no idea where it was from originally…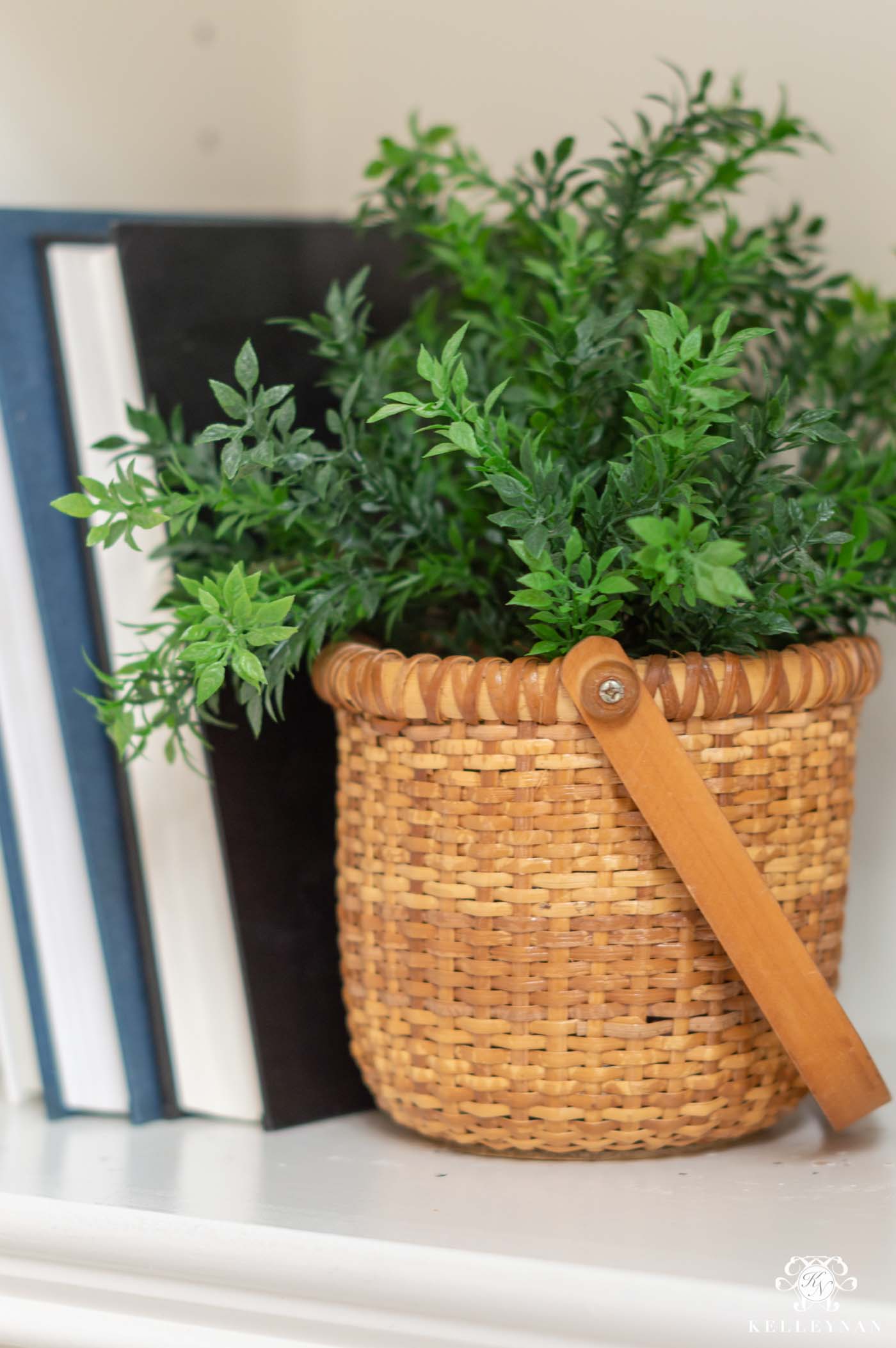 (note another nesting basket, courtesy of Gran Nan 😉 ) … and here's another survivor — a baby fern that I often forget about and have no idea how it hasn't kicked the bucket haha.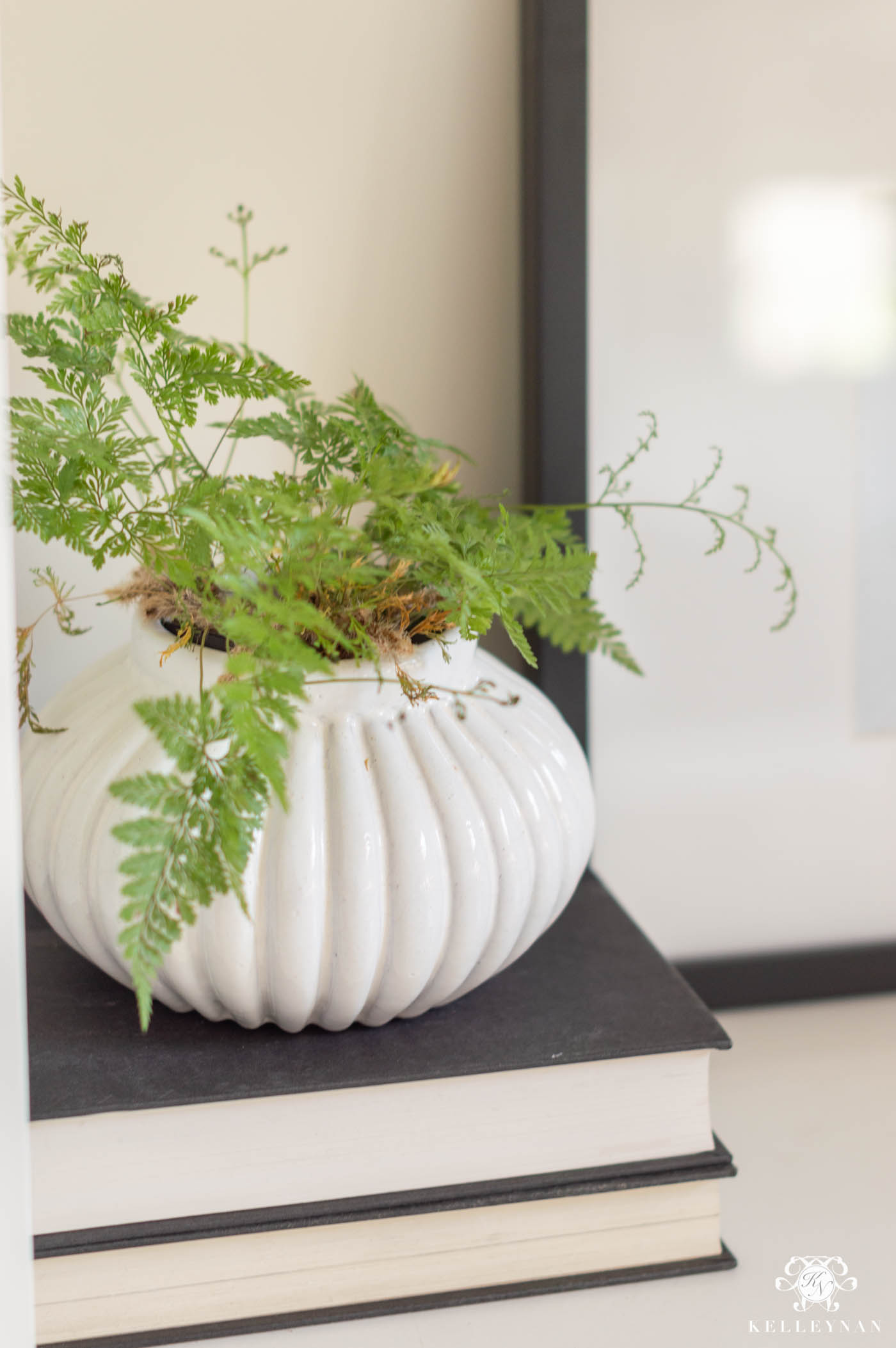 I rotate my favorite pillows throughout my house year-round and come up with different color and pattern combos with what I have in my arsenal. And, while the washed blue-indigo velvet pillows have been a staple in this room for over a year, I did bring in some big, full, 24 inchers in a pretty, soft, pale mist-blue (HERE) for either side of my sofa and loveseat. (c/o Tonic Living) I also love black and white mixed with all shades of blue so THESE striped lumbars are a new addition, also. The wingback chairs got coordinating square pillows, made of the same fabric, but in a different sewing pattern (see those HERE).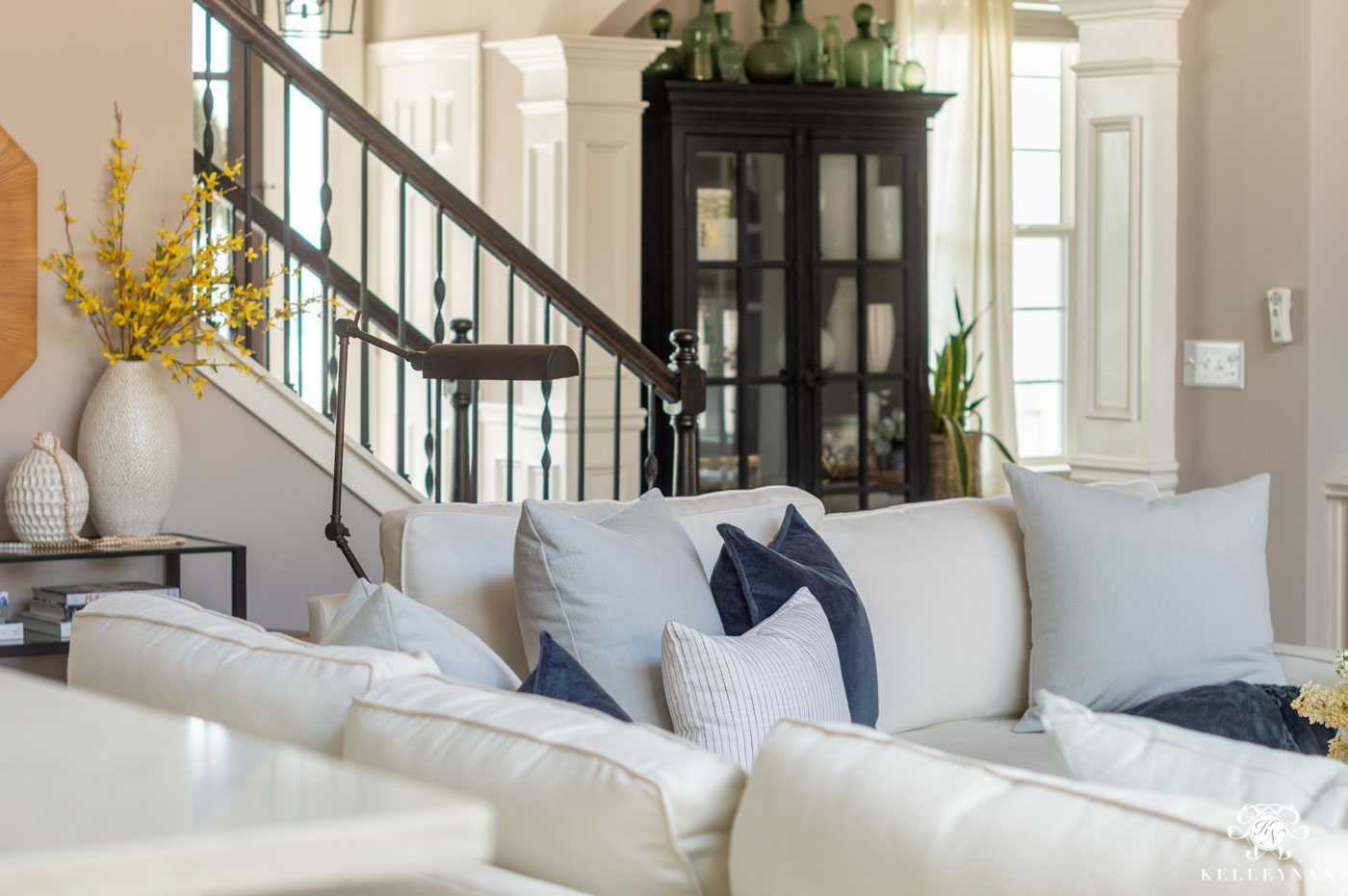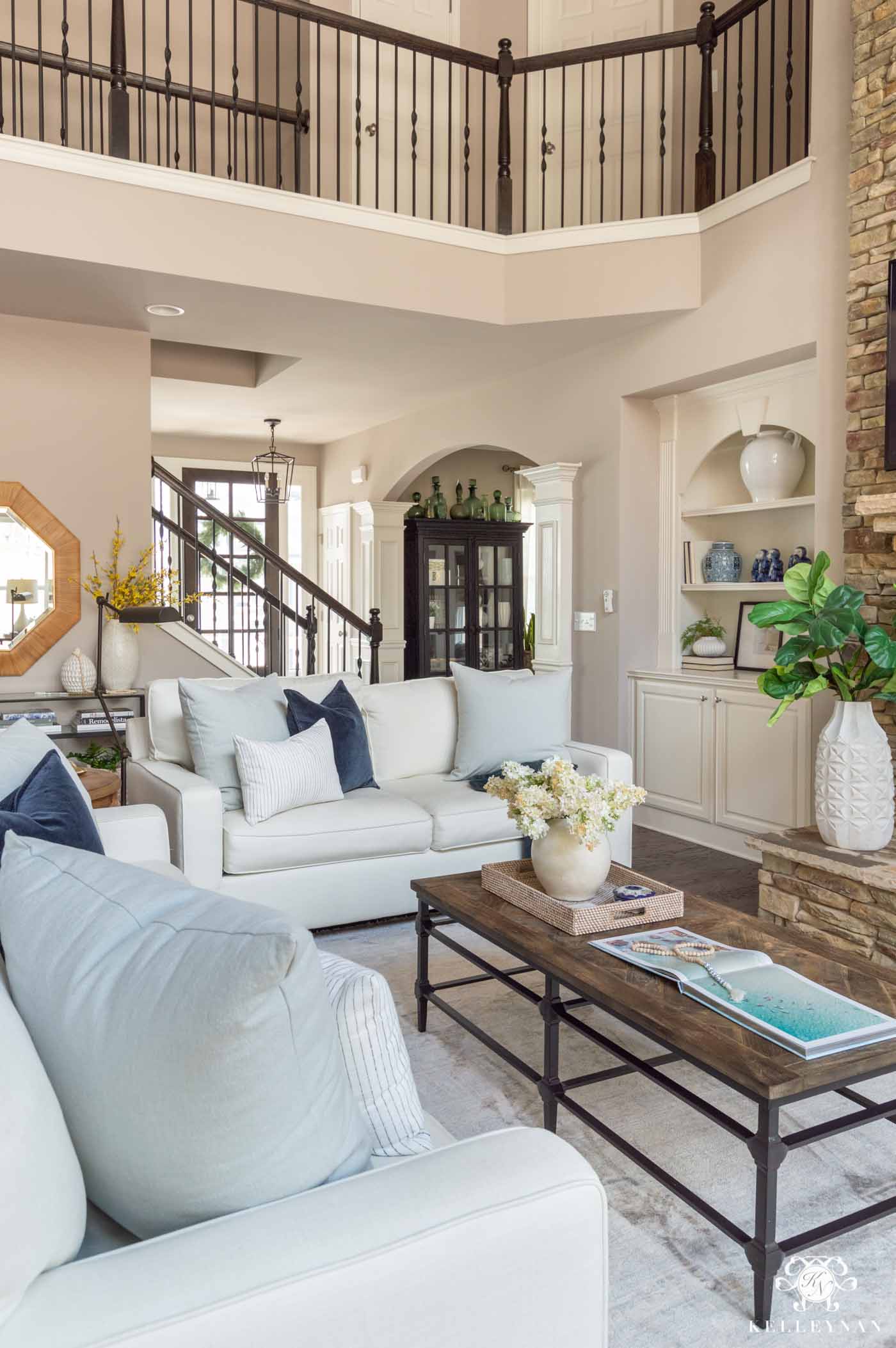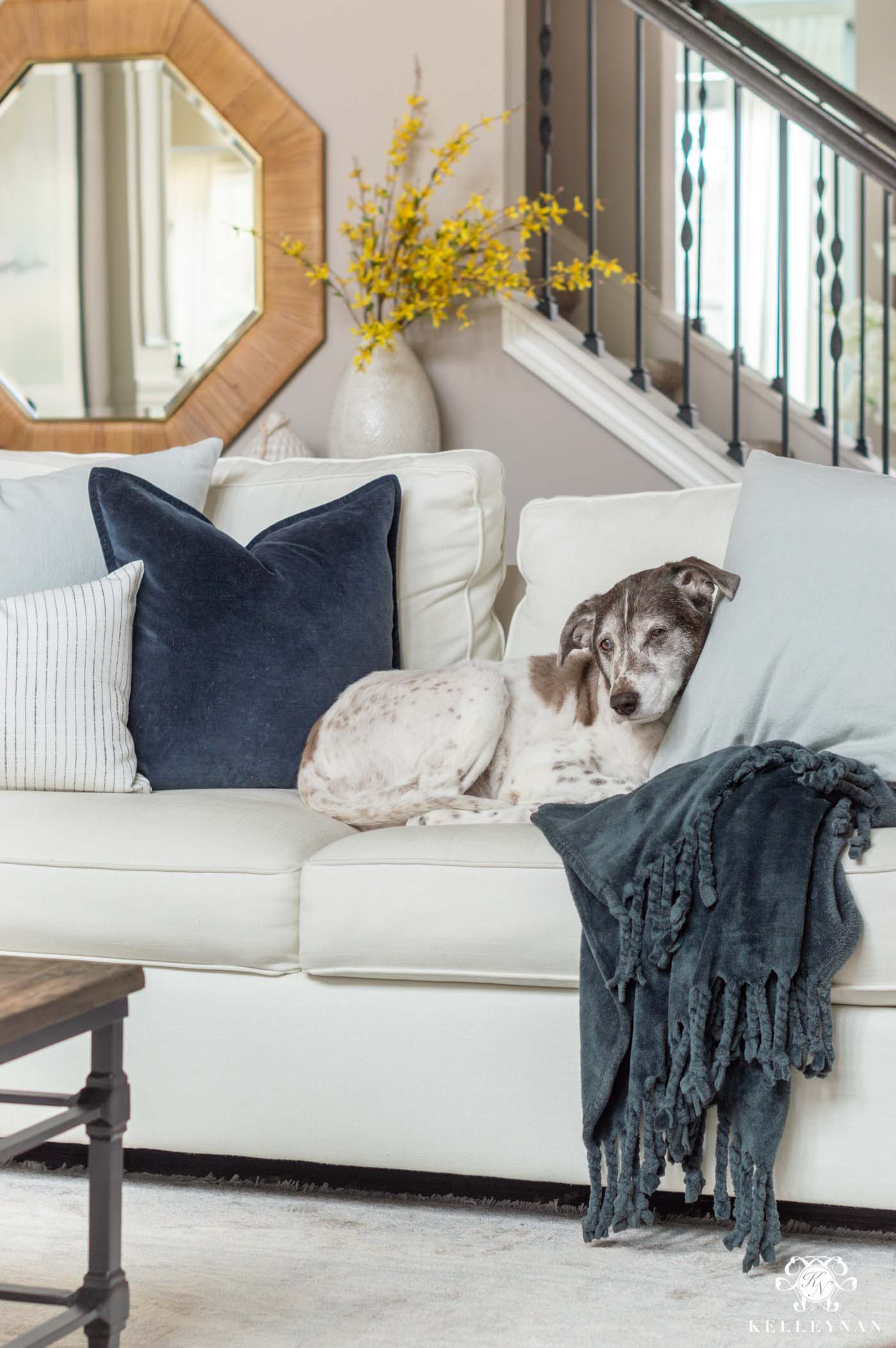 Tap Corresponding Links Below to Shop Spring Pillows

1. 14″x20″ Striped Lumbar Pillow // 2. 24″x24″ Sea Mist Pillow // 3. 20″x20″ Striped Pillow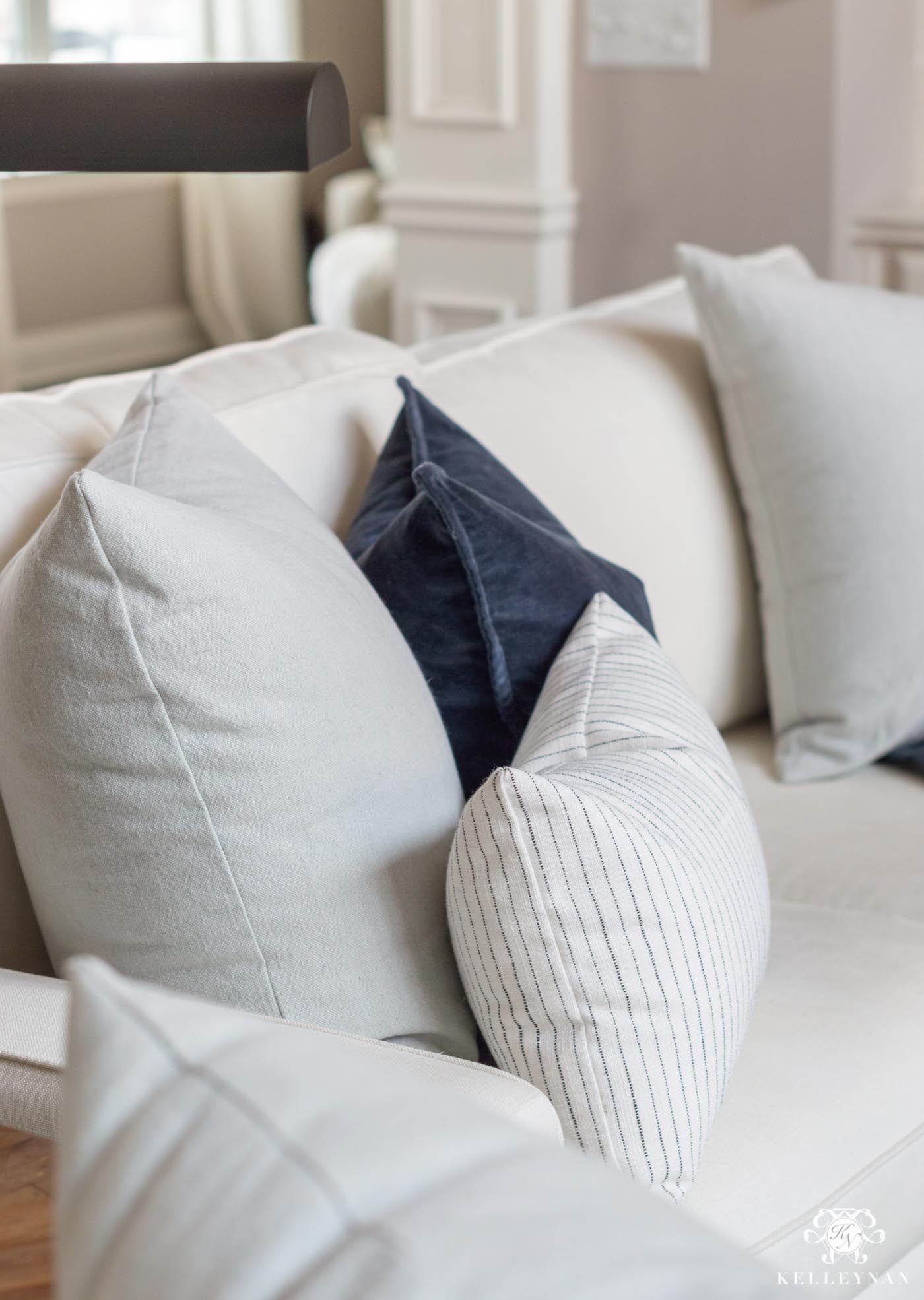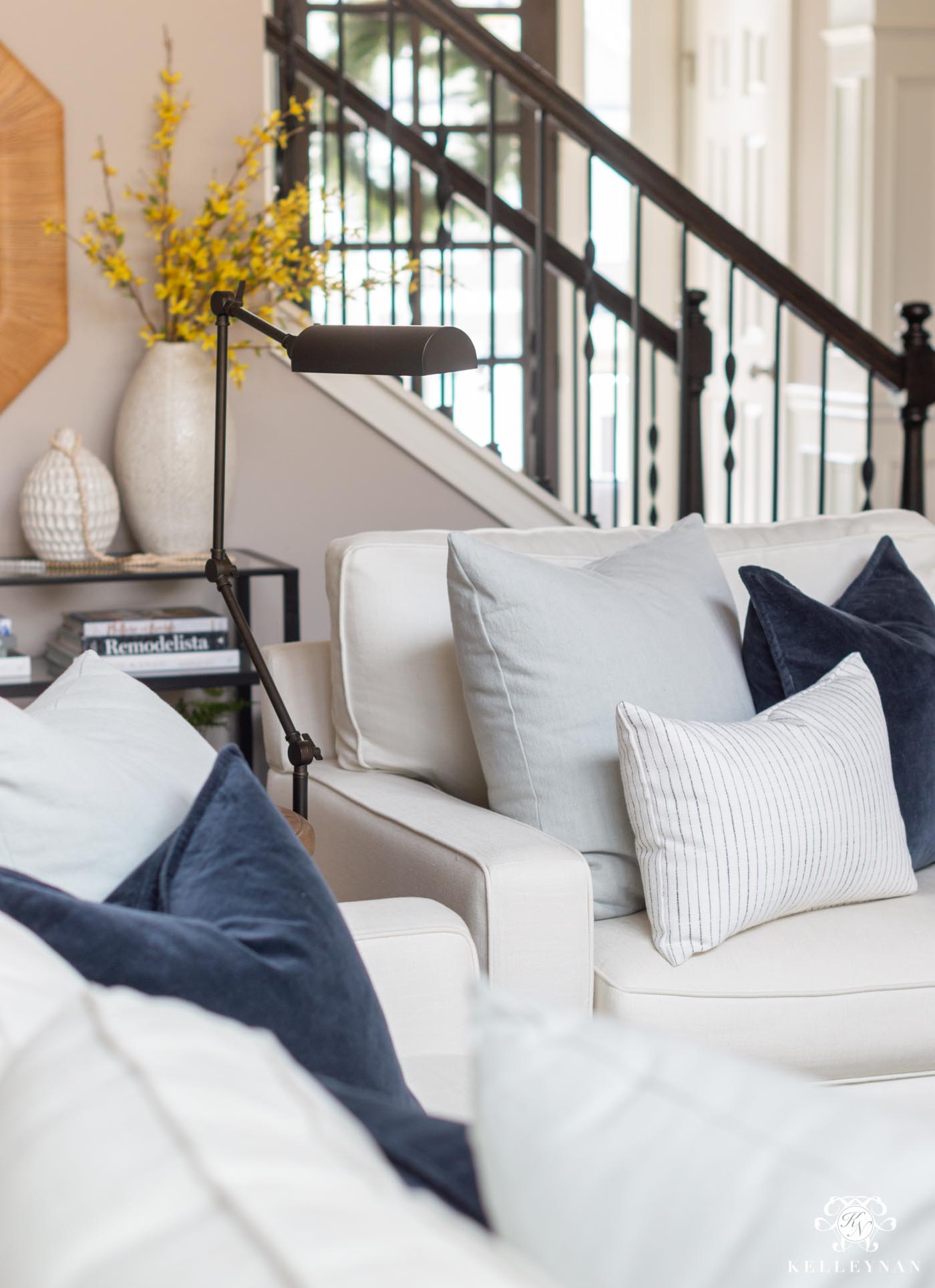 Another place that feels naked when I've let the last of the fresh flowers die is the coffee table. Especially with the dark contrast of the ivory sofas and indigo blue pillows, I like to have something to kind of soften the center of the room. This arrangement is made up of two different kinds of cream lilacs — my favorite stems HERE, and a second stem with pin hints HERE (similar).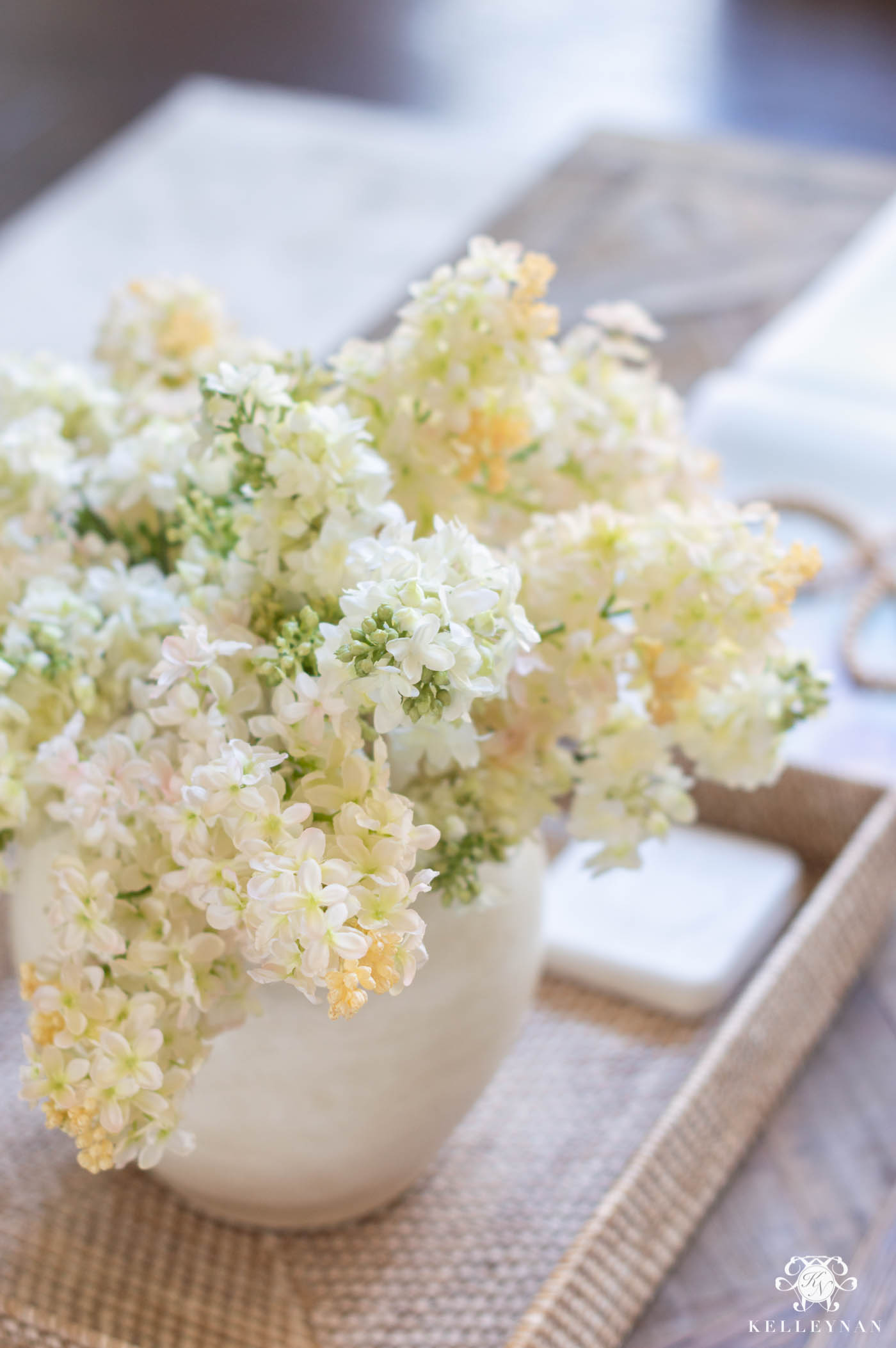 My console table stays pretty consistently styled with stacks of some of my favorite coffee table books and a mix of live and faux plants. The blue-green organically shaped glass vase was another basement score I haven't used in years. The forsythia stems are so so good!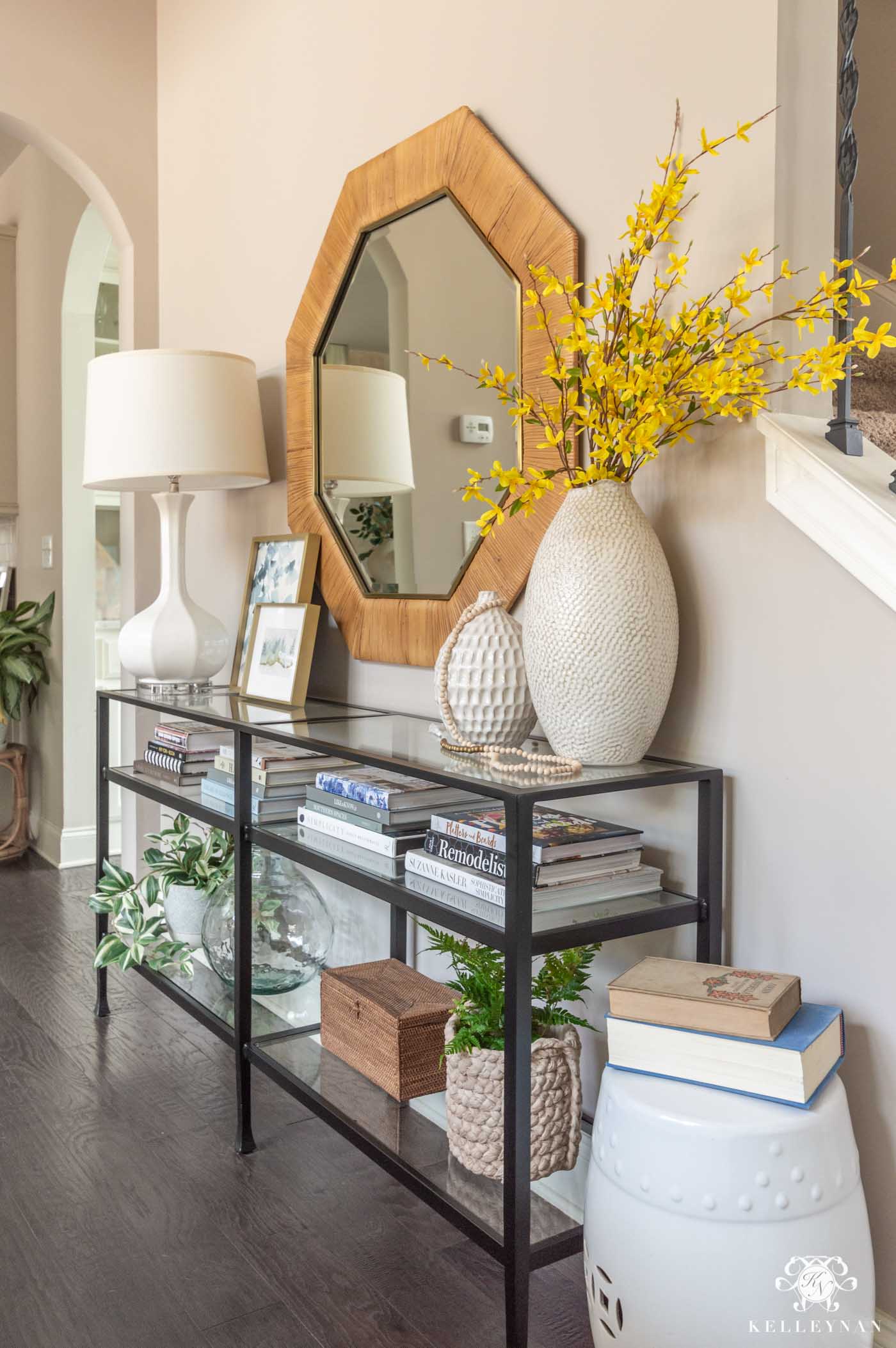 Sources: Rattan Mirror | Console Table | Tall Textured Vase | Forsythia Stems | Small Textured Vase | Blue Gingko Art | Beyond the Trail Art | Wood Bead Garland | Lidded Rattan Box | Garden Stool
Sources — Coffee Table Books: Cut Flower Garden | Color Me Floral | Remodelista | Platters and Boards | Southern Spaces for Beautiful Living | Simplicity | New York In Bloom | Elements of Family Style | The Art of Elegance | Blue & White and Other Stories | Elements of Style | Sophisticated Simplicity
I always tend to forget about my live plants on this table so a few months ago, I brought in THIS variegated trailing plant to lessen the burden, haha. It's a good one…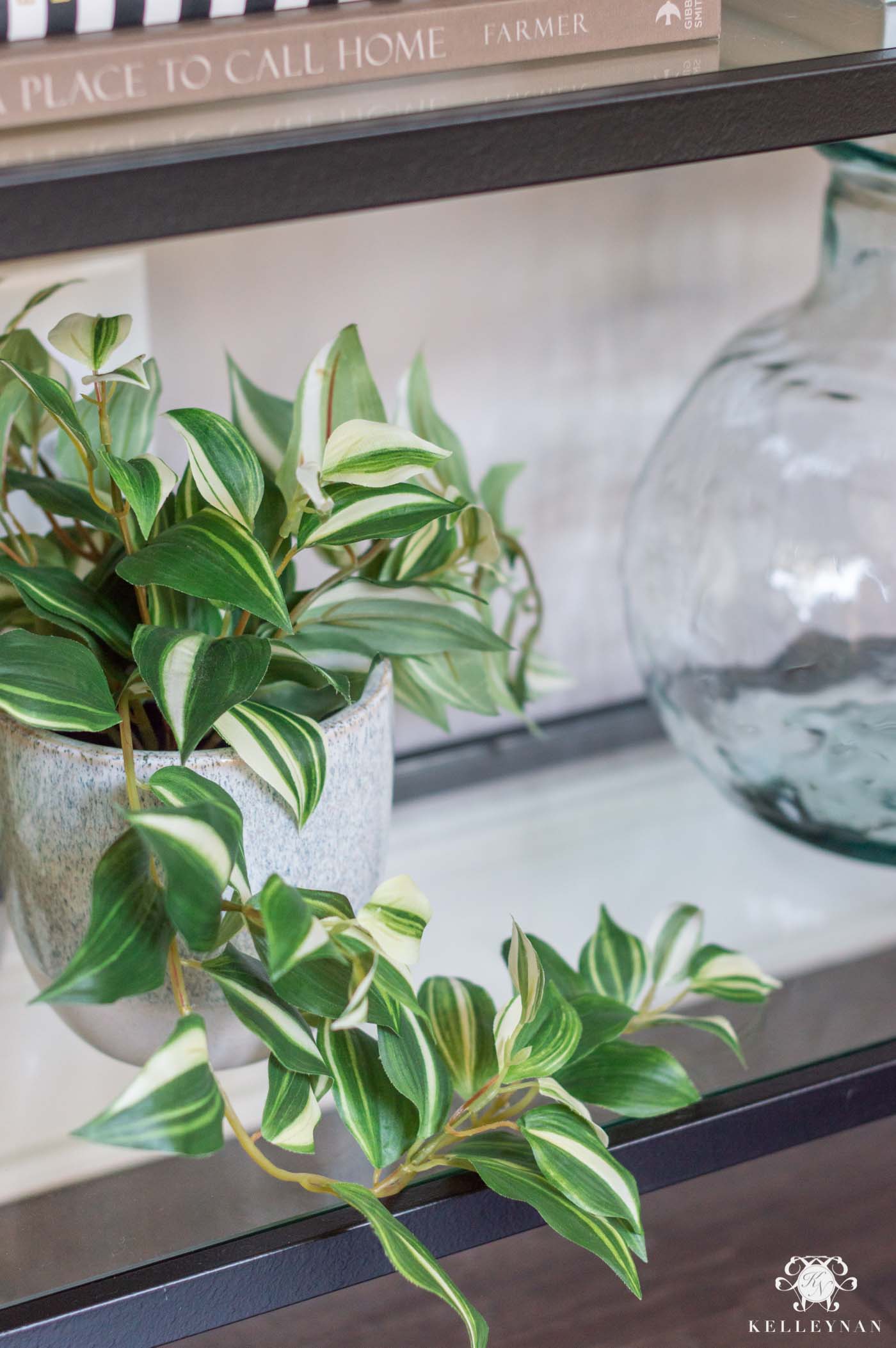 but somehow, I still have another lucky fern survivor that's been hanging in there for a while.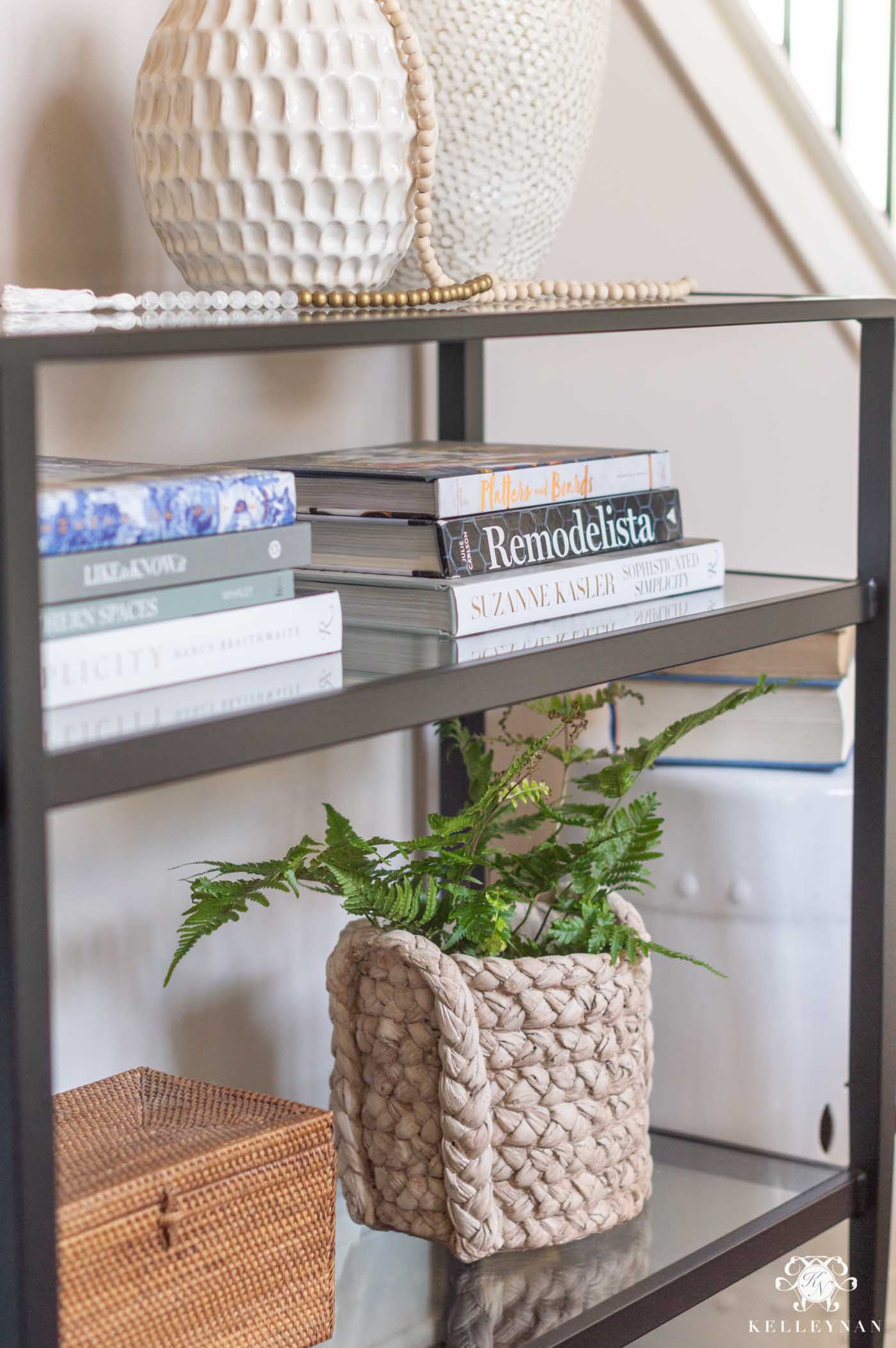 Spring Decor Updates in Other Spaces
I just recently shared the full downstairs guest bedroom makeover HERE but I wasn't shy about adding a major dose of spring — obviously, I went a little crazy with the forsythia haha. But that's something else I love about amping up my faux collection — you can do things like throw an obnoxious amount of stems into a basket and it just works.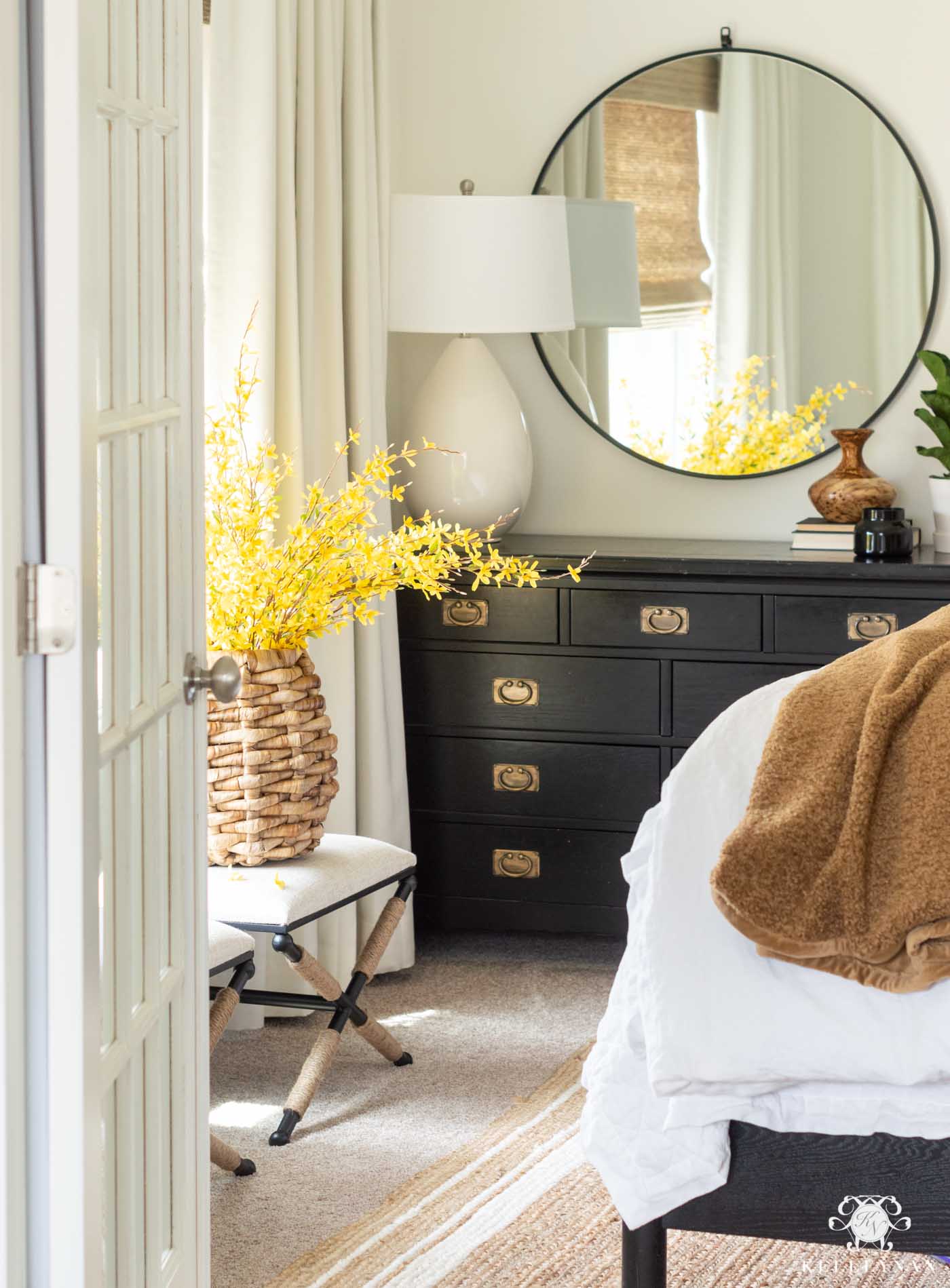 Sources: Mirror | Rug | X Bench | Dresser (similar) | Lamp | Teddy Bear Throw | Duvet Cover | Diamond Linen Quilt | Forsythia Stems | Candle
On the flip side, if you aren't down with a bushel of blooms, one single stem can accessorize a spot beautifully.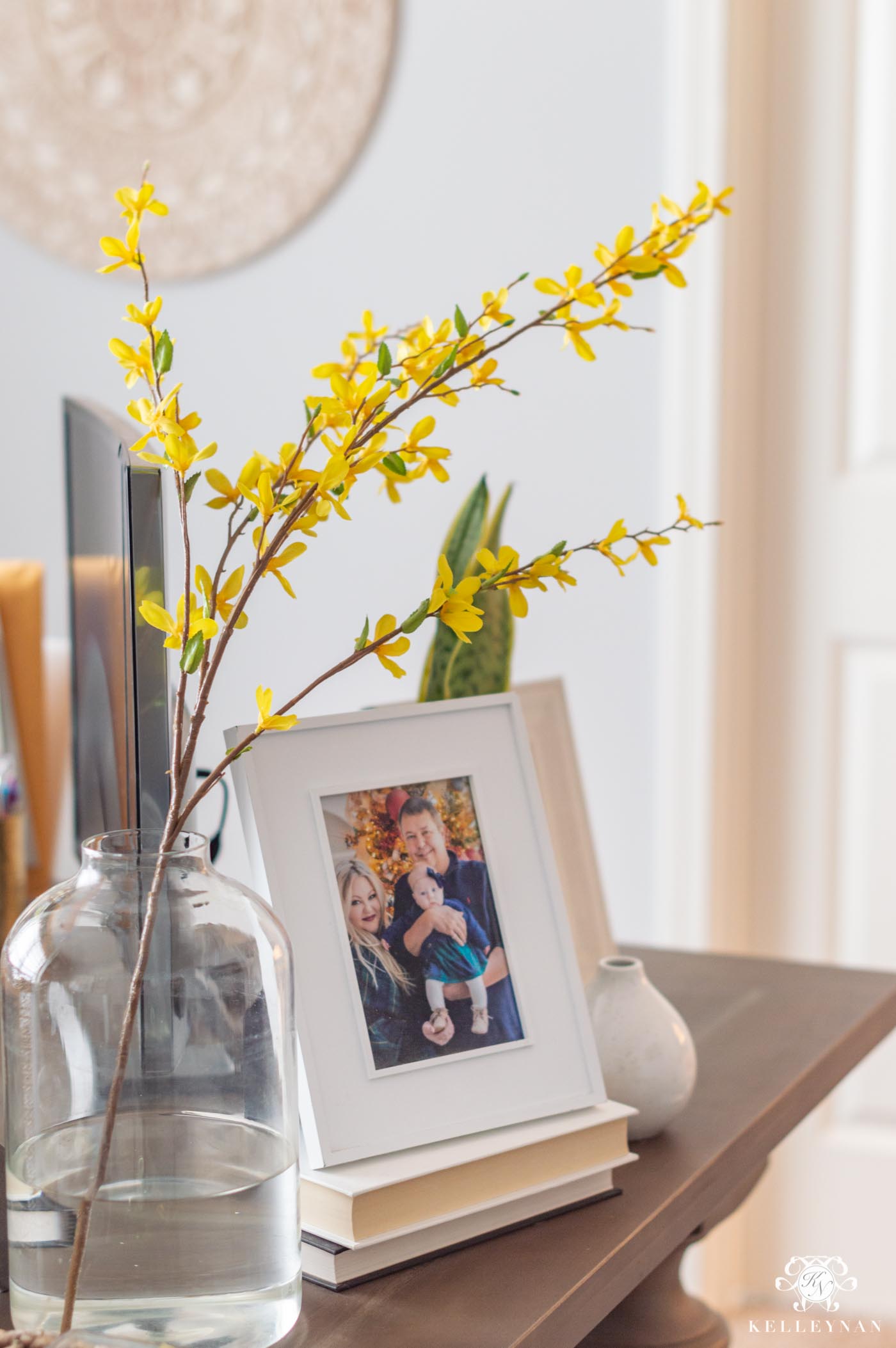 I honestly didn't intend for this to turn into a full spring home tour but I've been tweaking things for months and feel like this is the first time I've checked in in a while! In review, my home-bound spring updates were made possible by:
Online ordering a few new additions over the past couple of months — while this is my first time sharing them, I've been living with them for a little bit 😉
Shopping my basement and reviving old favorites
Repurposing, repositioning, and mixing pieces from different rooms
Falling in love with faux florals
Depending on my stash of faux fruit
Using groceries I had on hand for simple centerpiece options
Identifying utilitarian favorites, hidden in cabinets
Creating homes for new-to-me hand-me-downs (thanks, Gran Nan!)
While I wanted to be thorough and touch most of the spaces on my main floor, you can stick to celebrating spring in your home in a way more abbreviated way. Order stems for a single faux floral arrangement. Throw a new pillow into the mix or swap your bedroom throw pillows with your living room. Head outdoors with your shears. Grab a can on spray paint and paint ceramic decor you wouldn't otherwise use, in a single tone. Did you stock up on B&BW candles during "candle day" a few months ago? Light those babies! Don't cancel spring in your home just because you can't make it out; we need the joy of creating in our homes now more than ever. Stay healthy, stay inspired, stay resourceful.
I'm working on an outdoor space and I'll be sharing a separate spring indoor space soon; if you aren't already, subscribe to my emails to get all the updates 😉
Shop the Post
ENTRY

SIMILAR VASES

DINING ROOM

KITCHEN

BREAKFAST NOOK

LIVING ROOM

1. 14″x20″ Striped Lumbar Pillow // 2. 24″x24″ Sea Mist Pillow // 3. 20″x20″ Striped Pillow







FLORAL STEMS