We are about a week into getting resourceful and creative with our groceries (I'll share my process at the bottom of the post!) and today, I have an easy recipe that calls for zero fresh produce — just chicken, cheese, a few pantry items, and frozen veggies. As a bonus, it's great for leftovers and simple to throw together! I've had an Instant Pot for about two years and while I love it, I haven't gotten incredibly adventurous with it because I do think there's a bit of a learning curve when it comes to experimenting. That said, there's one dish specifically that has become our go-to, one pot meal — pressure cooker cheesy chicken and brown rice.
*Posts on KelleyNan.com may contain affiliate links. Click HERE for full disclosure.*
As a lover of casseroles, one-pot dishes, comfort food and dinner "bowls" with *all the things*, the Instant Pot chicken and rice hits all the marks. It's great for weeknights or on the weekends when everyone has activities going on.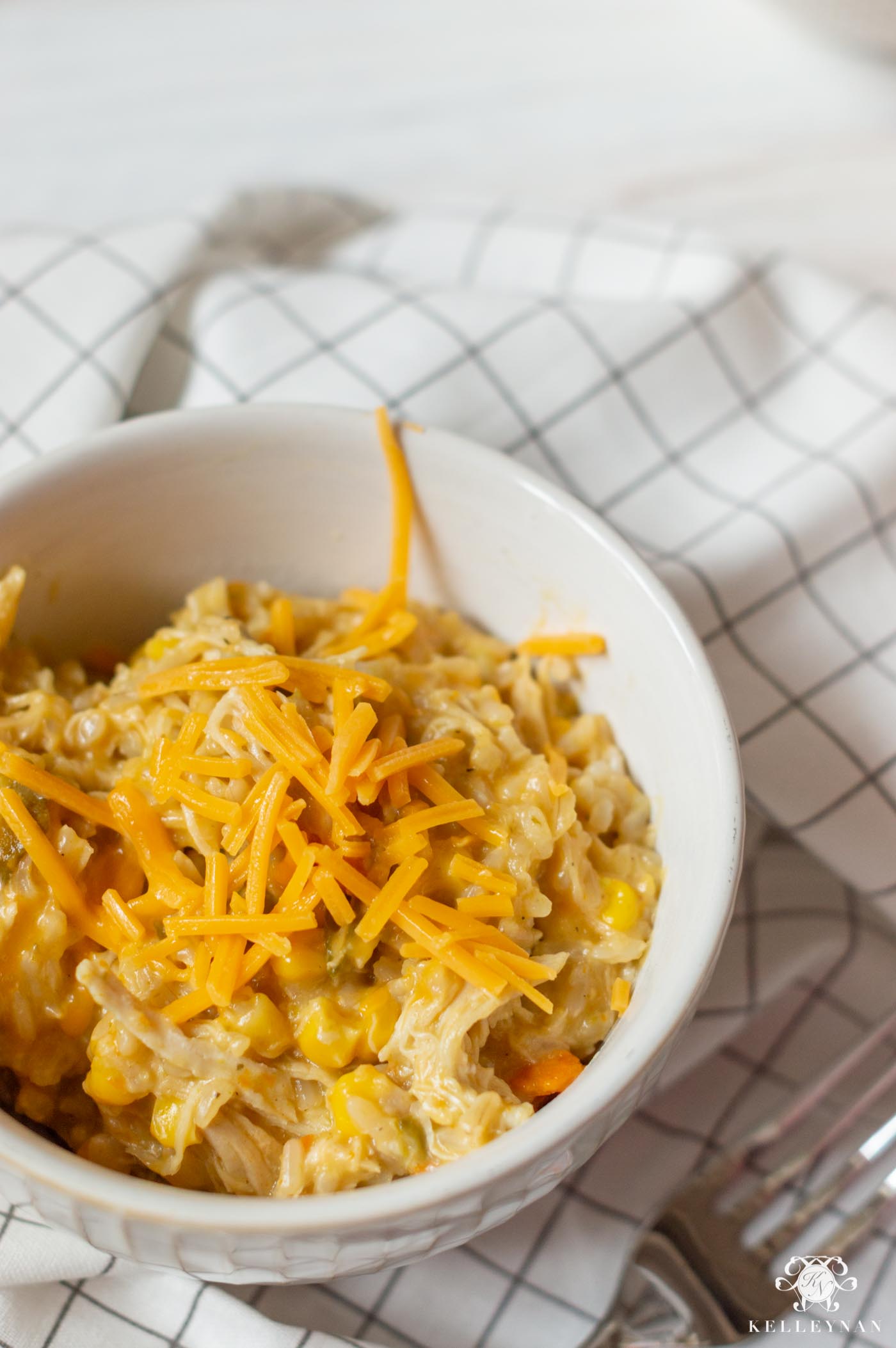 The Pressure Cooker I Use
The pressure cooker I use specifically is the 6 QT Instant Pot Duo Plus 9-in-1; it has so many functions I haven't tried so the one-pot possibilities are endless. I love that when I'm pulling together a dish, I can use the saute' function first for fresh veggies or an initial sear of my meat. For someone who didn't have pressure cooker knowledge before, it's easy to use and I've successfully Googled any questions I've had along the way. The stainless steel pot comes out all the way which makes for easy cleaning; it's also dishwasher safe.
How to Make Instant Pot Cheesy Chicken and Brown Rice
Before we jump into the recipe, please note that these instructions are specifically for brown rice; other rice cooks differently so times may have to be adjusted but all my experimentation has been with brown rice exclusively. This dish also takes a little longer than a lot of dishes to reach pressure, due to the contents. Be patient and trust that it will get there 😉 I'm not a pressure cooker or Instant Pot expert by any stretch of the imagination but I've adjusted this recipe many times to get it just right.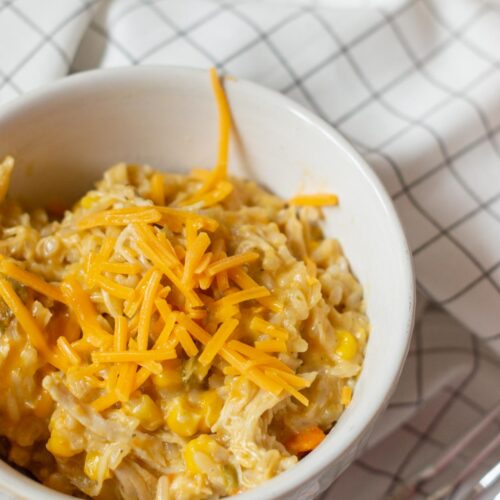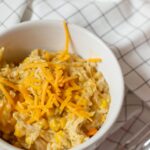 Pressure Cooker Cheesy Chicken and Brown Rice
With only a few ingredients and a pressure cooker or Instant Pot, whip together this one-pot batch of family friendly comfort food!
Natural Release Time
17
minutes
Ingredients
2

chicken breasts

1

can cream of chicken soup

2

cups

chicken broth

1

tbsp

olive oil

2-3

cups

frozen vegetables

2

cups

brown rice

2

cups

sharp cheddar cheese

1

tsp

onion powder

1

tsp

garlic salt

1

tsp

pepper
Instructions
Rinse brown rice and set to the side in a colander.

Drizzle olive oil in the bottom of the slow cooker and set to "saute"

Once pot is heated (1-2 minutes), add chicken breasts to pot. Add the onion powder, garlic salt, and pepper. Cook a few minutes on one side and then flip and cook a few minutes on the other side; the chicken won't be cooked all the way through.

Add frozen vegetables on top of the chicken -- try to spread evenly over the chicken and around in the pot to create a thin layer

Add can of cream of chicken and without stirring, try to spoon soup evenly around the pot, on top of the chicken and vegetables.

Add chicken broth and without stirring, swish it around evenly.

Add the rinsed brown rice evenly on top and press it down into the soup/broth mixture, without stirring, making sure it is all submerged/wet.

Put the lid on, lock it into place, make sure the vent is "sealed", and set the pot to "pressure cook" on "high" with a time setting of 23 minutes. It will take a while for the pot to get to pressure because of all the contents -- stay patient. Once it reaches pressure, it will count down from 23 minutes.

Once the 23 minute timer goes off, let it continue to set and naturally release steam for an additional 17 minutes. You don't need to touch anything during the natural release stage.

At 17 minutes, move the valve to the "release" position and let the remainder of the pressure settle. Once it is finished (and the pressure indicator button drops down), carefully remove the lid. Take a wooden spatula and locate the chicken breasts. Pressing on them firmly with the spatula, they should natural start shredding and falling apart. Repeat until the chicken has been shredded from the pressure of the spatula.

Add cheese to the pot and stir -- you can use less or more, depending on how much you like cheese.

Serve, add salt to taste, and enjoy!
For Step 7, this is what the pot should look like — even the rice that isn't totally submerged should at least be patted down and "wet".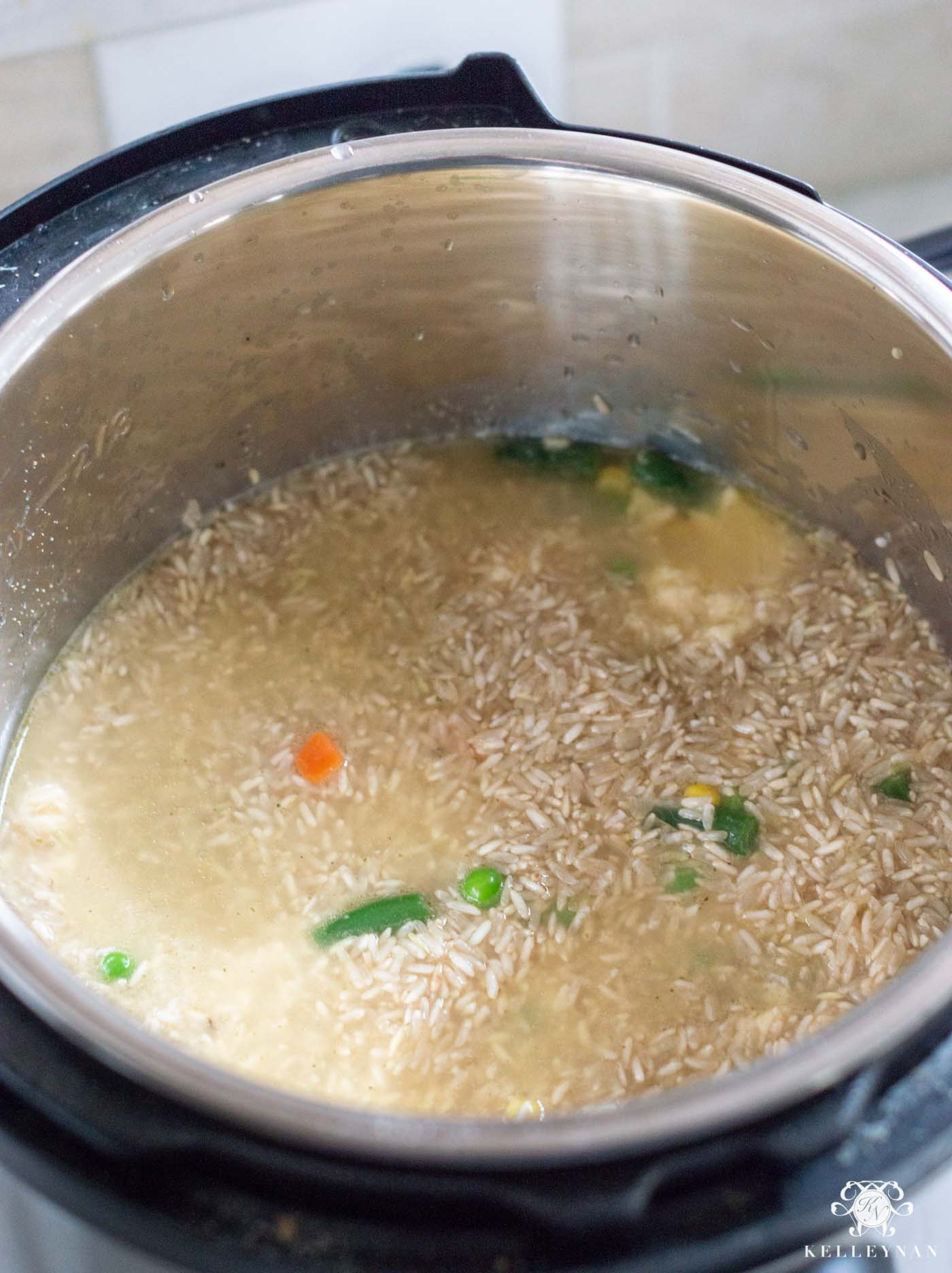 This is what the Instant Pot settings look like after the minutes have been set and it goes into the mode of building pressure.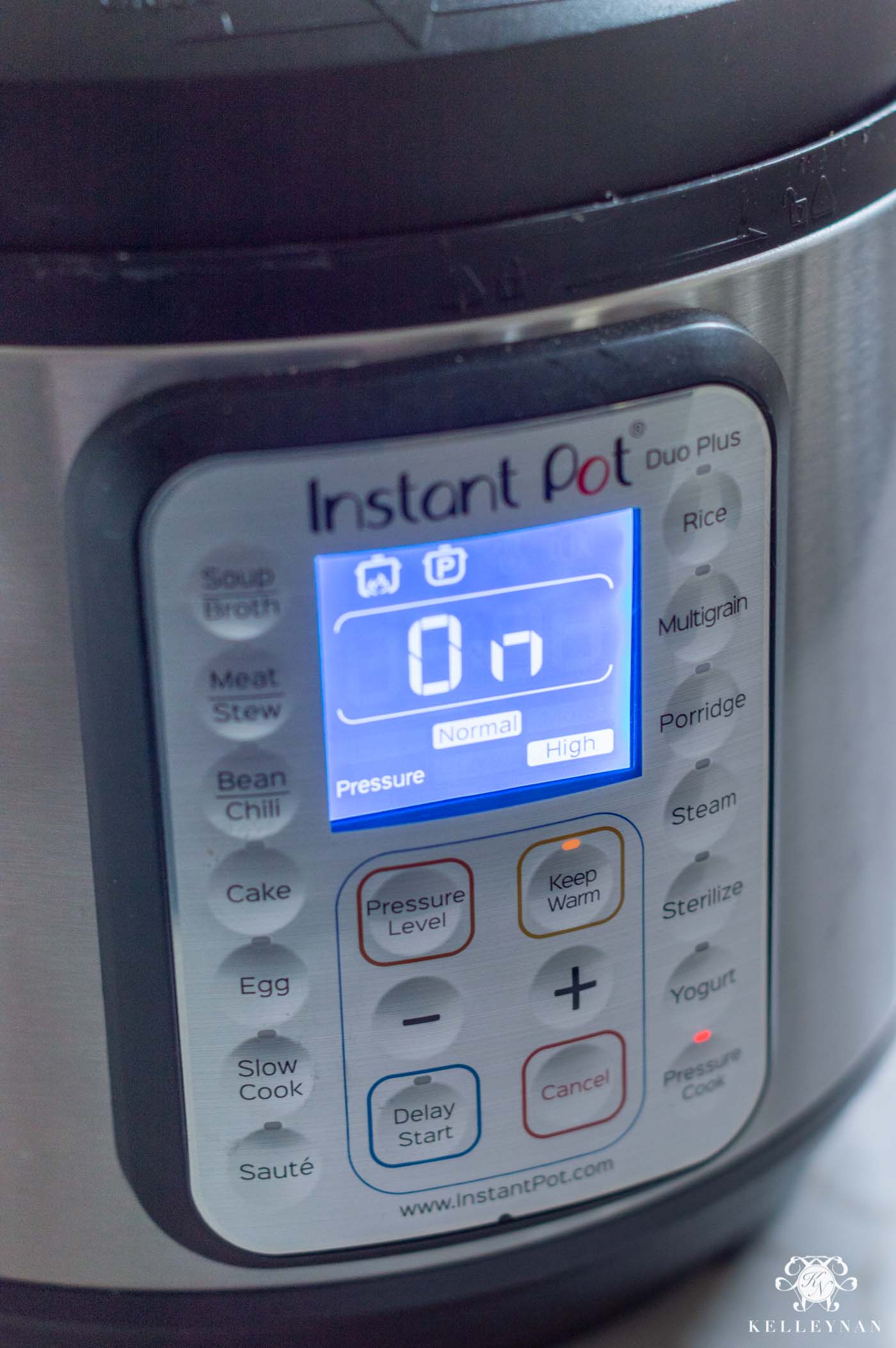 And when it's finished, it's absolutely glorious! You can use as little or as much cheese as you like — I love cheese so I go heavy on it; I even added a light sprinkling to top of the bowls here.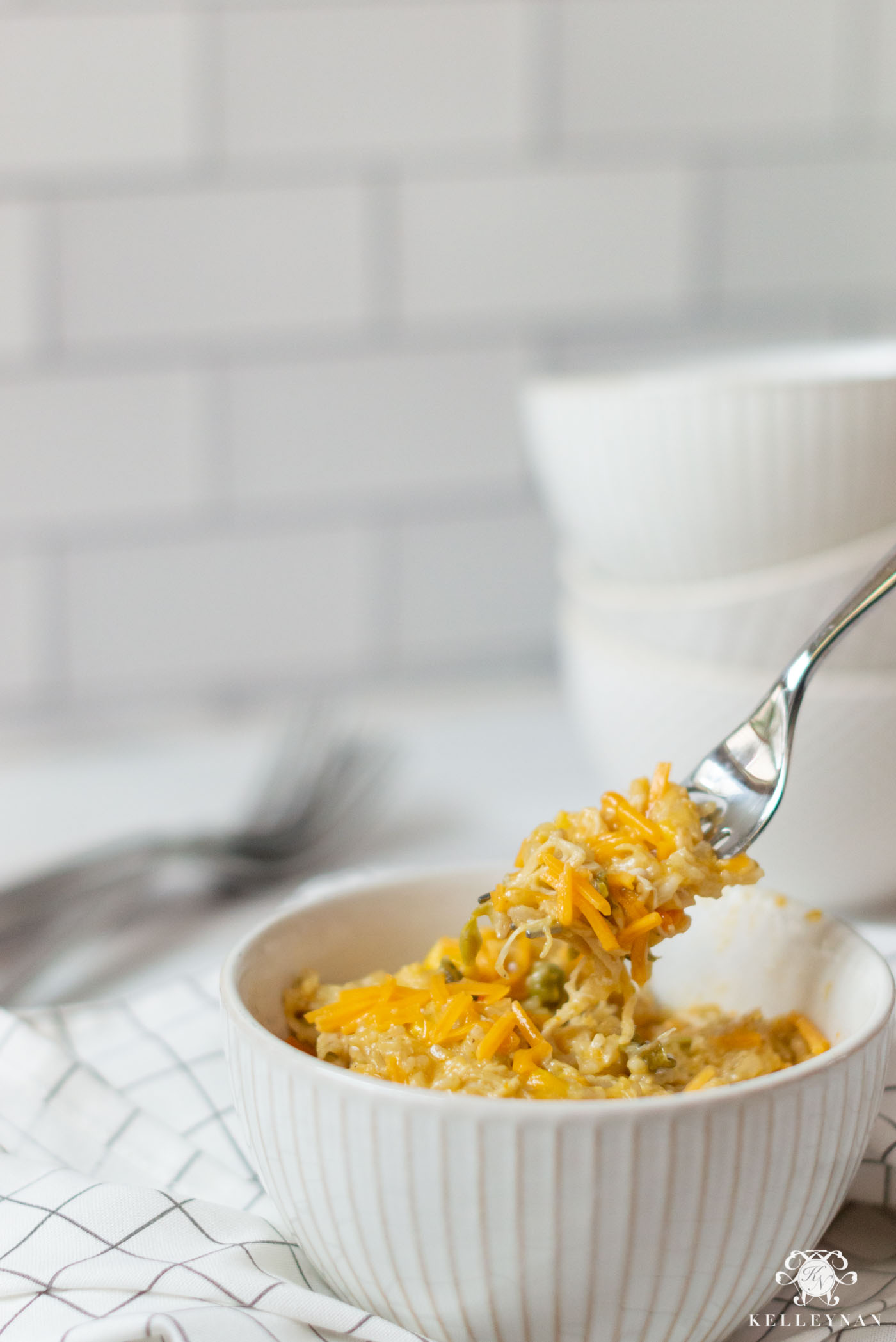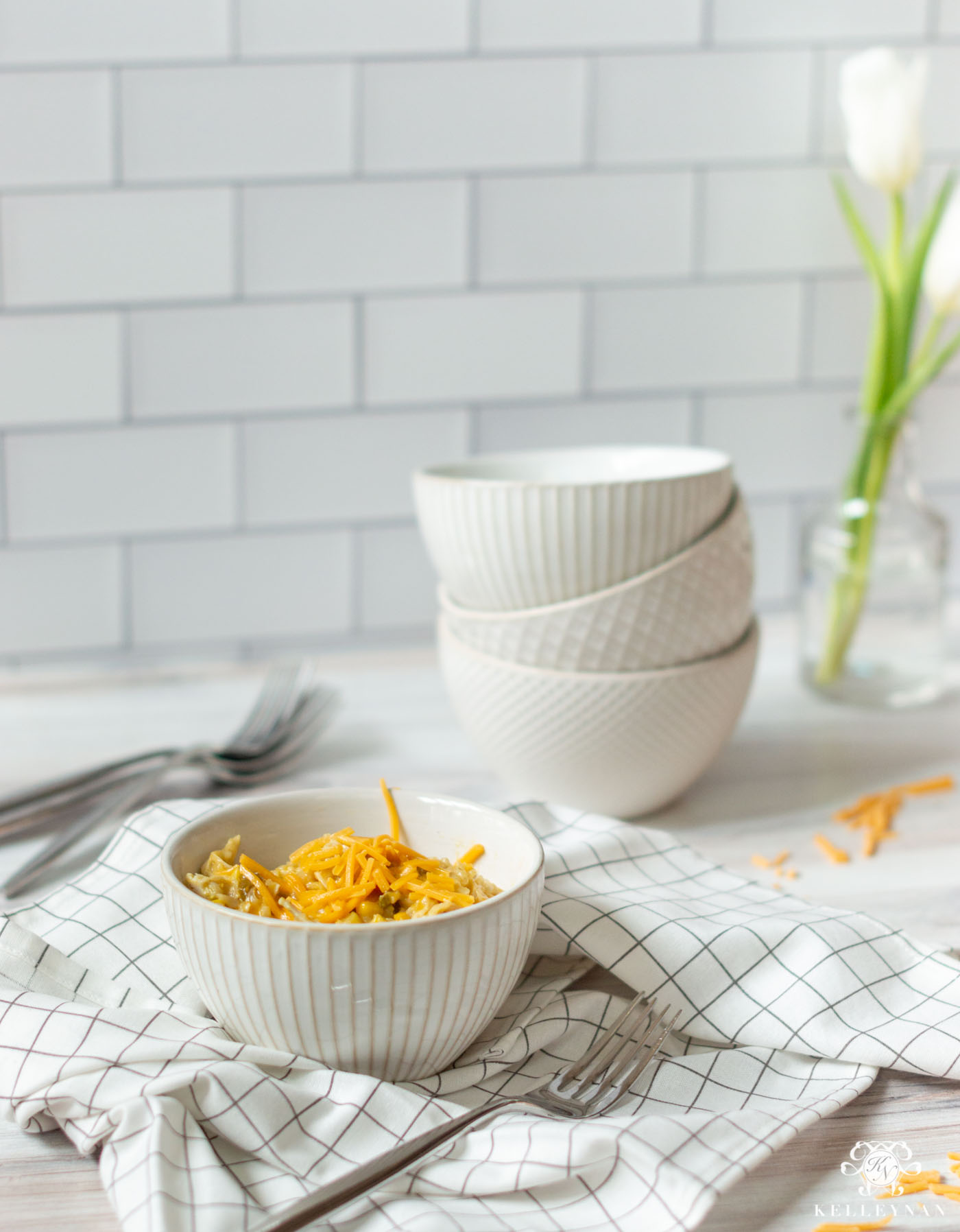 If you try it out, let me know your thoughts! It uses so many regular pantry items, if you cook a good bit, you may have everything on hand regularly without a trip to the store. Speaking of going to the store, I'll share how I've been working to get a little more resourceful while we're staying home.
How to Use What You Have, Waste as Little as Possible, and Keep Diversity in Your Meal Planning
Like everyone else, I've had to modify how we typically meal plan. Of course, going to the grocery store is inevitable but for our family's sake, and the sake, safety and health of others, we are trying to go only when absolutely necessary. It's been about 10 days since our last trip and we aren't short on pantry/frozen goods but our fresh items are dwindling. Since our initial trip, we've worked to use all the fresh produce first to reserve the frozen for when we need it. #WasteNotWantNot, right? So Sunday, when I sat down to plan our meals for the week, I pulled out all the veggies we still had on hand and laid them on the counter. Here's what I had:
1 yellow squash
1 3/4 bell peppers
2 onions
1 bunch of broccoli
1 bunch of asparagus (lost cause and discovered it had spoiled)
1 salad kit
2 ears of corn
tomato
serrano peppers
I took a look at what looked like it could have the fewest days left and made sure to incorporate it closer to the beginning of the week. I planned the meat/other sides around the produce and tried to overlap ingredients. Here's what I came up with.
Sunday: steak, salad kit, risotto packet (which uses milk that also needed to be used)
Monday: chicken tenders, broccoli casserole, corn on the cob
Tuesday: oven chicken fajitas (which uses bell peppers and onions)
Wednesday: hamburgers (with tomato and onion slices), squash (which uses bell peppers and onions), and tots
Thursday: chicken casserole (which I'll throw leftover veggies into), and green beans
Friday: frozen pizza
With the tomatoes, Dave also made his salsa (with serrano peppers) and I've been slicing them for sandwiches. Whether you have a lot of fresh goodies or not many, see what recipes you have in your arsenal to get the most mileage out of them before they spoil.
Eat well, be smart, and stay safe, friends <3
Items Used in This Post
(Scroll & Tap to Shop)