Have you ever wanted to start an organization project but were intimidated by ALL the organizer options, measurements, and solutions out there? Truth be told, most of my solutions are derived from trial and error and playing around to see what works… and then re-visiting the space later if something I've implemented ended up being too cumbersome. And while it's convenient to order organizers online and have them show up at your door, I know it can be hard to imagine how something will work without seeing it in person and envisioning it in the space first. Whether you're planning to tackle a drawer, cabinet, shelf or entire closet, taking measurements in advance is typically important, which only adds to the uncertainty of committing to solutions before actually getting your hands on them. Well friends, I've been there and totally get it. And frankly, sometimes, I get a little lazy and don't feel like trying to find the organization solutions at the perfect widths, depths, and lengths that will magically fit my should-have-been-a-30-minute-project-drawer. The good news… you don't have to! Easy home organization does exist. I have five go-to "lazy" organizers that are difficult to mess up, are proven in all sorts of spaces, and the best part — require little to no advance measuring. If you feel trapped in your house right now and are wanting to tackle some projects but aren't sure where to start, this is an easy place to get started 😉
*Posts on KelleyNan.com may contain affiliate links. Click HERE for full disclosure.*
1. Drawer Dividers
Sometimes, you don't need more space — you just need to better allocate the space you do have. Tidying up and maximizing your drawers can be as simple as adding dividers to separate categories — you can essentially turn one drawer into two, three, even four specific compartments. And the best part — aside from checking the drawer depth and making sure that the width falls somewhere within the fully extended range, there's no measuring required. Depending on how large or small your categories are, you can pop one of these dividers in wherever you need within the drawer.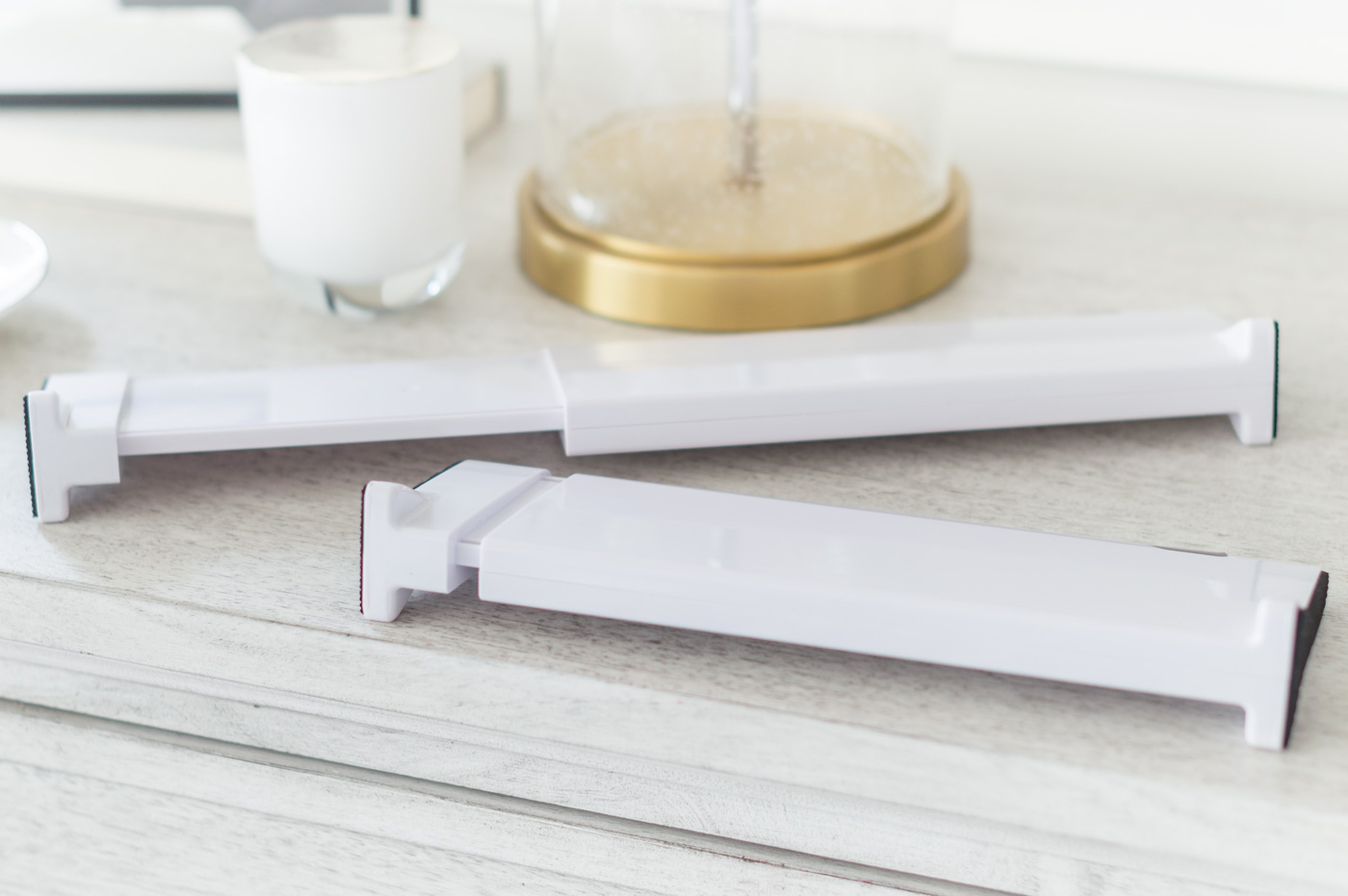 I have several dividers all over in all kinds of drawers from the dressers to the nightstand — you can even add them in the kitchen — and while all of them function well, my favorite is THIS OXO drawer divider. It fits snugly and is eligible on Prime HERE.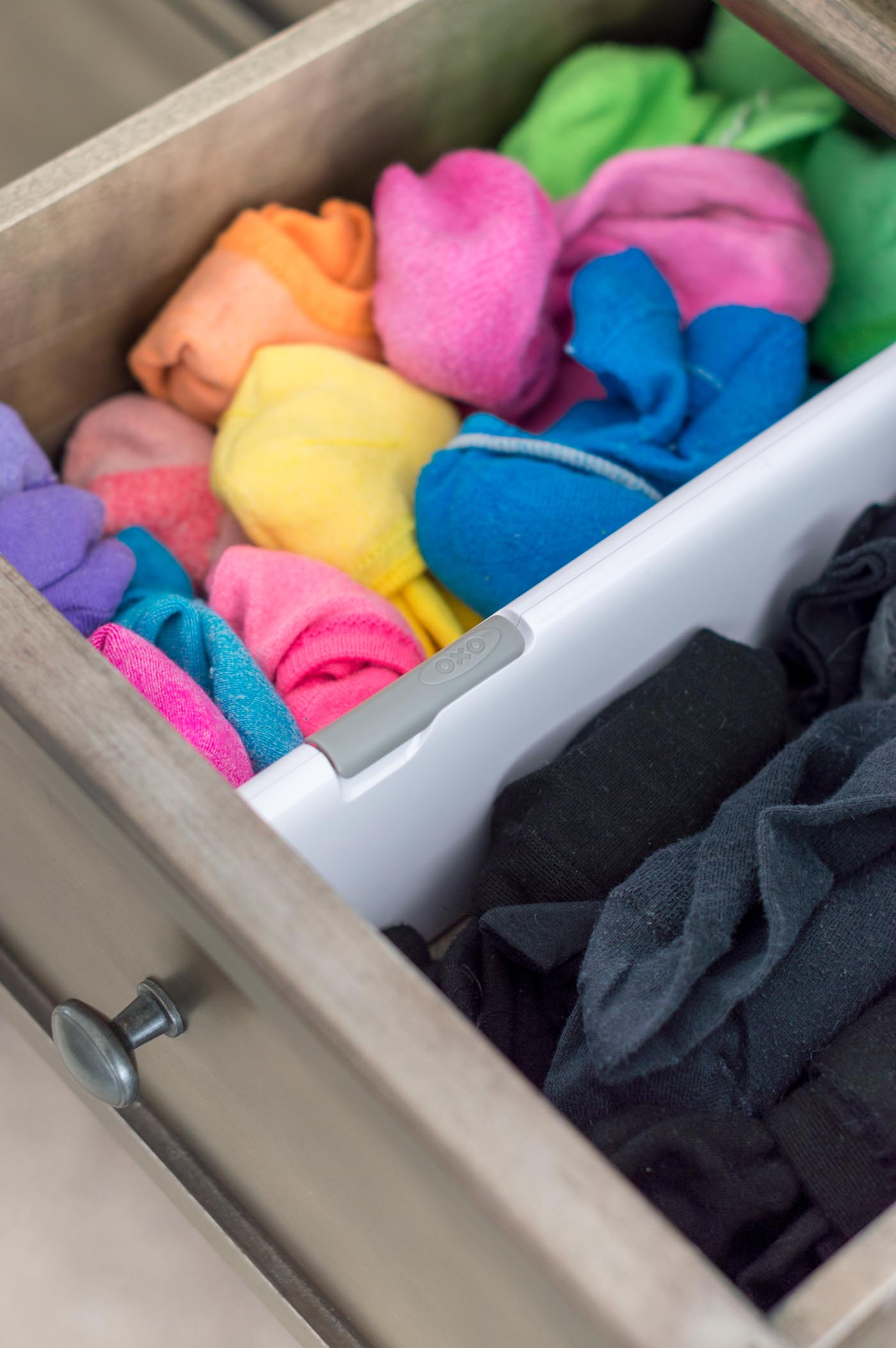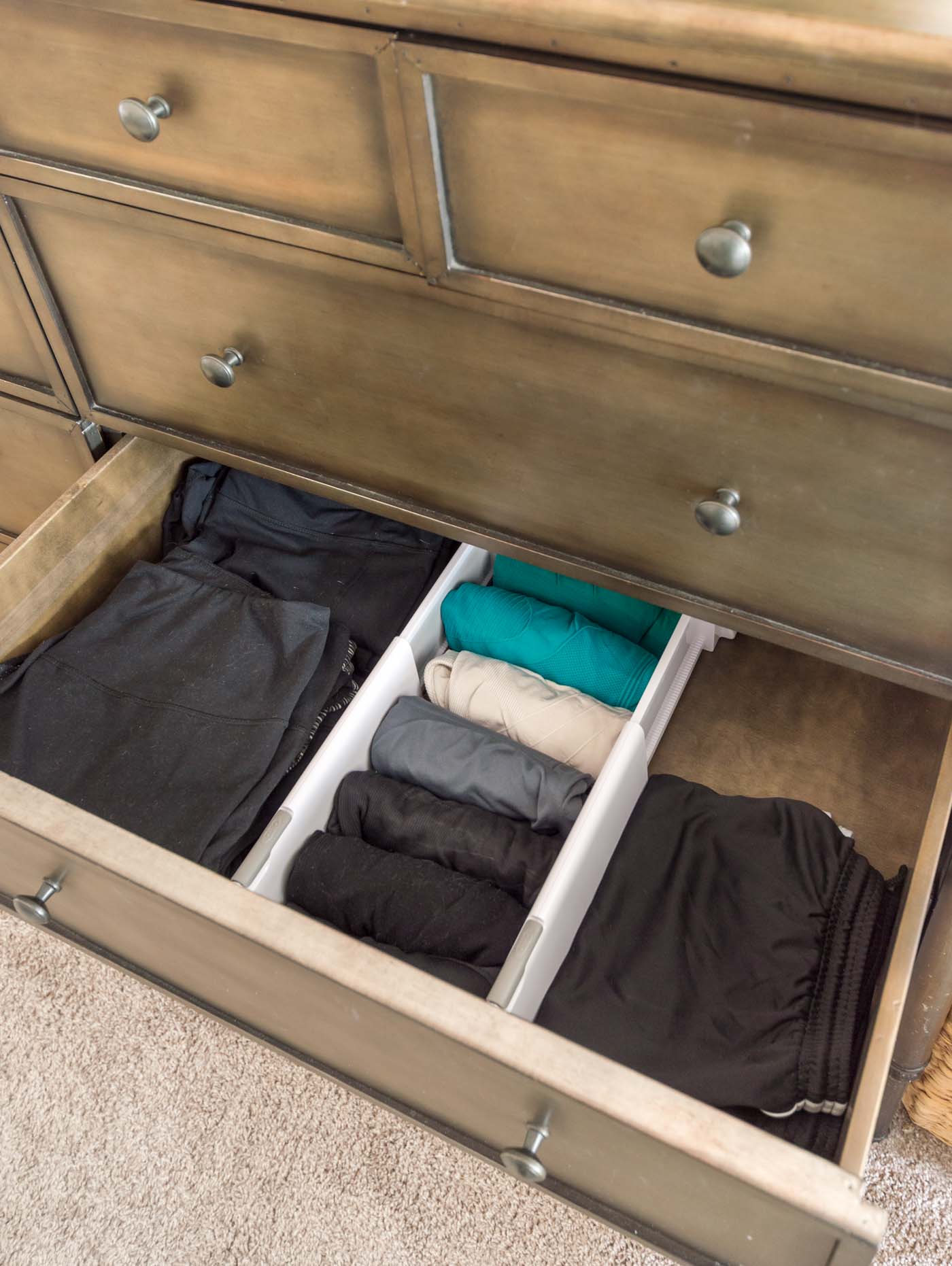 You don't have to use them exclusively, either. In my nightstand drawer, I have a drawer insert on the right and have an expandable drawer divider solely on the far left to separate the heating pad. *See my nightstand organization post HERE.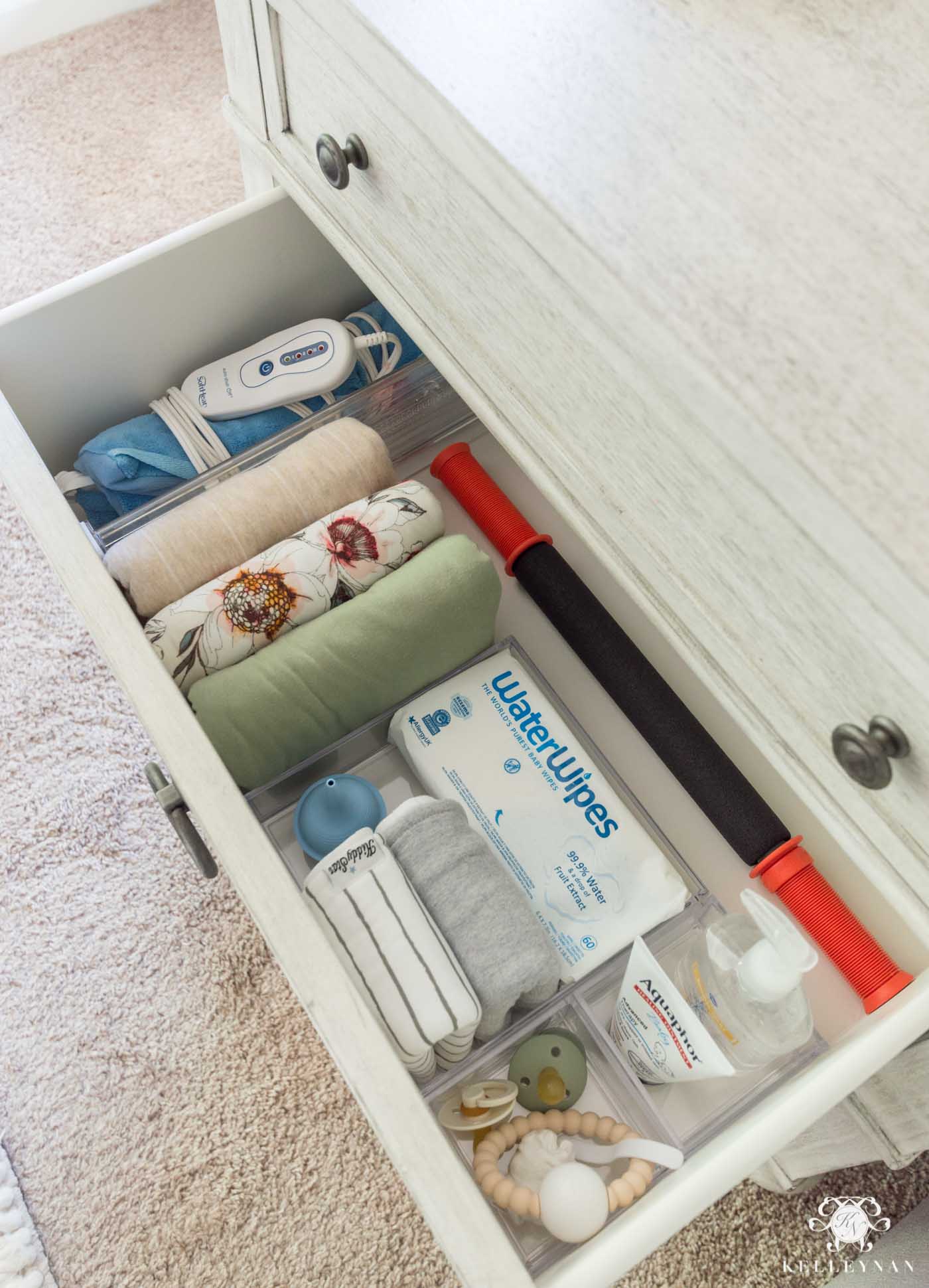 Scroll & Tap to Shop

2. Expandable Drawer Organizers
Right up there with expandable drawer dividers are expandable drawer inserts. Even though fixed-width drawer inserts are totally fine, chances are, the likelihood of finding one that fits the exact dimensions of your drawer is slim… which can yield unused, wasted space or cause the insert to slide around. I've incorporated these in drawers all over the house from THIS ONE in the shallow bathroom vanity…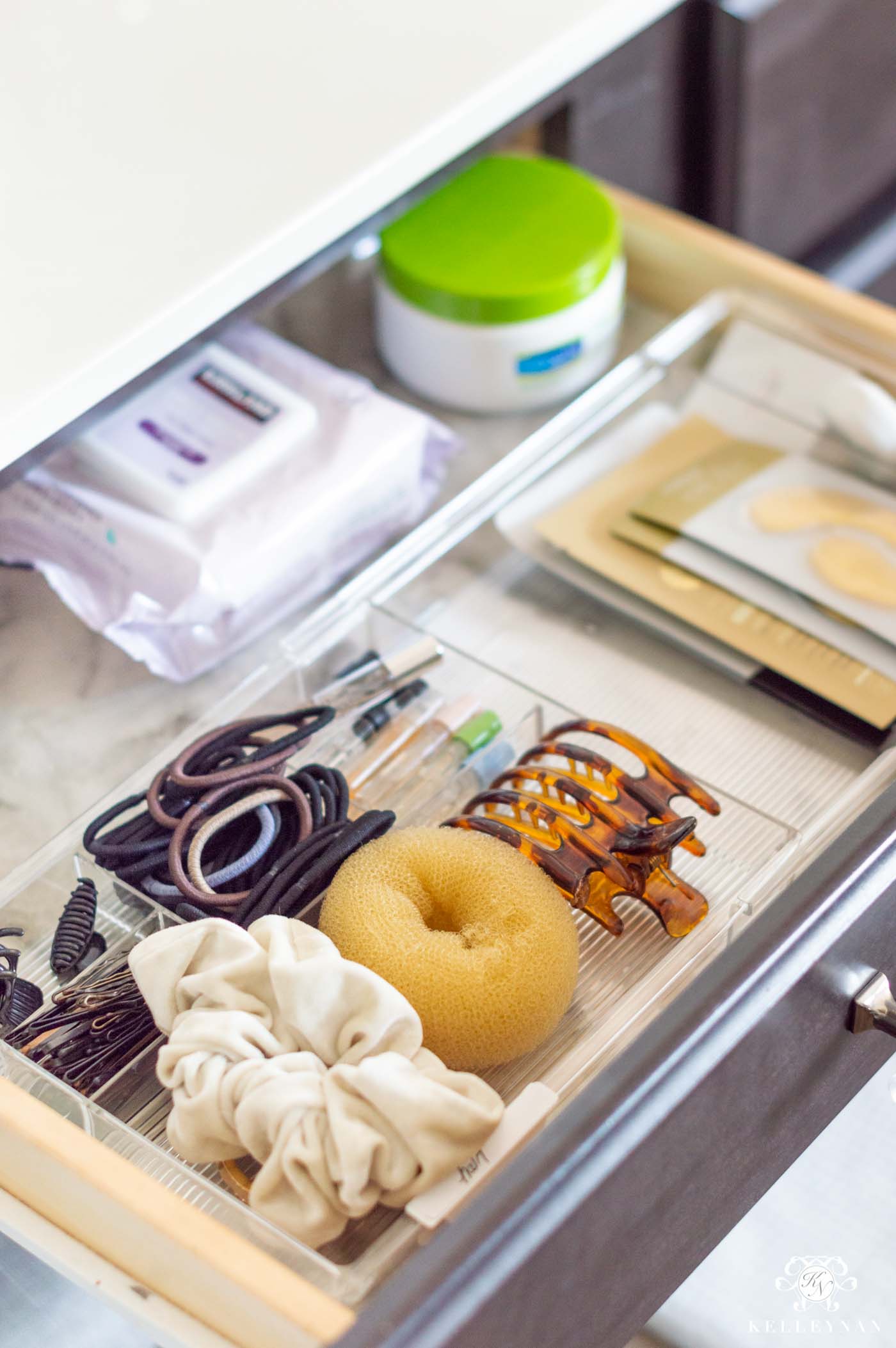 *See my bathroom vanity organization post HERE.
to THIS ONE in our large kitchen utensil drawer…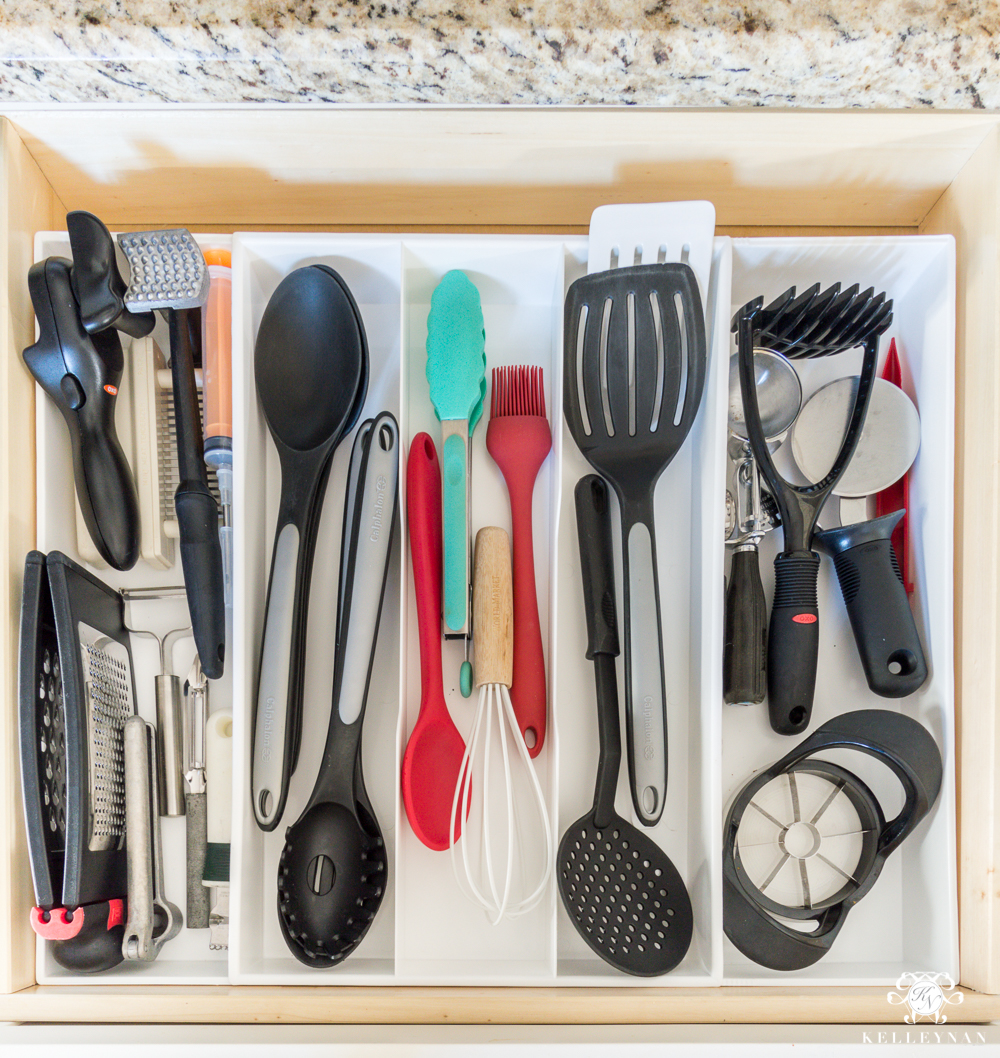 *See my kitchen drawer organization post HERE.
and even added a few fixed compartment containers to the large section of our expandable flatware drawer.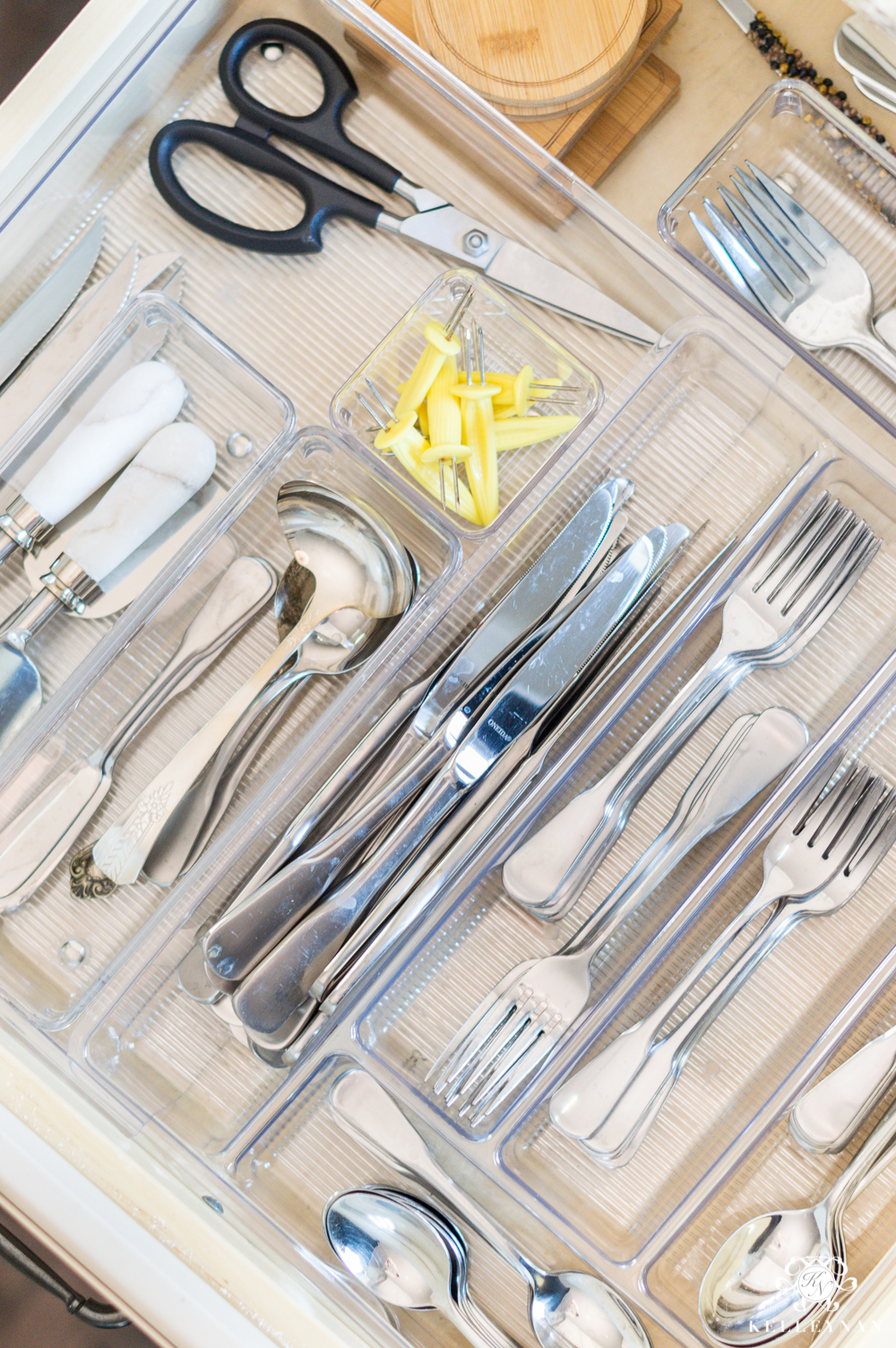 Scroll & Tap to Shop

3. Expandable Cabinet Risers
Do you see a theme here? 😉 Used correctly, cabinet risers can let you see up to four rows at once — the variety that expands is my favorite because you can collapse/expand them based on the volume you currently have or based on the space you need to accommodate. We have so many different spices in different sized containers, it isn't my preference to dump them all in coordinated, labeled jars and face having to come up with a separate area to hold overages. I use THIS spice jar riser in the spice cabinet — it's a little more narrow to accommodate the smaller bottles…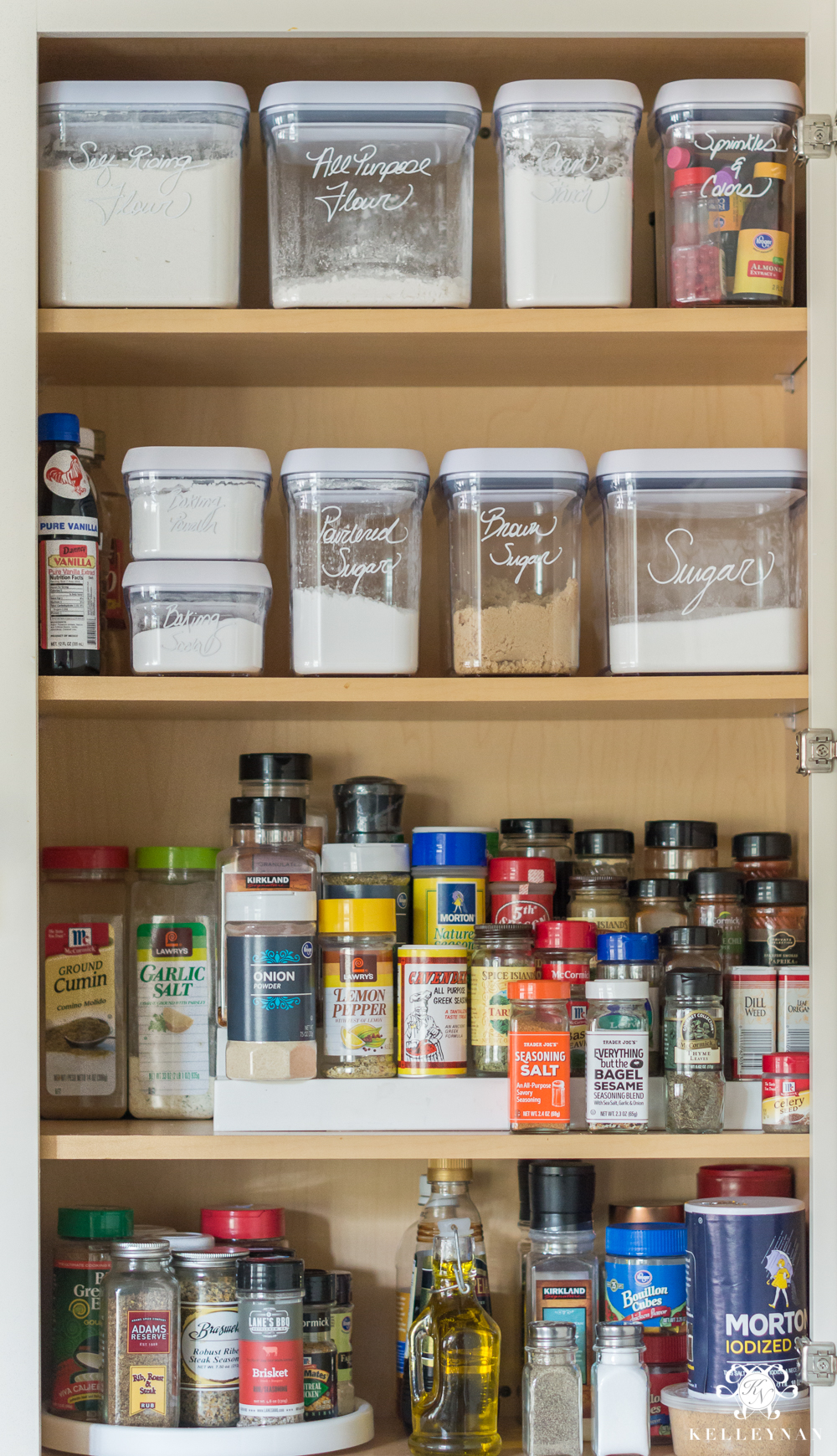 *See my kitchen cabinet organization post HERE.
and I use the larger version (HERE) to store canned goods that has a wider surface area. I've used these for the best part of the past decade and don't even like to think back to the days of stacking and digging through pantry items I couldn't see. It also makes grocery list making quick and easy 😉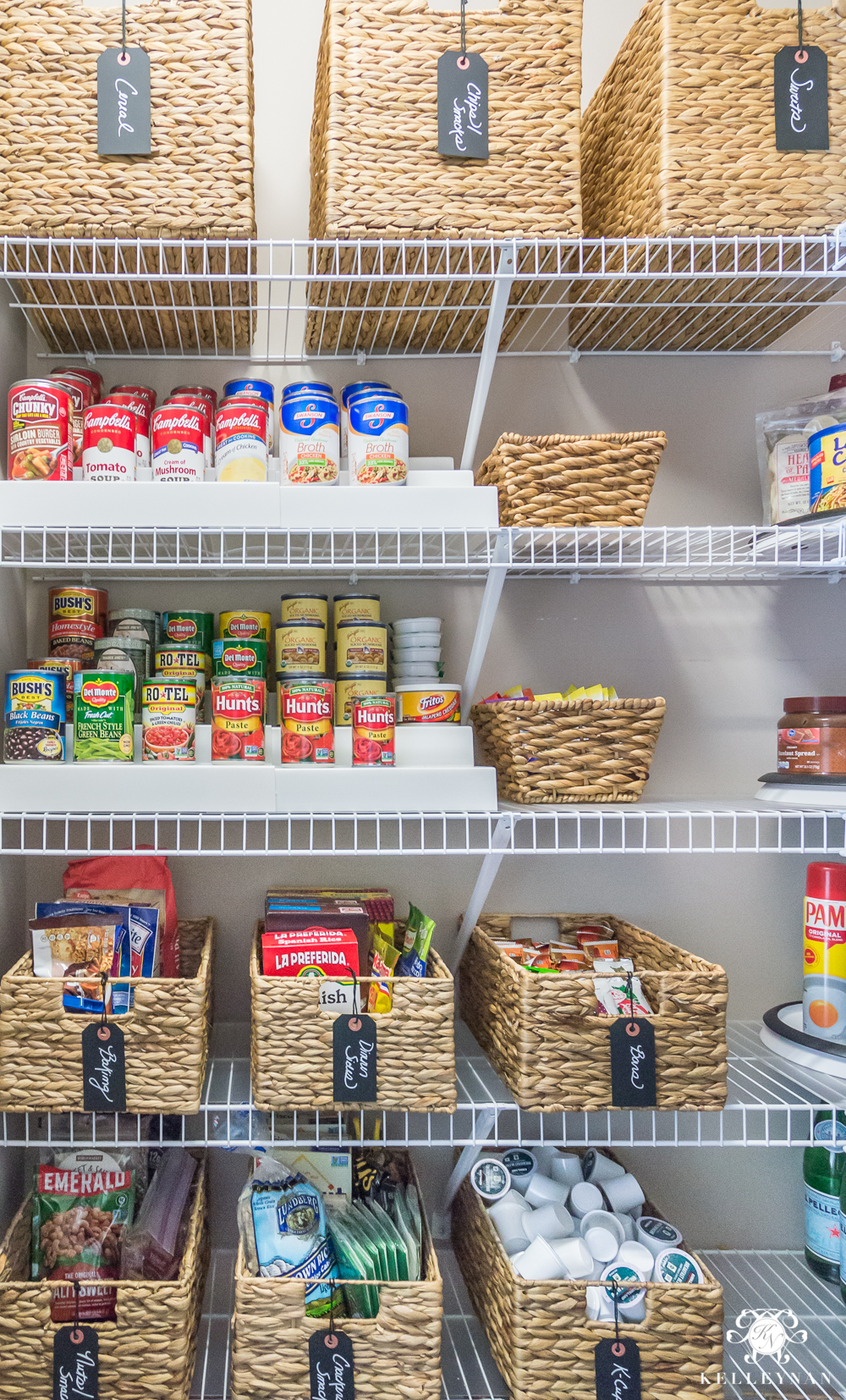 *See my pantry organization post HERE.
Scroll & Tap to Shop

4. Turntables
At the top of the list of staples for easy home organization — lazy Susans. Turntables are great for corners, hard to reach places, and anywhere you want to be able to see items without having to dig into the back of a dark, deep cabinet. This is another easy organizer to implement all over the house… In my fridge, I use the back right top shelf to corral hot/spicy sauces and salsa. As a note, I use different types of turntables for different areas — I think turntables without deep sides are more conducive to short spaces spaces (like the top shelf of the fridge). If you have one with deep sides, it can be unwieldy trying to pull a tall jar/bottle out without hitting the next shelf/roof.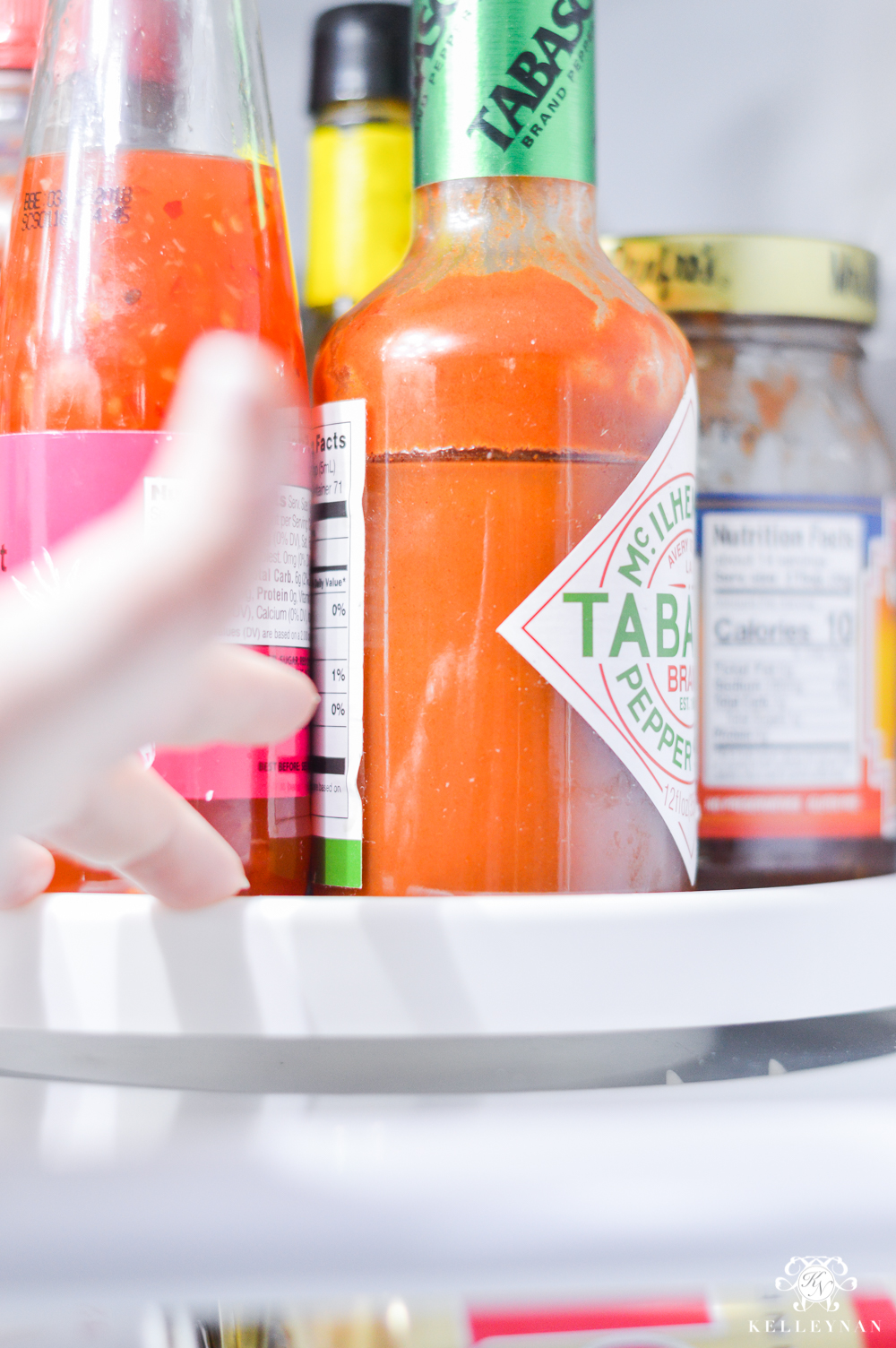 *See my refrigerator organization post HERE.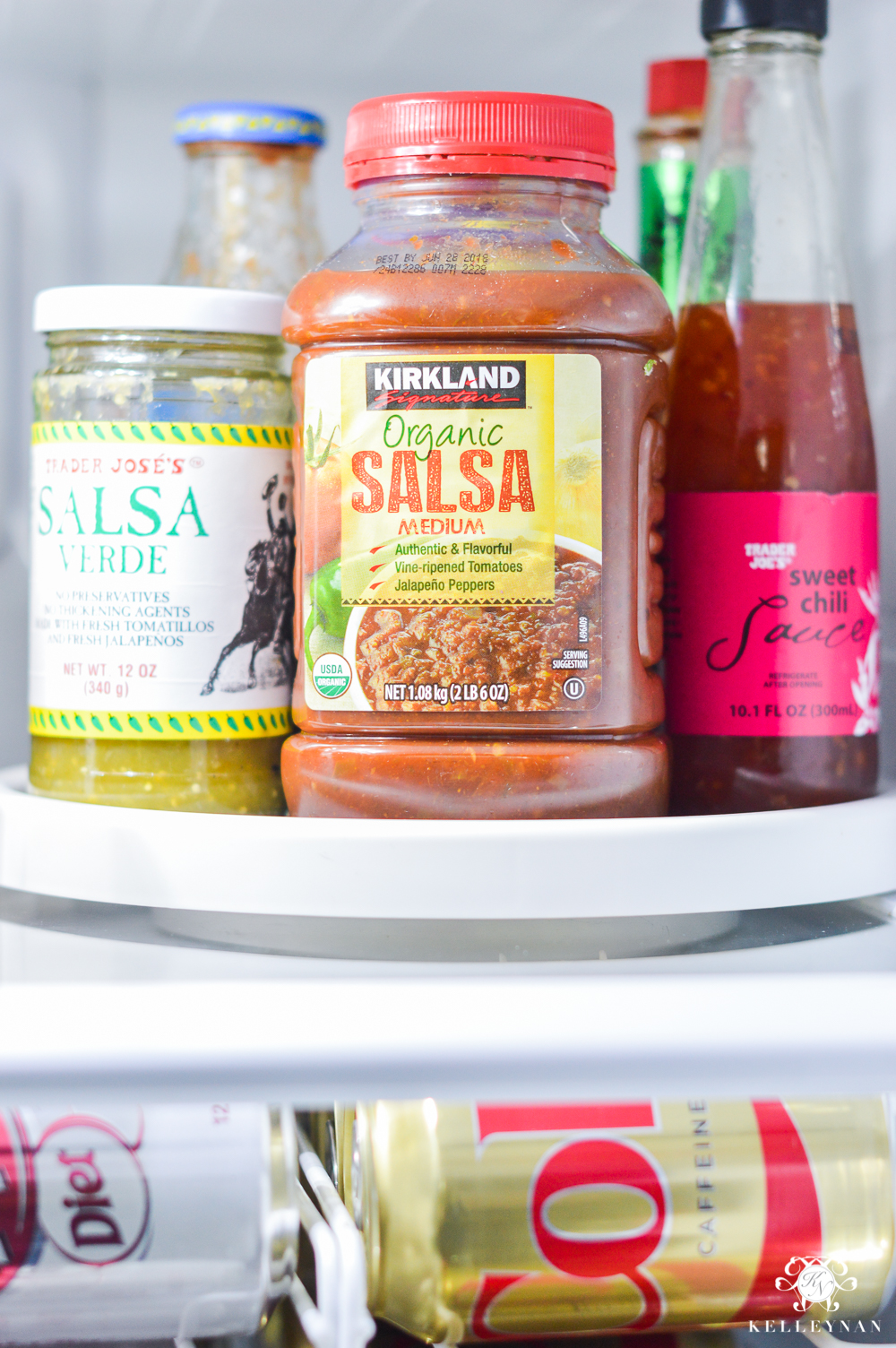 I keep a few in the corners of our pantry…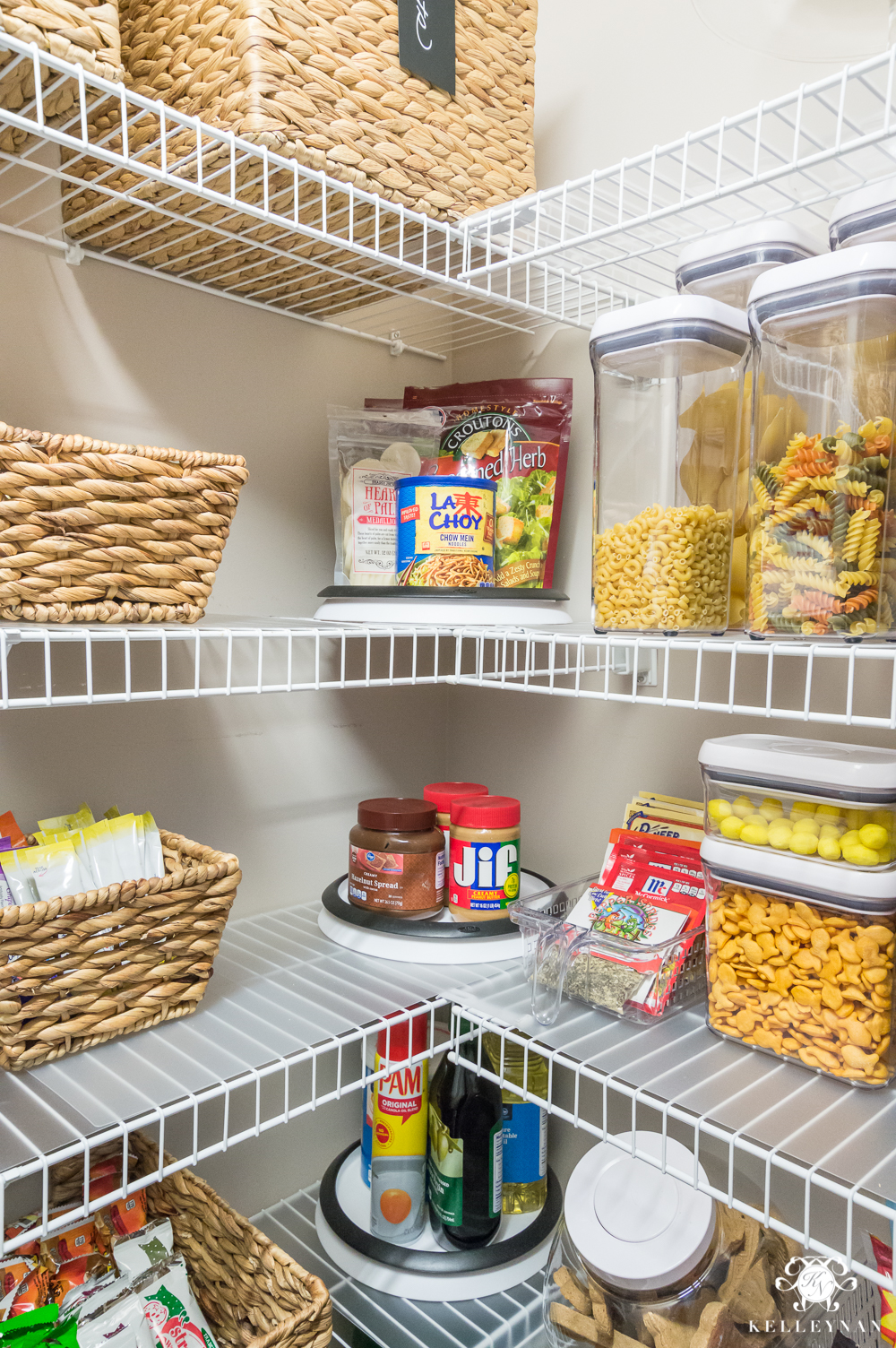 and I recently implemented THIS acrylic turntable as an under-the-cabinet solution in my bathroom. This space — with plenty of overhead room — is the perfect opportunity to use a lazy Susan with deeper sides to secure those aerosols, bottles and tubes in place.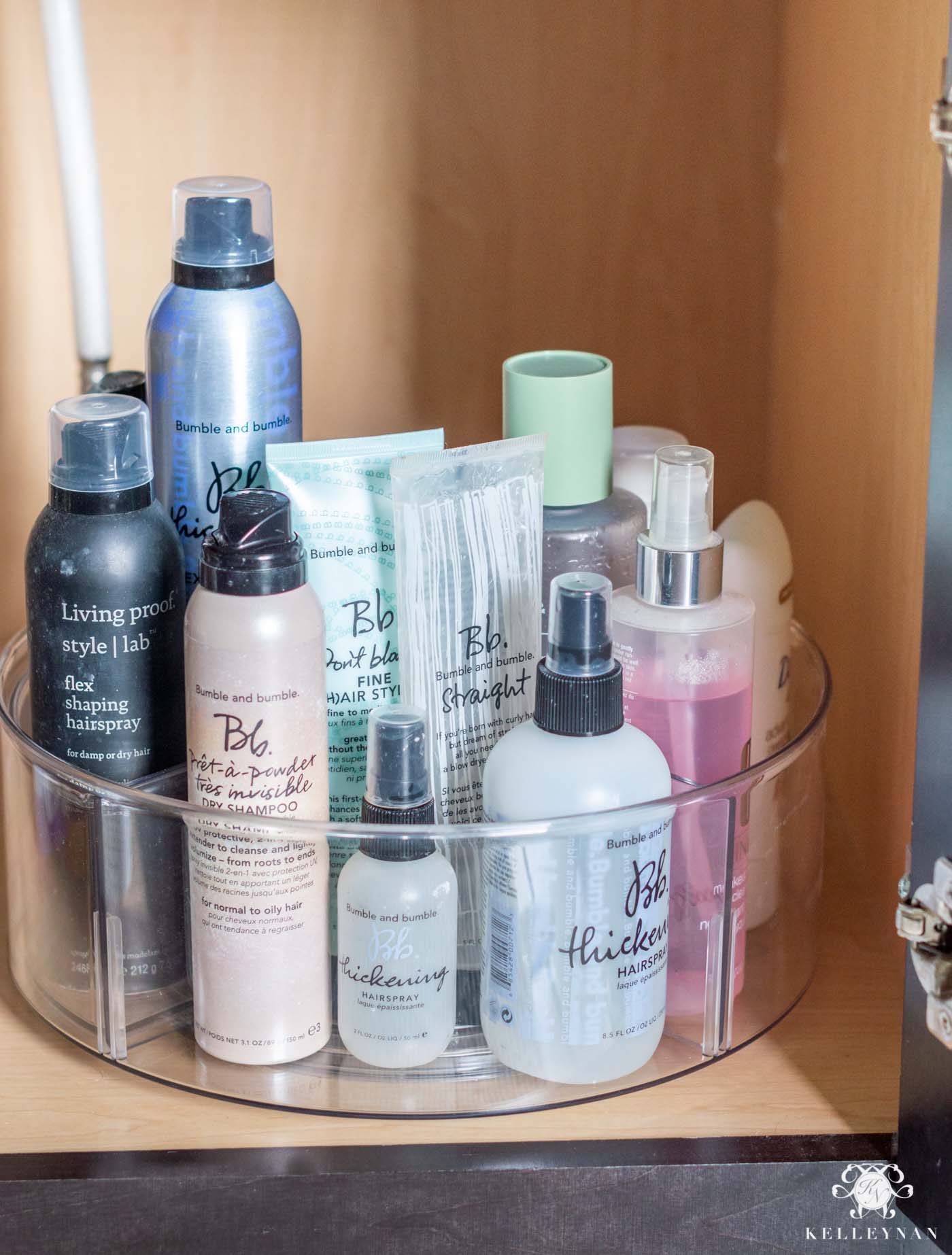 The space under my kitchen sink is awkward and deep. The sides and back of the cabinet are difficult to access but it accommodate a large turntable beautifully. You'll want to make sure it can clear any pipes but it couldn't work any better for us.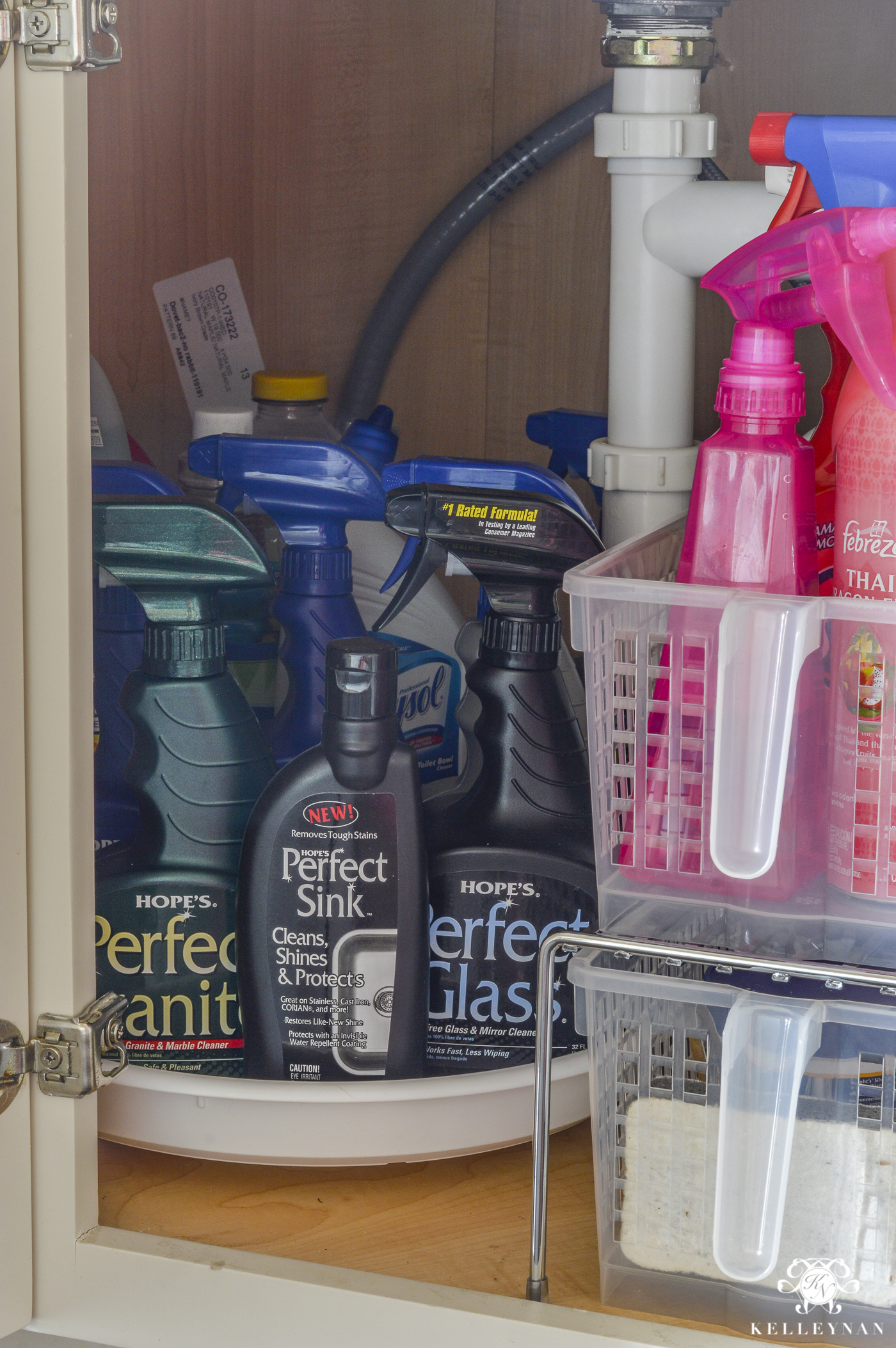 *See my under-the-kitchen sink organization post HERE.
Scroll & Tap to Shop

5. Divided Baskets
The final "lazy" organizer — divided baskets. I'm a big believer in all baskets — even baskets to serve as a "dump" like the lidded toy dump baskets we keep in the rooms Eliza frequently occupies, but these divided baskets allow for a little more order. (On sale now for 25% off with code HOME) You can even remove the dividers that section the basket into three slots.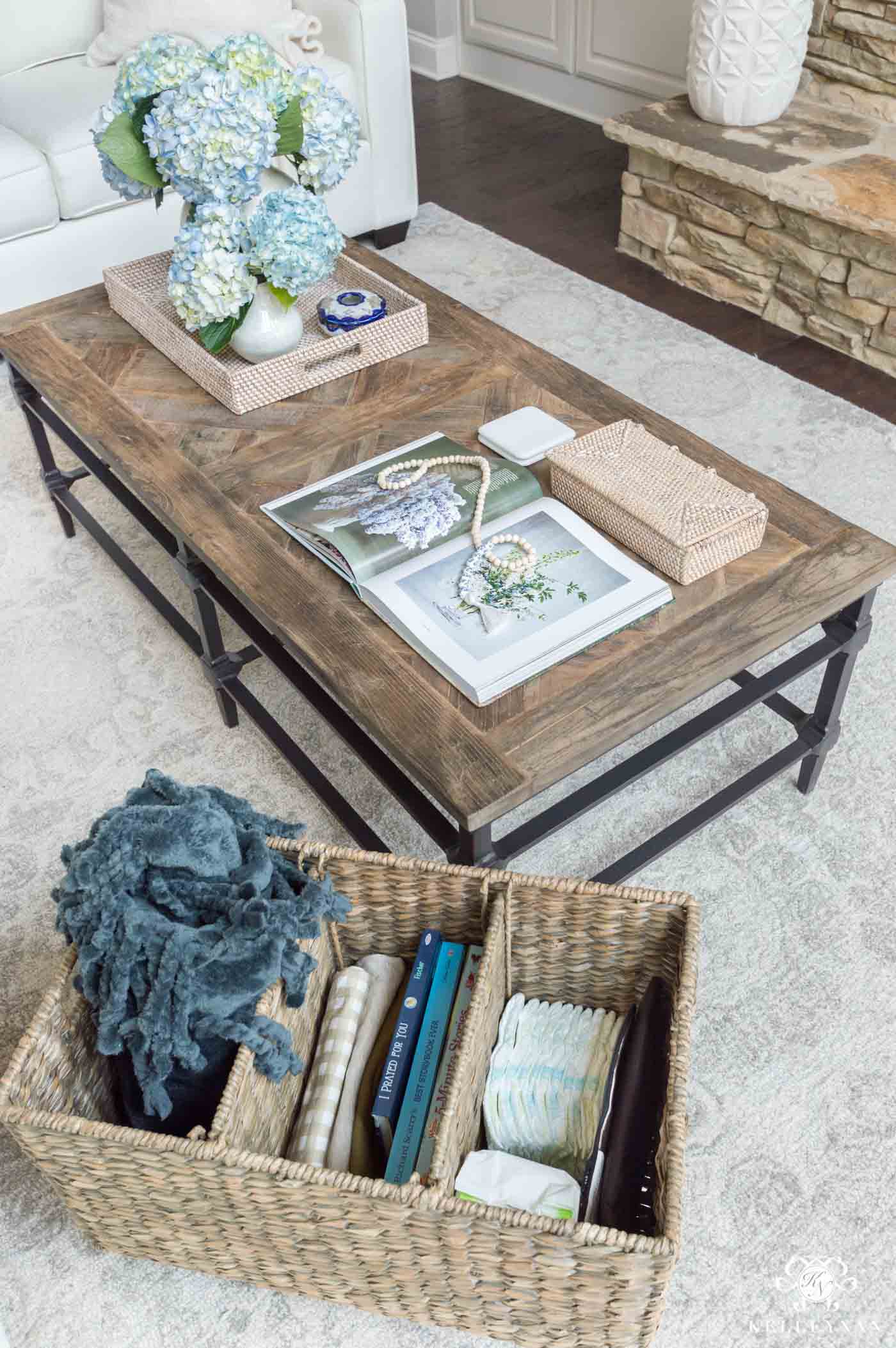 *See my organized living room post — with babies — HERE.
This basket specifically is used as a basket for Eliza's diaper changing and essentials — but, I keep throws and pillows in the first section which totally disguises the utilitarian use I have it intended for.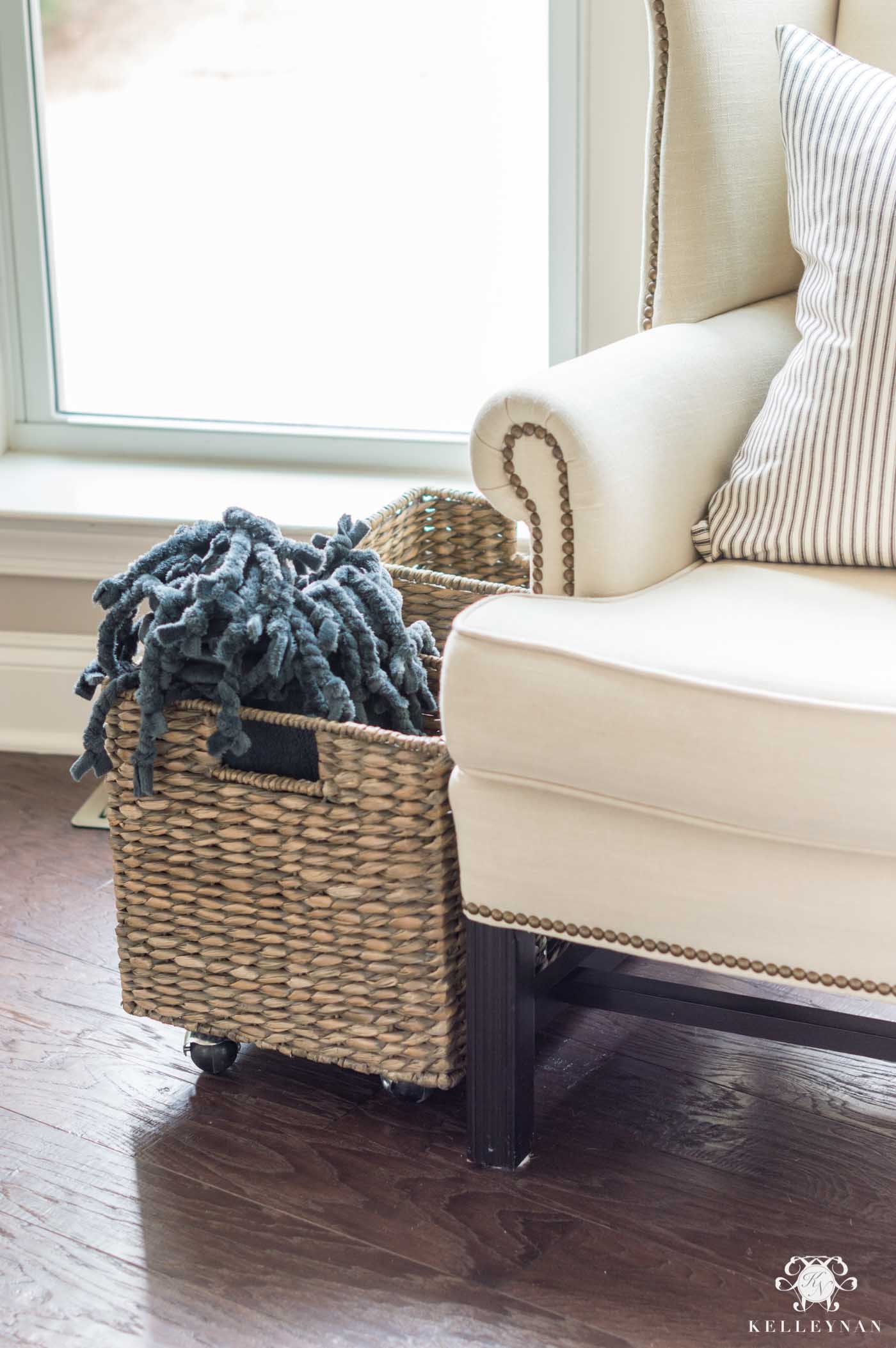 Scroll & Tap to Shop

Do you have go-to organizers that tend to work in multiple places that require little to no measuring? Easy home organization hacks? Let us know in the comment section below. Despite being at home and feeling motivated, I know how defeating and limited it can feel to actually execute some of the projects on those growing would-be-nice-to-tackle projects. Get resourceful, get creative, and keep moving forward. Do something each day that makes you feel good or accomplished. Seek out inspiration and joy and try to establish some normalcy within the safety and confines of your home. We're all in this together.
You can visit my full organization gallery HERE for some inspo or ideas on spaces to tackle — from full rooms to tiny 15-minute projects!