A few weeks ago, I shared Dave whipping up some fried chicken tenders — a family favorite that we admittedly don't have often enough — in my Instagram stories. I had an overwhelming number of requests of how to make them so today, as promised, Dave is sharing his perfectly battered, golden, crispy fried chicken tenders recipe. It isn't too crunchy (I don't like my chicken tender crust to be hard) and it isn't too soggy– it's just right.
*Posts on KelleyNan.com may contain affiliate links. Click HERE for full disclosure.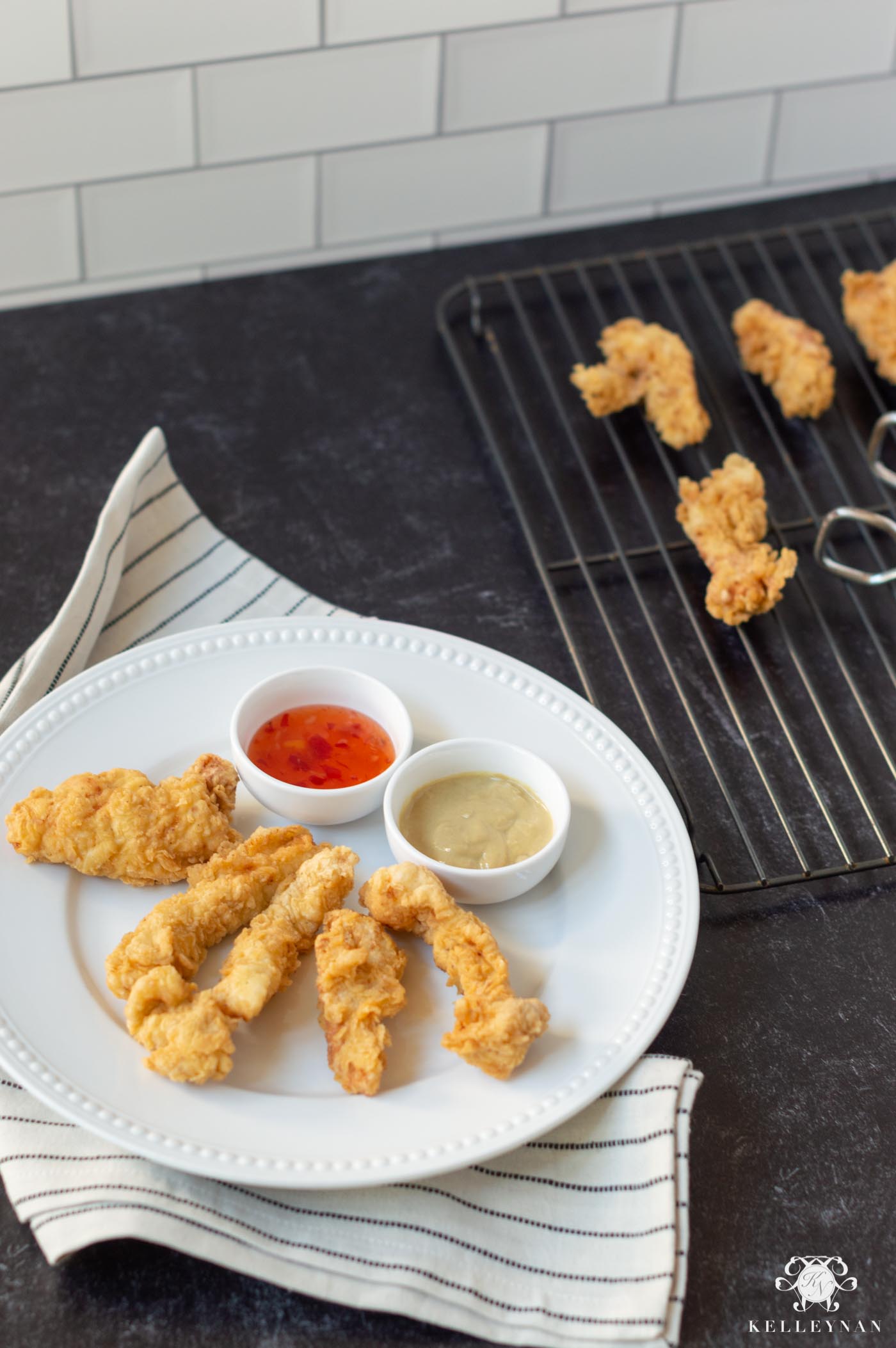 Fried Chicken Tenders at Home
With just two large chicken breasts, it also yields a ton — 20-24 strips — so it's a great way to stretch your meat while you're staying home. Yep, you read that quantity right. We literally use one pack of the fresh-frozen Costco chicken breasts for the entire batch. You can really get a lot of mileage out of these and have tenders one night, and wraps and salads later in the week. My favorite way to have them is with honey mustard and sliced pickled jalapenos… I know how that sounds but trust me! Dave turned me on to jalapenos with fried chicken and now, I love having a bit of pepper with each bite, dipped in honey mustard.
How to Fry Chicken Tenders
Dave has had a few fryers but now, he uses THIS one. It's only $45 and ships free. One key note is to make sure you don't overload the fry basket — which can be dangerous and cause the oil to spill out. You'll see in the recipe below that even though the two breasts yield a large quantity, he only fries three to four at a time.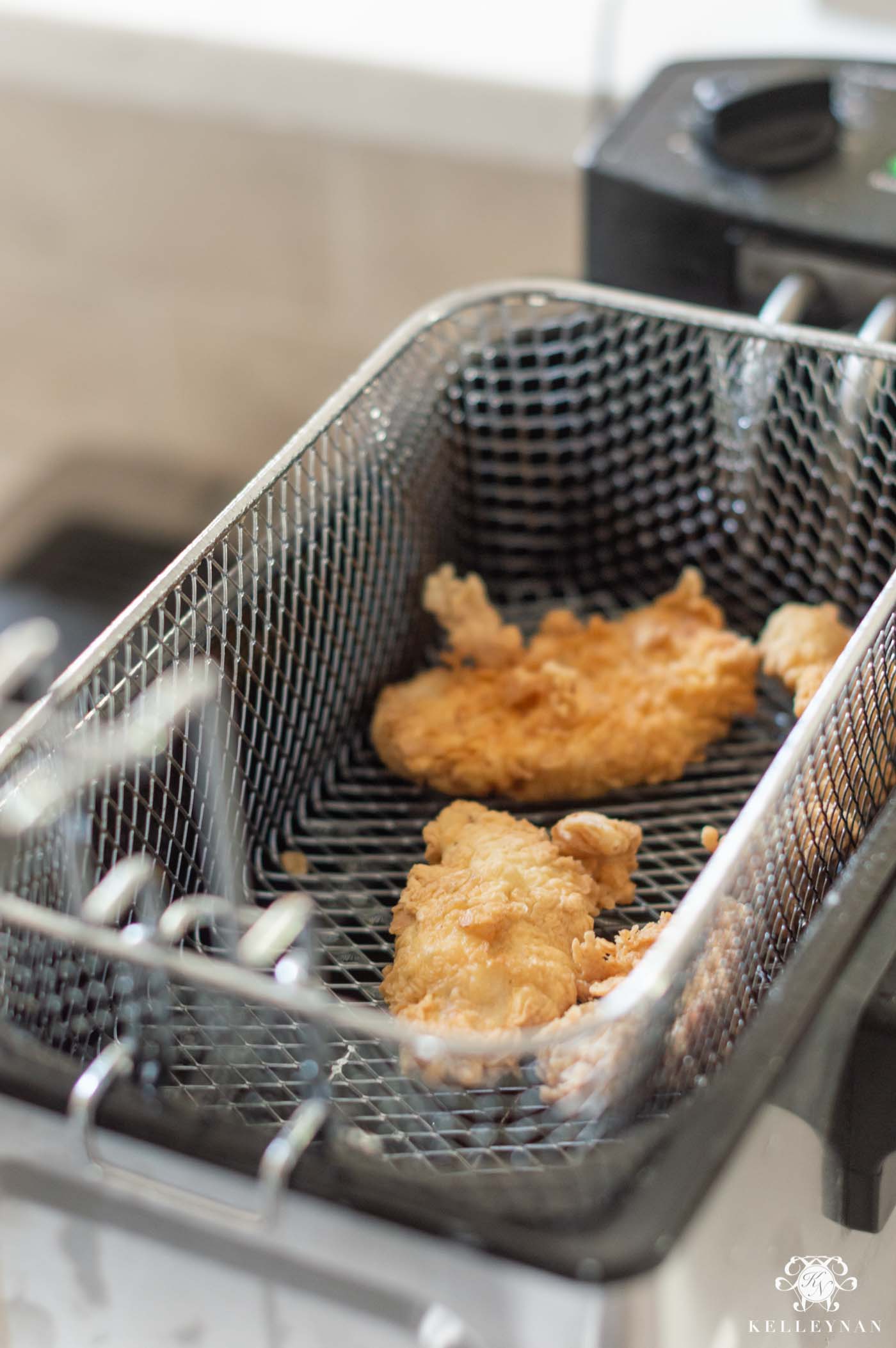 How Long to Fry Chicken Tenders
The fry temperature should be set to 375° and each round of tenders will take approximately six minutes. They should be a warm golden brown when finished and the tenders should have a minimum internal temperature of 165°.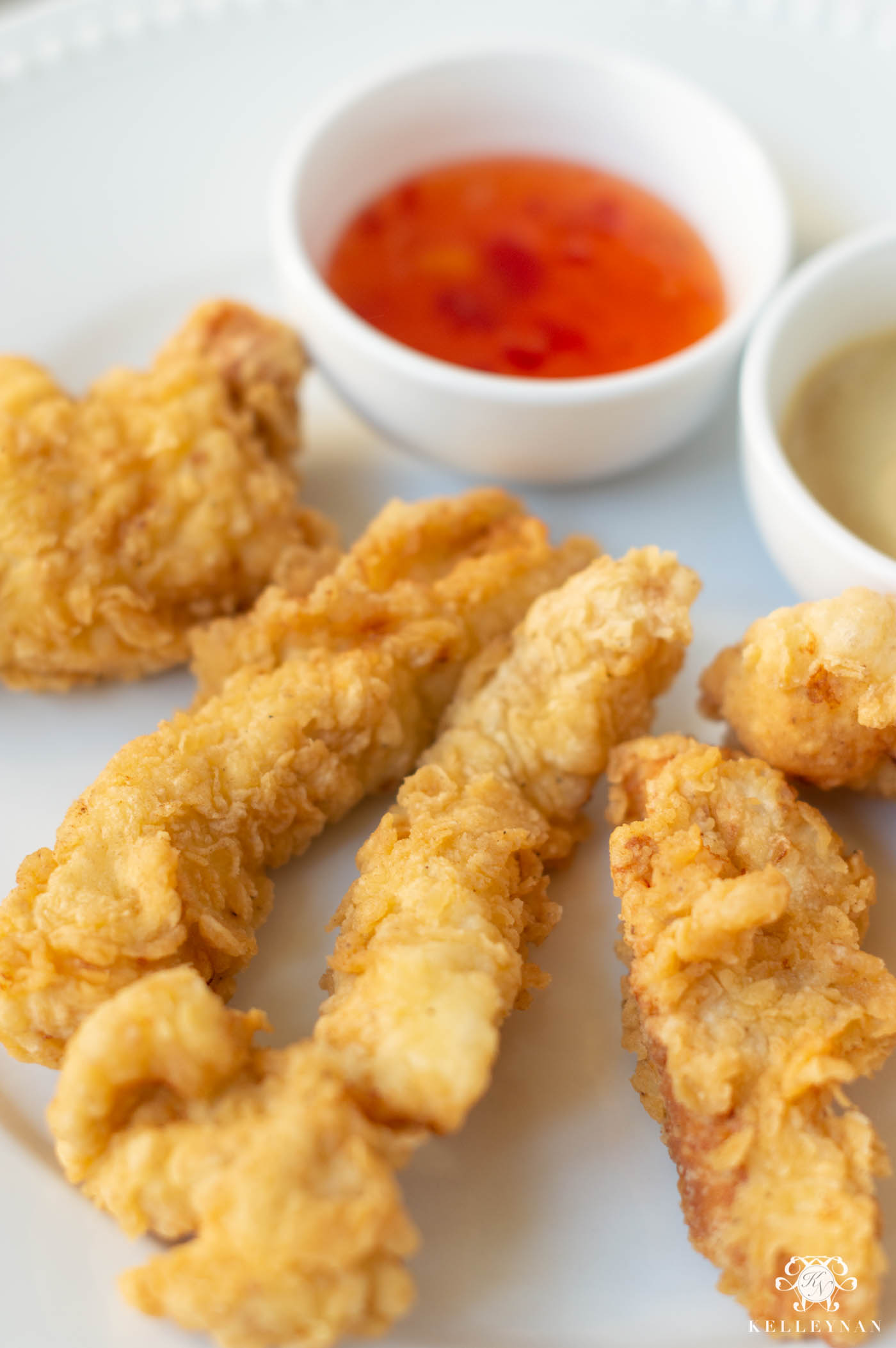 Fried Chicken Tenders Recipe
When Dave adds the spices to each mixture, as described in the recipe below, he eyeballs each — the salt, pepper, etc. should be to taste — it doesn't have to be exact.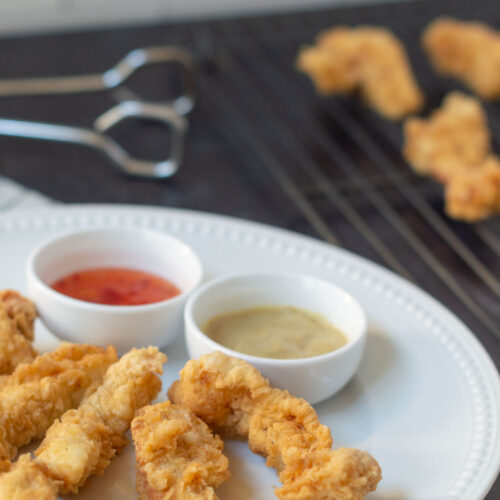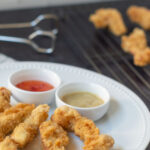 Fried Chicken Tenders
Fried chicken tenders with the perfect breading that's just crispy enough!
Ingredients
2

large boneless, skinless chicken breasts

canola oil

(filled to max fill line in fryer)
Water Bath
1

medium bowl of water

2

tsp

salt

1/2

tsp

pepper

1

tsp

garlic powder
Flour Mixture
3

C

flour

2

tsp

salt

2

tsp

pepper
Instructions
Heat oil in the fryer to 375°

Create three stations: Station 1. combine ingredients for water bath in one medium bowl; Station 2. combine ingredients for flour mixture in another medium bowl; Station 3. beat three eggs in a third medium bowl. You should have three separate bowls (aka- stations).

With a sharp chef's knife, slice each chicken breast thinly, length-wise -- about 1" wide. Then, cut each strip in half into shorter strips. Each breast should yield 10-12 tenders.

Submerge four strips at a time into the water bath; remove and shake off excess water before dredging each in the flour mixture.

Once your four tenders are each dredged in the flour mixture and coated well, shake off excess flour.

Next, dip and fully coat the four tenders in the egg bath.

Then, remove and shake off excess egg wash and dredge in the flour mixture a second time.

Set the four tenders to the side on a plate and repeat with the remaining tenders until all have gone through the water/flour/egg/flour process.

By now, the oil should be heated. Depending on the size of your fryer, place three to four strips at a time into your fryer basket *DO NOT OVERFILL YOUR FRYER & CAUSE AN OIL SPILL*. Fry for approximately 4-6 minutes, until desired color is reached, and the tenders reach a minimum internal temperature of 165°.

Remove and let the tenders drain on paper towels.

Repeat frying until all tenders are finished.

Serve with favorite dipping sauces and enjoy!
Recipe Notes
If you prefer spicier chicken, you can add ground cayenne pepper to the flour mixture and egg wash, to taste.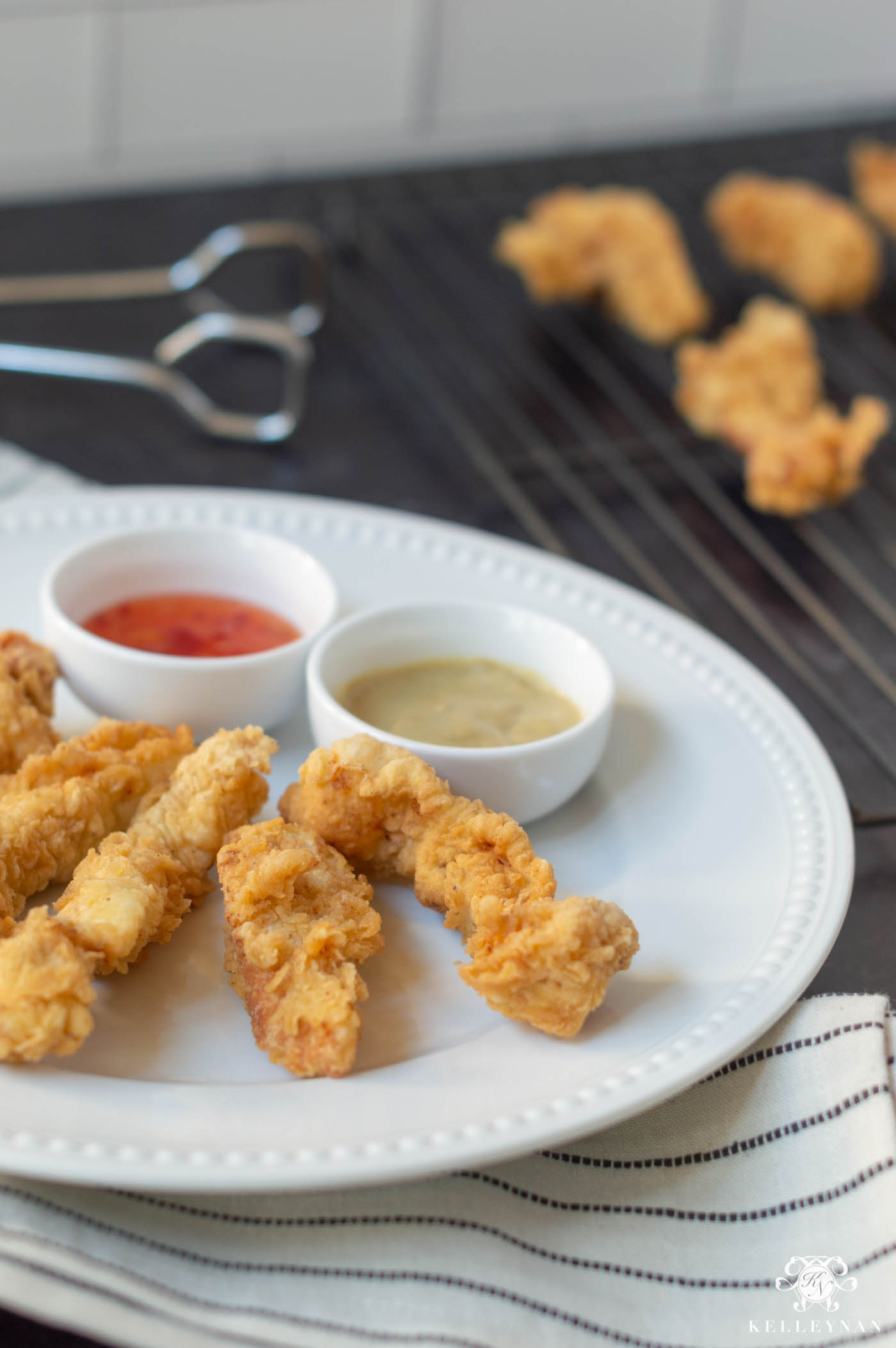 These keep well in the refrigerator too, so don't be shy about making the full batch. Don't forget, paper towels are your friend when you're frying chicken, too 😉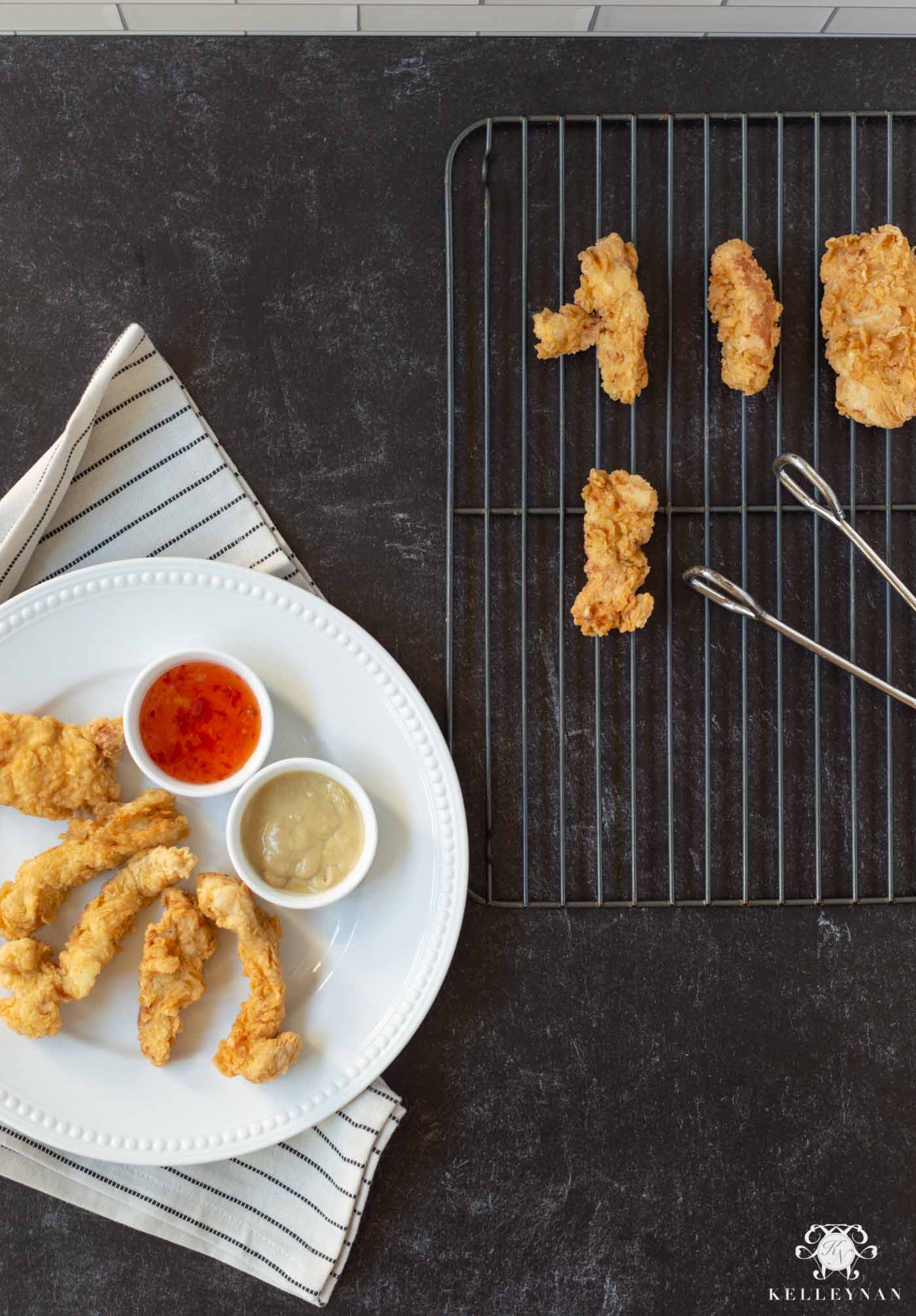 If you're not ready to make them just yet, you can pin the image below or print the recipe above. For more recipe ideas to add to your weekly menu, you can visit my family-friendly recipe gallery
HERE
.
Other (Comfort Food) Chicken Recipes You May Like