Winter is the time for cleaning out, organizing, and purging our homes, but it's also the perfect time for rib stickin' comfort food and crock pot meals. Our slow cooker is getting a serious workout lately because starting something yummy in the morning and then getting on with my house projects has become a regular part of my schedule. Last weekend, my husband made a special request during our first snow – one of our favorite, filling, comforting cold weather dinners- crock pot chicken n' dumplings. I don't make dumplings from scratch- heck, I don't even thaw the chicken first. It is seriously the most simple, delicious winter meal ever! Read on for the easiest crock pot chicken n' dumplings recipe with an organized kitchen junk drawer I tackled while waiting out the dumplings.
Before I even started throwing the ingredients in the crock pot, I tidied the kitchen. Taking a few minutes to start with a clean, fresh palette makes a huge difference!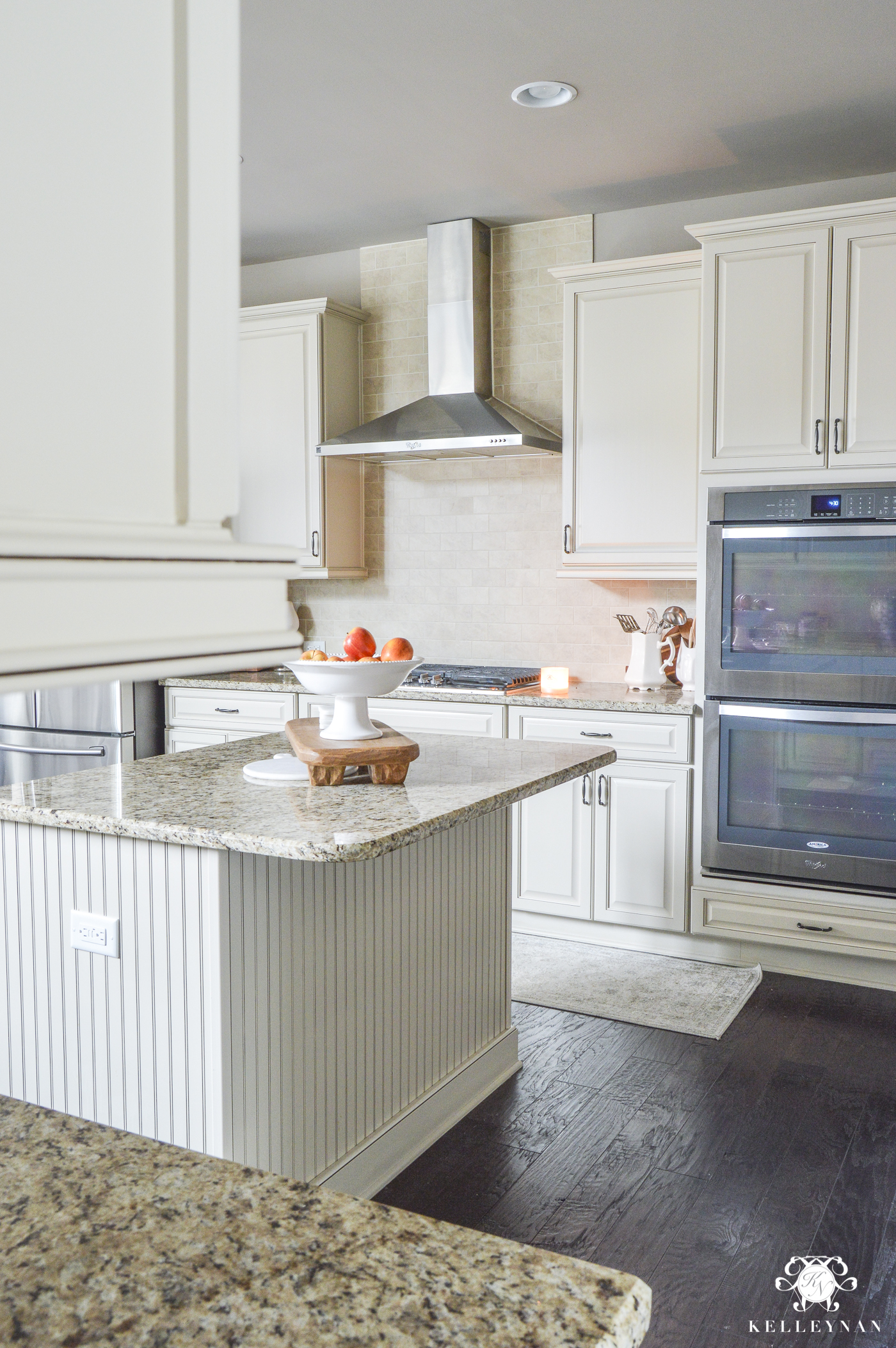 Then, I set to work.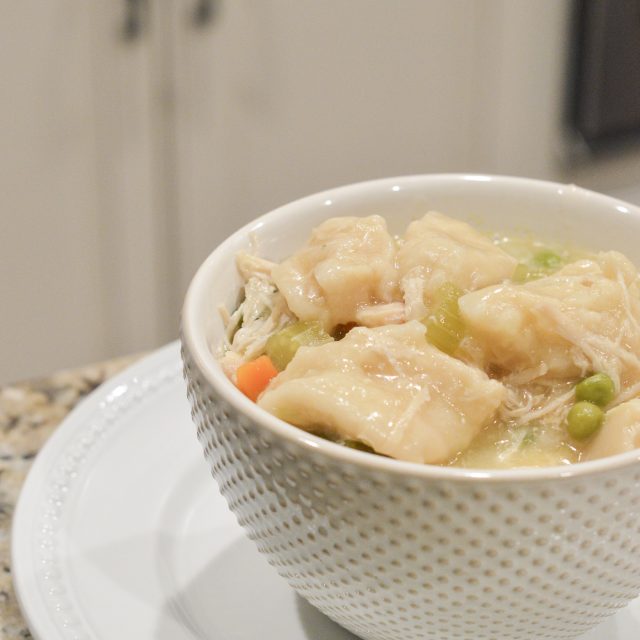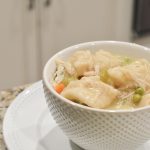 Easy, Delicious Crock Pot Chicken N' Dumplings
Total Time
8
hours
15
minutes
Ingredients
2

boneless, skinless chicken breasts

frozen is fine

1

32 oz. box chicken broth

1

can cream of chicken soup

1

cup

diced onion

1

cup

diced celery

1

Tbsp

butter

garlic salt (to taste)

pepper (to taste)

1

can of 8 Pillsbury Grands Homestyle Biscuits

1

small bag frozen vegetables (green beans, corn, carrots, peas)

optional
Instructions
Place diced celery and onion to the bottom of the crock pot.

Add chicken breasts on top of celery and onion.

Sprinkle garlic salt on chicken breasts.

Add cream of chicken soup.

Add butter on top and sprinkle pepper.

After 6 hours, chicken should be tender. Use a sturdy spatula/spoon to shred chicken. It should fall apart when you press on it. Continue until all chicken is shredded.

If the broth needs to be thickened (it usually does), add a little cornstarch/water mixture to thicken a bit.

If you are adding mixed vegetables, go ahead and add to the pot.

Take biscuits and cut into small squares (3-4 cuts across and once down the middle). Add to the pot and mash them down just enough to moisten the top of the dough. OPTIONAL- save a couple biscuits to cook on the side to eat with the meal.

Cook on HIGH for 1.5-2 hours. Check the center of one of the biscuit dumplings to ensure they are cooked all the way through.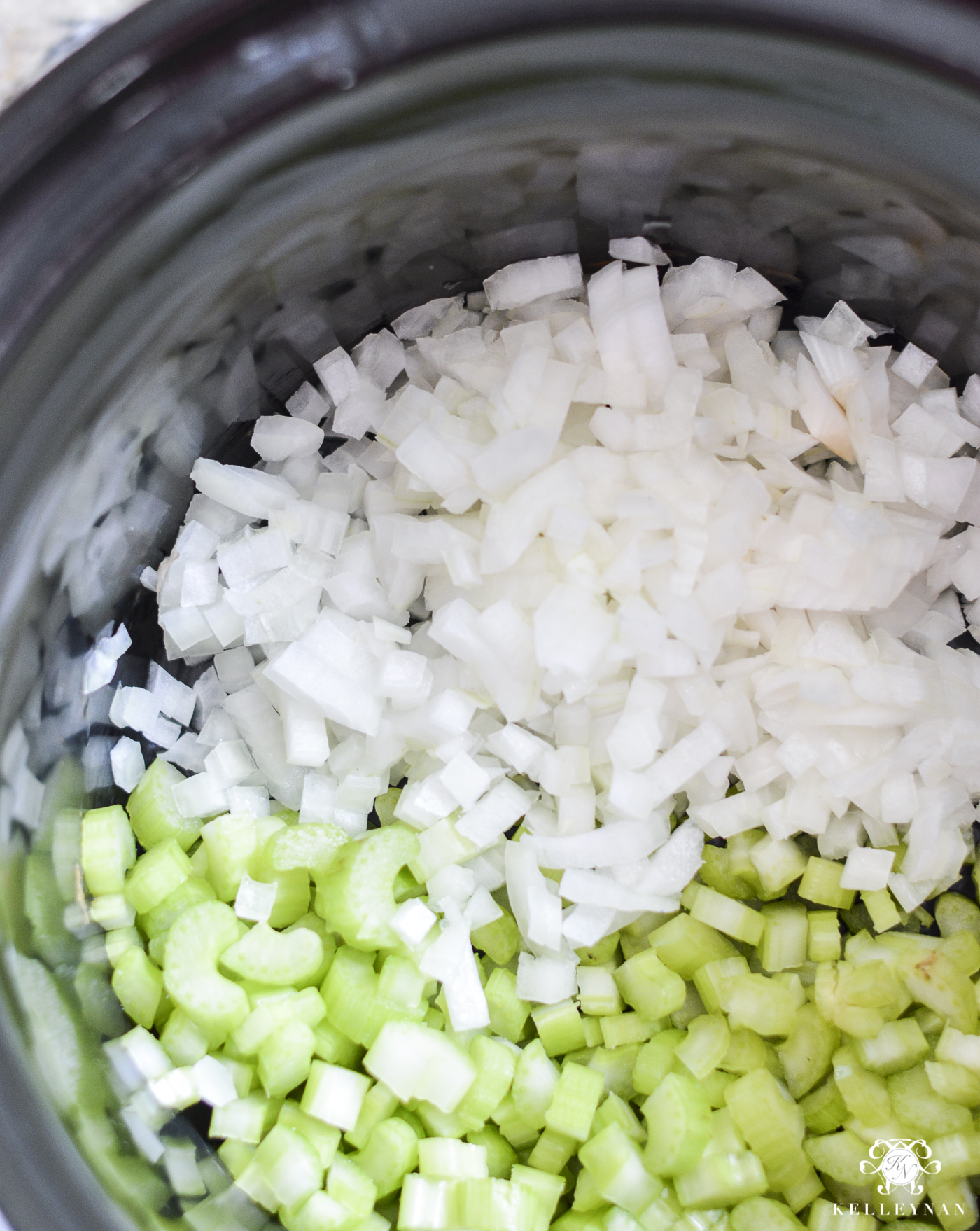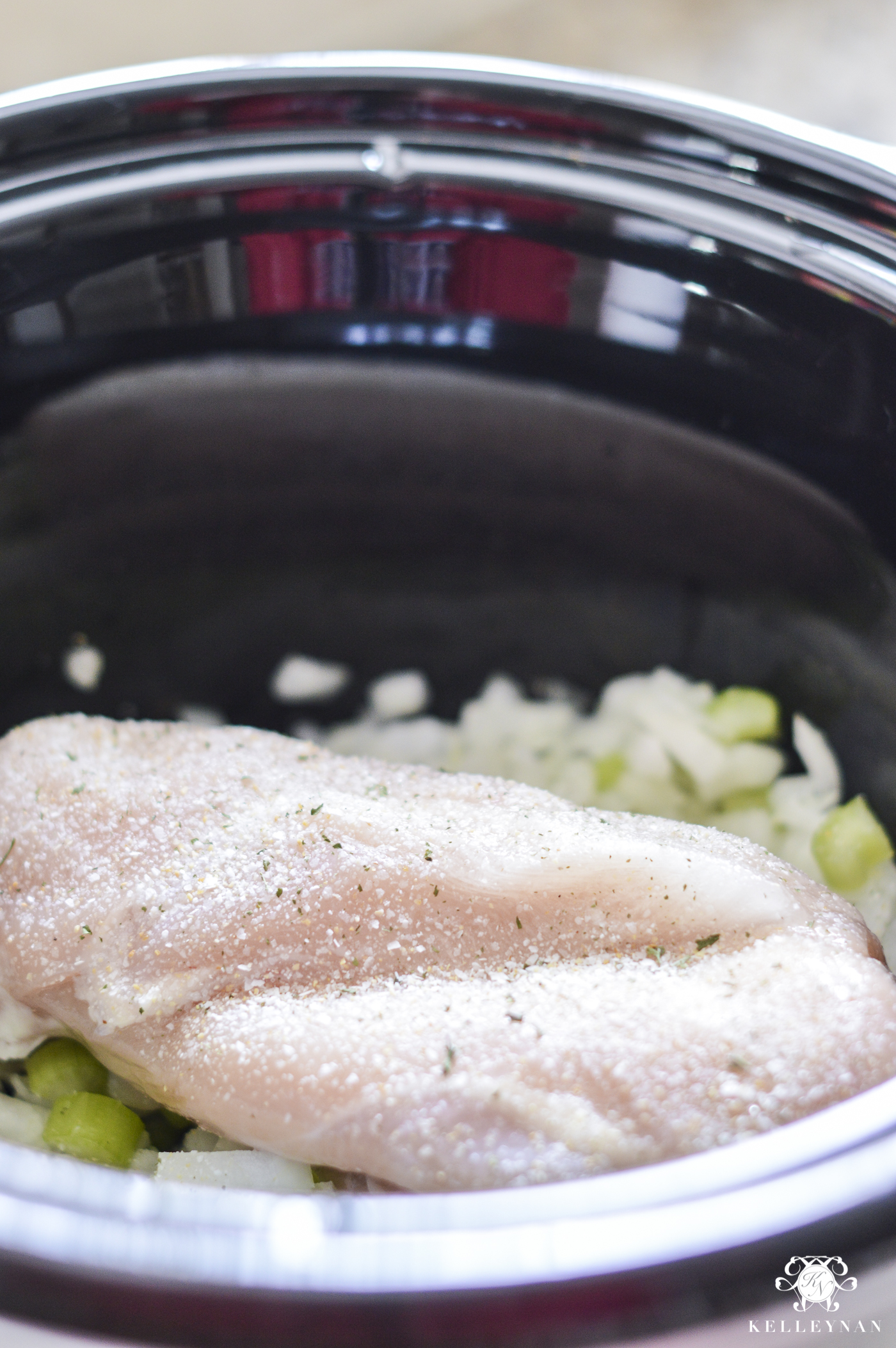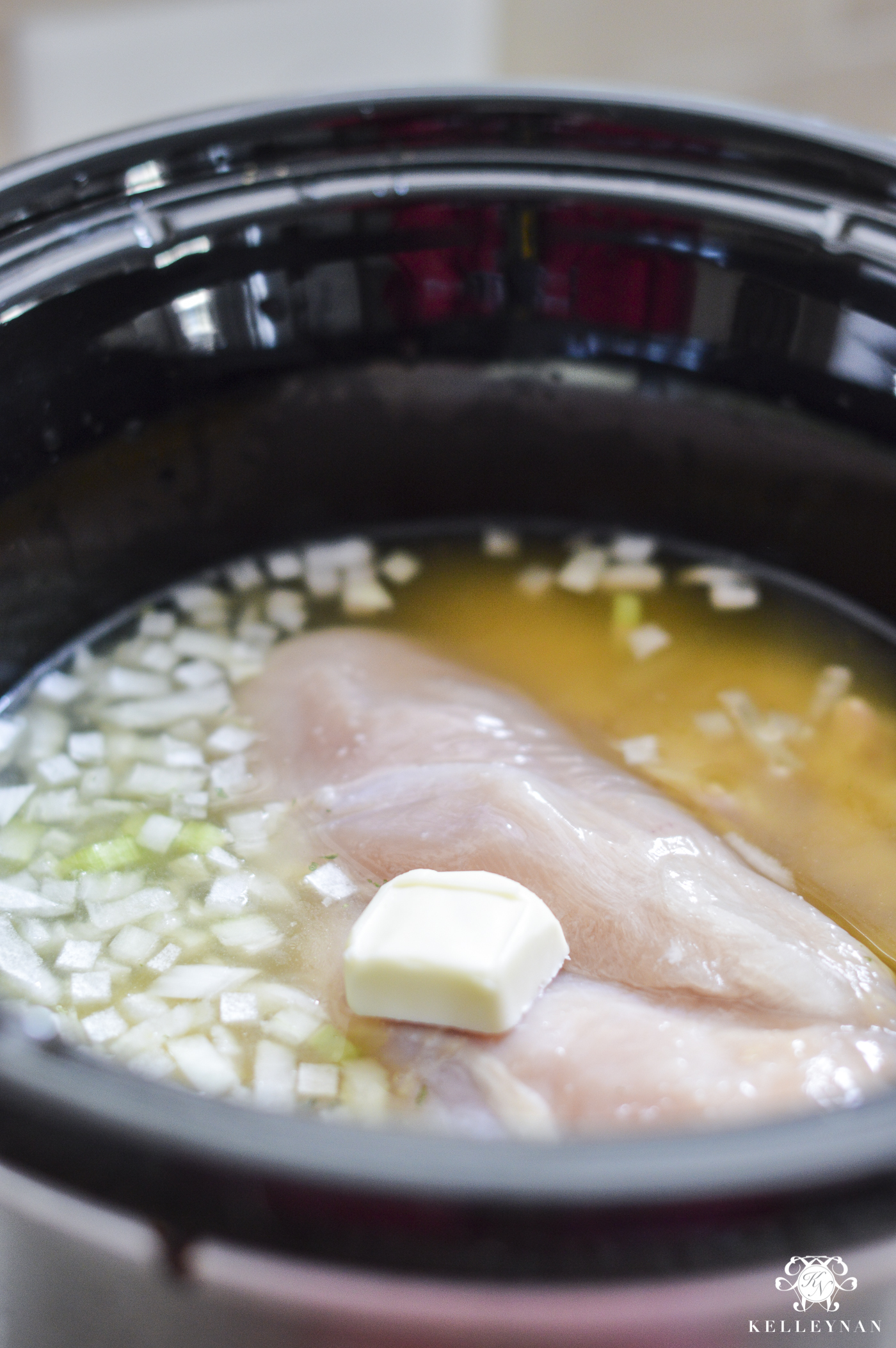 This is the result of six biscuits, cut into small chunks. After an hour and a half, check your dumplings. Once they are cooked through, you are ready!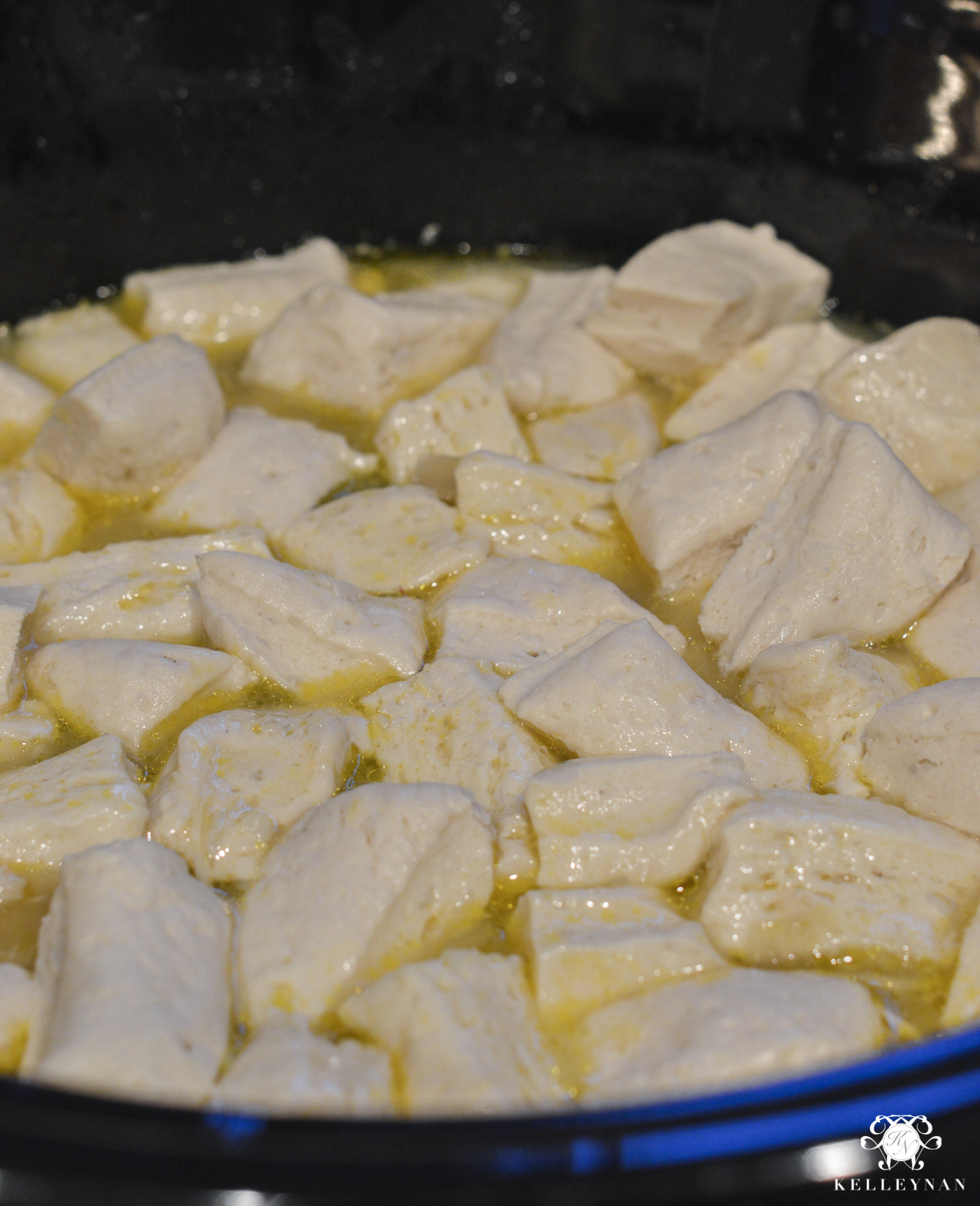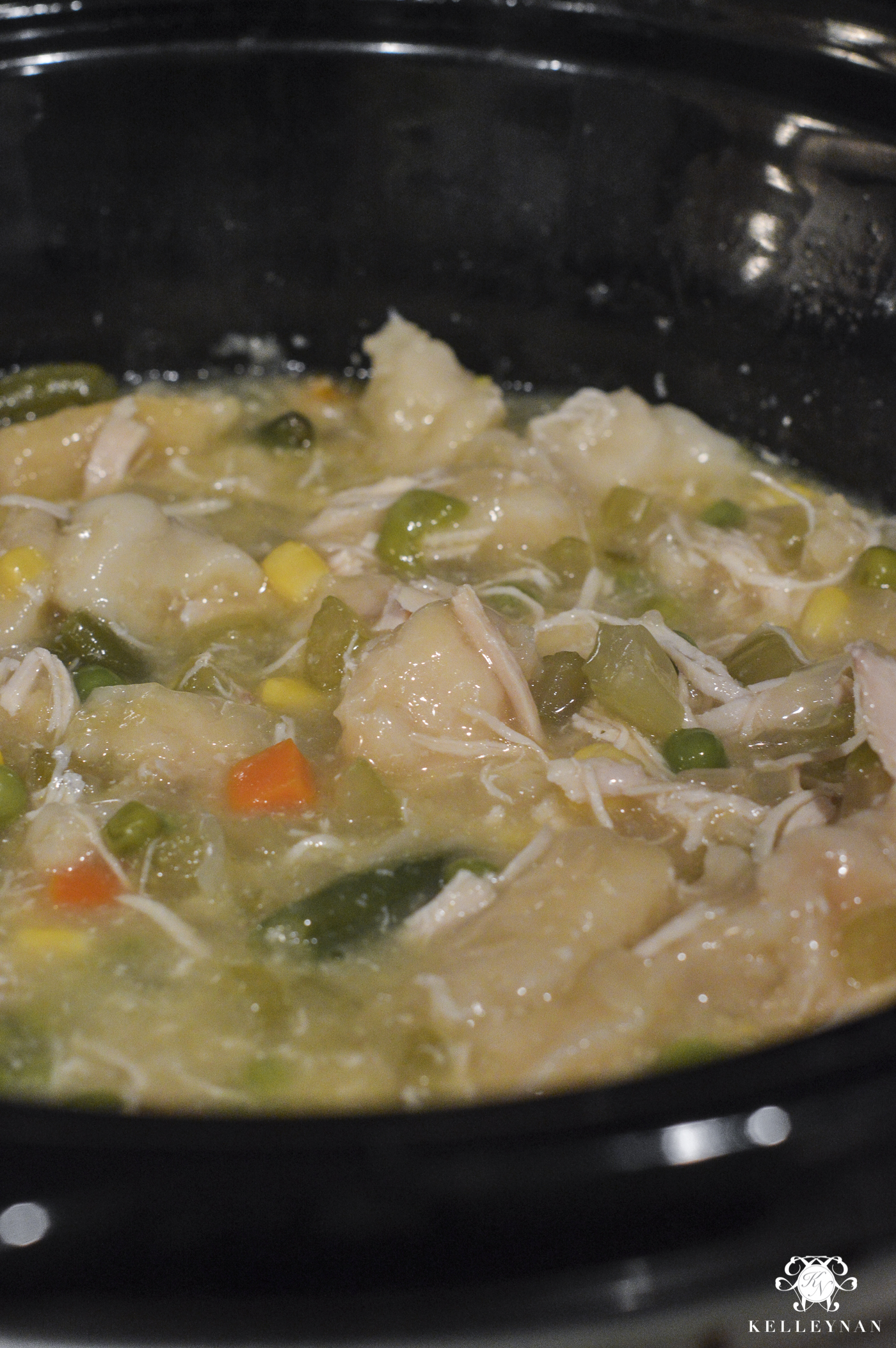 I eat a jelly biscuit on the side of my chicken n' dumplings; my husband saves his for dessert 😉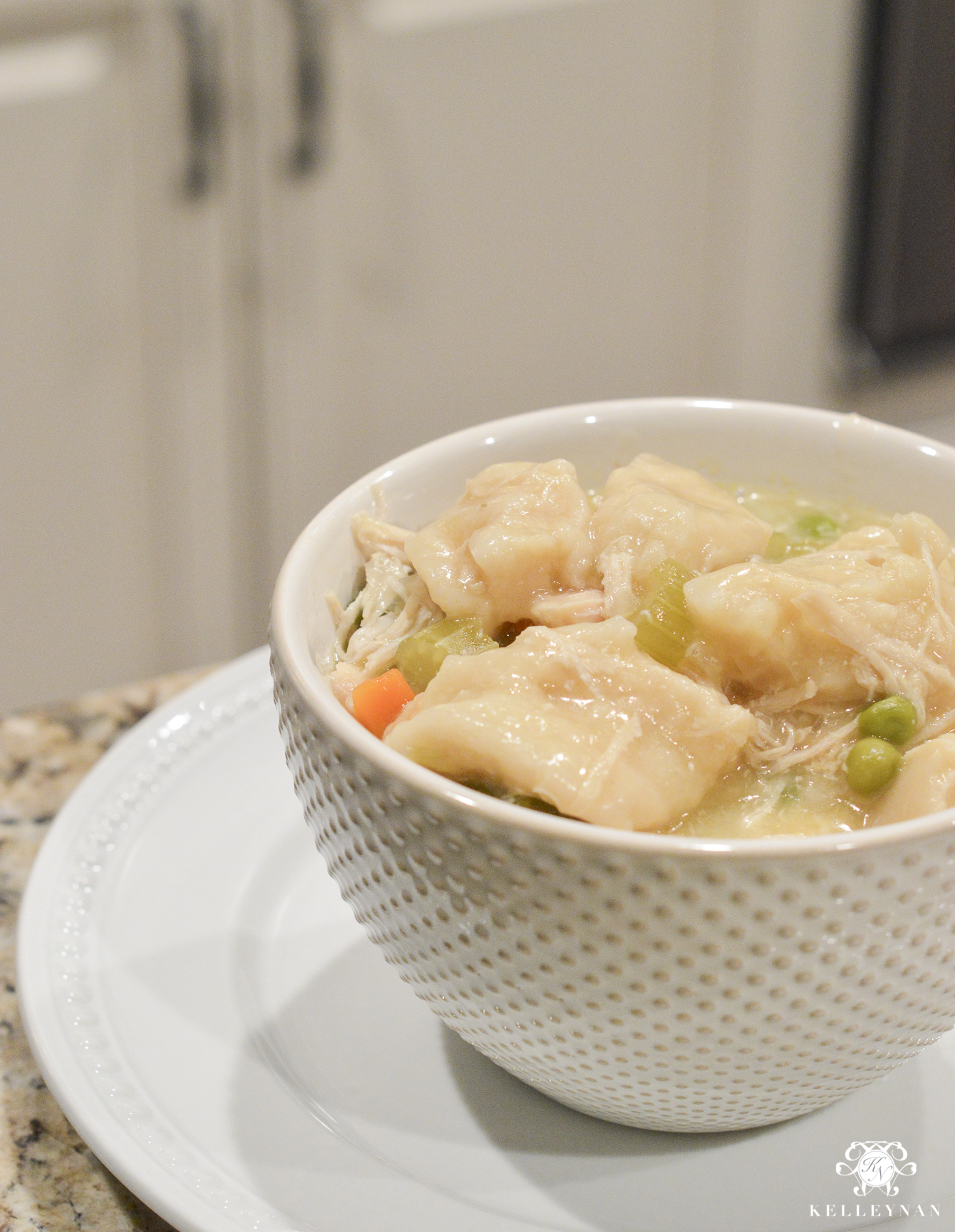 While I was waiting out the dumplings, I scanned around my kitchen. Several cabinets and drawers need serious work but there was one drawer in particular that needed a makeover- the "everything" drawer. It was filled with straws, leftover condiments, napkins, takeout menus, flower food… a little bit of everything. Meanwhile, my drawers in the butler's pantry hold far too many items. I easily distributed some items to more suitable homes and dumped the rest. Hello- open honey mustard packs that were spilled out into the drawer?!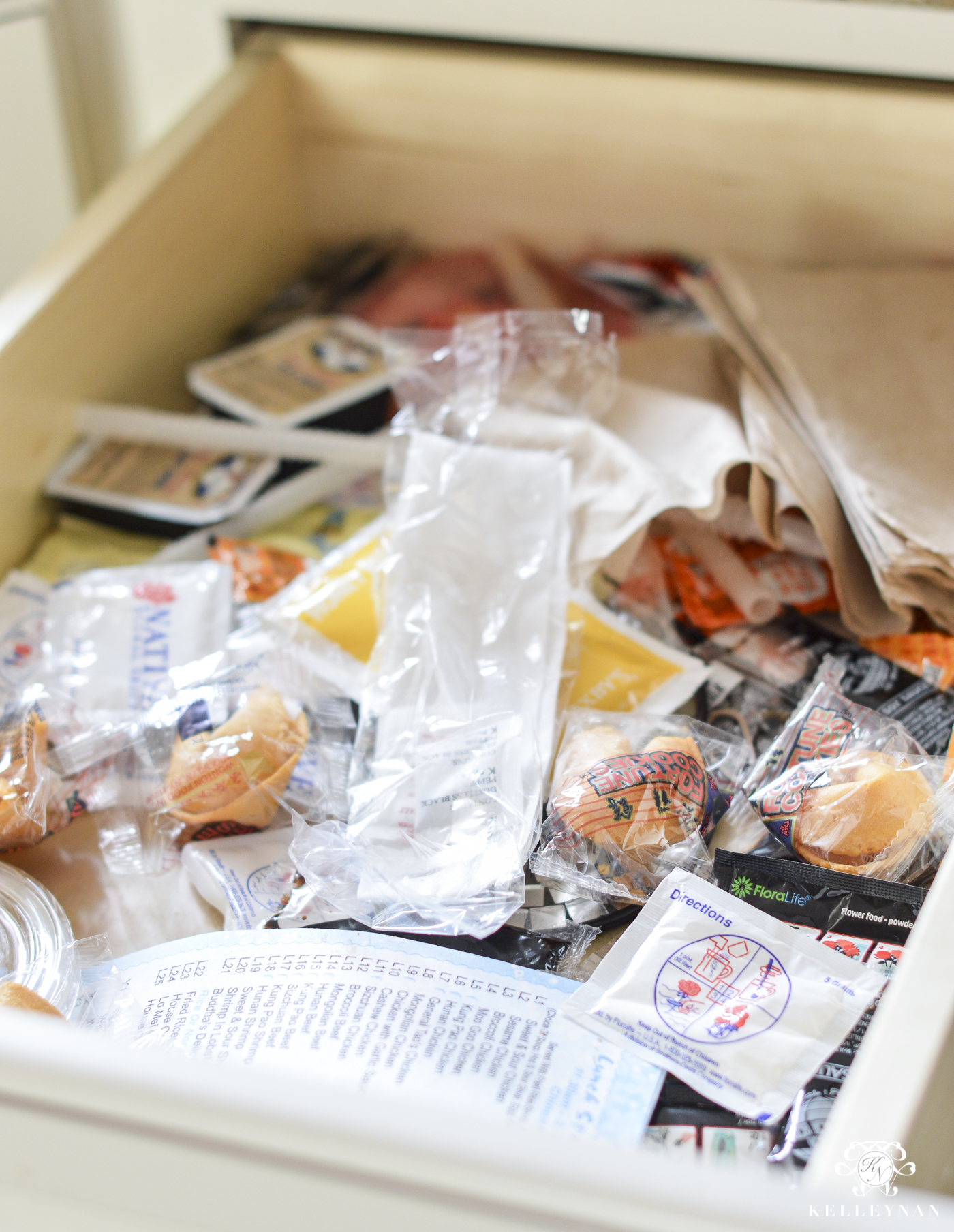 This was a spur of the moment project so I took inventory of organizational containers I already had. We are ALL about small bowls and ramekins in our house. As in, we have a cabinet overflowing with them. Several have sat unused and seemed the perfect solution for the also obscene amount of picks I have accumulated.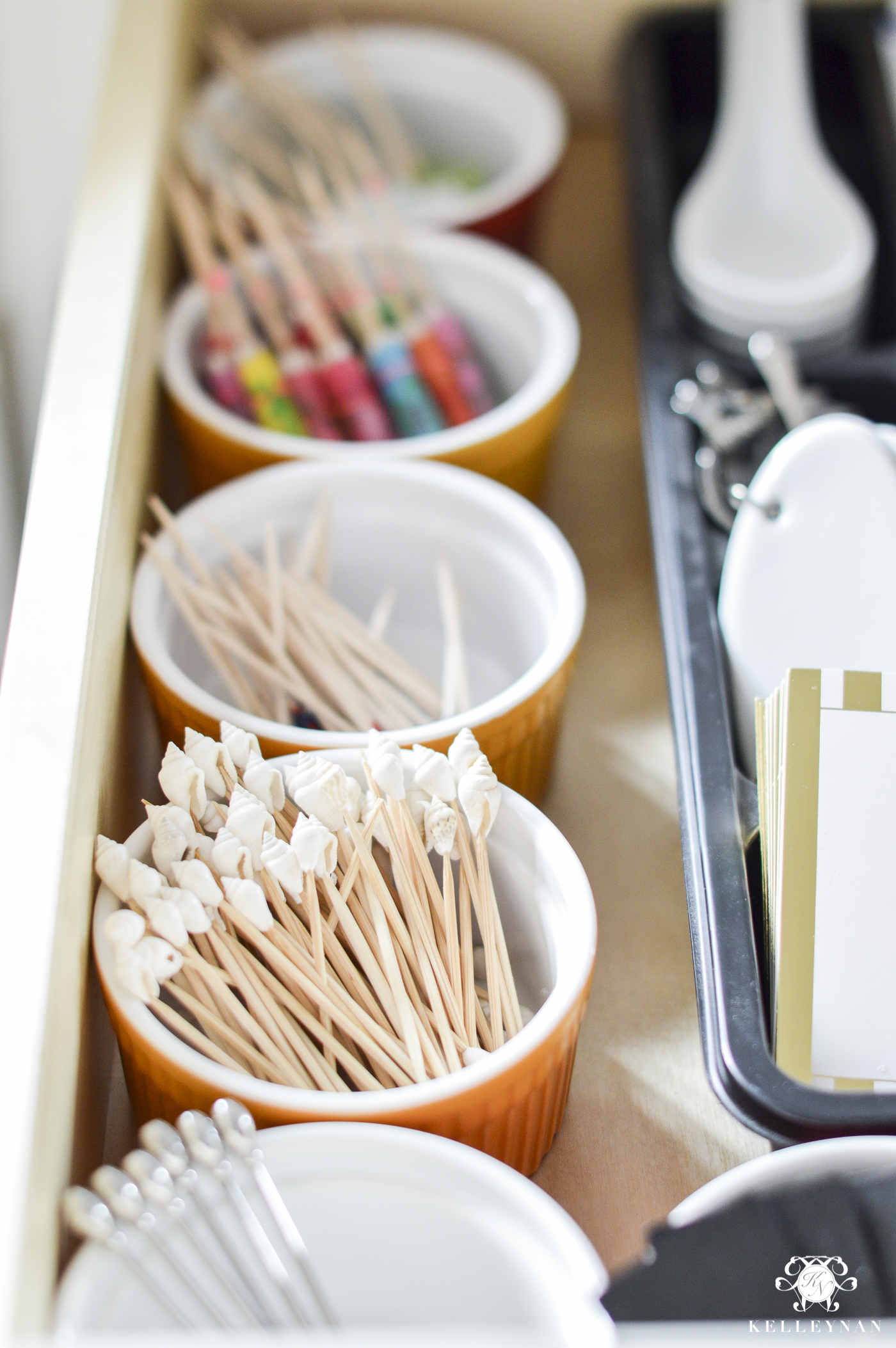 I had an unused, plastic organizer thrown in a closet that I pulled out to corral other entertaining items, straws, and flower food.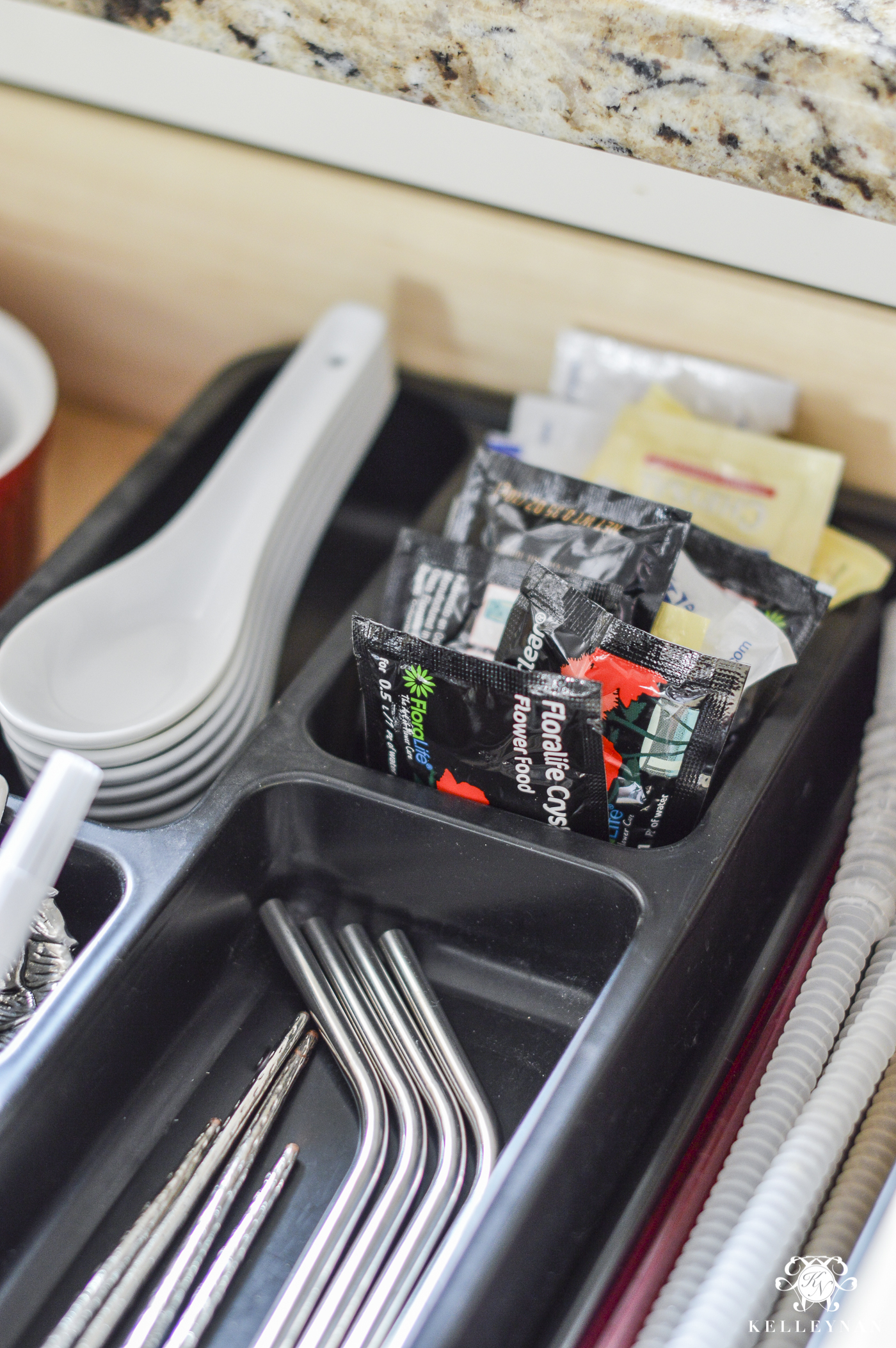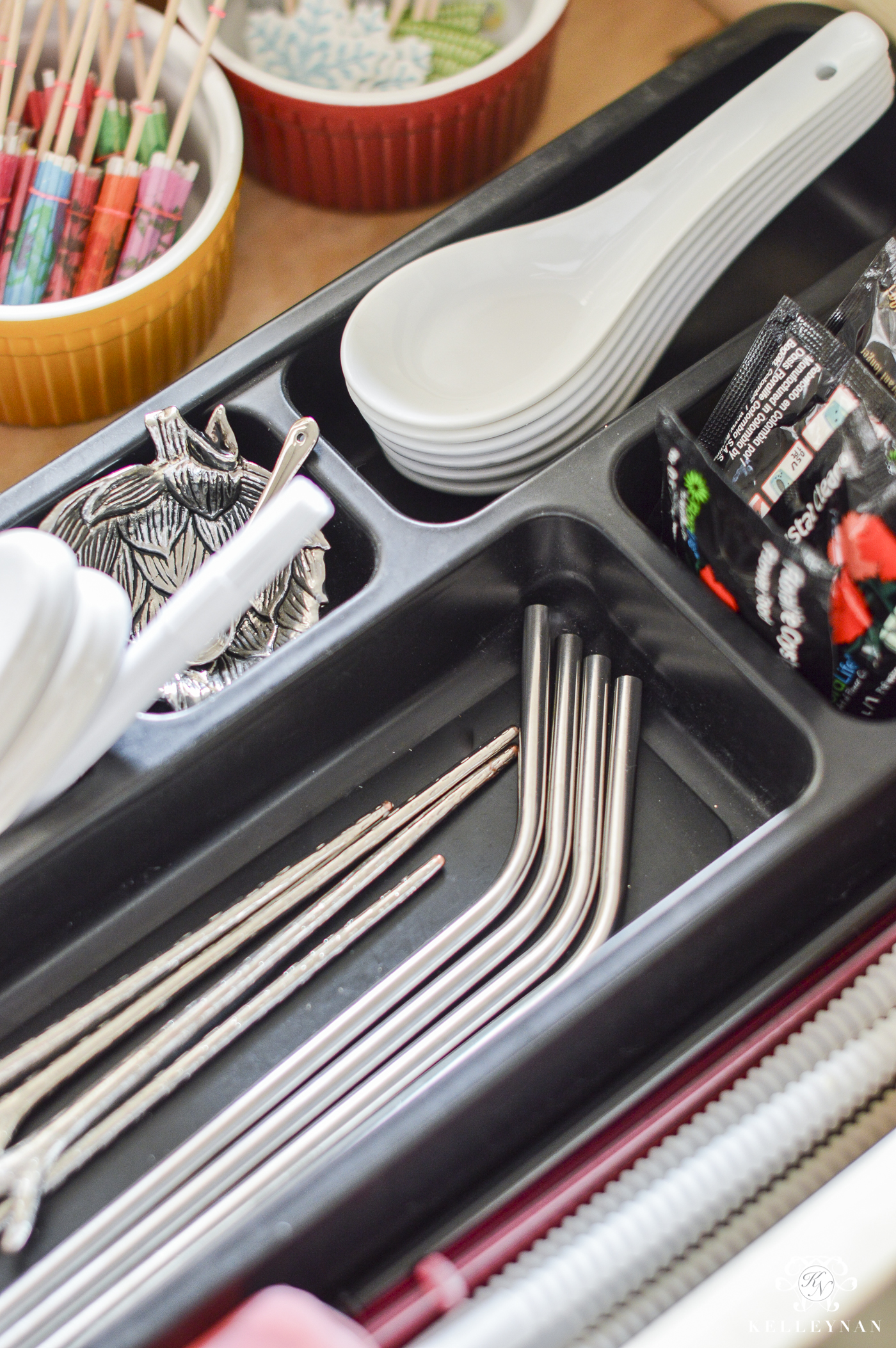 This was accomplished so quickly while dinner was finishing, the rest of my kitchen organization will be tackled in a similar manner, dinner by dinner, space by space.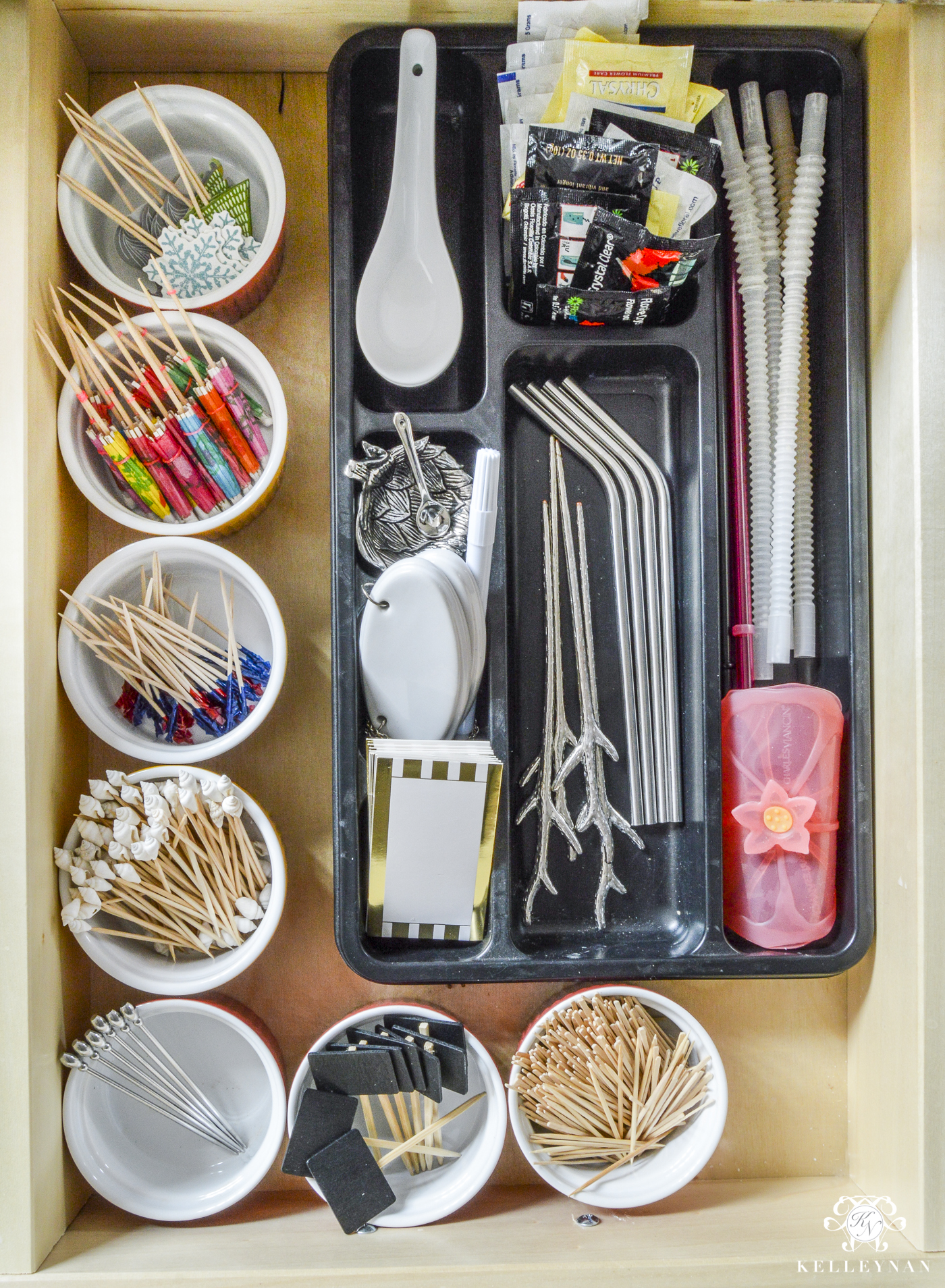 I'll be back next week, sharing more spaces I've tackled! If you  missed my other recent organization posts, you can check them by clicking on the images below:


*post contains affiliate links*