It's less than a week into 2017 and how am I doing on my resolutions? Great! Because I didn't set any. That doesn't mean I don't have goals; I absolutely do. But, measurable objectives to obsess over? Not so much. I am committing to "doing better and being better" in certain areas where I know I need the most improvement. Fewer things get me more excited than color coding, organized compartments, and well thought out dividers but this past year, I have hustled to add to our home and have lived in such a constant state of transition that my organization has taken a back seat. To start the year, I am focusing on simplifying and de-cluttering. First up- my bathroom vanity makeup drawer!
To be honest, every drawer, every closet, every shelf in every room needs major work. As I work my way through, my posts aren't going to be "here's my organized house!" or even "here's my organized room!" It's going to be more like "here's my organized drawer!" – yes, one at a time. I am trying to be thoughtful about the systems I am implementing so even though I have tackled and completed my entire bathroom, it took a couple of days. My linen closet wasn't completed until a few days after I finished the drawers and cabinets. That will be coming next week 😉
Before we jump in, I'll give you a little background. I am not crazy about our bathrooms – they are where we skimped the most when building. There are several smaller improvements I can make, and plan to, but they won't be seeing any full overhauls for a VERY long time. Before my new year effort, my counters were cluttered with acrylic drawers and I didn't efficiently make use of the little space I did have at my vanity. I made the decision that despite my current quantity, all makeup would go in the narrow vanity drawer. I was going to be ruthless. For someone who had a LOT of makeup (much still stored in the closet), this was a tall order.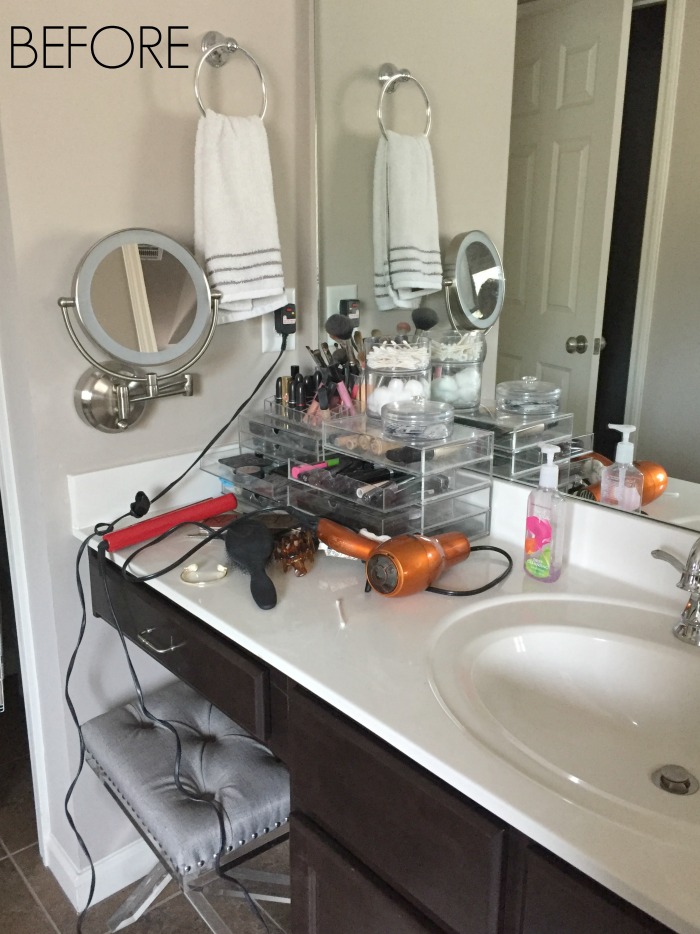 First, I cleared off the counter and cleaned out the drawer and cabinet and set everything on the opposite side of the bathroom. I gave my husband's vanity, drawers, and cabinets the same treatment and while I'm not showing any photos from his side, just know the improvement is huge 😉 I brought in two apothecary jars from the basement and with the freed counter space, was able to bring my perfume back in from the bedroom. I situated everything in a dainty mirrored tray and this beverage stand.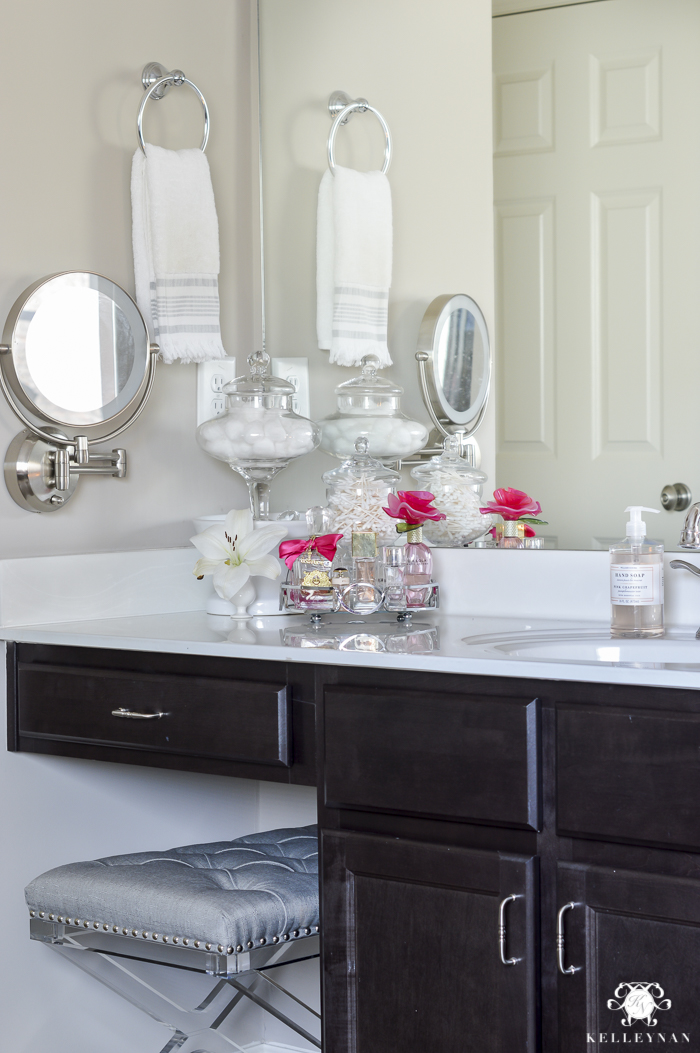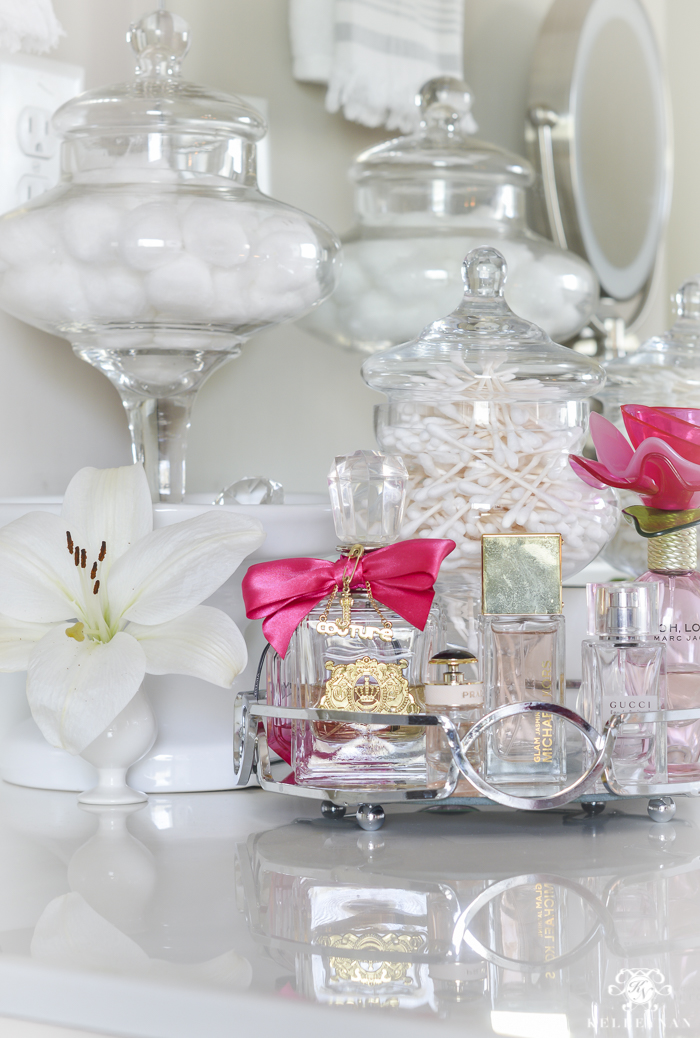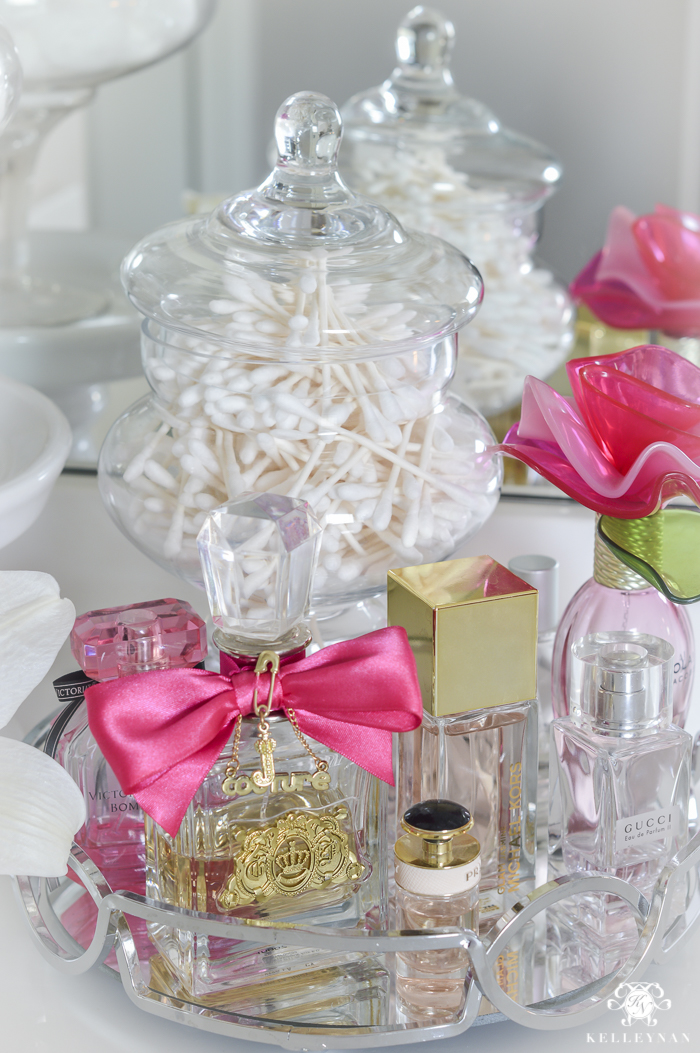 Next, I tossed everything that was old or isn't worn. I literally had 15 year old eye shadow in there. No, I am not kidding.
TIP: You can take any old MAC makeup containers to recycle at your local MAC counter- six empty tubes/containers will get you one free lipstick of your choice (per six containers). I stash all my old containers in a bag in the closet and after this project, I will be looking at about 384 new tubes of lipstick! haha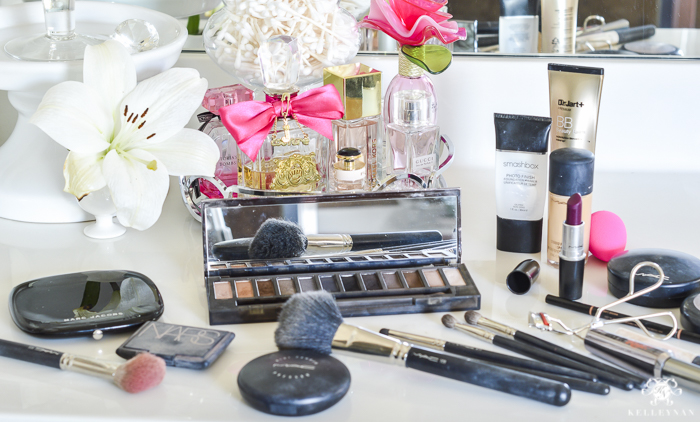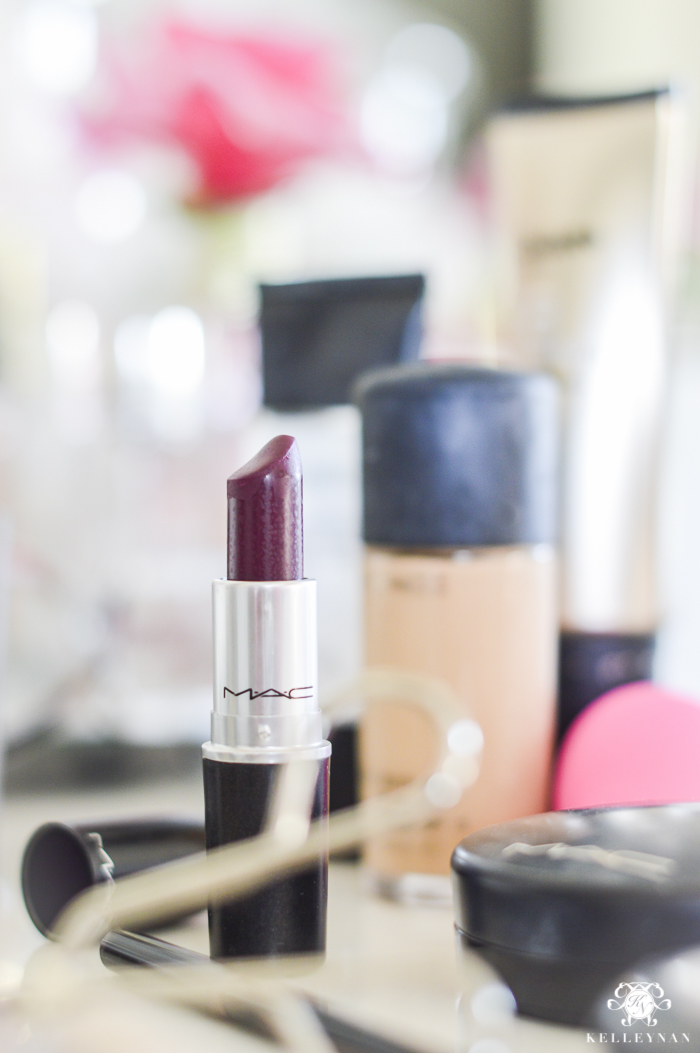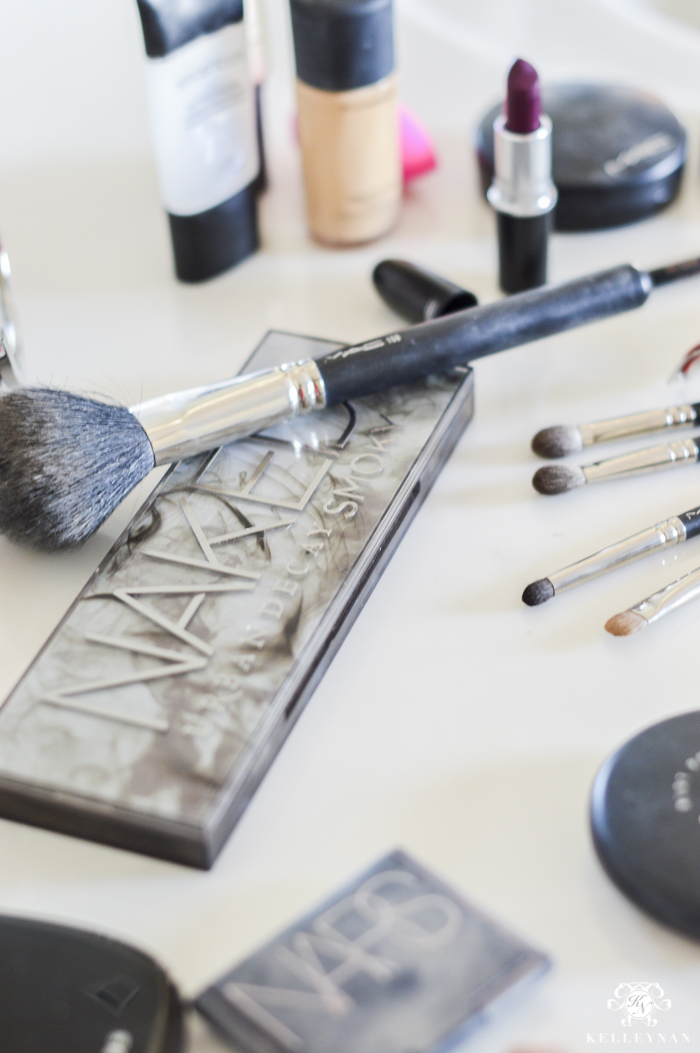 I took drawer organizers I had previously purchased – nothing fancy or pretty – and situated them until I found a configuration I liked for my drawer. This is where I started.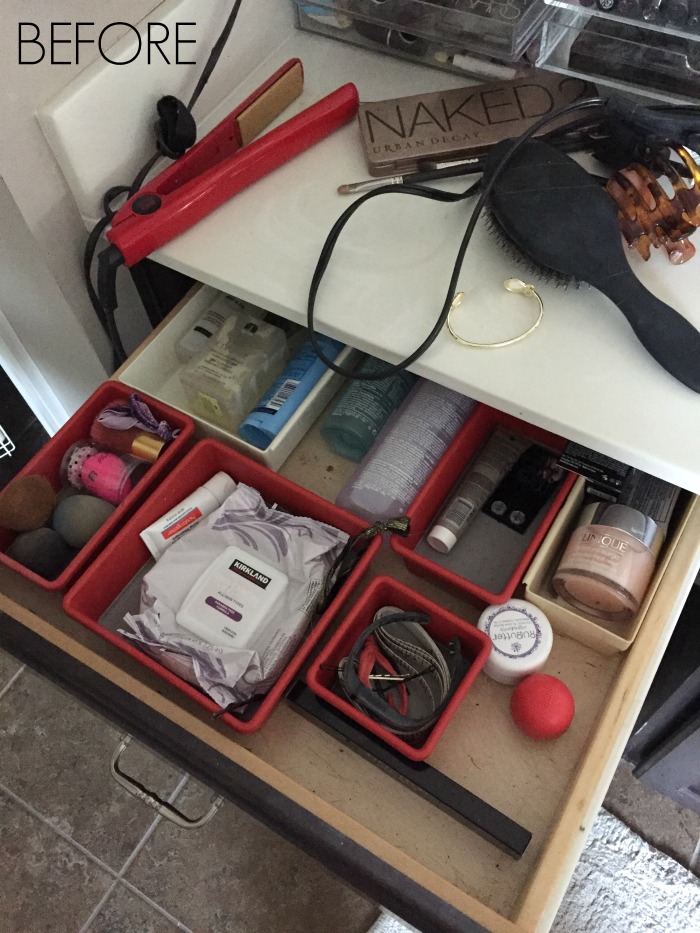 And here is the result.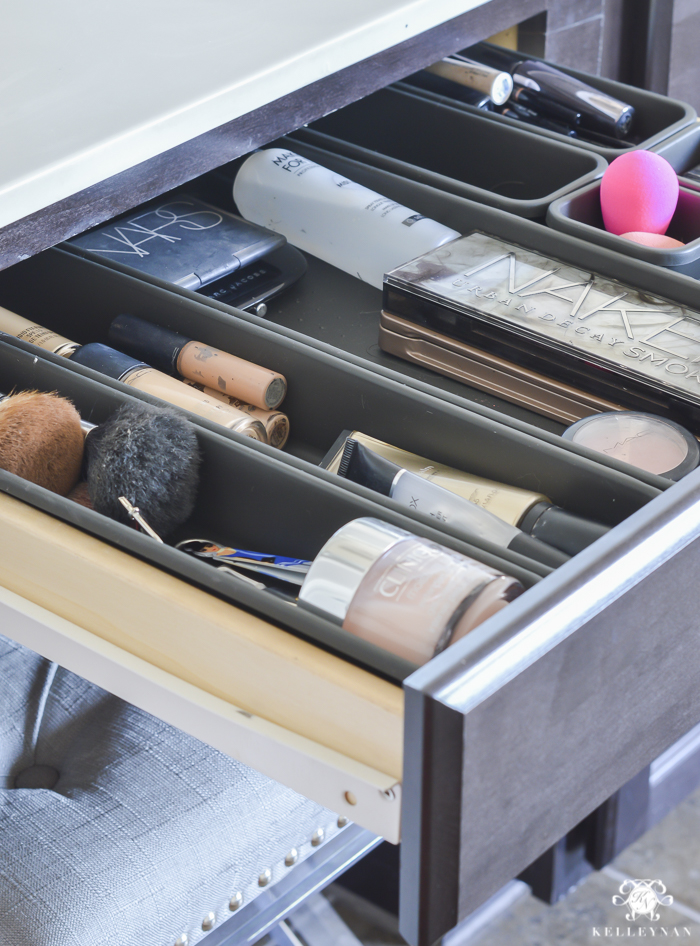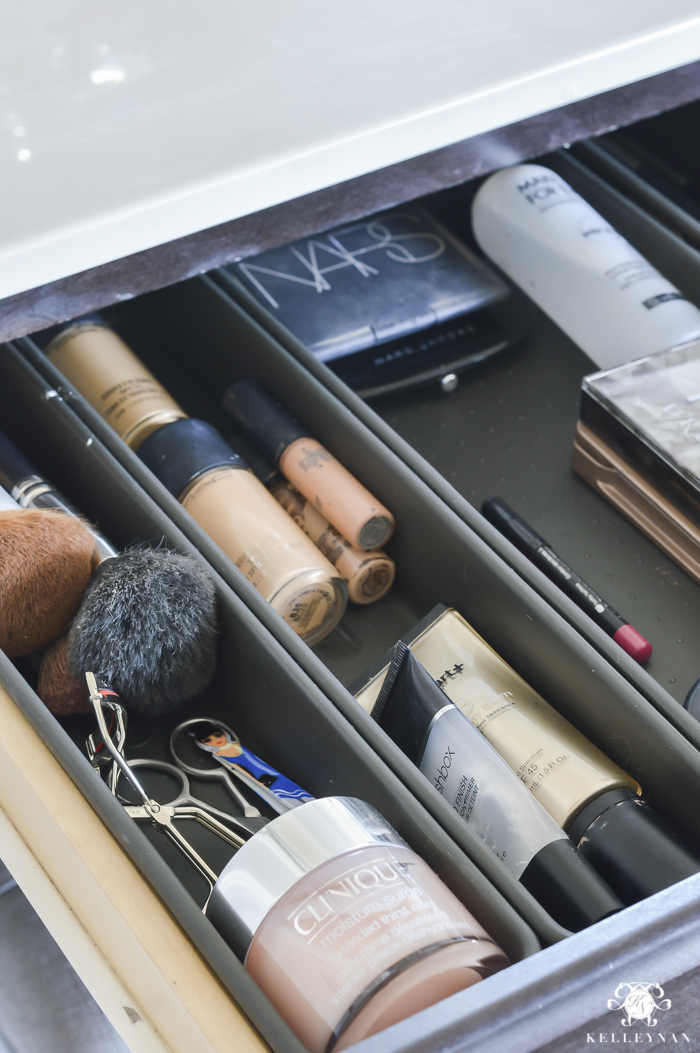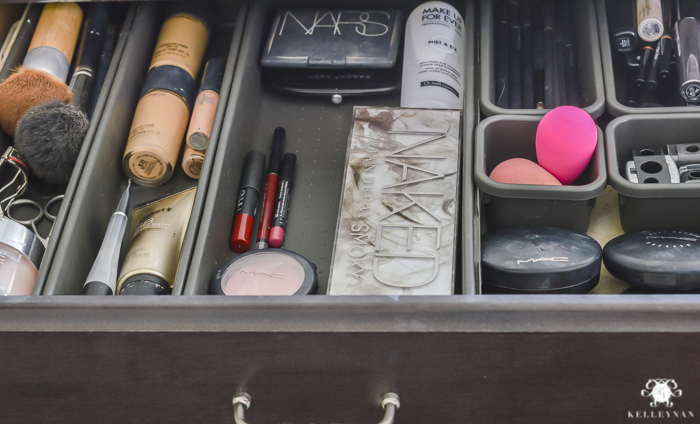 I have had this configuration for about two weeks and have had zero problems keeping organized. Group all like products. Start with your largest items and allocate those to the largest containers.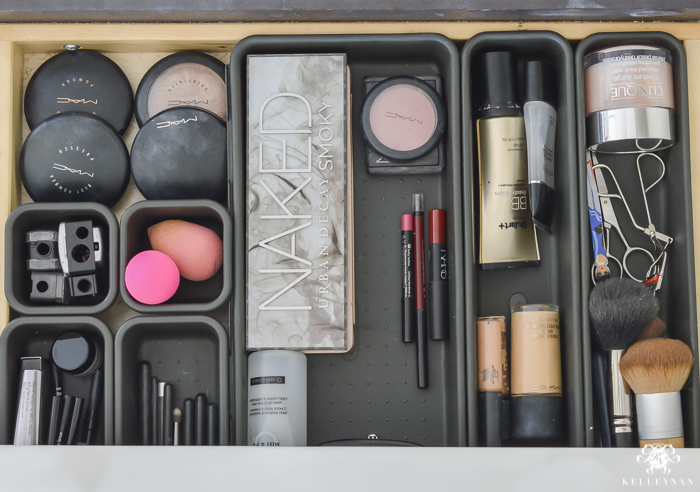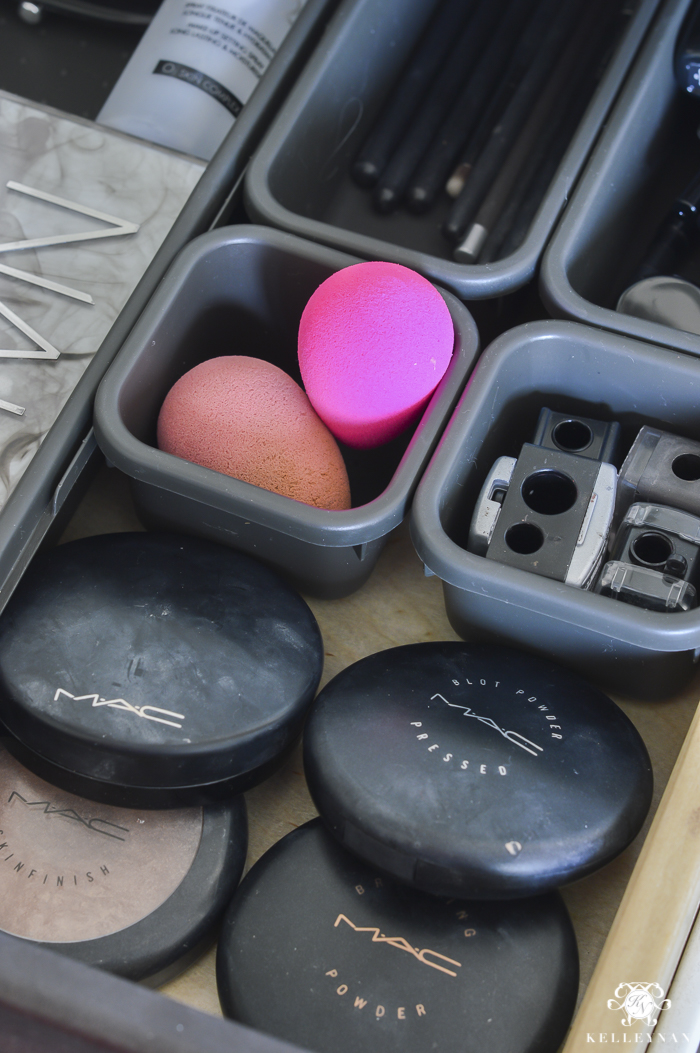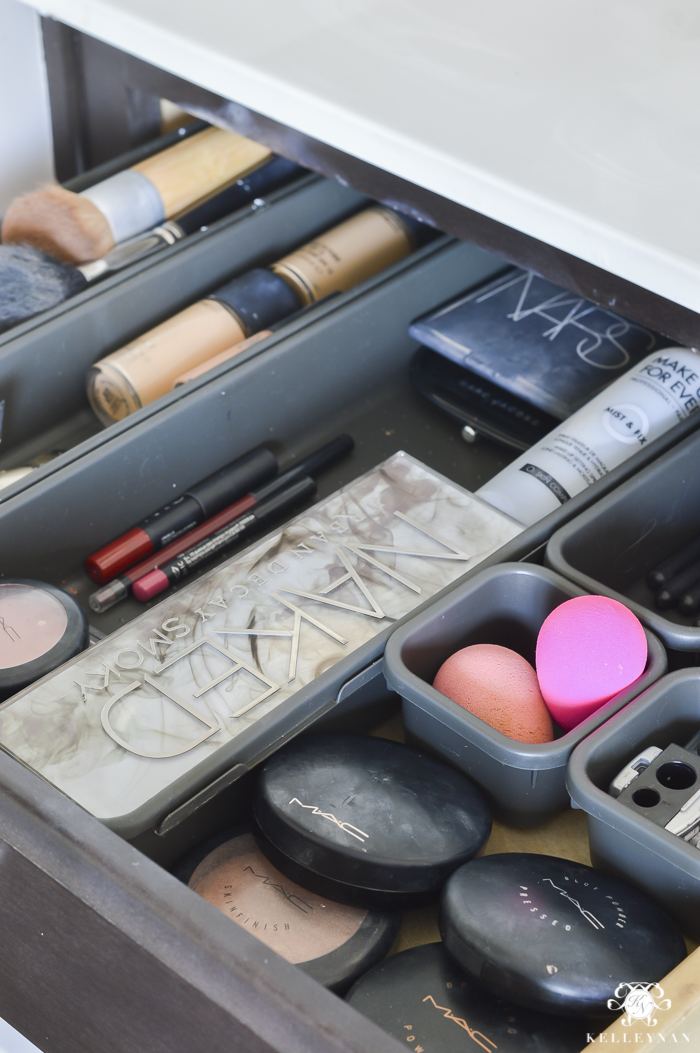 Next, I tackled the cabinet beneath the sink. Not terrible but nothing great going on here. With the extra stock from my vanity drawer, I needed to make better use of vertical space and keep my most used items in a convenient location.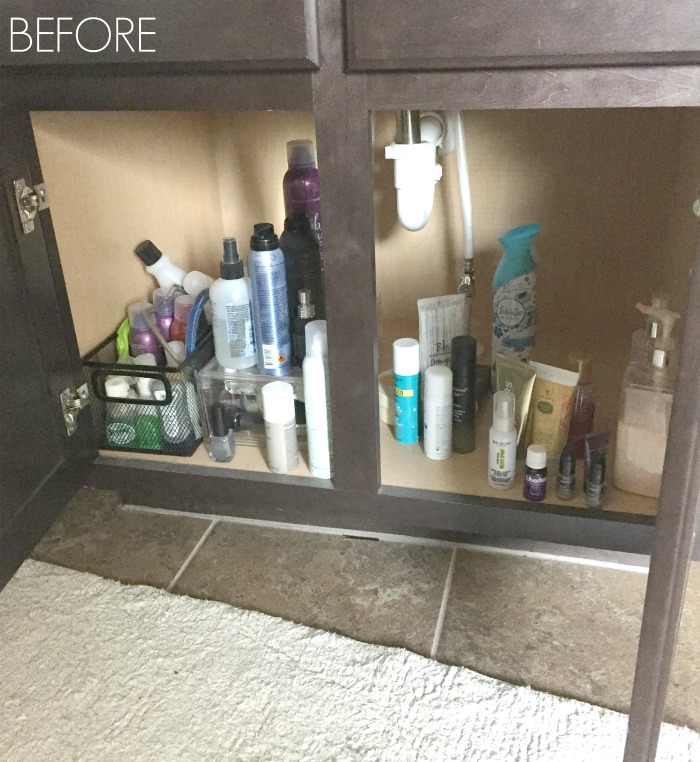 …and here's the after. I have a lot of lipstick and lip gloss (likely 20 additional tubes in purses) so I kept my acrylic organizer and relocated it to the cabinet.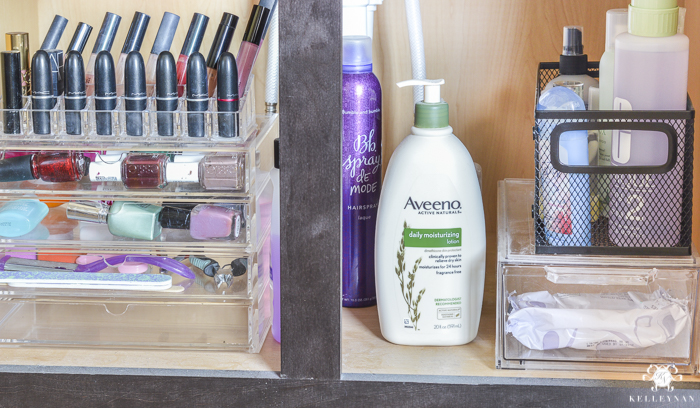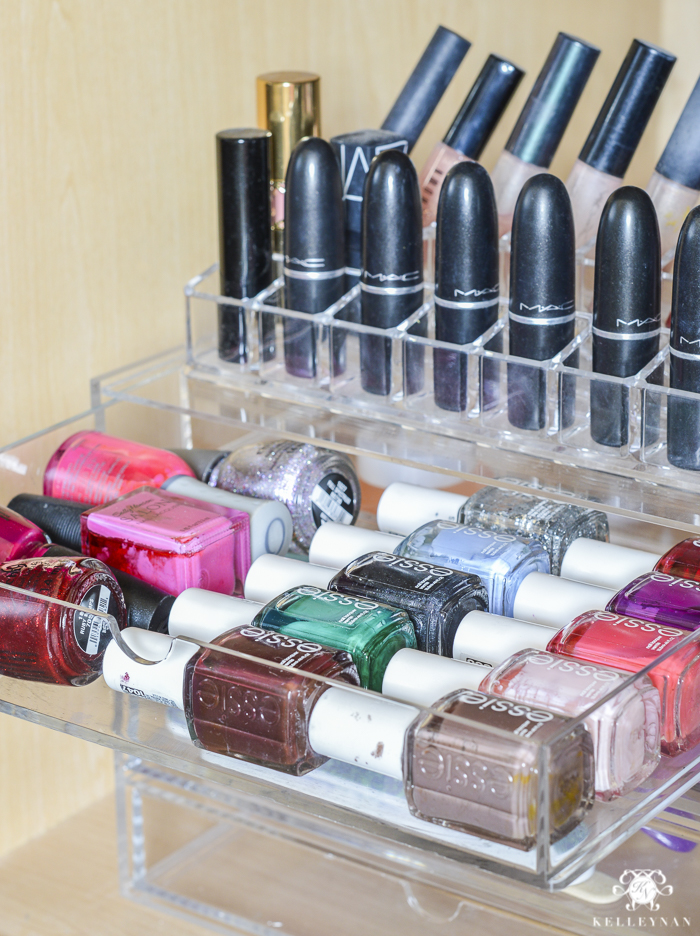 I re-purposed one of my acrylic drawer sets for nail polishes and too… there is still a little extra space to grow. First, I washed all the plastic drawers – not fun but it had never been done!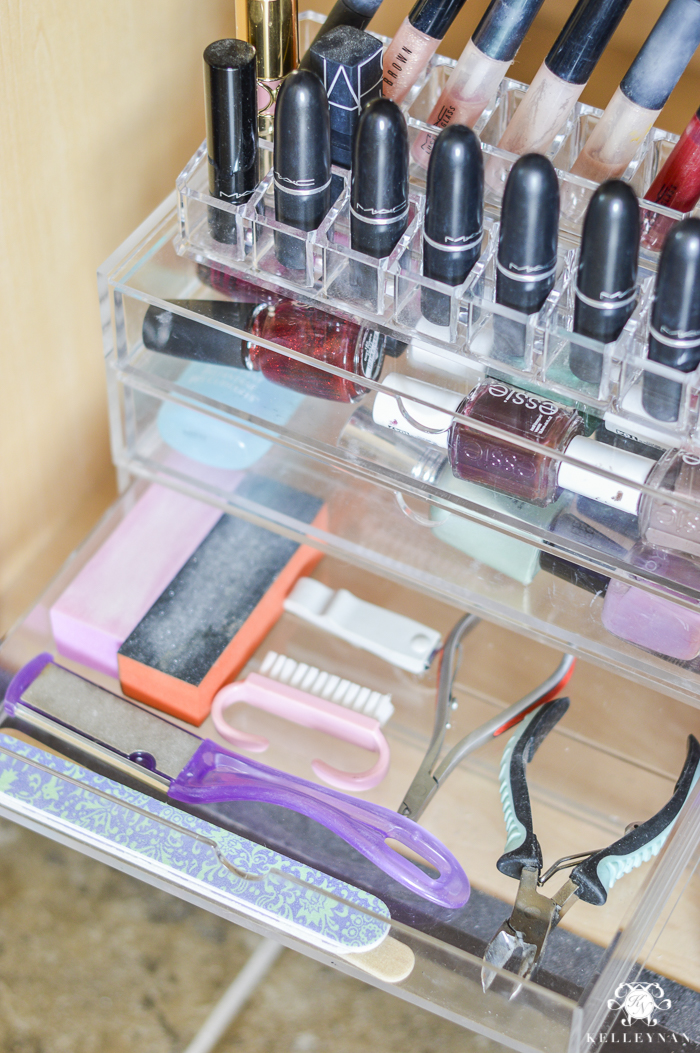 For my daily used toiletries, I used a metal mesh container I already had. This can easily be moved to the counter and back to the cabinet after each use.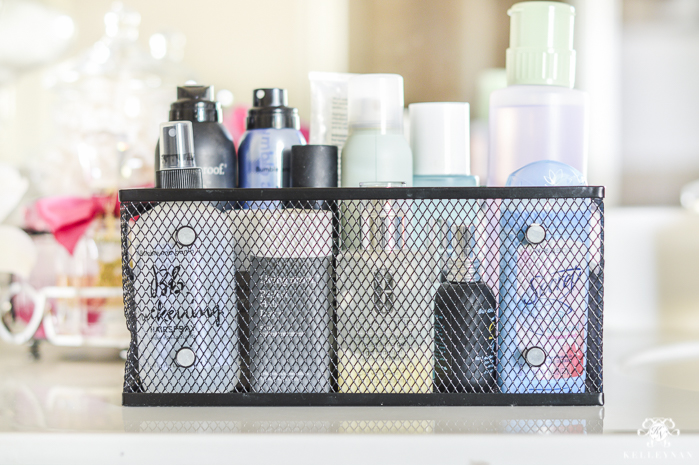 Maybe this project took longer than it should have but it was the perfect place to start in my organization quest. If you need a nudge to get started or are looking for just one thing to cross off your list, this is an area that can be made over with minimal costs. And, you will purge so many unused/old items you will have great momentum moving forward. If there are specific places in my home you want to see organized, let me know! It will give me all the more motivation to make sure it gets tackled in the new year. To see more upcoming projects, be sure to subscribe to my emails HERE.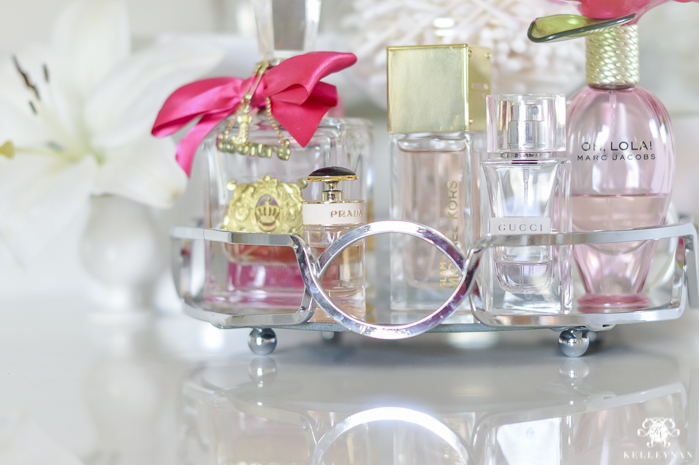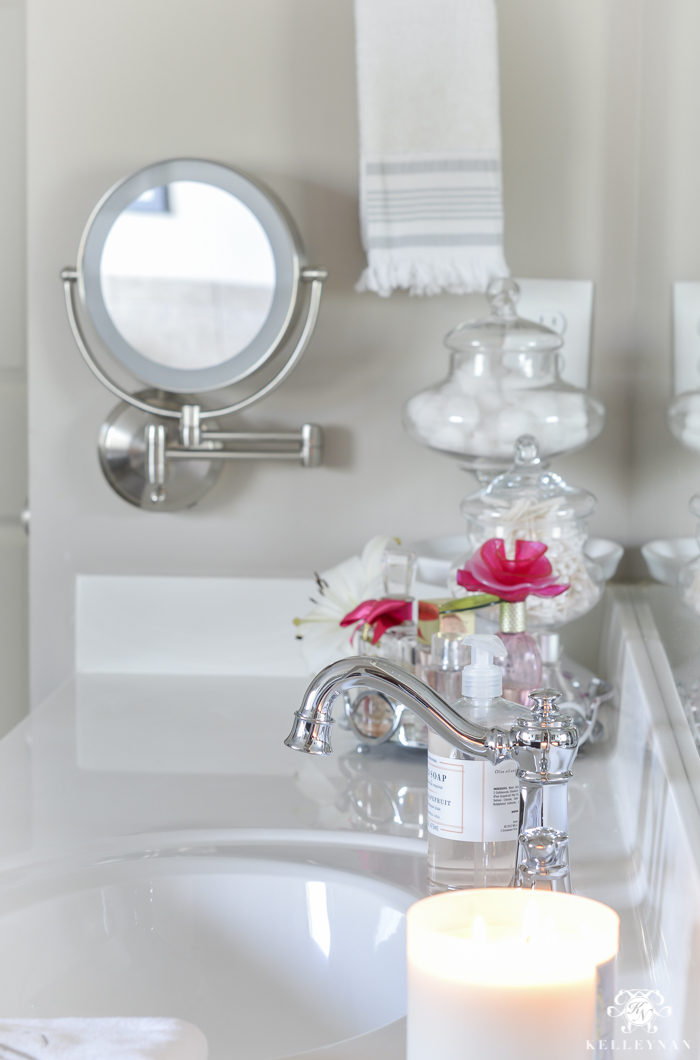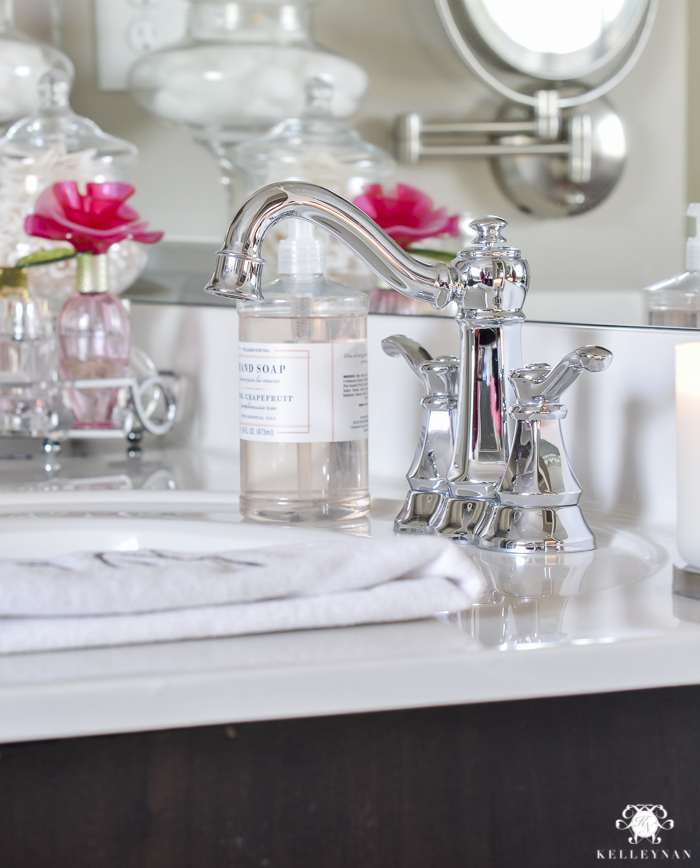 I have a LOT of beauty products and it would take forever to list them all, but here are my absolute favs – all made the "cut" and are pictured in my organization project.

*post contains affiliate links*