The second organization project of 2017 is officially complete! Following my vanity overhaul (HERE), naturally, the next area to tackle was the linen closet which I use in tandem with my bathroom "station". I will admit, I am lucky to have ample storage space in this house but because I haven't had to get creative in making the most of my space, in a lot of areas, I haven't. When we moved in almost two years ago, dispersing things in suitable closets using the "throw it in" method was about as far as I got. But, I hated stuffing things on some shelves while others had plenty of space, my mismatched double plastic drawer sets reminded me of a dorm room, and I was long overdue for some serious 1995 Clinique bonus bag purging. By devoting a little time one afternoon, I easily created an organized bathroom linen closet anyone can have.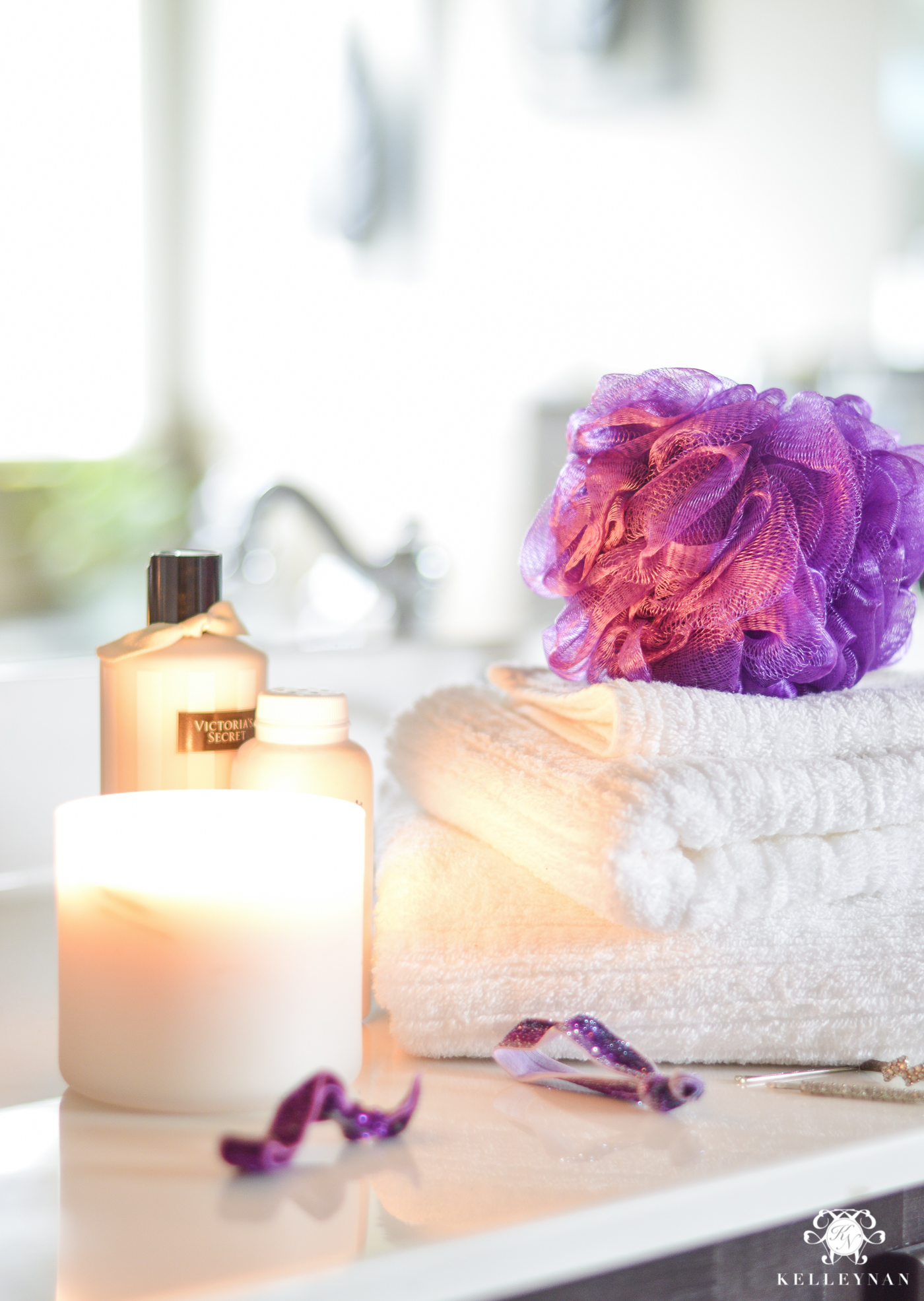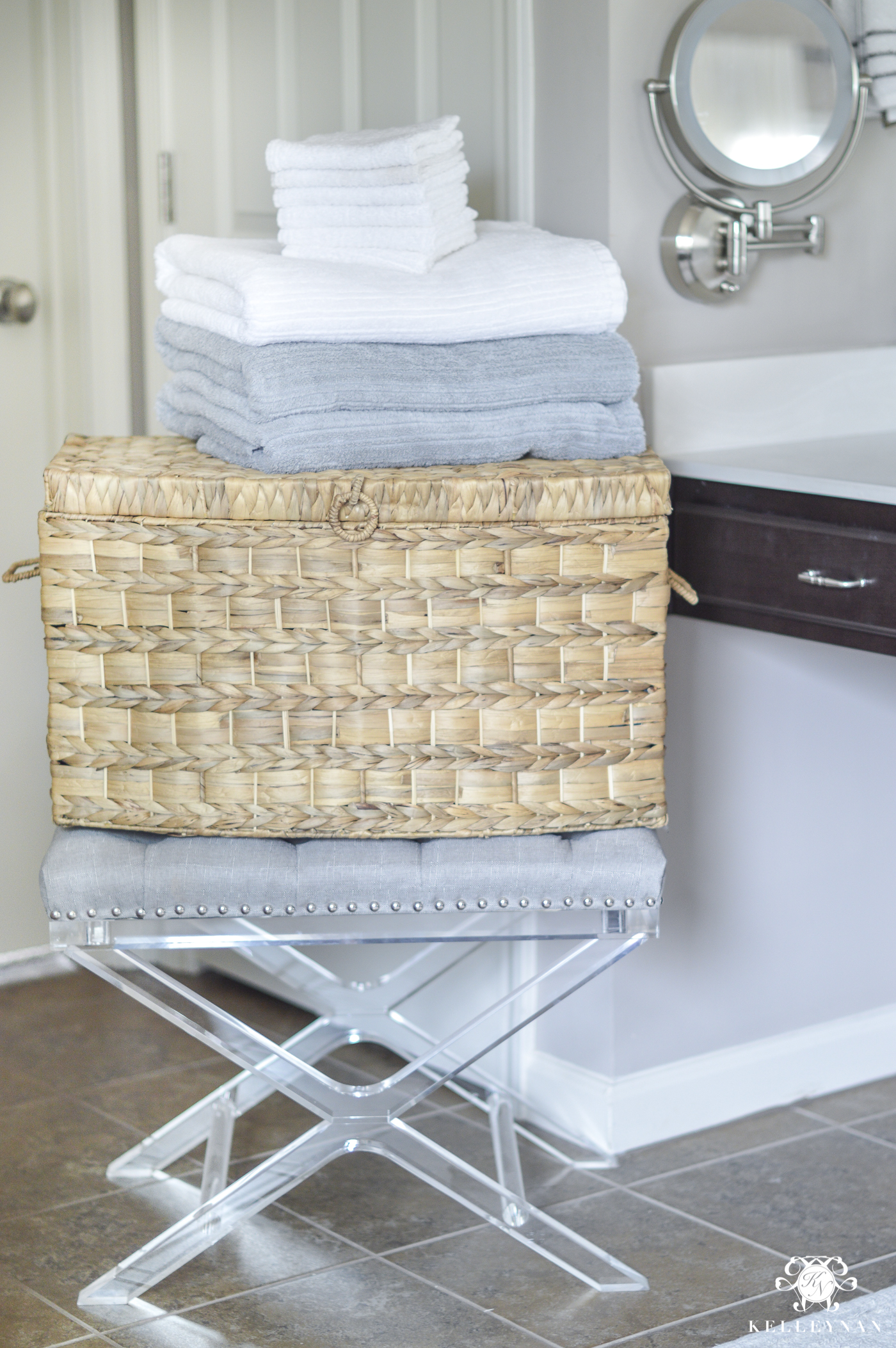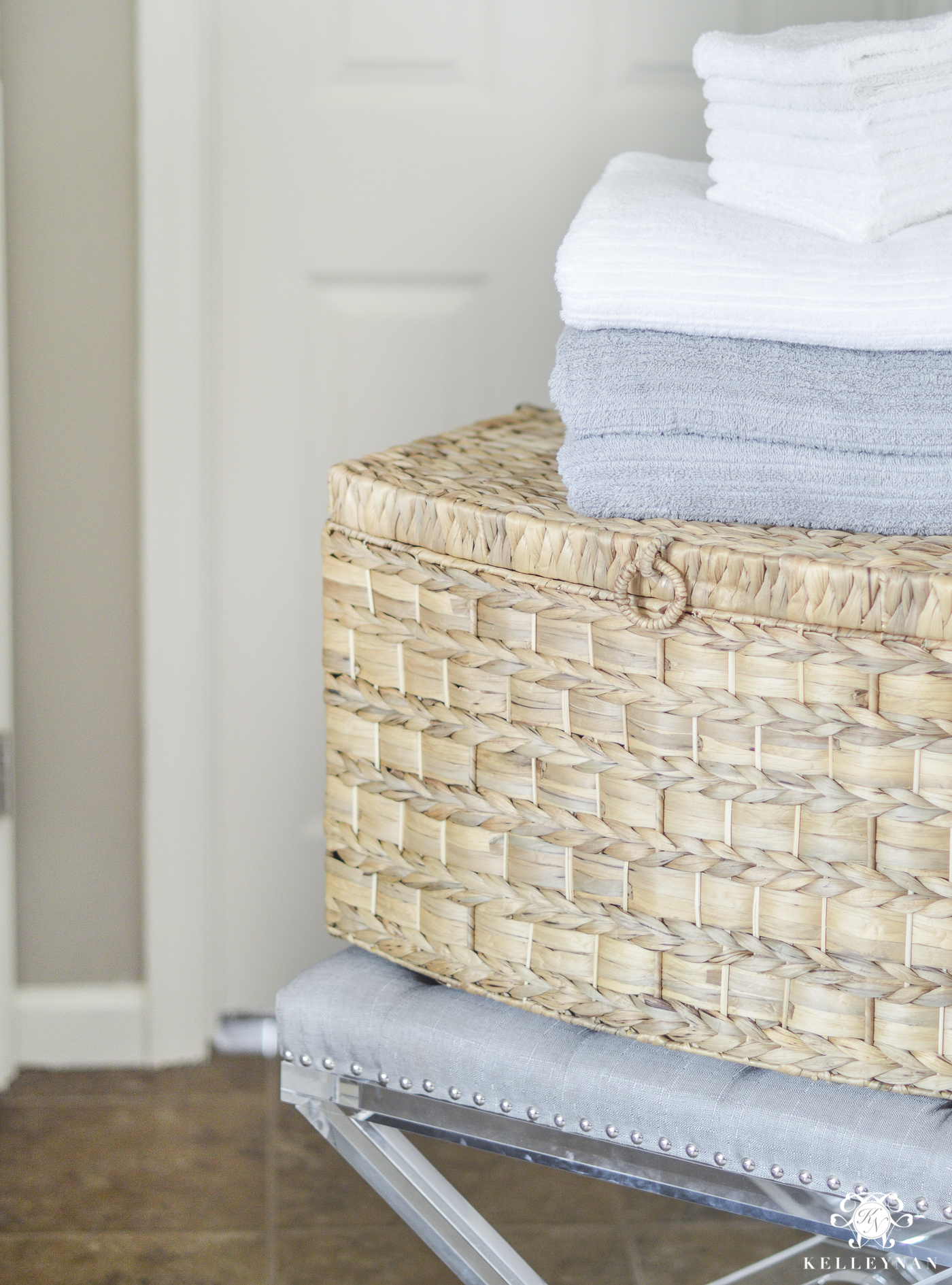 There are two parts to the linen closet. I used the back of the door for meds while the inside held towels, tools, and toiletries. I didn't want to change they system; I just wanted to make it better. Much better. Here is an unedited glimpse of where I started.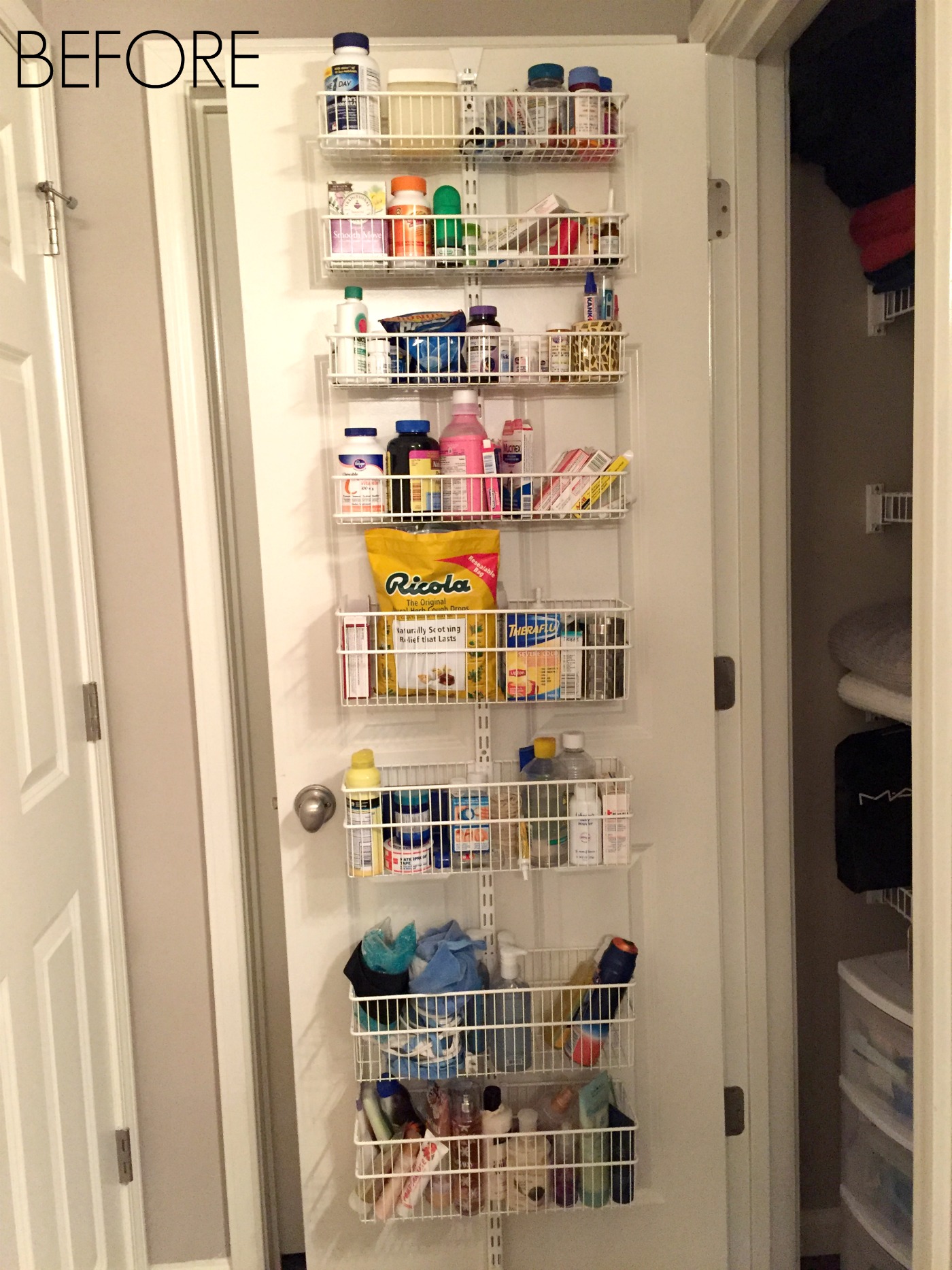 First, I took everything out. EVERYTHING. I tossed bottles that had expired (many had back to 2012) and grouped like items as I began mentally assigning designated shelves. After clearing old containers, more space was made for overflow toiletries. In the past, I have attempted to organize meds in a cabinet and in plastic lidded bins… they didn't work for me. I need everything spread, not stacked and layered, in order to stick to a system.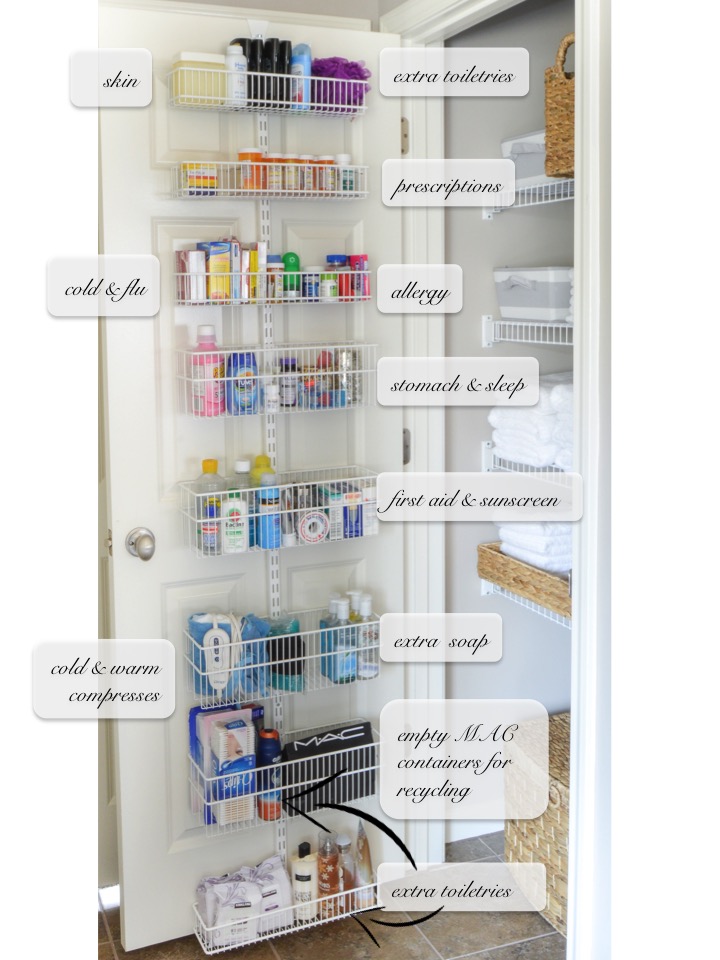 In the post where I organized my makeup and vanity (HERE), I made reference to the recycled MAC makeup container tip. I keep all the bottles and cases in the MAC bag on the second to bottom shelf. Like I said, after recycling everything in there, I should have about 6 new lipsticks in store 😉
I use these Elfa storage solutions on the back of doors as I am able; they are major space enhancers! If you are low on space, consider adding one to your pantry (we also have one there), or on the back of an entry closet. The Container Store runs an annual Elfa sale (going on now) where all pieces are 30% off; this is the time each year when I stock up! You can find all kinds of back-of-door solutions HERE.
Scroll and click on the solutions below for details.

Or, you can configure your own (as I did) HERE.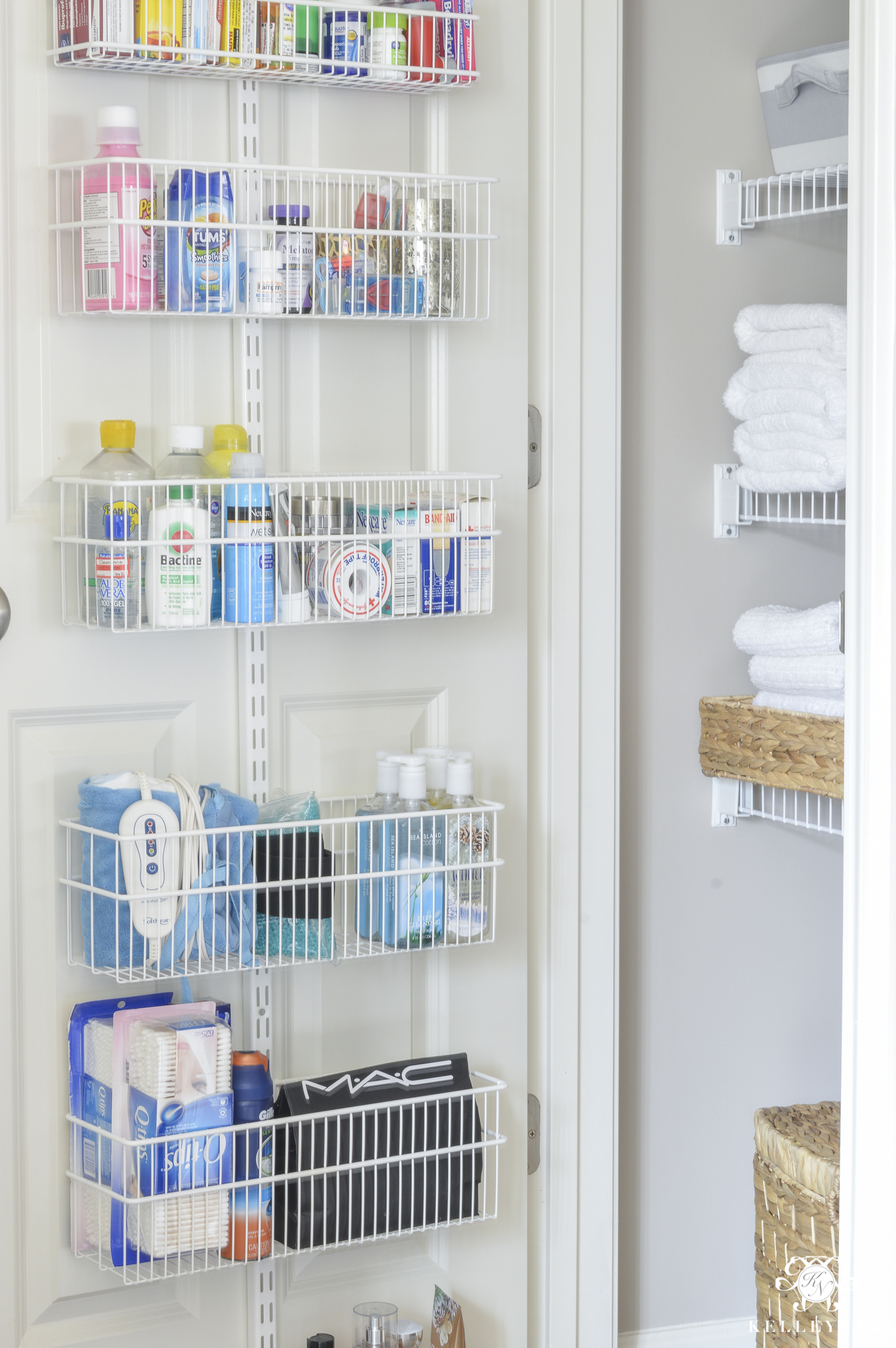 I will admit, the closet wasn't horrible per se… but dang, it was not pretty. Or easy to locate items. I don't know how I acquired so many loud hand towels! This is how it looked before.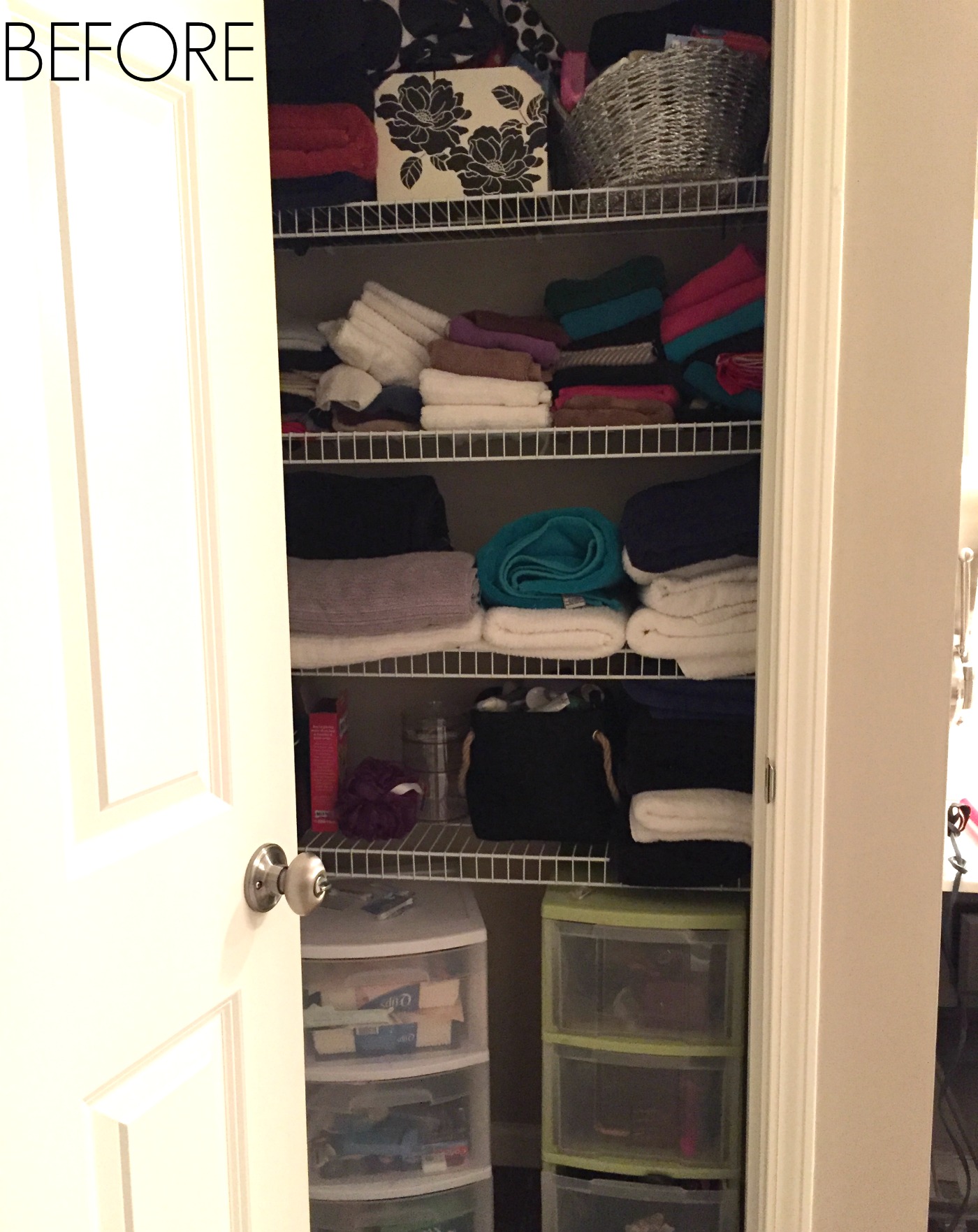 And with a little love, here is the result.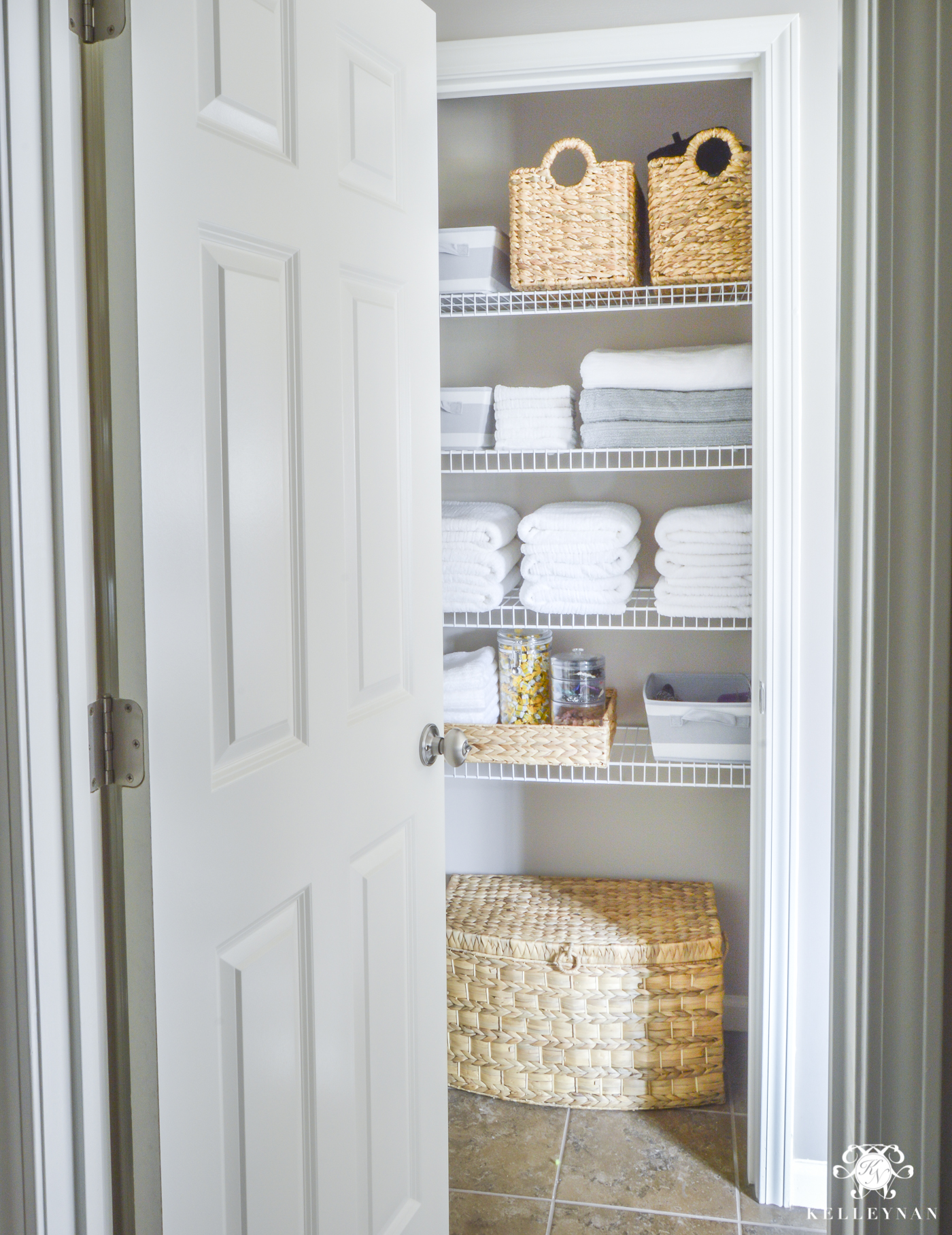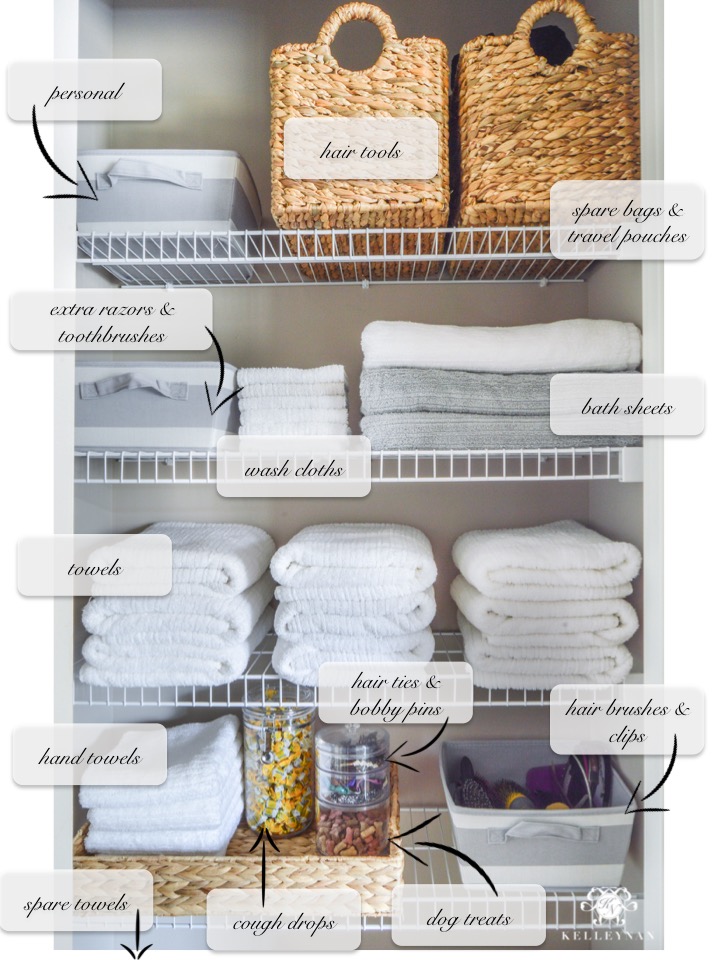 The plastic drawers were moved to the basement for storage and cute fabric and woven baskets were brought in. Because we have wire shelving, I brought in a woven tray to hold my acrylic organizers.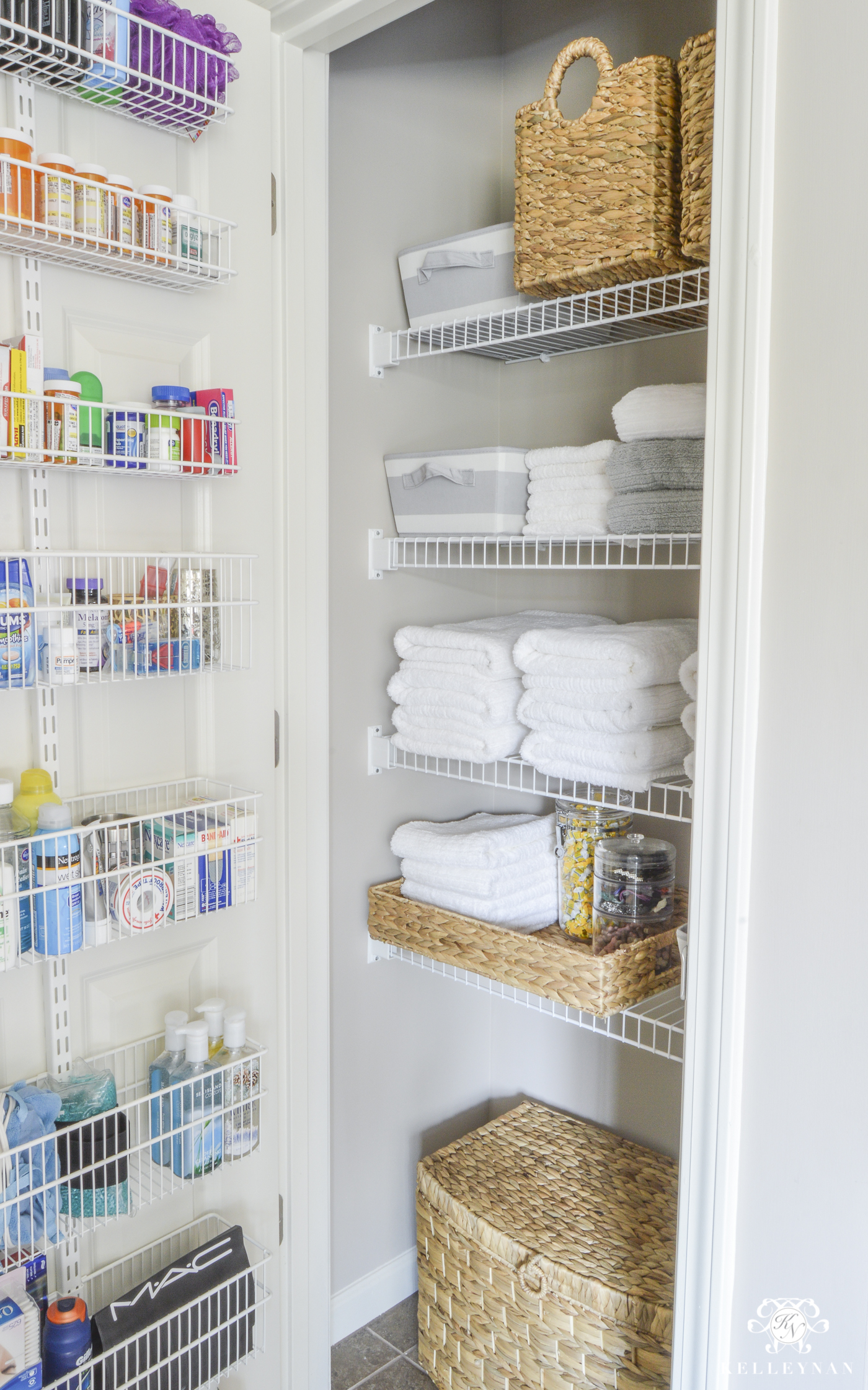 When I got married, I put nice white towels from Crate and Barrel on the registry. We started with a set of four and over the years, have expanded our collection to 10. After five years, those first towels are still in impeccable shape. No pulls or loose threads. They are now the only towels I purchase. I lucked out a few years ago at a store closing and picked up the few bath sheets they had from the collection for 50% off. Both the white and gray can be found HERE. I distributed the other towels in other closets, designated a few for pets, some for cars, etc., but we are more than well stocked with the nice towels we invested in. There's no need to keep the others crammed in the closet just "because". I kept a set of black towels, washcloths, and hand towels tucked away in the woven floor trunk-basket.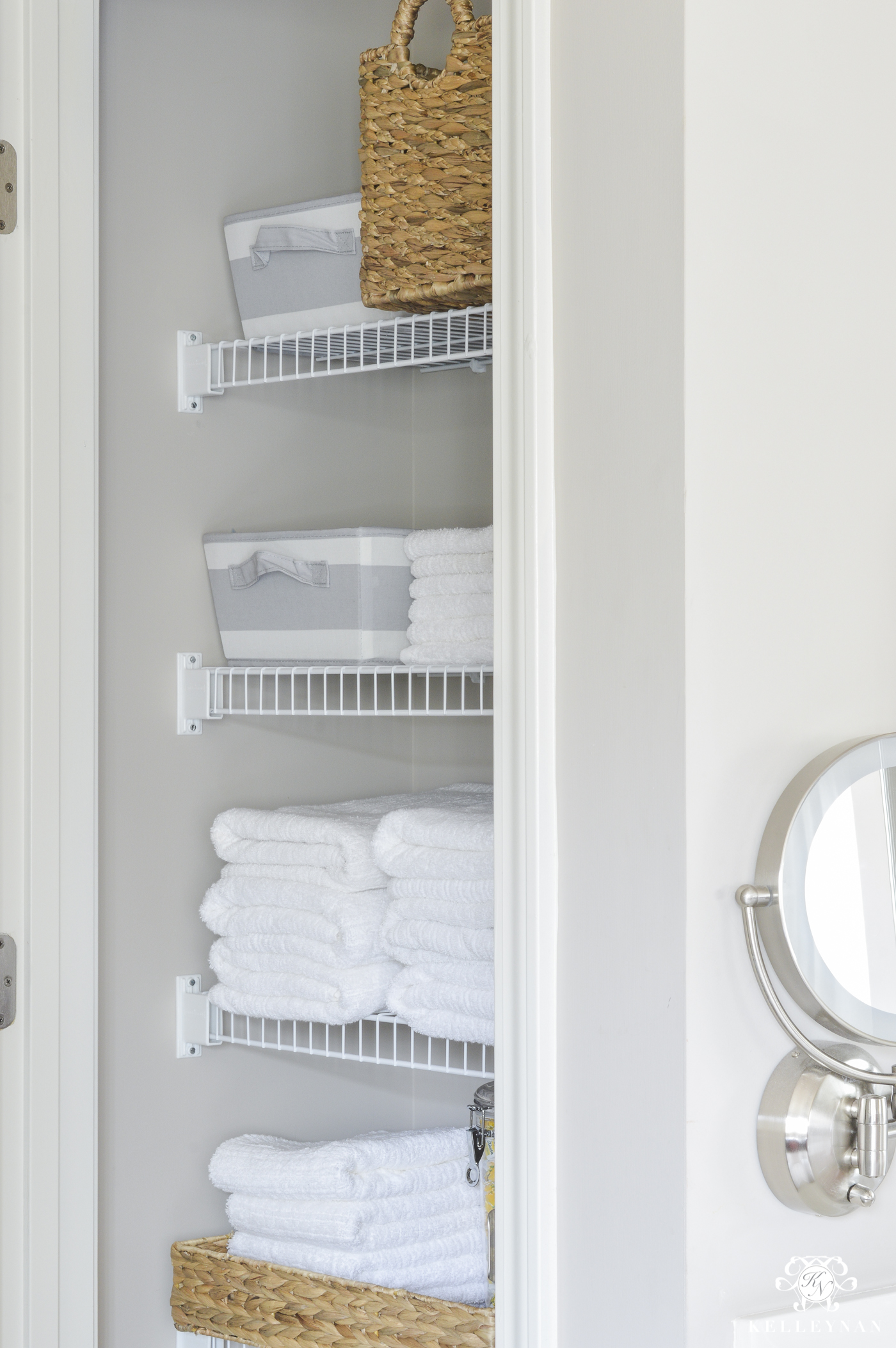 We purchase in bulk from Costco so we always have a lot of "extra" we need to store. Taking everything out of the plastic packaging and storing in baskets/drawers is huge. Nothing screams "unorganized" like family packs of razors with loose plastic wrapping clinging to the twin loose plastic wrapping of the 6-pack of toothpaste.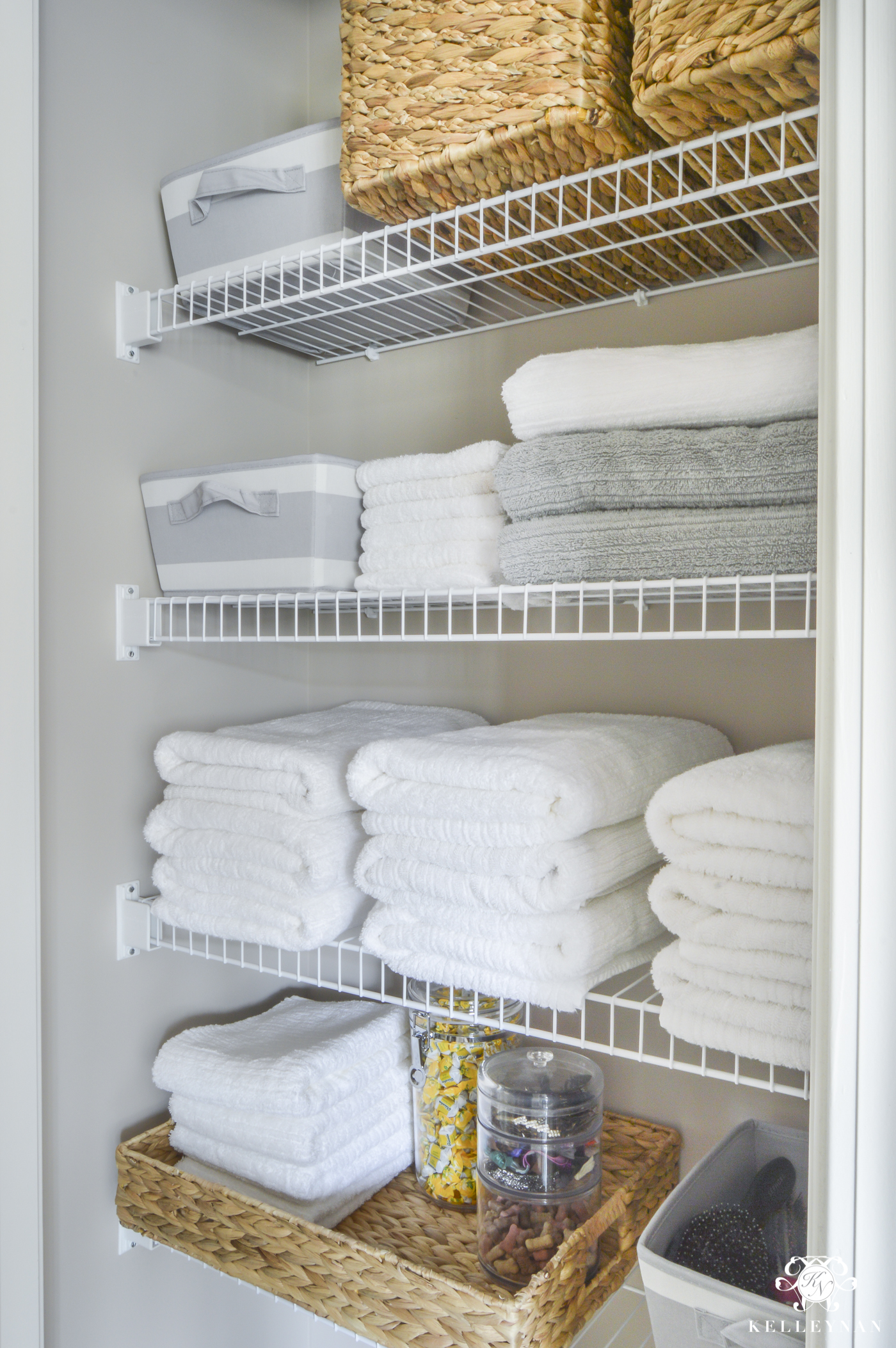 Scroll and click the image to shop and get the look.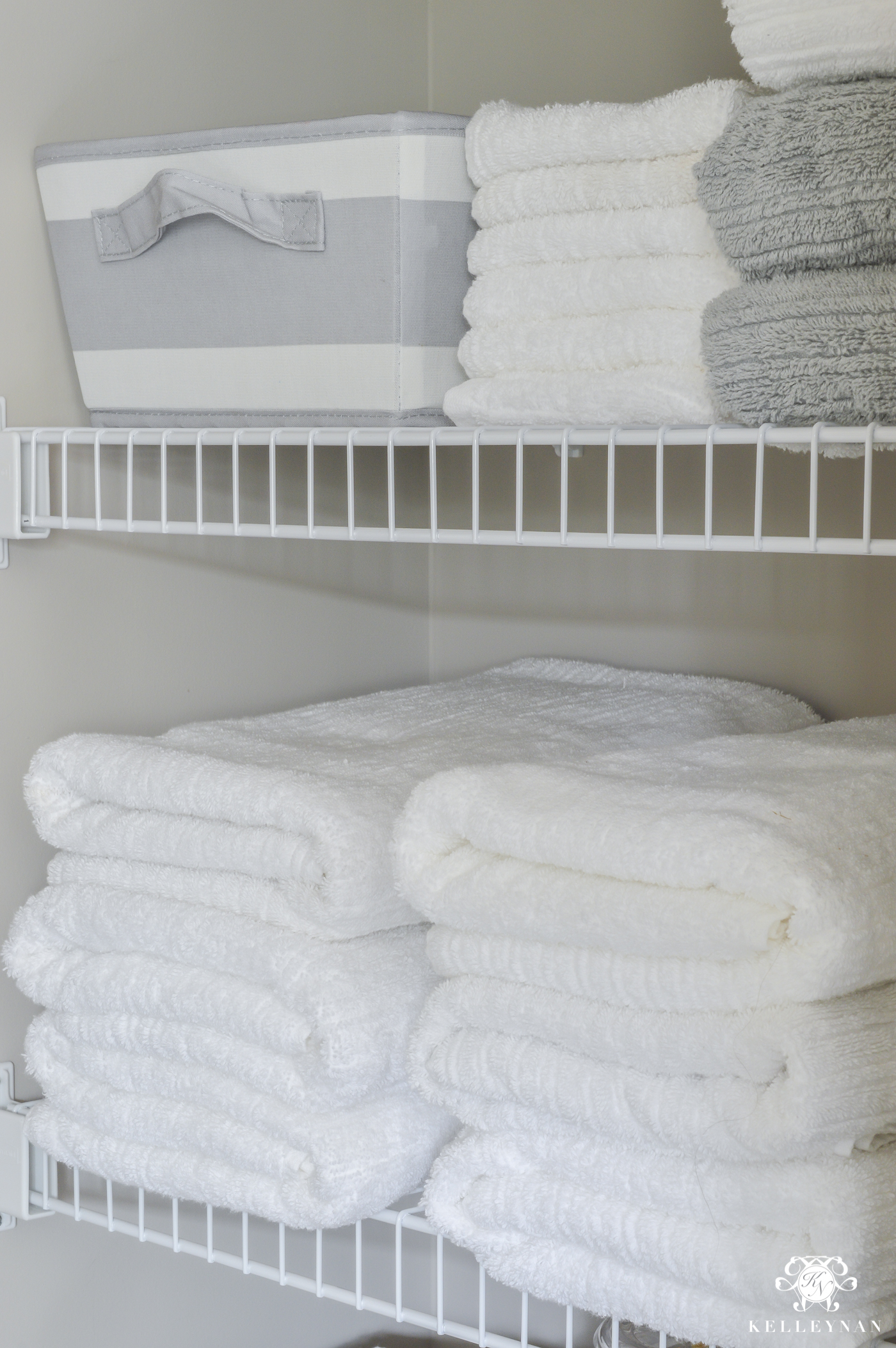 While I did sort a lot of small pouches and zippered pouches to donate, I kept just as many. I use pouches everywhere from my car glove compartment and purse to packing and office accessories.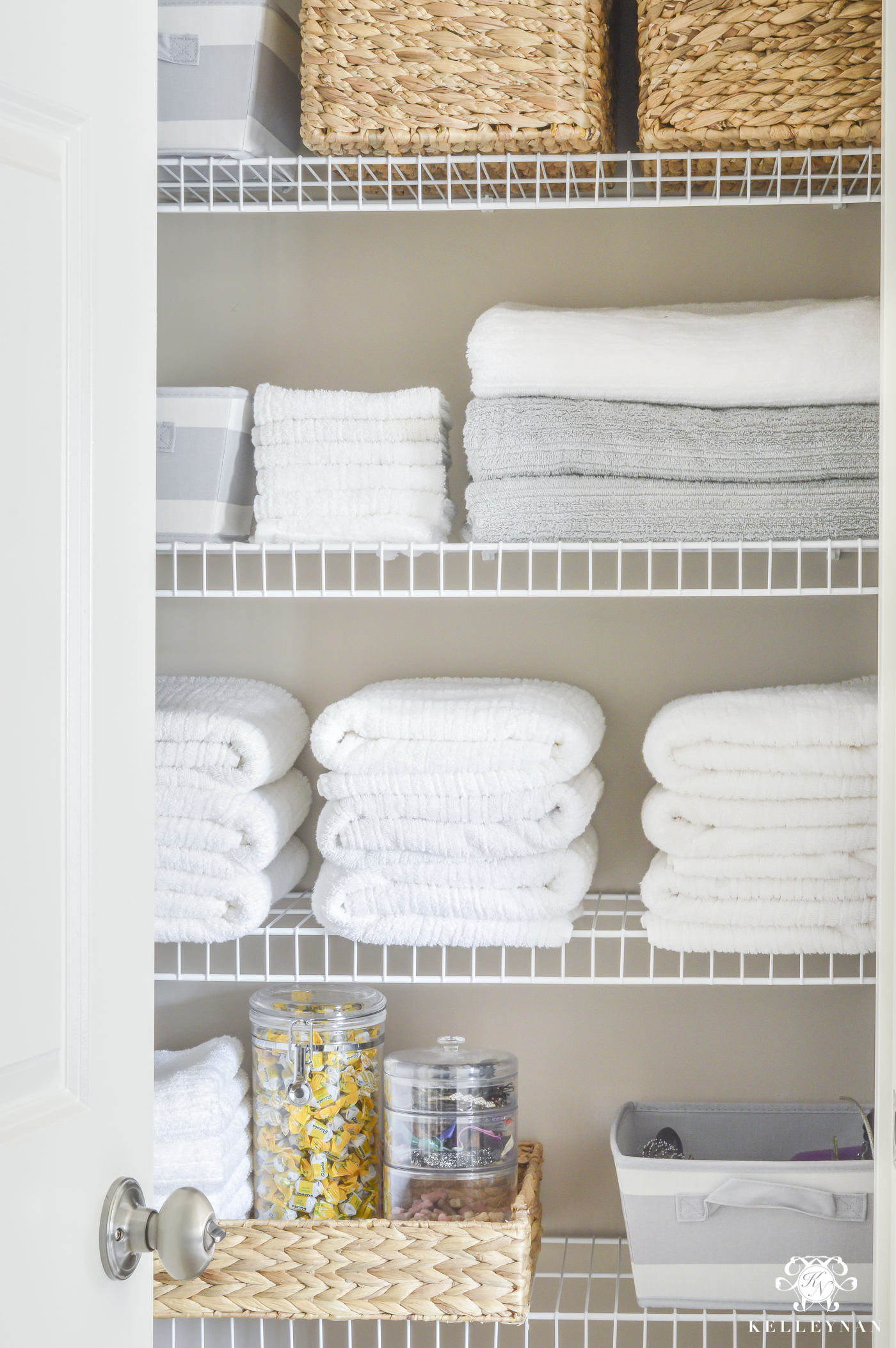 If you saw the labeled illustration above, no, there was not an error. I do have dog treats in the linen closet haha. We are working with our pup, Maggie, on "being good" so easy access here is a must.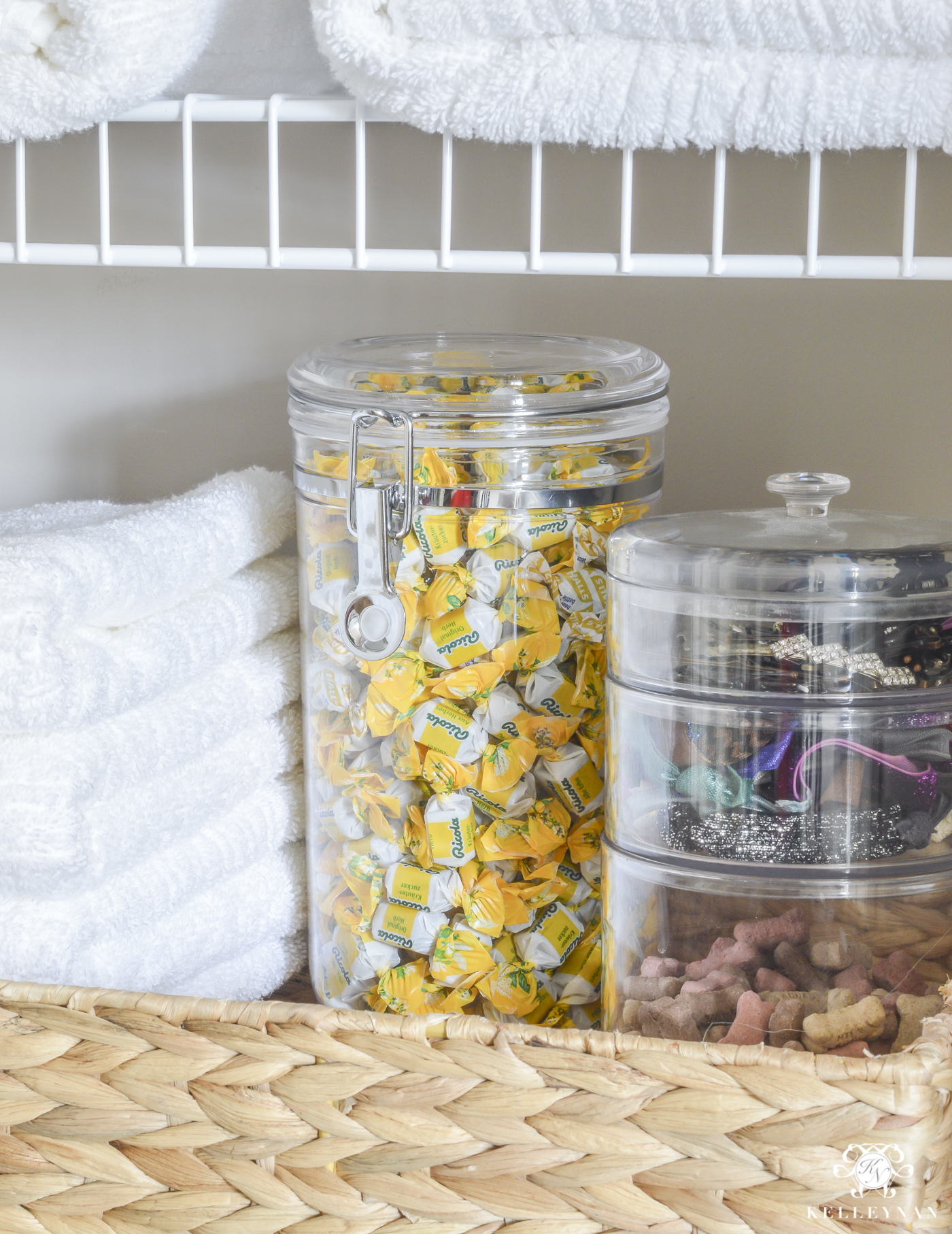 With this project, the master bathroom is officially done! Stay tuned for my next organization project, and, if you have any requests, feel free to leave them in the comment section below.
If you missed my first project of the year, you can catch my vanity/makeup project HERE.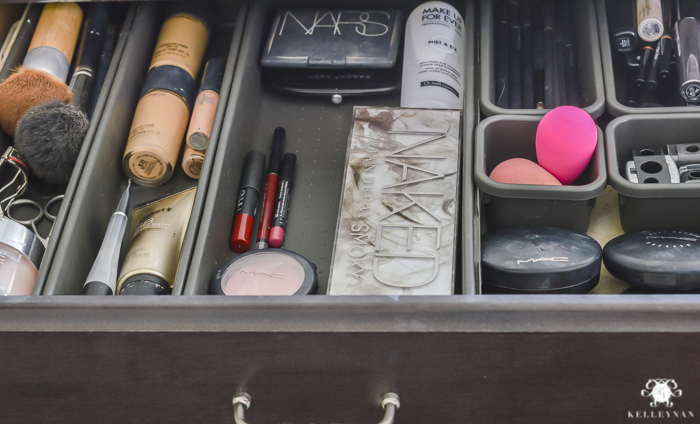 *post contains affiliate links*