In the midst of my 2017 organization overhaul, I've been motivated to simplify some of my decor. When I took down all the Christmas, something happened- everywhere I looked, everything in my house just seemed so heavy. I'm in major purge/sell/donate mode and have started looking for simple ways to update and freshen some of the rooms in our home. The first space that was screaming for me to lessen the visual load- my breakfast nook. With one simple switch (and a little "shopping" in the basement), it has a lighter look to match that transitional style I'm drawn to. Over the past year, through subtle changes, this room has seen a gradual transformation. Read on for the evolution of the updated breakfast nook.
If you have been with me a while, you may remember, this is where I started. Then, last spring, after switching up the chairs (HERE) (I finally sold the old set this weekend- whoop!) and giving a face lift to the table (HERE), this is where we were. Don't get me wrong- I loved this look. But, I was looking at that mirror every day thinking, "This just doesn't feel like me anymore." I needed a change – a simple, inexpensive change. A few months ago, I purchased a round mirror with a barely-there brass frame. I had no idea where I was going to put it but I brought it home and shoved it in a closet. PS: I don't advise doing this- more often than not, those items typically sit in the closet without ever getting a permanent home. If you don't use it in the first month, take it back.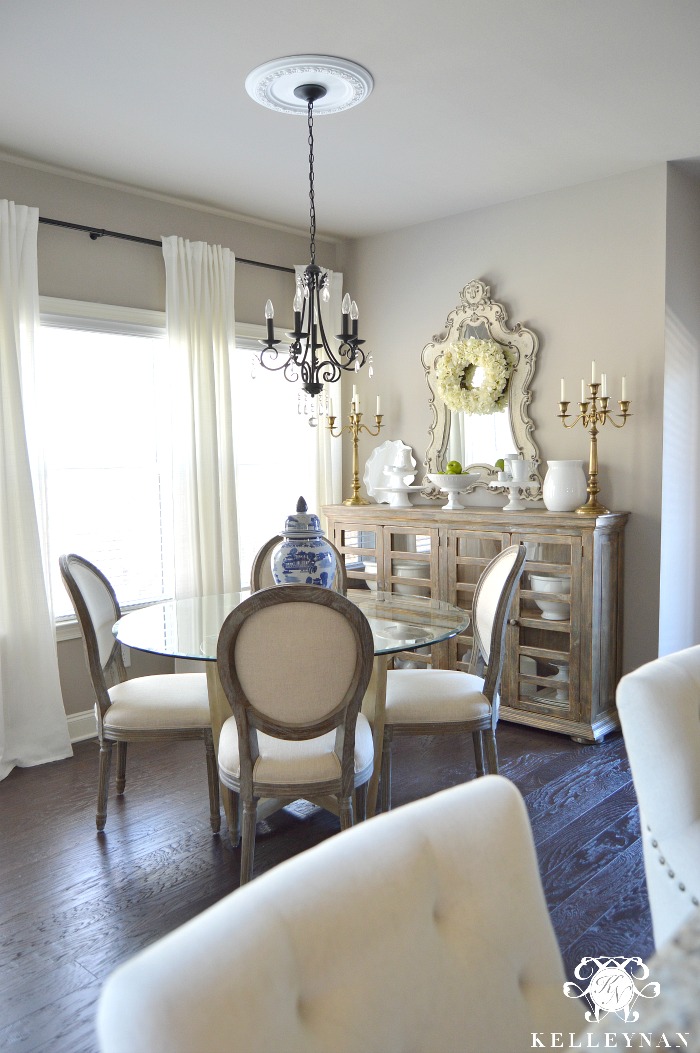 So, this past weekend when my husband headed out for the Falcons game, I set my plan in motion. I should mention- Dave doesn't typically resist my "grand plans" but when I can save him from actually seeing the process, I do. If he had actually seen me in action on this day, a simple mirror change would have looked more like a full room renovation haha. I took down the mirror, cleared the buffet, and brought out my new "weapon" that had been hibernating this winter. I went ahead and hunted down some spring accents in the basement to go with the lighter vibe I was aiming for, and this is the final result.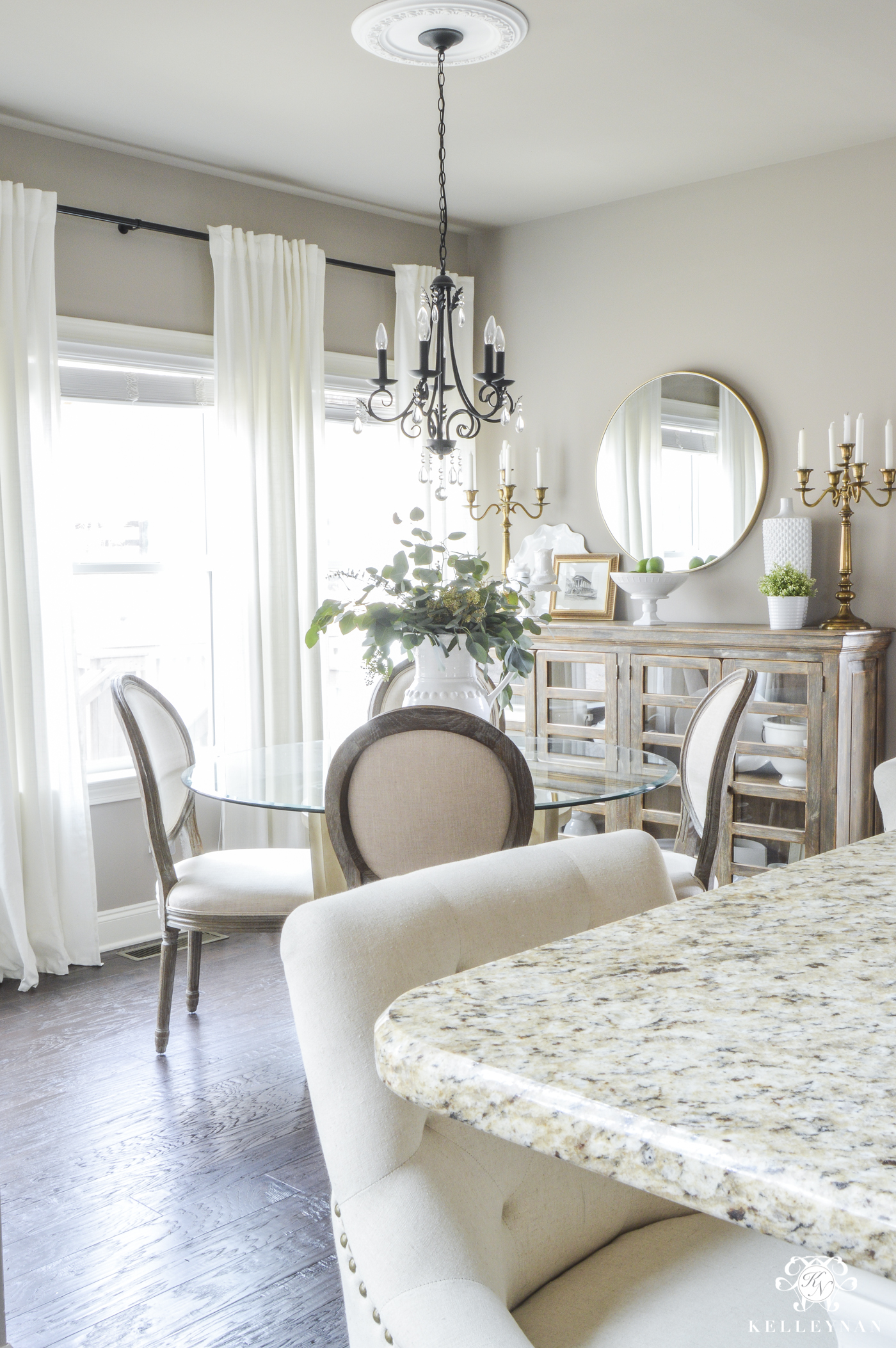 The simple, round shape of the mirror with the thin frame made all the difference. I kept a few fav white pieces on display and of course, my brass candelabras (stay tuned for a super fun, different table which uses those as the focal point, coming in two weeks!). I brought out a sketch of my fav city, Charleston (read about our recent weekend trip HERE) that never actually had a "home".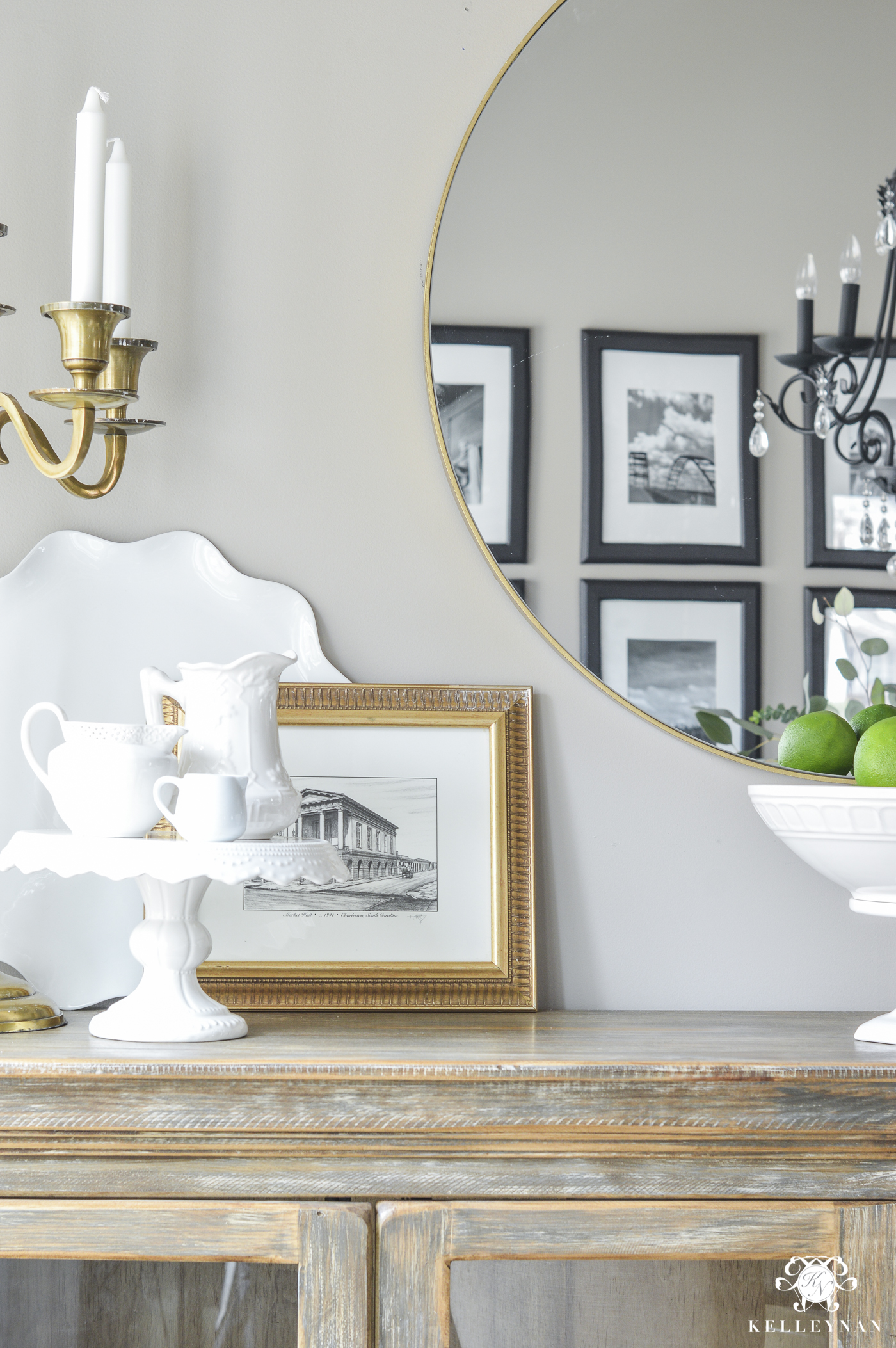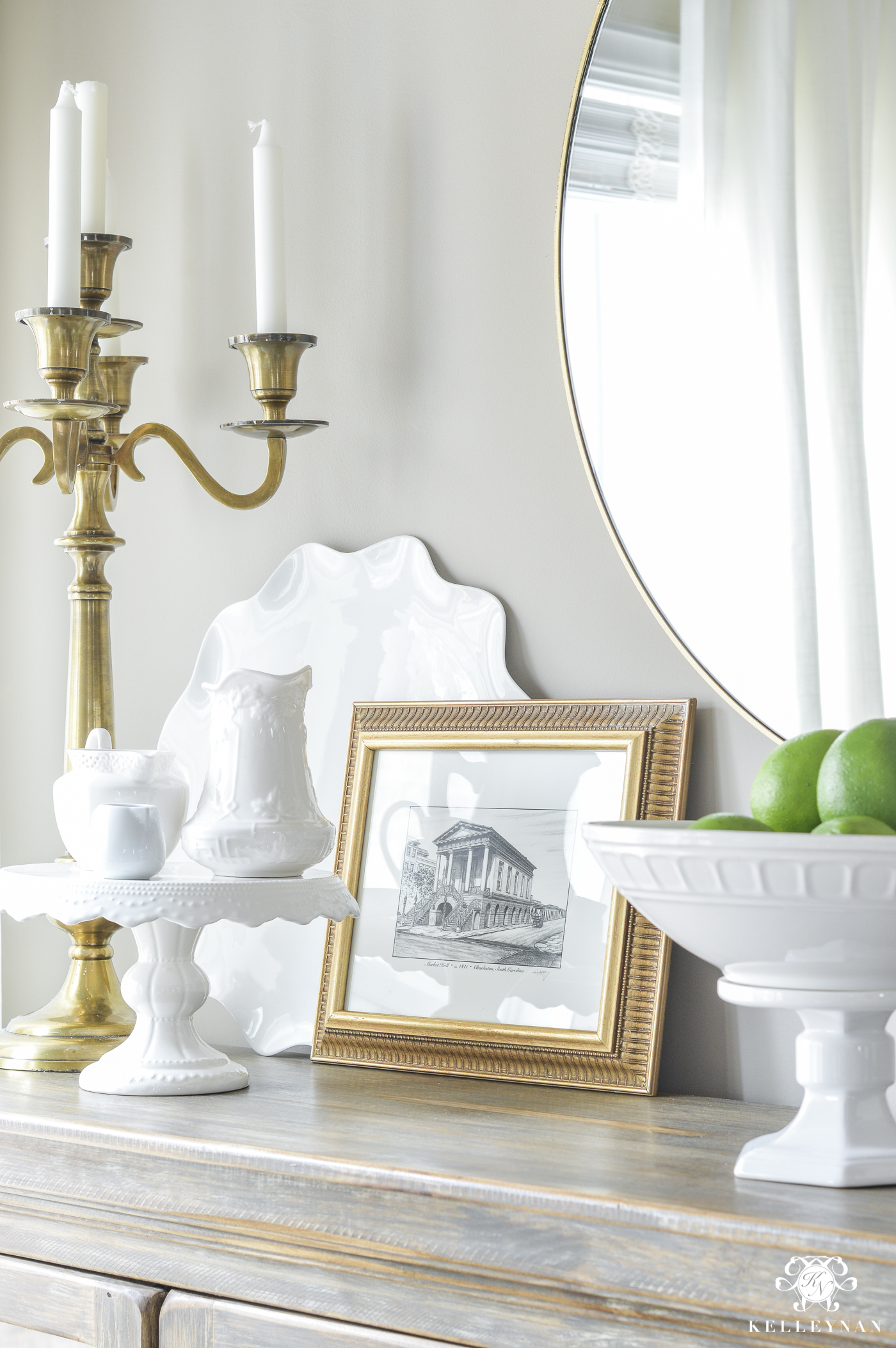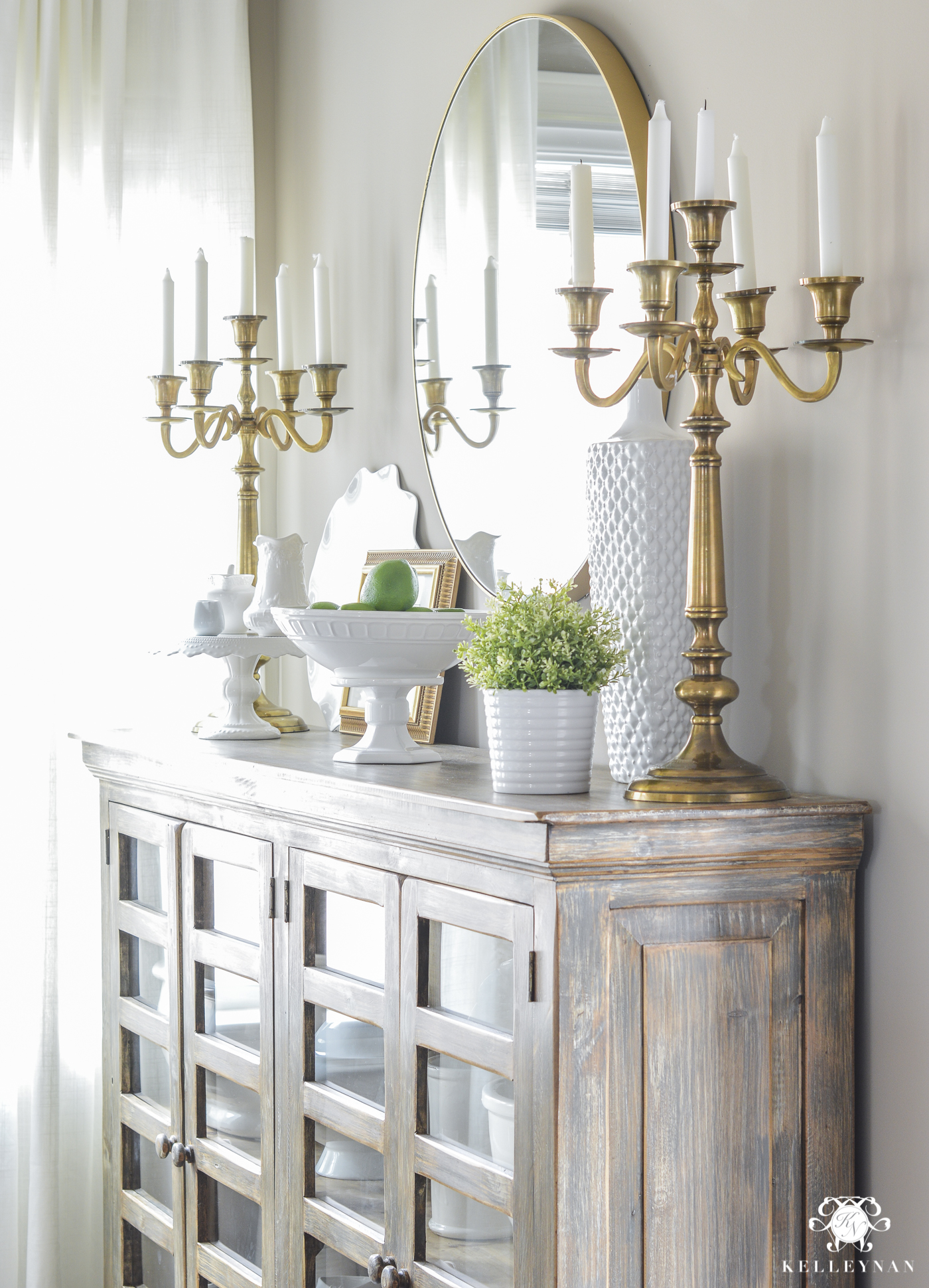 Eucalyptus is my fav, inexpensive statement; I wish I could have it in my house 24-7 but I have to drive almost an hour away to pick it up at the closest Trader Joe's.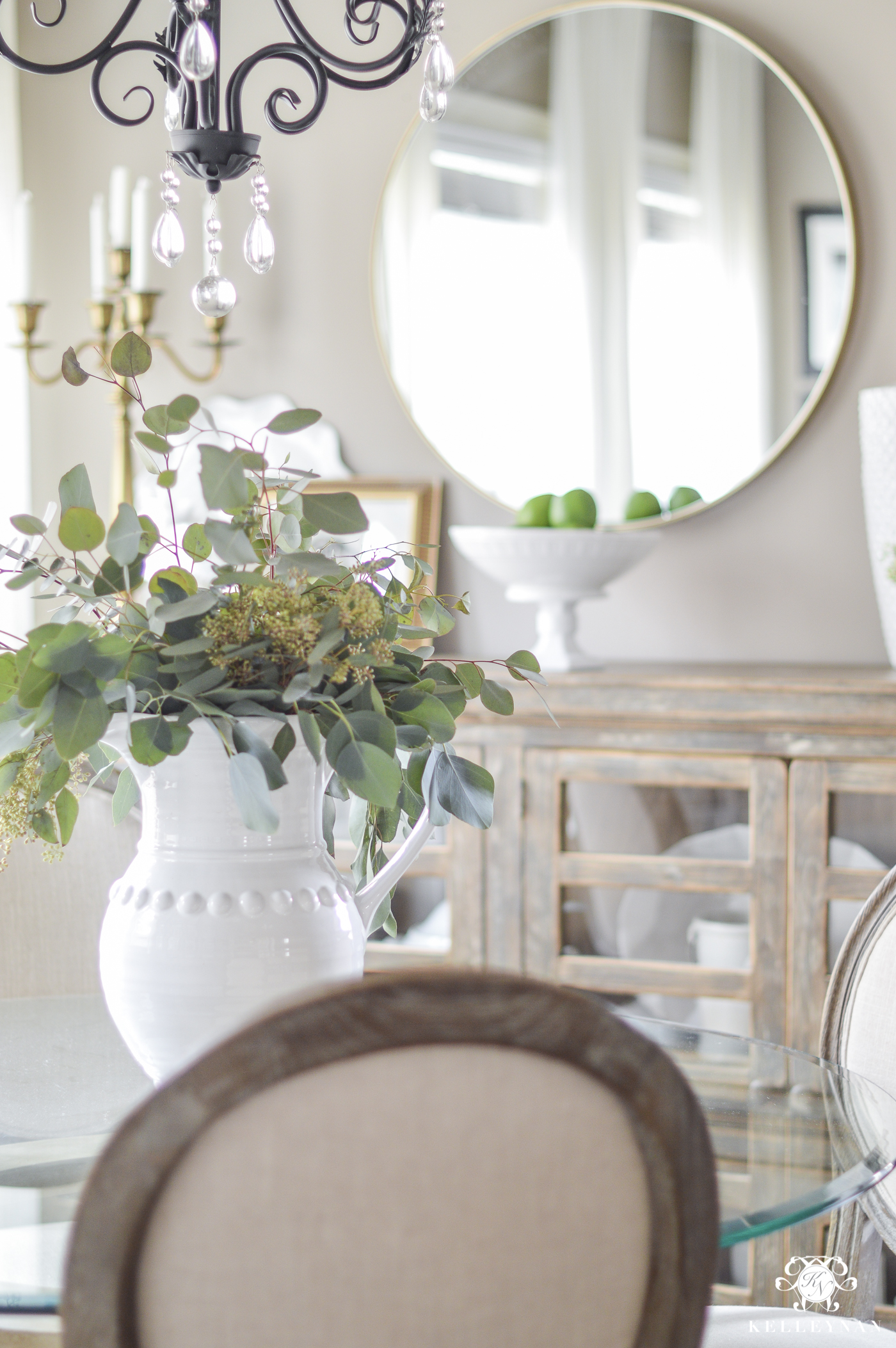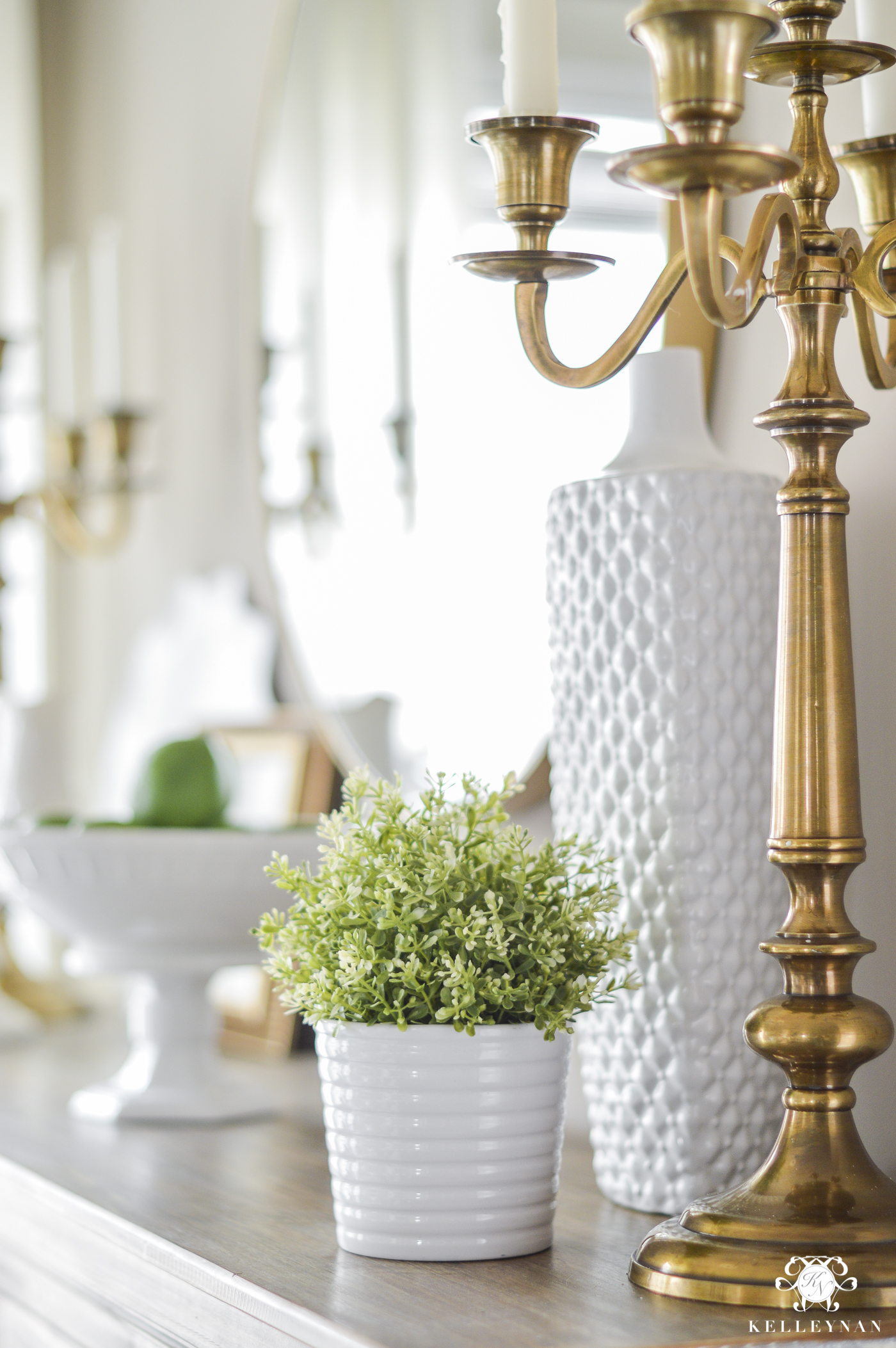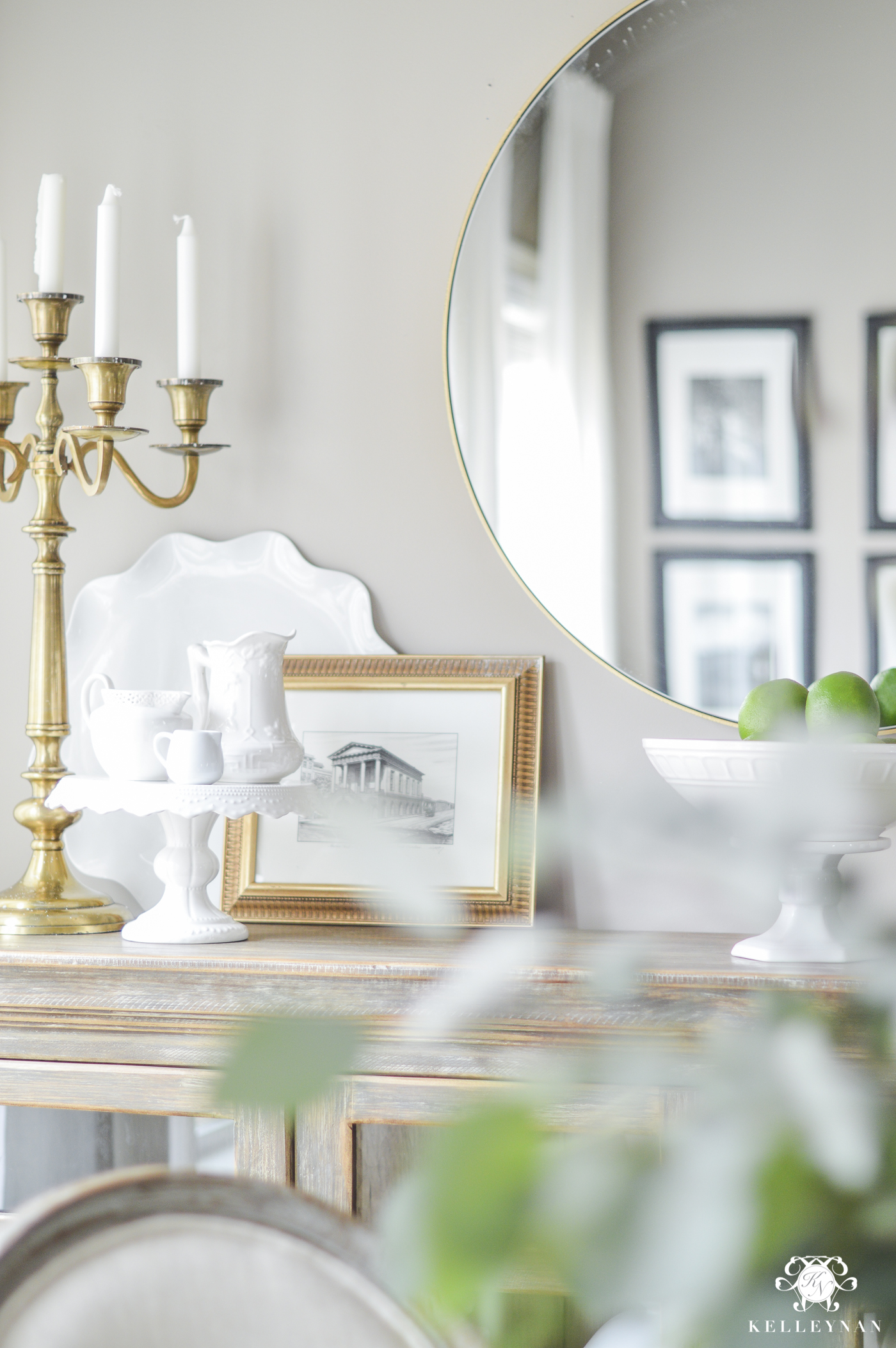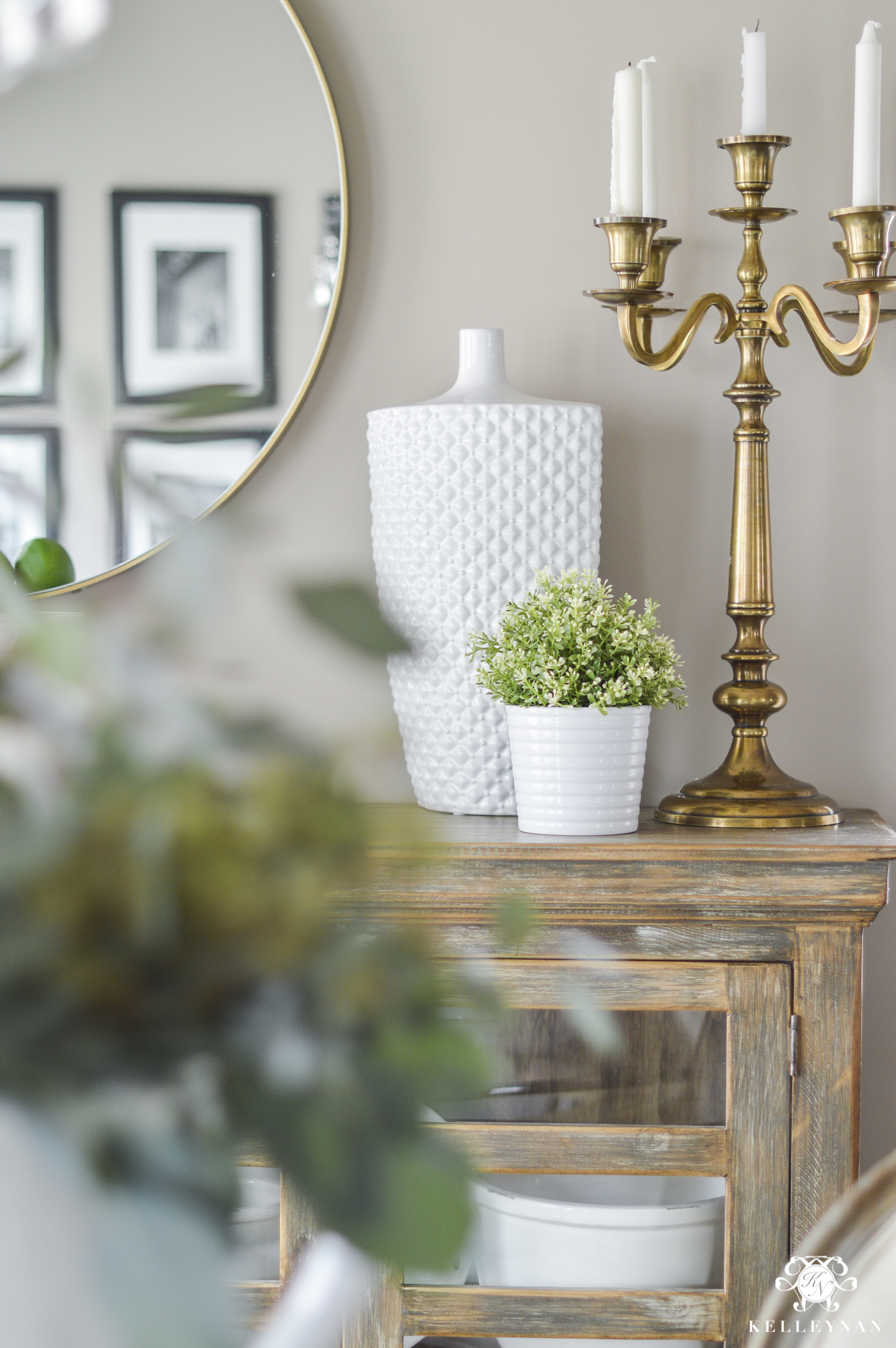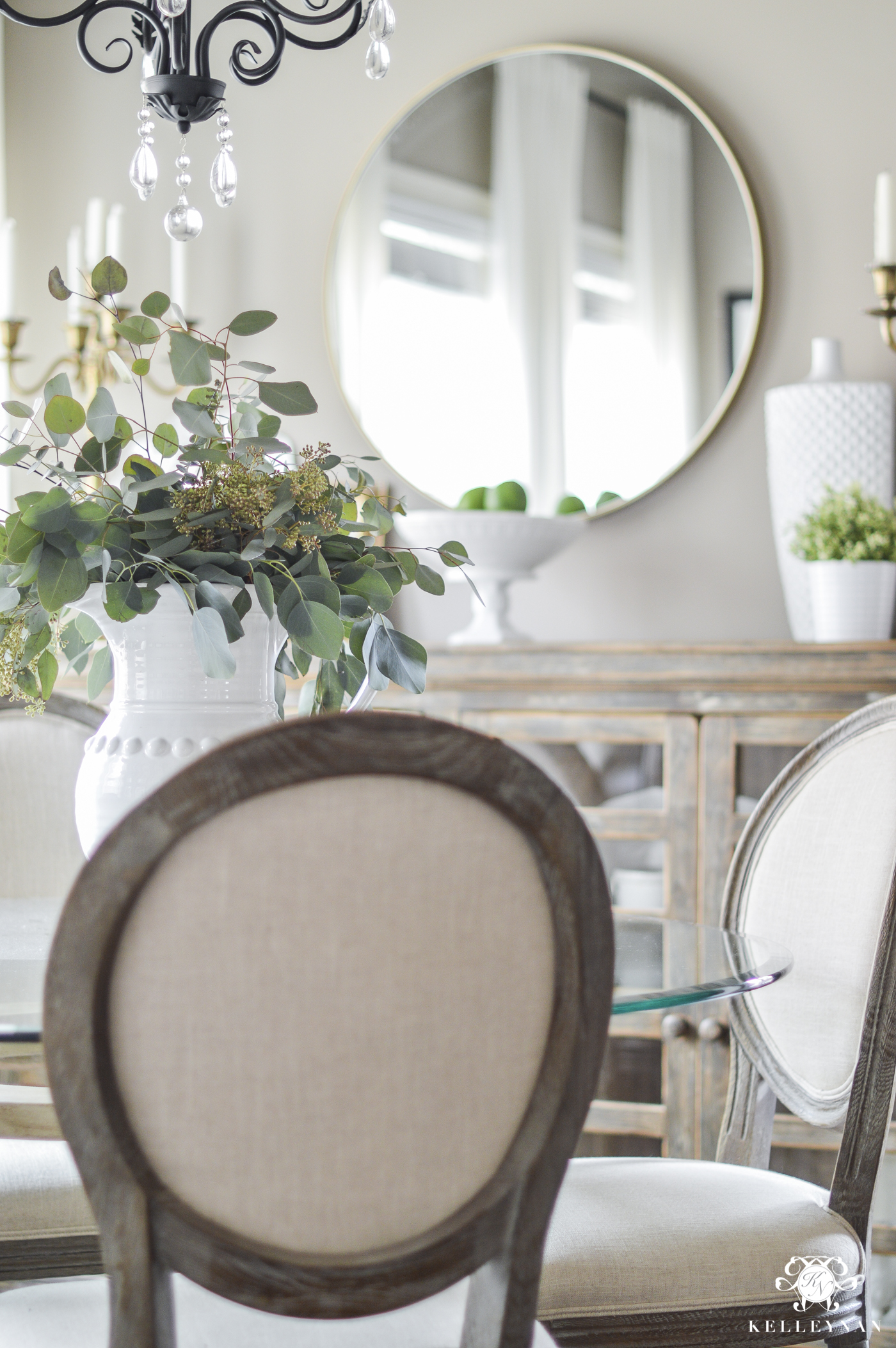 I would love to hear your thoughts on the big switch- from a heavy, French Country inspired mirror (which I also sold this weekend *fist bump*) to this light, modern round piece. I love mixing styles in my home; you don't have to stick to a specific theme and finish in a room to make it cohesive.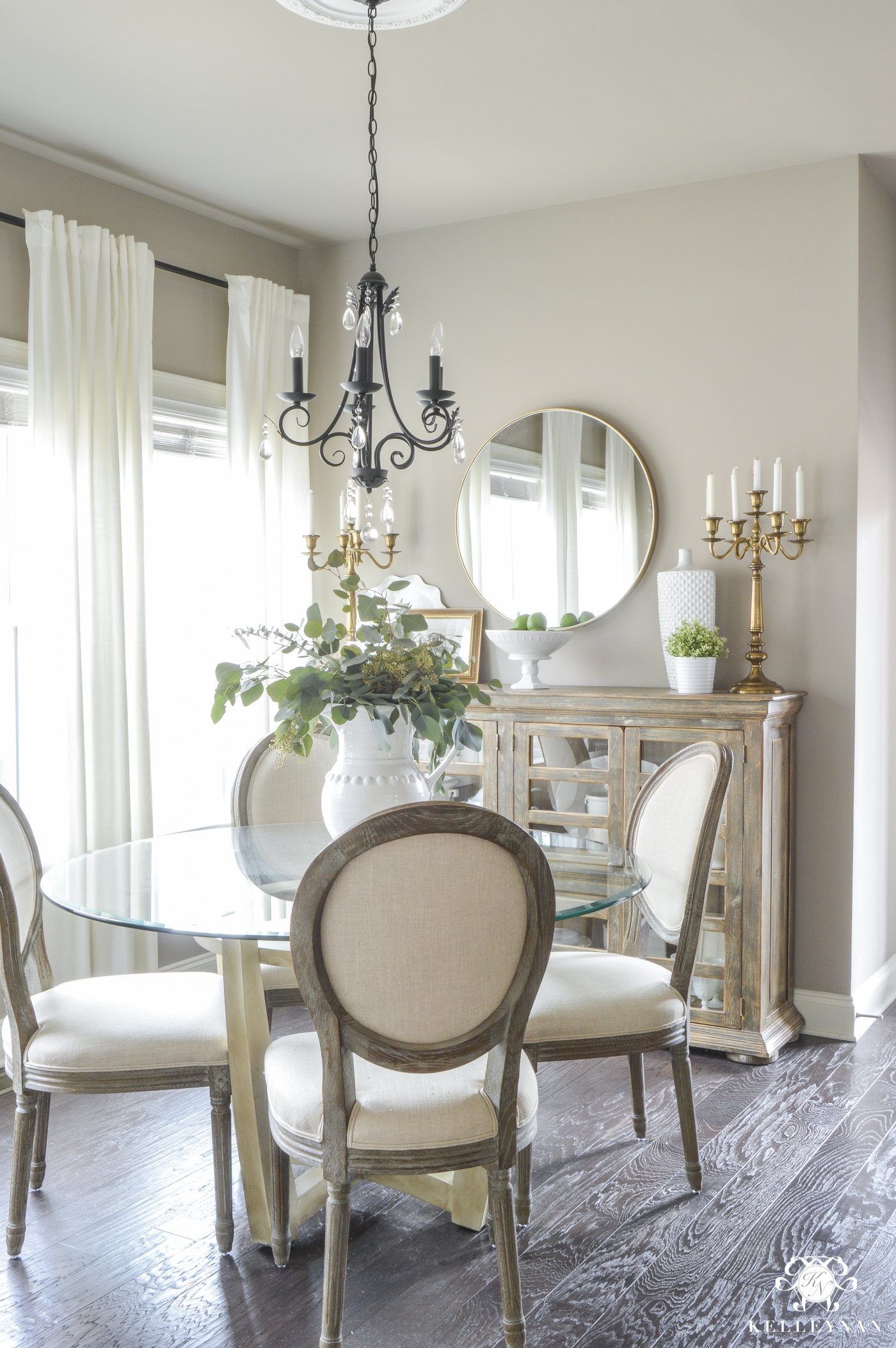 OTHER SOURCES & ROOM DETAILS
Floors: Nottaway Hickory in Weathered Saddle
Paint: Sherwin Williams Perfect Greige
Sideboard: HomeGoods
Candelabras: HomeGoods
Mirror: HomeGoods