With my number one question (by a landslide) of "what color paint did you use?", this post has been a looooong time comin'. I try to always add room colors at the bottom of home tours and keep the information available on my room source pages, but with new readers (or regular readers who may have missed it), I wanted to come up with a resource of all the colors, together, along with my honest thoughts after having lived with most of them for three years. Spoiler- I'm not crazy about all of them. Or, at least in my house. So, here it is, friends! The comprehensive list of paint colors throughout my home.
*Posts on KelleyNan.com may contain affiliate links. Click HERE for full disclosure.
When we were building our home, I made too many mistakes by "just wanting it all done". I basically wanted to move into a fully furnished, entirely painted-the-way-I-wanted-it home in less than 24 hours. I shopped ahead of time (and made mistakes), I prioritized some things while not prioritizing others (and made mistakes), and I paid too much for our builder to paint rooms (and made mistakes). I can preach it now (and don't laugh) but I picked out all of our original paint colors in about 15 minutes from paint swatches. PAINT SWATCHES! And as you go through the post, you will see just why that is a bad idea- most of the time, the result is far from what a little paint chip/computer screen will show. I lucked out with my hasty decisions in some areas but others, I had a pit in my stomach as I saw the paint going up. Will I do it differently next time? Uhh, yea! Since then, I have slowly changed some rooms but not before investing in multiple samples and testing against light, different times of day, different parts of the room, etc. Before we jump right in, here are a few things to keep in mind.
CAVEATS, LESSONS, & TIPS
The paint finish can vary the shade/color of the paint. Aside from my master bedroom (and trim), most of my walls are a flat/matte
Do not rely on a paint swatch (or even worse, your computer screen) to choose a paint color. You'll see how different they look throughout the post in real life versus an on-screen swatch
Paint colors will look different (darker/lighter), with different tones (warmer/cooler/different undertones) as the light changes. Example- my breakfast nook looks totally different in the indirect morning light vs. the late afternoon direct light. At night, it looks about 50 shades darker (no pun intended 😉 ). My great room paint looks several shades lighter/darker in one line of sight, just because some areas are more shadowy/further from the window.
Colors in your home may look different than the same colors in someone else's home. Light isn't the only thing that will change the way a room looks; furnishings and decor can make a room look brighter/darker or vibrant/dull.
Photography can alter how a room appears in real life. You have probably noticed that content creators/photographers have their own photo style. Some are dark and moody, some are light and airy… exposure, shadows, contrast, etc. can affect the brightness and tones of colors. I try to edit my pictures accurately to what I see in real life but undoubtedly, there will likely be some variance from time to time. Moral of the story- don't rush out and buy 10 gallons of paint based on a photo you saw online.
Ok, now that I've gotten all that out of the way, I'll take you through each color in my home – where it appears and how I feel about them.
THE INTERIOR PAINT COLORS

(Where is it? Trim throughout the House; Built-Ins)
With the exception of our master bedroom, Creamy (SW 7012) is the trim color throughout our house. It is a beautiful white, especially against darker colors, BUT, if you put it up against a stark/bright white, it will look yellow(ish). A lot of people use it on cabinets; here, you can really tell what it looks like against on our built-ins against our greige walls.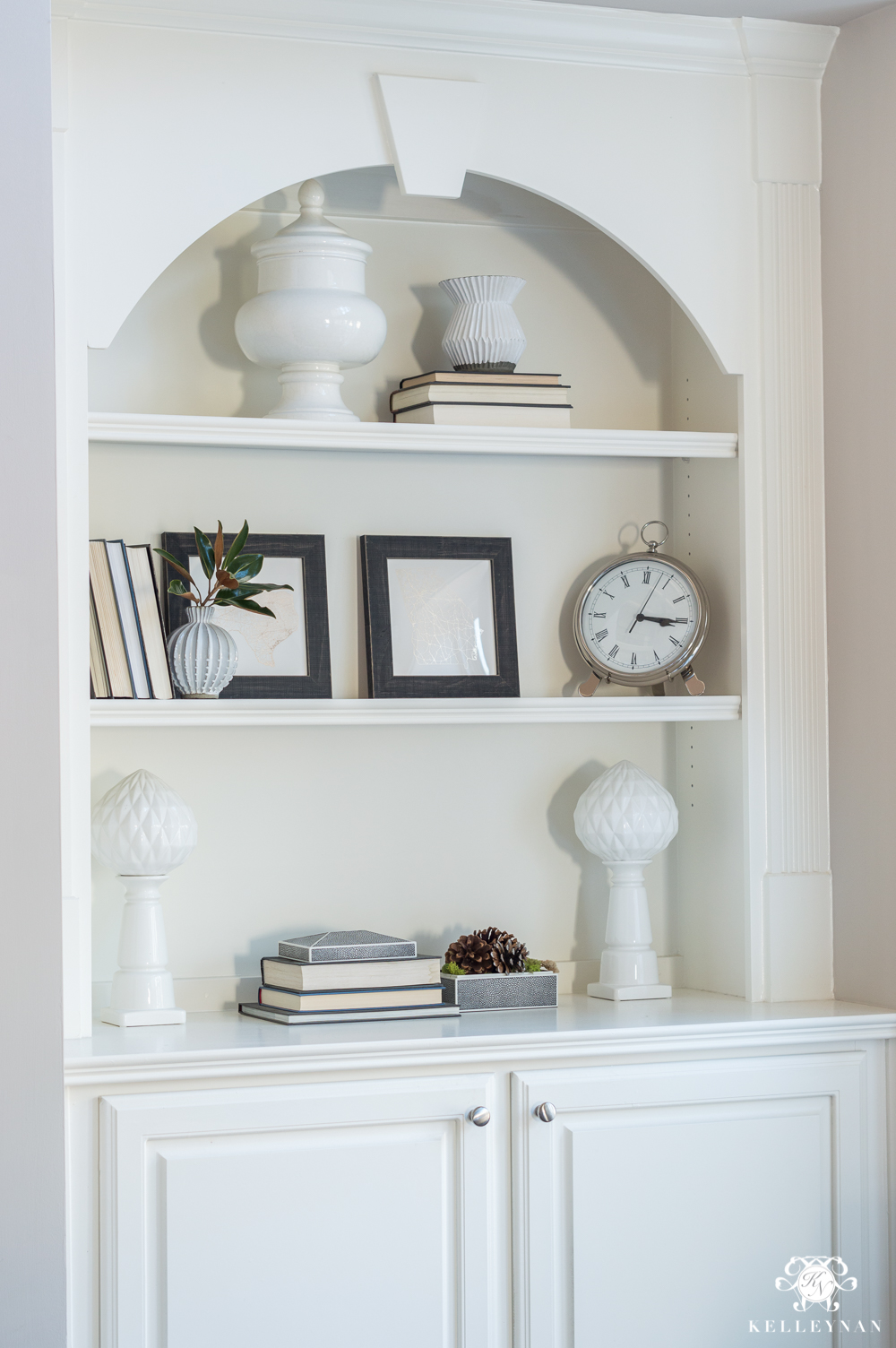 ---
Scroll & Tap to Get the Look

---

(Where is it? Great Room; Foyer; Sitting Room; Downstairs Guest Bedroom; Bathrooms; Upstairs and Hallways – any room/space that isn't featured)
Versatile Gray (SW 6072) is the color I chose for the bulk of our home. Any rooms/hallways you don't see on this list will be this color. It is a greige (as indicated in the name) – part gray, part beige. I am happy with this color… well, in most rooms of the house. In our great room– yes. The wall of windows brightens it up and it doesn't feel dark. (PS- see how many different shades and tones you see in this photo? This is all the same paint color- even upstairs on the catwalk.)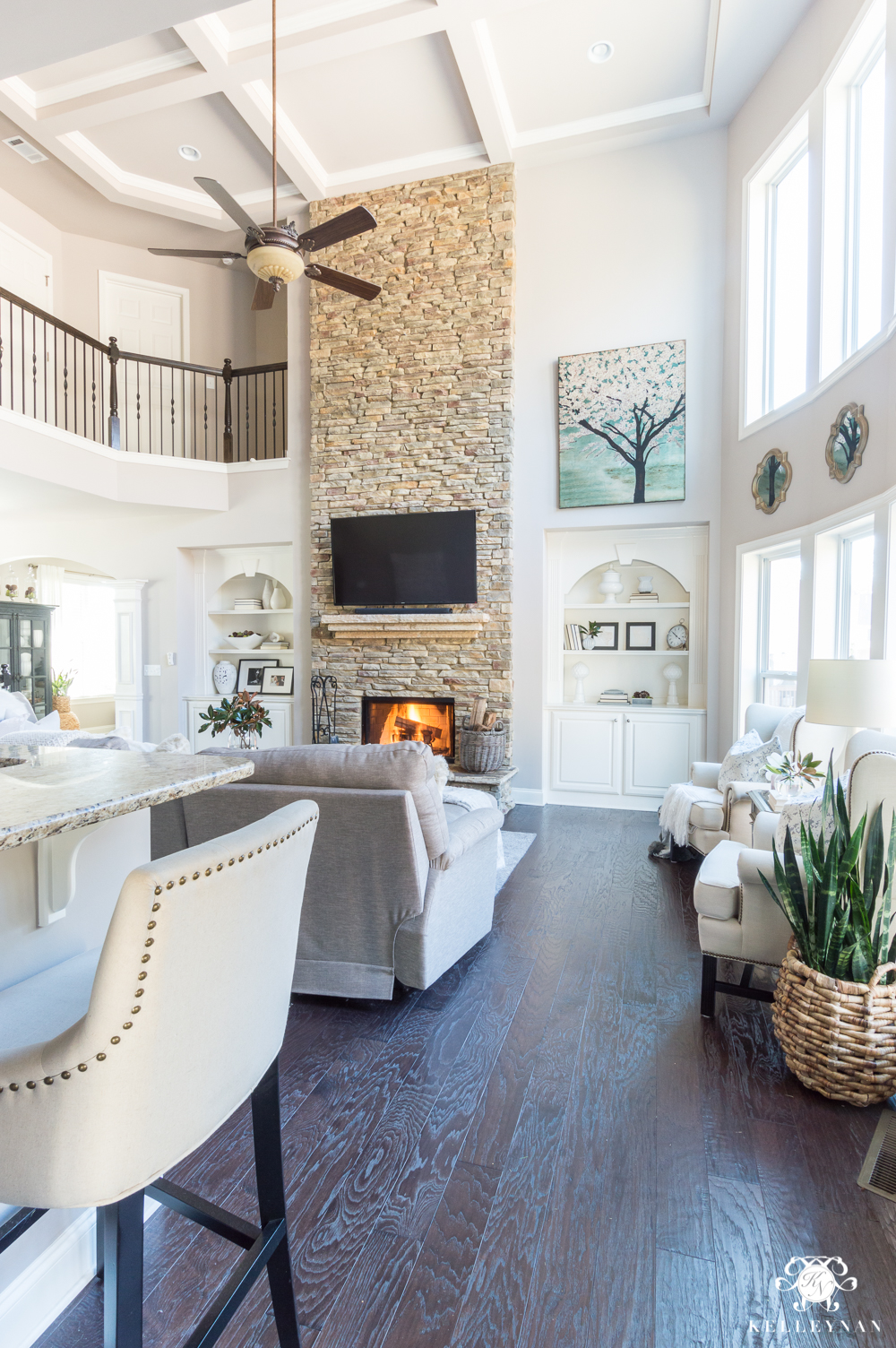 ---
Scroll & Tap to Get the Look

---
Our sitting room is just off the great room and it too is Versatile Gray. The windows face a different direction and it does look a little darker but I like the color in here. By the way, yes, my ceilings are all painted the same color as the walls.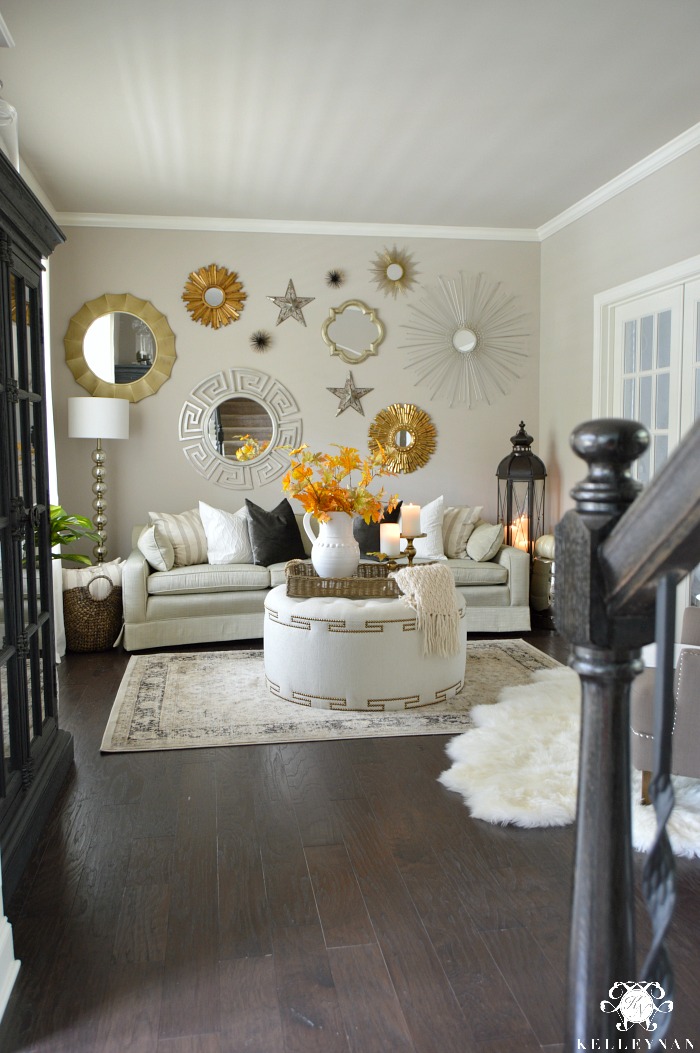 ---
Scroll & Tap to Get the Look

---
The guest bedroom off the sitting room looks similar in color, but both look a little darker than the great room.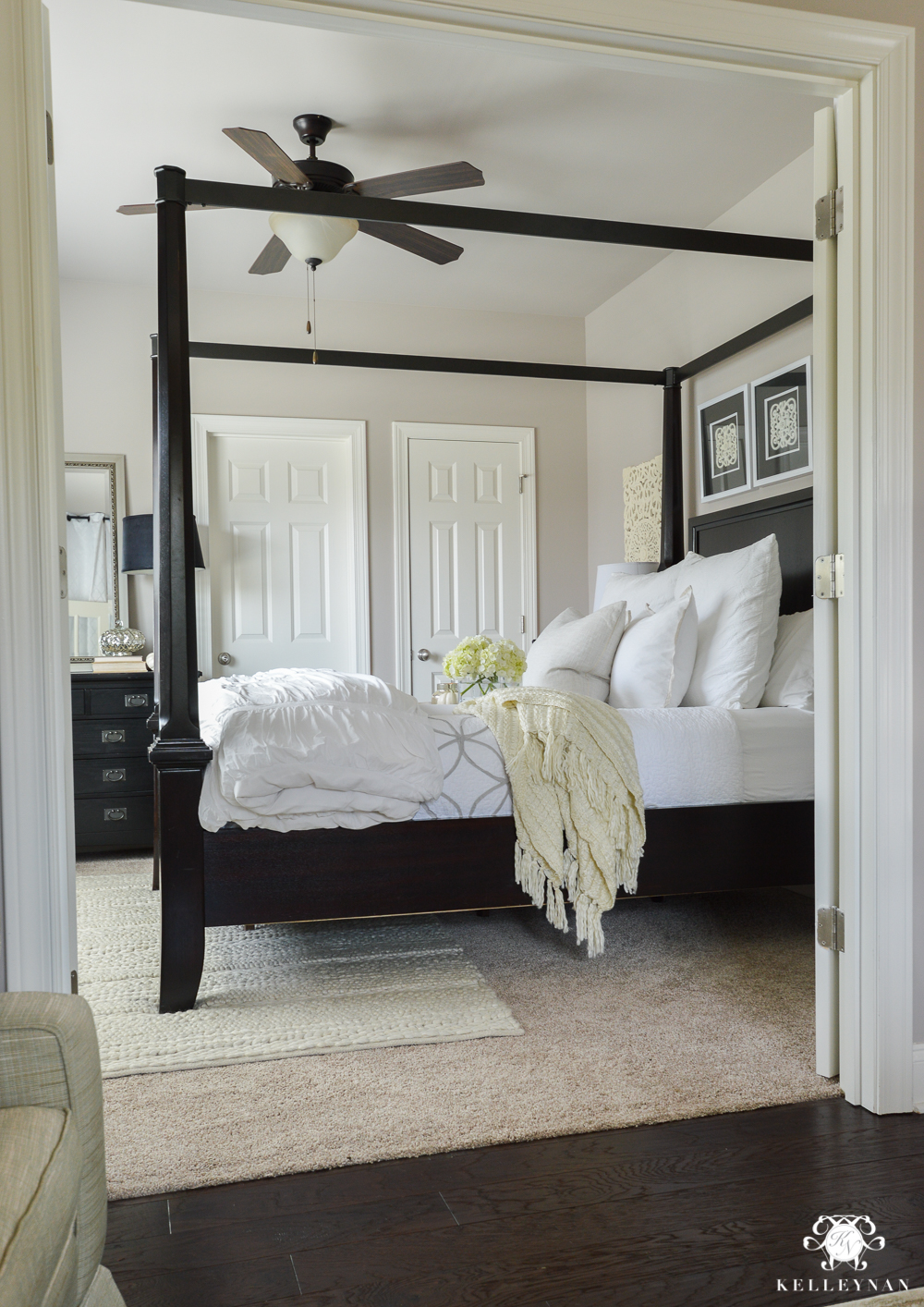 ---
Scroll & Tap to Get the Look

---

(Where is it? Kitchen; Breakfast Nook)
Perfect Greige (SW 6073) is on the same paint chip as Versatile Gray – just one shade darker. One of the reasons I wish we had waited on paying a premium to paint all the rooms in our home non-standard colors is I didn't realize how dark our kitchen would be. Aside from the windows on the other side of the room in the breakfast nook, this space has zero natural light. It's brightest around 9:00 a.m. but is a shadowy, central hub 95% of the time. Most of my kitchen photos are taken super early and/or I use a really slow shutter speed ;).
Here's the thing, though. With our creamy colored cabinets (description, not the actual paint color mentioned above), they actually go really well with the wall color. (PS: I do not know the color of our cabinets). I went from hating our kitchen to really liking it all over again. There are still some traditional elements that I plan to update a little bit (without going full-on kitchen reno) but wait… there I go, getting off track haha. That'll be for another day 😉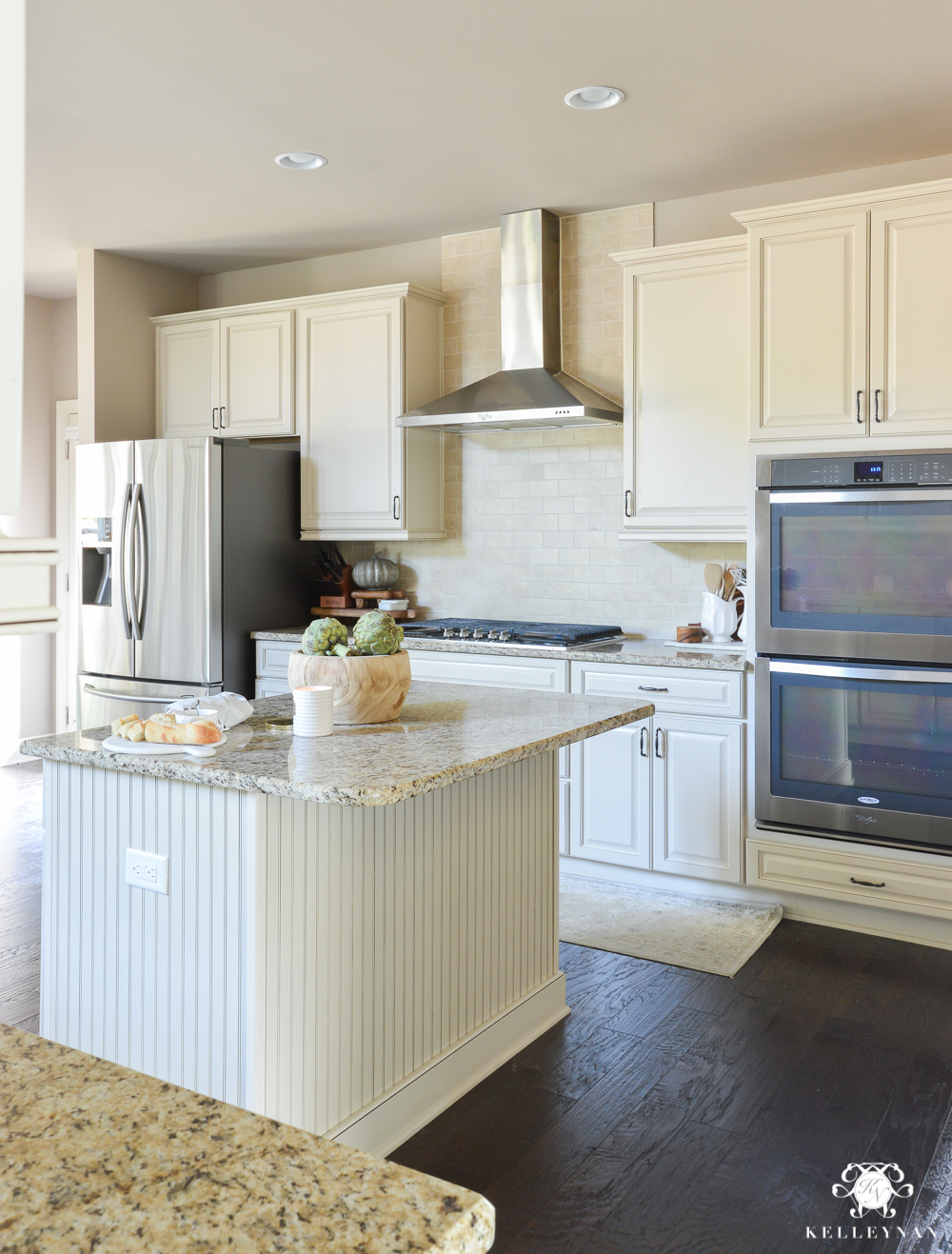 ---
Scroll & Tap to Get the Look

---
The breakfast nook (also in Perfect Greige) gets a little more light but since it's indirect for the majority of the day, it stays on the darker/shadowy end of the spectrum. I would like to update a few pieces in here to make things a little brighter. Bottom line – if you are looking for light and bright, this is likely not the color for you (especially if your room doesn't get a lot of natural light).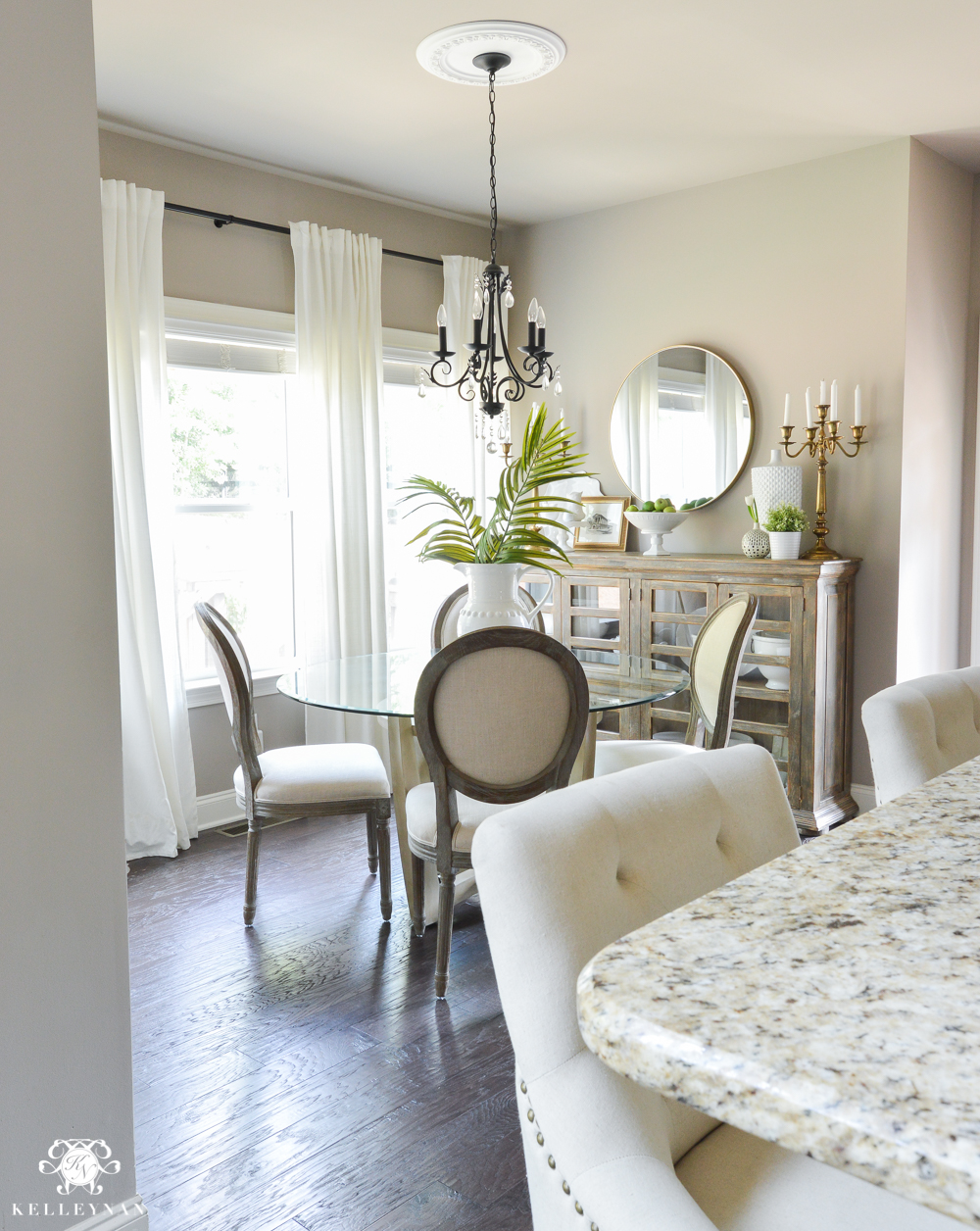 ---
Scroll & Tap to Get the Look

---

(Where is it? Office)
On the Rocks (SW 7671) is the last gray in our house but is more of a light, true gray. No blue/green/purple undertones. I painted our office in this color during a room makeover (HERE) and love the color. The one thing I will say is that I actually left the trim color the same as the rest of the house and I sometimes wish I had gone lighter/less creamy.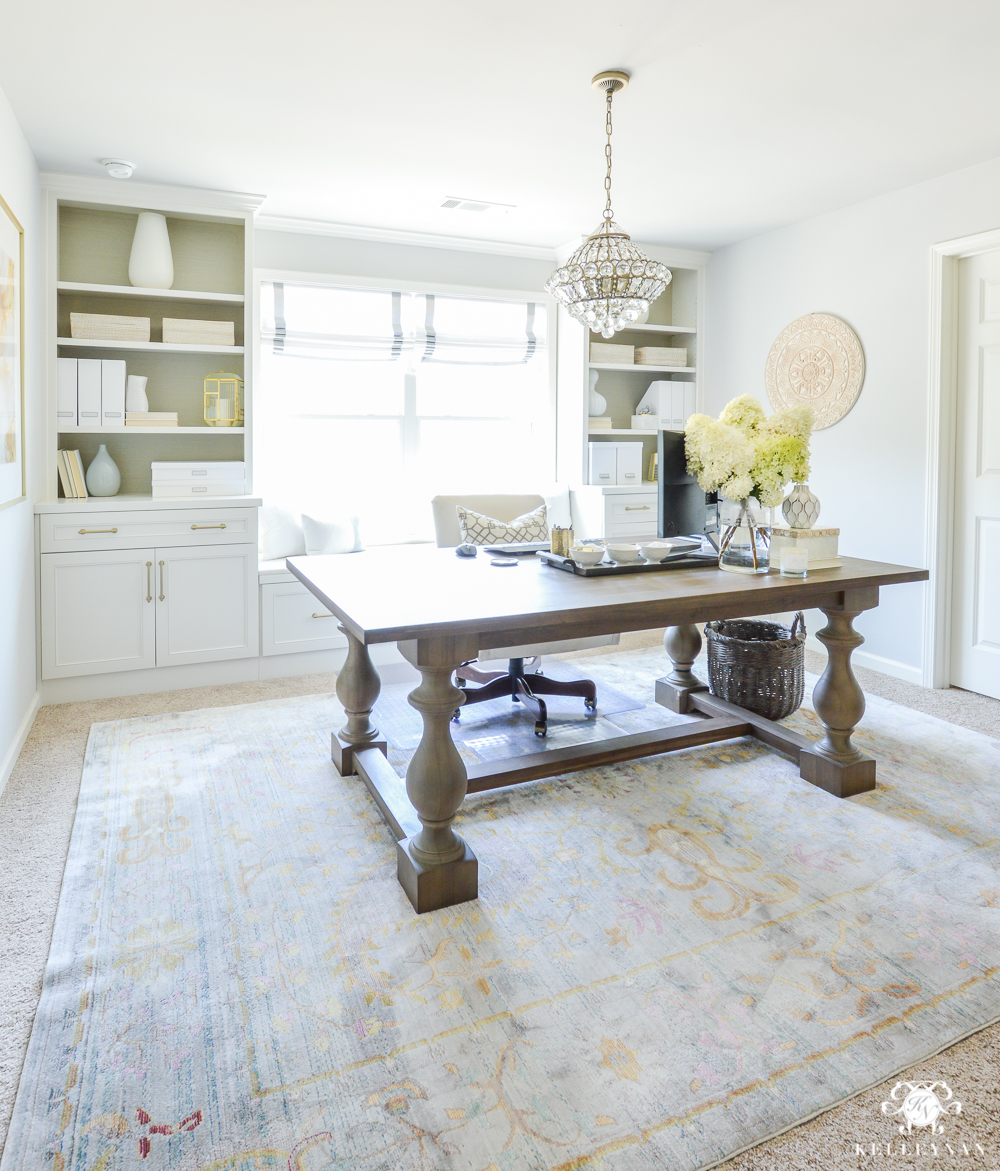 ---
Scroll & Tap to Get the Look

---

(Where is it? Blue & White Guest Bedroom; White Guest Bedroom)
My love affair with white walls started about two years ago when I made over my guest bedroom. I used Sherwin Williams' Color of the Year, Alabaster (SW 7008), to paint one of our guest bedrooms (HERE). It's a warmer white and is actually similar in color to our trim, Creamy. I absolutely love it in this bedroom, which gets a LOT of natural light. As a warning, if you have ivory bedding/linens, it will probably make them look yellow.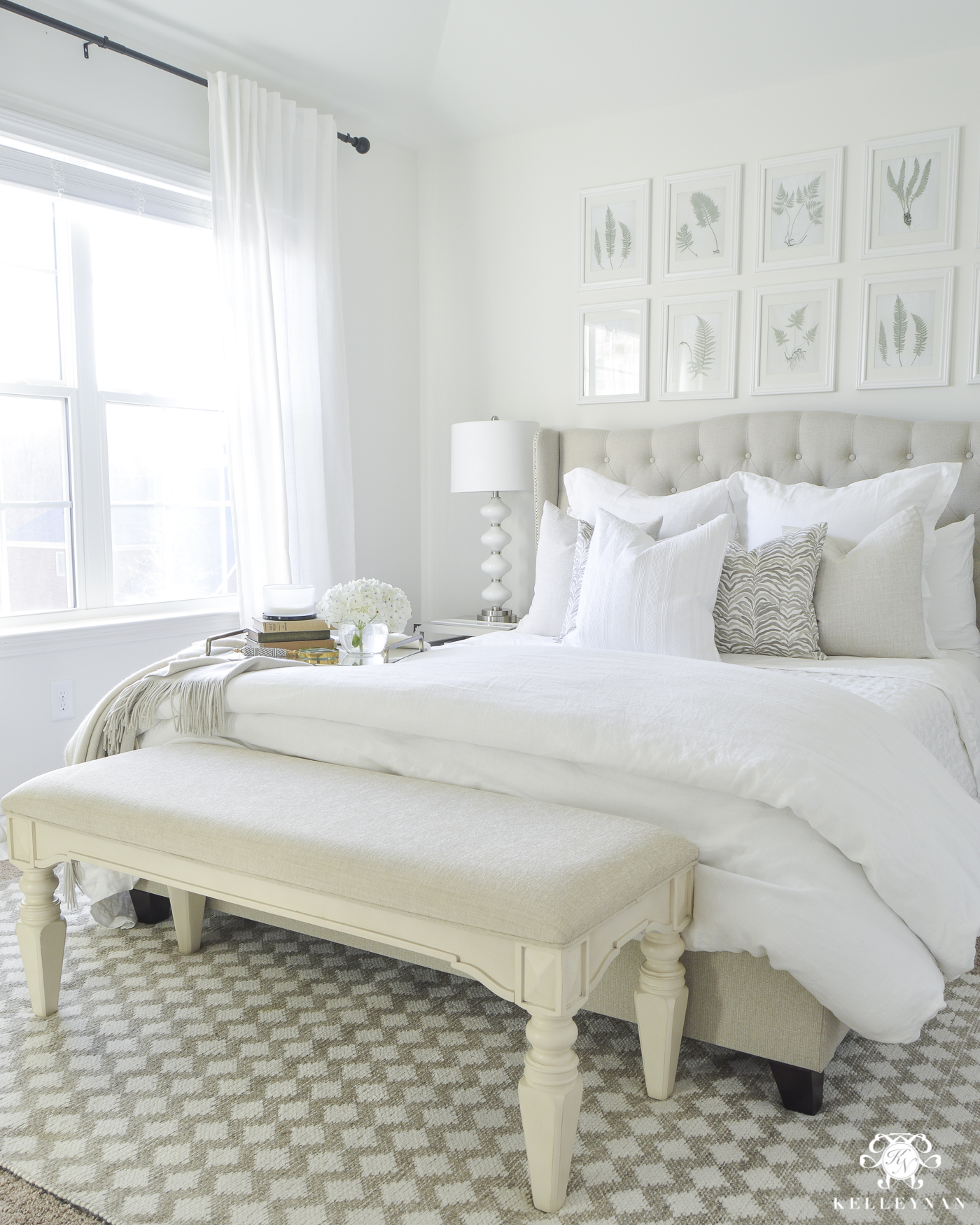 ---
Scroll & Tap to Get the Look


---
When I made over a second guest bedroom (HERE), I just went for it since I loved it in the previous room. This room, while adjoined to the other via a jack and jill bath, actually sits on the back of the house and gets FAR less light. While I still like it, it tends to have a little more translucent/yellowish cast in here.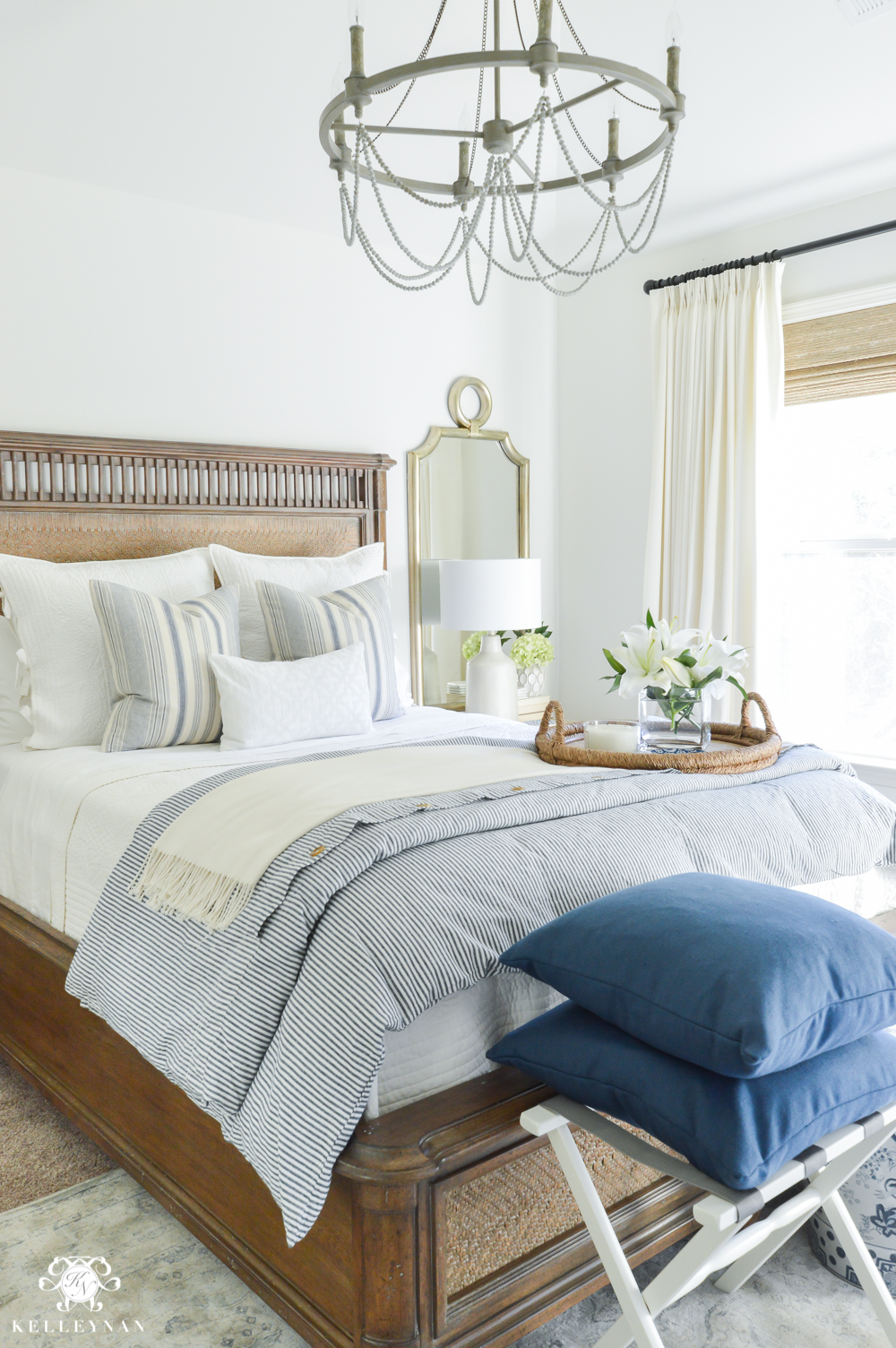 ---
Scroll & Tap to Get the Look

---

(Where is it? Master Bedroom; Toilet Room)
Our master bedroom is painted in my favorite color in the house, Simply White (OC- 117) by Benjamin Moore. It's the most pure white we have – but beautiful and smooth – not too cool or too warm. Our master bedroom sits above the kitchen and also stays dark; again, aside from a deck door, our only windows mimic those in the breakfast nook. Light has to make its way across the entire room to reach the other side. I wanted to brighten it up, desperately. Here is what it looked like before, in Versatile Gray. Remember, this is the same color that is in my great room.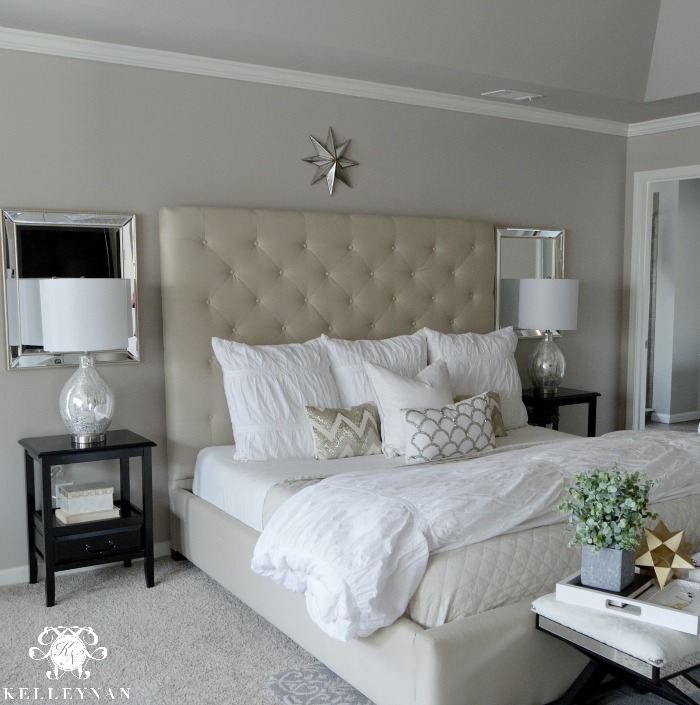 And here is what it looks like today, made over in Simply White.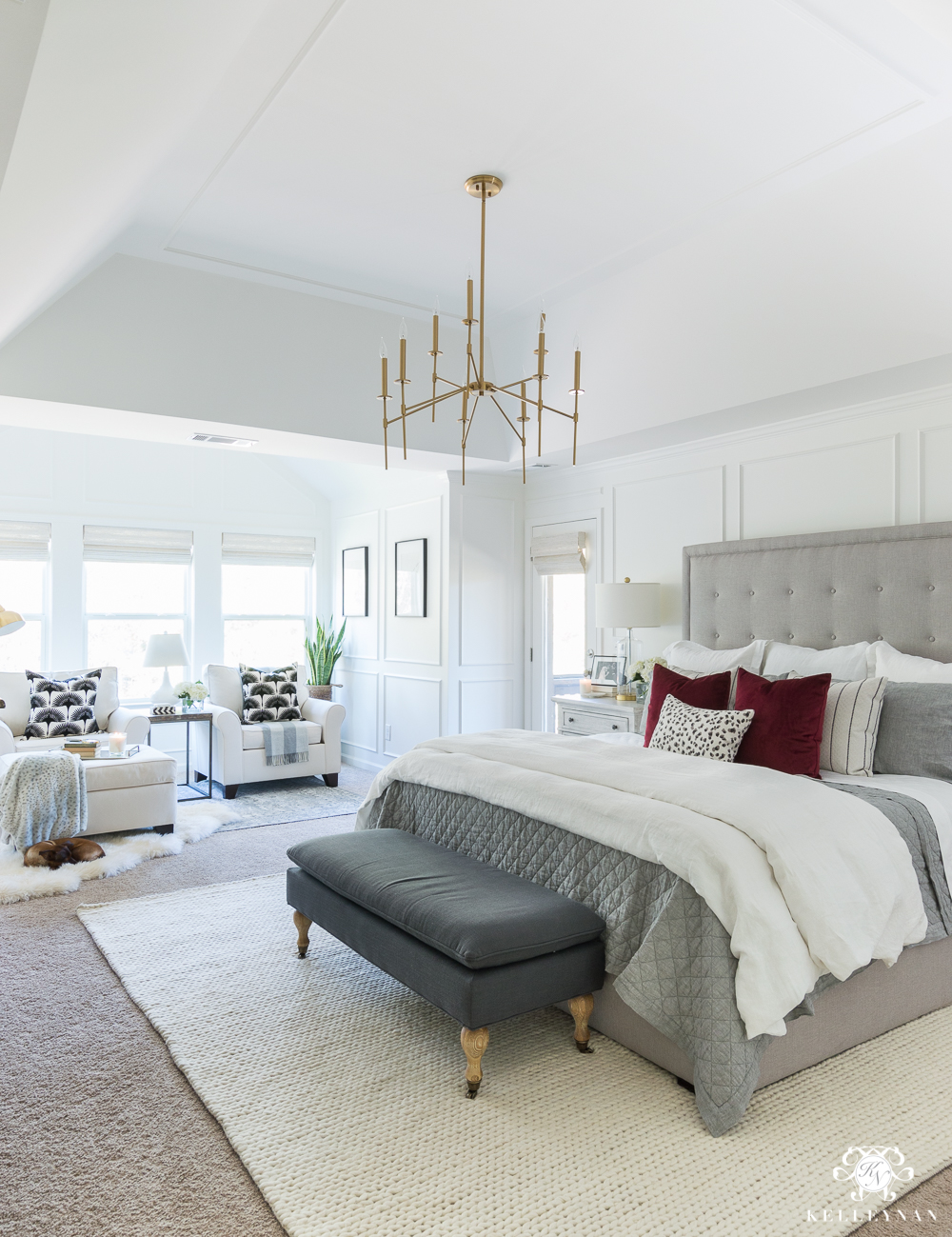 ---
Scroll & Tap to Get the Look


---
You can see the full reveal HERE and the makeover week where I chose paint HERE. I slathered the entire room (trim, molding, doors) in the same color. This is also the only color I have painted in eggshell – a decision due to all the trimwork. From now on, I will likely be painting white rooms in that finish; it just keeps the walls from looking too dull and translucent.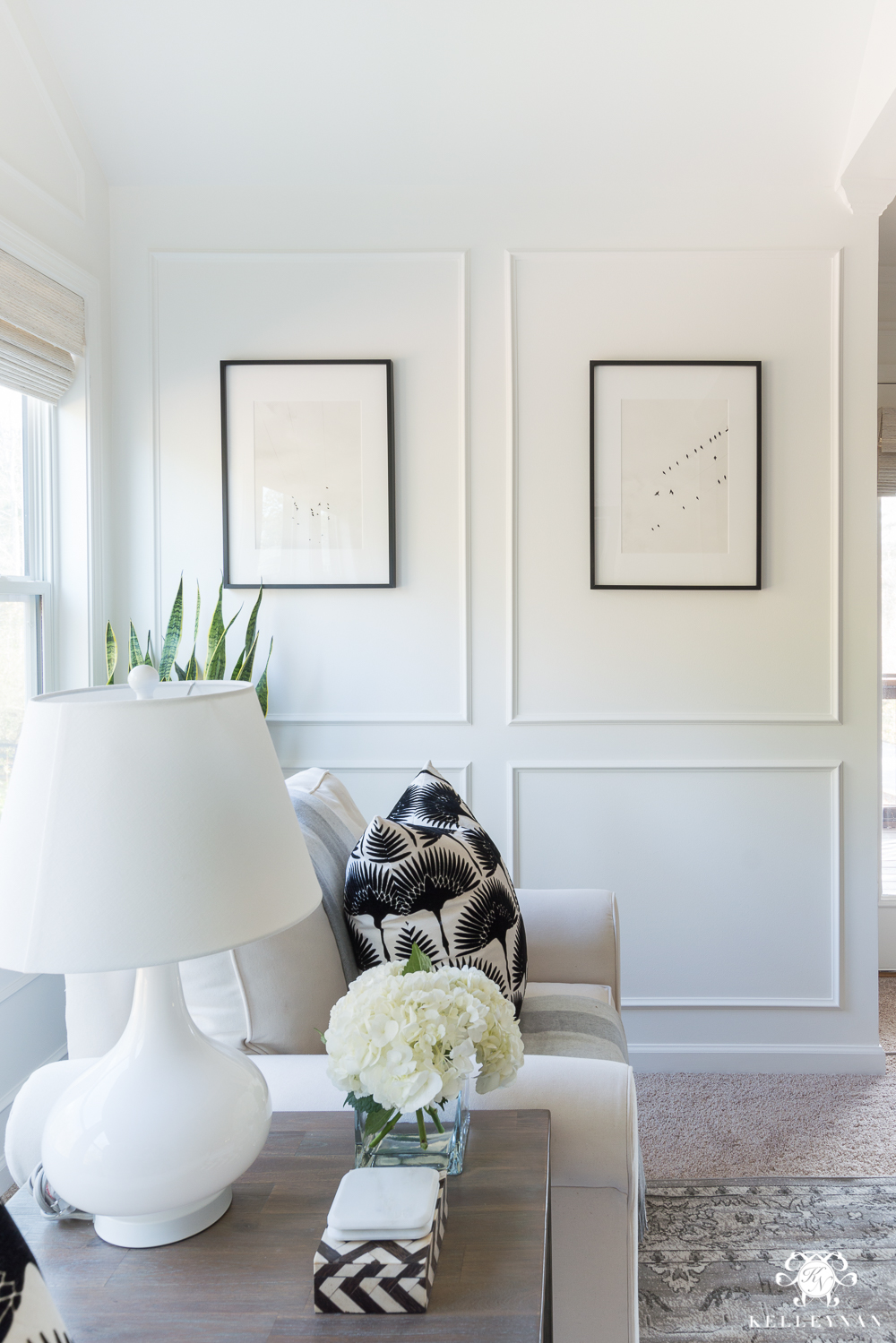 When I took on the small toilet room inside my bathroom (dark with zero light), I had just enough Simply White left over to use it for this project, too.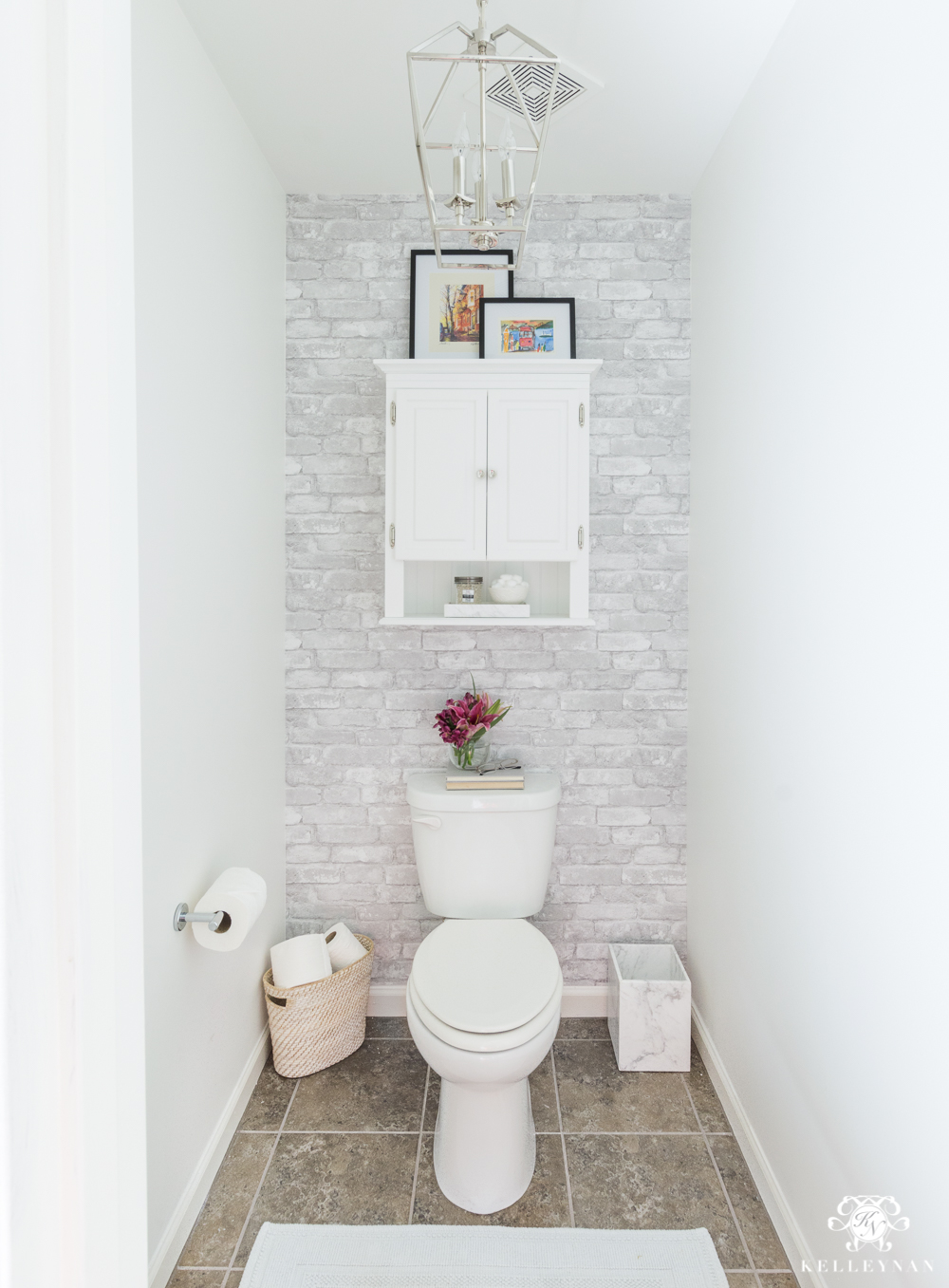 ---
Scroll & Tap to Get the Look

---

(Where is it? Dining Room)
This is perhaps my biggest love/hate paint relationship within the walls of our house. I had envisioned a pale blue dining room for far too long and was stoked to make it a reality. When I was choosing paint colors, my first selection was a barely-there toned blue (I have no idea the name). Our consultant looked at me (well, kind of like I was an idiot) and said "you can barely even tell it's blue". That was kind of the point. But, having more embarrassment than backbone, I conceded and went a little darker which seemed to appease her attitude of "it's not a color unless it's in your face". This was one of those "holy cow" moments – walking into an empty-and-under-construction home to see walls way more vibrant that I had anticipated. We actually lucked out that this is the brightest room in the house so it helps wash out some of the color. But, at night or evening when the room is dark, the blue paint is also way more prominent. Do I love my dining room? Yes. Would I pick this color again? No. Lauren's Surprise (SW 6791) has actually been "archived" but is still available if you ask your Sherwin Williams store to pull it up in the system.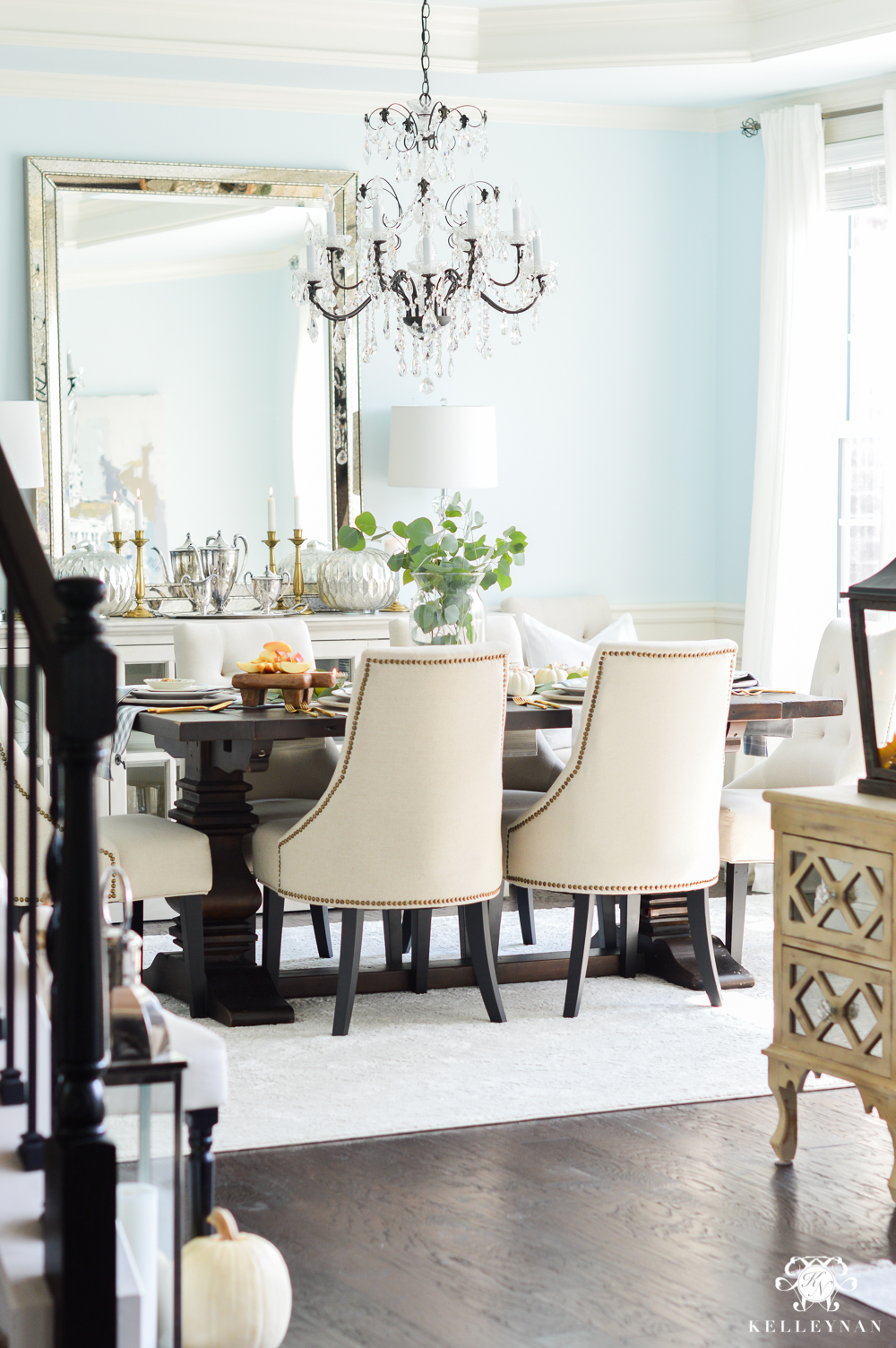 ---
Scroll & Tap to Get the Look

---
So many of the rooms and walls in our home need a fresh coat of paint; the house has settled, the walls are scuffed, and a lot of areas only started with too-thin of a coat in the first place. It's a tricky thing- picking paint. And it's next to impossible to know exactly what a color will look like throughout the day in every part of the room. Searching online is a good place to start, but take your time, invest in actual samples, and paint in different parts of the room (next to windows, away from windows, next to trim, etc.) Spending "too much" on samples is way better than investing in an entire room/house color that you end up hating.