Have we chatted dining room update here on KN? I've shared a little bit on my Instagram but I honestly can't remember if we've even mentioned it here on the blog. Today, I'm sharing the beginning of my latest project and the progress thus far, along with the end result of my months' long concrete lamp hunt (I'm also sharing 20 favorite terracotta and concrete table lamps that caught my attention along the way). There's no design board or laundry list of things to do because 1. we're already "in" the transition, and 2. it's not going to take much to make the space look totally different!
*Posts on KelleyNan.com may contain affiliate links. Click HERE for full disclosure.
Dining Room Revamp
First, a little backstory. I have loved our dining room and while we don't use it often, it is the first room you see when you come through the front doors. I've mentioned before though that while I've enjoyed the blue walls, we had them painted by the builder; not being able to do much testing beforehand (and giving into the pressure of a well-meaning but ultimately wrong third party), we went with a color that was darker than I had envisioned. I wanted a barely-there blue and while the Lauren's Surprise that's on the wall is pretty, it's a lot more pigmented than I ever wanted — especially when the sun isn't shining on it directly. We've lived with it since we moved in in March 2015 and with other projects, I never had the push to revise that original paint job. Once we started the conversation room (hoping to have it finally finished before the end of next month! We're getting close!) — which is positioned opposite the dining room — the new moody vibe just wasn't pairing well with the dining room. It was time to finally make a change.
Even though I was ready to go for a new look, I wasn't quite ready to do an overhaul. I like our furniture but most of it isn't in great shape anymore. When Maggie was a pup, she was a big-time chewer. The dining room was her favorite snack and the legs on the table especially are proof. But, I'm not ready to invest in more furniture just yet. I likely will and it will be more of a gradual process but for now, I wanted to change the vibe without changing everything the room has collected.
So, if I'm not changing out the main furnishings, what am I doing? Well, I'm depending on the walls to do most of the work for me. I wanted to make a dramatic statement while tying into the conversation room (see the plan HERE), and while I was ready to fund the transition, I also wanted to keep significant costs at bay. No wallpaper. We had a pretty standard wainscoting (I'm sure a lot of you do, too), with basic crown molding, and a trimmed out tray ceiling. Instead of working within the same painted confines of its current state, I decided to add large picture frame boxes above the chair rail to mimic the already-installed boxes below the chair rail, and to slather it all in a single coat of paint.
See the final dining room makeover reveal HERE.
Here's what it looked like before…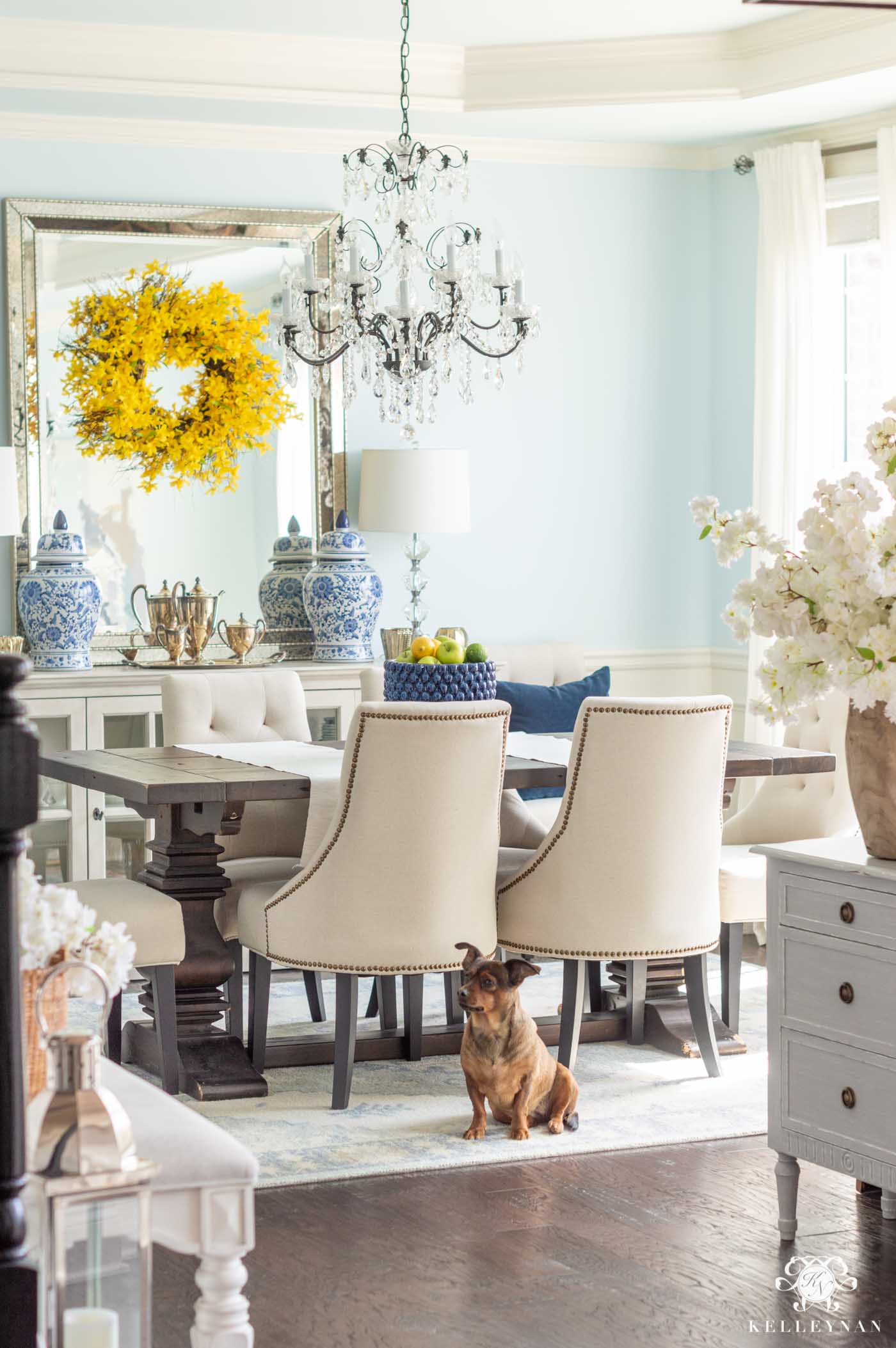 Chairs | Rug | Entry Chest | Cherry Blossom Stems | Chandelier (new version)
and here it is after the additional boxes of molding were added. I've used picture frame molding as a way to dress up walls all over the house, but I typically start from scratch. This was the first time I added on to an existing feature to make it more. In terms of cost, without changing any of the other molding and just adding the simple inexpensive trim, it was incredibly cost effective. It was also easier for the carpenter because aside from measuring the exact spacing, he didn't have to reinvent the wheel and I didn't have to determine the width and length of boxes. It was more or less just "finishing a puzzle" and filling in the blanks.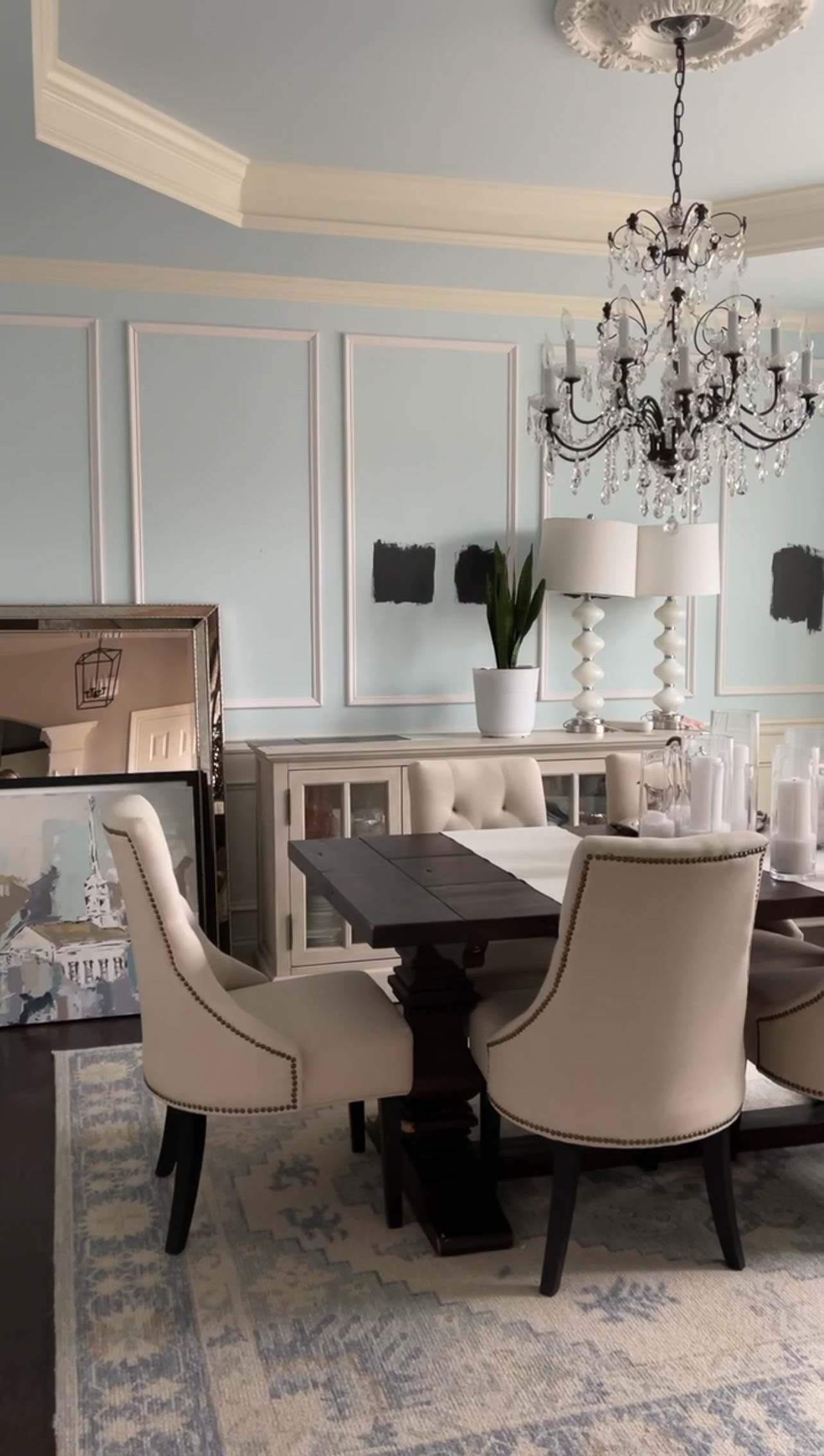 So, can a room with baby blue walls and a traditional crystal chandelier transition into a darker space with more organic supporting accessories? Yes, yes it can 😉 Here's how it looks, post paint but pre-anything else.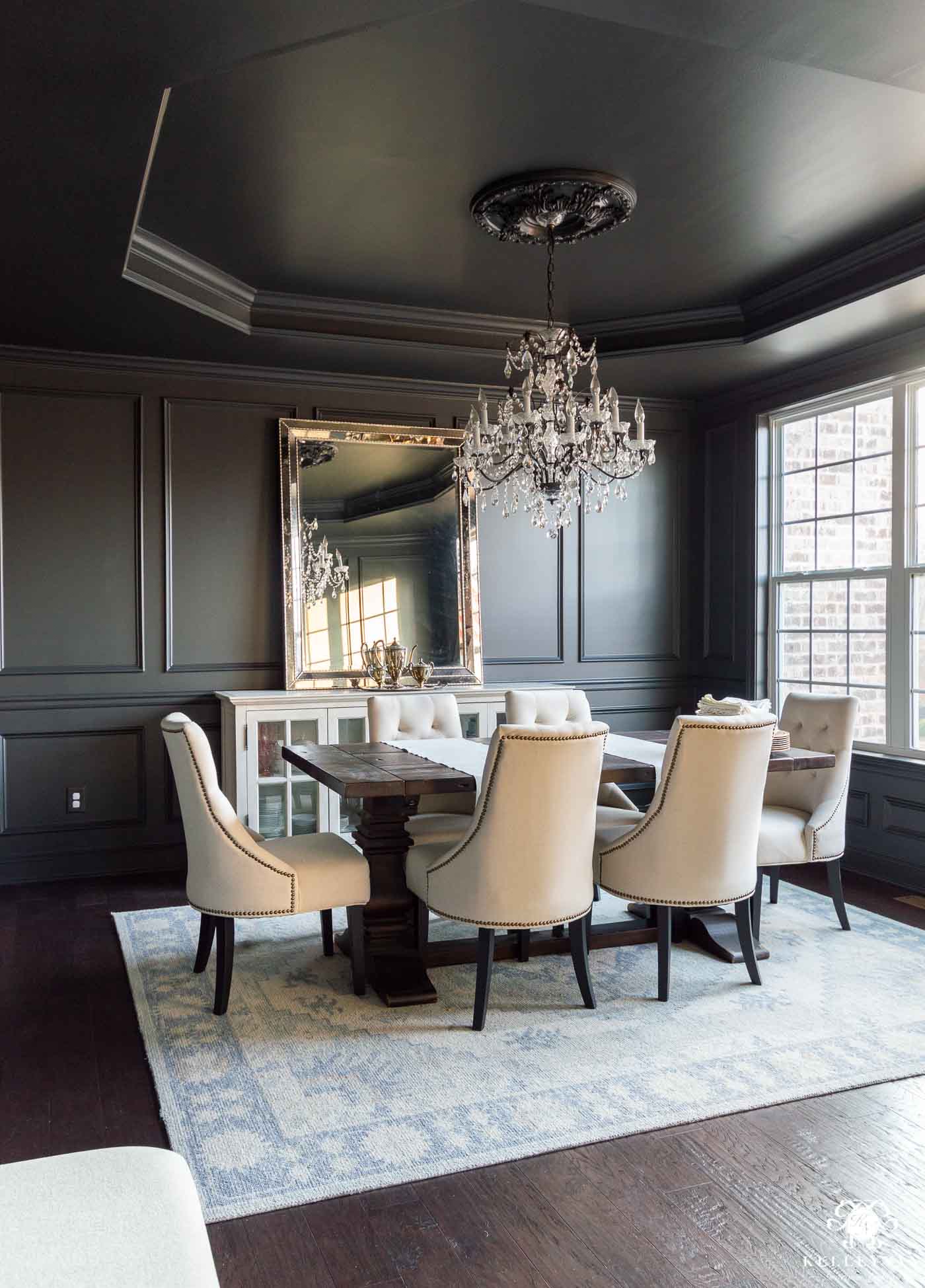 Chairs | Rug | Chandelier (new version)
I cheated when it came to paint color. Instead of trying any and everything, I only sampled the three small cans I used when debating the color of the ceiling in the conversation room. While I used Tricorn Black — a dark, pure black — on the conversation room ceiling (see that ceiling HERE), I opted for Iron Ore by Sherwin Williams — a dark, warm charcoal / soft black — in a satin finish for the dining room. Pretty crazy to see what paint and an added wall detail can do, still in the presence of the exact same furnishings that were in the room prior to the color change!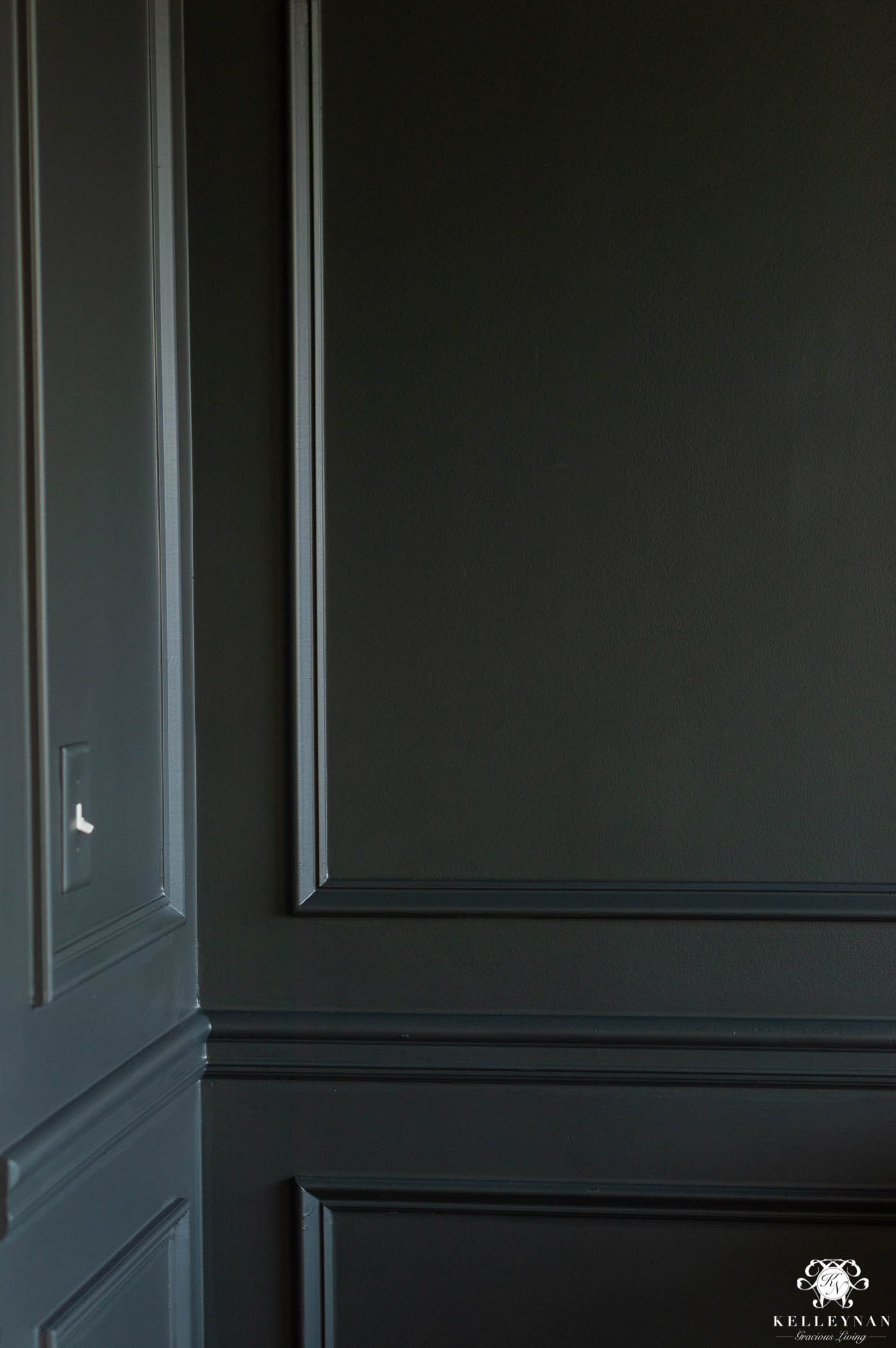 Even this bar cart moment has a totally different feel than it did in corner of the blue dining room.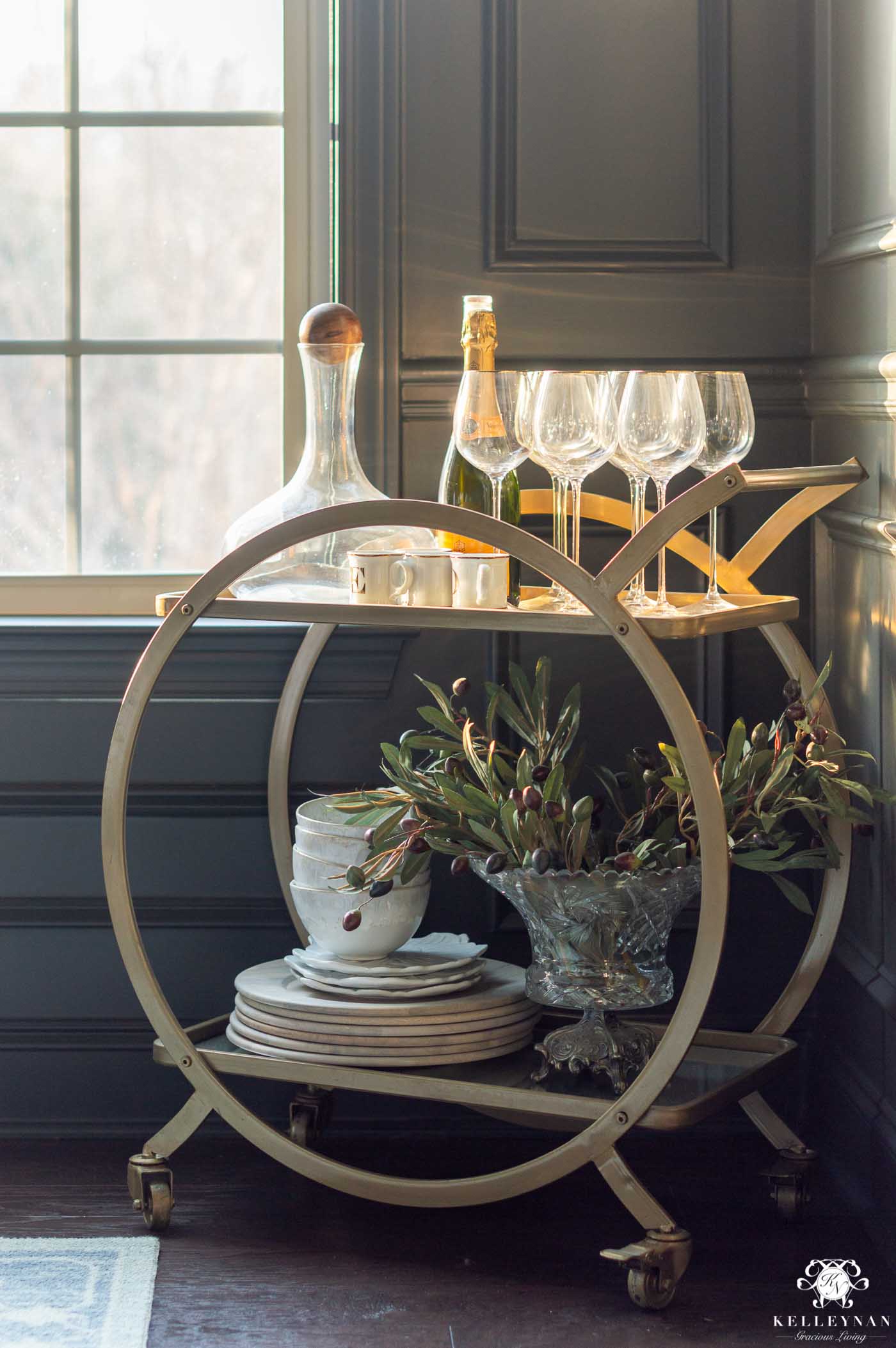 Bar Cart (similar) | Faux Olive Branches (similar) | Driftwood Chargers | Bowls | Floral Plates | Gold Rimmed Wine Glasses | Carafe 
I struggled with what to paint, between the ceiling, trim, window casings, baseboards, etc. But, because the trim color was "Creamy" — like the rest of the main living area — and I didn't want to get into deviating nor necessarily using that color in here, I decided to slather the entire thing in the dark paint. And, I love the result! But, now that the paint is on, we have work to do. Again, while the overall look will be a drastic contrast, the actual changes within the room will be way more minor. Here's what I have left to do in the more immediate future.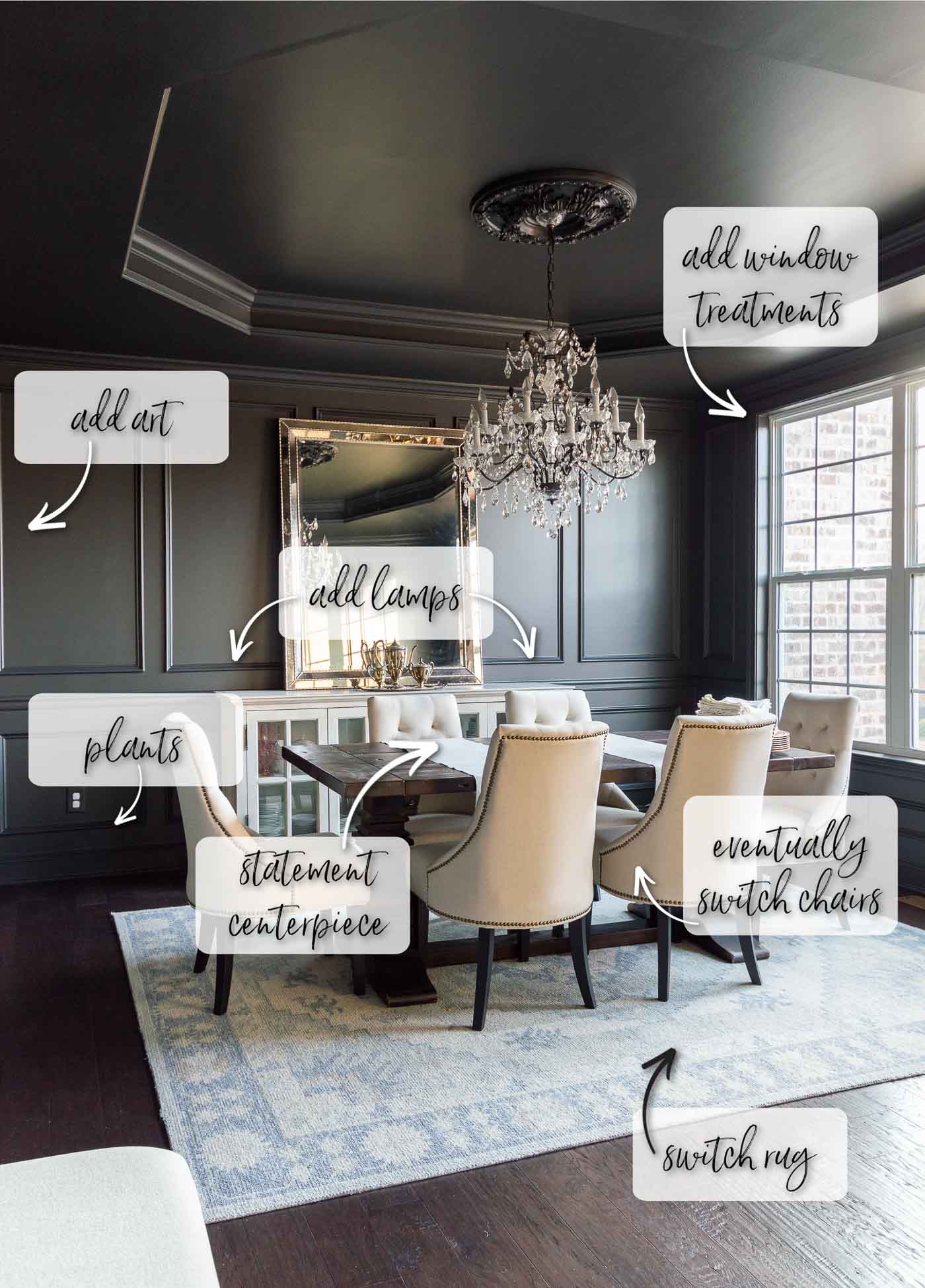 I love the drama and moody vibe but I also don't want it to feel gothic. We have some lightening up to do! I'm adding the same full, ivory pleated panels that I've added in other rooms, to frame out the window. I'll also be switching up my art, adding some green plant life, and switching my rug to a neutral, versatile canvas. I am going for the wool jute rug in the natural option because I think it lends itself to a marrying of styles. (PS: if you have this rug, I'd love to hear how you feel about it in person and over time! I've seen positive reviews but always love to hear from KN readers first-hand experiences!) It can go in a more formal area but keeps it casual and doesn't make a space formal like a more ornate rug may. I think it will help bridge the traditional look I've always had in the room to support more of the earthy elements I'm adding.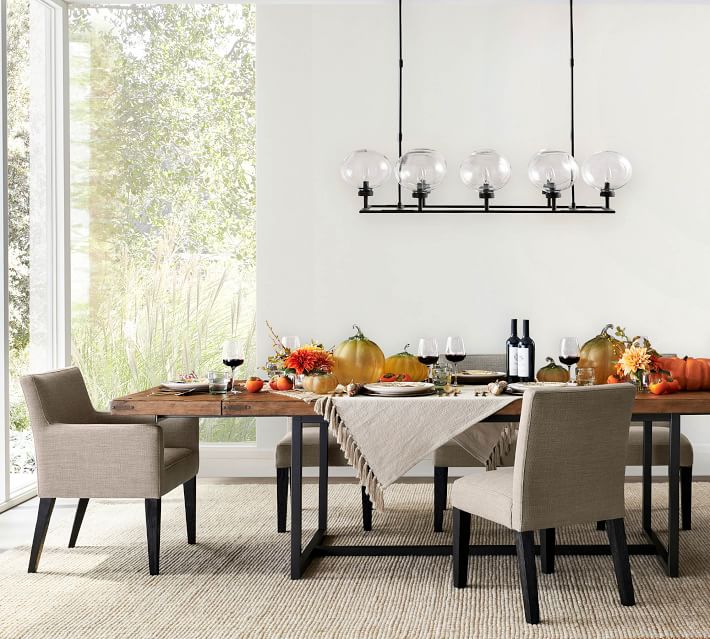 Wool Jute Rug (photo via Pottery Barn)
One of the very first things I started looking for after deciding the direction of this room was a pair of organic, natural lamps that had a concrete lamp look to them. I really started getting into the rustic, heavy finish around the time I talked about statement vases last year HERE and thought the juxtaposition of the roughness would look pretty against the more dainty, traditional elements of the room. I looked and looked, decided on a pair and changed my mind, and finally hit "order" on these moonstone lamps. They stand at 27″ tall and let me tell you — they are so much more beautiful in person! I found them for 20% off, plus free shipping HERE. I actually ordered them with a backordered notice, but surprisingly, they actually shipped a few days after I ordered, contrary to the anticipated in-stock date. I can't say that's what will happen right now, but I didn't think I would have them for a few months, and I received them in a few days.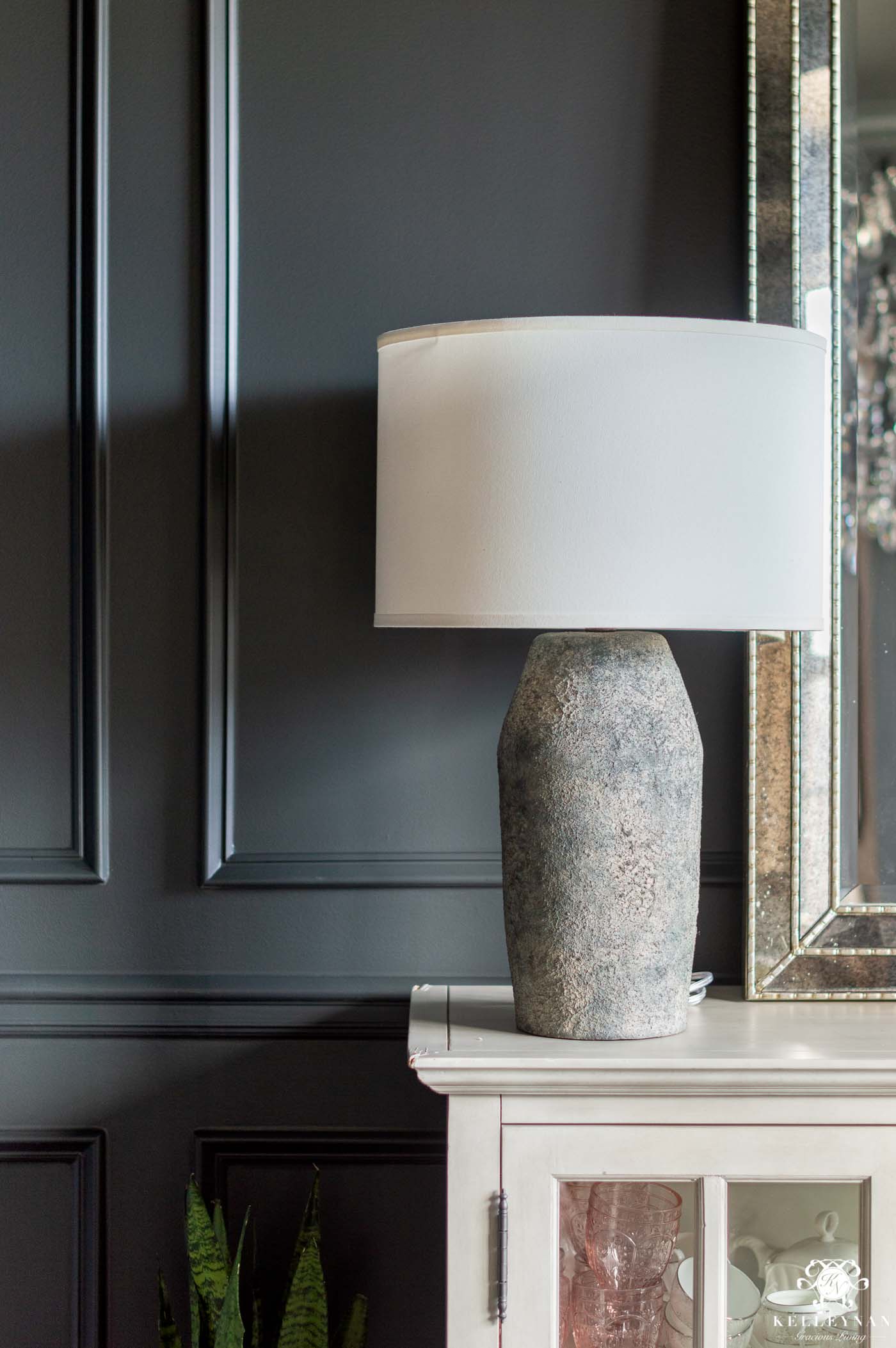 There's so many varying tones in the base — from gray to terracotta-rust to even hues of subtle green — that it would be easy to coordinate in a lot of different spaces. I have some pretty large statement vases in the conversation room, across the entry from the dining room, so I'm glad I carried that finish through to this room. They aren't even plugged in yet or situated just right but I was so excited to get them unboxed and set up!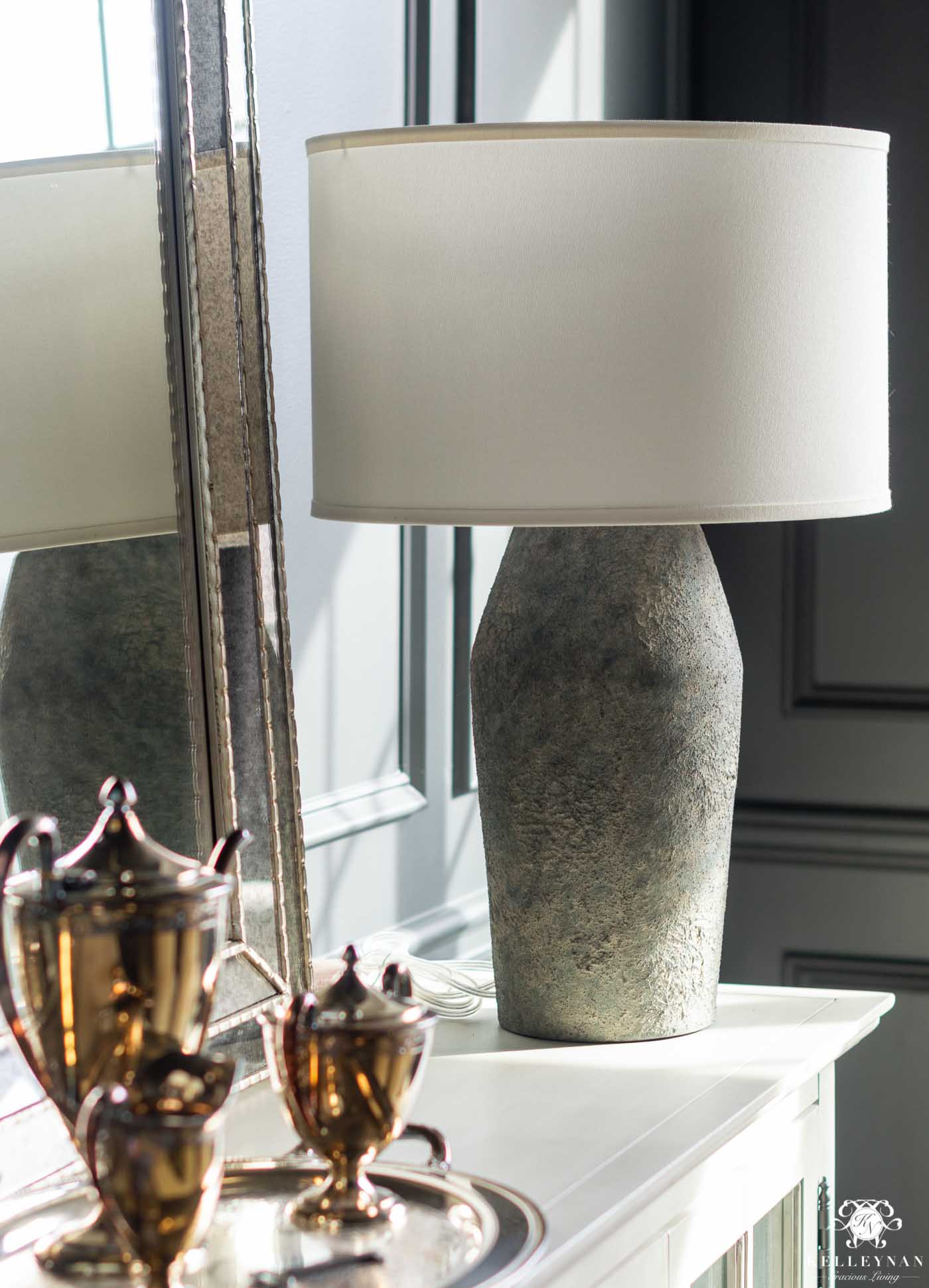 As a total side note, I haven't had a good source for my crystal chandelier (that's been in stock) for a few years now. It looks like Schonbek may have just slightly updated my chandelier with bronze candlesticks instead of ivory! I literally just found it this morning after a few years of looking. You can find it HERE.
Hunt for the Perfect Concrete Lamp — 20 Favorite Earthy, Concrete, and Terracotta Table Lamps
I poured over options, finishes, heights, shades, and availability dates for hours over the past couple of months — determining what my space most needed and trying to find a balance of everything I was looking for. Along the way, I found some pretty fabulous table lamps — one or two I would love to find a home for somewhere else in our house. You can find the link to each of these below the following graphic.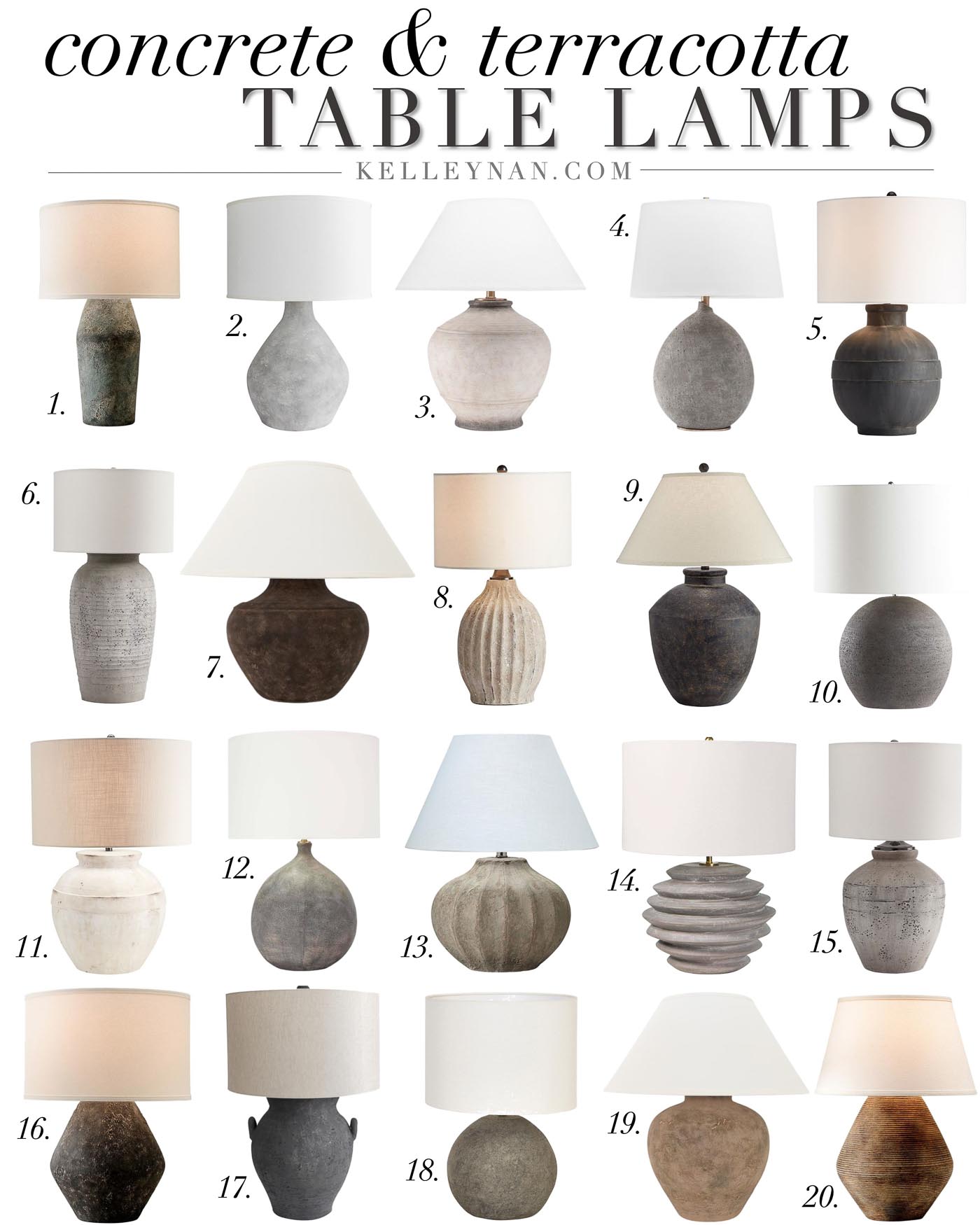 1. | 2. | 3. | 4. | 5. | 6. | 7. | 8. | 9. | 10. | 11. | 12. | 13. | 14. | 15. | 16. | 17. | 18. | 19. | 20.
I had originally planned on Number 6 (comes in three sizes and shapes) before finding Number 1, which I ultimately went with. After finding Number 1, I briefly considered changing gears and going for Number 2. I was determined to make Number 19 or Number 20 work in the conversation room but ultimately went in a different direction since I already had several organic finishes going on in that room. I'm hoping to find a spot for one of those somewhere, still!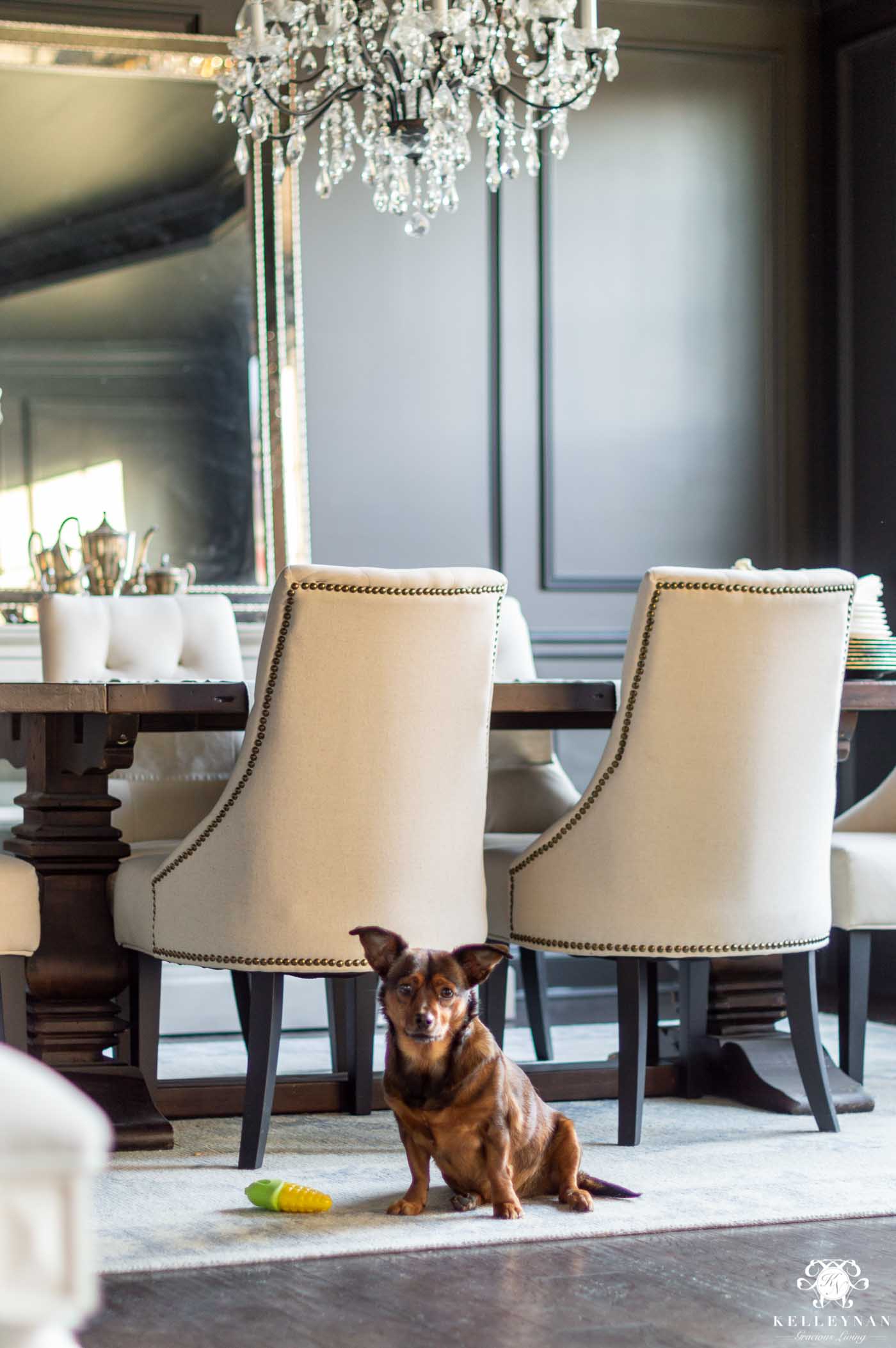 See the final dining room makeover reveal HERE.
I'm hoping to have this revamp completed likely around the same time as the conversation room — by the end of next month. While it's pretty much just accessorizing and making a few switches at this point, shipping and lead times have been a little crazy over the past year, as we all know. I've also been intentional about moving a little at a time. By the way, it's been a couple months but I'll be sharing an update on the conversation room in the next week or so! And, while I'm working to get these two spaces finished up, I'm also just about ready to start on a space I've been itching to get into for the past year — Eliza's playroom. If you aren't already, you can subscribe to emails to catch the reveal at the bottom of the post. Follow along on Instagram for behind the scenes and daily updates in stories HERE.