I hope you had a wonderful Thanksgiving — honestly, I was prepared for it to feel almost like a non-event; we pared down our menu, were super casual, and even declared it a "pajama day". But, it was actually the least stressful Thanksgiving Day I can remember. There was no pressure, no china (read: no hand washing), and it was just easy and enjoyable. Of course, we missed seeing family that we only see once per year, but for a day with low expectations, I think it was just what we needed. Whether you had a normal holiday or dinner for your immediate family, takeout or a non-traditional meal, I hope it was a great day. Now that some of the craze of holiday decorating has settled, I thought it would be a good time to share a conversation room update. It's been a few months since I last chatted about our latest room makeover and while I acknowledged it would take several months when I first announced the project, we've taken the room just about as far as we can until the rest of the furnishings arrive.
*This post is published in partnership with Wayfair, one of my favorite home retailers. As always, all opinions, concept, and creation are my own. Posts on KelleyNan.com may contain affiliate links. Click HERE for full disclosure.
Around this time last year, I published a similar post of project status because while I know a lot of us are focused on getting those Christmas gifts secured, Black Friday, Cyber Monday — and Cyber Week in general — is an ideal time to score deals and pull the trigger on anything you may be eyeing for a current or upcoming home project. Wayfair is currently hosting their Black Friday Sale with some fantastic discounts across their site. A major perk too, is that in addition to their discounts, everything currently ships free — from tiny orders to huge pieces of furniture. No freight/bulk/or flat rate shipping fees! I've listed some of my favorite categories to browse at the bottom of the post, where lots of fun finds can be located 😉
Here is a link to the final reveal of the completed Conversation Room.
Conversation Room Update: Where We Are Today
So, let's pick up where we left off. In my last update post (HERE), we had a first-coat painted ceiling that was dirty with nails showing. Today, we have the final result of a finished black shiplap ceiling with beams!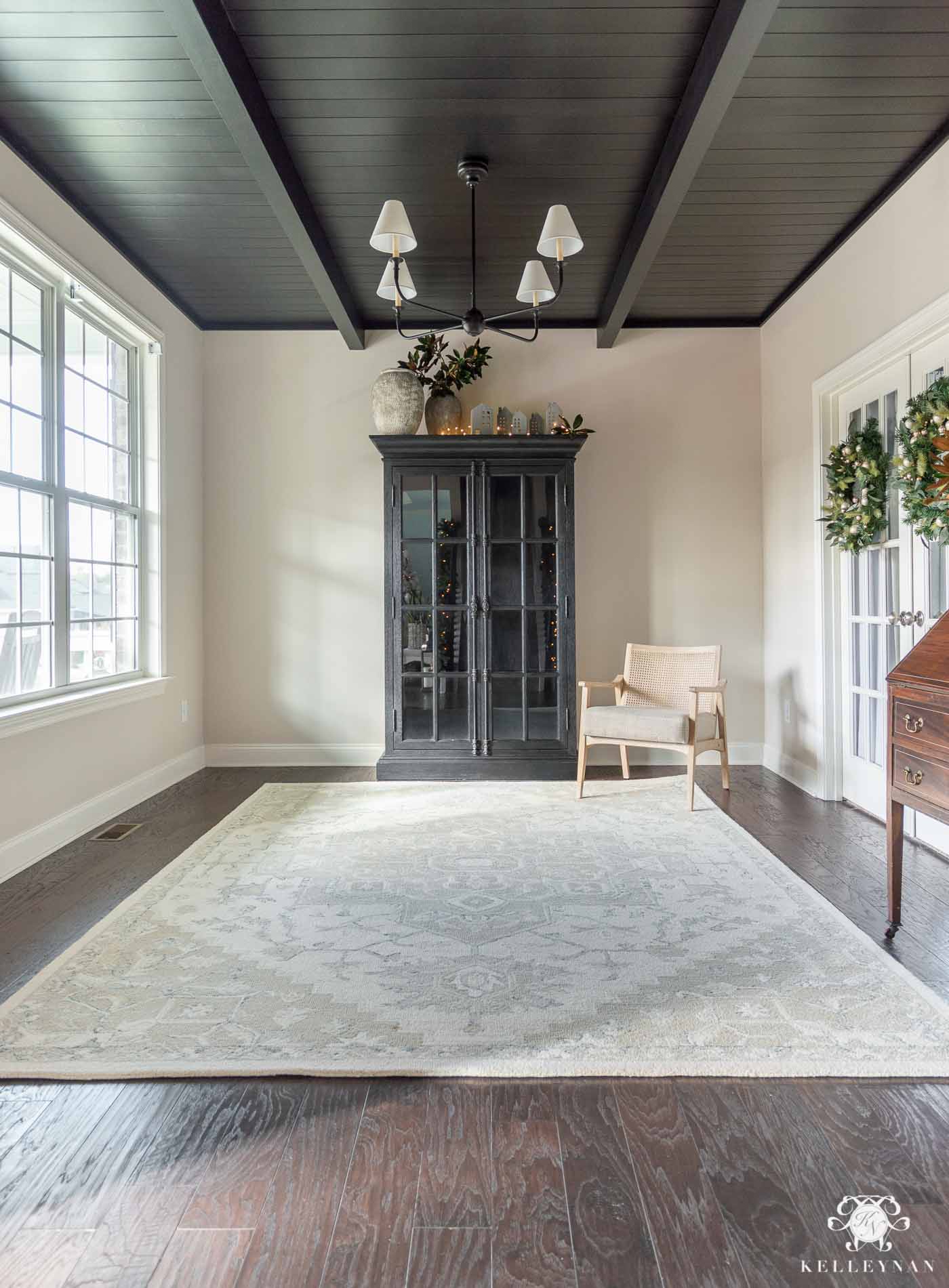 Some of you were wondering how the boards were going to seamlessly meet the wall; the contractor installed a thin strip of basic trim — painted in the same Tricorn Black as the ceiling. The "beams" are actually three pieces of wood, fashioned together to appear as a single solid piece. I told our contractor what I wanted but as far as his method, I left that up to him. Bottom line — I LOVE THE RESULT!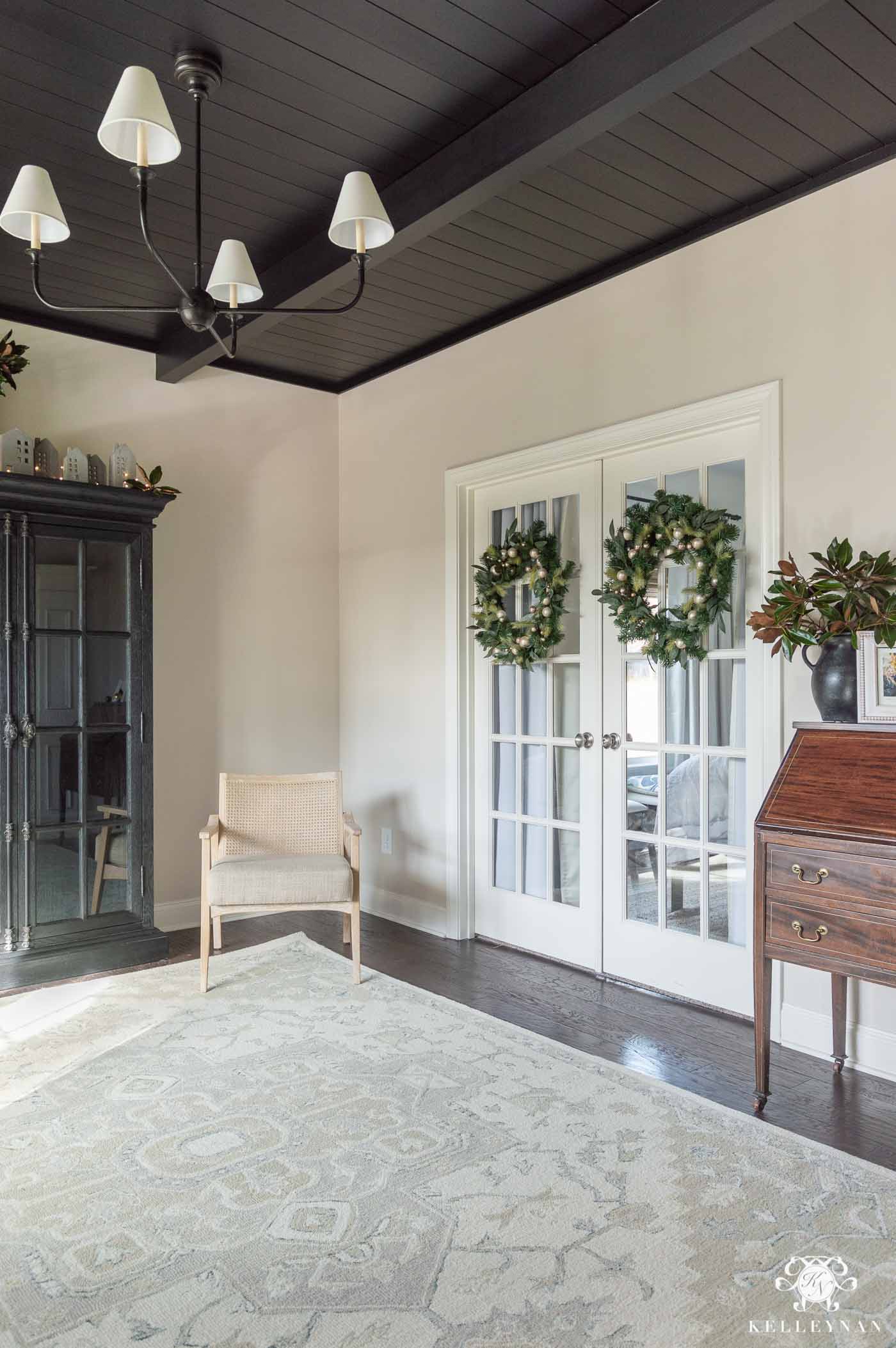 With the black ceiling, the large black cabinet, dark floors, and non-white walls, my plan was and is to keep a lot of the upholstered furnishings, window treatments, and rug on the lighter side to brighten things up. I went into this project with one rug in mind but kept hesitating on pulling the trigger, due to the price. I've shared before that we aren't exactly in a stage of life where we're incredibly "kind" to rugs so I try to stay in a more comfortable price range when we're adding/changing rugs in our home. But, while I was waiting… and waiting… I said the only way I would change course is if I found something I loved just as much, or more than the rug I had planned. And then, I did. By total accident. This handwoven, wool area rug popped onto my screen at just the right time — and it literally saved me over $1,000. It had just the right mix of ivory and beige and gray — all the neutrals — without being too dark or too light… it wasn't too traditional or too modern. It was perfect. And because of the colors, it can blend with just about any shade of brown, gray, or white. I scored the 8'x10′ size for $389, pre-tax. It's also nice and thick so it provides a bit of padding and is comfortable for a main living space rug.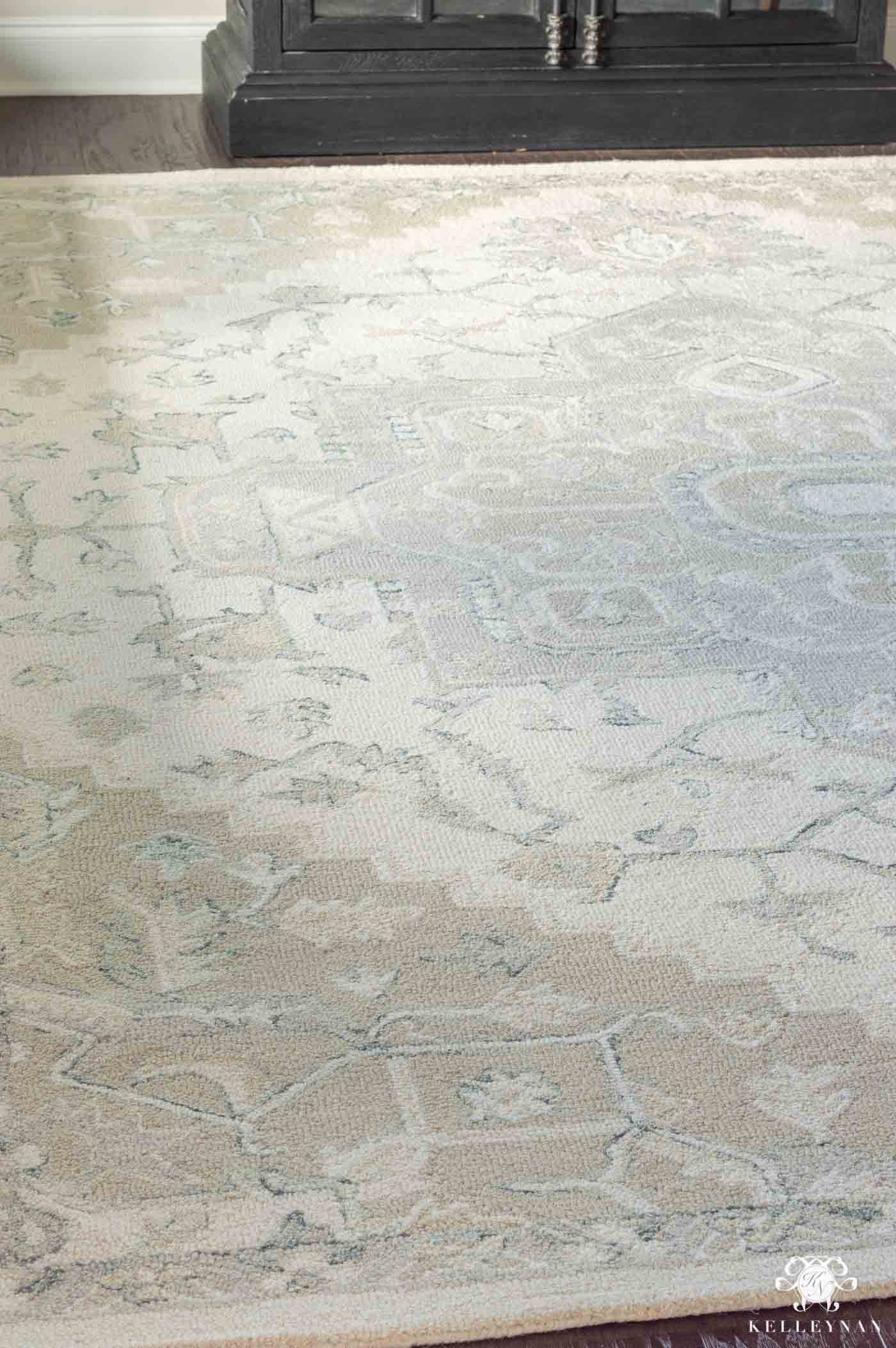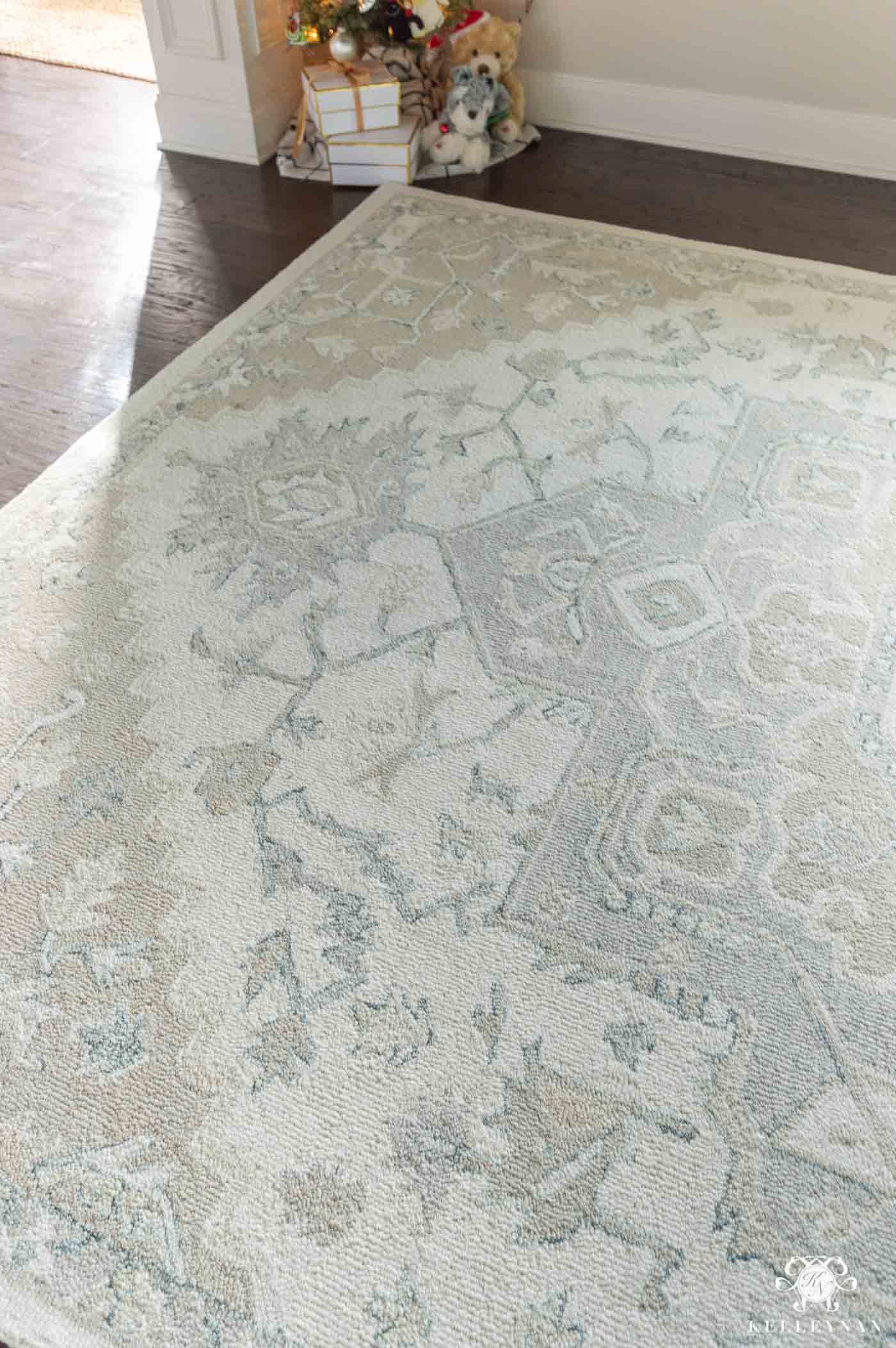 Another new addition since our last update is the cane accent chair! I originally saw it, loved it, added it to my original design plan (HERE), but before I could order it, it went out of stock. I originally thought I would have a pair of these but knew I needed to take some measurements to see if both would fit since they would potentially be competing with access to the French doors. (While I was procrastinating on taking measurements to determine if I needed one or two is when it first went out of stock 😉 ). I took measurements which indicated that two chairs would likely be too cramped in this space, so with a plan to proceed with one, I waited and watched and checked back often… and then one day it finally came back! It's currently on sale (HERE) for less than I paid for it at just $303 — again, along with everything on the site right now, it ships free!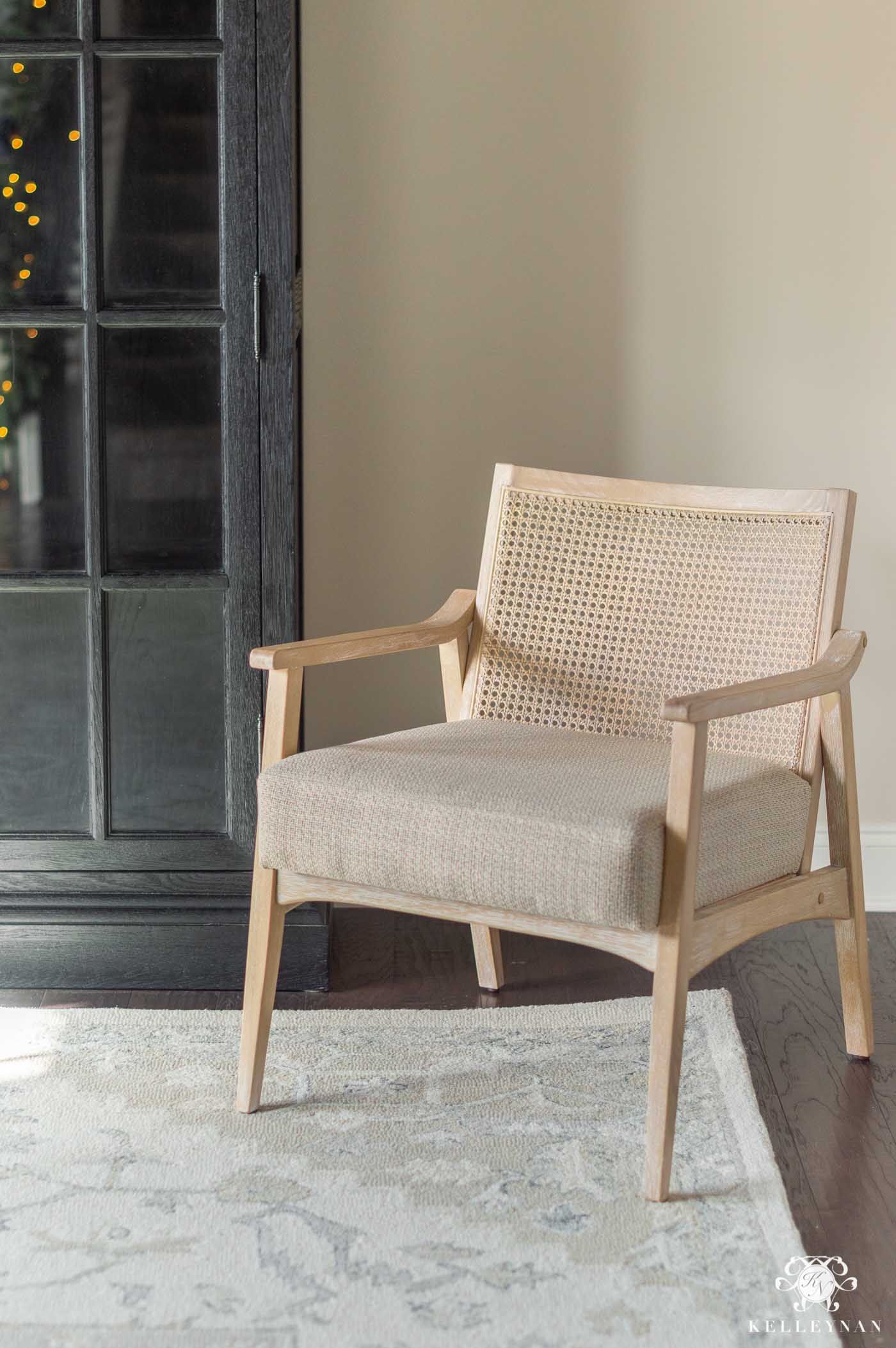 Its final placement will be determined by where exactly the loveseat and coffee table fall, but I have a pretty good idea it will be positioned similar to where it is now.
While it isn't so much of an update — I did share my thrifted, antique secretary desk during my last update — I may have an update on my plan for the piece. Originally, I was planning to strip and stain it. However, while I may continue with that plan — I won't actually make any final decisions until the rest of the furnishings are in the room — I also may leave the finish as-is. If I do leave it in its current color, I'll have to see what kind of minor scratch repairs I can make and I will still plan to update the hardware — I love the juxtaposition of old, traditional furniture made new and slightly more modernized with fresh, more sleek hardware!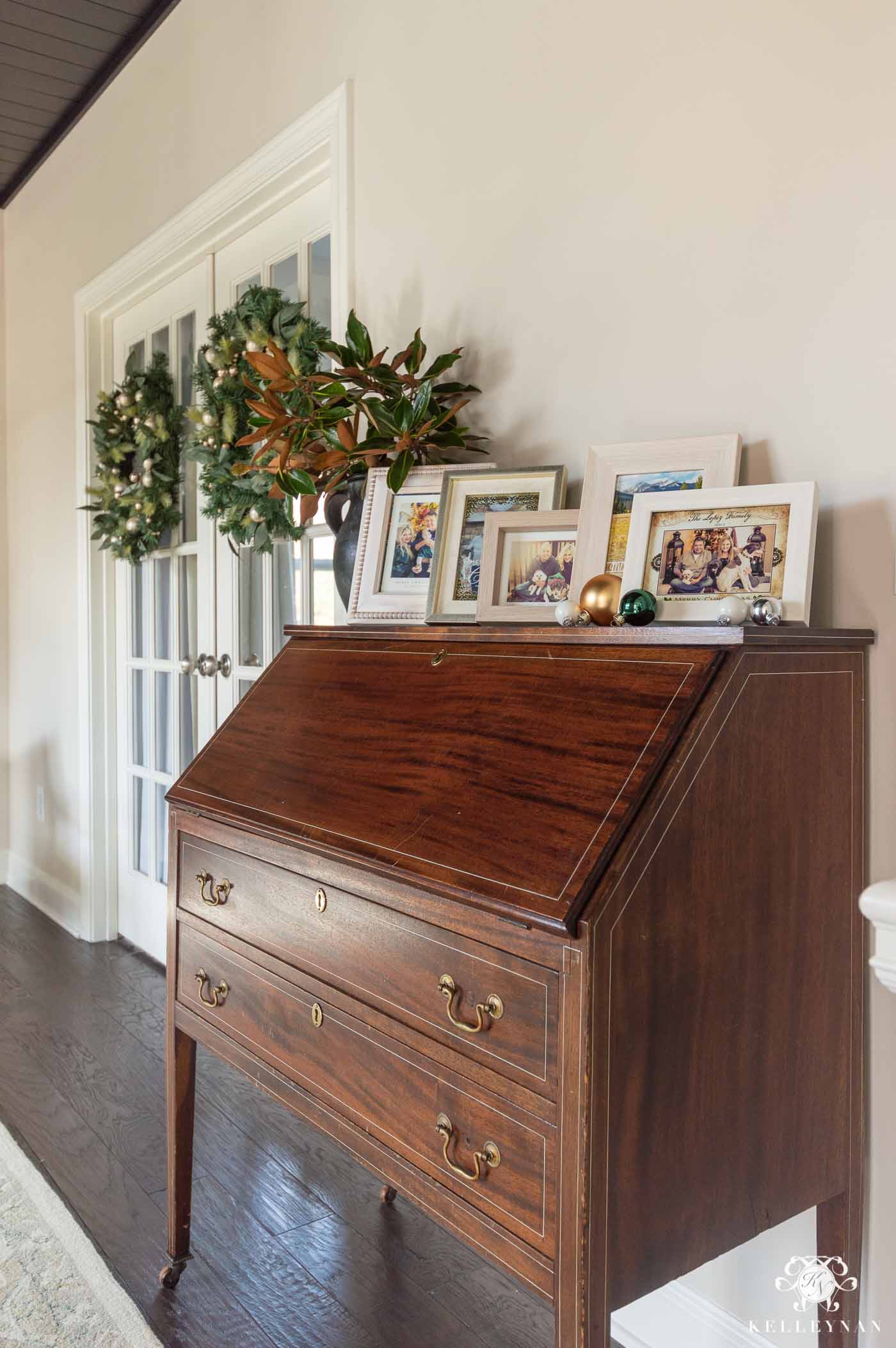 I will have to measure the current spread, and again, part of the hardware determination depends on what I ultimately do with the entire piece, but I really like the idea of THESE pretty cup pulls in champagne gold. If I ended up stripping the piece and going more white-washed (like more white oak, natural wood), I like the idea of the same pulls, but in the dark bronze (HERE). Most of my pulls in my house — from my kitchen to my office — are this brand, and especially with how good of quality they are, it's kind of crazy they're on sale for $5.58 right now. If I go with a lighter wood stain, I also like the idea of this two-toned pull in the black and gold. Here are a few pulls I'm digging — all currently on sale.
Scroll & Tap to Shop

I'm still on target for a late January reveal of how the entire room will ultimately come together; here's what still needs to be done.
Receive sofa and coffee table
Select and order window treatments
Receive art — hang art and sconces, flanking the bookcase
Select special family photos, print, and frame them
Curate special family mementos to showcase
Determine and order "pillow-scape" and any other soft items
Accessorize and bring in some green life
Put lights on dimmer
Update desk (paint, strip, stain, or fix scratches; change hardware)
Hang art/mirror
Here is a link to the final reveal of the completed Conversation Room.
You can make sure you catch the reveal early next year by subscribing to my emails HERE.
Back in Stock and/or On Sale!
Speaking of things being in and out of stock, there are a few pieces I have that have seemingly been out of stock most of the year. As of the time of publishing this post, they're back! My dining room rug is back in all the sizes — my 8'x10′ (7'9″x9'10" to be exact) size is currently under $295 (HERE)! Like the conversation room rug, this wool rug is thick and substantial. We've had it over a year now and it's held up beautifully!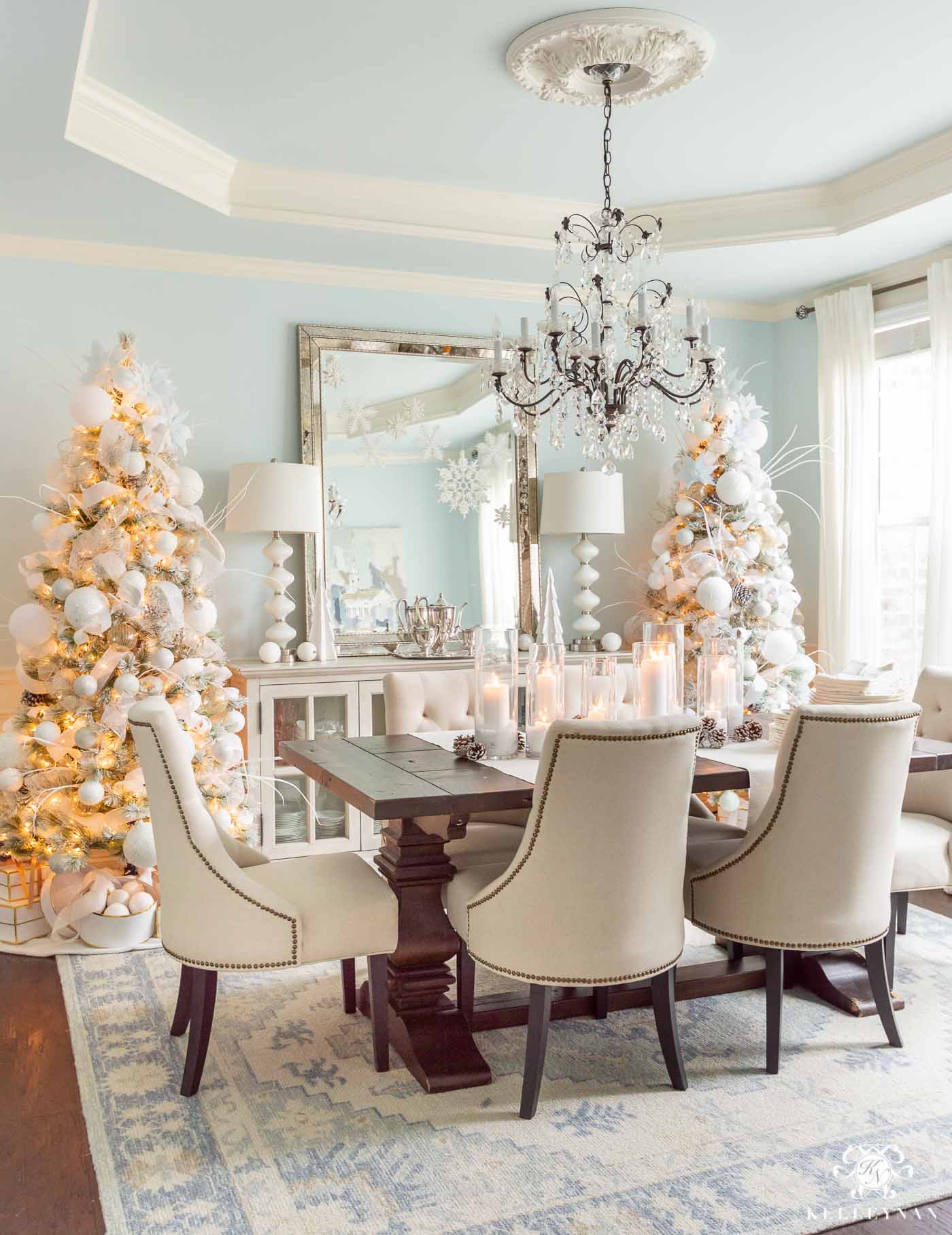 My entry chest has been out of stock for a long time — I keep up with this piece regularly because it is one of my most asked about pieces, from readers. Today is the first day I can share that this cute, versatile piece is back! It comes in both this gray color and pale blue (HERE) and can serve as a chest, occasional piece, or nightstand. The mirror is part of the Black Friday Sale and is currently on sale for under $100 HERE.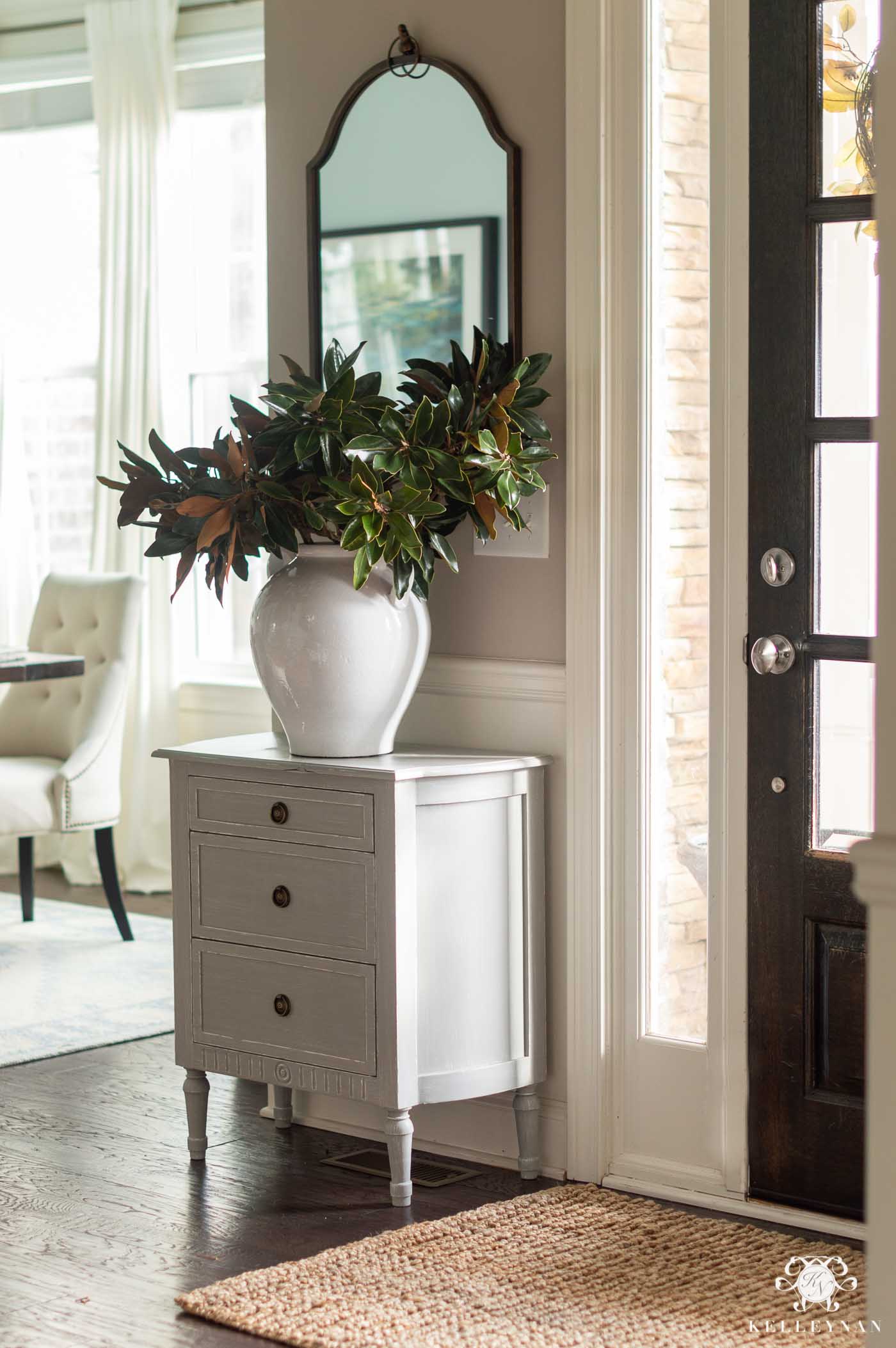 Chest | Mirror | Entry Rug (3×5) — comes in tons of sizes!
My bed with the tall headboard and flat, modern tufting also came back in stock HERE…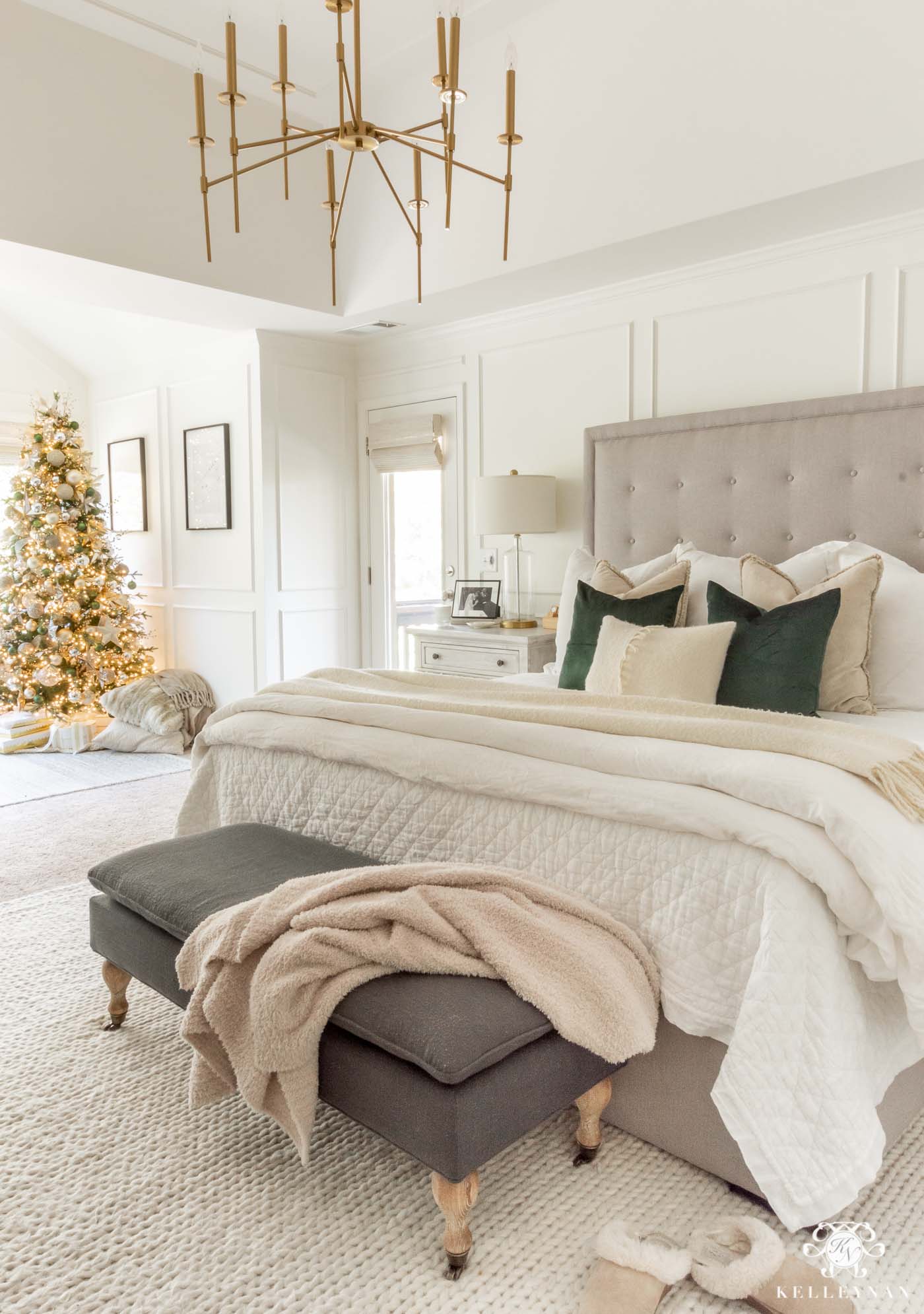 Bed | Rug | Nightstands | Chandelier 
Several of my powder room pieces — one of my major makeover projects from 2020 — came from Wayfair. My palm frond wallpaper is about .50/sq. foot less than what I paid (HERE), and it also now comes in a peel and stick version HERE. As a note, I used two rolls in this small space. If you are planning a wallpaper project, be sure to get good measurements prior to ordering so you can get all the rolls from the same dye lot!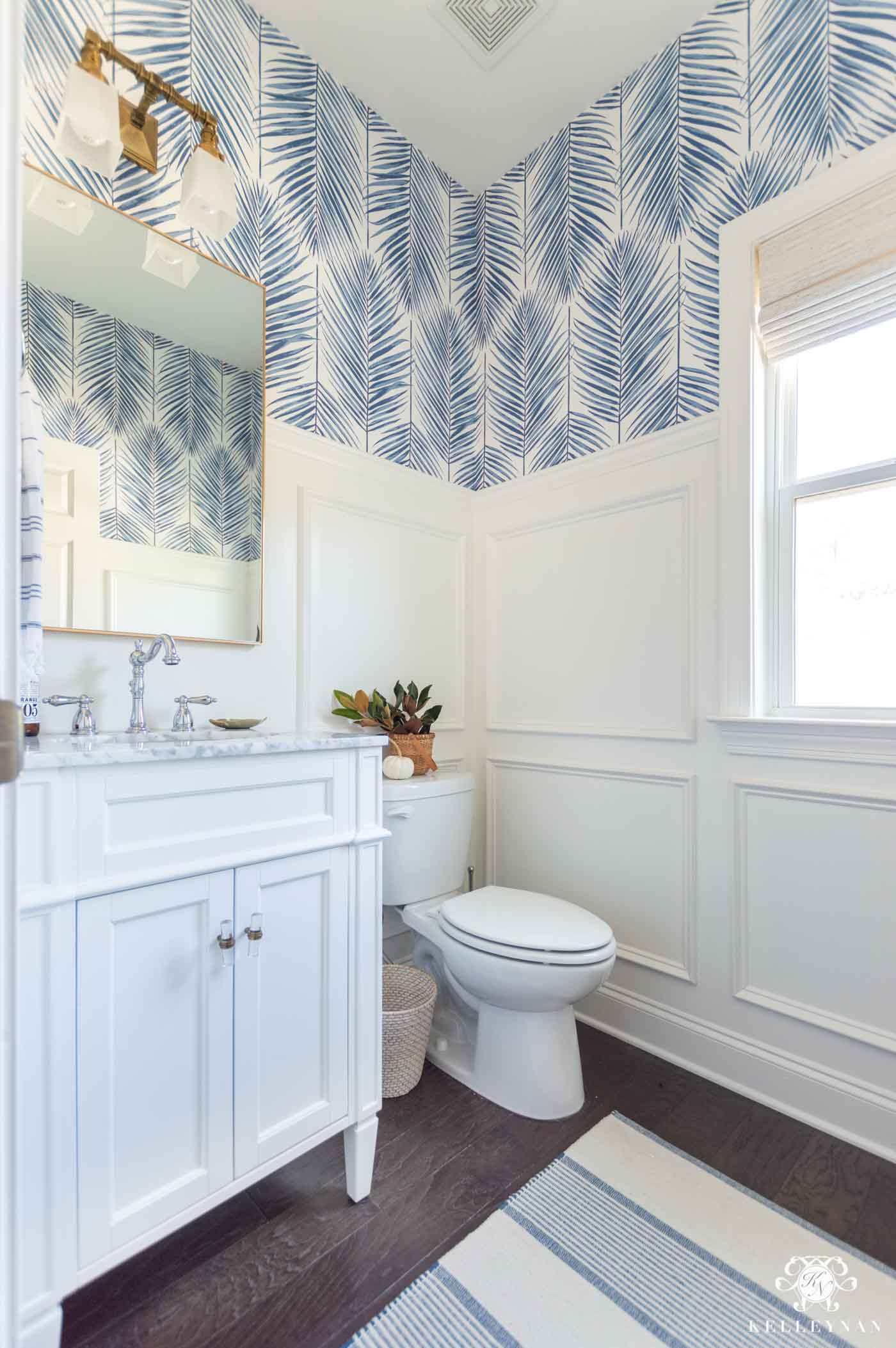 Wallpaper | Wallpaper (Peel & Stick Version) | Vanity | Faucet | Rug | Hand Towels
Getting vanities shipped for free — especially mine with a heavy marble top HERE — is huge when you're looking at a bathroom reno! It can be a little overwhelming when searching for the right one, but I wrote a post with lots of tips HERE. There are a ton — in all sizes and colors — on sale right now. Here's a sampling of some highly rated vanities, all on sale this weekend.
Scroll & Tap to Shop

I also finished the downstairs guest bedroom this year and the frames in my inexpensive, mini gallery project above the bed are part of the Cyber Sale this weekend. They come in a couple sizes and finishes, but mine are black in the 16″x20″ version — they do come with the white mats inside the frames HERE. Notice I used some of the extra scraps from the powder room wallpaper project 😉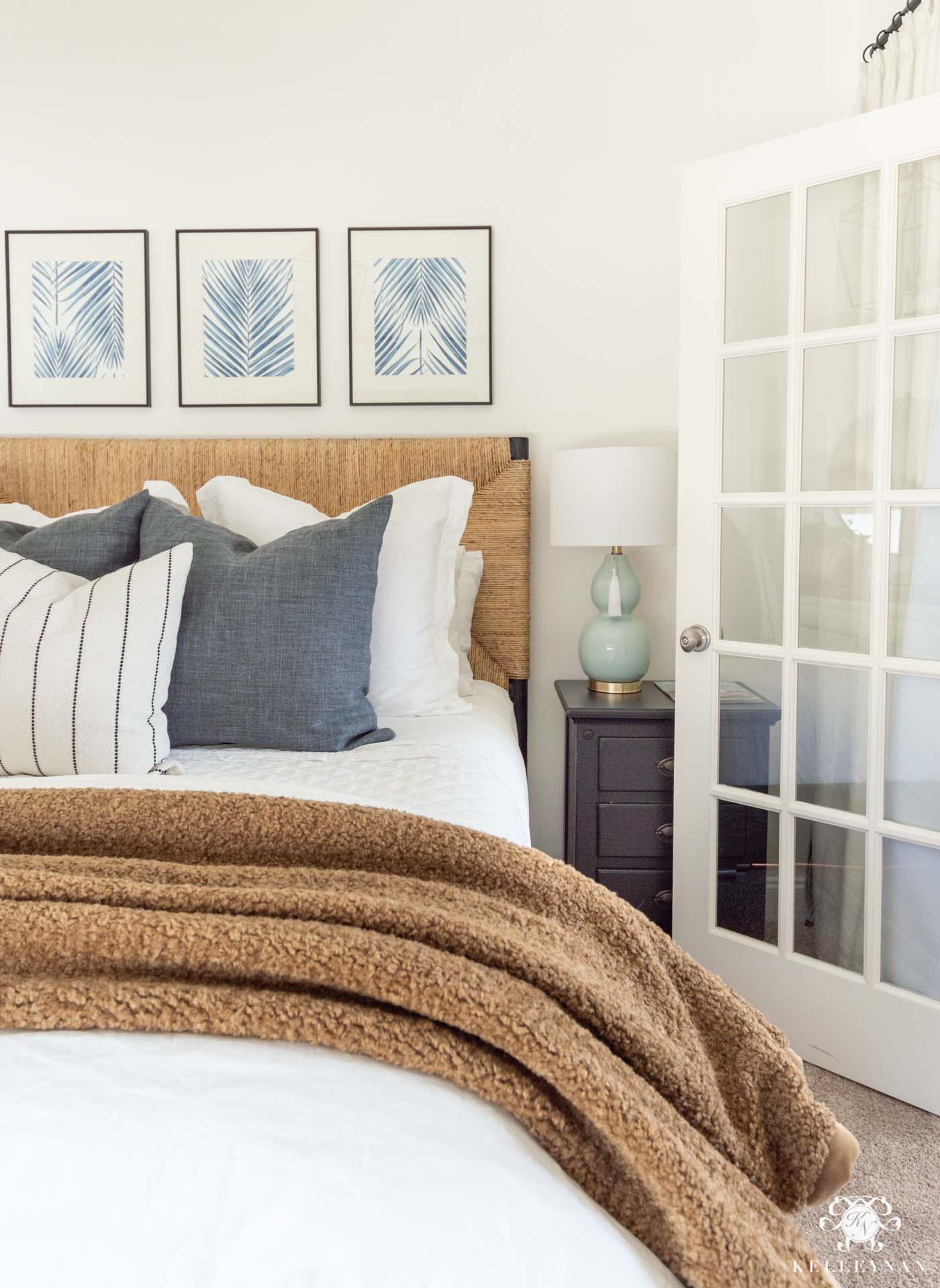 Frames (black; 16″x20″) | Nightstands
Also in the downstairs guest bedroom, my lantern pendant and the large round mirror (comes in several sizes and finishes but mine is the black, 36″ version) are part of the Black Friday Sale.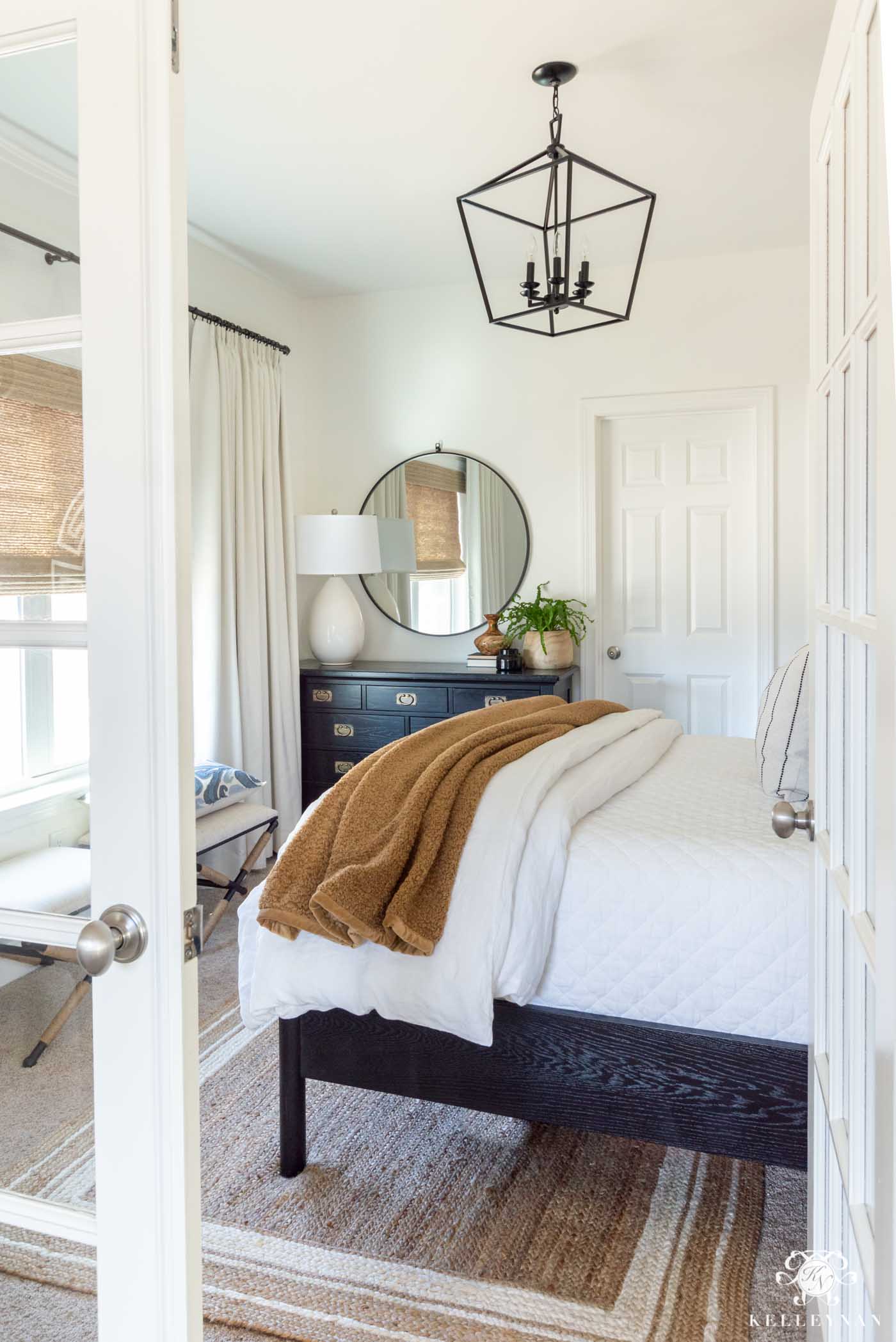 Benches | Jute Rug | Mirror (black; 36″) | Lamp | Lantern Pendant Light 
This pretty wooden, spindle legged side table in the living room is on sale for over $100 less than what I paid for it a couple years ago!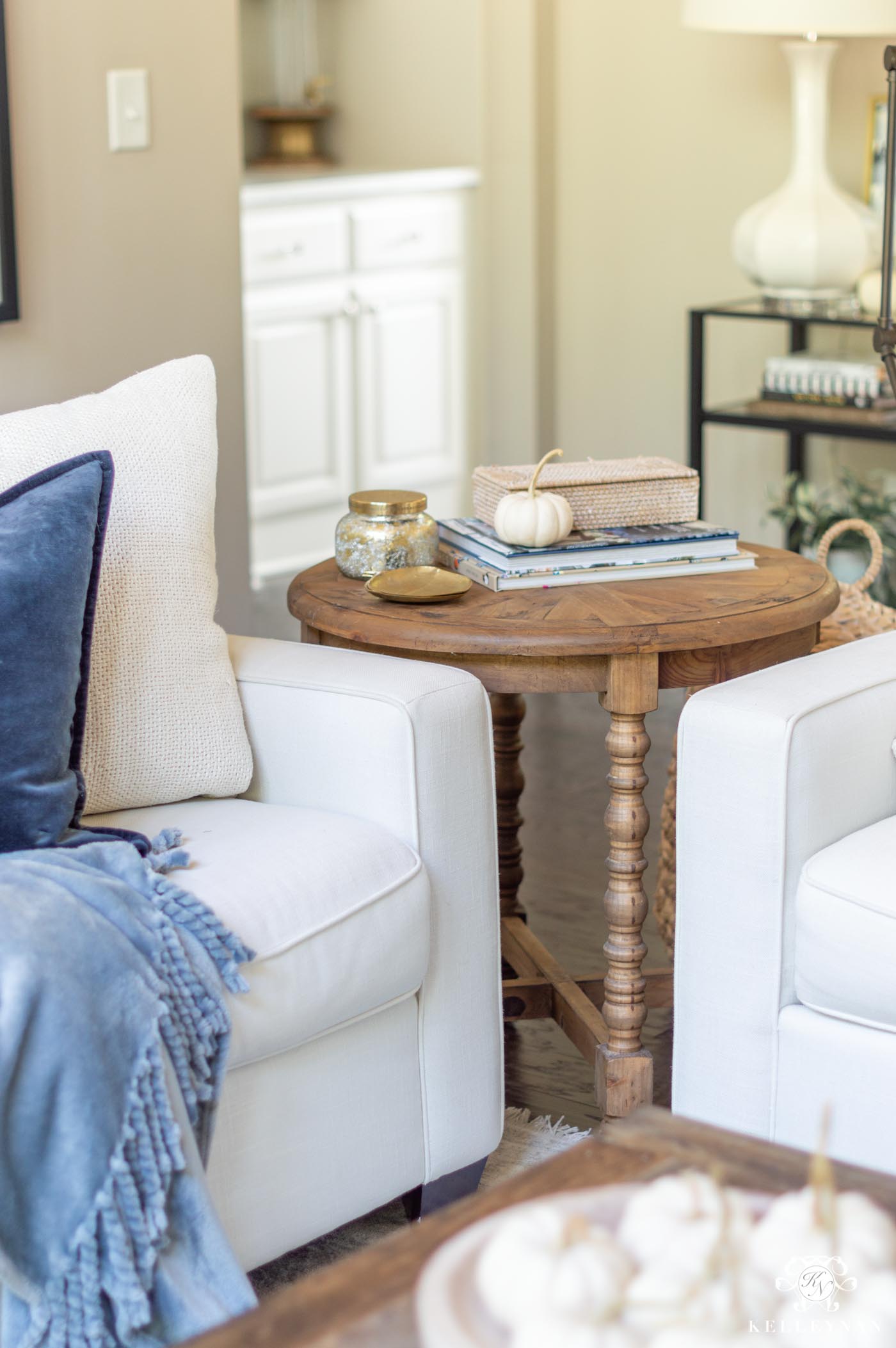 In addition to large-scale pieces, there are lots of accents and decorative pretties — from vases and benches to trays and lighting — included in the sale, also. You can find a few favs here.
Scroll & Tap to Shop



While I took quick inventory of a few highlights throughout my house, there are tons of deals up to 80% off and there's even flash deals HERE you can keep an eye on through the weekend. Here are a few of my favorite categories to hunt through, depending on the project/room you're working on…
Wayfair Black Friday Sale Categories & Deals
Living Room Seating — Up to 70% off
Bedroom Furniture — from $79.99
Outdoor Furniture — Up to 65% off
Decor & Accent Pillows — From $19.99
Kitchen & Dining Furniture — Up to 65% off
Storage Solutions — From $9.99
Entryway Furniture — Up to 70% off
Bathroom Upgrades — Up to 65% off
Kids Furniture — Up to 60% off