It's been a hot second since I announced a new home project and today, I'm excited to finally share the plan for my next room makeover! The space I'll be transforming… the formal living room! Here's the deal — it's actually a room I honestly wish we didn't have. For the past several years, it's essentially been wasted, unused space; but, it's also the first thing you see when you walk in the front door. Over the past few years, focused my efforts on rooms that are more regularly occupied but I wonder if not really liking a space is partially to blame for its lack of use? Regardless, it's finally time to tackle that space and turn it into something that makes me happy and feels more like the rest of our home. It's kind of like a dining room — even if you don't use it that often, you don't want it unfinished… ironically, that is the very room that's across from the formal living room, on the other side of the entry 😉 Before we get into the plans for the small living room (actually, it will be a conversation room design plan), let's revisit what the space looks like today, along with my challenges and goals.
*Posts on KelleyNan.com may contain affiliate links. Click HERE for full disclosure.
The Current Formal Living Room (BEFORE)
The formal living room isn't very large and has limited wall space; the double doors on the right hand side actually lead into the downstairs guest bedroom (see that room makeover reveal HERE). Serving as a backdrop for the sitting area is a gallery wall of sunburst mirrors and since we moved in, it's been furnished with a several-generations-old sofa we reupholstered, a black cabinet I still love, and a few occasional pieces. I didn't really have a plan for this room and after a few years, it shows. This photo actually isn't what it most currently looks like, but this is what it looked like at its best.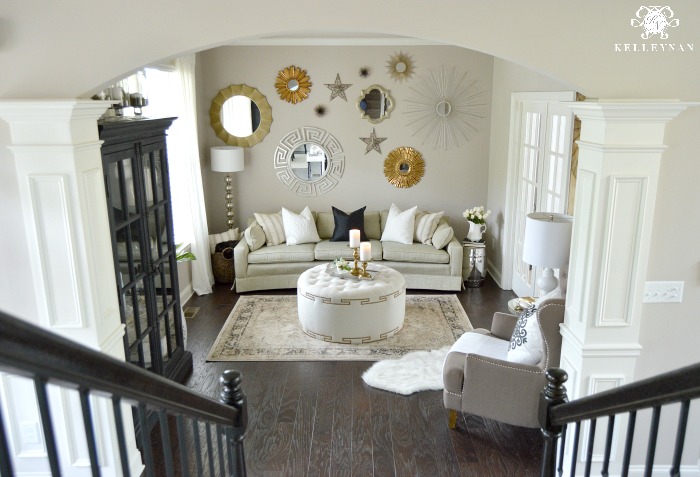 I still think the galaxy wall is fun but it's been several years and as most of our other rooms have evolved, I'm excited for this room to evolve a bit more, too. As a side note, the rug that is currently in the formal living room isn't the same as the one pictured above, but check out how small it was! I used to try to get by with smaller rugs if possible because there's typically a substantial price jump from a 5′ x 7′ to an 8′ x 10'… proof that it's worth saving to get the appropriate size 😉
Goals for the Formal Living Room Makeover
For starters, I think instead of "formal living room", I'm going to retitle this to the "conversation room". While Eliza has toy baskets in the main living room (family room / great room), I want this space to be a place I can sit with guests — sans toys, sans TV. And, while I want it to have a  "put-together" vibe, I don't want it to feel too formal. I want it to be a relaxed, but "smart" (if that makes sense, haha). Here's what I'm looking for:
Welcoming and attractive, comfortable and inviting as a visible, prominent space in the house — but livable.
Earthy, classic style with some timeless and some transitional furnishings. I gravitate toward an eclectic mix but want it to look cohesive and intentional.
Consider smart space planning that won't impede access to the guest bedroom.
Bring in more "special moments", memories, and odes to our family to personalize the space.
As I work through the the design, decision-making, and implementation process, I'll continue to speak to these and address any challenges we encounter along the way!
The Conversation Room Design Plan
I mentioned earlier how much I love my big, black French casement cabinet — I don't want that piece going anywhere so I am hoping to use it as a center, focal point of the room. The rest of my ideas were born from that piece, and here's what I've come up with (all sources linked below the graphic)…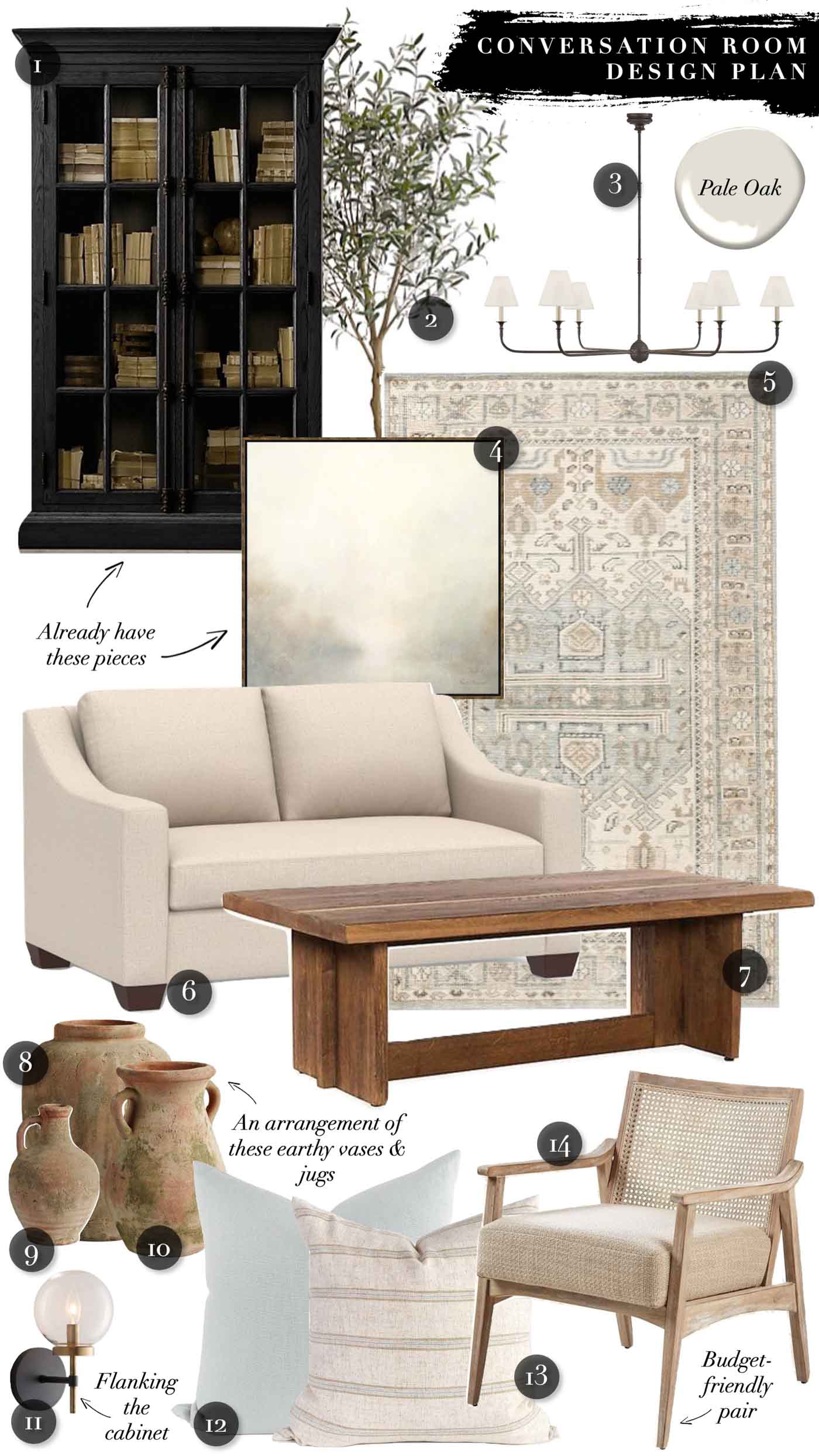 1 (Restoration Hardware French Casement Cabinet) | 2 | 3 | 4 | 5 | 6 | 7 | 8 | 9  | 10 | 11 | 12 | 13 | 14
Let's break it down! The cabinet was an RH Outlet find six to seven years ago; they still carry it — in multiple sizes — but here are a few other options for black statement cabinets at lower price points.
Scroll & Tap to Check Out Similar Black Cabinets

Another piece I really wanted to see if I could finally try to incorporate is this rug. I have had my eye on it for so so long but I've mentioned before, we aren't exactly "easy" on our rugs so I typically go for more budget-friendly options. But, since this isn't a highly trafficked area and our pups have been on better behavior for a while now (haha) and I've wanted this rug for so long, this may just be the time I pull the trigger.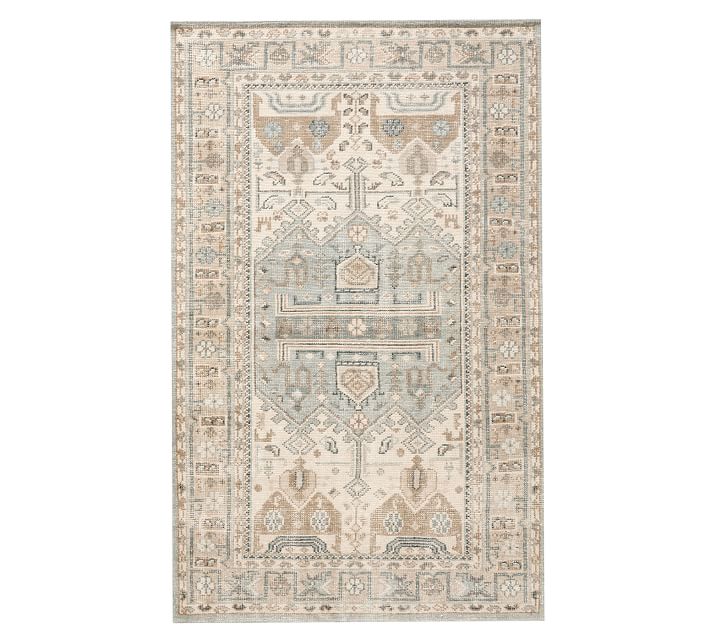 I already have THIS ART and I think the colors may play together perfectly.
I don't want the furniture to overpower the space so I'm thinking about going for a loveseat and two chairs. In our main living room, we have the Buchanan sofa and loveseat — you can see the full living room reveal HERE. Our sofas have worked great for us over the past few years (do you remember when I did the sofa comparison (HERE) before ultimately deciding?) but I still wish sometimes I had tried one of the sofas with the down-blend wrapped cushions. Even though our Buchanan sofas are polyester wrapped and are a little more firm that a down wrapped, they are still comfortable and haven't "worn" or dipped in at all! We've been super pleased. So, this time, I wanted to take a look at something that wasn't too deep or too lounge-y that offered the down-blend cushions. The York line comes in multiples sizes, configurations, depths, arm preferences, etc. While the York loveseat has the option of a roll arm, square arm, or slope arm, I gravitate toward the lines of the slope arm — also, our Buchanans have the square arms. You can also choose between a single bench seat or two seat cushions — I'm still undecided but I am thinking I may for the double cushion. I took myself in-store to test it out — they only had a "deep" sofa but they did have a York chair in the regular depth — both with slope arms. While I only sat in it long enough to rummage through fabric samples, I loved it.
In terms of fabric, even though I don't intend for this to be a "play" couch, 1. I have dogs, 2. I have a toddler, 3. I have accidents, 4. I don't think even if I was super careful without pets or kids I would get a non-performance fabric if I'm opting for a lighter color. I have a few other pieces in performance (more durable) fabrics that have worked out well. These are the samples I pulled after having narrowed it down online, and confirming in person after seeing the swatches.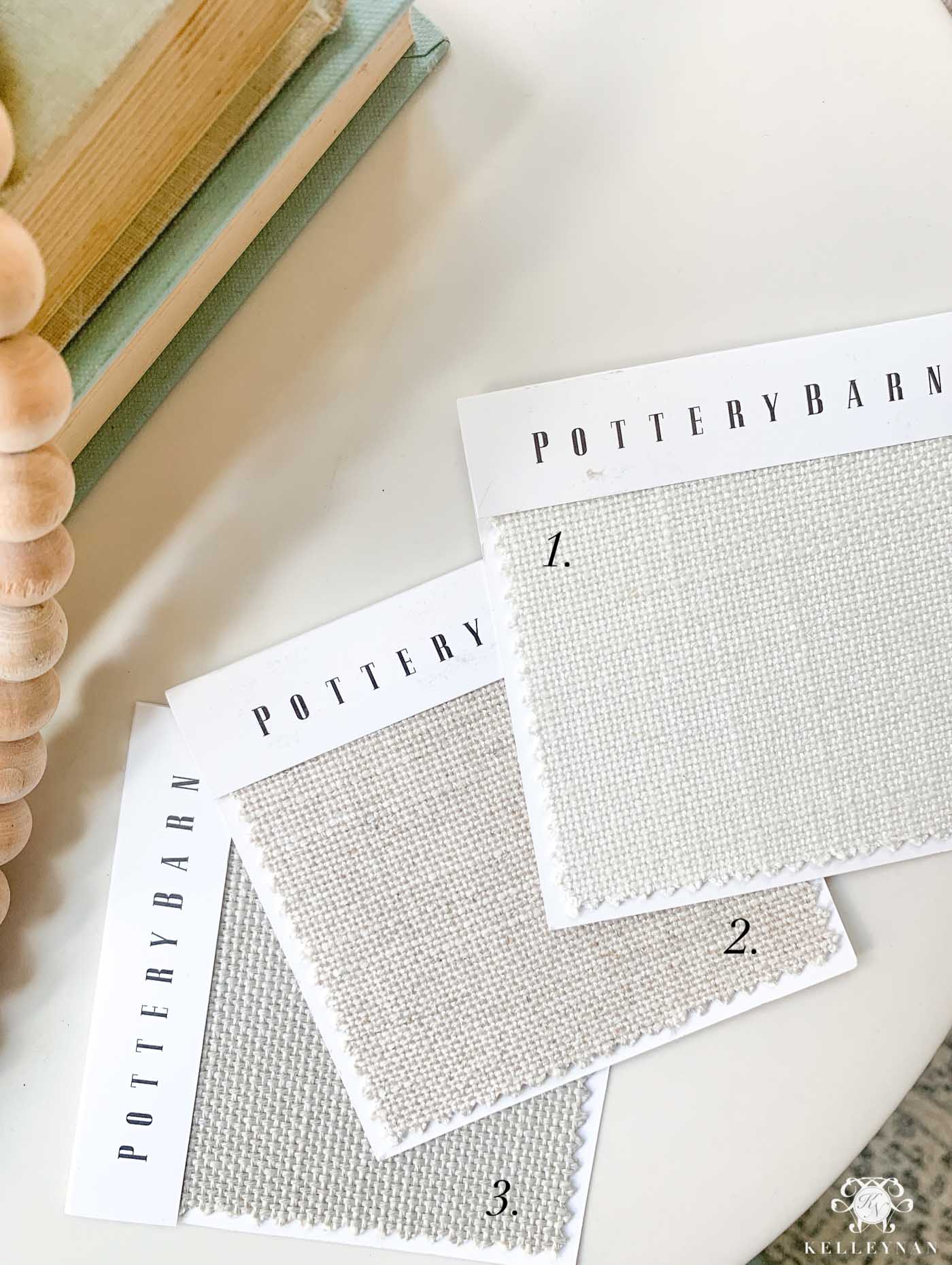 Performance Everydaylinen Ivory — upholstery of my living room sofas; don't want to use the exact same.
Performance Everydaylinen Oatmeal — most considering for the York loveseat
Premium Performance Basketweave Pebble — a bit darker than what I'm looking for, but still a pretty, light neutral
I am going to hold off likely until Labor Day to finalize and place in orders, in hopes of a good sale. When it comes to furniture, those discount percentages add up quickly! Also, I want to make sure I have determined any other bulk items I may order since PB does flat-rate delivery. It's the same delivery cost if you order once piece or an entire home's worth of oversized pieces so you don't want to pay for shipping twice!
Something else I've had my eye on — this chair. Or in this specific case, a pair of this chair. It went out of stock a few months ago and I signed up for alerts; last week, it was back. As of today, it's out. Again. It looks like they are estimating them to return in late September, so fingers crossed! I still haven't taken measurements to make sure that they will fit, without blocking the door, so I need do get measurements firmed up soon.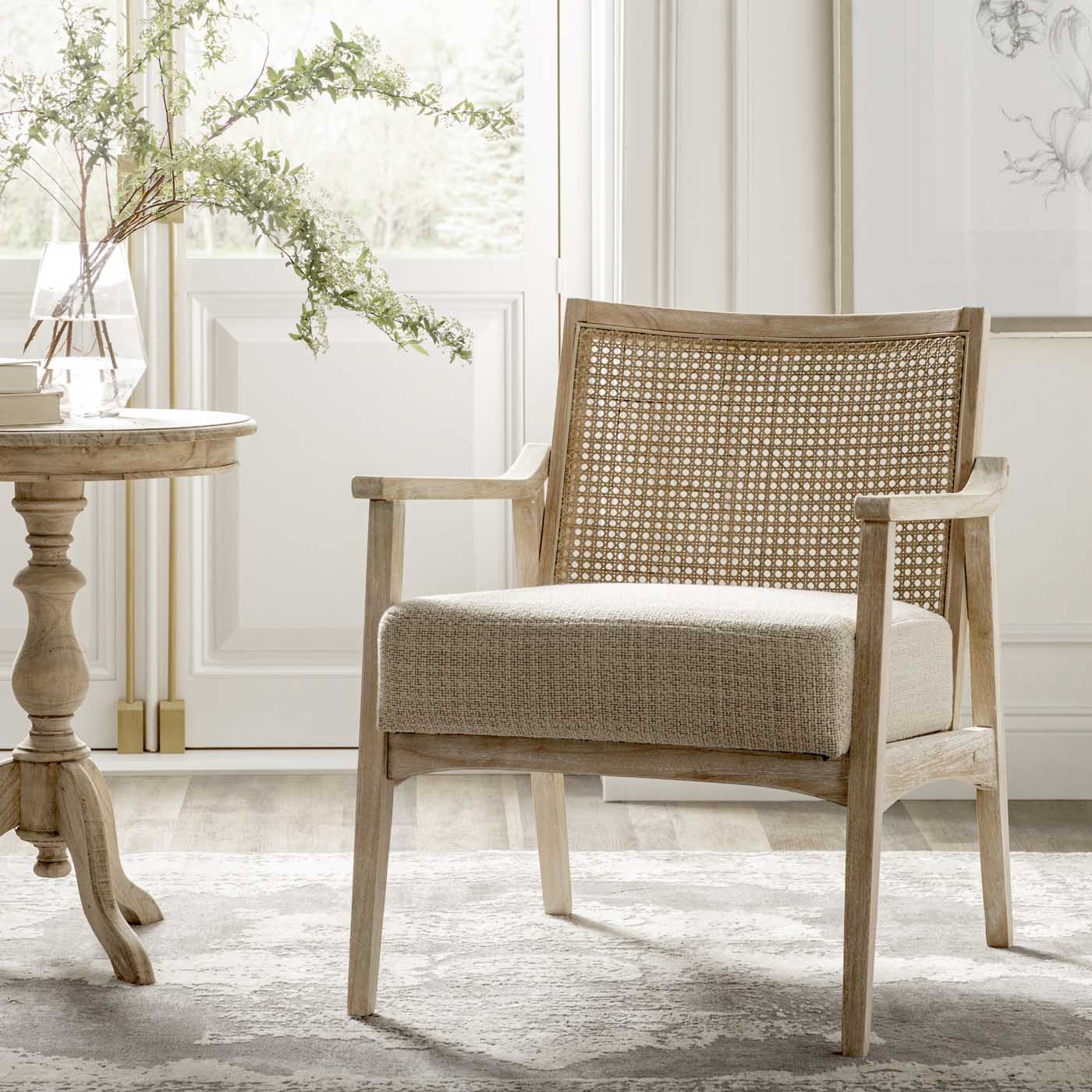 One of my favorite parts when brainstorming a room — after I have my main pieces decided — is to play around with some of the textiles and interchangeable items. I am loving this pillow combo with the rest of the plan — I actually already have the 24″ mist pillows and they are stunning in person! I have actually considered the striped fabric to re-do my window seat bench cushion in my office but haven't done anything about it just yet…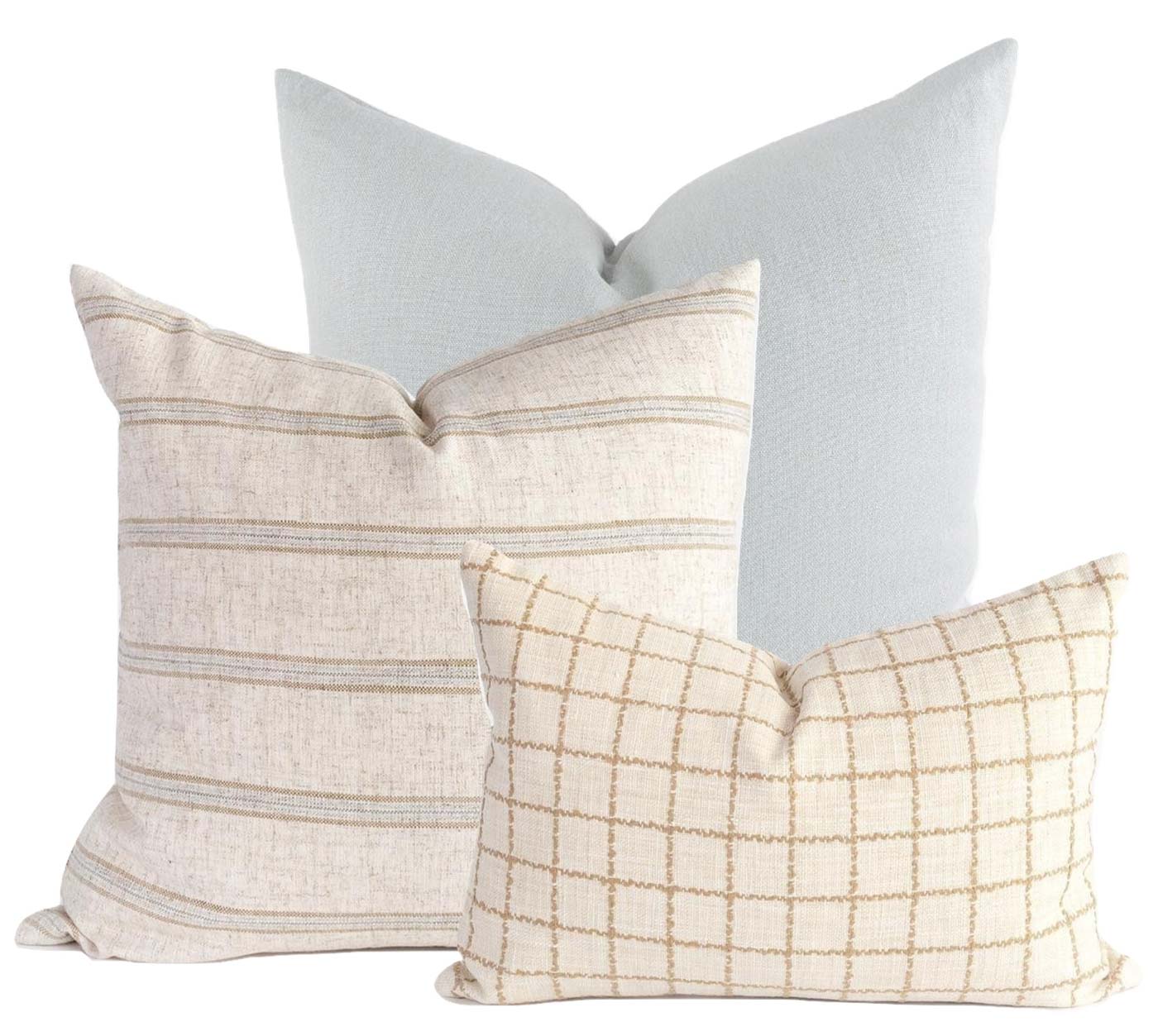 24″ Blue "Mist" Pillow | 20″ Sandstone Stripe Pillow | 14″ x 20″ Check Lumbar Pillow 
Something the room doesn't have nearly enough of currently is lighting sources. There is actually no overhead light in the room. I have a contractor coming to run electrical so we can install a light in the center of the room, and I'm toying with ideas of sconces, flanking the cabinet. The light I love — though possibly out of budget (TBD)…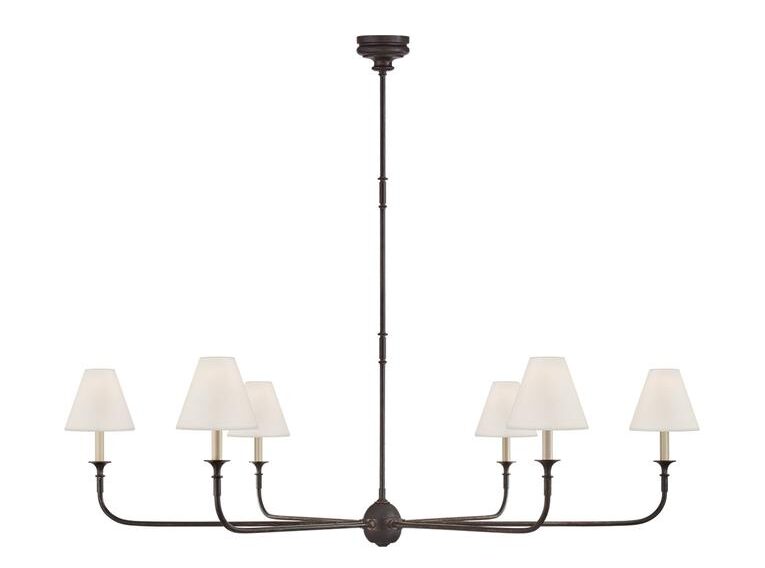 The Walls & Ceiling (The Bones)
I wanted to do something on the walls I hadn't yet done; but, I didn't want to do something super complicated that would break the bank or something super specific that I may tire of. Instead of a wall treatment, I decided to go for something on the ceiling. I am planning a glossy, white shiplap with a pair of white (thin) beams, and a new, chunkier crown molding — which should be installed in the next several weeks!
I haven't even picked a wall color for sure but here's the thing about the wall color — my options are somewhat limited. Along the main floor and in any space that isn't closed off by a door, our trim color is SW "Creamy". If the walls are too white, the trim will look yellow. And because that room shares a view (and even columns) with the rest of the main open space of the home, I don't want to getting into switching trim colors for the entire house. So, I am planning to keep a greige color for the walls — just a some different undertones and much more pale than what I currently have. I'll be using some of the samples I have left over from our kitchen revamp (reveal HERE; paint debacle HERE), but instead of throwing up every color I have on hand (I reached major analysis paralysis last time), I am going to start with Pale Oak, see how I feel, and go from there. If I like it in that space, that's all I'll test.
So, What Happens Now?
The first things on my "to do" list — before anything else can happen — is…
Clear the walls
Clear the furniture
Sell/donate/repurpose pieces that won't be used in the new space
Test paint color(s), make a decision, and purchase paint for walls, ceiling and trim
Measure the room and tape off furniture placement to see if pre-selections will work and are feasible
Go browse and decide on crown molding
Paint the Room
Have ceiling features installed
Have electrical for lighting run
Finalize furnishings and watch for sales
Before starting this project, I thought I would be finished by October. Now that I'm actually in the beginning stages — and I know I likely plan to wait until Labor Day weekend before starting my shopping — I will be lucky if it is finished before the end of the year. Realistically, I am aiming for an early January completion… I will be sharing decisions and the process as I go along so be sure to subscribe to emails at the bottom of the post, to watch it all come together!
SHOP THE PLAN