Stuffed peppers aren't a new concept but how often do you actually add them to your dinner menu? And what do you put in them? I'll admit, we don't make them that often and every time we do, I say "why don't we make these more often?!" They're so easy and typically a lighter alternative to how you may otherwise serve the filling. Today, I'm sharing my favorite ways to prepare them, along with 25 (yes, 25!) ideas for stuffed poblano peppers.
*Posts on KelleyNan.com may contain affiliate links. Click HERE for full disclosure.
STUFFED POBLANO PEPPERS RECIPE
What kind of peppers do you use and what do you use as the filling? Well, I think while we most often see stuffed bell peppers, poblanos are my pick — thin walls, possibly a tad extra kick of heat (but still mild), and the perfect shape and depth to bake when halved and stuffed. I prepared three varieties of stuffed poblano peppers that I'll detail but first, I'm going to share the basics of how to prepare and bake them. (You can also grill them!) It's also worth noting that the poblano peppers I used were huge — the ones you typically find may be a little smaller ;).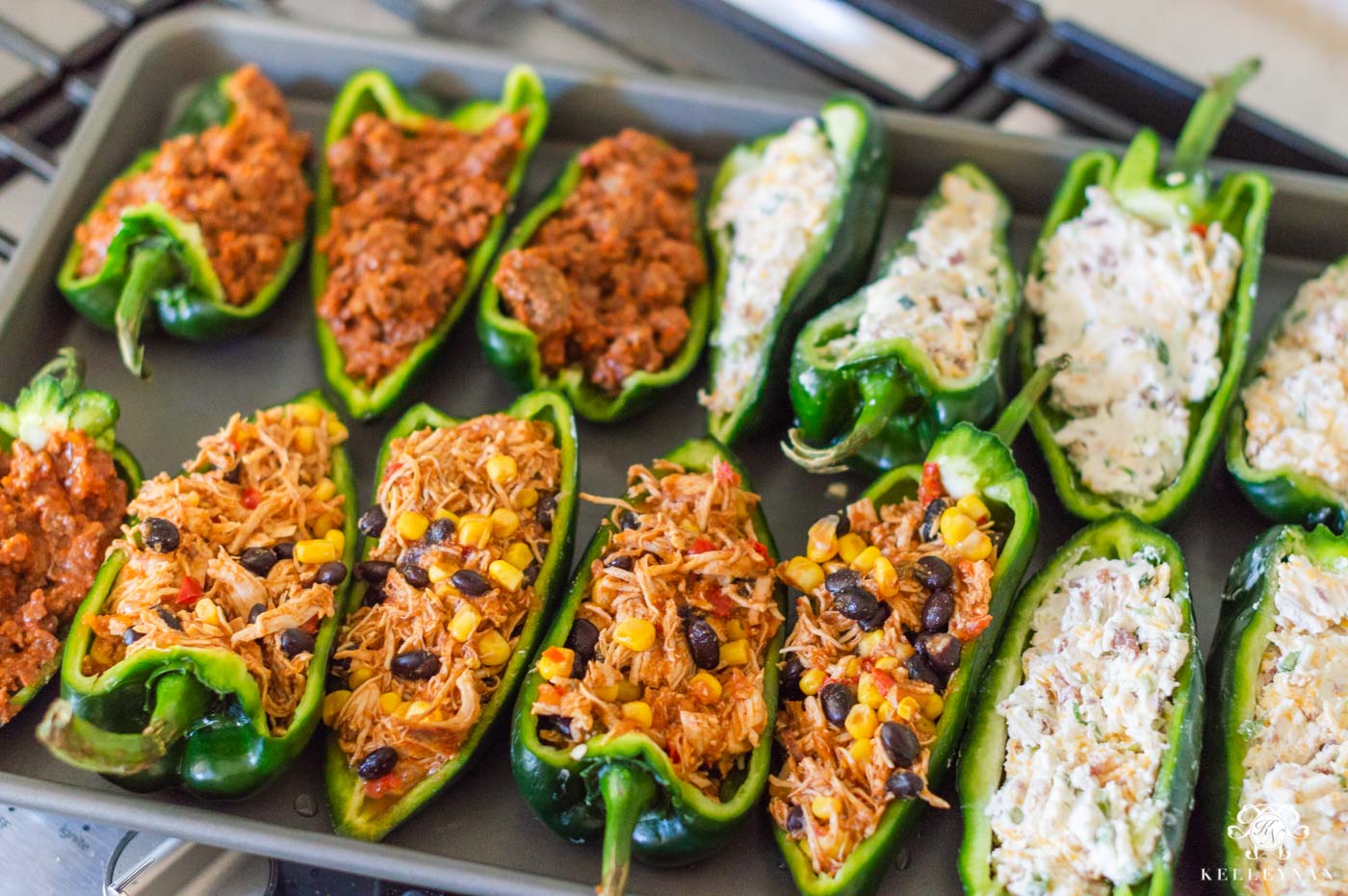 Since your filling is already cooked, the bake time is focused more on getting the pepper cooked through and tender. Here's the general steps for any stuffed peppers.
Preheat oven to 350°
Wash and cut peppers in half vertically
Scoop out insides and discard
Spoon filling of choice inside each half
Place on a cookie sheet and bake approximately 25-30 minutes
Garnish and serve
My favorite stuffed poblano peppers — jalapeno popper style, filled with cheese, bacon, and chives. Here's the easy recipe.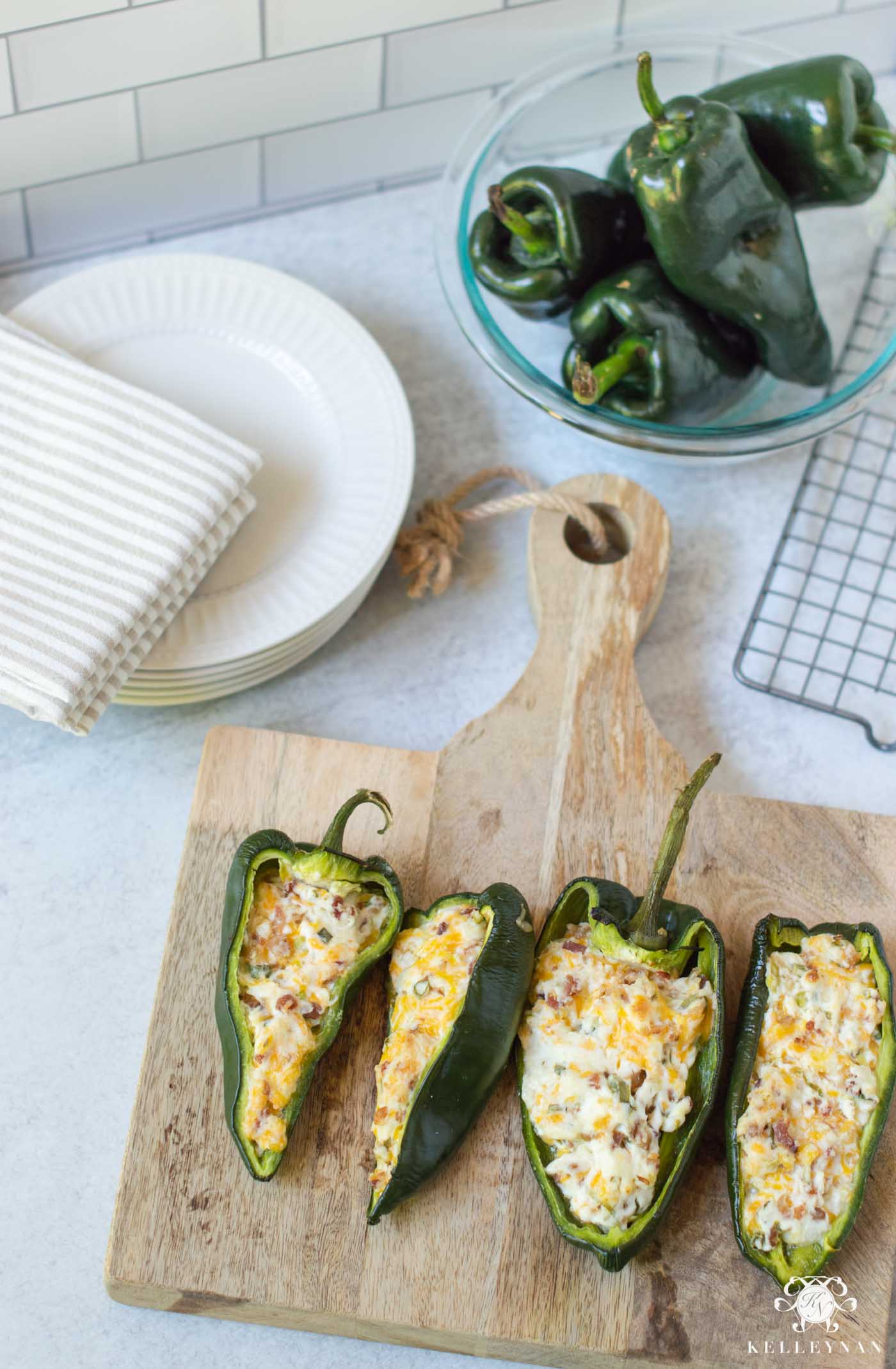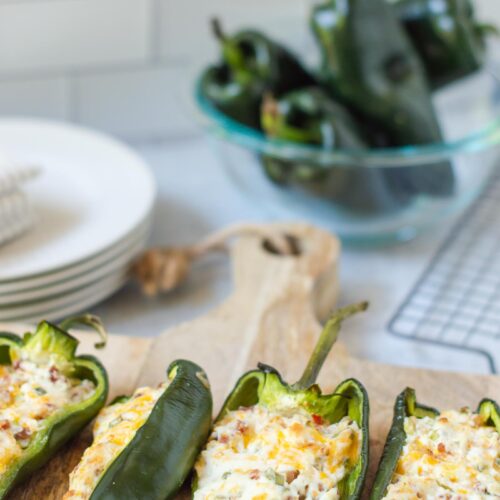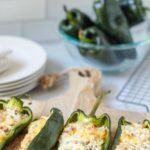 Cheesy Stuffed Poblano Peppers
A variation of jalapeno poppers, these substantial stuffed poblanos with cheese and bacon are the perfect option for dinner!
Ingredients
3-4

large poblano peppers

(can use 5-6 smaller poblanos)

1

8 oz. block cream cheese

1/2

refrigerated package bacon bits

(can substitute fresh crumbled bacon)

1

cup

finely shredded sharp cheddar cheese

2-3

scallions, finely diced
Instructions
Soften cream cheese to room temperature

Cut each poblano pepper in half, lengthwise. scoop out insides and discard

Combine softened cream cheese, sharp cheddar, scallions, and bacon, and stir together well

Spoon filling into pepper halves and set each on baking sheet.

Bake for 25-30 minutes, until peppers are cooked and tender.
Recipe Notes
If you don't have access to poblanos or prefer to make these into an appetizer, you can use jalapenos instead of poblano peppers. The filling will be enough for a full baking sheet so you will need at least 12+ larger jalapeno peppers as a substitute. 
Per the notes I added in the above recipe, this filling is great to make a big batch of jalapeno poppers, too, and make a delicious party appetizer.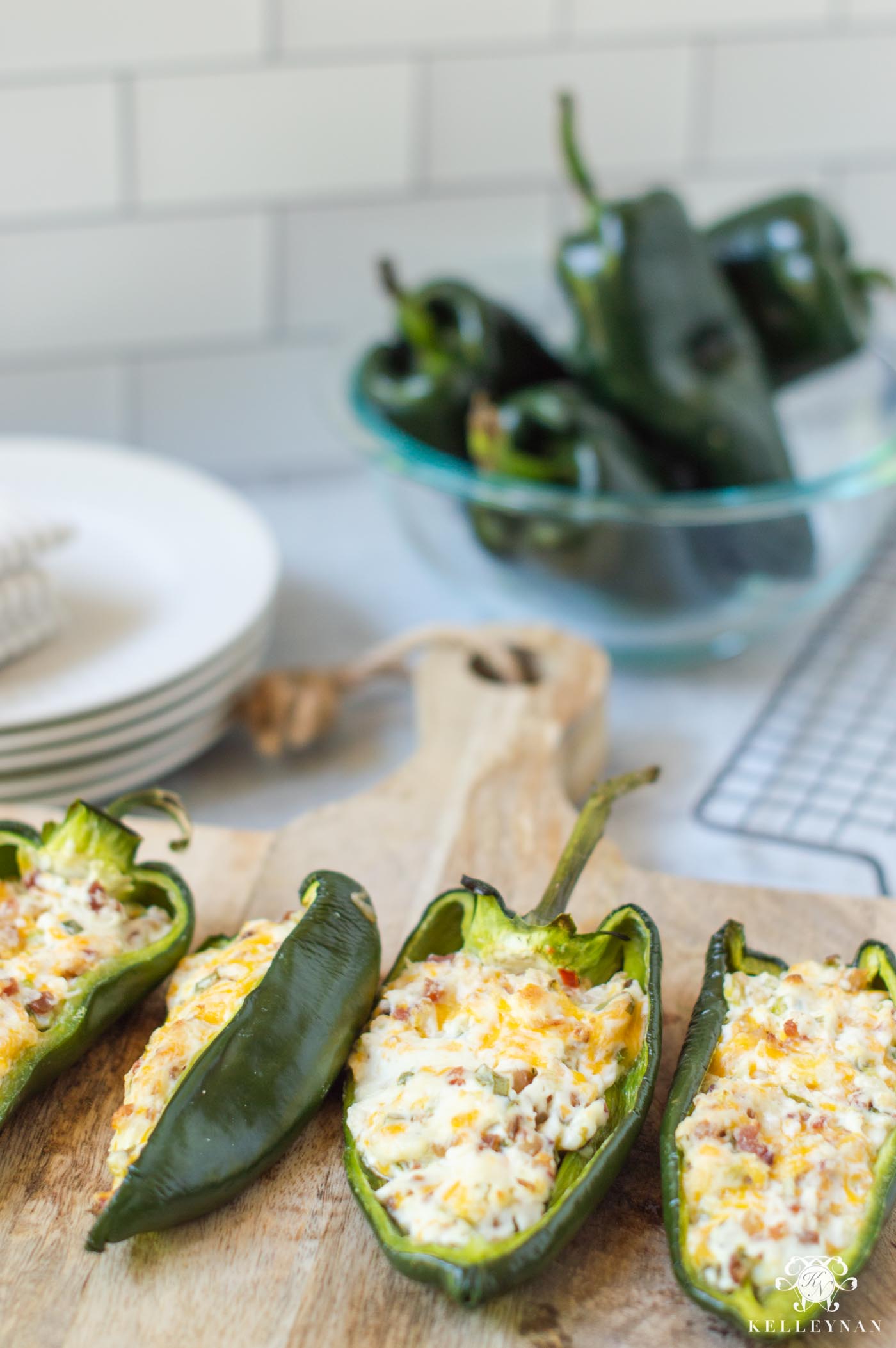 Stuffed Poblano Pepper Ideas
So, now that we've talked about basic, cheesy stuffed peppers, what other ideas are there? The thing I love about these, is that there are no rules and no limits. Think of the pepper as your edible bowl — you can put just about anything inside, which makes them a great way to serve leftovers — thus locking in an easy way to mix up dinner in the weekly meal plan. The crock pot Mexican chicken that I use for tacos, then taco salads, and ultimately chicken tortilla soup (recipe HERE) — well, it is also super yummy inside a poblano pepper.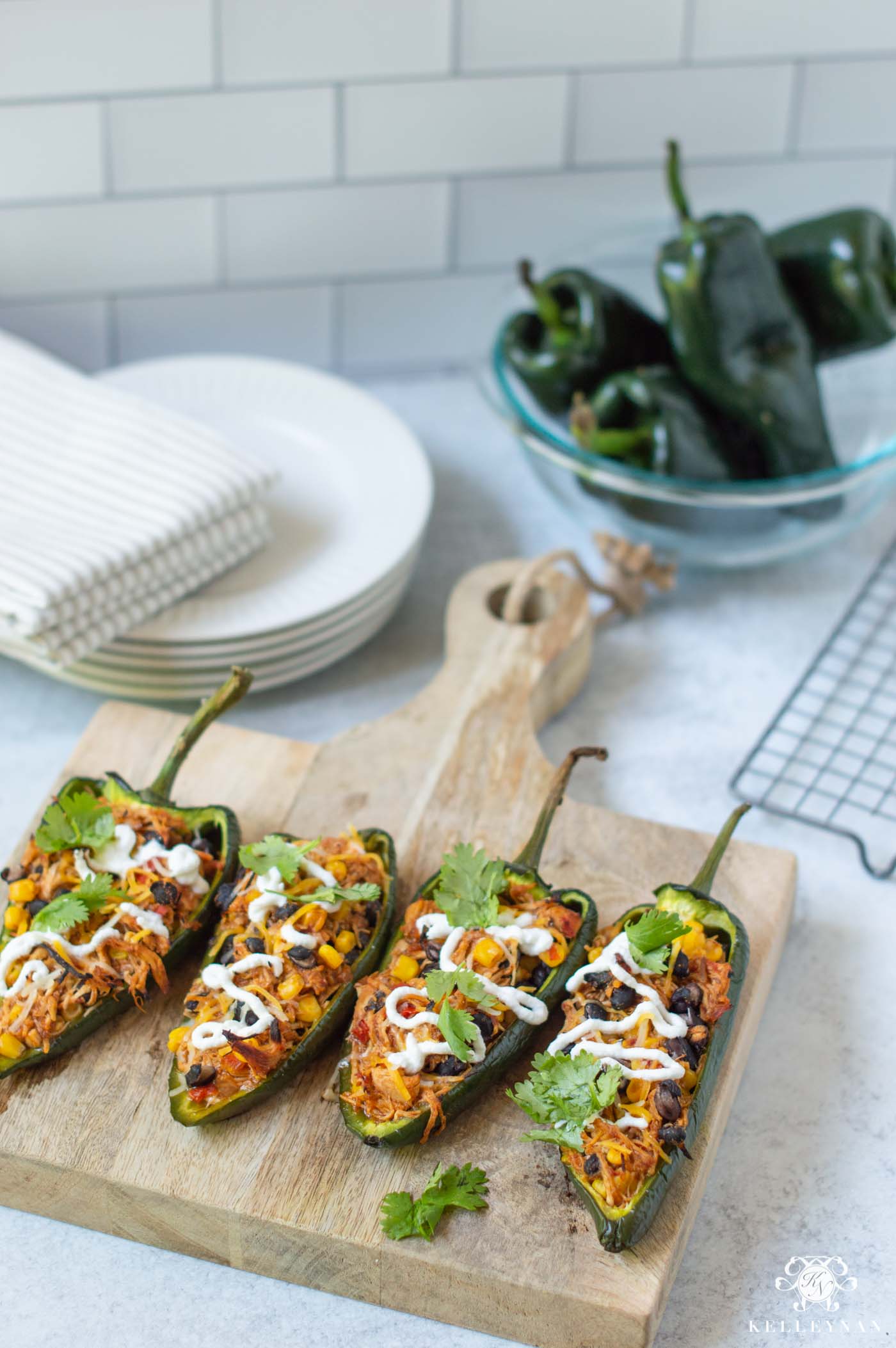 For these peppers, I portioned out some of the chicken mixture (an easy combo of salsa, taco seasoning, onion, and bell pepper — recipe HERE), and mixed in some corn and black beans (whatever is left, I toss into the chicken mixture that will ultimately be made into the chicken tortilla soup.) After they finish baking (again, approximately 25-30 minutes), I garnish with a sprinkle of cheese, Greek yogurt (or sour cream), and a little cilantro.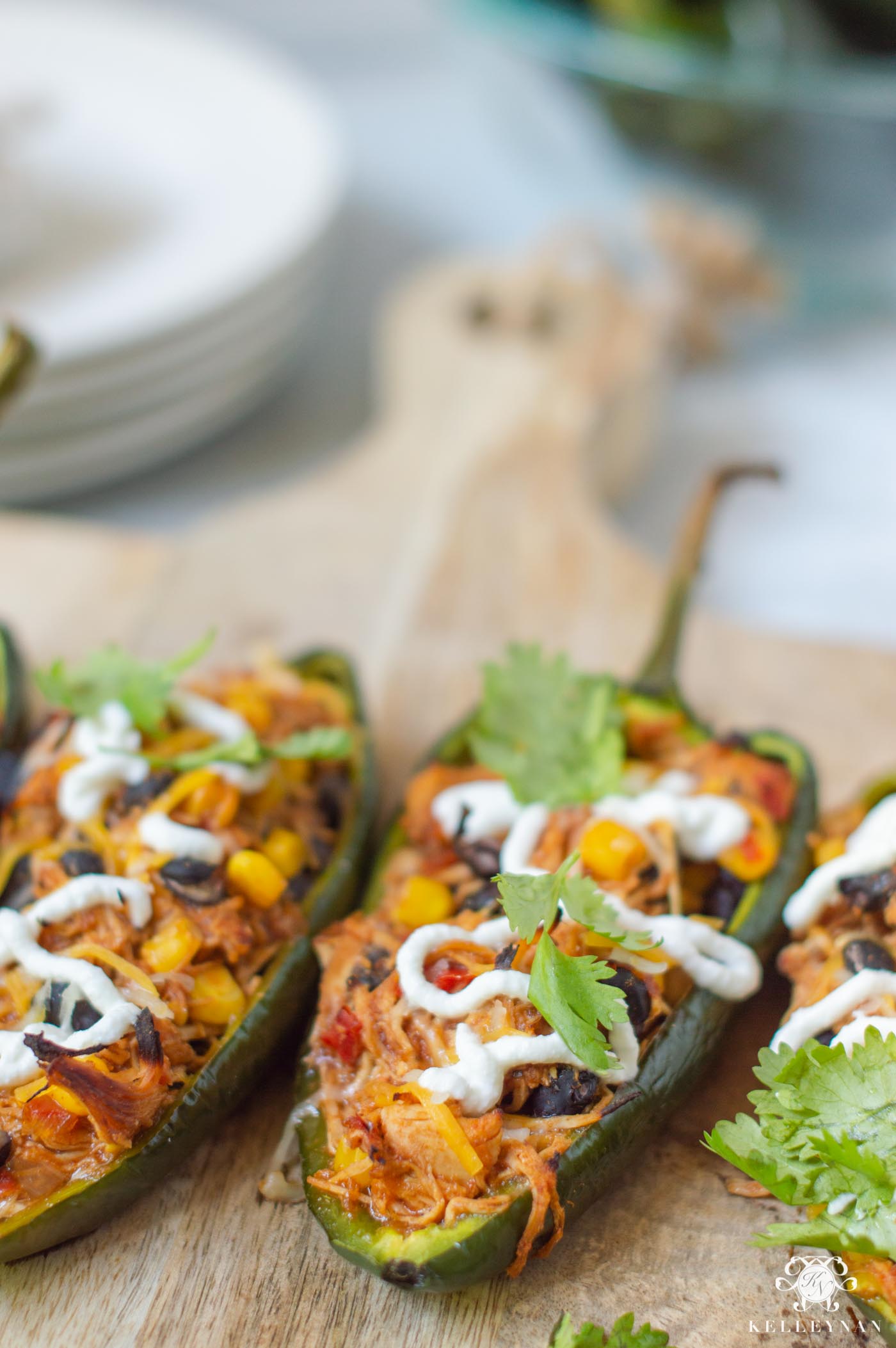 Another unexpected but yummy stuffed poblano pepper idea — sloppy joe peppers. I know not everyone loves sloppy Joe's like we do but these are so dang good — and are a fantastic way to use up the leftover sloppy Joe meat.  Or, if your family loves sloppy Joe's but you want to skip the bun, filling a pepper is a great lighter alternative! After they finish baking, I sprinkle a little mozzarella on top to melt.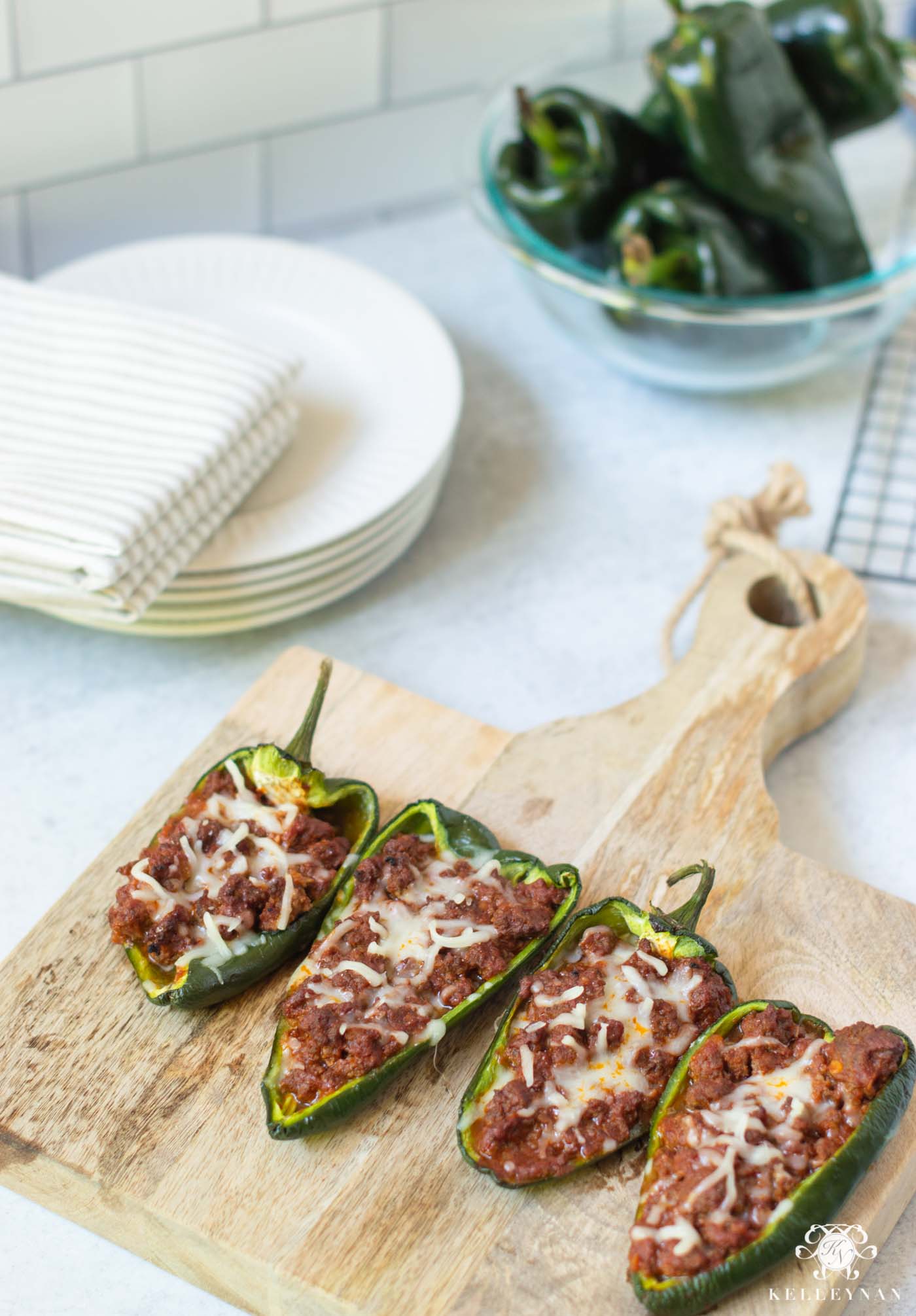 The peppers kind of form little personal casseroles where you can really get creative with fillings, additions, toppings, and garnishes. And just like a lot of successful casseroles can be assembled by taking a look in your fridge and pantry, the same goes for stuffed pepper fillings.
Now that I've shared how I approach our stuffed peppers — primarily focusing on leftovers, what's on hand, and ways to stretch our meals — here are over 20 more ideas to get your wheels turning.
Scrambled eggs & sausage/bacon
Cheeseburger
Barbeque
Spaghetti sauce
Stir fry
Philly cheesesteak
Pepperoni pizza (tomato sauce, cheese, pepperoni)
Chicken casserole
Chicken & rice
Tacos (a traditional stuffed pepper you've probably seen many times before!)
Spinach & artichoke dip
Pimento cheese
Thanksgiving leftovers
Macaroni & cheese
Fried rice
Green bean casserole
Broccoli casserole
Refried beans w/ cheese
Corn dip / Mexican street corn
Spinach souffle
Bruschetta
Caprese (tomato, basil, mozzarella and a balsamic glaze drizzle)
Here's a look back at chicken bbq stuffed jalapeno peppers, when I shared seven ways to serve chicken bbq (HERE), but the same method would be delicious as the filling for poblano peppers.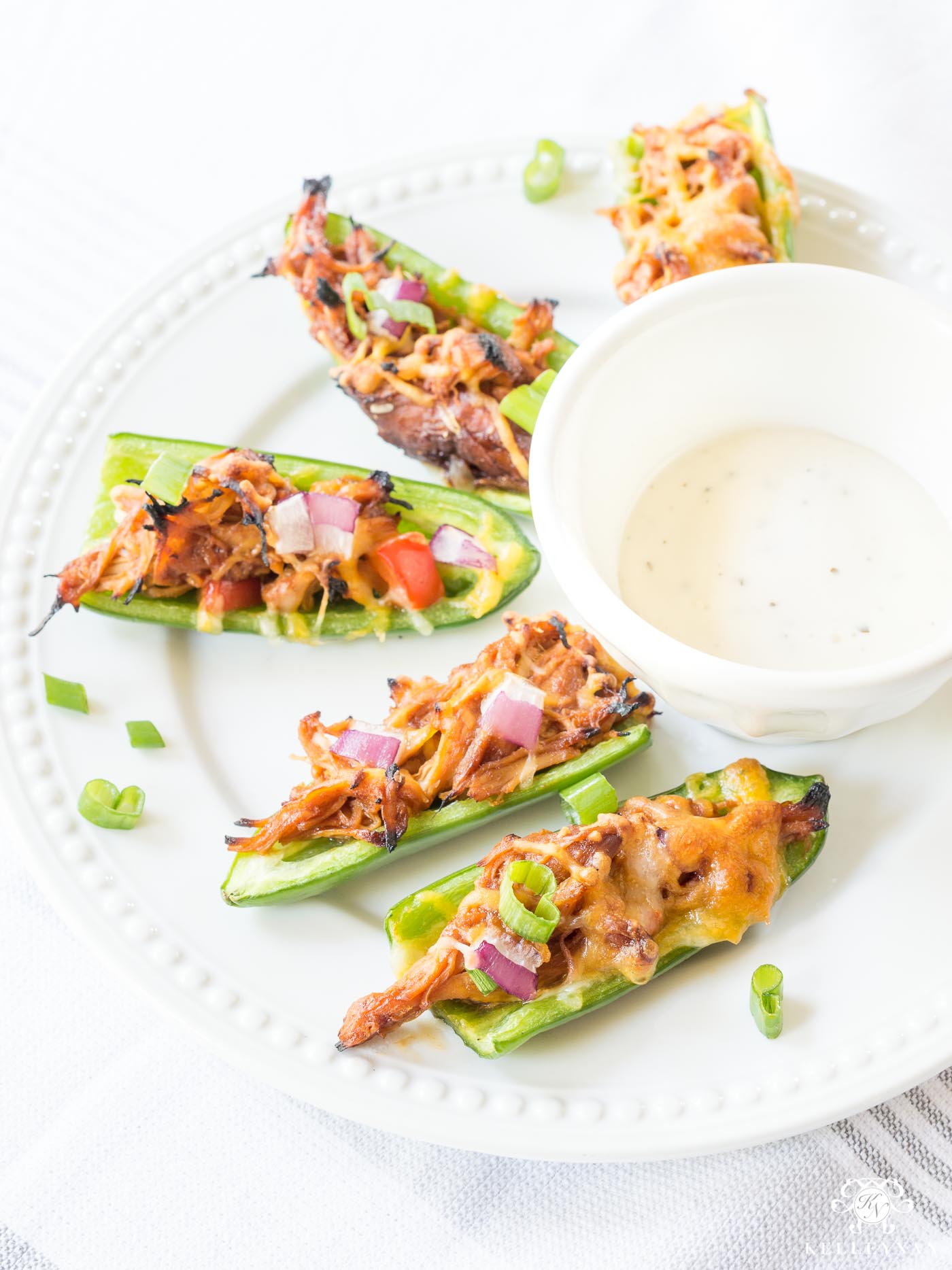 Stuffed Poblano Pepper Garnish Ideas
Just like the filling, the garnishes are limitless. Here are a few suggestions to get you started.
Herbs
Balsamic glaze
Salsa
Greek yogurt/sour cream
Chives
Cheese
Crispy onions
Bread crumbs
Serve them as a side or as the main course, you can refrigerate the leftovers and while they will be a little more "limp" after reheating, they'll still be delish.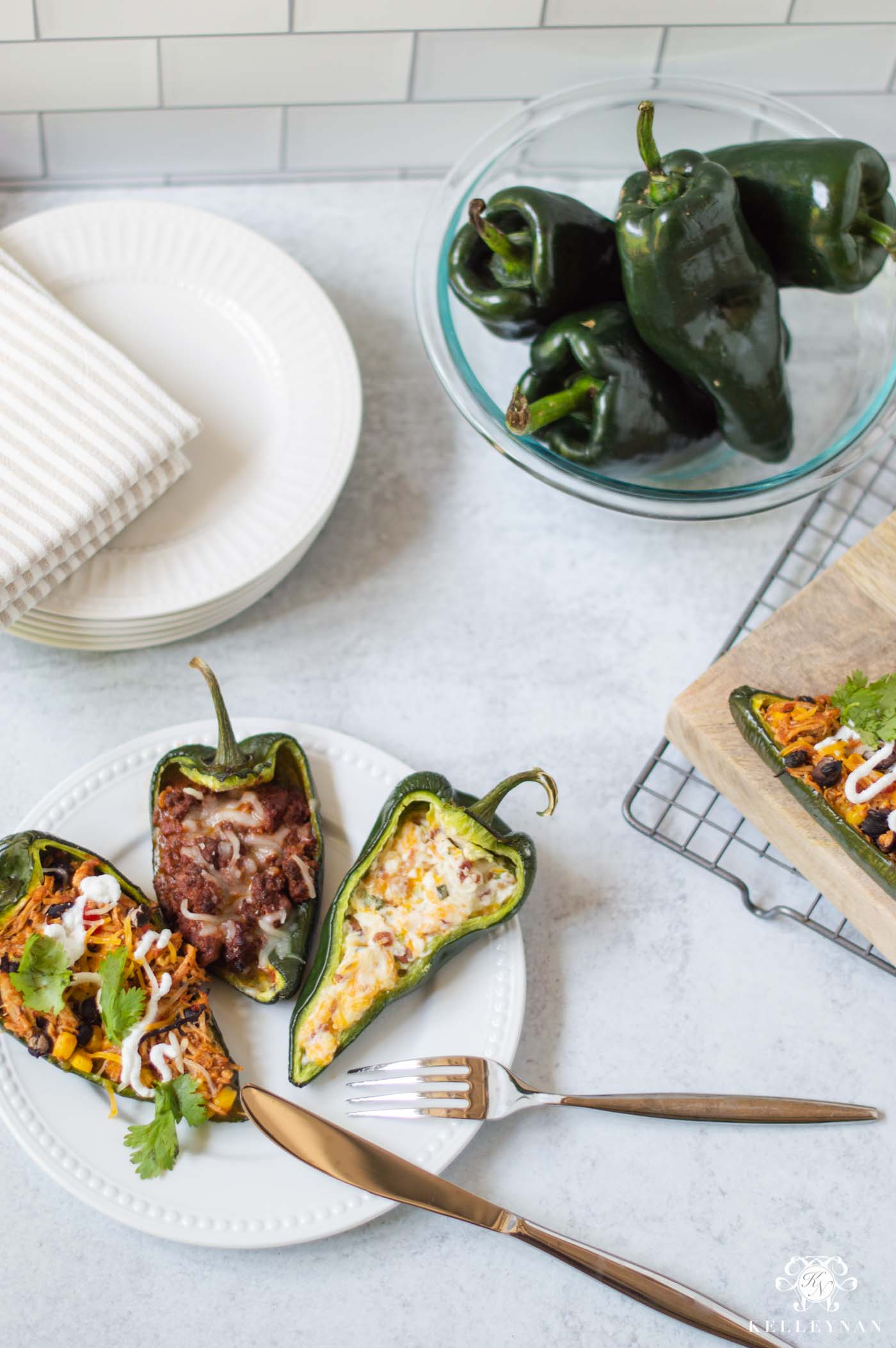 For more easy weeknight dinners, shortcuts and family friendly meals — along with all things home and life 😉 — subscribe to emails at the bottom of this post
Scroll & Tap to Shop the Post & Kitchen Favorites


Other Posts You May Be Interested In