Today, I'm combining a few of my favorite things – resourcefulness, economical solutions, and crock pot chicken bbq- for one practical, delicious timesaver. One of my favorite ways to plan and prepare our dinner menu is by challenging myself to evolve one meal into another (and then, into another). It saves major bank at the grocery story and time in the evenings. And, it sure beats having the exact same leftovers night after night – I hate waste and love leftovers, but if we can sneak a few different flavor profiles in there to keep things exciting, well, I'm all about that life. Throw a crock pot into the mix and we're really talkin'. If you've never had shredded crock pot chicken bbq, 1. you're majorly missing out; 2. I got-chu covered! You guys, bbq chicken isn't just for sandwiches though (as much as I love a steamed bun with minced onion and dill pickle slices). If you're ready to "go beyond the bun" (isn't that a Taco Bell thing?), I've come up with seven easy weeknight recipe ideas (no sammies involved), using one batch of crock pot chicken bbq that will make your dinners a breeze.
*Posts on KelleyNan.com may contain affiliate links. Click HERE for full disclosure.*
Easy Crock Pot Chicken BBQ
Before we jump into the seven recipe ideas, let's talk cooking chicken bbq in a slow cooker. I've used THIS RECIPE for years and it is absolutely divine. If this doesn't make it into your regular dinner repertoire, I don't know what will. The only modifications I make are:
The recipe calls for six breasts; if making a small batch, I use two breasts and half the sauce/ingredients. If making a full batch, I use four breasts and the total sauce/ingredients.
Light Italian dressing is 100% a-ok (that's what I use)
I cook on low but start checking after about four hours. Take a wooden spatula and press down on the chicken. If it starts falling apart and is shred-able, I finish shredding and consider it "done". For my crock pot, eight hours, even on 'low' would be far too long.
Here's a peek of a batch with only two breasts; it goes a long way.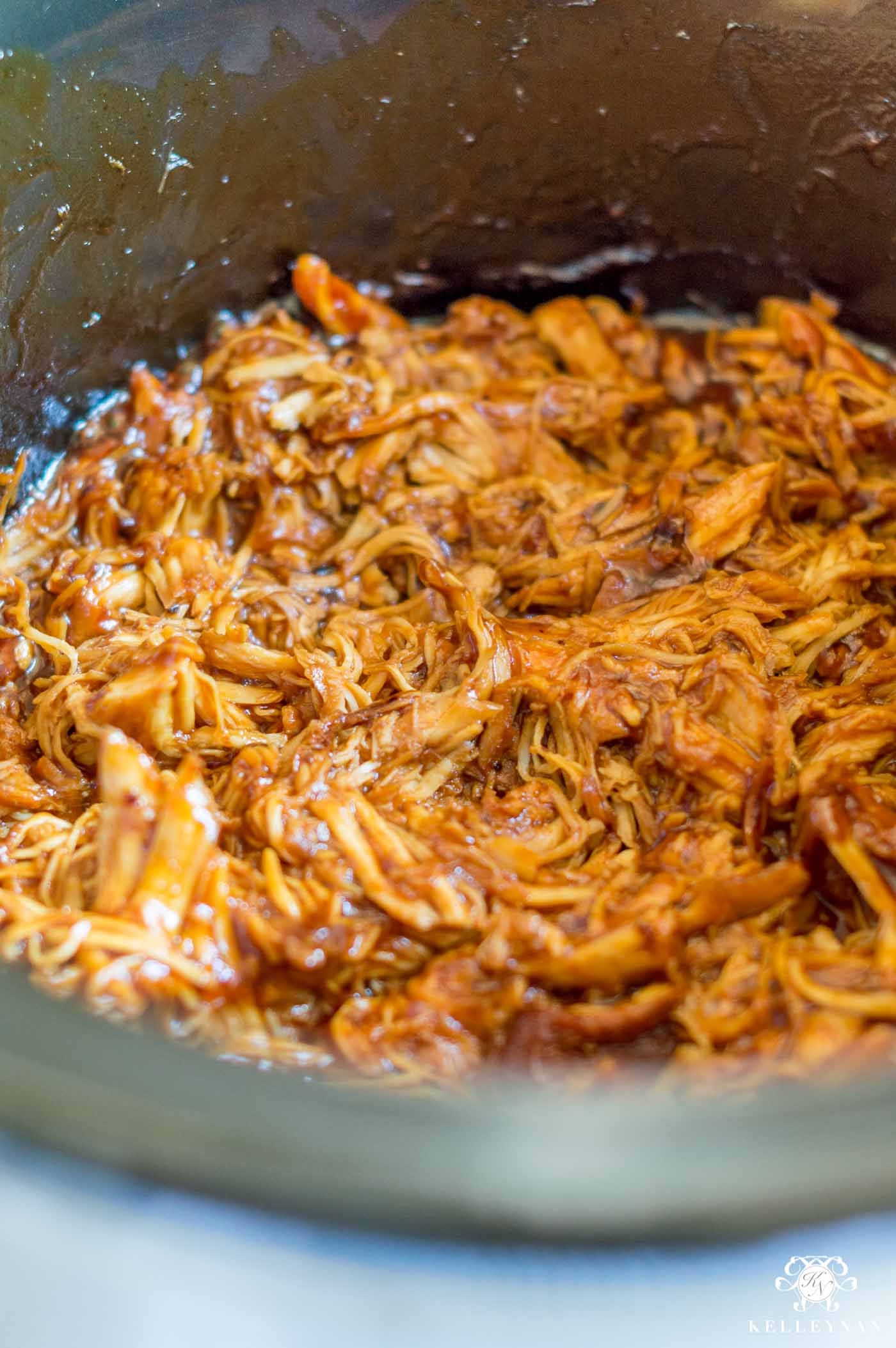 Once you have your batch of chicken bbq, maybe you do want to start off with some classic sandwiches. Even so, here are some follow-up bbq based recipes that will keep your dinners exciting for the rest of the week. You'll see I've used a lot of repeat ingredients which will also help with that grocery store bill 😉
1. Chicken BBQ Salad
Here's your warning- you are going to see a lot of ranch dressing in these recipes haha. Yes, it is optional but you haven't lived until you've mixed bbq sauce with a good ranch dressing- if you're looking for the best, next to homemade, you have to try the Naturally Fresh in the jar. You can find it in the refrigerated area of produce section at your local grocery store. Or, you can be "good" and skip it but the Naturally Fresh is on the thinner side so it goes a long way. At least do yourself a favor and try some on the side 😉
Your shredded chicken bbq will also go a long way in this salad so start off modestly and don't feel like you have to load it down.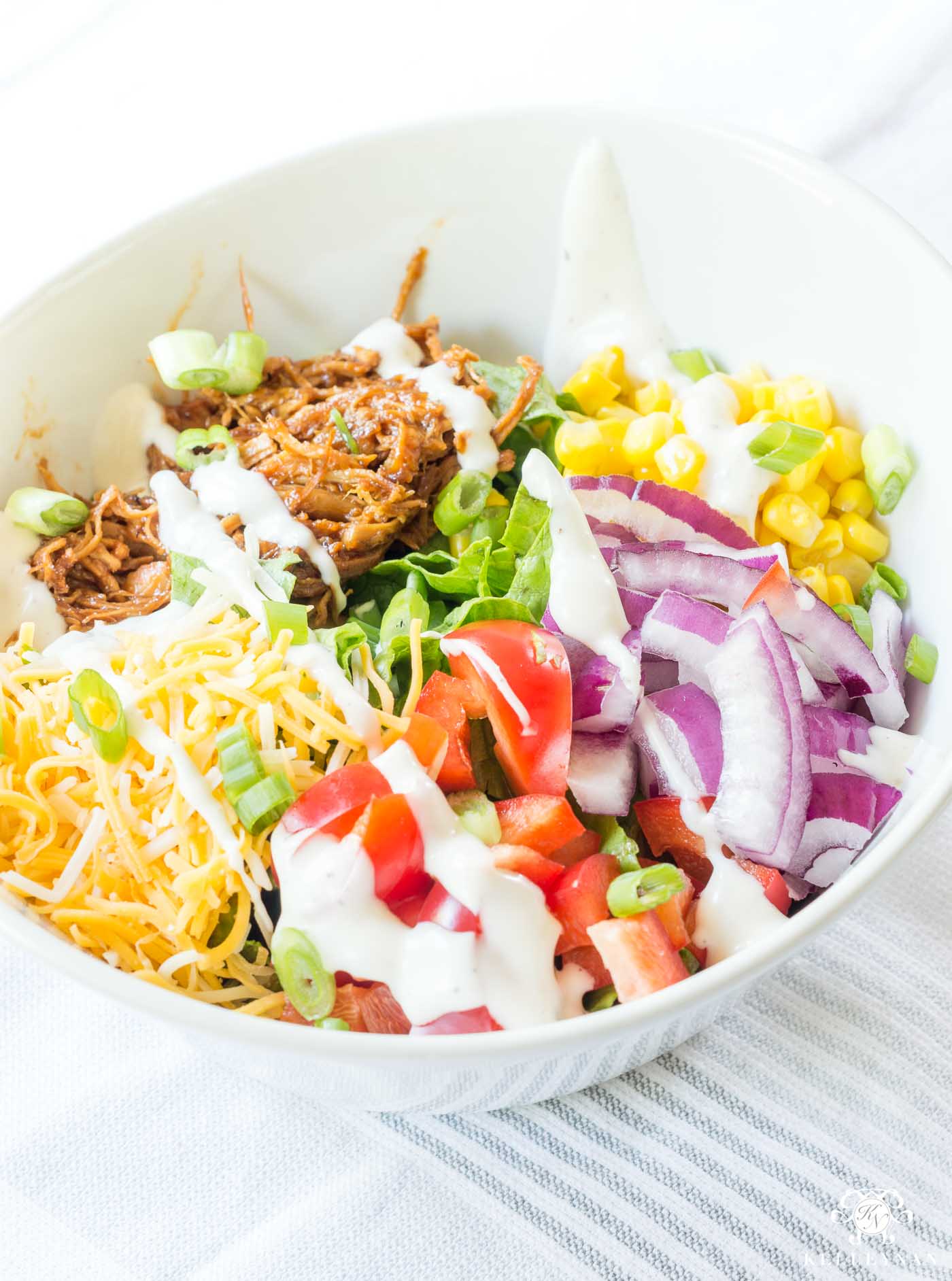 Serve this for dinner or lunch; it literally involves throwing the ingredients in a bowl and is delicious.
Ingredients:
Chicken BBQ
Lettuce
Shredded Cheddar
Bell Pepper
Purple Onion
Corn
Green Onion
Ranch Dressing
Instructions:
Dice, chop, and dice some more. You won't mess this one up 😉
2. Chicken BBQ Stuffed

Jalapenos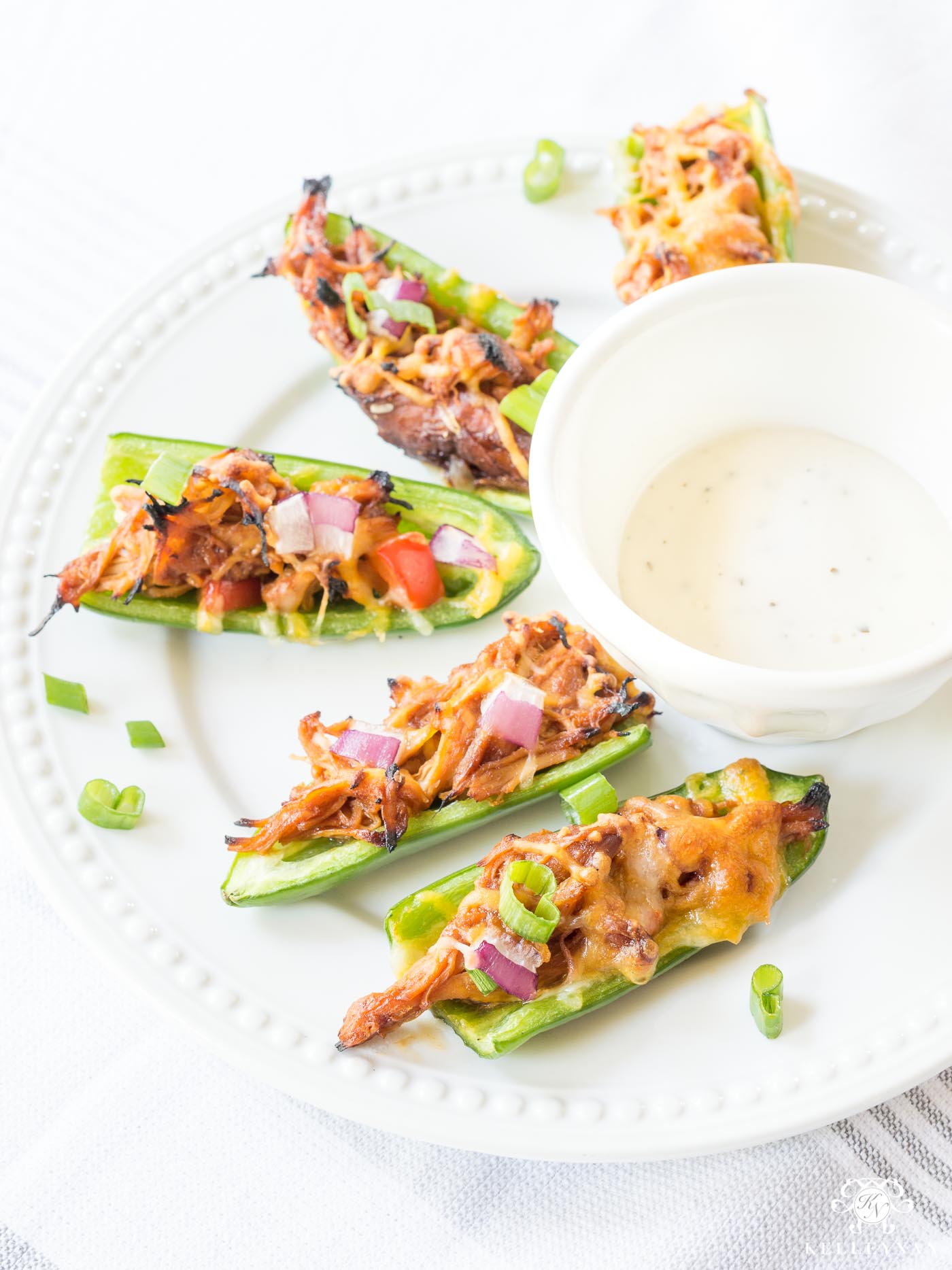 Jalepenos aren't just for Tex-Mex; the sweetness of the bbq and the spiciness of the peppers make the perfect meal. Serve with rice, black beans, or all on their own. They even make brilliant little appetizers.
Ingredients:
Chicken BBQ
Large Jalapeno Peppers
Shredded Cheddar
Bell Pepper (optional)
Purple Onion
Green Onion
Ranch Dressing (for dipping)
Instructions:
Cut the ends off the jalapenos and slice vertically. Scoop out the seed and insides and rinse. 
Spoon a small amount of chicken bbq into the pepper "boat"
Add preferred diced veggies (sparingly)
Top with cheese
Bake at 425 degrees for est. 10 minutes. When peppers start to brown and wrinkle, they are done.
Serve with a side of ranch dressing, dip, and enjoy!
3. Chicken BBQ Quesadilla
Here's another take on a Tex-Mex favorite. I first tried bbq chicken quesadillas, working at a restaurant back in high school. One of the cooks would prepare one for me for dinner on occasion and while it wasn't on the menu, it should have been! A half a lifetime later and I've evolved the original into one of my favorite dishes.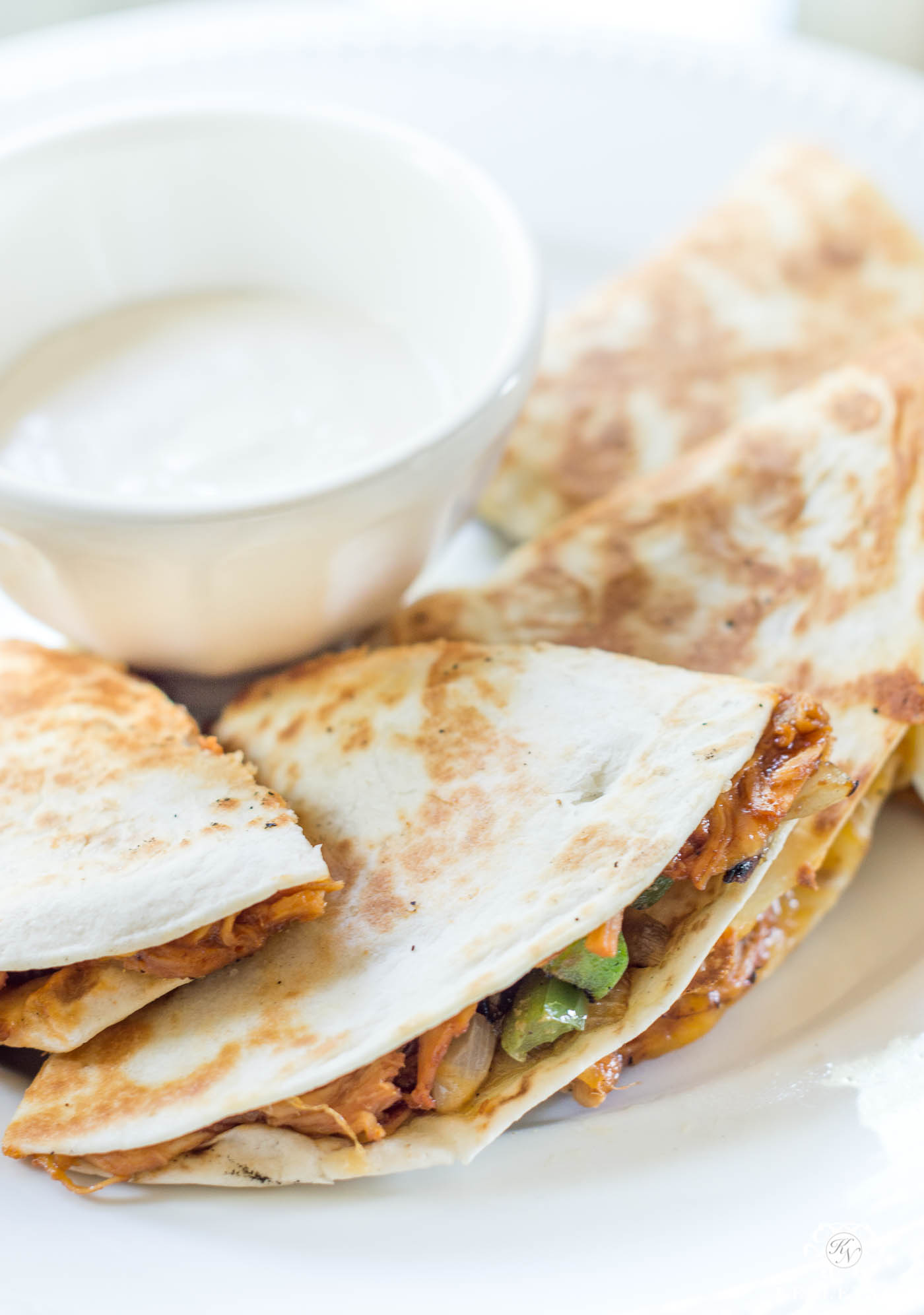 Ingredients:
Flour tortillas 
Chicken BBQ
Shredded Cheddar
1/4 Cup Bell Pepper (per quesadilla)
1/4 Cup Onion (per quesadilla)
Ranch Dressing
Instructions:
Heat a small amount of extra virgin olive oil in pan on medium
Dice and saute bell pepper and onion over medium heat, until they begin to brown. Set aside.
In large pan, melt a small amount of butter
On one flour tortilla, add a thin, evenly spread layer of chicken. Add peppers and onions. Sprinkle with cheese. Place a second tortilla on top.
Transfer to the pan and cook over medium heat. Flip after one to two minutes. Cheese should be thoroughly melted. Repeat on second side.
Remove, slice, and serve with a side of ranch dressing for dipping.
4. Chicken BBQ Baked Potato
I call this the "Friday Night Special" – it's the perfect comfort food and treat to celebrate the end of the week but is uber simple to pull together.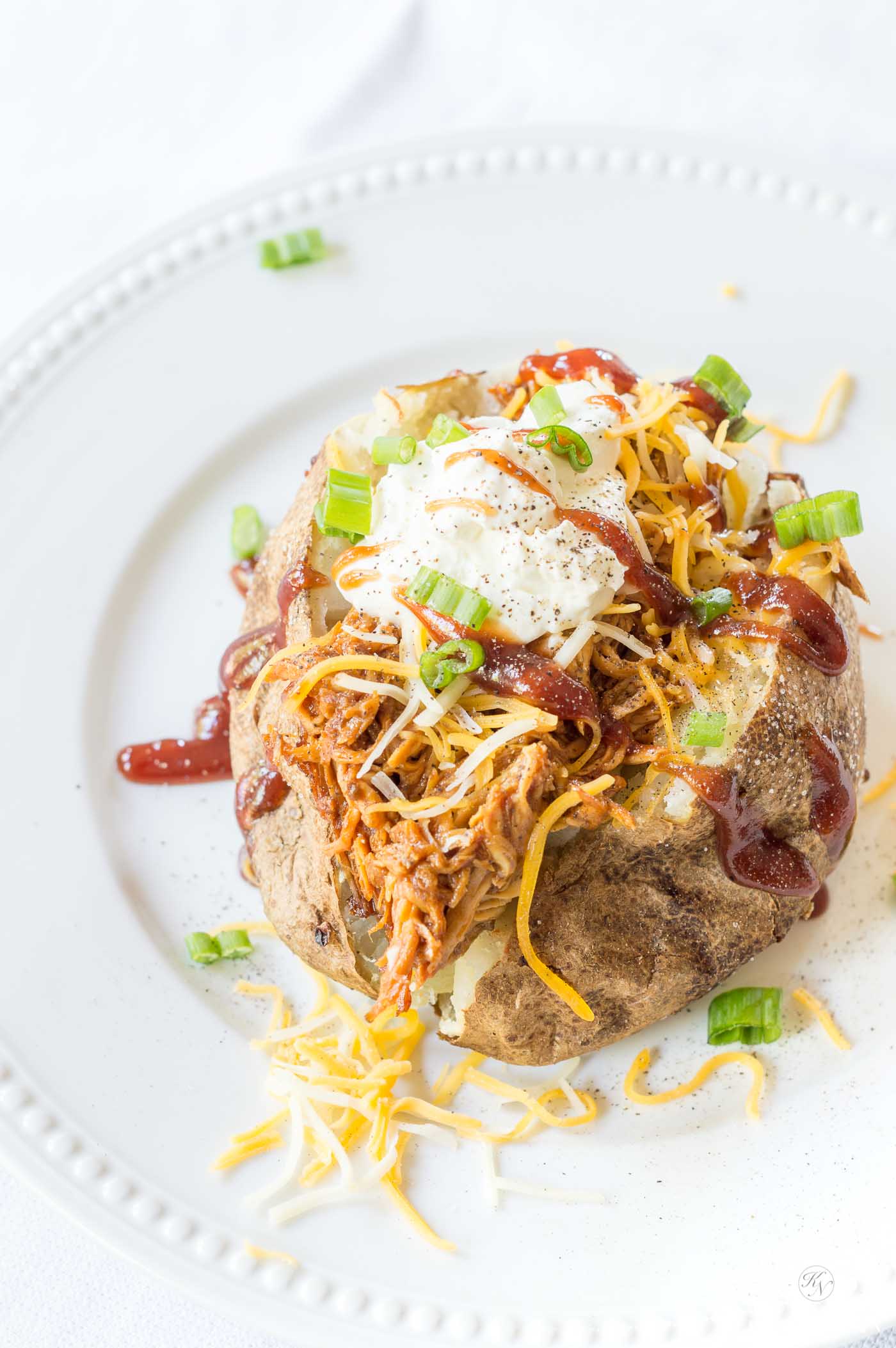 Ingredients:
Baked Potato
Chicken BBQ
BBQ Sauce
Sour Cream
Butter
Shredded Cheddar
Green Onion
Salt & Pepper (to taste)
Instructions:
Wash and scrub potato and rub with olive oil and salt. Pierce with a fork at least three times, place on a cookie sheet and bake at 425 for around an hour. Remove from the oven and check to see if potato is tender.
Add butter (I use the I Can't Believe It's Not Butter spray)
Add chicken bbq
Add cheese
Add dollop of sour cream
Sprinkle with salt and pepper
Top with diced green onions
Add a little extra bbq sauce
Mix together and enjoy
5. Chicken BBQ Stuffed Crescent Rolls
My motto- you can stuff crescent rolls with anything and make them into a little meal but chicken bbq may be my favorite!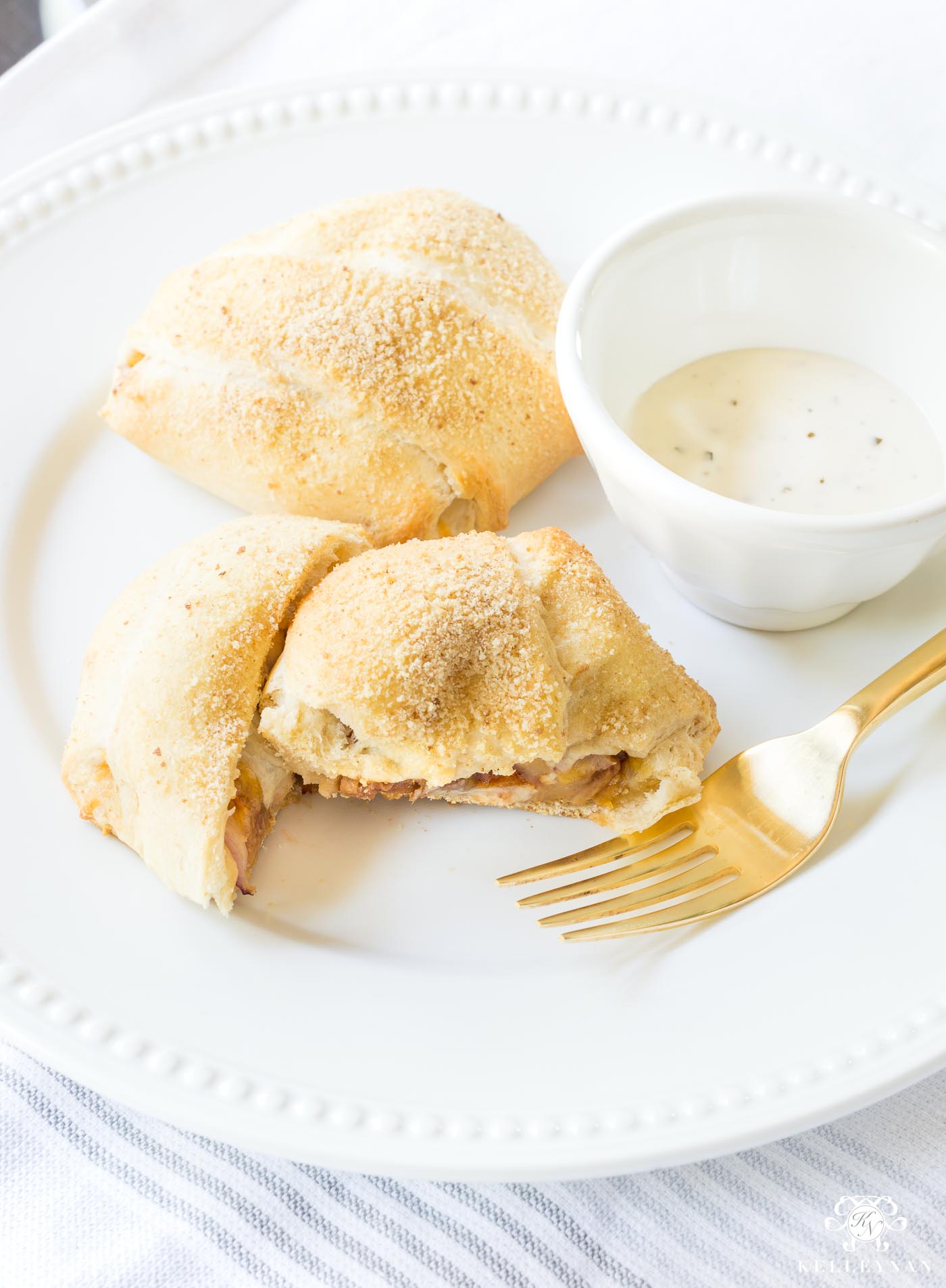 Ingredients:
Large Pillsbury Crescent Rolls
Chicken BBQ
Bread Crumbs
Butter (I use I Can't Believe It's Not Butter spray)
Shredded Cheddar
1/2 Bell Pepper
1/2 Purple Onion
Ranch Dressing
Instructions:
Dice bell peppers and onion
Unroll (and lightly stretch) crescent roll dough triangles
Spoon small amount of chicken bbq onto dough
Top with peppers, onions, and cheese
Wrap the triangles closed 
Spray tops of crescent rolls with butter (or baste with melted butter)
Sprinkle bread crumbs on top
Place on baking sheet and bake according to directions (est. 18 minutes)
Serve with a side of ranch dressing for dipping
6. Chicken BBQ Nachos
I discovered these when I was trying to clean out the fridge one day and now make them intentionally. These are great for dinner on their own but also as an appetizer or weekend snack.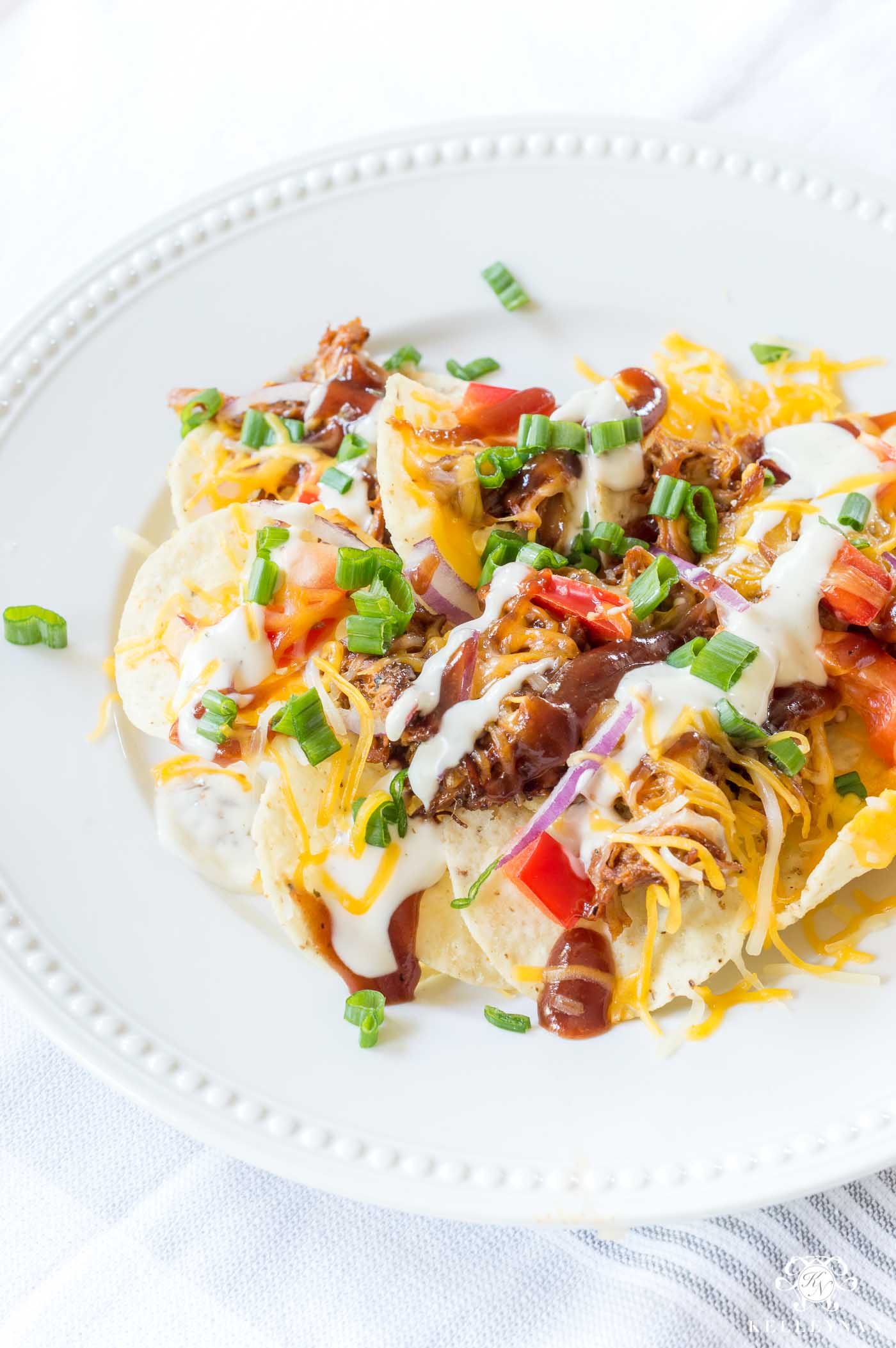 Ingredients:
Tortilla Chips
Chicken BBQ
Lettuce (optional)
Shredded Cheddar
Bell Pepper
Purple Onion
Green Onion
Ranch Dressing
BBQ Sauce
Instructions:
Arrange a generous layer of tortilla chips on a baking pan/cookie sheet
Top evenly with chicken bbq and add diced bell pepper and purple onion. Sprinkle cheese on top.
Bake at 375 until cheese is melted
Add diced green onion
Drizzle bbq sauce and ranch dressing on top and enjoy!
7. Chicken BBQ Lettuce Wraps
If you are looking to go a little lighter (or maybe even another option while others in your family go the sandwich route) you won't even miss the bread in these chicken bbq lettuce wraps.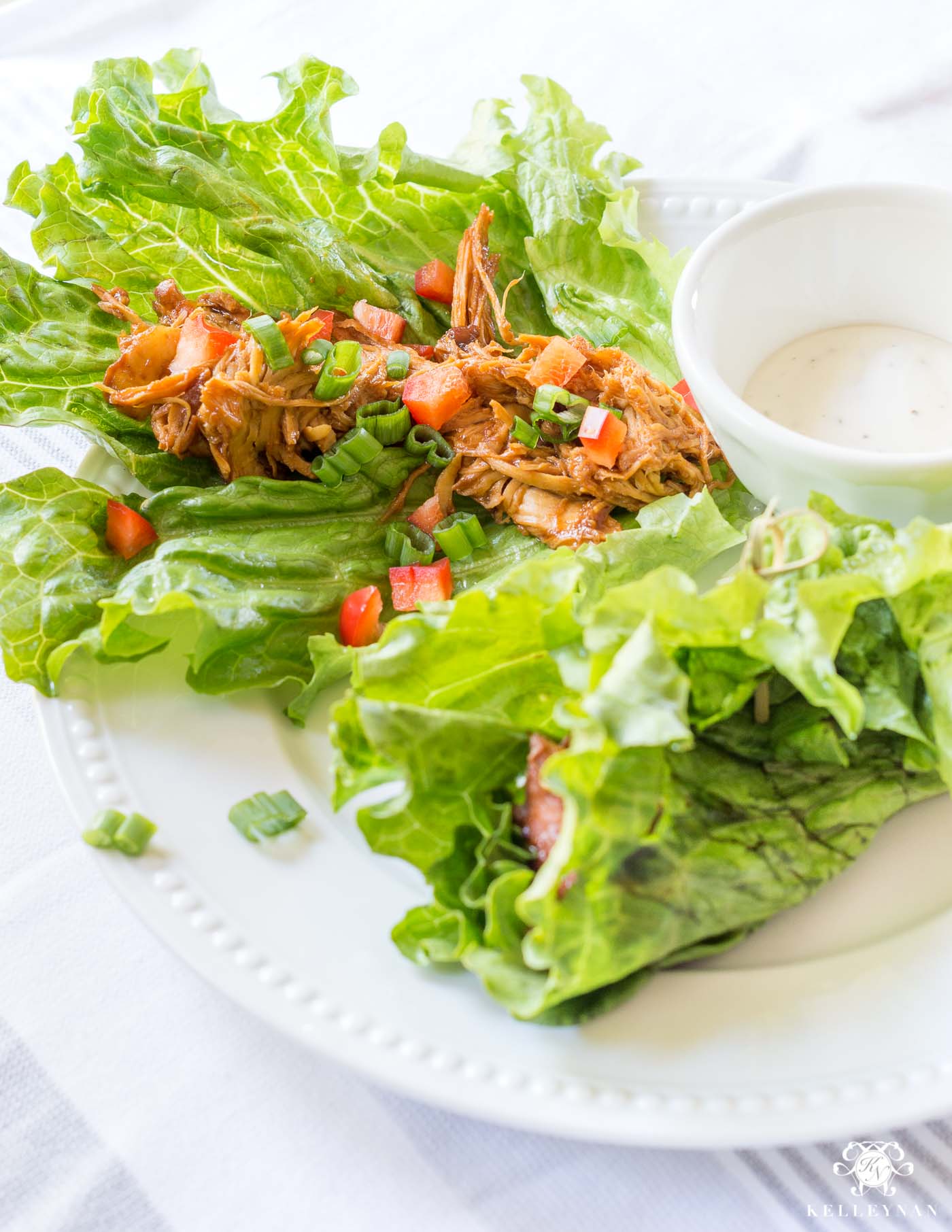 Ingredients:
Chicken BBQ
Large Green Leaf Lettuce
Bell Pepper
Green Onion
Ranch Dressing
Instructions:
Wash and dry individual lettuce leaves and discard the stalk at the bottom. 
Fill with chicken bbq and top with peppers and onions
Roll and dip in ranch dressing
I've had this post concept in my back pocket for a long time and if you love it, we will totally do more 😉 Here's to some creative, budget friendly, delicious weeknight dinners in our future! Sign up at the bottom of the post and never miss any meal or project ideas.
Featured & Favorite Kitchen Essentials
Scroll & Tap to Shop

Other Crock Pot Recipes You May Enjoy