Last week, we crossed off a trip on Dave's bucket list. We headed up north to New York City, played the role of shameless tourists, and ran around Manhattan seeing as much as we could handle over the course of four days. While I've been twice before, I won't even pretend to be a source of genuine secret gems and NYC recommendations. I played "tourist" once before 11 years ago when my mom took me post-college graduation, and had a quick two-day stint for the BHG Stylemaker event in Brooklyn this past fall. Since this was Dave's first time, we decided to take in the city like two eager ramblers on a mission. I actually had no intent of sharing our trip in detail – like I said, there are other people far more qualified and experienced to lend their expertise on true hidden treasures in the city or to share how the "locals" do it. But you guys, we loved our trip. And, when I was scrolling through the over 300 photos I snapped on my iPhone, I decided that even if our adventure isn't going to land us in an upcoming issue of a popular travel magazine, I wanted to share it with you all.  If you have never been to NYC or are considering a trip, these are exactly the things I would do again. If you want a total tourist guide and highlights from two NYC novice-southern suburbanites, this is for you.
*Posts on KelleyNan.com may contain affiliate links. Click HERE for full disclosure.*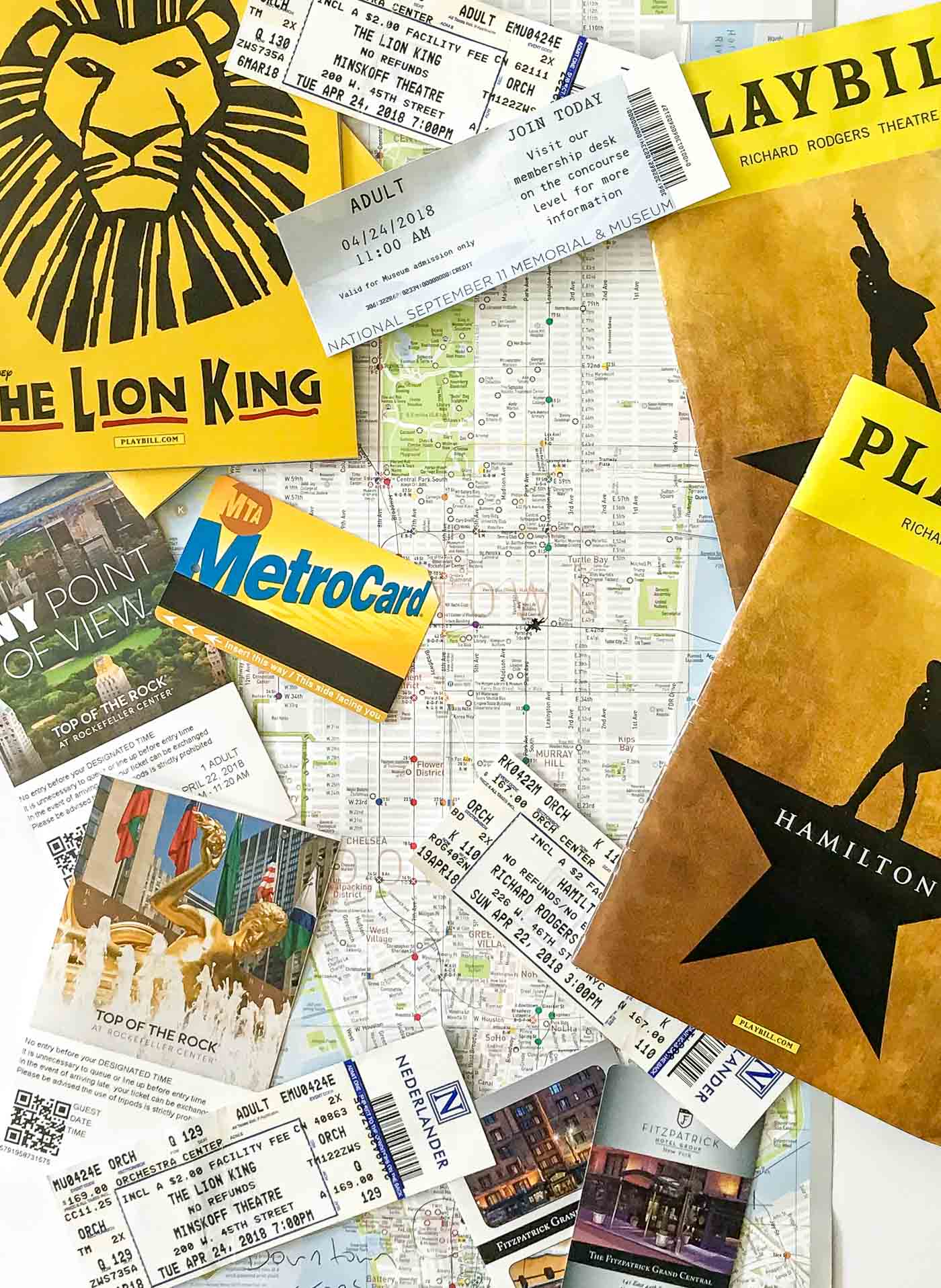 Day 1 in NYC
We woke up at 2:00 a.m. 3:00 a.m. (an hour late- whoops!) and took the first flight from Atlanta to LaGuardia. We dropped our bags at our hotel near Grand Central Station…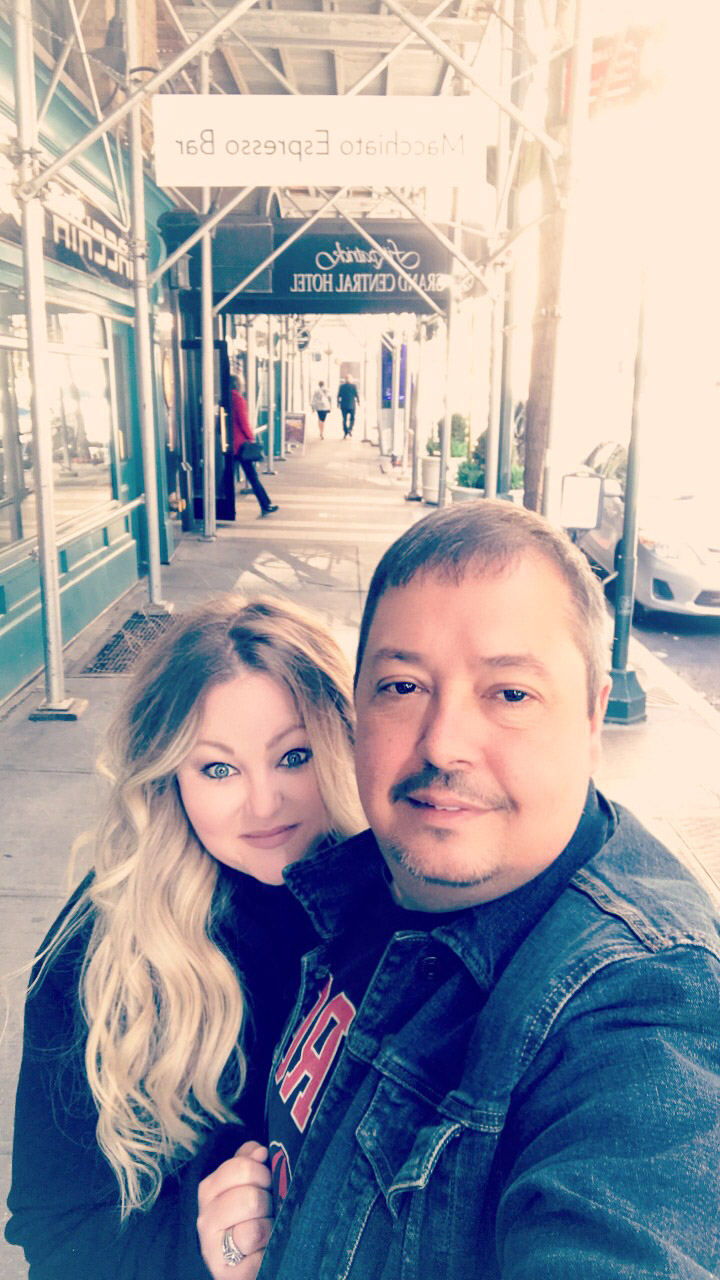 and headed for an early lunch and shakes at Shake Shack. What says "vacation" like ice cream and grease at 10:30 a.m.?!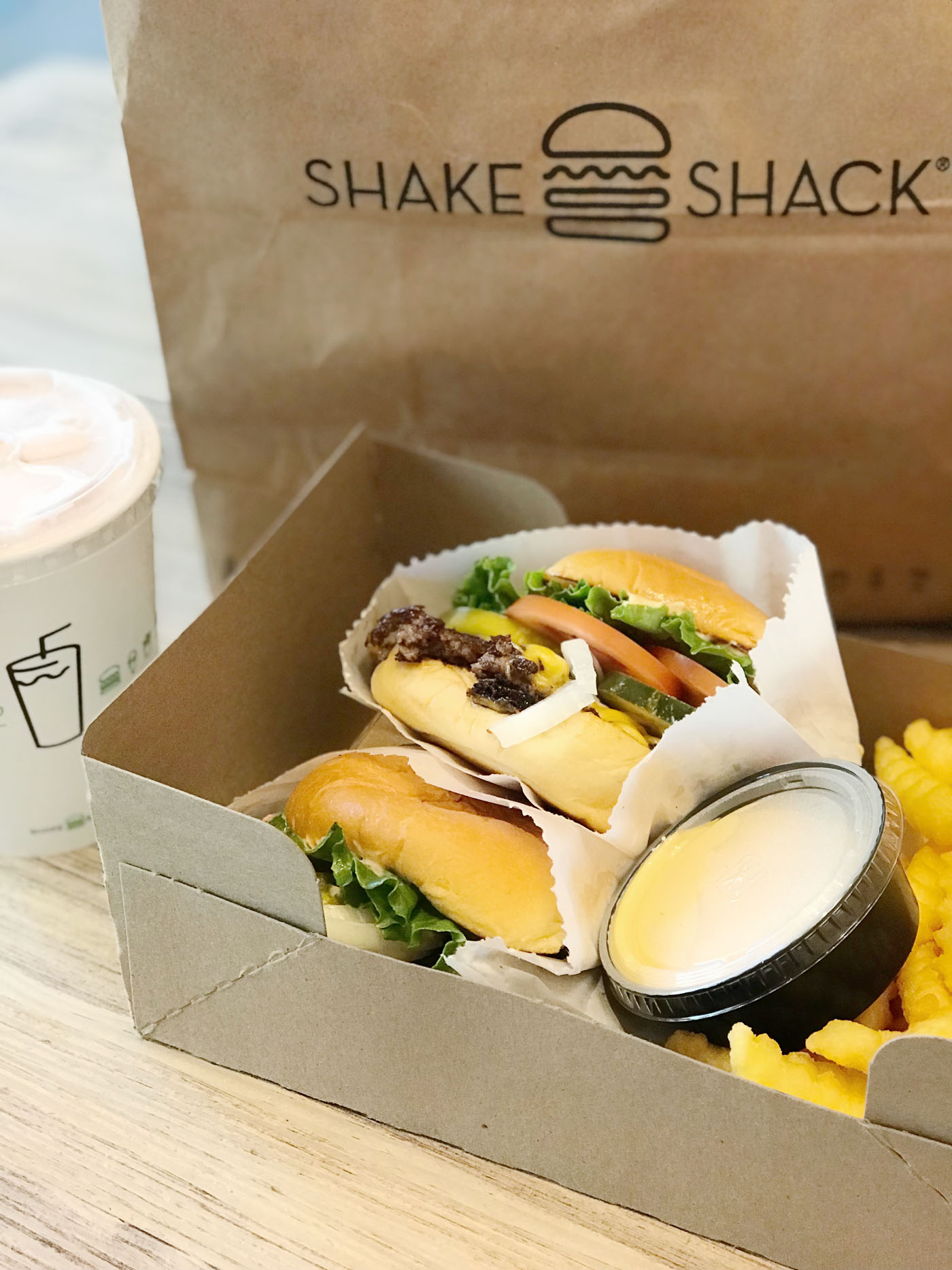 After we fueled up, we headed to the north part of Manhattan. I'm not usually fond of being approached on the street but like I said, we were total tourists and could be spotted from a mile away. I was actually grateful for the entrepreneurial pedicab driver that approached us; while we were polite and planning the excuse of why we weren't interested, he totally sold us on a tour through Central Park. If you have never been, Central Park is huge and I didn't even get to scratch the surface last time. If you want to really go through the entire thing, I would do this again, 100%. Our driver was a perfect guide, sharing both history and memorable film moments as we rode through the park. He also stopped four to five times to let us jump out and explore.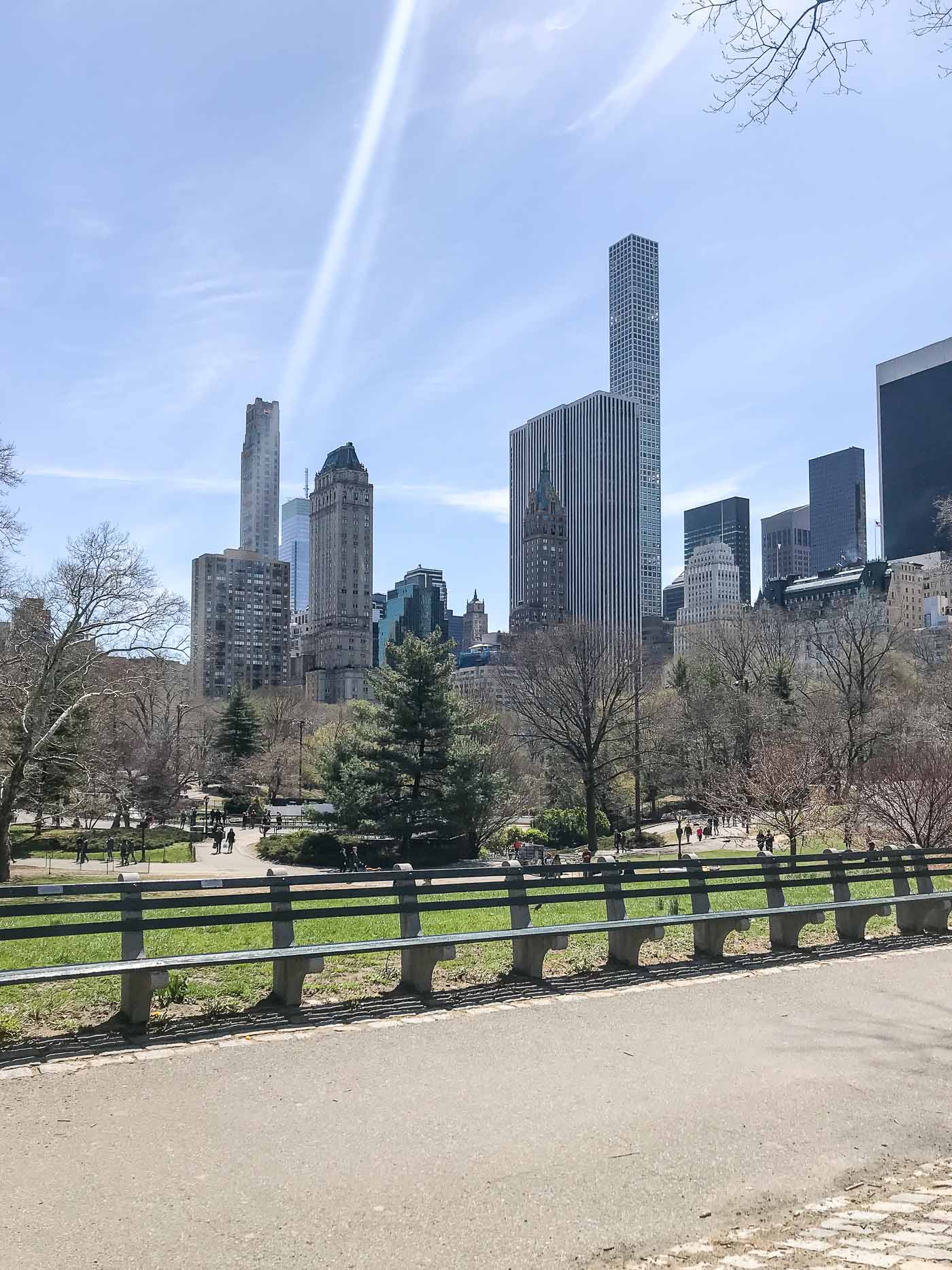 We stopped at the Bethesda Terrace and Fountain, saw boat races at Conservatory Water, and watched Loeb Boathouse paddle boats from Cherry Hill.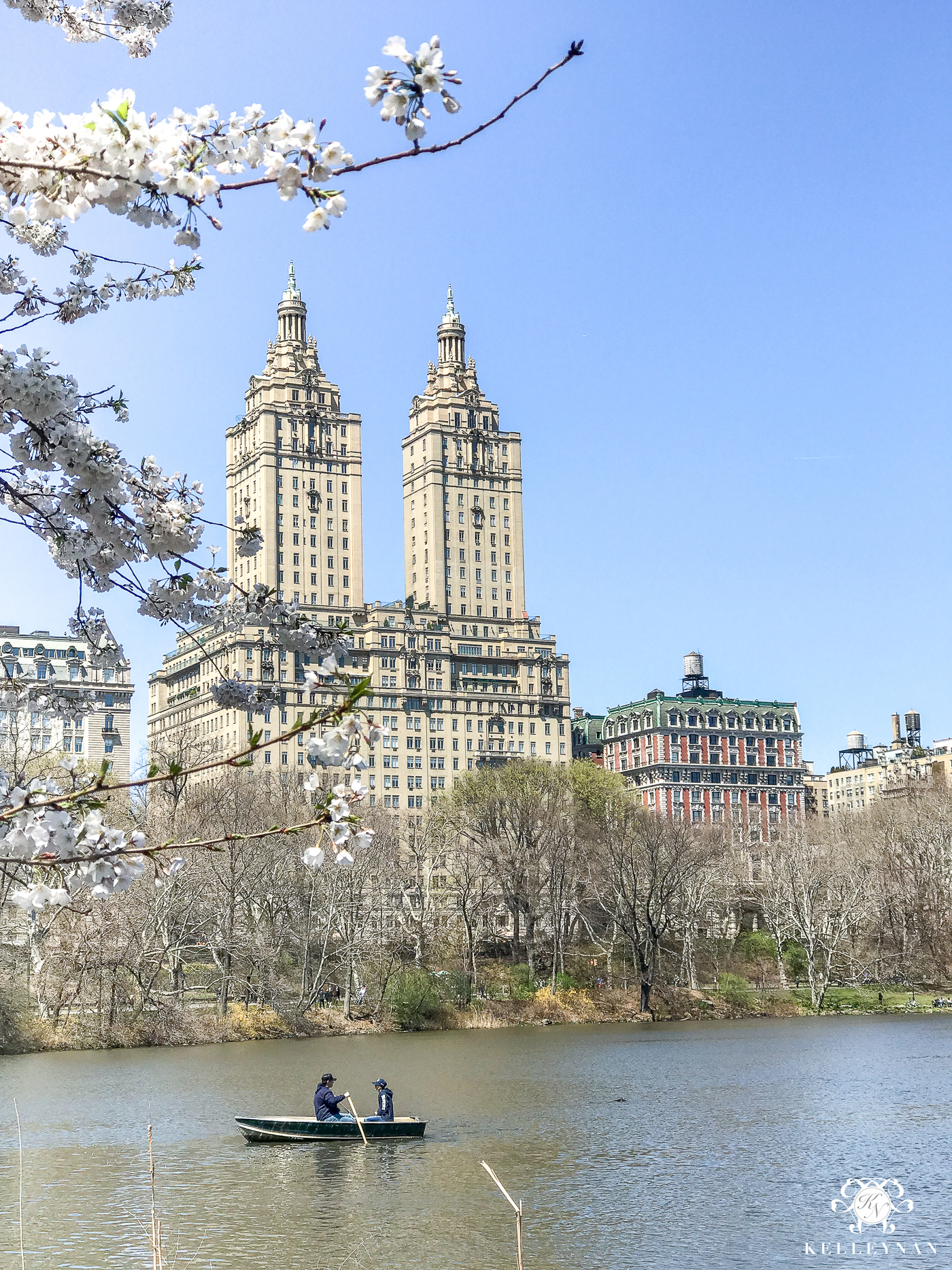 We listened to stories from Pine Bank Arch…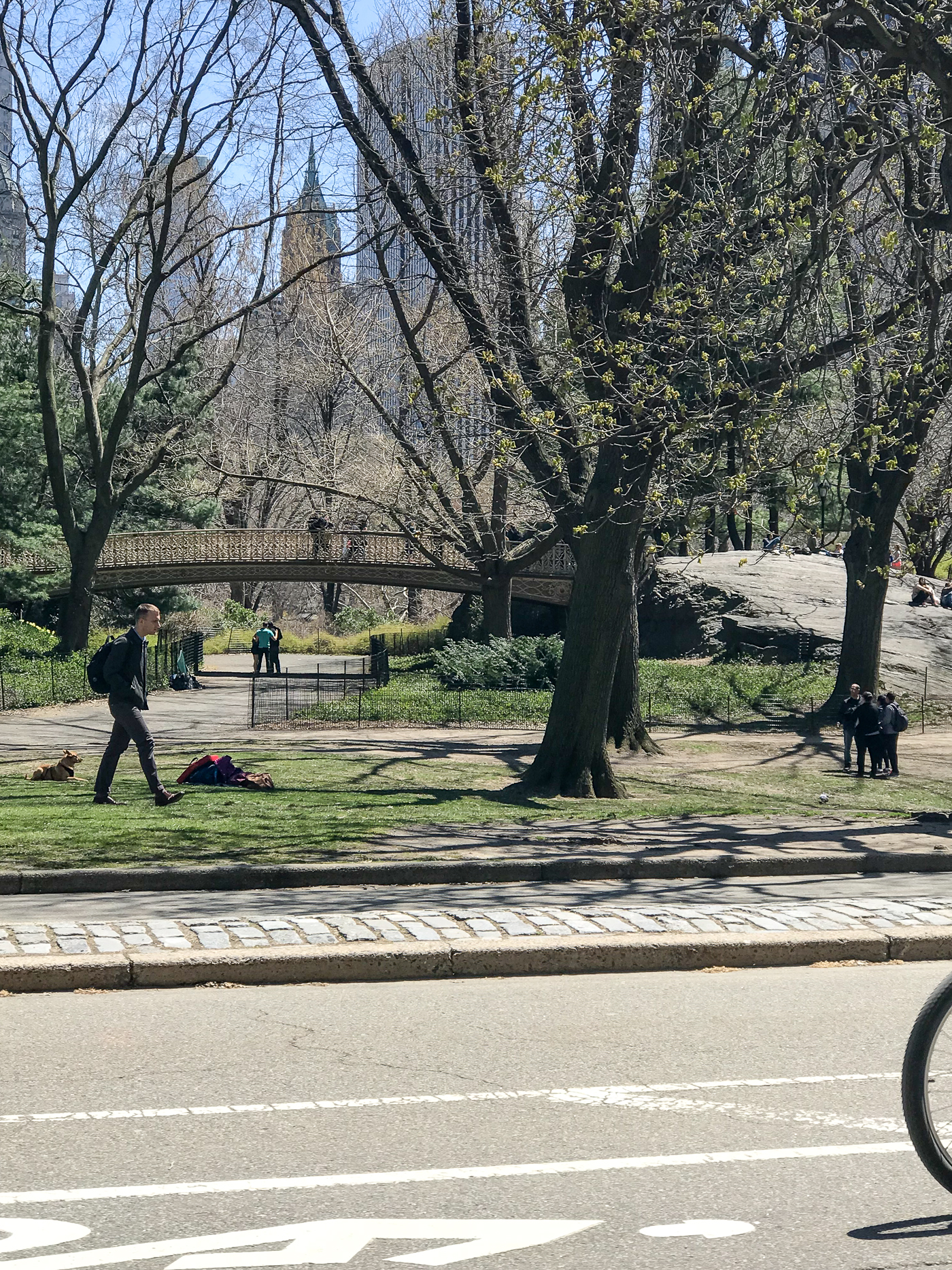 and strolled along the mall.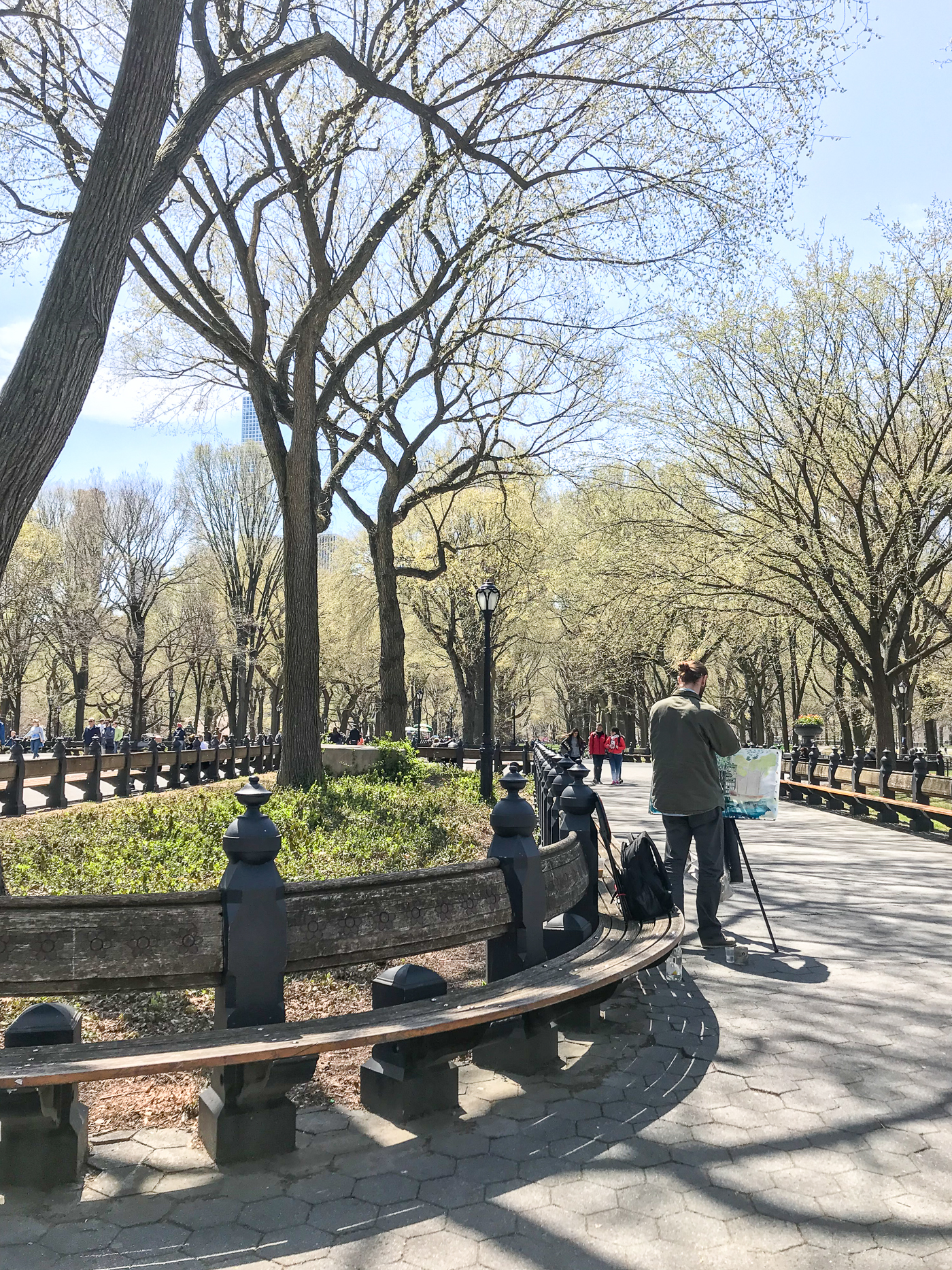 We walked  up to the Strawberry Fields Imagine mosaic and pointed out celebrity apartment buildings on the Upper West Side.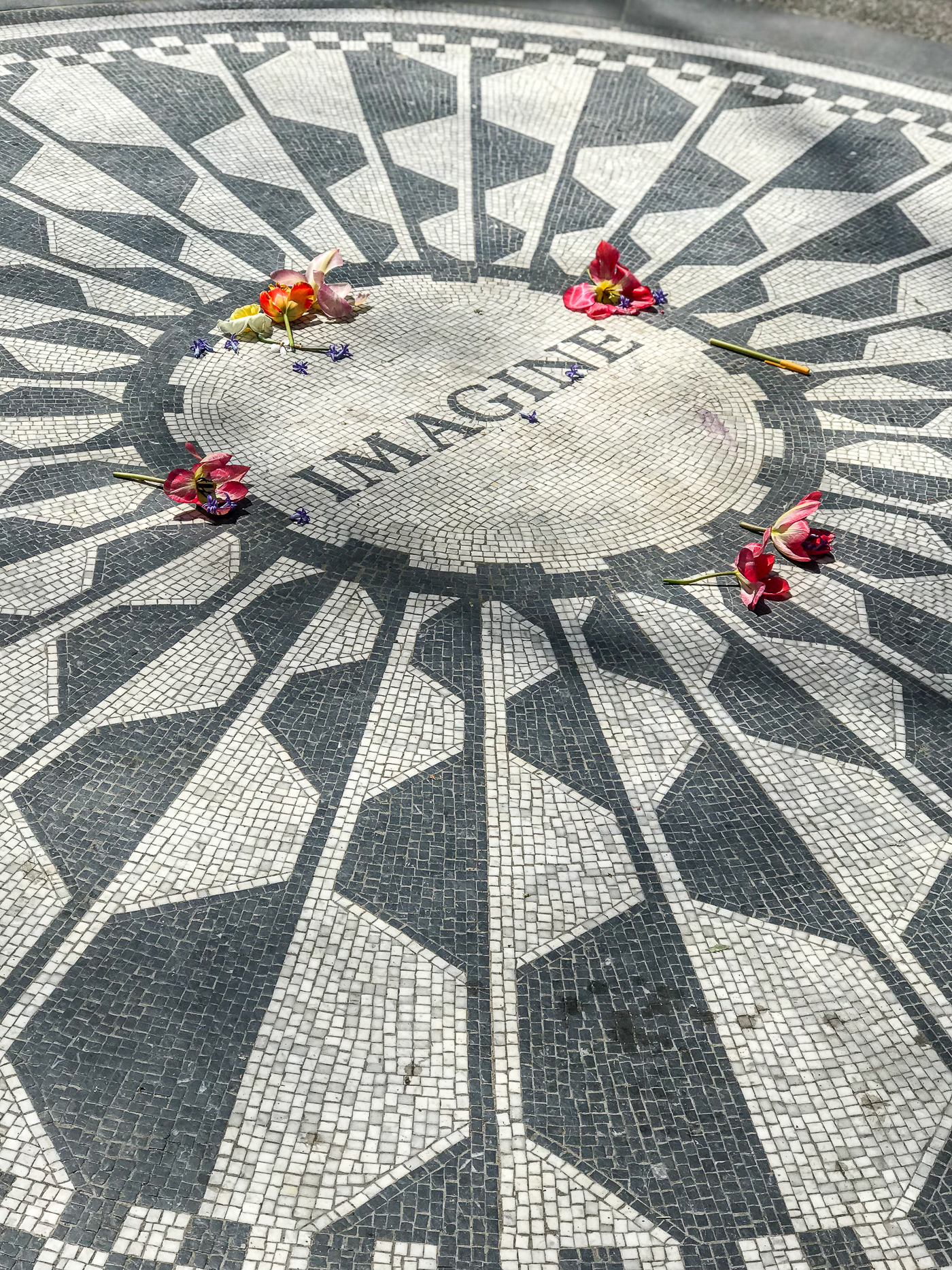 We admired the Plaza Hotel in all its regal glory…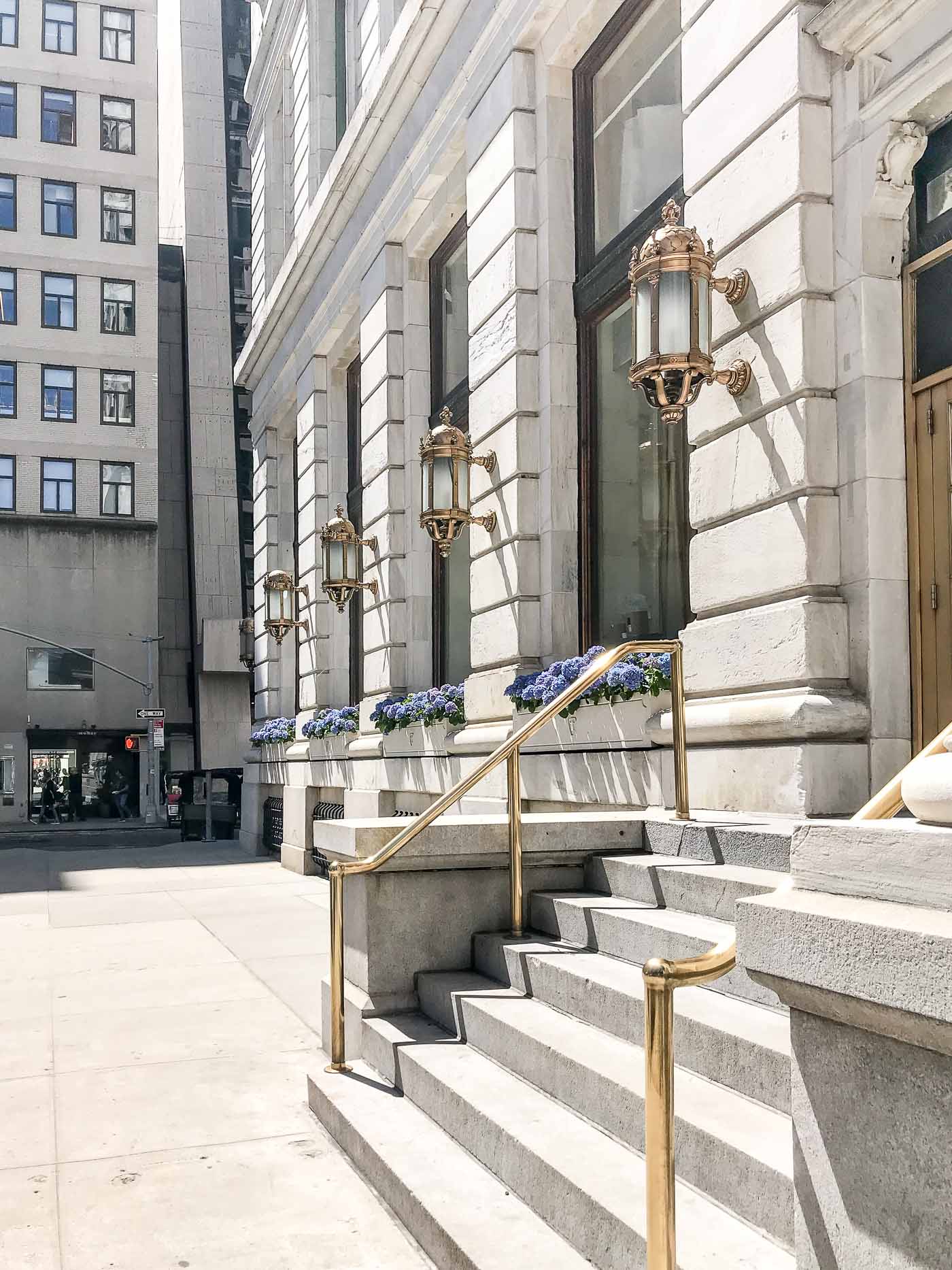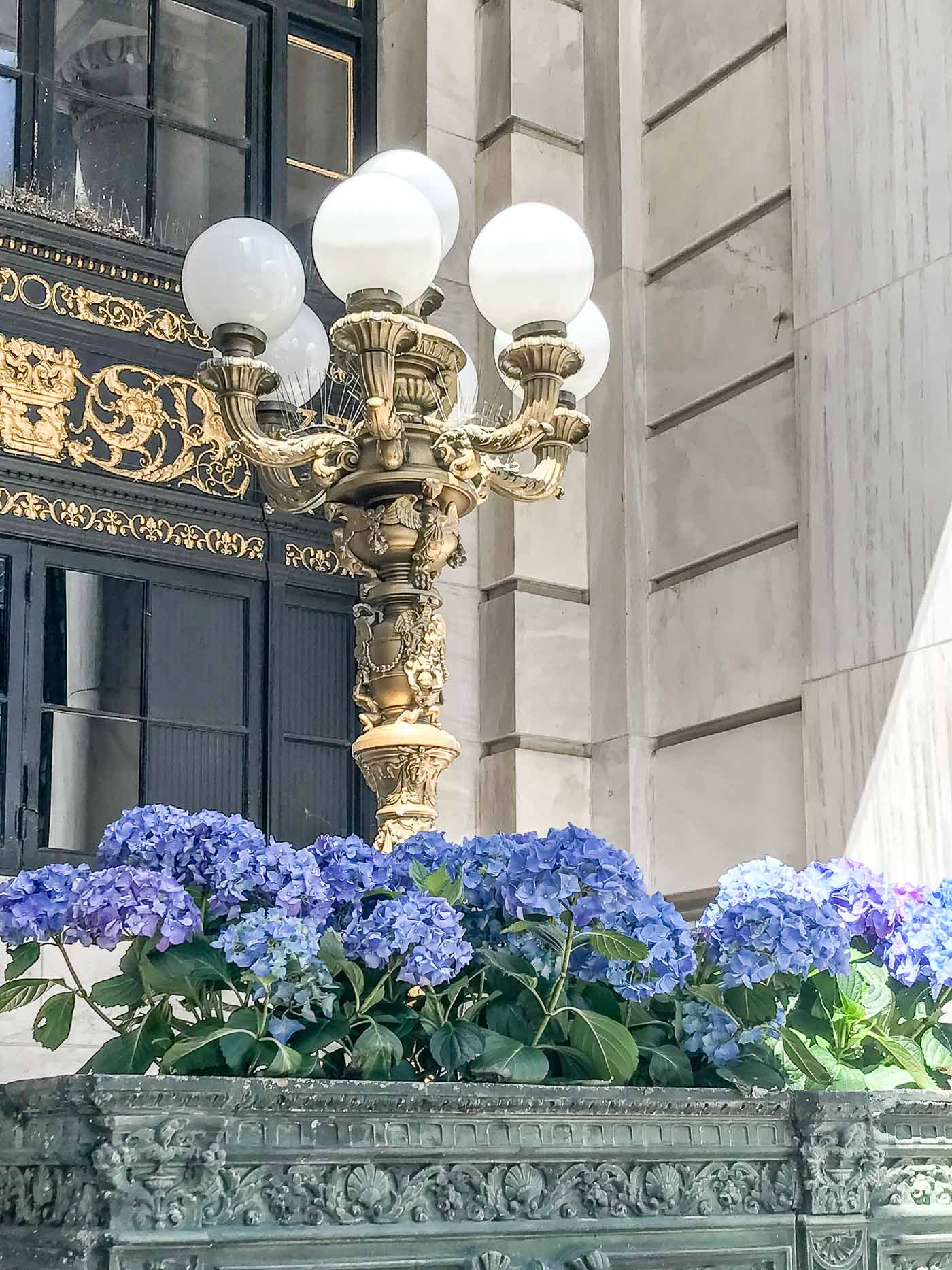 and I imagined what it would be like if I was Melanie from Sweet Home Alabama as we passed Tiffany & Co. on 5th Avenue. We dipped inside Trump Tower and and cited all the designer flagship stores lining the street.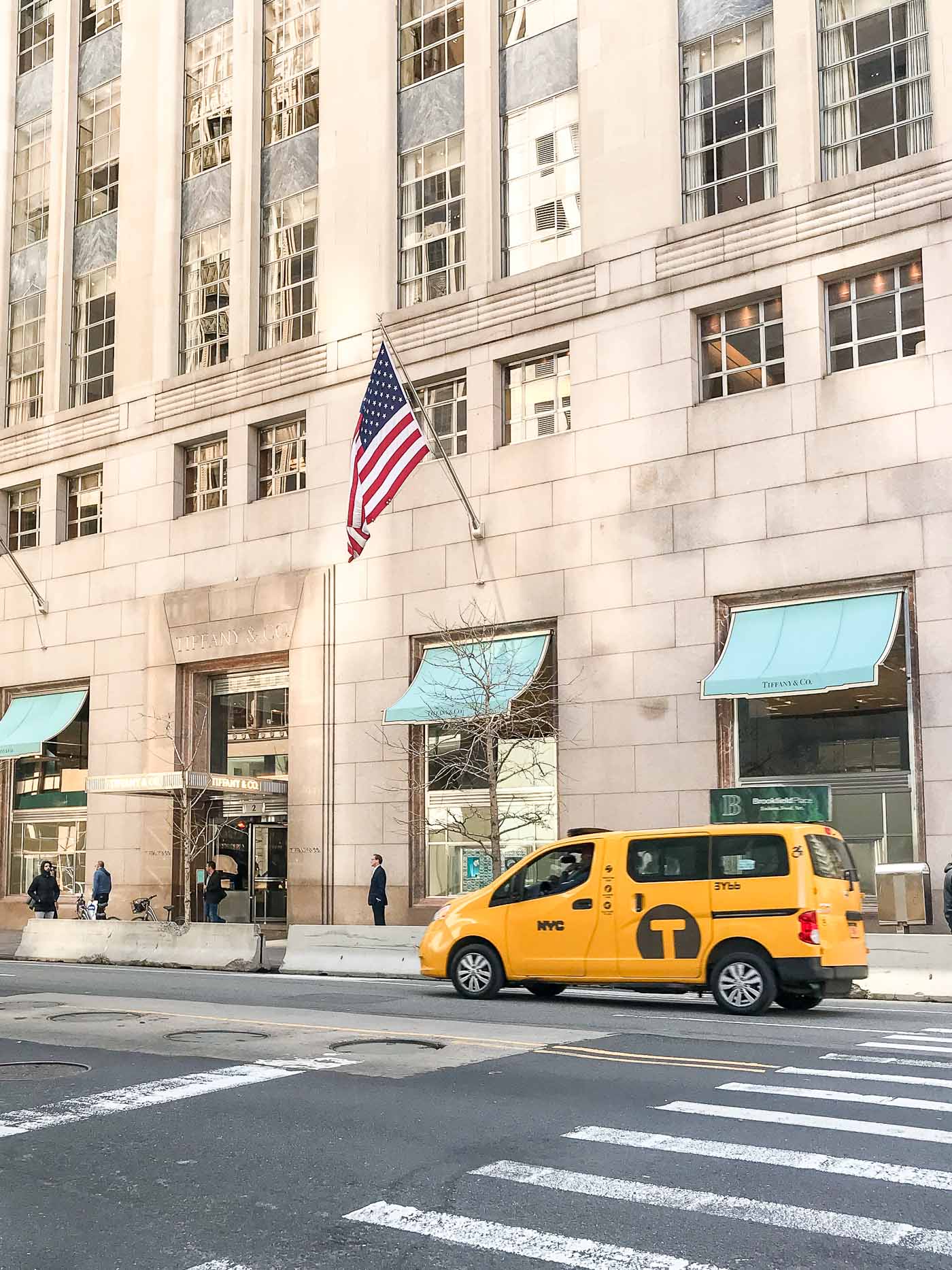 We walked and walked and walked some more and got lost in Grand Central station before exploring our hotel's neighborhood and heading to Duane Reade to stock up on room essentials for the duration of our trip. We also discovered that despite the typical NYC prices, .99 pizza is "a thing" and devoured our dinner from bed.
DAY 2 in NYC
We made best friends with one of the 29384903 Starbucks in the city each morning as our official daily start. We became pros at riding the subway and took our inaugural trip down to Rockefeller Center.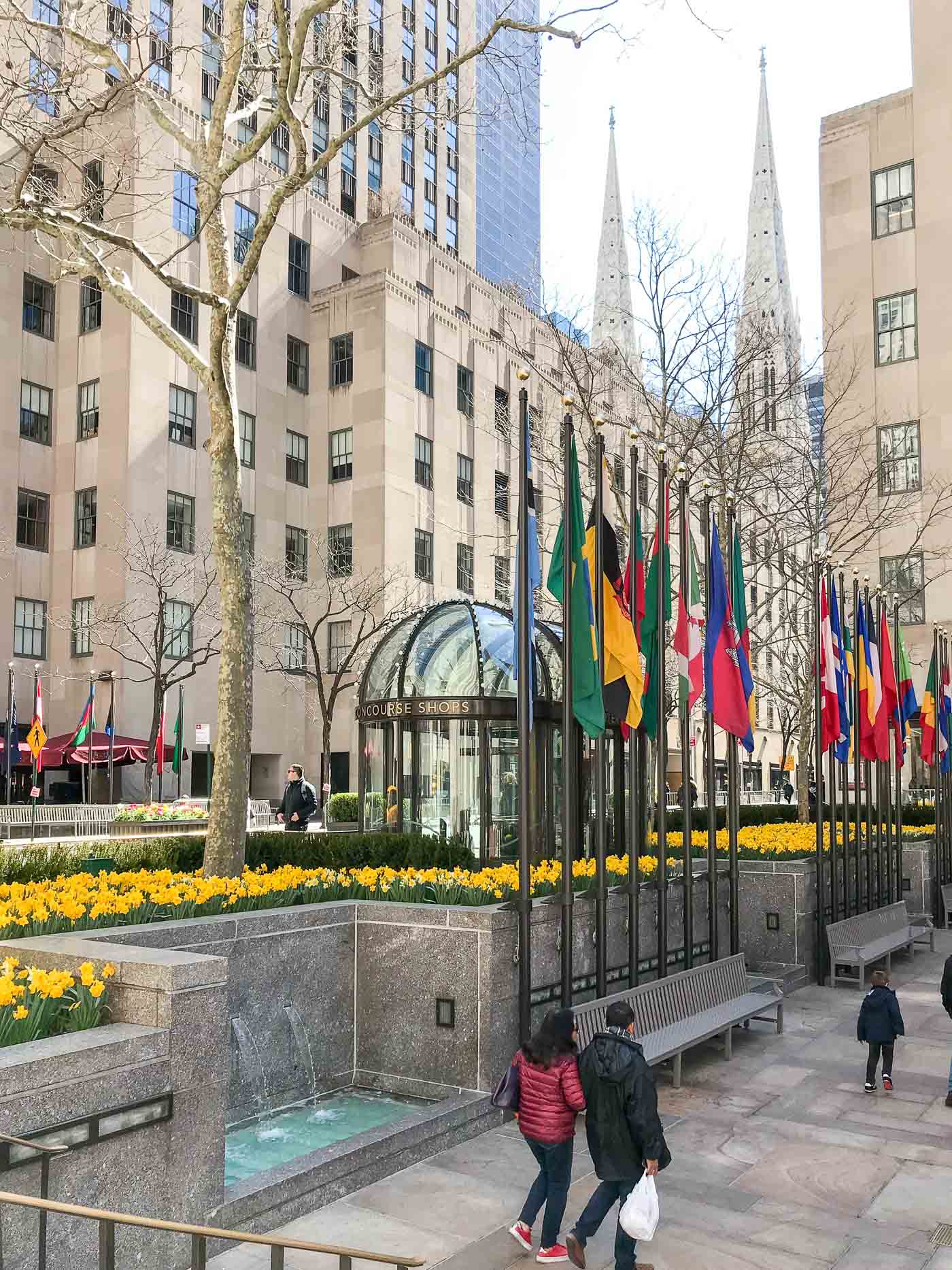 We took in the best views of the city from Top of the Rock (which I prefer over the Empire State Building from my first trip).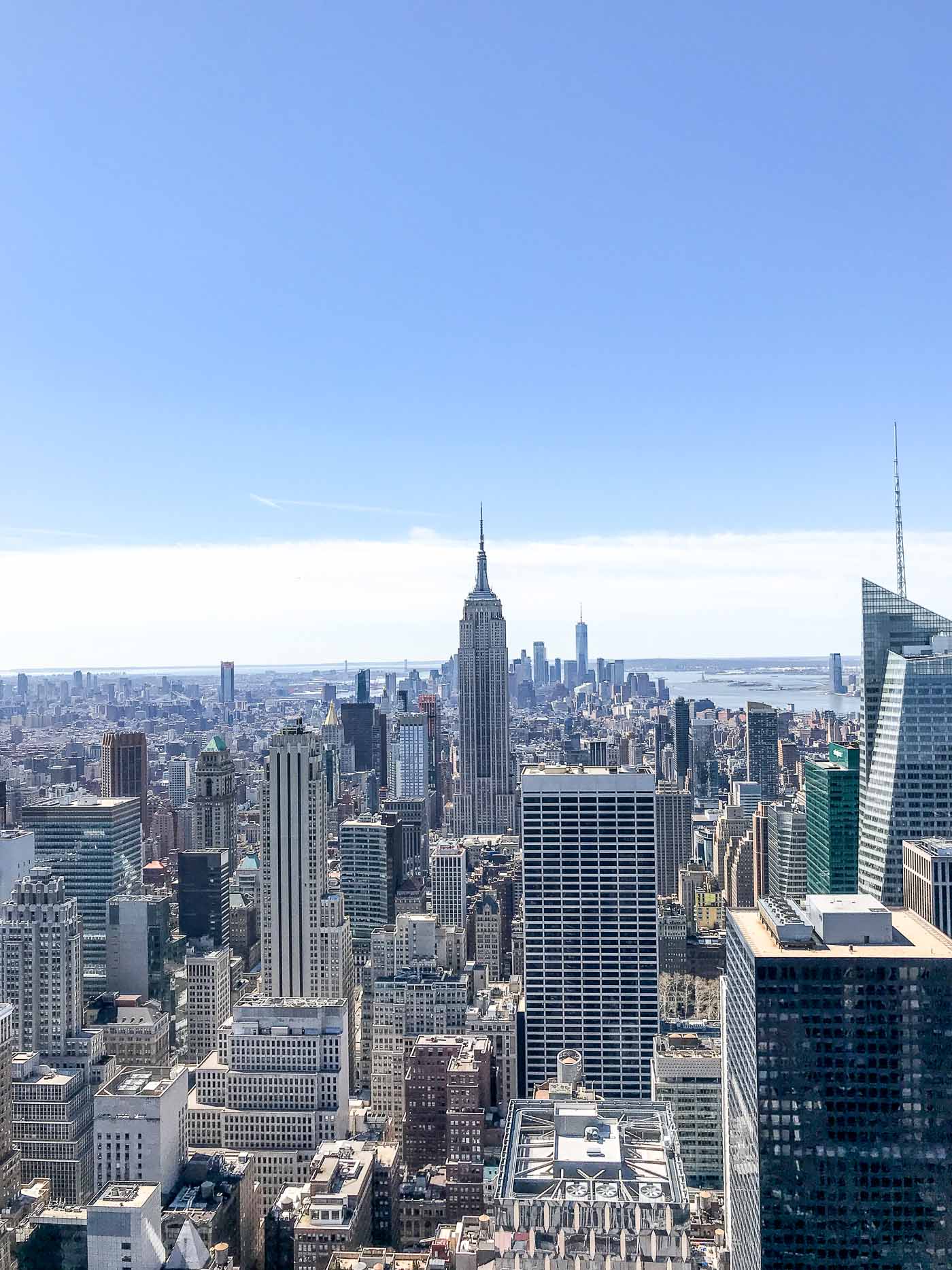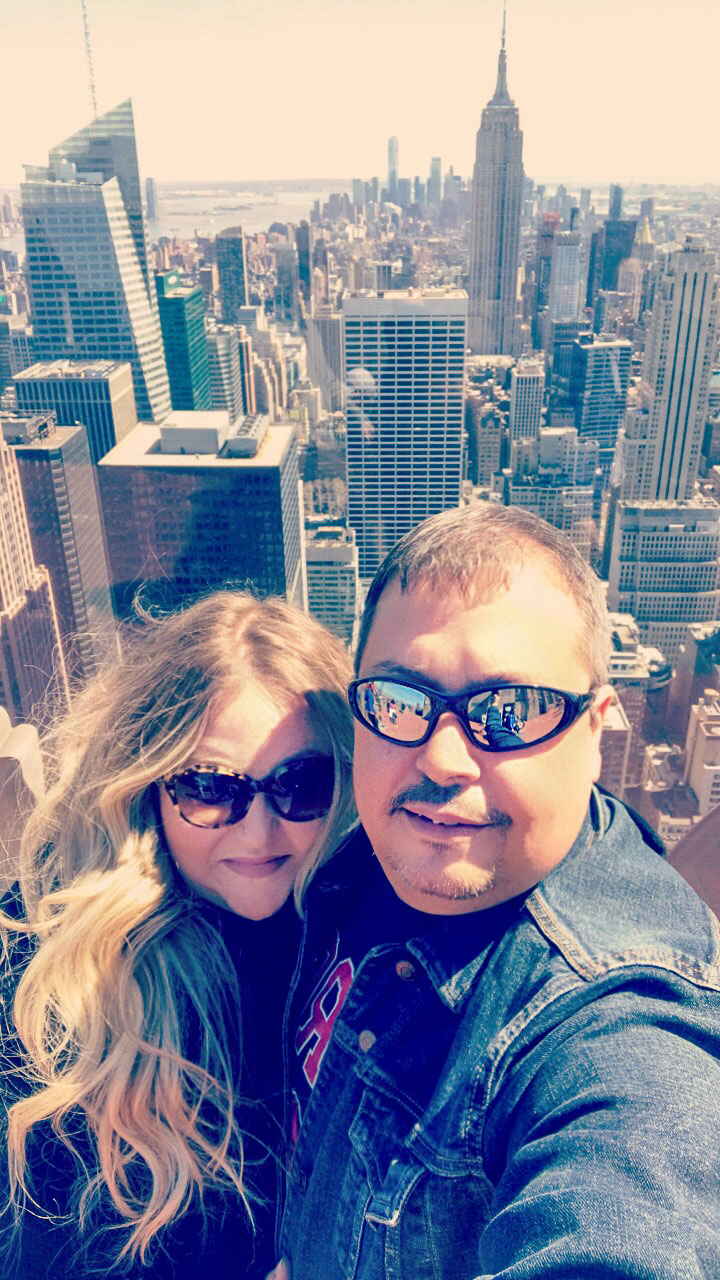 We meandered around the buildings, spotting the big names like Radio City Music Hall and NBC Studios.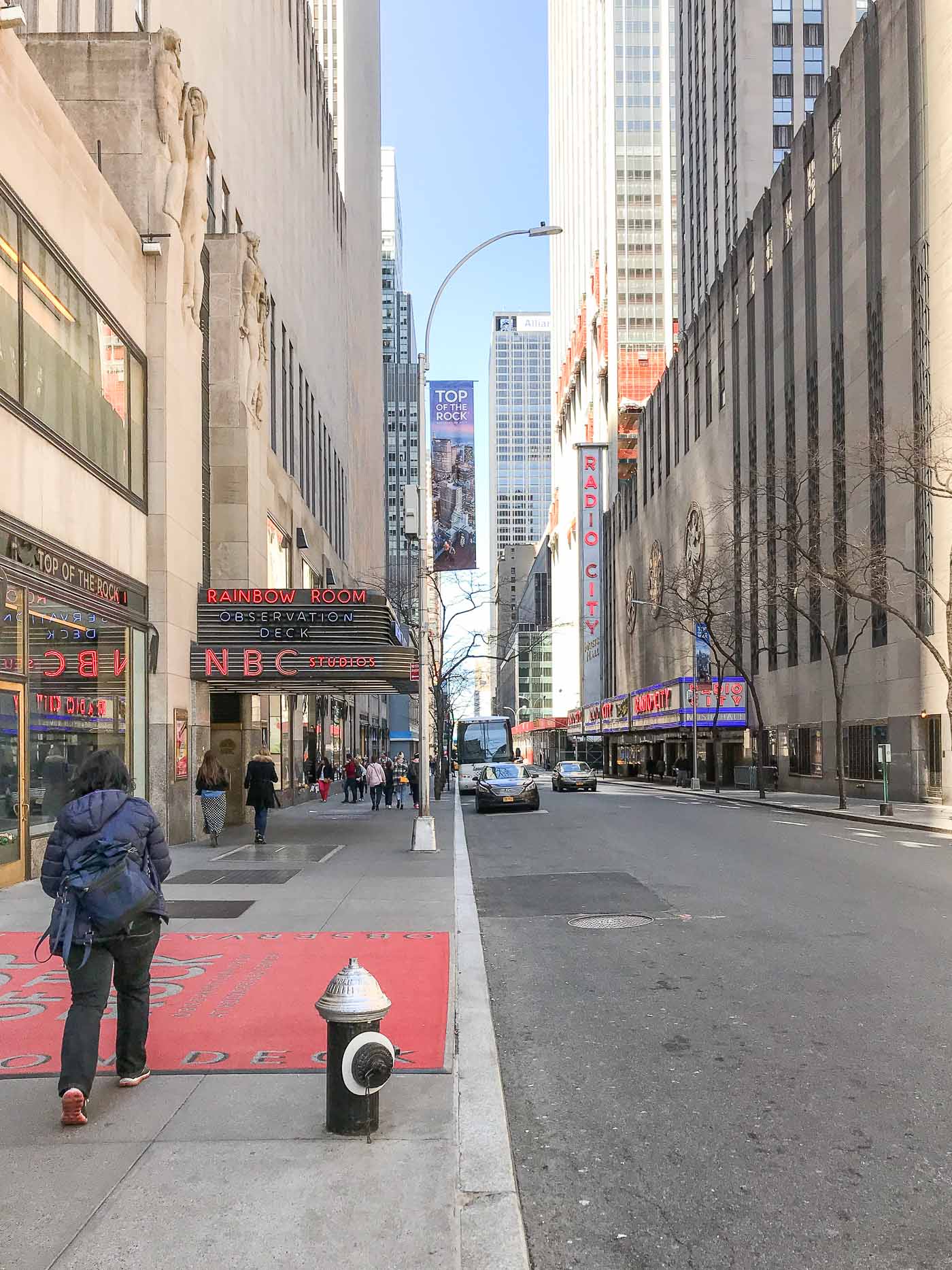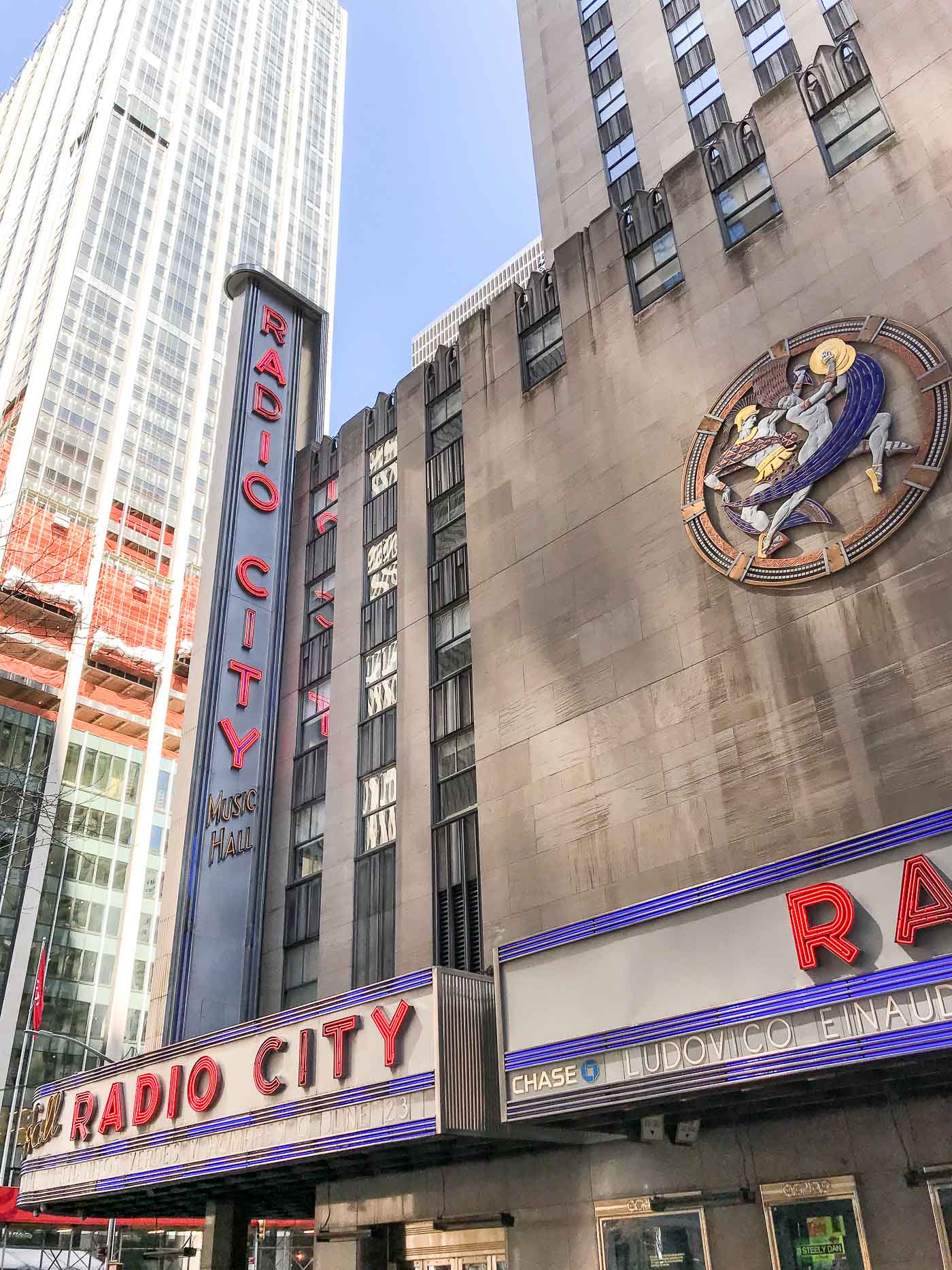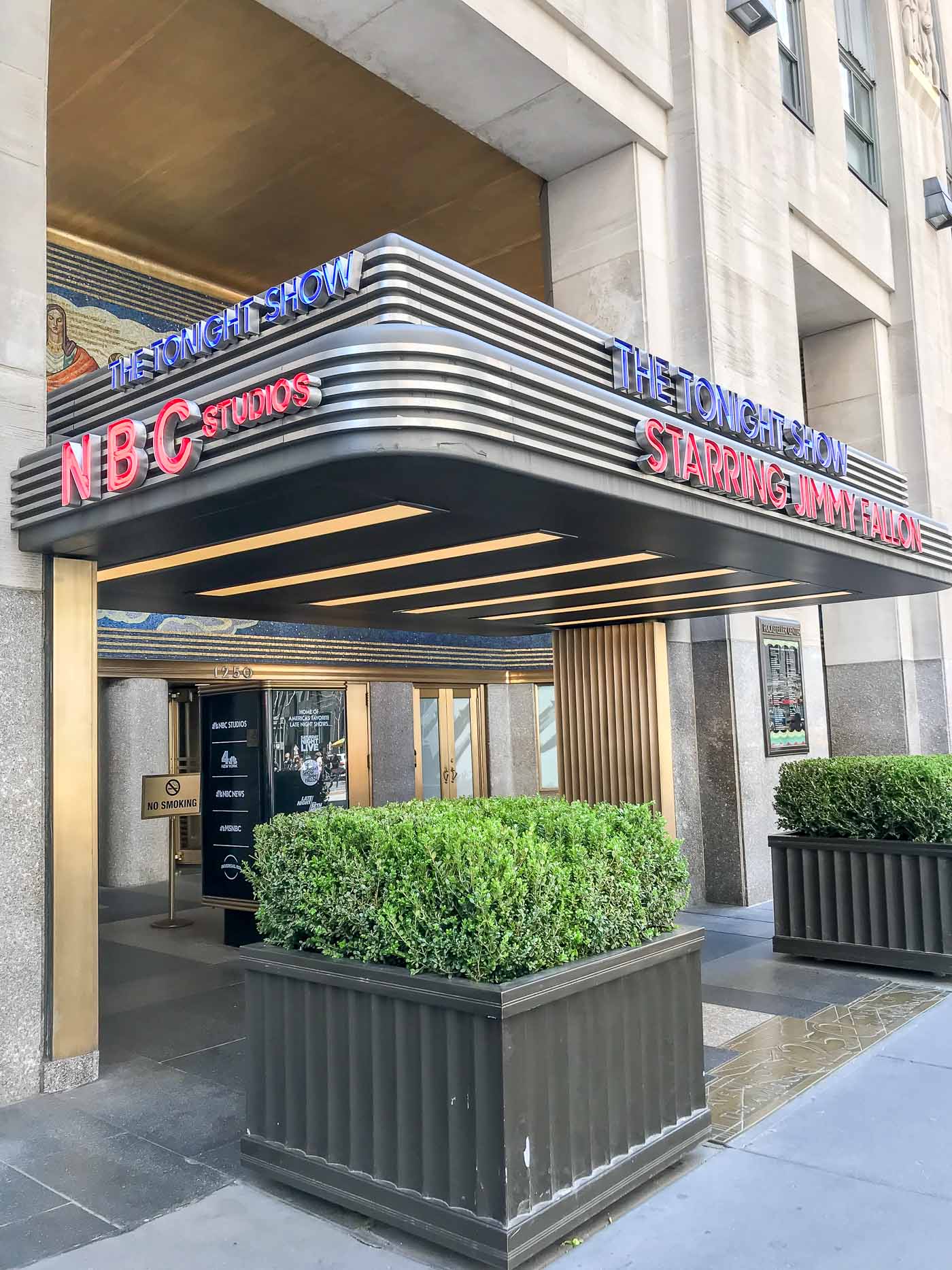 But this is where the highlight of our trip begins. I'll take a break from the Cliff Notes because this once in a lifetime experience deserves the storytelling. This is me, in an Uber, on our way to see Hamilton on Broadway.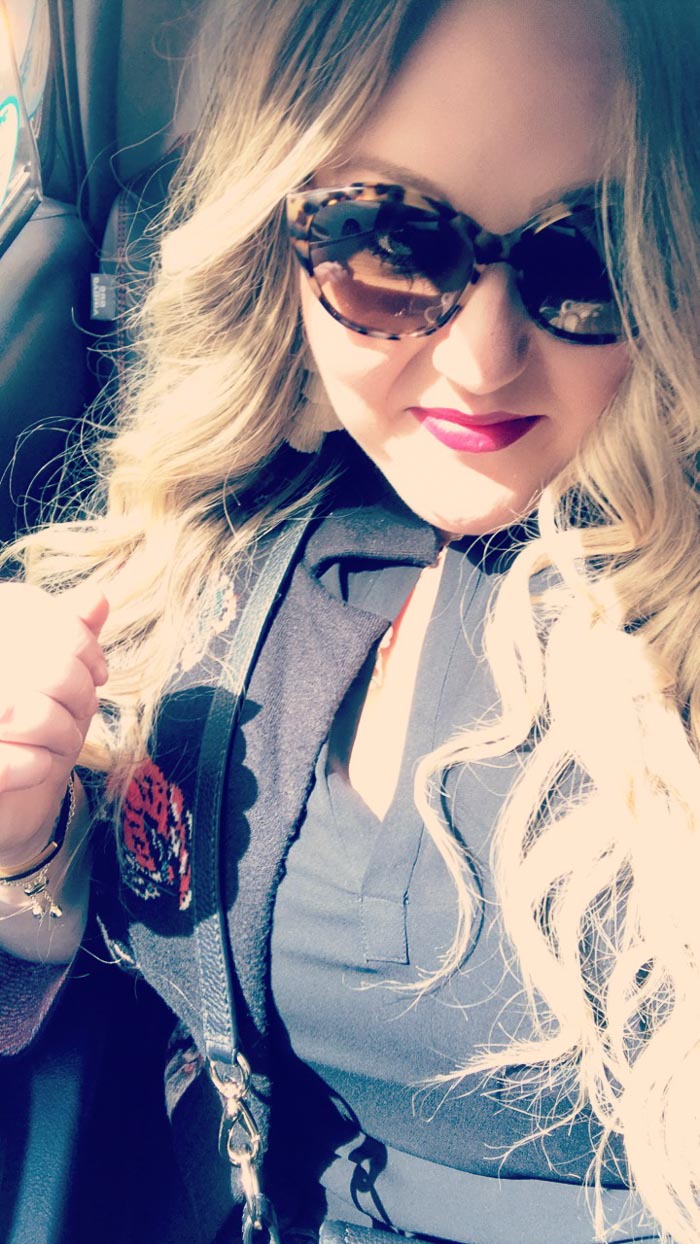 Kate Spade Sunglasses (HUGE discount!) | Knit Blazer  | Lipstick (shade: Rebel) | Tassel Earrings | Choker Necklace
I had a sweet couple reach out a few months ago when I announced we would be heading to NYC in the spring – they happened to be Broadway performers. Not only were they gracious enough to treat us to tickets to the show…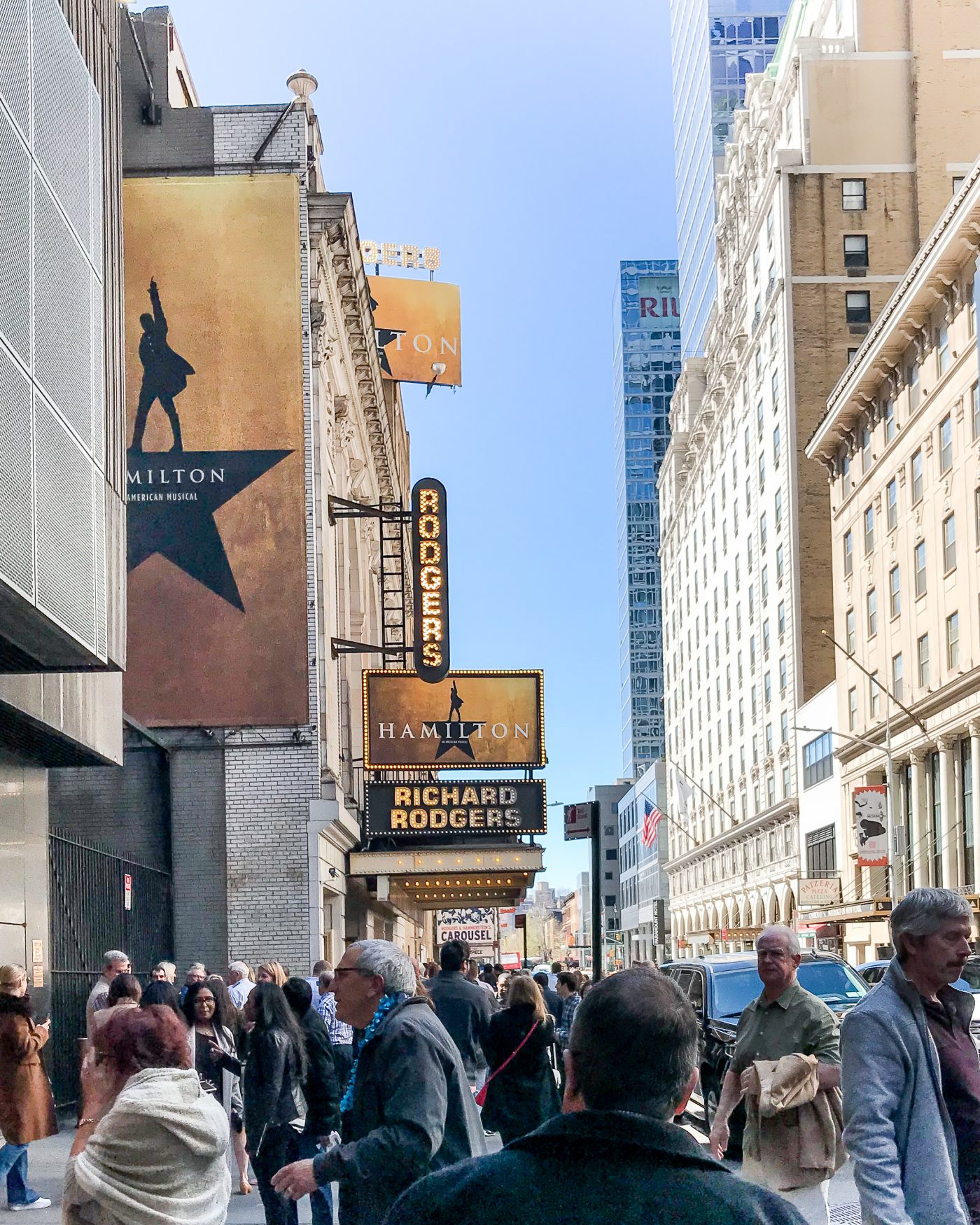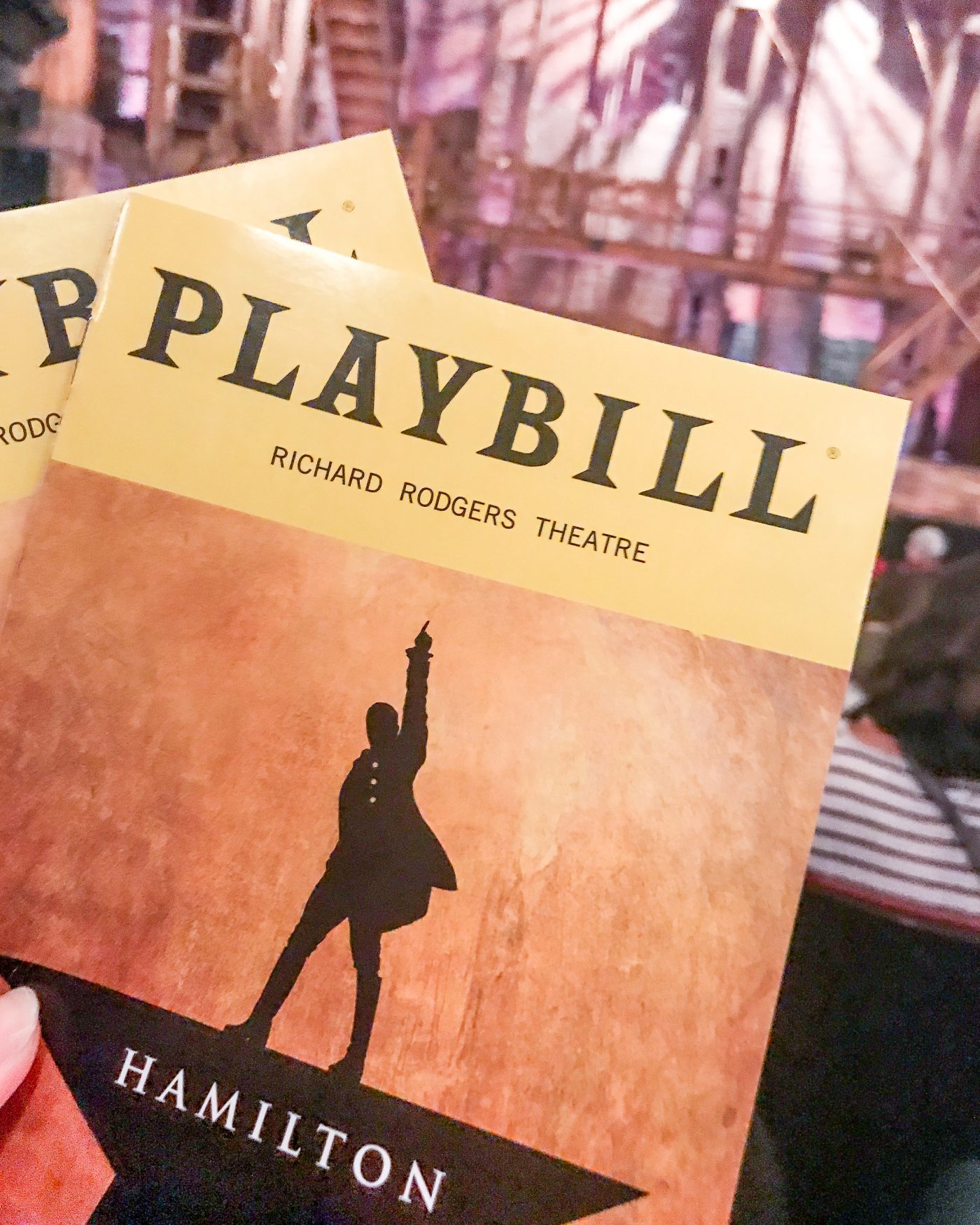 (we were 10 rows back, center, in the orchestra)…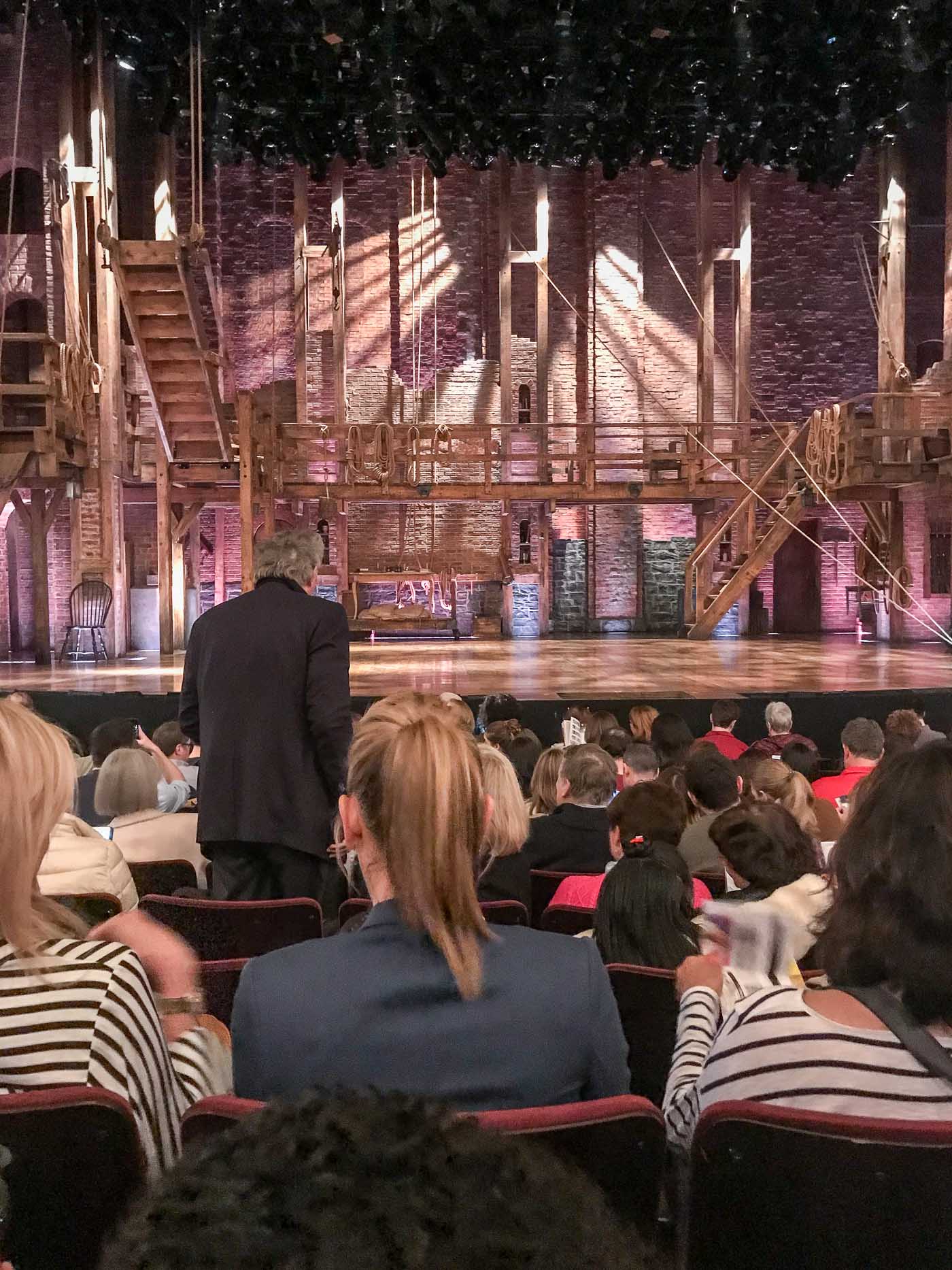 but hosted us backstage after the performance.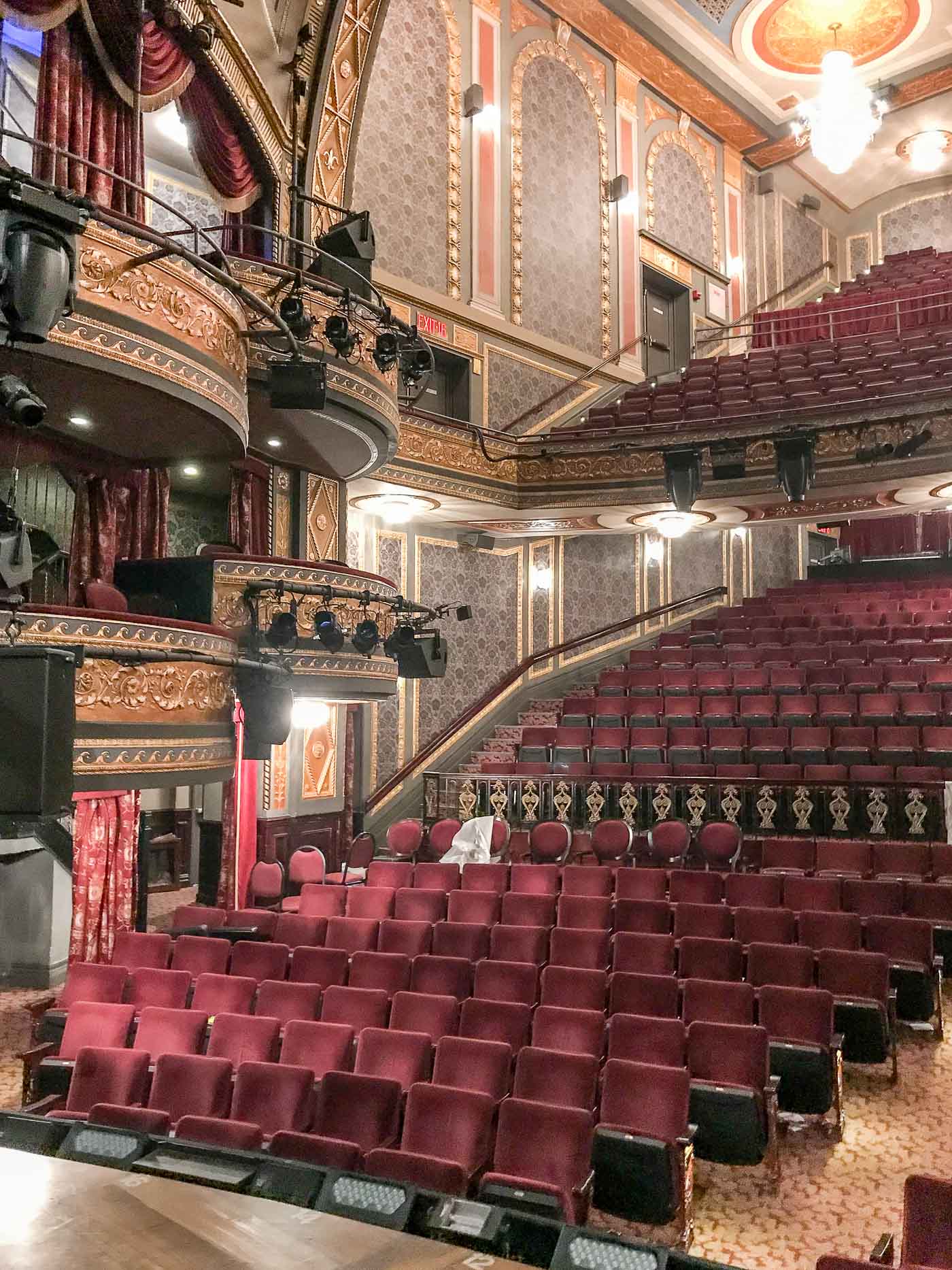 If you've seen Hamilton on Broadway, you may recognize Donald Webber (our talented host) – he plays a few roles, including Hamilton, and on our night portrayed Lafayette/Jefferson. The entire cast is fantastic but he was truly incredible. He made us feel so special and gave us a night we'll never forget.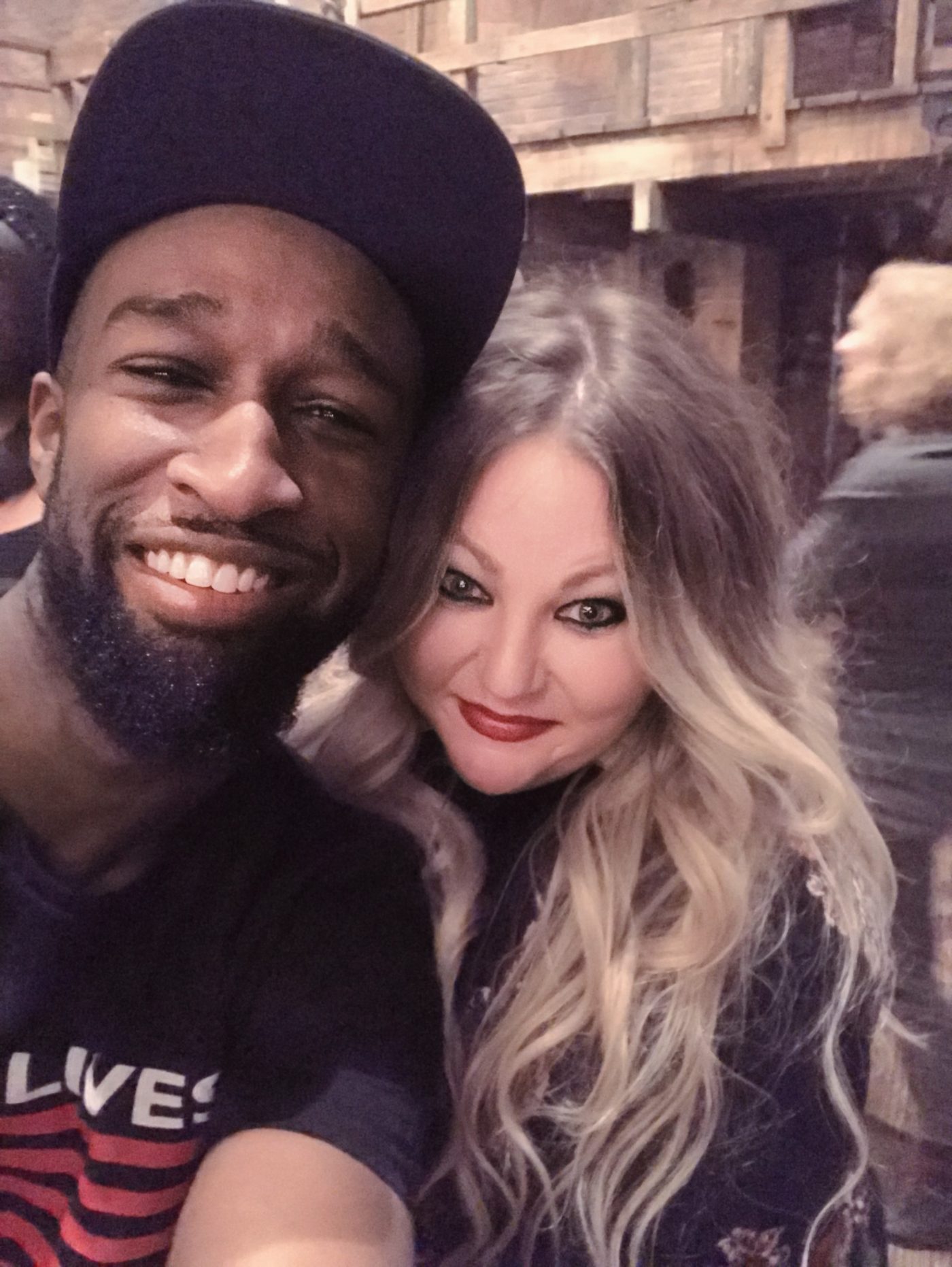 I am so grateful for having been gifted this experience; Donald was kind enough to introduce us to some of the cast – here is "our" Hamilton from that Sunday.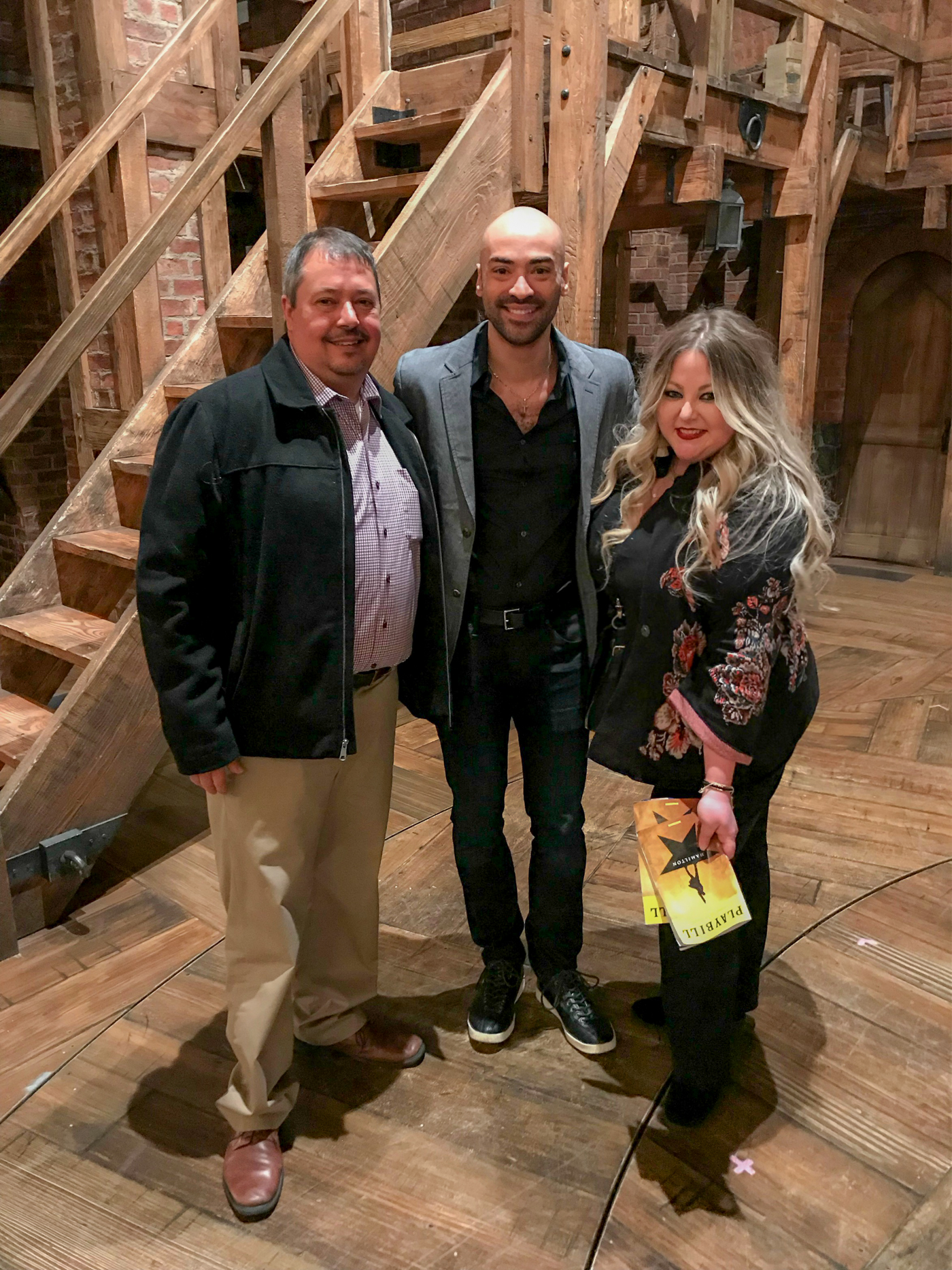 As much as I wanted to ask, I basically just stumbled around the set with a stupid grin on my face. Rebecca and Donald, we can't wait to come back and see you – thank you for everything.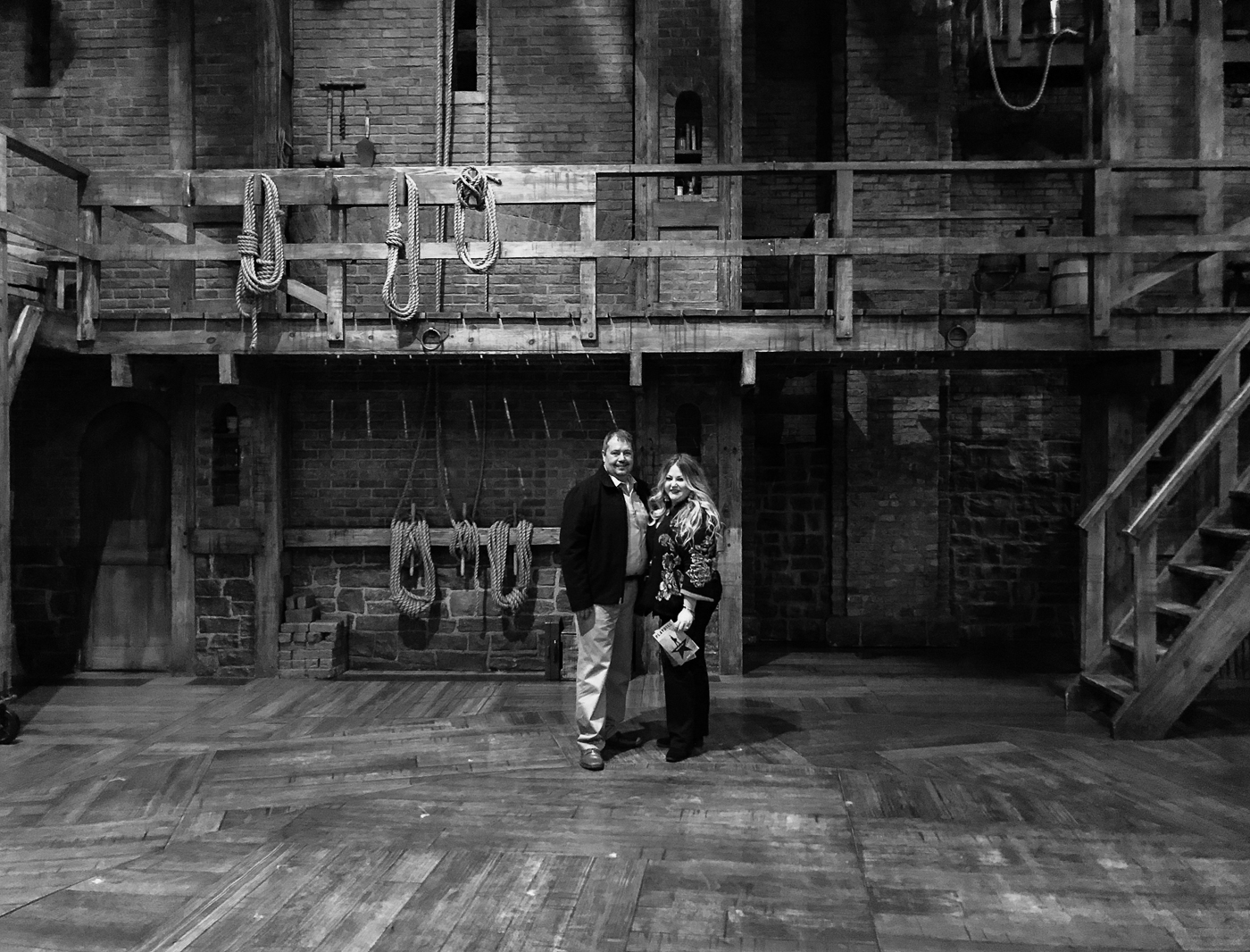 We jetted through Times Square, just enough to take in the crazy impressive displays…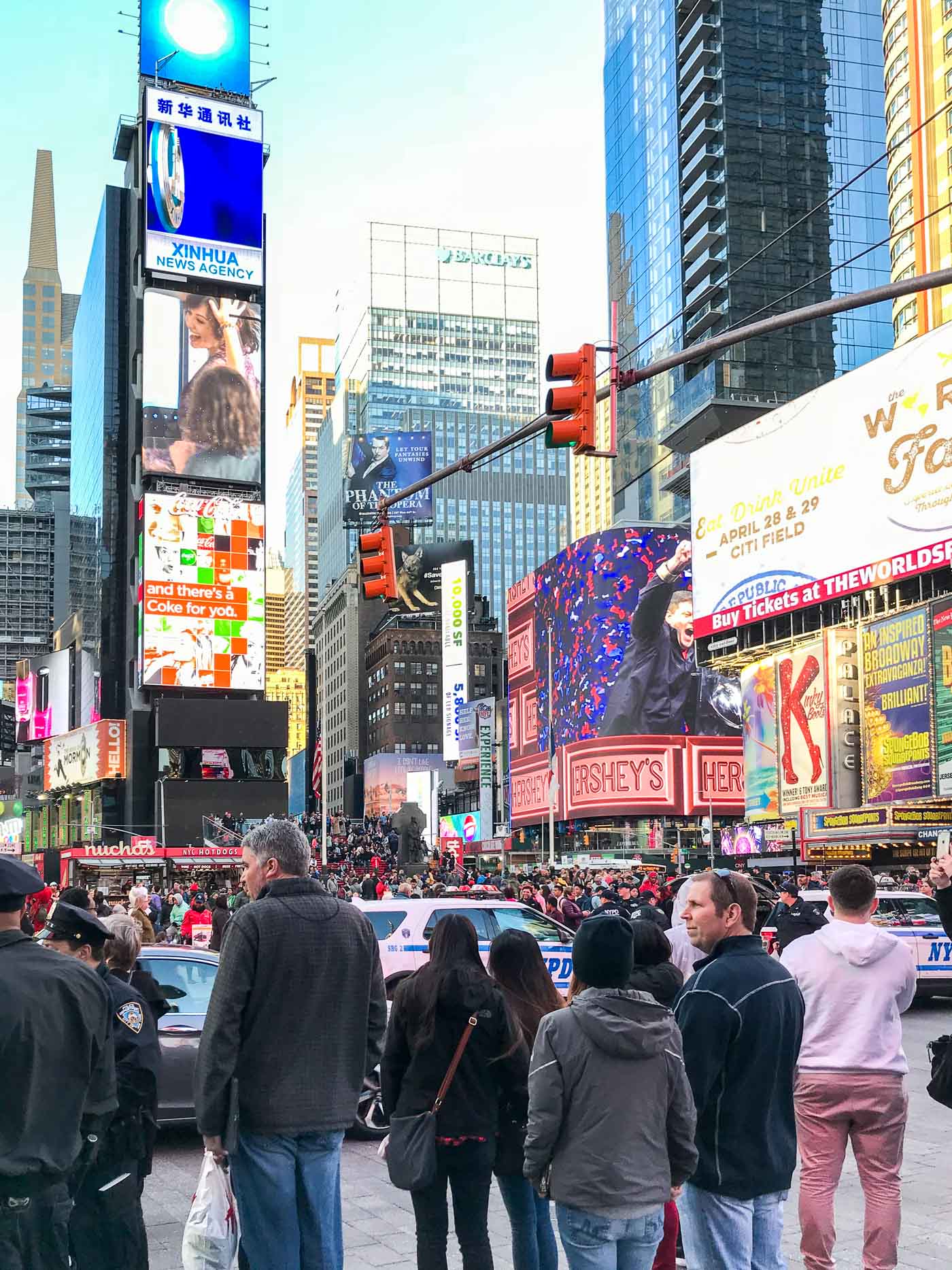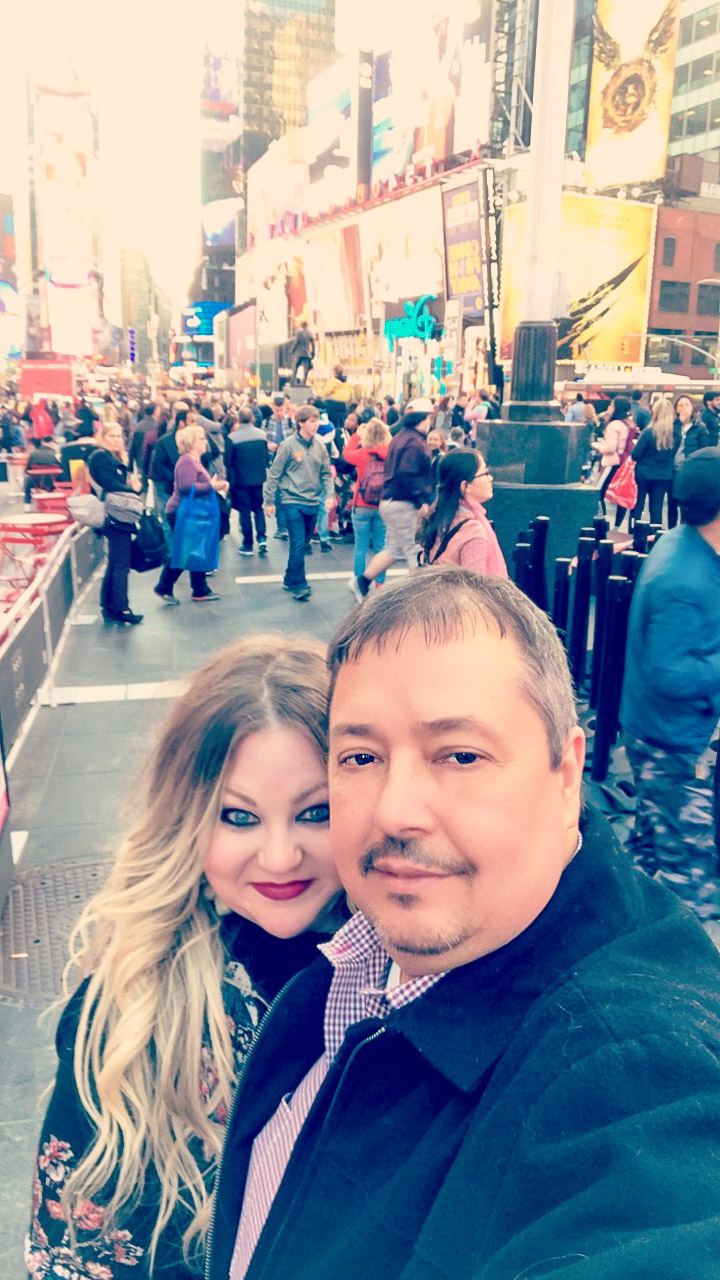 and stopped for Italian, still on a high from our surreal afternoon.
DAY 3 in NYC
We devoted Day 3 to walking more than we've ever walked in our lives. We started in Washington Square Park, noted the NYU buildings…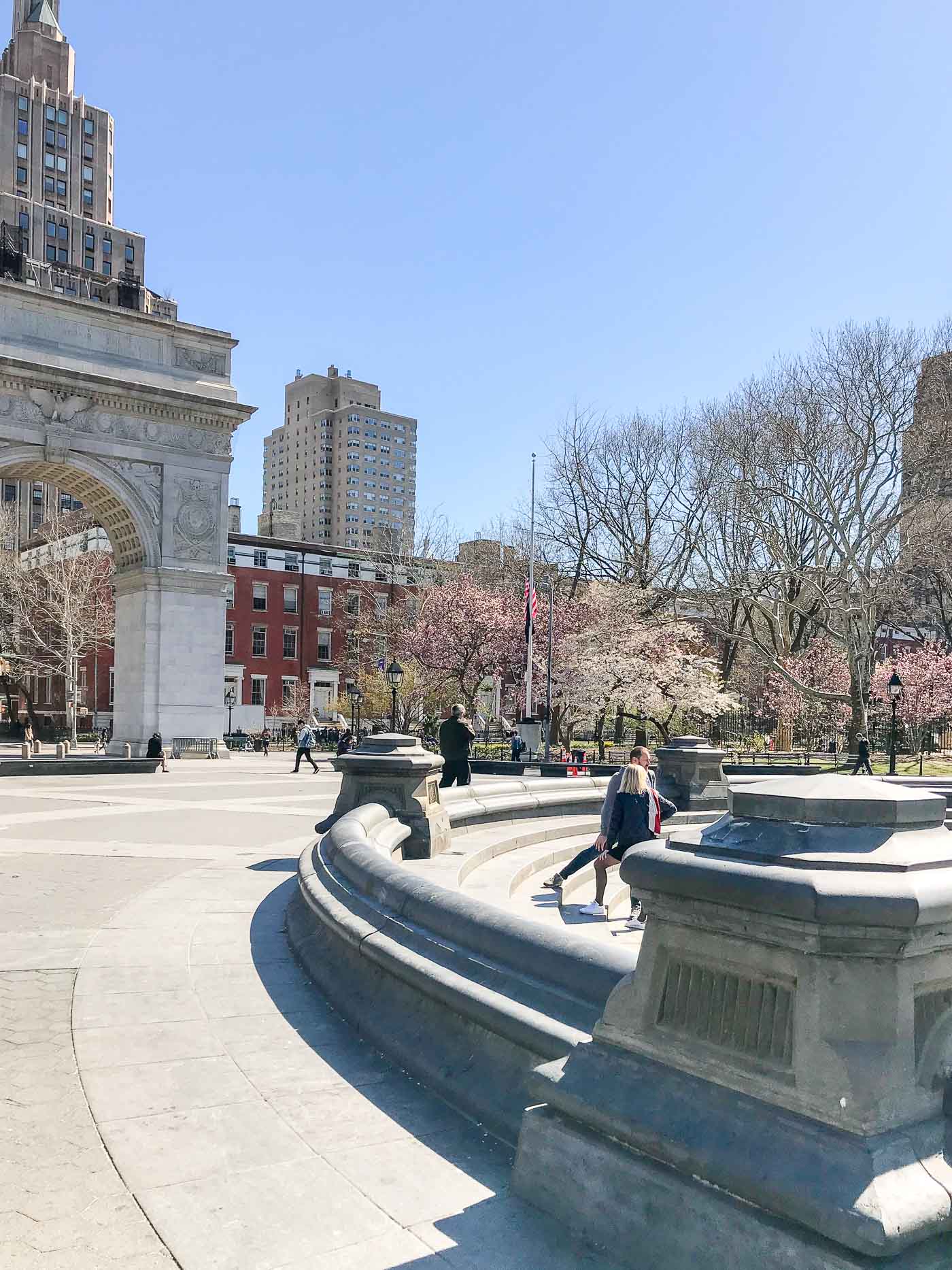 and made our way through Greenwich Village to locate the Friends apartment.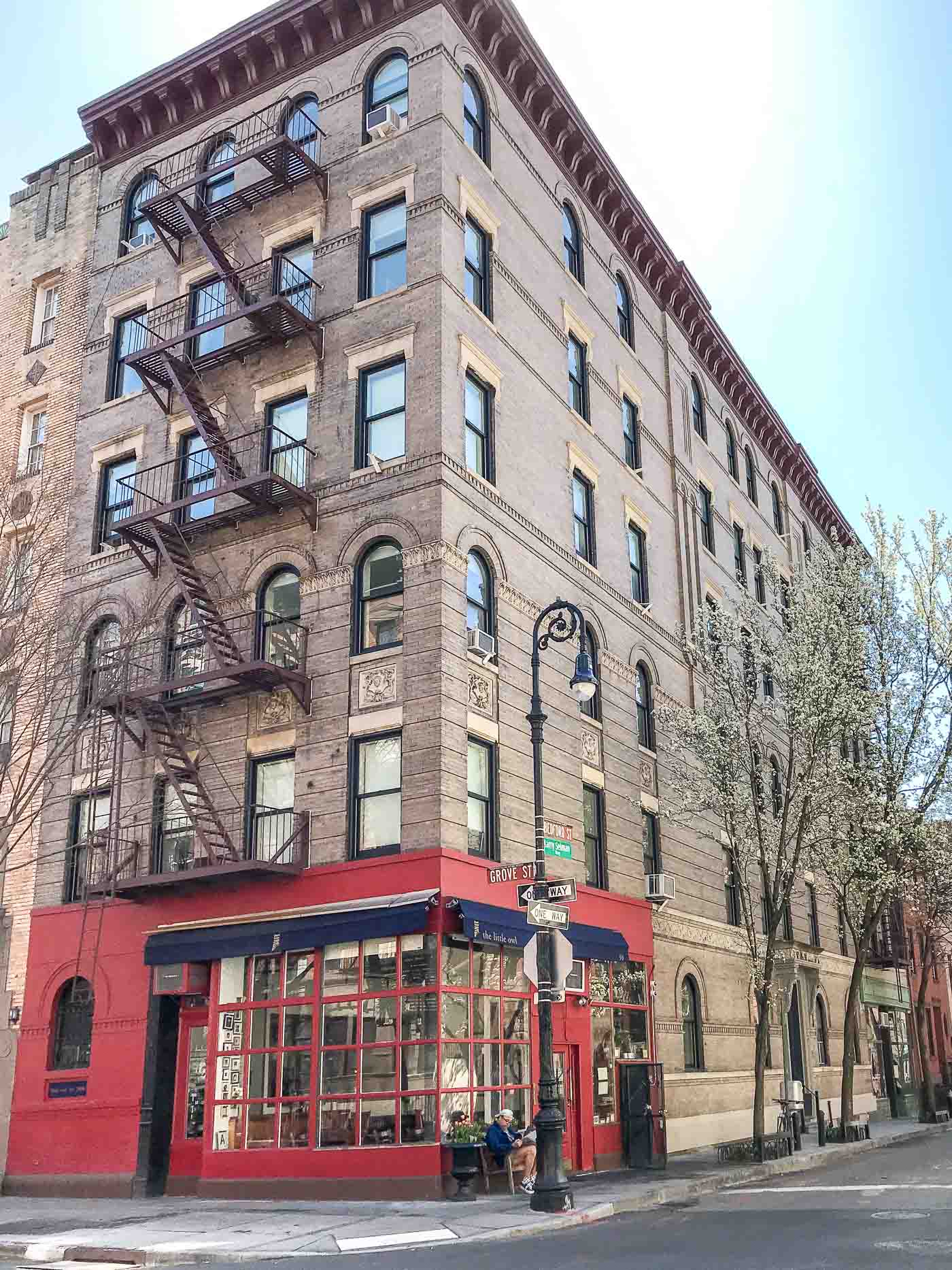 We walked all the villages – Greenwich, West, and East – and stopped for Joe's somewhere in between for one of the best slices I've ever had.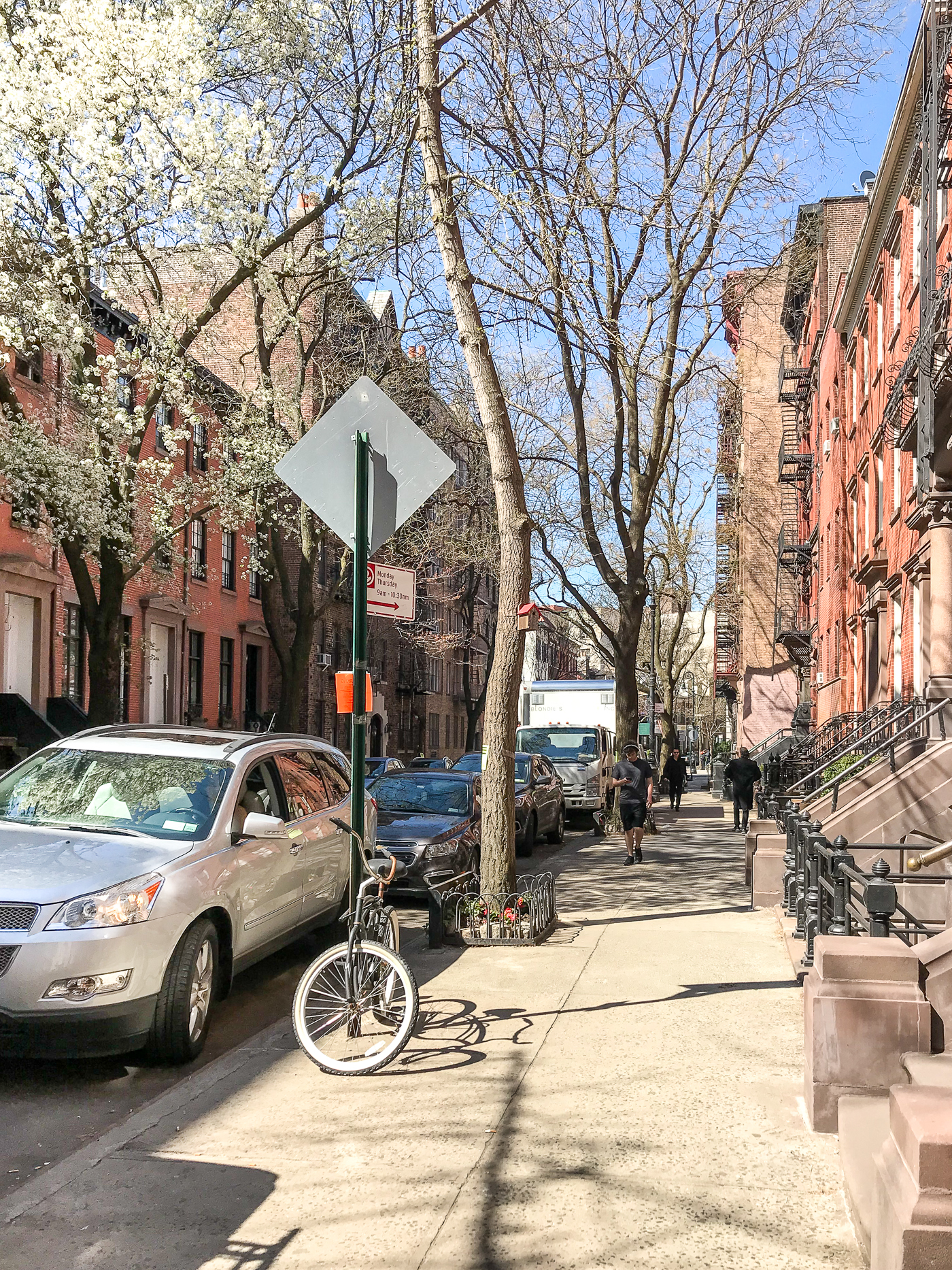 We window shopped through SoHo and broswed booths at a co-op. We politely declined handbags and watches (haha) through China Town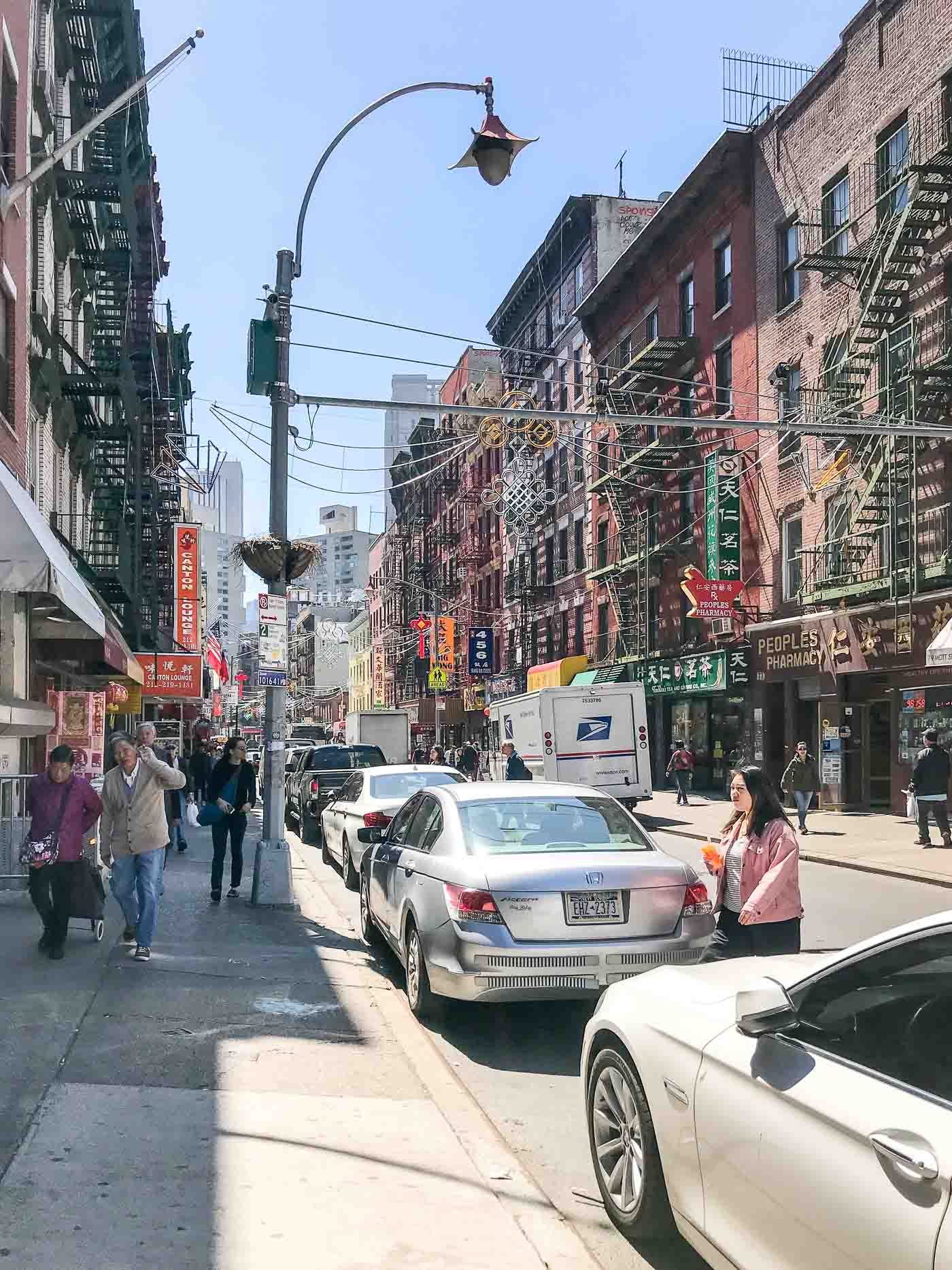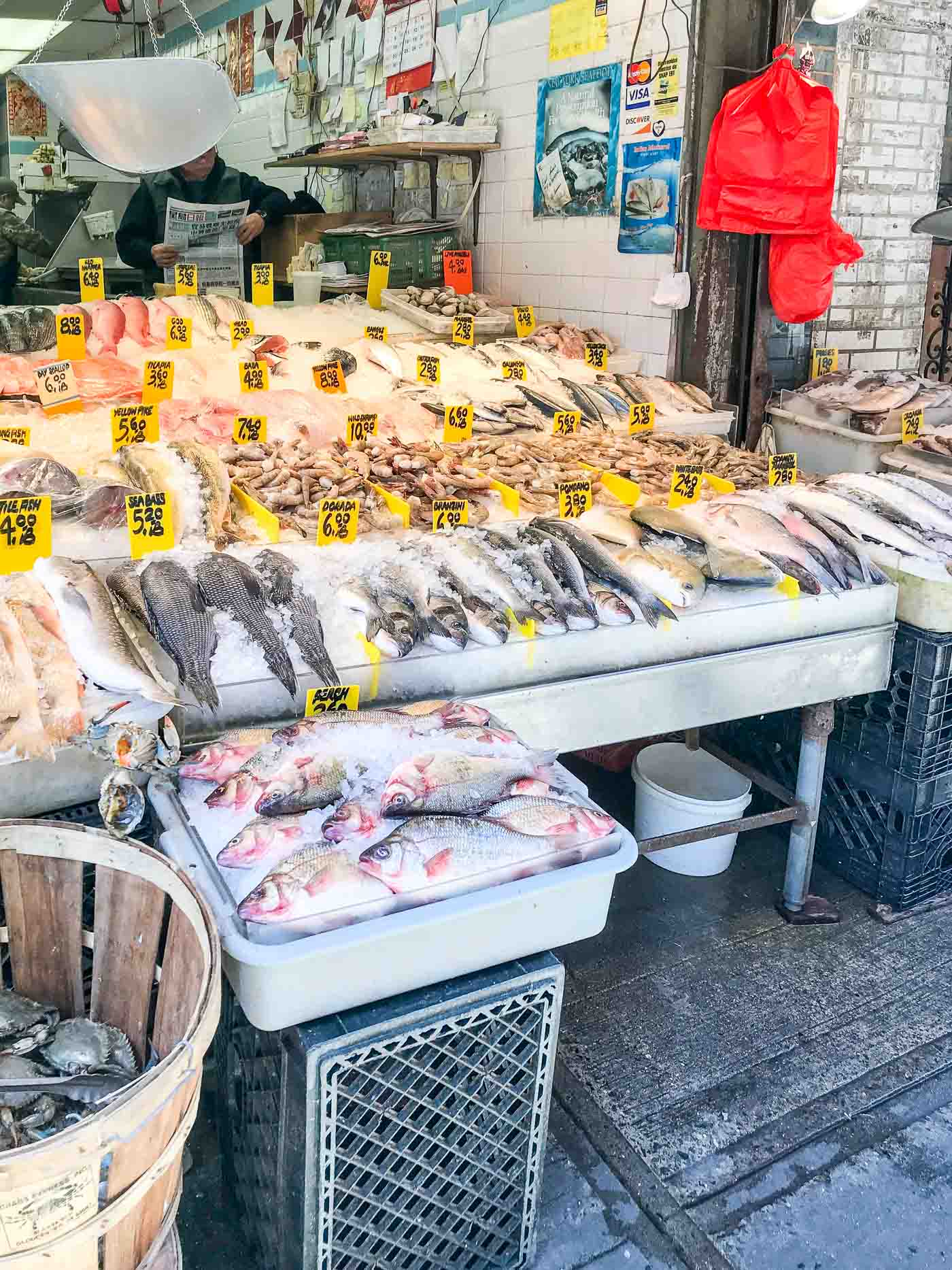 and followed the scents through Little Italy.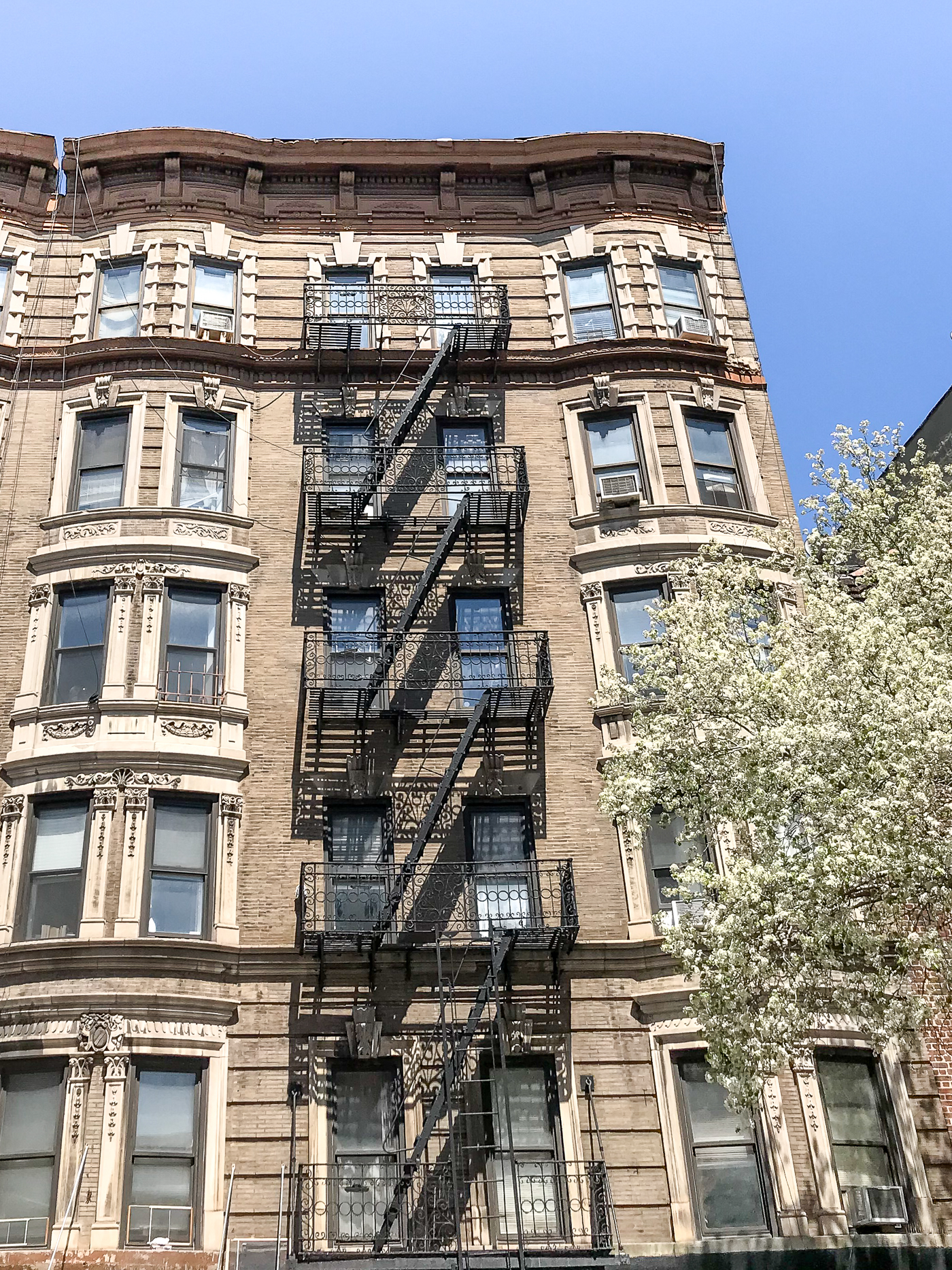 We headed to Brooklyn for afternoon libations and to take in views of the city from Dumbo.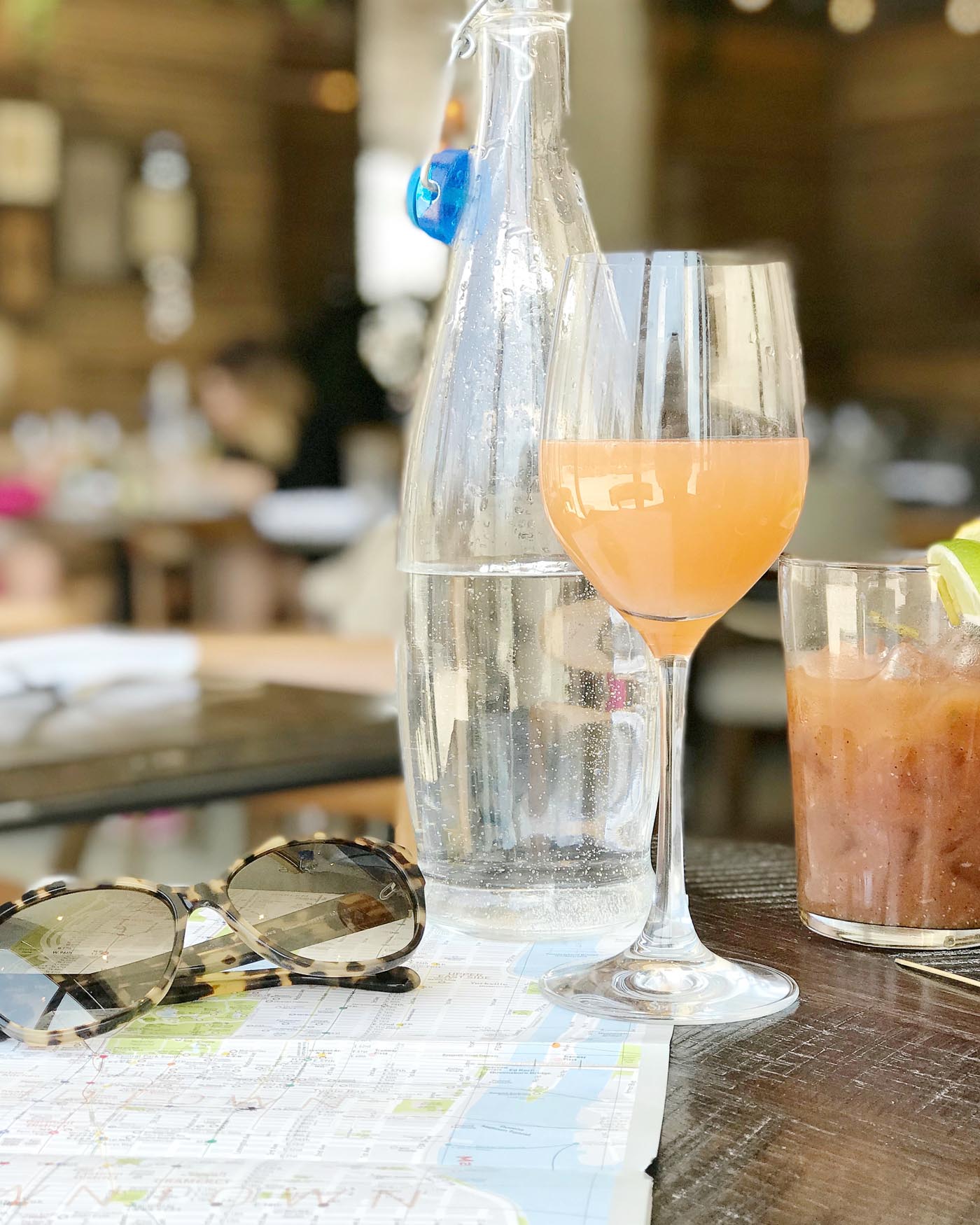 And after we walked along the waterfront, we trekked back across the bridge, back into Manhattan, only stopping to debate artwork along the way.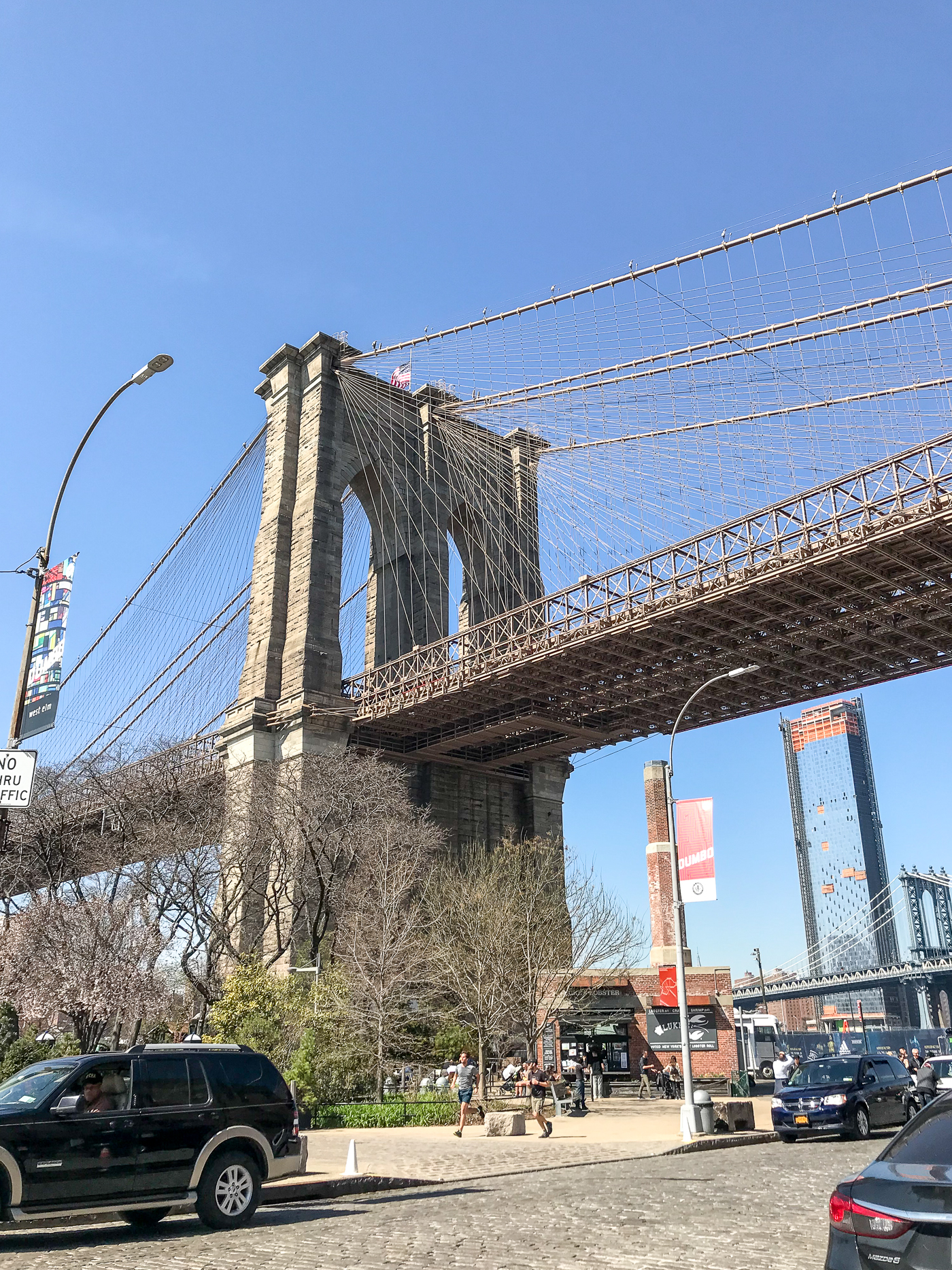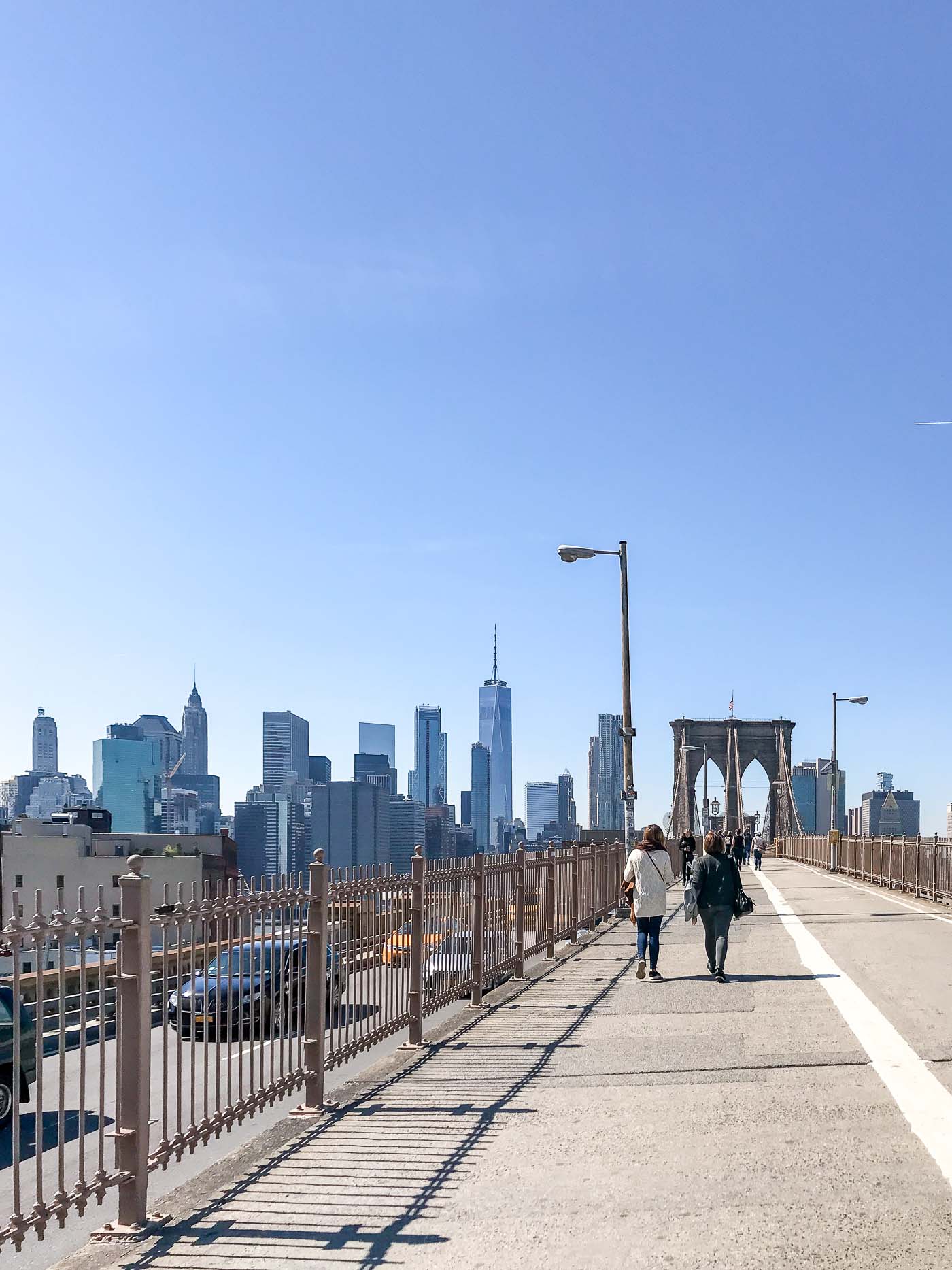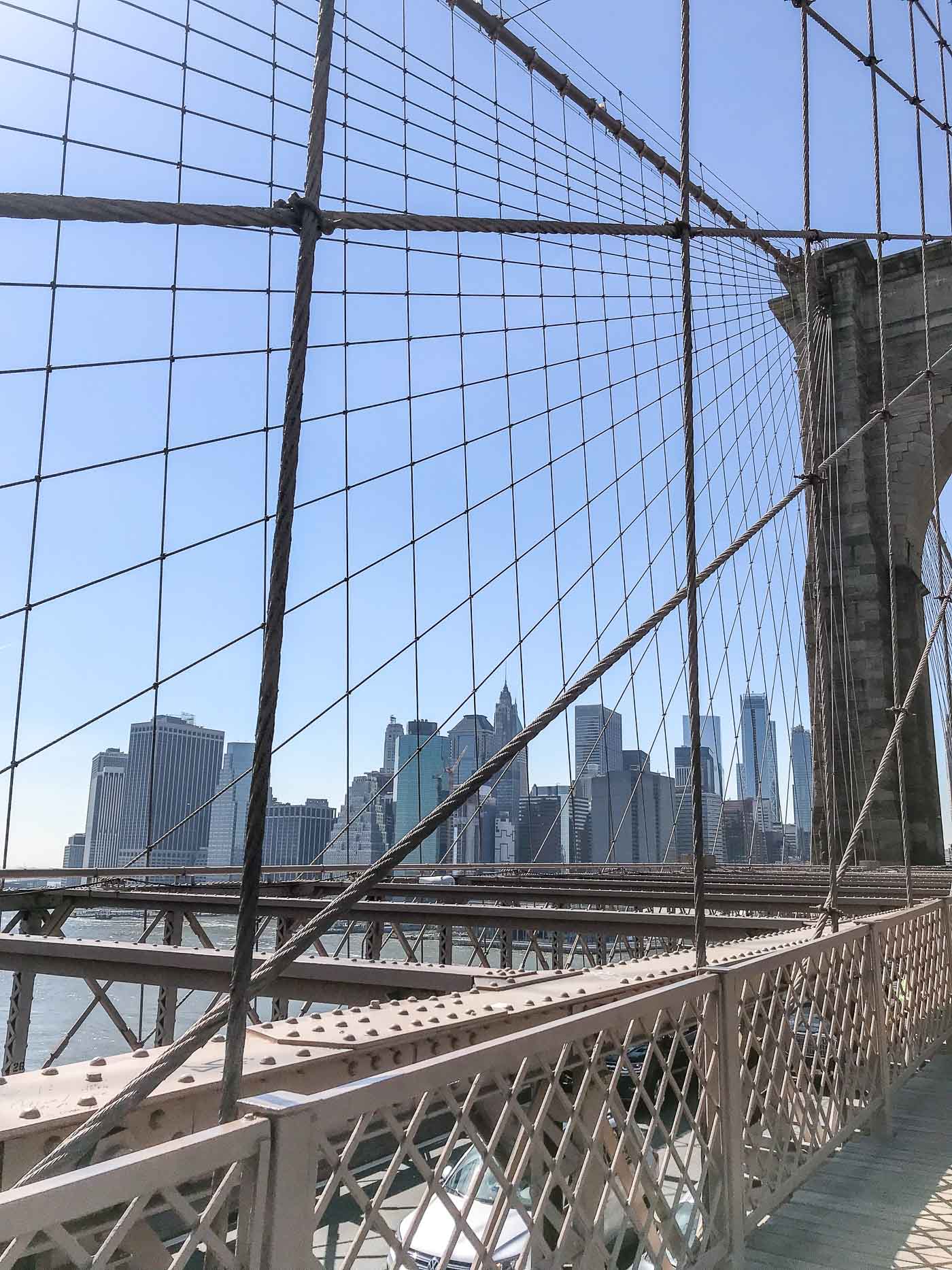 Day 4 in NYC
We experienced the Freedom Tower and reflected on 9/11. We toured the museum for hours…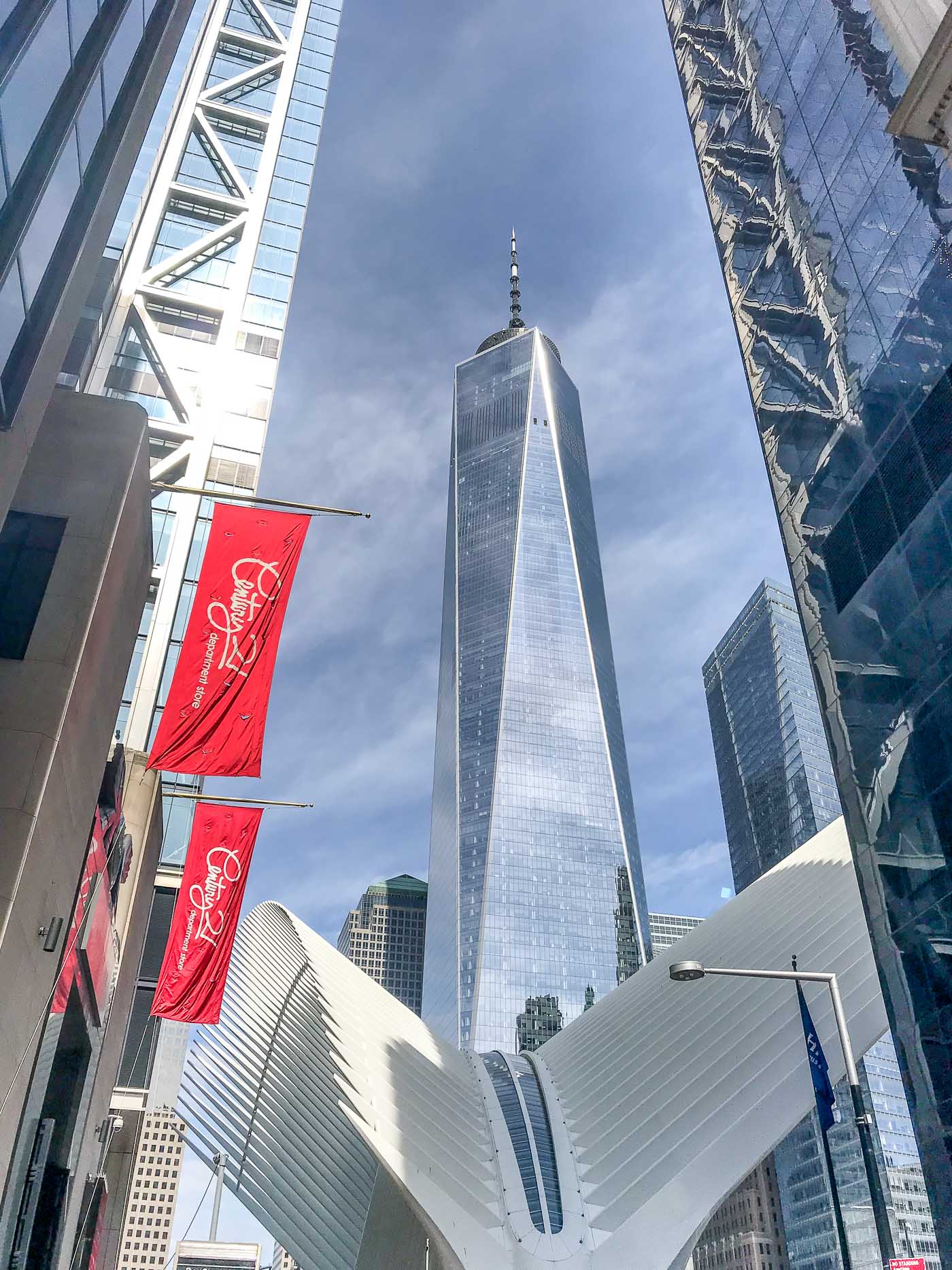 and paid our respects to the two towers and all the lives lost that day. Note: The website suggests two hours for the museum – I suggest at least half a day to really give it the time it deserves.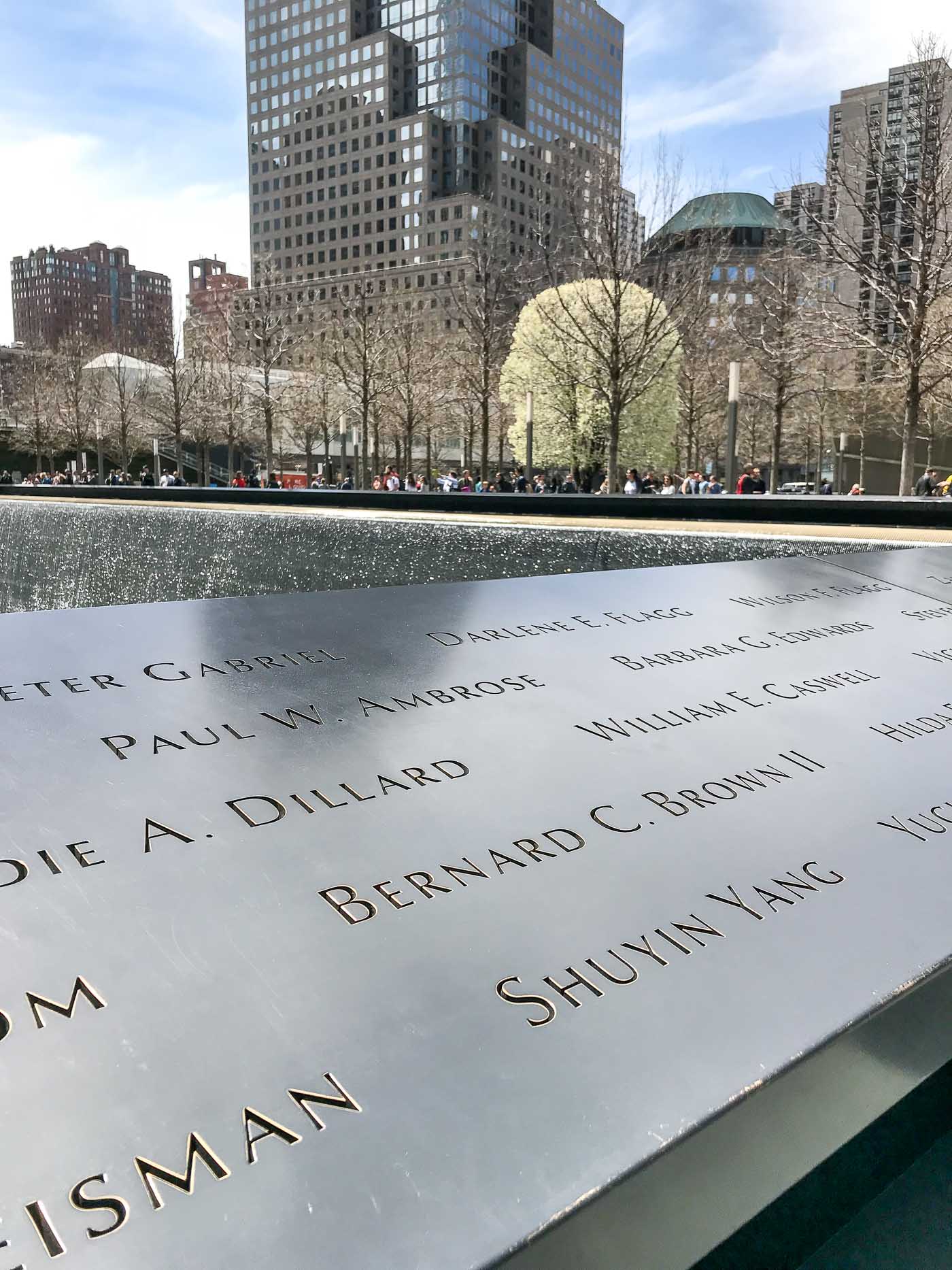 We made our way through old, gorgeous government buildings…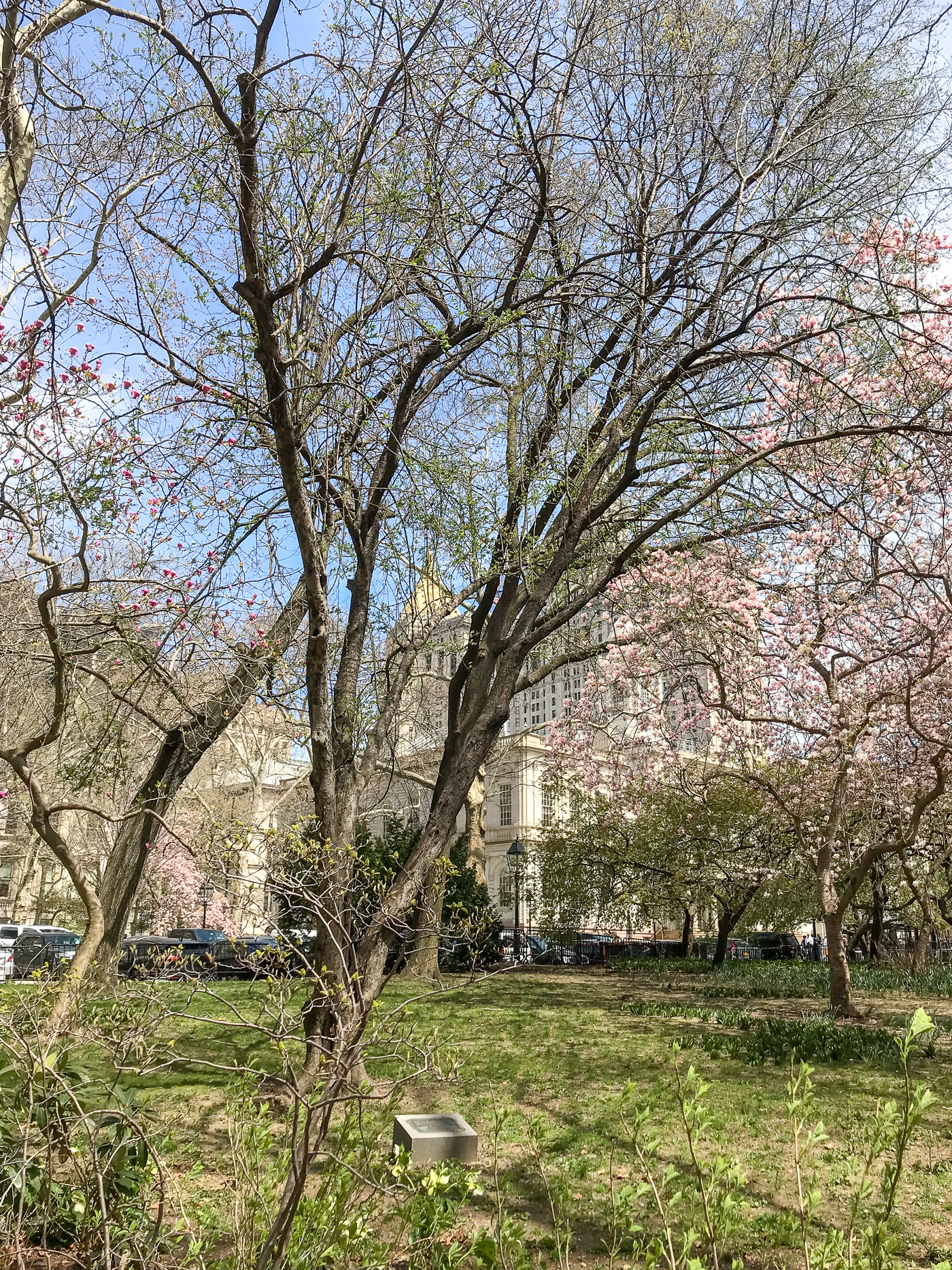 and dipped into a pub for lunch in TriBeca.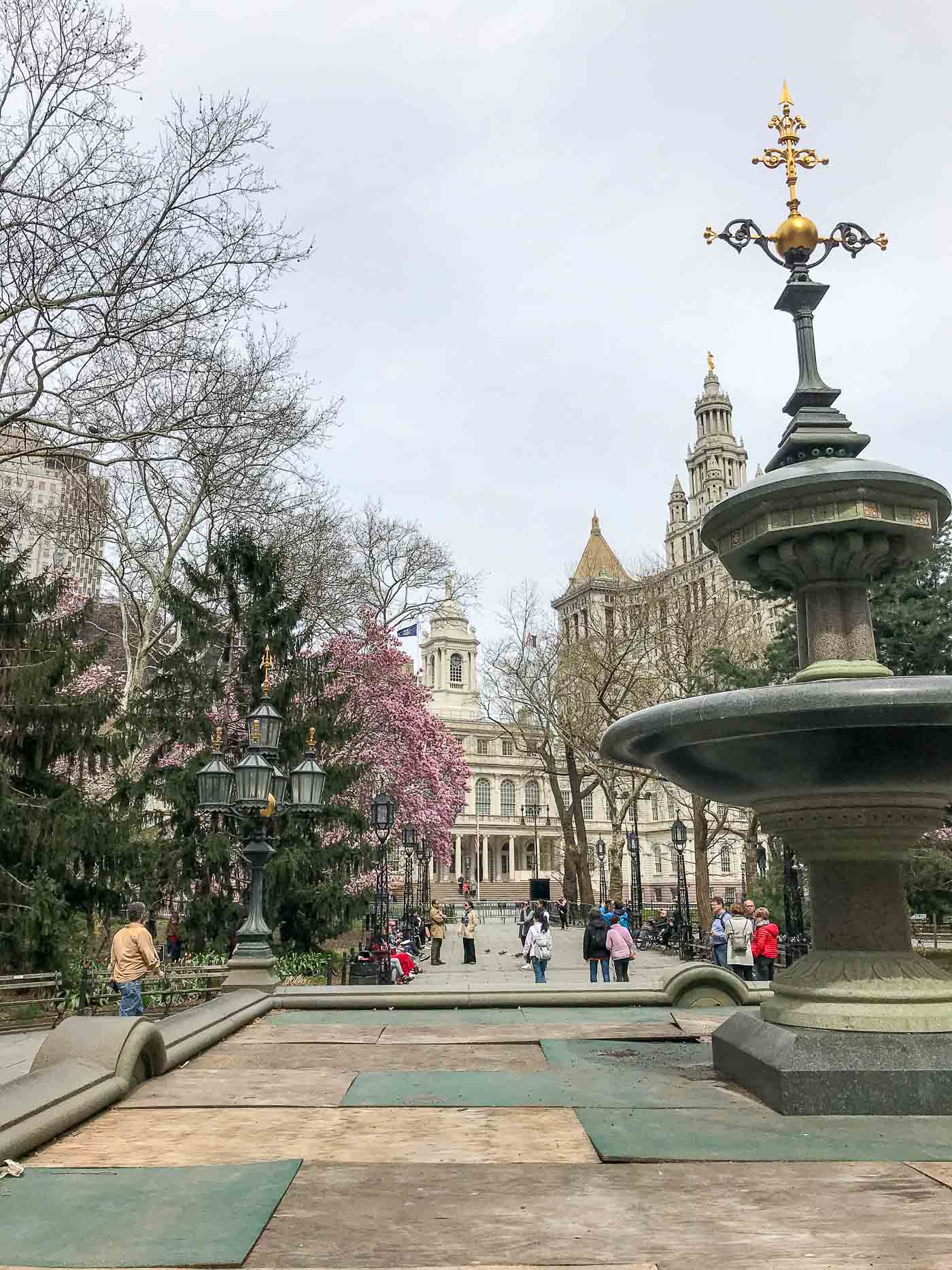 We I cried at the pure magic at the start of The Lion King…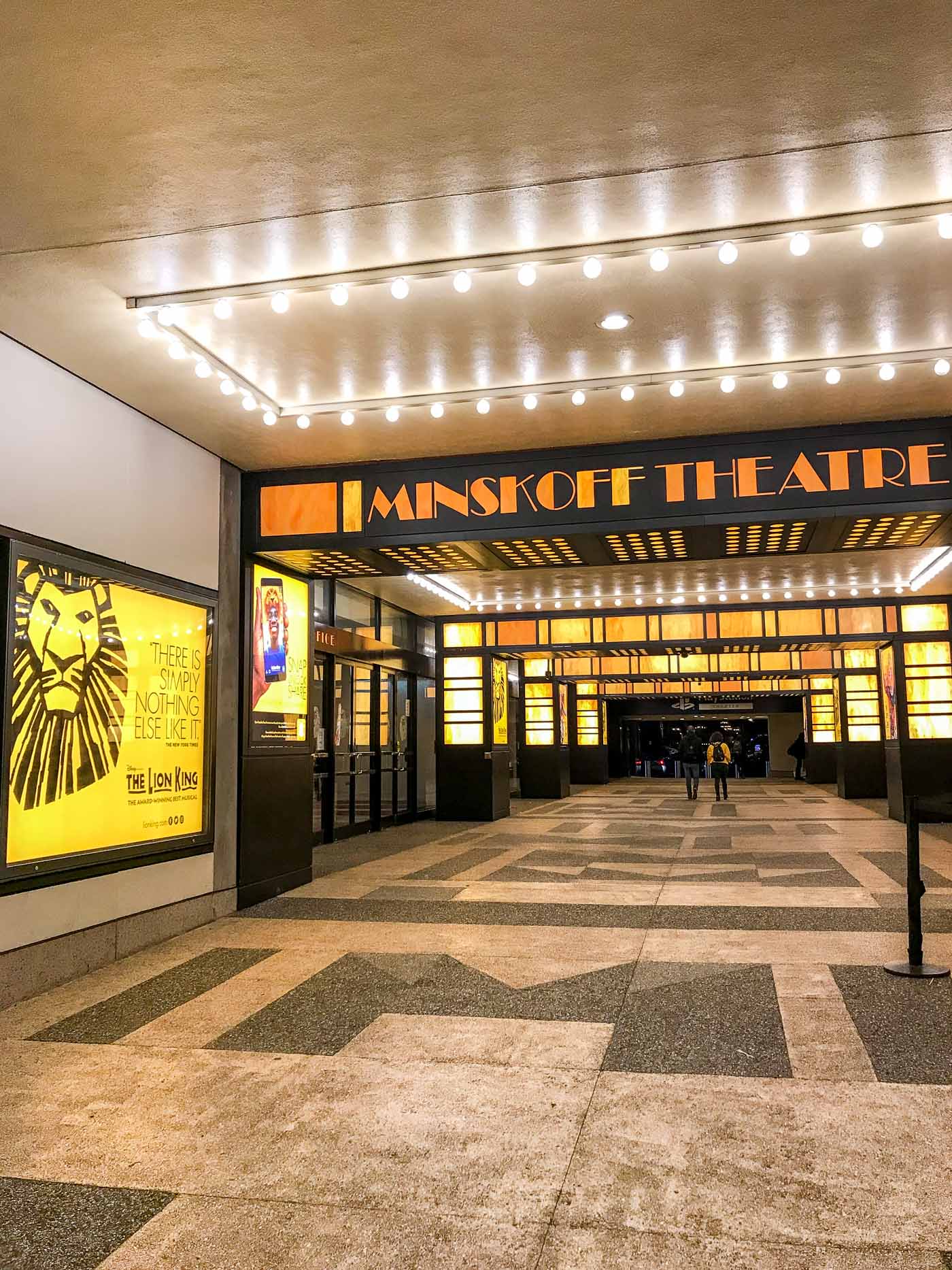 and we ordered late night Chinese for packing sustenance (which we told ourselves was "so authentically New York" 😉 ).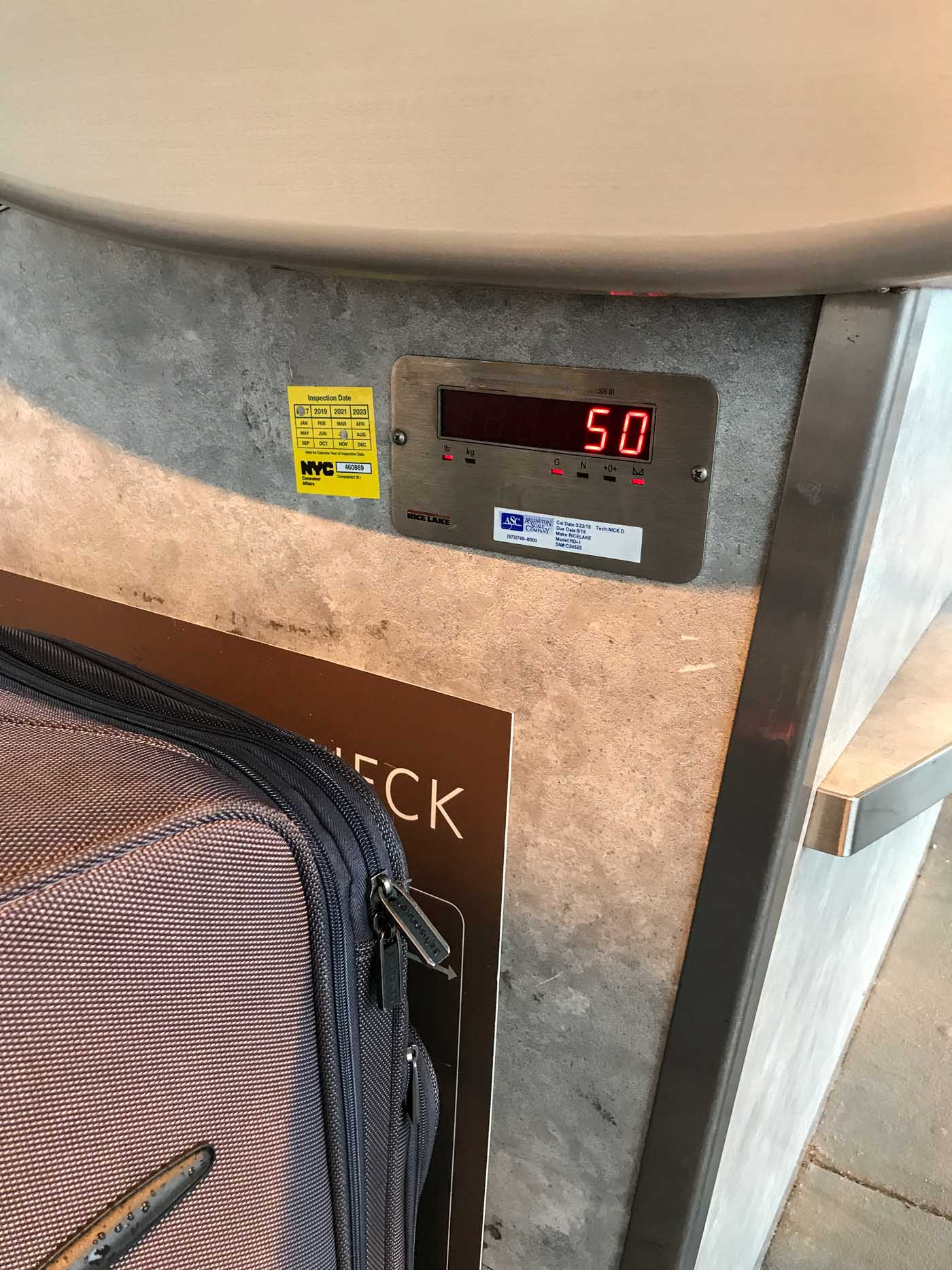 With two 50 lb. bags, we flew home with zero souvenirs (I was shocked, too) and a lot of memories. When we visit a place for the first time, it's less about reservations at the best restaurants and more about quick discoveries along the way, in the middle of our adventures.  Or, let's be honest, grabbing a late Chipotle dinner across from the hotel to satisfy the requirement of eating before heading to bed for another day of cruising around as far and as much as you can. (Joe's pizza ((ok, and Shake Shack)) were the only two places on "the list").
We already can't wait to get back; we will for sure, once again, take in multiple shows and concentrate on "going deeper" now that we've experienced a huge "skim" of the city. Have a favorite NYC spot? Share in the comment section below.
If you aren't already, be sure to subscribe to updates below and never miss our adventures- both home and travel 😉
NYC Trip Favorites & Essentials
Scroll & Tap to Shop

Wanna See Other Travels?