Something I don't share much about is that while it may look like we may look like we are living the life based on the flowers, tables, and room makeovers, my husband and I work a LOT. I work a standard full-time job outside of the blog and while I LOVE everything I am able to present and create for my little space on the web, not a weekend/night goes by that I'm not working on it. For it to keep going, I have to put the bulk of my time I'm not working my regular job into creating for KELLEYNAN.com. We are also total homebodies. We love cooking at home, having date nights at home… we truly love being here (which is why I chose to make my home my canvas 😉 ). So, coupled with busy schedules and tackling all life brings our way, we realized earlier this year that we had not taken a week off work together for a vacation since our honeymoon over four years ago.
We had originally planned a week in New England to celebrate our anniversary but again, I realized as time drew closer there were just too many projects to make it a practical decision. While we couldn't swing a week off this year (note: it is already on the schedule for 2017), I knew we could make it a priority to take a couple of days to get away. And, there is no where else I would rather retreat to within driving distance than my favorite city – Charleston.
While it is my absolute favorite city, my husband had never been to Charleston. I couldn't explain to him enough how it was made for anyone who loves to eat, loves to walk, and loves history. Basically, Charleston is packaged up for us perfectly. If you have been, I know you can relate to why it holds such a special place in my heart. If you have never been, put it on the bucket list – it is an easy place to travel with minimal planning. You must go! I wanted to take advantage of the limited time we had so we committed to staying on the move. We left our house at 5:00 a.m. on Sunday morning and arrived at 11:00 a.m. Here's what we did.
DAY ONE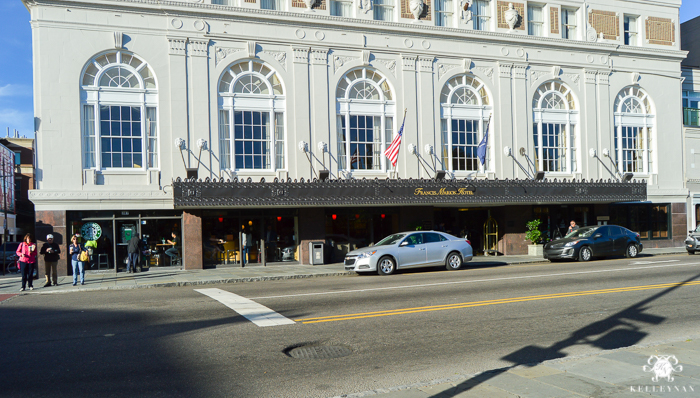 This was my first time staying at the Francis Marion. What I knew prior to visiting is that it was on King Street (THE shopping street of Charleston), was historic (a must when staying in this old city), and had a Starbucks attached. Sold.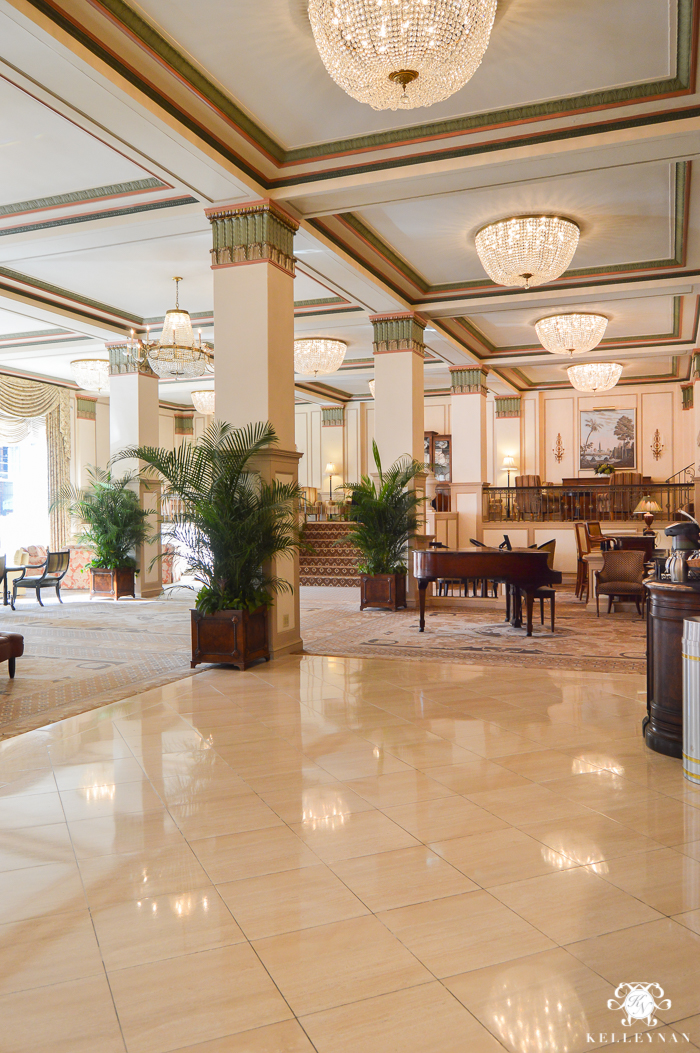 We were early for check-in so we dropped our bags and took a quick peek around. After scanning the lobby I knew I was going to love my home for the next two days.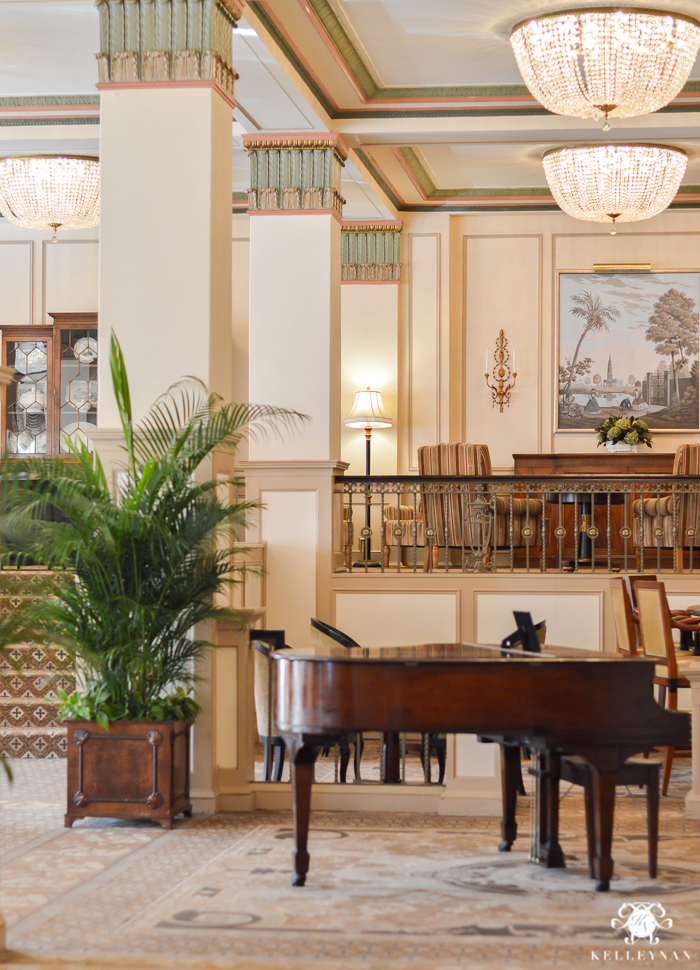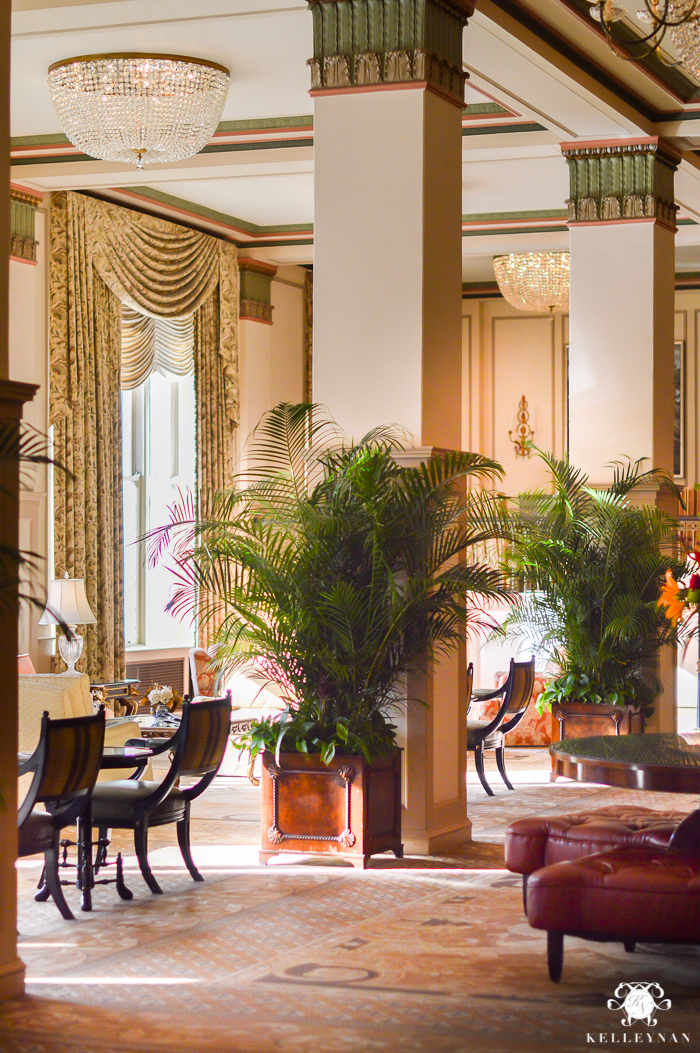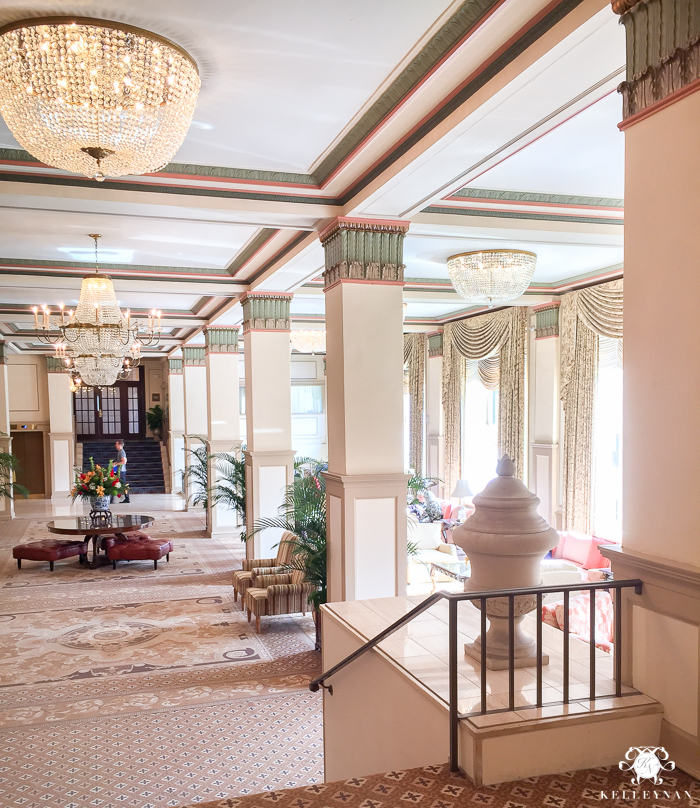 While they outfitted us with all the modern amenities (more on that a little later), they have preserved the history since the hotel was built in 1924.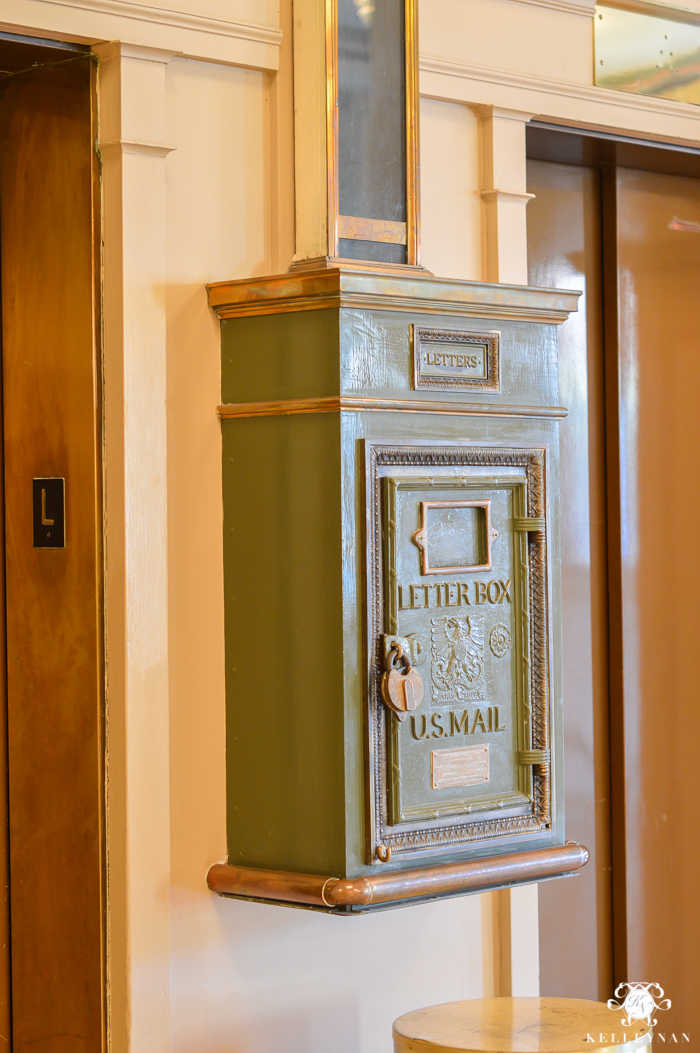 We made our way down King Street to one of my favorite lunch spots. As I mentioned, Dave has never been to Charleston, but he also has never been to Savannah. This was the first time he had ever seen gorgeous coastal history in the deep south. Spanish moss draping the trees and historic manors everywhere.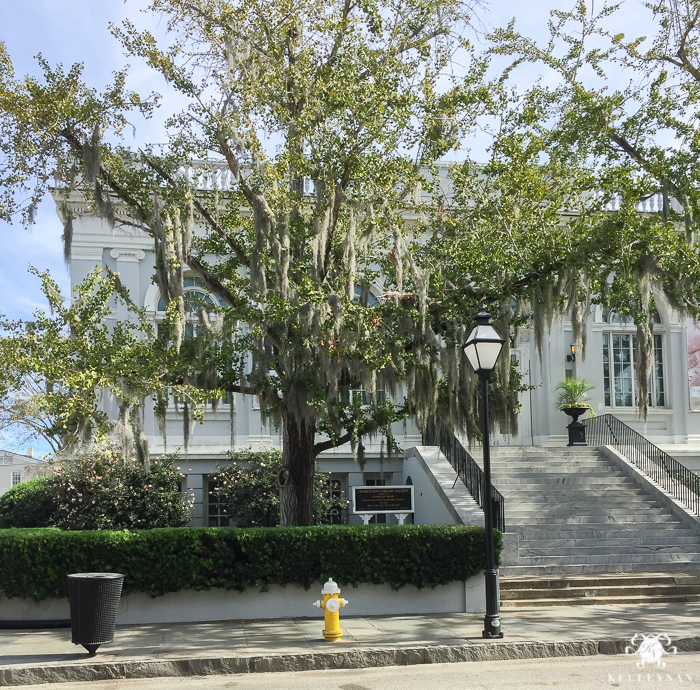 In addition to the architecture, the outdoor florals are pure art. The window boxes are always a favorite but I fell in love with this fountain turned planter, filled with ornamental cabbage outside of Husk.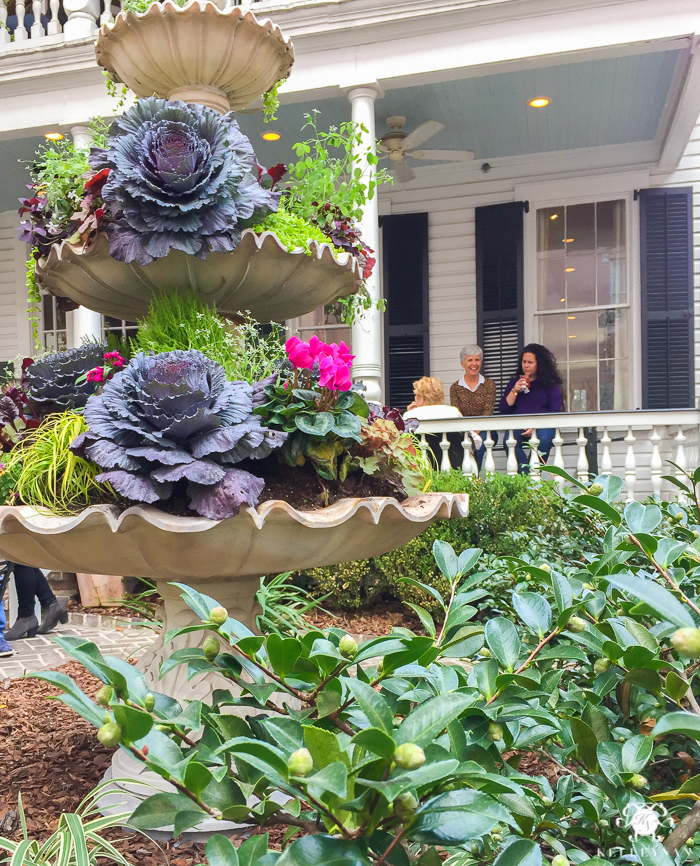 While we waited for a table at Eli's Table, we toured through an art gallery next door. Note: we are not art aficionados but LOVE looking at abstract pieces and explaining to the other what we "see" as though we are experts haha
The must-eats (or at least for me as I have ordered them every single time I have visited) are the fried green tomato stack (with pimento cheese, balsamic vinegar, and tomato coulis) as an appetizer, and the grilled cheese. We split both and while they are famous for their Bacon Bloody Marys, we stuck to the standard (and requested the bacon.) Something to note is that the customer service and friendliness in Charleston is unmatched. Yes, I live in the south but "southern hospitality" isn't like it once was. We didn't visit a single restaurant or store during our visit where we didn't feel like they were happy we came. It's truly refreshing and will help make your days even more positive.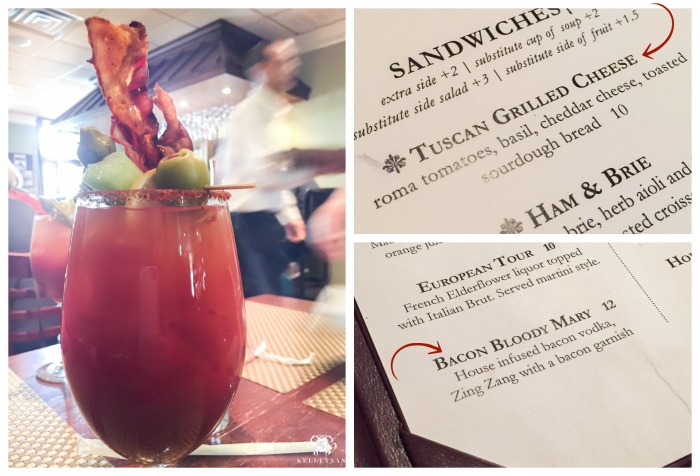 After lunch, we walked down to the Market. Over the years, I have purchased leather goods; handmade items; art; pralines; and spices, rubs and marinades. I have never purchased one of the sweet-grass baskets for which Charleston is famous, but watching so many artisans weave them is inspiring.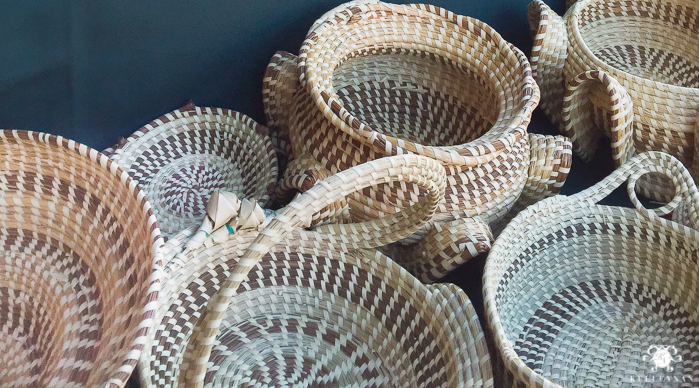 We sampled some fudge, candies, and sweets on our way back to King Street and while I tried to control myself in the stores and boutiques, I may have lost myself a little bit in Kate Spade.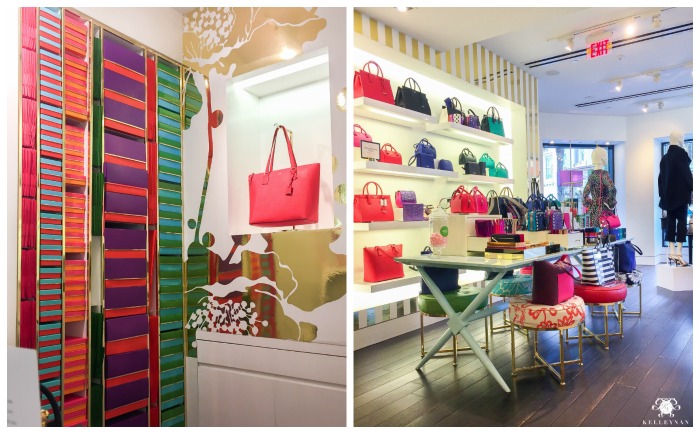 Remember during my ORC Office Makeover Reveal when I posted this beauty? (PS: I can't even believe it- she is originally almost $400 but is on sale right now for $265!) We also had a more than great time in Aldo when we both picked out some new boots (HERE). (I have since ordered the tan pair, I loved the black so much.)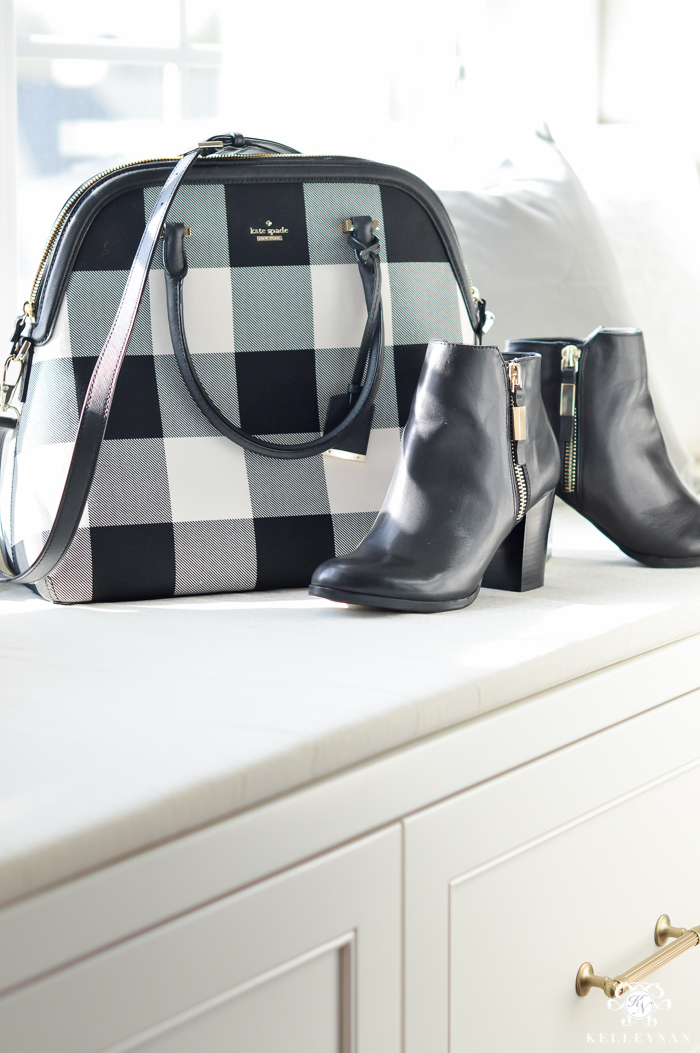 With our hands full, we made our way back to "our home" and checked in. Here's a peek 😉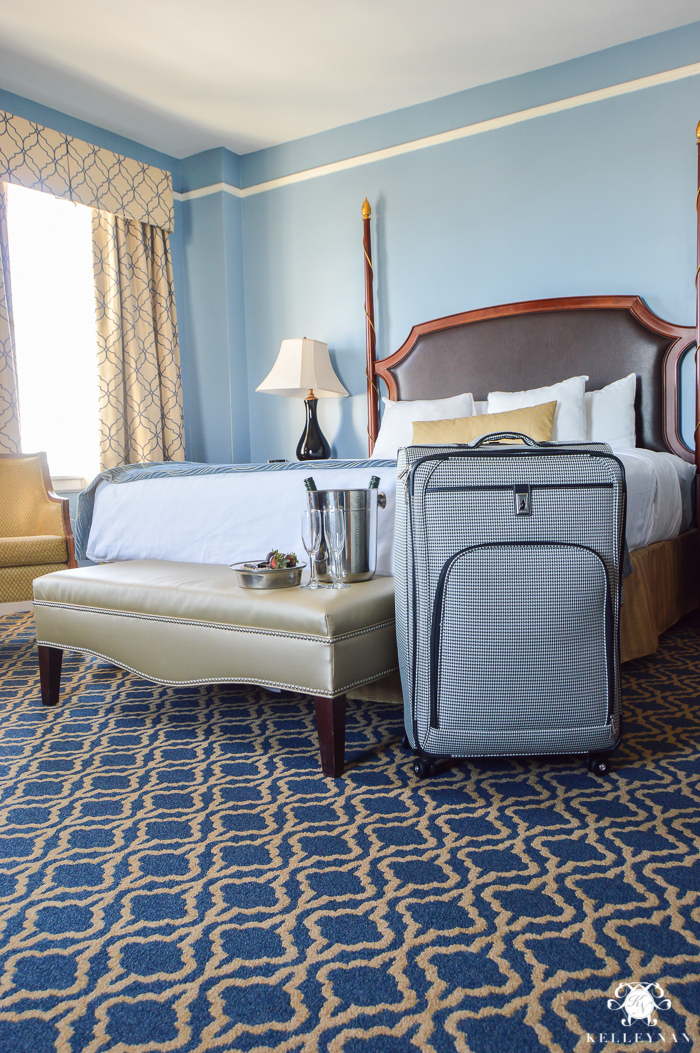 They had chocolate covered strawberries and champagne brought to us immediately. Trust me, they did not go to waste haha
NOTE: this 29″ hounds-tooth spinner suitcase is also on super sale right now. You can check it out, along with the full collection HERE.
One detail I loved most is such a simple luxury but rarely is it found in hotel rooms. A FULL LENGTH MIRROR was attached to the back of the closet door.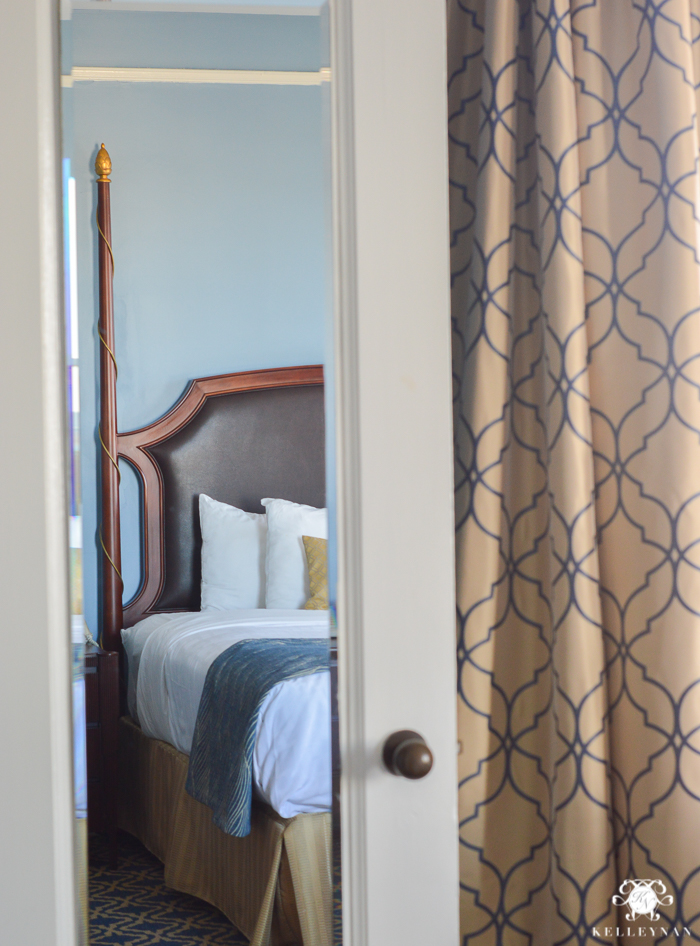 Our view from the room was over Marion Square Park (if you come during festival season, this is THE prime spot!) A little further, you can see the harbor. Fun fact- see those steeples? Charleston is known as the "Holy City" with more churches per square mile than anywhere else. They are gorgeous and they are EVERYWHERE!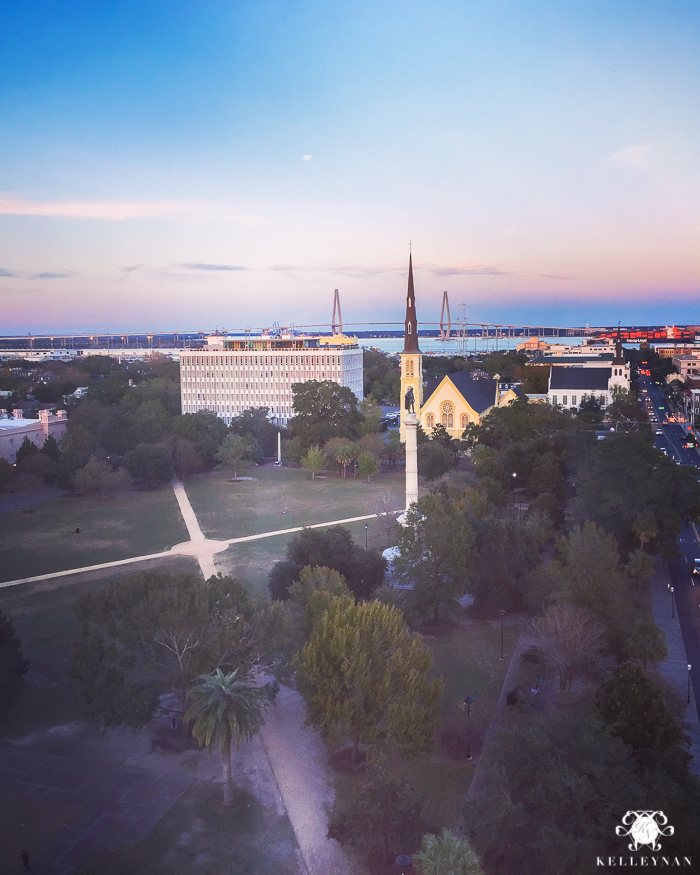 Another room feature I loved- two vanities inside the room. Historic hotels most often have bathrooms on the smaller side; this is the first time I have seen much needed space acknowledged and extended into the room. My station had a makeup mirror, bench, and drawer.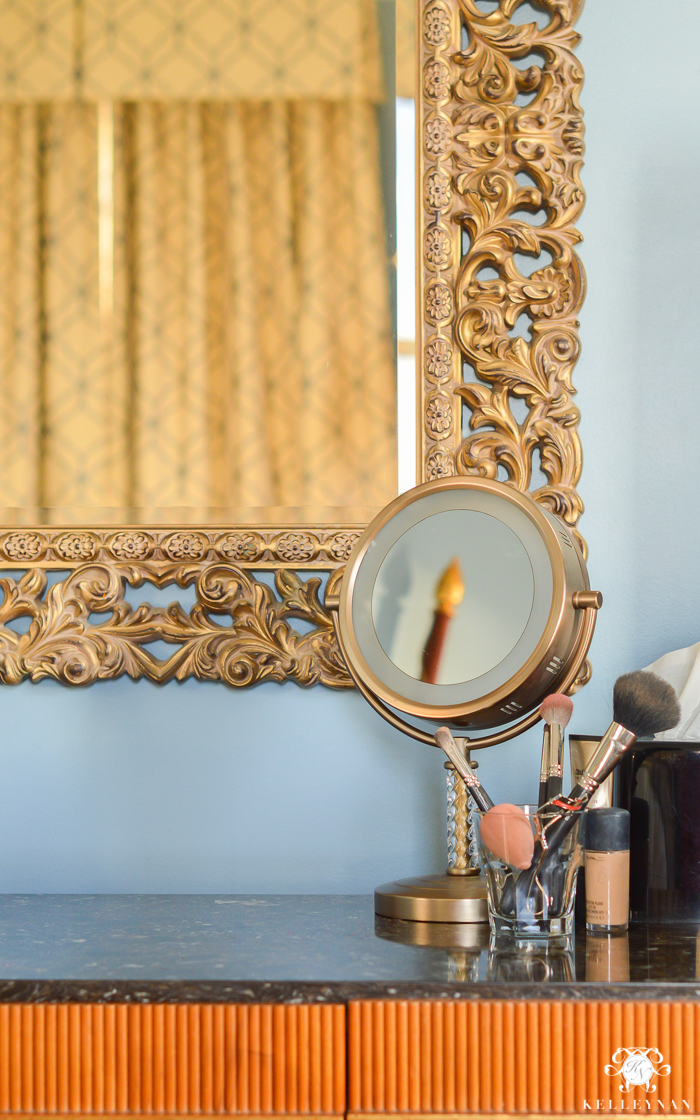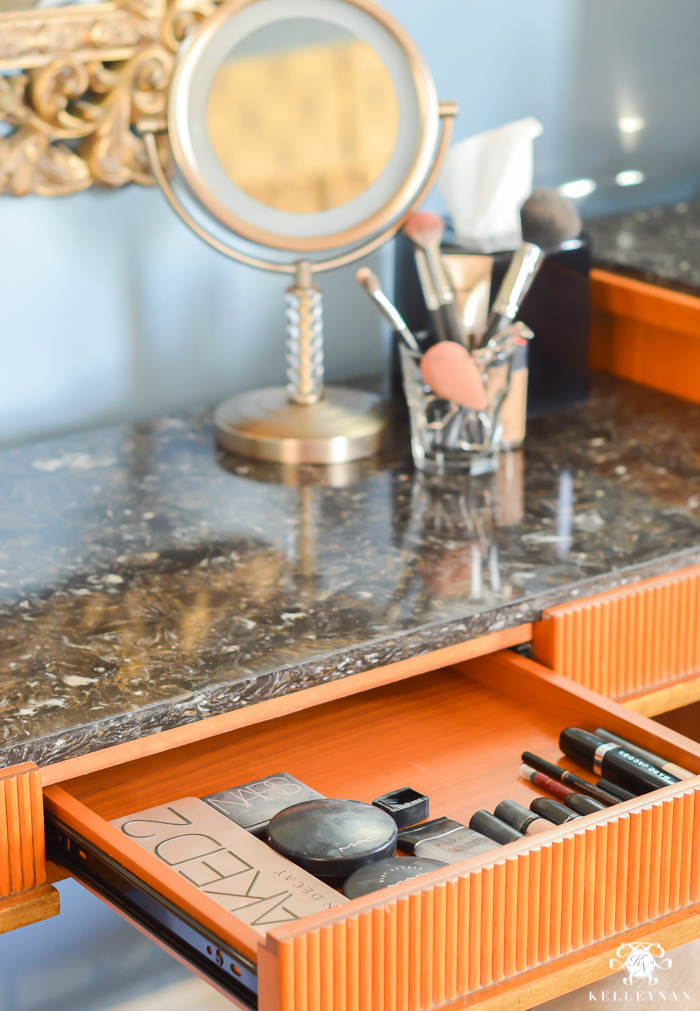 As self-proclaimed homebodies, we are creatures of habit. We felt so welcomed and comfortable and thought of our room as our home away from home throughout the trip.
We had originally planned on a more "involved" dinner. But, after settling in, toasting with our champagne and strawberries, and having signed up for a walking ghost tour later that night, we decided to walk across the street to the Carolina Ale House for a rooftop dinner in our hoodies and tennis shoes. It was what you would typically expect for a sports bar. Dave's chicken nachos were my favorite.
We met our ghost group after dinner at 9:30 p.m., the last tour of the night. Out of all my times visiting Charleston, this was my first tour. Of any kind. We walked the cobblestone streets, alleys, and graveyards while our guide share stories and sightings. This was a new experience and one of my favorite parts of the trip. If you love history, I would absolutely recommend The Ghosts of Charleston tour.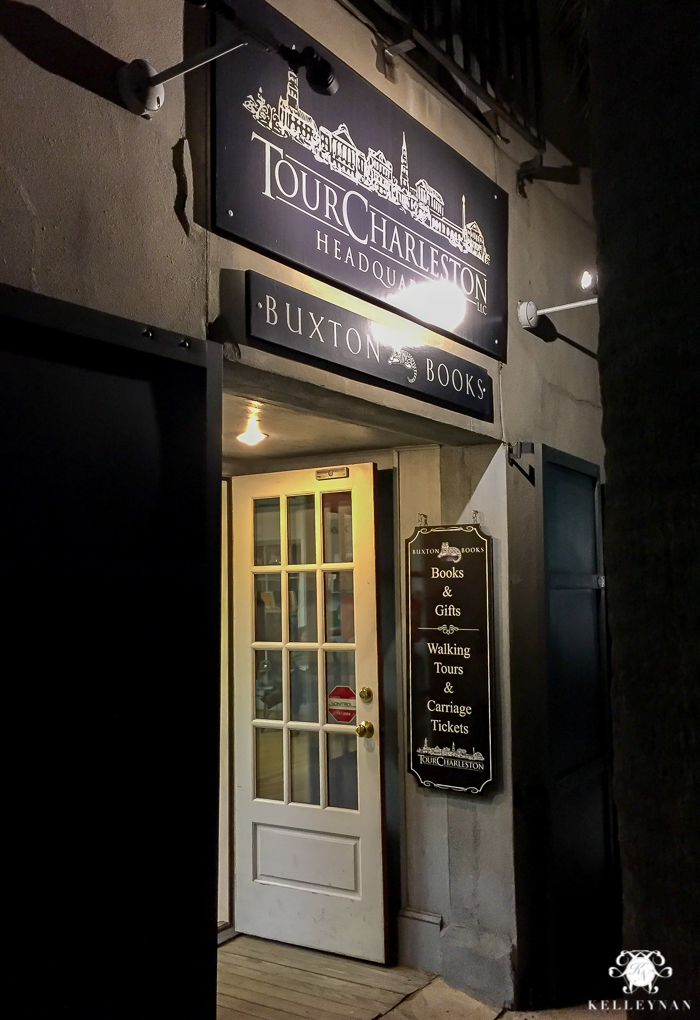 We didn't get back to our room until almost midnight; after driving six hours that morning and walking all day, we had the BEST night's sleep.
DAY TWO
The time changed that same weekend though which helped us rise early. Just in time to see the sun peeking over the horizon. (This is another view from our room.)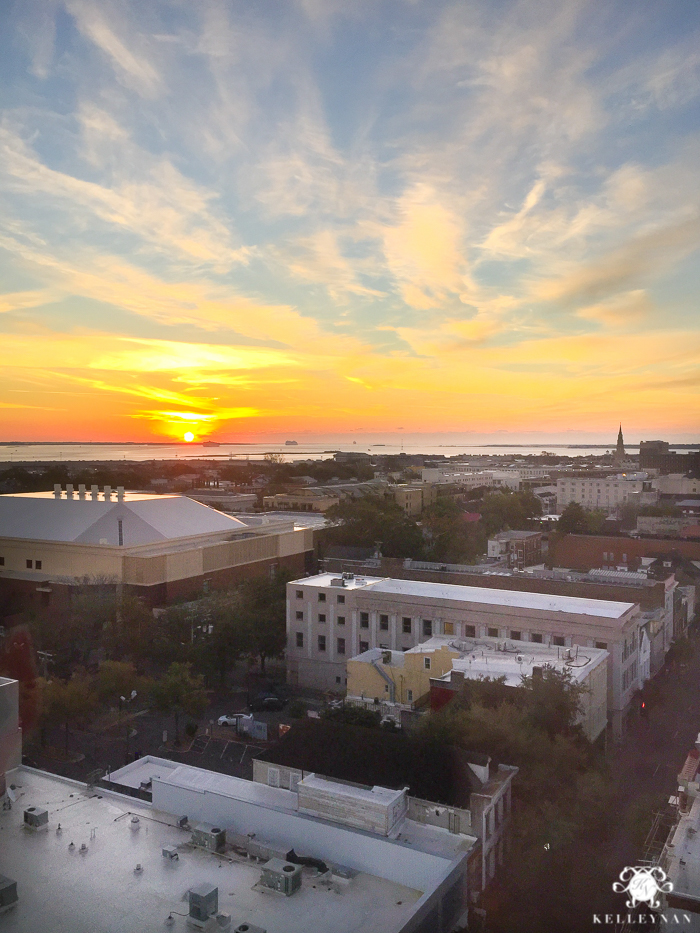 We aren't "breakfast people" but I am a coffee person. Starbucks saved me during this trip. Per the recommendation of a friend, I also tried the seasonal Caramel Brule' Latte… it served as my trip fuel the entire time. Totally addicted. (Just don't look at the calories haha)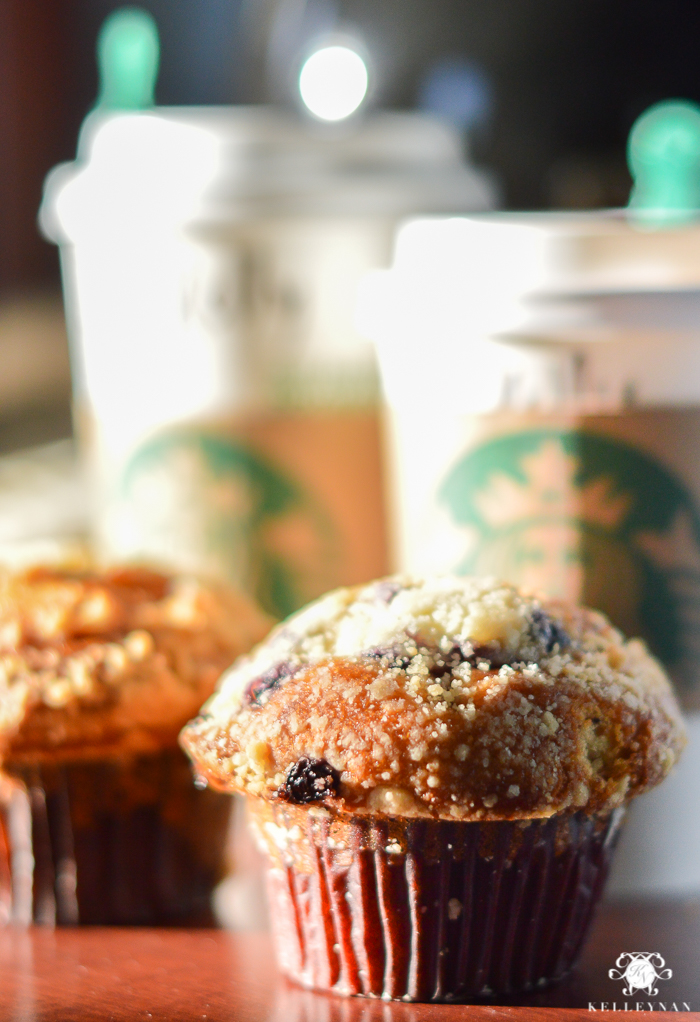 We quickly toured the hotel a little more before venturing out for the day. There was a wedding reception in this ballroom the night before – a bridge who had scheduled her wedding during the recent hurricane had rescheduled. Can you even imagine?! We danced and sang momentarily outside the doors and briefly considered crashing. Kidding! Sort of…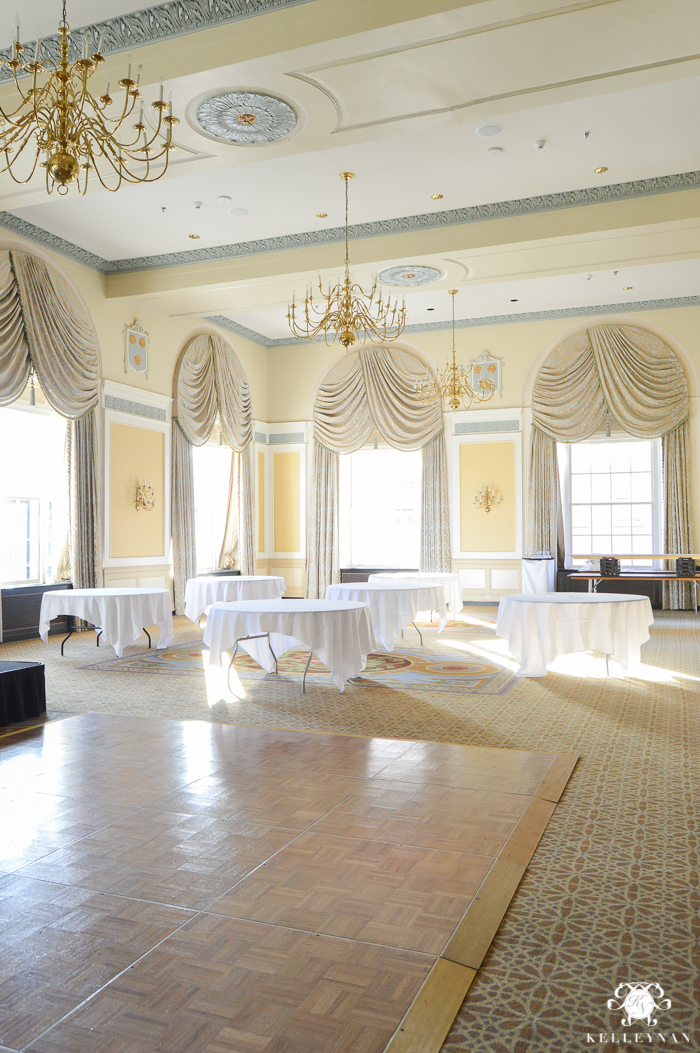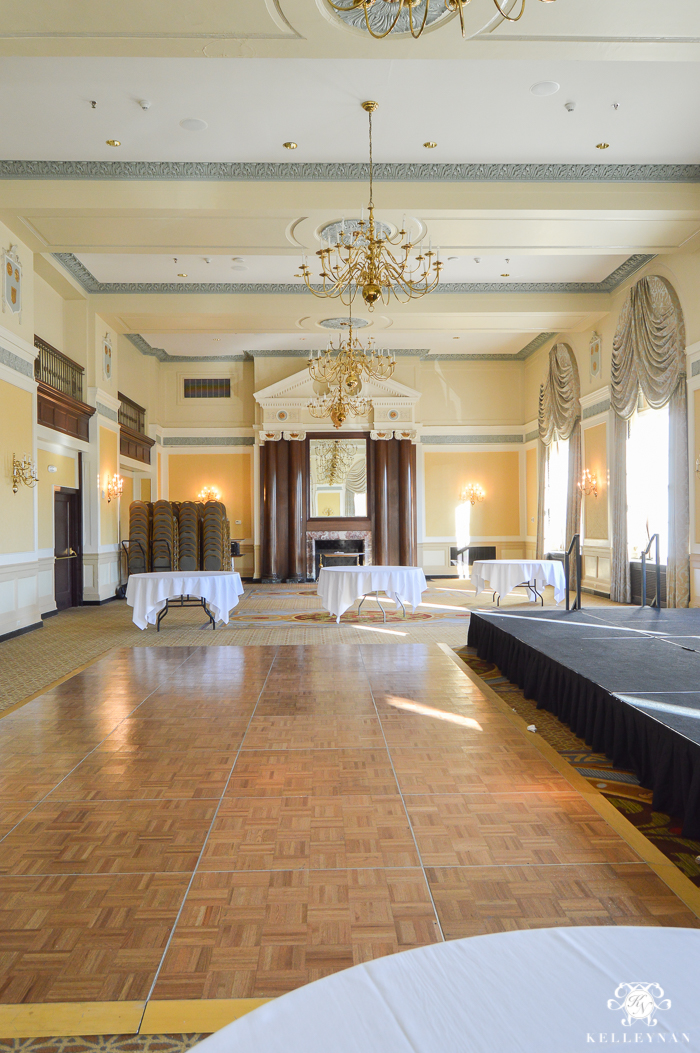 We headed back down King Street in search of a gallery from which my mom had previously purchased art. The photographer specializes in windows, doors, and gates of Charleston and produces the images on metal. I had to follow my mom's lead and pick out a trio of doors.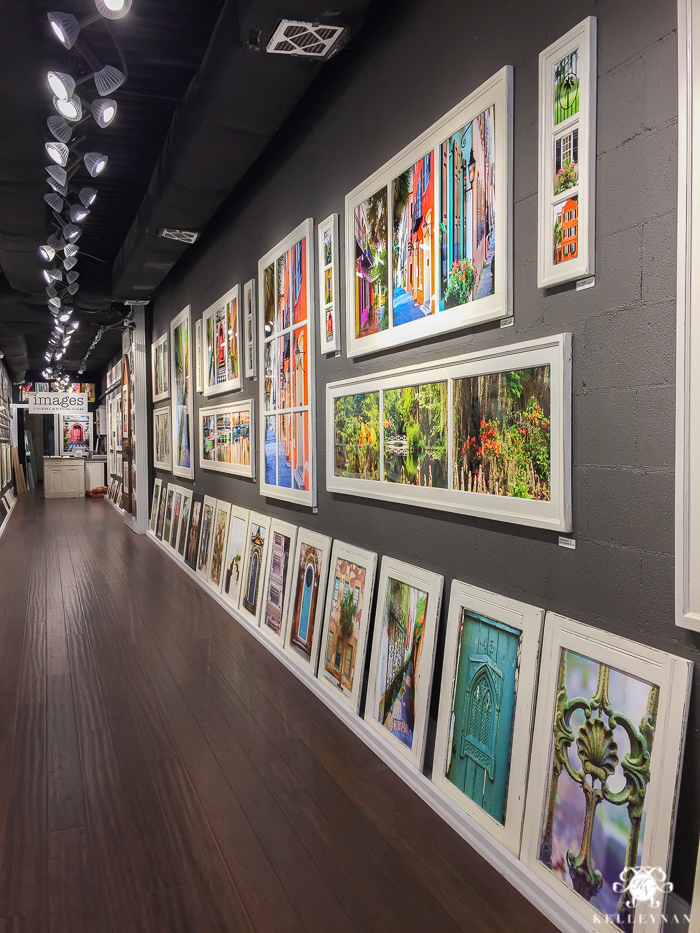 From there, we made our way to my favorite part of Charleston- the residential district and waterfront.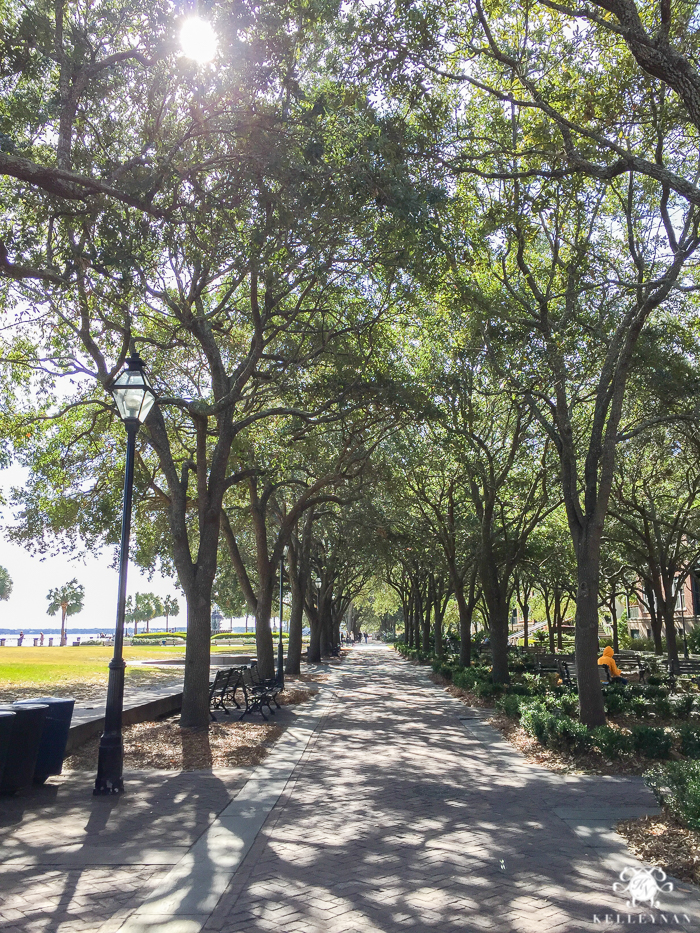 Here's a glimpse of our stroll toward the Battery.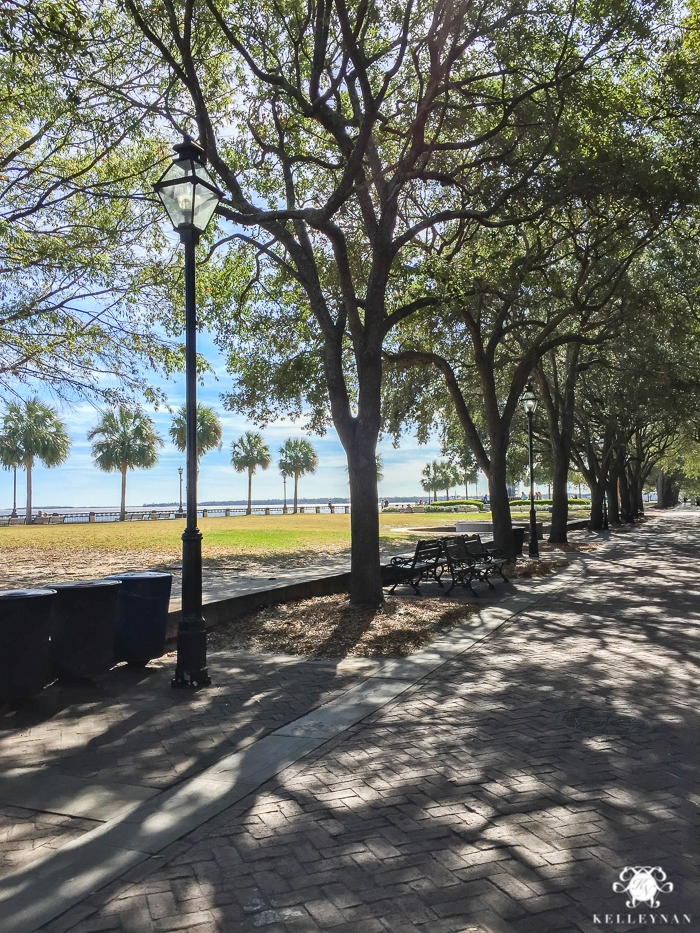 The famous pineapple fountain- truly fitting for this hospitable city.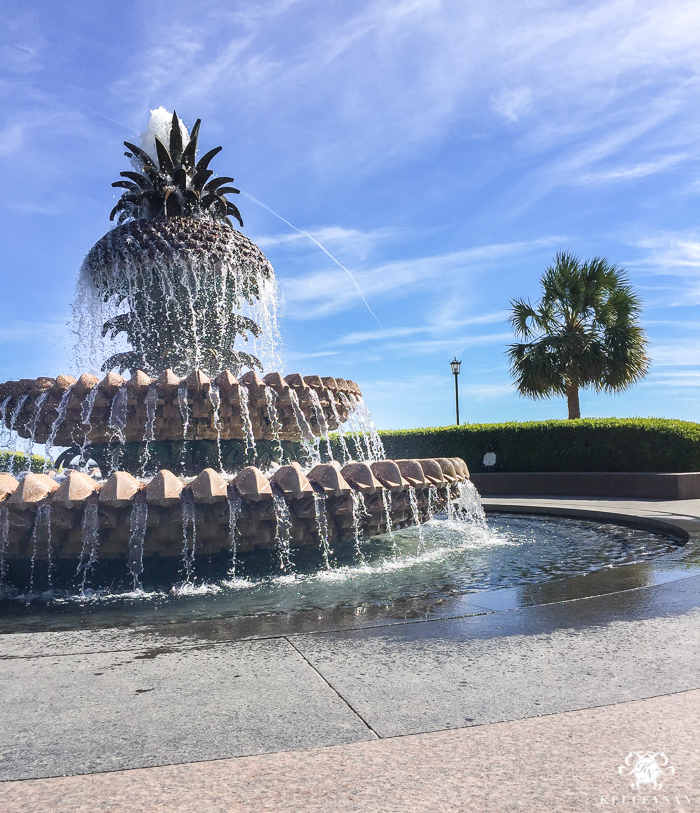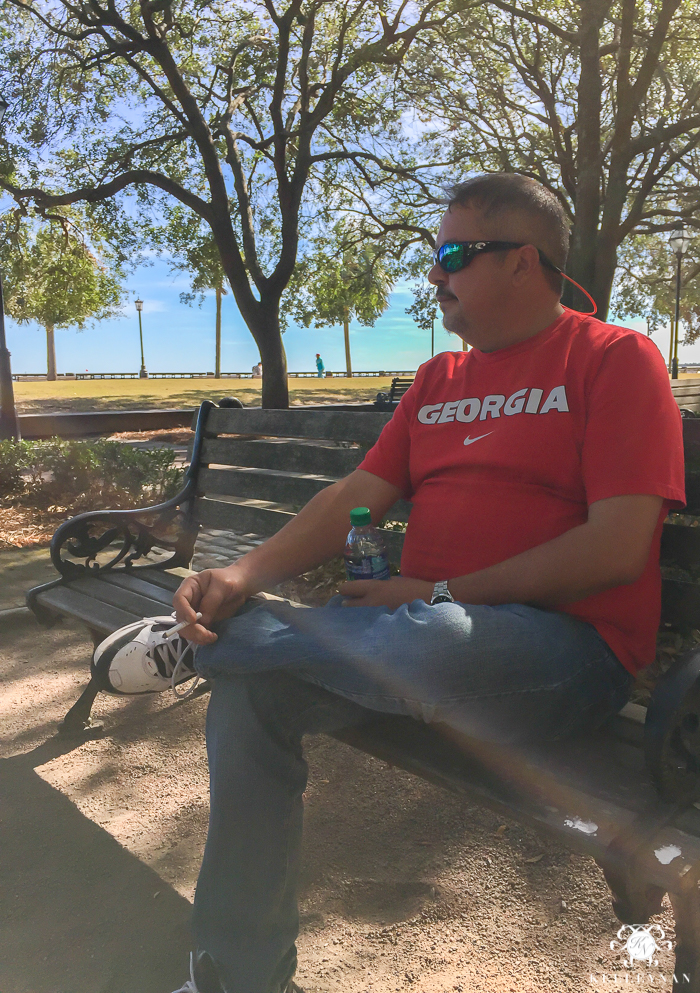 Rainbow Row…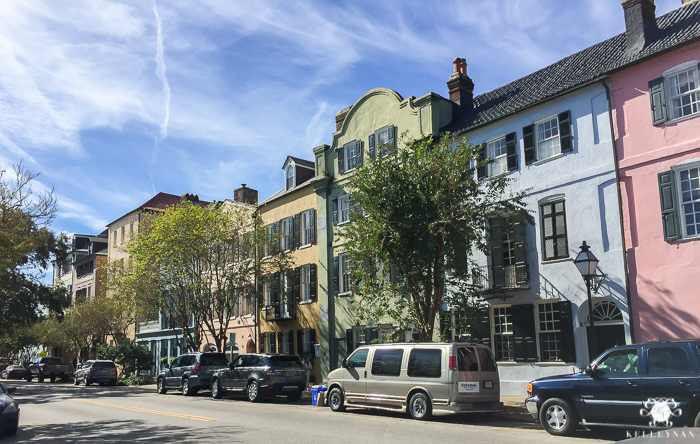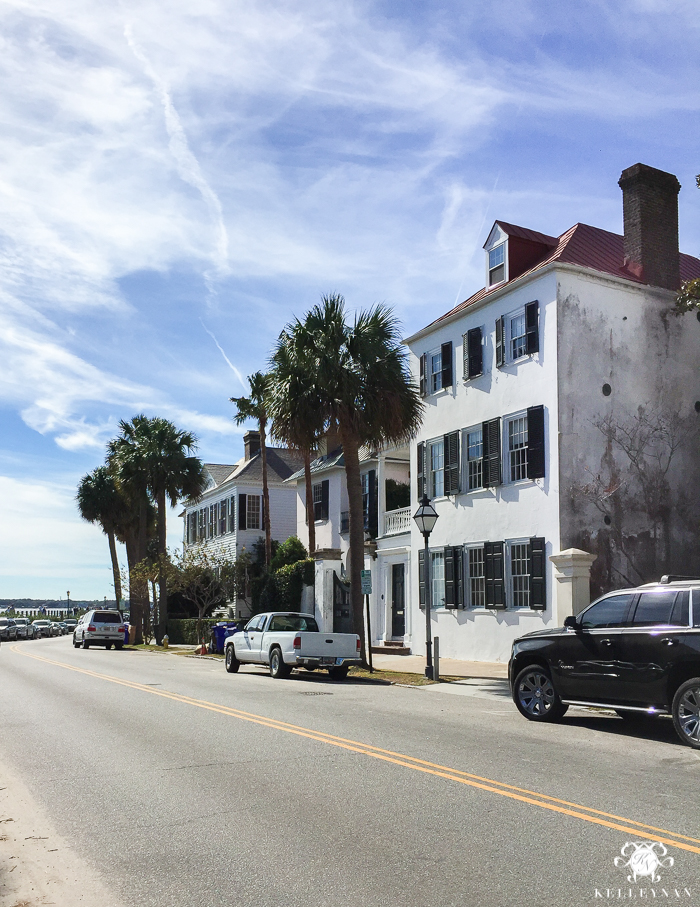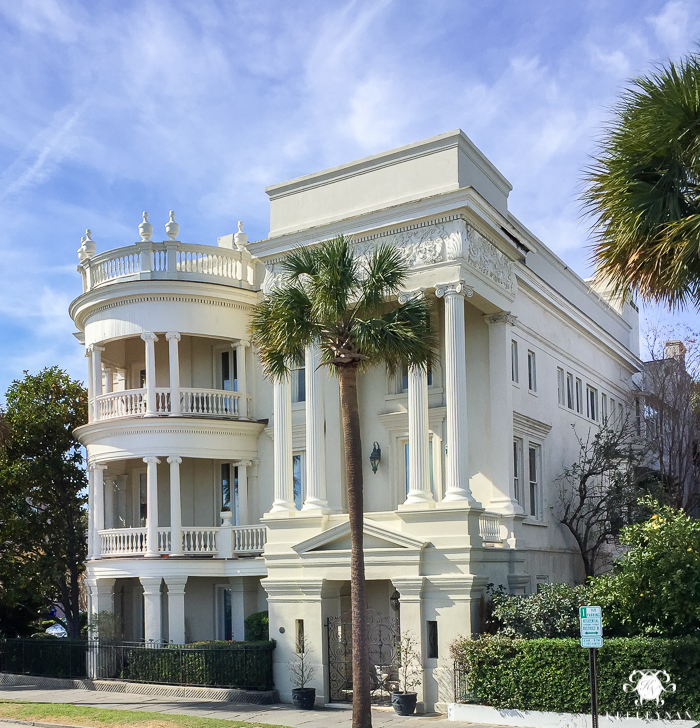 I'm sure the residents are used to visitors snapping photos of their gorgeous homes and entries…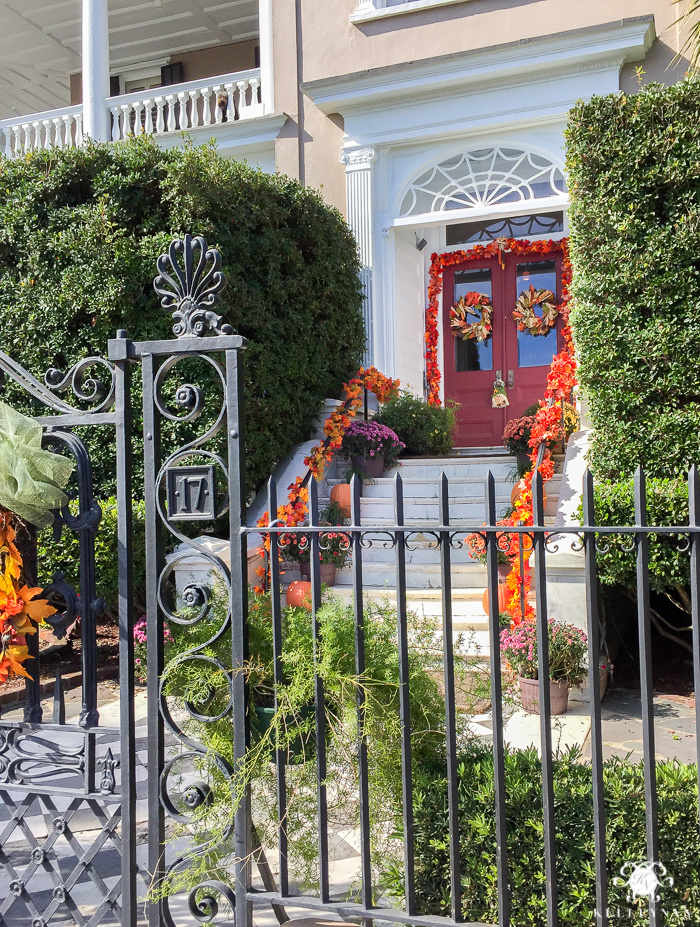 At the Battery, cannons are set up, dating back to the 1700s.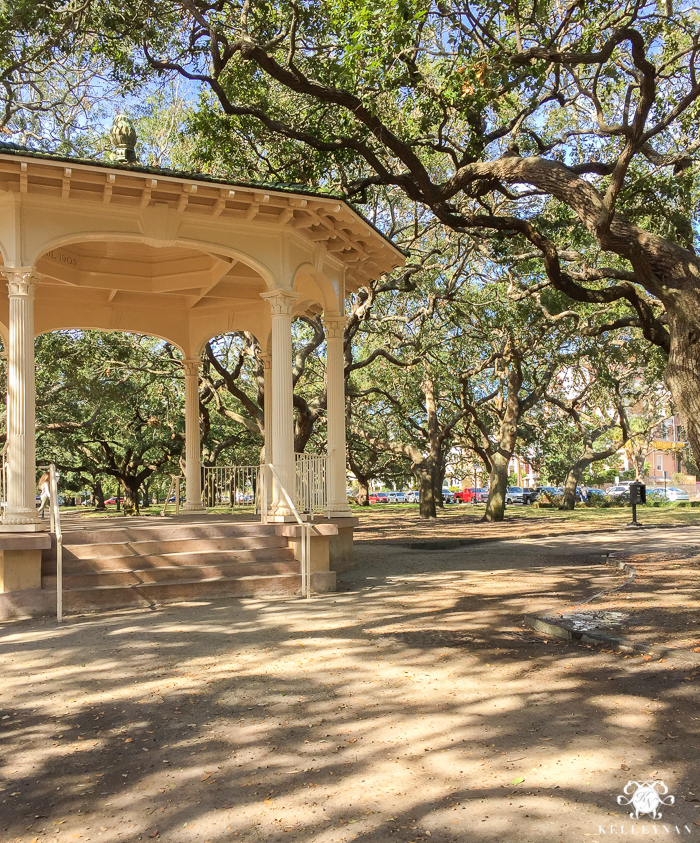 We walked the streets taking in the architecture all morning.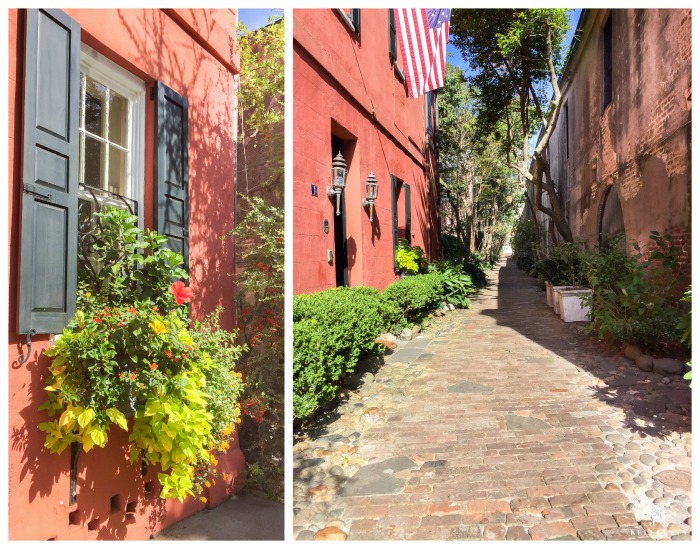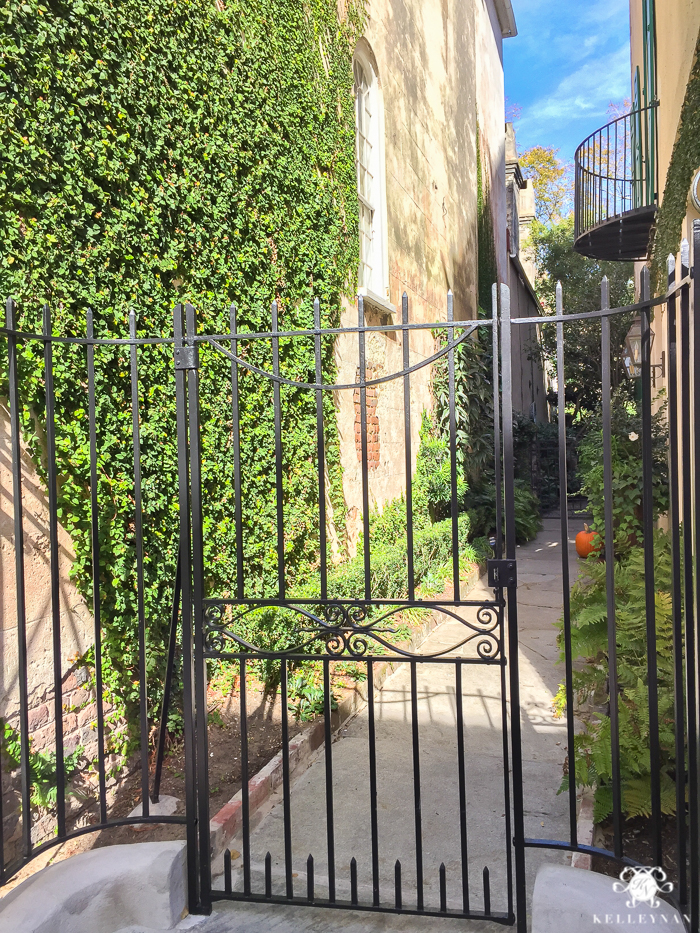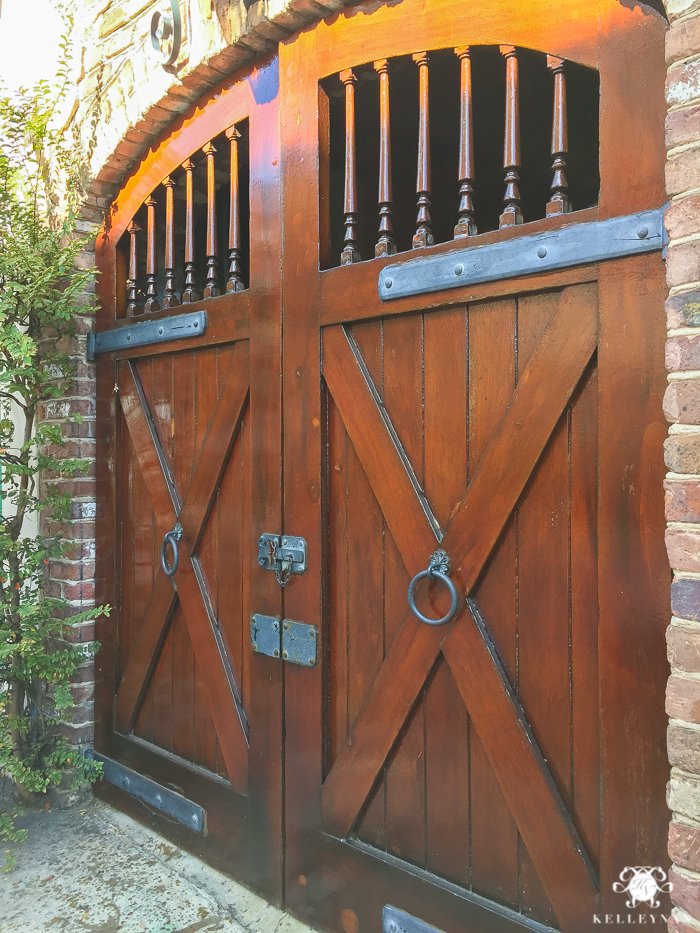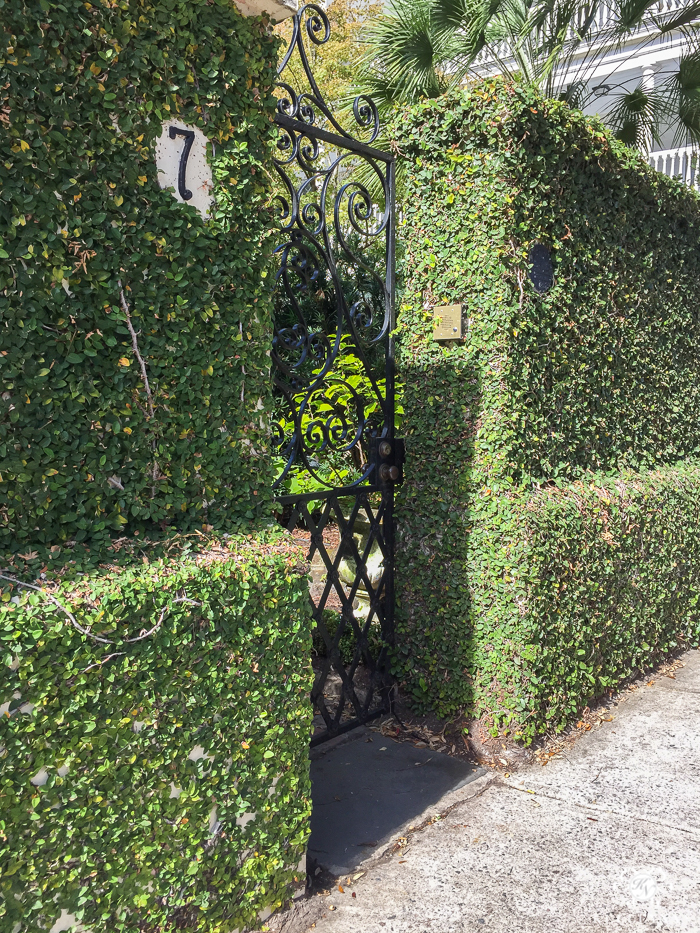 One thing to note is that whenever anyone has any work done on their home, it has to be approved by a special Board. They can't simply go to Home Depot to replace a pane of glass; if they have hand-blown glass, they have to get a replica made.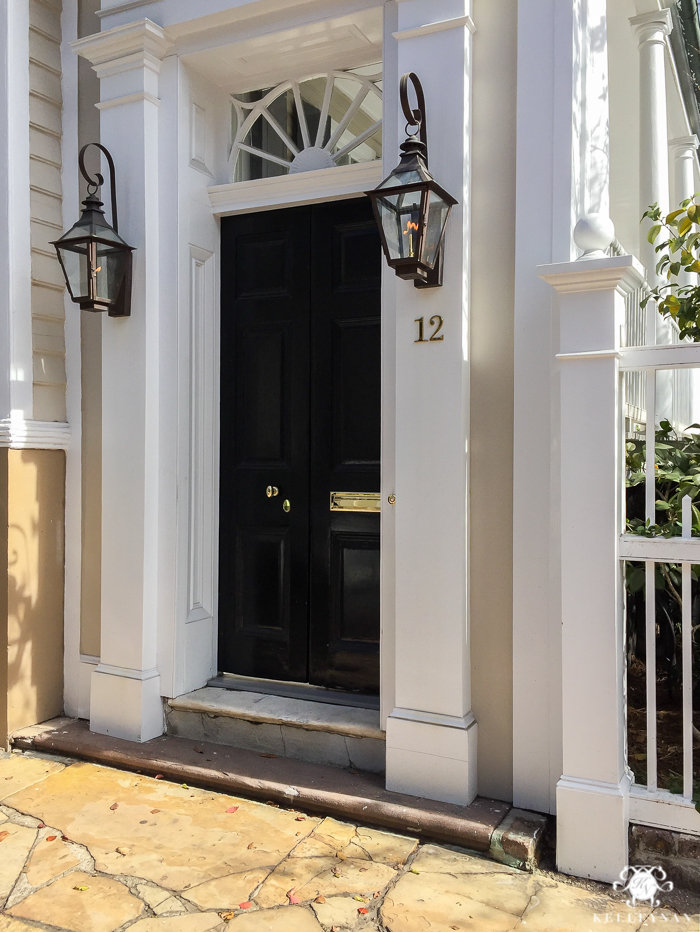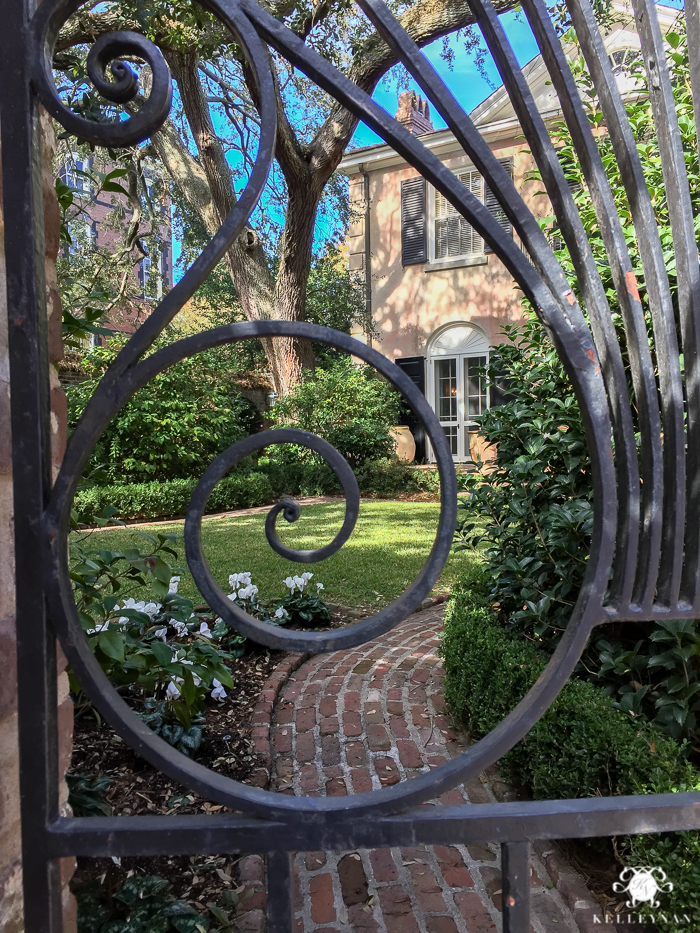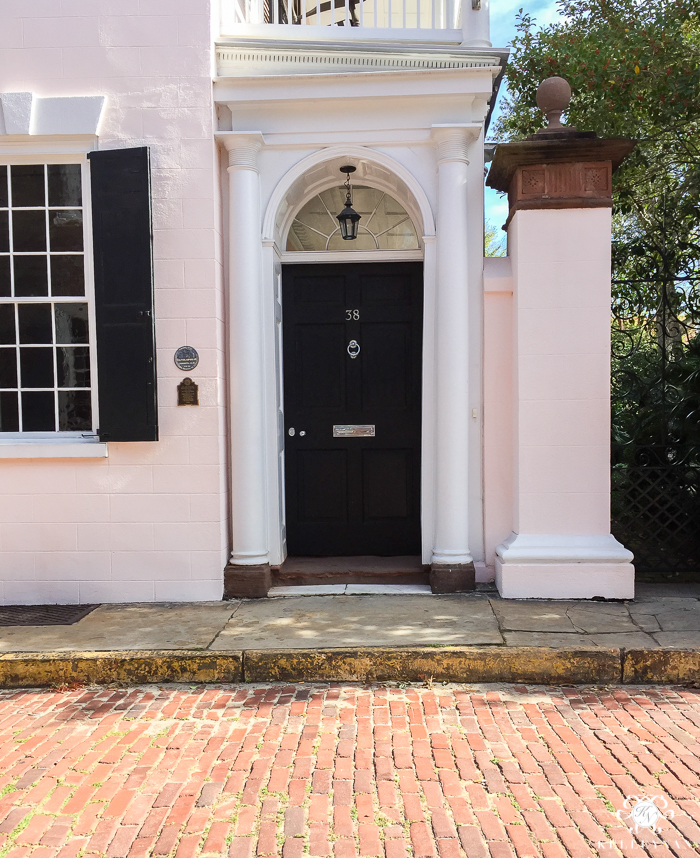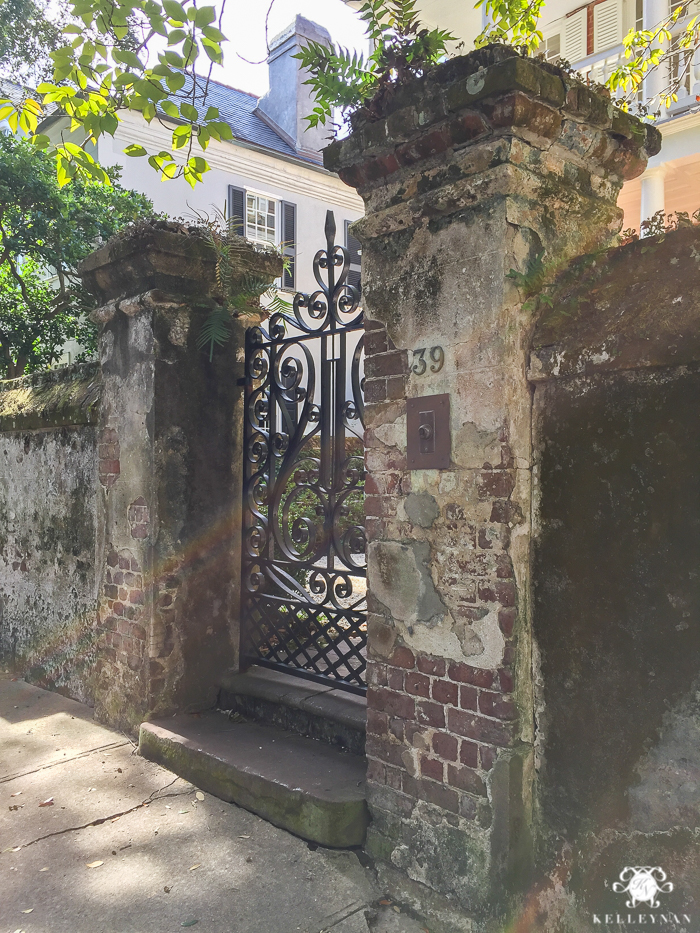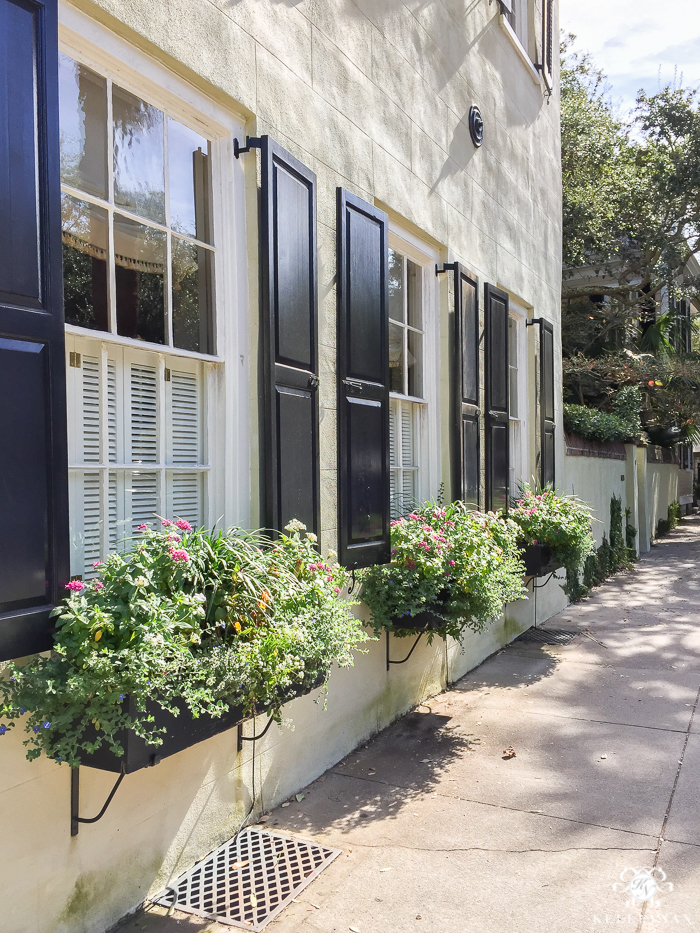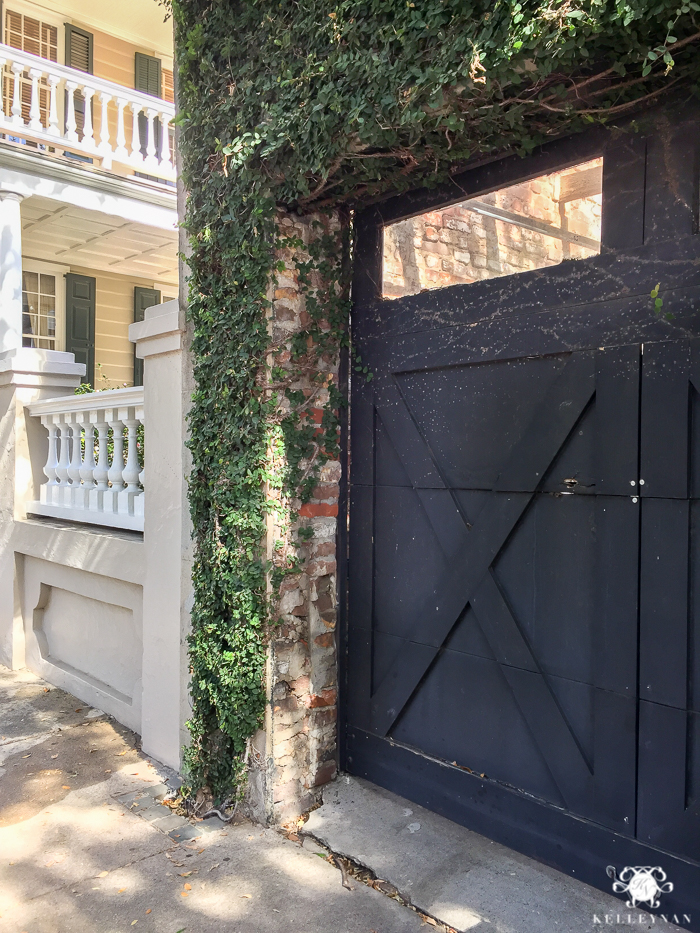 White, brass, and contrasting black with ornate moulding is making its way around as the hottest indoor trend. This look abounds in the historic city.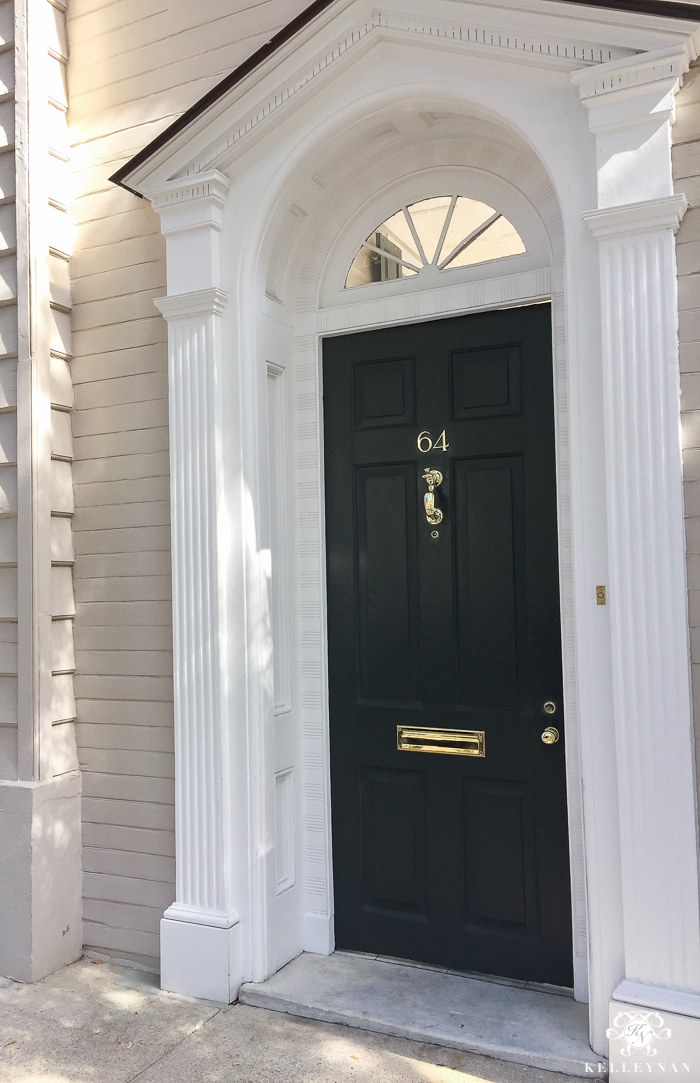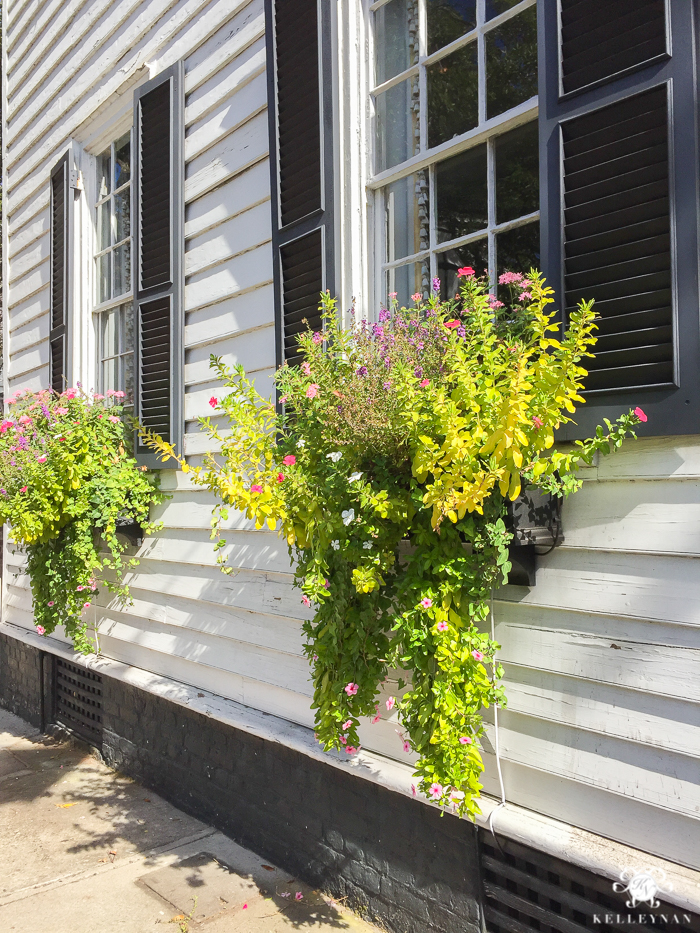 Even the graveyards are spectacular.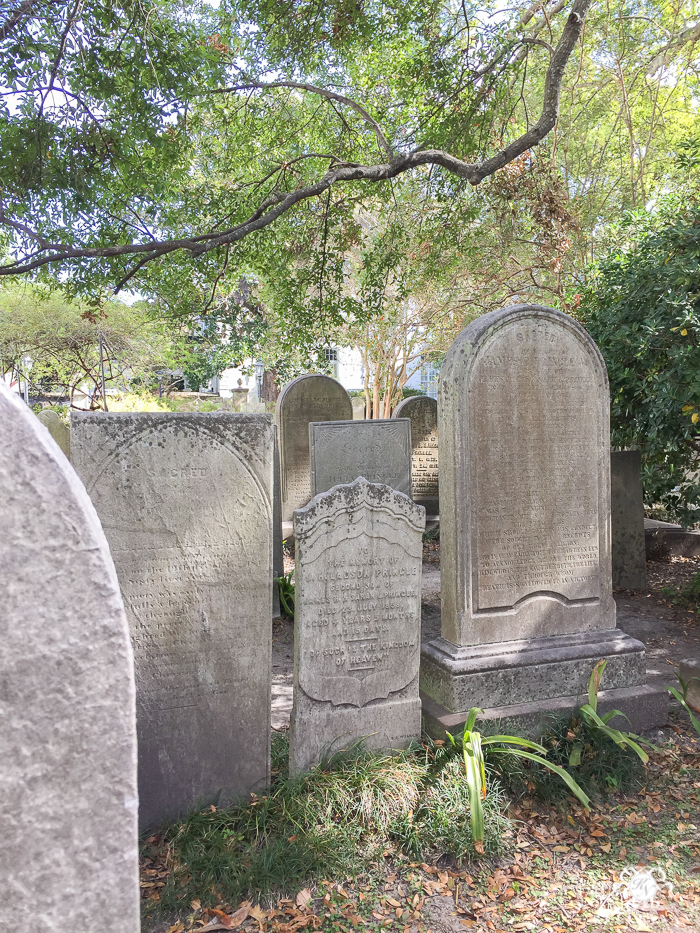 We took a break at Magnolias for lunch. We ordered the Southern Fried Mac & Cheese as an appetizer (not your typical mac & cheese- this had bbq pulled pork, collard greens, and black eyed peas, casserole-style, cut into small squares). Dave had a fried chicken cobb salad while I opted for the herb grilled chicken salad with cornbread croutons to die for! Both were exceptional.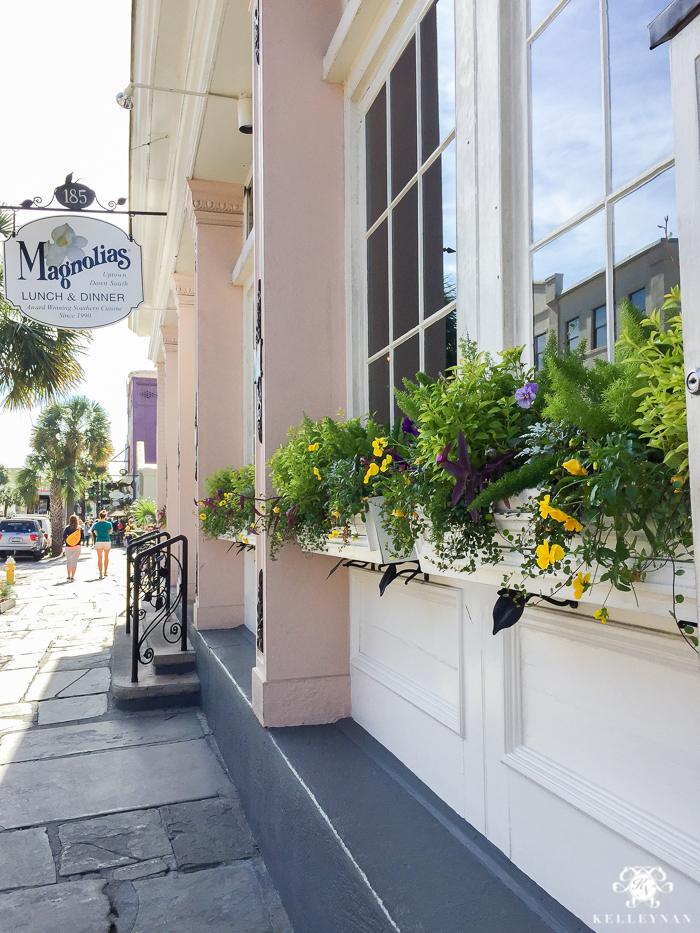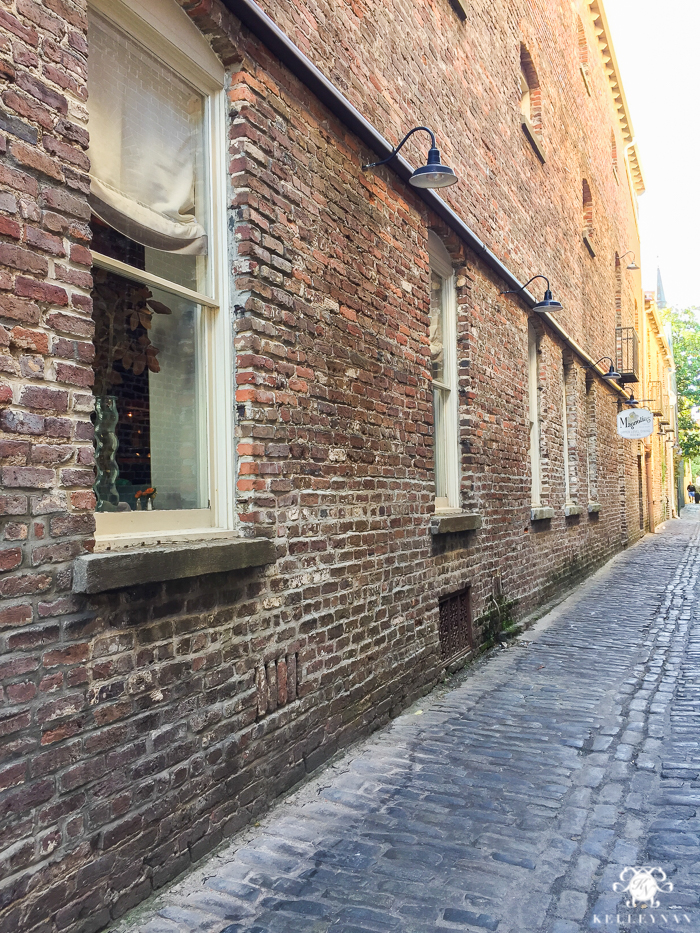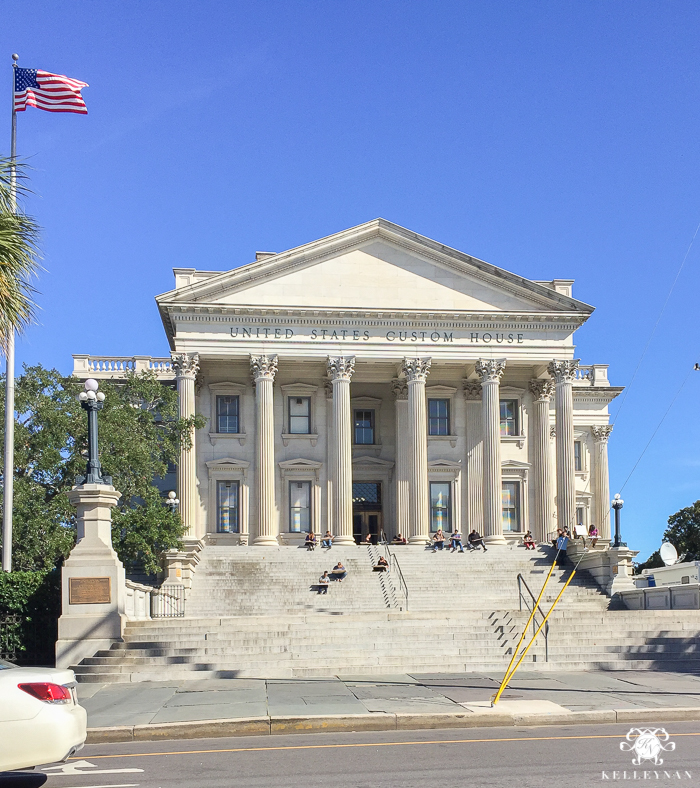 After lunch, we located Palmetto Carriage Works for our historic, residential carriage tour. Our guide started the tour telling us about Waylon and Willie (how cool are those names?!), our mules for the trip – how they are treated, how they work, how they are rescued, and how they vacation. I had zero reservations and a new appreciation.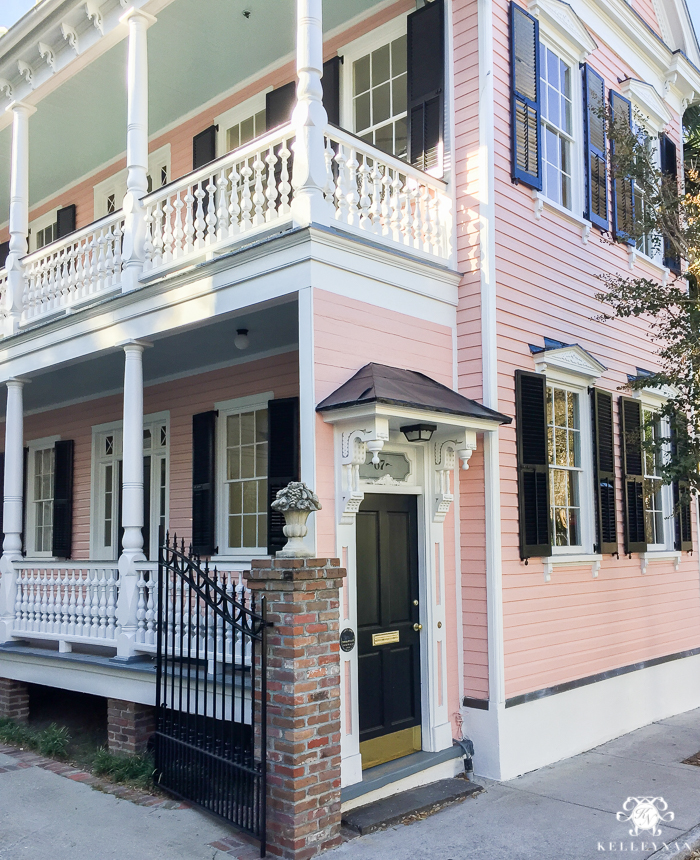 The old prison – there is a nighttime ghost tour here on the weekends I would love to do next time we are here for a Friday/Saturday night.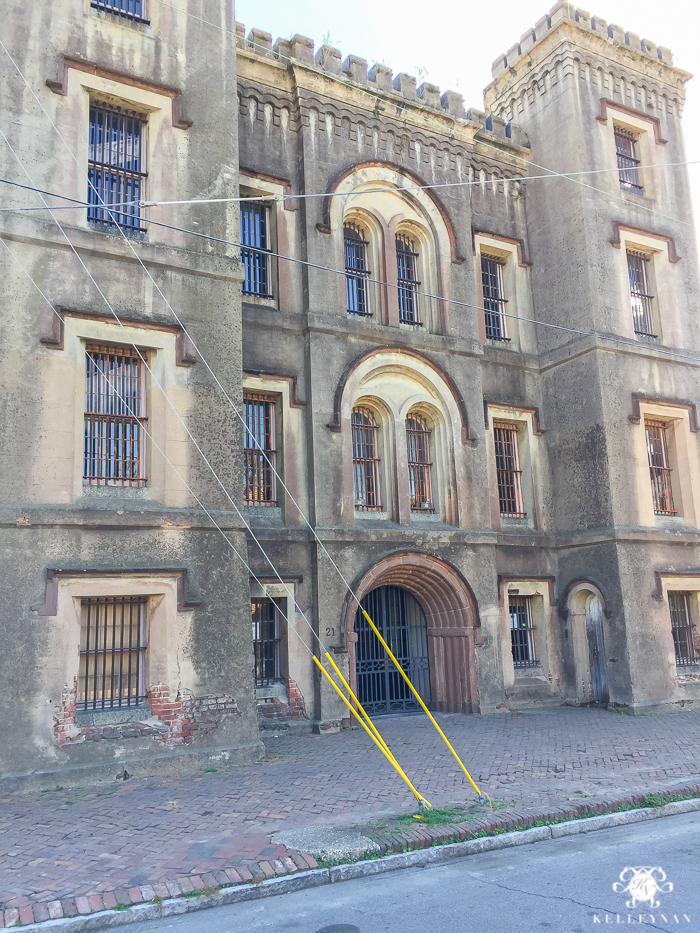 Walking toward the entrance of the market…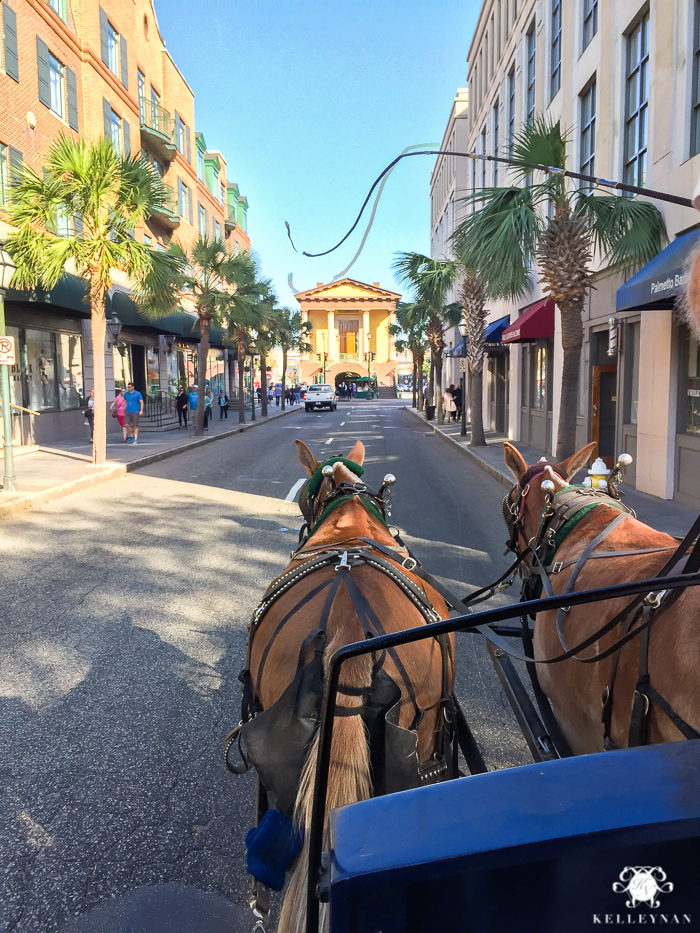 Again, if you love history, a carriage tour is a must. From war and ghost stories, to the history of buildings, prices of homes and city rivalries, I learned a little bit of everything from our guide.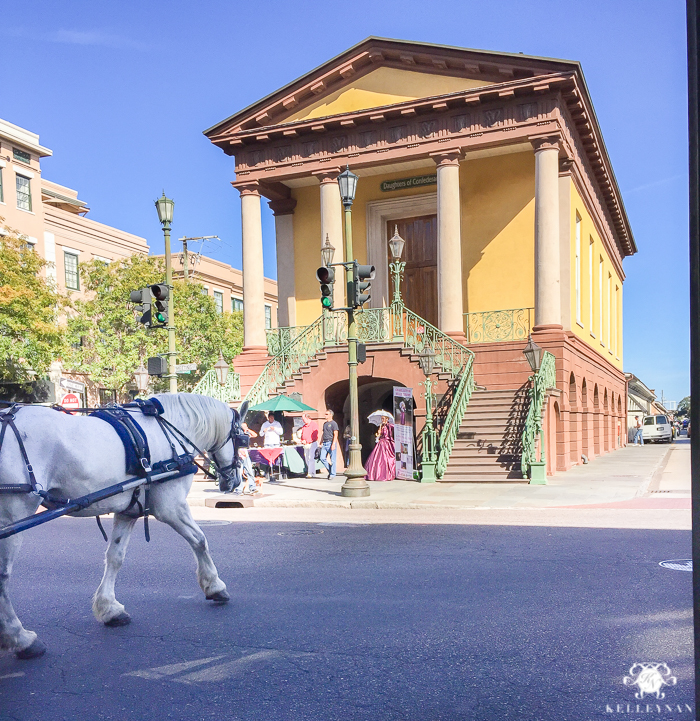 For our last evening, we headed to dinner at Amen Street. We split the peel & eat shrimp to start while Dave ordered scallops and I had the Mahi Mahi (herb seared style- if nothing else, do it for the fried picked okra!) I didn't get any photos of the oyster shell chandeliers but the ambiance and service was unbeatable and the perfect way to end our trip.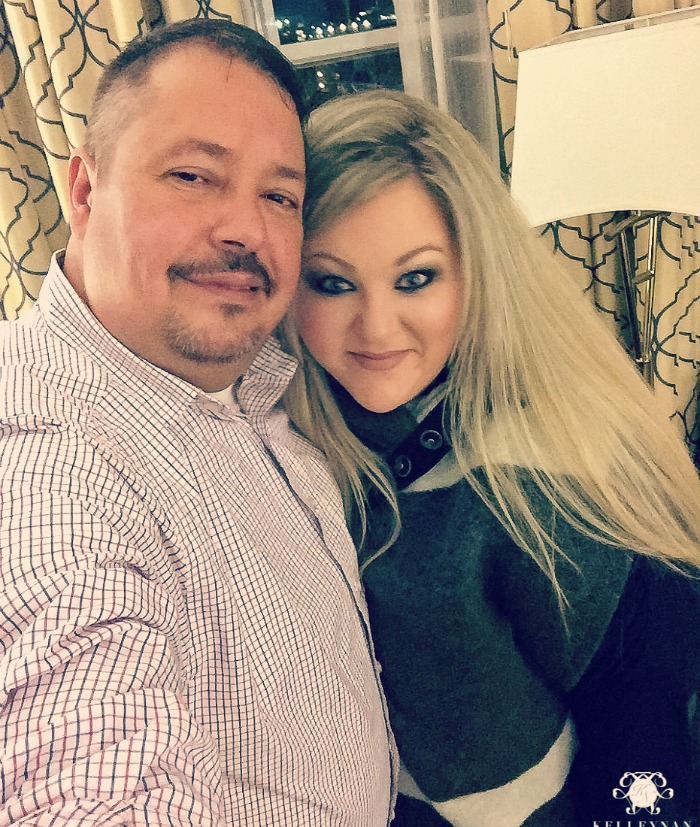 We left out early the next morning and are already thinking of when we can go back – Dave still wants to tour Fort Sumter and there are SO many world renowned restaurants, it would take a lifetime of trips to sample half of them. There isn't a thing I would change about those 48 hours and if you have favorites in the city, I would love to know about them so I can plan for next time!
A special thank you to the Francis Marion Hotel for hosting and treating us and to the Charleston Visitor Bureau for sending us VIP passes for the city. You truly made our visit an incredible, memorable experience!
*Post contains affiliate links*