The holidays are here, cue the panic mode… I may have gotten myself into a mess. In the past, the only thing I've had to worry about leading up to hosting Thanksgiving is making sure the house is decorated for Thanksgiving. Super easy since I decorate for fall well in advance. But, since Christmas last year was so short-lived, I decided this year, with the exception of outside, I would decorate for Christmas before Thanksgiving. Well, this past weekend was my window to get it all done. A few days post-weekend and all I can say is that I have way too many filled totes littering the floor to count, two standing trees (one successfully decorated), and a mess that makes me want to walk through the house squinting so I won't see it all clearly. Family starts coming in town Sunday so that is my hard deadline. With work during the week, Dave probably isn't going to be thrilled to learn that his Friday/Saturday nights are going to be monopolized again haha.
Whenever I start any project (i.e. decorating for Christmas), I always like to tackle one area that will be fun – something that will make a dent and I can accomplish quickly. So, while Dave was hauling pumpkins and sections of trees all over the house, I was in the dining room creating my first Christmas table of the season. I love creating Christmas tables becuase it is the perfect time to bring out sentiment my guests would enjoy and appreciate. Each detail counts. 😉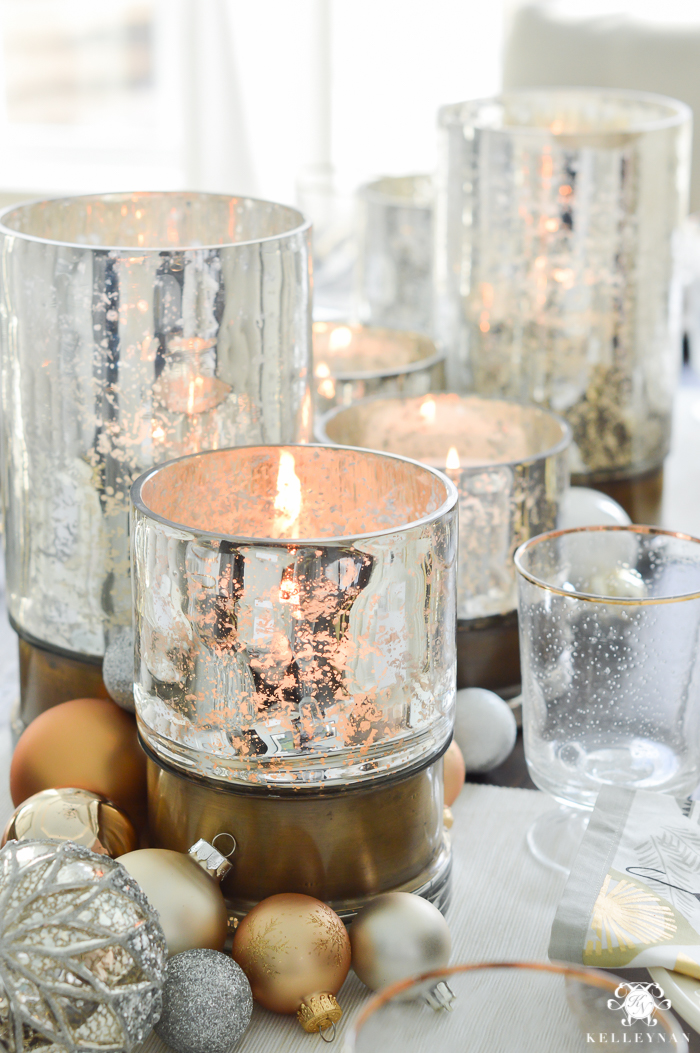 If you are still looking for ideas for next Thursday, you can find my fall and Thanksgiving tables here:
My inspiration for my metallic, snowflake table were these mercury glass hurricanes with brass bands. I am asked all the time if it is "ok" to mix metals. If you visit with me on a regular basis,  you probably know I do this throughout my entire house. But, if you don't know where to start or want to warm up to the idea, Christmas is the perfect time to practice. Bring on the silver and gold! The matte aged brass band around the shiny silver mercury glass sets the perfect tone for a table filled with mixed metals.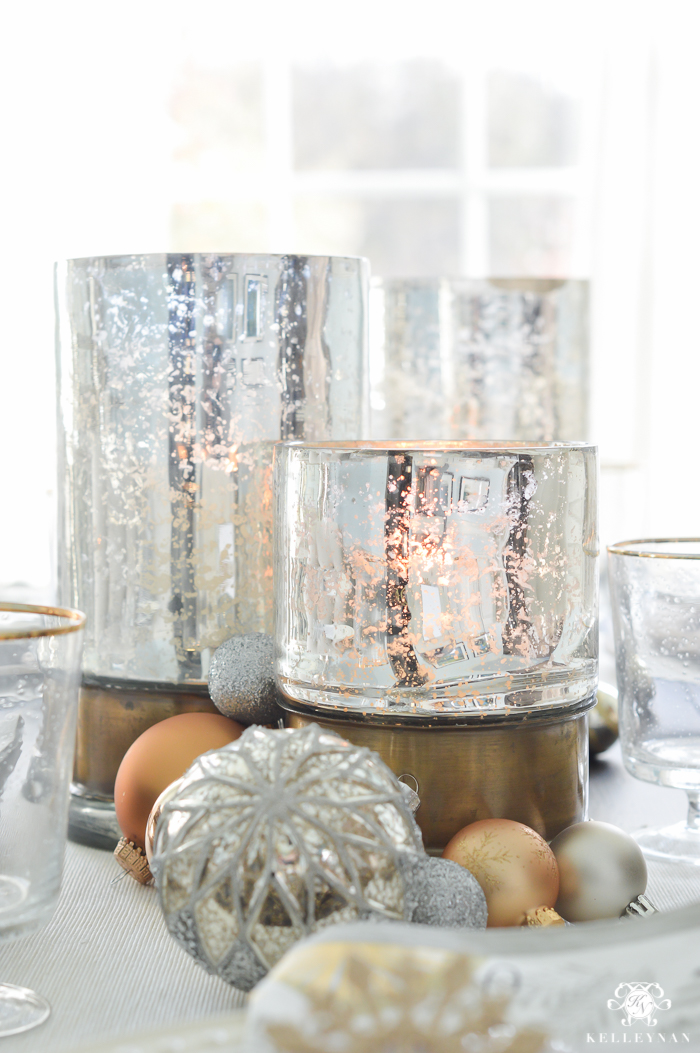 I staggered the hurricanes going down the table which reminded me of lighting a snowy pathway in a small village. These hurricanes will ultimately be going to the top shelves of my living room built-ins so stay tuned and keep a lookout for them in my upcoming Christmas home tour (set to launch on Tuesday, December 6). If you want a glimpse of what my holiday home looked like last year, you can check out my 2015 Home Tour HERE.
You can't go wrong with cozy candle ambiance and if you are looking for a way to make your candles/hurricanes more complex, use ornaments as filler to help create a garland effect.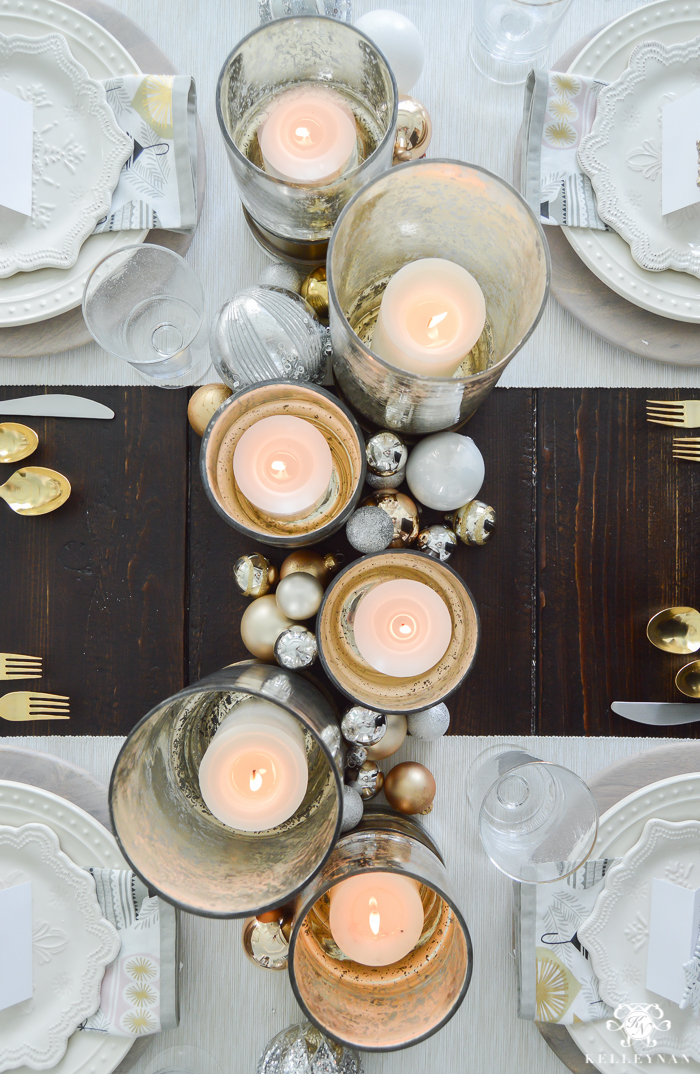 I have talked before about how I like using everyday dinnerware with the addition of a holiday salad plate. It helps keep costs down and doesn't take up more storage space. And, I have always been more about "coordinating" than "matching" to create more of a custom look 😉 I layered these whitewashed driftwood chargers with these everyday ivory dinner plates and topped them with these adorable embossed snowflake plates. *As an FYI, most everything shown in my tablescape is on sale today!*
You may recognize these footed, gold rimmed glasses from my apple cider fall bar cart (must-try recipe!!). They have quickly become some of my favorite pieces of drink-ware and I will be using them all throughout the holidays.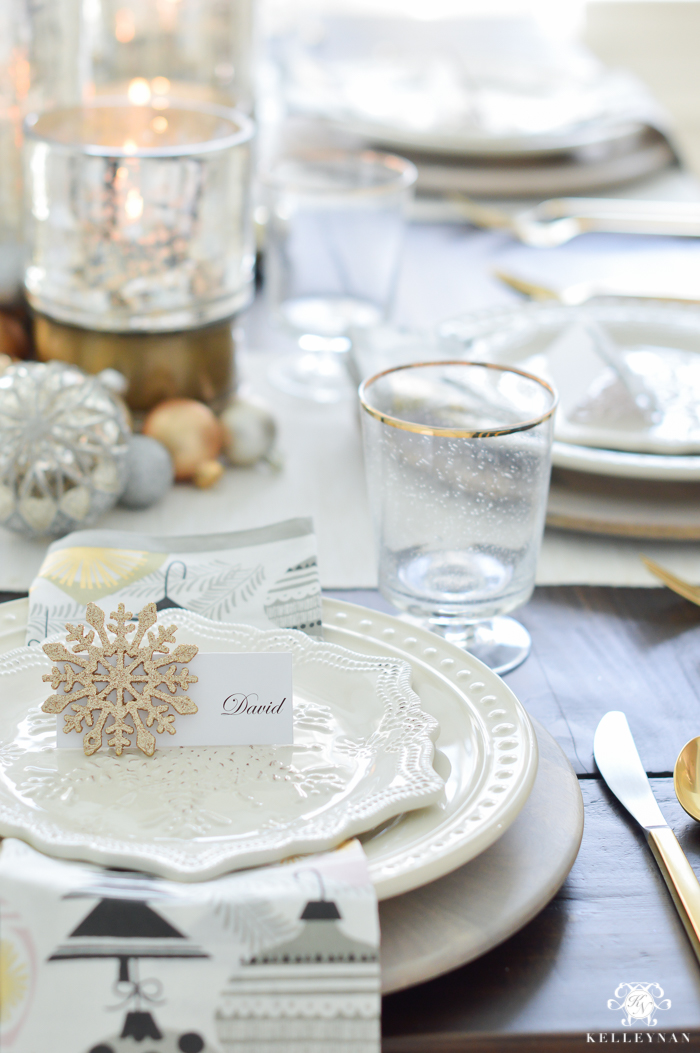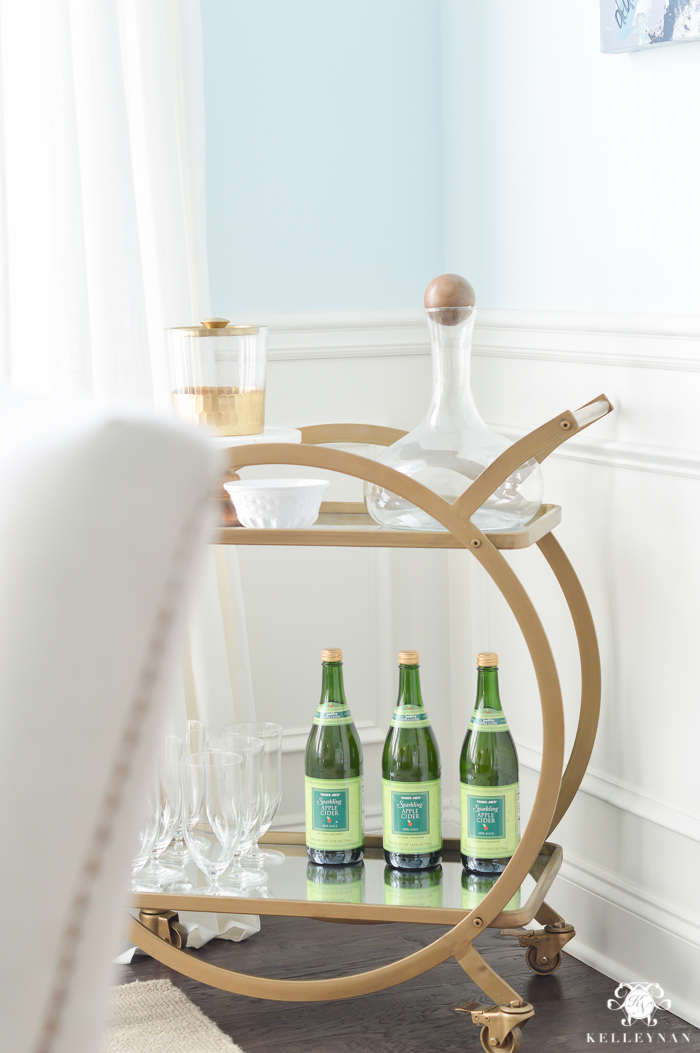 I used these glittered, wooden snowflake ornaments and removed the ribbon to create my place cards. Just as no two snowflakes are the same, each place card is different. Think of how special your guests would feel, sitting down to a place setting you thoughtfully prepared for them. If you are hosting a holiday party, you can incorporate these little guys in a variety of ways. They come in a large quantity and I will be using my extras as gift wrap embellishments 😉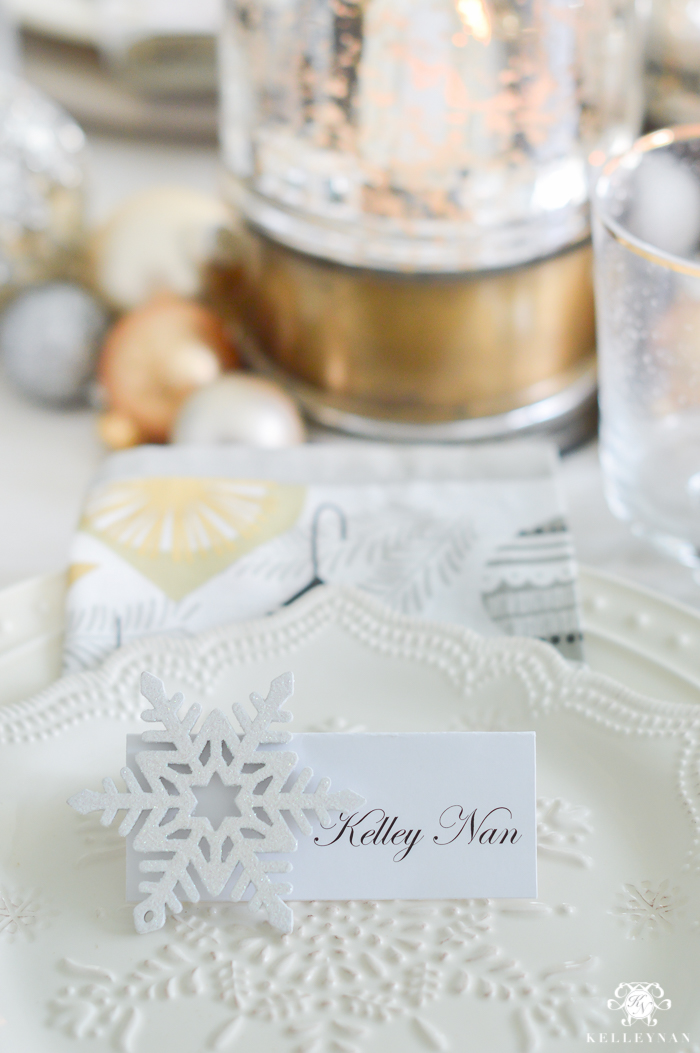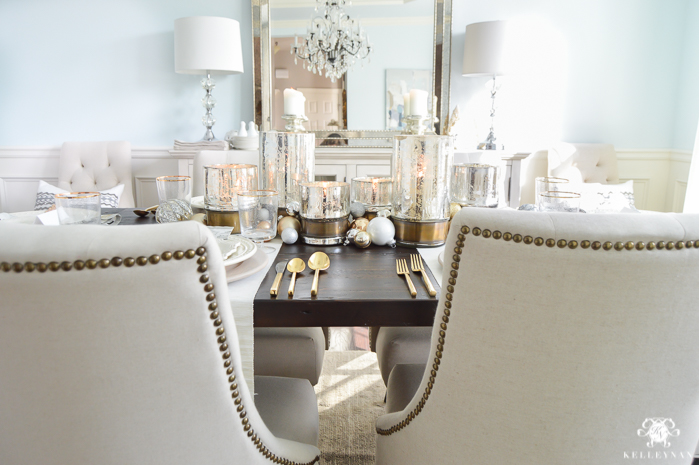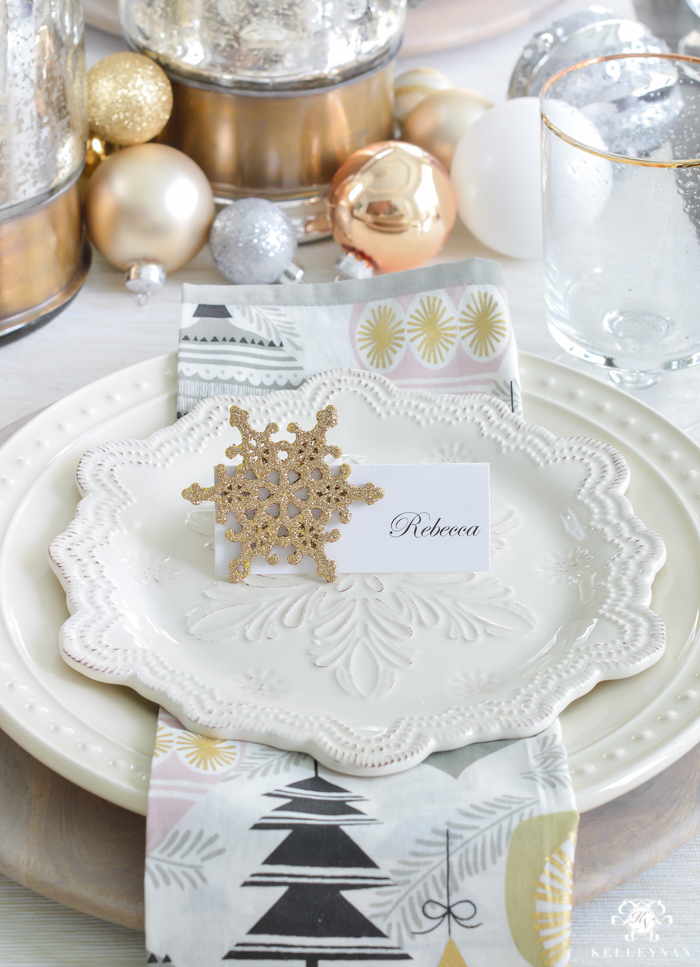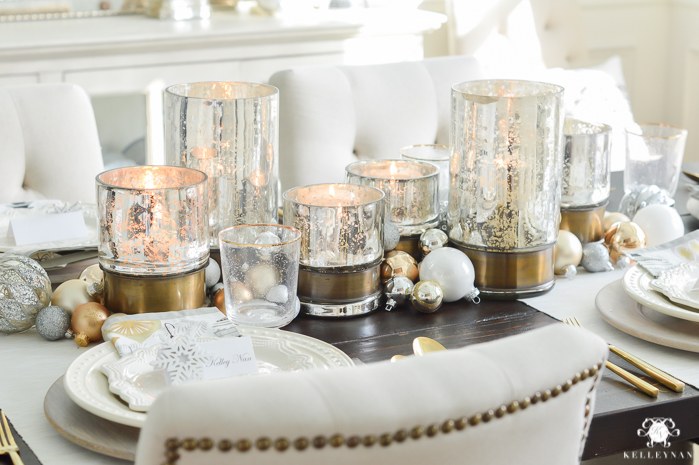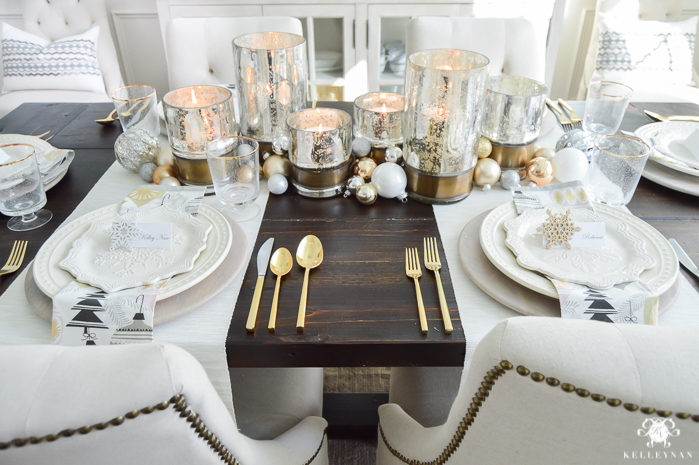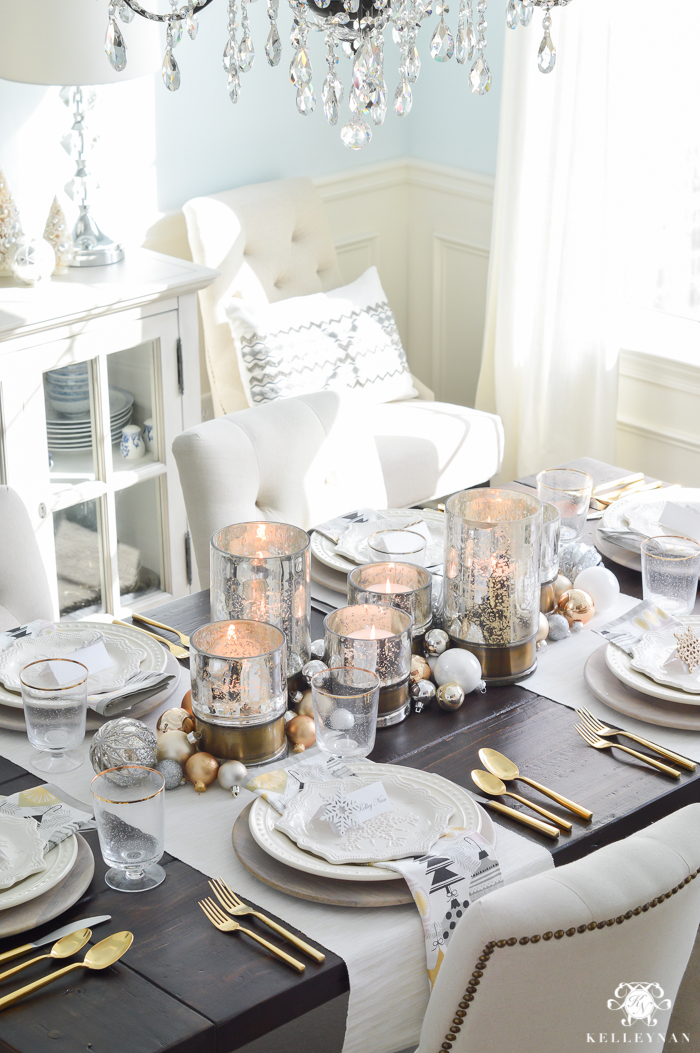 World Market is my go-to for cute, themed napkins. Some of my favs were from my Fourth of July table. Here are some of my favorite Christmas napkins this year.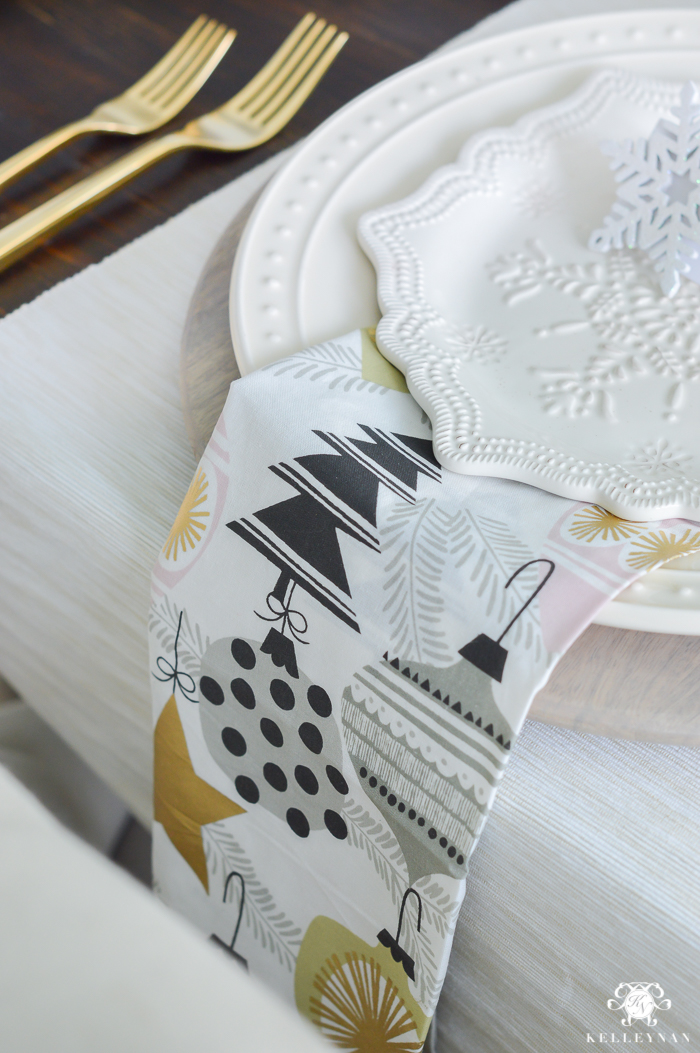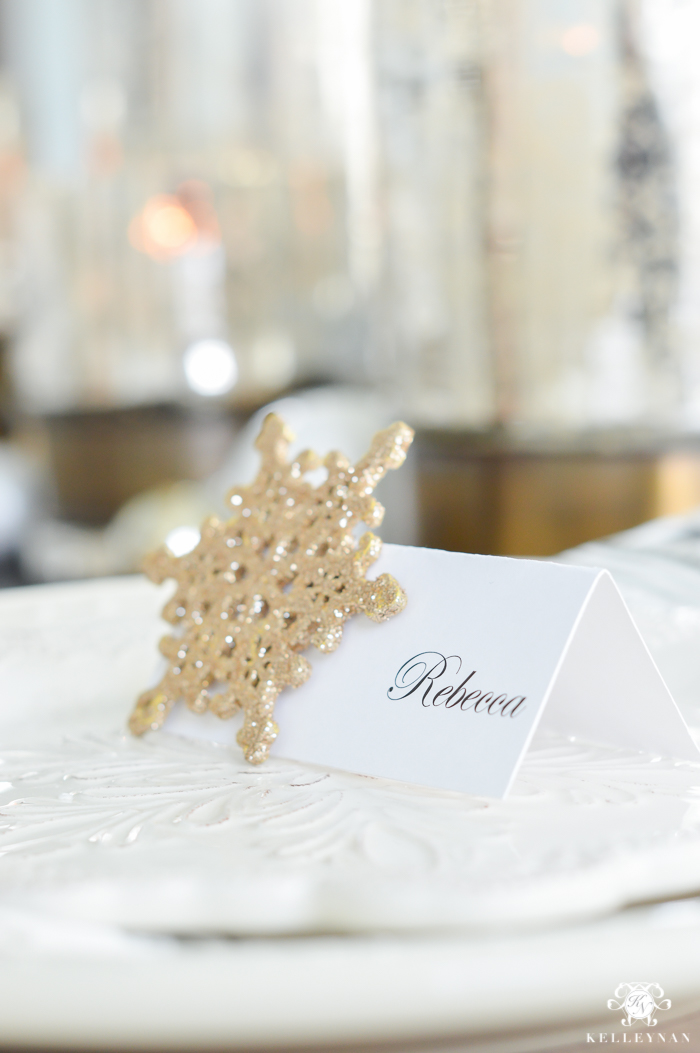 In the winter, consider bringing a basket of blankets into the dining room or drape one casually over the chair. This ivory chenille throw is the perfect material and weight.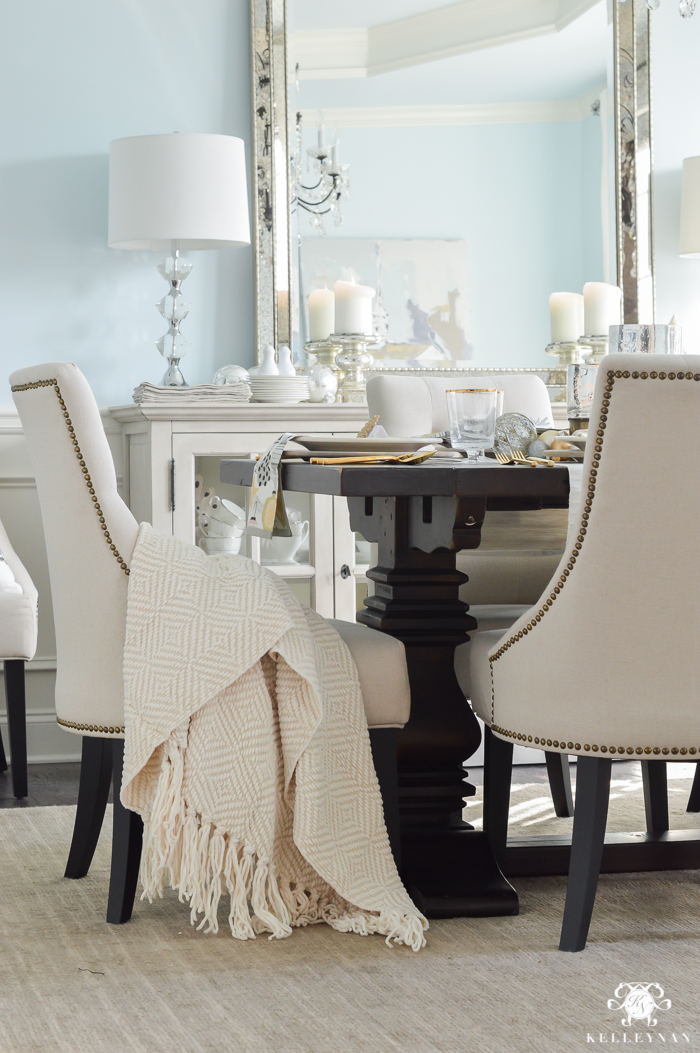 These cute bottlebrush trees made themselves at home on my buffet but using a bunch of them down the center of your table like a forest would be adorable!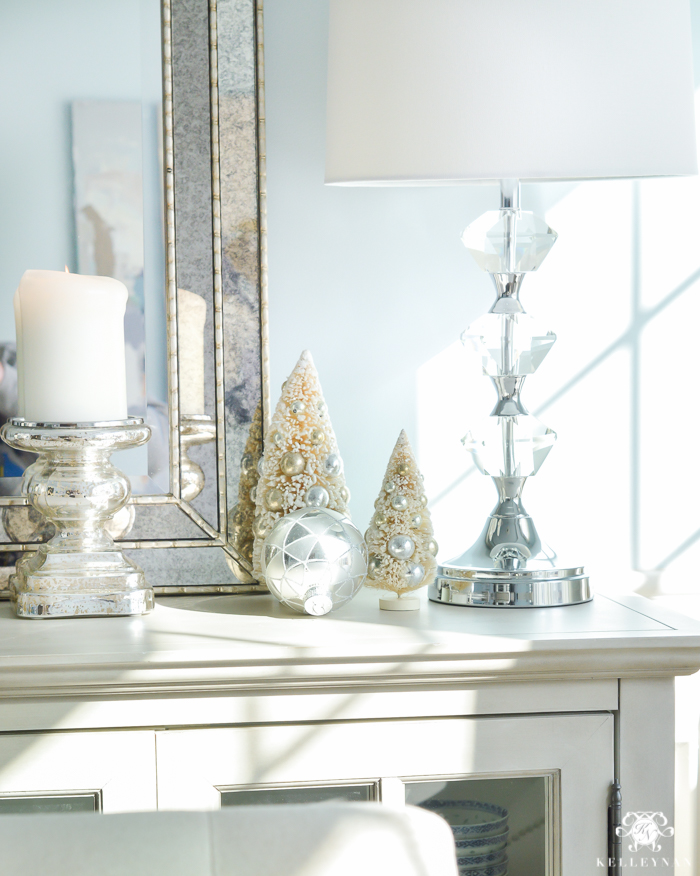 If you are overwhelmed with transitioning to Christmas and not sure where to start, go in one room. The dining room is the perfect canvas to "create". I'll be "creating" a few more times in mine over the next month; to make sure you catch them all, you can sign up to receive my emails at the bottom of this post. Wishing you all a wonderful Thanksgiving and kick-off to the holiday season!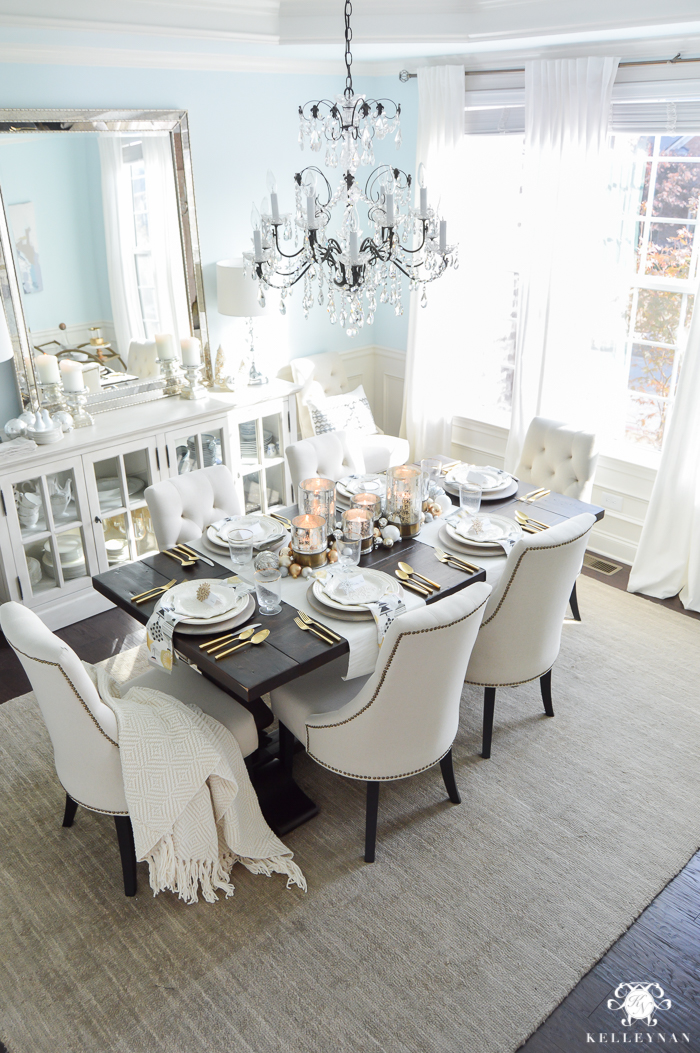 Hurricanes | Dinner Plates | Snowflake Salad Plates | Napkins | Place Card Snowflakes | Chargers | Throw Blanket | Bottlebrush Trees | Drinking Glasses | Gold Flatware | Chairs – Linen | Bar Cart | 12-Light Chandelier
 | Mirror: Homegoods – (SIMILAR) | Dining Table:  (84″ in Salvaged Brown) | Buffet: (72″ in Distressed White) | Curtain Panels
: (98″ in White) | Rug: HomeGoods- Calvin Klein wool (SIMILAR) | Lamps: HomeGoods – (SIMILAR) |  Cream Table Runners |  Pillows: HomeGoods | Church Painting | Water Lillies Art | Paint: Lauren's Surprise by Sherwin Williams | Trim Paint: Creamy by Sherwin Williams | Flooring: Nottaway Hickory in Weathered Saddle