I will forever be a believer in Christmas stockings for everyone at any age. In my house, the stockings are arguably the most anticipated moment of Christmas morning… yes, just between Dave and me 😉 We each take turns pulling out items; even though we aren't children, there is something about a little treasure chest, filled with little surprises specifically for you. And, while there is a definite split on the "stocking approach", I have always enjoyed doing fewer wrapped gifts and creating a stocking "display" on the hearth. Something I learned from my mom – not all stocking stuffers have to fit in the stocking 😉
Over the years I have gotten better about shopping early and often for stocking stuffers. Once upon a time, I would wait until the last minute and sprint through Target, throwing anything and everything small in my cart. As long as it was filled a stocking, I didn't put much thought into it. I now take a different approach for a few reasons. 1. There's less stress planning ahead; 2. I prefer not wasting money on junk that will ultimately go in a junk drawer; ad 3. It is more fun taking a more thoughtful approach, even with stockings.
NOW is the time to start gathering loot for stockings. For me, starting early also tends to help accumulate a few nicer items by spreading out the shopping process. Don't get me wrong, we are not above the chap-stick at the register and candies in the holiday treats, but typically, Santa likes to put a few nicer, planned gifts in the mix. After making my own list and scouring sources online, I have compiled some of my favorite stocking stuffer ideas for adults.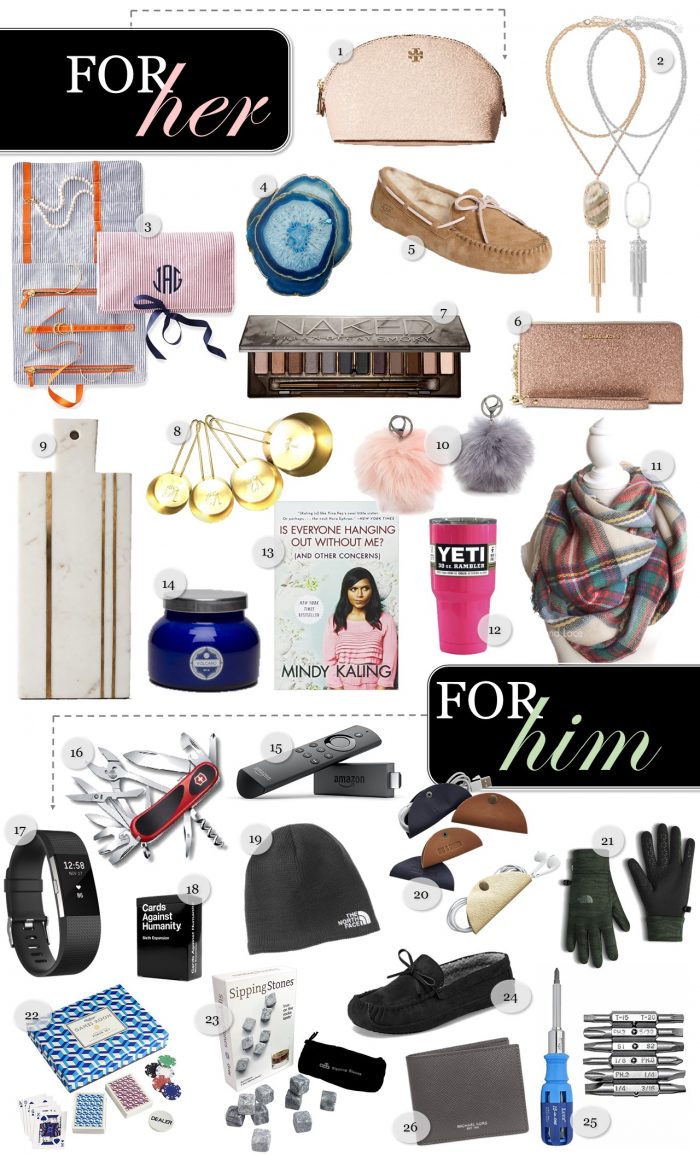 1. Tory Burch Makeup Bag | 2. Kendra Scott Rayne Necklace | 3. Travel Jewelry Roll | 4. Agate Coasters | 5. Ugg Slippers | 6. Michael Kors Wallet | 7. Urban Decay Naked Smoky Palette | 8. Gold Measuring Cups | 9. Brass Inlay Cheese Board | 10. Fur Pom Pom Purse Charm/Key Fob | 11. Blanket Scarf/Toggle Poncho | Yeti Rambler | 13. Mindy Kaling Book | 14. Volcano Candle | 15. Amazon Fire Stick | 16. Ultimate Swiss Army Knife | 17. FitBit | 18. Cards Against Humanity Expansion Packs | 19. North Face Toboggan | 20. Cord Taco Organizers | 21. North Face Touch Screen Compatible Gloves | 22. Poker Set | 23. Whiskey Stones | 24. Moccasin Slippers | 25. All In One Screwdriver | 26. Michael Kors Billfold 
*post contains affiliate links*