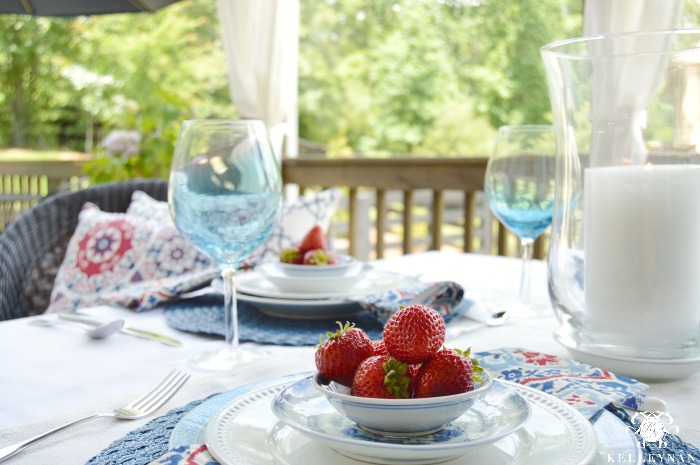 Where I live, the Fourth of July may be the most celebrated, highly anticipated day of the year. In addition to fireworks and cookouts, our city holds an annual steam engine parade with a healthy collection of steam engines (be sure to Google it if you aren't familiar with steam engines), veterans and soldiers, horses, antique cars, local floats… growing up, this was the event of the year. Vendors and food trucks fill the sidewalks and fairgrounds of our downtown area and leftover candy litters the street. It truly is an amazing time for my city and when I was a little girl, I probably have more fond memories of that day than any other.
With busy family events and community gatherings, we look forward to coming home and having a small, casual, block party-ish celebration with our neighbors. We all head to our street to set off fireworks, and migrate from driveway to driveway with cocktails. Organizing a small dinner for just a few friends/neighbors before the action starts is a great way to kick off the evening.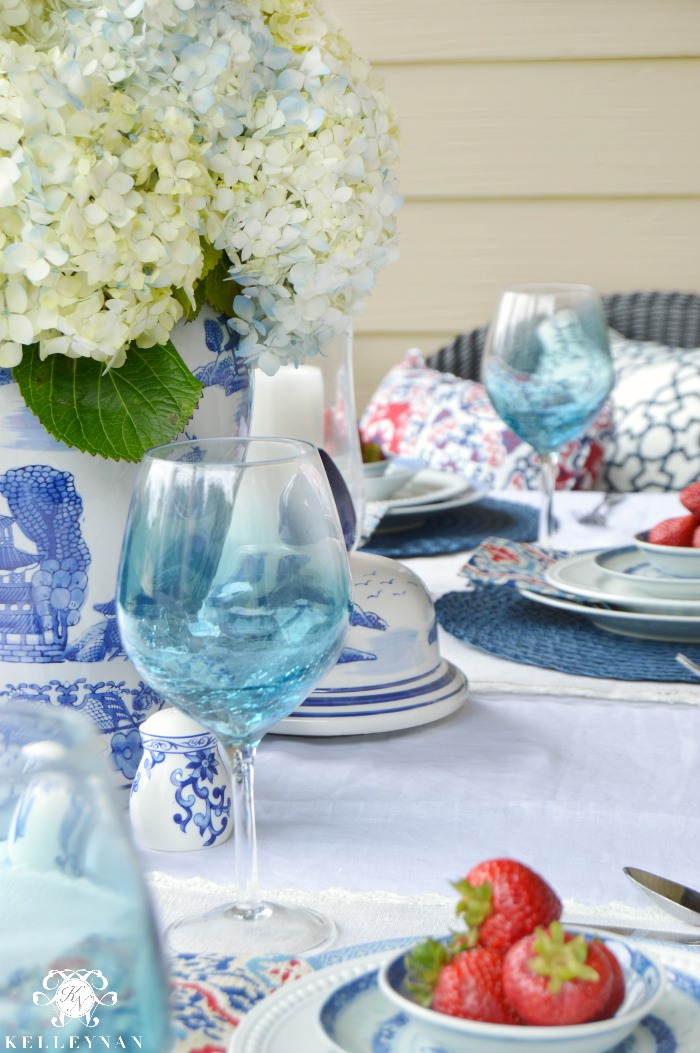 I LOVE this patriotic table and the easiest part? The only new additions are these cute napkins. Again, a true testament for the different looks you can pull off when you build an arsenal of linens and focus less on collecting dishes. I actually started out with flags in the hydrangea arrangement but Mother Nature had other plans that day and brought the wind and the rain (doesn't Jackson Browne have a song about that?). After whipping around and slapping the hydrangeas repeatedly, I pulled them and put them to use elsewhere.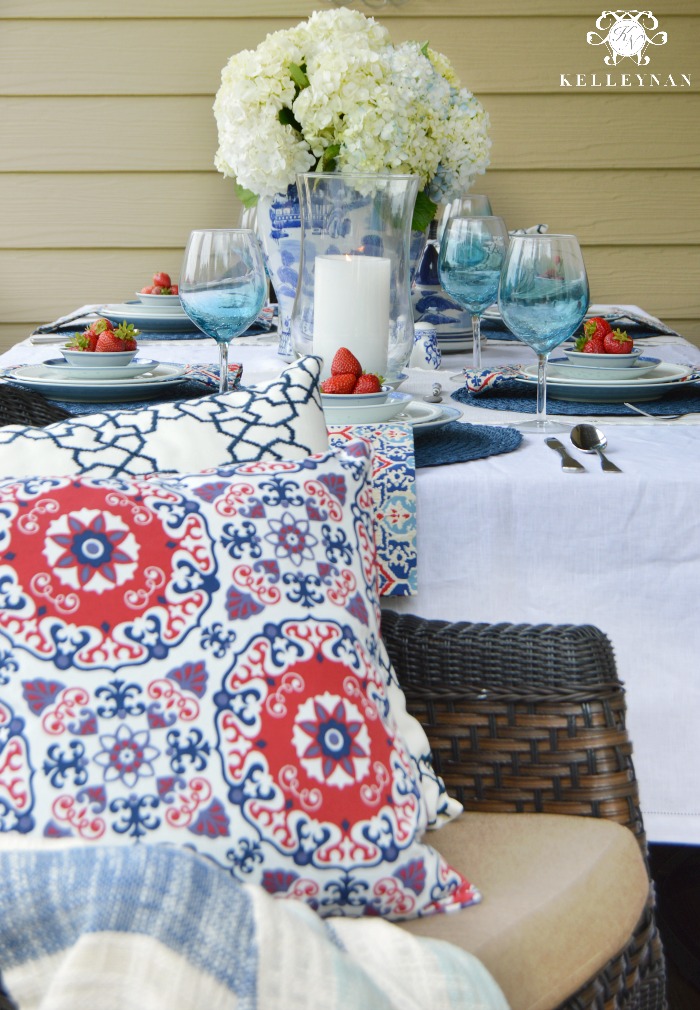 Ok, I fibbed. These little Spode Blue Italian Teaspoons are also a recent addition 😉 If you are looking to set a seasonal table but are low on the right colors/materials, you can find everything you need at your local grocery store.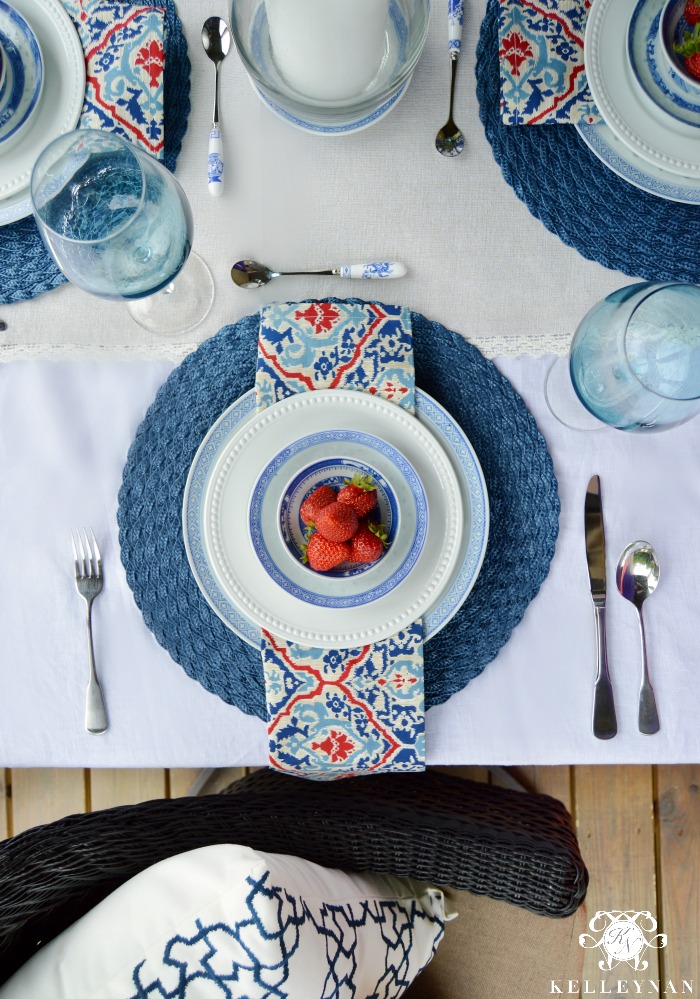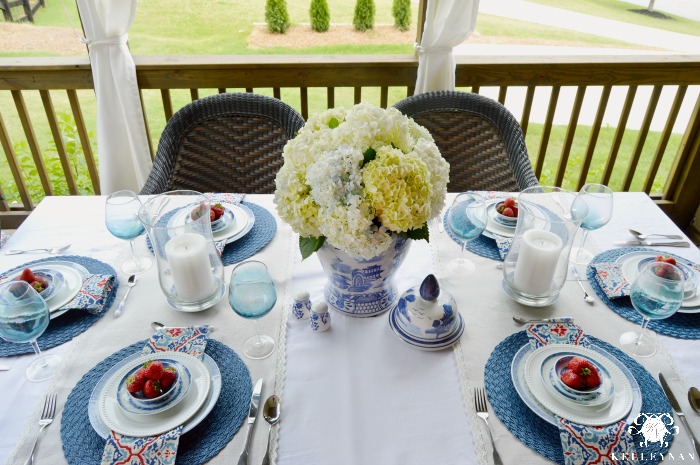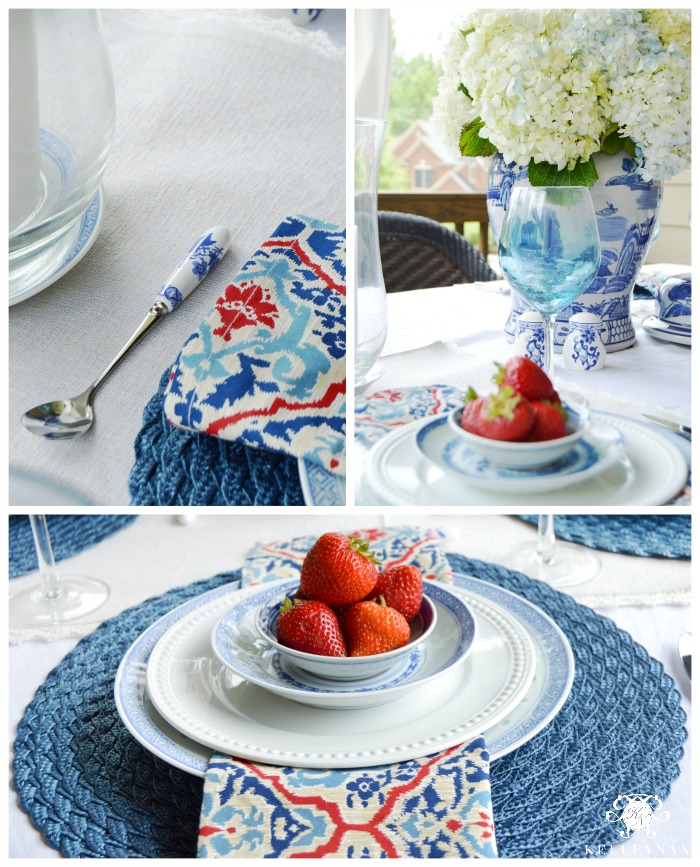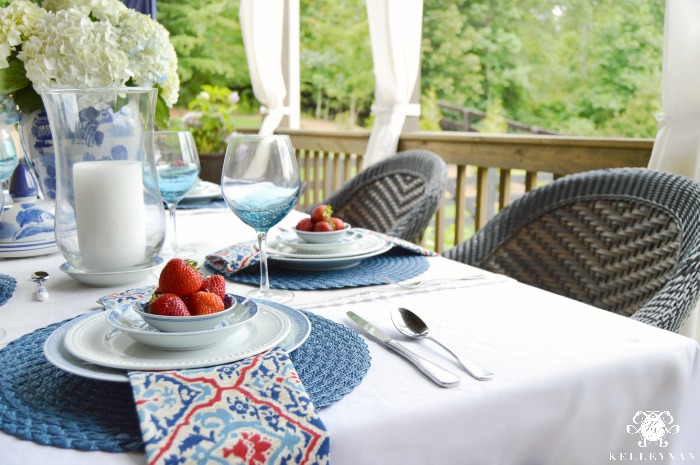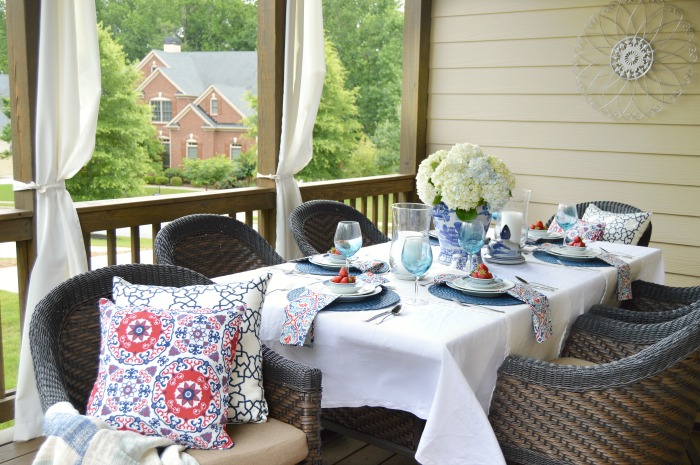 Confession: had I been paying more attention, I probably would have kept the pillows to the pretty embroidered blue and white since the red white and blue are so close to the similar napkins, but, it's the Fourth of July and ok to be a little more whimsical and break some rules 😉 *TIP* This cute little striped outdoor throw slouched over the chair arm is half off. I love it so much, I actually have it in green also. You are welcome 😉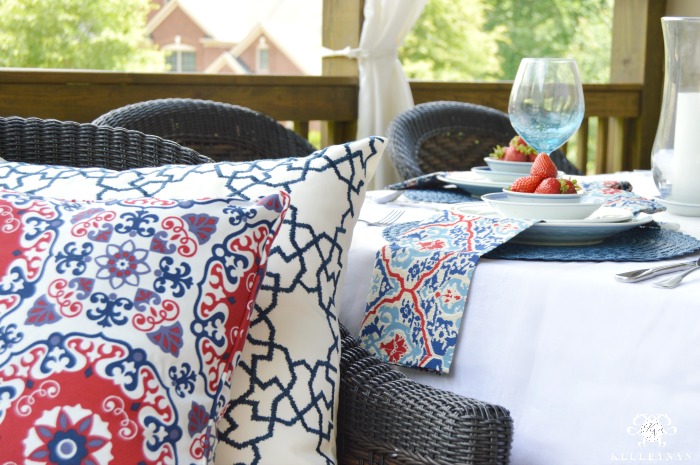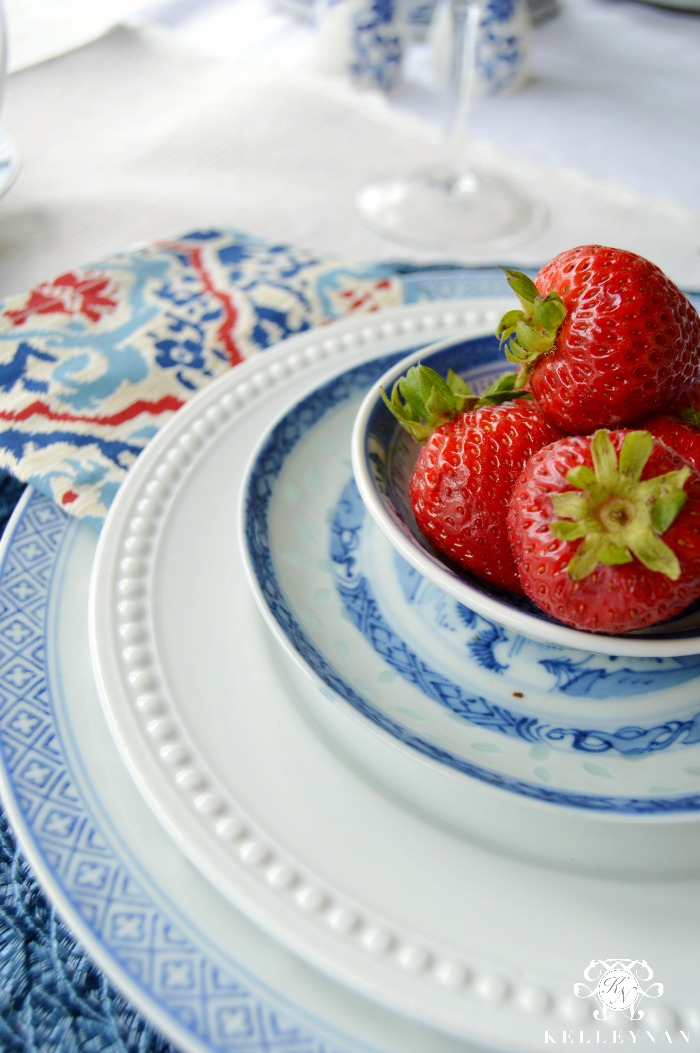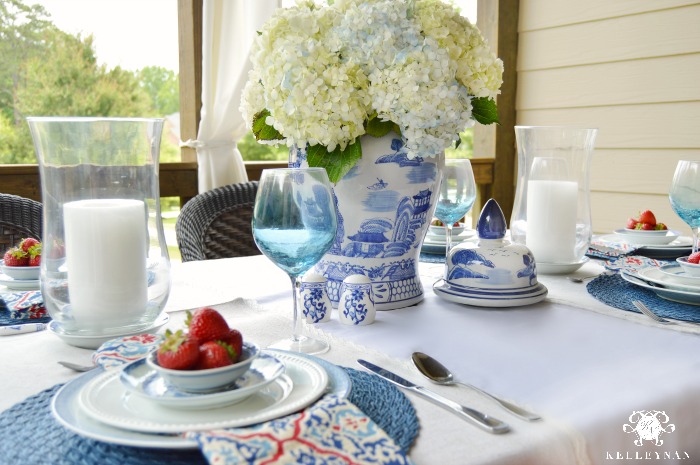 One of my favorite details of this simple gathering is the little sparkler station. I leave the lighting of the fireworks to my husband, but sparklers are my jam. I used a the lid of the small blue and white jar to hold the boxes of matches and tied some patriotic ribbon garland (catch the simple tutorial HERE) I made last year around one of my garden stools. And how cute is this saying I quickly whipped up on the computer?
 "Don't ever let anyone dull your sparkle"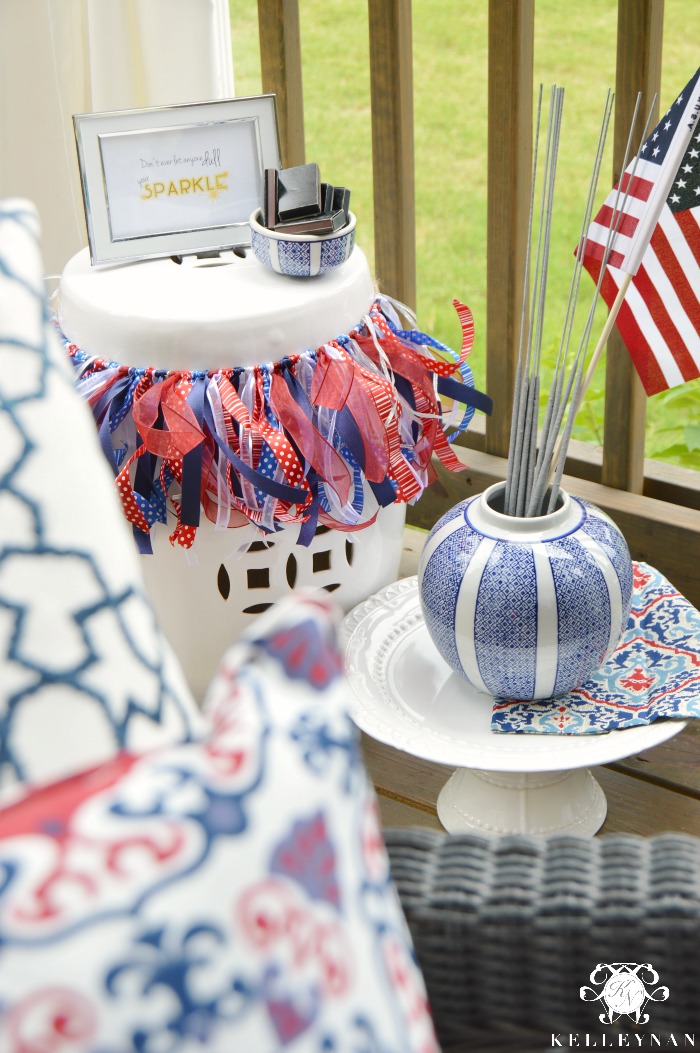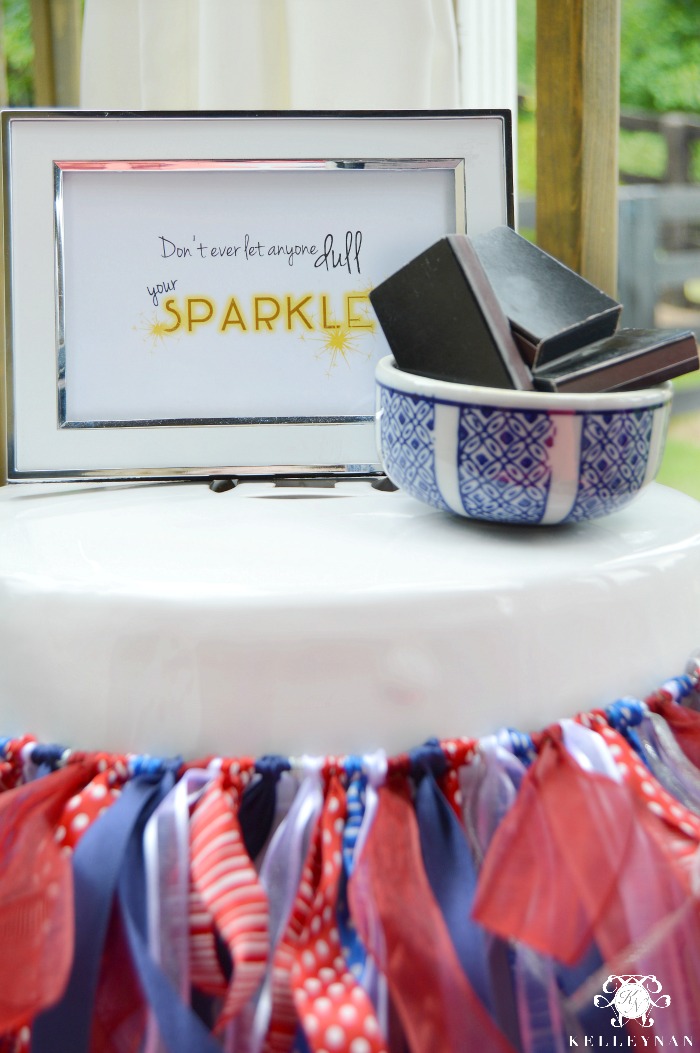 Hydrangeas have been my hearty go-to and I LOVE to have them overflowing in my blue and white jars.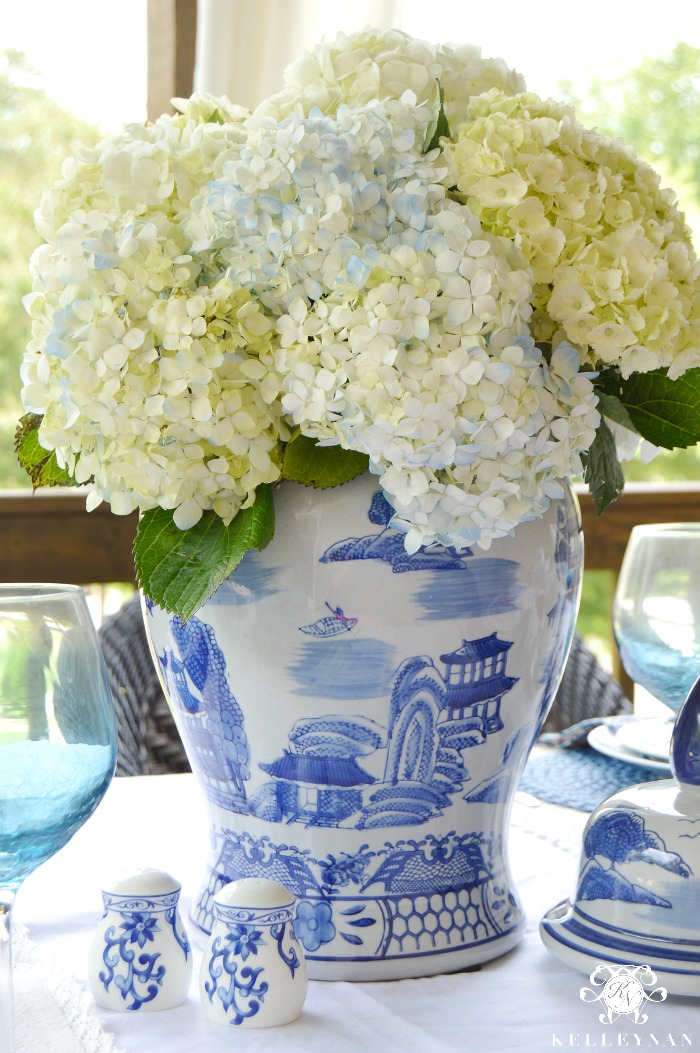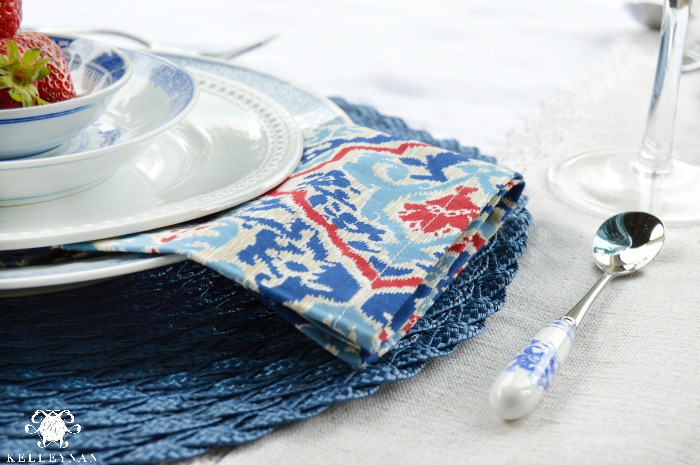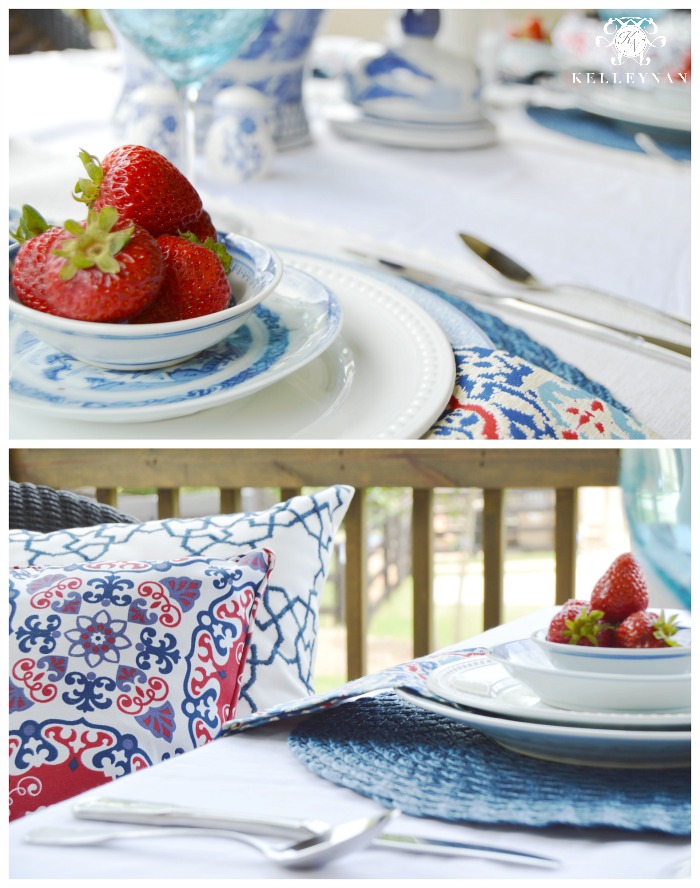 These placemats are so easy and have not let me down. They are super affordable so I think I will be getting a few more colors. They are perfect for outdoor, but I also used them inside for a casual look HERE. And, my crackle wine goblets see me through pretty much every table setting. I did break down and get these in another color haha.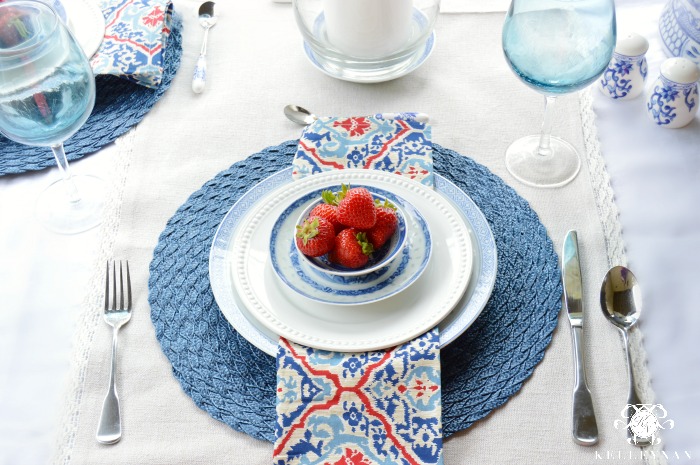 Happy Fourth of July! May you have a wonderful time celebrating America, making memories with friends, lighting up the sky, and creating fun, patriotic tables. Oh, and if you have a steam engine parade, be sure to check that out too 😉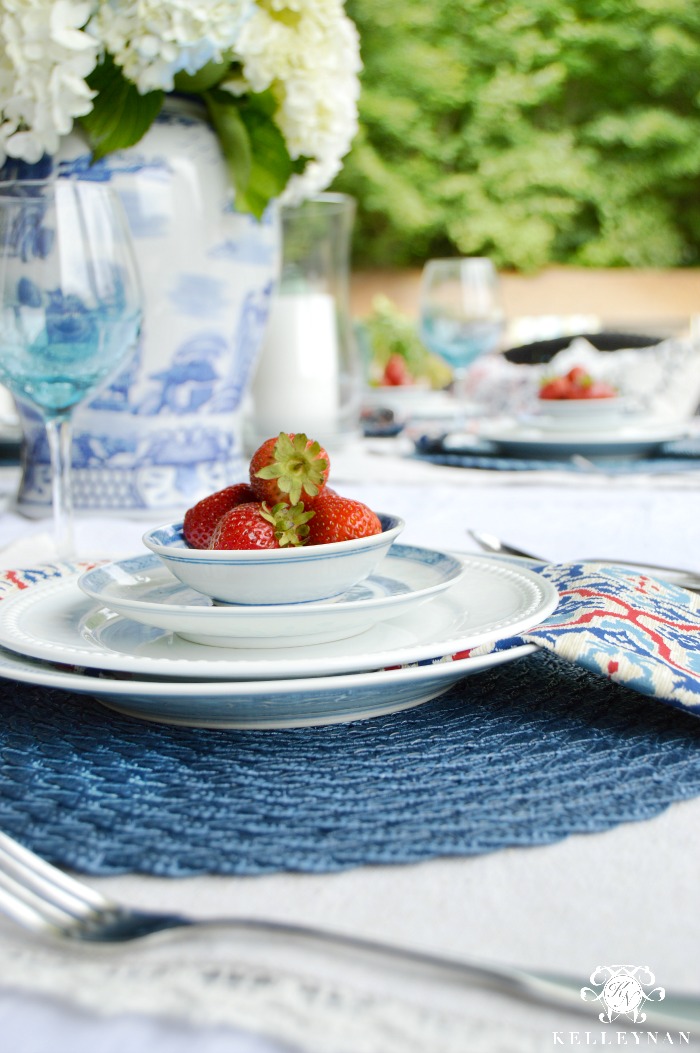 SCROLL TO GET THE LOOK

(use the left and right arrows to scroll)
ADDITIONAL SOURCES
Dining Set: Costco Wall Art: HomeGoods| Table Runner: HomeGoods | Red White Blue Pillows: HomeGoods | Blue and White Dishes: Vintage
*Note: Post contains affiliate links and sources throughout the post. Where product is no longer available, a similar substitute has been listed.
Linking up with a Tablescape Thursday link party, hosted by Between Naps on the Porch.