I love our dining room. I love the furniture, I love the chandelier, I love the tray ceiling ceiling… But, something that has never set quite right with me is the position of the mirror hanging over the buffet. I have mentioned before about having purchased a lot most of our furniture before we ever moved in and this mirror and buffet were no exception. I couldn't get enough of the antique gold finish on the mirror, but having such a long mirror hanging horizontally seemed to visually cut off the wall space above it. Like I said, I love my ceiling and my chandelier and want those to be a focal point – that's a problem when the mirror makes your eyes stop half-way up the wall. So, I have been planning for a long while to flip my mirror and lean it vertically.
This weekend, I finally got around to trying it out, and wow! What a difference! I loved the look except for one small detail… it didn't quite fit haha. It was so long it overlapped the moulding but I could already tell I loved the new setup so much, I couldn't wait and had to make it happen right then. So, I did what any sane person would do. I grabbed my keys and a Diet Dr. Pepper and headed out to HomeGoods (second trip of the day), praying that they would have the perfect mirror. I know myself and I was so desperate for gratification at that moment, even if I hadn't found just the right thing, I would have talked myself into thinking it was. Lucky for me, I did find the perfect mirror, still on a palette, not yet spotted by the other ruthless HG shoppers. AND, there was a male associate standing right next to me. How often does that happen?! More often than not, I am trying to do decide whether sprinting through the store trying to locate someone for help or standing with my hand on the item, claiming it patiently until someone hopefully appears is the safest bet. It was like it was meant to be. I took that as a sign from God and then cruised to the lamp section before taking my spoils and heading home. With a tall mirror, I knew my small lamps would look a little silly standing next to it. Kind of like Hayden Panettiere standing next to her husband. Actually, they look pretty cute still so bad example. But, the point is, I needed taller lamps.
I think my husband forgave me for this out of the blue, Saturday "surprise" because he could see how in love with the outcome I was. And, he admitted he loved the transformation too. Here is a reminder of what the buffet/mirror looked like before. Nice but a little something missing…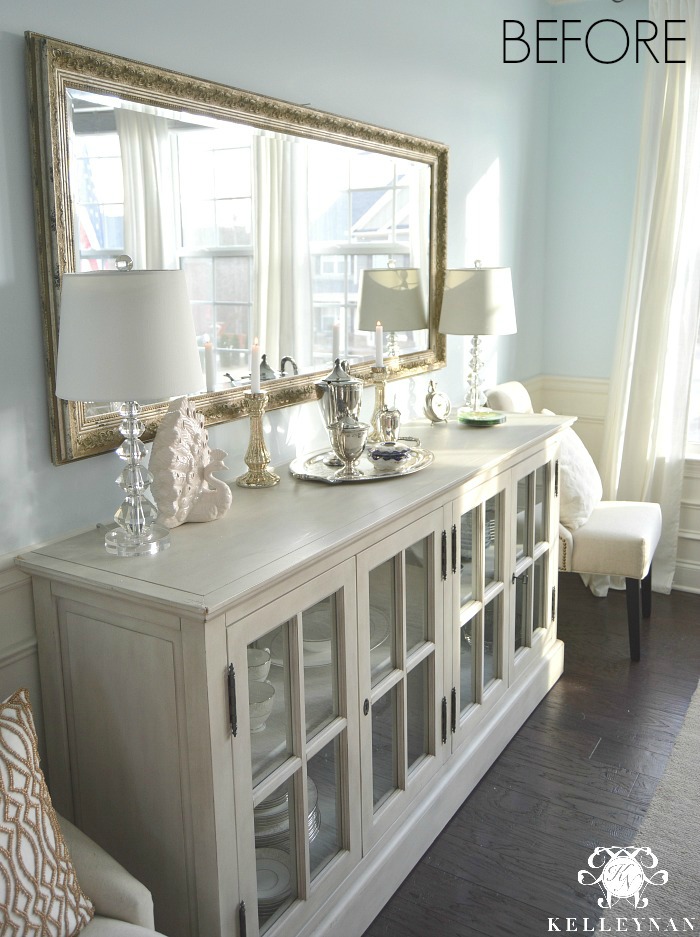 And here is the after. The lamps are the same glass style as their shorter cousins, formerly sitting in that place.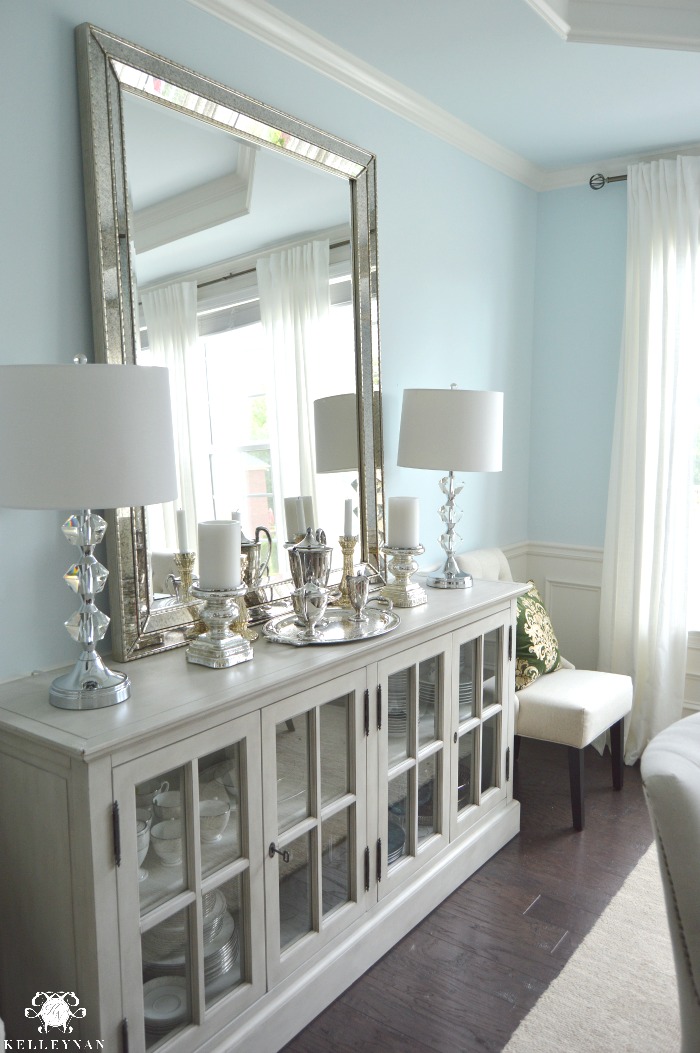 Here, you can see the before from my Easter Tablescape post. The blank space above the mirror is more evident here and you can only catch a glimpse of the bottom of the chandelier crystals.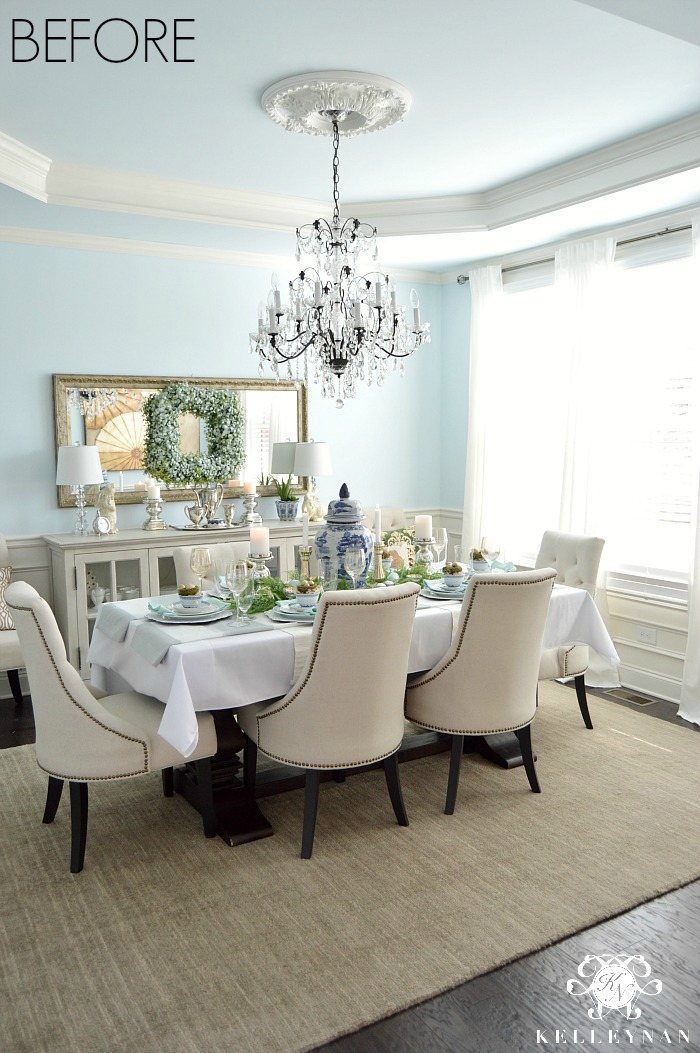 Now, you can see the full chandelier and even the moulding inside the tray ceiling. The mirror draws your eyes upward and achieved the exact look I was going for. I couldn't be more excited. I also switched out the gold parasol painting (spotted in the mirror in the BEFORE photo), and switched it out with my Be Still & Know piece from Fine Art by Deann's recent church series.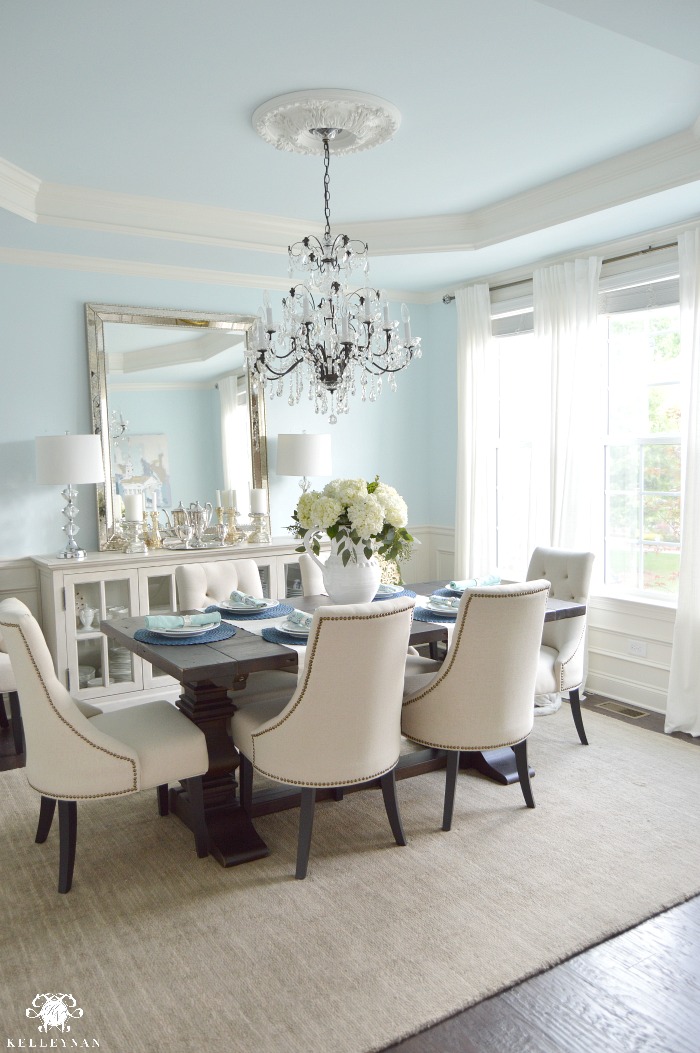 The table is casually set for summer. On Tuesday, June 14, along with some friends, I will be launching my summer home tour so I will wait to share those details until then.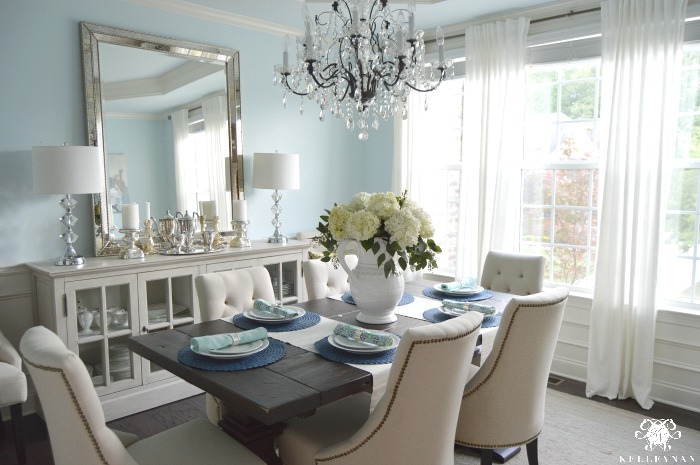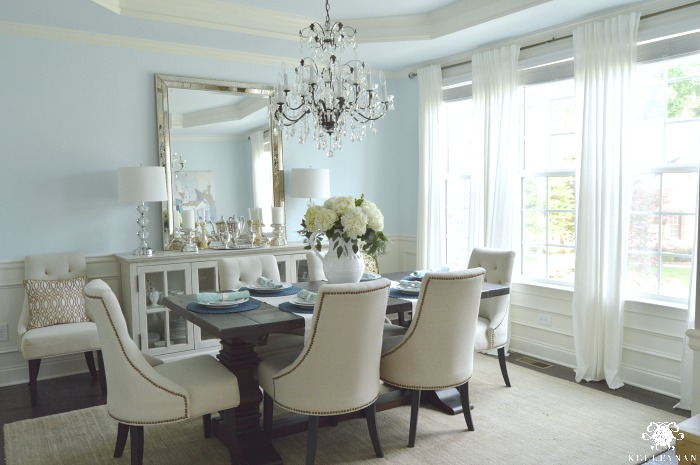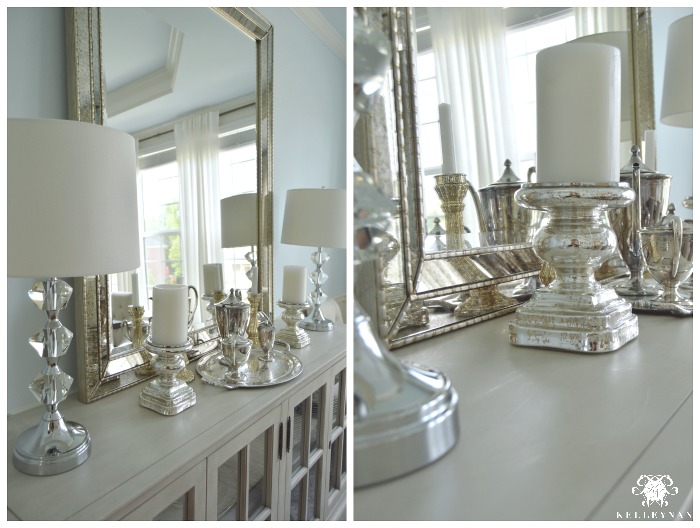 It is so much more open now; instead of your eyes hitting the top of the mirror frame and stopping, they keep scanning upward. When the sun started setting, I kept coming back in this spot and staring; the entire room seems so much softer now.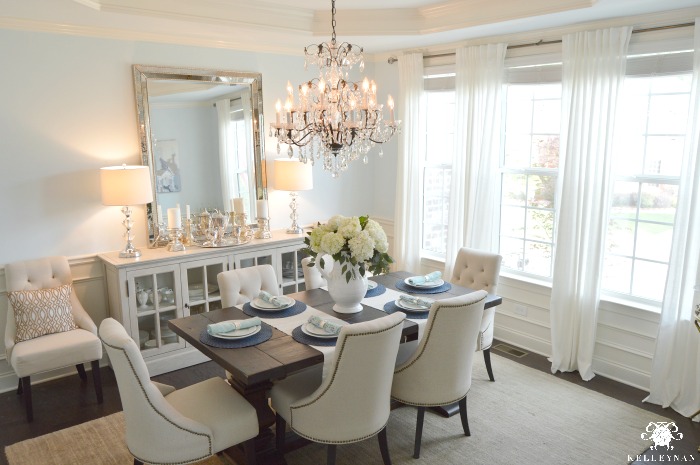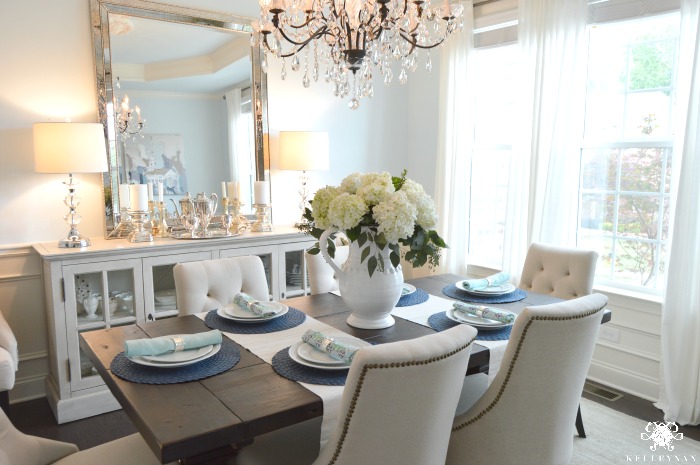 I would love to hear what you think about the little space transformation. Do you have any art or mirrors in which you are considering switching orientation?
GET THE LOOK

ADDITIONAL SOURCES
12-Light Chandelier
 | Dining Table:  (84″ in Salvaged Brown) | Buffet: (72″ in Distressed White) | Curtain Panels
: (98″ in White) | Rug: HomeGoods- Calvin Klein wool | Mirror: HomeGoods | Lamps: HomeGoods | Silver Tea Service: Family Heirloom | White Oversized Pitcher: HomeGoods | Pillows: Pier 1 (no longer available) | Paint: Sherwin Williams- "Lauren's Surprise"
*post contains affiliate links | where original product is not available online, an alternative option has been sourced*