This past weekend was slow-moving, semi-productive, and just the balance the doctor ordered after our trip to New York. We worked outside and I had the privilege of photographing my friend's pregnancy announcement- TWINS! Here's a peek of their sweet little family…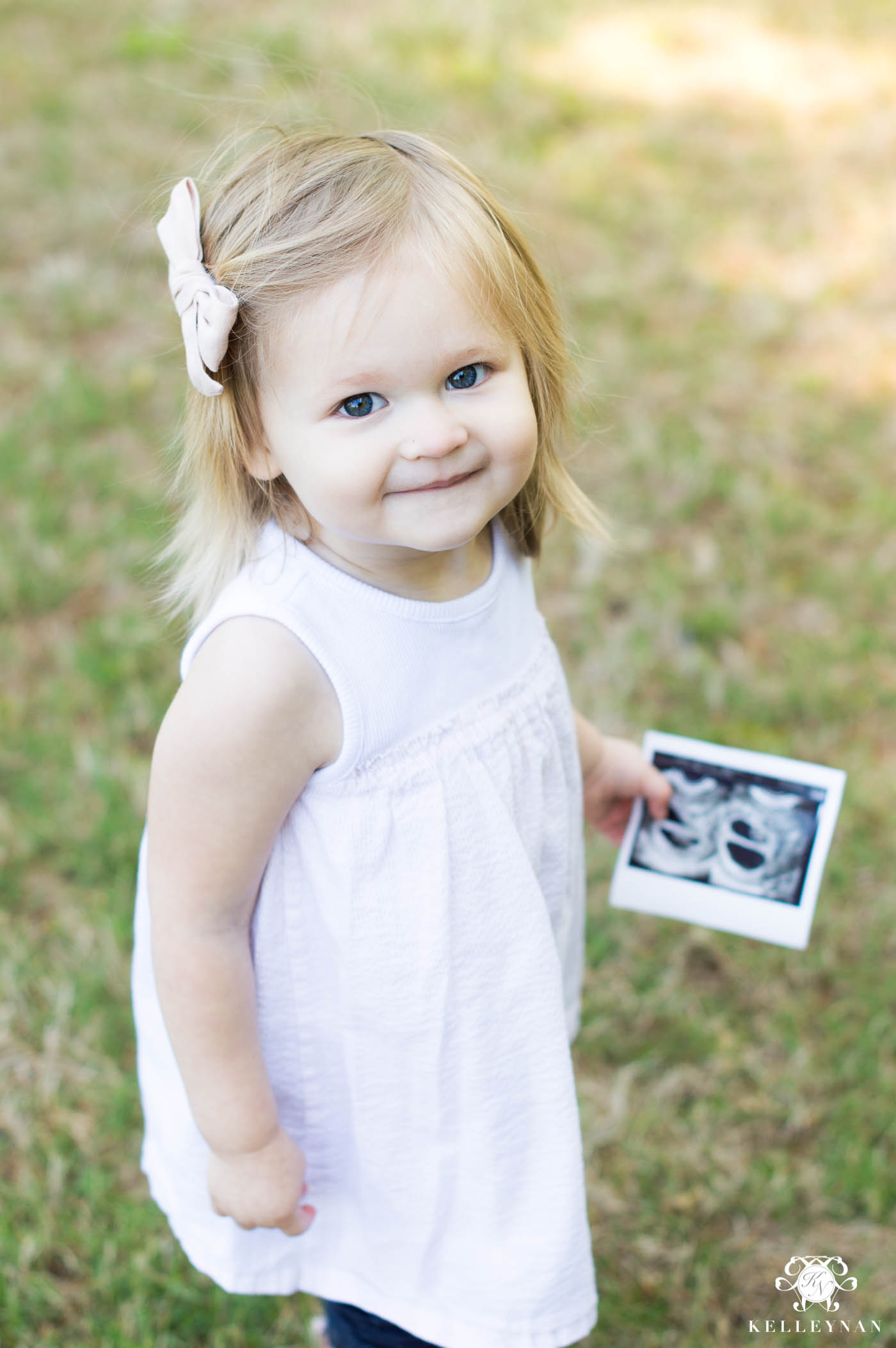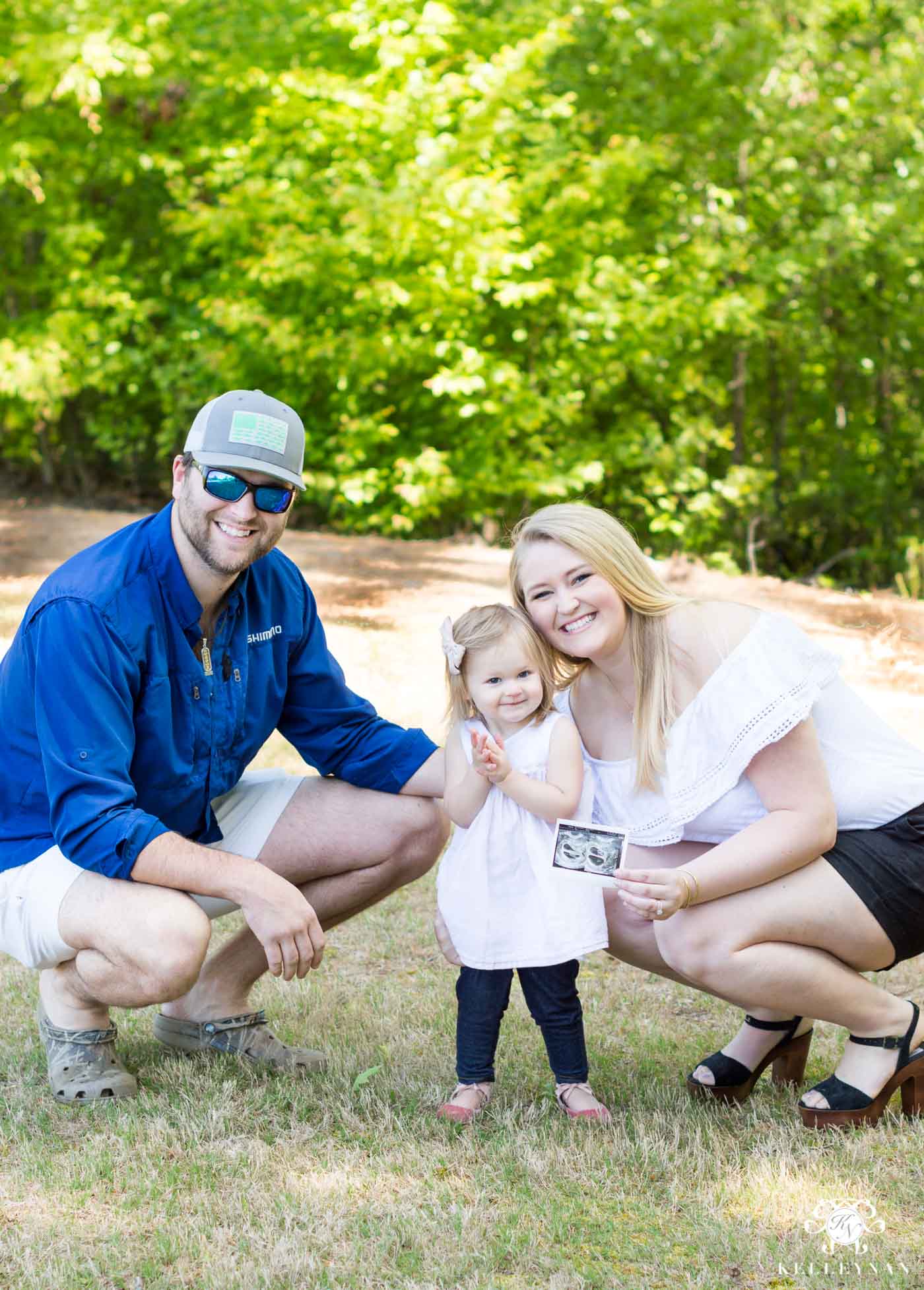 It can't be denied, Ansley and Joe obviously make beautiful babies – she's also the sweetest, happiest little nugget, too 😉 I'll be hosting a baby shower for her later in the year (woo!!) and have already started brainstorming; I'll be bringing you all along for that probably in early fall-ish.
*Posts on KelleyNan.com may contain affiliate links. Click HERE for full disclosure.*
Other things that have been on my mind and that I've been up to? See below in the latest Snack Around the Plate.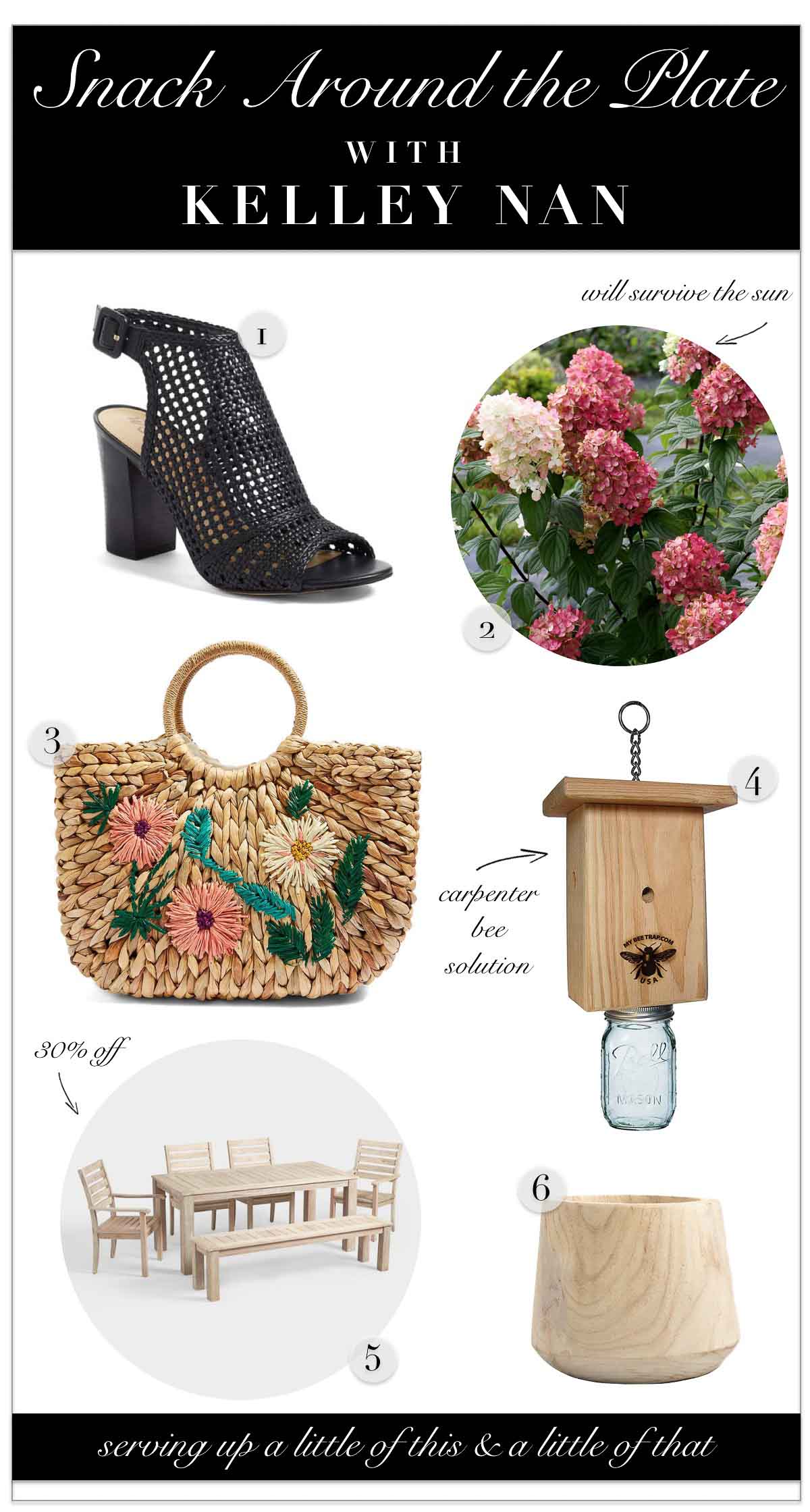 1. Sam Edelman Evie Sandals // I tried these on while I was in-store this past weekend and while they didn't have them in my size, I loved them and decided to order online. The chunky heel and fit makes them super comfortable (even for a wider foot, like mine) and they're available in three colors. Plus, they are on sale for $79.97, marked down from $140. Wear them with dresses this spring and summer or jeans/pants in the fall – these are super versatile and are perfect for almost year-round wear. // Shop them HERE
2. Fire Light Panicle Hydrangeas // I've learned a LOT about hydrangeas over the past couple of weeks. Here's what happened. We moved in our house just over three years ago and are working to landscape a little at a time each year. Our first year, we planted a row of limelights on the side of the house (receives morning sun and afternoon shade), next to the deck. We really lucked out; they thrive hard and bloom mid-late summer through fall. Here's a look when they are ginormous and in their prime.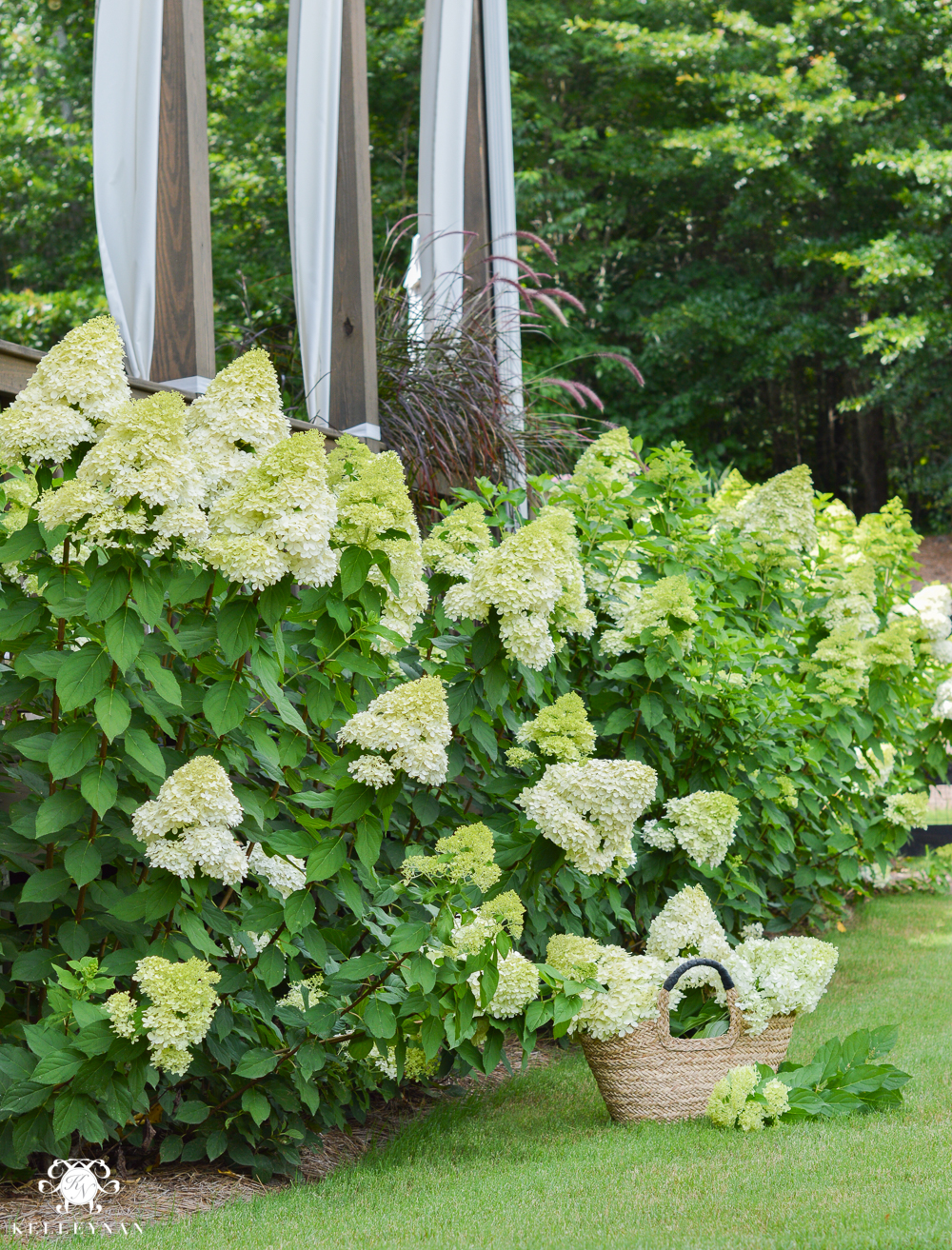 So, the back of our has has remained bare. I knew I wanted to line it with hydrangeas but I wanted to go for a more colorful variety (preferably blue) and I wanted to get a variety that would bloom earlier – in springtime. Well, when we went to the nursery to start seeking out the hydrangeas that would do well, I was disappointed to find that there are actually very few hydrangeas that will survive the hot Georgia afternoon sun (which is what the back of our house gets). What we needed, apparently, were "panicle hydrangeas".  It just so happens that limelights are panicle hydrangeas. I didn't want more of those, though, I wanted variety. What was really frustrating is to find that while limelights could thrive on the back or side of the house, the blue mophead varieties I wanted would only suffice on the side where the limelights were already planted. Because they do so well and are no longer dormant, we didn't want to risk transplanting them. The next best option – fire light hydrangeas – a panicle hydrangea that supposedly acts similar to the limelight, except in red-ish color variations. From what I've seen, if they "do right", they should be beautiful. We purchased eight of them, got them in the ground, and are waiting to see if they may grace us with a few blooms in their first year. If they do put on a show, I'll be sure to share 😉 // (Collage image via Monrovia)
3.
Floral Embroidered Straw Tote
// If you know me, you already know I'm a sucker for a cute straw tote. This floral embroidered bag is a new release and a new fav – plus, it's one of the more budget friendly straw totes I've found! //
Shop it HERE
4.
Carpenter Bee Trap
// Carpenter bee damage is a serious thing at our house. They swarm our upper deck, which is annoying, but the most devastating discovery was the visible hole they put in our front door. For now, I'm just pretending it isn't there haha. We finally decided to do something about it this season and pulled the trigger on trying a carpenter bee trap. We purchased one from a neighbor but I found the exact design online and I'm happy to report, it's been hung for just over a week and has already contained several suckers. If there was a way to deter them, I would, but I'm not above the next best option. //
Shop it HERE
5. Outdoor Dining/Living // It's the final day of the World Market Friends & Family Sale which means – 30% off your purchase, plus free shipping over $65 (with code YAYFRIENDS). Last year, I outfitted our main outdoor space with World Market finds (see below)…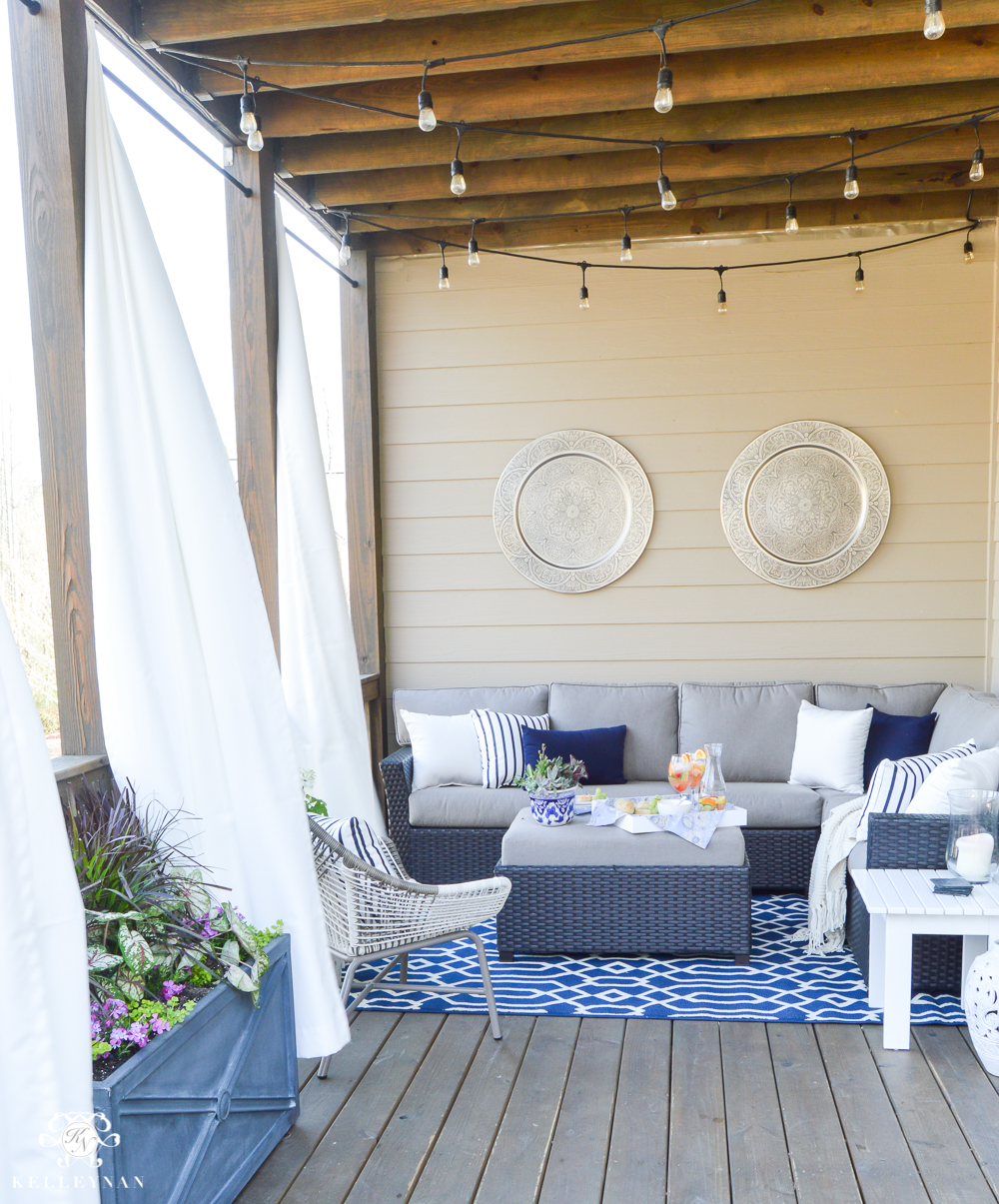 Rug | Gray Woven Chair | Striped Sunbrella Pillows | Striped Sunbrella Lumbar Pillow | White Sunbrella Pillows | Navy Sunbrella Pillow | Navy Sunbrella Lumbar Pillow | White Metal Drum Stool | White Side Table | Wall Medallions | Glass Hurricane | Acrylic Wine Glasses | Small Bowl | White Tray | Thai Teracotta Floor Vase | Floral Napkins | Gray Spinwash Salad Plates | Carafe | Ivory Throw | White Caleb Lantern | Sectional: Costco | Planter (size: trough) |  Outdoor Curtains (108″ in white) | Curtain Tension Rods 
…but I'm absolutely loving their collection this year, including the customizable patio set featured in the collage. You can check out the full sale HERE. // Shop the featured outdoor patio dining set HERE
6. Wooden Planter // Also eligible for the Friends & Family Sale is my wooden planter; I have loved mine and continue to use it all over the house. You can snag it for $13.99 right now 😉 // Shop it HERE
On a side note, because I've taken on at least one room each fall and spring for the last few years, I'm kind of itching to tackle a new space after having taken off this season. I'm working to determine which space I'll move to "priority" status so stay tuned to forthcoming details. You can subscribe to my emails below to make sure you catch the announcement!