I'm always on a quest to find easy, quick weeknight meals and if I can use fresh ingredients, all the better! We've done a few different versions of caprese chicken, stuffed with tomato, mozzarella, and basil this summer and while it's delish, it's definitely a little heavier and takes a good bit of time to prepare. But, caprese paninis? So quick, so easy, and so yummy. Today's recipe almost isn't a recipe, but it's too good to keep to myself so I had to share!
*Posts on KelleyNan.com may contain affiliate links. Click HERE for full disclosure.*
How to Make Caprese Paninis
I'm not big on large, single-purpose kitchen appliances that take up a lot of room but I love our griddler that can serve as a grill, griddle, panini press, etc. This 5 in 1 Cuisinart has almost five stars and almost 12,000 reviews. You can check out all the functions HERE.
Something to note is balsamic glaze is not the same thing as balsamic vinegar. You can make your own but I prefer the squeeze bottles from the grocery store so you can drizzle; we used the Bertoli brand, I believe. Something else to note is that depending on the thickness of your sandwich and your countertop grill, you may have to play with times and temps. Ciabatta bread is more hearty and along with the thick insides, will need to grill longer than something thin on basic sliced bread. I usually grill between 350 and 375 for 7 to 10 minutes.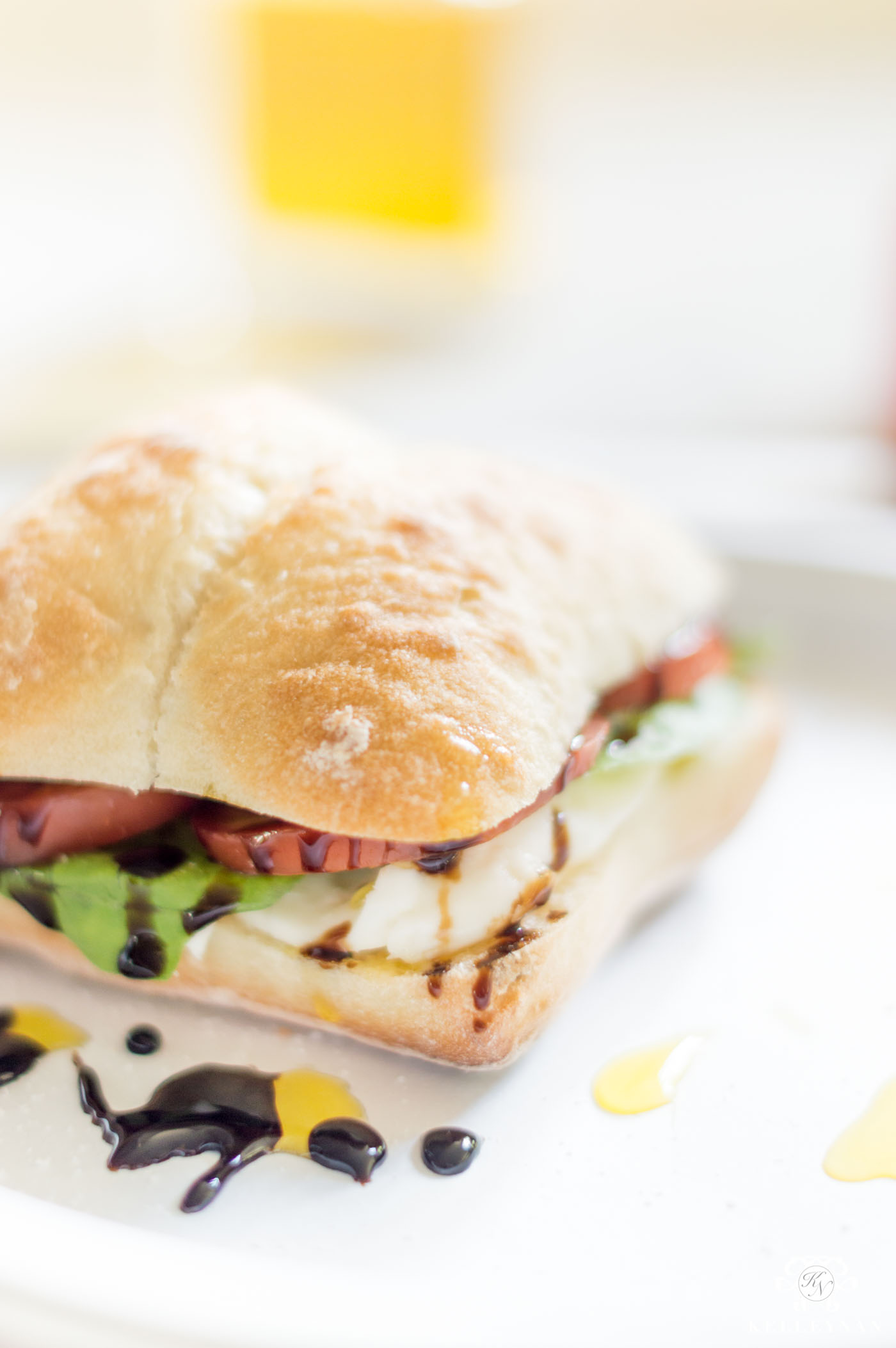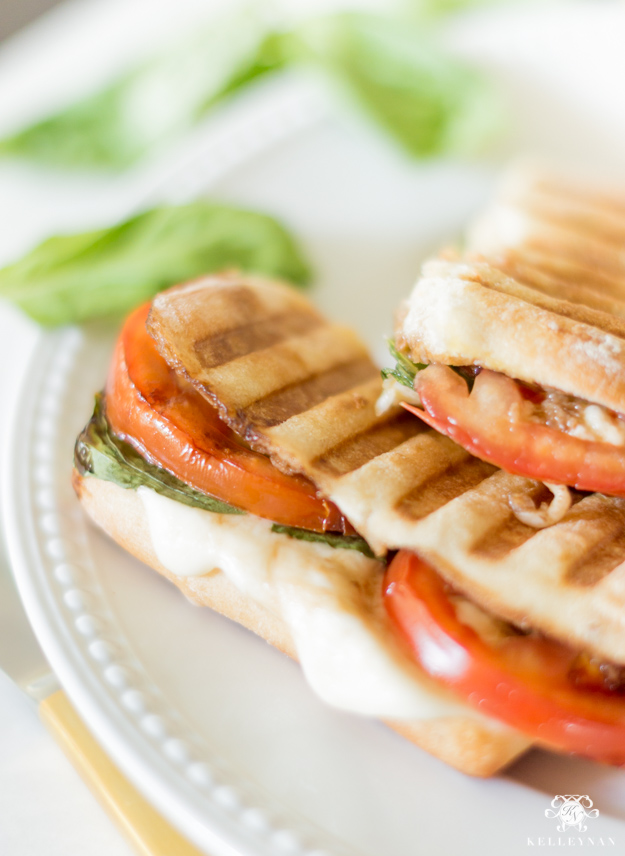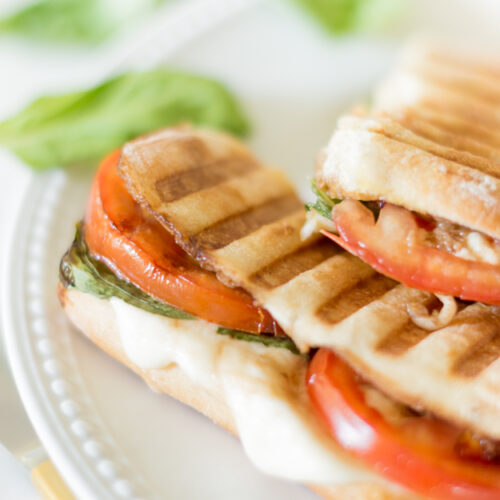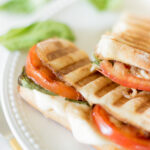 Caprese Panini
An easy weeknight dinner idea or summer lunch with fresh tomatoes and basil
Ingredients
Ciabatta Rolls

(or loaf of ciabatta bread)

Thinly Sliced Tomato

Fresh Basil Leaves

Drizzle Olive Oil

Drizzle Balsamic Glaze

(I use pre-made but you can also make your own)

Fresh Mozzarella
Instructions
Heat grill to medium to medium-high heat, around 350º

Wash basil and tomatoes, remove basil stems, thinly slice tomatoes

Thinly slice mozzarella into medallions

Slice ciabatta rolls open, cutting the tops off to form two pieces of "sandwich". Drizzle olive oil lightly inside on each slice.

On the bottom half of the ciabatta roll, layer mozzarella, followed by basil leaves, then top with tomatoes. Sprinkle with salt and drizzle tomatoes with balsamic glaze. Add top of ciabatta roll on top to finalize sandwich assembly.

Spray both sides of the grill with cooking spray and set panini in the center. Close the lid and press. If the top of the clamshell can be manipulated to make the plate parallel to the top of the sandwich, turn it down from an angle so it presses on the sandwich directly.

Depending on your grill and the height of the sandwich will determine cook time. It may take anywhere from 5 to 10 minutes; you can open the grill to check every so often; once the cheese is melty, the basil has started to wilt and the tomato skin starts to wrinkle, remove and enjoy!
This sandwich is so hearty you could even do an additional balsamic glaze drizzle on top and eat it with a fork.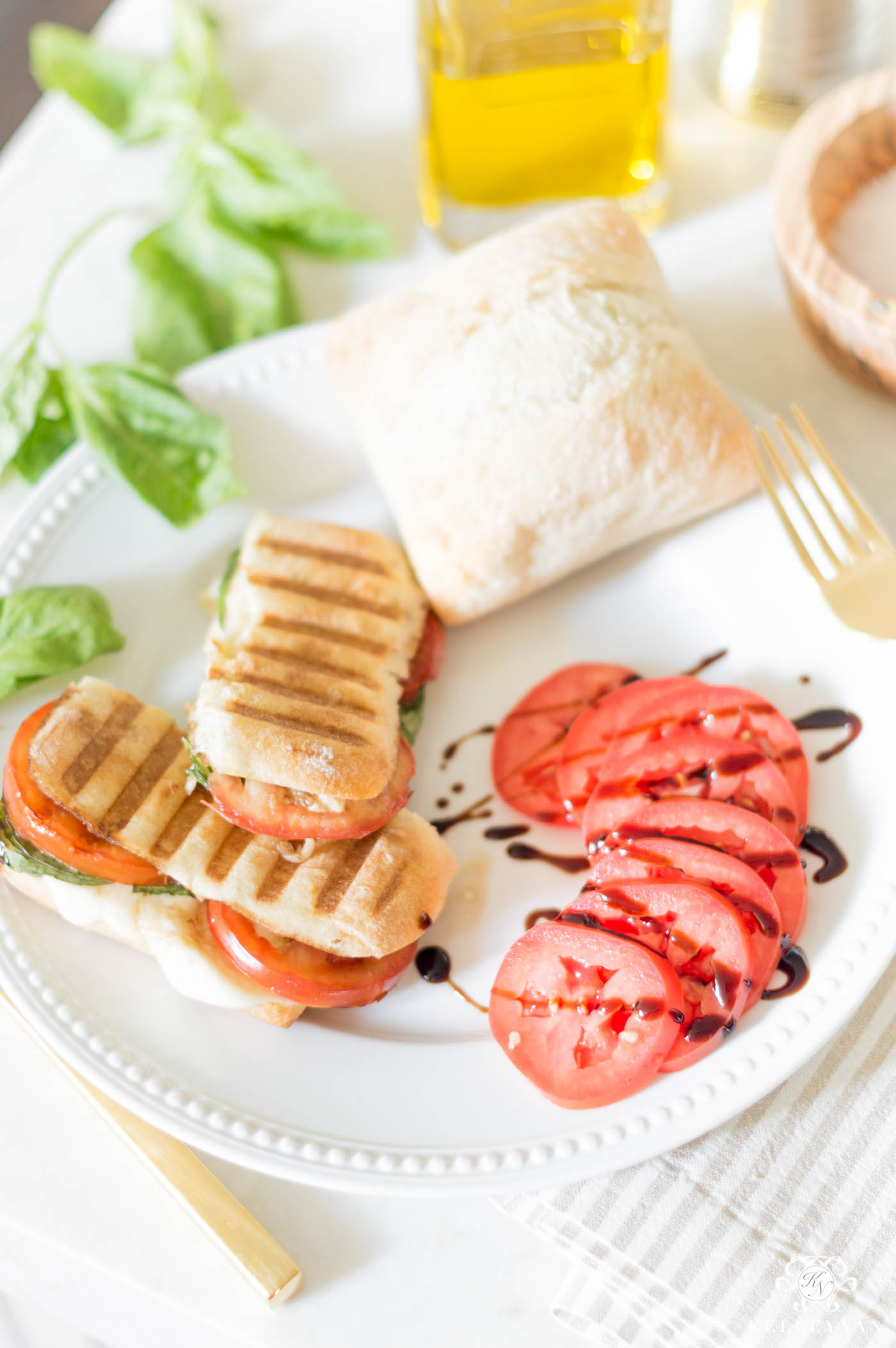 If this sounds up your alley, put it on your meal plan ASAP to take advantage of tomatoes while they are ripe, in season, and full of flavor! For more easy dinner ideas and more, subscribe to receive emails at the bottom of this post.
SHOP THE POST

LIKE THIS? HERE ARE SOME OTHER RECIPES YOU NEED