If I didn't already want to marry Dave before he first cooked for me when we were dating, it surely would have sealed the deal after sampling some of his Tex-Mex dinners. He's spoiled me with a lot of dishes (enchiladas, tacos, bowls, etc.) using his spicy, braised chicken mixture as a base but today, I'm sharing another favorite – his chicken taco salad recipe. We actually used to make them in a large tortilla shell bowl, exclusively, but one day when we were out of the larger tortillas, we improvised with minis. The advantage (aside from them being adorable) is it actually leaves room to serve a side dish, a second mini, or is just a way to prepare a smaller portion.
*Posts on KelleyNan.com may contain affiliate links. Click HERE for full disclosure*
MINI SHREDDED CHICKEN TACO SALAD RECIPE
The little Tex-Mex chicken taco salads work well for repeat weeknight dinners and the leftovers are awesome for tacos or burrito bowls. They even make for a perfect addition to a DIY taco bar if you need an entertaining idea. It may look like a lot of steps but they're simple – just thoroughly explained and broken down into three parts:
The Shredded Chicken Mixture
The Taco Salad Bowl Shell
The Salad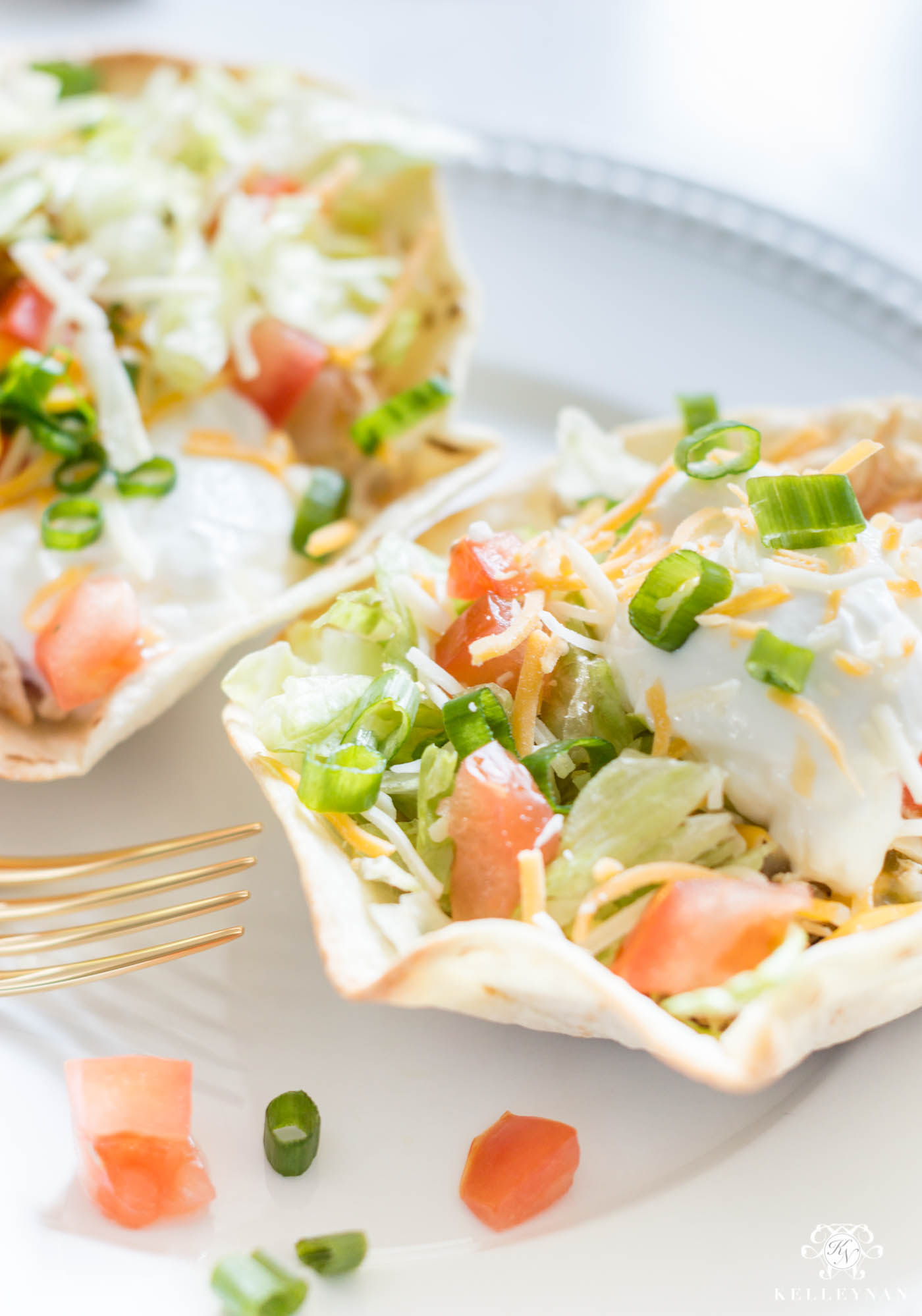 When it comes to the toppings, customize it to your liking. Instead of refried beans, try black beans. Or add rice. Or throw in some pico de gallo and cilantro. Anything goes! As a caveat, this recipe is spicy. To tone things down, sub jalapenos for the serrano peppers or, stick to bell peppers and nix the spicier peppers altogether.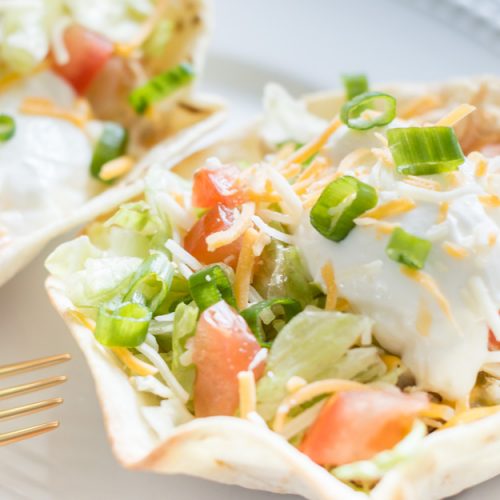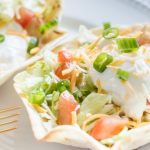 Mini Shredded Chicken Taco Salad (in Baked Flour Tortilla Bowl)
Ingredients
Chicken Mixture
2

chicken breasts

3

medium tomatoes

1

bell pepper

1

medium onion

2-4

large serrano peppers

to taste/spice preference

1 can

chicken broth

1 1/2

Tbsp

salt

1/2

tsp

ground black pepper

1 1/2

Tbsp

garlic powder

1

tsp

ground cumin

1 1/2

tsp

cayenne pepper

1

tsp

onion powder

1/2

cup

pickled jalapeno juice

from canned jalapenos

4

dashes

tabasco sauce

2 1/2

cups

water
Salad Shell
4

medium flour tortillas (approx. 8")

Pam cooking spray
Salad & Toppings (all toppings optional)
shredded lettuce

diced tomato

green onion

refried beans

salsa

shredded cheese

salsa

sour cream

sliced black olives
Instructions
Chicken Mixture
Boil chicken with can of chicken broth and water, with a dash of salt, pepper, and garlic powder, to taste, for approx. 15 minutes (or until chicken is no longer pink inside).

Remove chicken from pot (discard liquid), and finely shred, and set aside.

Dice all vegetables (tomato, onion, peppers) and add to large pan.

Add spices to vegetable mixture, followed by the shredded chicken. Finally, add water, jalapeno juice, and tobasco sauce. Mix thoroughly.

Bring mixture to a full boil, cover with lid, then reduce temperature and simmer for approximately 15 minutes.

After 15 minutes, remove lid, stir, and continue simmering on low to medium heat until approximately 80% of liquid is absorbed.
Salad Shell
Arrange small flour tortillas on a microwave-safe plate. Lightly spray both sides of tortillas with Pam cooking oil and microwave on high for 20-30 seconds.

On a baking pan/cookie sheet, arrange oven-safe, medium sized bowls, upside down. Lightly spray bowls with Pam.

Take pre-heated flour tortillas and gently stretch them over the bowls, forming your taco salad shell. Lightly spray once more before placing in oven.

Bake for approximately 7-10 minutes, until golden brown and crispy. DO NOT OVER-BAKE. Remove from oven and set aside.
Final Assembly
Prepare refried beans, according to instructions on can, and spread lightly on inside of taco salad shell.

Spoon and strain chicken mixture and add inside the shell.

Add lettuce and any other toppings to the taco salad shell.
A FEW HELPFUL TIPS IN MAKING A CHICKEN TACO SALAD
Here are a few tips to speed up the cooking process. While you can 100% shred chicken by hand (I have for over 30 years), after we got our KitchenAid mixer, tossing the breasts in and having the mixer expertly pull it apart in 60 seconds became my favorite function. If you do have a mixer, you can put the cooked breasts in, use the primary white paddle, and set the speed between 1 and 2, and it will give you perfect chicken in a fraction of the time, with zero finger burns. Just don't mix it for too long or it will totally pulverize the chicken 😉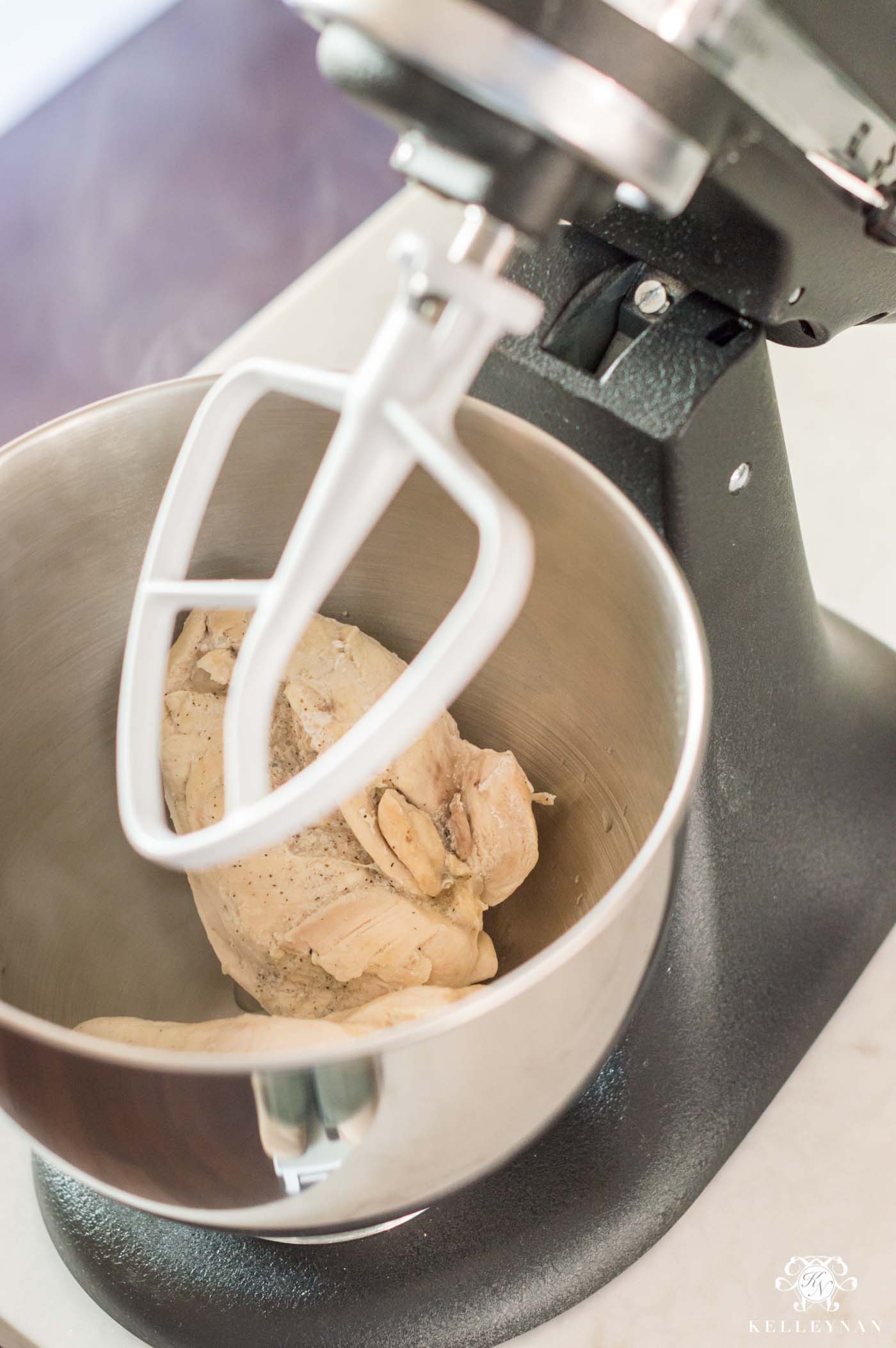 The consistency is perfect for casseroles, soups, and chicken salad.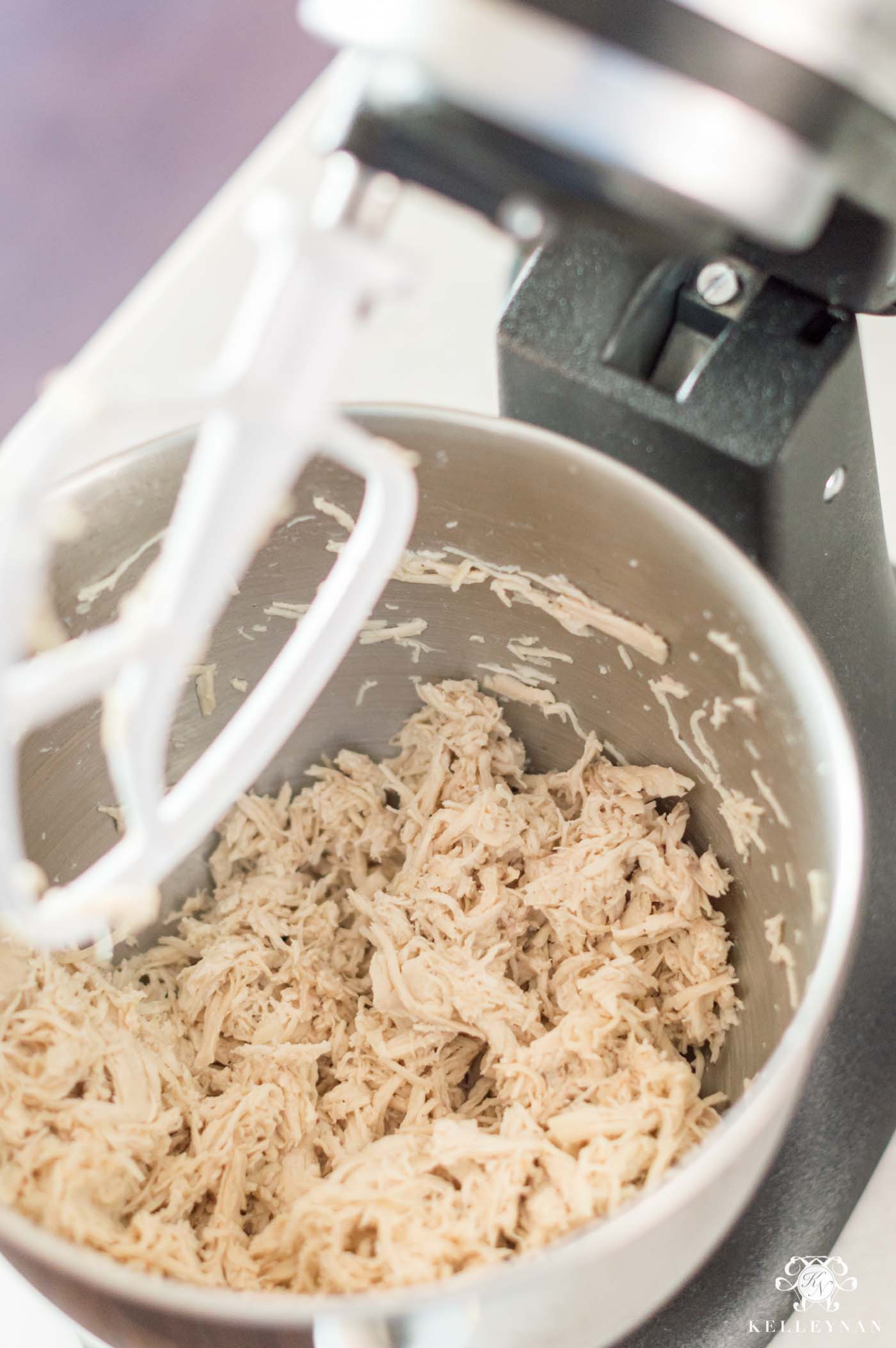 It seems like we are chopping veggies 24/7 between all the dishes we gravitate towards. THIS chopper is one of our favorite kitchen tools and has sped up the process substantially. (It comes with a few different sized plates and we throw it all in).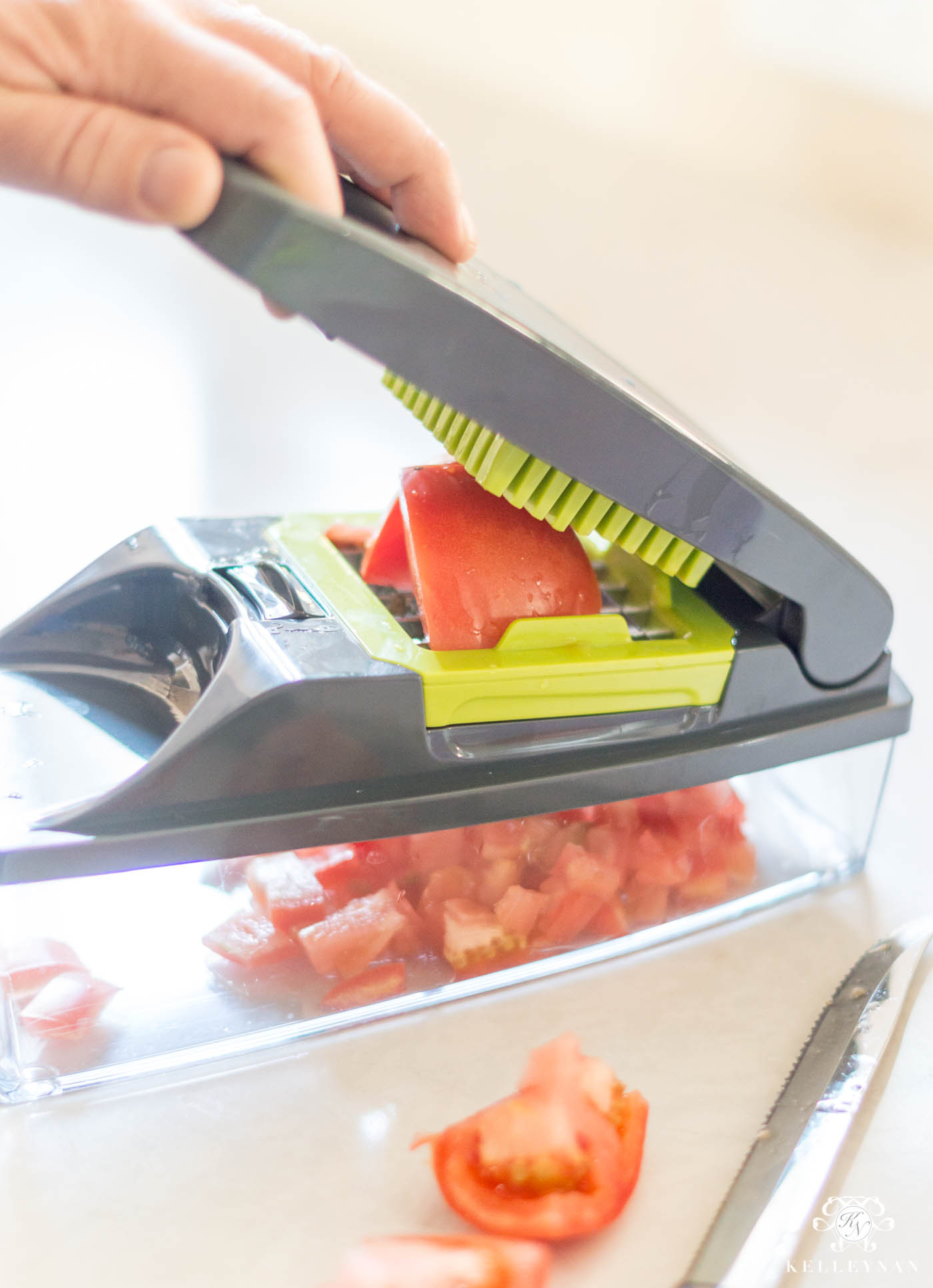 When the entire chicken mixture is combined, this is what it will look like…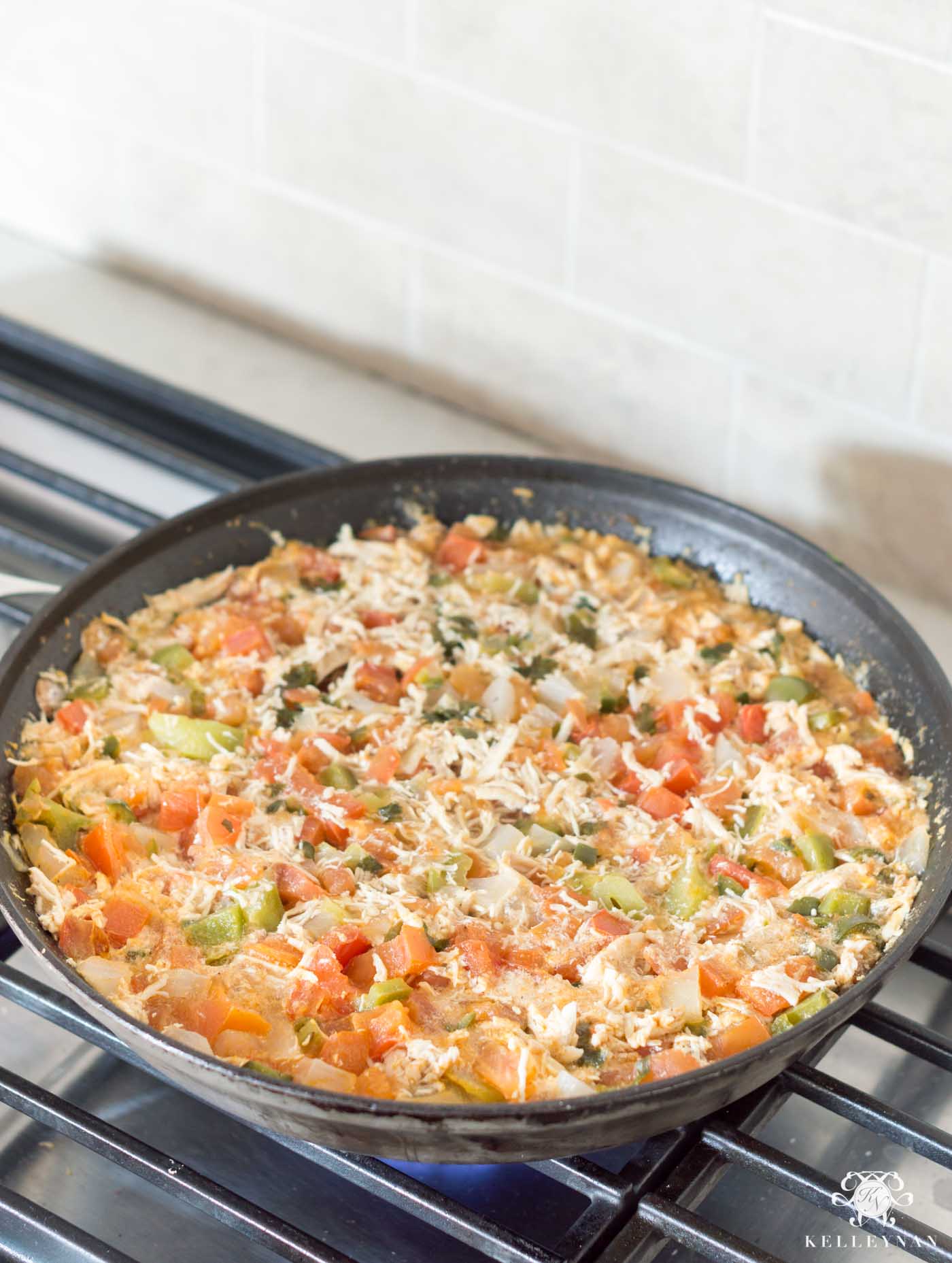 I've shared THIS stoneware bowl set a ton but they are our go-to mini taco salad bowls that have proven to be the perfect size and shape.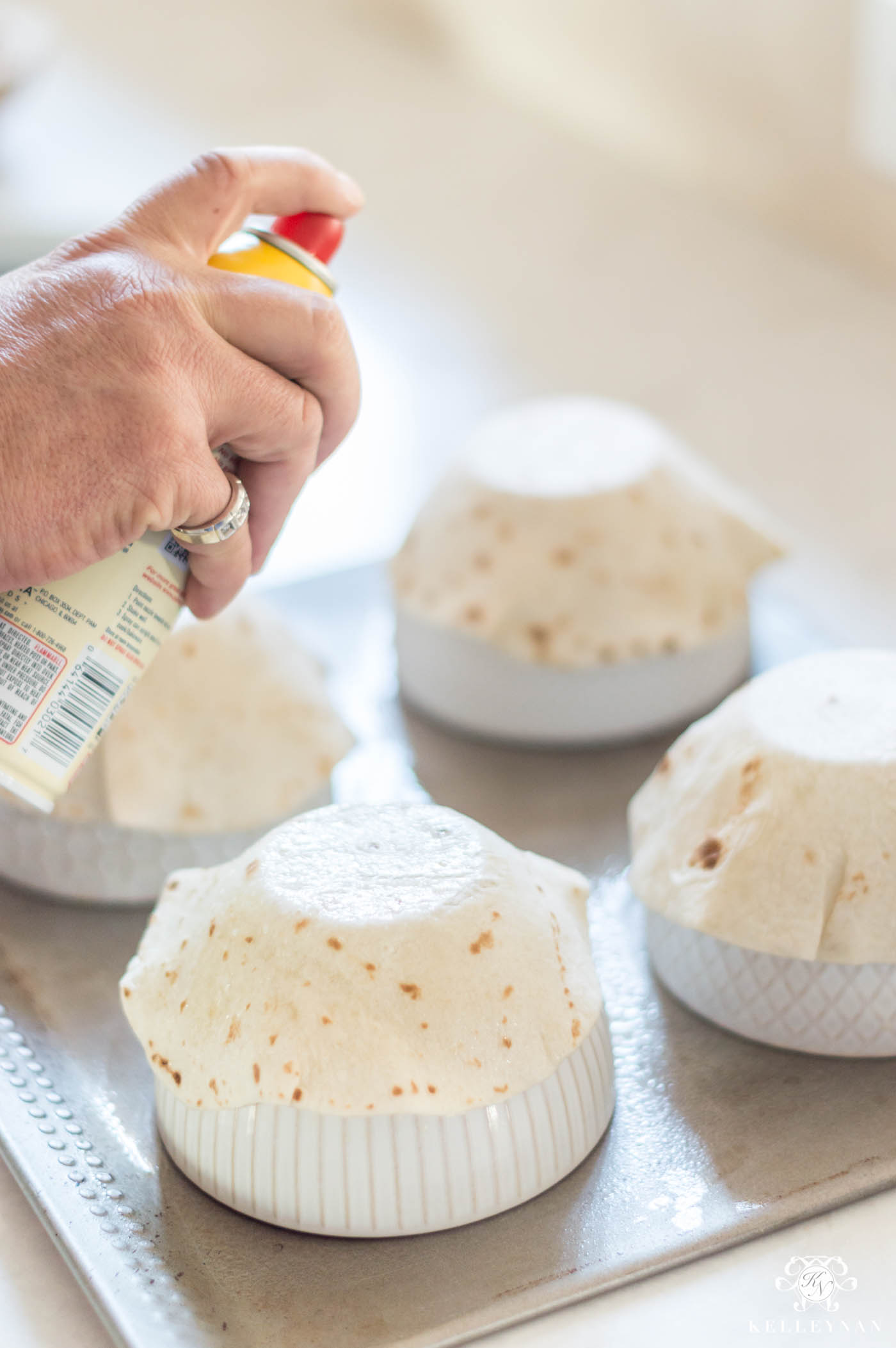 You can also get a smaller version of these bowls, perfect for dips, condiments, nuts, etc. HERE.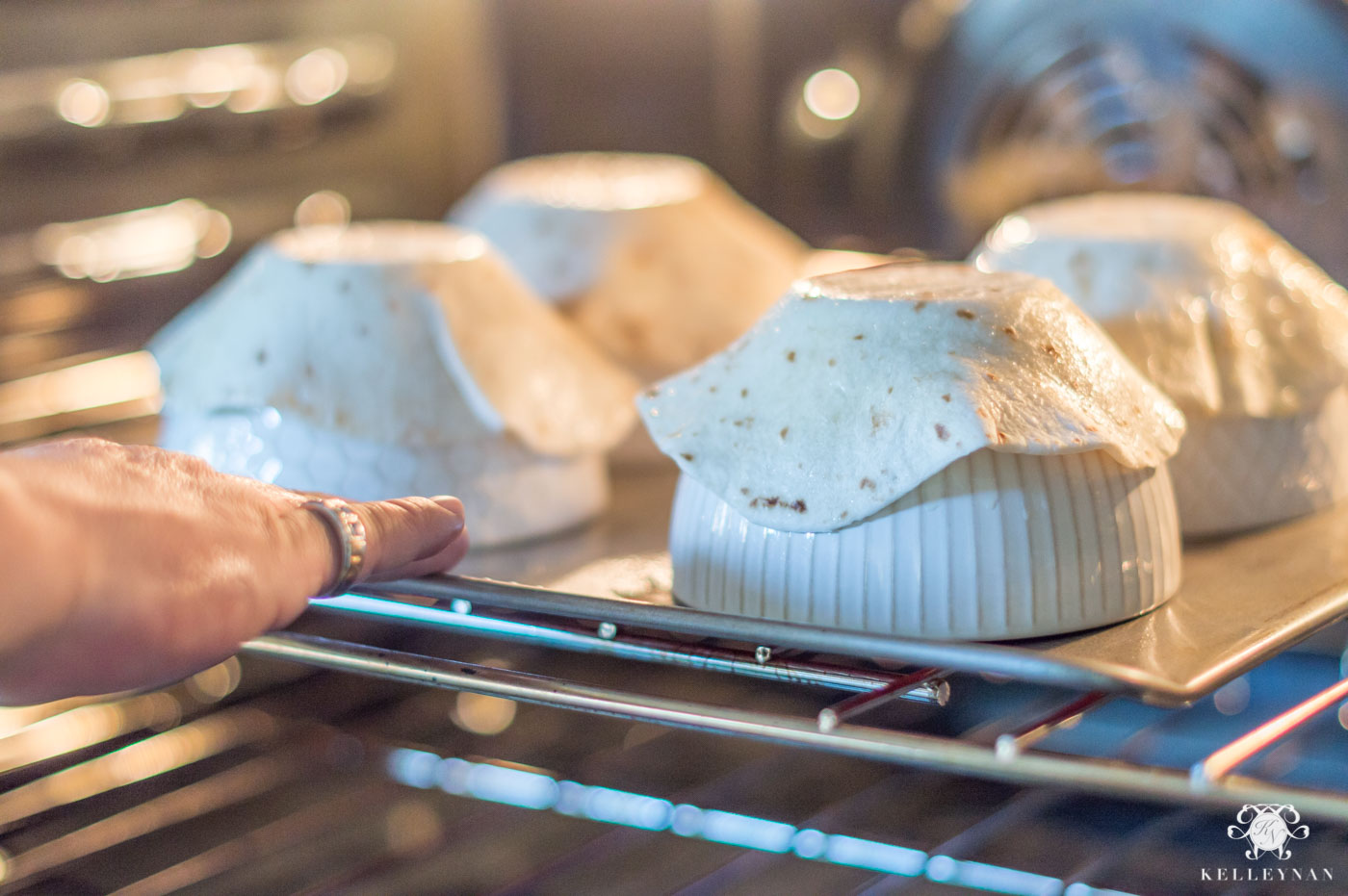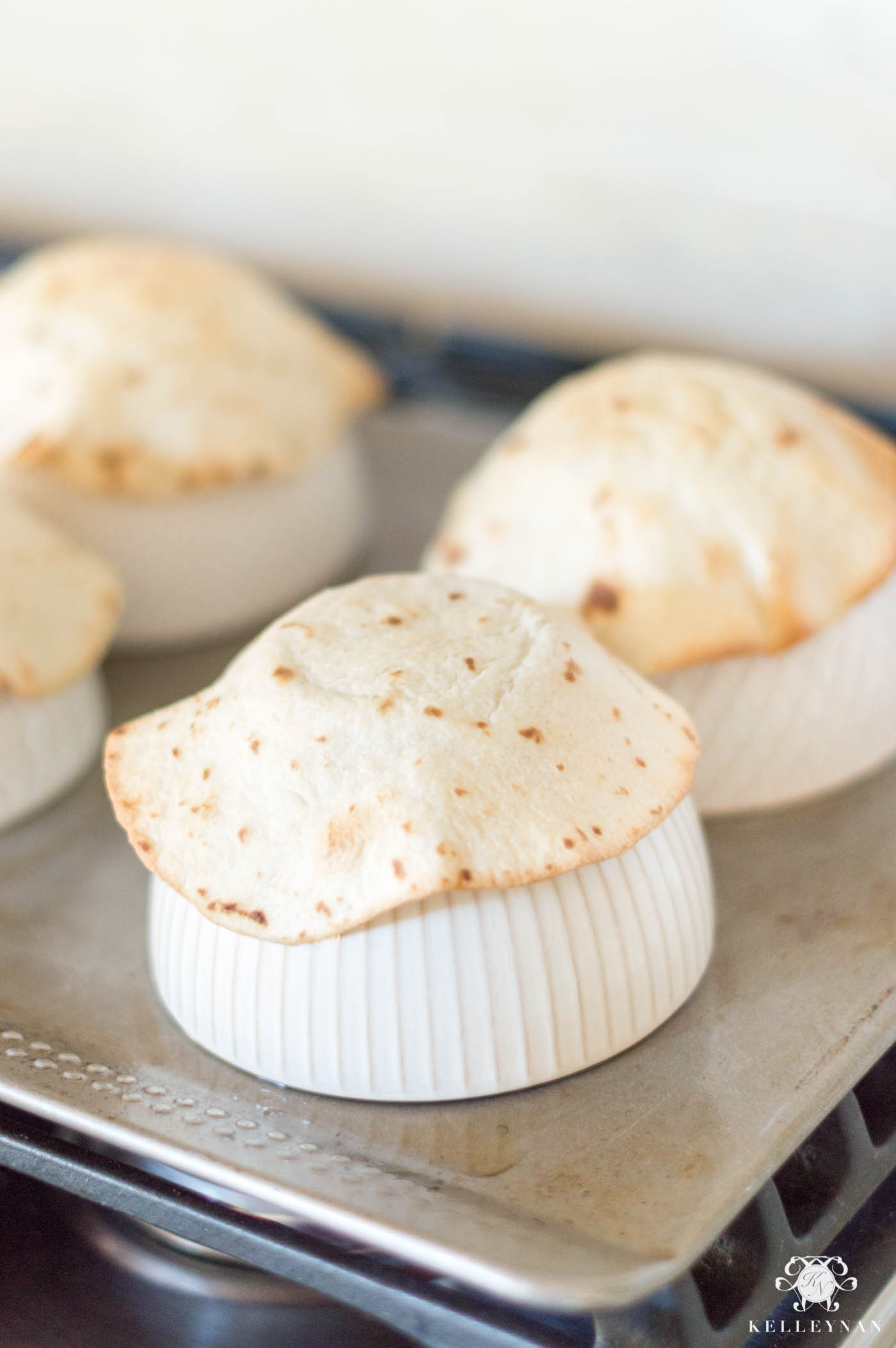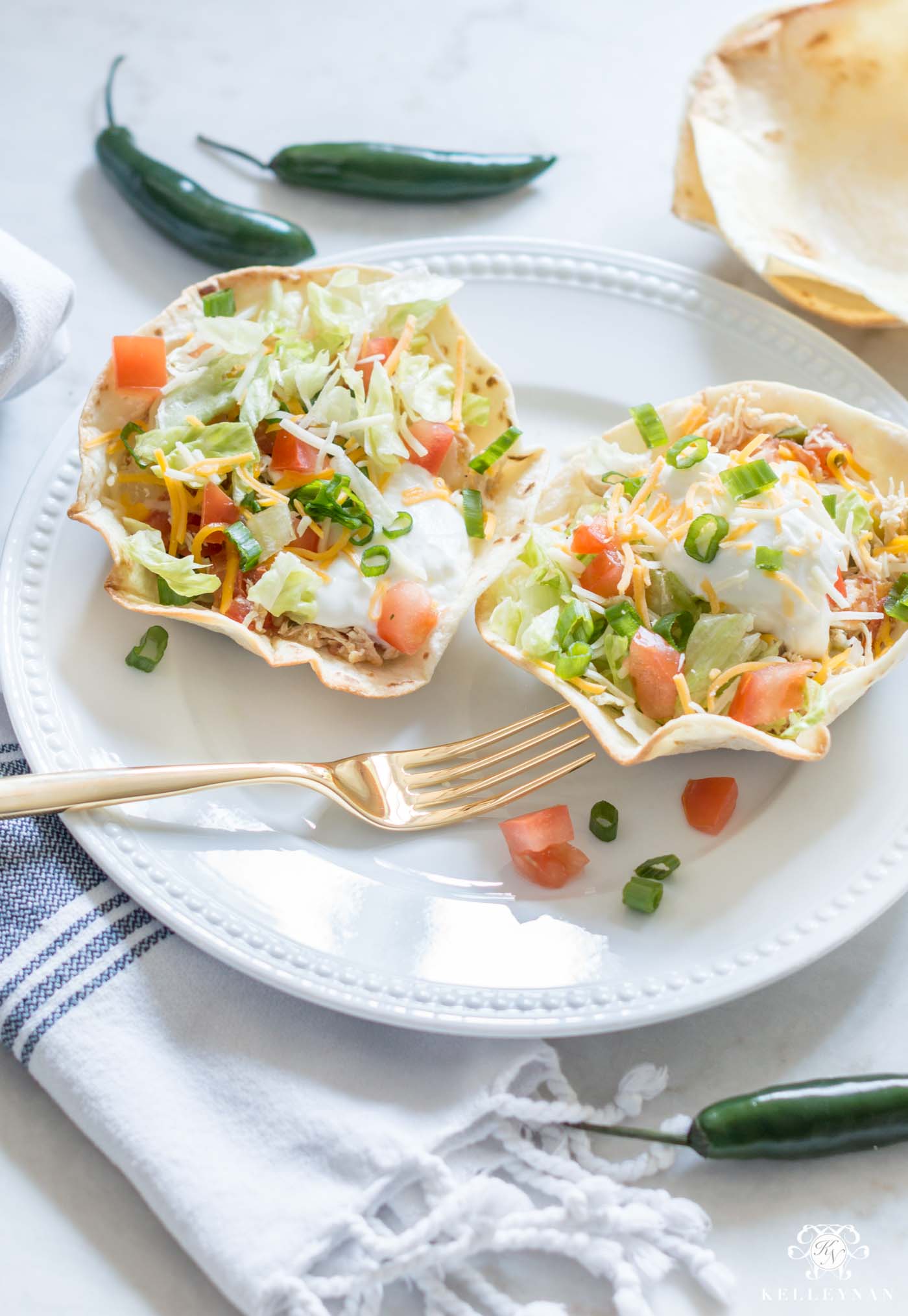 While we typically use Dave's braised chicken for these, you can also use the crock pot Mexican chicken recipe I shared HERE that we use for our chicken tortilla soup. If you can plan ahead, it will cut your prep time in half and while the flavor profile is a little different, it's equally as delish! Sign up to receive emails at the bottom of this post for upcoming 2019 projects – from recipes to rooms!
---
Scroll & Tap to Shop the Post

---
LIKE THIS? HERE ARE SOME OTHER RECIPES YOU NEED