I am on a constant quest to come up with easy, weeknight recipes – the fewer the ingredients, the better. If I can make it all in one pot/dish/pan, well… those are my favorite. I recently (and accidentally) threw together a fresh fettuccine alfredo with spinach one Sunday when I realized I had some refrigerated items on hand that were verging on "questionable status." They weren't spoiled and hadn't started turning – I just realized how long I had had them and knew it was only a matter of days hours.  Of course, I couldn't let them go to waste. It ended up being one of my new favorite, easy meals that I now crave probably a little too much. Since then, I've made it with and without chicken (Dave prefers the extra protein, I prefer the vegetarian version). You can serve it as the main course or serve it as a side. Today, I've partnered with World Market to share all the easy steps I used (seriously y'all, it's silly-simple) in coming up with this under-30-minutes pasta dish. *While this post is sponsored by World Market, a brand I love, all opinions (and the yummy recipe, of course!) are by your's truly. Click HERE for full disclosure.
*Posts on KelleyNan.com may contain affiliate links. Click HERE for full disclosure.*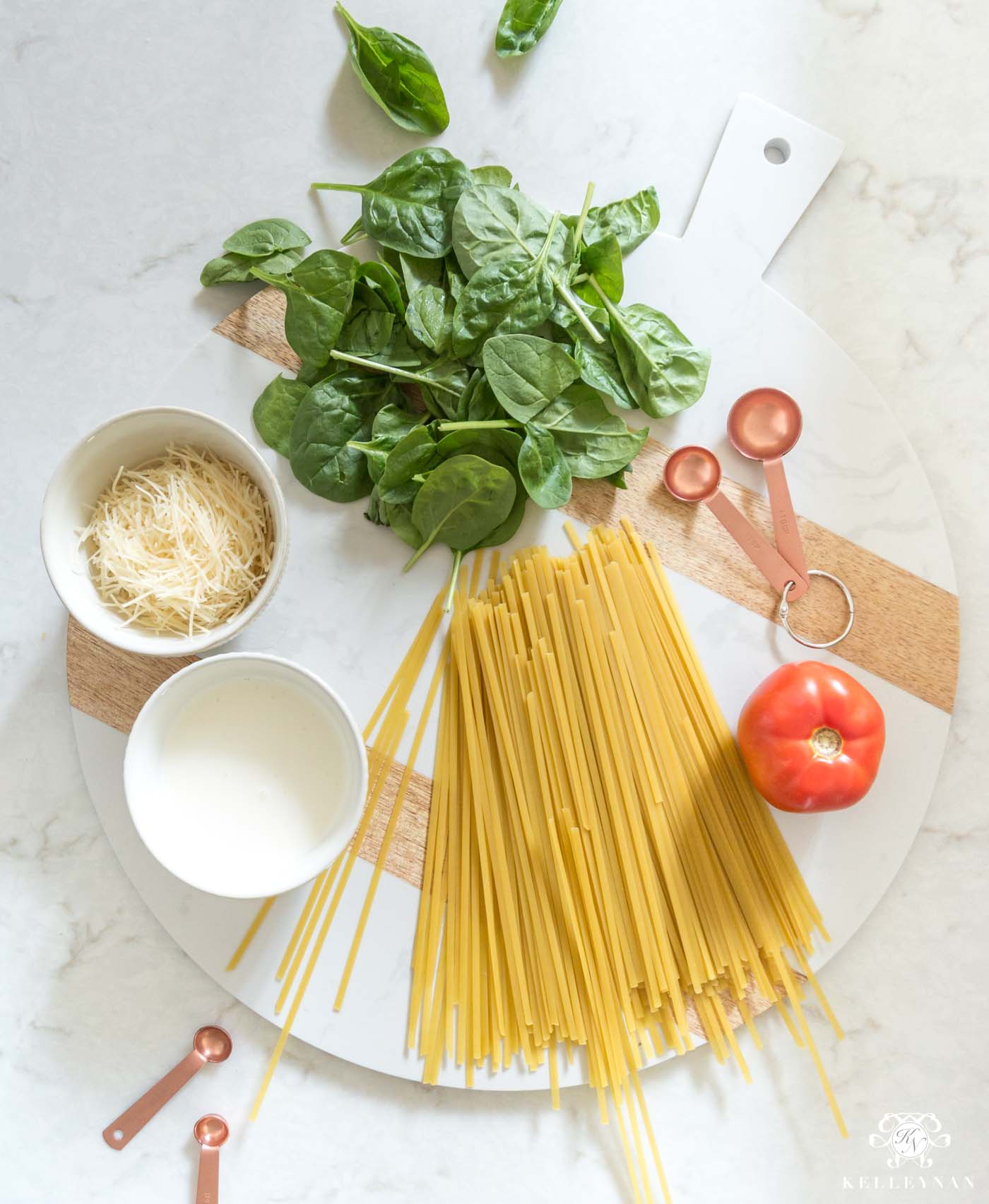 BUT FIRST… PREPARE
Since my kitchen makeover (you can see the full reveal that I JUST shared HERE), I've enjoyed being in the kitchen, creating, even more. I love displaying my prettiest pretties and entertaining goodies but behind the drawers and doors, our most-used cookware has slowly started to… need some attention. We got a super expensive set about seven years ago and after living in denial (and feeling like it should have lasted a lifetime), finally came to terms that some of our saucepans and most used pots were basically "done". In place of the non-stick bottoms were severe scratches and splotches of zero coating. Our non-stick was no longer nonstick.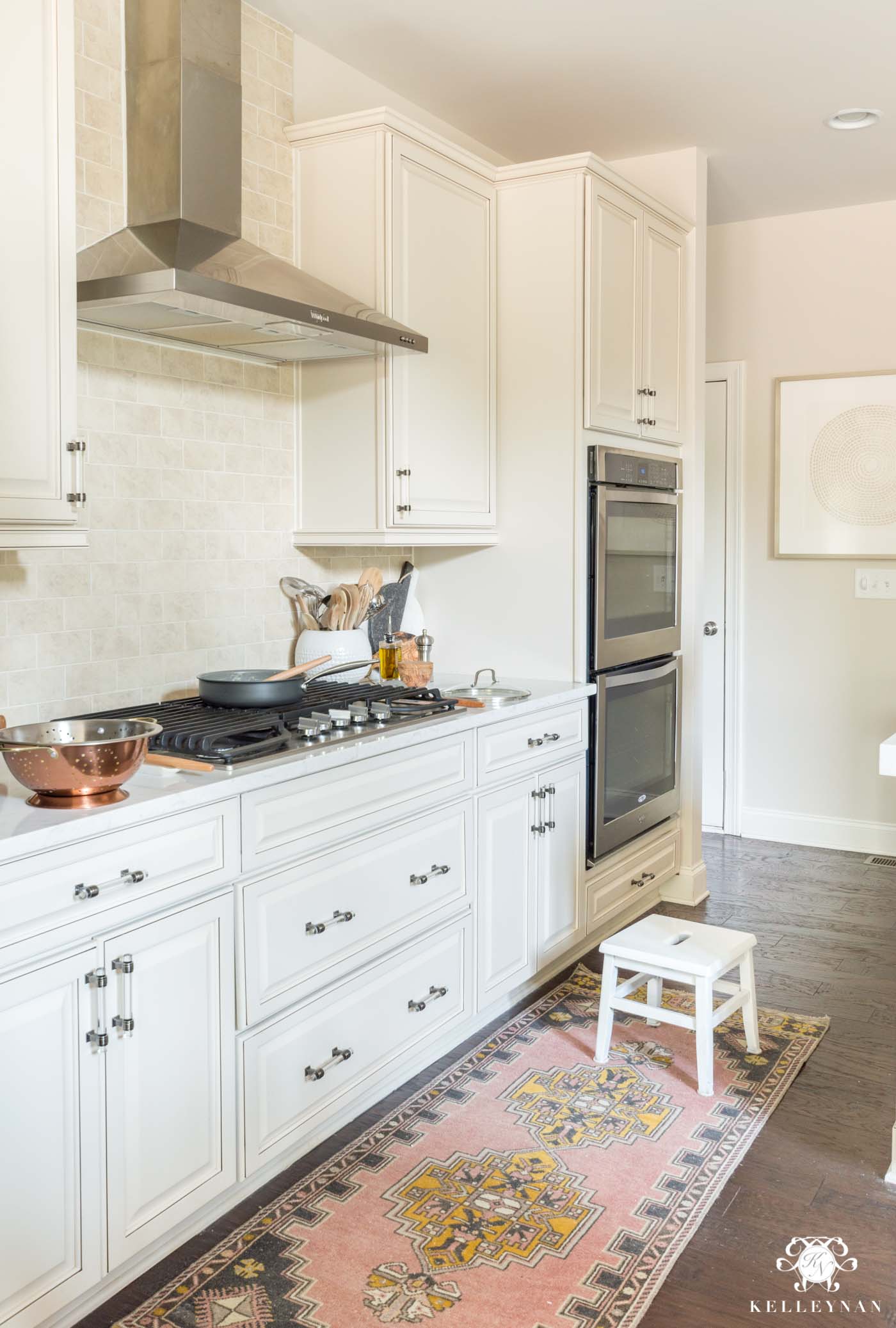 Well, if you're a regular visitor here, you know that a large chunk of my entertaining supplies comes from World Market but along with their "kitchen pretties", they just launched their full selection of cookware. GreenPan cookware sets, J.A. Henckels knives… they brought in the good stuff. And if you're all about the one-pan dishes like I am, you know how important it is to actually have non-stick, nonstick pans.
I went for the GreenPan Chatham set (they also have individual pieces if you don't want to commit to a full set, yet), and it was eye opening how long I had let some of my former cookware go. Everything glided across the pans, and the heat was distributed evenly. With the former, I was using so much oil, trying to make up for not having a non-stick surface. With the new set I have to use very little. The cookware has been rolling out on their site over the past month and I saw they JUST released the GreenPan Venice Pro set; I'm super curious about this one (it has awesome ratings when I searched online) so if you have/have tried that line, let me know your thoughts 😉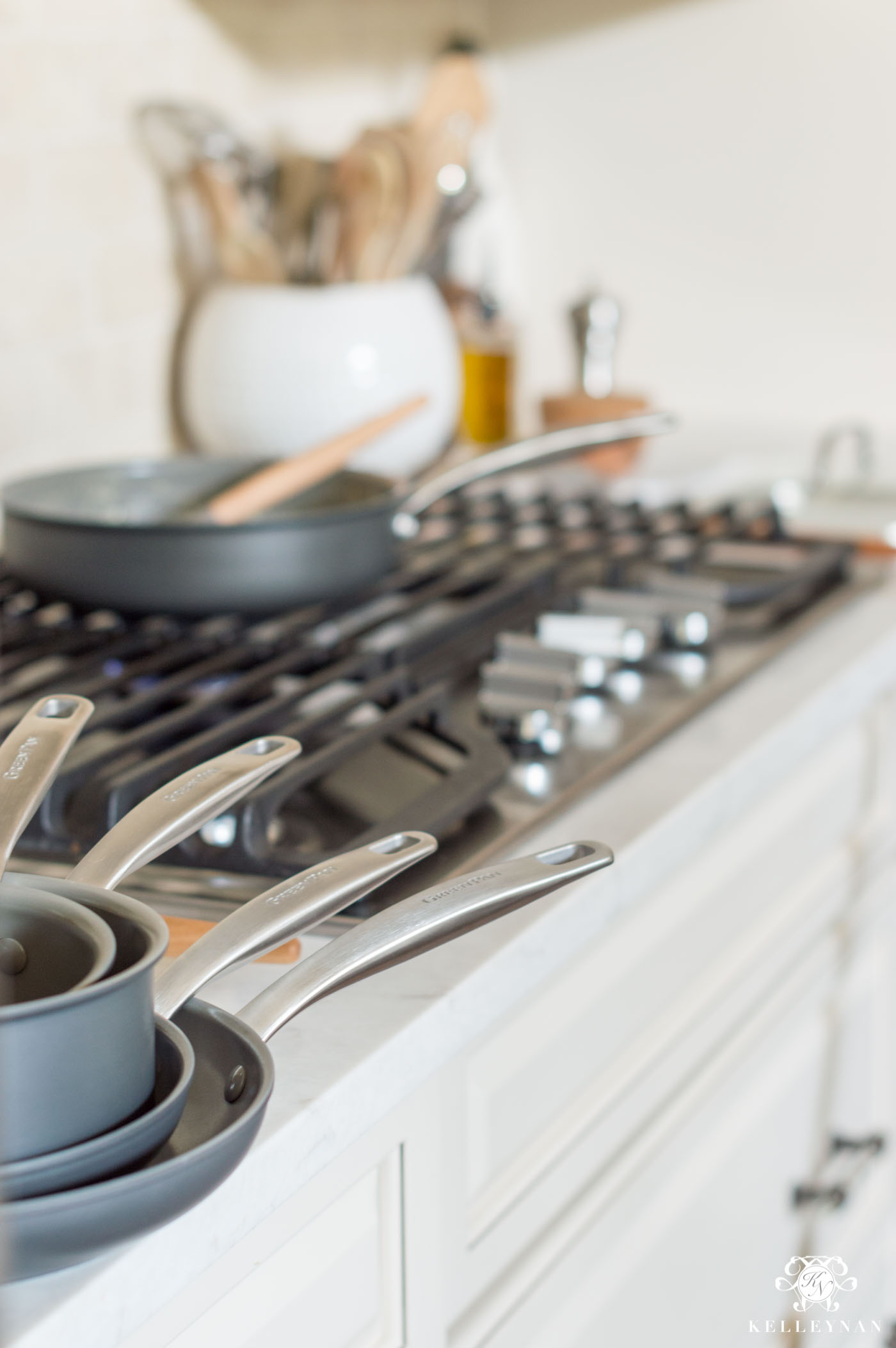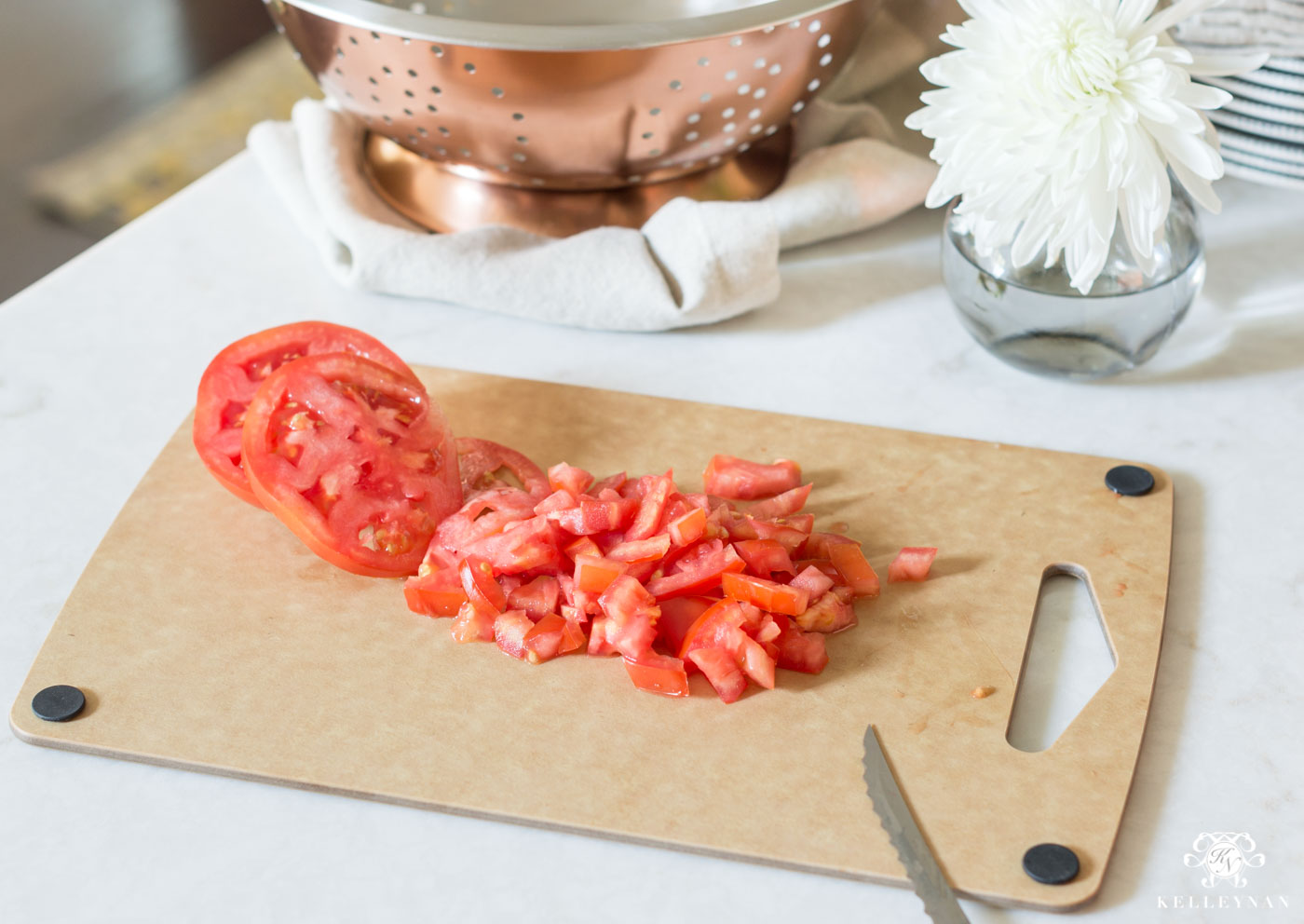 CREAMY SPINACH FETTUCCINE ALFREDO RECIPE
All that being said, do not attempt to make a cream sauce/cheese sauce in a pan that no longer has the ceramic nonstick 😉 DO add the creamy spinach fettuccine alfredo to your menu next week 😉 Here's what it will look like throughout each step.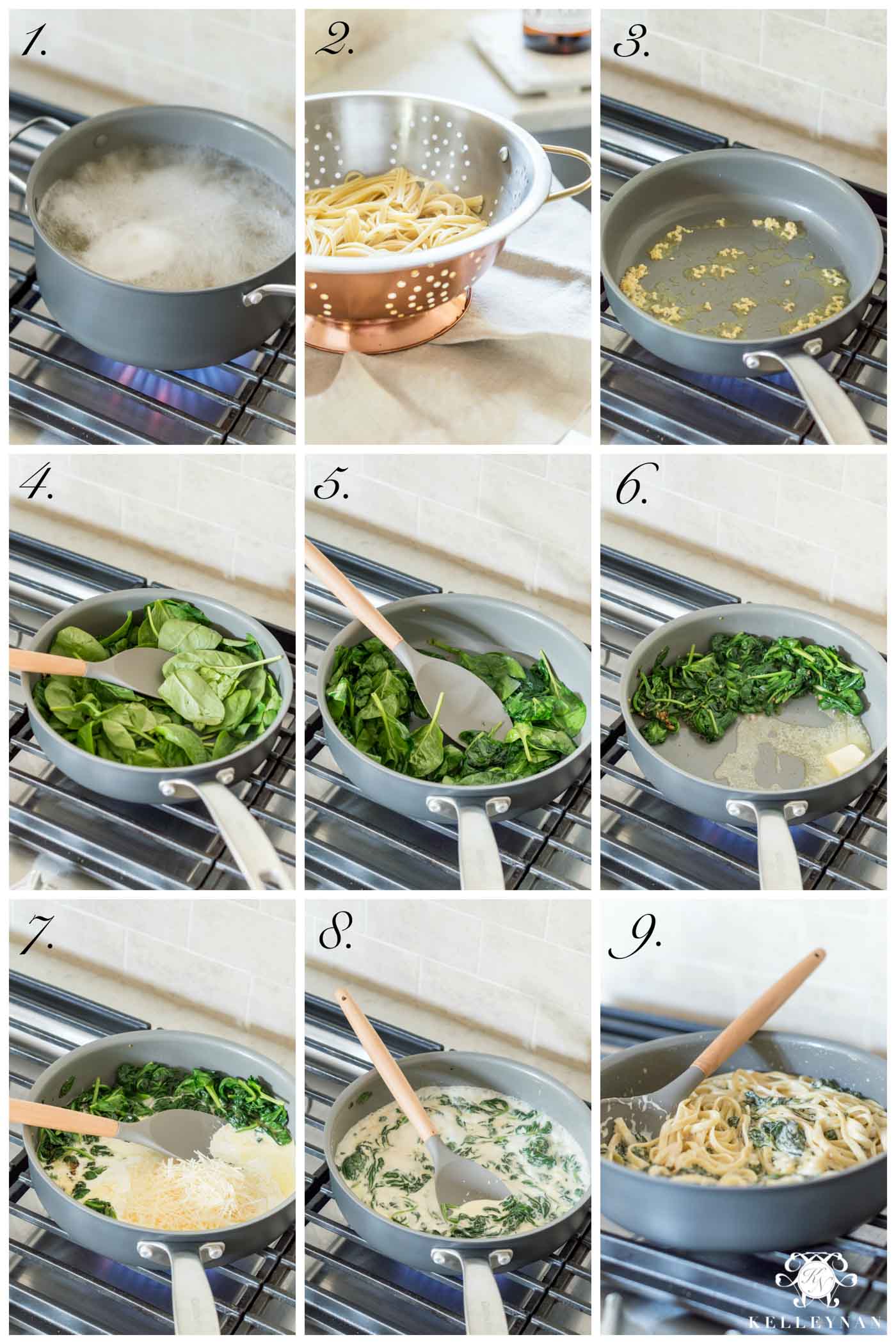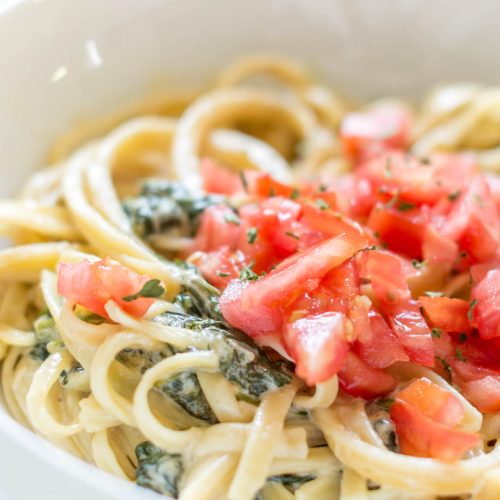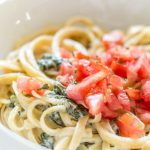 Spinach Fettuccine Alfredo
An easy weeknight dinner idea, this spinach fettucine alfredo can remain as vegetarian pasta, or, can have chicken added. Top with tomatoes to make this easy meal even more fresh!
Ingredients
12-16

oz

fettuccine pasta

1

package

fresh spinach

1.5

cups

heavy whipping cream

1.5

cups

parmesan cheese

1

Tbsp

butter

1

Tbsp

minced garlic

1

ripe tomato

1

dash

salt & pepper
Instructions
Boil pasta for 11-12 minutes, drain, and set aside.

In non-stick pan, heat garlic and drizzle of olive oil over medium heat until garlic begins to slightly brown. (approx. 3-4 minutes)

Begin adding spinach to pan, frequently tossing and coating in the garlic/oil. As spinach wilts and makes room, continue to add the rest of the spinach. Once wilted, slide to side of the pan.

Add pad of butter to the pan, in section away from spinach and allow to melt.

Once the butter is melted, add heavy cream and parmesan cheese, slowly. Bring to slight simmer and stir. Mix the wilted spinach from the side of the pan well with the creamy alfredo sauce mixture. Simmer on low for approx. 3 minutes.

Add dash of salt & pepper.

Add pasta and toss to coat well.

Before serving, garnish with chopped tomato. (Parsley optional)
Recipe Notes
Chicken may also be added.
Can also garnish with mushrooms/parsley/etc.
During that first session, I had a tomato among the needs-to-be-used produce. I diced it and threw it on top and now, it's a key garnish ingredient. It makes it taste so fresh and lightens is just a tad.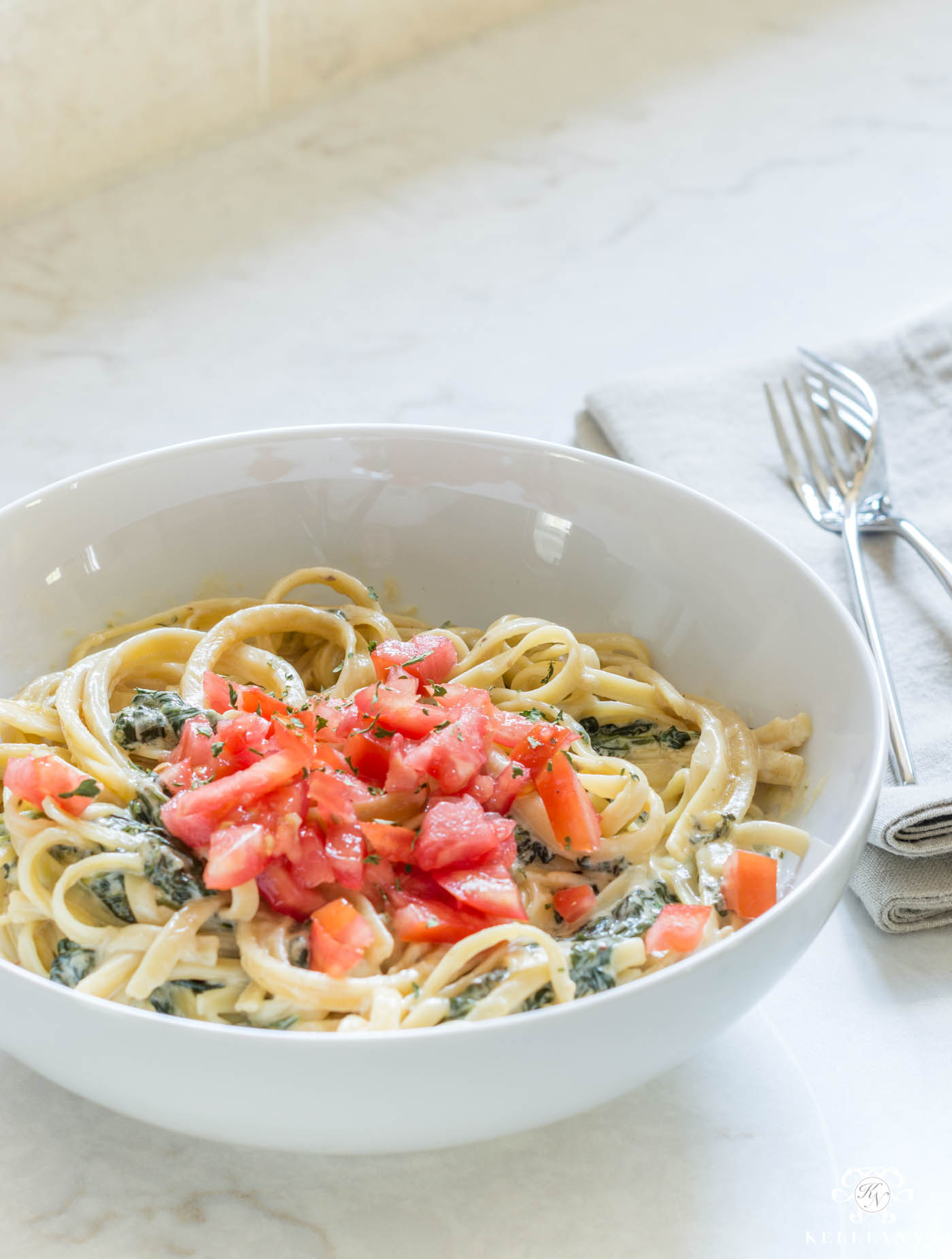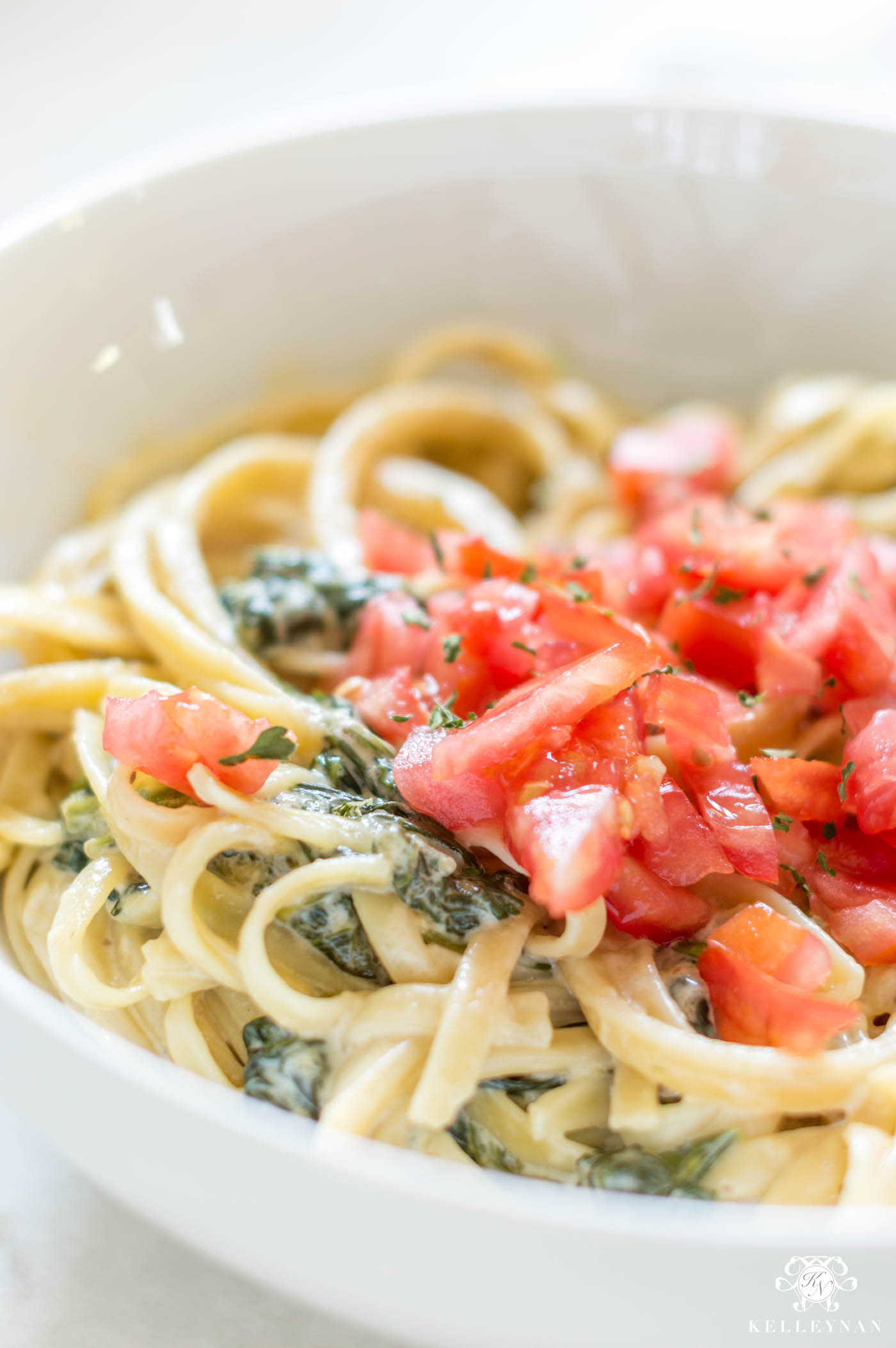 It's definitely a "rib-stickin" comfort meal so I prefer to serve it alongside salad and skip the bread.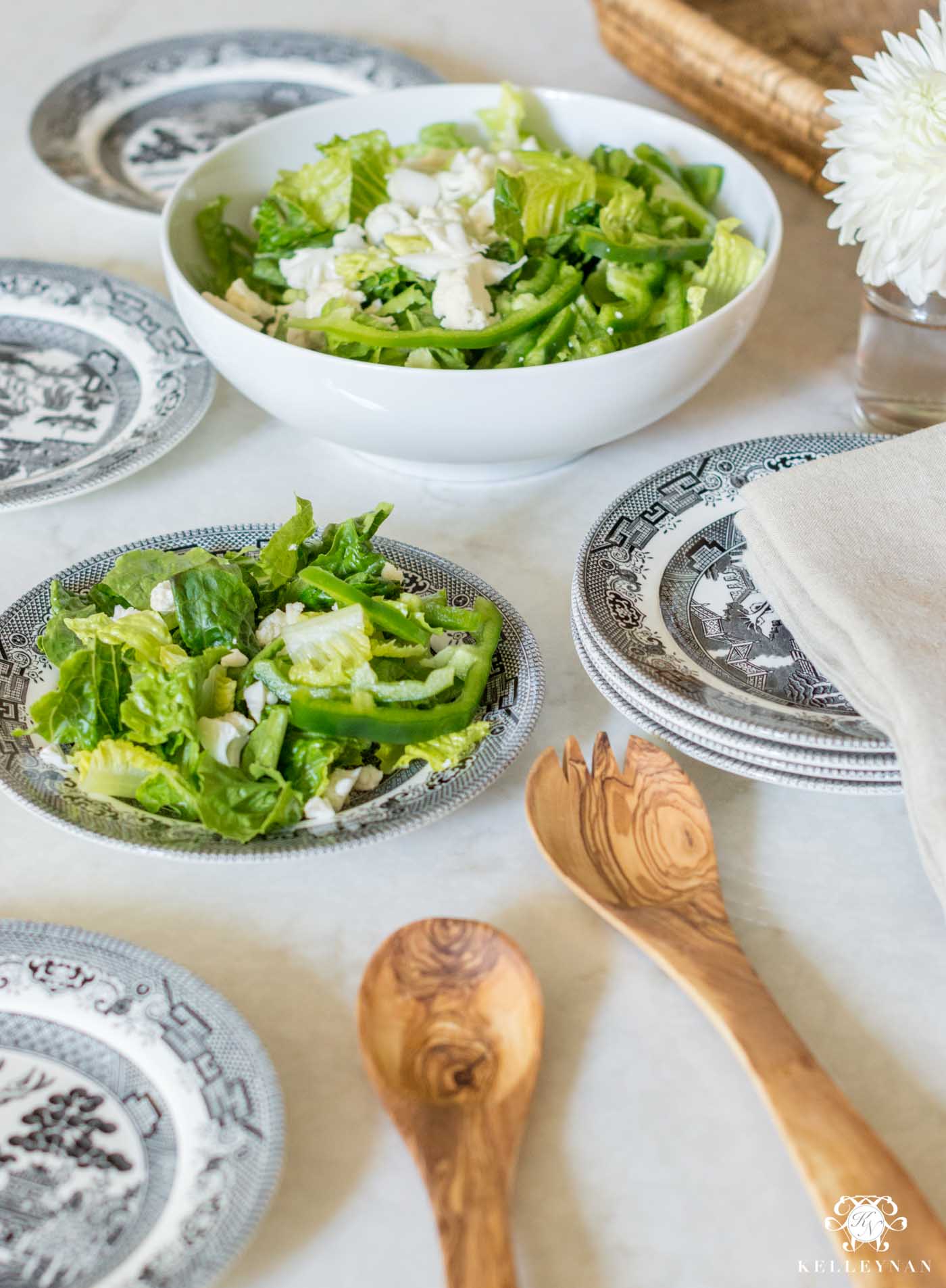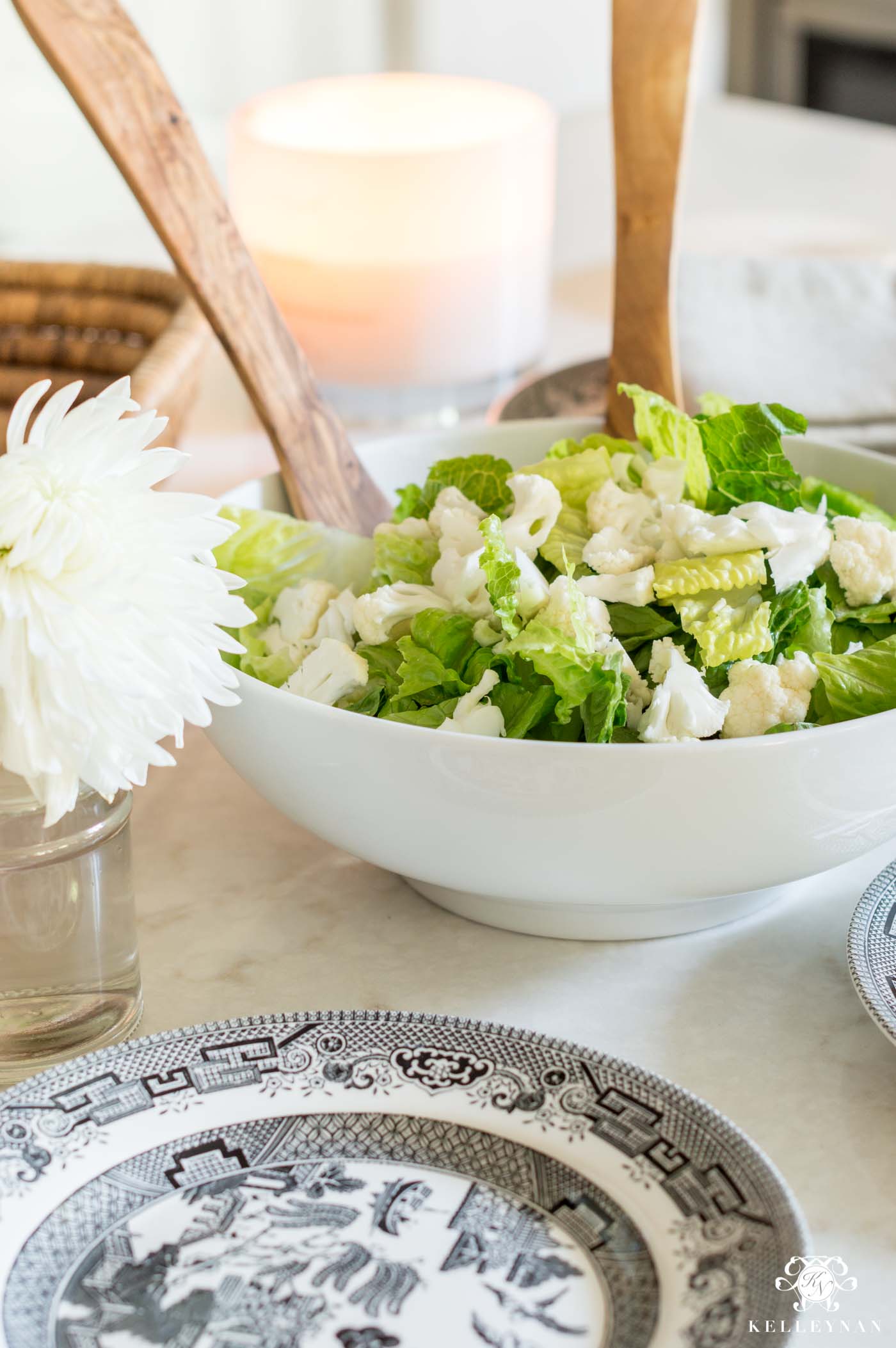 You know I couldn't resist these new black and white chinoiserie plates …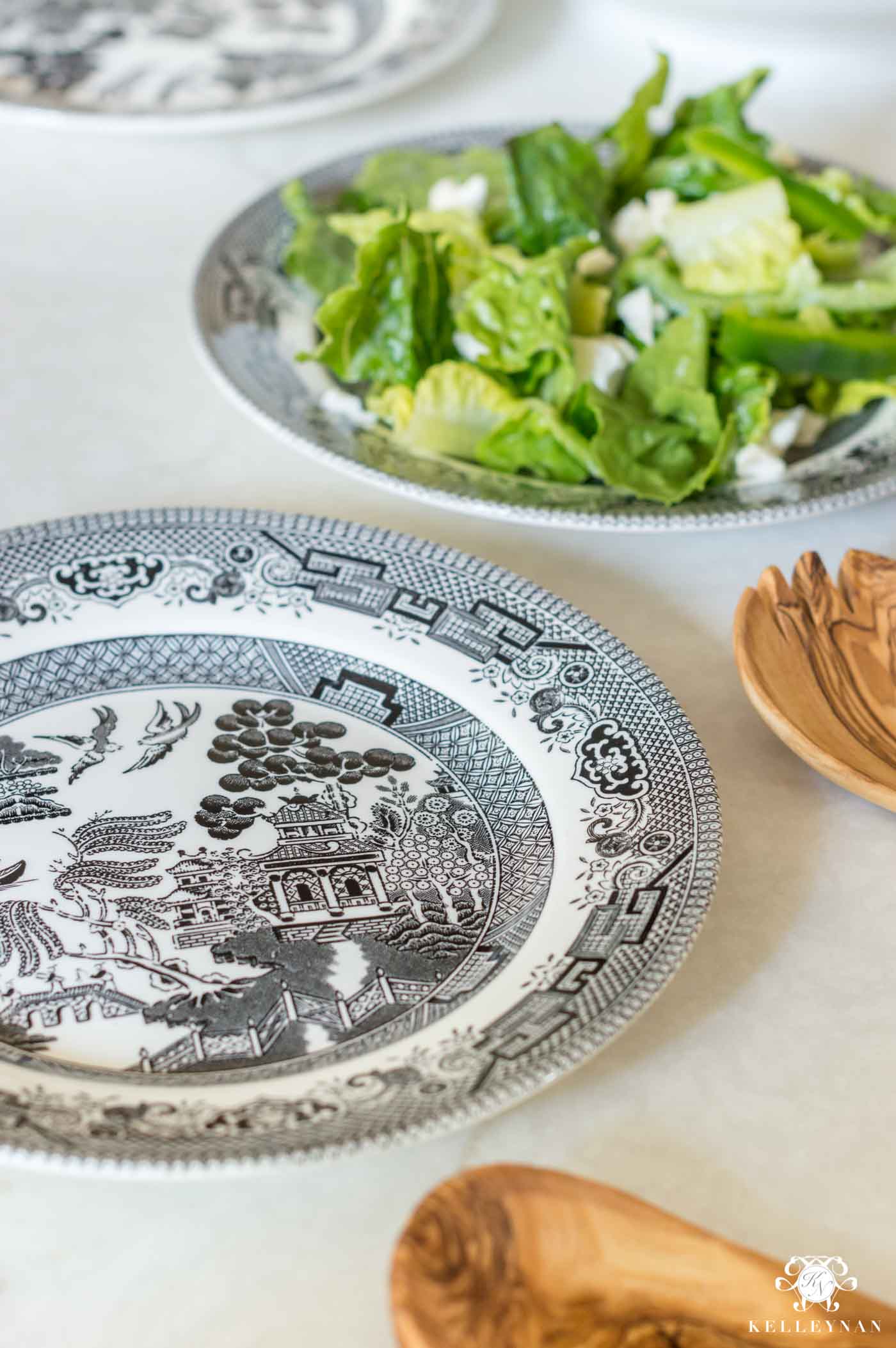 … and olivewood salad servers 😉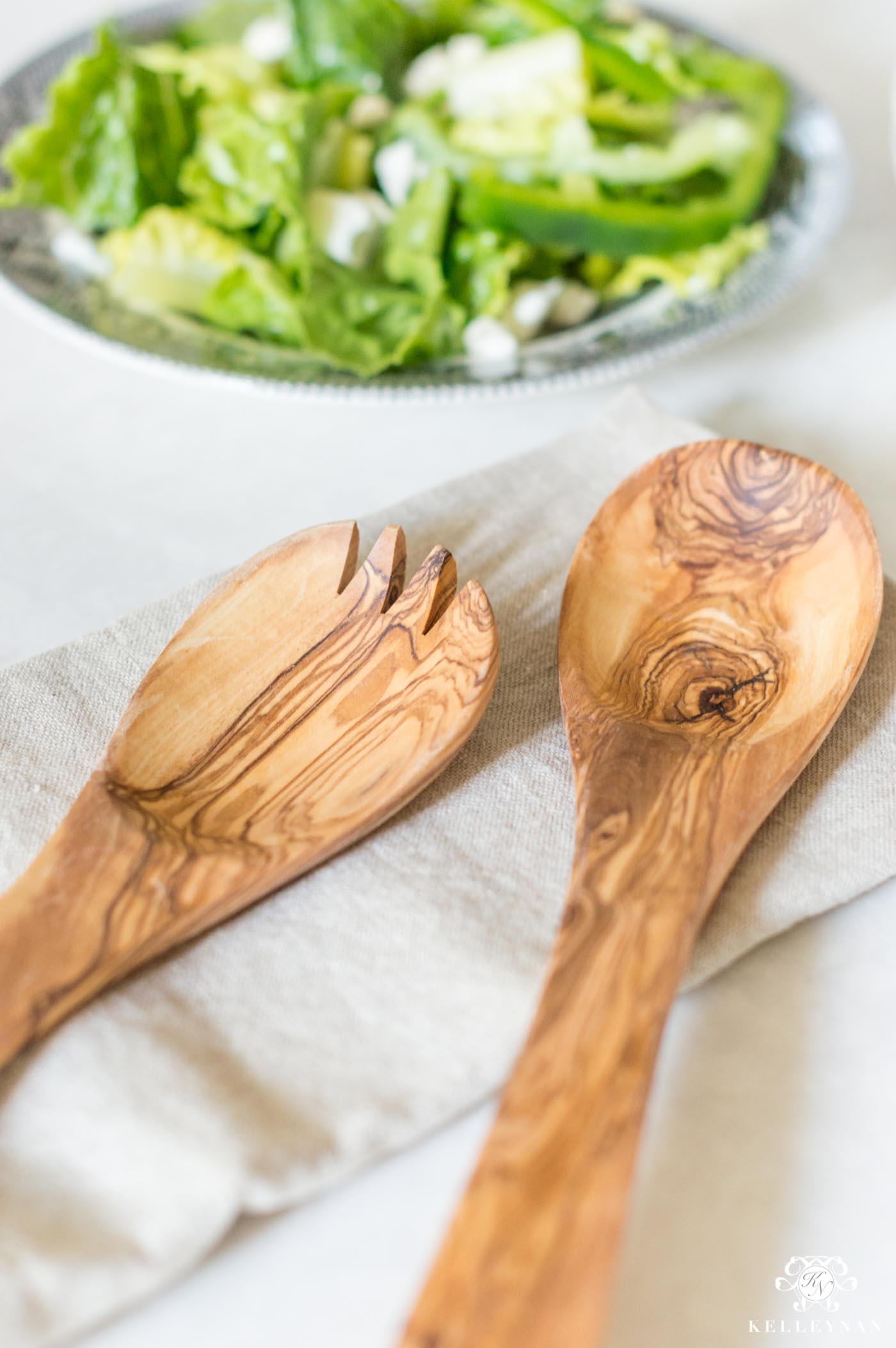 If you make this for your family, come back and let me know about it! To catch all future recipes (along with entertaining ideas), be sure to sign up for my emails at the bottom of this post.
---
Scroll & Tap to Shop the Post



---
A FEW MORE RECIPES TO TRY